A 4BHK home design with palatial interiors!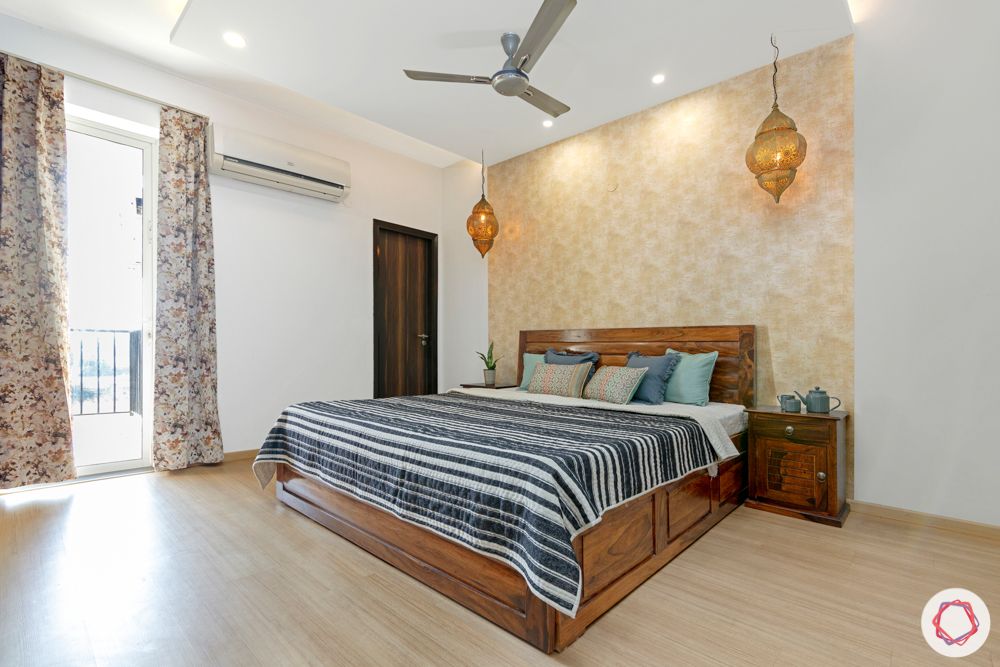 ---
Who livs here: Vinay Kumar with his wife Neelam & daughter Aarushi
Location: DLF New Town Heights, Sector 86, Gurgaon
Size of home: A 4BHK spanning 2,450 sq ft
Design team: Interior designer Gaurav Choudhary & Project Manager Sahil Suri
Livspace service: Full Home Design
Budget: ₹₹₹₹₹
---
One thing homeowners want in a new home are spick and span interiors. But, when the Kumars acquired this property in Gurgaon, it had visible hiccups that required immediate fixing. Relocating into this spacious yet complex 4BHK home are Vinay Kumar, his wife Neelam and daughter Aarushi. But the happy family were not-so happy with their existing interiors and required an experienced professional to redesign their new home. Moreover, they wanted their interiors to tie up with their velvet furniture to give the entire home a regal feel.
Designer, Gaurav Chaudhary loves a good challenge when it comes to problematic 4BHK home designs and took to redesigning the entire home. From floor to ceiling, he and his team have found creative solutions for every problem. This process resulted in a spacious and well-lit home with restored walls. 
Read on to find out how the Livspace team has designed this home.
False Ceiling for a Low-Ceiling Home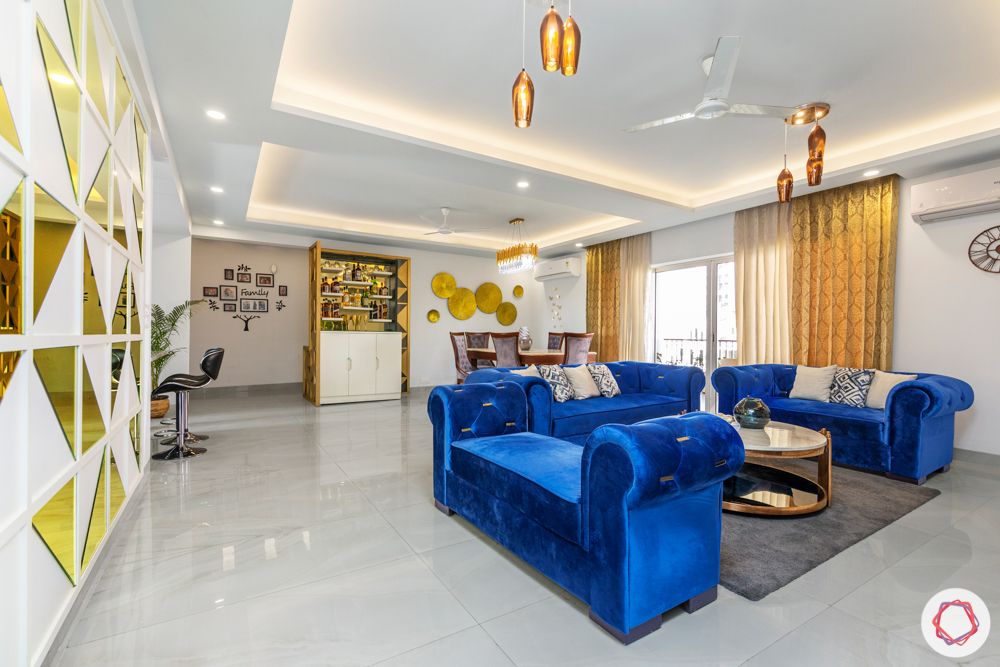 "Ceilings might not be the first detail you look into when you design a home but it has a major impact on how cramped your home can feel", says Gaurav.
In this 4BHK home design, the ceiling height is 8 feet as compared to the standard 9.5 feet. Moreover, Gaurav had to install recessed lighting to the ceiling without reducing the height too much. Therefore, you can see, Gaurav has installed a minimally designed false ceiling that runs on the borders. This design helps maintain the original height of the ceiling while fully serving the purpose of a false ceiling.
Constructing a Breakfast Counter in a Closed Kitchen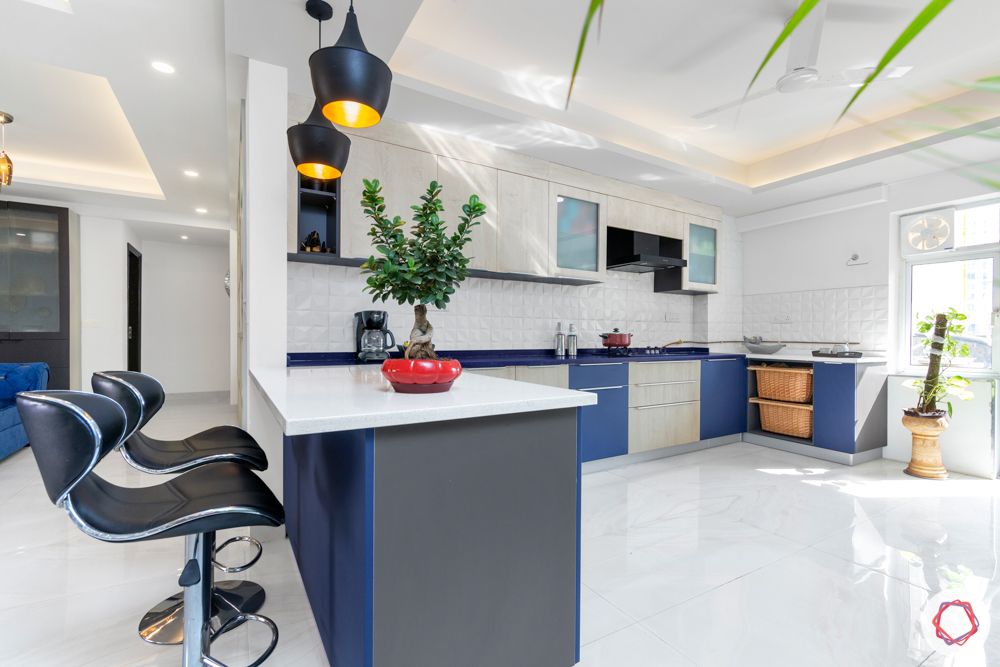 When a kitchen is more than 130 sq ft, you would think the kitchen has plenty of room. However, Vinay wanted to maximise its layout and turn it into a more easy-breezy space. Therefore, Gaurav and his team have strategically constructed a breakfast counter by breaking down a kitchen wall. Now, the kitchen has an open layout making it more spacious than before.
Moreover, giving it a contemporary 4BHK home design is a combination of navy blue and white cabinets in membrane finish.
Redesigning Damaged Walls Into Accent Walls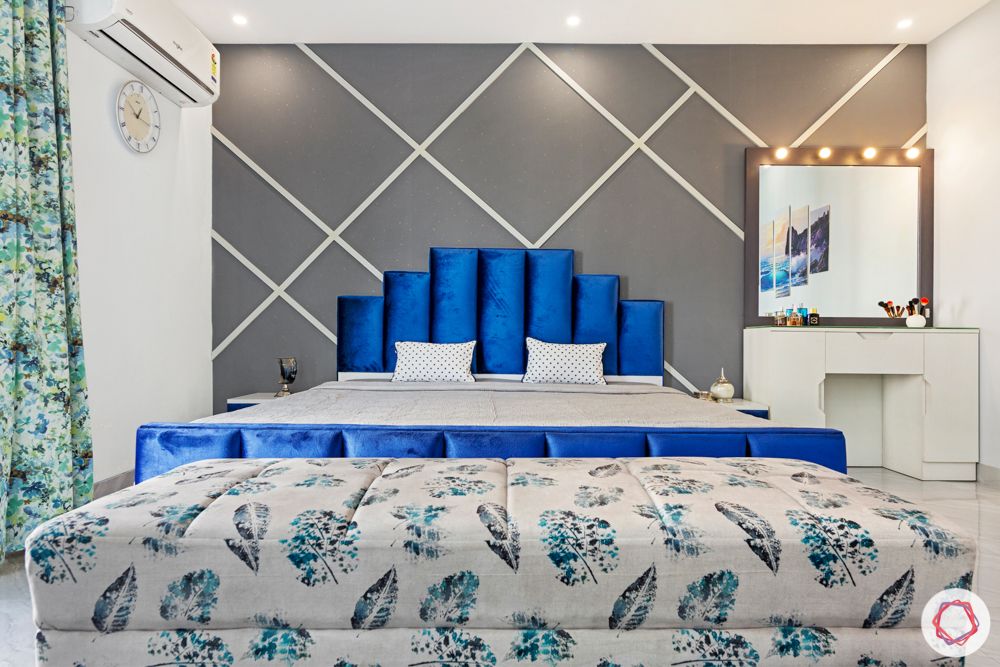 Gaurav was given the challenging task of designing a 4BHK home design where two rooms have walls that were damaged by water seepage. Consequently, he has transformed these damp walls into accent walls with his creative design. After treating the walls for water seepage, Gaurav installed bison board panelling for a more permanent solution and opted for a textured wallpaper in a contrasting grey colour for the master bedroom. To this, he has added MDF strips for a modern look.
However, Aarushi's room was designed differently. Keeping the purple theme in mind, Gaurav has opted for a floral wallpaper and wall trims for the bison board wall.
Using Gold-coloured Elements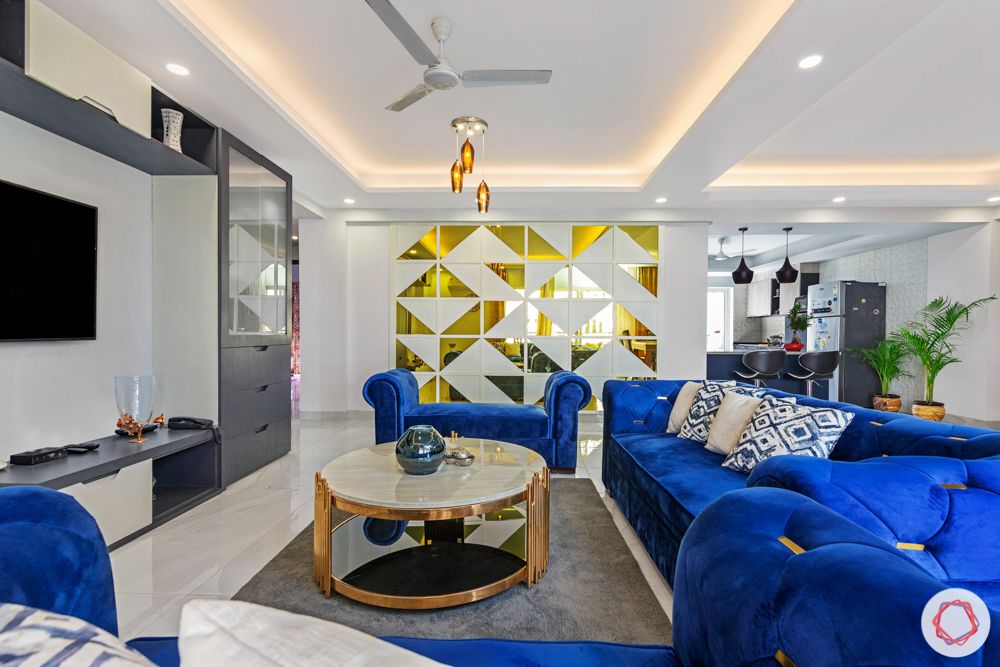 Vinay and his family wanted their interiors to match their existing hardware. Subsequently, Gaurav wanted the home to have a dash of pizzaz by using plenty of gold and brass elements. The feature wall in the living room is made of MDF and gold mirror panels. Furthermore, as you enter the home, you can see an eye-catching MDF jaali in gold duco paint. There's more to this striking addition than meets the eye. It creates an entryway while keeping the bar unit out of sight from the entrance. These striking additions also include the pendant lights and chandeliers.
End-to-end Storage Solutions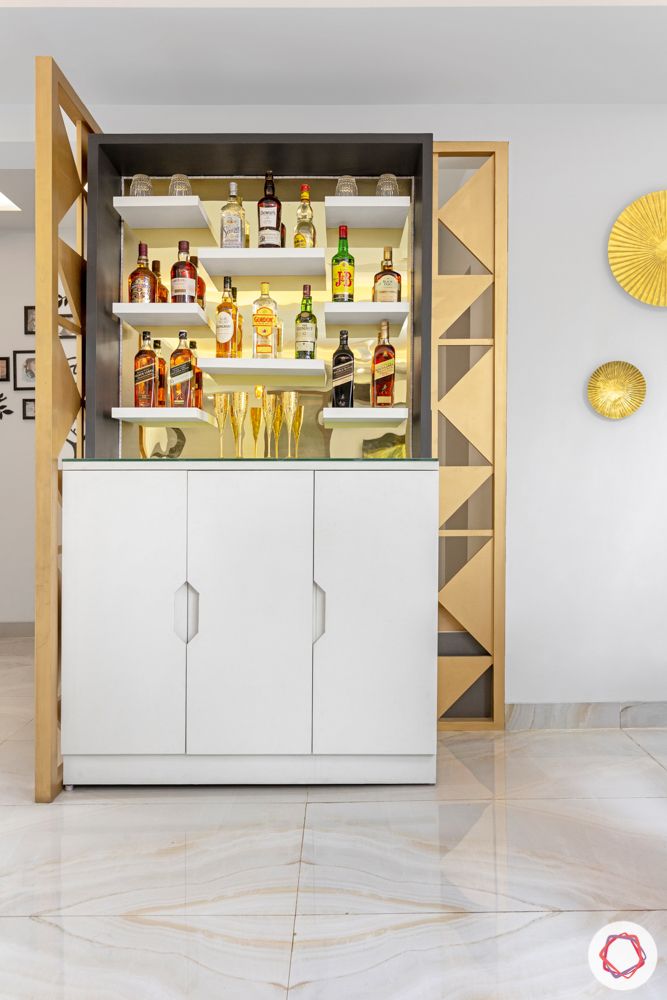 From the basic bar unit cabinets to the maximal walk-in closet, this home is fully equipped with storage. Gaurav has designed custom-made wardrobes, units and shelves in every room. Moreover, for a durable option, the wardrobes are in MDF laminate.
Designing a Desi-themed Room with Durable Furniture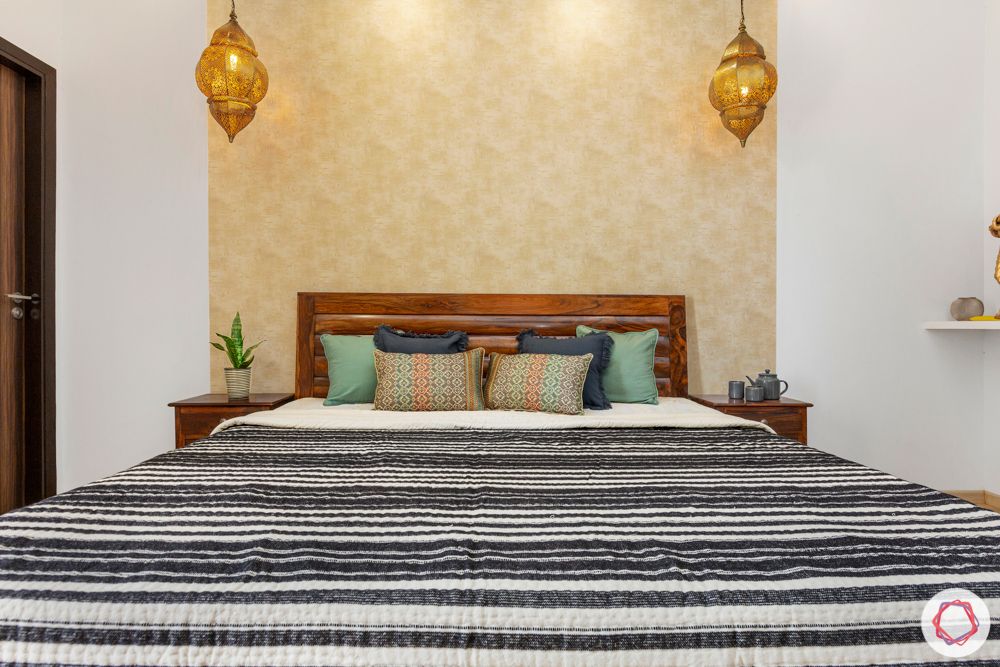 Unlike the rest of the home, the guest bedroom called for a desi theme. Vinay and Gaurav agreed on a timeless and old world charm for this room. Therefore, all the furniture is in sheesham wood with a complementary textured wallpaper in rich gold colour. A grand addition is the custom-made floating pooja unit that is made of solid  sheesham wood. Along with this, the wall has floating shelves, wall trims and patterned wallpaper.
"Vinay Kumar and his family were very accomodating through the entire design process and gave me a great deal of freedom.They were also very clear with their requirements that made the process all the easier. I have given them stylish yet durable interiors."
–Gaurav Chaudhary, Interior Designer, Livspace
If you enjoyed reading about this Gurgaon home, take a look at Easy-to-maintain & Classy 2BHK
Send in your comments and suggestions.