2 BHK interior design with noteworthy colours and fabrics!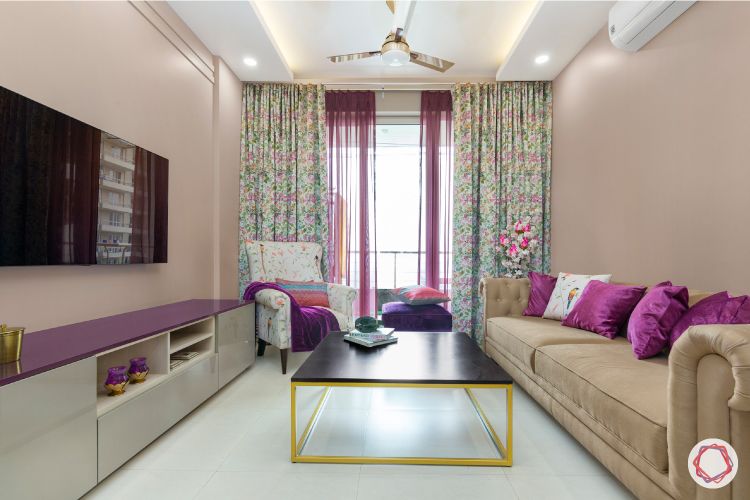 ---
Who livs here: Anisha with her husband Shekhar
Location: Indiabulls Centrum Park, Gurgaon
Size of home: A 2BHK spanning 1,450 sq ft approx.
Design team: Interior Designer Megha Kedia and Project Manager Rajesh Yadav
Livspace service: Full home design
Budget: ₹₹₹₹₹
---
Rich textures, stunning wall treatments, modular solutions, smart storage and pet-friendly upholstery — these are all the requirements that Anisha and Shekhar came with. And since they told us that this was their first home together, we wanted to make it a place they could cherish for a lifetime. Although Anisha knew exactly what she wanted, she was open to ideas and that's exactly why Livspace designers are here for. They give you the right mix of what you want and their expertise.
This couple has a fluffy labrador and they wanted upholstery that could be cleaned easily. Therefore, Megha, their designer made sure she gave them fabrics that could be swiped clean. Also, you will notice that this home features stylish accent walls and extra seating options in every room. Megha gave them glossy acrylic finishes and mirrors that reflect light everywhere so that the space looks bigger and shines like a star.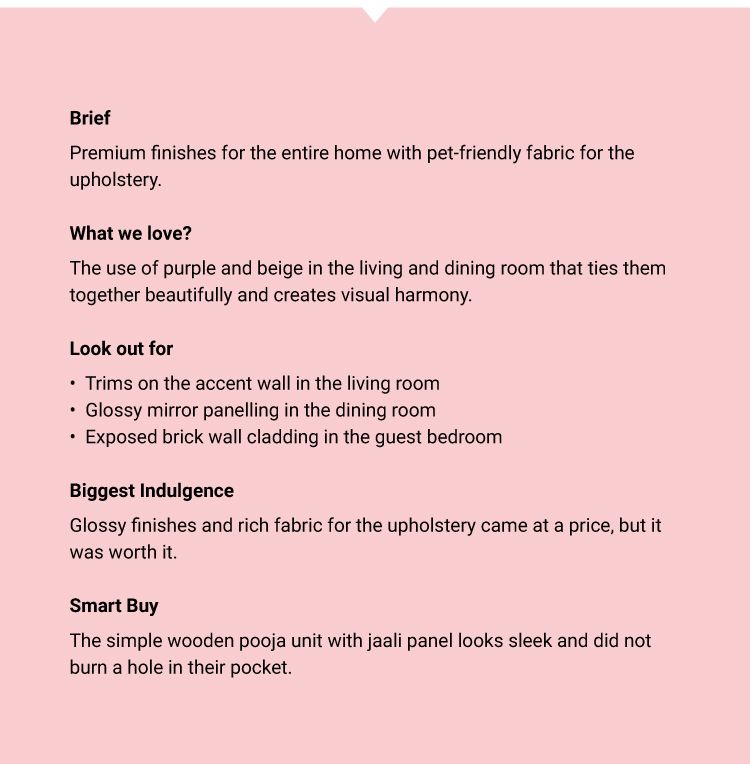 A look at the aerial view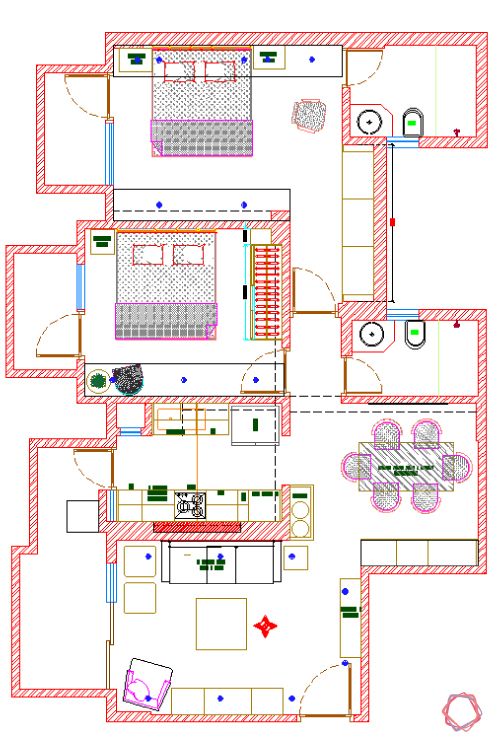 Unique colour combination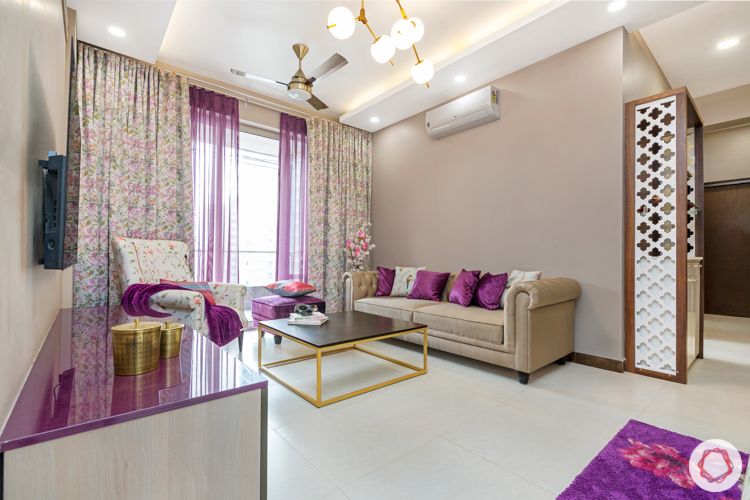 If you notice carefully, Megha has used the same colour combination for the living room, dining room and the kitchen. Rich plum purple and beige rules these areas in this 2 BHK interior design. The 3-seater Cassandra in peach has a wonderful sheen and she paired it with purple ottomans that can be used as extra seating or leg rest. The same colour continues to the dining area with purple and beige chairs in fine velvet upholstery.
Statement wall treatments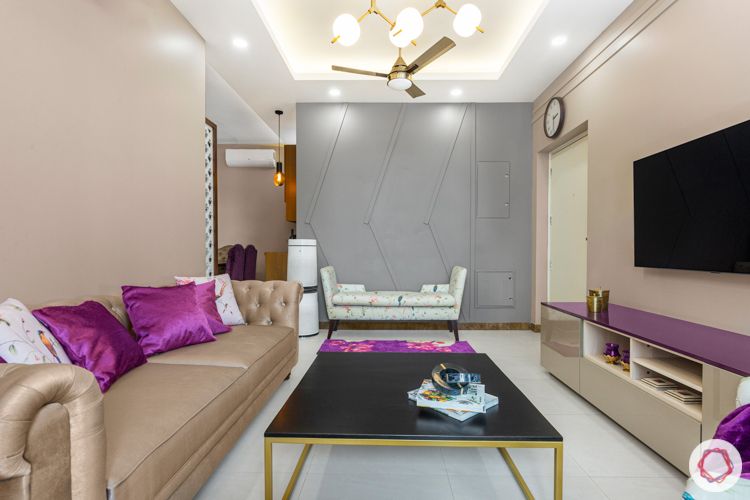 The moment you step into this stunning home you notice this classy grey wall, which the designer says is trending at the moment and everyone wants it. She has enhanced this colour by adding flat trims on the wall that resemble arrows marks.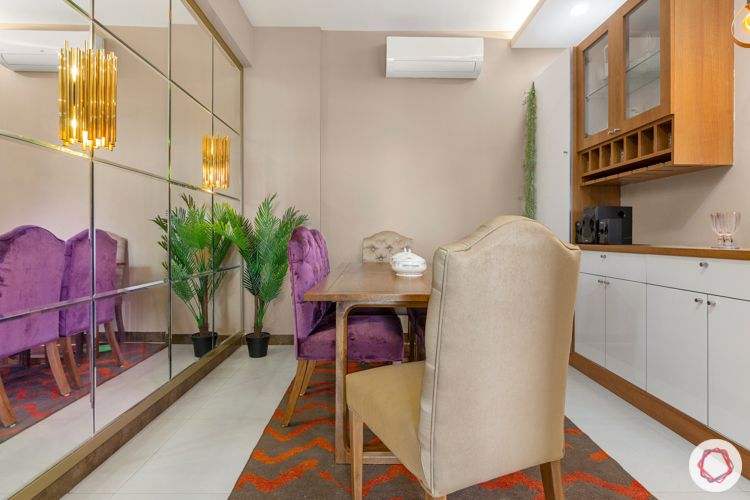 The dining room on the other hand sports this shiny mirror cladded wall. Megha chose classic squares for this one and it is placed strategically, such that the crockery unit is entirely reflected in it. So, even though this space is compact, the mirror wall gives the illusion of a larger area.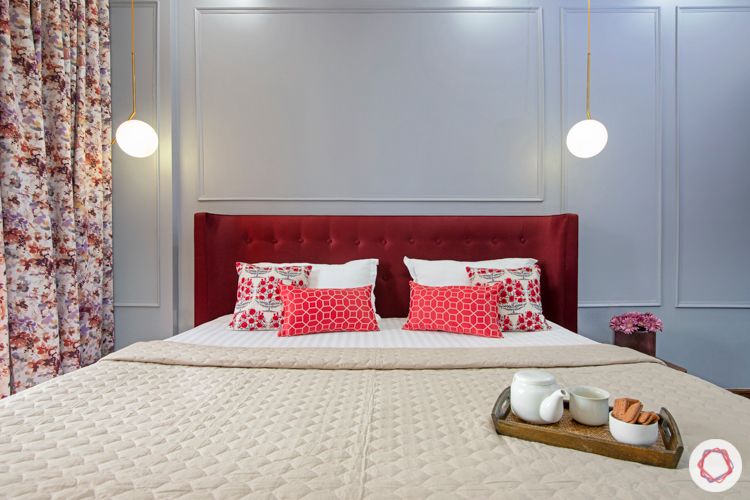 Moving on to the walls in the master bedroom. Megha has maintained certain continuity in colour scheme and given the couple the same grey for their bedroom. But this time around she chose regular wall trims in the shape of frames.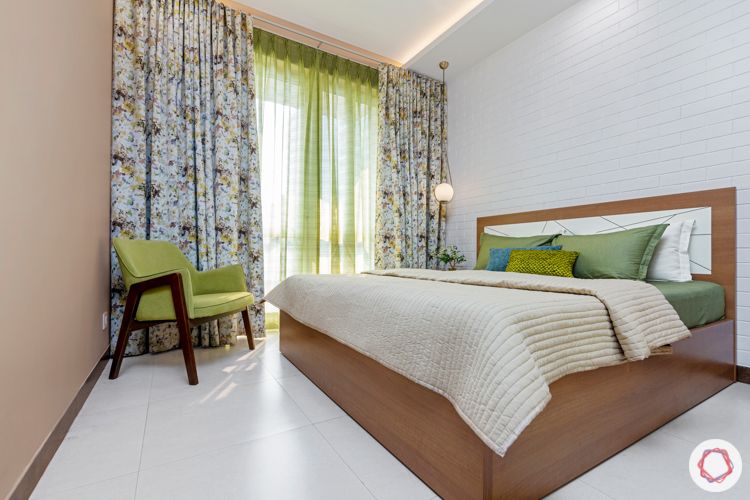 And finally the headboard wall in the guest bedroom flaunts an exposed brick wall with white paint on it. This is an all-time favourite with many of our clients and we love it!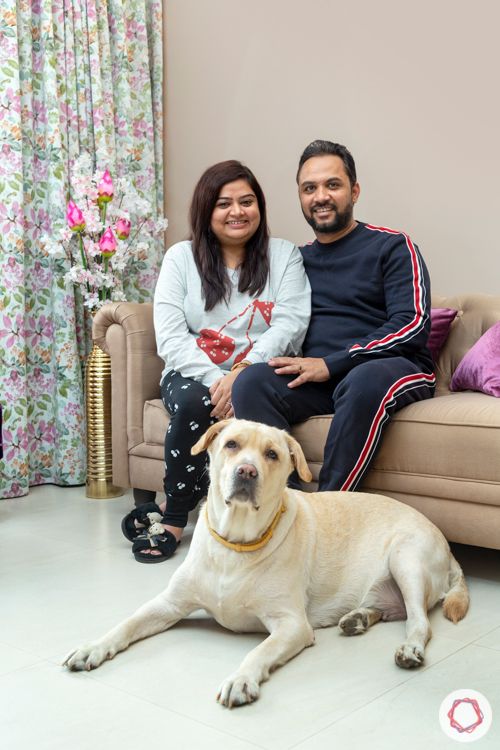 "We wanted our home to have the perfect balance of simplicity and elegance with modern aesthetics, which we felt would be a difficult task. But with Megha, our designer it turned out to be pretty simple. She is very patient and lent an ear to all my ideas before zeroing in on the best ones. We connected with each other in our first meeting itself and we knew that we will get what we were looking for. And we want to thank Megha and the entire team at Livspace for this!"

-Anisha, Livspace Homeowner

Functional modular solutions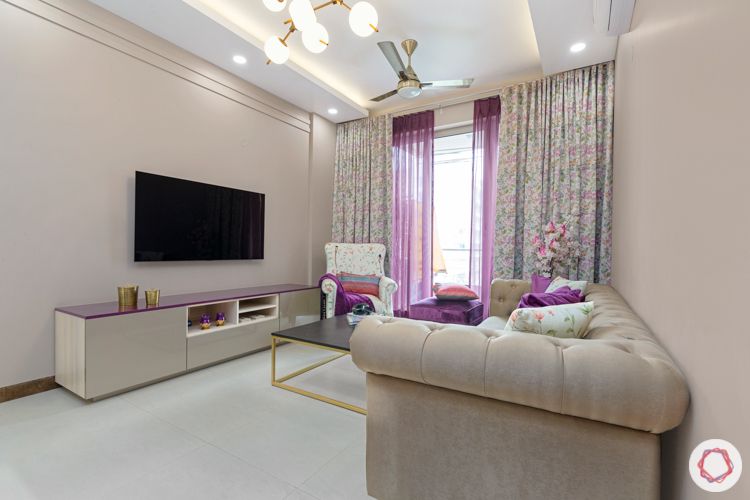 The TV unit is a modular piece which the couple really wanted for their living room. With metallic beige as the base and violet on the top, this anti-scratch acrylic finish unit matches the colour scheme of this home. Also, this means that the floof cannot cause any damage to the furniture!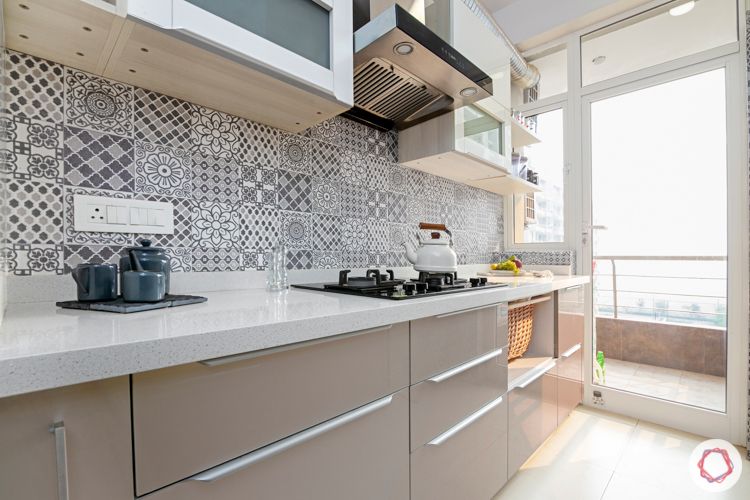 The kitchen in this 2 BHK interior design is a fully modular one with accessories that every kitchen should have. Since Anisha uses this kitchen to cook herself, she wanted it to be super functional and easy-to-use space. So Megha filled it up with drawers, pull-outs, corner units, overhead storage and a wicker basket. Aesthetics have also been maintained, with kalinga stone for the countertop and Moroccan pattern tiles for the backsplash.
Customised for the couple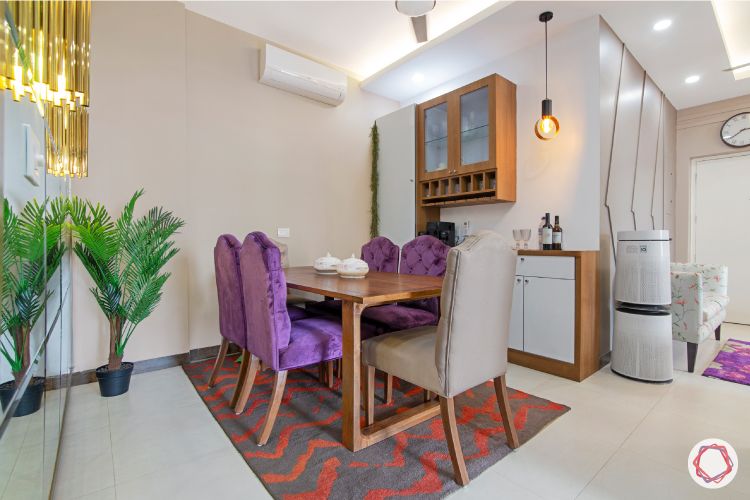 Something that both Anisha and Shekhar wanted was this crockery unit that doubles up as a bar unit. They wanted specific sections like wine racks, glass racks, glass shutter cabinets and a little bit of storage. Therefore, Megha customised this unit for them to make it as per their requirements.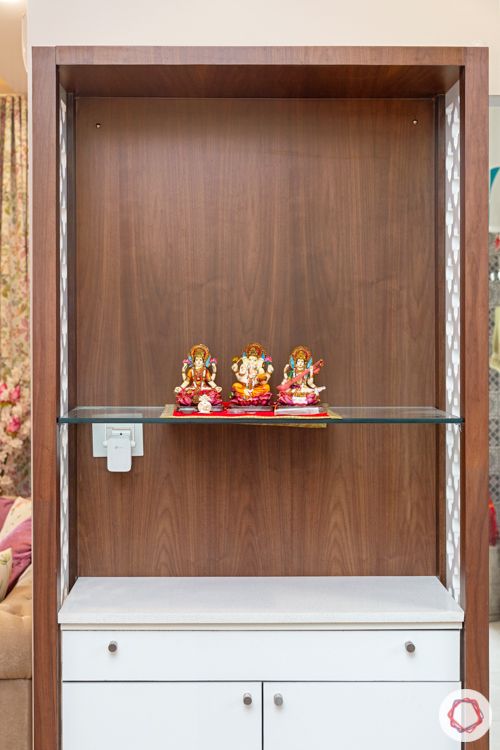 The pooja unit in the hallway is so sleek that it could fit the tiniest of spaces. It occupies just a section of the wall and is built in wood. MDF jaali panels on either side decorate this simple unit that comes with storage at the bottom.
Glossy finishes and lighting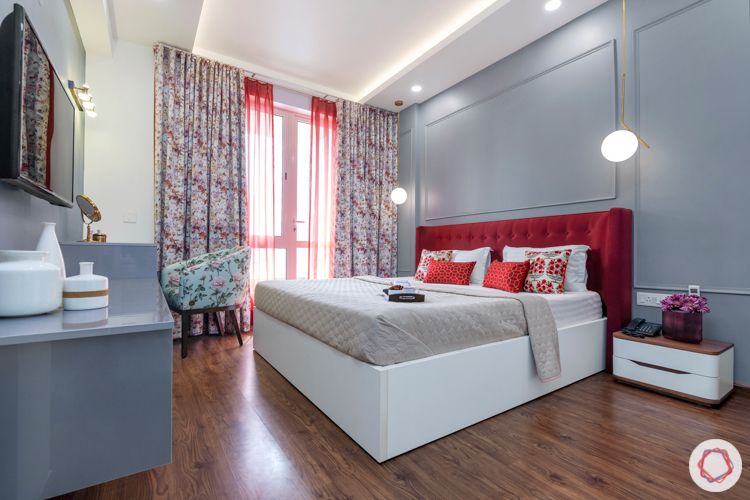 As we have already established that this couple has very elegant taste in interiors and they wanted glossy finishes, this is put on full display in their master bedroom. The TV unit and the wardrobes are finished in acrylic that is known for its sheen. Also, do not miss the minimal pendant lights on the bedside and track lights on the study table that double up as task lighting.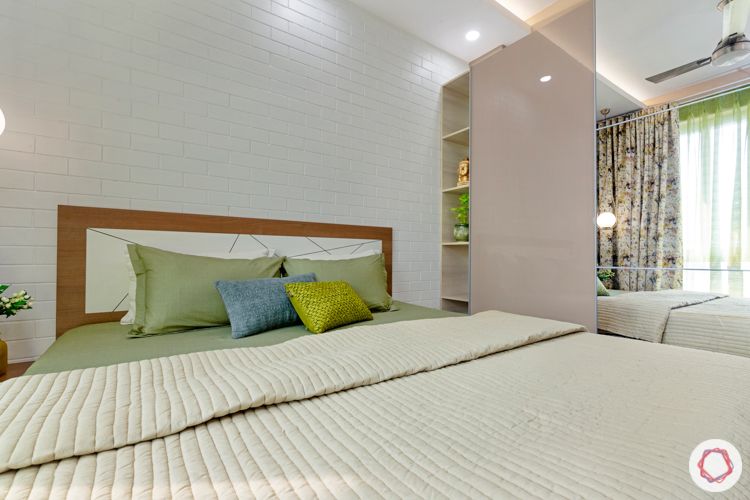 The guest bedroom which is used by their parents when they are visiting the couple scores full marks on style. We love how the glossy sliding door wardrobes combine storage and display with ease. And the oh-so-cute hanging lights add to the ambience here!
---
"It was a fulfilling experience to design for Anisha and Shekhar, since they allowed me to work independently. They were also very clear about what they wanted and the kind of lifestyle they wanted to lead, which made things easier for me. I have given them fabric that is easy to maintain and looks lovely as well!"

-Megha Kedia, Interior Designer, Livspace
---
Did you enjoy looking at this stylish home? Then you might enjoy this as well: 3BHK Goes Modern on a Budget.
Send in your comments and suggestions.