A simple house design in Gurgaon that's bound to capture your interest!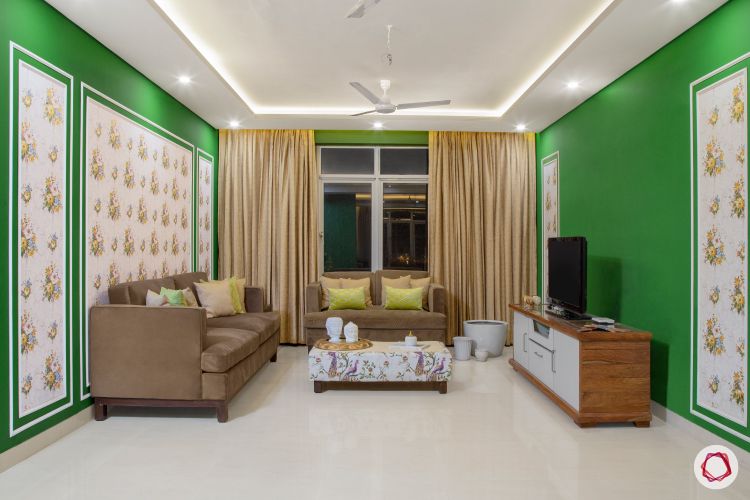 ---
Who livs here: Sudhansu Maharana with his wife Megha and two kids
Location: Raheja Navodya, Sector 92, Gurgaon
Size of home: A 4BHK spanning 3,100 sq ft approx.
Design team: Interior Designer Komal Gaur with Quality Manager Tarun Suri
Livspace service: Full home design
Budget: ₹₹₹₹₹
---
This lovely family of four has a near-perfect life. The parents go to work and kids go to school and pursue extracurricular activities post that. In the evenings, they congregate at home and spend some quality time before retiring to bed. They also had a desire to do up their spacious home with utmost detailing for even the corners. However, that can be a daunting task to do it all by yourself. That's where we come in! In conversation with this couple, we discovered some delightful things about them.
Sudhansu loves all things neutral and warm, Megha loves infusing colour into their home and lives. Given the daunting task at hand, there was never a moment where decision-making was tough — thanks to the amazing understanding between the two. Their designer, Komal Gaur injected life into their interiors, while making sure that each one of them get to have their way. Some fun conversations, quick decisions and lovely understanding between everyone led to this simple but striking home design in Gurgaon.
Sap Green Living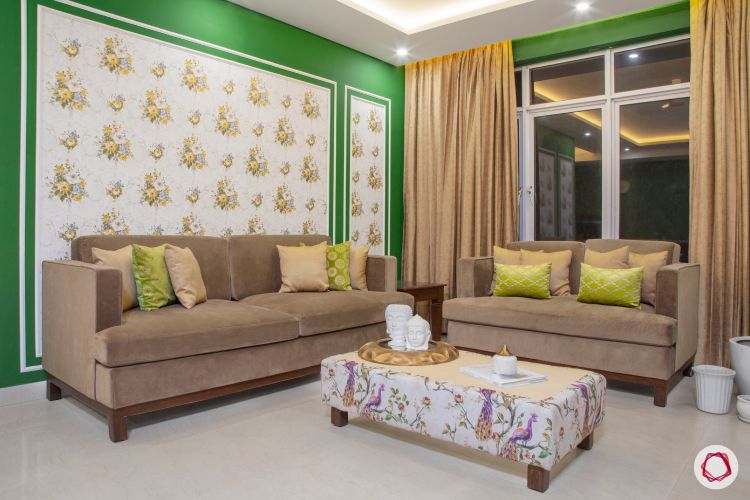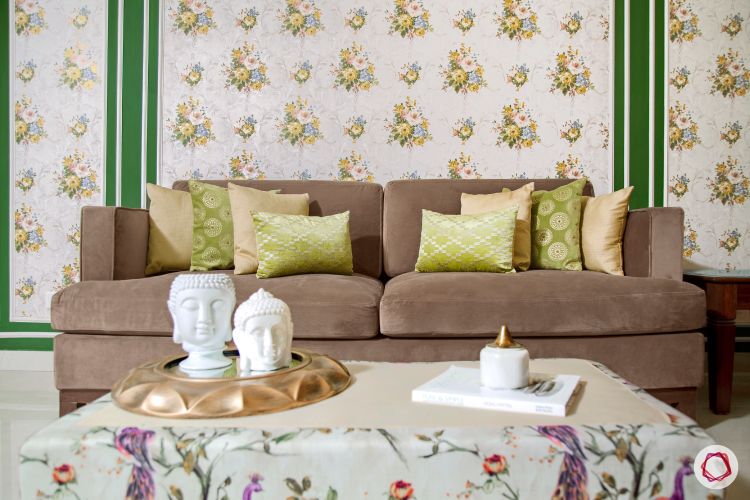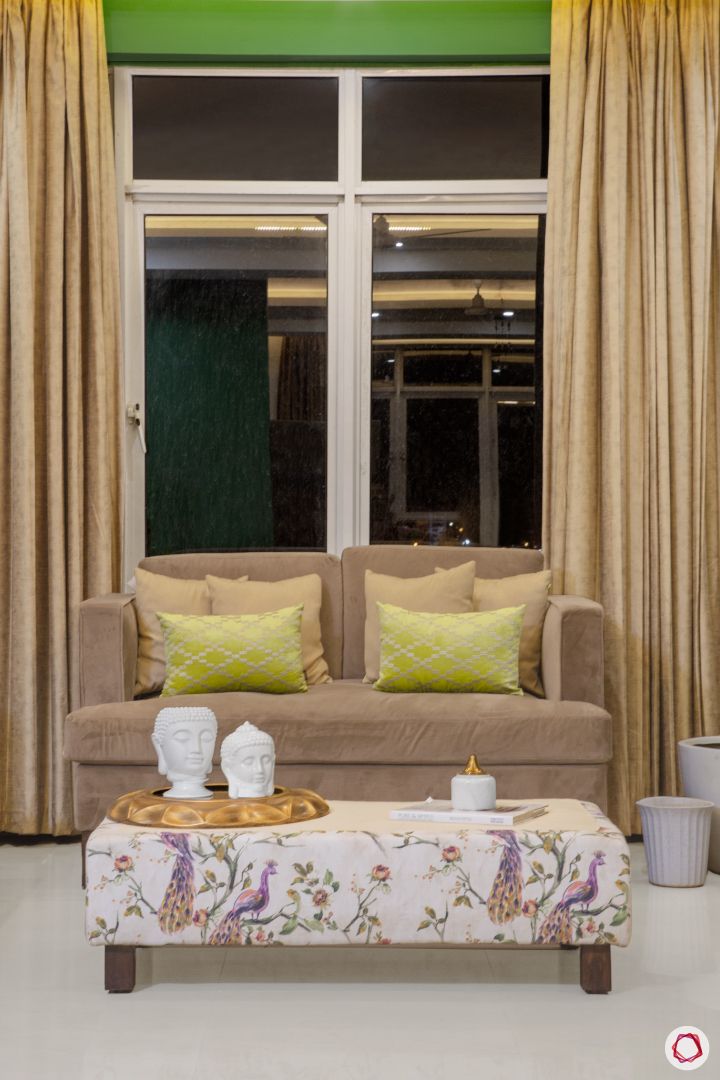 The living room in this apartment flawlessly brings together amazing eclectic design elements. The sofas wear a perfect shade of warm brown paired with a lovely peacock print upholstered coffee table. The walls pop with a bright shade of green with attractive trims on it. To make things interesting, Komal gave them a floral wallpaper to go with the theme of the room. The TV unit is a simple floor standing version with cabinets and shelves for storing items.

Quiet divine corner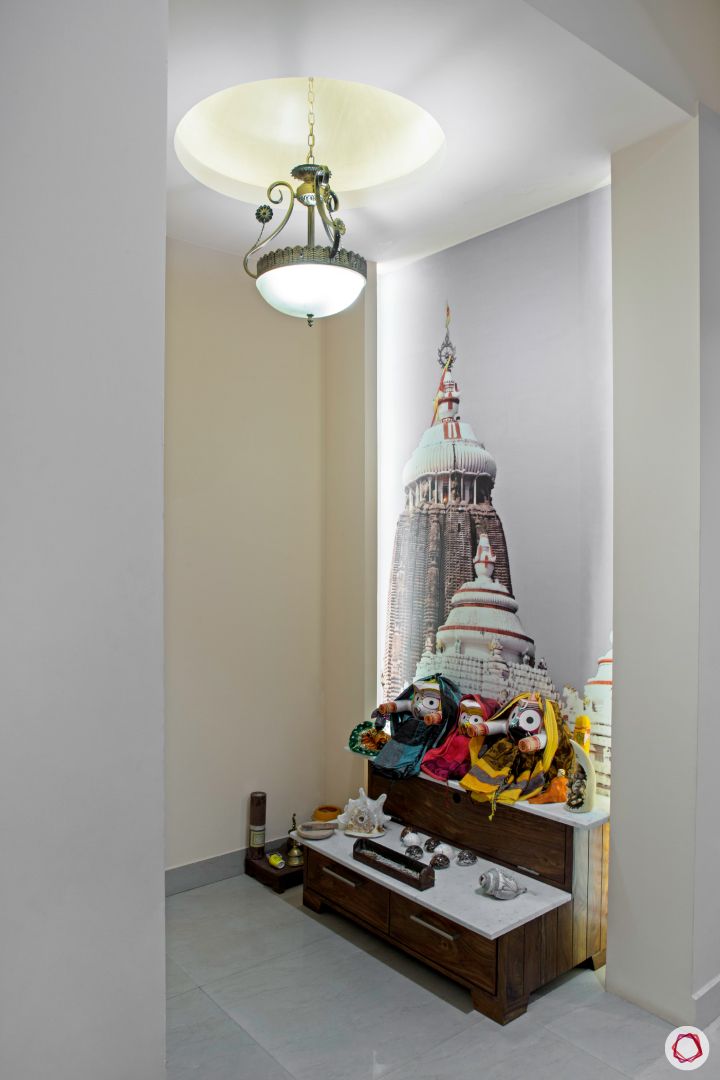 Sudhansu hails from Orissa and therefore he was very keen on having the Jagannath Puri temple wallpaper for their pooja corner and Komal got it customised for the couple. With a sleek pooja unit and LED strip light running around the wallpaper, this corner looks heavenly.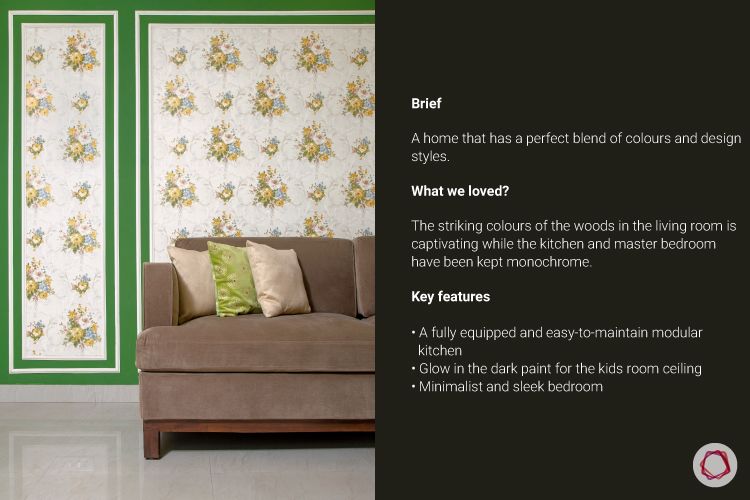 Monochrome magic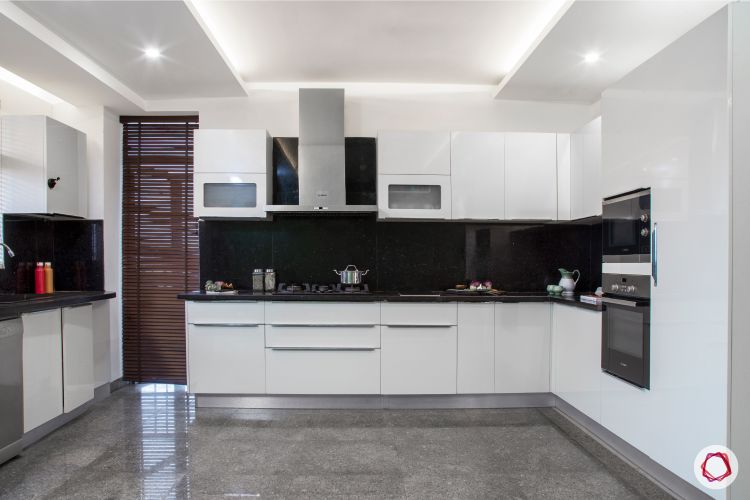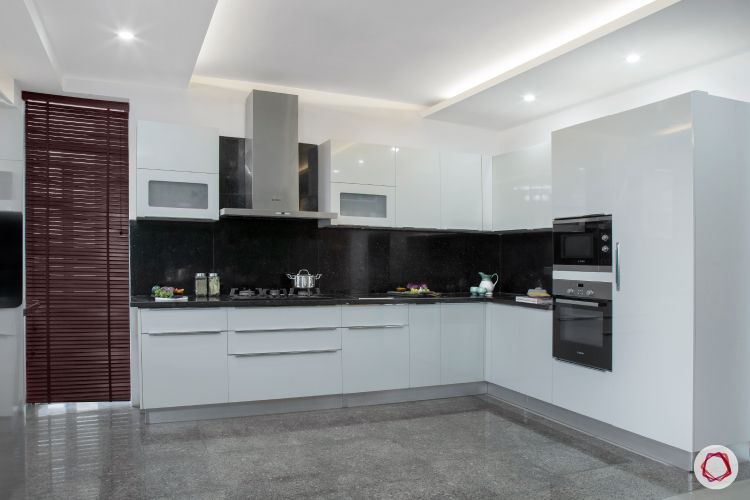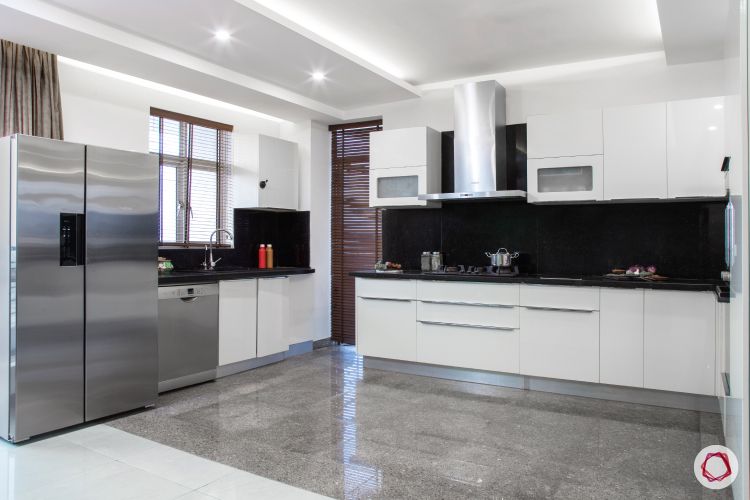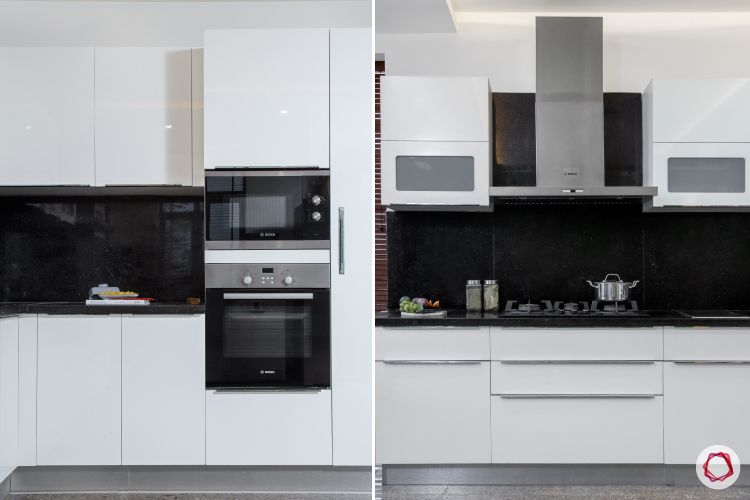 The kitchen is one room in this home that experiences a lot of activity. With both, Megha and Sudhansu, being lovers of cooking, they wanted a fully equipped modular kitchen. A monochrome kitchen is what both of them chose and to make it easy to maintain, Komal gave them a black granite countertop extended to the backsplash.
Tandem boxes, cutlery units, bottle pull-outs, corner units, drawers, cabinets, ladder shelves, frosted glass shutter units, built-in microwave unit, dishwasher and so on. You name it and this kitchen has it!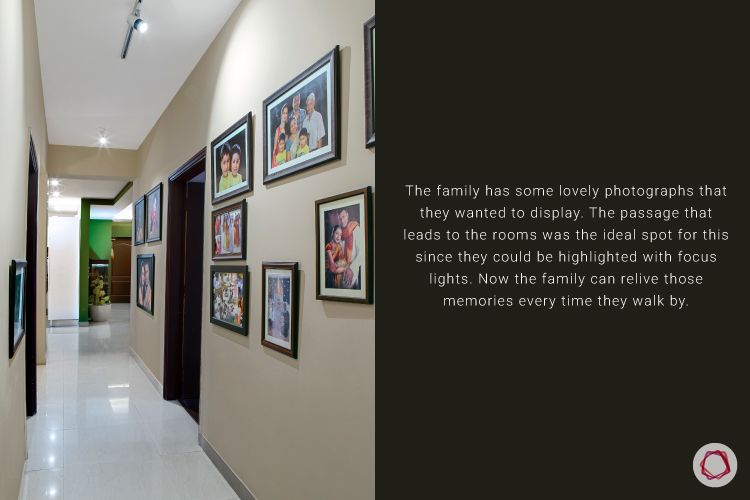 Serene interiors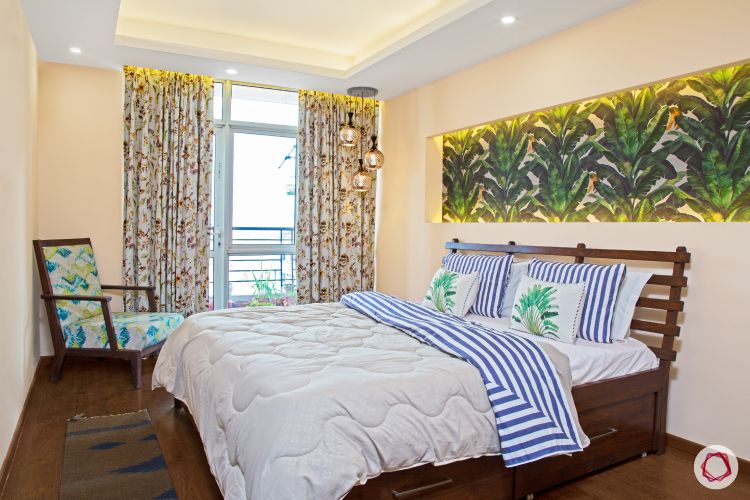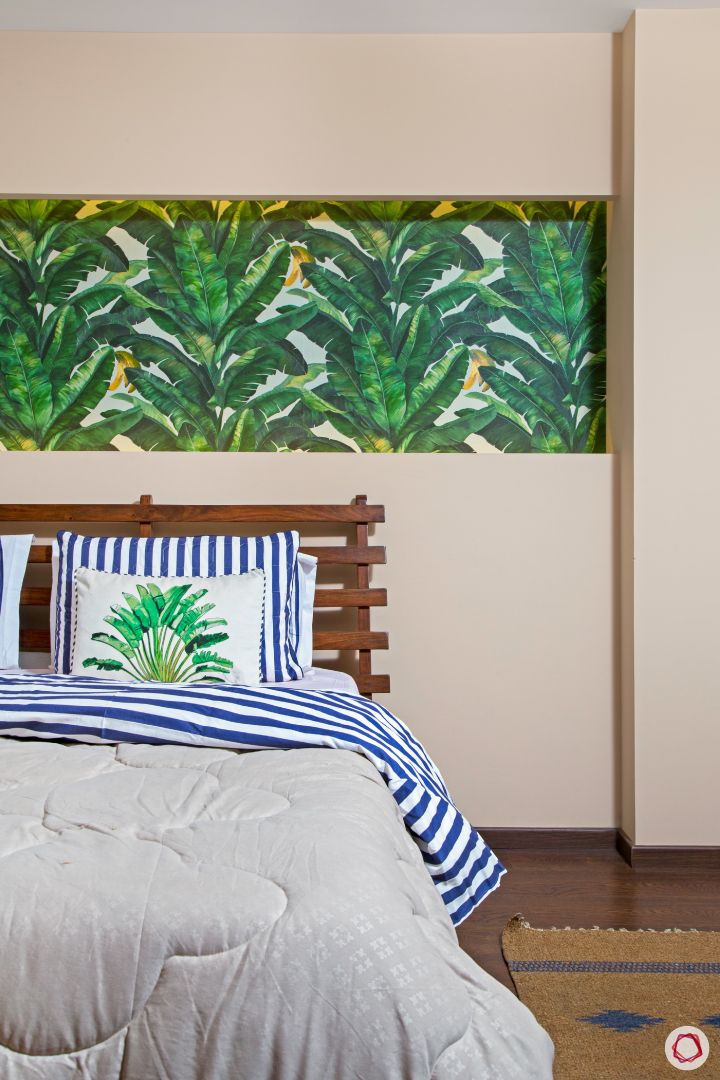 There are very few rooms that create a striking first impression. The parents room is one such room in this apartment that is so minimal and yet so distinct. The couple wanted to keep this room simple, so Komal created a niche in the headboard wall and put a paint-feel wallpaper there. To make things a little more interesting, she put LED strips around it and highlighted the niche with cove lighting. A comfortable accent chair makes sure that they can sit back and relax in the comfort of their bedroom.
Creative kids room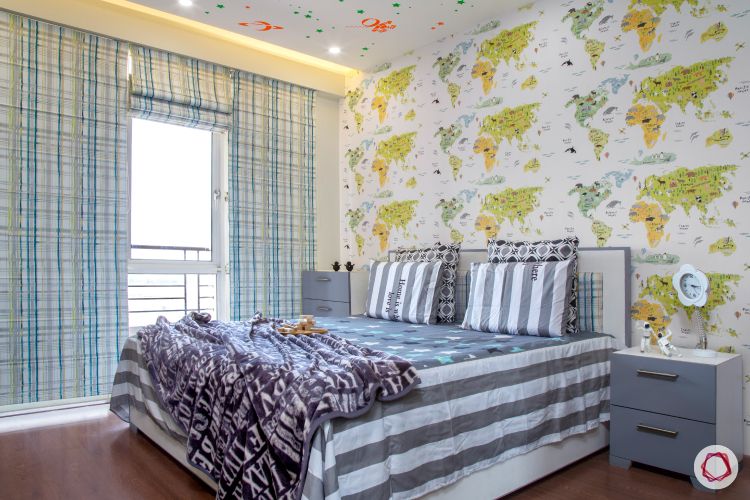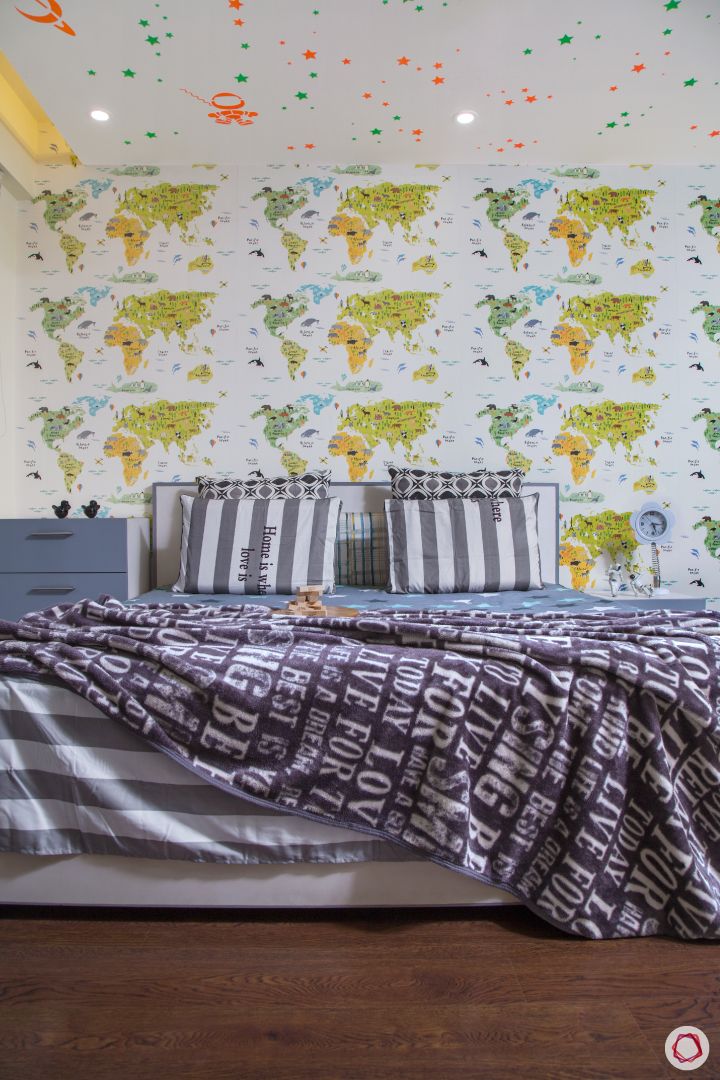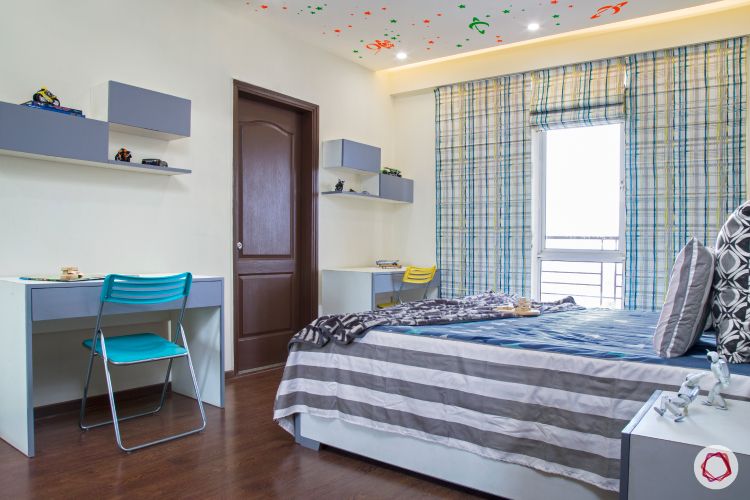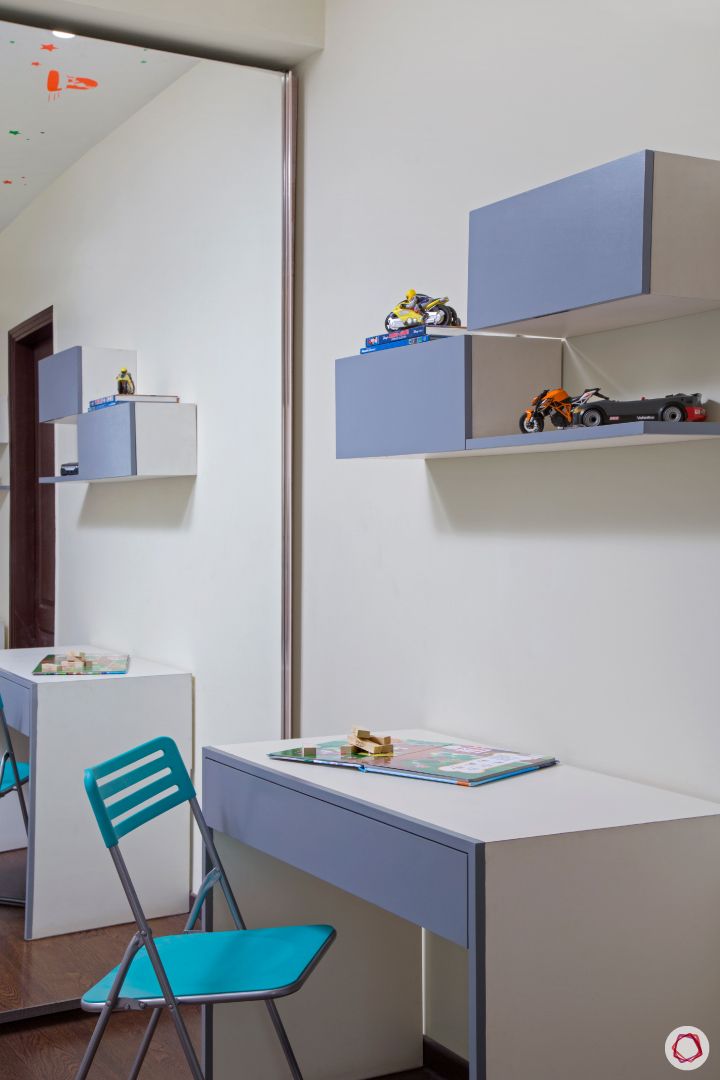 There are two very active and upbeat boys in this home and they totally deserve to have a room that lets them study, play and run their imagination wild. Mummy, Megha, was very keen on getting a quirky world map wallpaper for her boys and a glow-in-the-dark wallpaper for the ceiling. The rest of the colours were kept simple, with grey and white playing with each other. Two separate study tables with shelves and cabinets help them display their cars and toys.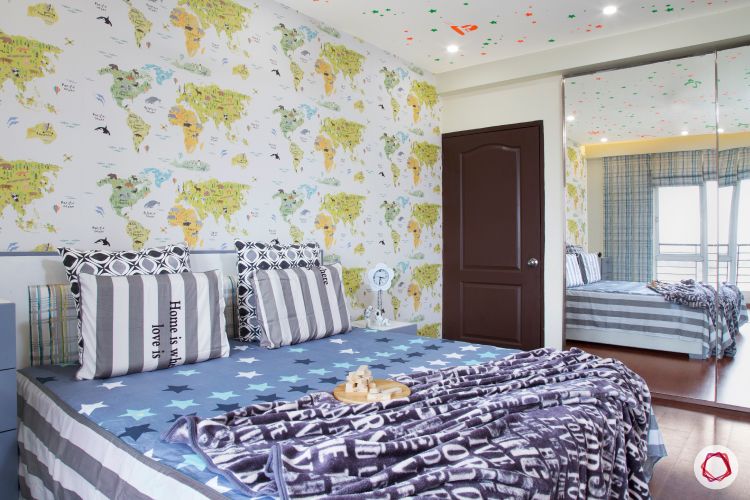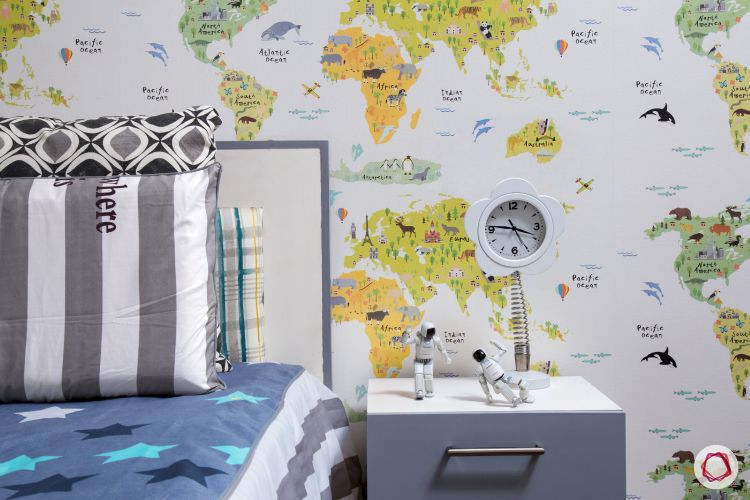 In conversation with Megha, we discovered that this is her favourite room for more than one reason.
Fun fact: She was bent upon getting a fully mirrored wardrobe for her kids, even though they ran a risk of damaging it. Why, you ask? She wanted one full length mirror for times when she wanted to wear a saree! She can be found spending most of her free time here, staring at the stars on the ceiling and escaping into a dreamworld.
A classic impression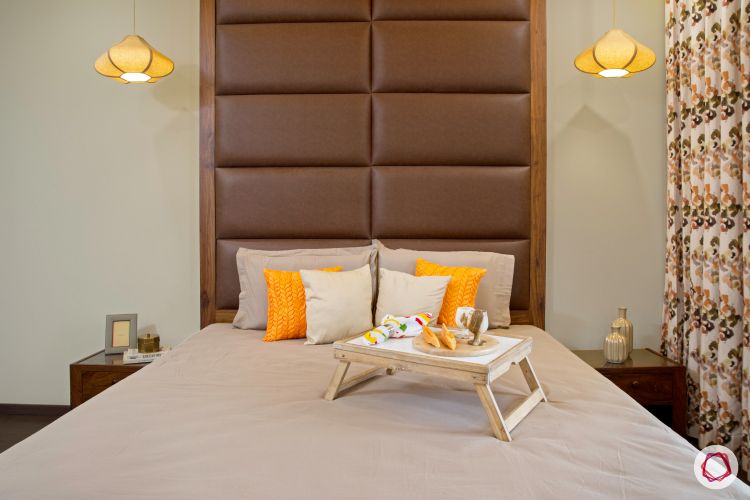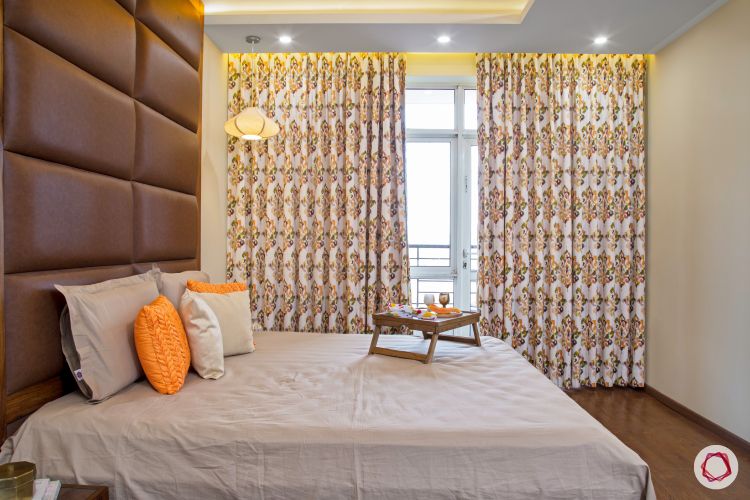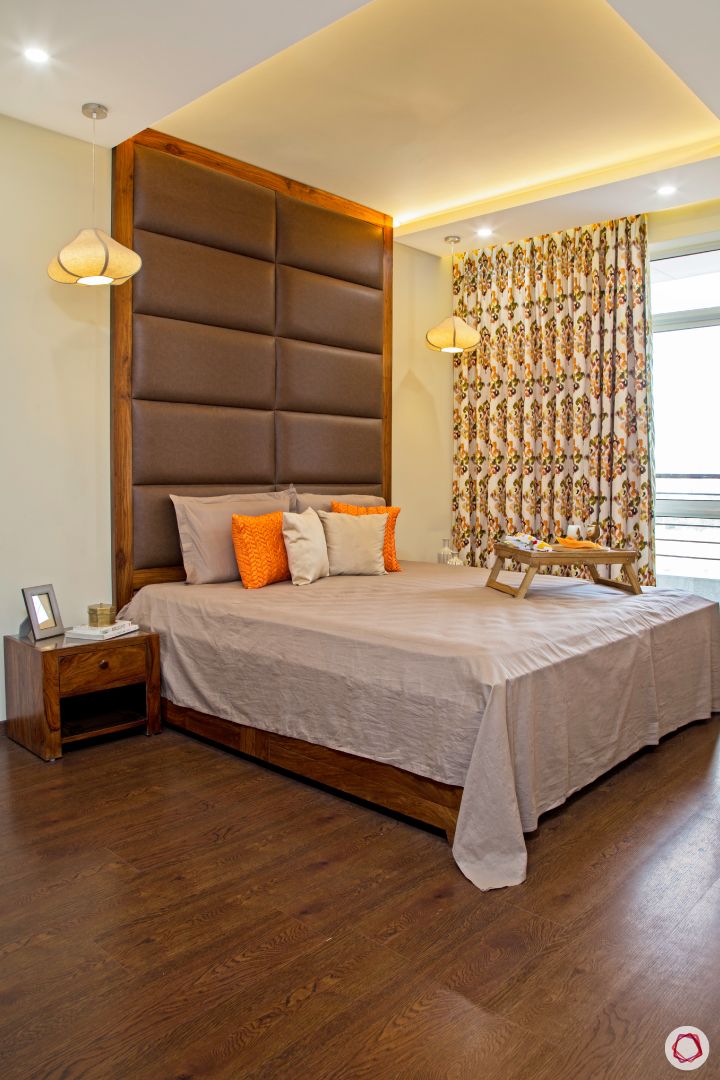 The master bedroom is a complete vision of Sudhansu, since Megha got to choose colours for the living and the kids room. Brown and wood are his two favourites and he wanted to design the bedroom using these only. The result is a huge leatherette upholstered headboard paired with a warm wood finish bed and solid wood flooring. The high pendant lights make sure that the boys don't knock them off while playing around.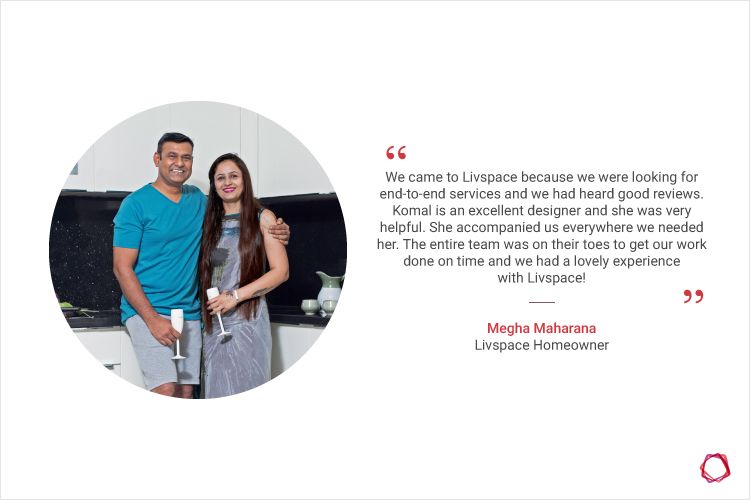 ---
"This is one of the most lovable and joyful families that I have worked with. They had diverse design preferences, but still everything fell in place beautifully. They came to us with a clear thought process and it was a complete pleasure to work and design for this family!"

– Komal Gaur, Interior Designer, Livspace
If you enjoyed reading this then you will definitely love the Fusion of Traditional & Contemporary Interiors for this 3BHK. Give it a read.
Send in your comments and suggestions.