If you love the elegance of earthy colours, rustic surfaces and regal furniture, then you will fall in love with this home at Apex Athena.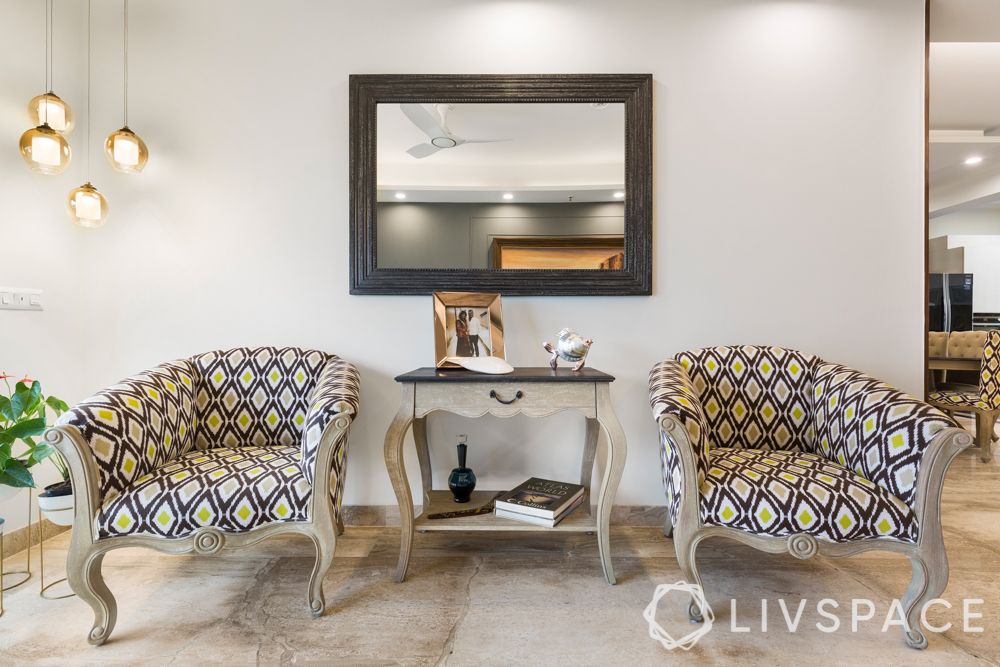 ---
Who livs here: Ritika Sawhney with her husband Ankur Chopra and their son Aarav
Location: Apex Athena, Sector 75, Noida
Size of home: 4BHK spanning 2,000 sq ft
Design team: Interior designer Megha Sobti with Project Manager Anil Singla
Livspace service: Full home design
Budget: ₹₹₹₹₹
---
Longing for a design that sweeps you off your feet? This 4BHK at Apex Athena is a class apart. For working professionals, Ritika Sawhney and Ankur Chopra, moving out of their old home meant moving on from old things. Ritika met her designer, Megha with a bunch of ideas that she'd collected over time. After all, this was going to be their dream home. I quizzed her about how she had such brilliant taste and she chirped that she has been hunting for all the right things for their new home for quite some time now—and you will see why.
Read on to find out how Megha and Ritika worked together to bring this unique home to life. As they say, it takes brilliant minds to create something stunning. With high spirits and confidence, Ritika handed over her bare home to Megha. And Megha took complete care of each little detail before giving it finishing touches. The result is in front of us.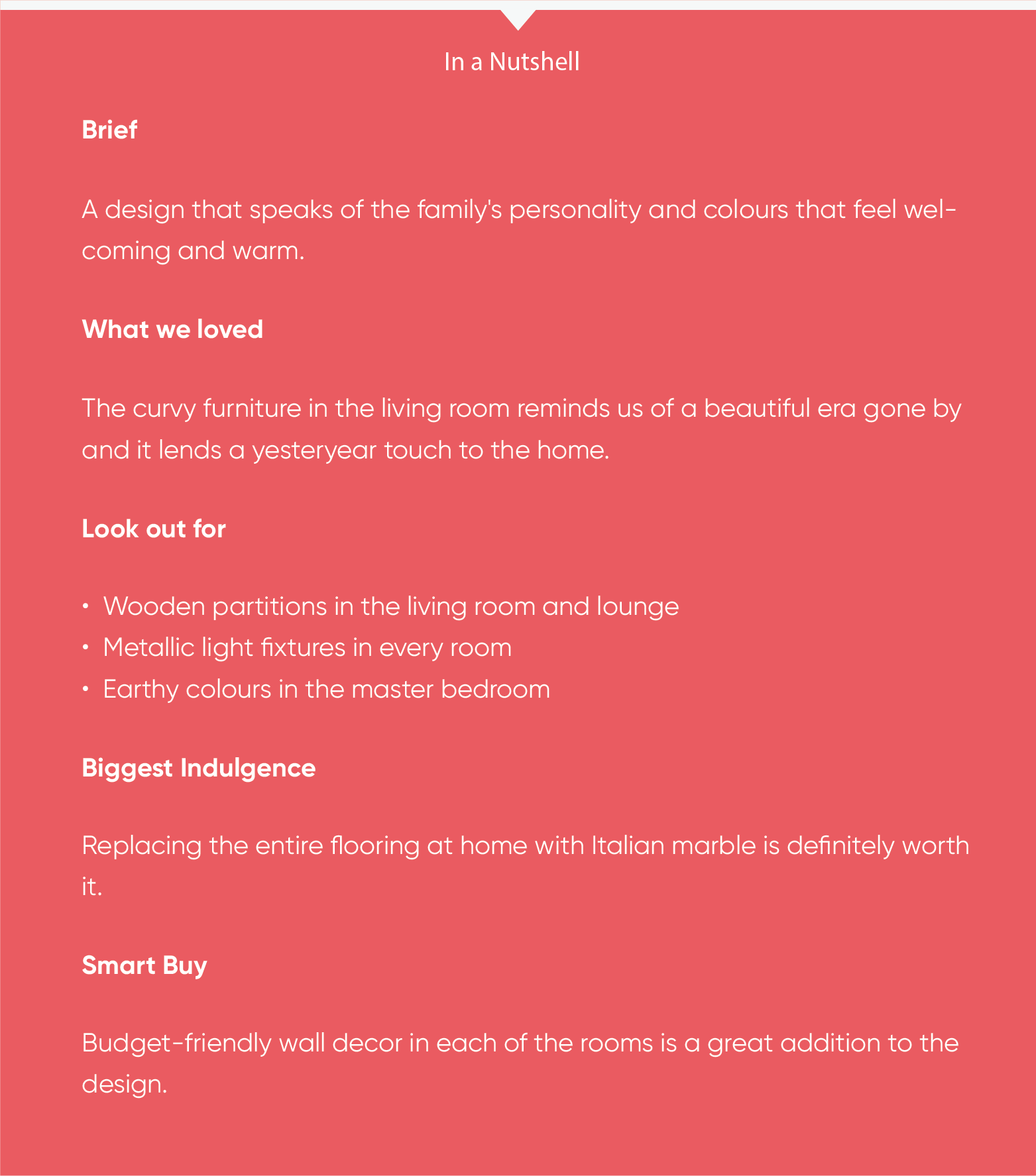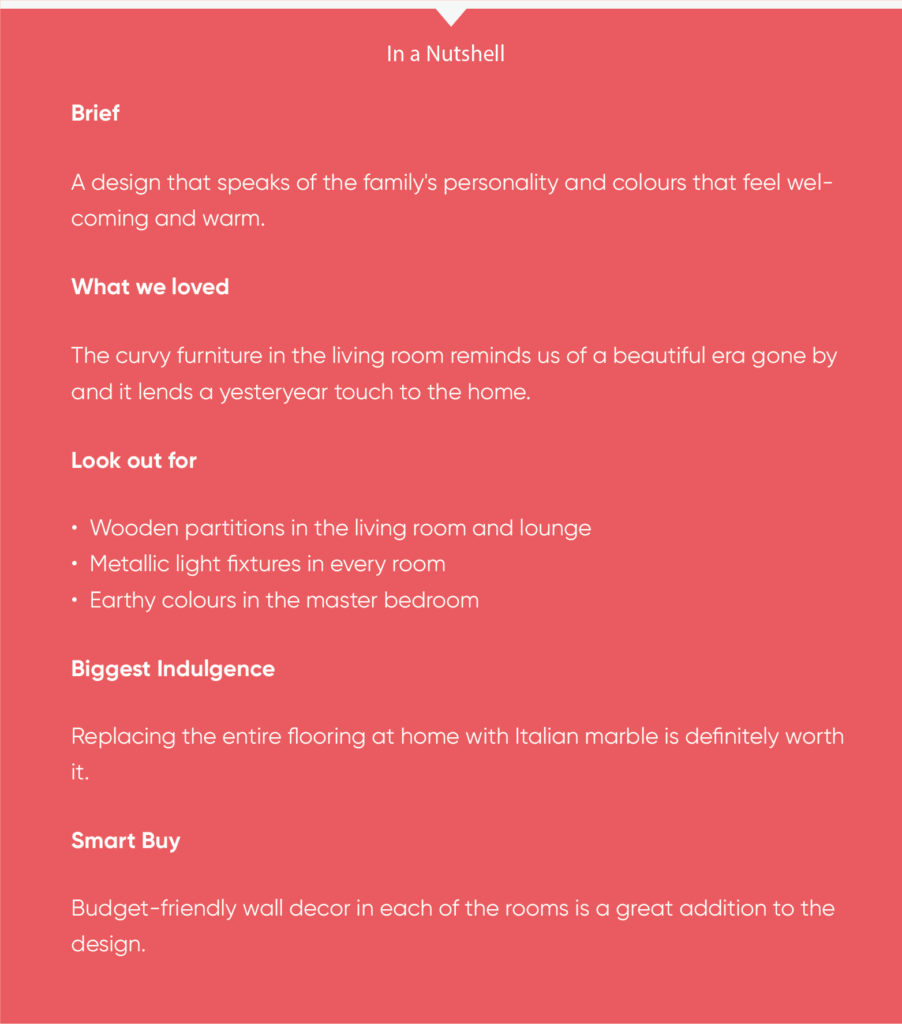 Let's look at the layout first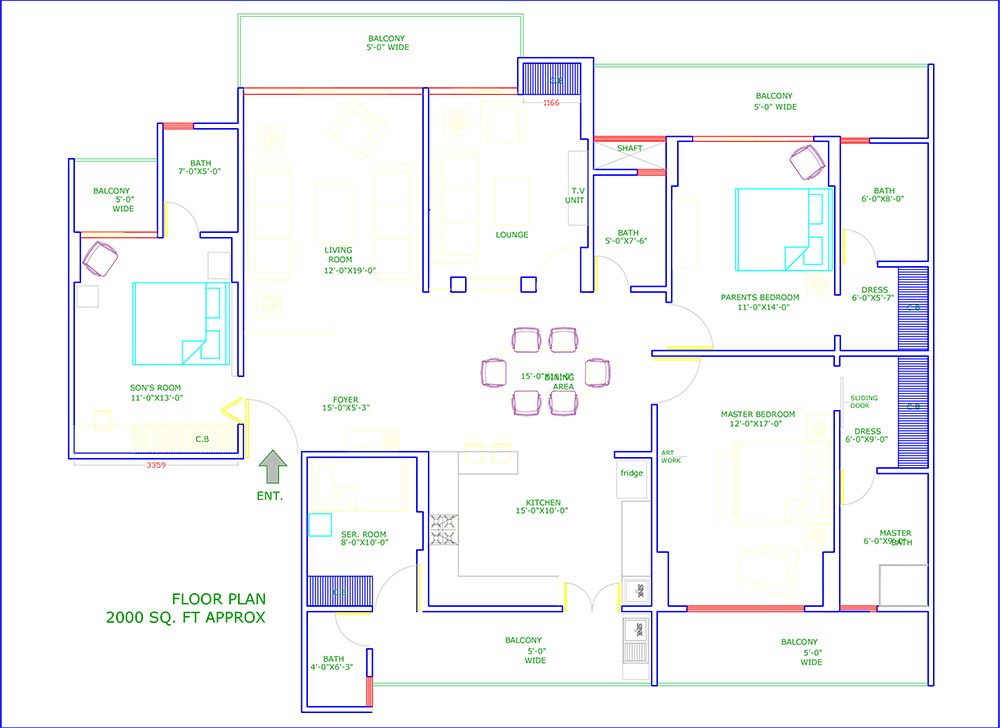 Once you look at the floor plan of this 4BHK, you will understand where each room is located. To the left of the entrance, you will see their son, Aarav's bedroom and in front, you can see the living room and the lounge. Right opposite to the living room is the open kitchen and the dining room. Next to that are the rest of the bedrooms.
Welcome home to carved, curvy furniture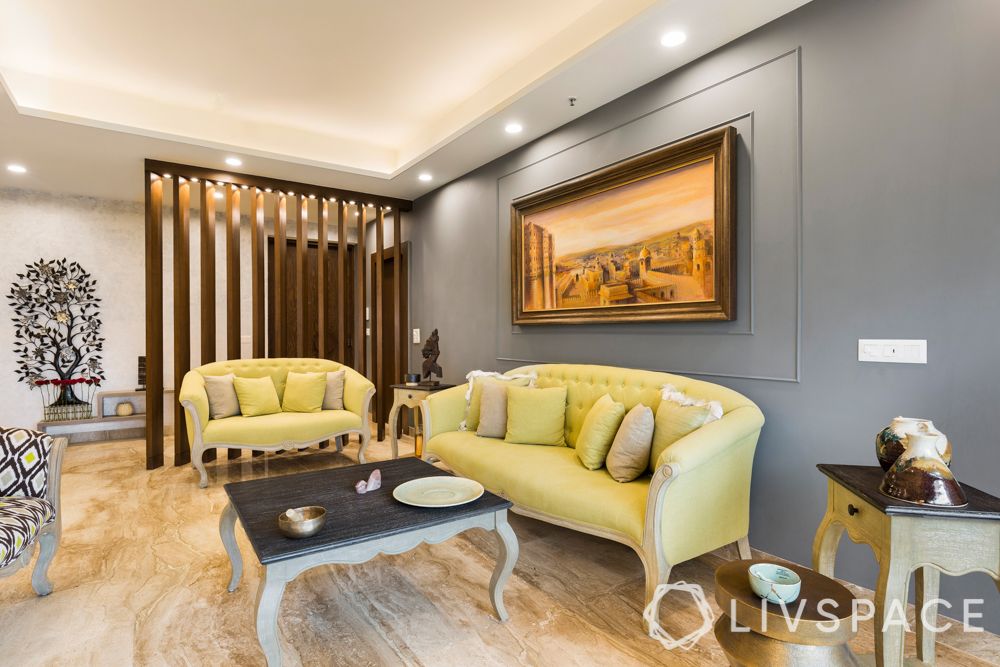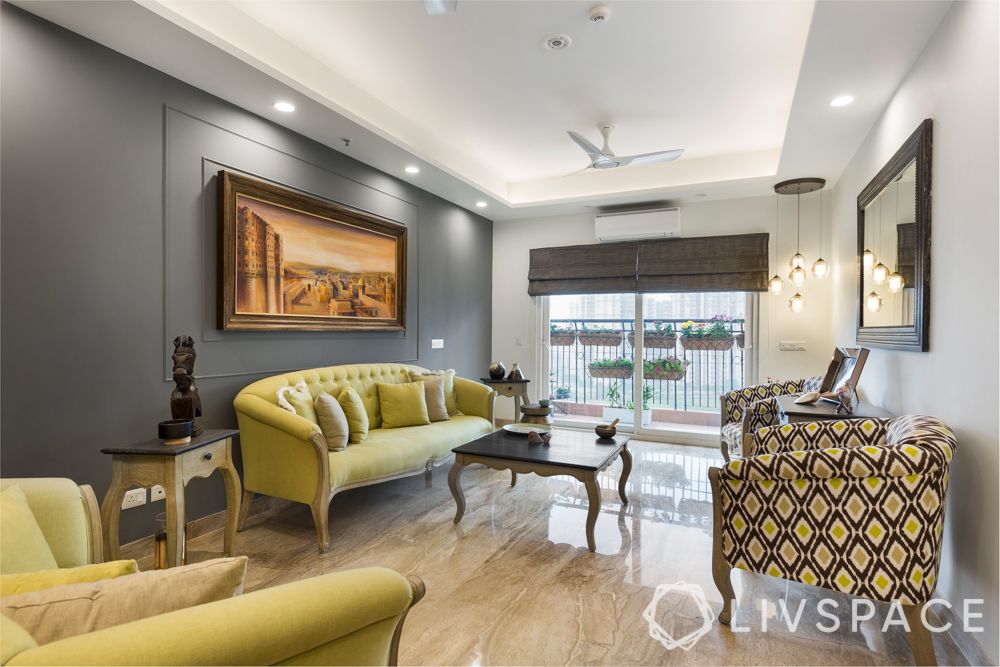 We have just one word for the living room of this Apex Athena home—wow! And let us warn you, this room does not set the tone of the entire home since each space is designed differently. A perfect welcome for guests and oneself, this space flaunts glossy Italian marble flooring and classic furniture in rustic finishes. Adding that splash of freshness is the lime green upholstery on the sofas.
Ritika also exclaimed that she'd been eyeing Indian prints for furniture for quite some time and the Ikat printed chairs show us why. The slate grey wall with trims adds a European touch to this space.
A room converted into a semi-open lounge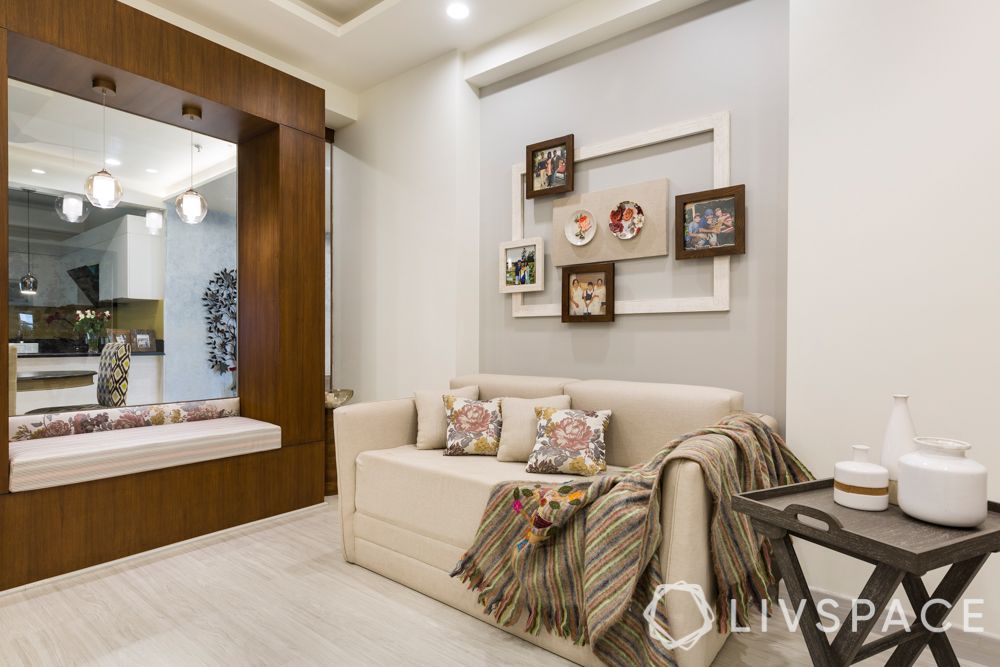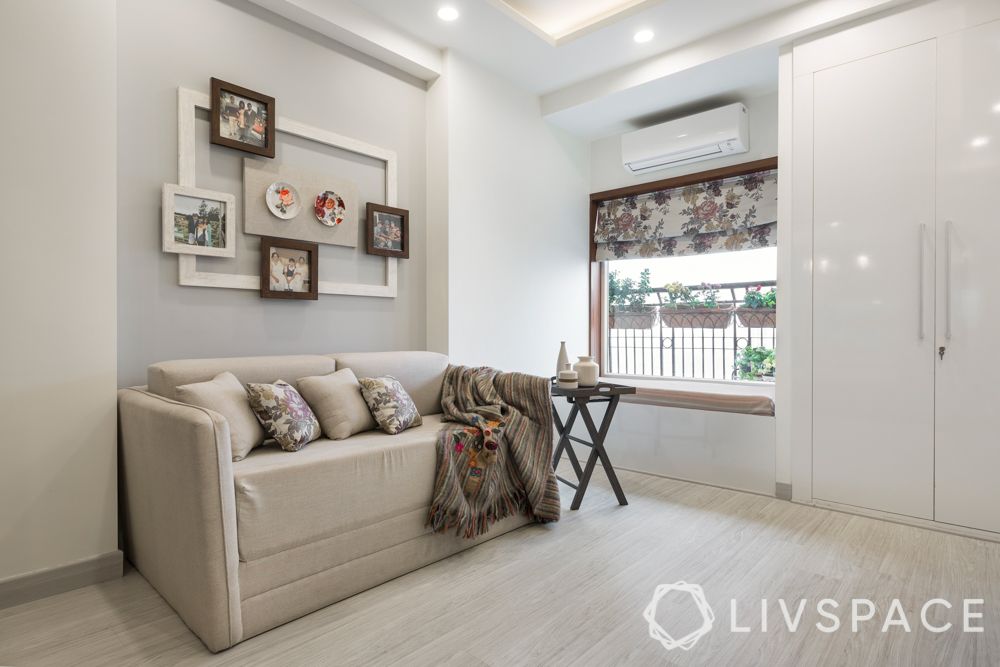 A very clever idea for people with extra rooms at home, you can convert the extra room into an entertainment room or a lounge where you and your family can kick back and chill. That is exactly what Megha has done for this family. A sofa-cum-bed is the right choice to make extra seating space, while a built-in wardrobe adds storage. There are three things that you must notice here—the bay window, the photo wall, and the interconnecting bay seating.
Ritika did not want to cut-off this room from the rest of the home, hence Megha intelligently hacked the wall and added a veneered box with seating there. So one can interact with people outside while watching their favourite shows. The bay window again makes for a great place to sit and read and this spot belongs to Ritika.
Moving on to the spot where the family comes together to dine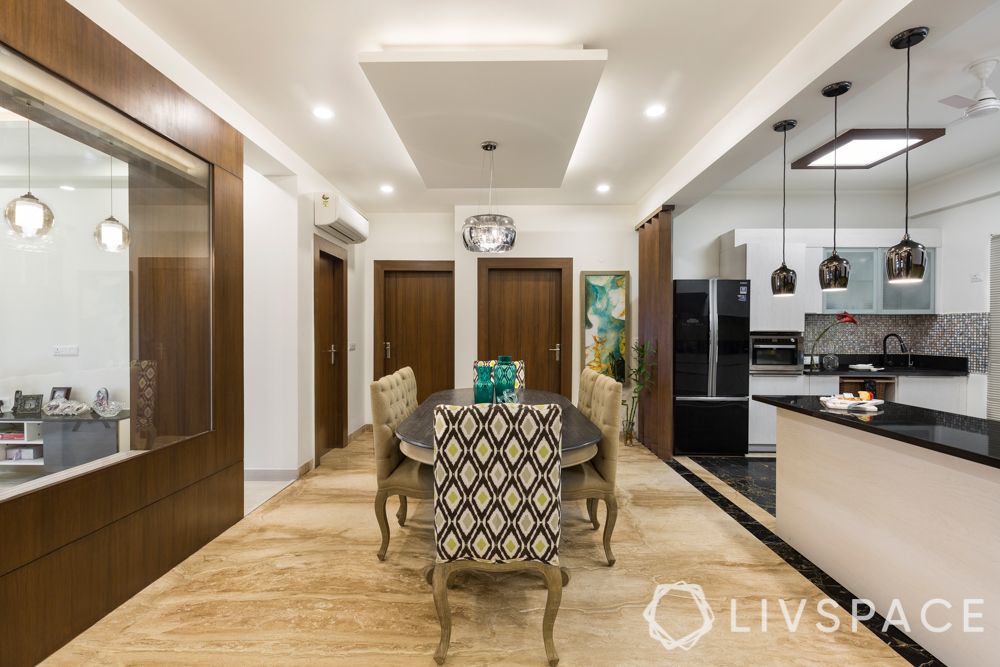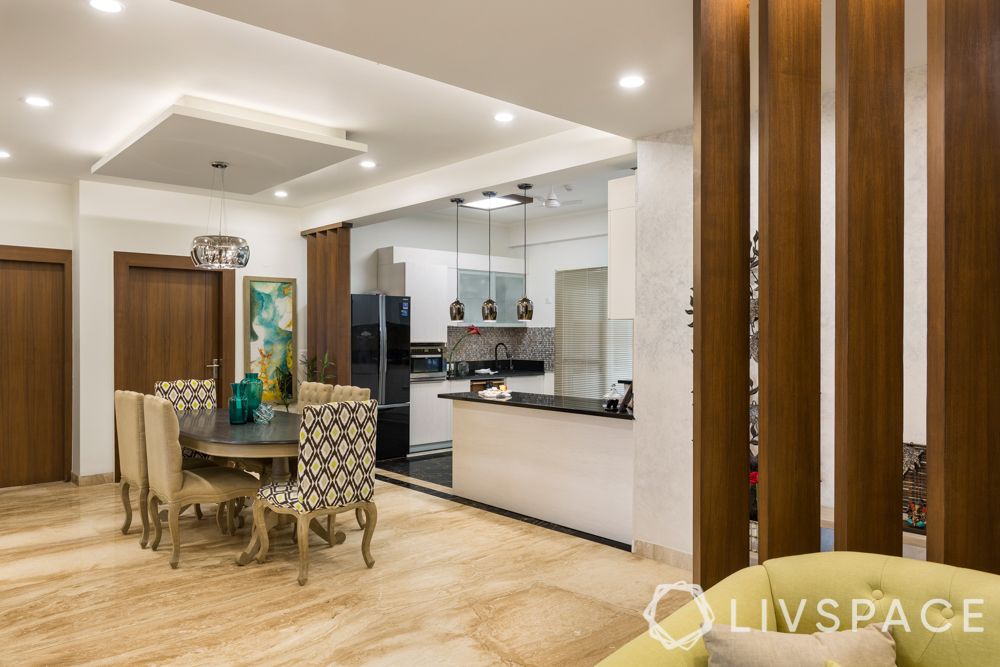 This Apex Athena home has an open layout and the challenge was to impart a unique look to each space. To mark the dining area, Megha has added a false ceiling with cove lighting here. A metallic chandelier hangs atop the dining table and the wall sports a colourful wall painting.
---
"We came across Livspace through Facebook and we were impressed by the immediate response we received. Megha is beyond excellent with her work and it was a coming together of minds. I have a keen interest in design and I look at every single detail to make sure everything falls into place. With Megha and her team, the process was absolutely breezy. I have a very different taste and I like personalising my space. We love the quality of work done and enjoy each minute we spend here."

– Ritika Sawhney, Livspace Homeowner
---
A fully-loaded modular kitchen with some sunshine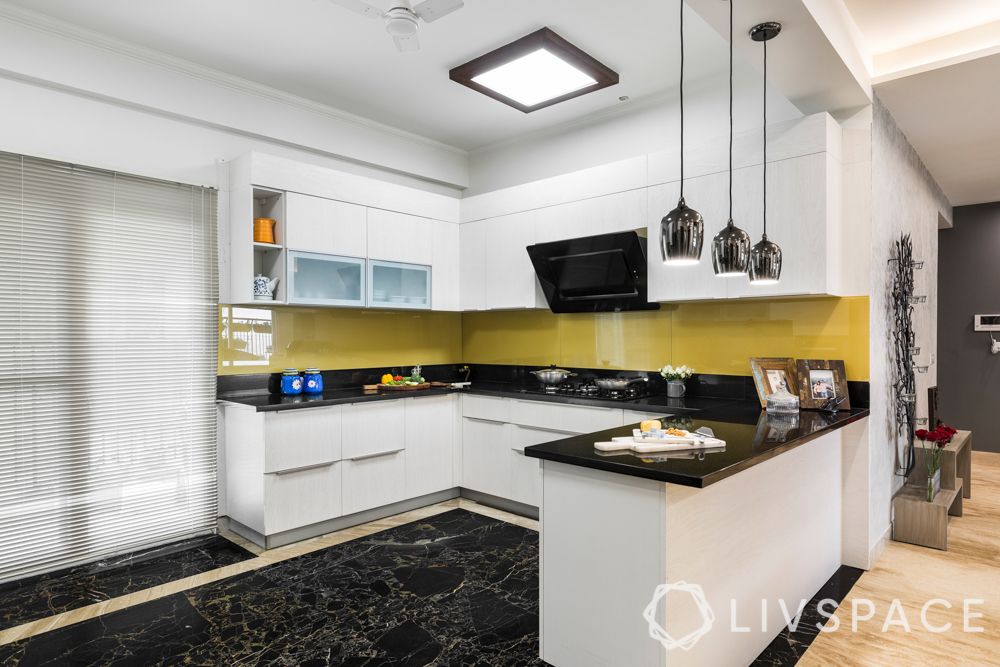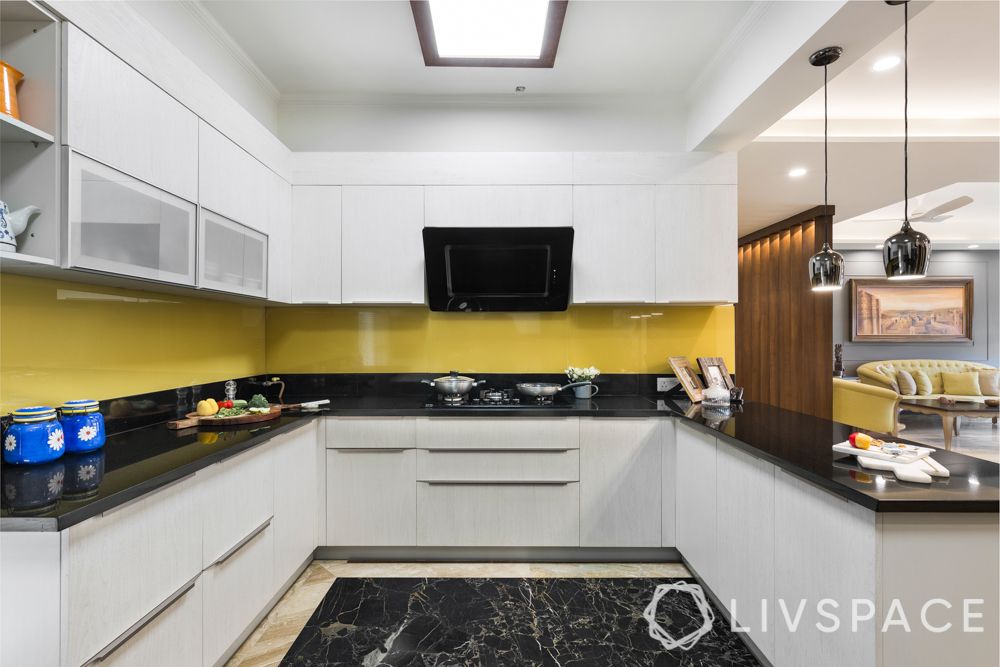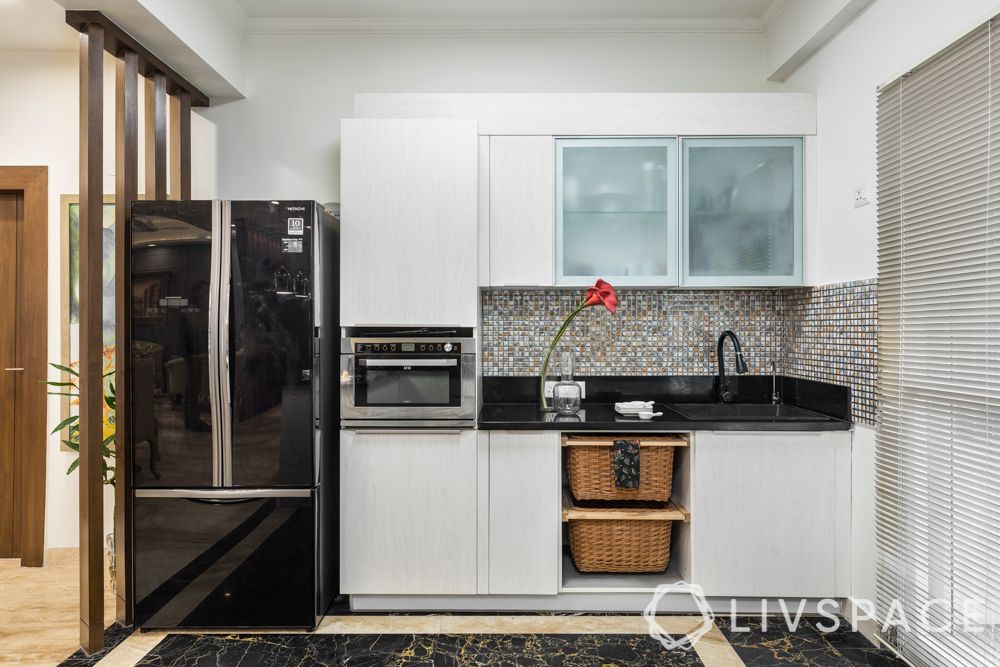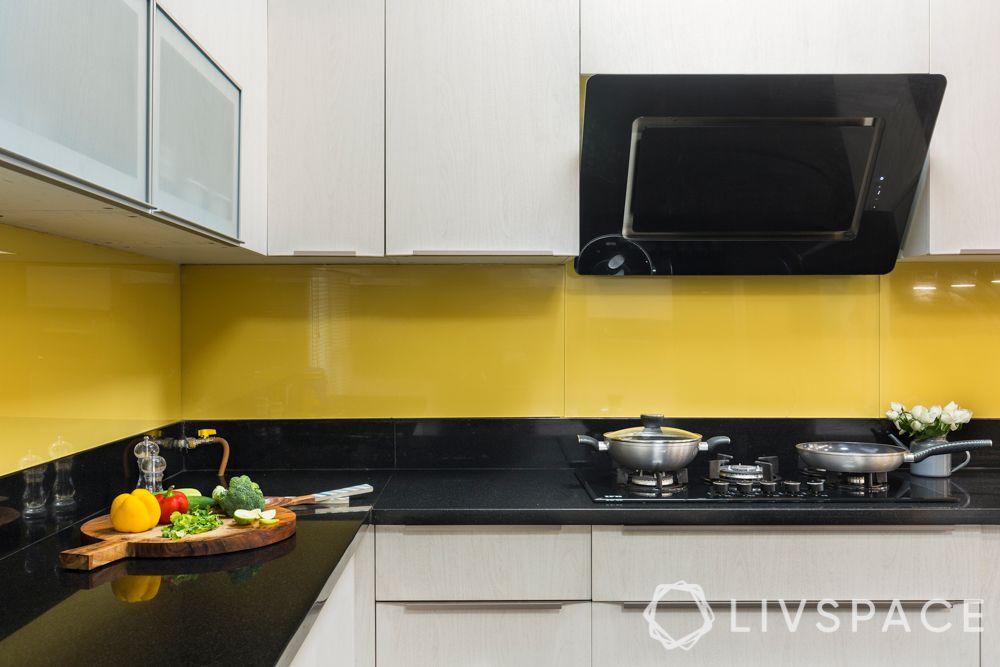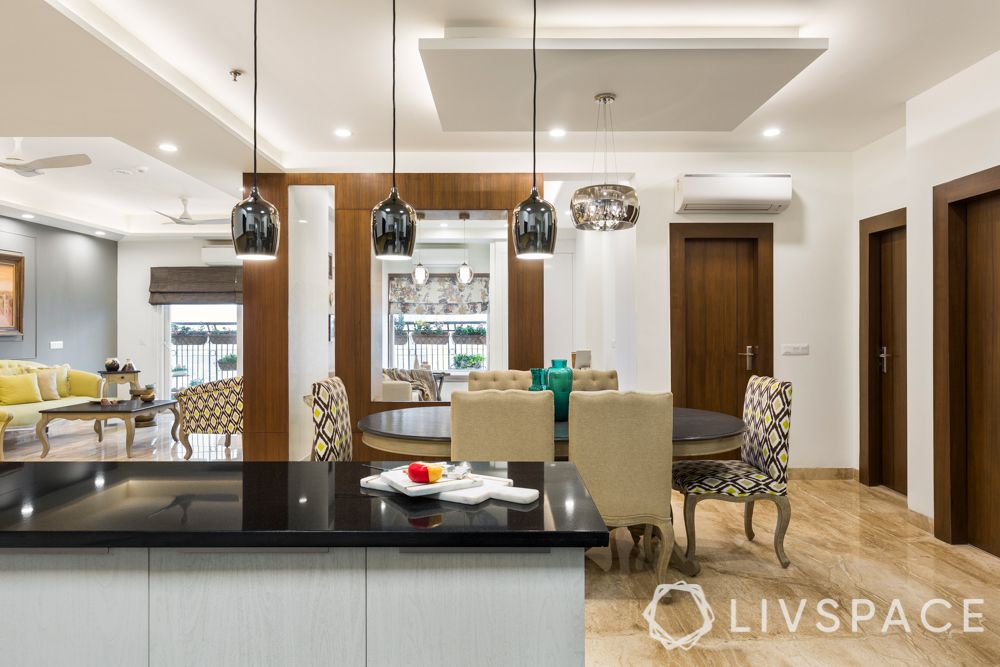 Who would have thought that the kitchen will become the most abuzz spot at home? While the help cooks for the family, Ritika and fam love whipping up meals at times. And nothing like food to create great memories. Therefore, to make things easy, Megha added all modern fitting and modules to make this space ultra-functional. Since Ritika hates glossy finishes, she opted for this textured white membrane finish for the cabinets. To add that element of cheer, Megha added a yellow glass backsplash.
We also love the breakfast counter since it is a great spot to have quick conversations. The family wanted a bar-cum-breakfast counter, so Megha added cabinets on the inside part of the counter. You can spot metal pendant lights here as well.
Earthy tones for the spacious master bedroom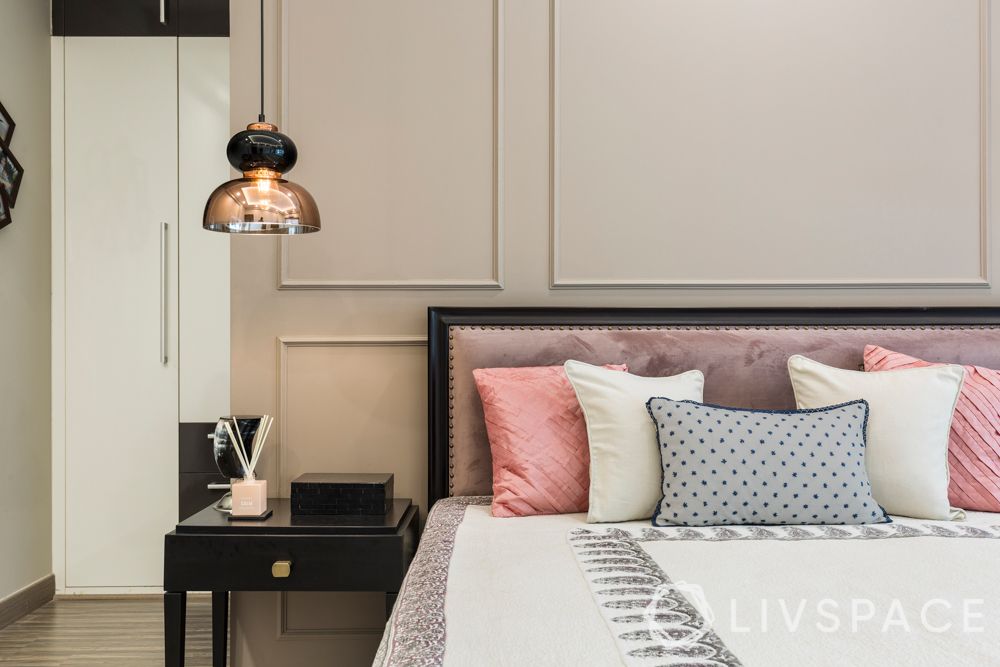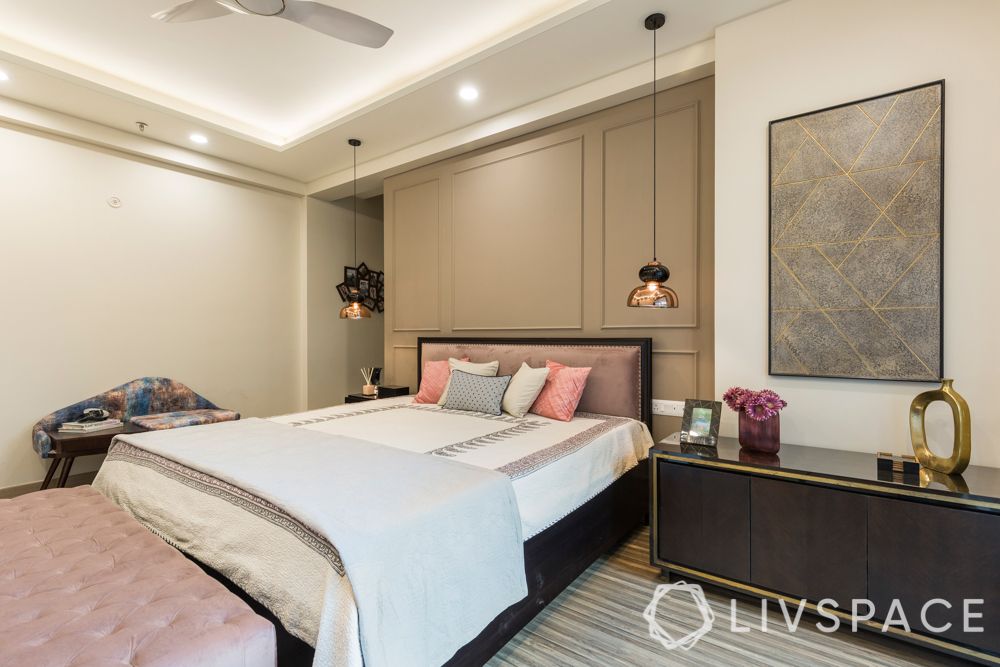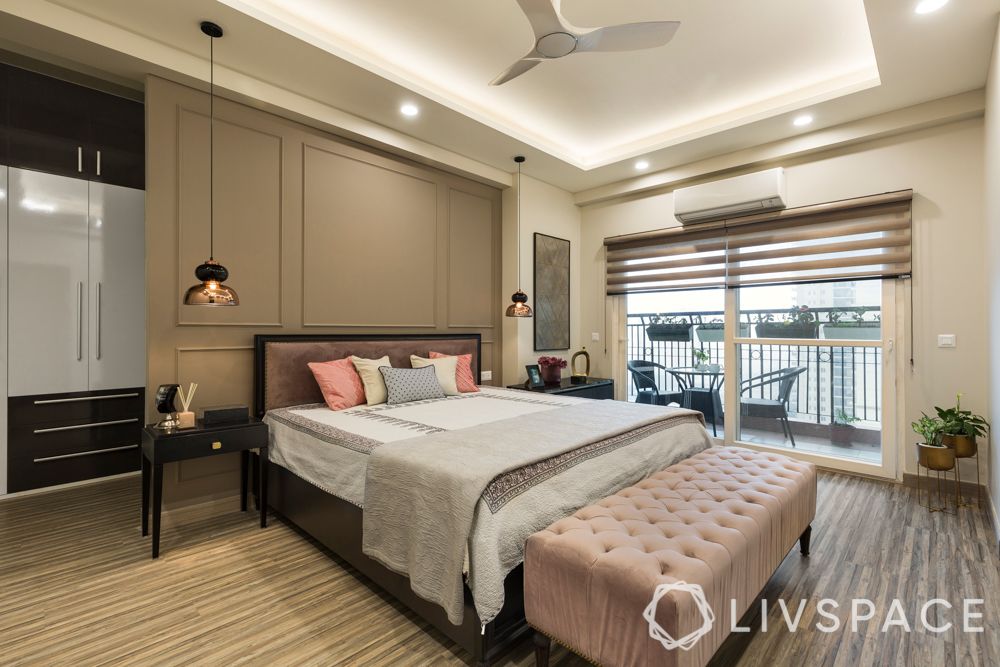 This bedroom at Apex Athena is a respite from typical blazing colours. Ritika was very particular about having neutral and soothing colours in her room and Megha obliged. A mud-coloured wall with trims looks elegant while a button-tufted footbed adds extra seating space. You can also spot a luxurious walk-in wardrobe here that is full of storage. The balcony is also home to their temple. We also love the rustic finish that the tables flaunt. This bedroom is what dreams are made up of!
This one belongs to the teenager at home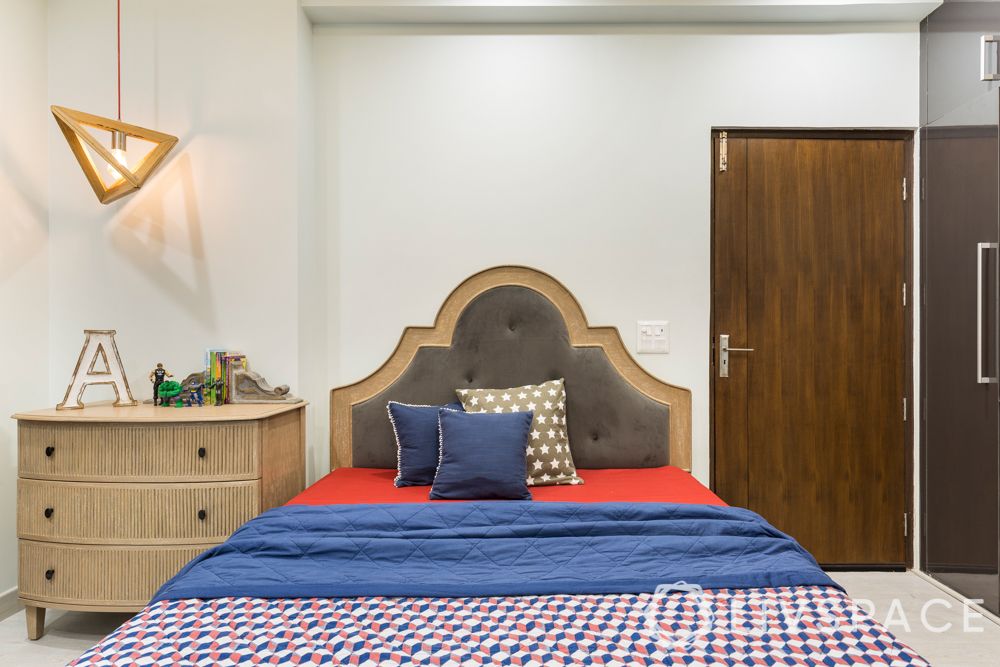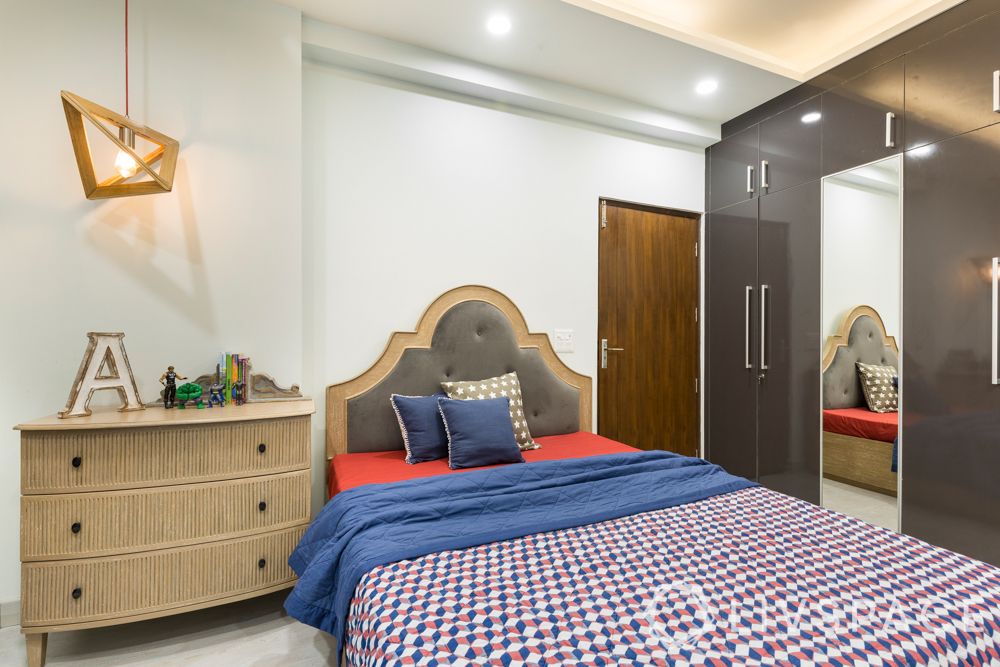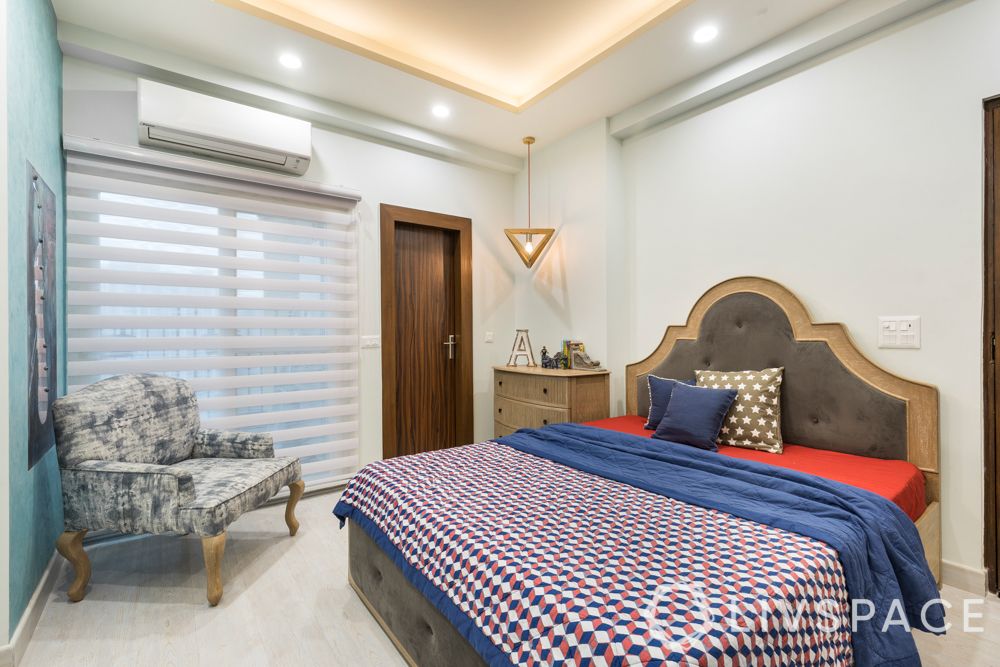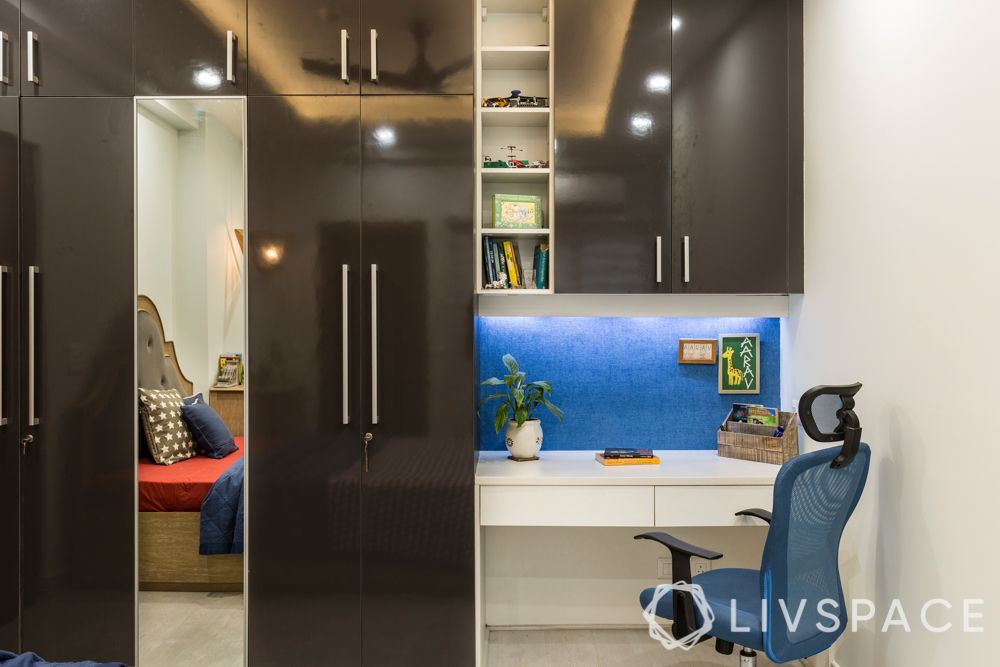 In conversation, Ritika revealed that Aarav was in full control of his room. His room is marked by his initials on the console table and a wall tile in the shape of a guitar on the wall opposite the bed. An armchair by the balcony is a great spot to relax in the evenings, while on the other side Aarav has his study table. Megha has used space very cleverly in this room and added storage without making the room look heavy.
An extra room for guests and relatives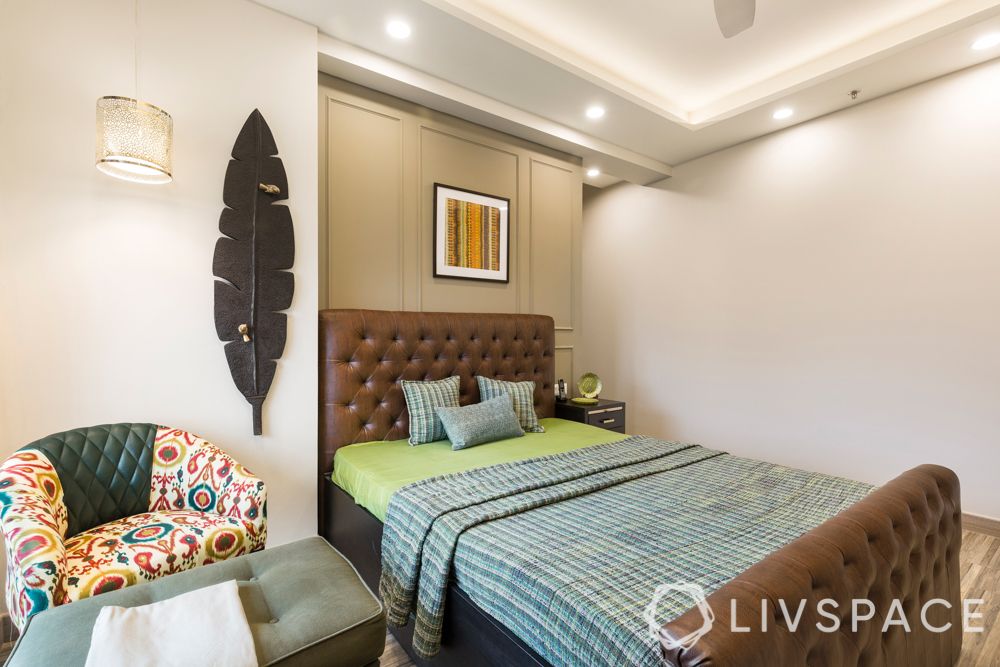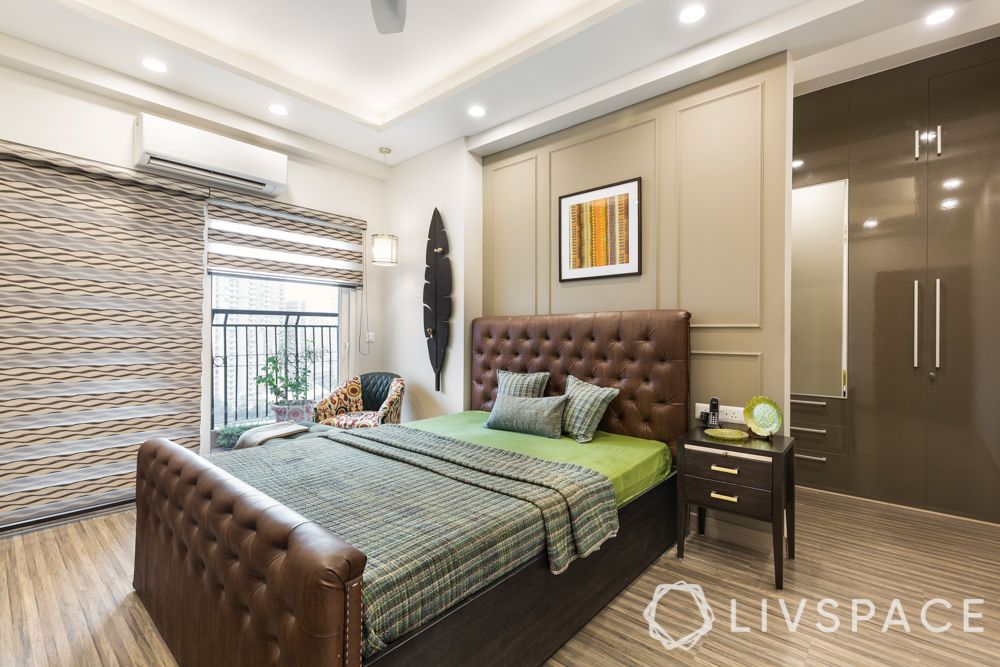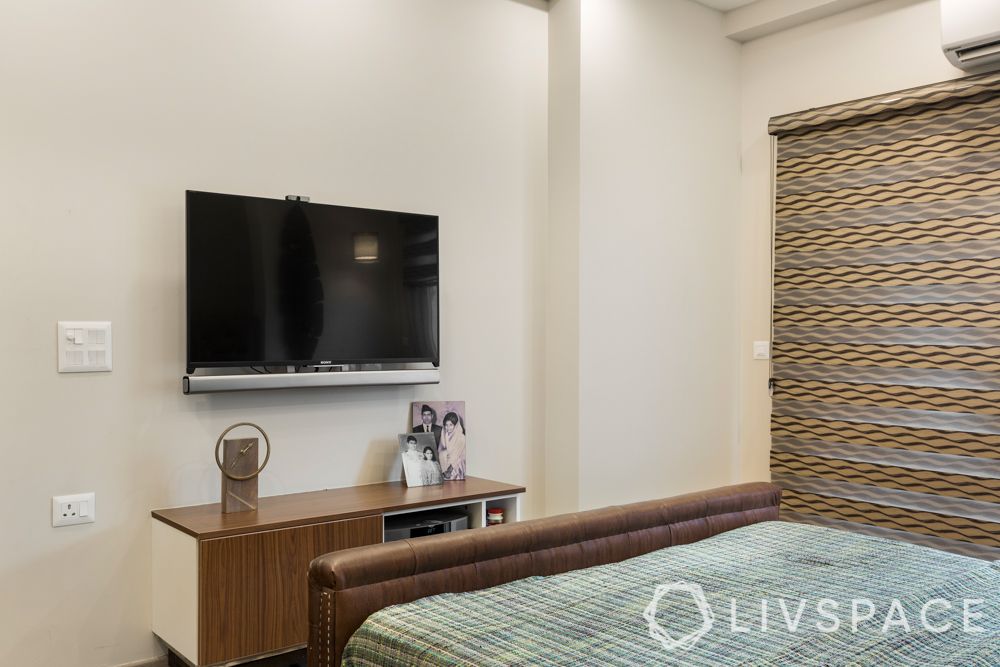 Doesn't the button-tufted bed make you want to sink in? This room is used by their parents when they are visiting and this had to be designed in a very safe manner. Therefore, Megha has added a fully upholstered bed here and a compact TV unit on the opposite wall. Here too you can spot wall trims and a walk-in wardrobe.
---
"This was by far the most rewarding experience I have had with Livspace. This couple was so warm that it made me do my best for them. They knew exactly what they wanted and it was very easy for us to finalise the designs. I understood their taste well and tried to give them what they were looking for. I felt extremely happy working for them."

– Megha Sobti, Interior Designer, Livspace
---
Fell in love with this home, just like us? You will enjoy looking at this one too: A Classy Home Design and How You Can Get This Look.
Send us your comments and suggestions at editor@livspace.com.