This 3 BHK interior design in Gurgaon has an Indo-contemporary vibe.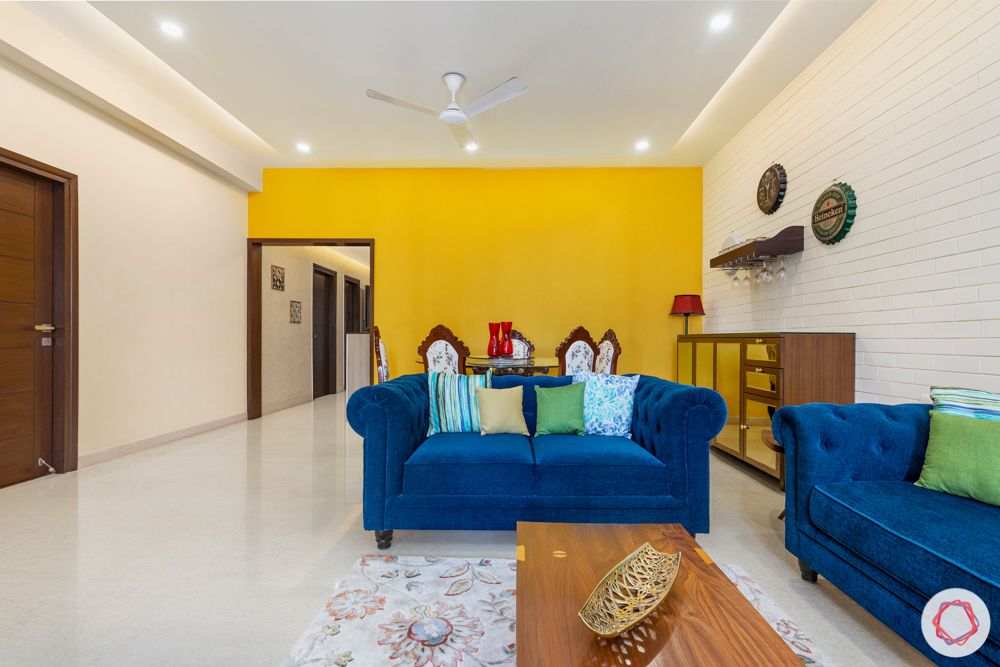 ---
Who Livs here: Shashank and his wife
Location: Emaar Palm Drive, Gurgaon
Size of home: 3BHK spanning 2,150 sq ft approx.
Design team: Interior Designer Megha Kedia and Project Manager Chandan Gaurav
Livspace service: Full Home Design excluding kitchen
Budget: ₹₹₹₹₹
---
At Livspace, we believe in crafting interiors that you can see yourself living in. We choose colours, textures, designs and styles in keeping with your preferences and lifestyle. But here, interior designer Megha Kedia met with an interesting challenge.
Our homeowner, Shashank, wanted each room to reflect a specific mood. And of course, Megha found an innovative way to step up her game. Check out this home designed with care for a newly married couple!
IN A NUTSHELL


Design Brief

A vibrant home for a newly married couple, with a mix of comfy interiors and dedicated workspaces

What We Loved

The choice of colours that adds a cheerful and lived-in vibe to the home

Look Out for

— White exposed brick wall in the living room that creates a neutral setting
— Refurbished upholstered chairs in the dining room
— Pastel blue floral wallpaper in the parents' bedroom

Biggest Indulgence

The wooden centre table and side table in the living room that matches the doors

Smart Buy

The minimal custom bar unit in the dining space


Also Read: Want To See Inside a ₹50 Lakhs Opulent Home Interior Design? 20 Stunning Pictures Tell All!
#1: Building Up the Suspense in This Entryway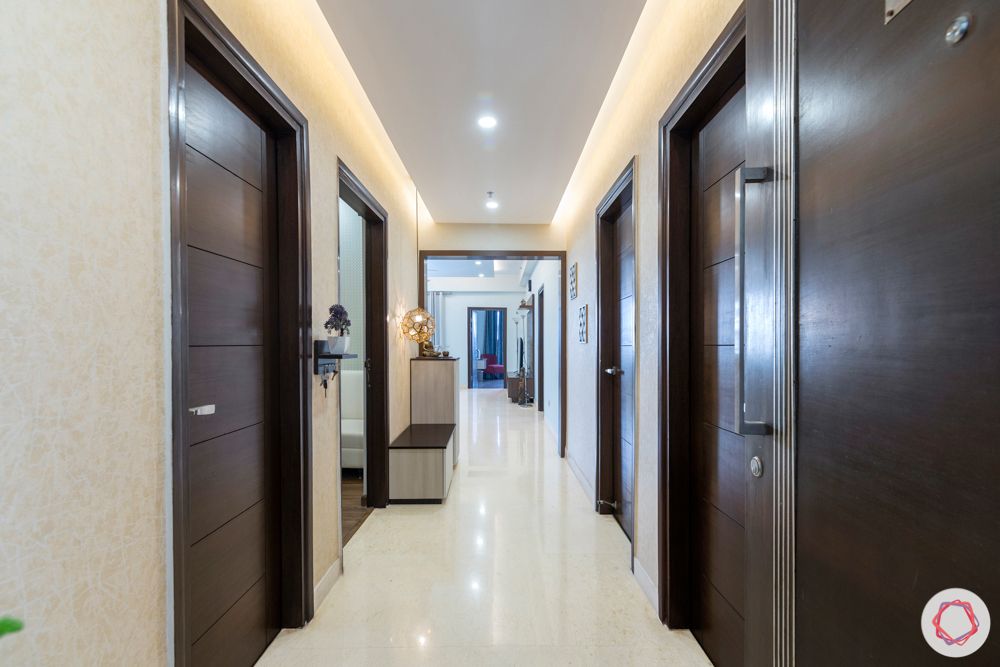 What do you do with a narrow entryway with multiple doors along both sides? Well, take cues from this 3 BHK interior design in Emaar Palm Drive, Gurgaon and use the space to set the scene. With cove lighting and spotlights leading the way, Megha turned the foyer functional as well, by placing an essential shoe rack. She also suggested that all the doors in this home be veneered and polished.
Moreover, when the play of lights fall on the wallpaper, it adds another dimension to the space.
---
Designer Tip
"The play of light on the textured wallpaper adds depth to this narrow space, which could otherwise look very flat. Also, the veneered doors tie in with the effect we were trying to create – seamless elegance. While the original enamelled doors painted white would have looked dull, these refurbished doors add volume to the space."
---
#2: Bonding in Style in This Living Room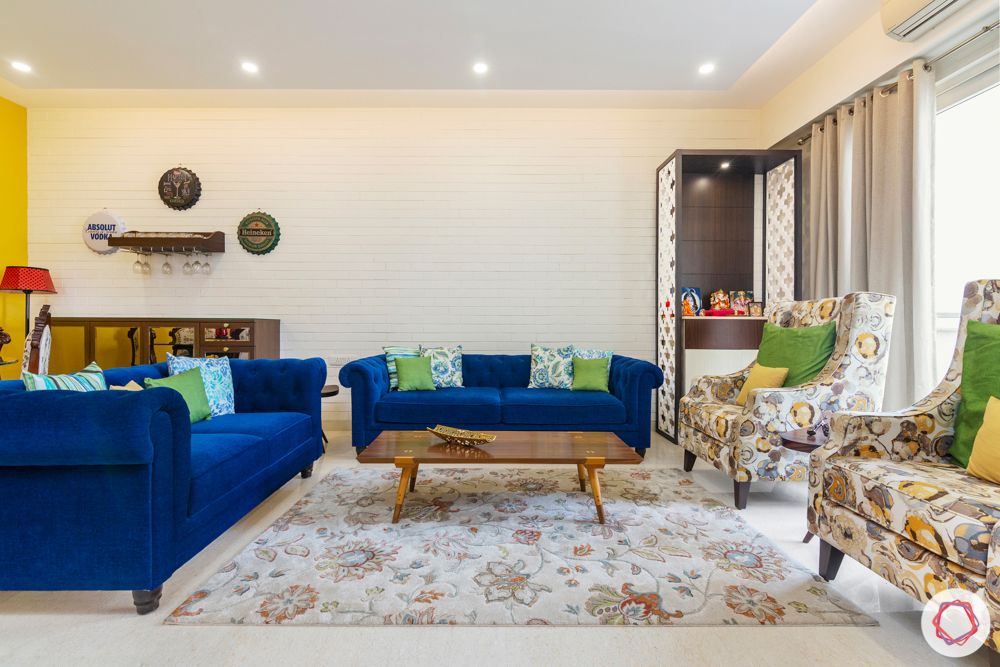 Stepping out of the dramatic entryway, you will find yourself in the living room of this Emaar Park Gurgaon home. Since Shashank did not want too many colours in his home, Megha provided neutral coloured walls. With a white exposed brick wallpaper on the accent wall, this space takes on a slightly rustic look.
She has beautifully balanced the stark white walls with blue sofas and two wingback chairs. A wooden centre table and side table that match the veneered doors make this place look complete!
Facing the blue sofas, we have the TV unit. Megha has completely altered the appearance of the existing compact unit by providing a panel behind the TV. The colour of this panel matches the TV unit so perfectly that we had difficulty in believing that it existed without it. Don't you think it's a clever way to make a minimal unit look imposing?
Also, you cannot miss out the pooja space in the corner of this living room. Megha has preserved the sanctity of this in-house mandir with jaali partitions. A wooden panel behind the mandir unit adds the quintessential Indian touch to this space.
#3: Sunshine & Cheer in the Dining Space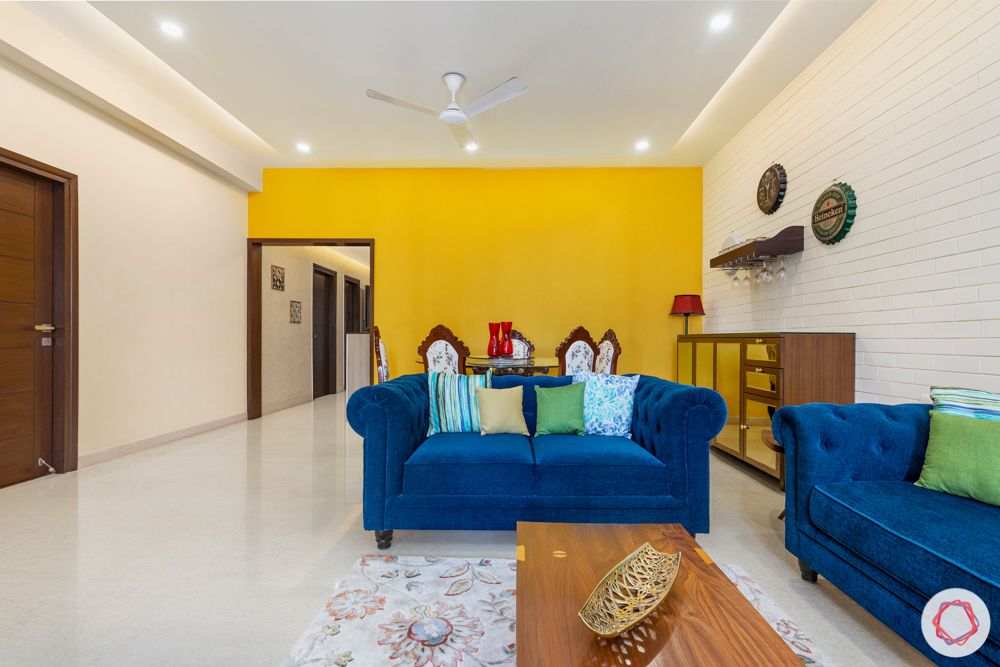 Turmeric hues for the dining room! Since this 3 BHK interior design has an open living cum dining space, Megha used a yellow accent wall to distinguish the dining space. Moreover, she suggested that the dining table and chairs be refurbished and upholstered to fit in with the dining room setting.
Have you noticed the minimal bar unit on the far corner of this space? Shashank wanted a bar unit at home, but was looking for a small and compact design. So the Livspace design team came up with this unit! This custom bar unit stands silent against the white exposed brick wallpaper that continues from the dining area, and comes with a crockery unit below it!
---
Designer Tip
"While Shashank did not want an excess of colours in his house, he wanted it to look bright and vibrant. So I suggested this shade of yellow, against which the dining furniture stands out to look even more desi!"
---
#4: Cosy & Comfy Vibes in the Master Bedroom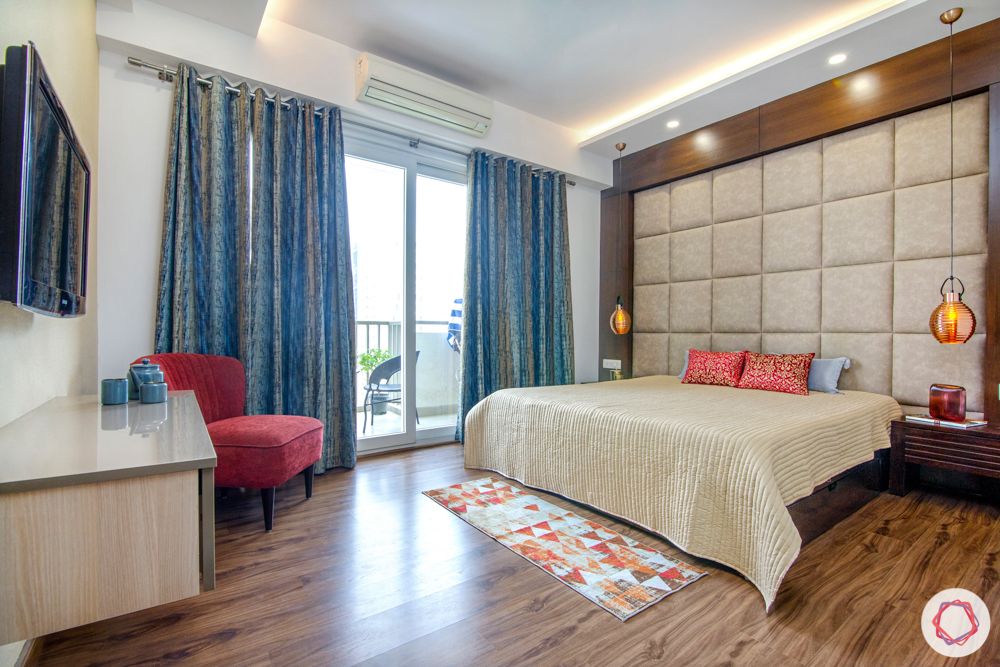 All homeowners have their favourite features, and Shashank was no different. Having seen this full wall headboard in our previously executed projects, Shashank immediately knew he wanted it in his home. So Megha provided him with just that – a sectioned headboard covering the entire back wall of the master bedroom. She designed the rest of the room around the soft beige colour and wooden panelling in the headboard.
To round off this classy bed and headboard, Megha used hanging pendant lights on either side. These rose gold and glass hanging lights adds a touch of royalty to this space.
On the opposite wall, Megha has used a compact grey TV unit from the Livspace catalogue. A beige golden textured wallpaper highlights this minimal piece. To add a pop of colour in this bedroom, Megha has placed a maroon chair in the corner of the room.
#5: A Relaxing and Dreamy Bedroom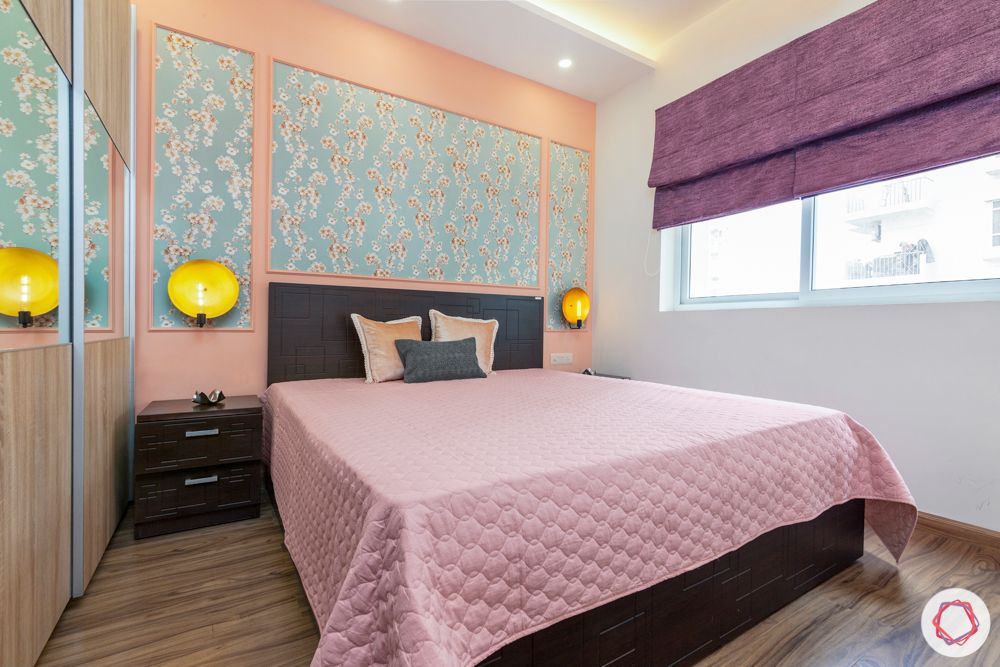 This bedroom has been designed for Shashank's parents, and we can't stop swooning over it! The use of delicate pinks on the wall, against the baby blue floral wallpaper, creates a soothing mood in this bedroom. So, be it the parents staying over or any other guest, this dreamy bedroom is the perfect place to fall asleep in!
Megha has completed this pastel-hued bedroom with a membrane wardrobe that has a mirror panel in the center. How comfy does this space look!
---
Designer Tip
"If you want to design a home where bright colours are used sparingly, you cannot go wrong with pastels. In the bedroom, they create a very soothing and restful vibe."
---
#6: A Dedicated Workspace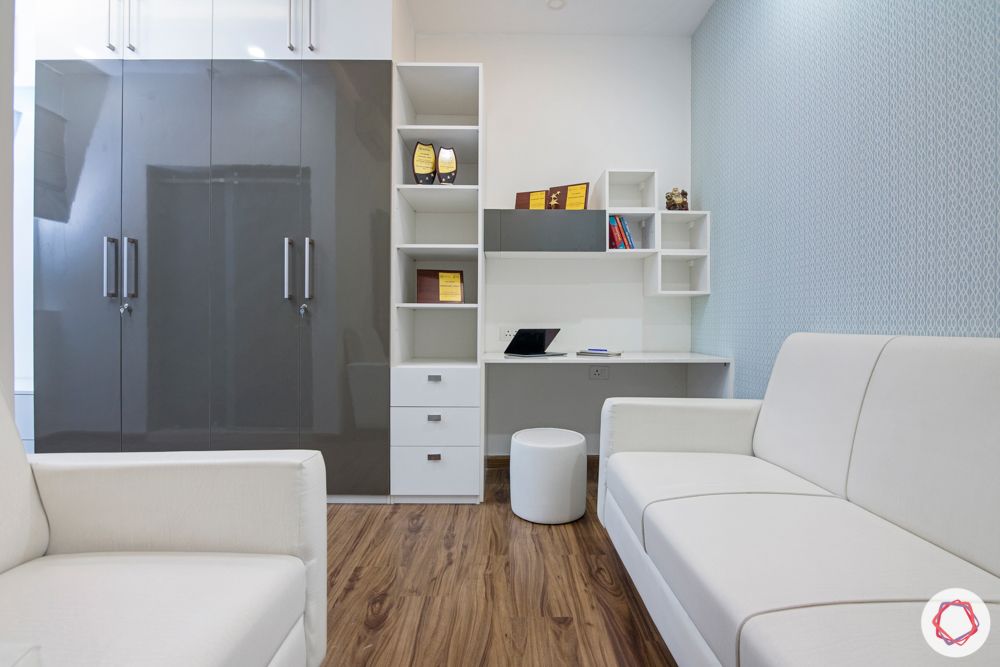 Since Shashank frequently works from home, he wanted a dedicated space for the same. So Megha designed this cosy space with an industrial touch. Check out the icy blue wallpaper on the accent wall and the fresh white sofas leaning against it. Isn't it the perfect place to work in, or even spend time with yourself?
Moreover, Megha has packed storage space into this room with a grey and white wardrobe with a high-gloss laminate finish. The study unit fits snugly into the space beside the wardrobe. The colours and patterns in this space have been selected to support both efficient working and relaxation. And we love the final effect. Don't you?
"Designing Shashank's home was a smooth process. He knew what he wanted in specific parts of his home, and was open to ideas regarding the rest. He wanted simple and functional interiors, and we were glad to provide him the same!"

– Megha Kedia, Interior Designer, Livspace.
Also Read: A Lesson in Luxury, This Gurgaon Home Is a Paradise of the Most Beautiful Colours
Check out this 3BHK renovation in Gurgaon:
How Can Livspace Help You?
We have delivered over 75,000+ happy homes
Our expert team can transform your 3 BHK in Gurgaon with stunning interior design ideas
With 146 quality checks, we promise durable materials
If you want beautiful interiors for your home, then look no further. Book an online consultation with Livspace today. Additionally, you can also visit us at the Livspace Store in Gurgaon. Have any thoughts or suggestions you'd like to share with us? We're all ears! Drop us a line at editor@livspace.com.
Disclaimer: All contents of the story are specific to the time of publication. Mentions of costs, budget, materials, finishes, and products from the Livspace catalogue can vary with reference to current rates. Talk to our designer for more details on pricing and availability.
Please note that the designs showcased within the story are subject to availability and will vary based on the year the homes were designed in. Consult our designers for more details on the latest designs.