Beautiful houses photos coming right up!
---
Who livs here: Anshul Malhotra and his wife Megha Gupta
Location: The New Shivalik CGHS Ltd, Sector 51, Gurgaon
Size of home: 2BHK spanning 3,000 sq ft
Design team: Interior designer Rishabh Chatrath and Project Manager Vikas Vishwakarma
Livspace service: Full home design
Budget: ₹₹₹₹₹
---
Jet, set and go! That's the daily routine of power couple and pilot duo Anshul Malhotra and his wife Megha Gupta. While Anshul works as a pilot with Air India, Megha is a captain with Indigo. And they longed for the ultimate downtime pad at their New Shivalik flat. But the place wasn't big enough. So they decided to get an upgrade and bought a bigger flat in the same building. In addition, they wanted to turn their new 4BHK spanning 3,000 sq ft into an uber chic 2BHK. Enter our Interior Designer Rishabh Chatrath who readily took the task for this charming couple.
Along with major civil changes, including flooring and false ceiling, they wanted to wrap their home in warm tones. In addition, they wanted to create an inviting space since they love to have their friends and family over. Keeping the palette rich and warm, Rishabh focused on minimalist interiors. We love how he's added touches of the couple's vibrant personalities throughout the home too! Here's the tour!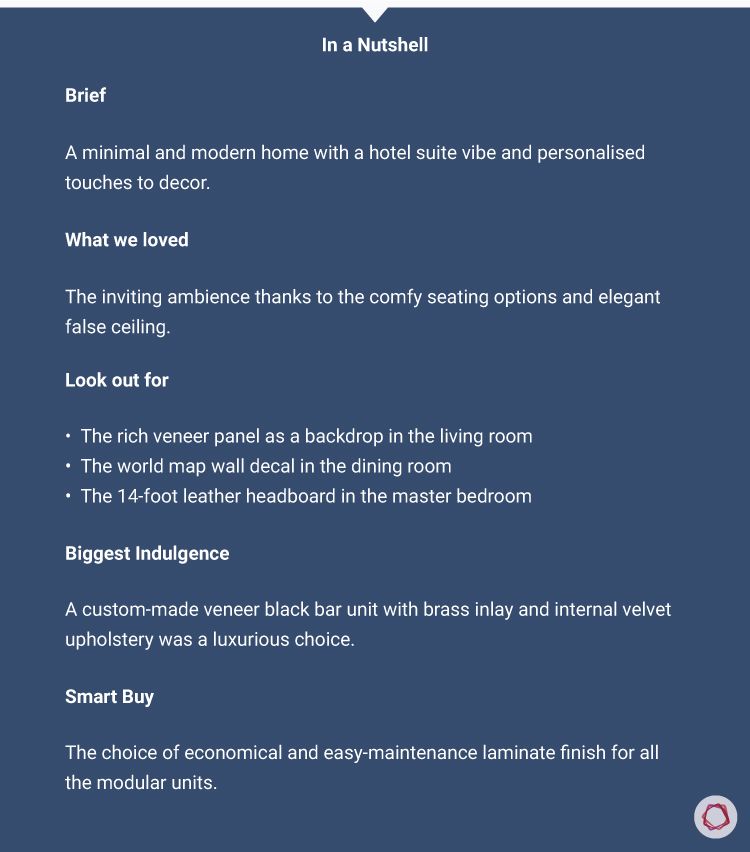 Minimal Foyer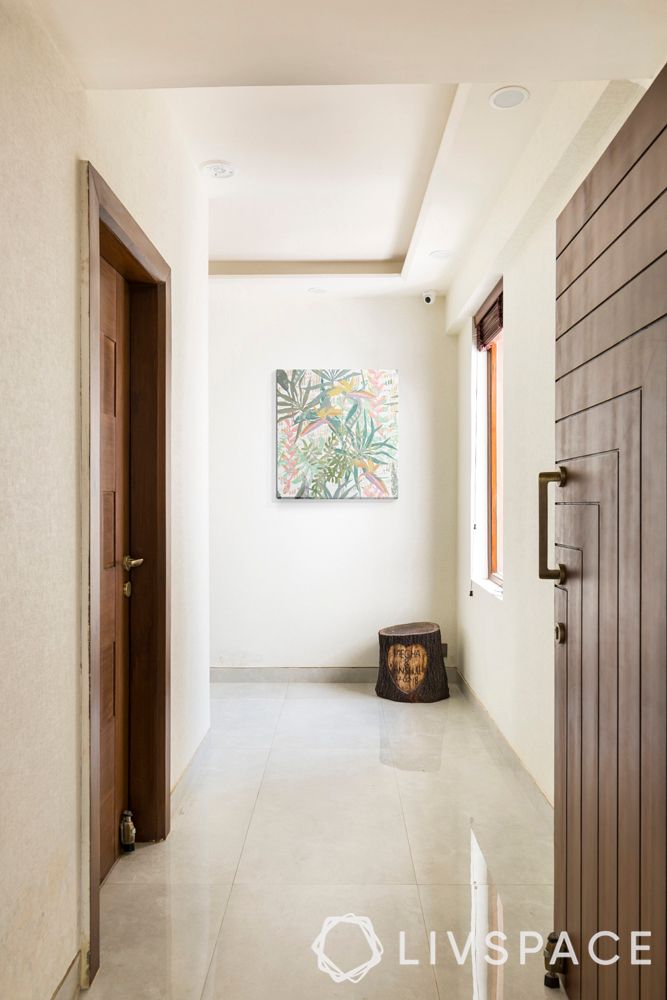 The couple were particular of having a display wall as soon as you enter the home. So Rishabh added false ceiling in the foyer and kept the wall bare so Anshul and Megha could add pictures and collectibles over time.
Wooden Warmth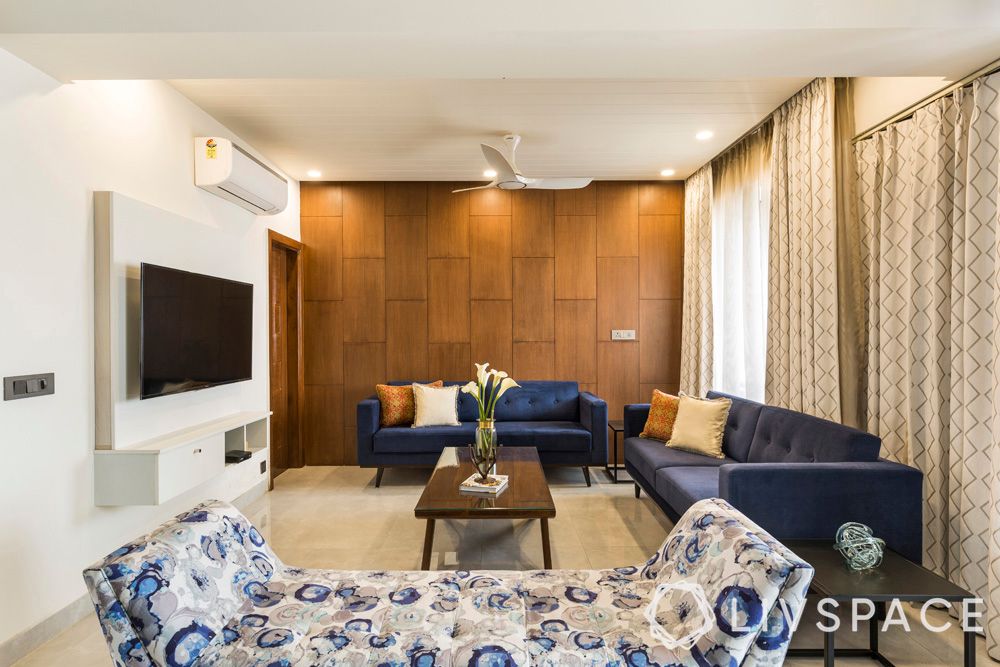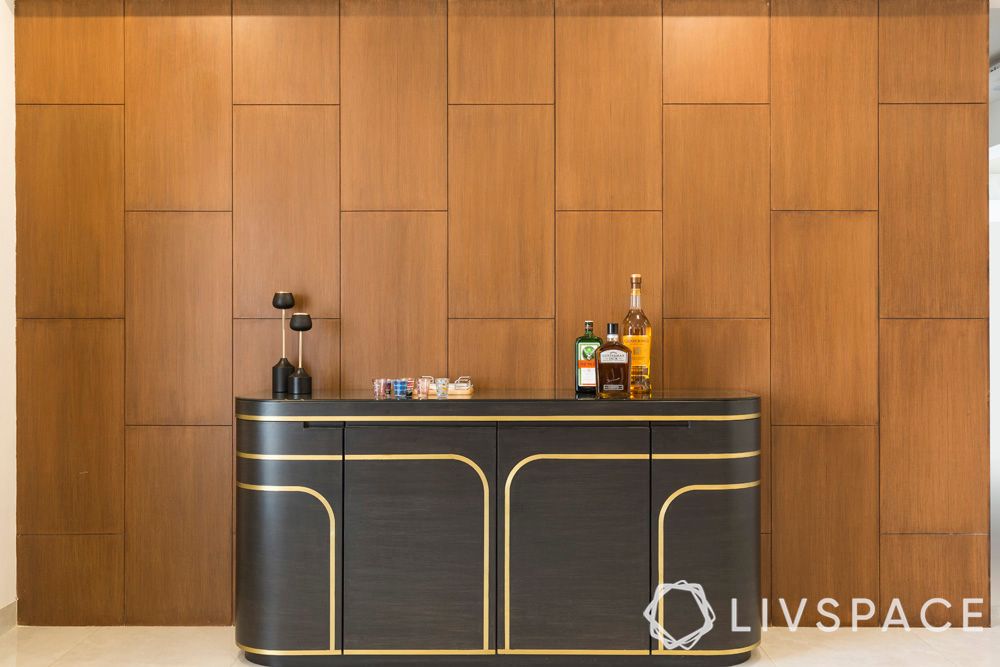 Stepping into the living room, you wouldn't guess it was originally a smaller space. Rishabh broke down one of the bedrooms and bought it into the living room, resulting in more space for comfy seating. This also helped to create a separate nook for dining. The choice of two navy blue sofas and a floral divan certainly snugs the space up. Of course, the highlight of the room are the two wood-toned veneer panels that are opposite each other. One serving as a backdrop for the living room seating and the other acting as a partition wall for the dining space. "The warm wooden colour would perfectly complement the combination of grey flooring and blue seating", explains Rishabh.
If you ask the couple their favourite part of the home, they would happily point to their bar unit. And we can see why too! Standing in a polished veneer black with elegant brass inlay, the unit definitely catches your eye. The inside has been done with velvet blue upholstery as a luxe addition and it has been fitted with wine racks and shelves.
Since they wanted low-maintenance, Rishabh picked a laminate finish for all their modular units. Including the TV unit that's been mounted on the living room wall.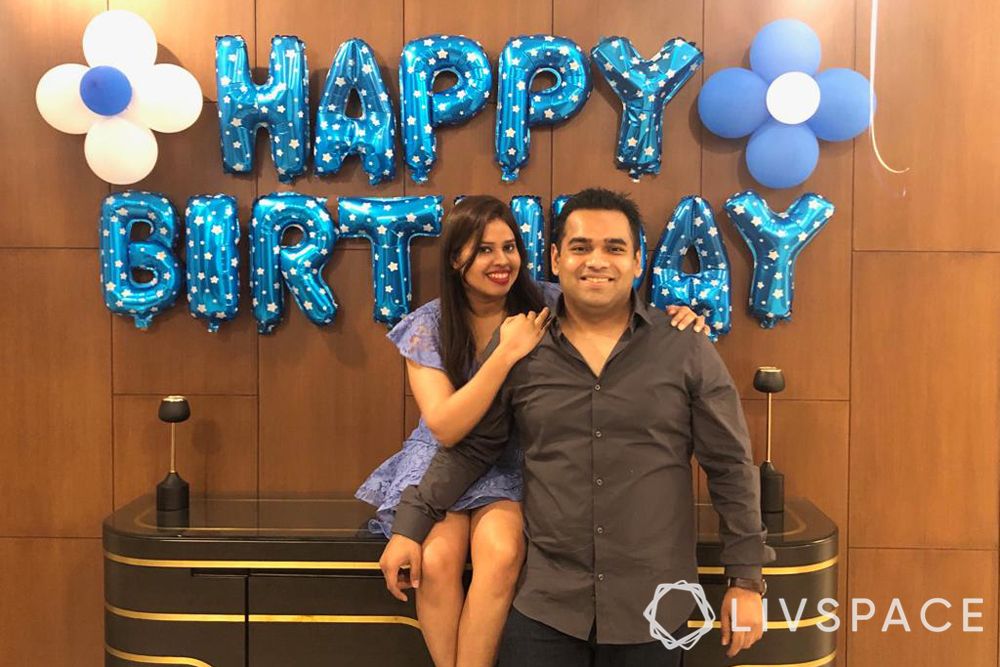 "We were looking for our very own personal hotel suite kind of home for when we are not flying and everything turned out like that. We are even getting another home designed by Livspace!"

Anshul Malhotra & Megha Gupta, Livspace Homeowners

Dining nook for conversations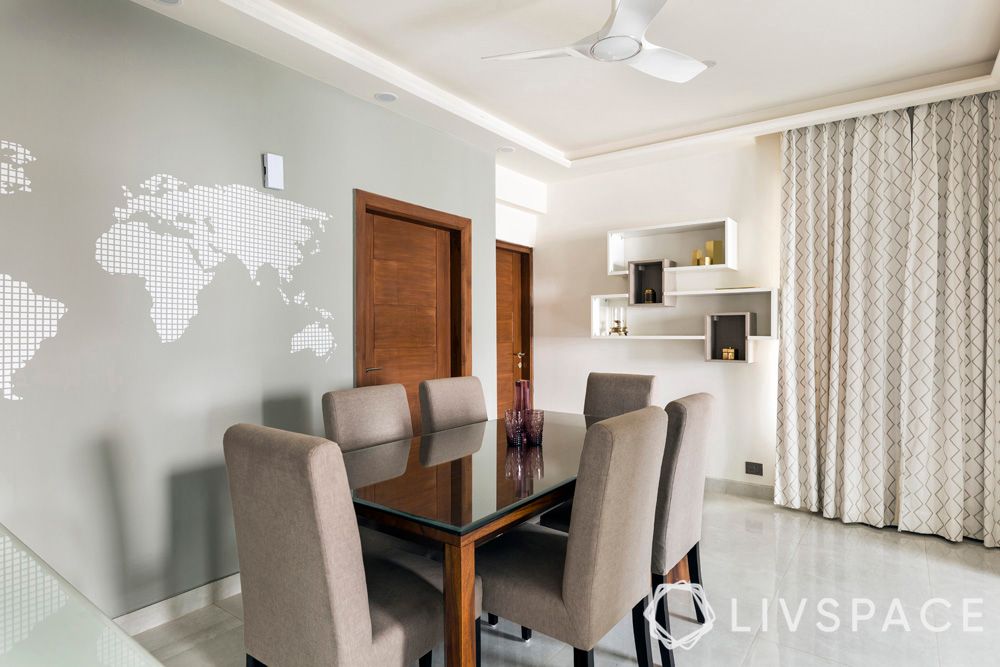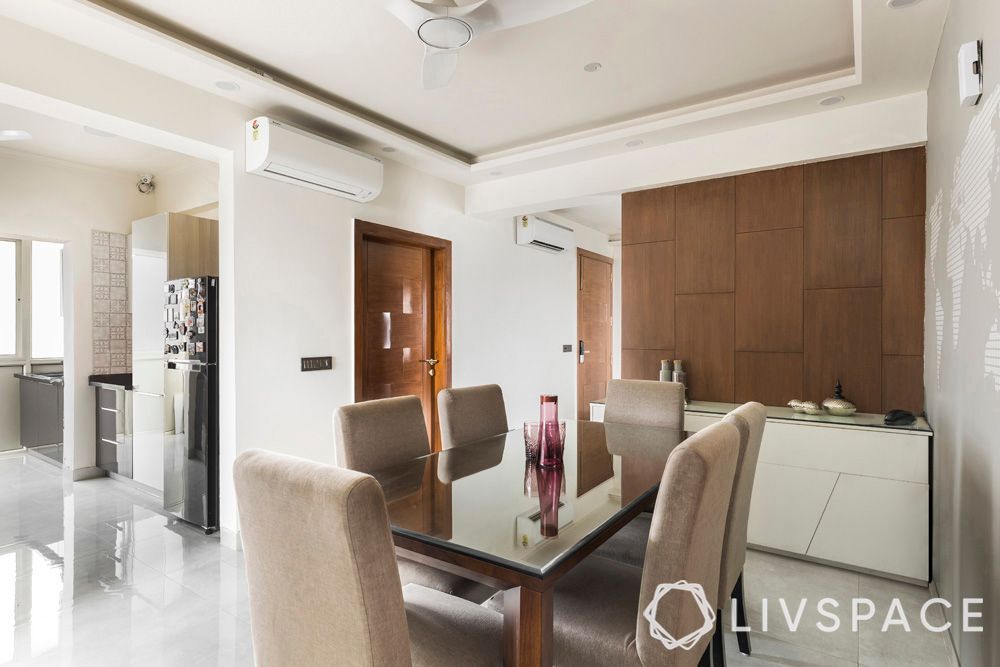 The dining room is doused in beautiful neutral tones. From the grey painted wall to the cappuccino upholstered chairs, everything makes a classy and chic statement. The world map wall decal is a token to the couple's passion for flying. They would eventually pin up plane decals on places they have visited around the world. A lone crockery cabinet in white laminate has been tucked into a corner and open shelves have been mounted on the opposite wall.
Swanky & Stylish Kitchen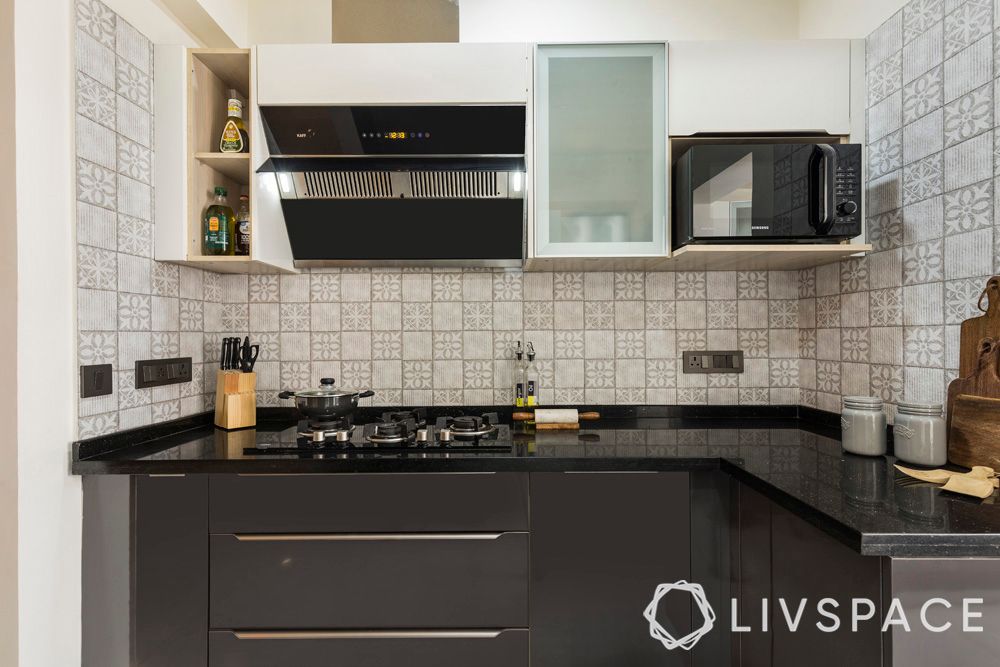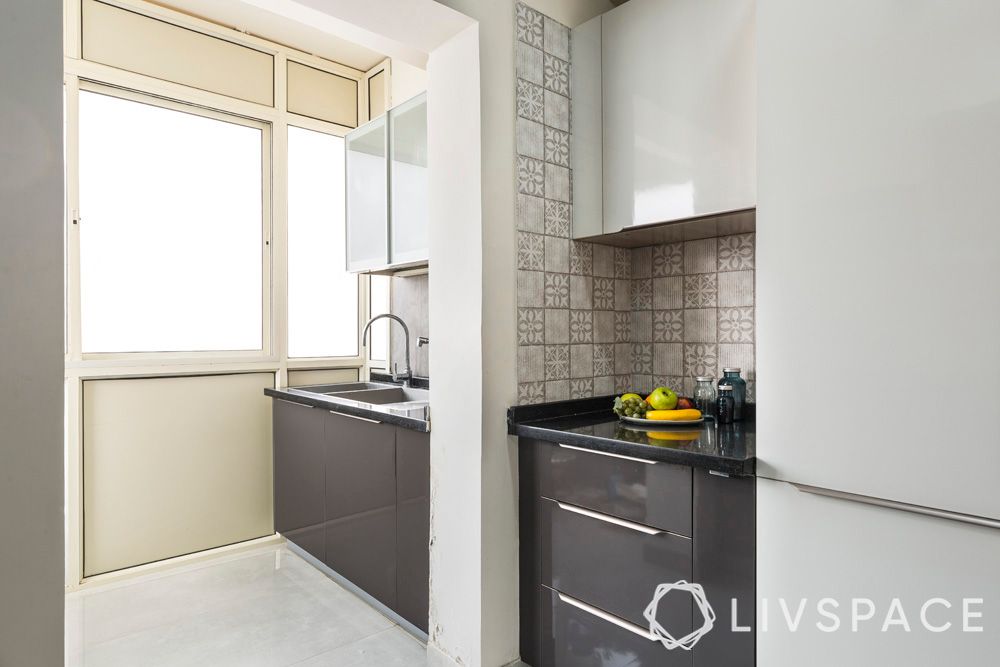 The kitchen had major civil changes. Starting from bringing the balcony inside and turning it into a wet area to the redone vitrified flooring. The couple wanted a sleek kitchen. As a result, the pristine white and slate grey combination resonates with their choice. In addition, the high gloss laminate finish elevates the look of the kitchen as well. Rishab put in patterned backsplash and a granite countertop to complete the look and installed pull-out options for their cabinets to keep things hassle-free.
Comfy Bedroom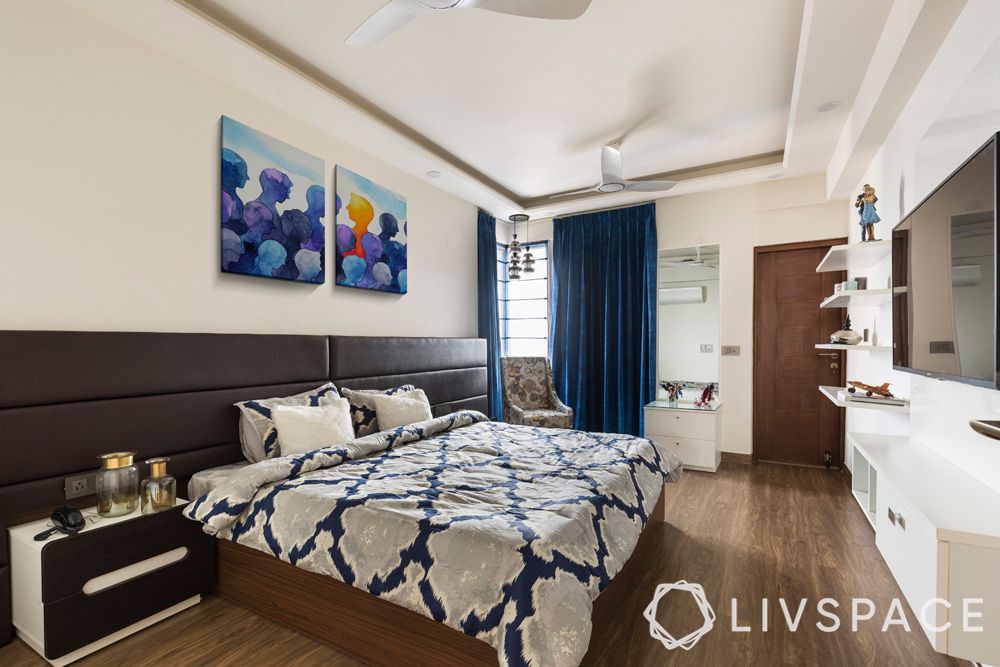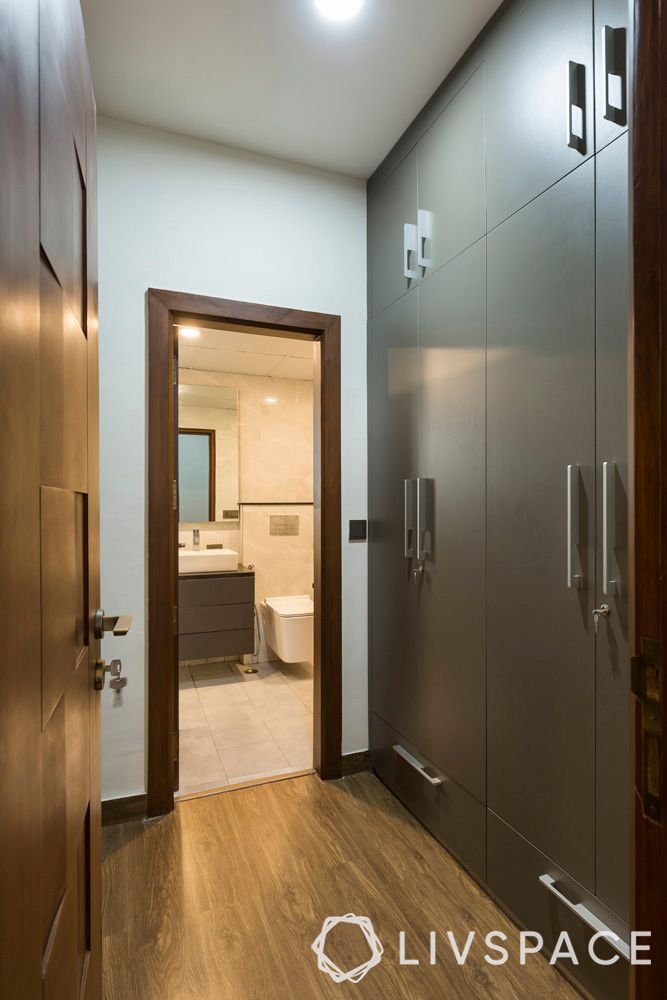 The master bedroom is the only space that has been done up in wooden flooring. But the highlight is the 14-foot wall-to-wall headboard done in leather. It definitely takes the look of the room up a notch! We love how Rishab created a cosy nook in the corner with an armchair by the window. There's plenty of display options thanks to the open shelves and TV unit as well. Also, a swing wardrobe in autumn leaf laminate offers ample storage space.
Muted Study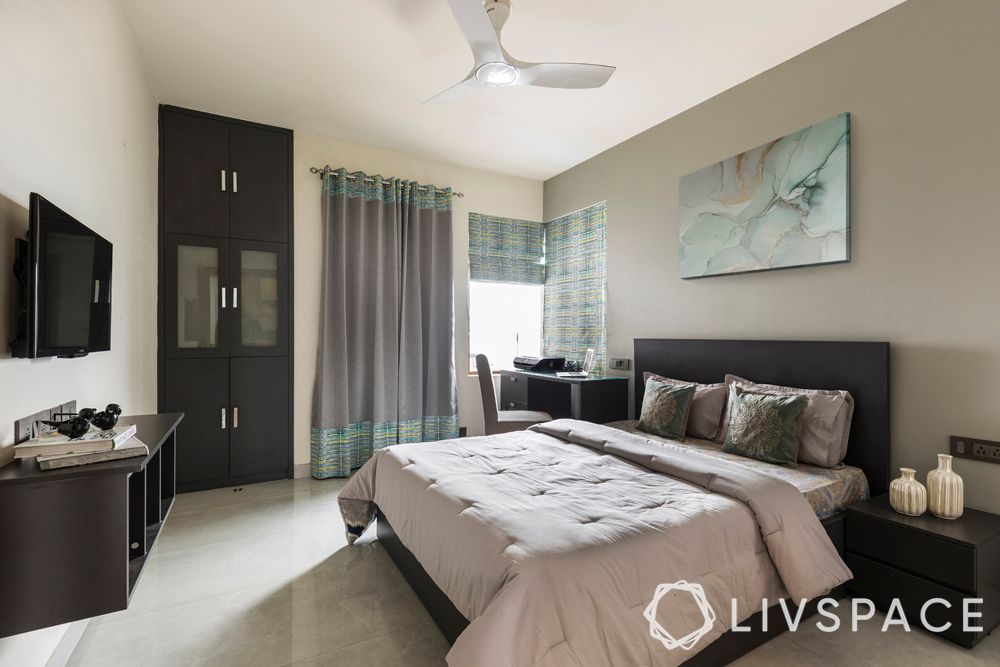 The guest bedroom basks under comforting neutral tones. Anshul and Megha were particular about having a study for this bedroom. As a result, Rishab put in a minimal table and paired it with an upholstered chair. Moreover, the grey wall as the backdrop adds to the ambience. The wardrobe in the corner has been refurbished in the same slate grey laminate as the kitchen. Also, it matches with the TV unit beside it.
A room for wardrobes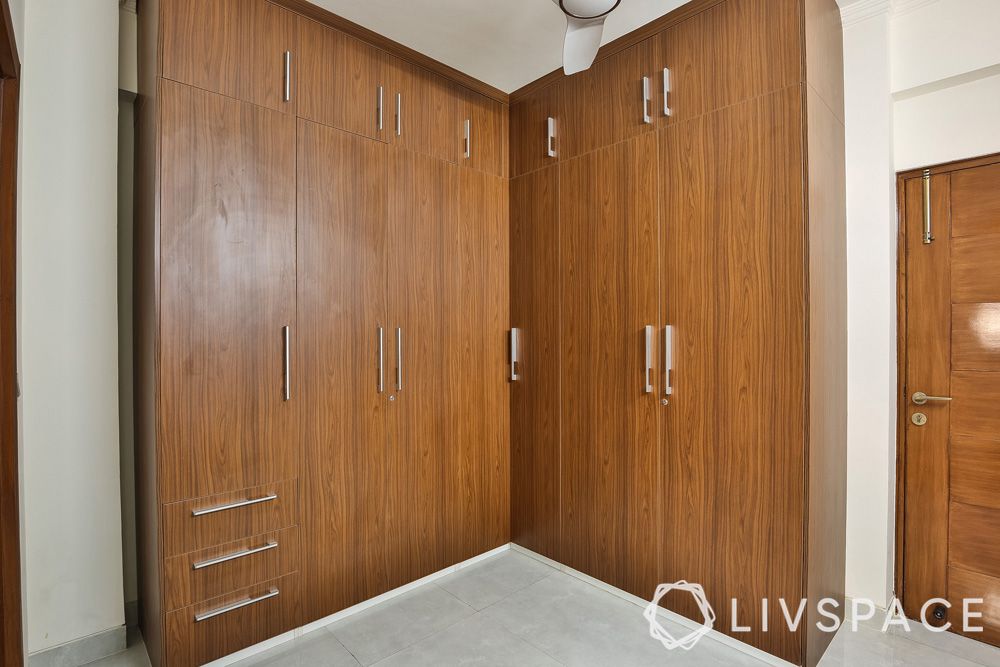 Imagine a room full of wardrobes for all your essentials and more! Who wouldn't crush on it? Rishabh turned one of the bedrooms as a multi-functional space with two large laminate wardrobes and their exercise equipment.
An elegant bathroom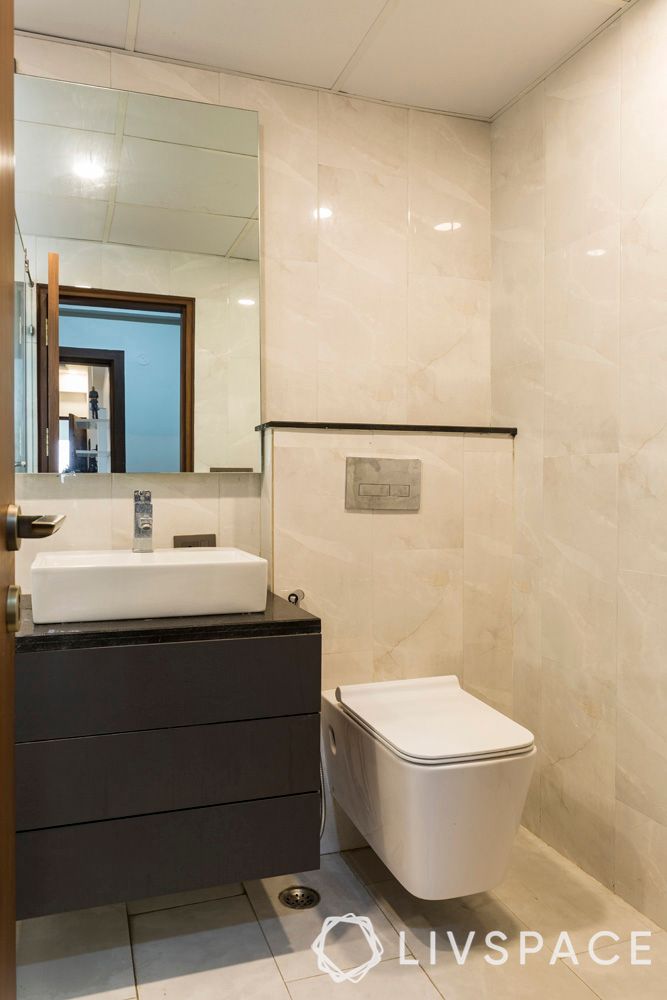 Just like the rest of the home, the master bedroom's bathroom has been done in neutral tones. It flaunts slate grey cabinets under the sink and a frameless mirror.
"To make good homes you need to make good relationships. And I thoroughly enjoyed working with Anshul and Megha. It was a pleasure designing their home!"

Rishabh Chatrath, Interior Designer, Livspace
Also, if you liked this tour, take a look at other beautiful houses photos: Two Living Rooms, Two Styles
Send in your comments and suggestions.