One of the biggest challenges of moving into a new home is making it feel homely and comfortable. Homeowners Mala Kalra and Hardesh wanted exactly that from an interior design company in Gurgaon.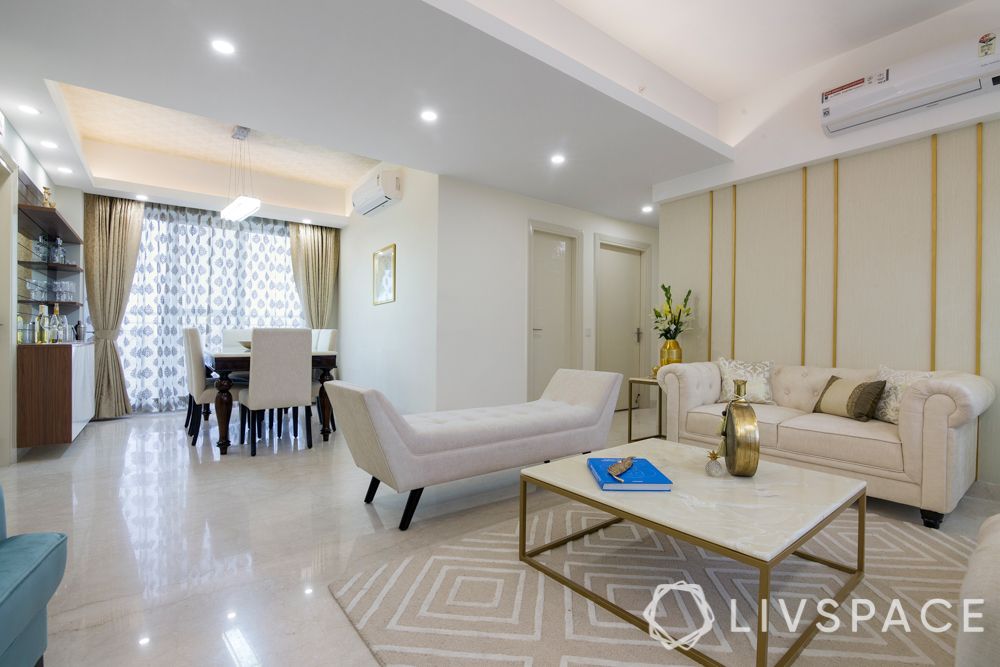 ---
Who livs here: Mala Karla with her husband Hardesh and their son Deepanshu
Location: Sector 81, Gurgaon
Size of home: 3BHK spanning 2600 sq ft
Design team: Interior Designer Saujanya S & Project manager Abhik Saxena
Livspace service: Full Home Design
Budget: ₹₹₹₹₹
---
Mala and her family browsed through a sea of interior options for their new Sector 81 home. Before you know it, they found Livspace, an interior design company in Gurgaon and put down a query on our website. Moreover, she clearly expressed that she wanted an elegant design for their Bestech Parkview Grandspa home with neutral colours and nothing over the top. Assigned to this project, Livspace designer Saujanya S has the ability to precisely understand what the homeowners require while offering the most suitable design options. Consequently, a perfect match for this family and their home.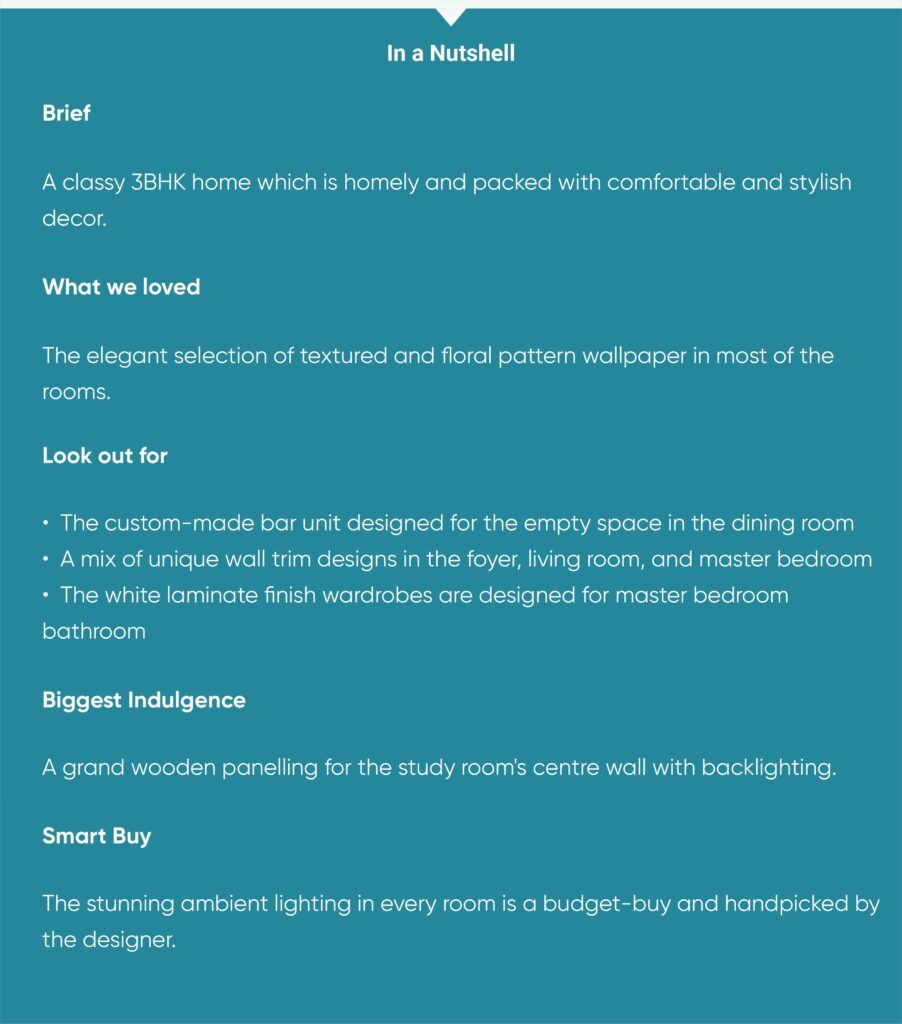 Understanding the layout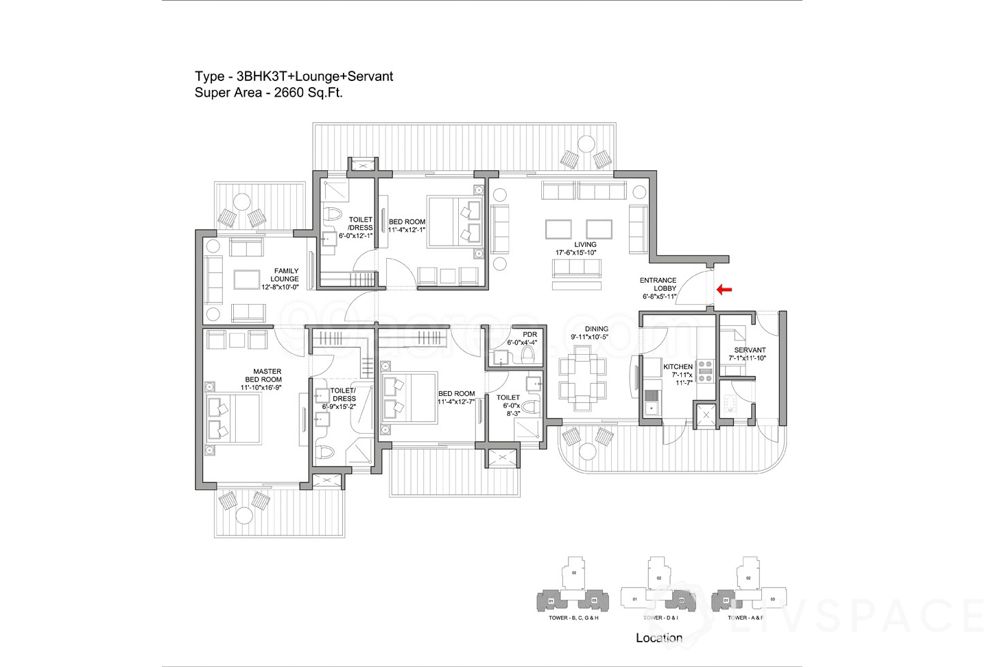 Here's a quick and easy way to understand how the interior design company in Gurgaon chalks out a spacious home and its layout. Subsequently, the red arrow represents the entrance and the foyer. This leads to the living room and dining room on either side. Followed by the son's bedroom and another bedroom that was redesigned into a study room. At the end, a large portion of the layout is occupied by the stunning master bedroom with the family lounge next to it.
A stunning design for a compact foyer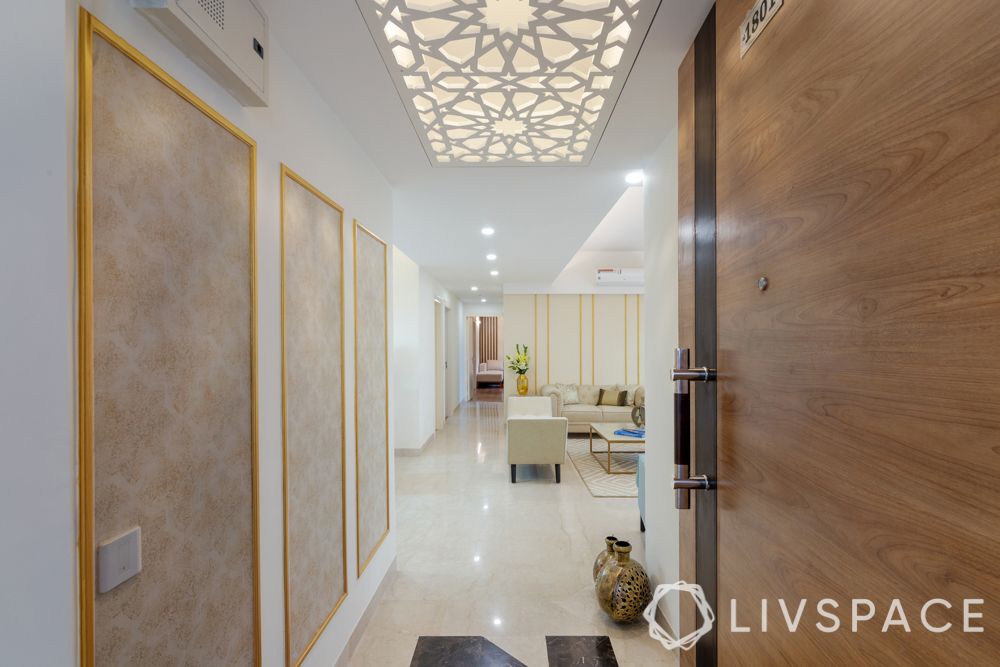 Let's start with the interior design company in Gurgaon and Saujanya's favourite design in the home – the foyer. This Gurgaon home is embellished with gold wall trims and patterned wallpaper in beige. However, the noteworthy design in this space is the jaali panel in the ceiling.
"The jaali was fixed in the existing false ceiling niche.This niche also housed a fire sprinkler, so we had to add a CNC cut panel that would not hinder the functionality of the sprinkler," Saujanya explains.
We love this innovative design because the jaali adds a very grand shadow effect to an area that is designed minimally for its compact space.
A living room with dainty designs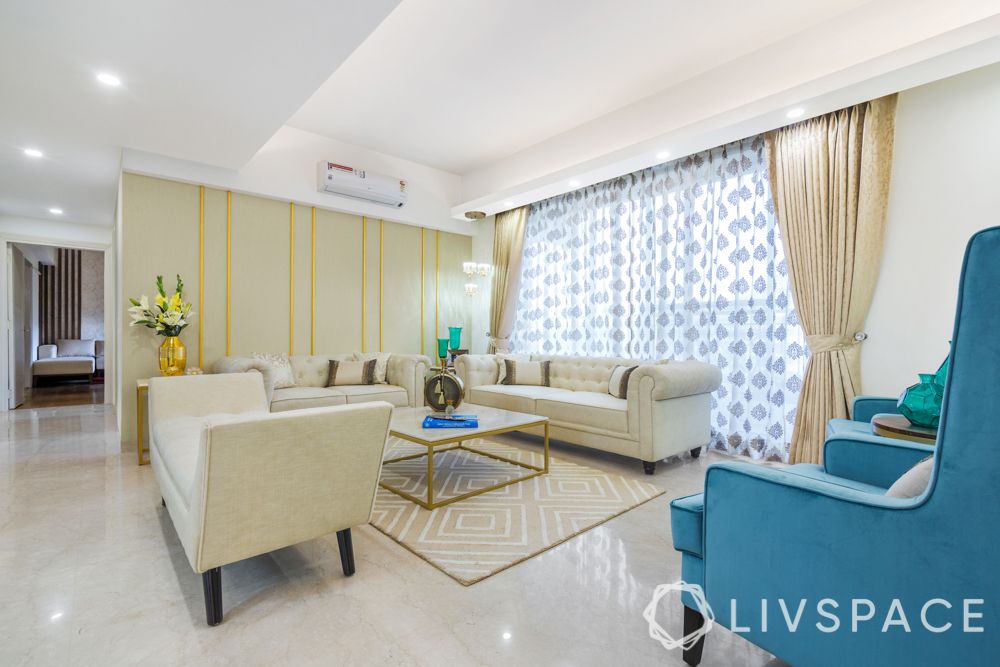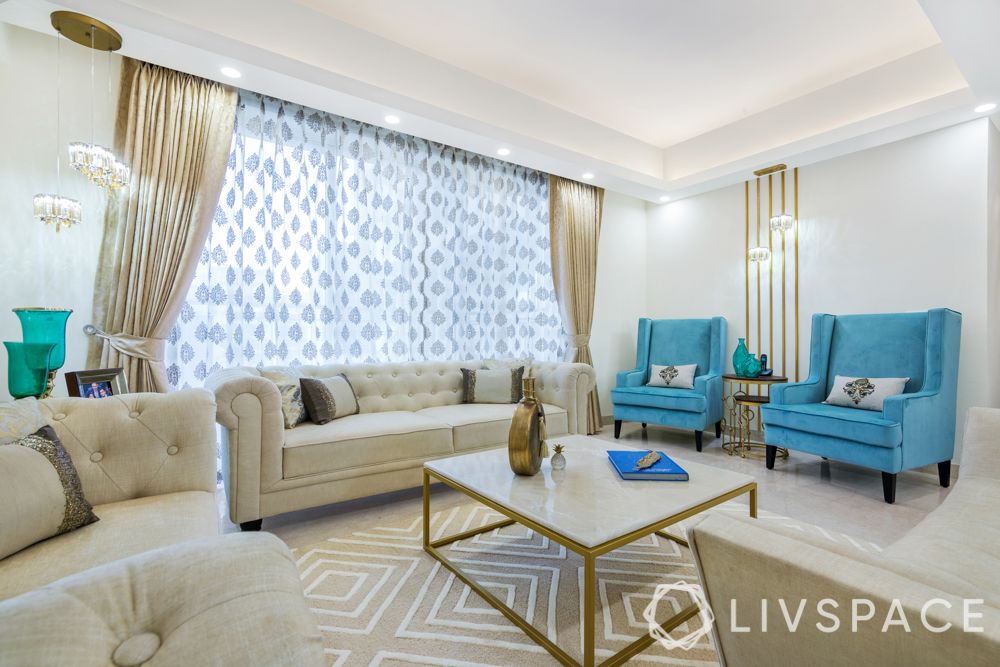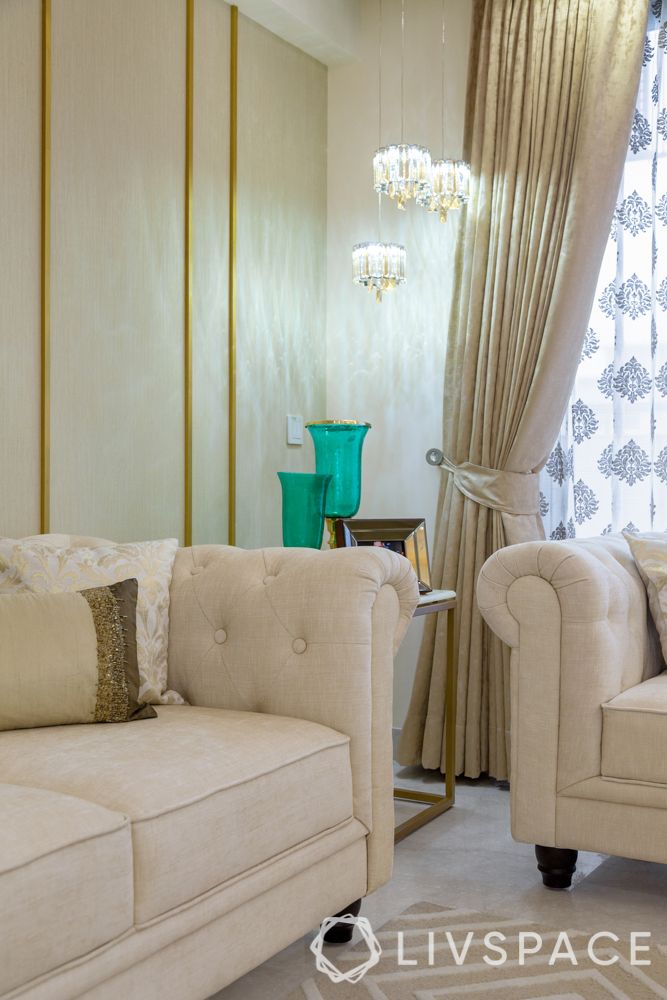 The foyer leads into the common spaces of this Gurgaon house. On your right is a neutral-themed living room with pops of blue and on your left is a minimal yet bright and airy dining room.
First, let's focus on the living room. In order for the entire home to tie in with the theme, all the furniture and wallpaper elements are sourced from Livspace catalogue. Besides, adding a bit of colour to the room are the velvet arm chairs in a fabulous sky blue colour.
Get the look: The gorgeous multi-level pendant lights are a budget buy from Sikanderpur market in Gurgaon.
A simple two-element dining room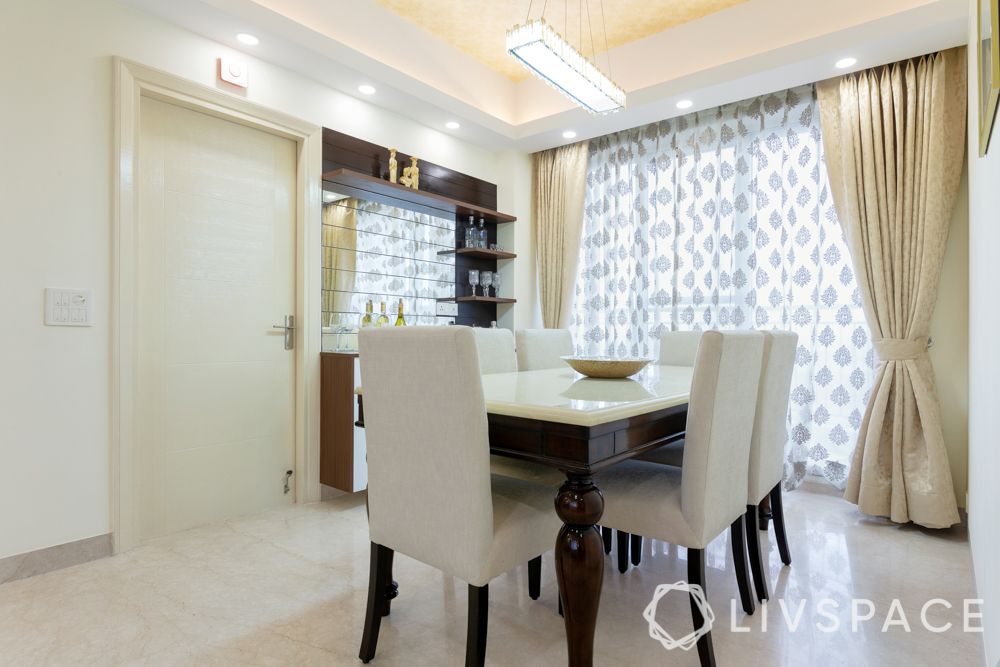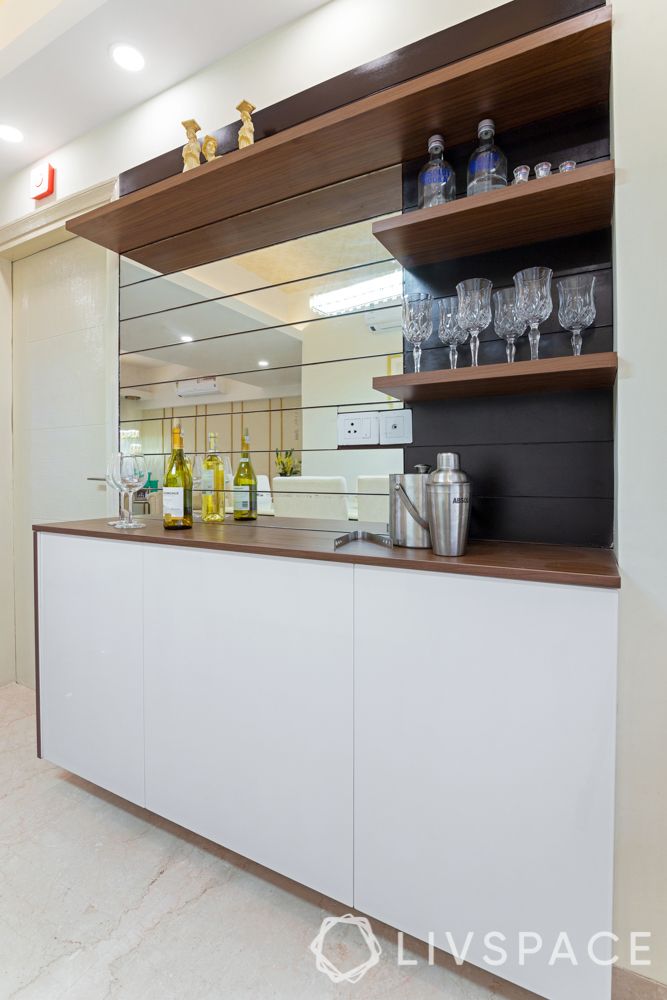 As seen in the floor plan, a 10×10 ft space is apportioned for the dining room. Saujanya suggested a dining table and a simple bar unit for this space, keeping ample floor space to walk around it. Moreover, the bar unit has a mix of custom and modular units. The floating base cabinet is modular while the shelves and mirror panelling are one of Saujanya's unique custom designs.
Get the look: Find these cosy upholstered high back chairs in the Livspace catalogue.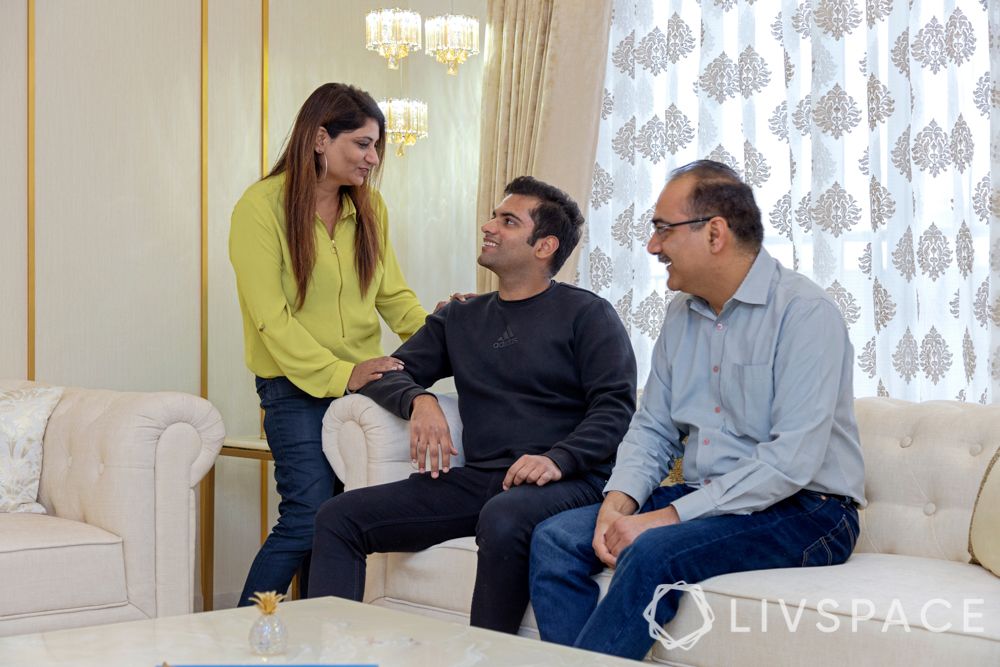 "We didn't know how much effort goes into designing a home until we met with Saujanya. She has exceeded all our expectations and we couldn't be happier with the end result. The entire team understood exactly what we wanted and worked around our requirements."

-Hardesh Karla, Livspace Homeowner

A Parisian master bedroom design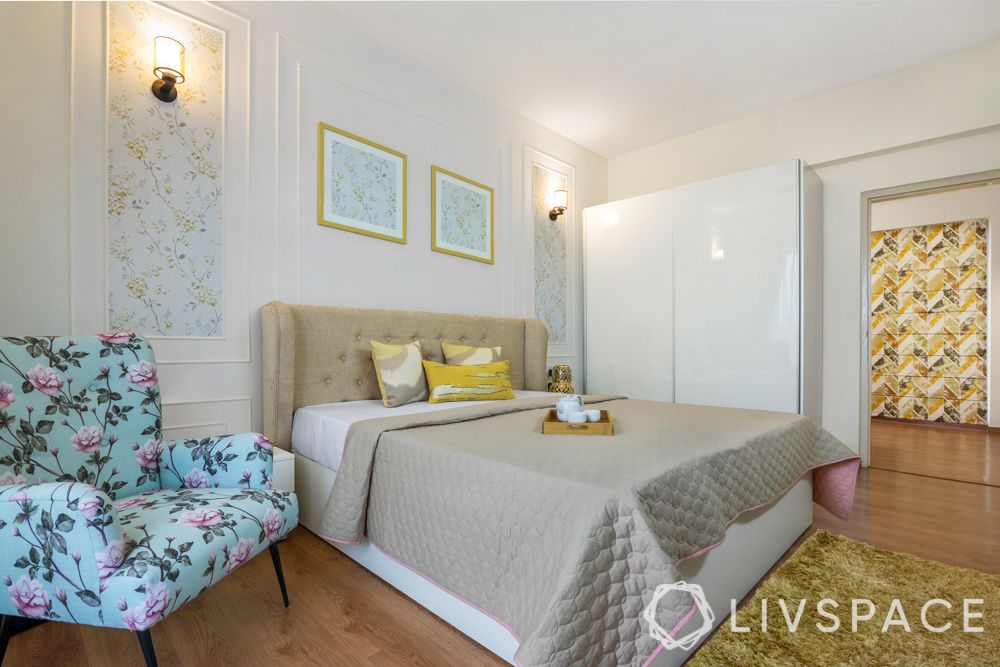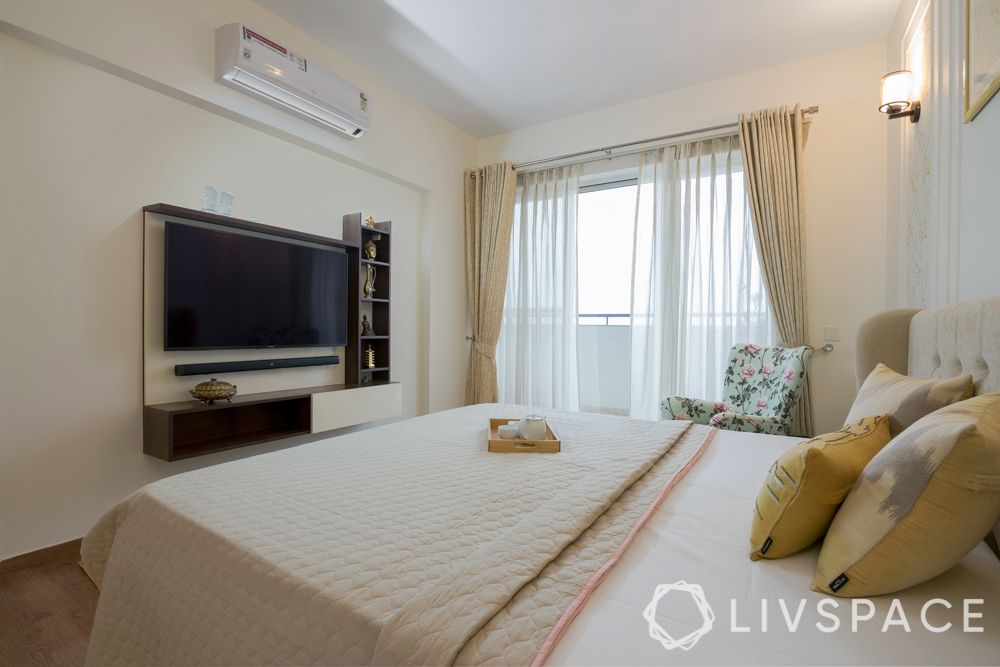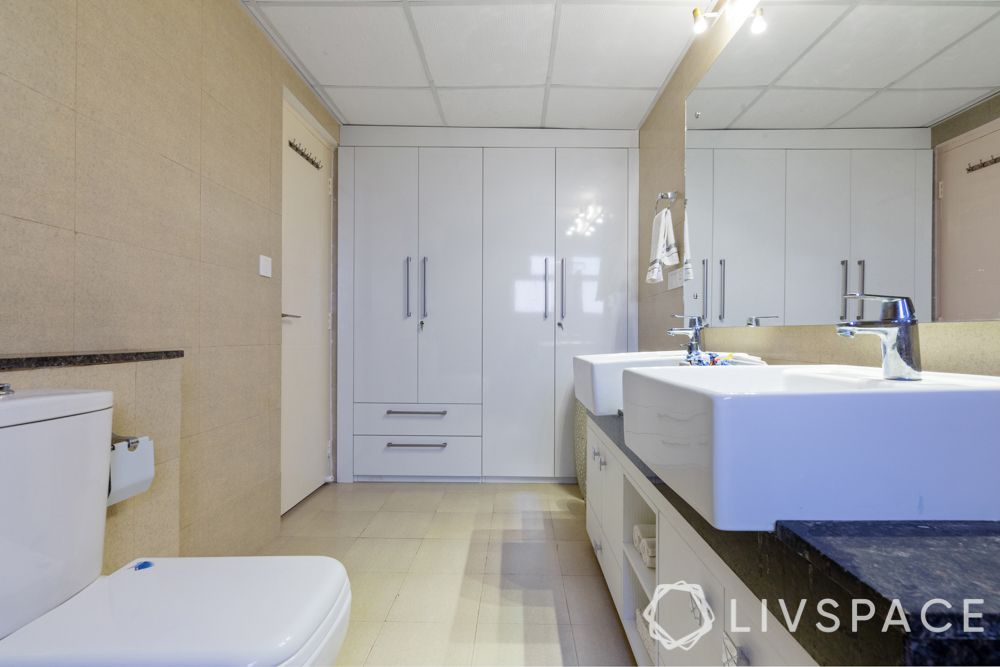 We are sure you will love this beautiful and subtle bedroom. It has simple modular furniture, keeping the design straightforward. What adds to the Parisian detailing is the floral wallpaper and wall trims from Fiore along with the classic wall sconces.
A pop of contrasting colour comes from the floral armchair. Subsequently, this room is more than its beautiful theme. The room has a scratch-proof MDF and acrylic finish wardrobe with sliding doors. Since it is placed next to the bed, the wardrobe does not have mirrors, keeping it vastu-friendly. In addition, this room comes with more storage. The main wardrobe space fit into the bathroom like a glove. Furthermore, these hinged wardrobes are in a sleek acrylic finish.
Get the look: Take a look at Fiore's collection of wallpapers for these pastel and summery wallpapers.
A sophisticated and classic bedroom for their son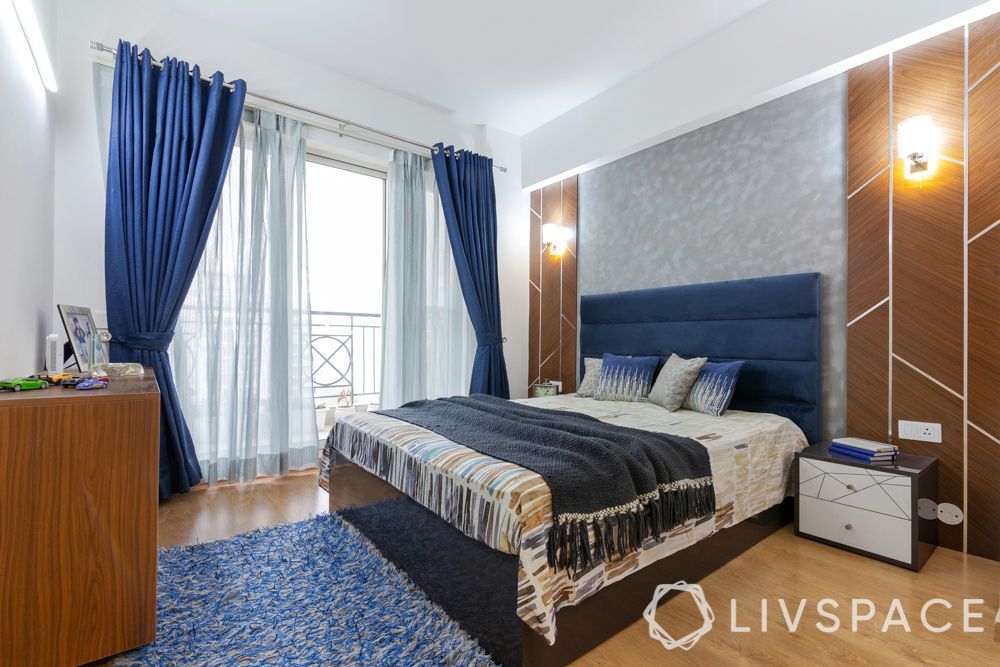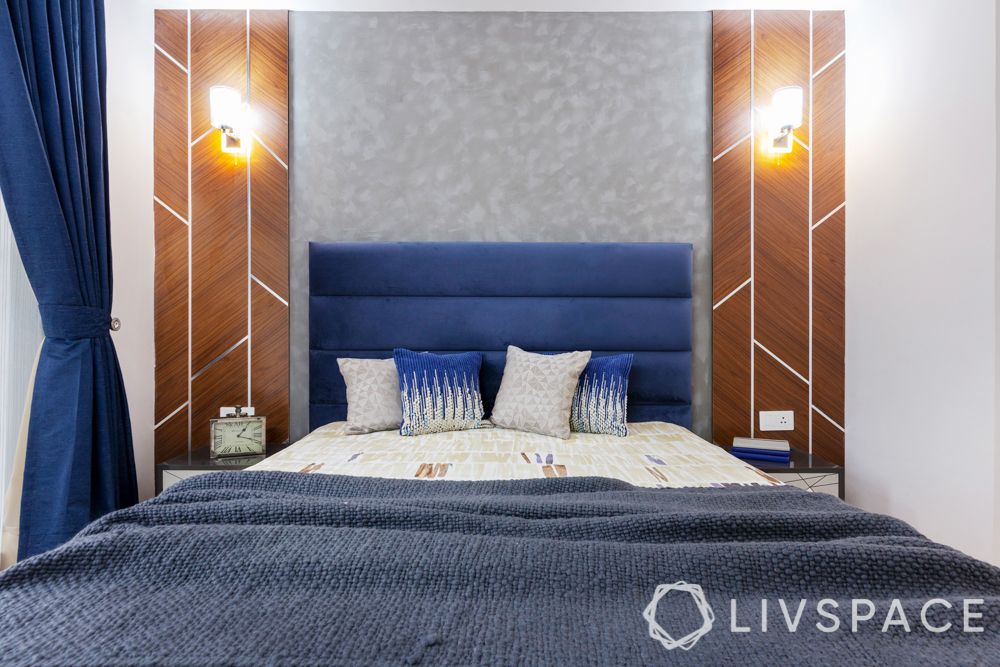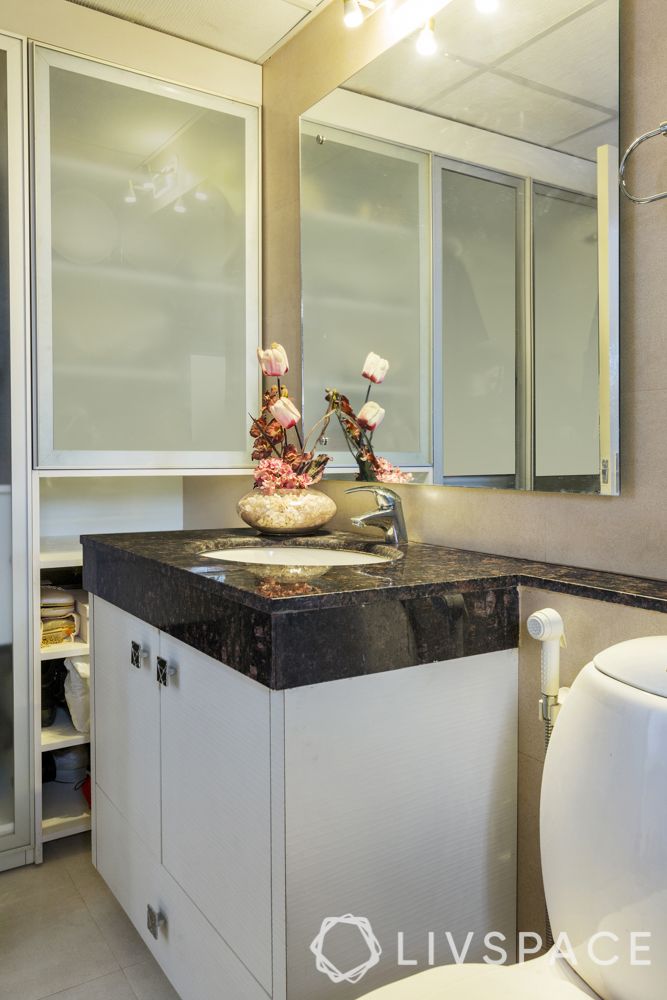 Mala's son Deepanshu studies abroad and she ensured his bedroom is exactly how he would want it. Saujanya has given this room a classy and warm look with just one element – the wooden wall treatment. On either side of the bed Saujanya has designed wooden panels made of MDF wood and added stainless steel chrome strips for detailing.
Lastly, Saujanya suggested adding storage to this bedroom's bathroom as well. Since the compact bathroom did not have space for a wardrobe, she added frosted glass cabinets to hide away any clutter. Moreover, open shelves were installed in corners where doors would not open.
Get the look: This Brenda wall-hung headboard in navy blue can be found in the interior design company Livspace catalogue.
Smart designs for the study room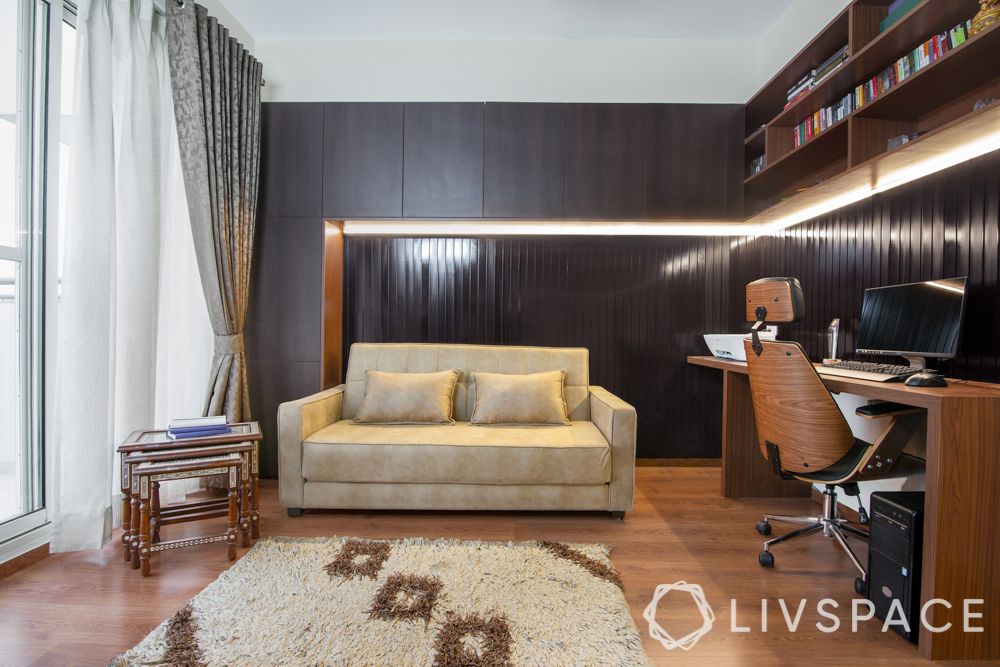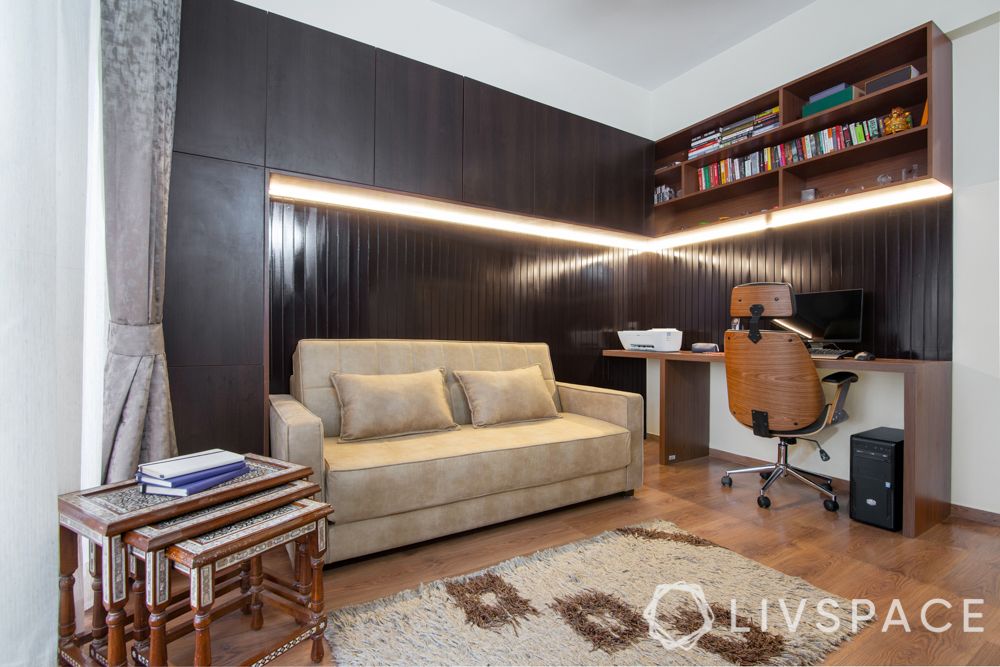 Now this room looks like it is straight out of a movie! Hardesh Kalra's favourite room also happens to be the highlight of the home. The warm wooden finishes and open floor space makes it the perfect space to study, work or even ponder the events of the day. Mala's son wanted this space to have a dark finish and plenty of storage. Therefore, Saujanya suggested MDF panelling with grooves. Consequently, these panels are painted in the darkest shade of brown available – mystic walnut. The room instantly becomes a multi-purpose room with a sofa-cum-bed.
Get the look: The modular wall storage is picked out from the kitchen storage category for its durability and design.
A lounge designed for family time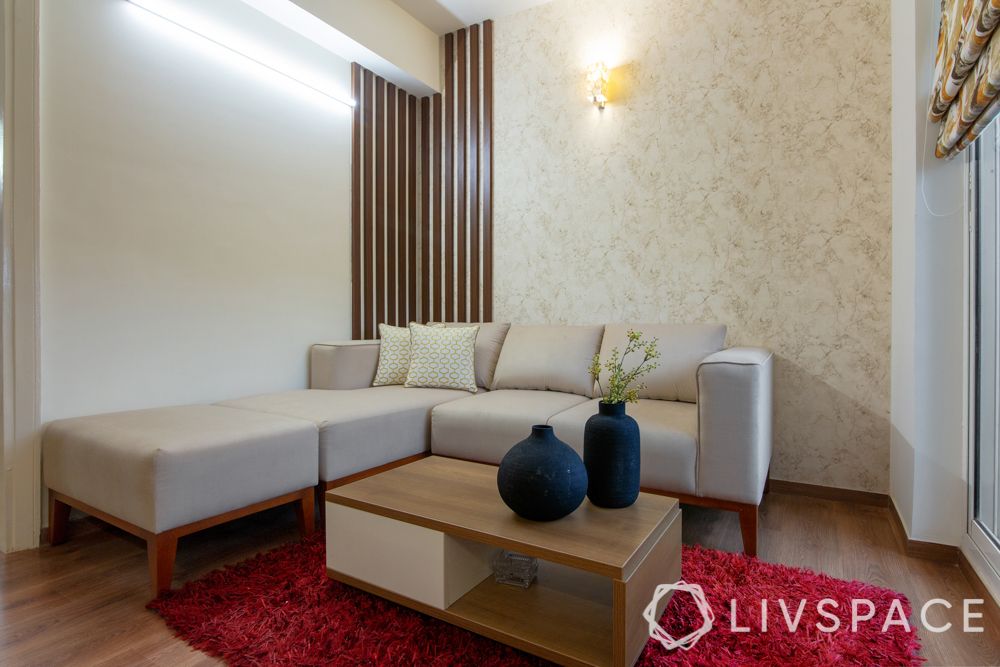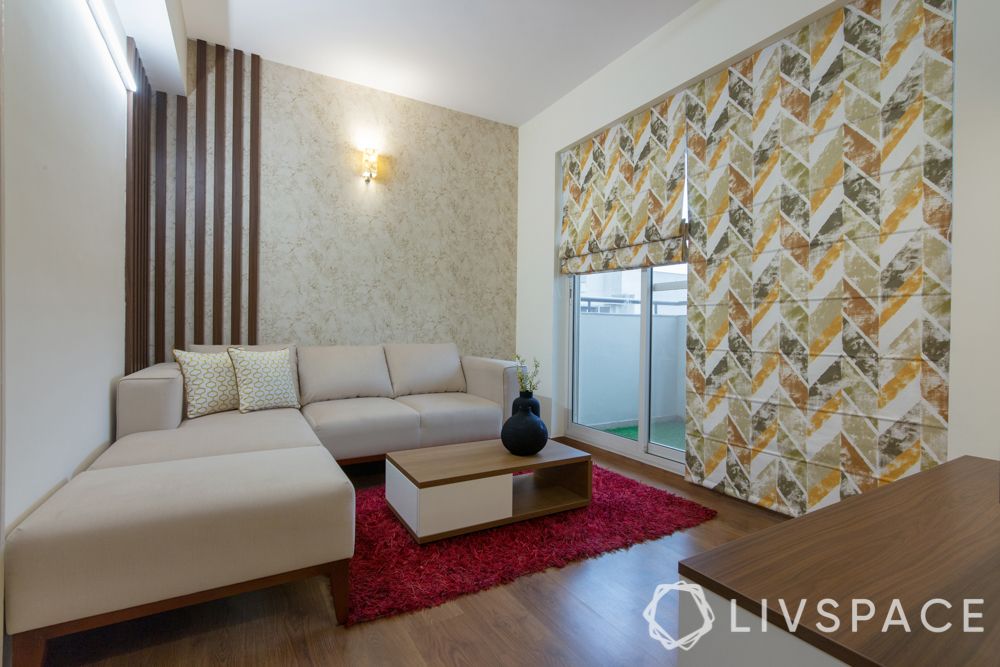 Since this room is reserved only for family members, Mala wanted this room extra cosy and personalised. Subsequently, Saujanya has used two units of 385×25 inches wallpaper here. Therefore, this wallpaper is in a marble design and has a textured finish. The L-shaped sofa and coffee table are the perfect pair for this room.
Get the look: Add MDF panels to any wall for a budget wall treatment design that can give a room extra pizzazz.
Designer's experience
"Mala's interest in design and interiors made the process easier and all the more engaging. Although the family was sure of what they required in their home, they gave me plenty of freedom to work with a variety of wall treatments and materials. Overall, working with the Kalras was a great experience."

–Saujanya S, Interior Designer, Livspace
If you want to take a look at another home, check out: This 2BHK Gets a Clutter-free Budget Design
Send in your comments and suggestions.