This 2 BHK home design in Pune uses vertical space so cleverly!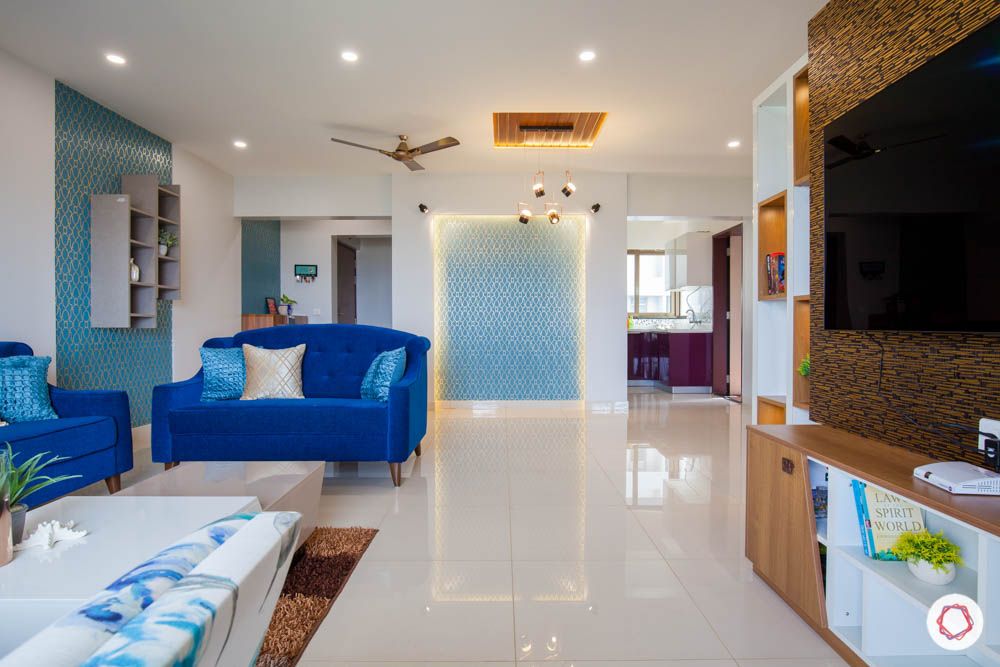 ---
Who livs here: Tarang Sharma with his wife Shreya Sharma
Location: Blue Ridge, Hinjewadi, Pune
Size of home: A 2BHK spanning 1,050 sq ft approx.
Design team: Interior Designer Aparna Ganesh and Project Manager Siddharth Satyan
Livspace service: Full home design
Budget: ₹₹₹₹₹
---
It was love at first sight when Tarang and Shreya Sharma stepped into their newly bought home at Blue Ridge, Hinjewadi. We all know Pune is the perfect city for young adults and retired individuals alike. Be it the open roads or the perfect weather that the city enjoys throughout the year, everyone wants a slice of it. So, when this working couple acquired their new 2BHK, they were really looking forward to getting it designed to suit their lifestyle.
When they met Aparna Ganesh, their designer, they were clear about having bright colours at home. Afterall, pleasing colours and the pleasant weather of this city is the ideal combination. While they did not come with rigid ideas, they knew that they required ample storage and clever space planning to accommodate friends and family, whenever they come visiting. Read on to find out how we gave them their dream home.
Let's look at the floor plan first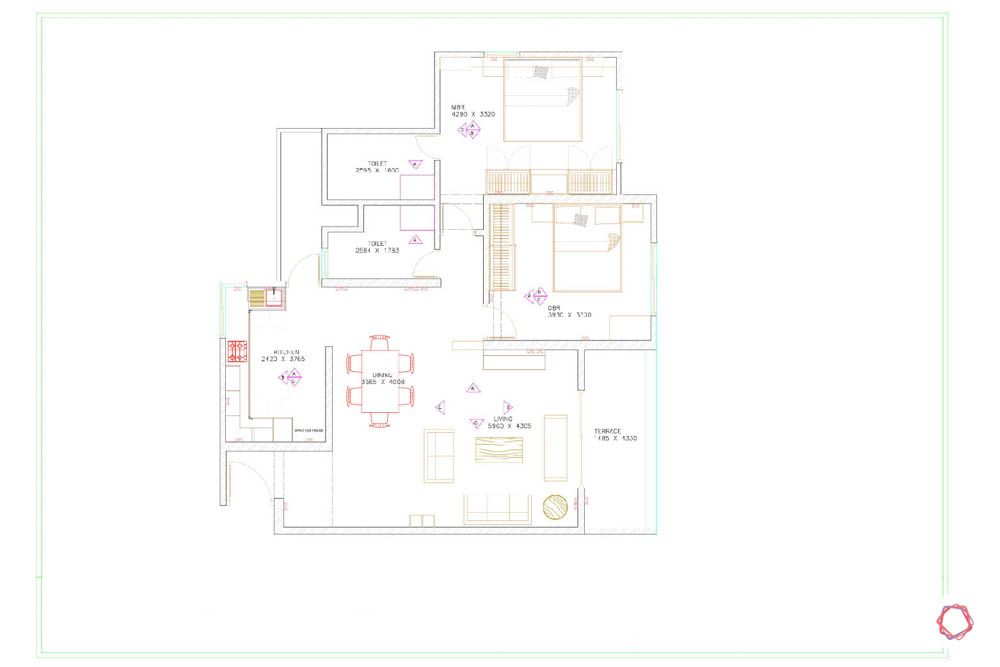 A simple entryway leads into this colourful home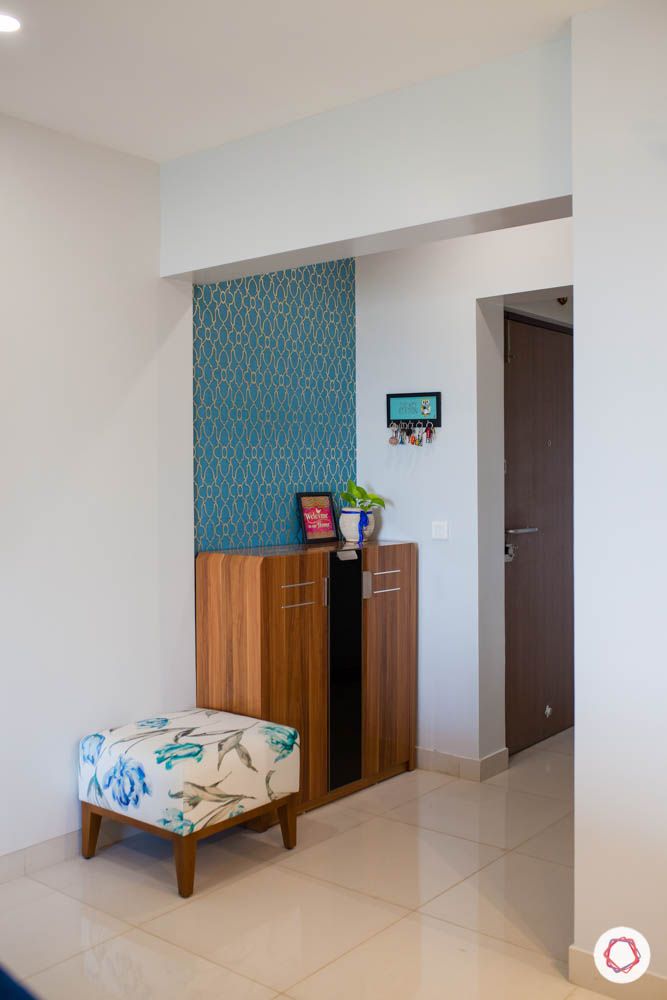 The perfect entrance to this spacious home is this foyer that is complete with practical furniture. A shoe rack, a keyholder and a small ottoman next to it. The wallpaper marks this territory.
A spacious living room designed for get-togethers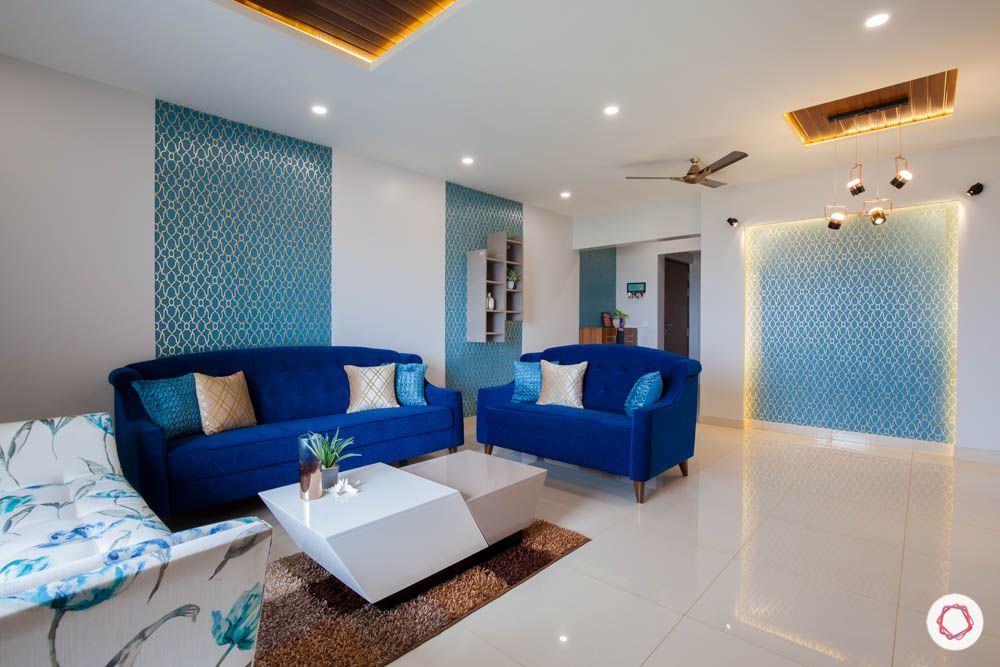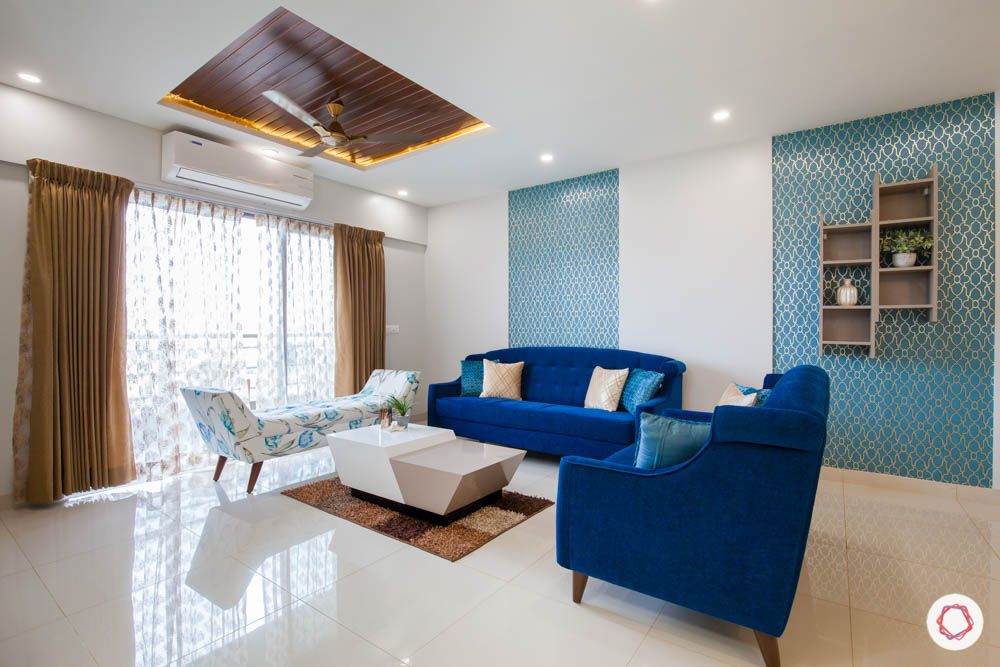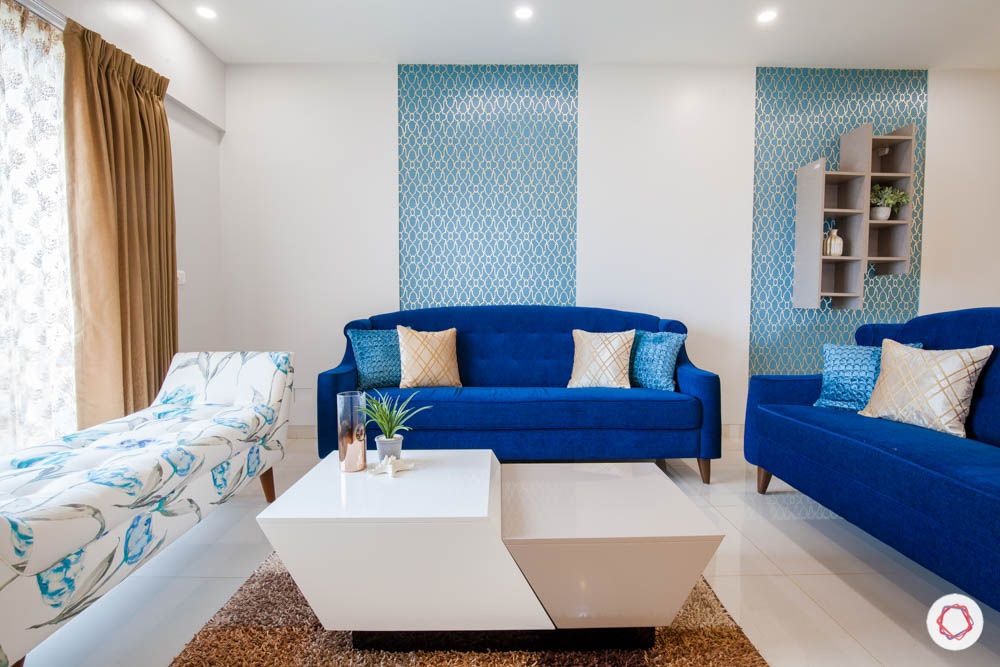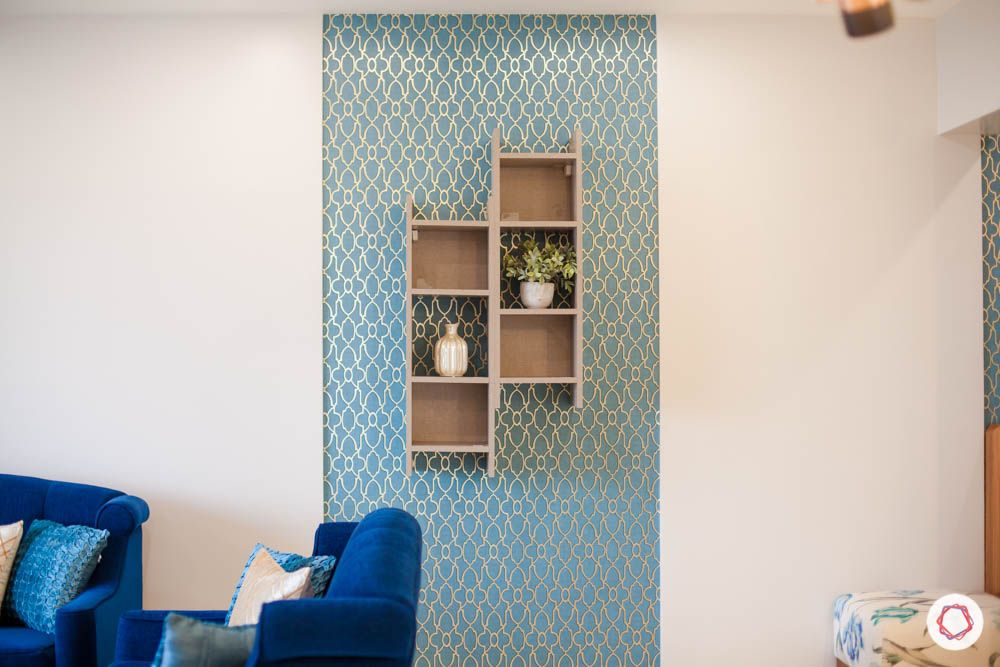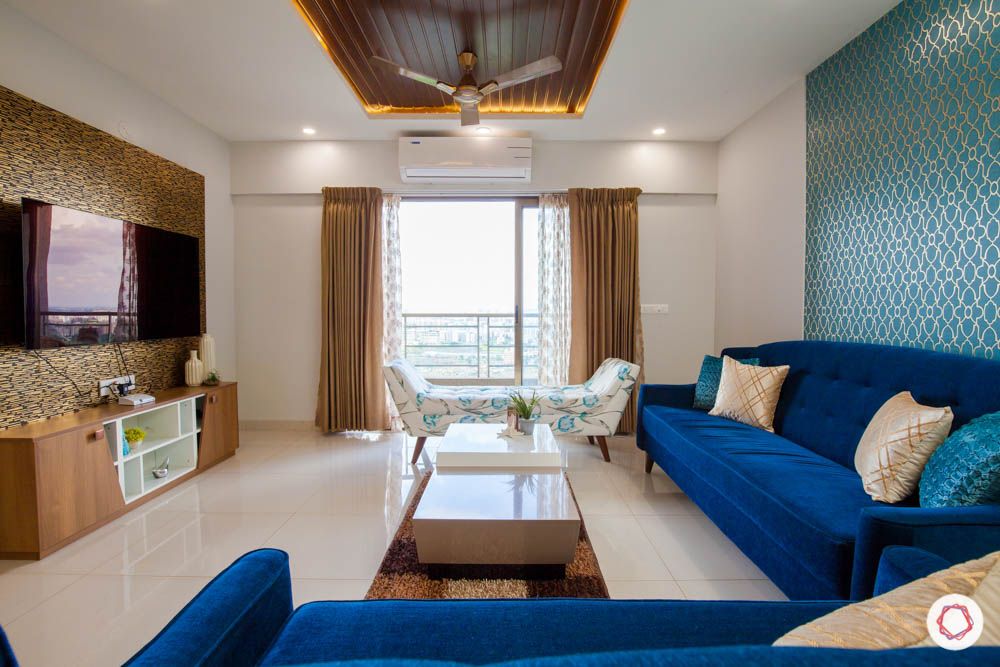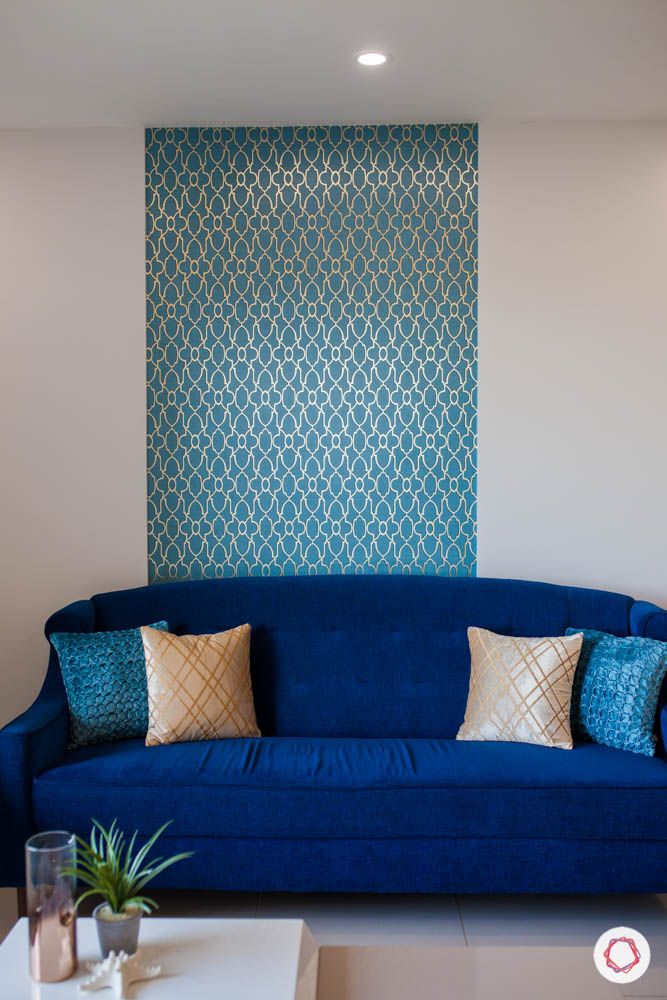 Tarang and Shreya wanted their home to be a canvas for displaying their memories. Hence, you will see a lot of empty walls and display units everywhere. The living room, which is usually the focal point of any home should be designed according to the kind of activity that goes around there. For this young couple, entertaining friends and family is of prime importance and their major requirement was to have ample seating here. Therefore, Aparna has given them rich blue sofas combined with a bench that allows an unobstructed view outside.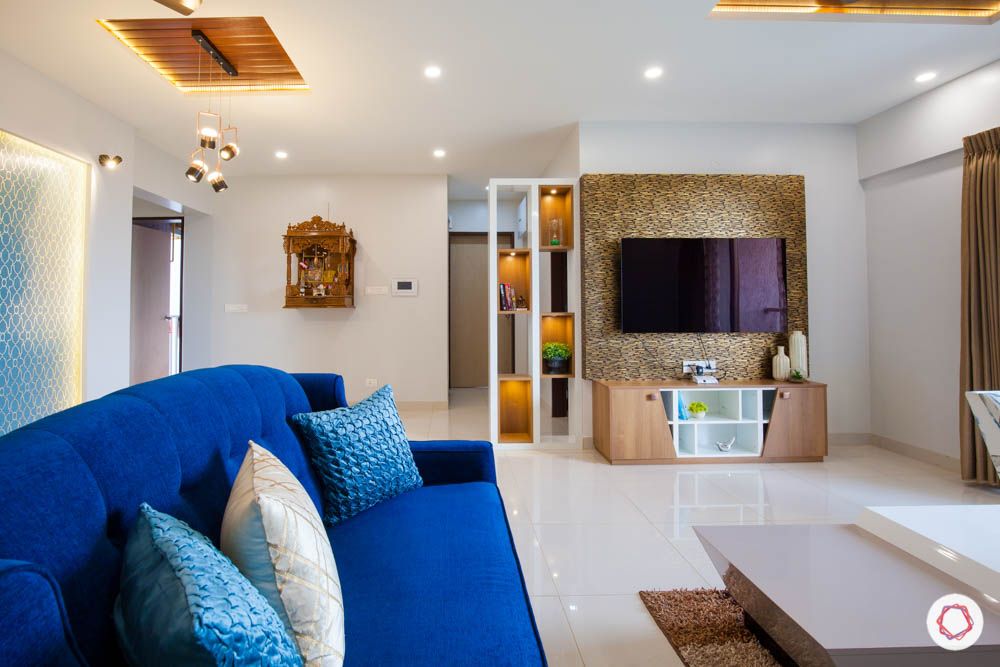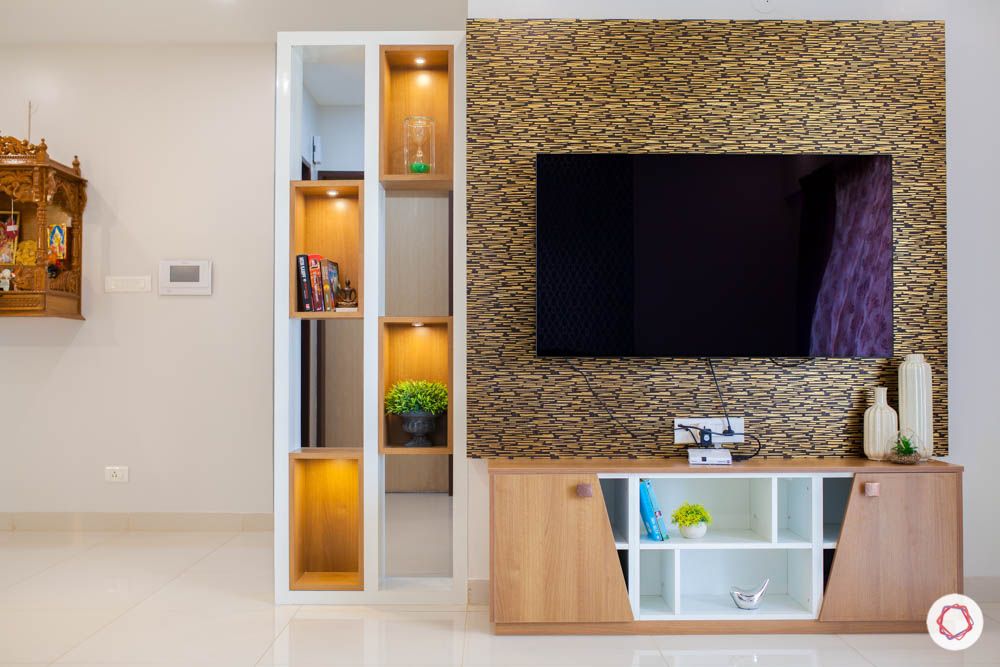 Also, do not miss the striking TV-cum-display unit. Aparna has given customised this unit for the couple and the display unit intelligently creates a visual demarcation between living room and the rest of the home. The textured charcoal wallpaper behind the television looks shiny and gives it an edge. Wooden false ceiling with LED strip lights is another great addition in this space.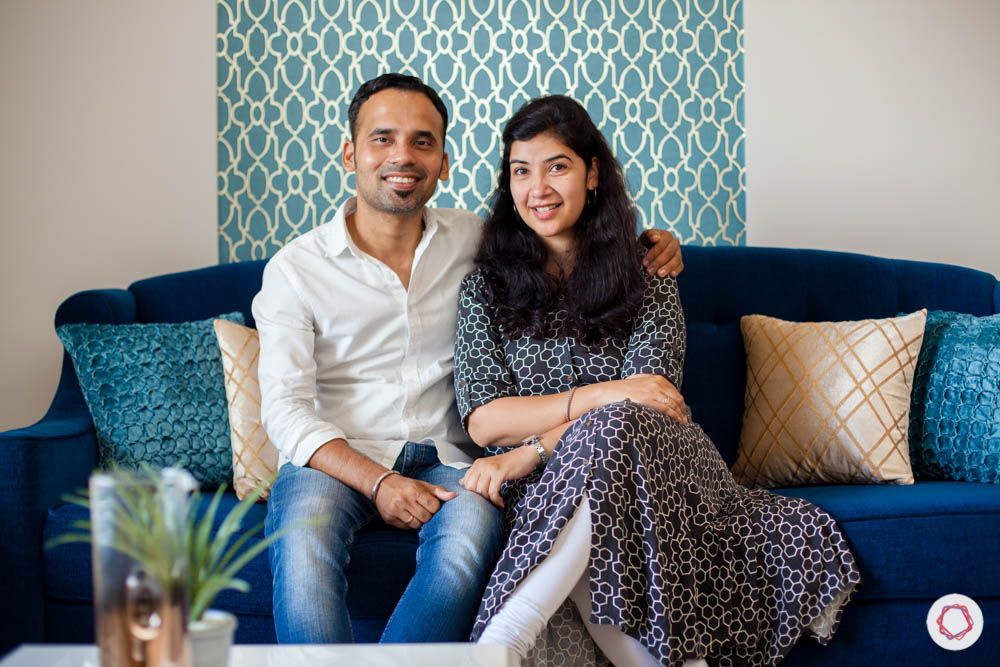 Our clients say:
"Our experience with Livspace was just amazing. Aparna, our designer went out of her way to help us with everything that we needed. This is our first home together and we wanted it to be very special. Also, we would like to thank Sanjukta for her promptness and willingness to step in for every little thing. The after-sales service at Livspace is also commendable and we will absolutely recommend them to everyone who is looking to get their homes designed!"

-Tarang Sharma, Livspace Homeowner
A sleek membrane finish modular kitchen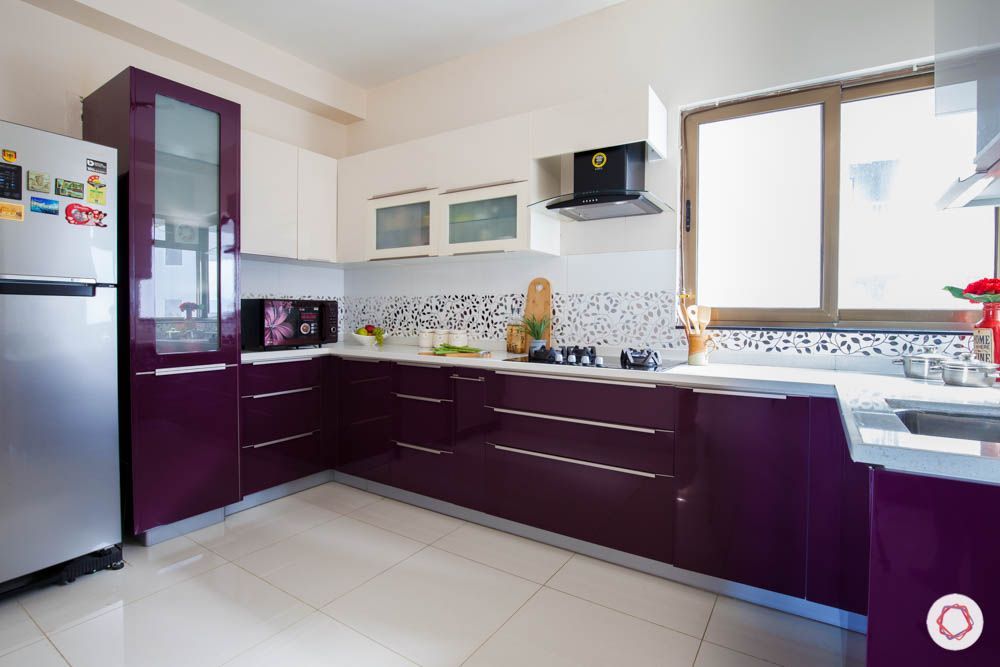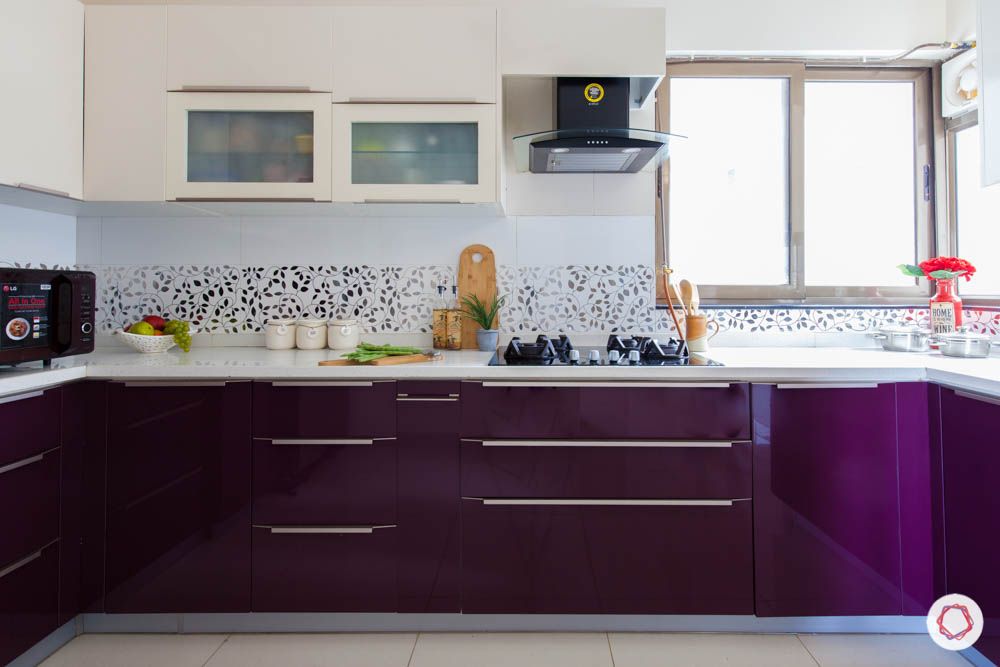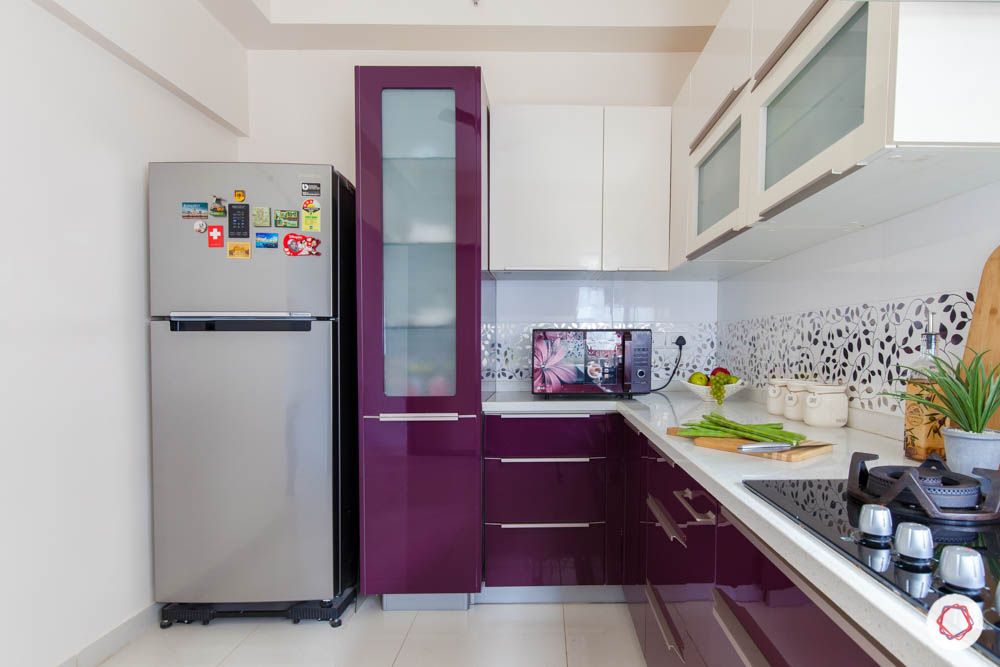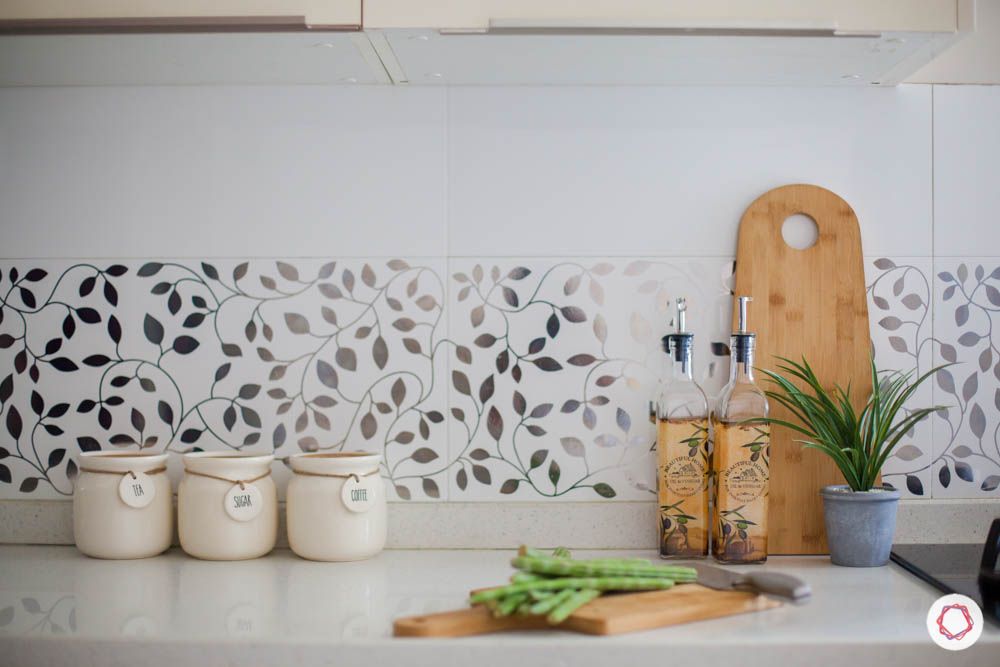 This kitchen is finished in glossy membrane and wears a striking purple colour. Like we said, both Tarang and Shreya wanted splashes of colour everywhere at home. Also, storage was a major concern and Aparna had to fill their kitchen with lofts and modules. She has given them a tall unit, huge drawers, bottle pull outs, corner units, magic corners and so on. Quartz makes for a great countertop and it is extended to the backsplash as well.
Florals and soothing colours for the master bedroom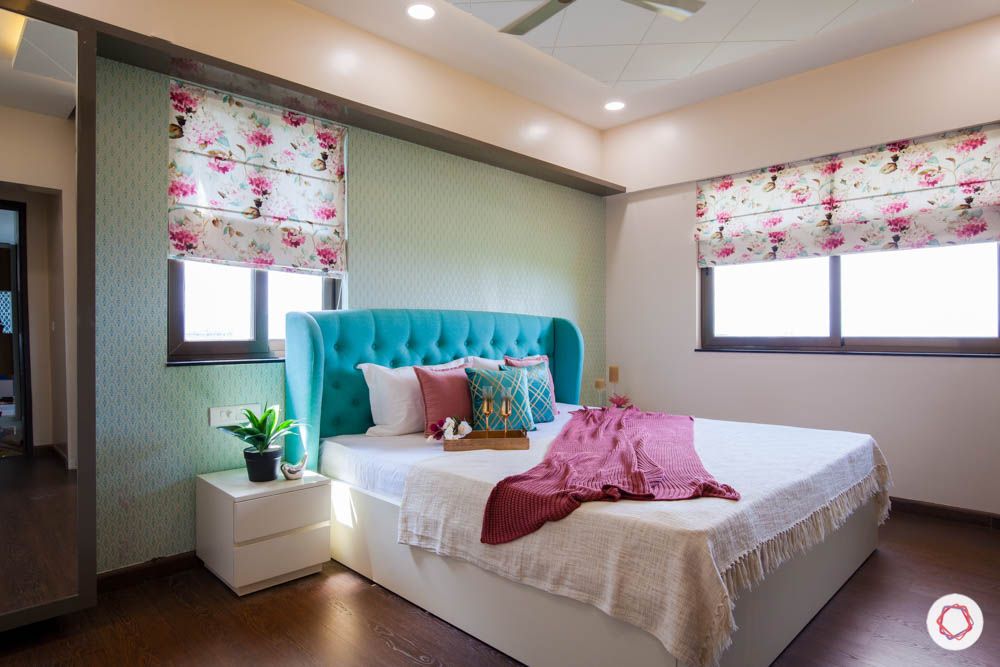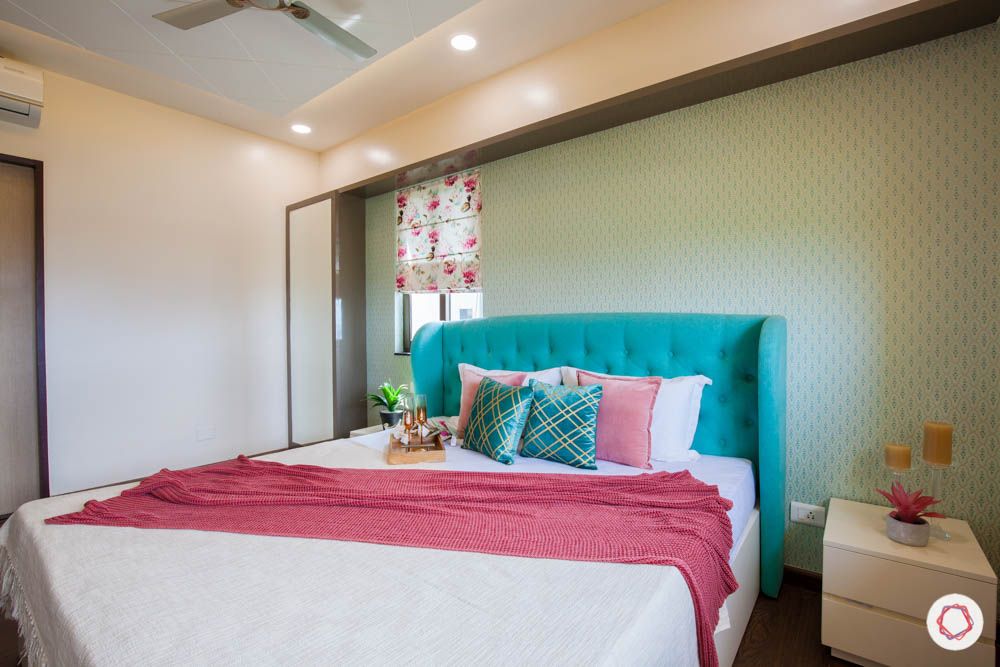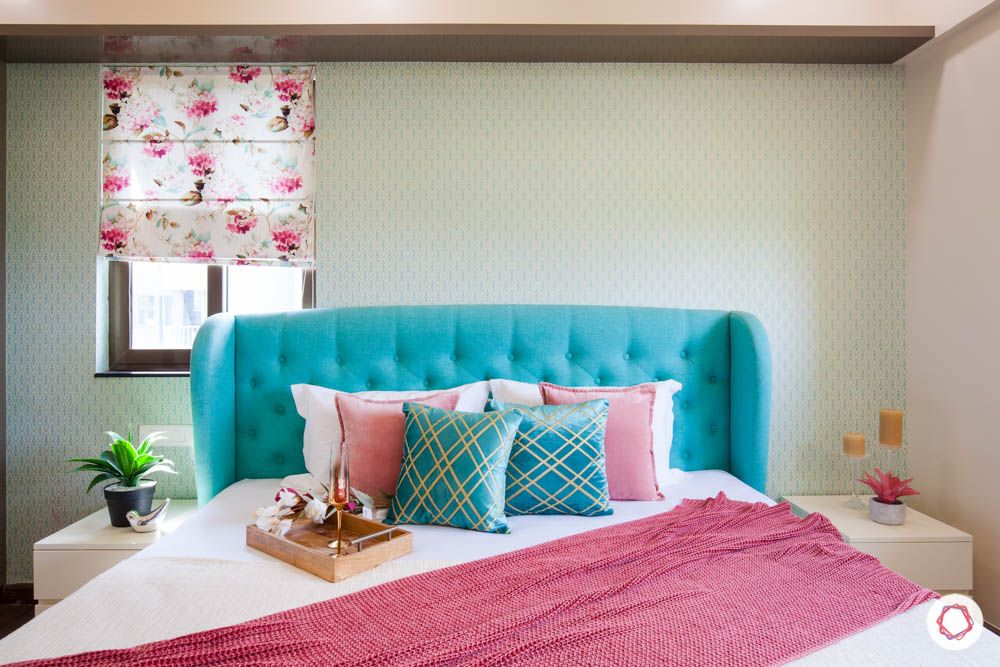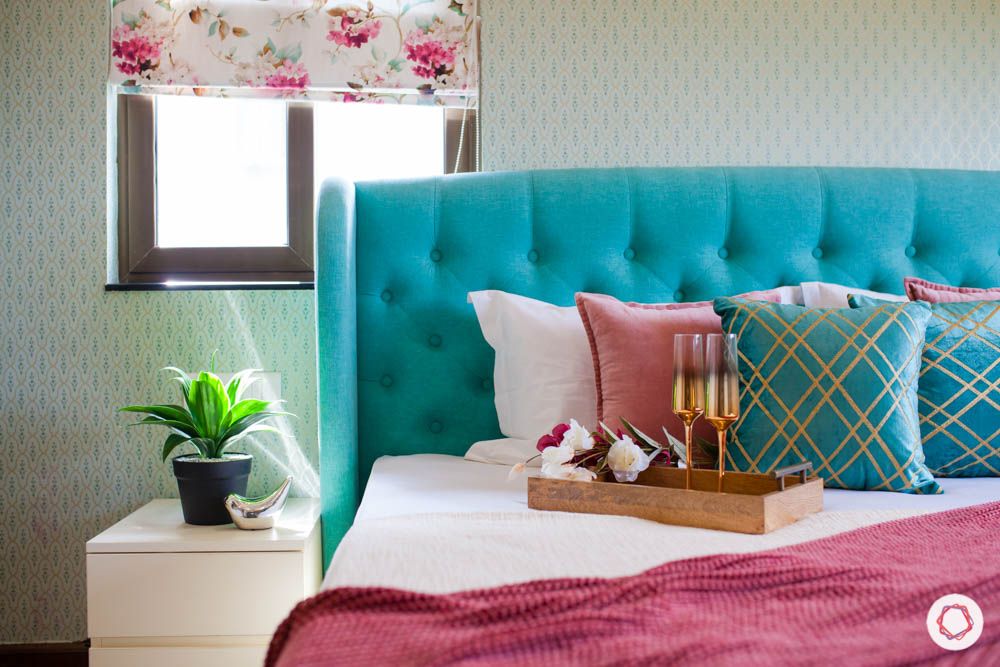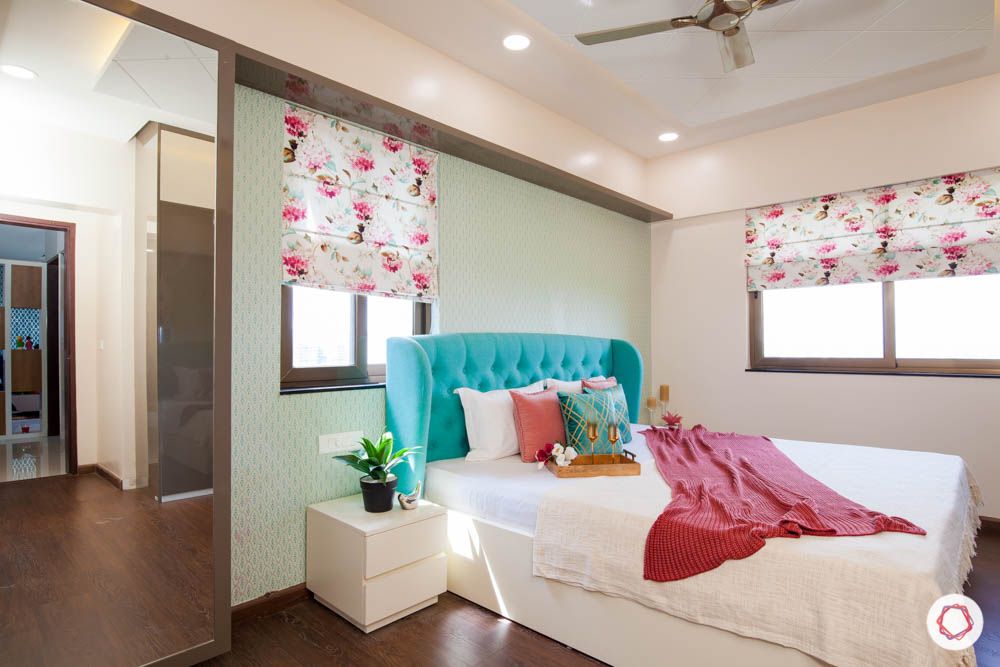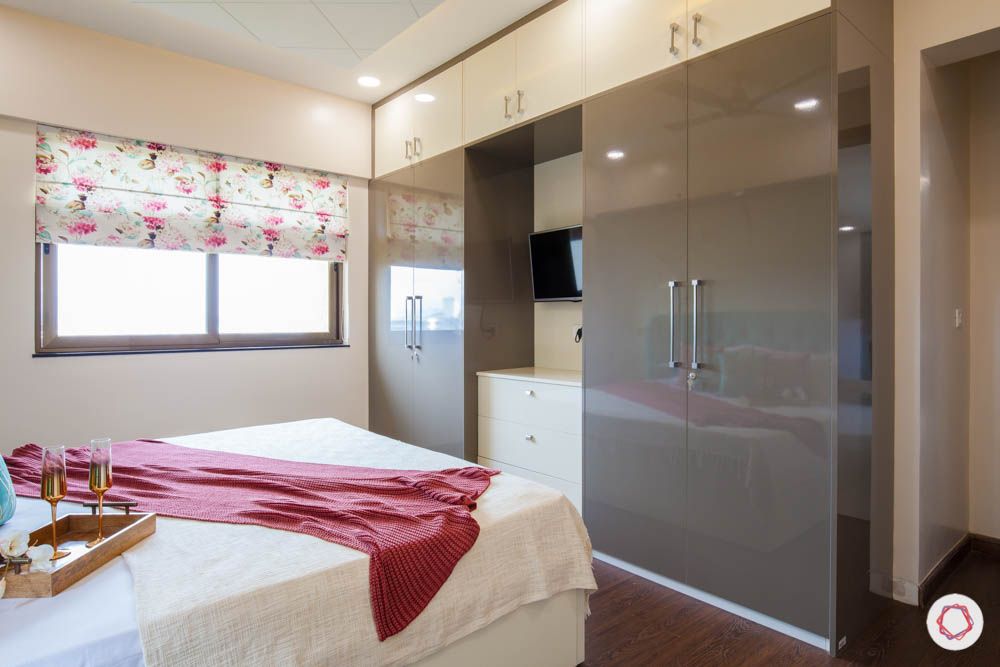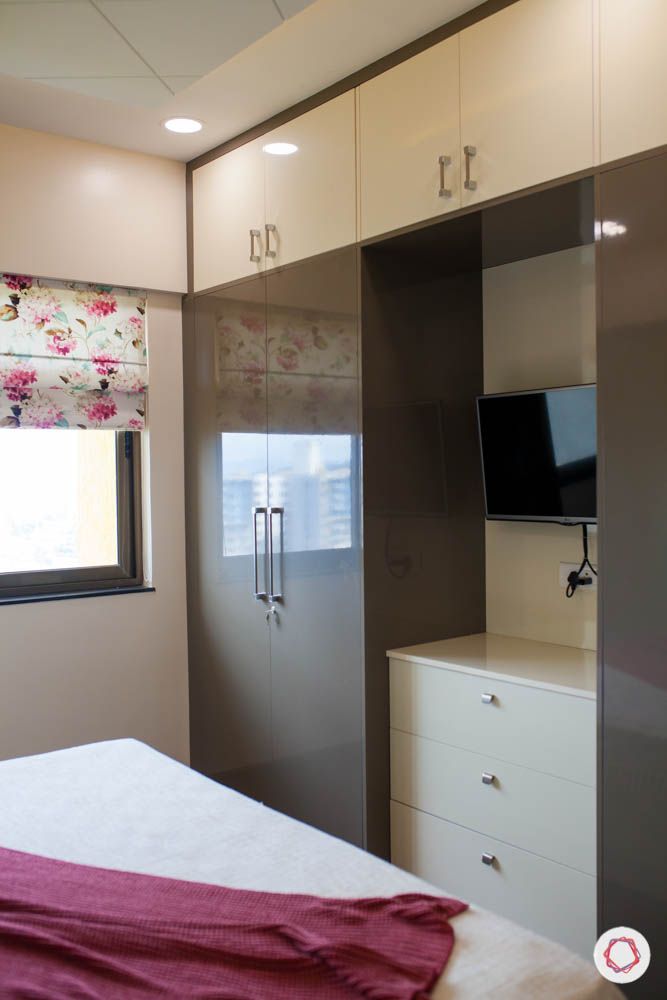 The master bedroom looks extremely soothing, complete with a blue tufted headboard and floral blinds for company. We love how Aparna has introduced a hint of pastel in the wallpaper behind the bed. Spot the dresser right beside the bed with a full-size mirror and a ledge running on top, that the couple wants to utilise for displaying curios. Storage comes easy with wall-to-wall laminate wardrobes and lofts.
Classic blue fills up the guest bedroom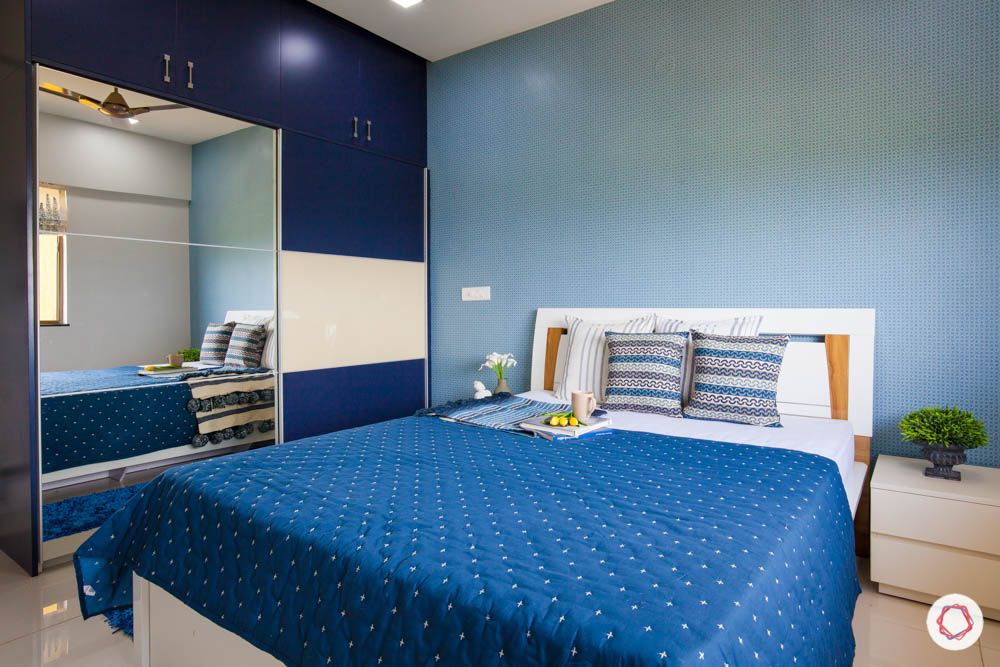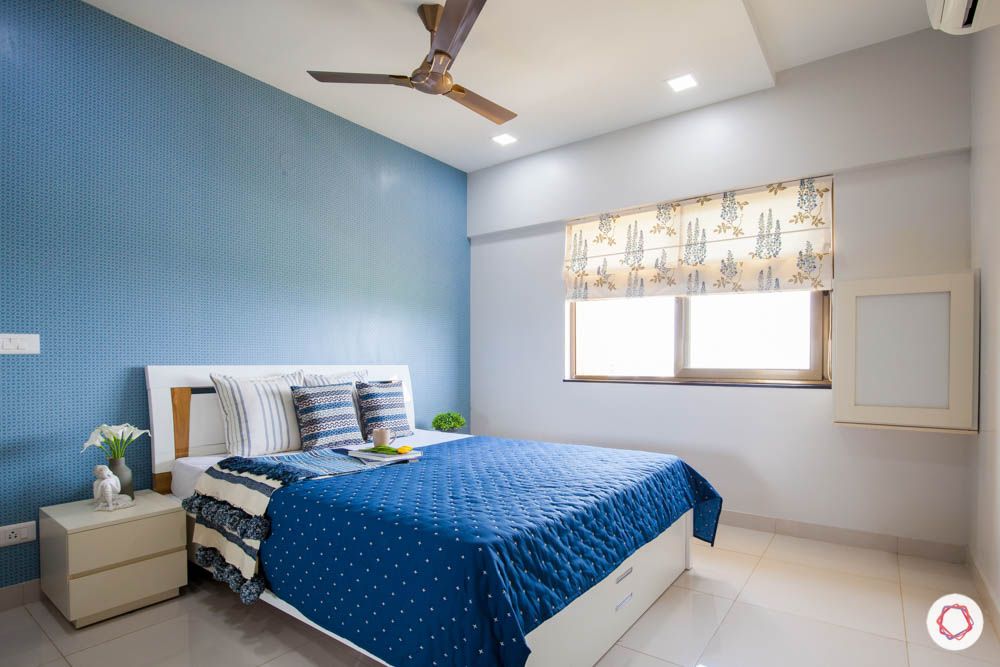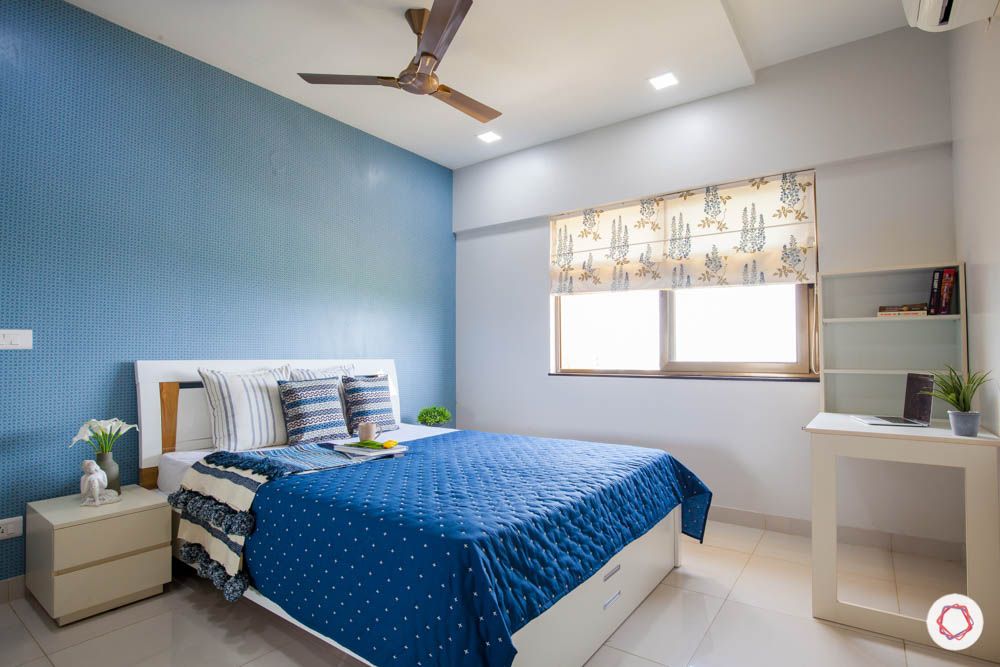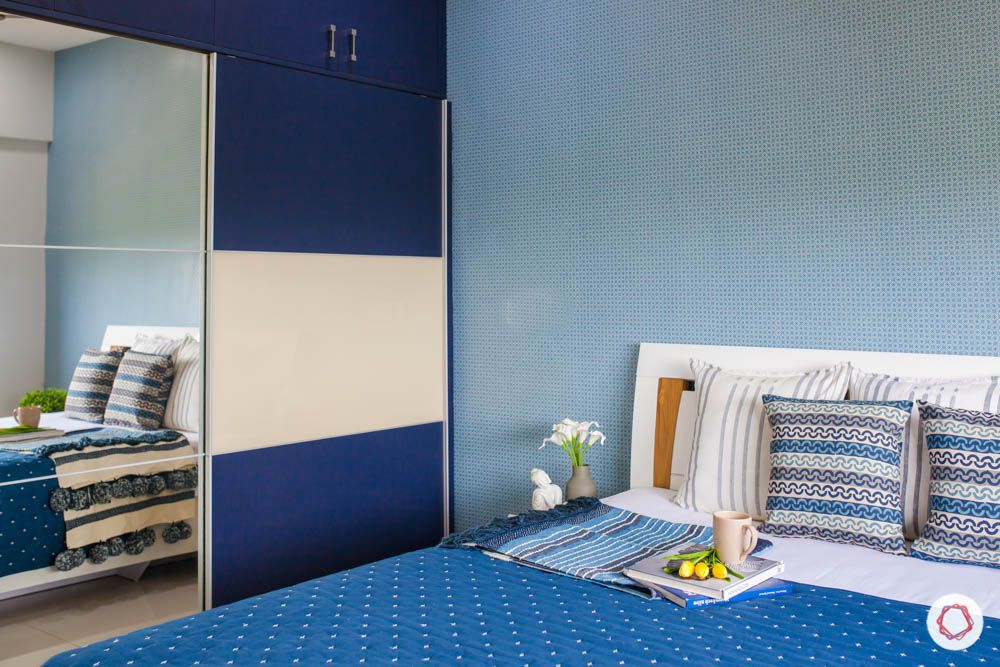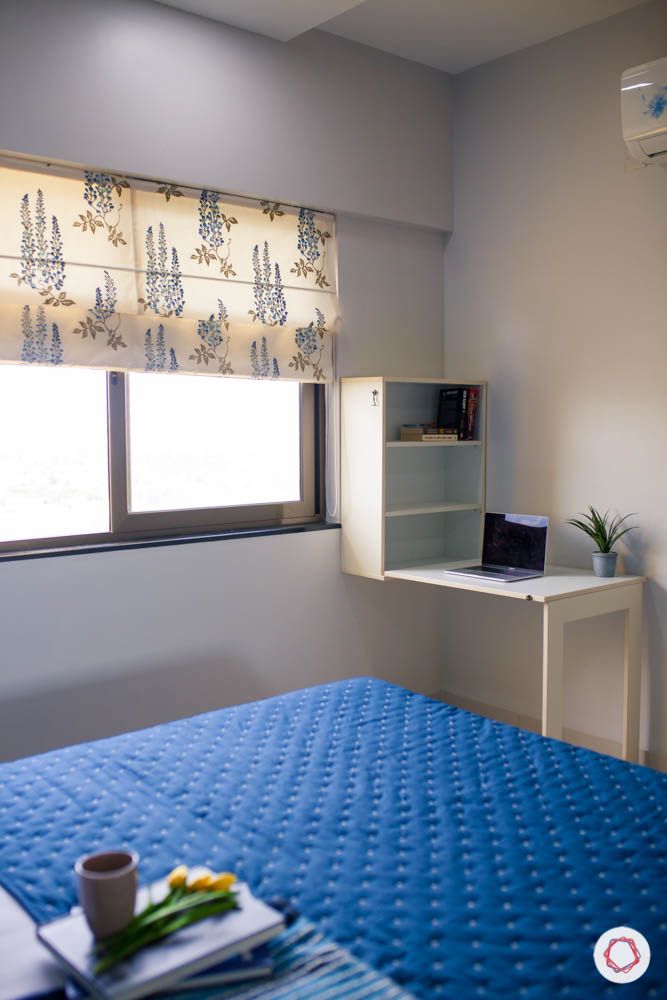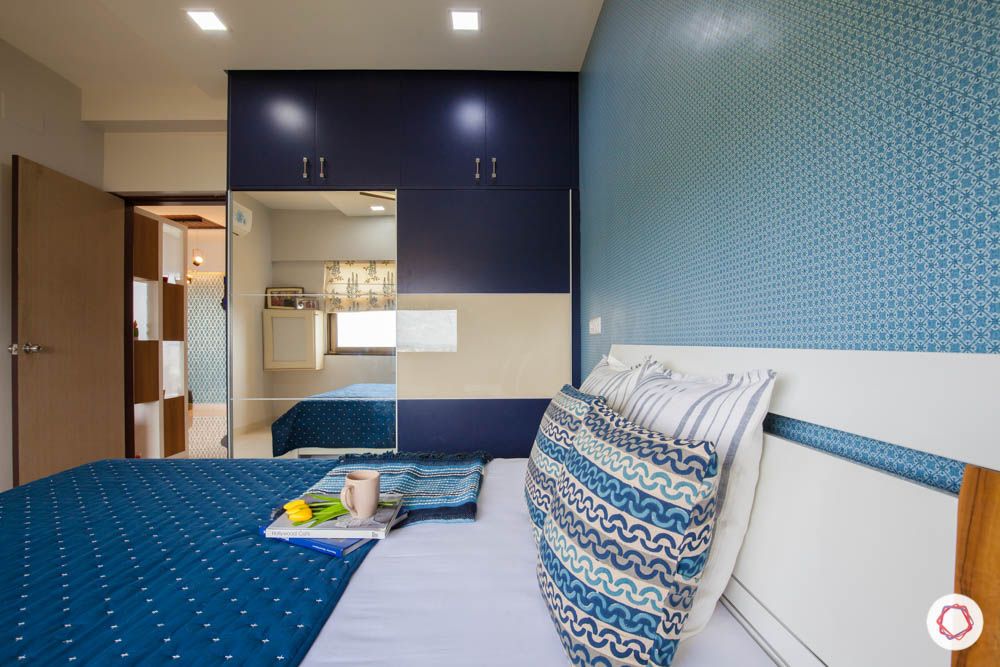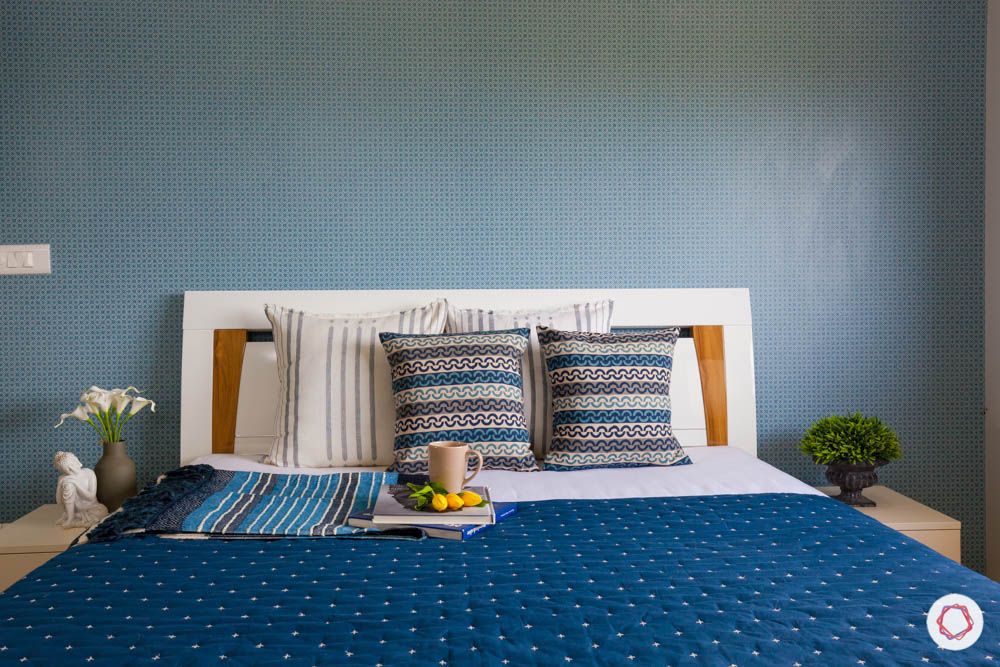 This bedroom is used by the couple's parents whenever they are visiting. So, it had to be extremely comfortable and soothing to the eye. Therefore, Aparna suggested this rich blue colour for the wardrobes and gave one mirror shutter, which opens up the space. Sometimes, Tarang or Shreya use this space for work, hence this space-saving folding study table is a great solution!
In our designer's words:
"This was my first project with Livspace and I'm so happy I got to work with such amazing clients. Both Tarang and Shreya were very understanding and calm people. They gave me all the freedom to design their home and were open to new ideas as well. It was an absolute pleasure to work with them!"

– Aparna Ganesh, Interior Designer, Livspace
Want to see what a young couple's kitchen looks like in Pune? Check this out: Summery & Classic, Kitchen on a Budget.
Send in your comments and suggestions.