New home designs adorn this stunning 3BHK in Gurgaon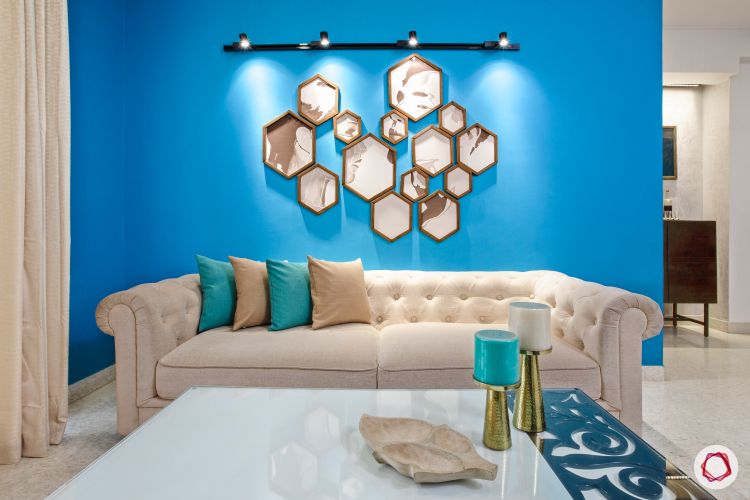 ---
Who livs here: Soumyabrata Saha with his wife Sankalita and children
Location: Orchid Island, Sector 51, Gurgaon
Size: A 3 BHK home spanning 1,500 sq ft approx.
Design team: Interior designer Parush Grover with Project Manager Mandeep Singh
Livspace service: Full home design
Budget: ₹₹₹₹₹
---
When Soumyabrata Saha approached Livspace, he had perfect clarity on what he wanted. He just needed a designer to take care of functional nitty-gritties of his home interiors to match his taste. The family also had some furniture that they wanted to retain for their new home. Thus, their designer, Parush Grover, gave them a design that blends all these conditions quite harmoniously.
The result is an impeccable design with dashes of vibrant blue with sharp lines, comfortable ergonomics and an elegant outlook. We love the balance of hues that make it visually appealing with tactfully curated decor.
Perfect Contrast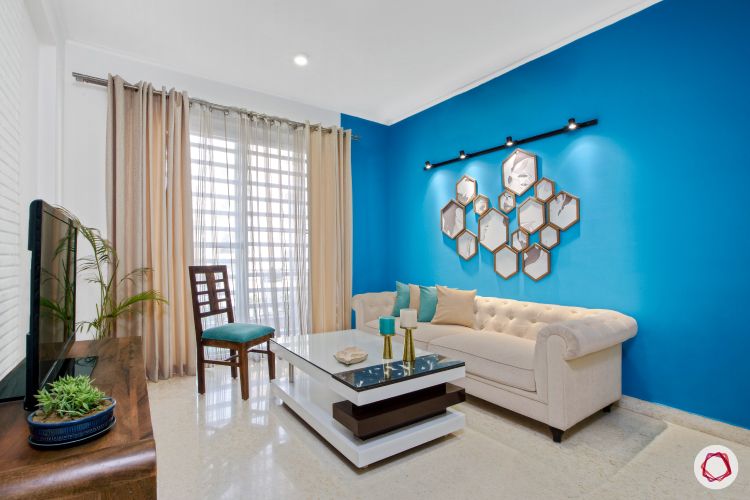 The blue in the living and dining room have made things interesting. Topped with the right decor and lighting, it is a great space to hang out in. Parush was careful to pick furniture and upholstery to match the milieu. Thus, a Chesterfield sofa in beige adorns the space.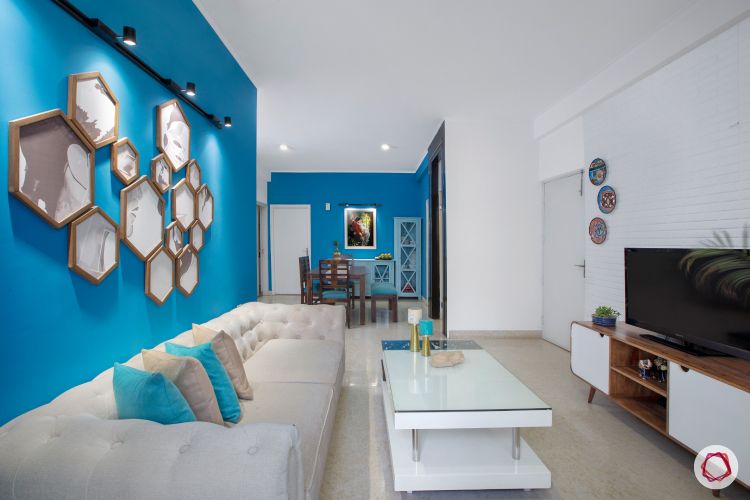 To ensure there are no uneven surfaces, the TV wall has been patched up with exposed brick wallpaper to hide all flaws in the structure. This serves as the right background for the TV unit that takes on the famous wood and white look.
Let's Start the Party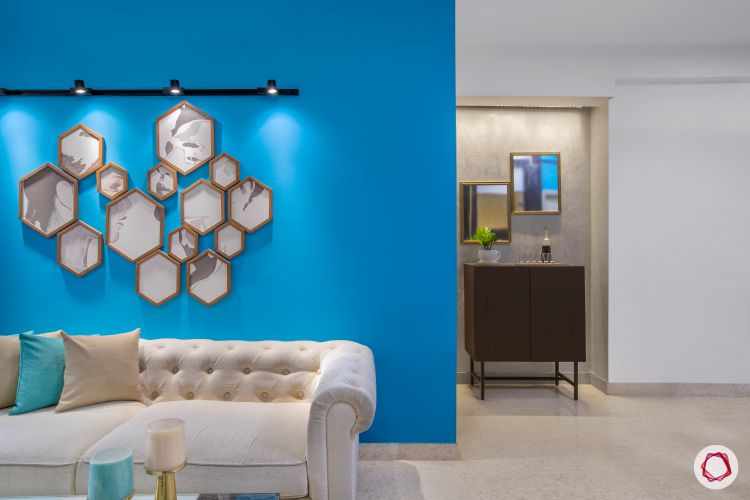 Next to the living room, a small niche was available in which Soumyabrata wanted to set up a bar. So we used a simplistic bar unit with mirrors and cove lighting to set it up.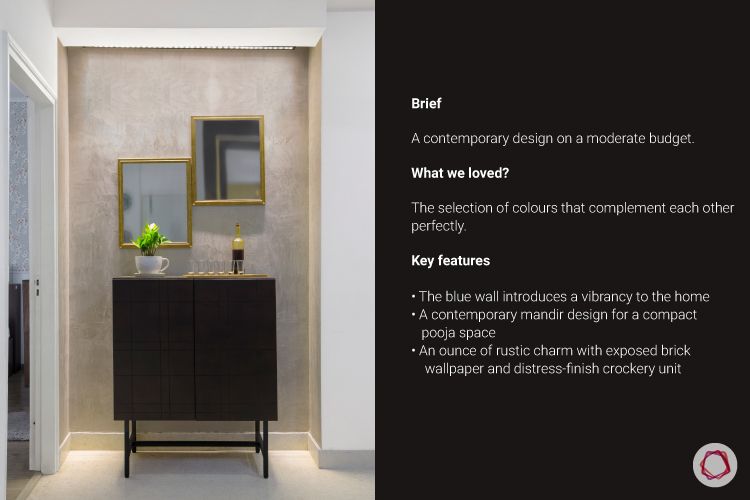 Myriad of Styles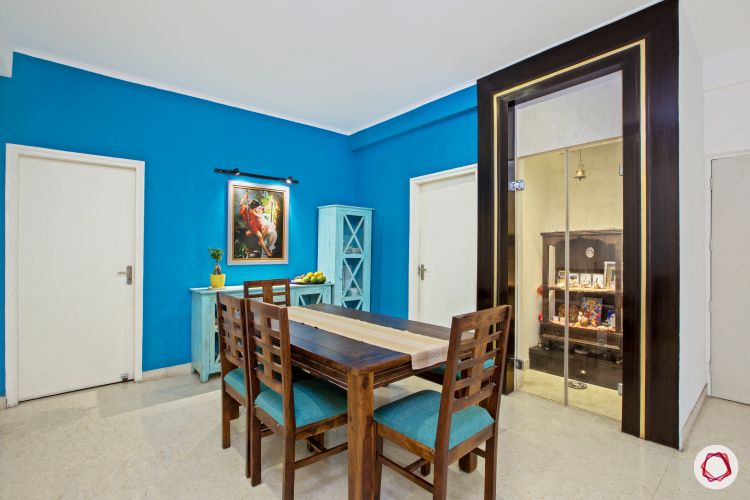 The dining room is a simple affair barring the buoyant blue wall. Wooden furniture with cushioned seating and a crockery unit with distress finish occupy the space.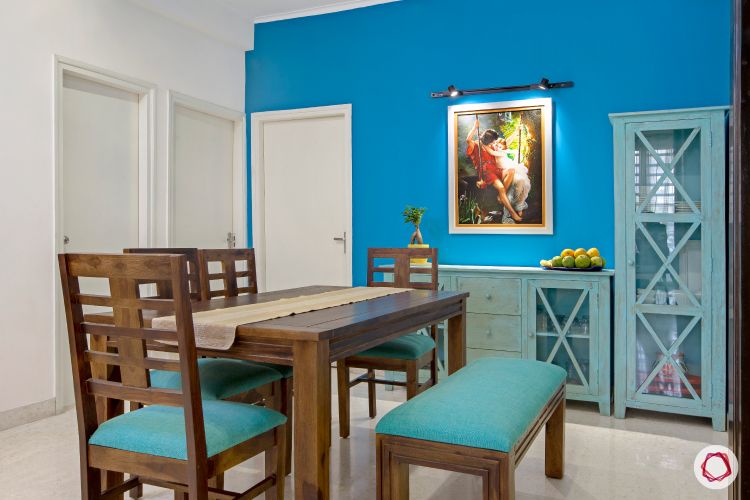 The room is a mix of themes given the variety of finishes in the ensemble. The contemporary pooja room door also adds to this list.
Stylish Take on Divinity
The pooja room needed something distinct, appealing and definitely swoon-worthy. Which brings us to the bronze trim within a wooden panel was provided to make the entrance stand out with stunning clear glass doors. On the inside, a small pooja unit with storage options and shelves house the idols.
Minimalist Mood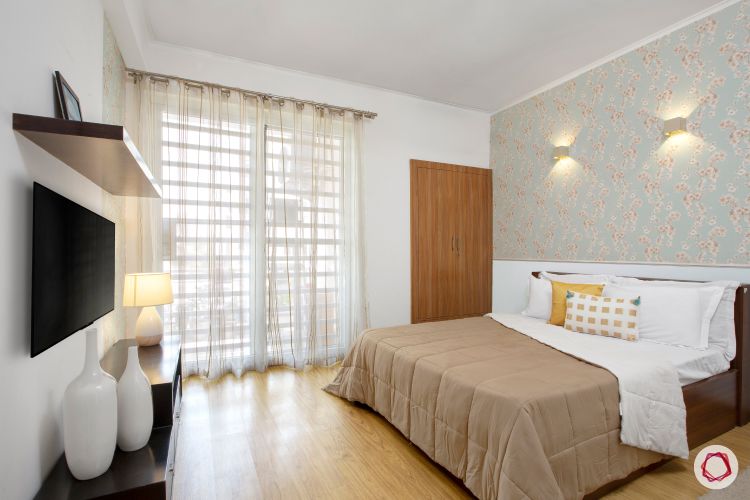 The master bedroom takes on a minimalist approach with a bed, TV unit and wardrobe to fill the space. A slate blue wallpaper with floral motifs add some colour to the room. The whole design is spacious and airy making it a perfect retreat to snooze in.
Carefree Aesthetics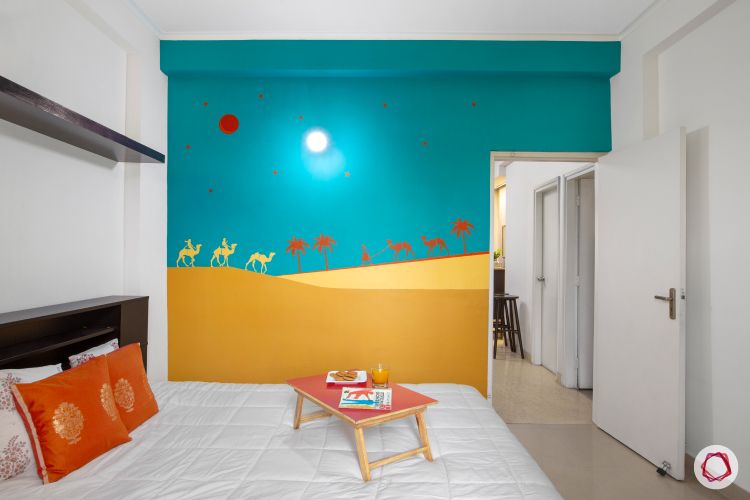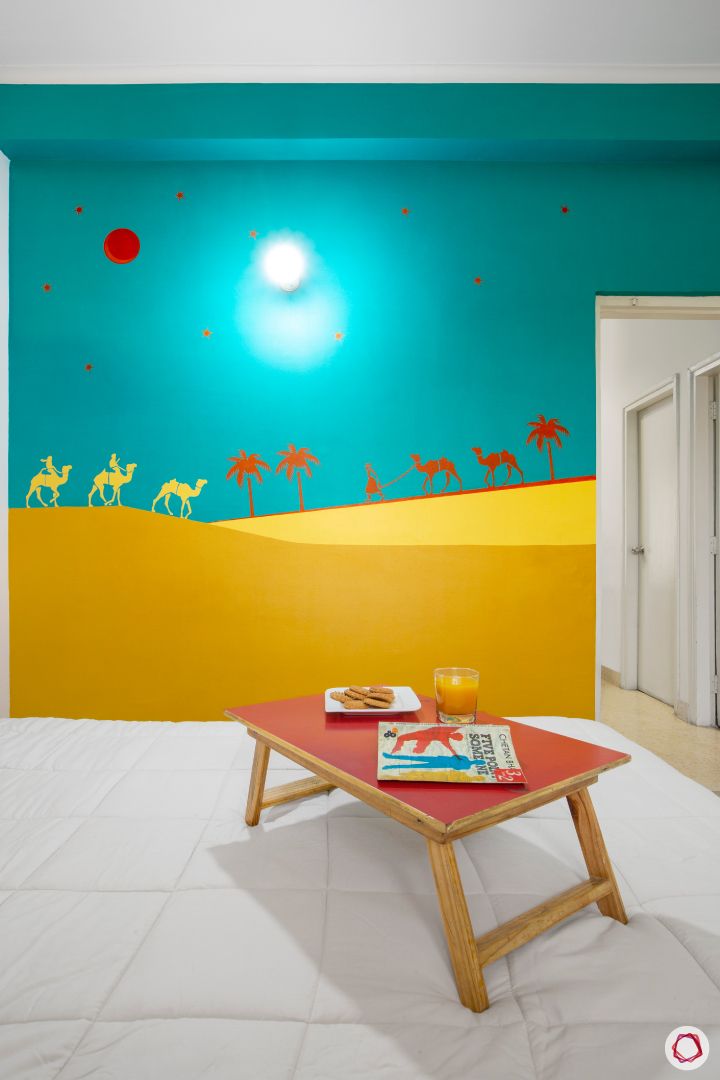 Continuing the blue theme, the kids' room has a lovely stencil work of an oasis in the desert. It definitely piques interest in the space while giving it a lovely charm. The family decided to retain most of the furniture in this room and the guest room.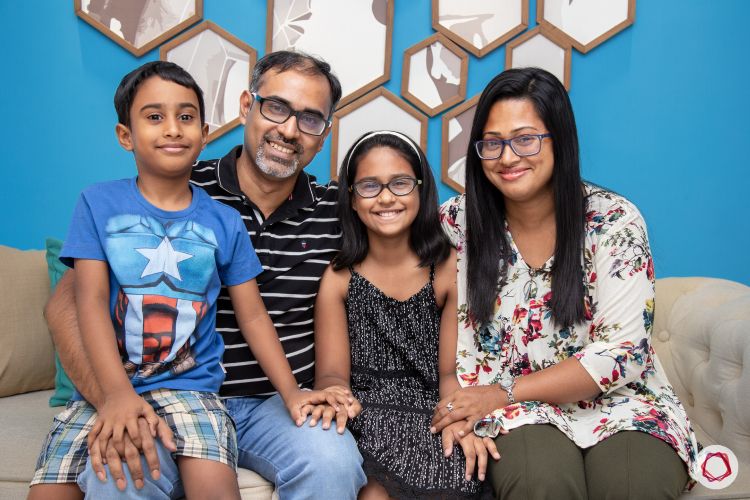 "We are happy about how the home looks as Parush, our designer, brought to reality what we envisioned in our minds. His design expertise supported our ideas in making it a dream home."
— Soumyabrata Saha and Sankalita, Livspace Homeowners
"The family knew their requirements perfectly and just wanted me to steer through the functional aspects of the design. It was great working for them since they placed their trust in me."

Parush Grover, Interior Designer, Livspace
If you adore this blue theme, check out another spectacular design in blue in Noida. It also has a fish tank table in its living room!
Write to us with your suggestions and queries!