The process of designing your home can be a daunting task. Choosing interiors in Bangalore that can stand the test of time all while reflecting your personality is a tough balance to strike. If you are going down the rabbit hole, you might as well get it done perfectly with Livspace designs!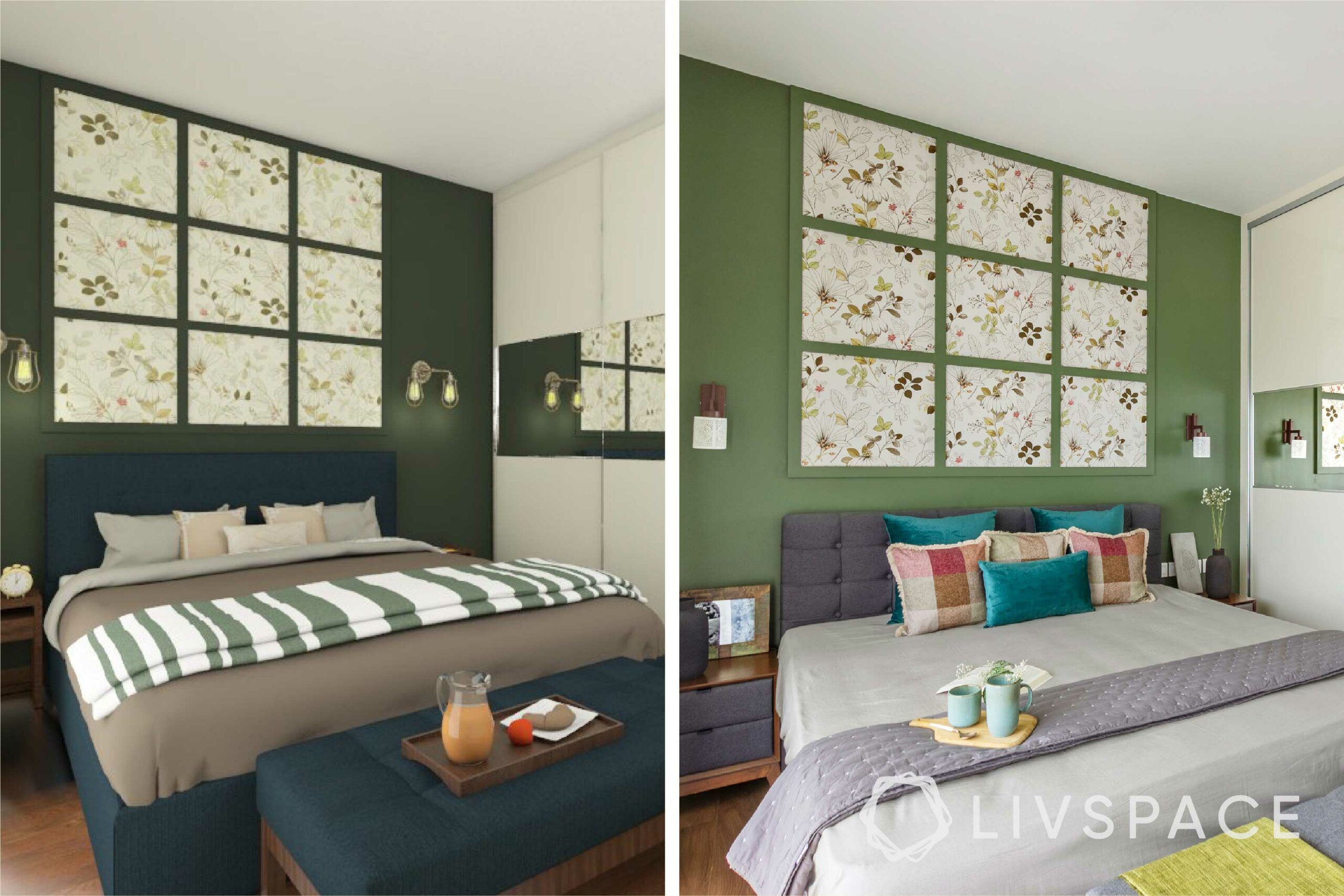 ---
Who livs here: Sunidhi Trivedi with her husband
Location: Whitefield, Bengaluru
Size of home: A 2BHK spanning 1,900 sq ft
Design team: Interior Designer Shagufa Naaz and Project Manager Meer Ameerudin
Livspace service: Full Home Design
Budget: ₹₹₹₹₹
---
This spacious apartment in Bengaluru has two residents, Sunidhi Trevedi and her husband. The newly married couple moved into this house with a vision of what their forever home should look like. They came to Livspace designer Shagufa Naaz with a number of reference images and she could instantly tell that the couple wanted a casual boho-chic design. With ample experience in the field of design, Shagufa knows a thing or two about designing a home just the way the homeowners want it.
If you have ever shopped for furniture and tried to picture how it would look in your mind, there's a better way to do it. Shagufa made 3D designs of the couple's home to view every detail to scale before making any purchases. By placing life size furniture and decor in the layout, she could clearly tell what works for the design. Moreover, Sunidhi and her husband could easily change the layout, colours and furniture before making a decision.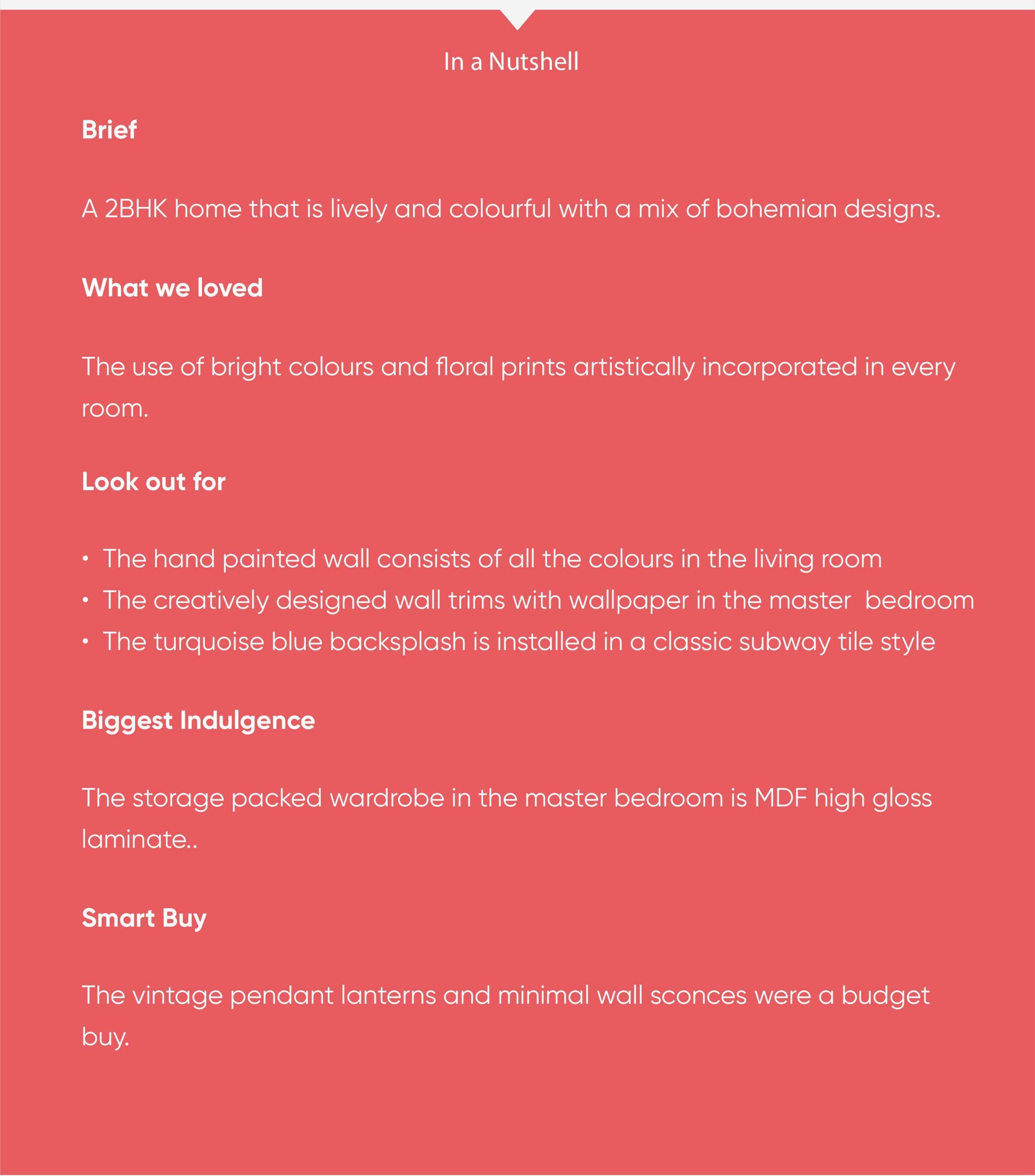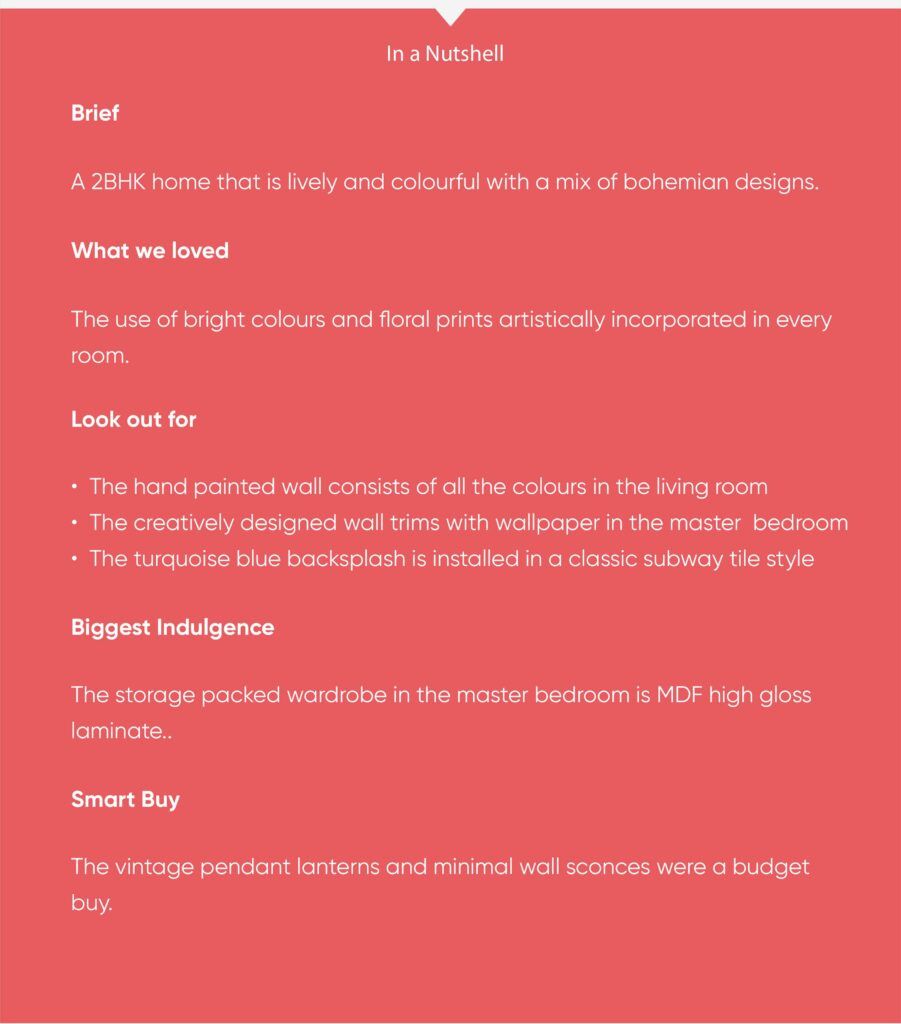 Customised Living Room Interiors in Bangalore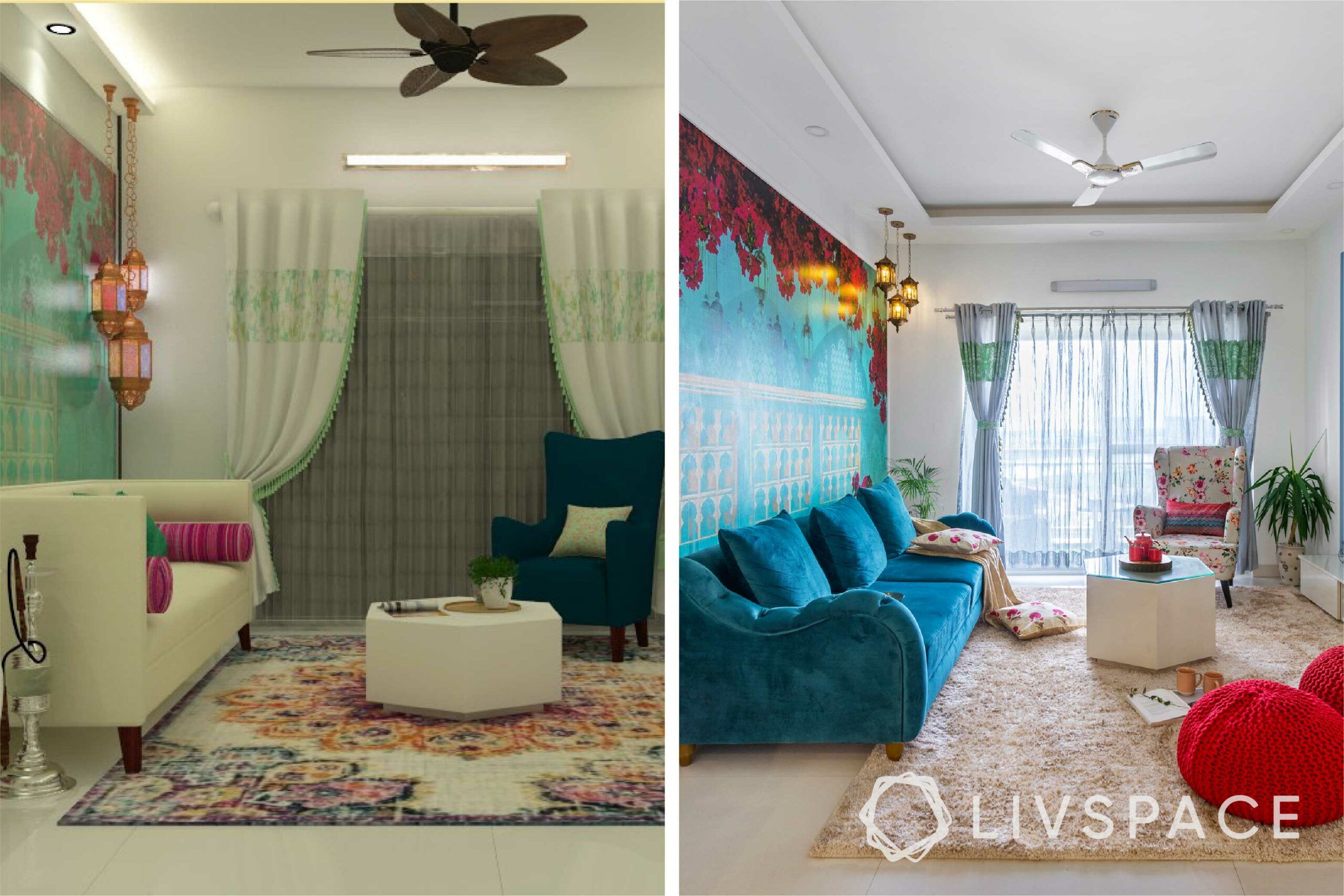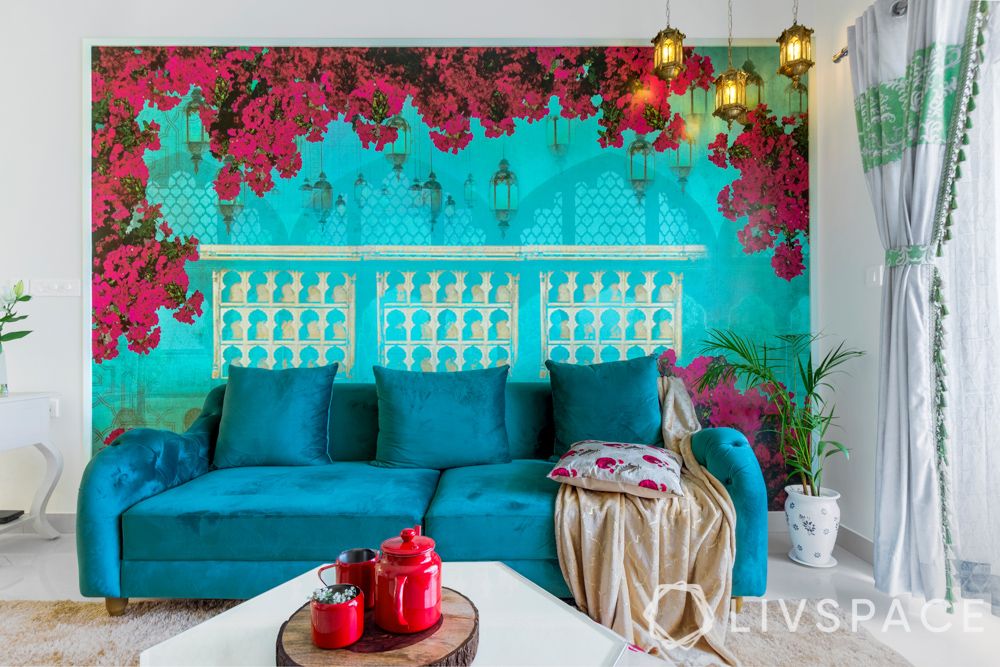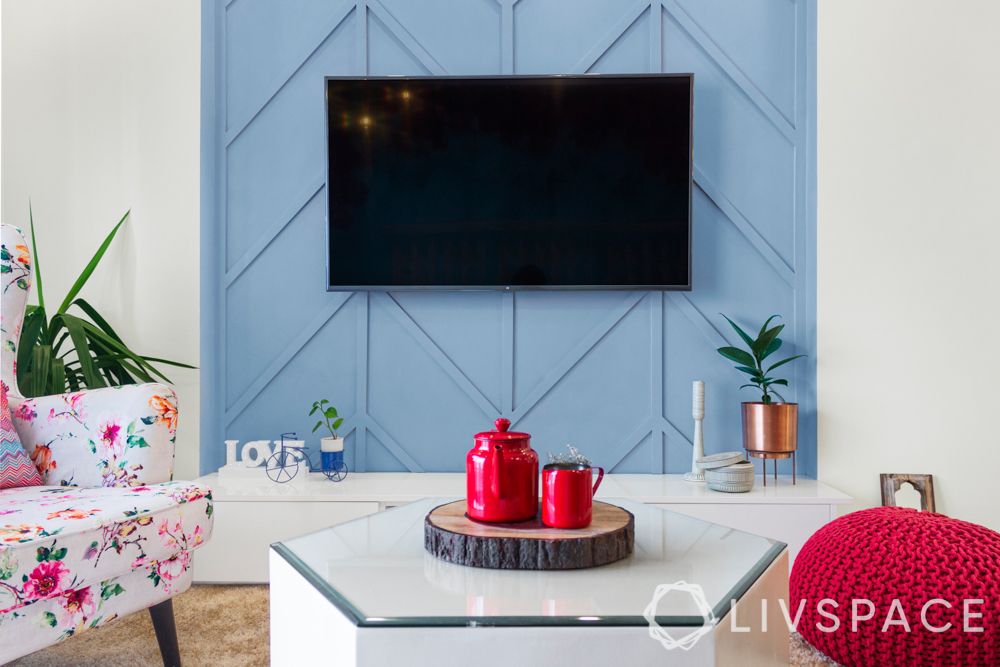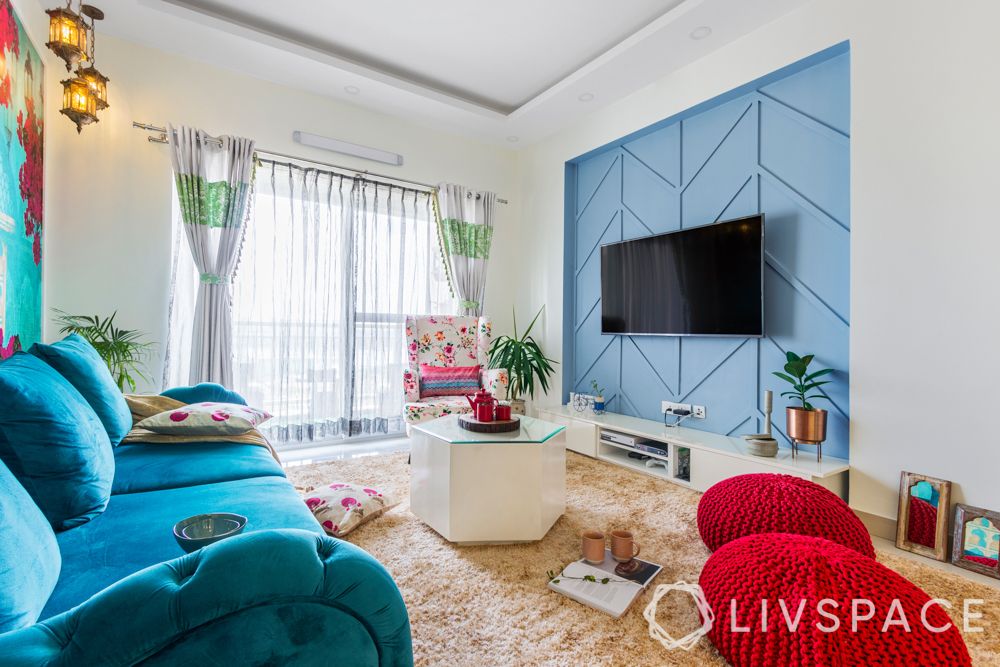 There's plenty to gather from the living room but the most eye catching elements are the wall treatments. The designer wallpaper is a bright blue bougainville wallpaper and the TV unit wall is pastel blue with chevron pattern wall trims.
"I absolutely love using trims I think they are fun to design with as we can spruce up the entire look of a space", says Shagufa. Moreover, all the furniture was either handpicked by Sunidhi or Shagufa.
Perfect for Two Dining Room Interiors in Bangalore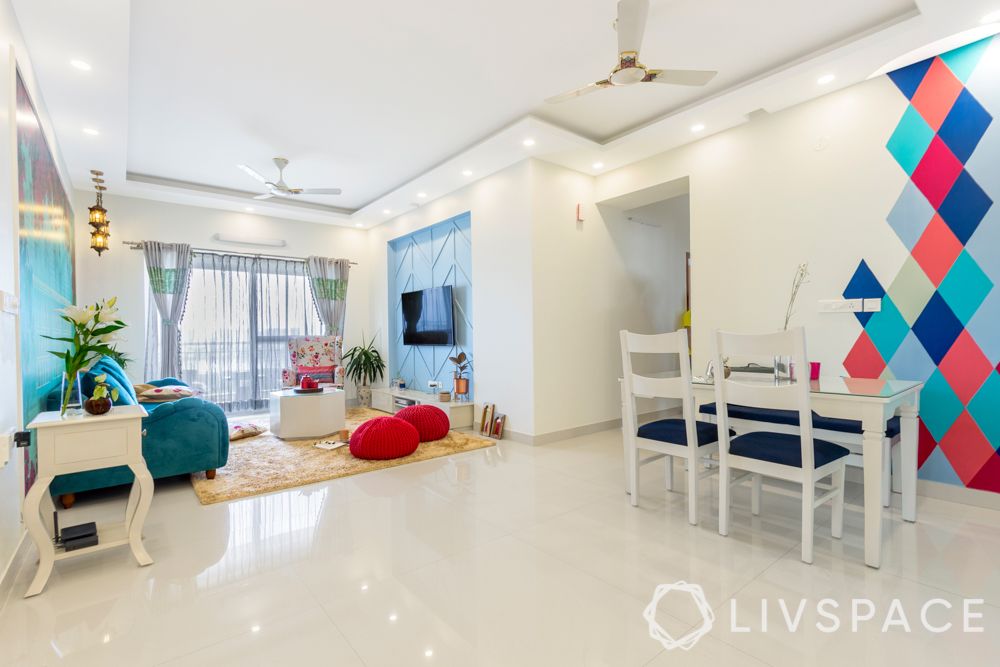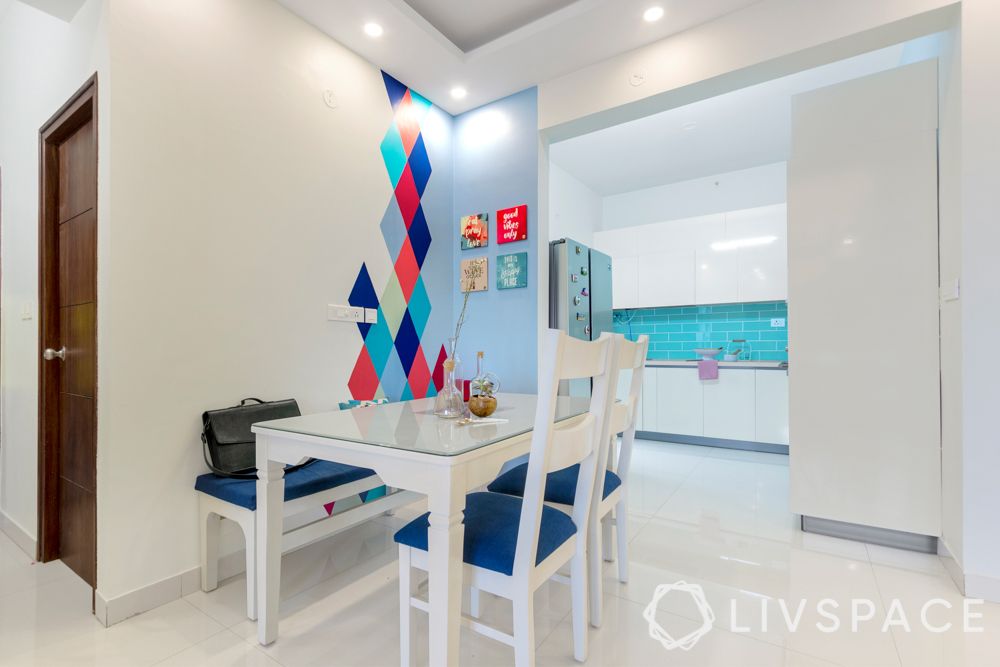 As you enter the home, to your right is a dinette that looks like it's right out of a cafe in France. Set against a hand painted wall that serves as a colour mood board of all the colours used in the living spaces.
Cyan Blue & Pearl White Kitchen Interiors in Bangalore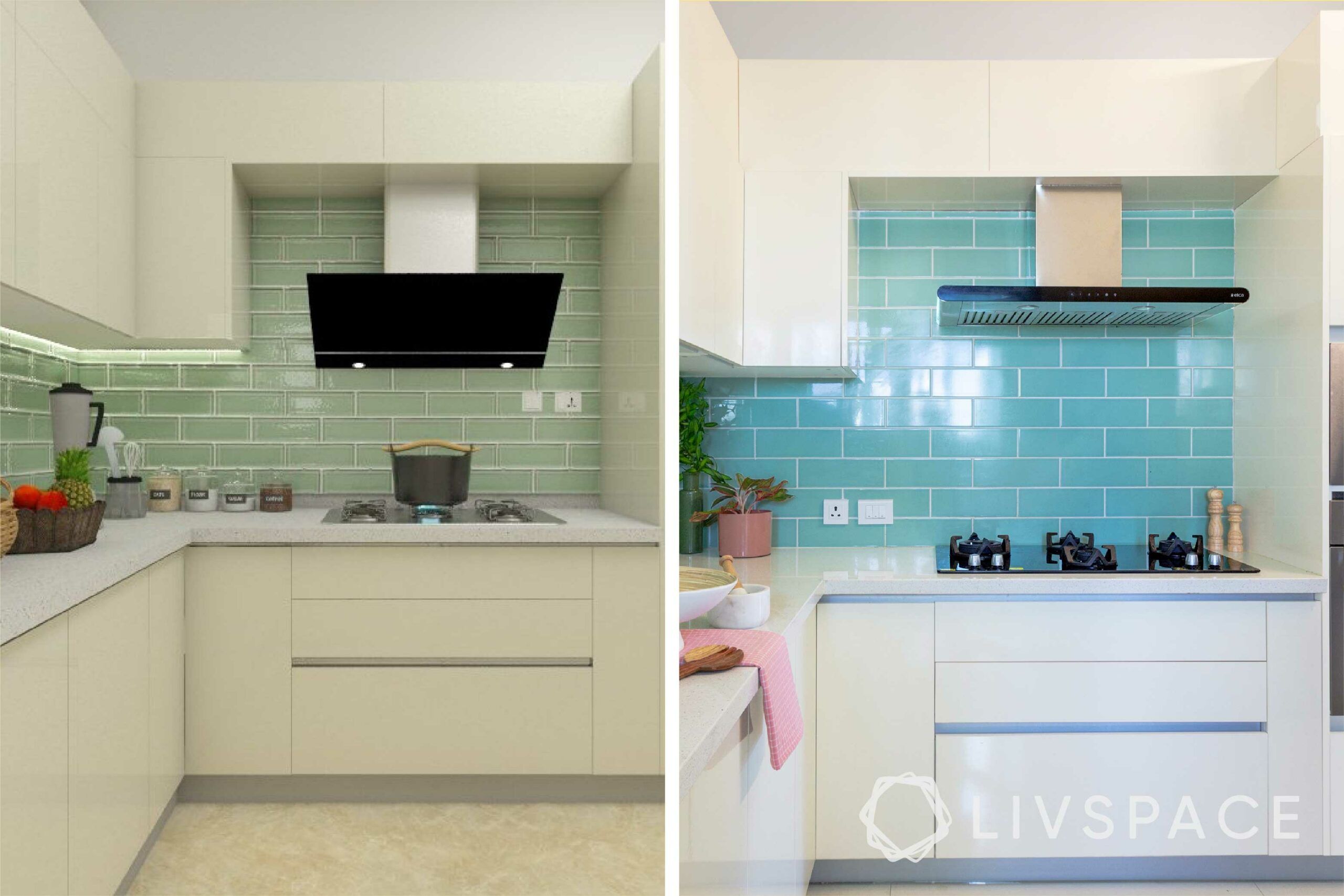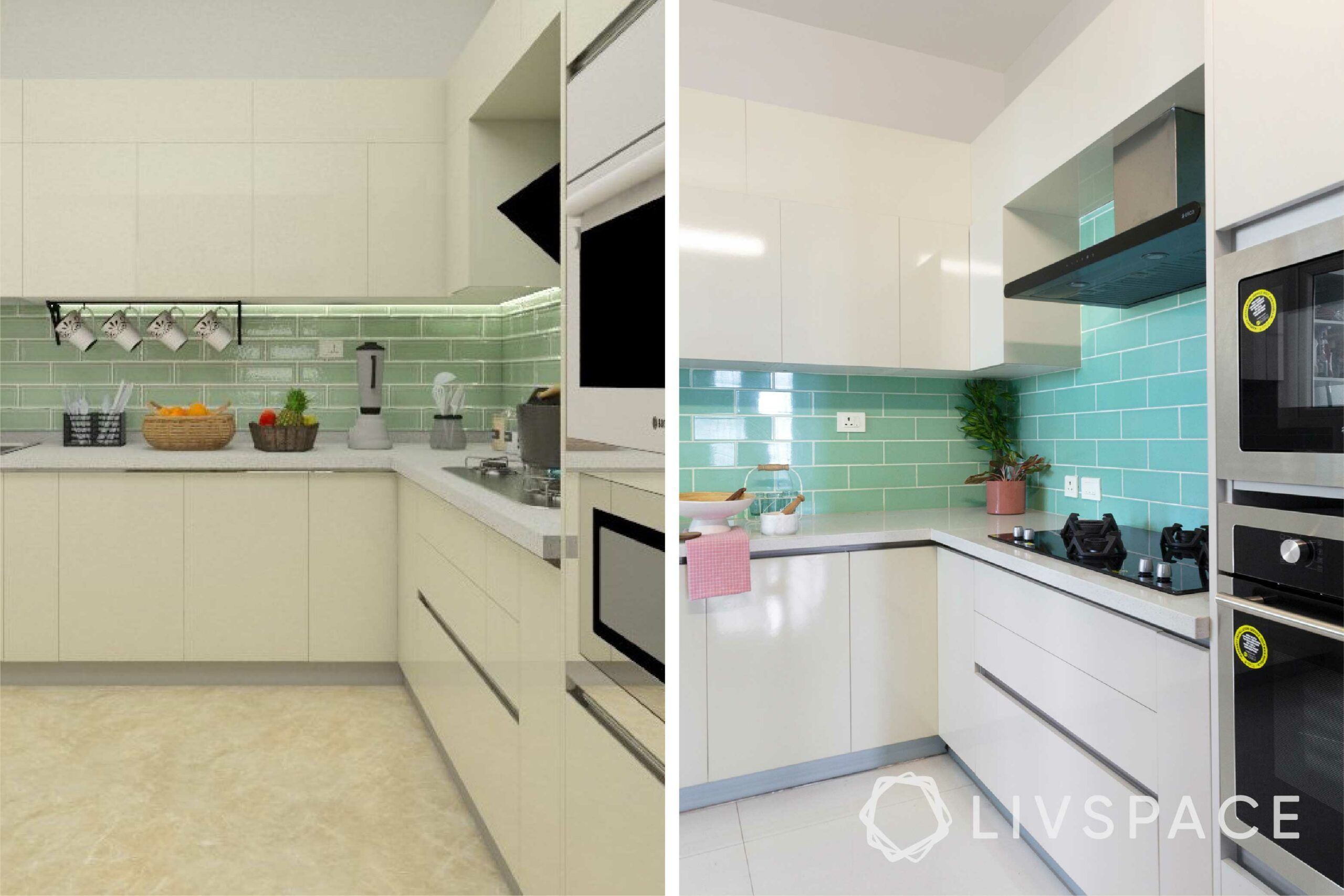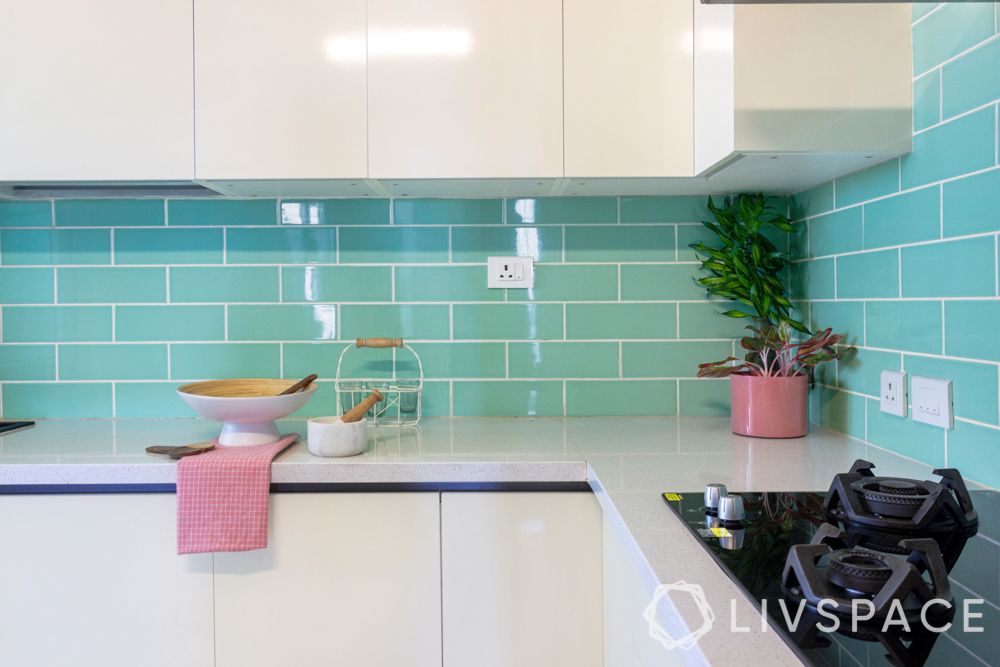 Shagufa's 3D designs go beyond lamps and coffee tables. "Capturing the dimensions of the kitchen was fun and easy but the reality turned out better than expected", she says. The kitchen is equipped with everything and is fully modular. It has high gloss laminate cabinets in white and kalinga quartz countertop. Whereas, the stunning backsplash consists of subway tiles in cyan blue.
Forest Greens & Florals Master Bedroom Interiors in Bangalore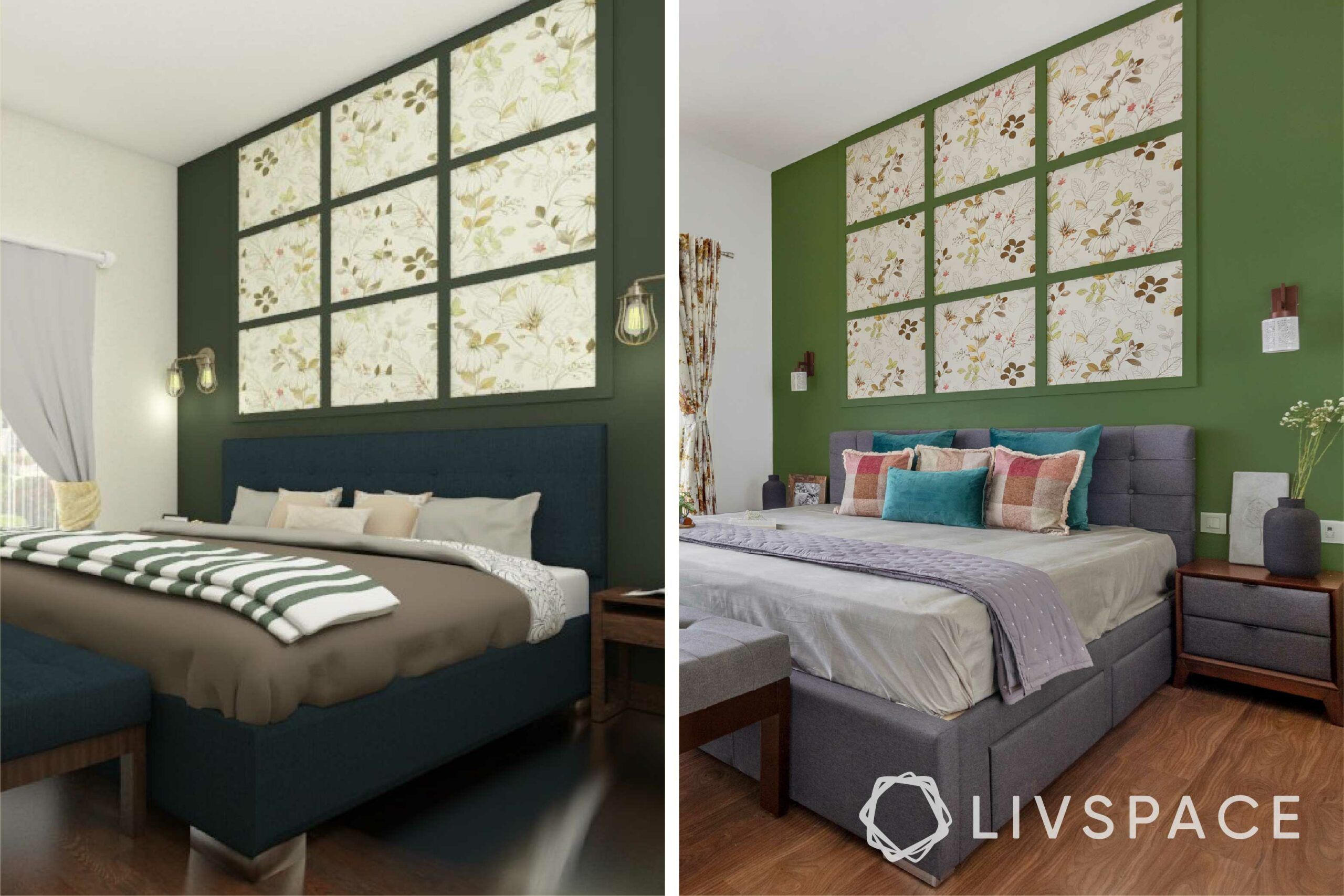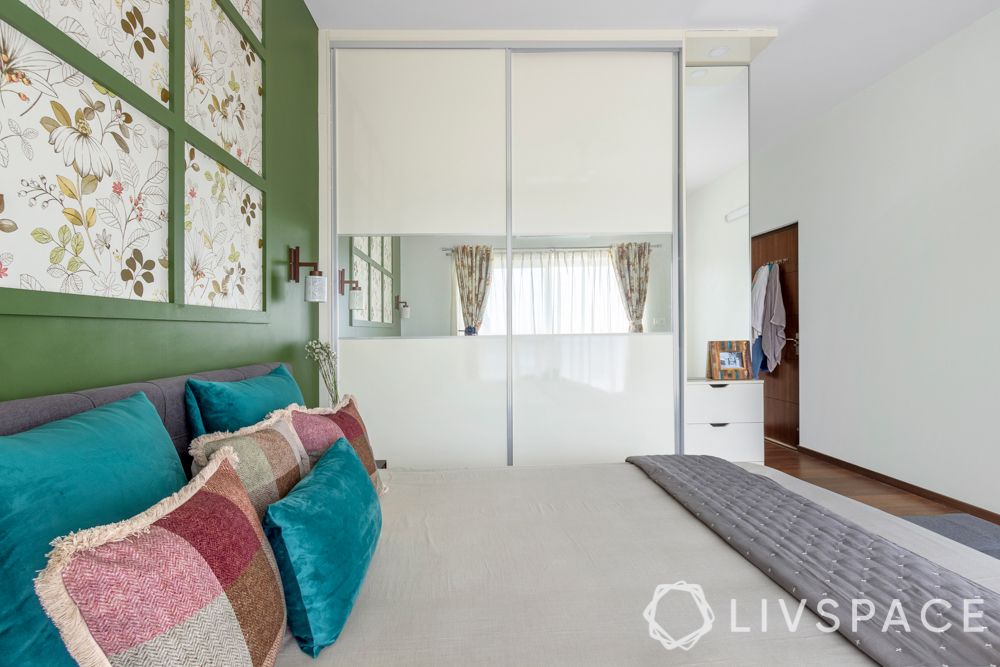 The master bedroom turned out to be exactly the way the homeowners envisioned it. This compact bedroom has plenty of storage in the form of a custom-made wardrobes and an attached vanity unit. The accent wall has a unique design with forest green wall paint with MDF trims and floral wallpaper just like the design.
Simply Blue Guest Bedroom Interiors in Bangalore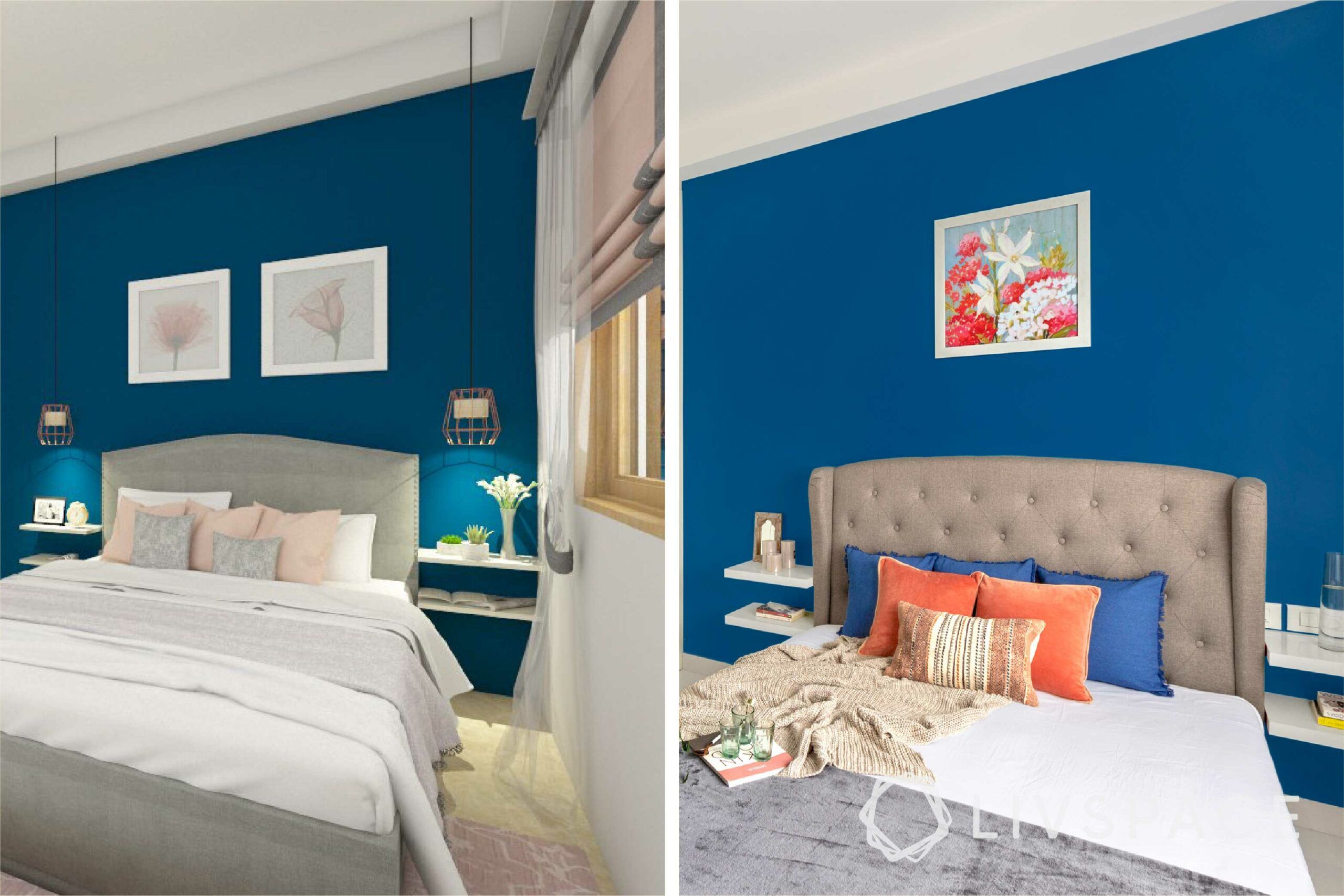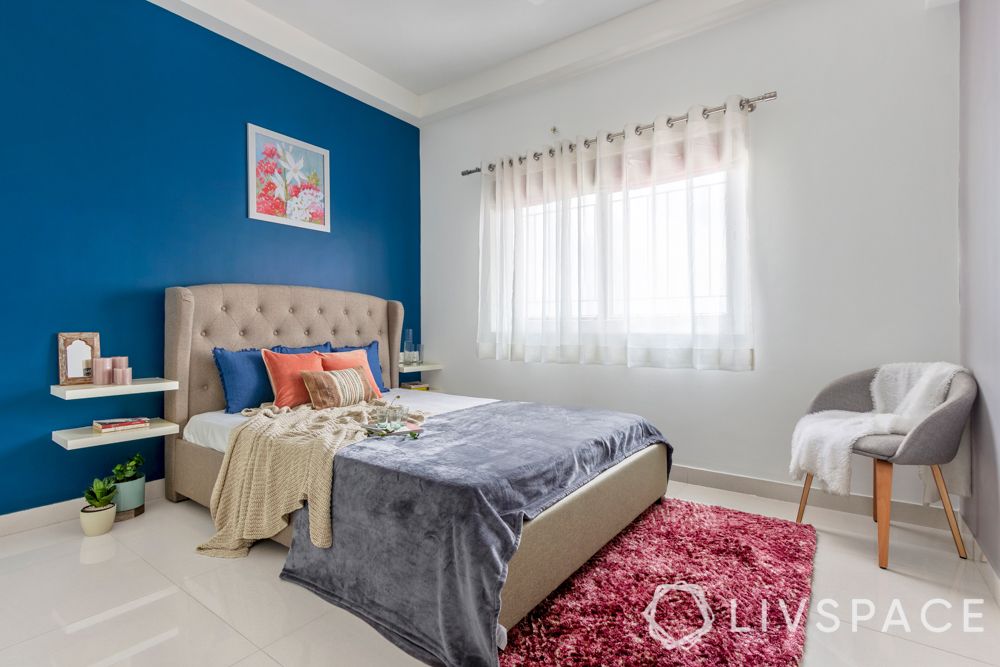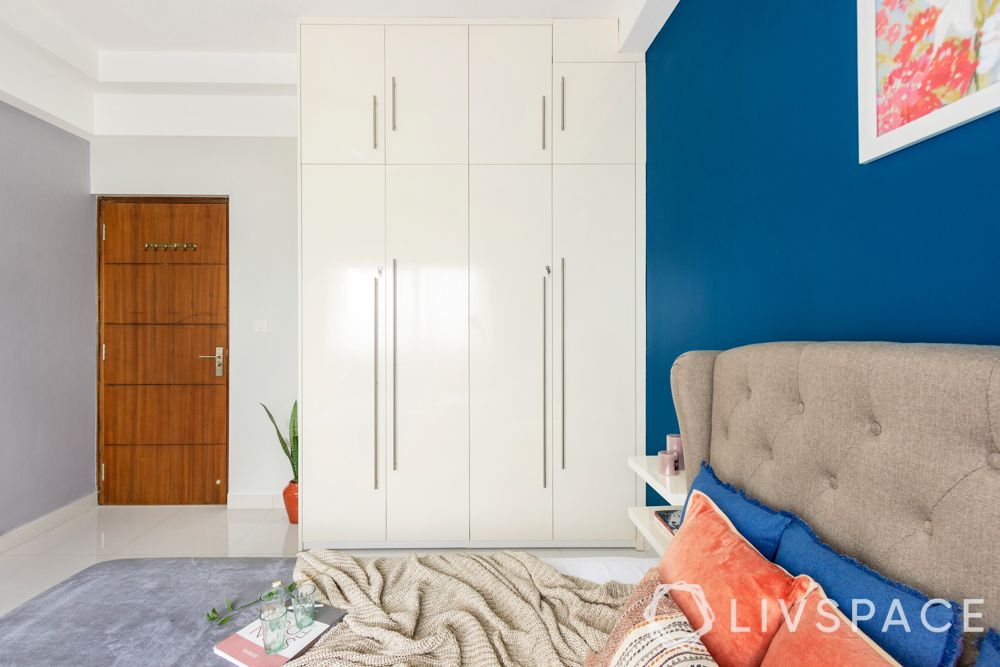 In this bedroom, can you spot the difference between design and reality? From floating shelves to planters, Shagufa has an eye for detail. Moreover, she has included more than just colours and furniture to her design. The timeless white hinged wardrobes are in high gloss laminate. Subsequently, the walls are kept simple with classic blue paint for the accent wall.
"Sunidhi and her husband were very specifc with their requirements. Infact, they had plenty of reference images for me to get a clear picture of what they wanted. This made the design process easy and straightforward. Although this design was out of my comfort zone of neutrals and Scandinavian designs, I got to use plenty of wall trims and chic elements."

– Shagufa Naaz, Interior Designer, Livspace
If you enjoyed this colourful 2BHK home tour, take a look at Storage Wrapped in Style for Compact 2BHK in Mumbai.
Send in your comments and suggestions.