Imagine a home designed to pamper your every desire — a home that offers every modern convenience at your fingertips, and yet retains its Indian soul. That's what Pawan hoped to find when he walked into one of our Livspace Experience Centres, looking for ideas for duplex house interior design in Bangalore.
So, if you're after creating a contemporary home that speaks to you, Pawan's luxury duplex house interiors might be worth a look. Come, take a tour.
_____________________________________________________
Who livs here: Pawan Raghuveer, Krithika and their two sons
Location: Chartered Grasshopper, Hosur Road, Bangalore
Size of home: 3BHK duplex spanning 3500 sq. ft. approx.
Design team: Interior Designer Monica Jain and Project Manager Sachin Hegde
Livspace service: Full home design
Budget: ₹₹₹₹₹
____________________________________________________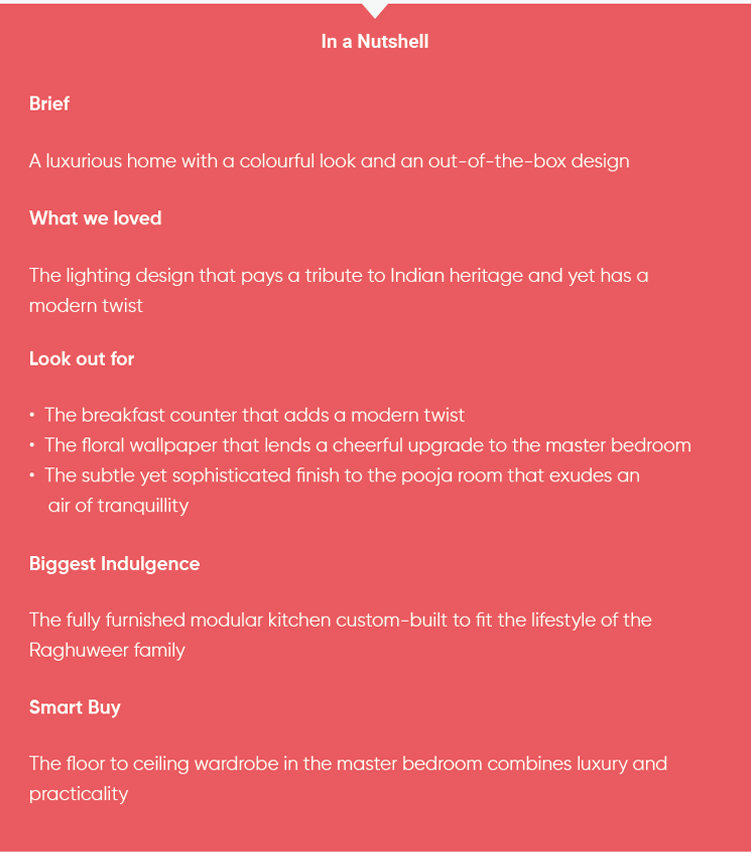 1. Give Your Master Bedroom a Cheerful Floral Update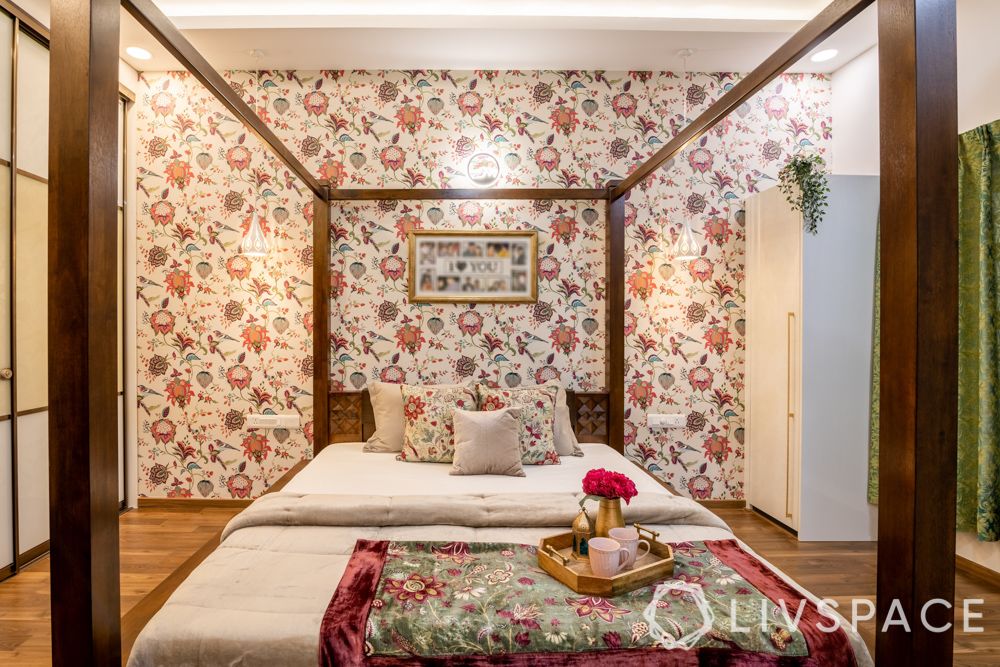 In the middle of the concrete jungle that's Bangalore, Pawan and Krithika wanted to design a home that was their own private oasis. So, when it was time to design their master bedroom, Pawan gave Krithika free rein.
So, she chose a boisterous floral wallpaper, that invokes their positive outlook on life. Here's how to buy the best wallpapers without burning a hole in your pocket.
They picked a canopy bed, that highlights the Indian twist in their luxury duplex house interiors. That's because they wanted to pay homage to their Indian roots, and do something different with the bed.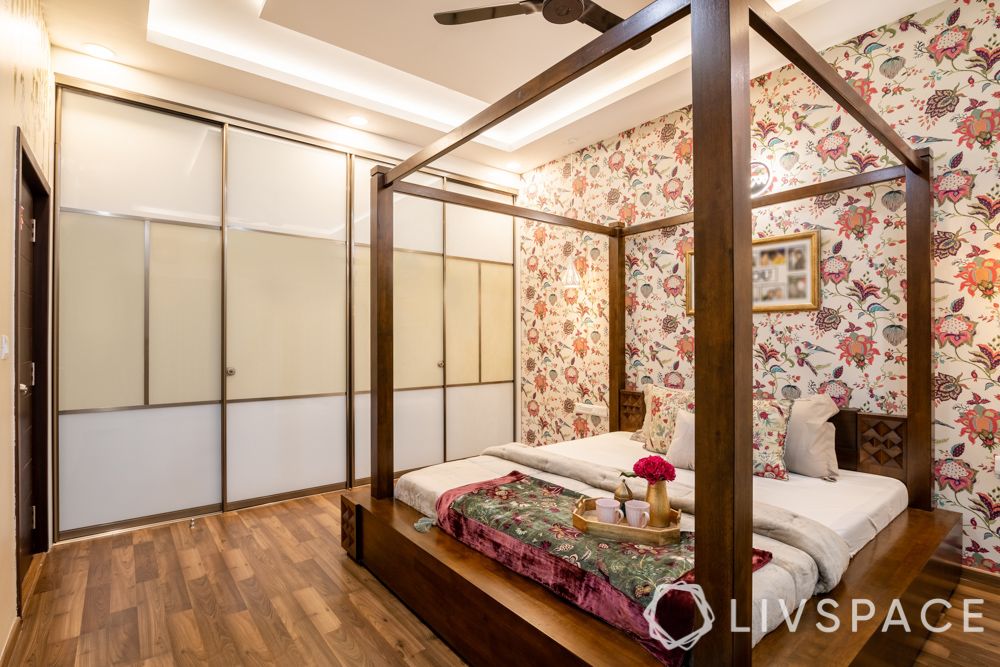 This duplex house design in Bangalore gets an upgrade from the floor-to-ceiling wardrobe installed in the master bedroom. With excellent storage options, it gives a clean finish to the otherwise colourful bedroom. Take a cue from them and achieve a calming effect.
2. Make a Personality-Packed Impact With the Kitchen
(so that your friends and family want to redo theirs)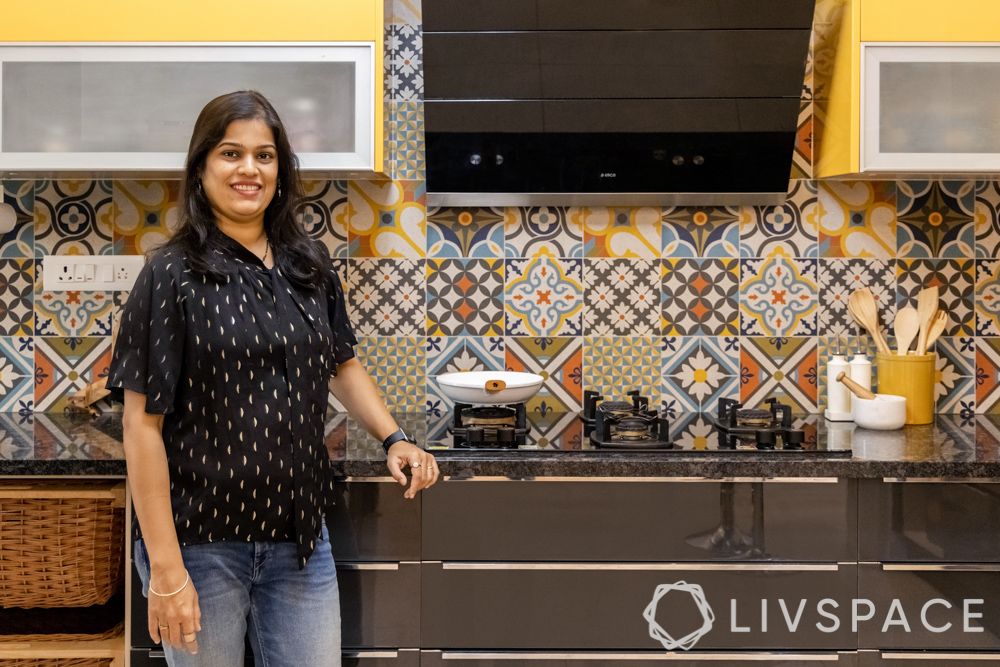 Creating a personality-packed kitchen is easy when you use a Moroccan kitchen backsplash. That's because it lends a pop of colour and character to a modern kitchen – case in point, this custom-built fully functional modular kitchen.
What stands out about this duplex house interior design in Bangalore is its modern kitchen. That's because it comes equipped with tall units, brilliant storage options, and black granite countertop.
So, if you're after revamping your cooking experience, you should take the Raghuveer way: install tall units, wicker baskets, and corner solutions.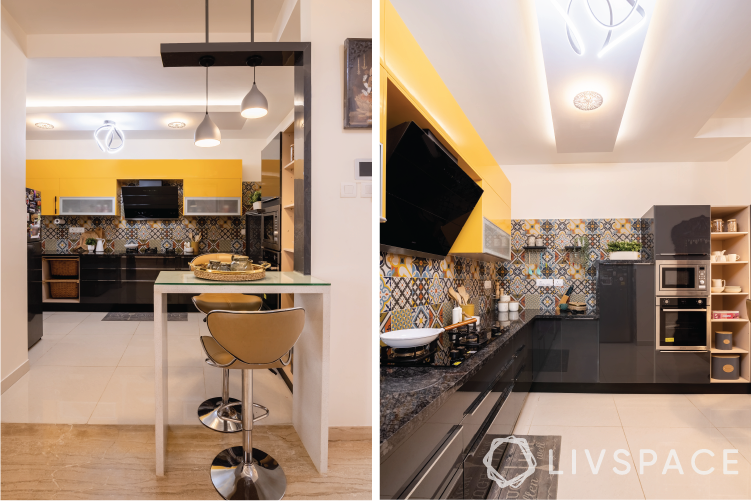 The chic breakfast counter is as stylish as it's functional. That's because it lends the right amount of visual interest and pizazz to this contemporary duplex house design. What's more is, the pendant lights were hand-picked by the Raghuweers. See, how seamlessly they blend with the colourful decor.
3. Go Simple – Design a Living Room With a Calming Decor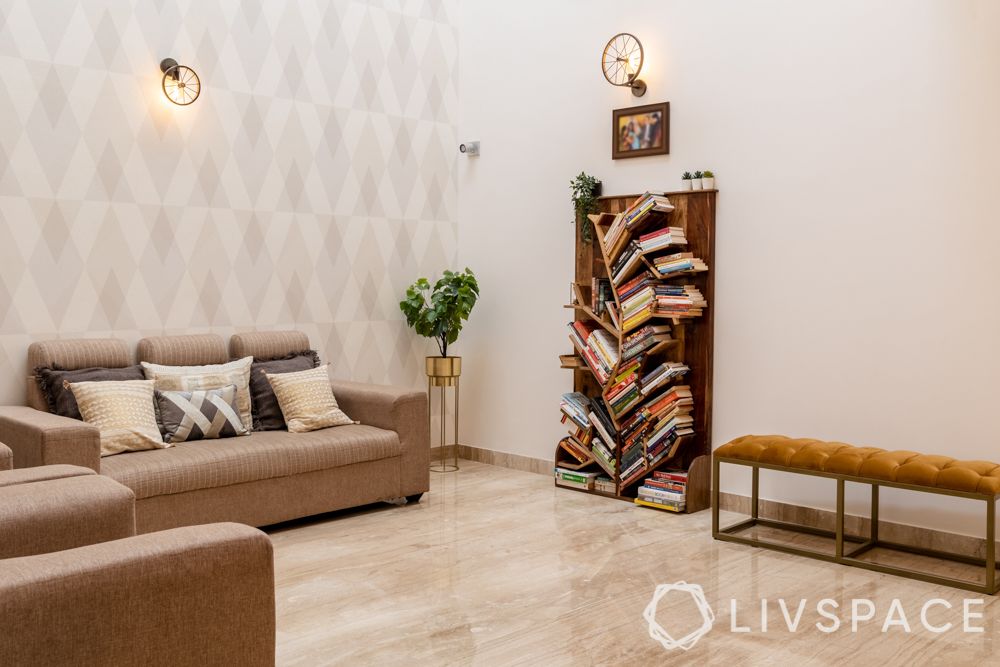 Featuring a pale taupe sofa, this living room has a balanced neutral colour palette with a relaxing vibe. Instead of a TV unit, the bookshelf becomes the focal point of this contemporary living room.
If you also love books, you're sure to find inspiration in this stylish contemporary space. Also, the living room uses rustic veil lights that add an even glow and complement the warm wooden accents.
4. Create a Luxury Dining Room That's Chic and Cosy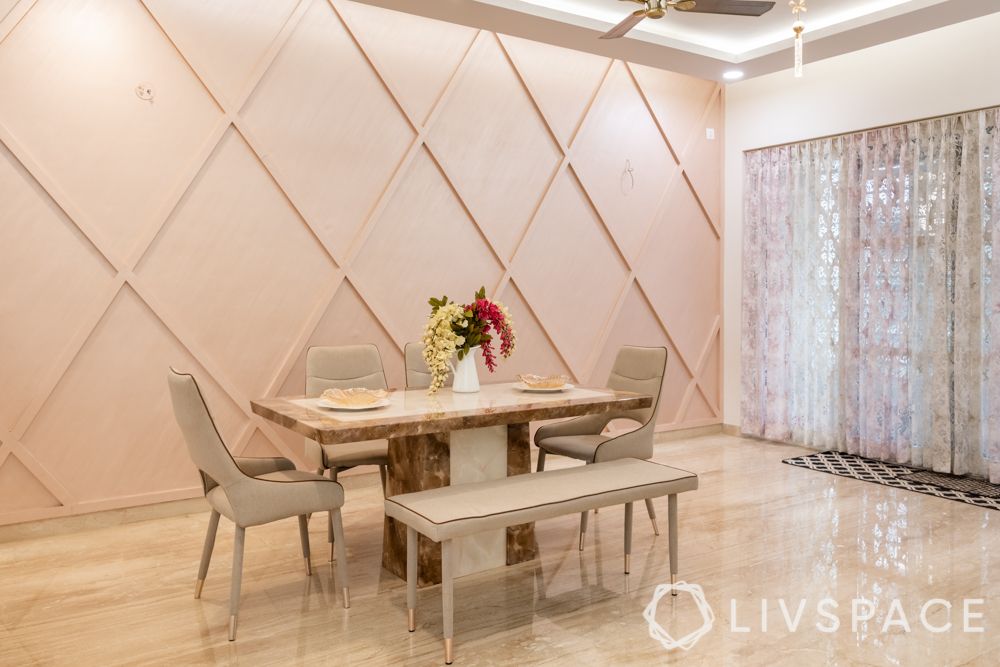 A luxury dining room is all about making grand statements. This duplex house interior design in Bangalore does just that.
That's because the neutral colour palette combined with the floor-to-wall ceilings create a chic and cosy ambience. Also, to add to the luxurious appeal, Livspace used rich metallic tones to keep things cool in a space designed for intimate, warm moments.
5. Carry the Elegant Theme of Your Foyer Into Your Staircase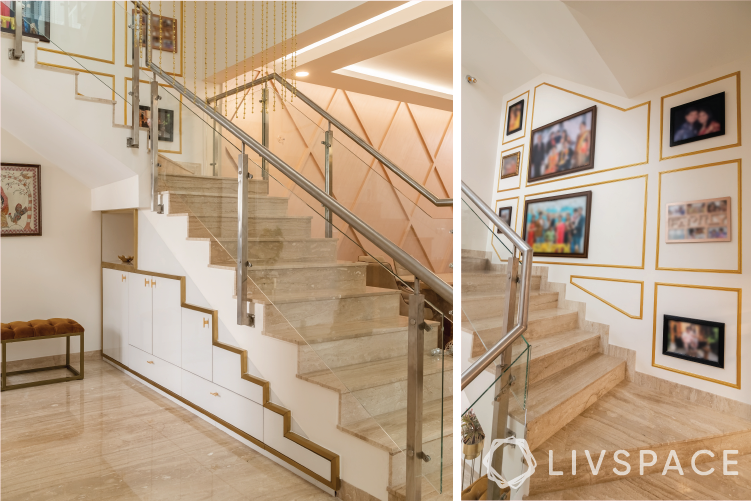 A foyer is the first impression of your home. So, it must exude elegance, and you can achieve that if you follow a subtle, minimalist theme with a neutral tone.
Also, follow the same minimalist theme into the staircase and throw in a gallery wall. That'll add a lot of character while warming the foyer area.
6. Make Your Kid's Bedroom a Scene Out of Toy Story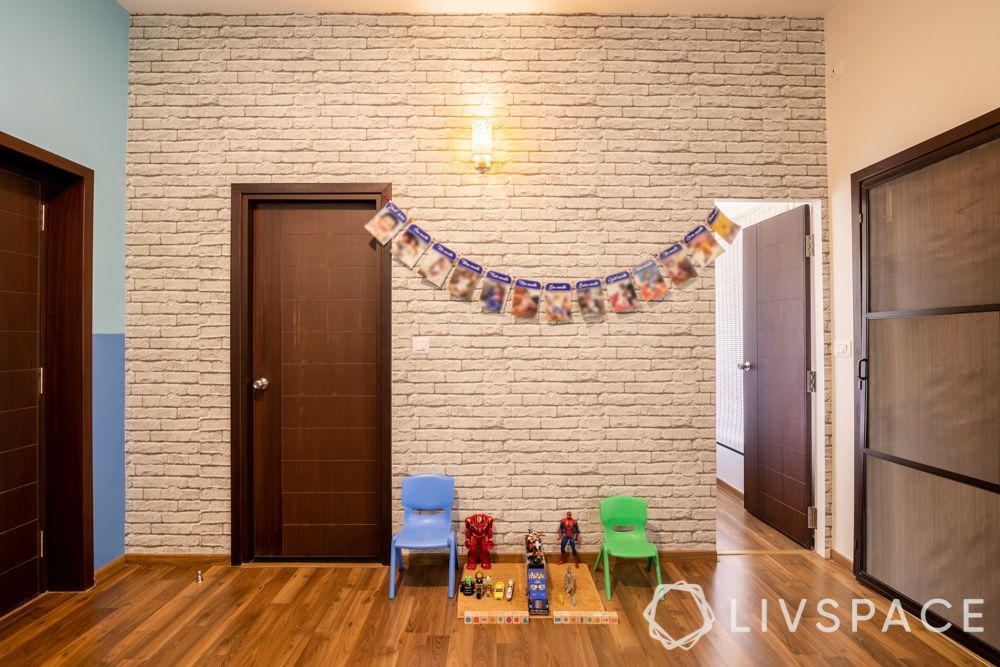 In this contemporary duplex house design in Bangalore, Livspace interior designer, Monica, arranged a collection of contemporary toys and superhero figures at the entrance to the kids' bedroom.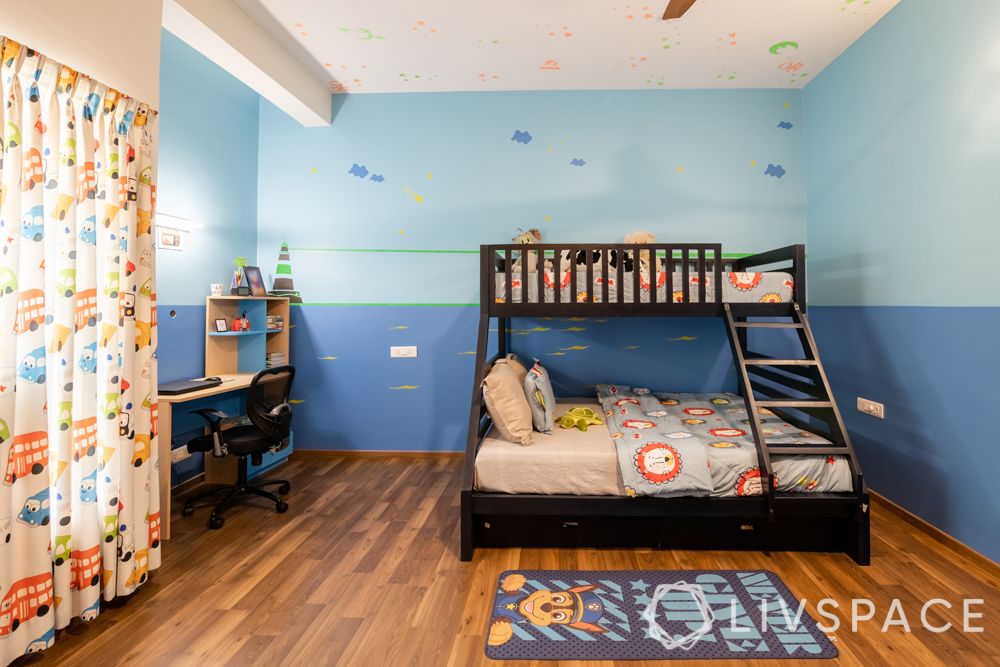 Featuring a bunk bed, a study desk, and open shelves, this contemporary duplex house design gets a minimalist edge from the kid's bedroom. Also, the space motif is a nod to the kids' love for astronomy.
7. Pack in a Traditional Twist for the Guest Bedroom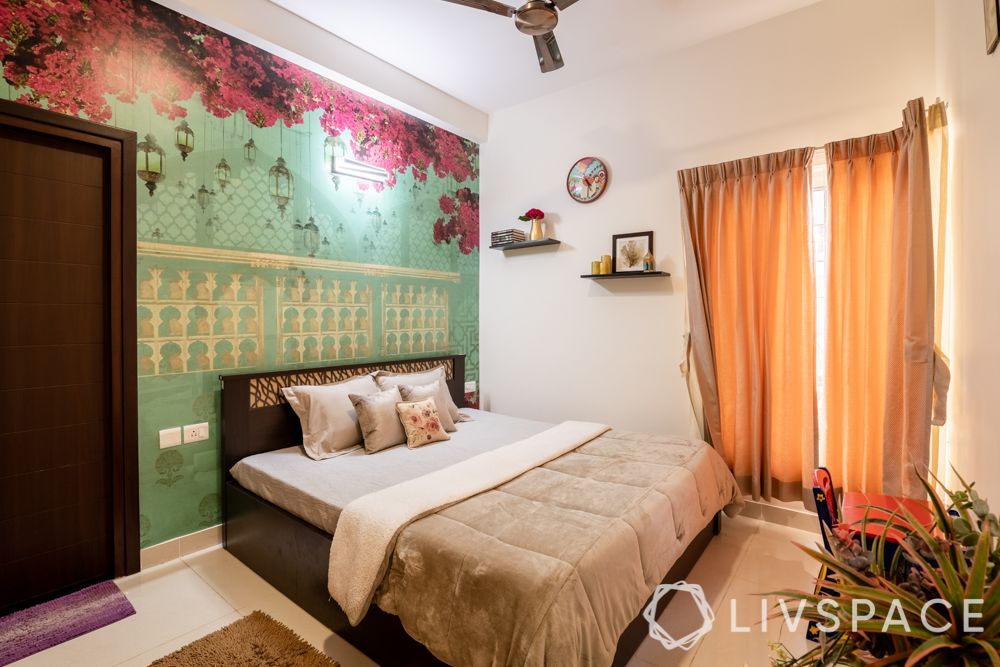 When you've already walked the contemporary mile, you can choose a traditional bedroom design that's beautifully simple. Traditional bedrooms are a perfect opportunity for combining your sense of symmetry and style.
So, when the Raghuweers picked a trending Livspace wallpaper for the guest bedroom accent wall, we kept the colour palette calm to tie everything together.
8. Keep the Pooja Room of the Duplex House Design Traditional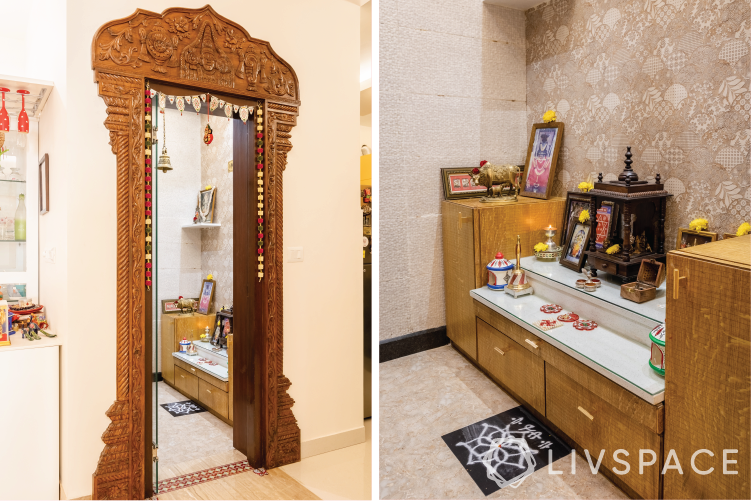 When it came to the pooja room of this duplex house design in Bangalore, the Raghuveers wanted to stay true to their Indian roots. So, they opted for a classic glass entrance and painted a peaceful picture with an altar that doubles as storage units.
Not only that, the stone cladding and the use of neutral colours on the walls help create a soothing atmosphere.
9. Look Back at Your Indian Heritage With Trendy Light Fixtures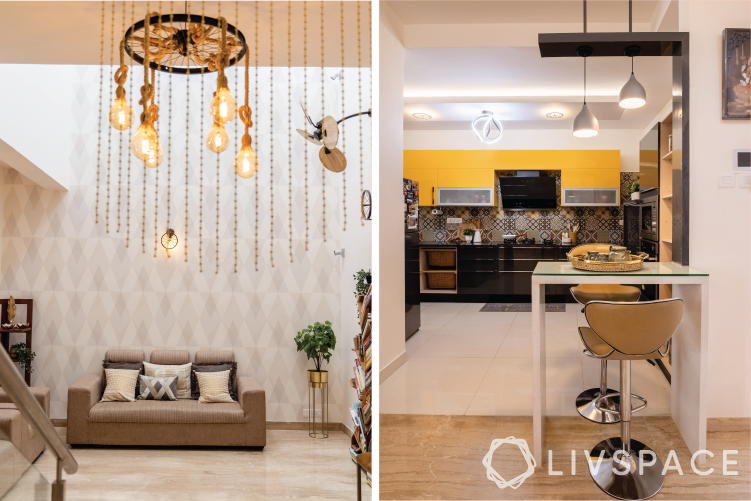 When you mix in an interesting light fixture, you make the room feel homey while adding just the right amount of sculptural interest. The Raghuveers were no strangers to this design secret.
So, they hand-picked the lights and kept them classic to give their contemporary home interiors a striking edge. The rustic veil lights used in the living room or the pendant lights used in the kitchen or the master bedroom added a finishing layer to the duplex house design in Bangalore.
This Duplex House Design in Bangalore Mixes Design Styles
Colourful wallpapers, trendy light fixtures, and Moroccan tiles add a traditional touch to this Bangalore home's contemporary colour palette. Besides, the much-needed warmth, this home has a timeless appeal rooted in the memories of fashions gone by.
If you want to know more, here's one: Modern vs Contemporary Interior Design: What's the Difference and Which One is Better?
How Can Livspace Help You?
If you want beautiful interiors for your home, book an online consultation with Livspace today. Tell us what you think, drop us a line at editor@livspace.com.