There is the year of the eagle, the year of rabbit, the year of the snake and then there is the year that halted the world in its tracks, the year of COVID-19. That essentially meant catering to smaller spending budgets on everything including interiors. So while budget interior design was always very important to us at Livspace, it took on a whole new meaning in 2020. No wonder we have delivered some of our best affordable homes this year.
If you are looking for budget interior design, then this curated list of Livspace Homes from 2020 will absolutely be worth your time. However, before we get into the details of these homes, let's understand how we define the concept of 'budget' with respect to interiors.
Firstly, the budget for a home depends on its area. What can be considered a small budget for a sprawling 4BHK may seem like an expensive deal for a modest 2BHK. Secondly, the scope of work determines what can be called affordable. If you need a full home design or just kitchen and wardrobes will have a bearing on what your interior budget should be. Finally, customisation increases the budget of home interiors while modular furniture brings it down.
Bearing the above in mind, let's take a trip down memory lane to the best of budget interior design down by Livspace in 2020 along with lessons you can use when you design your own home.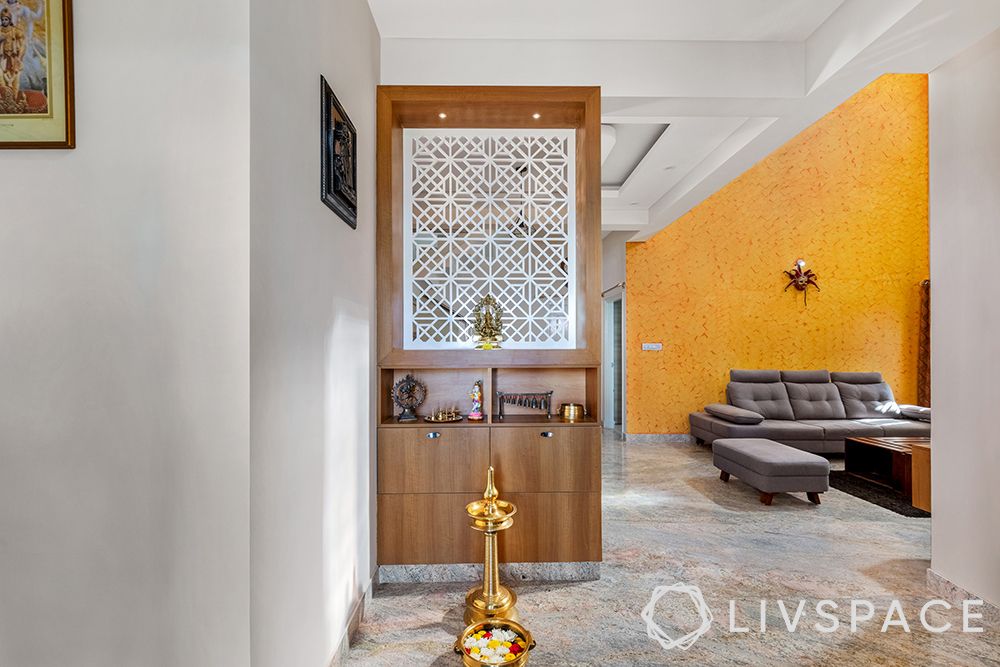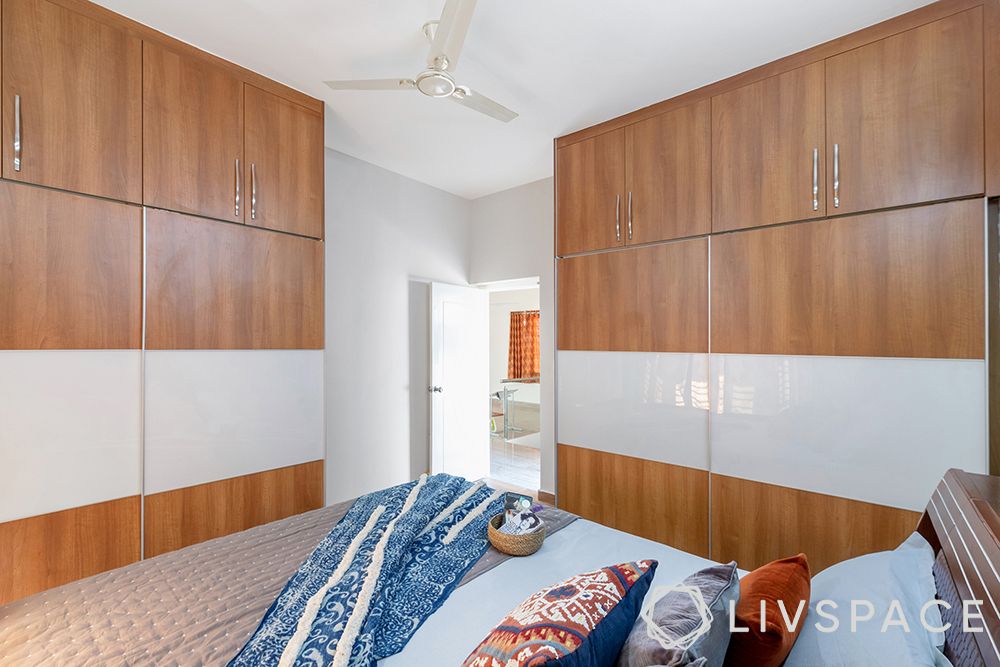 Budget: ₹₹₹₹₹
Scope of work: Kitchen, wardrobes, storage units and pooja unit
How should it inspire you?
Let's start by applying the first rule to this Bengaluru home belonging to Jeevak and Binny. It's a duplex spanning over 2,100 sq ft. which is by no means small. However, the scope of work in this home was basic including wardrobes in all rooms; in fact, there were two sliding wardrobes in the master bedroom. The kitchen is stocked with storage, but has high-gloss laminate finishes to manage the cost. The only customisation here is the glass cabinet under the stairs. However, it's worth its weight in gold because it turns dead space into usable space.
The lesson being…
Spend on customisation when you have to and stick with modular furniture when you can.
Read the full home tour here.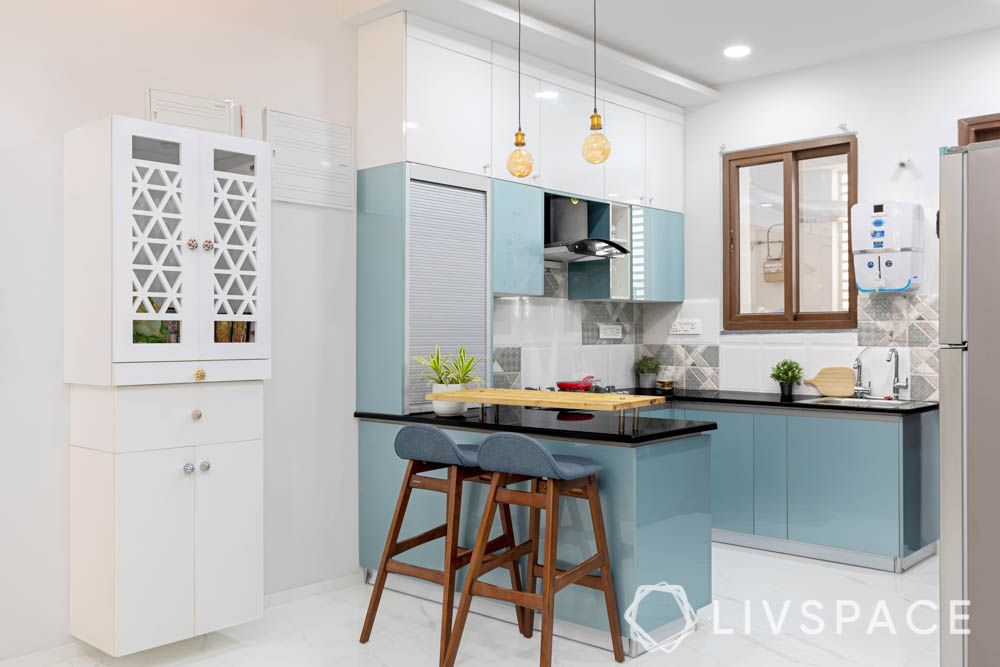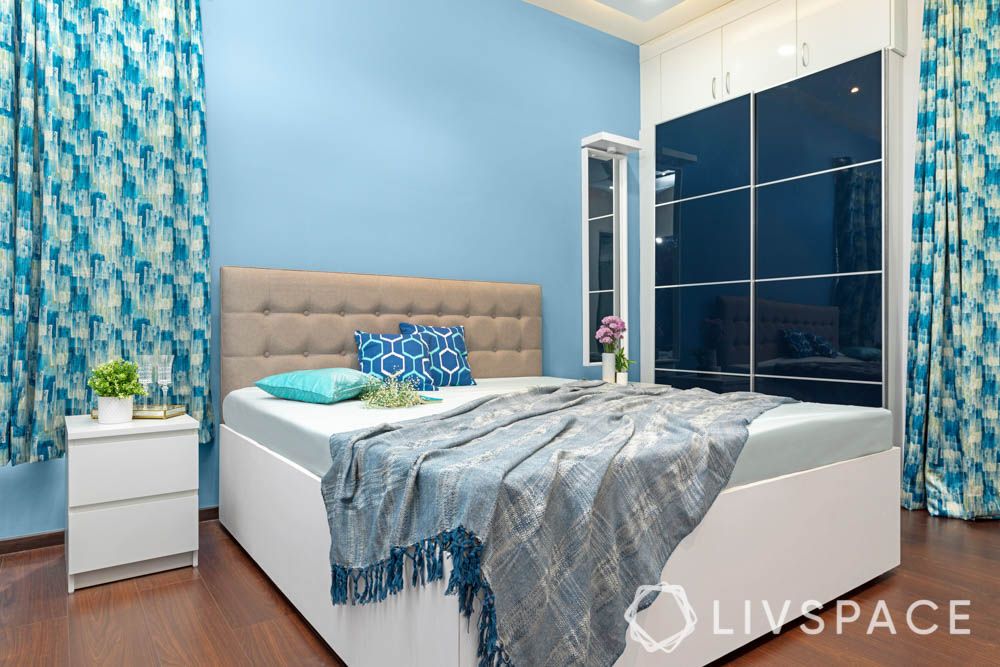 Budget: ₹₹₹₹₹
Scope of work: Full home design
How should it inspire you?
Colour can sometimes make all the difference to your home. This home, which has been completed under ₹12 lakhs stands out it's use of colour. The pastel shades that we see across this Hyderabad home make it come alive for the Guhas. Secondly, it is optimised to the best possible extent for space. The dining space, for example, has a chic mirror panel to make it look larger. In the master bedroom, back painted glass shutters give the illusion of spaciousness. The kitchen cabinets are made of MDF but have pastel blue acrylic finish.
The lesson being..
The materials you choose can help cut your budget and also be useful in other ways. For instance, glass or mirrors are cheaper than wood and paint. So the mirror panel in the dining area and the glass shutters of the wardrobe do more than brighten the space.
Read the full home tour here.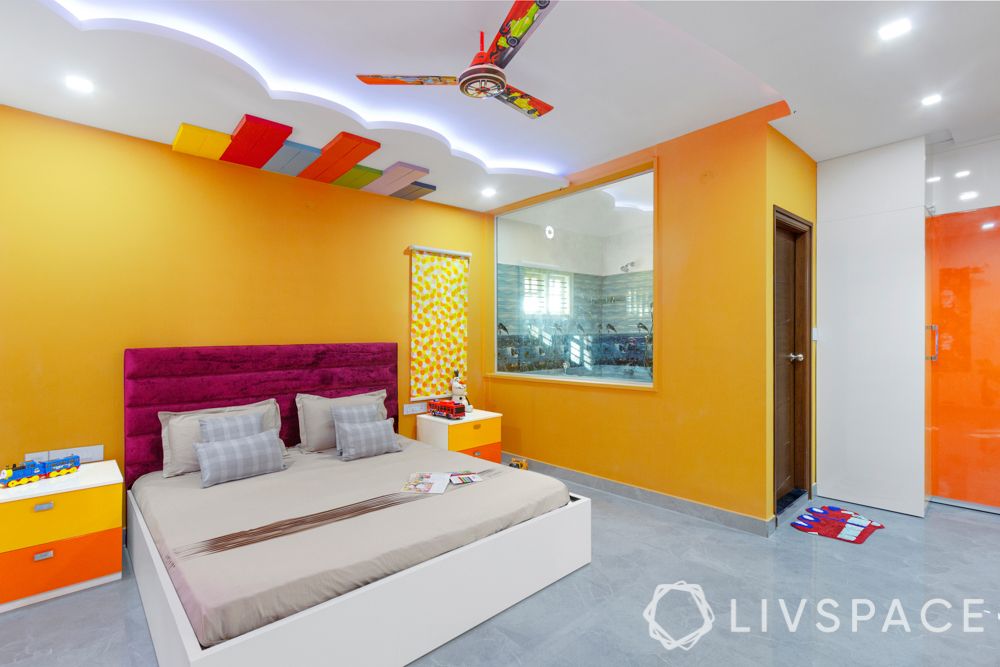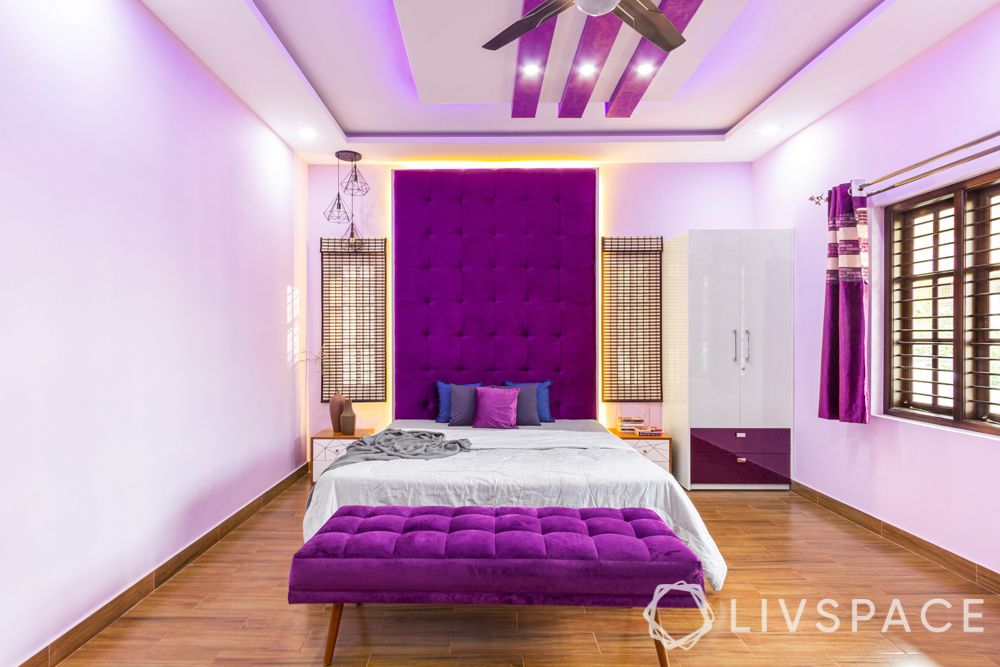 Budget: ₹₹₹₹₹
Scope of work: Full home design
How should it inspire you?
Rajesh and Sahana wanted their Bengaluru home to be filled with bright colours. But beyond their flamboyant choices of colour, there were some sound functional decisions. They ensured that everything in their home was modular including the beds. The wardrobes and kitchen cabinets were picked from our catalogue of modular fittings. You can literally pick apart and reassemble the interiors of this home in another one with similar dimensions!
The lesson being…
To reiterate one of the thumb rules of budget interior design, modular furniture that is available in pre-decided sizes in our catalogue costs much lesser than customised furniture.
Read the full home tour here.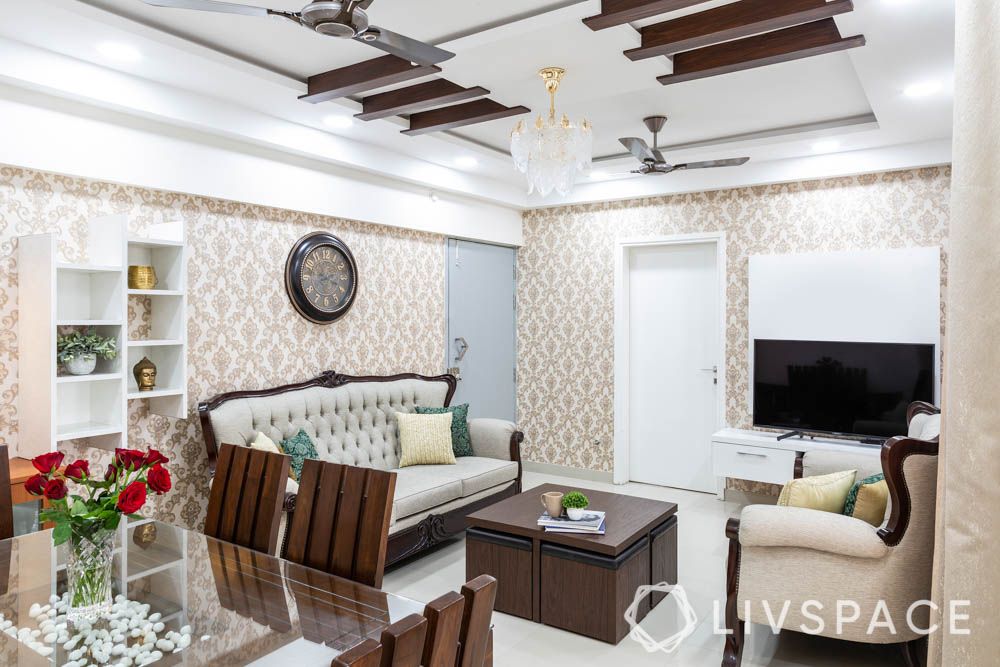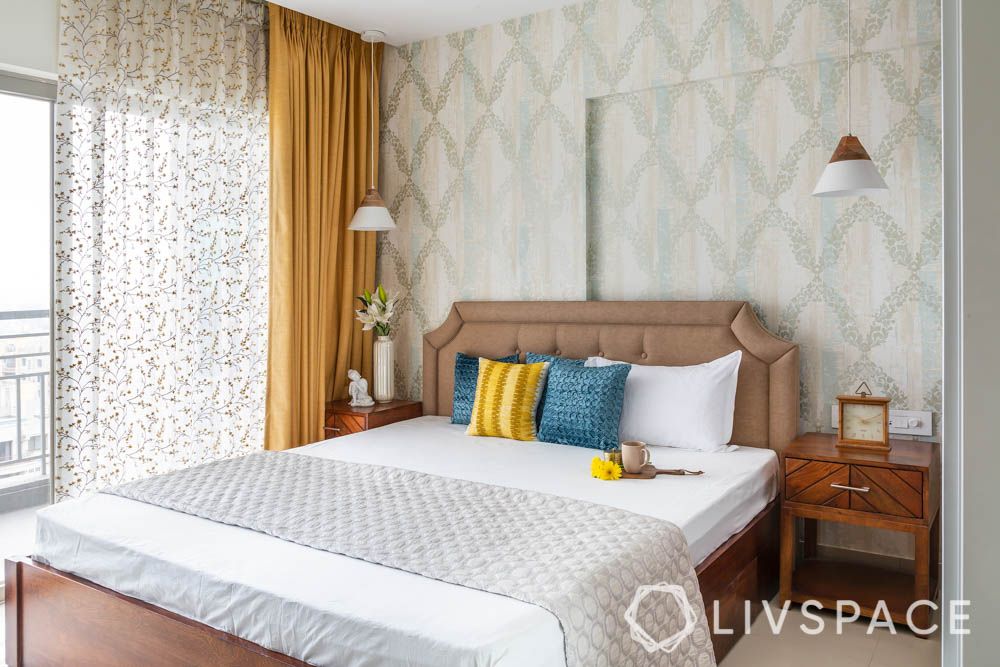 Budget: ₹₹₹₹₹
Scope of work: Full home design
How should it inspire you?
Are you wondering how this home with so much vintage solid wood furniture comes in the budget category? It is because Shreeja Panickar made the smart choice to retain her existing living room furniture after restoring it. She invested instead in three modular beds fitted with headboards from our catalogue, each in a different style. Lastly, almost every inch of this home is wrapped in wallpapers with dainty prints.
The lesson being…
Reuse for sustainability and save your precious budget for other essentials, Additionally, wallpapers can make accent walls at a lower cost than paint!
Read the full home tour here.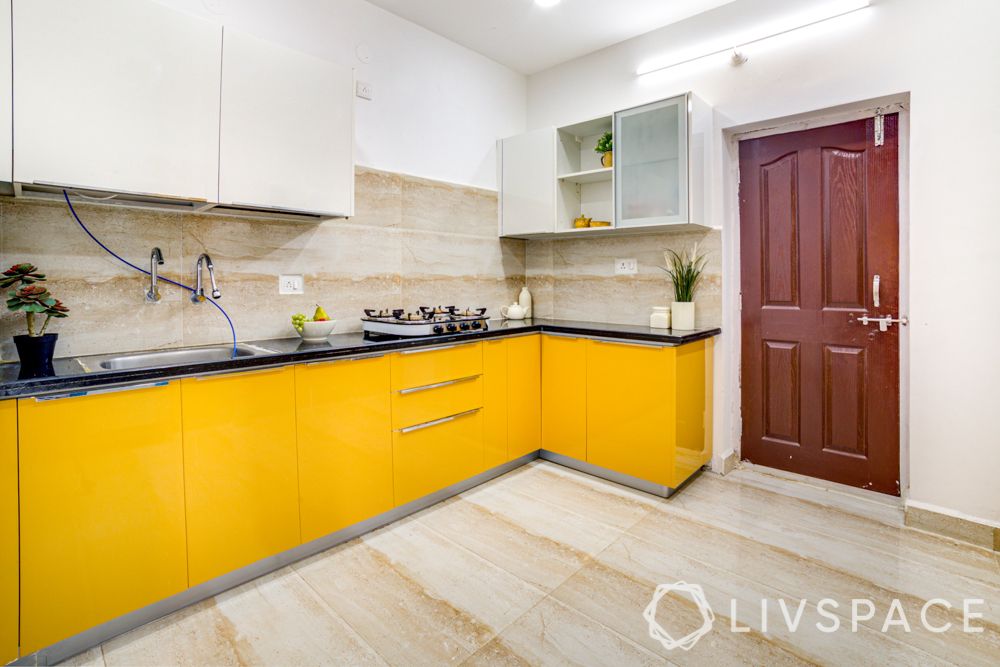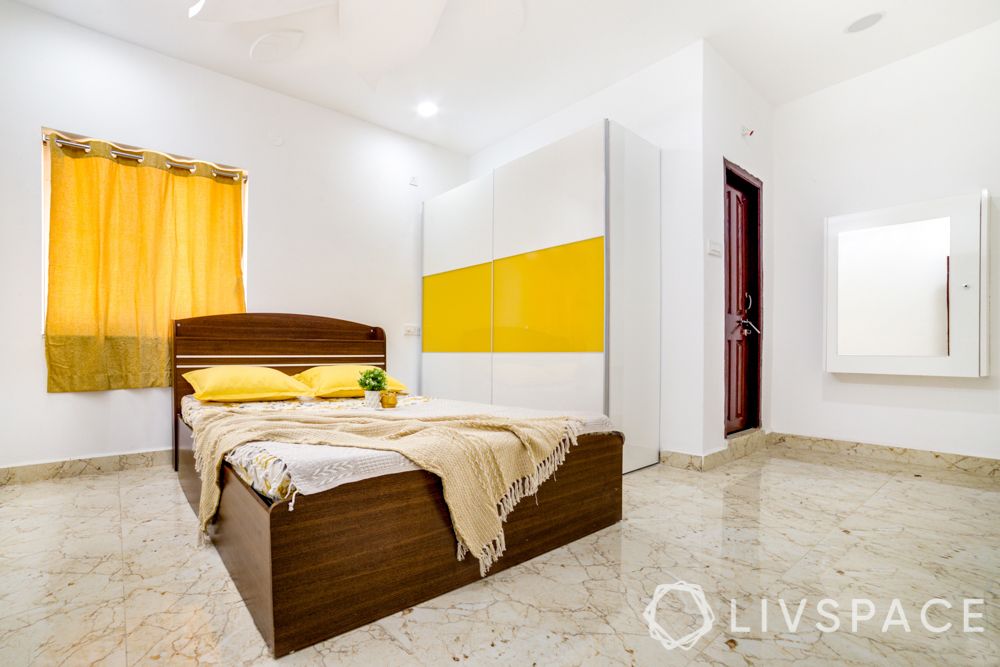 Budget: ₹₹₹₹₹
Scope of work: Kitchen, wardrobes and storage units
How should it inspire you?
The basic interiors that you need to start living in a home comprises a kitchen, wardrobes in bedrooms and storage units like a TV unit in the living room. And Raj Kumar's abundantly large duplex in Bengaluru makes do with just that. The yellow kitchen, ample in storage but not heavy on accessories is our favourite for the seamless membrane finish. The wardrobes are useful as well as aesthetically pleasing. But the highlight of this budget home interiors is the dresser and study unit created out of individual modular storage units from our catalogue.
The lesson being…
Do your interiors as per your budget and need. You can always do more later. Moreover, you can use a combination of different modular units to create functional spaces like study areas and wall display units. It costs less than getting one designed and customised.
Read the full home tour here.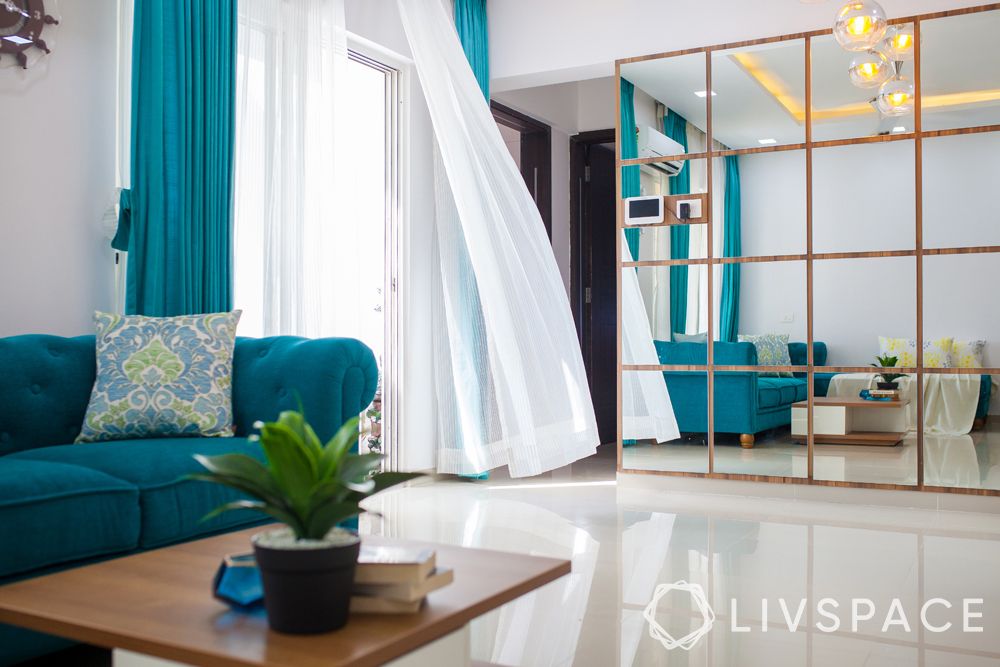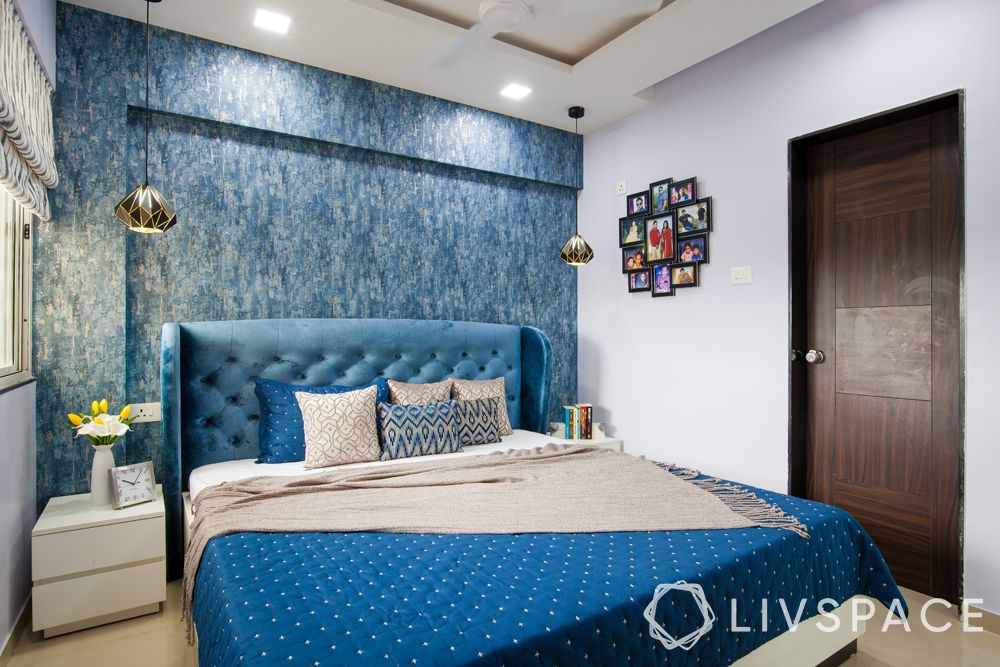 Budget: ₹₹₹₹₹
Scope of work: Full home design
How should it inspire you?
Everything in Nikhil Kurothe's Pune apartment was designed and executed by Livspace. And this was done without crowding the 750 sq ft apartment! How did it happen? A range of mirror panels and shutters help keep the budget in check. Moreover, basic laminate finishes also ensured that the budget is not overshot. Furniture like beds and sofa from our catalogue were steals. Altogether, looks like the young couple got a good deal here!
The lesson being…
Use materials and finishes that fit into your budget like mirrors, glass, wallpaper etc.
Read the full home tour here.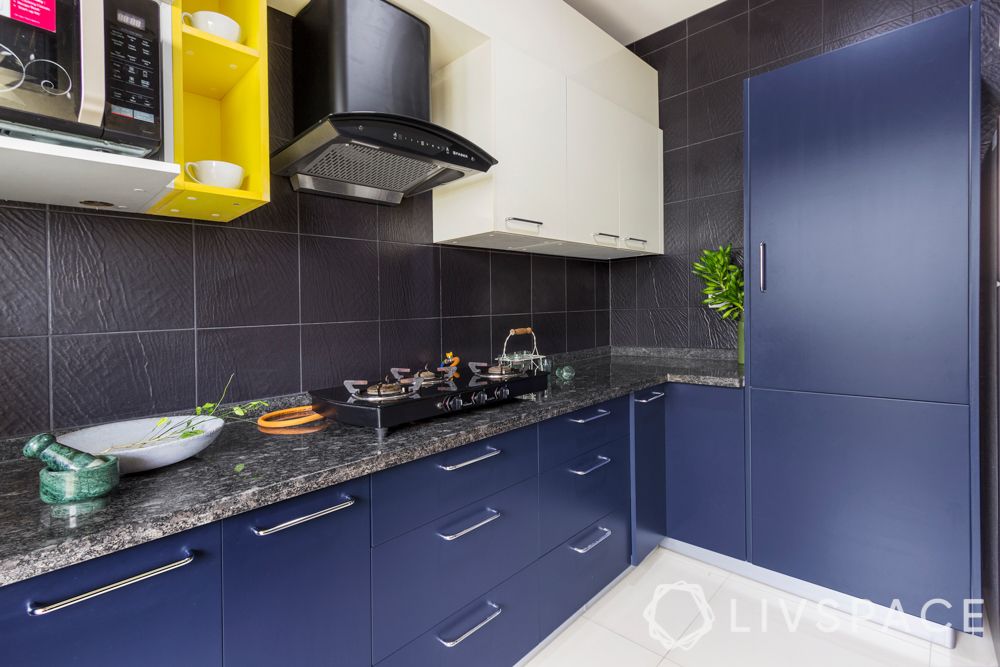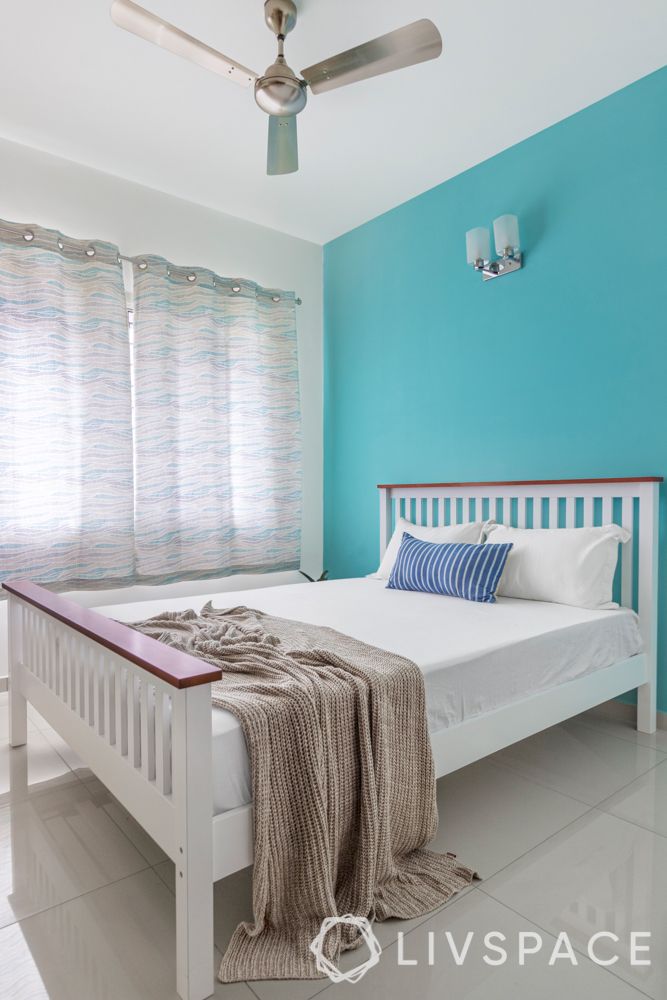 Budget:₹₹₹₹₹
Scope of work: Full home design
How should it inspire you?
That's true, Dilip and Parvathy browsed through our Livspace magazine and dreamed of having a home that looked just as perfect as those featured in it. But being a busy young couple, they also wanted a home that would be easy to maintain. Hence, the sparsely spaced out furniture and open spaces within this home. Being just two, the pair did not need too much storage in their home. This helped the design team save cost and give a breezy vibe to the space
The lesson being...
Open space is as much an element of design as a sofa or heavy storage unit. You just have to use it right. And guess what? It costs nothing!
Read the full home tour here.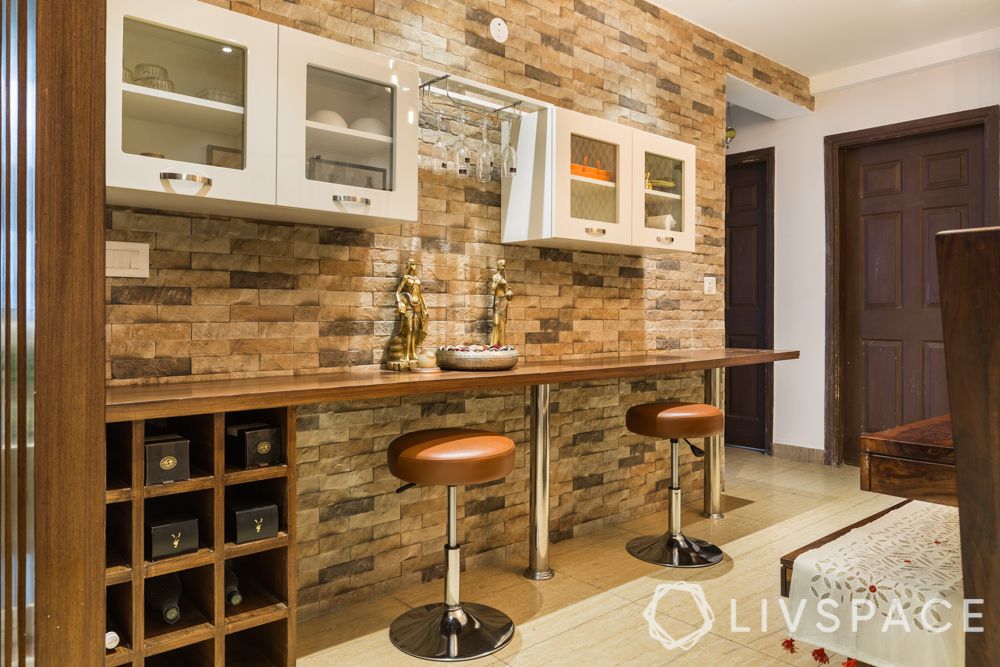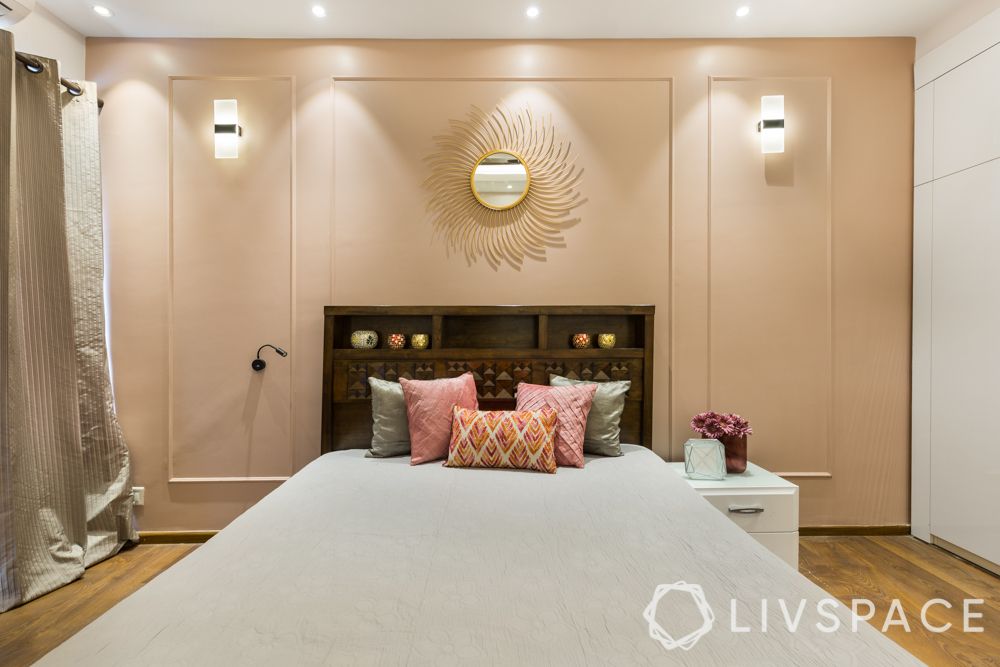 Budget: ₹₹₹₹₹
Scope of work: Full home design
How should it inspire you?
Style can be simple too and that is what we see in this home. At over 1,700 sq ft. this 3BHK is by no means compact. Gunjan Singh, who owns it, wanted it to be styled in a way that does not scream 'designed'. Hence, we see what is a home designed with basics with an underlying seamless quality. While most of the furniture was existing, Gunjan did choose to splurge on a chaise lounge chair. Another stunner is the bar unit created with stone cladding and a custom ledge on the wall. The master bedroom wall stands out for its portrait trims and we love it.
The lesson being…
If you have all the essential furniture in good shape, design your home around it. Spruce it up with a statement piece or two like the chaise lounge chair in this home.
Read the full home tour here.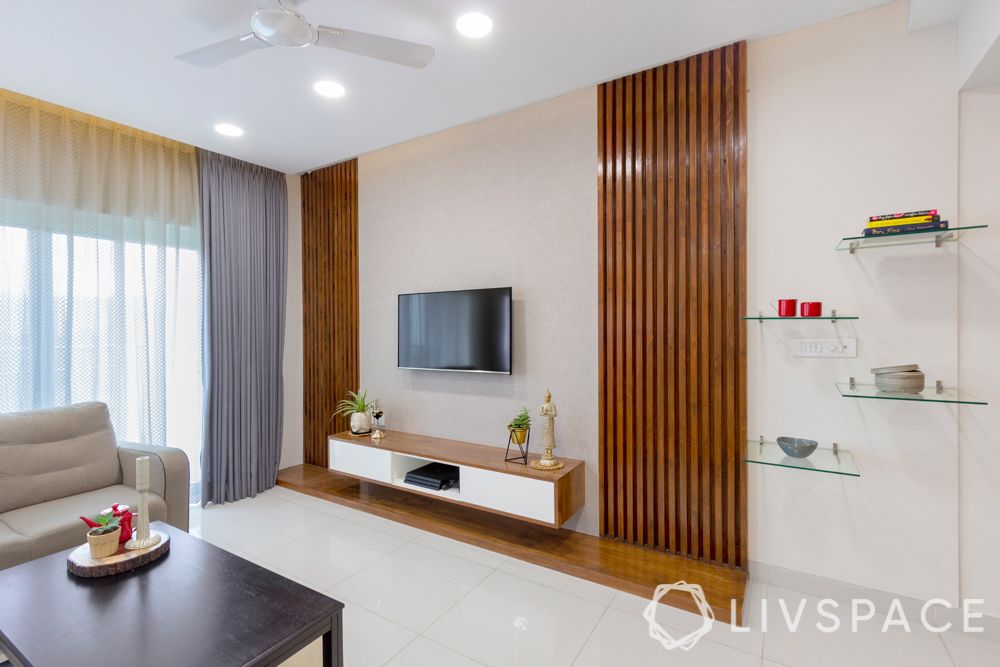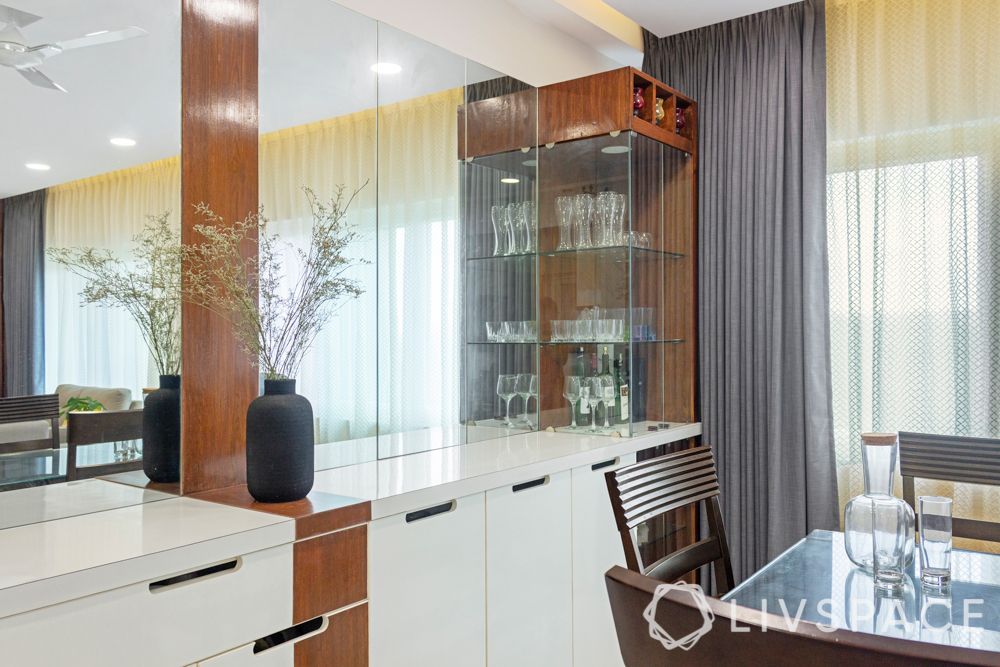 Budget: ₹₹₹₹₹
Scope of work: Kitchen, wardrobes and storage units
How should it inspire you?
Nitesh and Pallavi wanted to move into their own apartment just before their first anniversary. So they wanted budget interior design as quickly as possible. Thus, the smart thing to do was opt for basic furniture for the kitchen, wardrobe and other storage units. However, they did not want to compromise on style. Hence, everything you see in this home is designed and customised to make it a perfect fit. Our favourite, of course, is the TV unit and crockery cabinet that twin each other with matching veneer panels.
The lesson being…
If you don't want to compromise on customisation, you can cut down on the number of storage units you want in your home or a fancy false ceiling for that matter. In short, spend on what you like and deem necessary.
Read the full home tour here.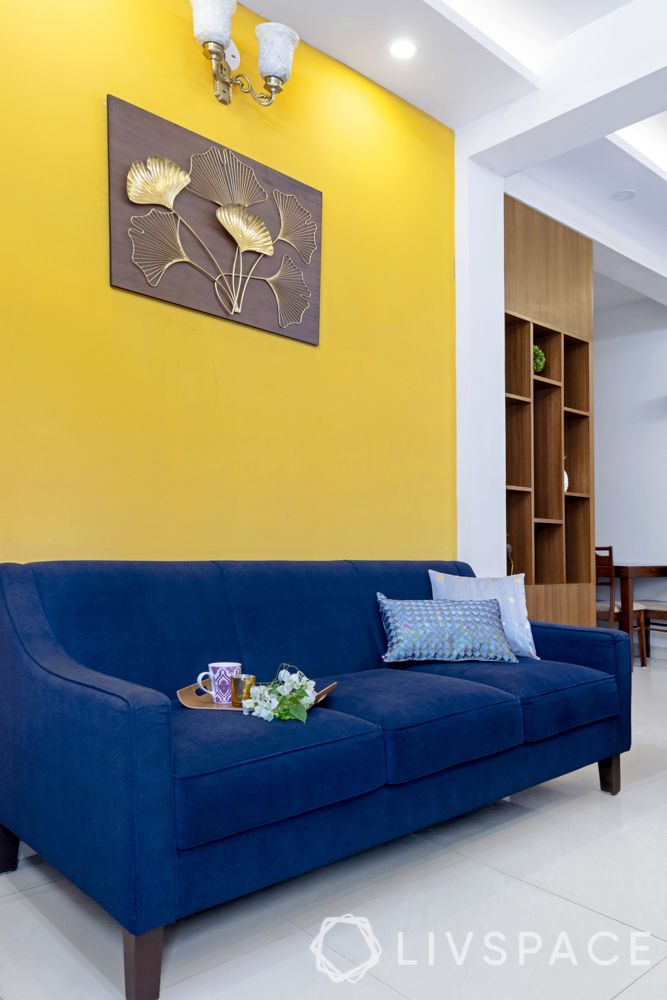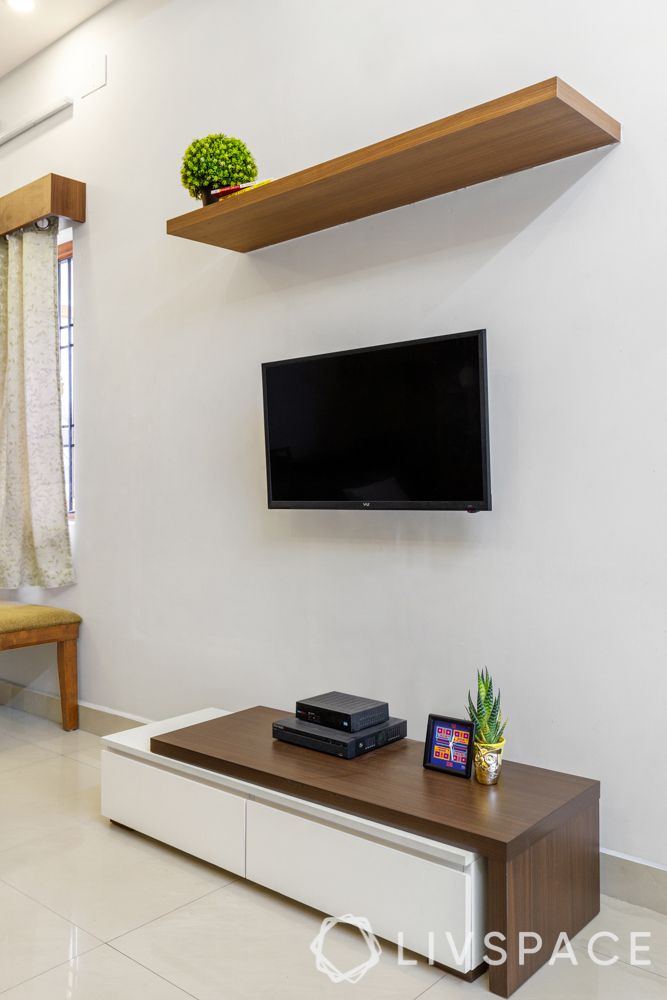 Budget: ₹₹₹₹₹
Scope of work: Living and dining room renovation
How should it inspire you?
Kamini and her parents had lived in their Chennai home for 6 years already. However, they wanted their living and dining area to be bright and airy. Our design team suggested a change of layout and knocked down a wall to let in natural light. They also ensured that all the new furniture was minimal and kept to walls leaving plenty of space to move about in the compact room. The bright yellow wall paint was the finishing touch!
The lesson being…
Civil changes include the cost of demolition. However, sometimes a change of layout is just what your space is missing. Just ensure you are setting up the room in a way that it gets maximum natural light and the cost will be worth its while.
Take the full home tour here.
If you found some words of wisdom within our best budget interiors stories, also explore the top 10 budget homes of 2019 for ideas.
Send in your comments and suggestions.