Livspace, one of the top 10 interior designers in Bangalore, helped these homeowners in getting their dream interiors. From bright colours to dainty designs and maximum functionality, this home has it all!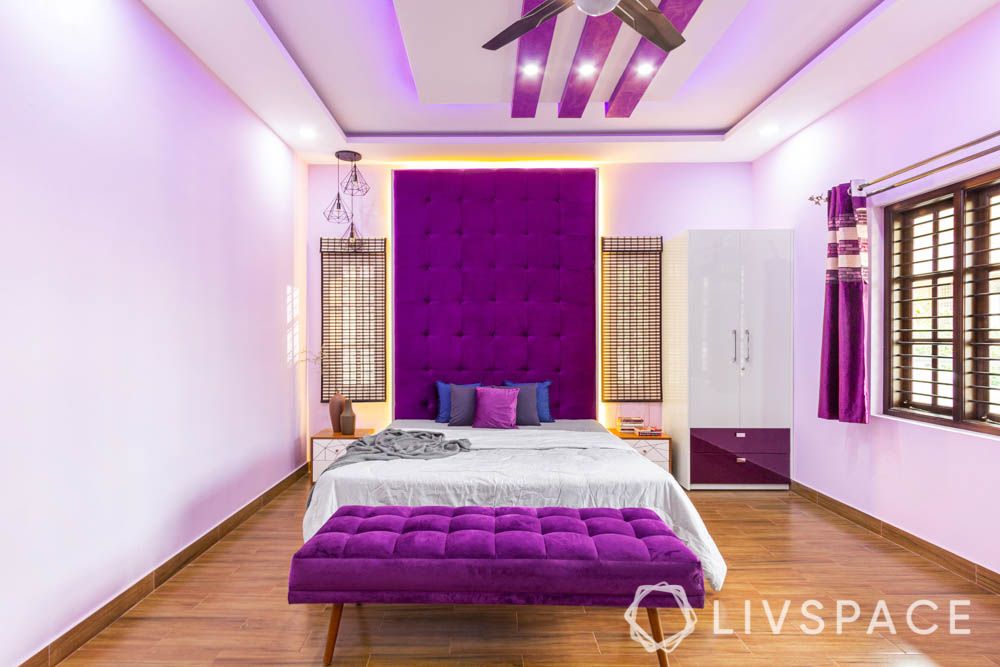 ---
Who livs here: Rajesh with his wife Sahana and their son
Location: Banashankari, Bengaluru
Size of home: A 3BHK spanning 1,800 sq ft approx.
Design team: Interior Designer Vardhini BS and Project Manager Abhinandan.S
Livspace service: Full home design
Budget: ₹₹₹₹₹
---
Having recently purchased an independent 3 BHK in Banashankari, Sahana and Rajesh were keen on personalising the space to reflect their taste. Moreover, they wanted to fill it with tons of colour and cheerfulness. So they set the colour scheme for each room, and got the basics out of the way before they approached Livspace, which ranks among the top 10 interior designers in Bangalore, to add the finishing touches. Not a matter to be trifled with, for sure! And who should take on the challenge of bringing the home together but Livspace designer Vardhini BS? She started by taking a look at the floor plan of the home, so let's do the same!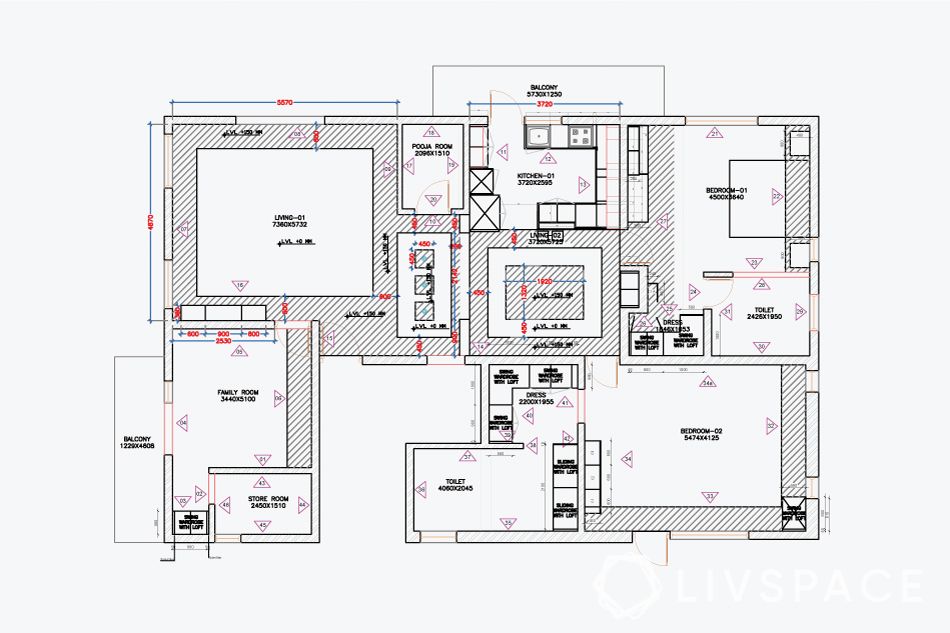 Vardhini tells us that Sahana and Rajesh had a clear picture of what they wanted – a yellow and white kitchen, a purple bedroom that screamed luxury, and a cheerful yellow room for their son that inspired creativity. With this knowledge, Vardhini set out on the task of finding the right modular interiors that complemented their dream home! Let's find out how it turned out, shall we?
A modular TV unit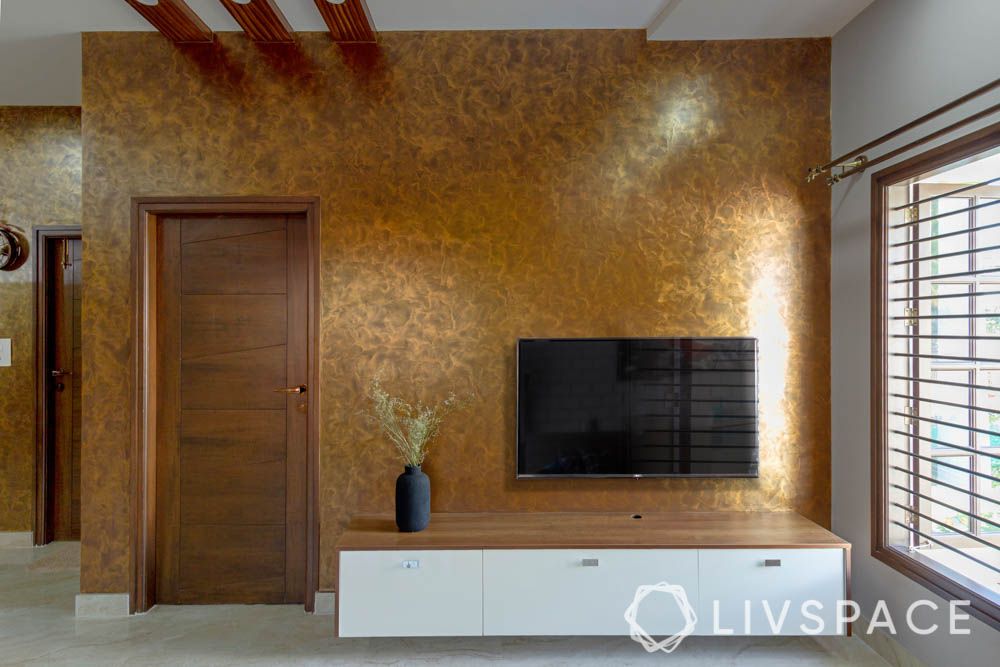 In the living room, Sahana and Rajesh wanted neutral colours, so they got a warm brown texture paint on the accent wall. Against this setting, Sahana suggested a compact wood and white TV unit from the Livspace modular range. Doesn't it go perfectly with the setting?
Under the sink storage done right!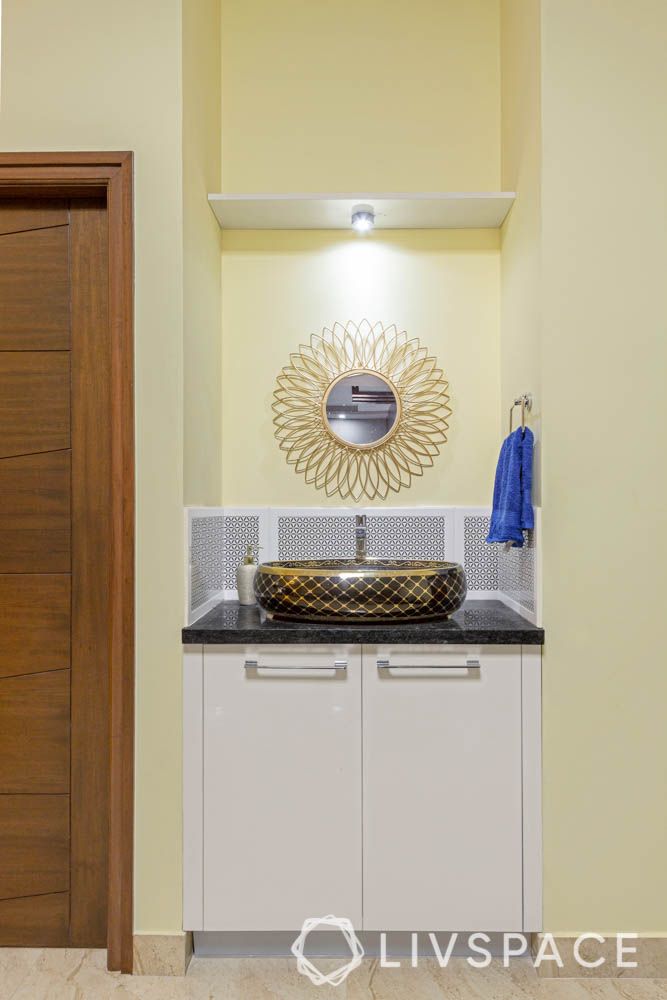 Sahana and Rajesh had carefully sourced this beautiful sink and mirror for the dining room. So Vardhini decided to give them just the right kind of storage space for their cleaning supplies. In doing this, she wanted to add to the charm of the sleek sink and dainty mirror. And what better than white drawers with a glossy duco paint finish?
Kitchen dressed in sunshine fues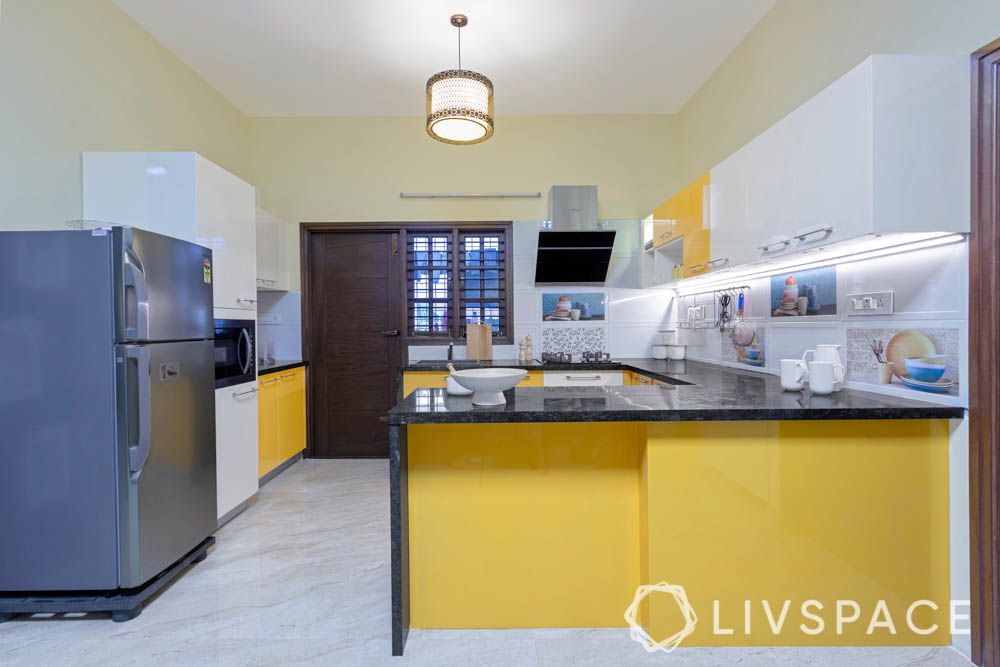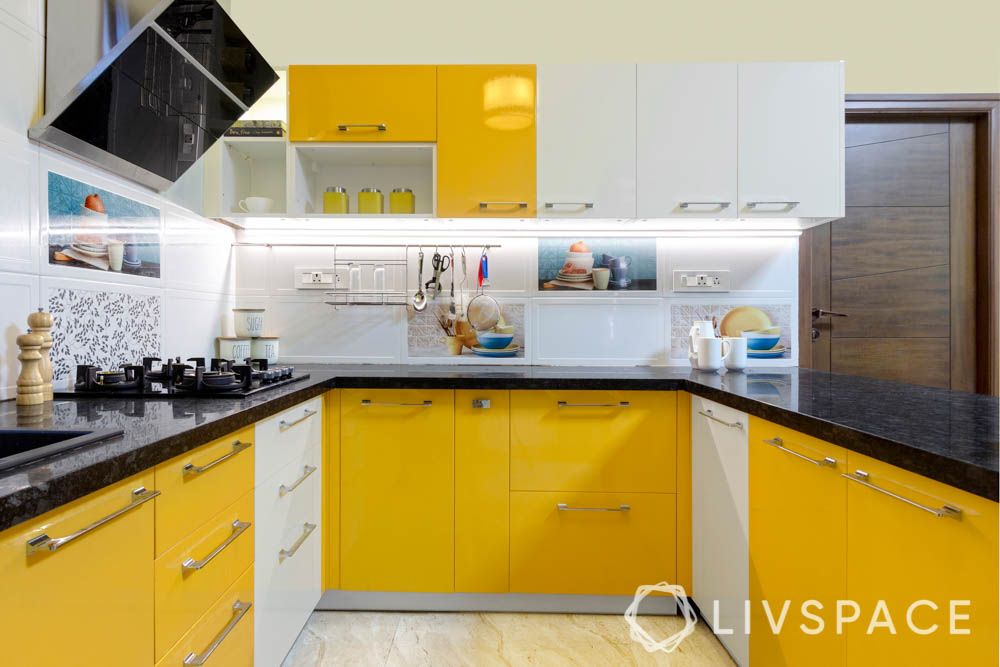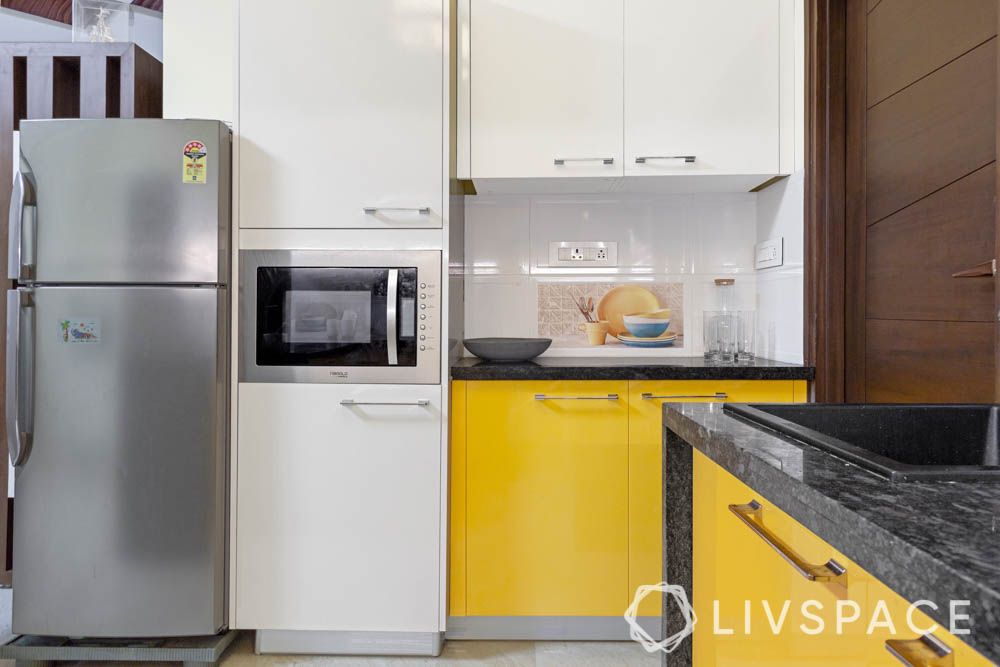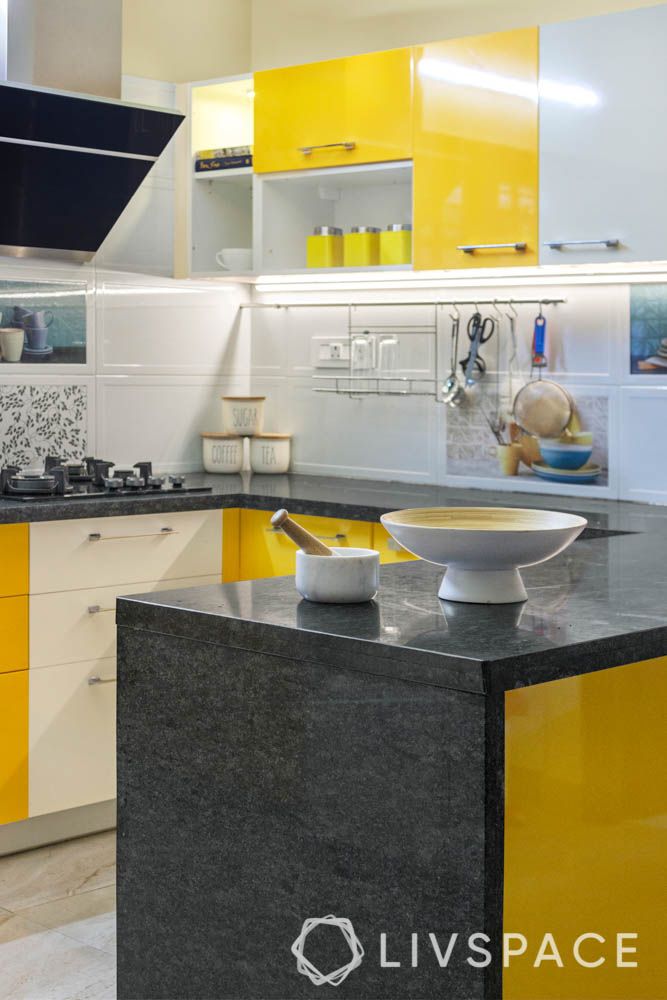 Vardhini tells us that Sahana and Rajesh wanted their kitchen to be a mix of white and yellow. So she gave the family a kitchen finished in white and yellow duco paint! Against a white tiled backsplash, a U-shaped kitchen comes to life. Finally a black granite countertop ties the kitchen together.
Vardhini has carefully provided a mix of open and closed cabinets. Moreover, she added magic corners to make the most of available space. She also gave the family a tall unit with an in-built microwave. This comes with additional cabinets as well as a space to store other appliances when not in use!
Plush purple detailing in the master bedroom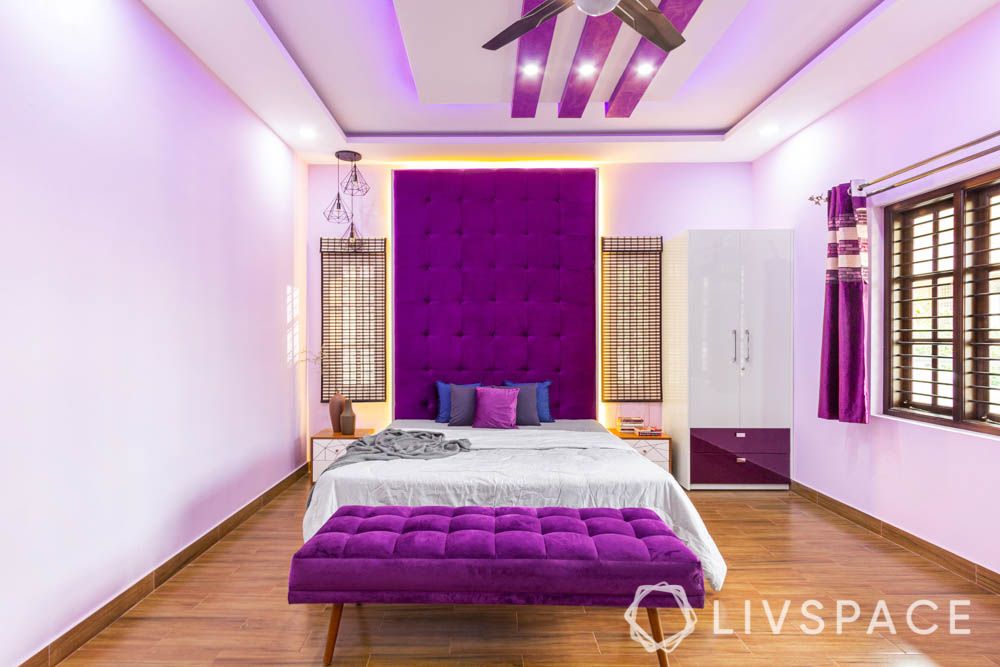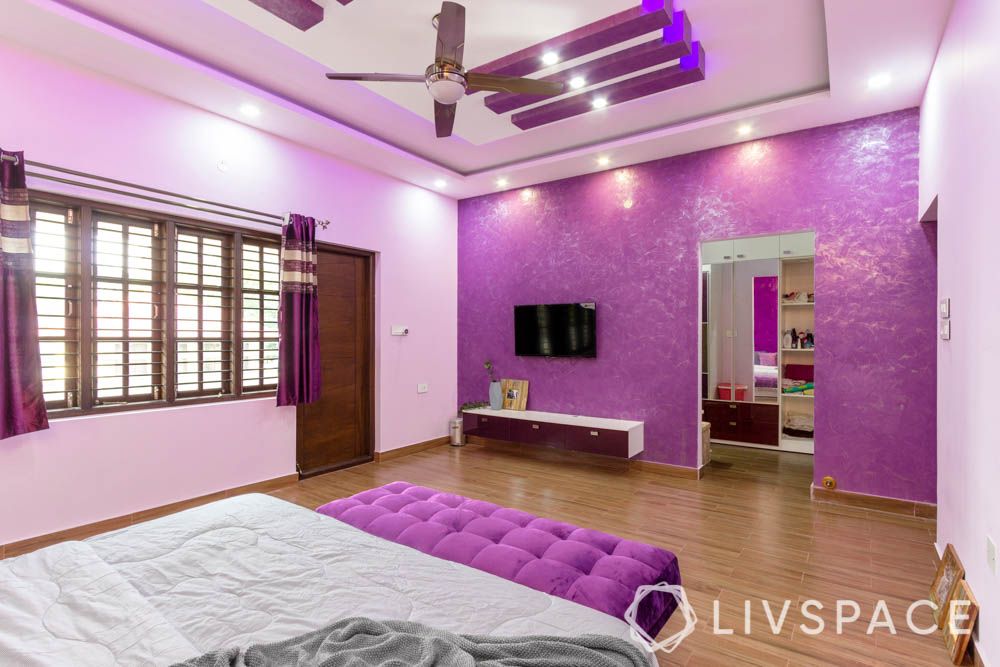 Since Sahana and Rajesh wanted a purple bedroom, Vardhini suggested a simple white bed and a purple bench from the Livspace catalogue. This perfectly complements the tufted full wall headboard, as well as the textured purple paint on the opposite wall. Vardhini also gave them a glossy acrylic wardrobe in white and purple. Doesn't it tie in beautifully with the rest of the room?
Peeking into a child's world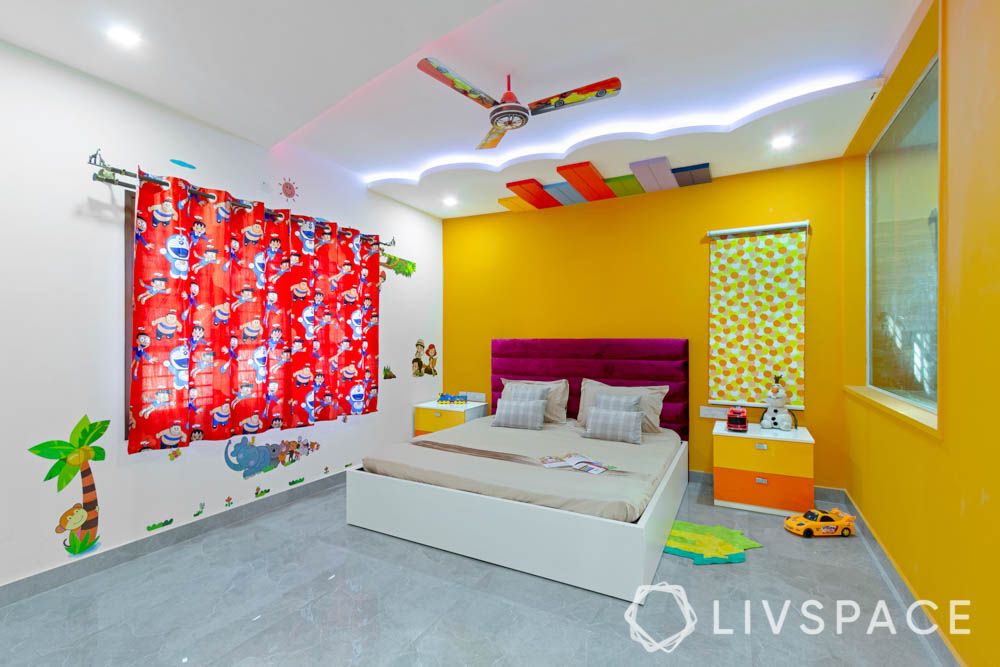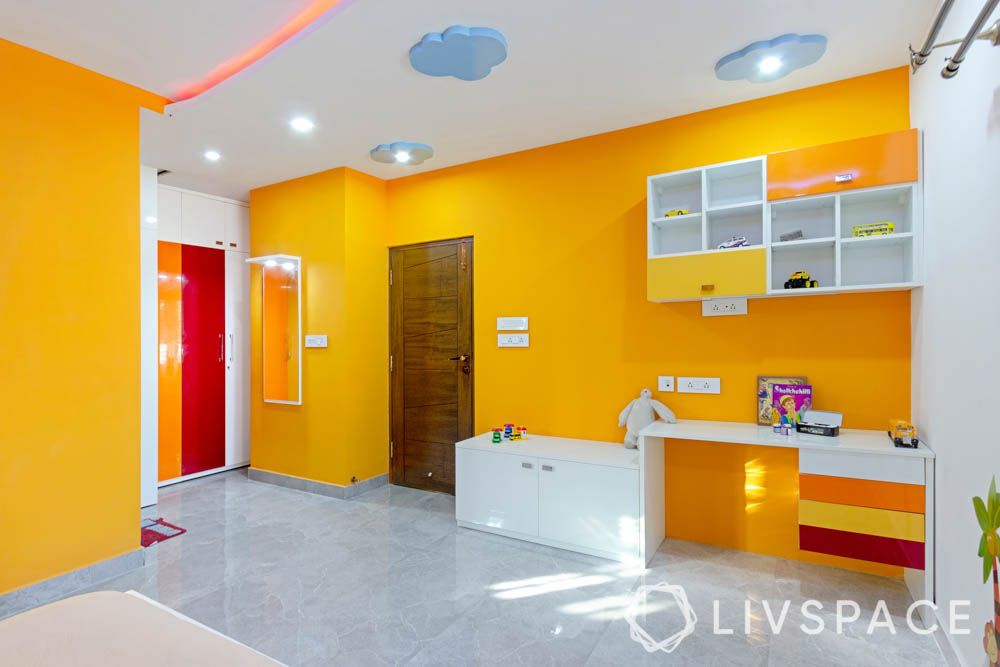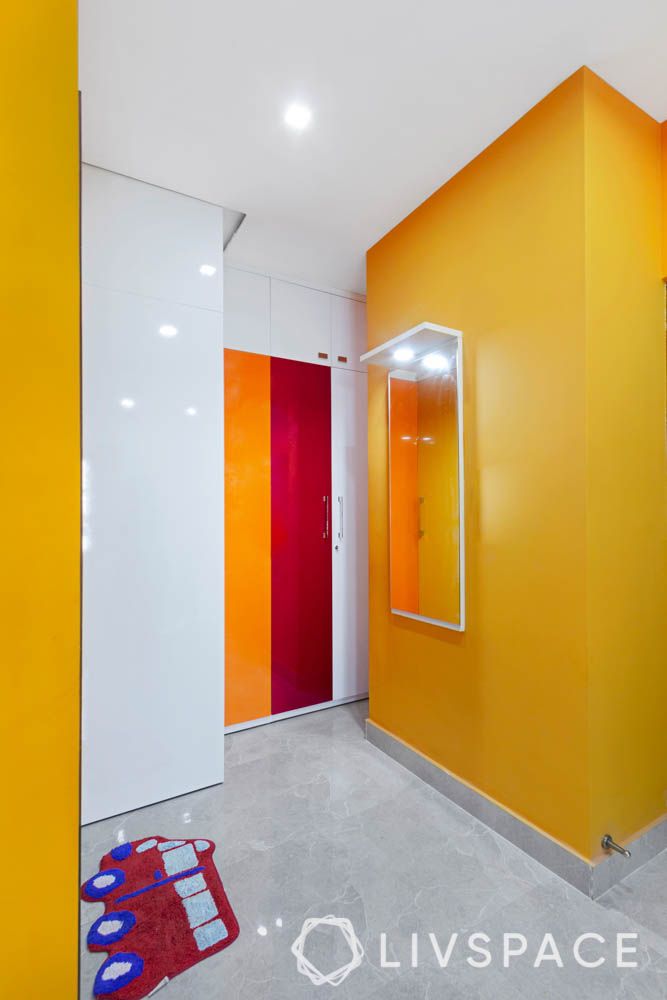 For their two-year-old son's room, Rajesh and Sahana wanted bright and cheerful colours. They finally settled on this shade of amber. As one among the top 10 interior designers in Bangalore, Vardhini found the right furniture to add to the growing child's room. And that's how she provided a white bed with a plush velvet headboard and modular interiors. Check out the study unit in white duco paint! It also comes with open and closed shelves to show off his favourite toys without compromising on storage. Don't miss out on the free-standing mirror, or the multi-coloured wardrobe in the corner, either!
Guest bedroom essentials sorted!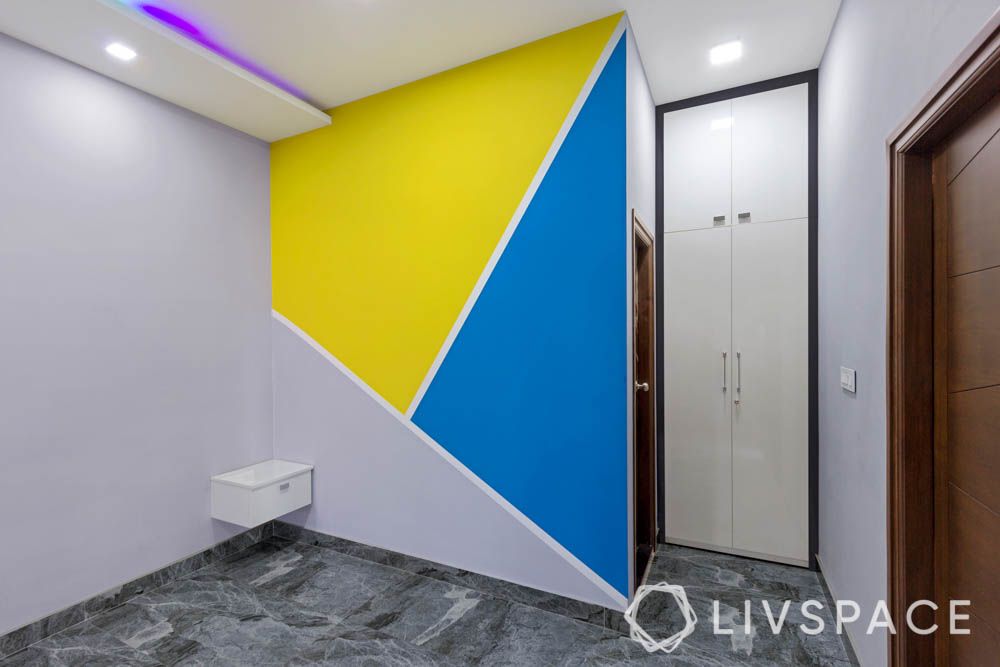 Sahana and Rajesh wanted unique interiors for their guest bedroom. So Vardhini, one of the top 10 interior designers in Bangalore, suggested this design for a contemporary accent wall. In keeping with the accent wall, she gave the family a white laminate wardrobe that fits perfectly into the niche behind them. Neat, isn't it?
"Sahana and Rajesh had a clear picture of what they wanted for the interiors of their home. So giving them exactly what they wanted was a breeze, and I'm glad they liked it!"
– Vardhini BS, Interior Designer, Livspace.
If you enjoyed reading about this home, also check out This 2BHK Packs Quite a Punch on a Budget.
Send in your comments and suggestions.