Livspace Noida crafts a comfy home that's high on style.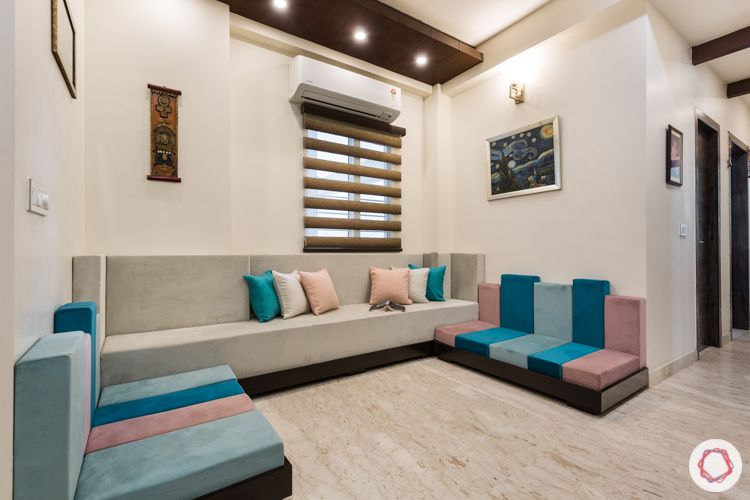 ---
Who livs here: Rajesh Sethi with his wife Vibha, and their children Manali and Arnav
Location: JM Aroma, Noida
Size of home: 4BHK spanning 2,550 sq ft
Design team: Interior designer Mridul Jain & Project Manager Zaki Khan
Livspace service: Full Home Design
Budget: ₹₹₹₹₹
---
What defines a designer home? Is it the unique pieces thoughtfully placed at convenient corners? Or the sheer vibe of the home? We at Livspace believe that the perfect designer home is one that reflects the tastes and requirements of the homeowner. It's your place to unwind, so we do it in your style. So when the Sethis approached us, seeking flat interiors for their home, we at Livspace Noida decided to give their home the designer touch they desired.
This home has three generations of people living in it – so our interior designer Mridul crafted it for the ease of each of its residents. While the Sethis wanted their home to have beautiful colours and the right dose of Indianesss, Mridul thoughtfully threw in neutral colours and elegant designs into the mix. And what's the result, you ask? A timeless home that has the right mix of personalised elements and the luxurious appeal that characterises Livspace Noida. Check out the floor plan without further ado!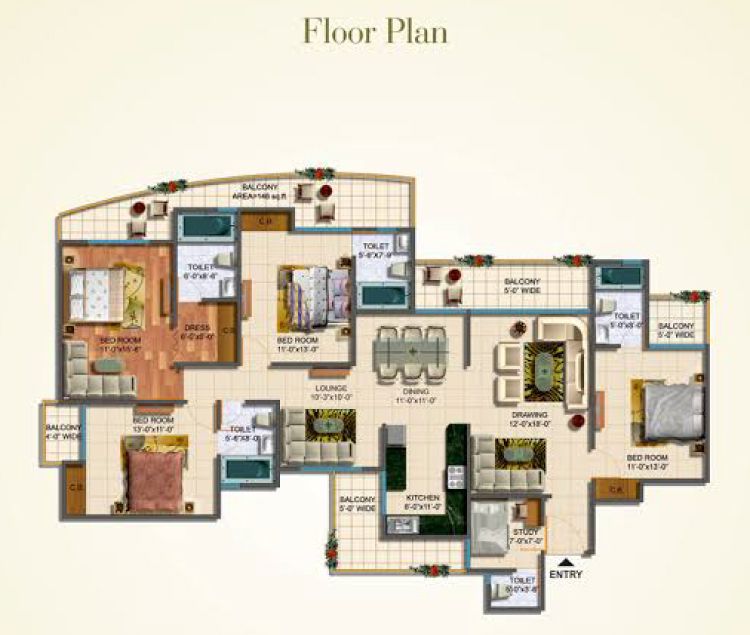 This home embodies luxury, with no compromises on comfort. So we bring you floors in Italian marble, plenty of wooden elements, comfy beds, and the right seating choices. In fact, Rajesh's parents loved the home so much that they are now getting their home designed by Livspace Noida too! Don't believe us? Come take the tour!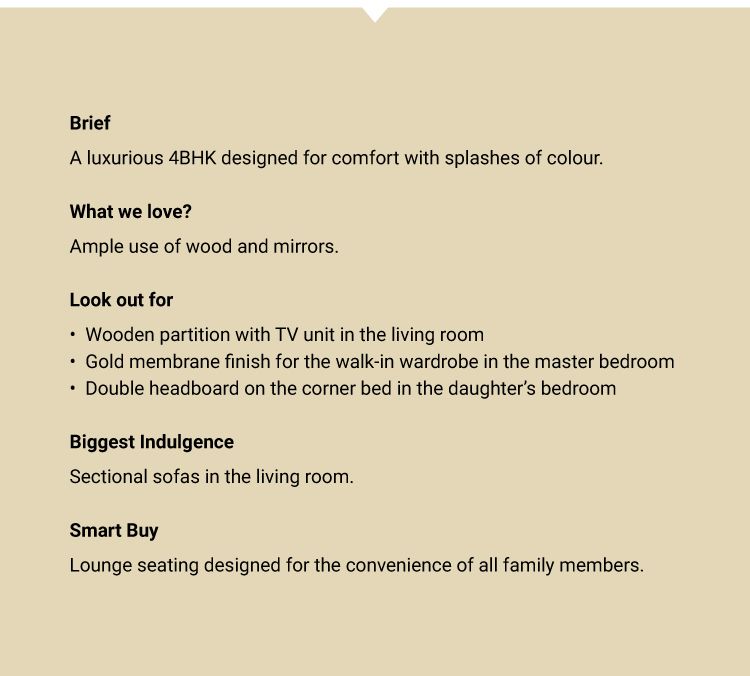 Contemporary Designs Rule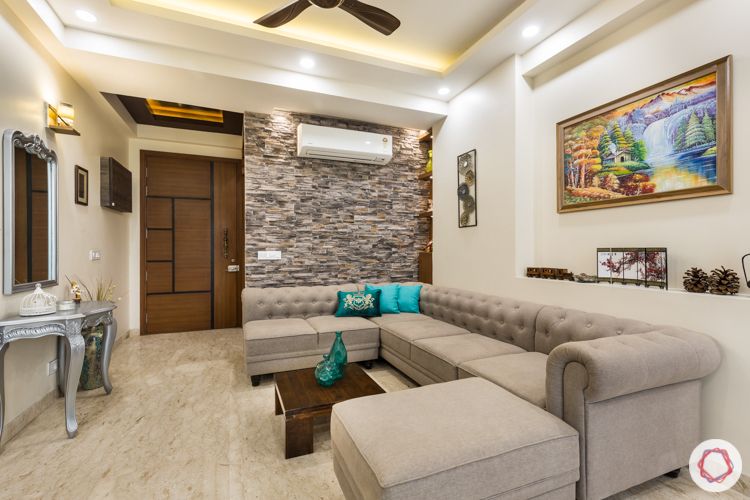 For the living room, Rajesh wanted a mix of formal and informal spaces. So Mridul set the mood for this room with a stone-clad wall, beautifully complimented by an L-shaped sofa in beige from the Livspace catalogue. This comfy suede sofa can seat more people than traditional sofas, which ties in with the Sethis' requirements. An antique console takes the pride of place on the opposite wall.
Mridul has added a turquoise leatherite sofa to the opposite corner of the room. Crafted with care, this custom piece adds that pop of colour to this otherwise neutral space. Classy, don't you think?
Designer Tip
"We turned a niche formed in the corner due to a protruding column into a cosy display space with wooden shelves! In this living room, we played around with the display shelves and niches. This effectively prevented the columns from looking out of place, and allowed the Sethis to show off their accessories!"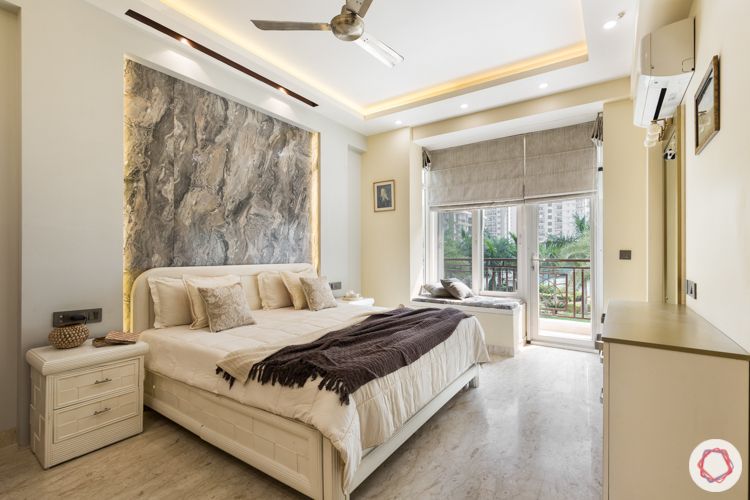 The Livspace Noida design in this master bedroom is a classic example of contemporary aesthetics. From the soft French colour of the refurbished bed and matching side tables to the marbled wallpaper on the accent wall behind the bed, this master bedroom is timeless. What's more, the Italian marble flooring complements this room perfectly!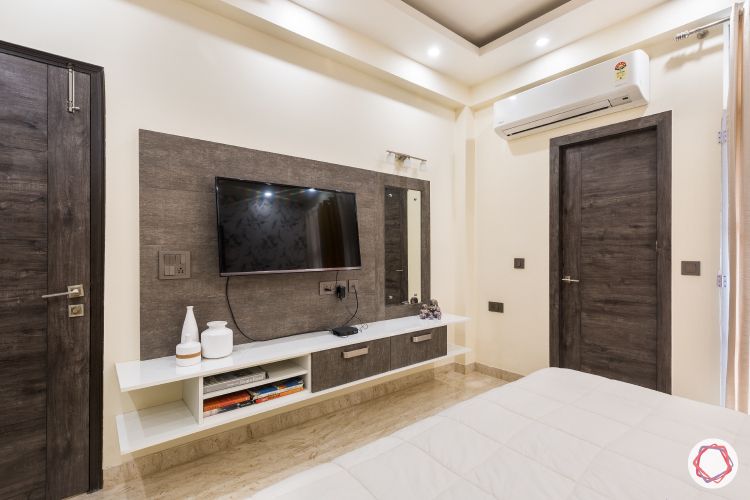 The compact TV units stand out in the Sethi home, both in the master bedroom and in Arnav's room. While the colour and finish on the units are different, we love them for their simplicity and elegance!

Personalised Spaces for the Perfect Home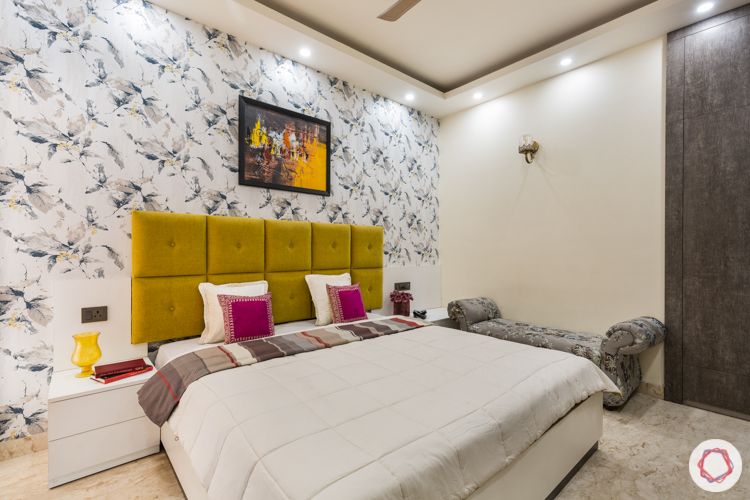 Designed for the couple's elderly parents, this bedroom features a marigold yellow headboard. Mridul has also kept an upholstered bench on the side, so that they have a comfortable place to sit.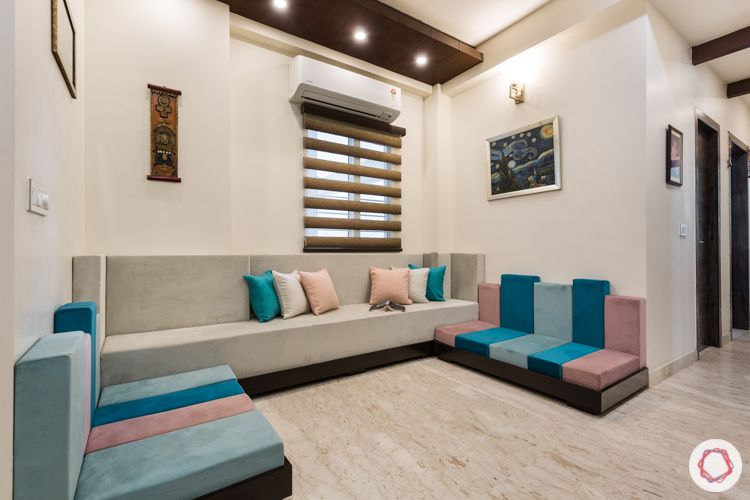 Of all the spaces tailor-made to the family's requirements, the seating in this lounge is our favourite. A greige seat stands against the wall – Mridul designed this to be at the standard size of sofas so that the elderly couple can sit comfortably. On either side of this, the flat interiors have seating at different levels. These seats are a mix of pale and turquoise blue, and dusty pink. So each member of the family can sit comfortably as they catch up!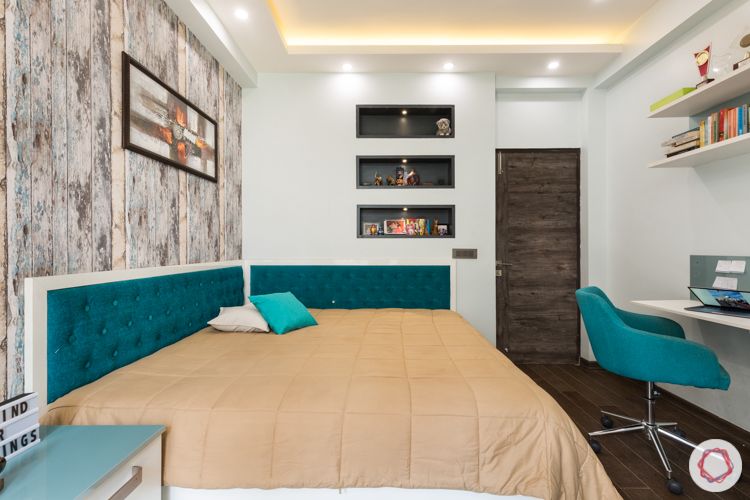 Manali wanted certain specific elements in her room, and we couldn't give her anything but the best. So her room brings together her favourite colours and textures, while packing in the essentials. Watch out for the wallpaper that has a subtle wooden pattern in brown and blue as well as the blue headboards! Also, Mridul provided niches on the wall for Manali to display her chosen accessories.
Since the room lacks the space for a dresser, Mridul has provided a glass panelled wardrobe with silver-hued lofts to add that metallic tone to the room. A study space was priority, so Mridul crafted one in white with plenty of glass to add that perfect touch.
Our Favourite Design Elements
Here's what we loved most about this home:
Glossy Metallic Finishes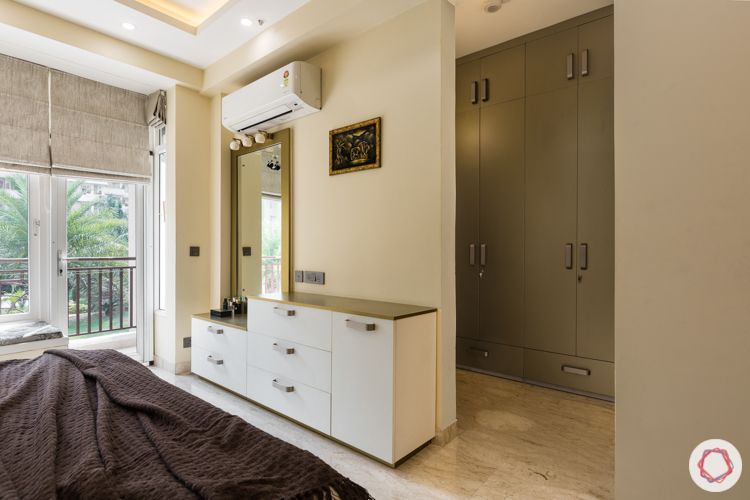 What spells luxury in a bedroom more than a walk-in wardrobe? You can catch a glimpse of the walk-in wardrobe in the Sethi master bedroom, and on stepping in, you will be blown away by the sheer opulence of this space. On the dresser, Mridul has used the same shade of gold, but toned it down with the classic French white. Overall, it creates a royal ambience, without being overbearing.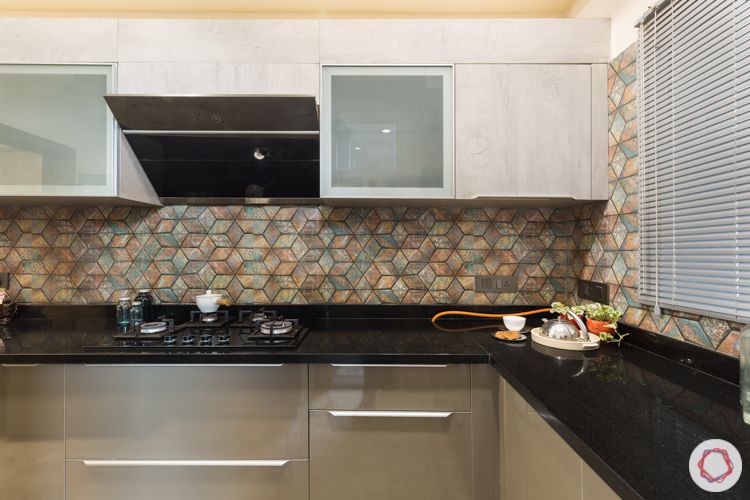 This metallic acrylic kitchen done up in grey and beige has the best of fixtures, including tall units, top-lift cabinets and the like. Rajesh and Vibha wanted a kitchen packed with storage and Mridul provided them the same. A background of tiles adds a subtle pop of colour in this space. With profile shutters on the cabinets, this Livspace Noida kitchen looks perfectly seamless.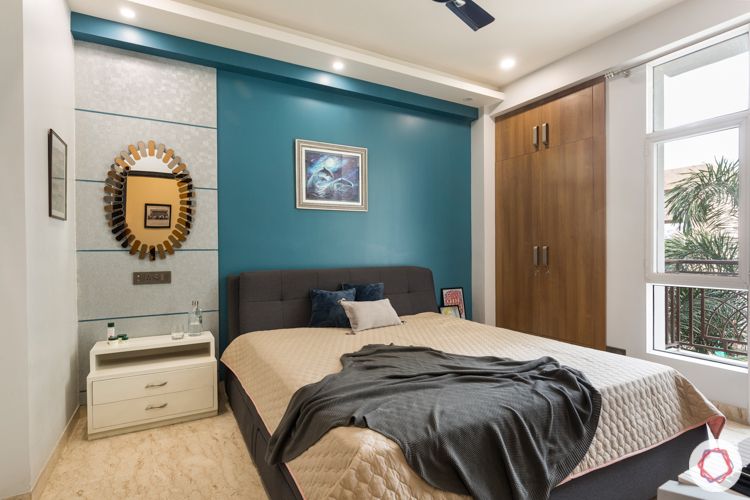 Mridul has distinguished the dresser area in Arnav's bedroom with a silver laminate finish. A subtle but gorgeous mirror forms the focal point of this space, which is beautifully balanced by a minimal white dresser.
Pops of Colour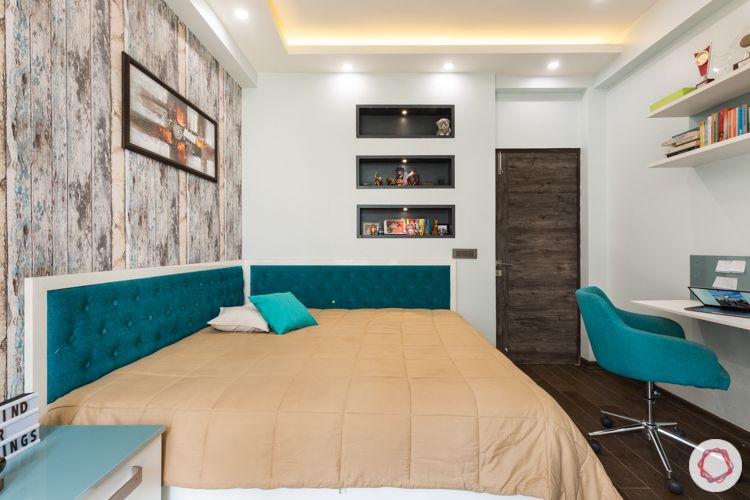 In Manali's room, the bed rests against a wood-patterned wallpaper. But Manali wanted her favourite colour, blue, in her room as well! So Mridul used this lovely shade on both the headboards of this corner bed, making it a cosy space to recline on.
Designer Tip
"Manali loves blue and wanted it to be a part of her room, but without overdoing it. She also loved the texture of wood. So I gave her blue headboards, and used a delicate blue shade on a wallpaper that mimics the pattern of wood behind her bed for that timeless yet comfy touch."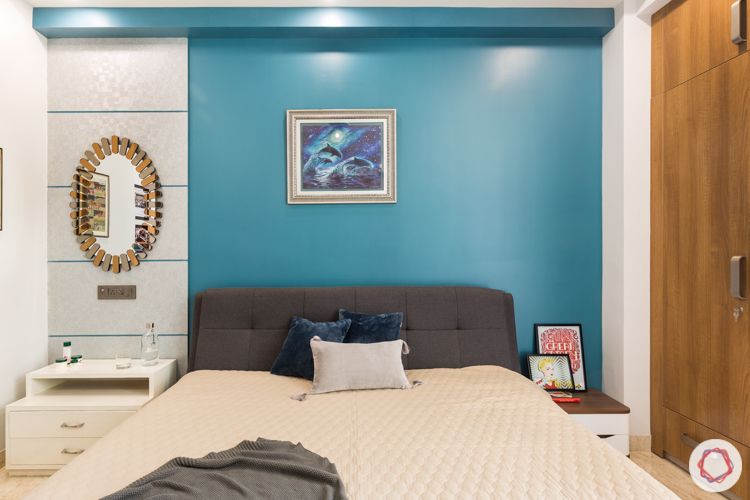 A blue accent wall brightens Arnav's room with ease. Mridul has used this colour on the accent wall behind the charcoal grey bed. White walls and a wooden wardrobe complete the room. But this pop of blue makes all the difference!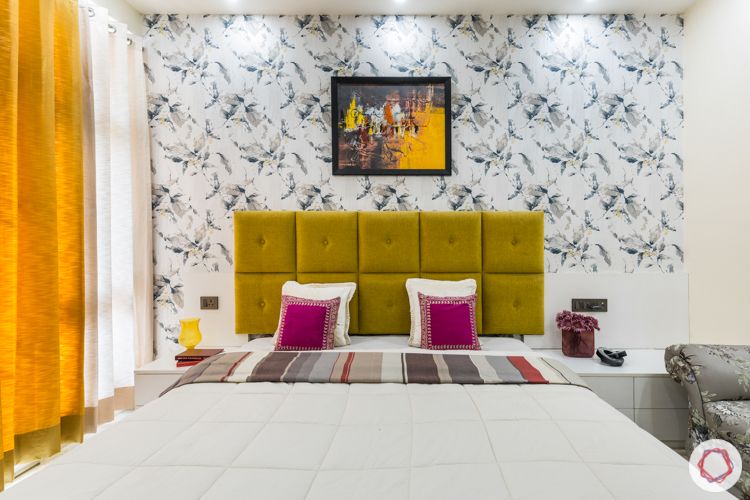 Will you believe that this peppy bedroom belongs to Rajesh's parents? Mridul suggested a neutral room but with a dash of colour. The family fell in love with this marigold yellow hue, so she gave them a comfy sectioned headboard in this colour. We love how it brightens up the room!
Designer Tip
"In designing rooms for the elderly, many people look for softer colours and soothing shades. However, I believe in using bright colours – why not keep them young at heart!"
The Quintessential Desi Touch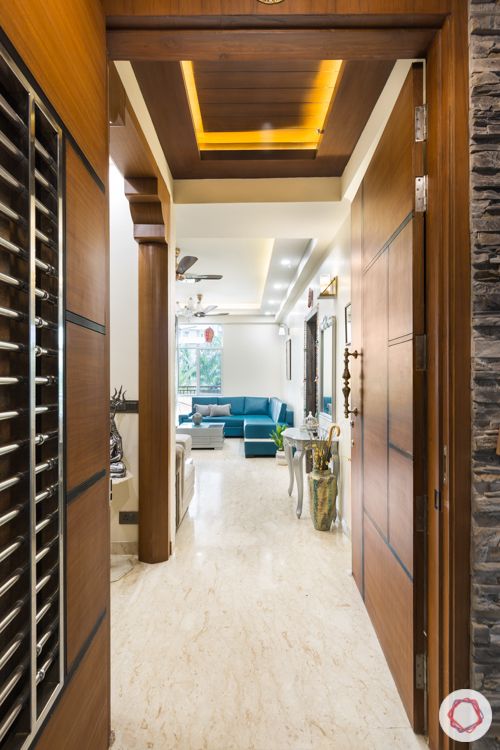 What's an Indian home without a few desi touches? Rajesh and Vibha wanted to hold on to their heritage, and Mridul was only too happy to comply. So she provided them with this gorgeous wooden backlit ceiling at the very entrance of their home. It ties in beautifully with the veneered doors, giving it a traditional and regal appearance.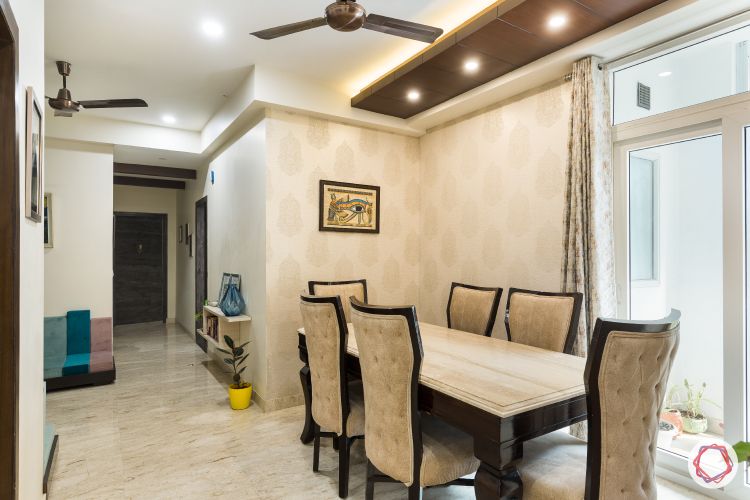 Subtle Indian motifs in dull gold on a beige wallpaper make for a desi space. With light colours and hints of gold, you'll feel like royalty in this space. What's more, Mridul has designed a chequered wooden ceiling with lights. The effect is an elegant and timeless space that takes you down the memory lane.
The Designer Touch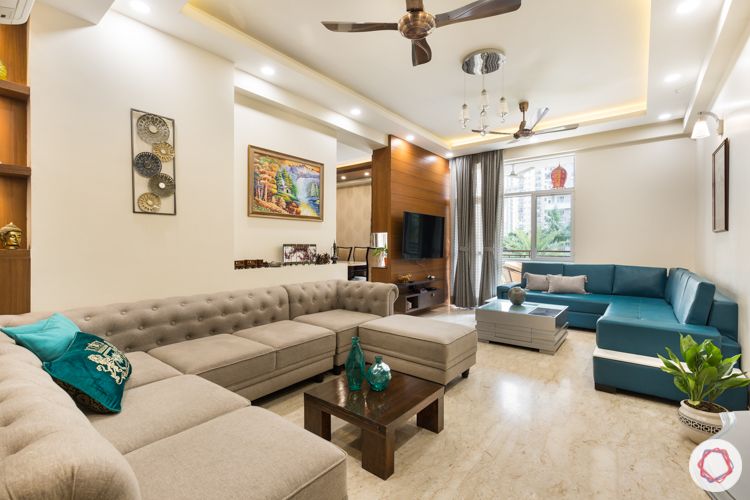 The first thing that strikes you about this living room is the sheer amount of space in it. Rajesh and Vibha wanted ample seating in their living room, so Mridul suggested L-shaped sofas. However, do not miss out on the TV unit! This wooden panelled unit gives a regal touch to the space. Behind this unit, Mridul has placed the bar-cum-crockery unit. This wooden unit comes with a mix of open and closed units, as well as glass shuttered units to display delicate crockery. Functional yet gorgeous, isn't it?
Designer Tip
"In the absence of a partition to demarcate the living and dining spaces, we created a solid wood partition. In the living room, we used veneer panelling to create a regal TV unit, while we used it as the base for the bar-cum-crockery unit at the back. With its timeless appeal, the wooden finishes fit perfectly into the contemporary living room and the more traditional dining room."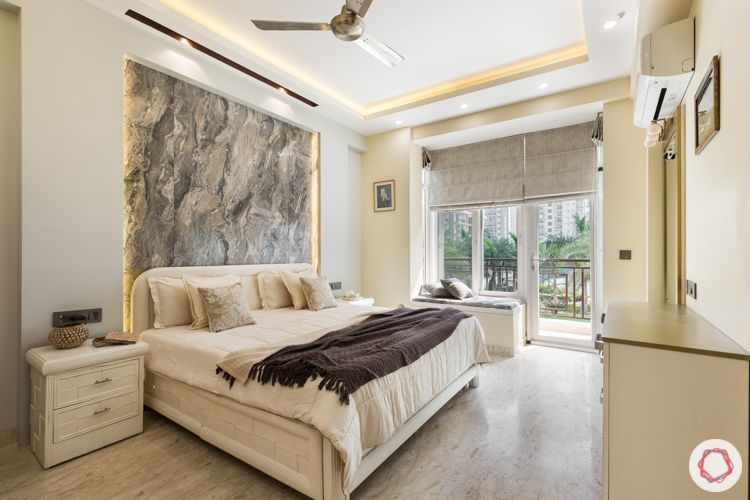 The Sethi bedroom has all the "designer touches" we deem essential in a luxurious bedroom – a unique wallpaper, a gorgeous dresser, and a seat by the window. While Rajesh and Vibha were initially reluctant about the bay seating, Mridul convinced them to go ahead with it, and they like the results! Also do not miss out on the marble-toned wallpaper or the white dresser that complete this room.
"The Sethis had very specific tastes, so we went through multiple options before they found the perfect design for their home. I was able to craft an elegant home that incorporated all the elements they wanted, and they were happy with the results."
— Mridul Jain, Interior Designer, Livspace
If you enjoyed reading about this home, also check out this Dreamy, Regal, Elegant, Timeless 4BHK in Gurgaon!
Send in your comments & suggestions.