Luxurious interiors for this 4 BHK flat in Gurgaon.
---
Who livs here: Sudeep and Anjali Agrawal and their son Abhyudaya
Location: Pioneer Presidia, Gurgaon
Size of home: 4 BHK spanning approximately 3900 sq ft
Design team: Interior designer Tanya Chauhan with Project Manager Harshika Allawadhi
Livspace service: Full Home Design
Budget: ₹₹₹₹₹
---
It's not everyday that you get to decide on the interiors of your home, but you can sure be prepared ahead of time. Step into this sprawling Gurgaon home and you will know what we're talking about. Anjali Agrawal, the lady of this home, has been following the Livspace magazine on Facebook with a passion for the past three years. So when the Agrawal family bought this swanky new home, they already knew where they were going for their home interiors – Livspace.
For Sudeep, CIO of a renowned energy company and his wife Anjali, owner of Kota Doria Silk, it was of essence that their home brought together unique designs seamlessly. They wanted a home that they would cherish for years to come. So Livspace designer Tanya Chauhan took on the challenge of creating a design that lived up to their expectations. Ultimately, she presented them with this timeless classic, subtle but gorgeous interiors in Gurgaon that blended tradition and style.
With hints of gold against a mostly neutral background, and desi elements aplenty, the Agrawal home has come to life, and our homeowners love it. Let's check out this home together!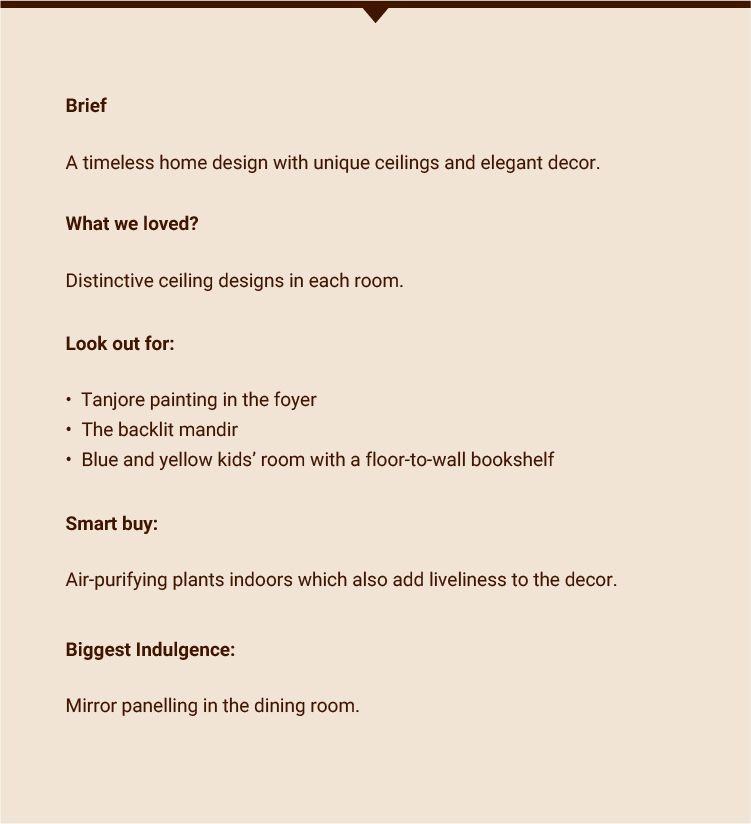 A Regal Doorway for this 4 BHK Flat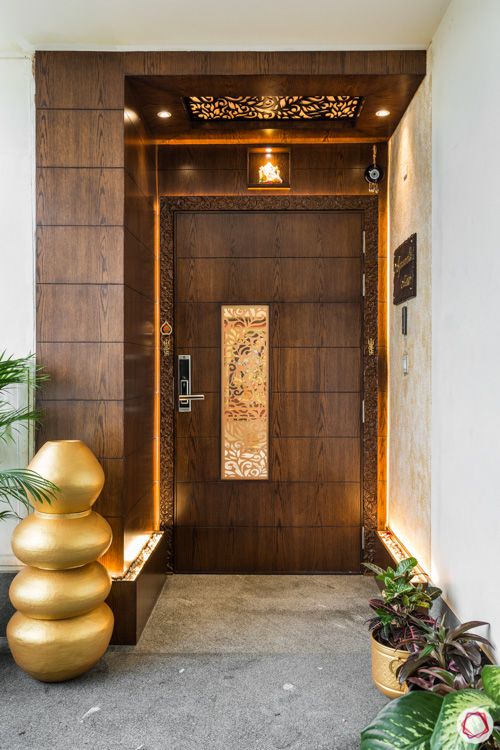 First impressions matter! And why wait till you open the door to create the right first impression? So the Agrawals sought permission for their refurbished door and external foyer. Do not miss out on the lighting in the door frame and planters on the edges of the external foyer. Lights on the wooden jaali above the door creates another unique lighting element, the first of many in this house!
A Stylish Entryway for This 4 BHK Flat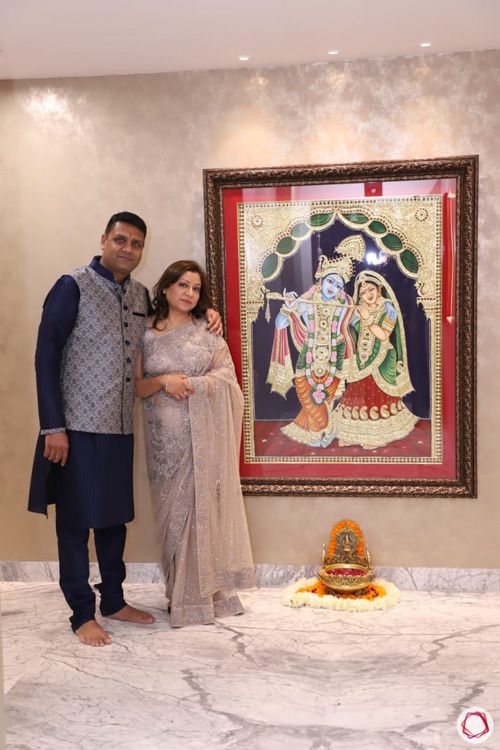 The Agrawals had very specific plans for the foyer. The design is woven around a gorgeous Tanjore painting, which sets the mood for the home. In order to let the painting take center stage, Tanya suggested a muted background. She also incorporated the chrome strips that the family wanted into the foyer design. So the painting stands against a beige wallpaper with subtle golden motifs, matched by golden chrome strips on one wall.
The opposite wall sports a gorgeous wooden jaali that effortlessly conceals the DB box. Ultimately, the foyer sets the scene for a home that is luxurious and timeless, with just a hint of royalty, desi style!
A Muted Living Room for This 4 BHK Flat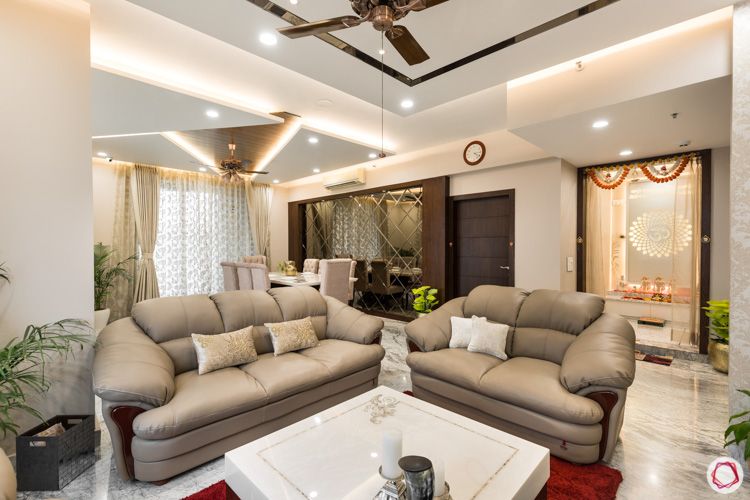 What's a living room without comfy couches? So the Agrawals opted for these sofas that they can just sink into as they catch up with friends and family. Dressed in soft beiges with delicate gold detailing on the wallpapers, the living room continues the colour scheme set in the foyer. A minimal wall-mounted TV unit in white stands against the accent wall with a white and gold wallpaper. Tanya's design also includes a wooden display shelf above the TV unit to show off some curios.
You'll also find an abundance of lights in the false ceilings of this home. Starting from the living room, these lights aim to create the mood – be it a lively family get-together or a lazy conversation in the evening, the Agrawals will always have the right lights!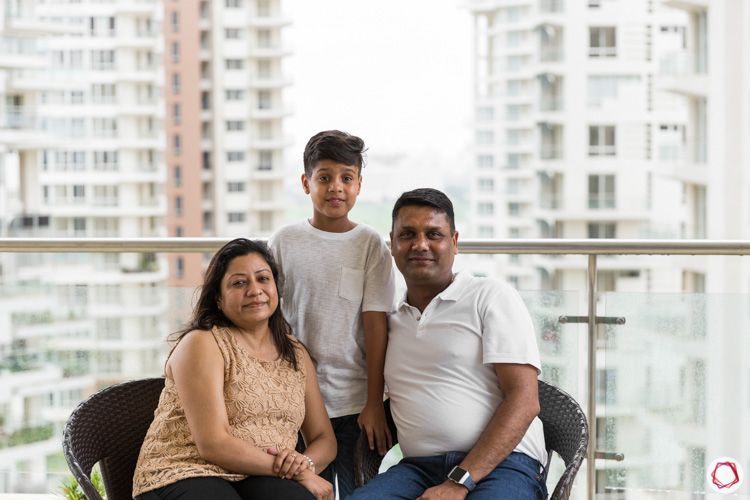 "We had a wonderful experience with Livspace – Tanya brought our home to life. The coordination between the team and post-sales operations left us wanting nothing more. Livspace provided us with end-to-end services, just as promised!"

– Sudeep and Anjali Agrawal, Livspace Homeowners
A Comfy Balcony for This 4 BHK Flat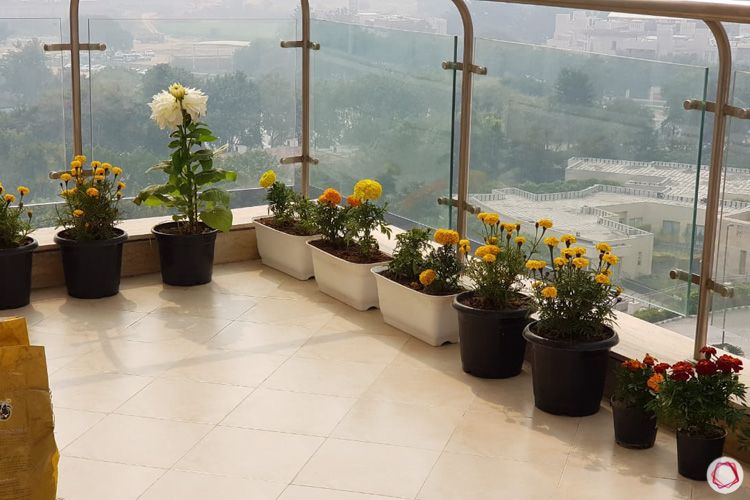 There's little you can do to improve upon a balcony with a view. But wicker furniture always works. So the Agrawals' balcony has a cosy coffee table with wicker chairs for four. This makes for a comfy place to catch up with friends and family over a cuppa!
This simple balcony also became the perfect place for the Agrawals to indulge in their love for plants. The flowering plants in this balcony add pops of colour and make the place look even livelier, without compromising on the elegance of the space.

Pooja Space in This 4 BHK Flat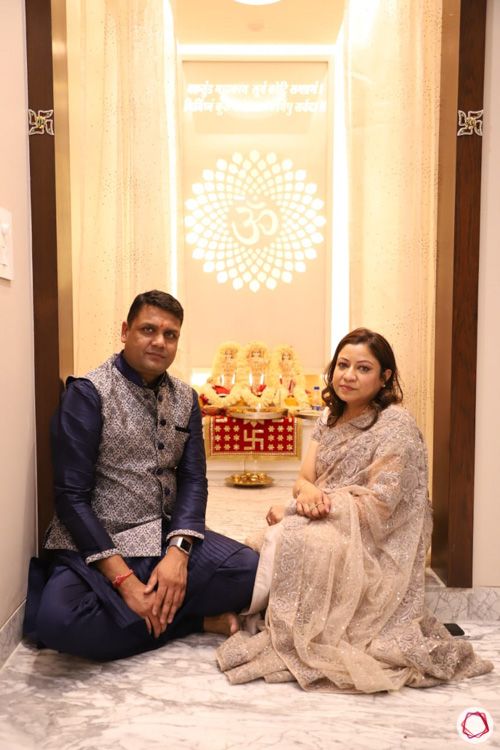 Love the pooja room? A lot of planning went into this little space. While the entrance to this room was originally through the kitchen, the Agrawals had it demolished in favour of one where you can step in through the living room.
This timeless pooja room features a laminate modular unit from the Livspace catalogue as well as a customised backlit unit. Also, don't miss out on the ceiling! This space has an oval shaped cove unit with warm lights that sets the mood for prayer.
Dine in Style in This 4 BHK Flat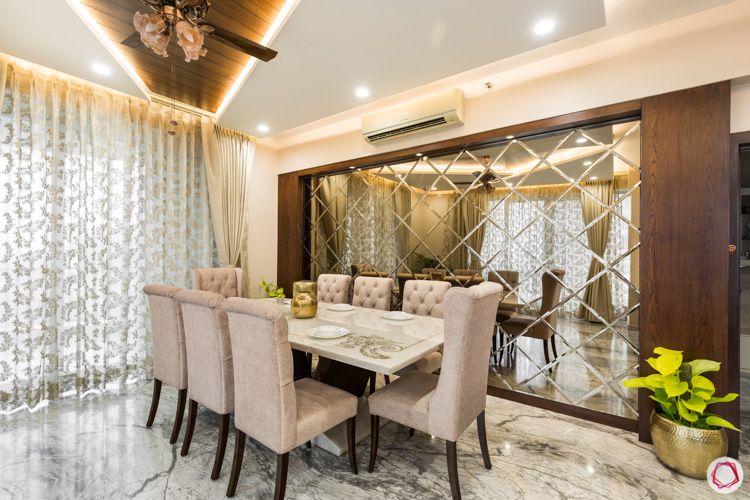 A customised dining table for eight ensures that the Agrawals always have ample space for friends and family! Tanya has designed the room with a mirror panelled wall behind the dining table. With multiple windows and an abundance of natural light, this already large space looks even bigger! Moreover, the flooring in Satuario stone ties the room together, and adds to its elegance!
The Agrawals' love for all things elegant and unique drove the ceiling design in this room. Look up and you'll find an intriguing ceiling. Made of a mix of asymmetric lines, this backlit false ceiling has wooden panelling in an unconventional shape. A mix of natural and warm lights inset in this ceiling also ensures that there are no gloomy moments in this room!
An Elegant Kitchen in This 4 BHK Flat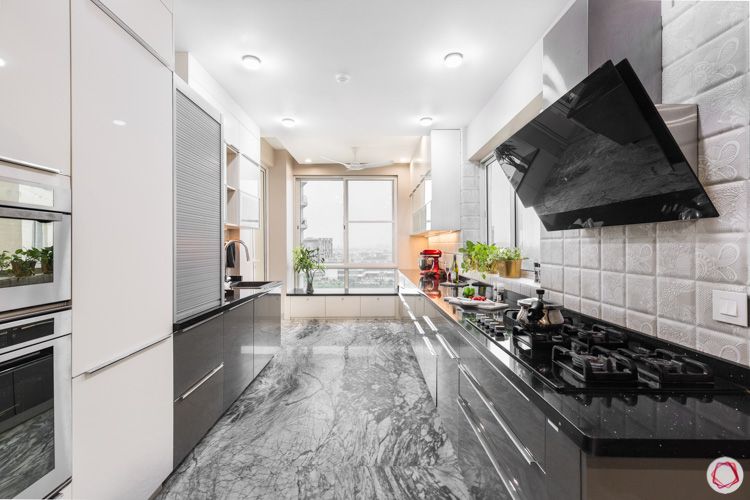 In keeping with Anjali's request for separate spaces for different zones, this kitchen comes packed with an appliance unit, a pantry unit, a roller-shutter unit as well as a wet area and a dry one. The wet area also comes equipped with a small sink. Tanya came up with a parallel kitchen design specifically to cater to Anjali's desire for distinct spaces for different functions. The need for different distinct zones stems from Anjali's love for cleanliness. And Tanya informs us that at any point, the kitchen remains as spotless as the day the home was handed over to Anjali and Sudeep!
This grey and white parallel kitchen comes with PU and membrane finish. Also, the base units have profile shutters for a seamless and sophisticated look. And a Kalinga stone countertop ties the kitchen together. Classy, isn't it?
You can take your time going through this kitchen, but we're sure you'll love the crockery unit in this one. With glass shutters for the top units and a concealed storage area at the bottom, the simple but elegant design of this unit will surely blow you away! Moreover, the top units come with built-in lights, so that you never have to fumble for the right dish in the dark!
Lastly, Anjali wanted a cosy place to sit in her kitchen – but she wanted this area to be seperate from the dining space. So Tanya came up with this parallel kitchen design. An extension on the window in the middle serves as the perfect place to sit down. Sudeep also tells us that this has quickly become the couple's favourite place to sit down with a cuppa in the morning!
A Regal Master Bedroom in This 4 BHK Flat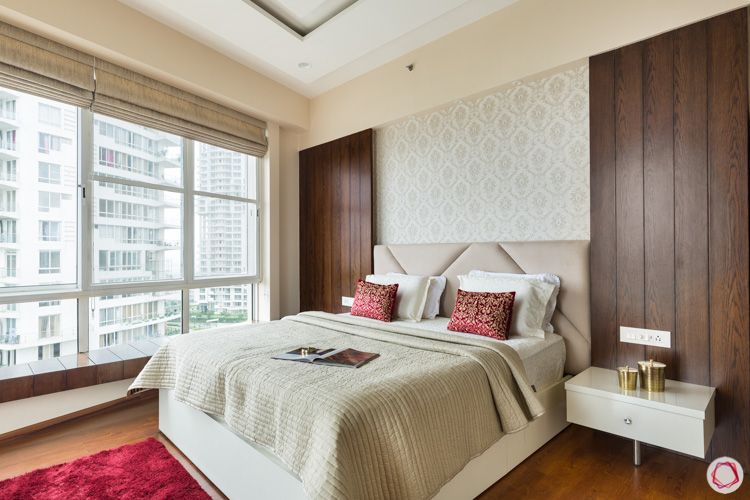 Neutral hues and a subtly patterned wallpaper, with plenty of wooden elements, rule this elegant master bedroom. The hints of gold in the wallpaper ties in with Anjali's desire for a regal space. The custom-made bed with a fabric headboard stands against the accent wall, with wooden panelling on either side of it. The wooden flooring adds to the grandeur as well as the old-world charm of the space!
If you look up, the interiors in Gurgaon come with a full false ceiling design. Watch out for the center panel and the sides, as well as the lighting detail in this space!
To add to the luxurious feel of the room, the Agrawals wanted something akin to a walk-in wardrobe. Hence, Tanya gave them fully mirrored wardrobes in the dresser. Imagine prepping for the day in this space!
Since the Agrawals wanted to enjoy the view of the gardens from their bedroom window, Tanya has placed a comfy armchair in the corner of the room. The Livspace team also came together to create an angular corner to make the room look symmetrical.
A Stylish Bathroom for This 4 BHK Flat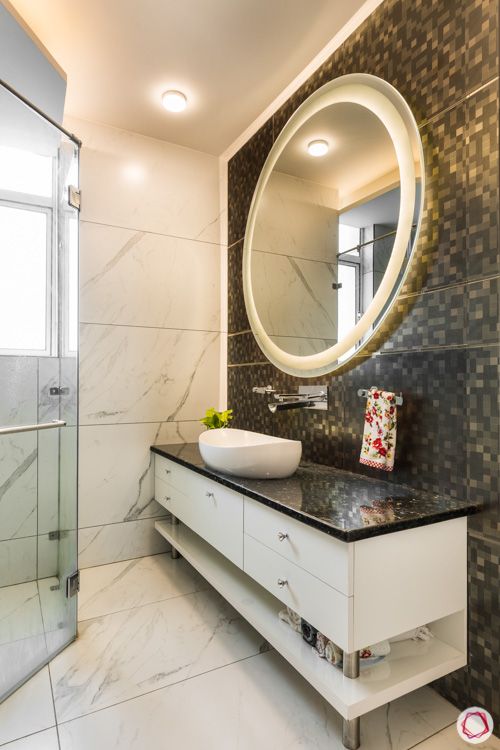 This washroom comes complete with a full-length vanity and glass shower partition that immediately adds a hotel-like feel to the space. Since the Agrawals wanted ample lighting in their washroom, Tanya gave them cove lighting in this area. Also check out the oval mirror and the tiled backsplash, which makes the space look more elegant.
A Colourful Kid's Room in This 4 BHK Flat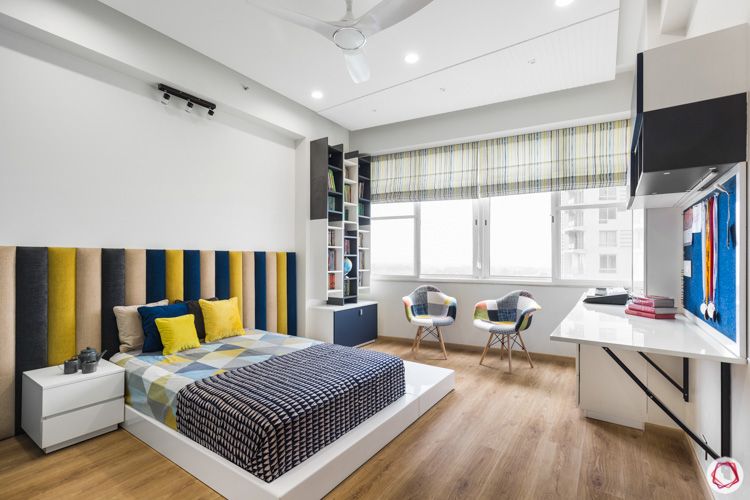 How do you design a bedroom for a kid who loves the colour blue? By giving him a blue room, of course! This is exactly what Tanya did for Abhyudaya's room. A bright blue colour pallette with hints of yellow makes a lively room for a growing child. So here we have a blue and yellow headboard. Moreover, Sudeep and Anjali wanted their son's room to be his safe haven – and a zone where he could relax with his friends. So he has a single bed on a raised platform. But this platform extends beyond the bed so that children can lounge about on it.
Moreover, it turns out that Abbey loves reading. "In each of my meetings with Sudeep and Anjali, Abhyudaya has finished reading at least one book," Tanya tells us. So it comes as no surprise that his parents wanted a floor-to-wall bookshelf in his room. It already has a lot of books, and given his love for reading, we're sure that it's a matter of time before the shelf is all stocked up with his favourites!
No children's room is complete without a study table, and Tanya has taken it a step further. She has provided studious Abhyudaya with a stylish study unit in blue and white. This unit comes with a whiteboard and pinboard. Moreover, this study unit comes with a mix of open and closed cabinets. So Abhyudaya can show off his trophies, while storing his textbooks safely.
A Demure Guest Bedroom in This 4 BHK Flat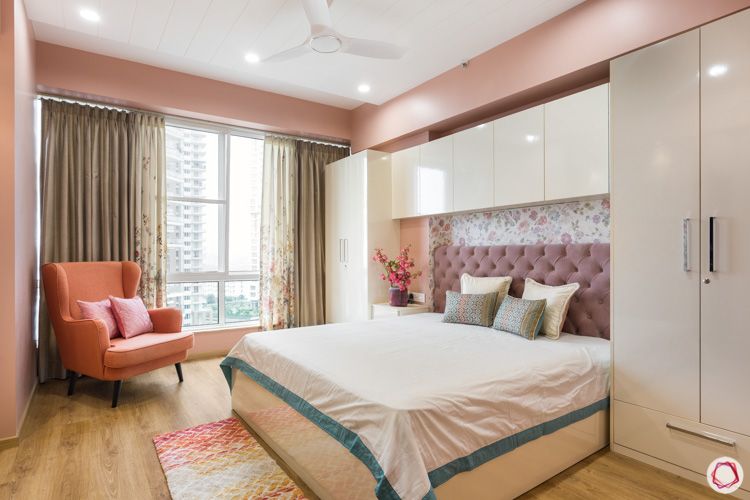 Peachy hues and dainty florals deck up this cosy guest bedroom! This design was born out of Anjali's love for florals and her desire to use light colours. So Tanya combined the two to create this demure guest bedroom.
Tanya has packed this room with white wardrobes, with lofts extending over the bed in a cosy design. This ties in with the Agrawals' desire for ample storage space without compromising on the design element. In addition, Tanya proposed another wardrobe in the vanity area. These high gloss laminate wardrobes fit into the room seamlessly, making it look gorgeous while still providing plenty of storage options.
A Comfy Family Lounge in This 4 BHK Flat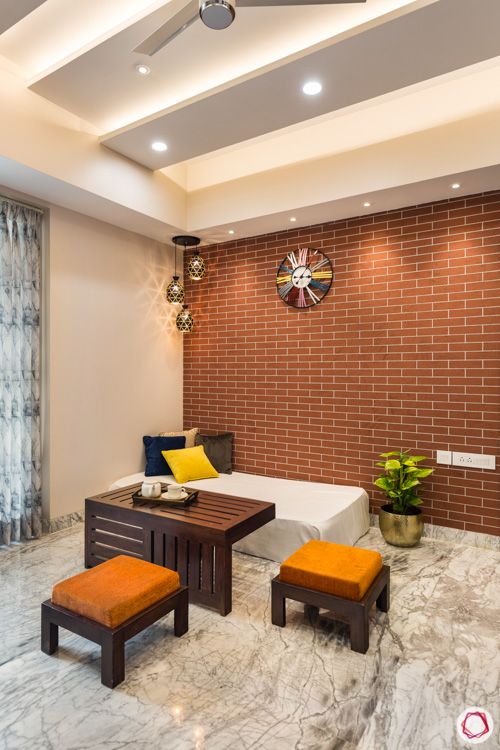 Designed to be the family's place to unwind and bond, this lounge features rustic elements. Check out the exposed brick accent wall that transports you instantly to another era. On the opposite wall, Tanya has provided a neutral wallpaper with golden motifs, with a compact TV unit. We're sure that relaxing together in this space will lead to the strengthening of family bonds and bring in happier times!
"The Agrawals wanted a timeless and luxurious design. They had specific elements in mind, and I wove many of the spaces around them. As they were open to ideas, the entire process became fun. And what's more, they loved the outcome. What's more, you can step into the home even today, and it will look exactly like we handed it over to them!"

– Tanya Chauhan, Interior Designer, Livspace
If you liked the elegant interiors in Gurgaon, take a look at Vibrant 3BHK for a Travel Enthusiast.
Send in your comments & suggestions.