Just like a brand has a face, a home has a living room. So we aren't surprised when homeowners come to us with the sole purpose of designing, or sometimes, redesigning their living area. In fact, designing a small living room is one of the greatest challenges for an interior designer. And Prerna Jain from our design team happened to receive just the challenge she was looking for with Reena Gulati's compact living space in Delhi.
---
Who livs here: Reena Gulati and her family
Location: Delhi
Size of home: 1 living room spanning 200 sq ft approx.
Design team: Interior designer Prerna Jain and design associate Ritu Kumari
Livspace service: Full living room design
Budget: ₹₹₹₹₹
---
It's just a living room, so it should, by all accounts, be a quick task. Or so you would think. However, it's far more challenging to design a small living room than a huge mansion. Firstly, you have to work with limited space. Secondly, you are also working with limited resources, as was the case with this project. An added requirement for this home was a tight timeline that the designer had to meet. And bingo, she hit the bull's eye on all three.
Here's the story of how this compact living room was designed within 45 days and on a small budget.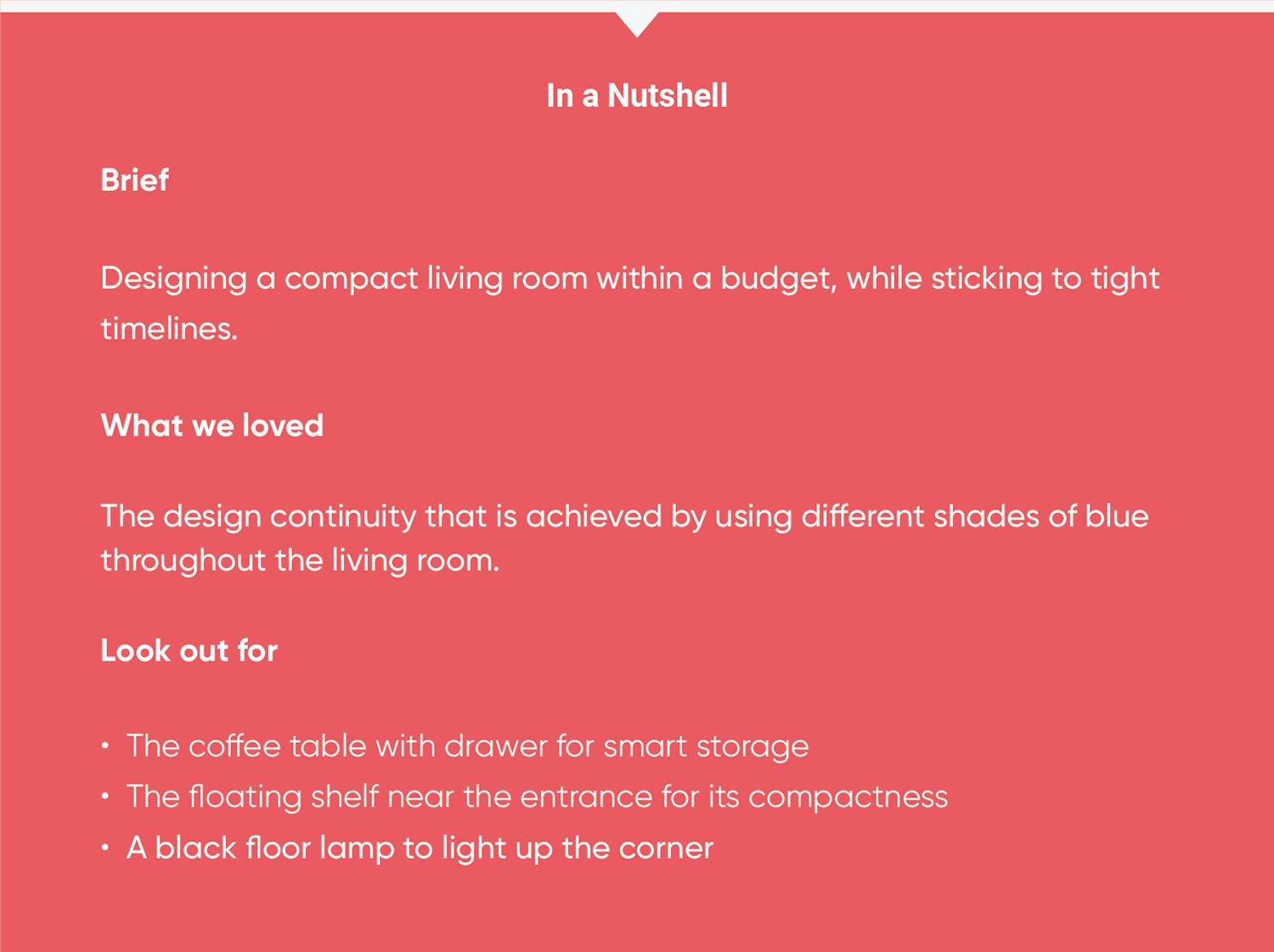 ALSO READ: 8 Different Types of Living Rooms for Different Personalities
Seating for a Small Living Room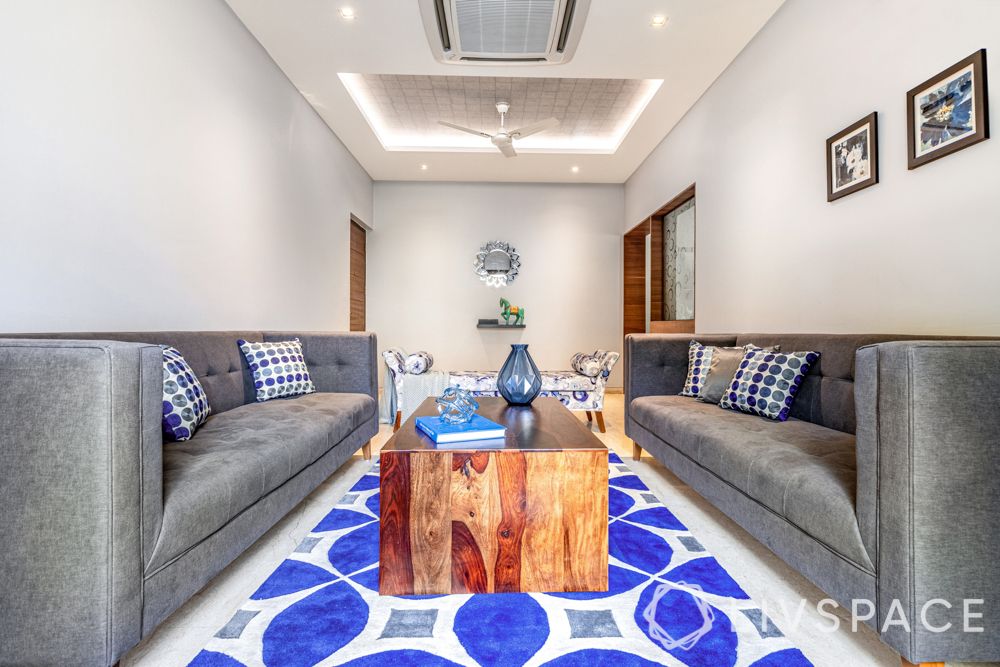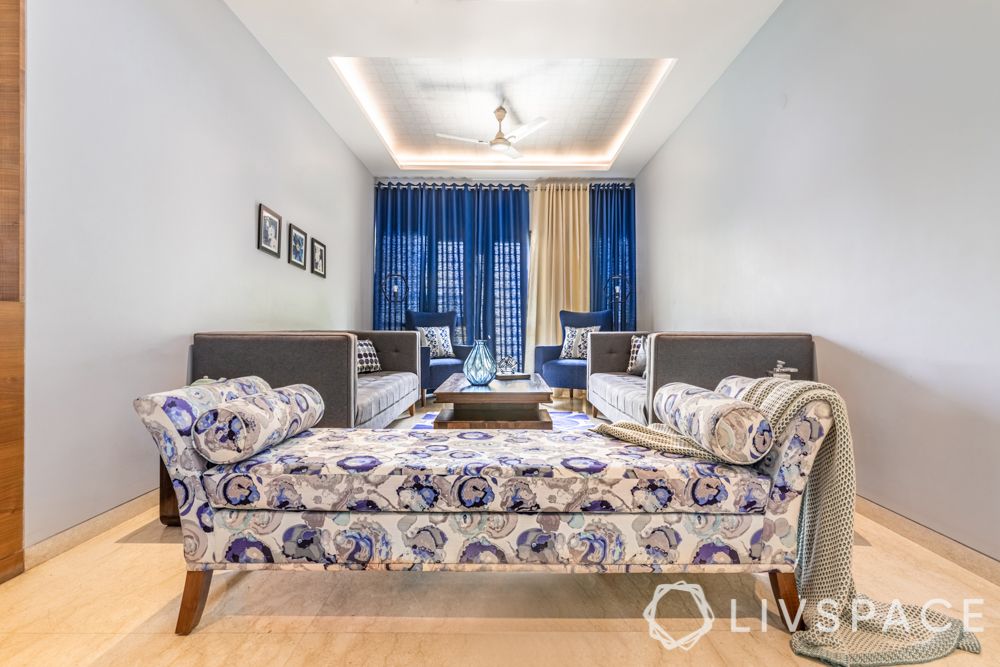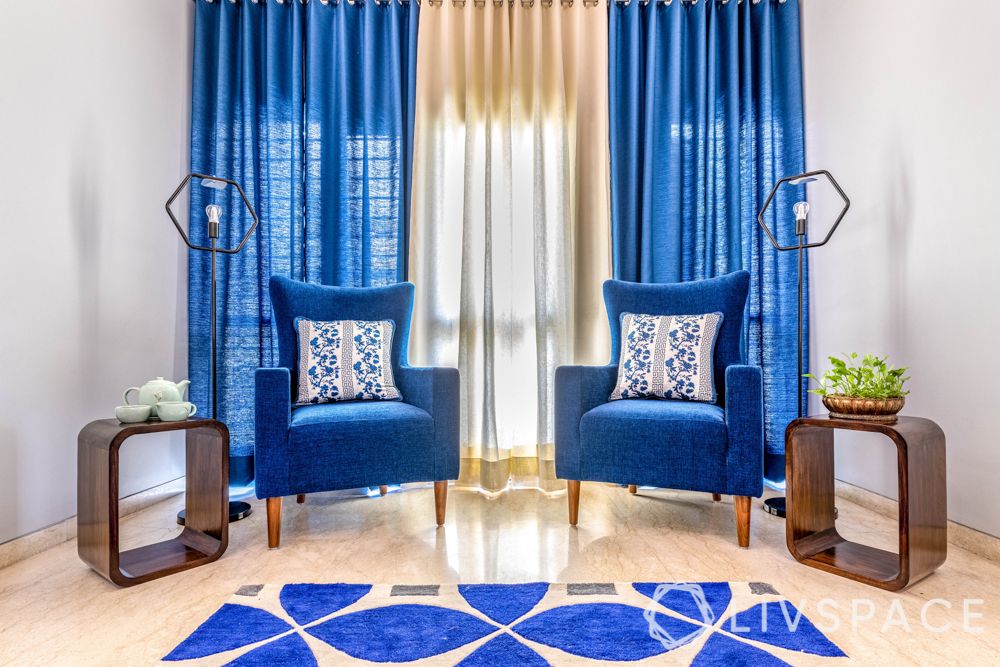 Just like any other room, living rooms are designed based on the homeowner's requirement. In this case, the family wanted to use the space to host guests and also as a family room. Thus, volume and variety of seating were very important.
How we did this
We skipped adding a TV cabinet in favour of a second sofa.
The blue armchairs function as accents and also comfy seating options.
We also added a daybed in case the family wanted to lounge about.
Tables and Sides for a Small Living Room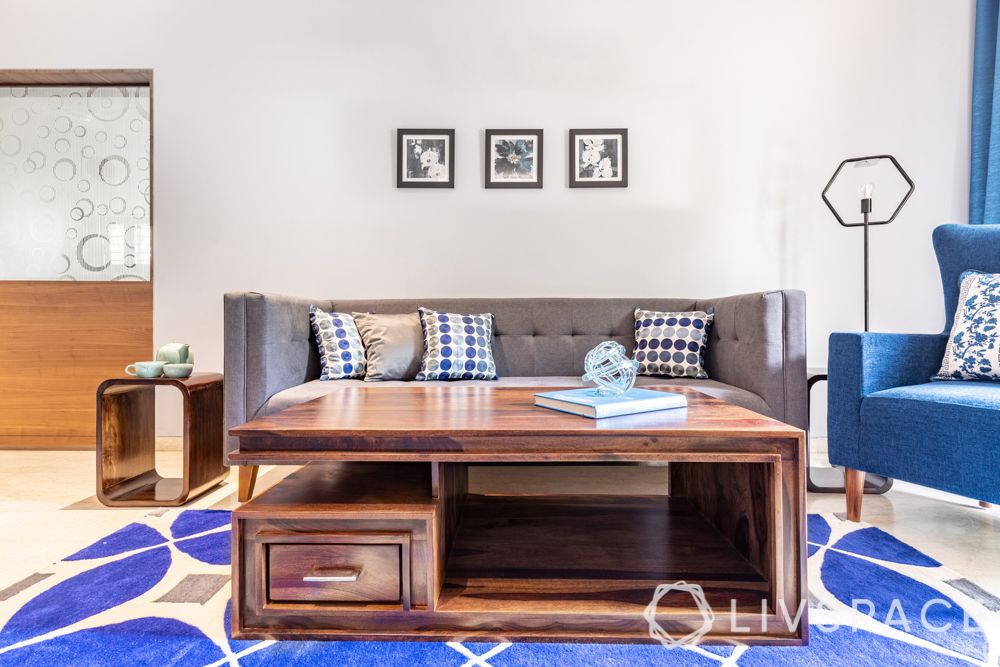 It might be interesting to note that this is a rectangular living area. The layout doesn't have any twists or niches. Such spaces can get very monotonous unless you add breaks to them. In this case, Prerna added a variety of tables to break up the space and also create visual interest.
How we did this
The coffee/centre table has a drawer for storage.
It sits in the middle of the room like an accent piece because of it's beautiful design.
The two hollow and rounded side tables can be placed anywhere depending on the requirement.
This helps break up the room in different ways and avoids monotony.

Accessories for the Compact Living Room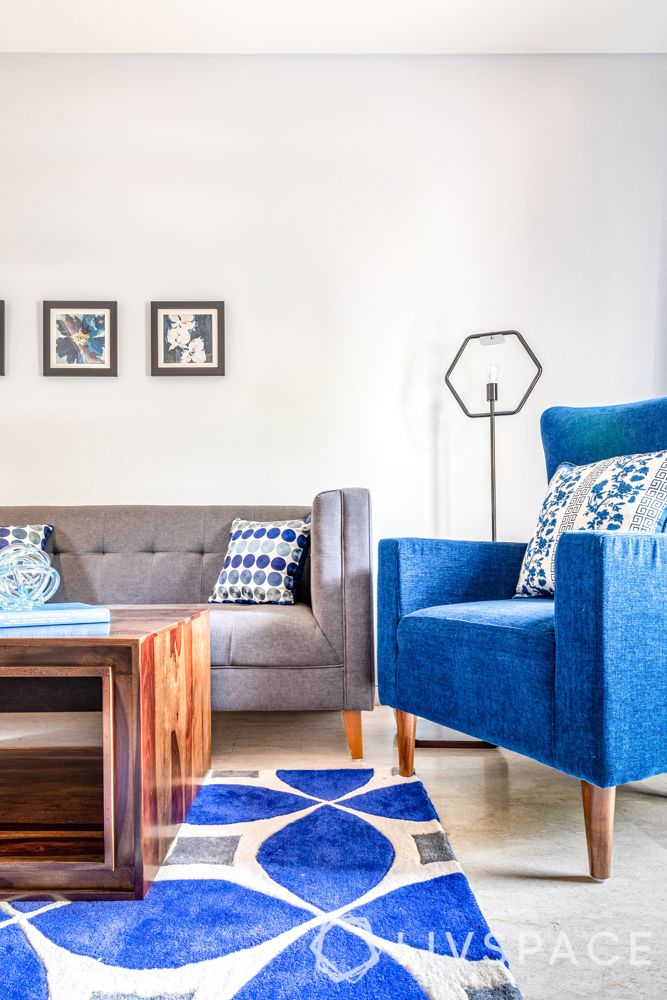 As time was of essence, the family chose to pick out all their decor from the Livspace catalogue. This saved time and meant that they did not have to step out at all to scout for items they would need to decorate their living space. In retrospect, this is the kind of hassle-free home interiors support you need during the pandemic and it's continuing restrictions.
How we did this
The black floor lamp is perfectly placed, lighting up a corner without crowding it.
All the photo frames are also from our catalogue and make a stunning gallery wall.
The floating shelf and mirror create visual interest right at the entrance but don't eat up space.
Ceiling Design for a Small Living Room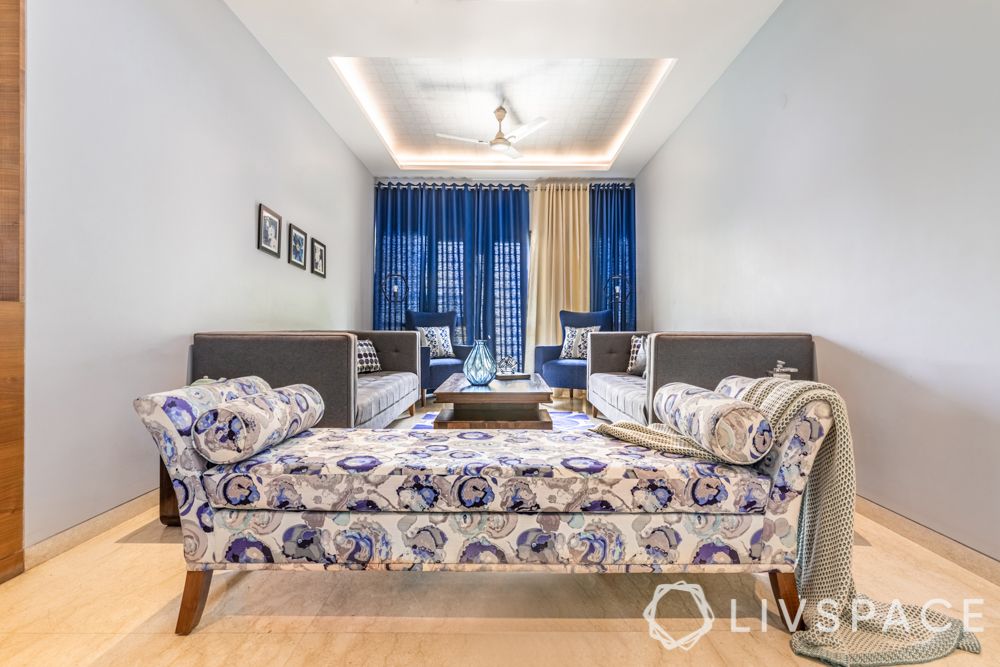 The real star of this living room is the false ceiling. Without it, this room would look flat and lacklustre. Not only does it ensure an even distribution of light, it also adds some much-needed texture to the living area.
How we did this
The false ceiling works as an inverted niche.
This niche has LED lighting strips that create a highlight in the ceiling.
It also has a brick texture created using wallpaper, which is more affordable than tiles.
The rest of the false ceiling has cove lights for an even distribution of light.
If you enjoyed reading about this living room, also explore 2 Living Rooms, 2 Styles
We love hearing from you! Write to us with your comments and suggestions at editor@livspace.com