Unlike what Joey from popular TV show Friends believes, the living room is not just about having your furniture pointed towards the TV. It's about comfort, spending time with your loved ones, and creating an inviting space for guests. It doesn't stop there too. Every family has a different set of needs that has to be addressed. So, how do you design the living room interior to tick all these boxes? Let's get down to the fundamentals!
What are the basic functions of a living room?
#1: Hosting guests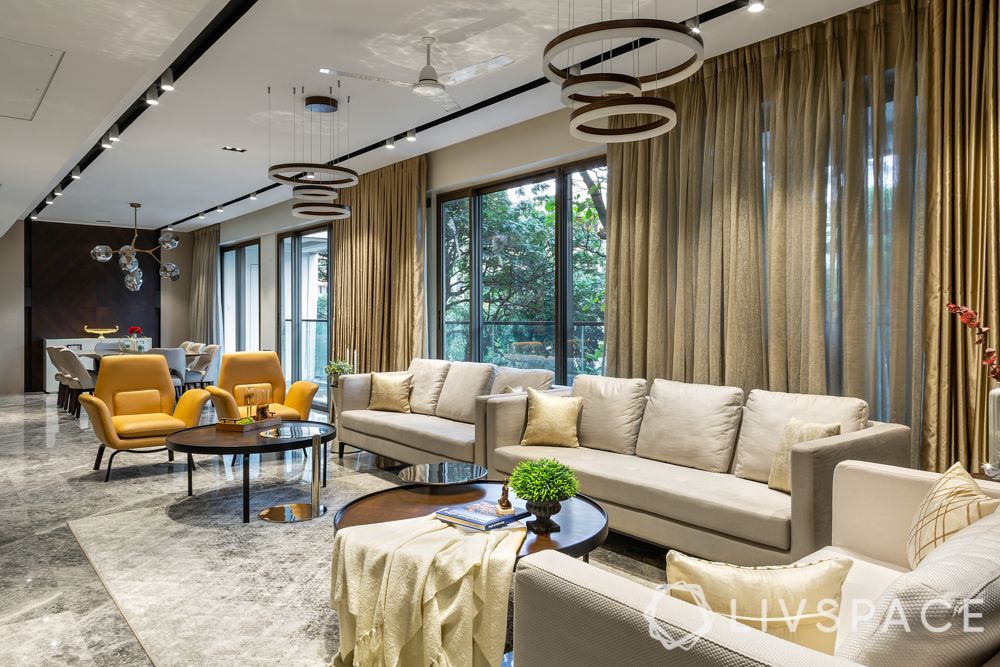 Do you entertain people often? Do you have large gatherings at home? Then the most obvious answer is to have a living room designed to accommodate as much seating as possible. And all the seating encircles the coffee table, or in the case of the above-shown home, two tables for bigger groups.
#2: Lounging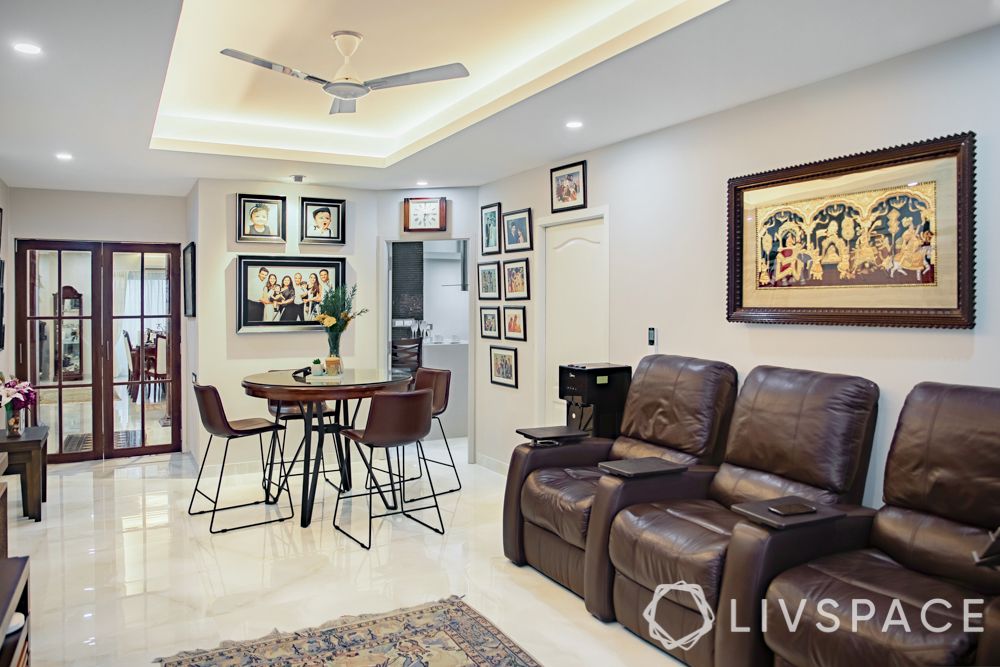 Do you love unwinding with your family or with your immediate circle? Stick to the basic living room set-up: leather armchairs that are conveniently placed in front of the television. This is a very popular setting in most urban compact homes.
#3: Multi-purpose family time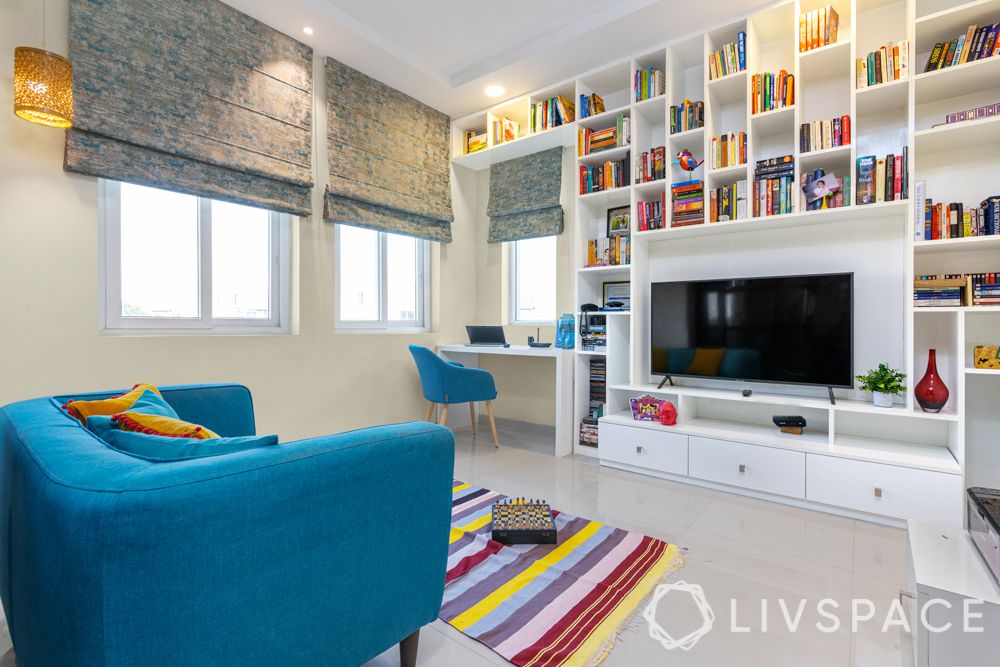 During the COVID 19 pandemic, people began to realise the importance of having a multifunctional room. But how do you do this without having a spare room? You can design the living room to accommodate multiple needs: lounging, reading, a study, and entertainment.

Living rooms as per Family/Personality Type
#1: For Couch Potatoes
Think of this as your very personal cave. The requirements? A sink-in sofa just enough for you and a buddy, and side tables that can easily be placed anywhere else in your home. If minimal is not your style, do up the centre wall with posters of blockbusters and show it off under focus lighting. This is a great setting to simply be lazy in your PJs in the evenings!
#2: For the Great Indian Family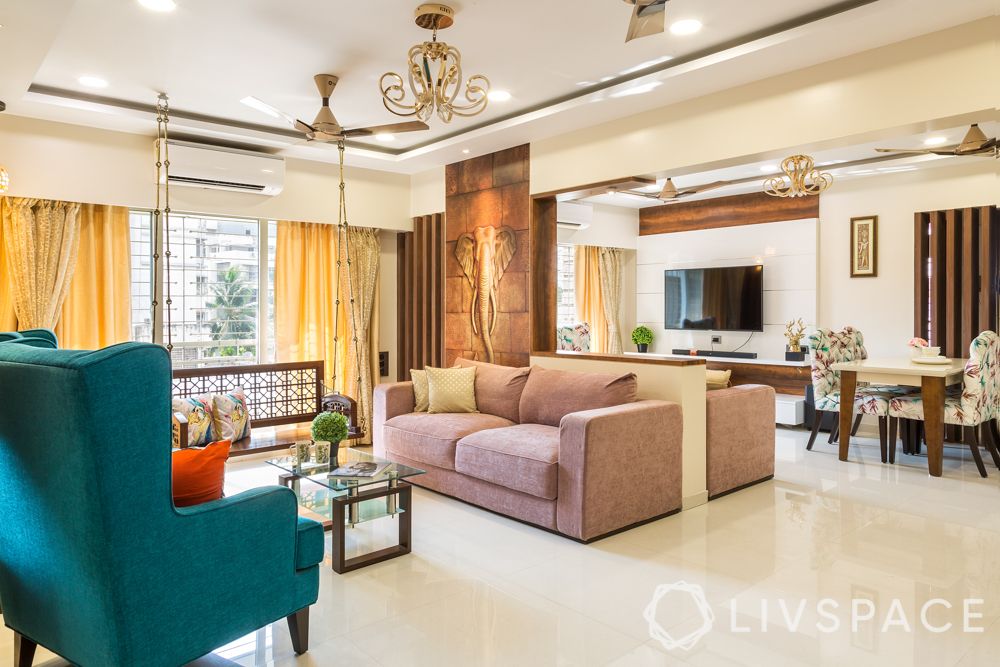 Colours, lots of seating, and of course, let there be light — the great Indian living room is a statement that feels homely too. Notice how a halfway partition elegantly divides the open space? This works amazing for large families where people could be seated either in the cosier section for chai or to watch movies together in the other section. Lighting is really important. So, make sure to max out your options with chandeliers or even a false ceiling fitted with lighting.
#3: For pet Parents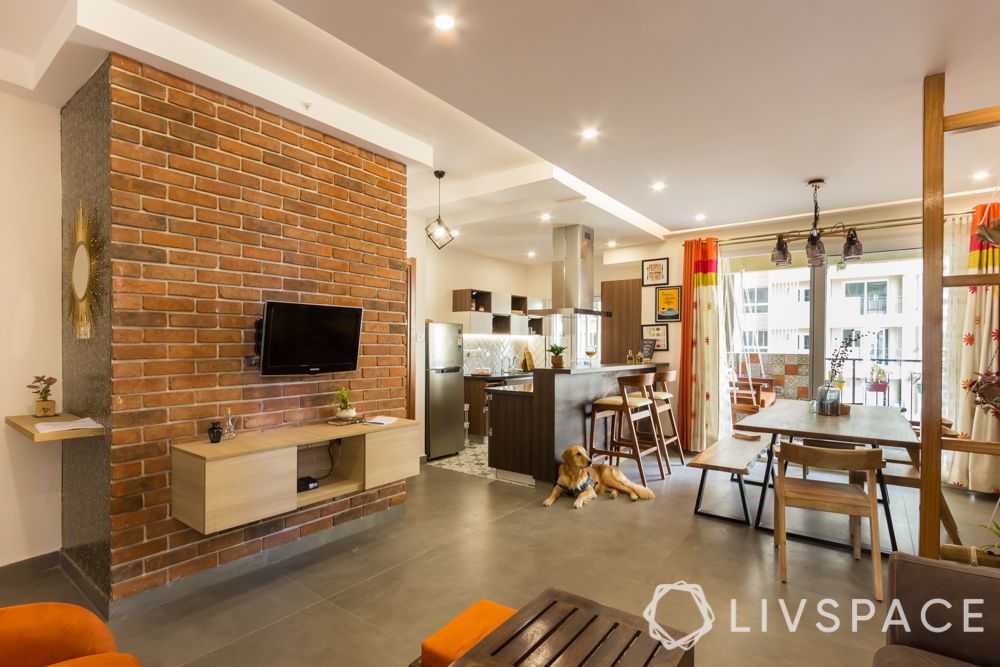 If you have fur babies at home, there are two things you need to keep in mind when designing the living room interior. Lots of space for movement and less upholstery or fabric. Make sure the area around your seating accommodates only the basics so that your pets can move around freely when you are lounging on the sofa. Also, stick to furniture that's solid (think wood or metal) like the home shown above.
Pro-tip: Pick out fabric or surfaces that could almost camouflage your pet's fur and wall-mount any unit that can otherwise be easily reachable for a curious fur baby.
#4: For the Bachelor pad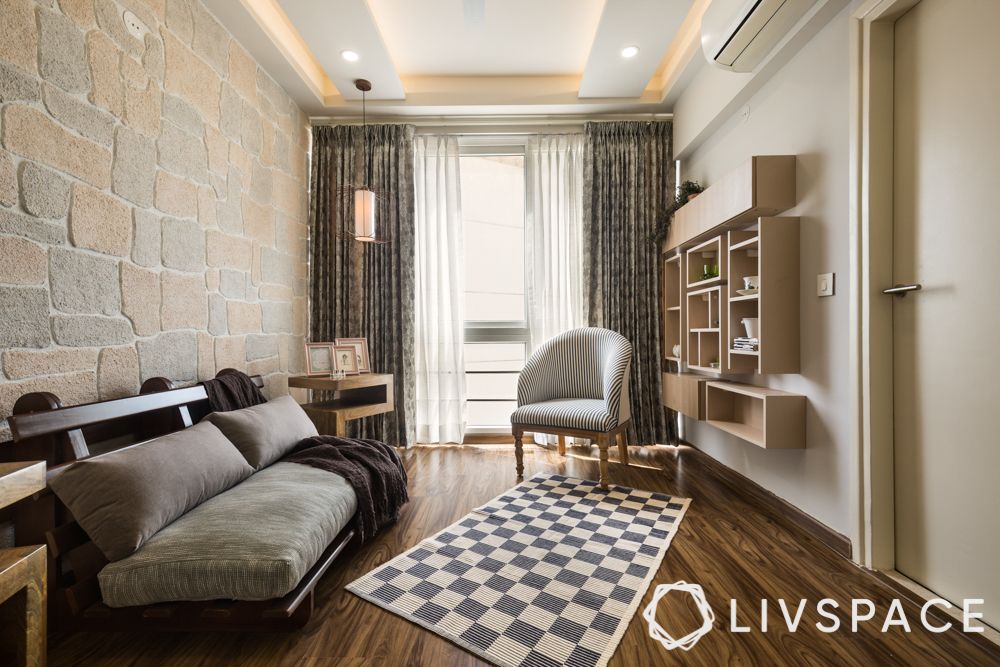 Hello, bachelor pads of 2021! Dapper, muted and suited-up — this living room is ready for any day! The setting is a win for small living rooms. The seating can be rolled into a comfy bed, a wall-mounted display cabinet to provide the illusion of more space, a 3D-panelled wall for a dash of character and a centre rug that grabs your attention. Step up the distinguished look with a pendant light in the corner.
#5: For Travelers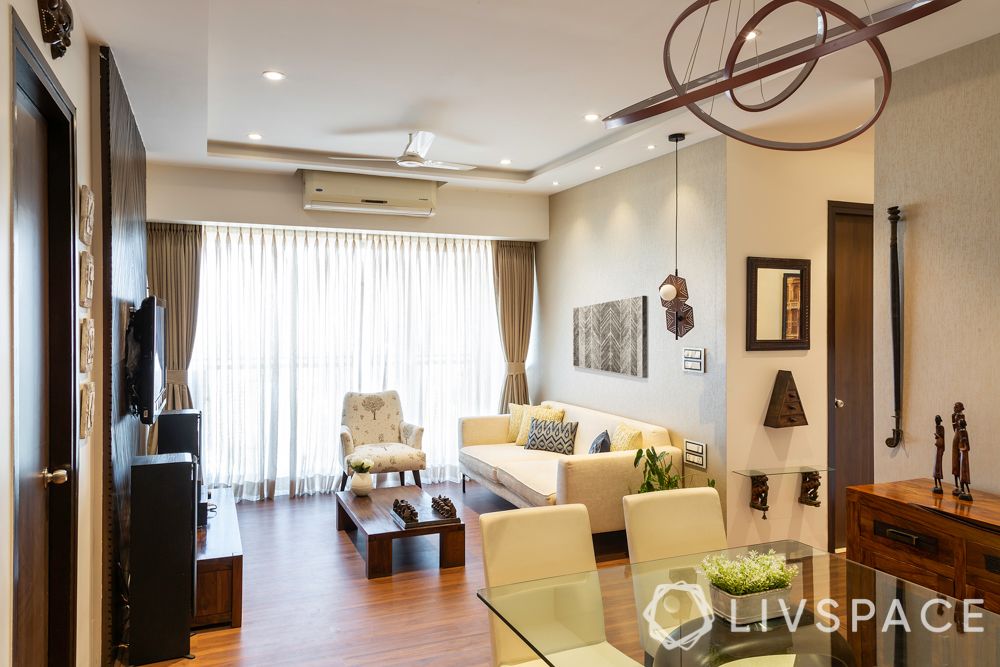 #6: For Social Butterflies (Formal Hosting)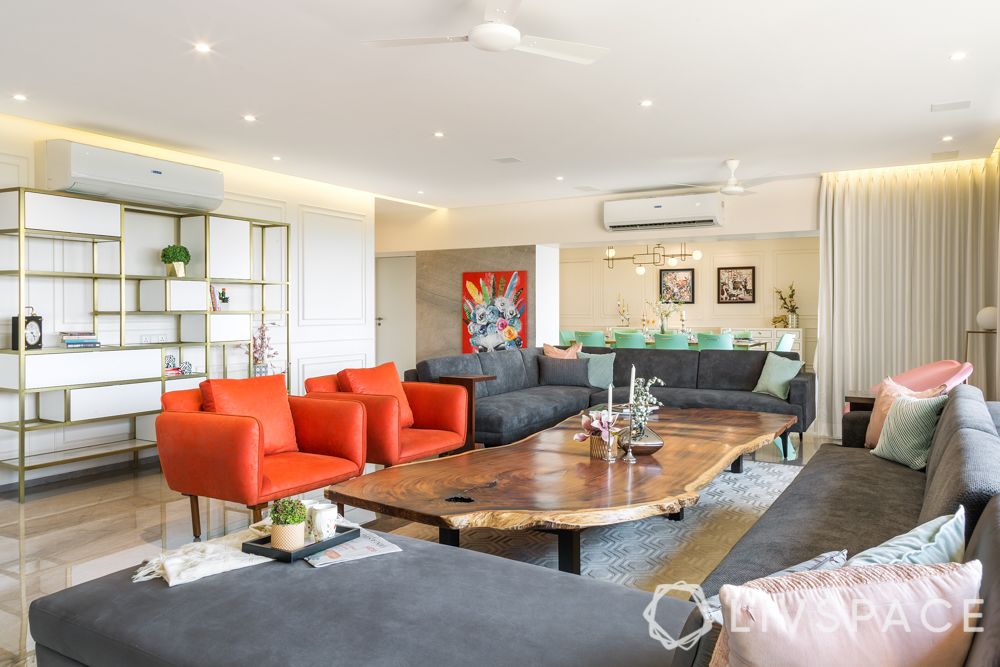 While seating options are a priority, stir in a dash of boldness into your formal living room set up as well. In this case, the designer gave the space bright orange armchairs that stood out starkly against a neutral setting. A few seconds in and you would also notice the massive coffee table that runs freely through the centre of the space.
Pro tip: The trick when it comes to designing a formal living room interior is to make a strong statement.
#7: For a Family That Likes to Mingle (Informal Hosting Friends and Family)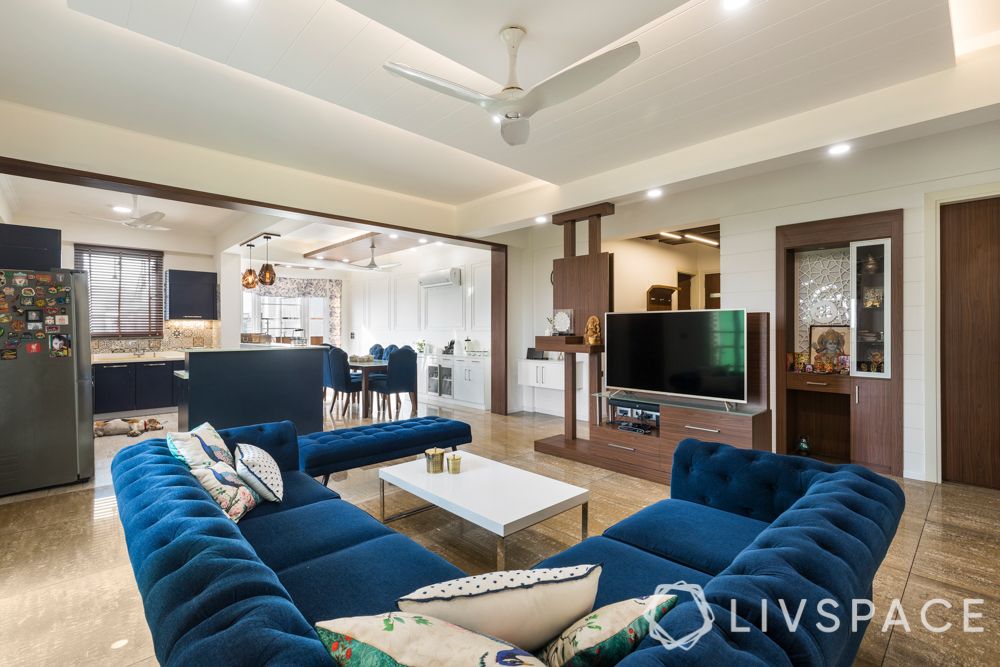 #8: For Bibliophiles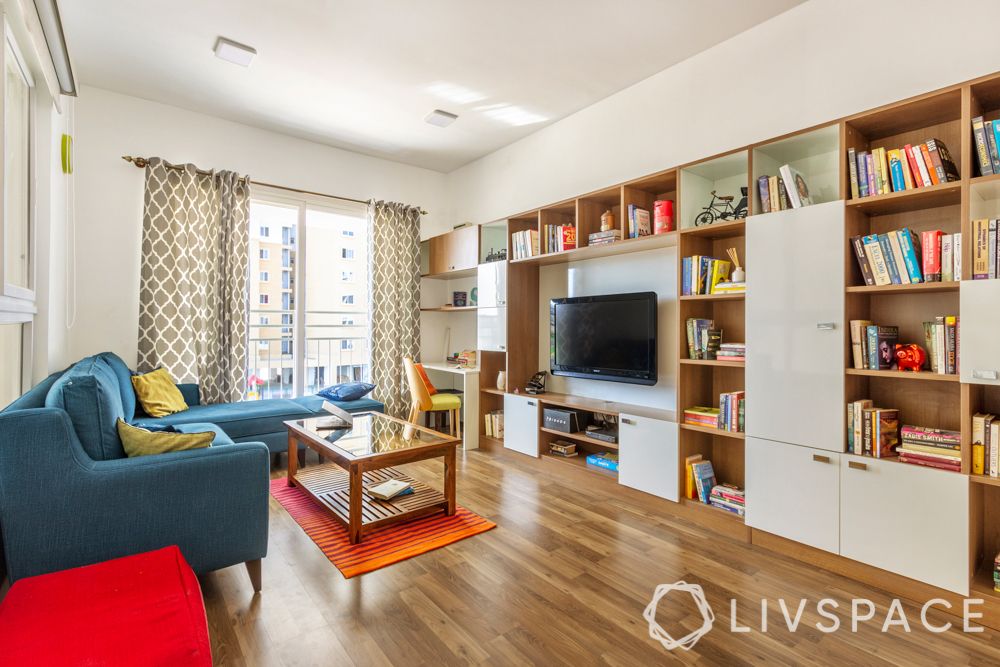 Any reader feels their best surrounded by towering cabinets of books. So, if your dream is to live in a mini-library, you can easily turn your living room into one! Dedicate the largest wall in your space to a bookshelf that will also house your TV and knick-knacks. Of course, you need to pair this marvellous structure with a corner desk for writing. Notice how everything is integrated into one unit in this living room shown here? Also, take advantage of a balcony or wide window by placing a seating option in front of it.
Loved these ideas for a living room interior? You might also enjoy how to decorate a small living room.
Write to us with your comments and suggestions at editor@livspace.com