Adding prints and patterns is one of the quickest and easiest ways to breathe new life into any room. They bring visual interest to solid-hued schemes and help define focal points in your decor. Here are a few tips on how to incorporate patterns into your living room!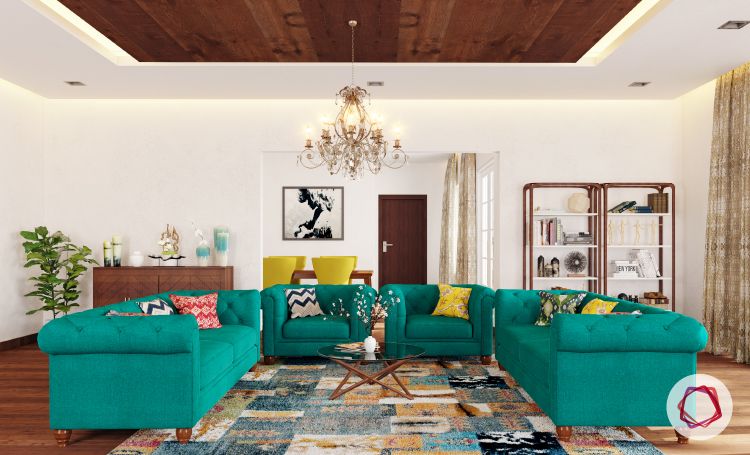 Types of patterns:
There are a huge variety of patterns and motifs out there to choose from. While you can experiment freely with choices, some are ideally more suited to certain decor styles:
Contemporary: Florals, geometric patterns, tangram, psychedelic prints, lattice prints, chevron etc.
Traditional: Ethnic and tribal prints such as arrowhead motifs, paisleys, ikat prints etc. Florals and animal prints can also work in these settings.
Classic: Trellis and fleur-de-lis patterns, damask, medallions etc.
Where to use them:
Patterns can be incorporated into your existing decor in a number of ways :
Furniture: Upholstery, throw cushions, rugs and tablecloth
Wall treatments: Wallpaper, tapestries, screens, curtains and drapes
Decor accents: Vases, lampshades. You can also get patterned artwork and place it against a blank wall to create a focal point.
Mixing prints: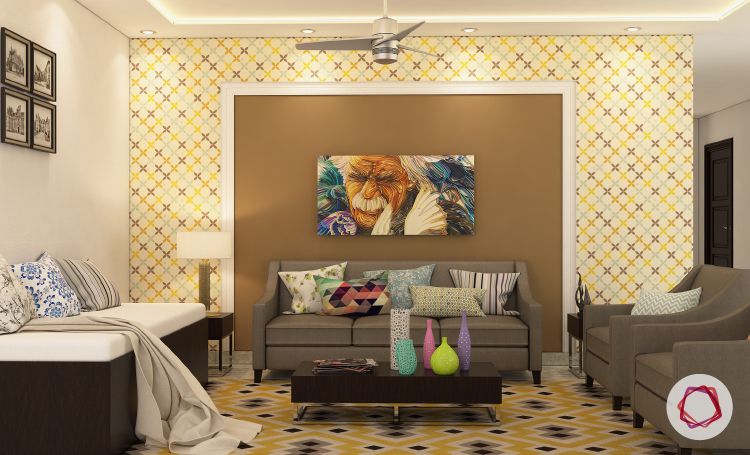 You can add more than one pattern to your room. Here are some basic rules to follow while working with multiple prints:
Ideally, stick to a maximum of 3-5 prints in any room. The larger the room, the more prints you can add.
Make sure that all the patterns you pick have at least a few common attributes – this can be color, scale or texture.
Group similar prints together for better visual unity. In the living room above, while the wallpaper and floor rug feature different patterns, the similarities in terms of line and color makes the composition work.
Ensure that each patterned element has enough negative space around it. If you have throw cushions in two or more patterns, make sure that the sofa upholstery is plain.
If you're working with more than two patterns, begin with using the most complex pattern as accents. Slowly bring the others in according to their scale, to achieve the right balance.
Other tips to keep in mind: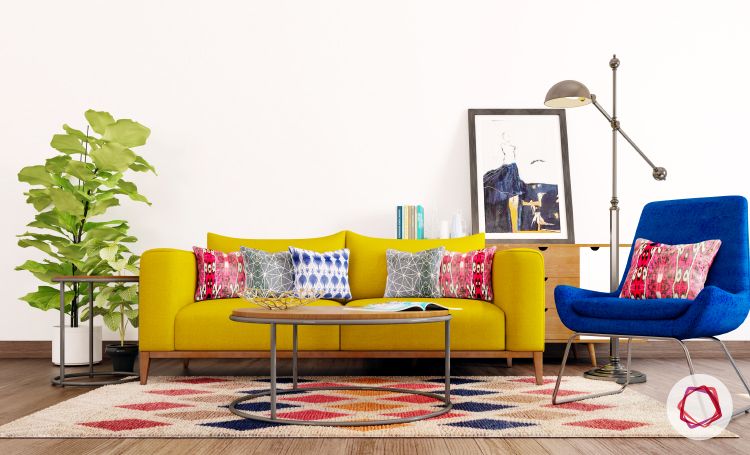 Choose patterns according to the size of the room. Large, bold patterns look good spacious rooms while miniature patterns work better in smaller spaces.
If you are getting patterned upholstery, pick patterns that complement the geometry of your furniture. Stripes or geometric lines are better suited to sleek, straight lined chairs. Florals and tribal prints are a better choice for round-edged sofas and ottomans.
Pay attention to the scale of the patterns – smaller, busier prints look best on compact surfaces such as cushions or tertiary elements, such as a floor rug. Bold, large patterns usually work well on focal elements with white space around them.