When you visualise your dream home, what is the first thing you see? We bet 9 out of 10 people would say living room because it is just so integral to the spirit of any home. Ever wondered why it is called the 'living room'? It's because you 'live' the most in this space. Naturally, picking a style for living room interior design warrants substantial thought and deliberation.
So we've done the homework for you. Here's an ultimate guide that breaks down 12 iconic design styles and sets them in context to living rooms. Go on, take your pick!
#1: Contemporary Living Room Interior Design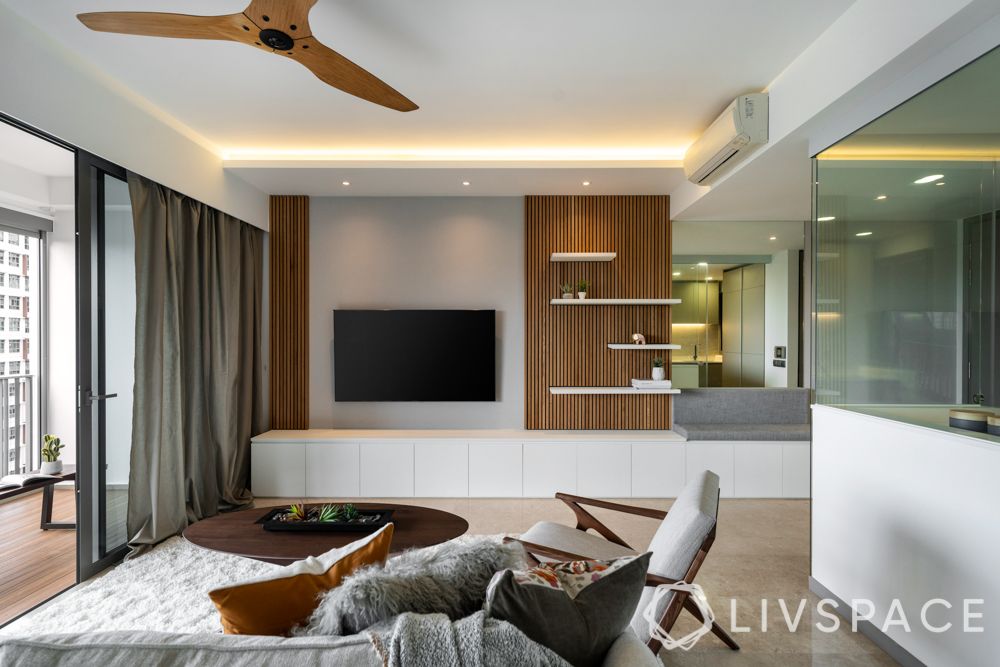 What does the style comprise?
Sorry to burst your bubble, but contemporary is not a style; it is a movement. To put it simply, contemporary is an amalgam of every design element that is 'here and now'. At the moment, clean lines, open layouts, clutter-free designs and a palette of fresh pastels is contemporary design. 5 years from now, that could change completely.
How to spot it?
COLOUR PALETTE
The base colour palette will be on the side of neutral—think greys, black, browns and whites—and is punched up by introducing occasional pops of bright colours
PATTERNS
Geometric, including zig-zags, stripes and checks
MATERIALS
Wood, tiles and vinyl are popular choices for flooring. Low pile rugs also make an appearance.
Metal, stone and glass (opaque or clear) are used to create some architectural drama
Natural fabrics such as silk, wool, linen and cotton are environmentally sustainable and durable.
Furniture is made of light-coloured woods such as maple and birch, frosted and clear glass, stainless steel, nickel and chrome
TEXTURES AND SURFACES

An intentional use of textures is one of the common threads holding this style together
Textured surfaces include wall trims, PU or layer-cut sheer
You will also spot panelling with grooves and strong architectural lines
FORMS
Functional furniture that adheres to straight lines
Sofas, chairs and tables tend to have exposed legs
How to get this look?
For a contemporary living area, pick clean-cut designs and furniture with visible legs.
Contemporary accent walls create visual interest using texture; take the fluted panels on the TV cabinet for instance.
If you are using wallpapers, pick geometric patterns; you can use the same patterns on upholstery or soft furnishings.
Most of all, the colour scheme is pretty flat. So you can glam up your home with metallic touches—think lights and accessories made of nickel, chrome.
You can check out our best contemporary homes here.
#2: Indian Traditional Living Room Interior Design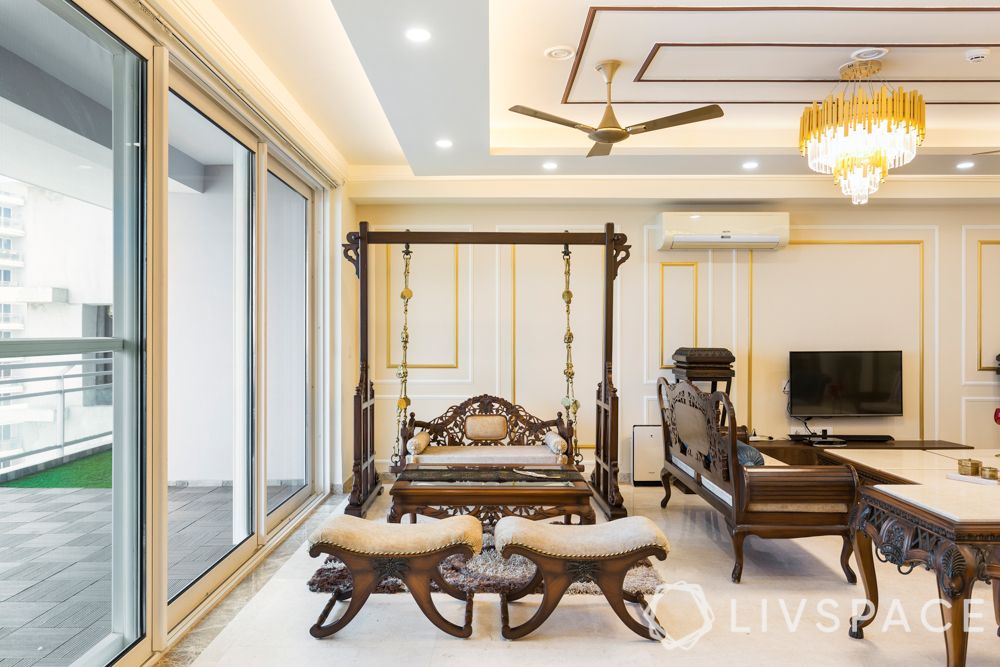 What does the style comprise?
The Indian traditional style is inspired by grand architectural forms like temples, dargahs, havelis and palaces. It also draws inspiration from different regional architectural styles like Chettinad, Malabar or Daak Bungalow. Scale is key to this style because you are adapting the grandiose of a massive structure to an apartment or a much smaller house.
How to spot it?
COLOUR PALETTE
Indian culture is synonymous with colours, so it's only natural that the palette for this style will be an extensive one:
The two most popular colours are pink and yellow
Blue and green are typically used for smaller objects like chairs or soft furnishings
For interiors, a warmer colour scheme is preferred like orange, mustard and red
Gold and metallic shades are used as accents
PATTERNS
Patterns are seen everywhere, specially in soft furnishing—curtains, cushion covers
Some of the common prints are ajrakh (Gujarat), dabu (Rajasthan), bagh (Madhya Pradesh), buti (Rajasthan) and ikat (Odisha)
MATERIALS
Solid dark woods like teak, sal and mahogany for furniture
Silk and cotton for upholstery
Red oxide, granite and marble for flooring
Brass and copper for accents
TEXTURES AND SURFACES
Embroidery and carvings are common; they are typically done in a nature-inspired theme
Lattice work for partitions, frames and borders
Inlay using ivory, stone and even mirrors is seen on furniture and decor knick-knacks
FORMS
Furniture typically has curvy silhouettes and rounded edges
Heavier forms are symbolic of grandeur
How to get this look?
The easiest way to have a quintessential Indian traditional living room is to opt for solid wood furniture. If the wood is carved with rounded edges, even better.
For furnishings, use silk, brocade or linen. Think tie-dies, block prints and Indian thread work unique to different Indian states.
For lighting, choose opulent chandeliers or clay lanterns.
Stick with red oxide flooring to invoke nostalgia. Top it with intricate cashmere carpets from Kashmir.
Dress up the wall in your living area with tribal crafts and artifacts found in different regions in India. An example of this would be the Bankura horse from Bengal or blue pottery from Rajasthan.
If you have the space, throw in typical Indian elements like swings and framed mirrors.
#3: Minimal Living Room Interior Design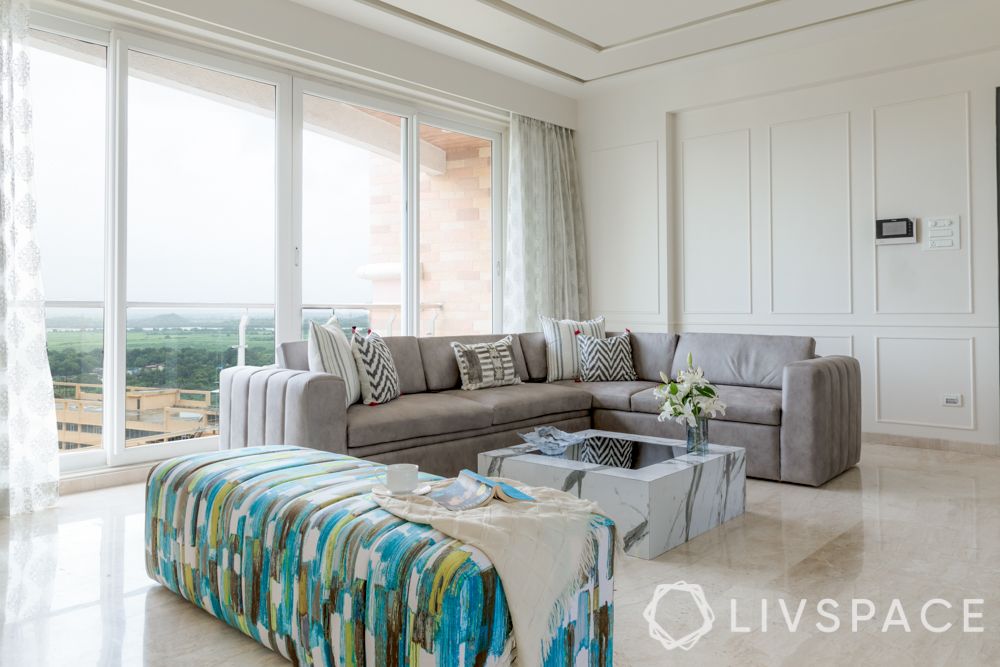 What does the style comprise?
You cannot live in the 21st century and miss the massive impact of the minimalist movement! Minimalism started as a design style that encouraged people to declutter their homes and lives. The idea was to love with fewer and only the most essential things. This design style, that prescribes a Spartan approach to home, originated from the Japanese zen philosophy. However, minimal has slowly but surely evolved into a lifestyle choice that covers people's lives and not just their homes now.
Did you know?
You can read about the salient features of Indian minimalism here.
How to spot it?
COLOUR PALETTE
The colour palette is unmistakably neutral—consisting of whites, nudes, beiges, tan, greys and blacks
The trick is to stick to two or three colours for every room; at best relying on different tones of the same colour for some variety
PATTERNS
Given the sparse approach of this style, prints and patterns are largely absent from interiors
MATERIALS
The material library is quite multifaceted. It includes:
Industrial materials like chrome, steel, glass and plastic
Traditional materials like organic textiles, stone, wood and ceramics
TEXTURES AND SURFACES
With limited colours and no patterns to play with, fall back on textures to create visual interest
Surfaces range from matte to flat and reflective
Wooden tones and textiles are used to add warmth to spaces
FORMS
Simple, straight-forward forms with a partiality for clean lines
A room typically features one stand-out piece and while that can be bold, it still adheres to the principle of simplicity in form
How to get this look?
In a minimal living room, every item you have must be absolutely essential as this style is predominantly functional, not decorative.
The furniture should be sleek and multi-functional, if possible.
Do not stuff your living area with storage; add open shelves instead.
Use solid colours—whites, blacks, greys, monochromes and neutrals—instead of patterns prints.
Light-coloured wooden flooring (laminate for India) is a great way to set the context right.
Use handspun coarse fabrics like khadi for furnishings.
Bare walls, in whites or beiges or whites, is an excellent choice. Don't fill them up with decoratives.
Minimal does not mean cheap or frugal; the items you have in your living area might be exclusive and expensive. However, they must be few and have justified uses.
Check out our best minimal homes for inspiration here.
#4: Bohemian Living Room Interior Design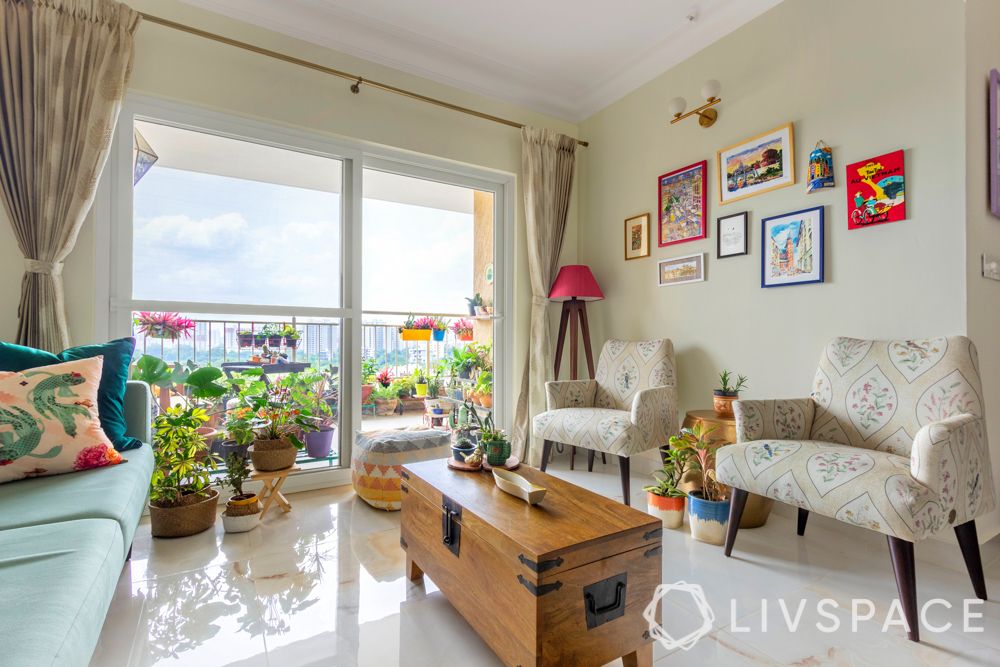 What does the style comprise?
The bohemian design style is the most free-spirited of all. There are no rules, save one; get as personal as you want. This is a style that collectors should use, particularly for their living rooms. And when displaying the collection, use layering as a design technique.
Did you know?
How to spot it?
COLOUR PALETTE
"Bolder is better" is the mantra when it comes to colours for the Bohemian style
The palette ranges from earthy tones of pinks, purples and oranges to jewel tones like sapphire blue, ruby red, amethyst purple, citrine yellow and emerald green
PATTERNS
To nail the Bohemian style, one needs to know how to layer different patterns
The recurring types are kilim, paisley, ikat, floral, trellis, tribal and lattice
MATERIALS
Mixing and matching of materials is done to create drama
The material library is predominantly organic—think burlap, sisal, silk, jute, leather, chenille, rattan, wicket, wood and stone
TEXTURES AND SURFACES
Since it favours the layered look, this style is brimming with textures—think woven fabrics and knits like fringe, crochet macrame and tassels
Furniture has a worn out, distressed look
FORMS
You want to be as close to the floor as possible. So think low seating, beds and floor cushions and poufs
How to get this look?
Firstly, there is no bar on the kind of furniture or decor you can use in a bohemian living room. However, rattan cane or wicker furniture embodies the spirit of this style. Also, floor seating or low-height seating (using stools, floor cushions or poufs) is a distinct feature of this style.
For storage, go the antique way with old chests or storage units that have woven textures for shutters.
When it comes to lighting, use stained glass pendant lights or woven lanterns that create a dreamy effect.
For furnishings, use as many colours, prints and patterns as possible because the idea is to create kitsch.
Houseplants are integral to bohemian spaces. Fill up your living room with all kinds of indoor plants in ceramic or play pots; you can put them in jute bags.
For decor, use your personal collection of souvenirs, travel curios and heirlooms that have personal significance. Decor items like dreamcatchers are indicative of the bohemian style because the style itself originates from the Romani gypsies.

#5: Art Deco Living Room Interior Design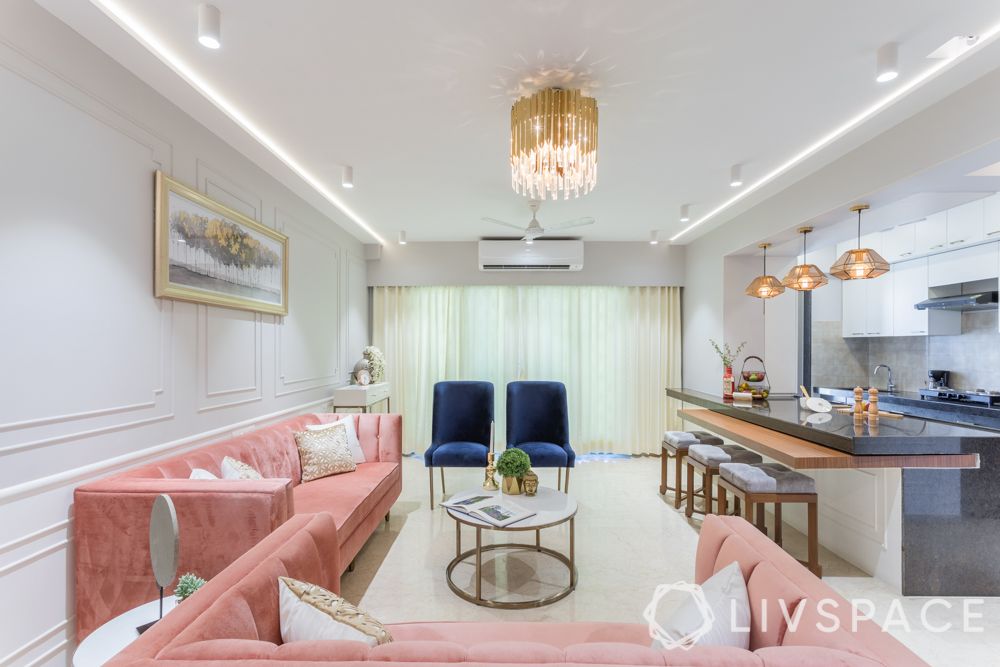 What does this style comprise?
Art deco is a style that dates back to the 1920 when the Industrial Revolution spearheaded the invention of new materials like chrome and stainless steel. This was an exciting time between the two World Wars with fashionable headgears and glamorous interiors. Think the Great Gatsby home or imagine the perfect settings for Greta Garbo; that's art deco style for you!
Did you know?
How to spot it?
COLOUR PALETTE
Jewel tones like sapphire, ruby and emerald
Deep yellows, reds, blues, greens, pinks, and purples neutralized by softer cream and beiges
Black, white, gold and silver are used highlights
PATTERNS
Patterns, especially geometric ones, is one of the leitmotifs of the art deco style. Some of the favourites are:
Sunburst, a classic deco motif
Zigzag
Animal prints
Trapezoids
Jagged, stepped or pointed edges that are reminiscent of skyscrapers
MATERIALS
Furniture made using exotic woods like ebony and zebrawood; in fact, inlaid wood furniture is quite common
This style is known for the use of new industrial materials like Bakelite (a type of plastic), chrome and plate glass
TEXTURES AND SURFACES
Glossy finishes, high-shine surfaces
This style is known for using lacquered wood
FORMS
Though large in scale, furniture tends to have strong, streamlined shapes
How to get this look?
Opt for furniture that is curvy and has novel geometric shapes; for instance, a floral back chair.
Pick furnishings in jewel tones and intersperse them with black or dark wall colours and metallic accents. Use glossy materials like velvet or silk to keep up the glam quotient.
Flooring and false ceilings in your living area can have the 'sunburst' theme that is integral to the art deco style.
Clad your living room walls with animal print wallpaper and metallic panels.
For decor, use circular mirrors with glossy metallic frames. This style favours reflective surfaces in general.
For lighting, pick fixtures with crystals, etched glass and metal plating.
Screens and partitions are a very significant aspect of this style, so it makes sense to have them in your living room.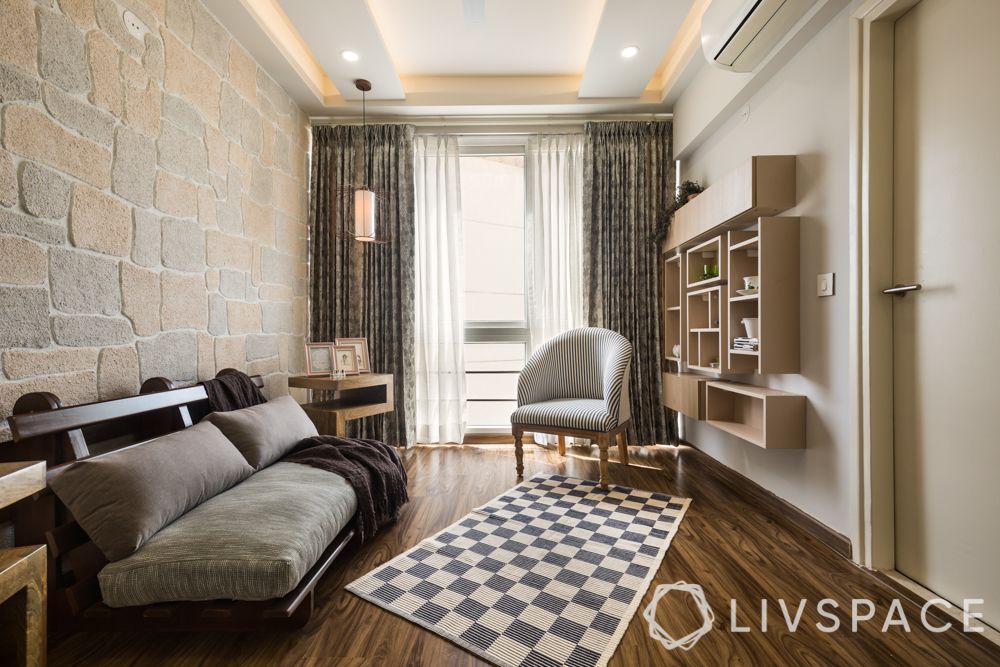 What does the style comprise?
This style has evolved with a focus on comfort and warmth to combat the bitter cold and lack of natural light in the Scandinavian countries. Naturally, it aims at re-creating cozy spaces with plenty of natural light and clutter-free open layouts.
How to spot it?
COLOUR PALETTE
The base palette consists of neutral colours like beige, grey and various shades of white
For accents: pastels like light blue, mint or rosé
PATTERNS
Bold prints and patterns are common, and mostly geometric and floral in nature
MATERIALS
For furniture, light-coloured woods are popular. It's important that the natural wooden grain be seen
Warm textiles like sheepskin, fur, wool knits
Hardwood flooring for warmth
TEXTURES AND SURFACES
Textures are used to create warmth—think cable knits, woven ropes, fur and leather
FORMS
The love for simplicity translates to the furniture. Stripped of any unnecessary details, the furniture is characterised by clean lines mixed with smooth, rounded edges
How to get this look?
Pick light-coloured wooden furniture that adheres to clean lines
Furnishings should be made of linen, fur or cotton.
Wooden flooring is a must to create a warm atmosphere in the living room. However, in India, solid wood flooring is not a viable flooring option due to the warm weather. Stick with laminate flooring instead. If you want to have rugs, choose fur or burlap ones.
Framed posters and metallic arc/tripod floor lamps are distinct accessories used in the Scandinavian style.
If you are using paint for walls, use various shades of whites. For accent walls, use wooden or veneer panels.
Did you know?
#7: Minimal Glam Living Room Interior Design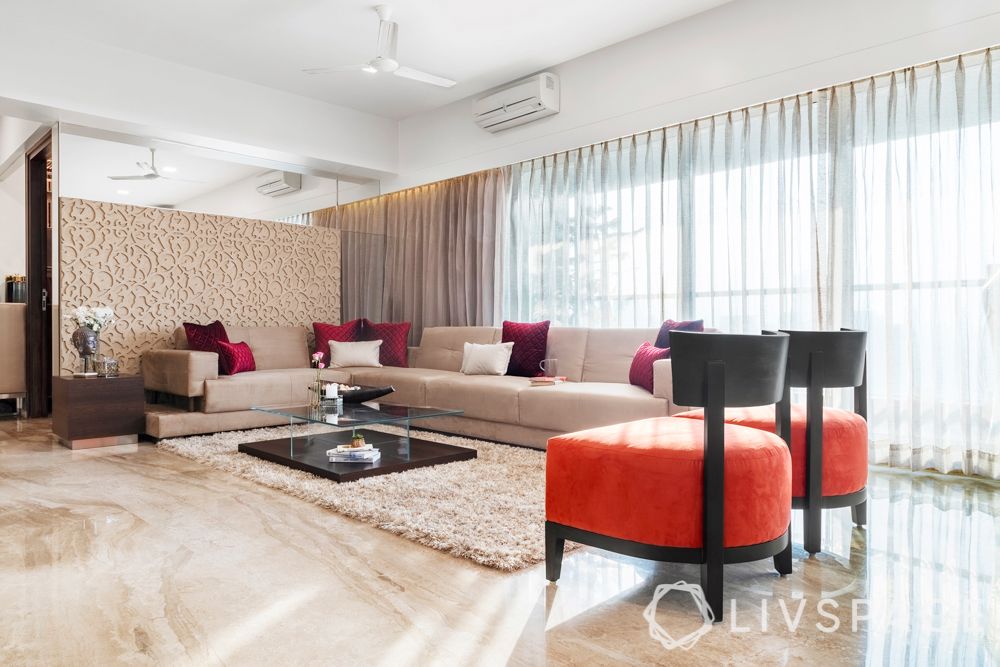 What does the style comprise?
India, with its love of colour, is not the most favourable habitat for minimalism. So the minimal glam style is a compromise between minimal design and our Indian sensibilities that favour colour and gloss. Layouts and forms are clean and fuss-free in this style but finishes are glamorous with a hint of pop colours.
Did you know ?
How to spot it?
COLOUR PALETTE
A soft, elegant palette dominates this style
Metallic tones are used as accents
PATTERNS
Art deco and neoclassical patterns make an appearance. Some of the common ones are Greek key, trellis, checkered and animal prints
MATERIALS
Fabrics are on the expensive side of the spectrum—silk, satin, suede and velvet
The overall choice of materials is expensive—including crystals and marble
Metal, sequins and mirrors are used to amp up the glam factor
TEXTURES AND SURFACES
Mirrored finishes and gold metallic details add a glitzy edge to the design
Fabrics are sumptuous
Surfaces are smooth and occasionally shiny
FORMS
Clean lines dominate
Look out for classic shapes in sofas
And organic forms for chairs
How to get this look?
Opt for clean and open layouts. In essence, have an open kitchen and a combined living and dining area with no partitions.
The furniture should be fuss-free in form but free to choose the curves and oblique shapes like trapezoids.
The furnishing should be plush, so think velvet, silk, suede, satin, etc.
Choose reflective finishes like acrylic, tinted mirrors, lacquered glass or high-gloss laminates.
Use one or two pop colours in otherwise neutral settings in the living area.
Flooring and ceiling should be simple. So opt for seamless false ceilings and normal vitrified tiles. If you want an exclusive option, pick white marble flooring.
You can choose crystal chandeliers for lighting and have one piece of decor that stands out in the room. For example, a massive painting.
Take a tour of this perfectly minimal glam home in Mumbai for inspiration.
#8: Mid-century Modern Living Room Interior Design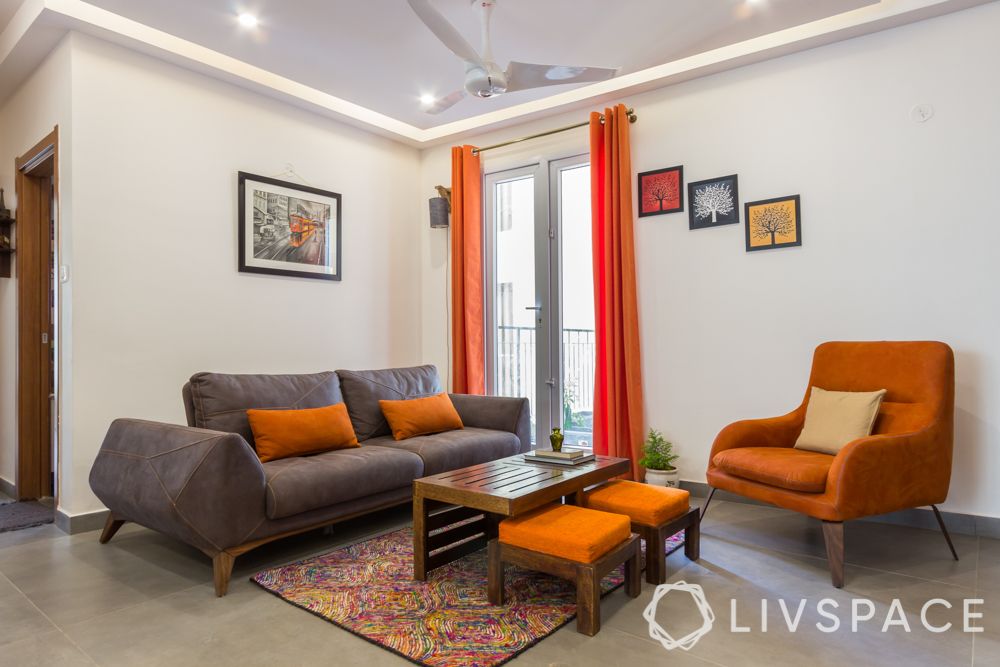 What does the style comprise?
Mid-century modern is a style that is dedicated to urbanisation. Between the 1930s and 1960s, the US saw rapid urbanization. People moved from the countryside to smaller apartments in the cities. The mid-century modern style evolved as a result of the shrinking size of homes. It would be apt to say that this style is anti-ornamentation; so stay away from frills.
Did you know?
Mid Century Modern: How to spot it?
COLOUR PALETTE
Colours bring out the bold and funky side of this style
First off, there are the primary colours—red, yellow and blue—followed by fresh shades like olive, rust, turquoise, wasabi and tangerine
And anchoring touches of neutrals, especially black and white
PATTERNS
The fun continues with patterns which range from abstract to bold and geometric like chevron, polka dots and stripes
MATERIALS
Traditional materials like wood
Non-traditional materials like metal, glass, vinyl and plywood
Industrial materials—which were new back then—like plexiglass, lucite, bent plywood, fiberglass, foam, aluminum, steel and plastic laminates
TEXTURES AND SURFACES
Predominantly matte surfaces
Fabrics lean on the heavier side like burlap and wool knit textures
FORMS
There is a focus on the core structure of every object. In fact, in the absence of embellishments and carvings, the shape and form of the piece becomes all-important
Strong geometric shapes with rounded edges are common as are streamlined pieces with clean lines
Tapered legs are used to further reduce the 'heavy-look' of a furniture piece
How to get this look?
Firstly, pick an open layout because this style is all about the free-flow of space.
Since we're talking about living rooms, look for iconic chair designs like the Eames Lounge chair or the Chandigarh chair.
Have accent walls with bold patterned wallpapers. Think polka dots, chevron and stripes. Play with colours here because other forms of decoration are ruled out by this style.
Use matte finishes like membrane because this style is anti-gloss.
For storage and display, use the archetypical console table that we associate with this style.
Cork flooring is a distinct element of this style. And guess what, it is anti-microbial.
#9: Transitional Living Room Interior Design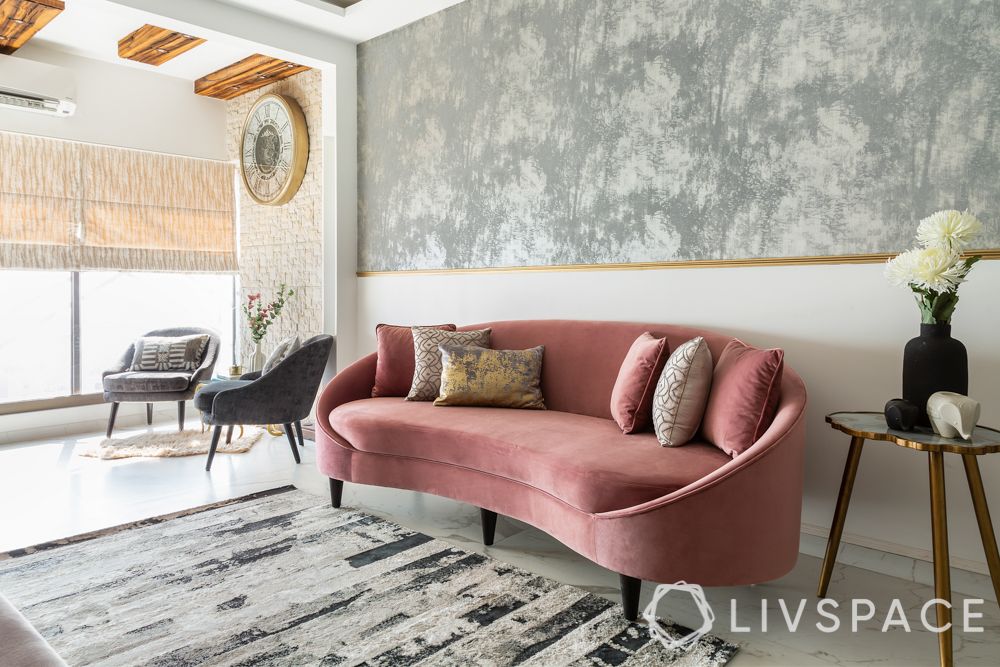 What does the style comprise?
The coexistence of traditional and modern styles is defined as the transitional style. So you will find dated pieces of furniture alongside modern elements in a living room that is decorated using the transitional style.
How to spot it?
COLOUR PALETTE
A subdued but stately colour palette commands transitional interiors
Includes neutrals like grey, sand and white
And bolder and darker shades like midnight blue, charcoal and black
PATTERNS
Patterns are driven by small geometric shapes and tessellations
Tone-on-tone neutral prints are also common
MATERIALS
Textured materials are favoured because they help create depth
Fabric selections can vary from durable to sophisticated—think chenille, corduroy, microfiber suede, cotton, twill, denim and raw silk
TEXTURES AND SURFACES
Textures, fused with patterns and colours, create drama
Tone-on-tone textures are common
As are woven reeds and ropes
FORMS
Typically straight-lined with an occasional soft curve
Moderately scaled
How to get this look?
As the aesthetic of the style is a mixture of time periods, there are many ways to attempt this style. For example, you could pick vintage pieces of furniture like a Chesterfield sofa and place it in a modern open layout with contemporary furnishings.
You could also pick a minimal couch and place it in a living room with portrait moulds on the wall summing up to a very Victorian setting.
You can have a completely modern living room with antique decor items and lighting fixtures.
There are innumerable ways to design transitional living rooms. So pick something that suits your taste.
You can take a leaf out of this transitional Mumbai home here.
#10: Colonial Living Room Interior Design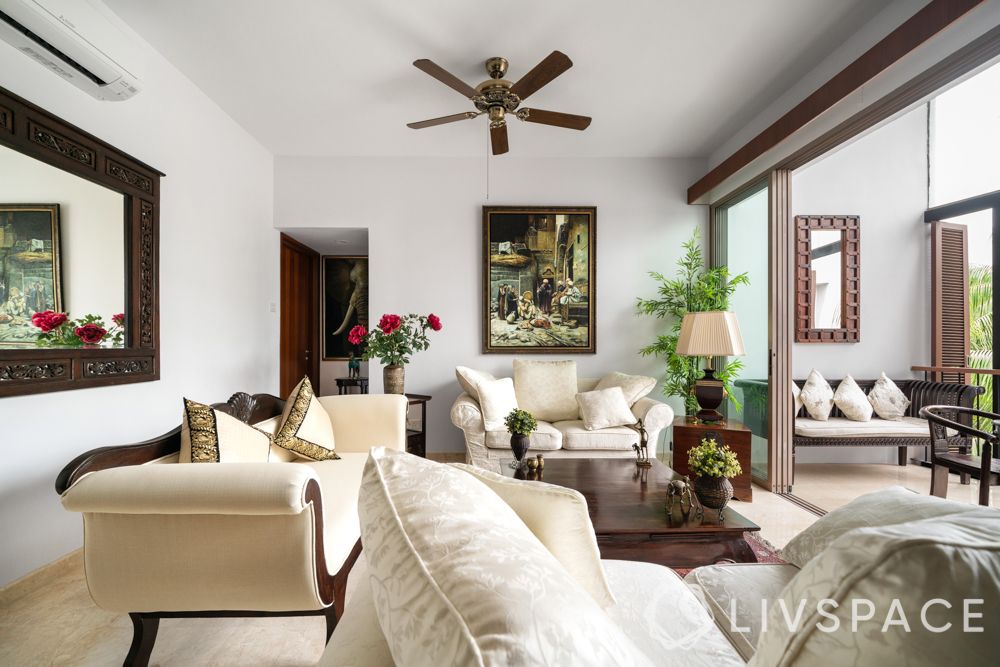 What does the style comprise?
The colonial style is a mix of Western design aesthetics with native artefacts that evokes nostalgia. So if you see Victorian furniture in seemingly tropical settings with a collection of decoratives that look very local, it's probably a colonial living room.
How to spot it?
COLOUR PALETTE
Walls are predominantly white or pale-toned to have a cooling effect, visually, and to contrast with the dark wooden furniture
PATTERNS
Nature-inspired patterns like leaves, vines and florals are seen in furniture carvings and in textiles
Chintz, a woodblock printed, painted or stained calico textile with floral motifs, was imported from India to Europe and became a huge sensation. It was used even in wallpapers and pottery
MATERIALS
Locally available woods—ebony, satinwood, calamander, rosewood, mahogany, and teak
Ivory, brass and silver for inlays
Other natural materials like bamboo, cane and rattan
TEXTURES AND SURFACES
Woven elements using cane and rattan are seen in furniture, flooring and in knick-knacks
Stone surfaces are also common
FORMS
The furniture can largely be categorised as:
Portable 'campaign' furniture which could travel with the British as they took refuge in the hills over the summer
Heavier Anglo-Indian furniture with exquisite carvings
How to get this look?
Ventilation is one of the most important aspects of colonial design. Colonial living rooms will have large French windows that preferably face each other.
Also, these windows should be covered with bamboo blinds to keep the heat out.
Dark wood furniture is another very crucial aspect of this design. Cool colours like blue and pastel green should be used in furnishings to balance the rich tones of the furniture.
Mosaic flooring is recommended to create relatability.
Ditch false ceilings in favour of ornamental punkhas or fans. It might be pertinent to note that Britishers hated low ceilings. Hence, false ceilings are a no-no.
The British sahebs were also ardent collectors, so the occasional gramophone or a tribal mask will add authenticity to your living room.
Did you know?
#11: Industrial Living Room Interior Design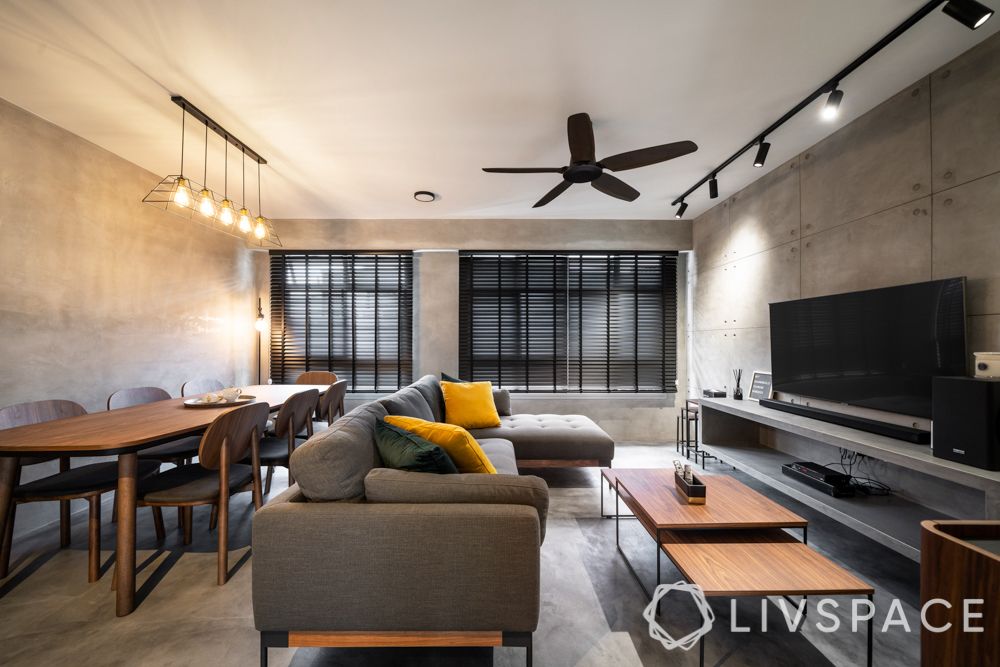 What does the style comprise?
In the early 90s, factories and manufacturing units were moved out of city limits to curb pollution. The natural solution was to use the abandoned factories and warehouses in the cities to provide low-cost housing to people. As factories and lofts had rugged materials like bricks, cement and metal, these became the collective design language for the industrial style!
How to spot it?
COLOUR PALETTE
Industrial design mainly relies on a mixture of the following colors create a harmonious look:
Whites
Greys
Shades of brown
Neutrals

These are essentially colours you see in a factory or warehouse
MATERIALS
This style relies on the use of industrial materials including:
Wood and stone
Cement, bricks and concrete
Metals like steel, tin, copper and iron
For furnishing, coarse materials without gloss are preferred
TEXTURES AND SURFACES
Ruggedness is the underlying aesthetic of this style.
Exposed bricks
Cement screed
Concrete
Unpolished wood
Hence, the above are the textures and surfaces that we predominantly get to see.
FORMS
The main aspect of this style is scale. Factories and lofts were massive spaces. Hence, furniture in this style is supposed to fill that huge vertical space. You also see long hanging features like pendant lights to fill up this space.
Did you know?
How to get this look?
When you are trying industrial interiors, you must have a home with tall ceilings and large windows.
Skip false ceilings in favour of track lights and metallic industrial lights
Architectural elements like exposed pipes and columns are an aesthetic aspect of this style.
Industrial furniture uses metal heavily. Very often, we see it integrated with parts of vehicles like bicycle tires. In that way, this style is all about reuse and recycling of leftover auto parts.
Use cement screed or concrete flooring for a rugged effect. Exposed brick walls or wallpapers achieved the same texture.
For decor, use autoparts like wheels or even an entire cycle or exposed pipes and ducts.
#12: Eclectic Living Room Interior Design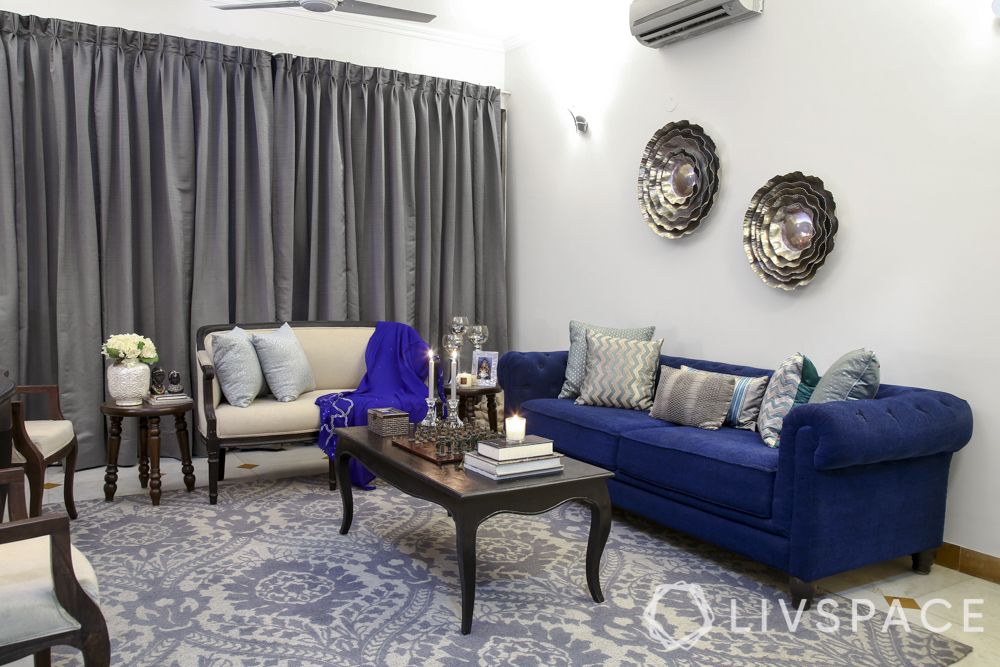 What does the style comprise?
Reviewing all these design styles must be like looking at a table full of cookies; you just don't know which to pick. You might love the simplicity of minimal living rooms but also yearn for the freedom of the bohemian style. Don't worry, we have you covered with the eclectic style. This style is essentially a mix of distinct elements from other design styles. This style is also about collections. However, it's not as personal or devoid for rules as the bohemian style. Hence, it is advisable to use professional help to use this style lest your living room become a chaos of styles.
Did you know?
How to spot it?
COLOUR PALETTE
The eclectic style is not restricted to a set colour palette and paves the way for brave and spectacular combinations
That said, you might be faced with the problem of plenty. We recommend that you use colour as a grounding element to achieve visual harmony. It can be the common thread that ties the space together.
PATTERNS
It's good to stick to a fixed colour palette for patterns to avoid overwhelming the space. That said, don't shy away from mixing opposing patterns
MATERIALS
Since this style borrows elements from other styles, there is no cap on using any materials
TEXTURES AND SURFACES
Use contrasting textures to make sure that the eye travels across the whole room
FORMS
Mismatched forms belonging to distinct styles and time periods come together to form a cohesive setup
How to get this look?
Firstly, don't try this at home alone. The eclectic style involves serious design considerations and is by no means a DIY project. This is because all aspects of a design style don't merge with others seamlessly. And with this style, we are aiming at an organic mix of different styles.
It is a safe option to opt for neutral or white walls to create a clean backdrop for the mixing of styles.
Your furniture can be a mix of styles but make sure the living room has one dominant element that becomes the focal point. You can complement this with different elements from other styles.
Gallery walls are an easy way to showcase the diversity of this style so that could be your accent.
You can take a video tour of this eclectic 3BHK in Bengaluru here.
Send in your comments and suggestions.