The concept of minimalism has become something of a rage globally, influencing home design, art, culture and even lifestyles. Our minds conjure images of sharp clean lines, flowing forms and plenty of open spaces when we speak of minimalism with regard to home design. Most of these features can be attributed to essentially clutter-free design.

It is pertinent to note that minimalism does not directly translate to empty or bare space. This design school propagates the use of empty space as an element of design. In other words, a minimal home should be not be crowded with too many design elements. Instead, it should have an uncomplicated flow while avoiding intricate detailing.
In India, we perceive the design principles of minimalism in our own desi style. What we see indigenously could be regarded as modern minimalism. We take the liberty to experiment with a contemporary textures and materials as well as adding cosy elements for comfort. You may be surprised to know that the concept of modern minimalism is catching up! So we have traced the influence of minimalism on Livspace homes that have stuck to utilitarian design while striving to be inherently functional.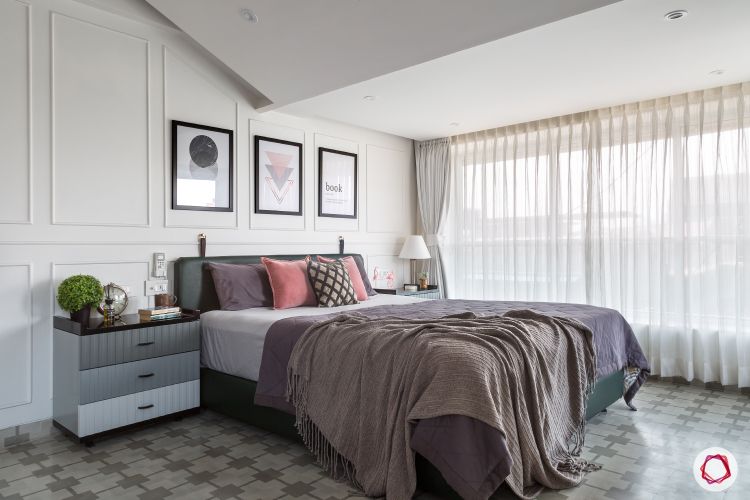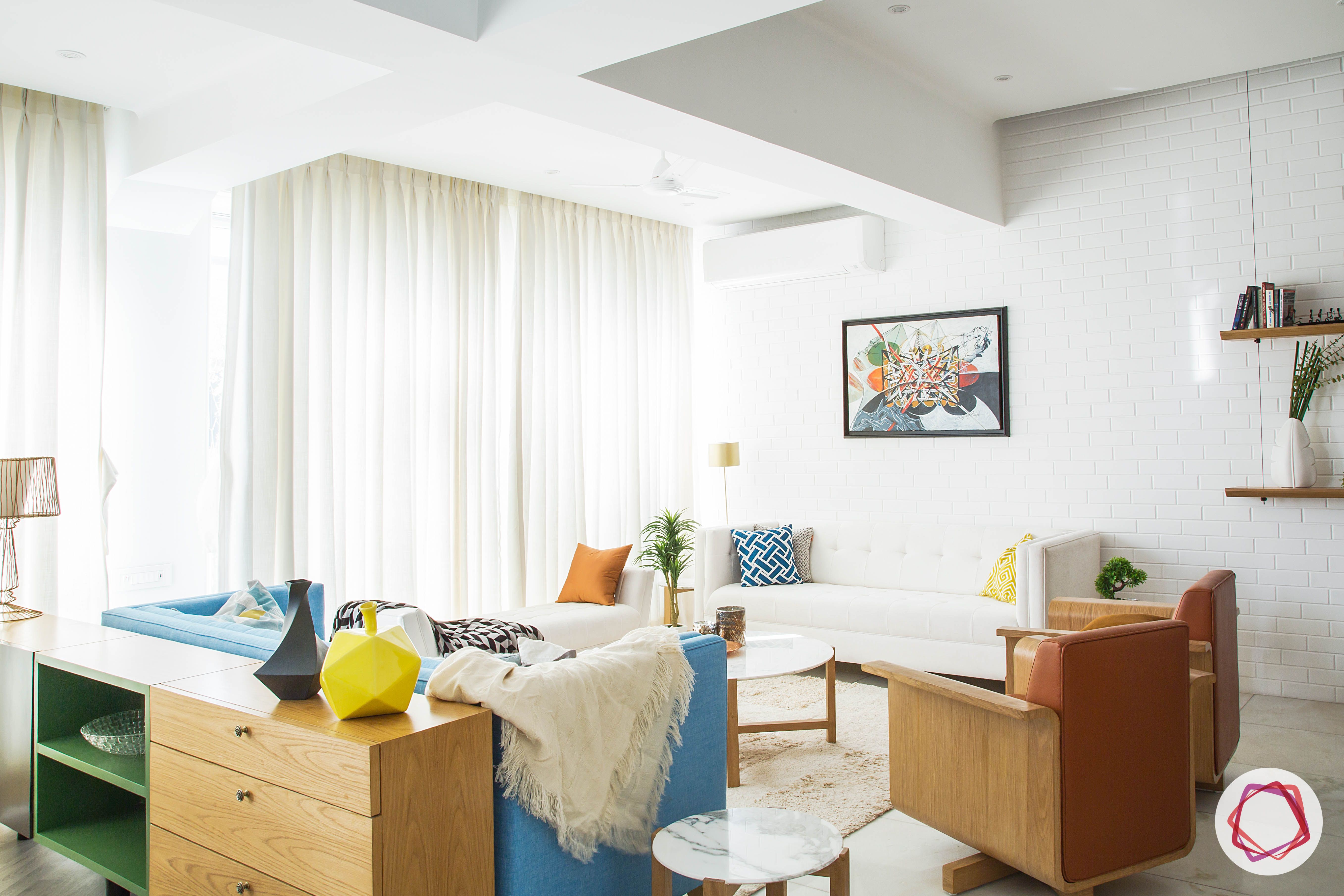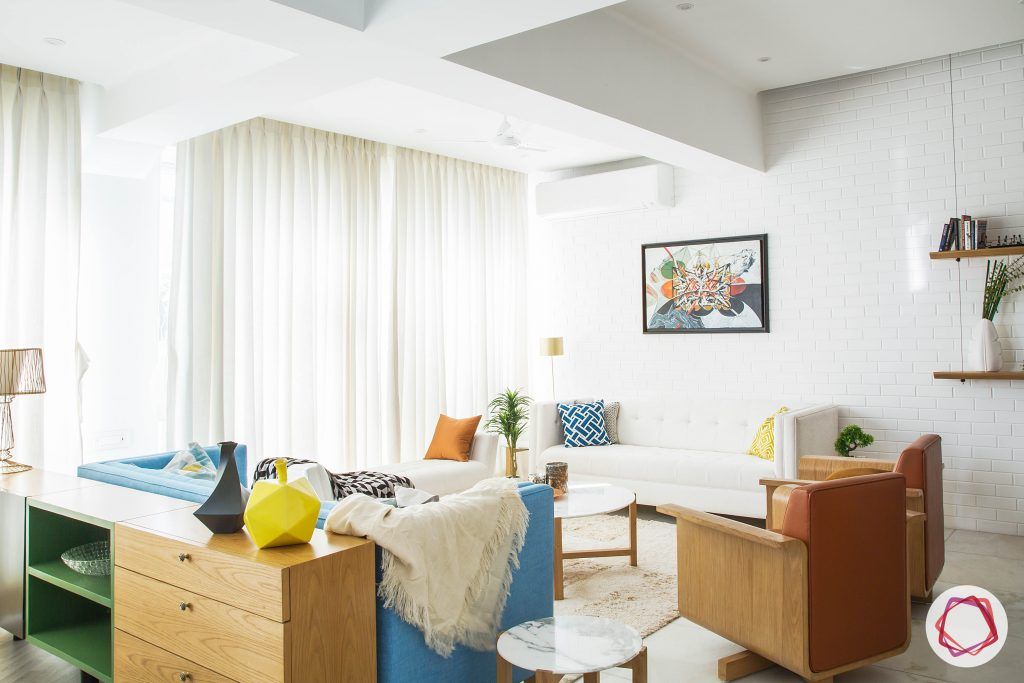 The most notable element in this home is its neatness. Whites, neutrals and warm wooden finishes create a perfect Scandinavian setting for the elements of minimal design. It is important to note that minimal and Scandinavian design are not identical styles. It would be fair to say that Scandinavian design exhibits certain elements of minimalism. Like in this case, the bedroom is sparsely populated by furniture and the basic wall-cladding in the living room is adding texture without making the room look busy.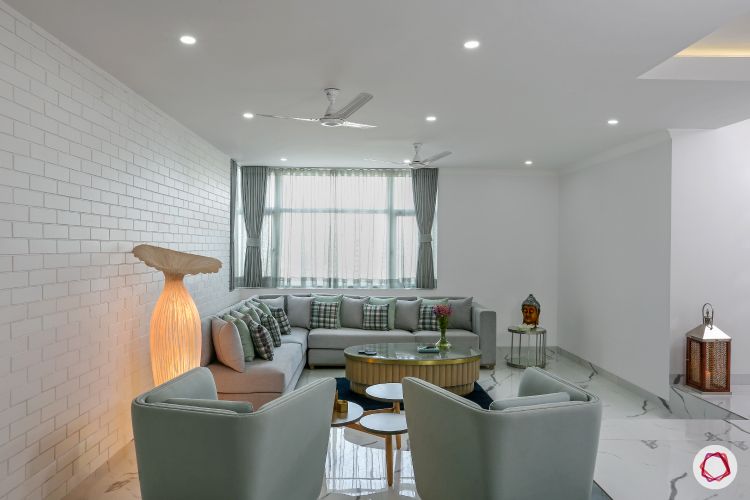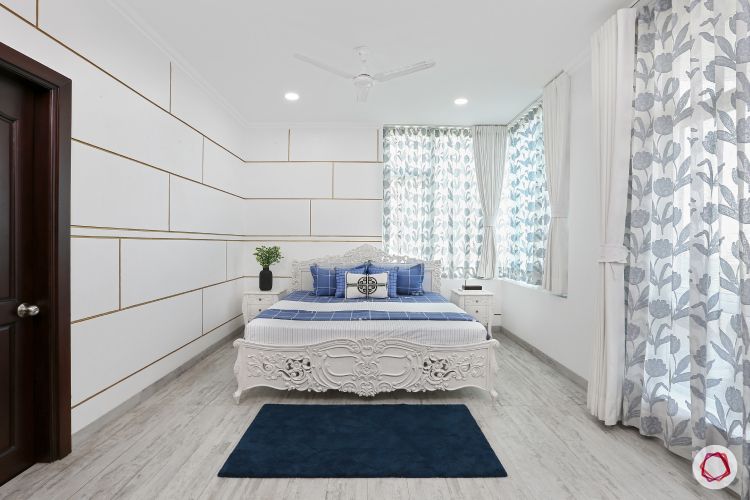 Whites have the unique quality of opening up spaces and this Delhi home takes full advantage of this. White punctuated by grey and blue gradients is a colour scheme that may not be symbolic of minimalism, but it certainly compliments minimal design. The sprawling 4BHK has cushy yet basic furniture. The L-shaped sofa for example is plush yet very basic and devoid of decoration. White wall paint on its own may sometimes look flat; it needs texture to make its presence felt. Thus, the wall treatments in the living room (brick wall) and bedroom (metal stripes) add character to the space without crowding the space.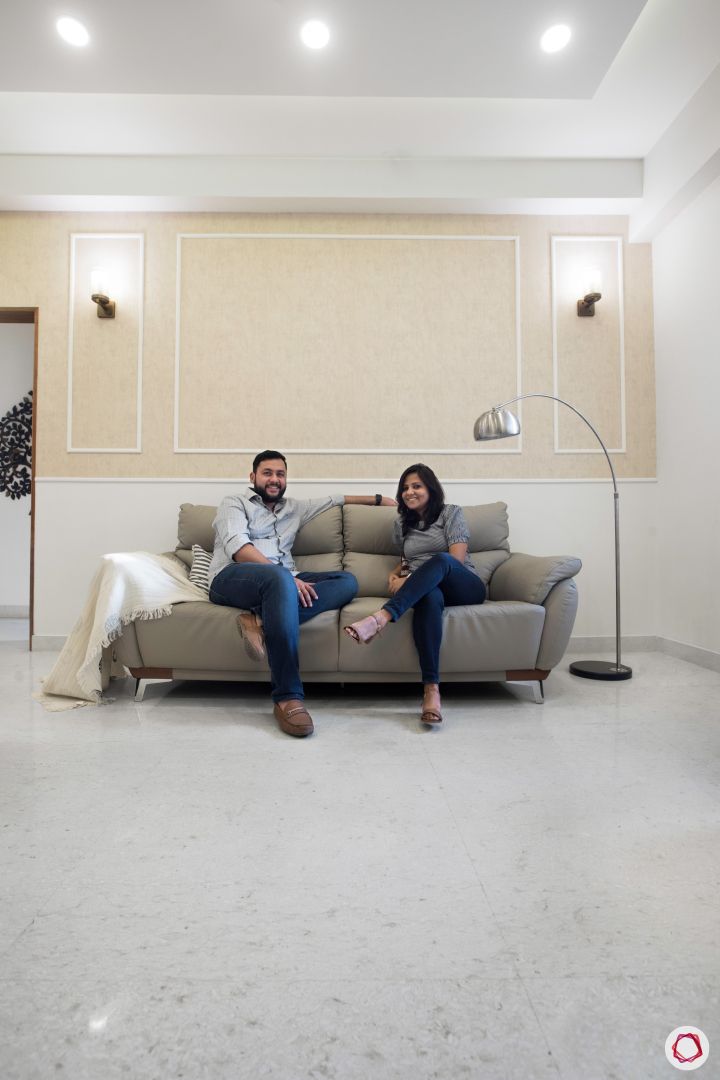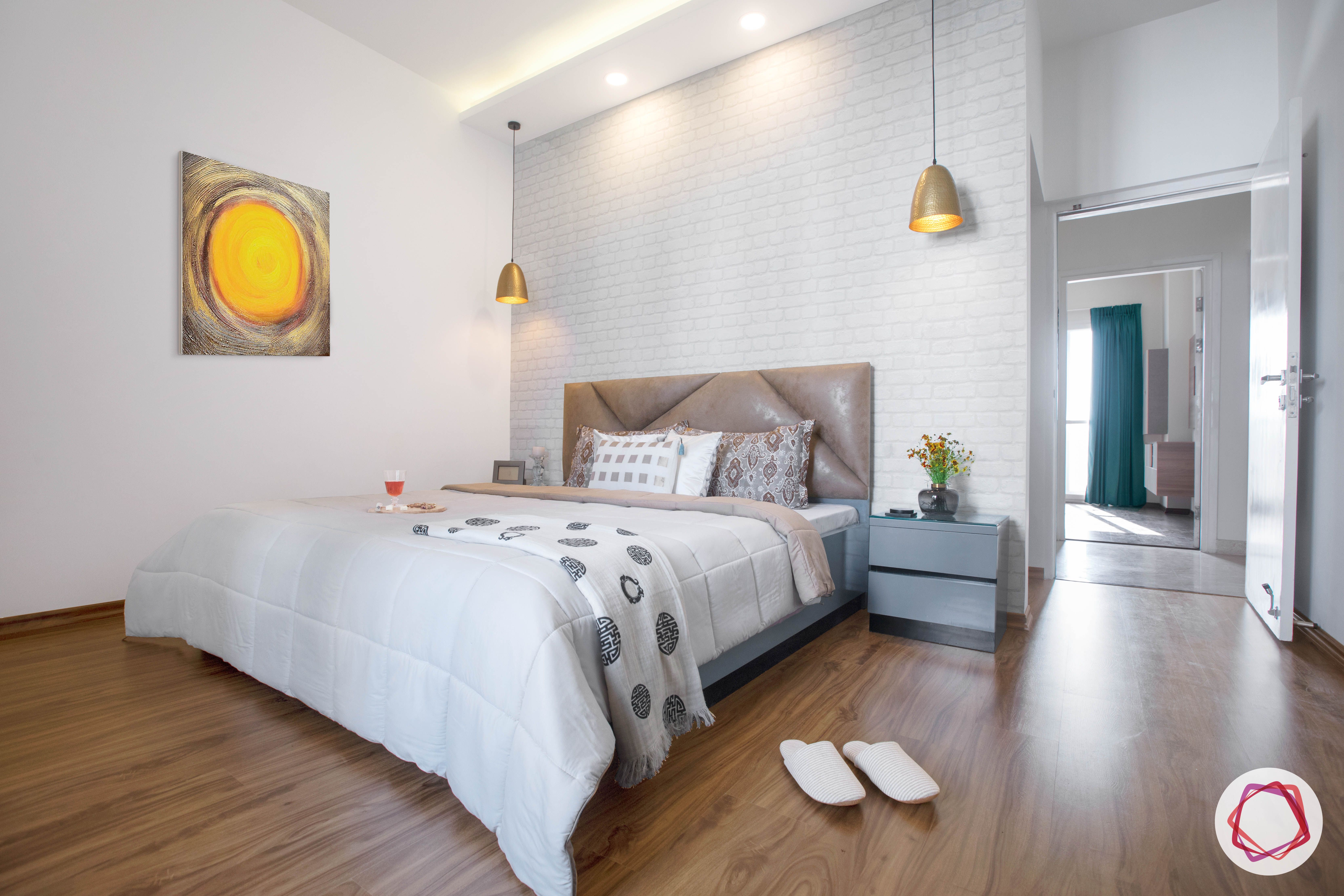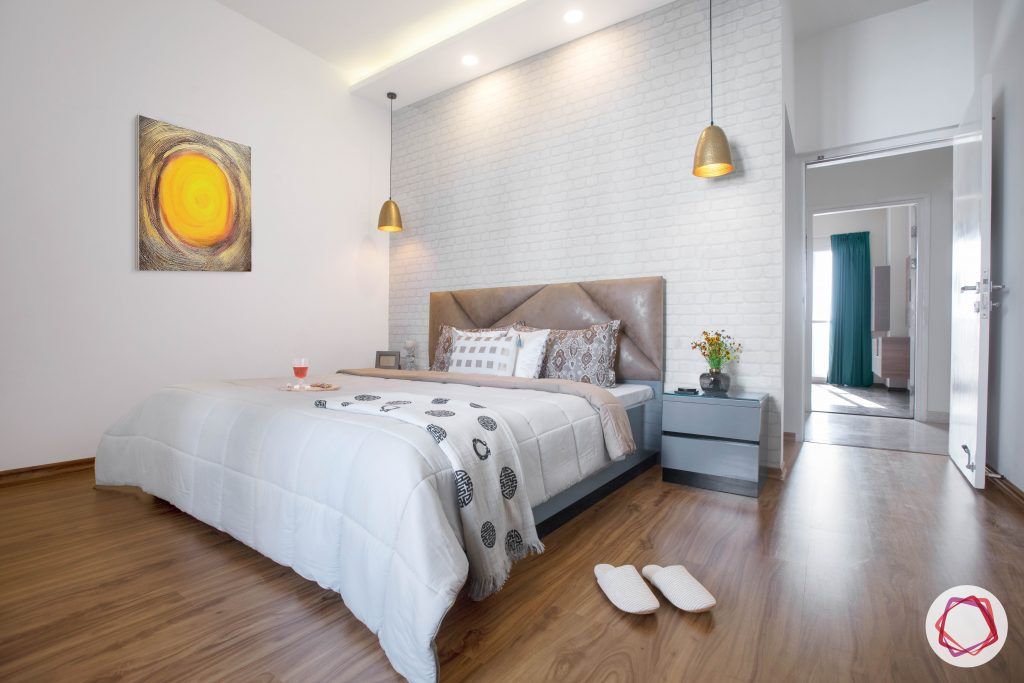 The basic premise of minimalism is that less is more. Every piece of furniture in a house must serve a purpose. In this way, you end up having only those pieces of furniture that you genuinely need. This classy home in Gurgaon is a perfect example of how good design can do more with less. The couple wanted a use their spacious layout to avoid clutter and make the most of their large windows by letting in natural light. A muted colour palette helps to put all that natural light to good use. And the warm wooden flooring and sleek furniture make it a quite the Scandinavian treat!

Minimalism in Livspace Homes #4: A Home That Mirrors Well-Traveled Taste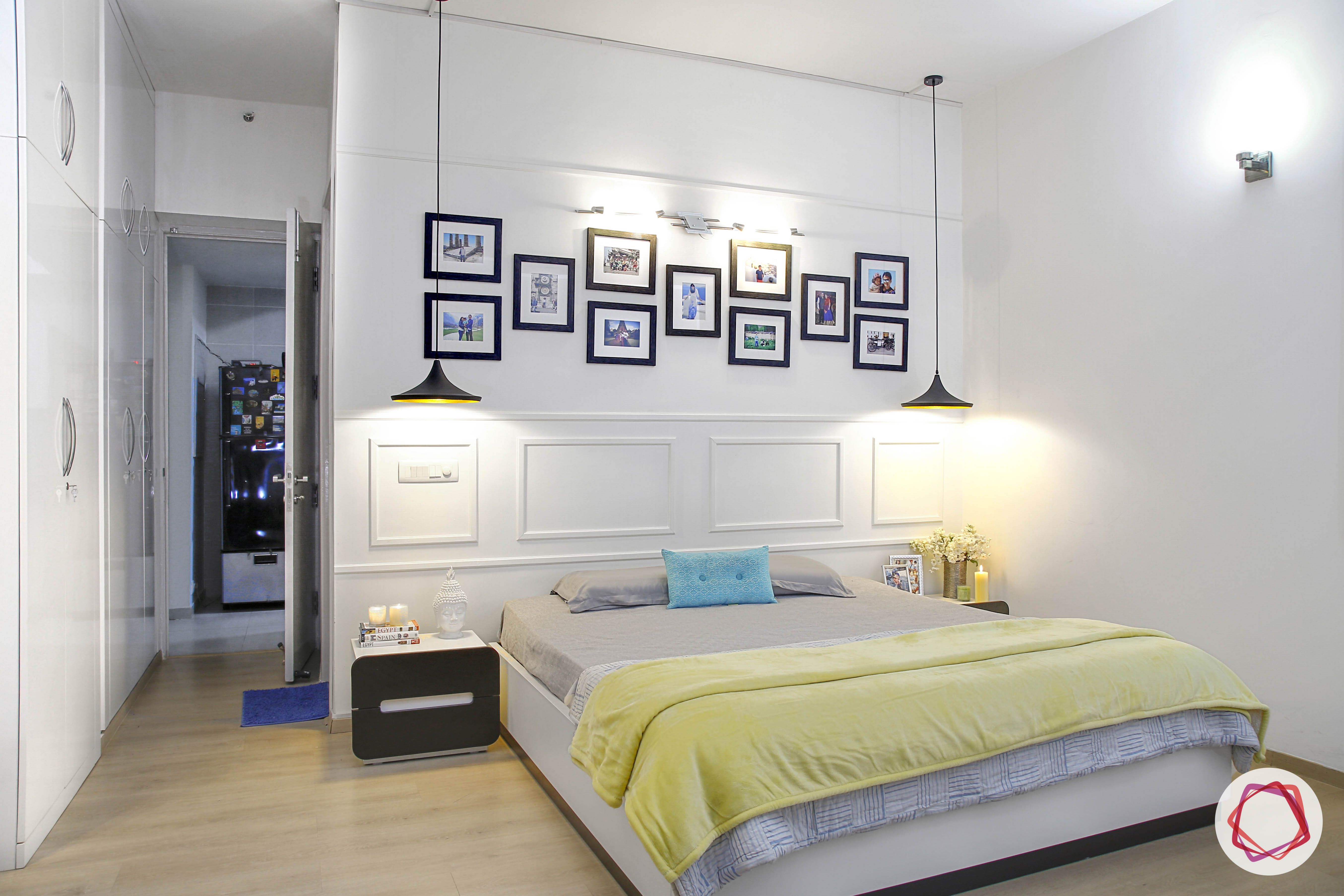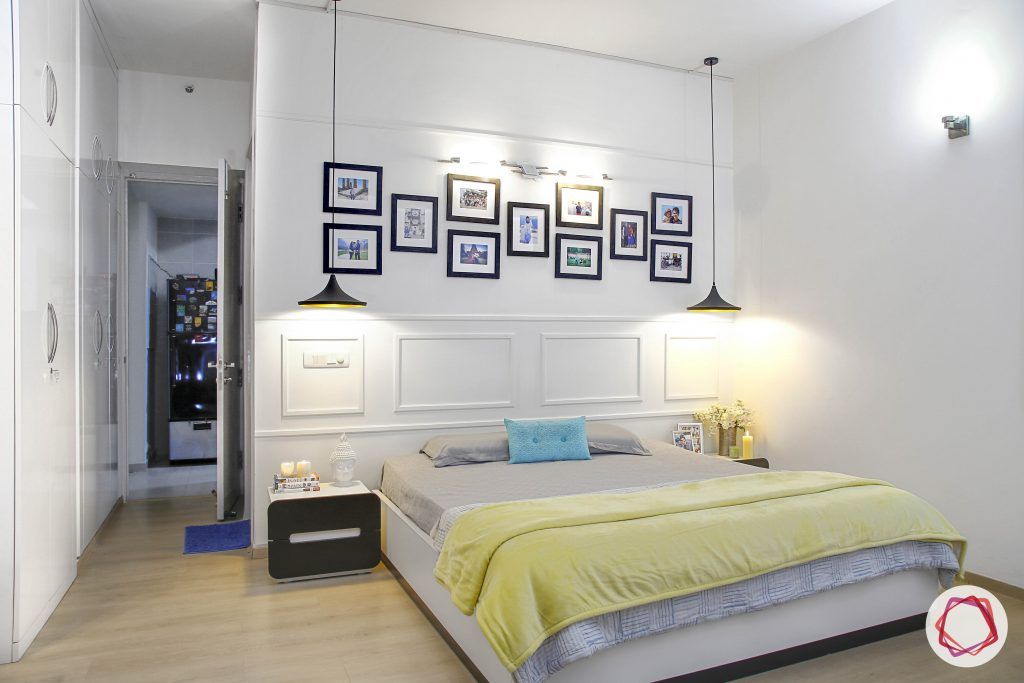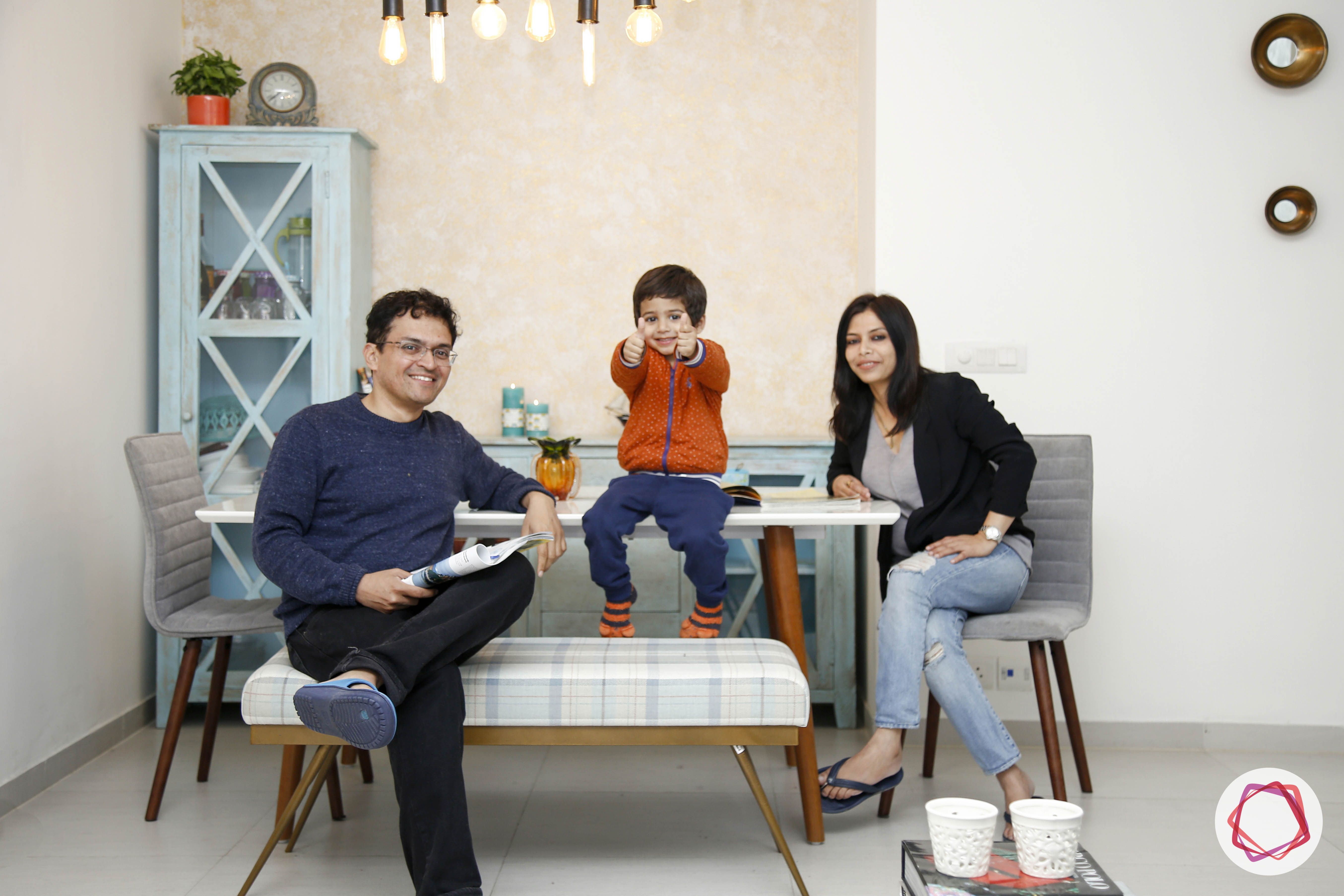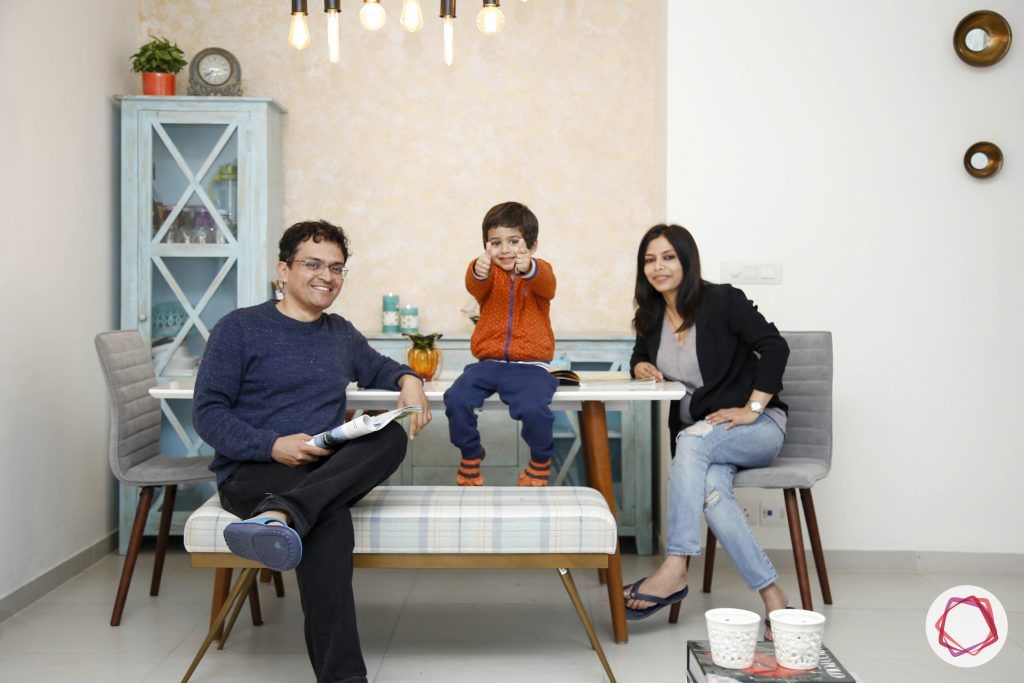 Traveling is the best way to pick up style influences and that is what this Gurgaon couple did. They wanted their home to be a fusion of styles while it reflected the basic bedrock of minimalism. We love how the French wainscoting wall panels double up as a headboard in the bedroom. Such simple and clean wall moulding patterns are typical of minimalistic design. In the living room, a Scandinavian dining set rules the roost with a distressed cerulean storage unit. The pendant lights are actually naked bulbs, giving the space a raw industrial edge, which is also a feature of minimalism.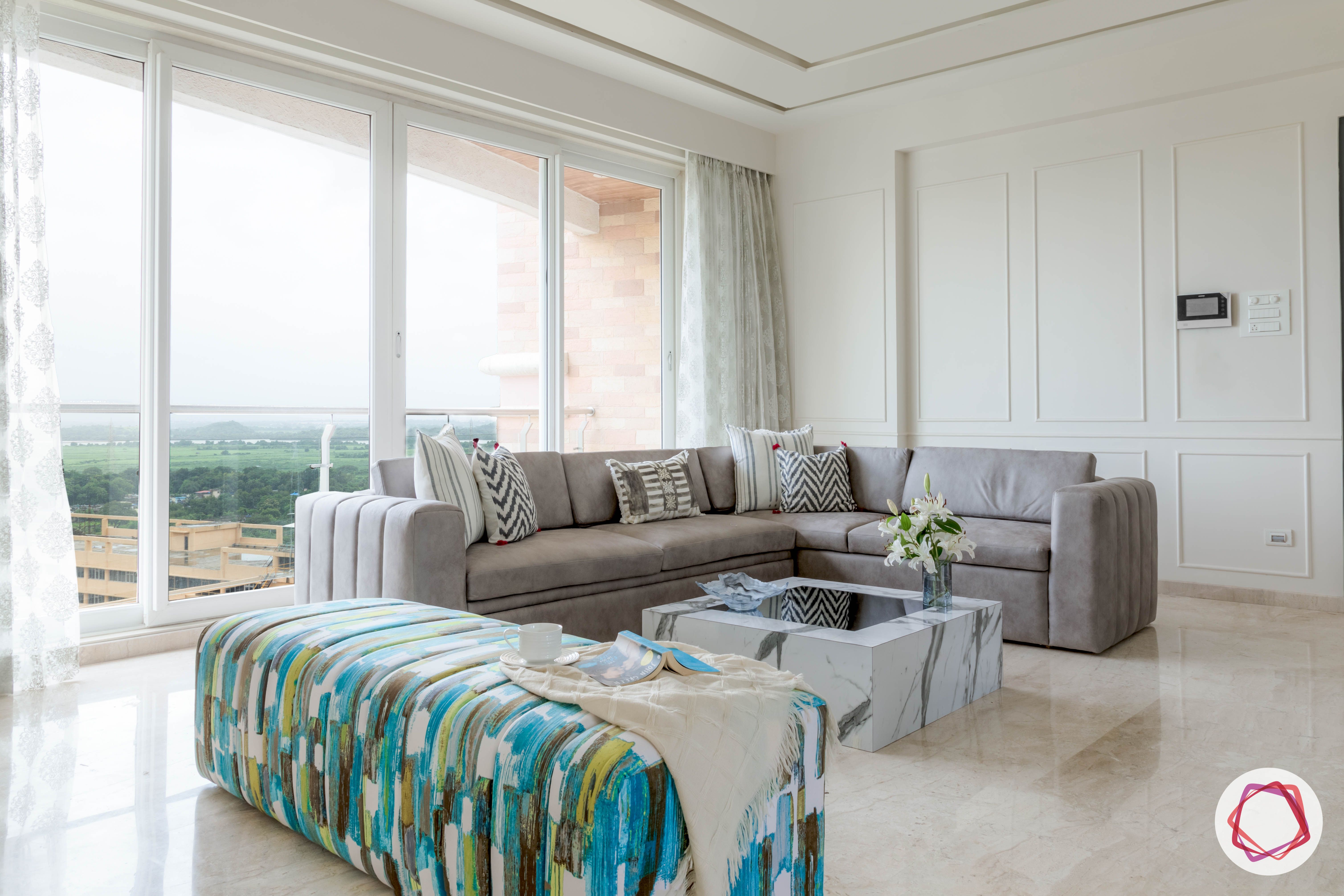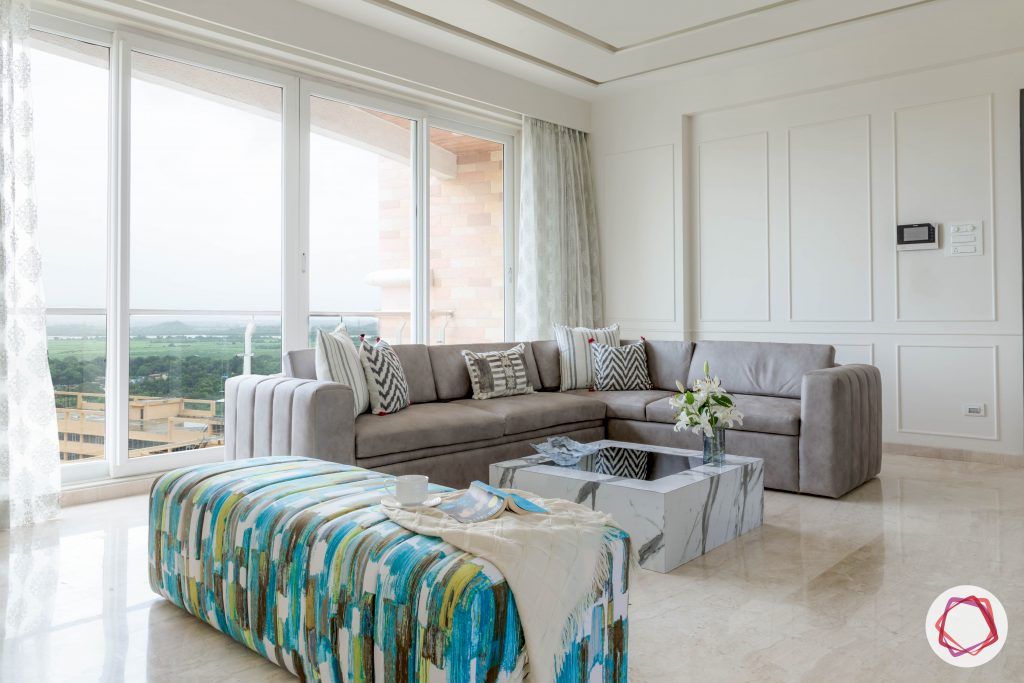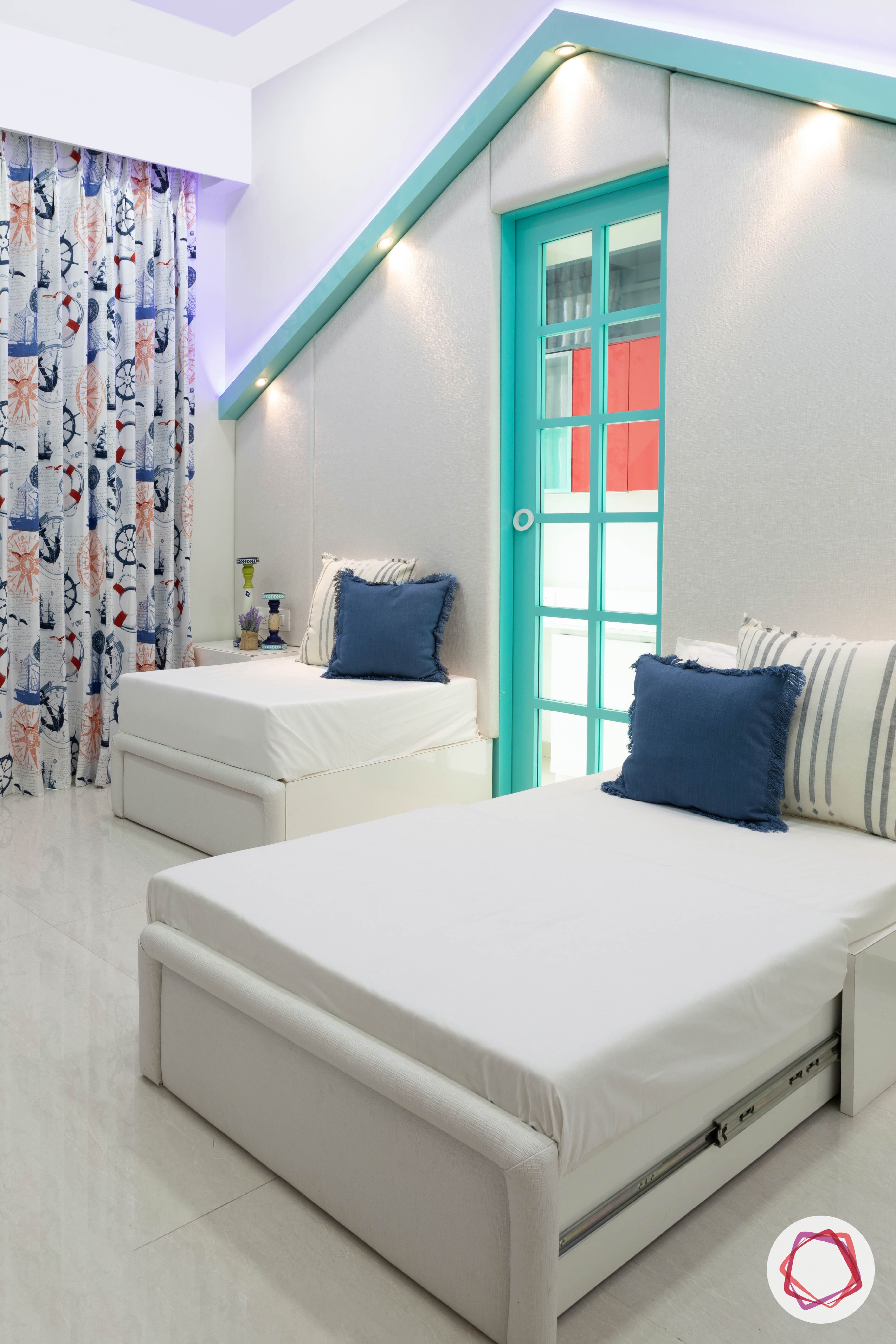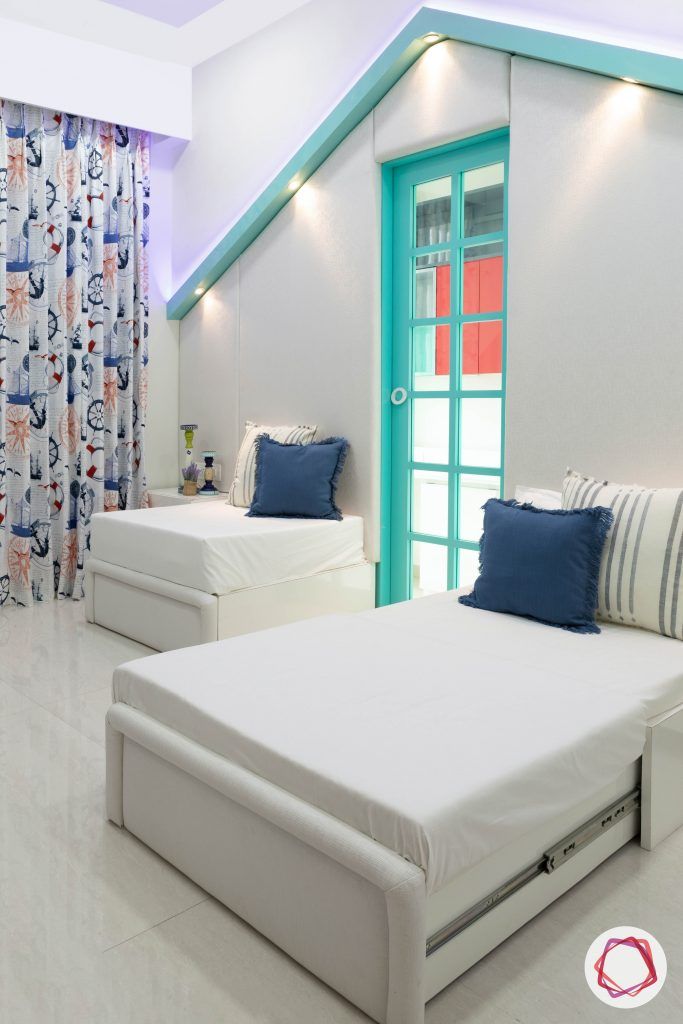 Plenty of whites and an absence of clutter is what makes this home look so sophisticated. The family wanted the designer to stick to the basic tenets of minimalism but they also wanted to add some pops of colour and accents to their home. The living room had a breathtaking layout with wall-to-wall and floor-to-ceiling windows that let in plenty of light. So white was the obvious choice for this space, but the divan upholstered with abstract prints was the slight touch of glamour that was needed. The kids room was a utilitarian dream with two single sofa-cum-beds and some essentials.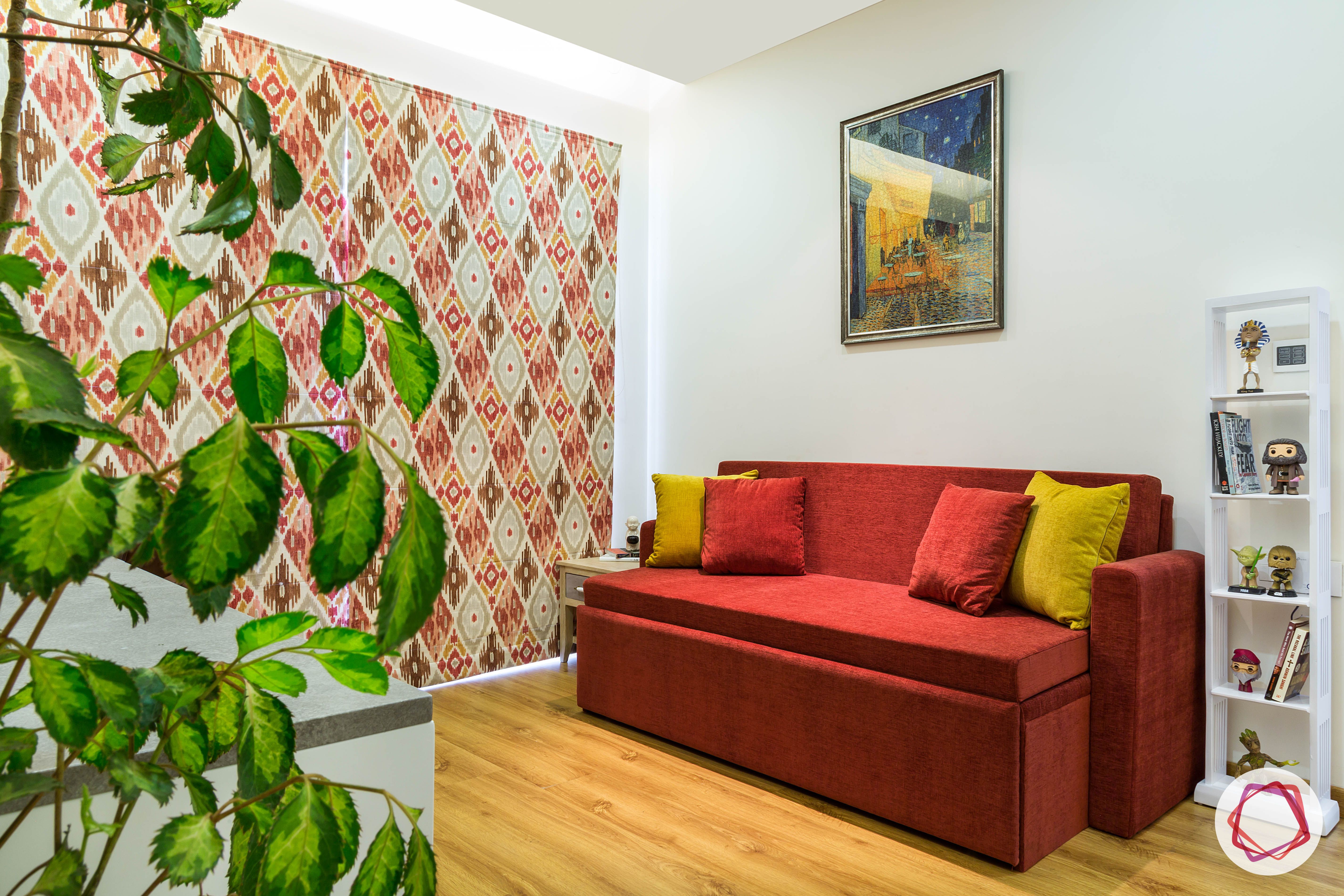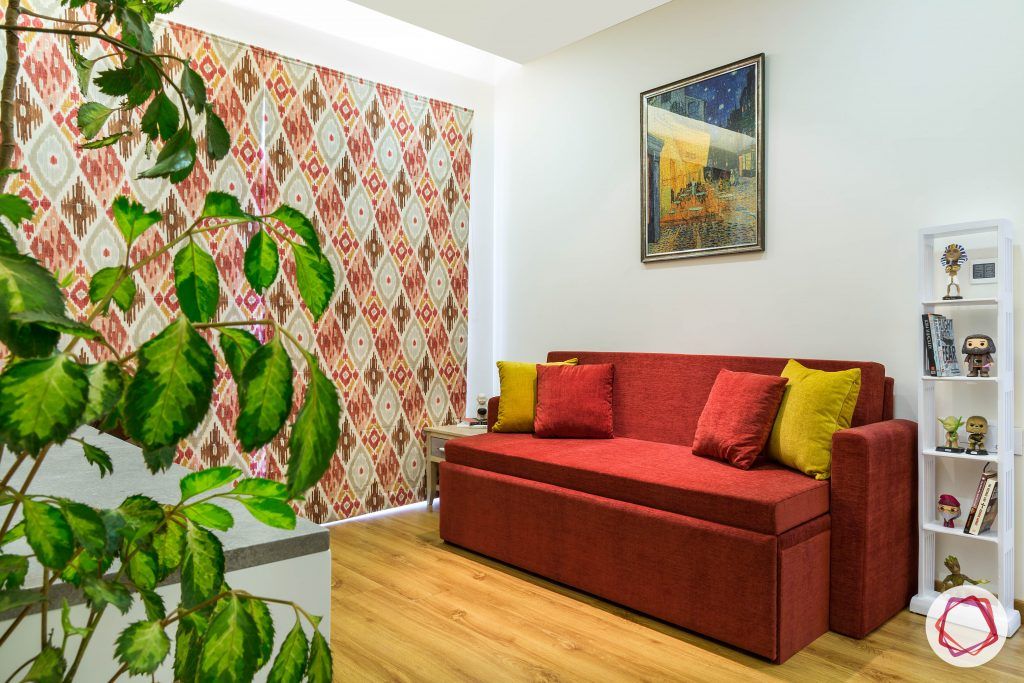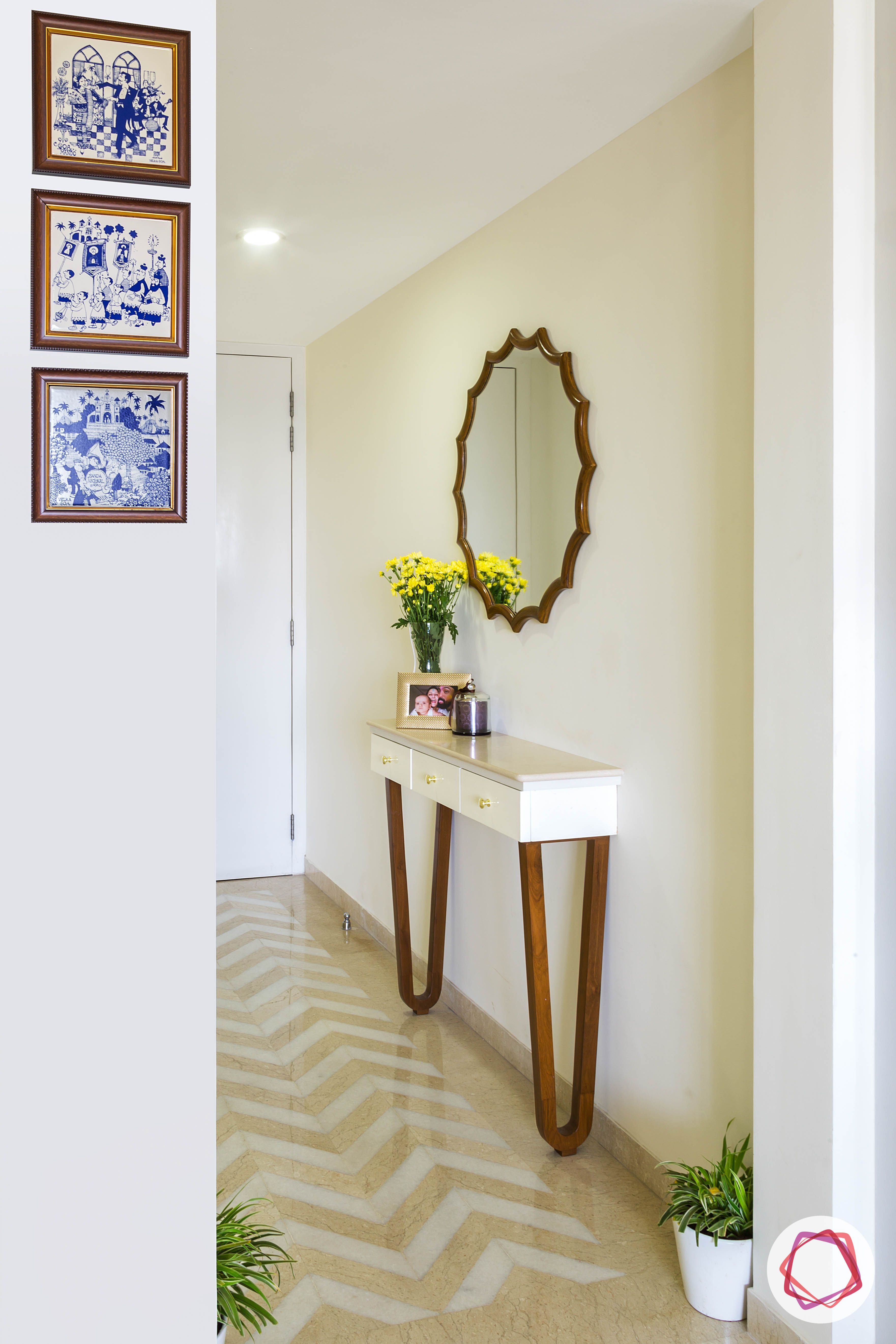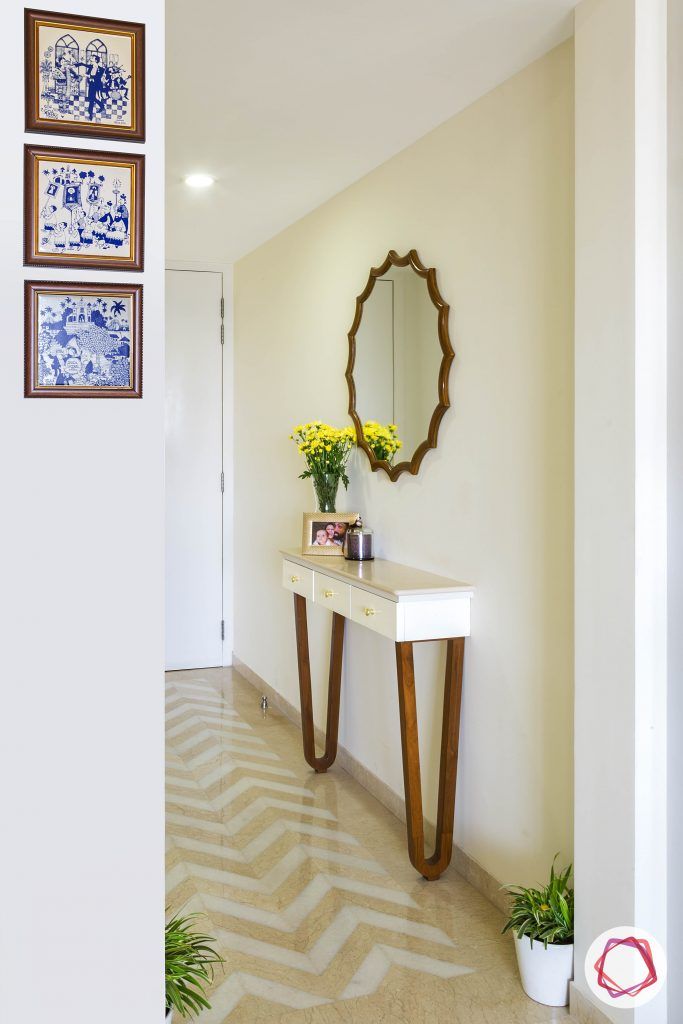 This Mumbai home with happy colours and pops of playfulness will not strike you as minimal at first. But when you break it down to the essentials of design, you can see the influence of minimalism in every corner of this home. Clean and sharp lines dominate the design, which is augmented by really sleek furniture. This console in the foyer for example occupies bare minimum space. The entertainment room is furnished with a sofa-cum-bed and a sleek ladder cabinet; it has blinds that have lesser volume than drapes or curtains. To sum it up, this home is an Indian rendition of minimalist design principles.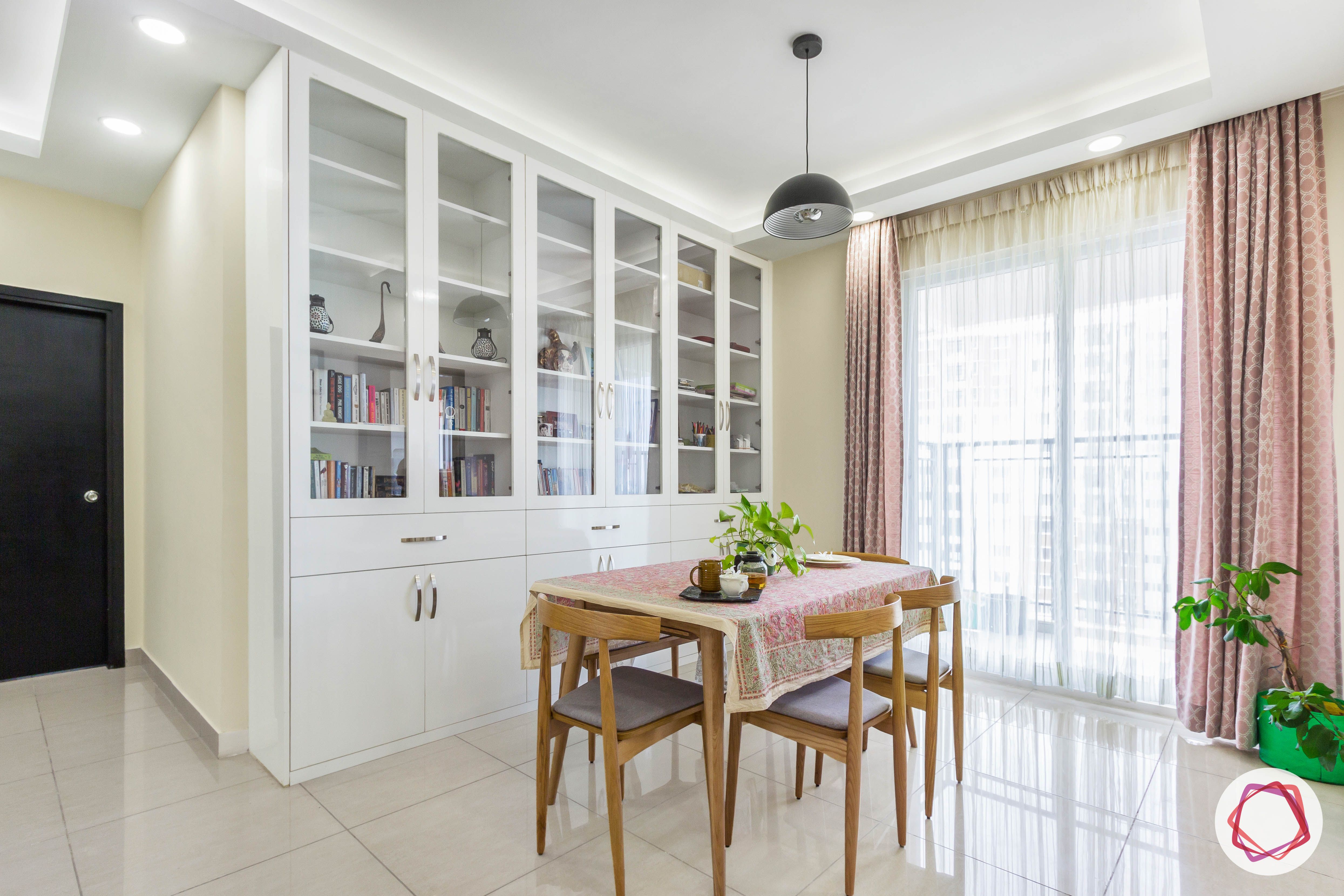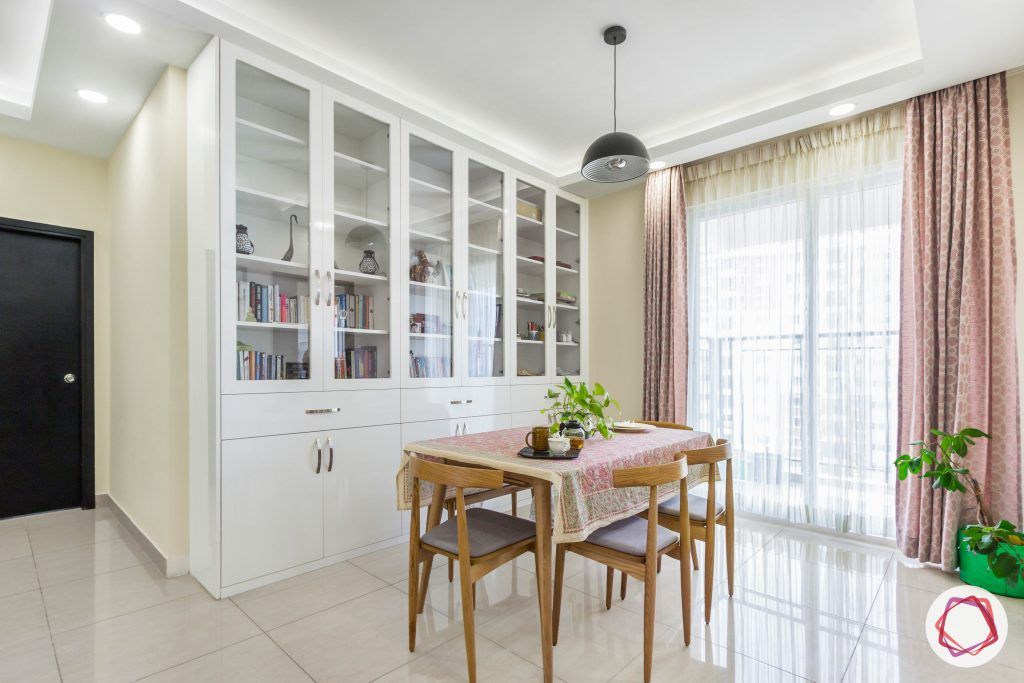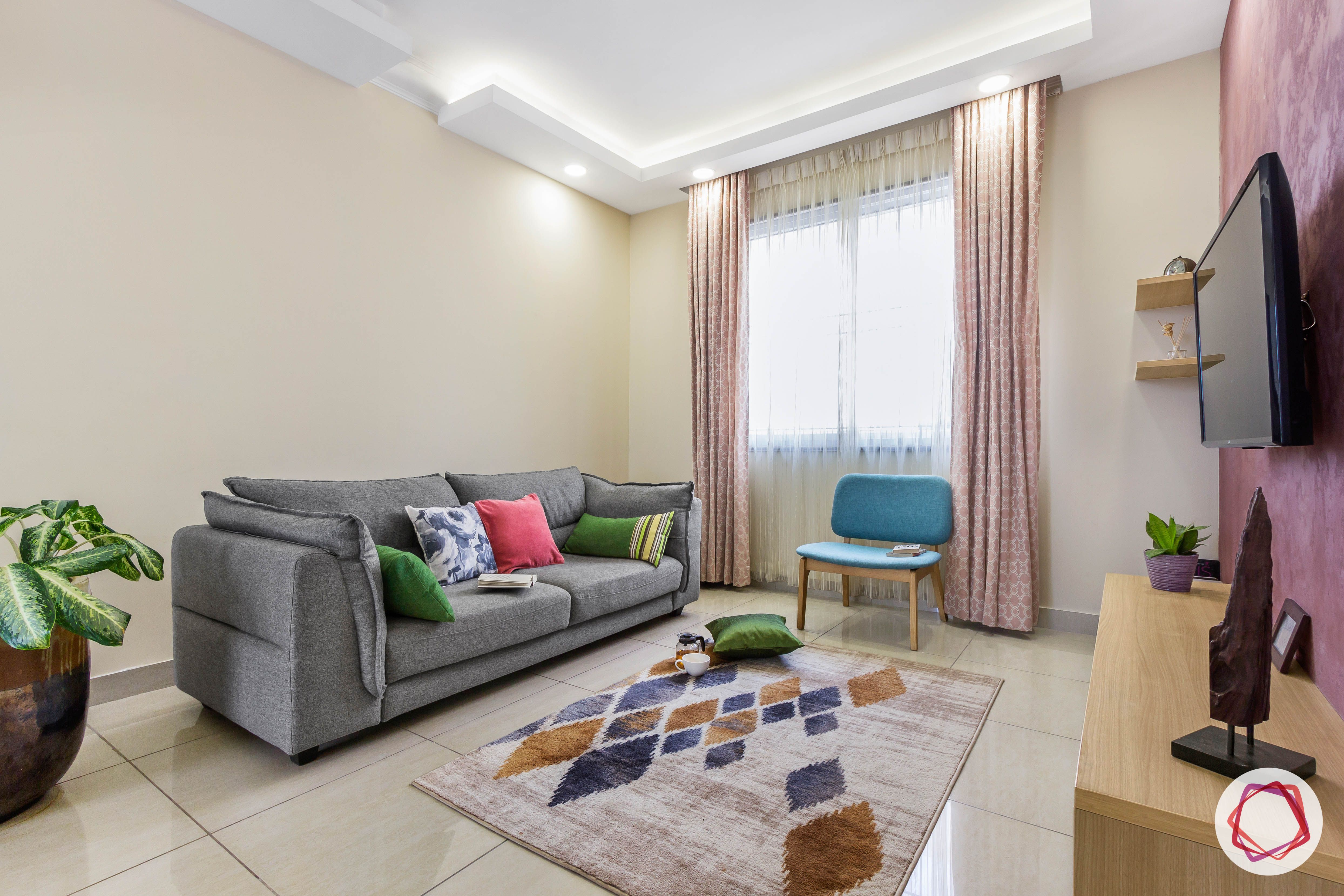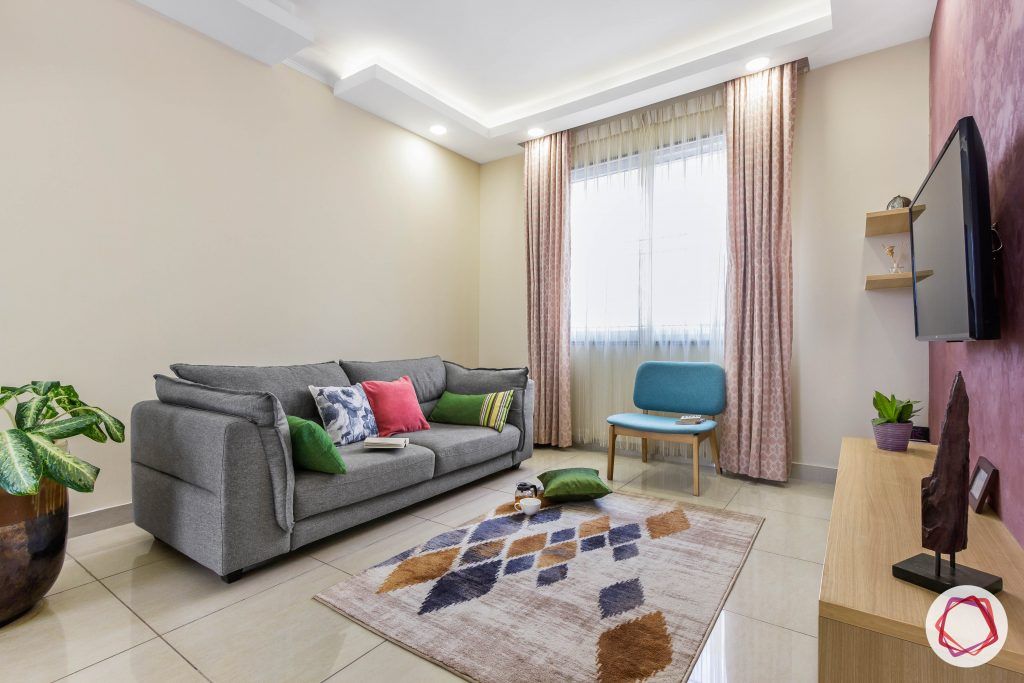 Minimalistic design doesn't require you to economize; it requires you to pick and choose what is important to you and discard the rest. For instance, the couple living in this Bangalore home are ardent readers, so they wanted a massive bookshelf to keep their precious collection of books. However, they also wanted to keep their home design as minimal as possible. Livspace solved the problem by designing a cool-toned living area where the corners were not crowded with furniture. We skipped having a display unit and installed a wall-to-wall bookshelf in the dining area. White laminate and glass shutters ensured that this unit didn't look too bulky.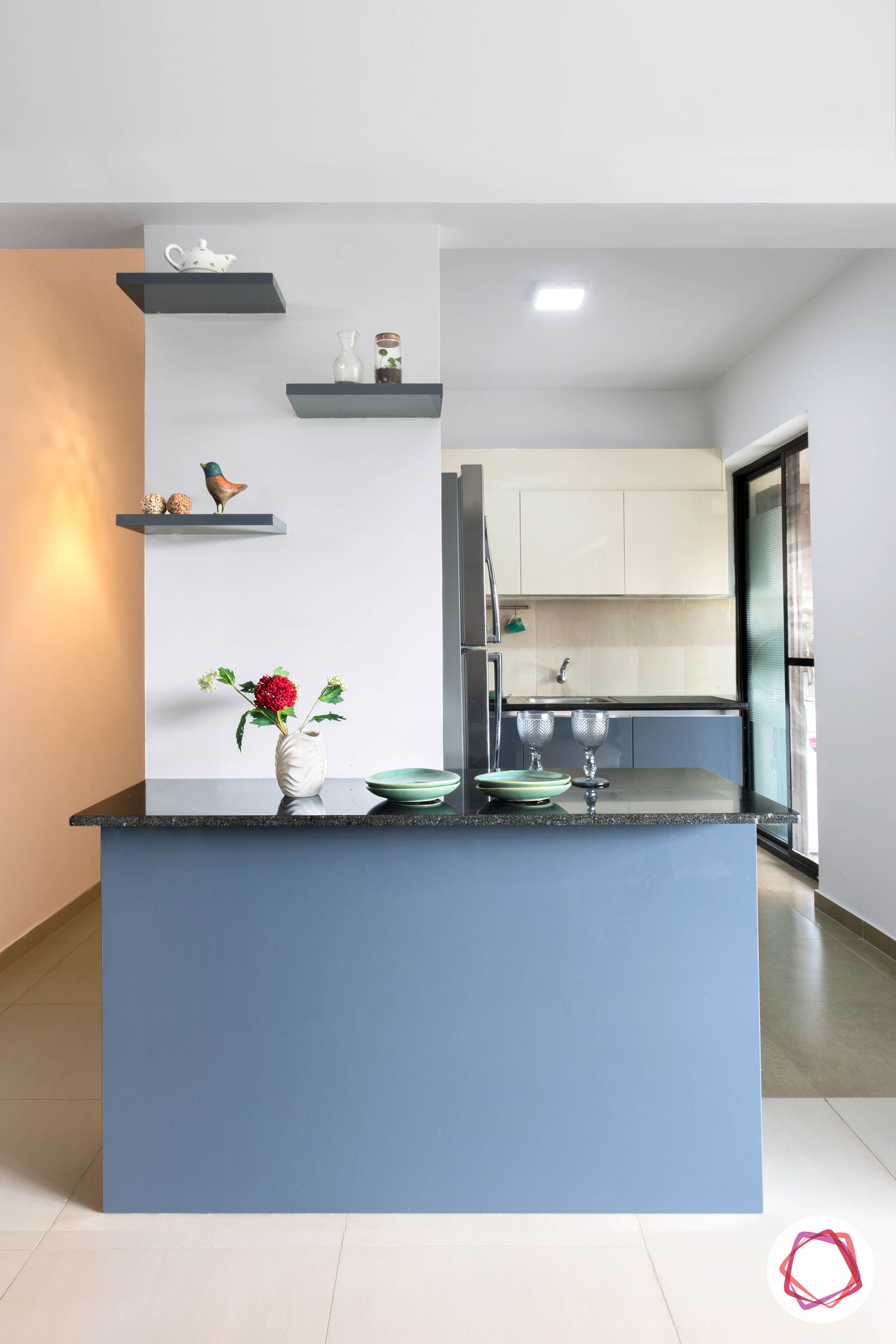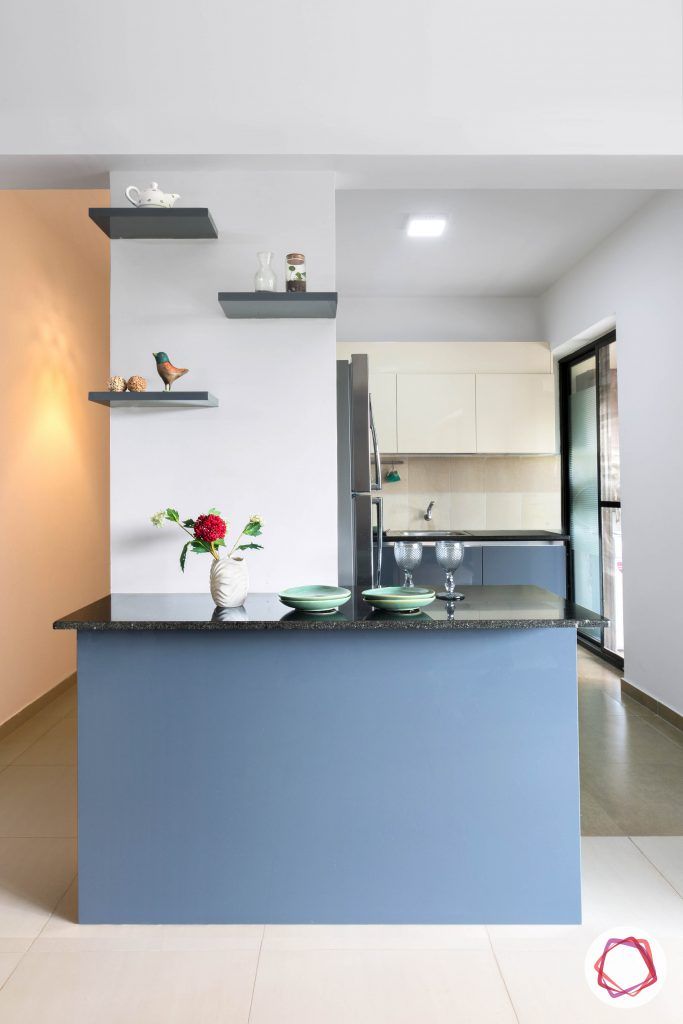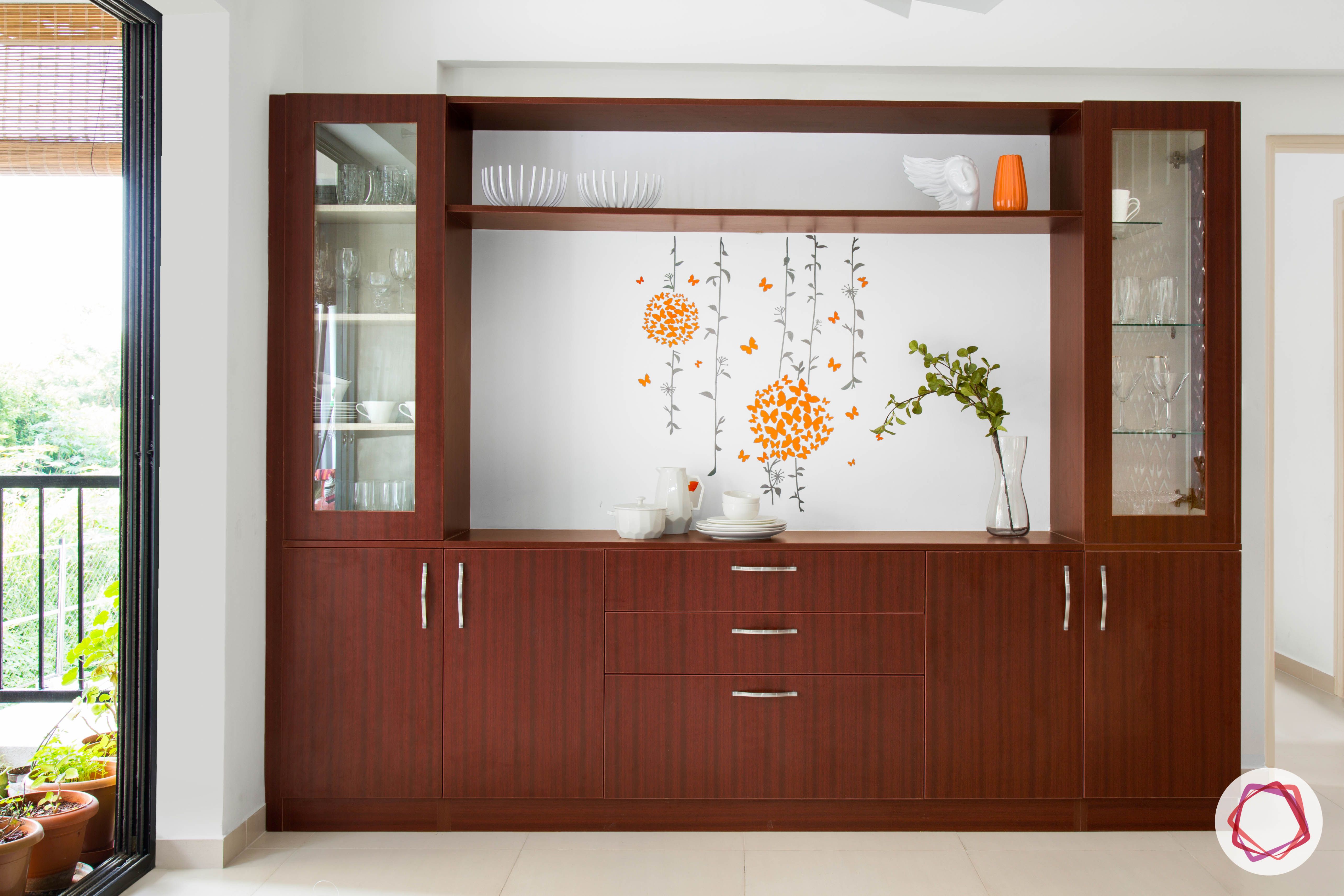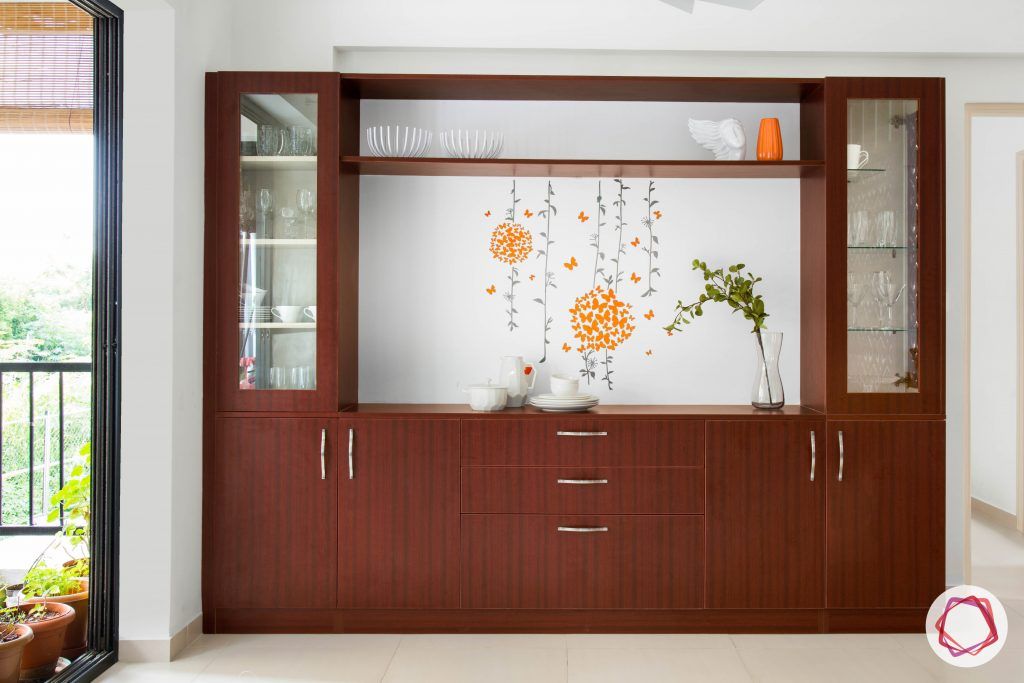 Basic is the best kind of beautiful; that is what this Bangalore couple believed. So when they set up their home, they opted for clean and sleek designs that would not crowd the space. The main intention was to have sufficient empty space for their little one to run around. Their breakfast counter is a particularly fascinating piece of work. As is the crockery cabinet that has been cast into a niche and has bare space in the centre. We can see the clean, straight lines of the design in the shelves, counters and cabinets in this home.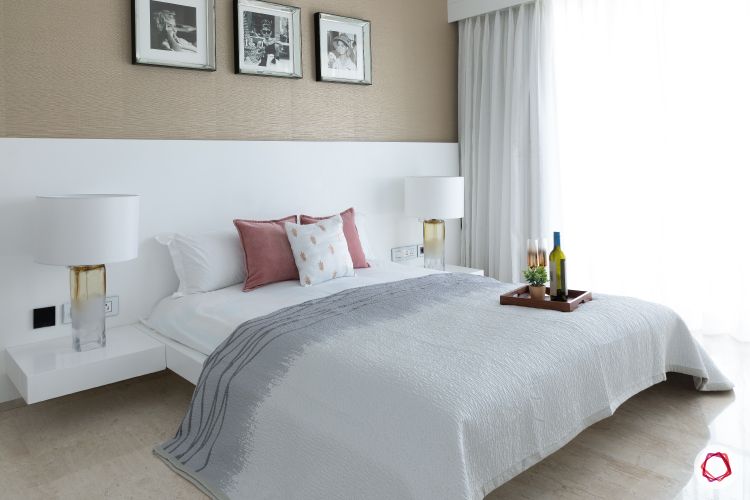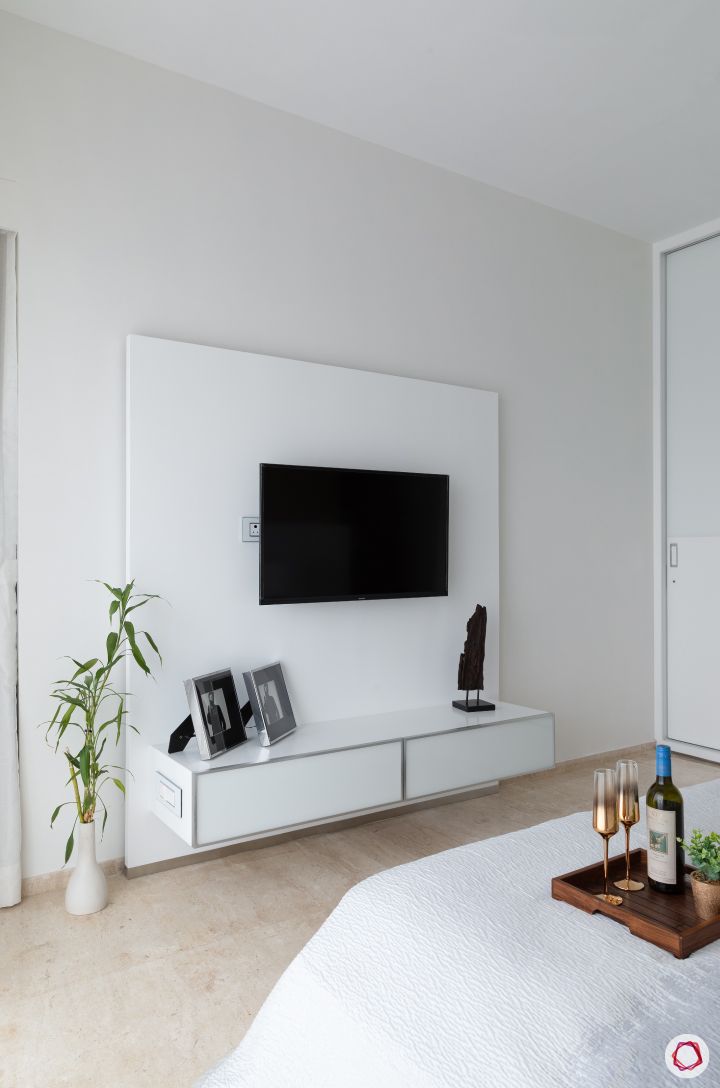 Minimalism is not an antonym for luxury, and this home proves that without any scope of doubt. This Mumbai apartment has opulence written all over it and yet it manages to stay faithful to minimalistic design. The master bedroom in this home with a floating bed is remarkably interesting. The designer felt that placing a box bed would eat up floor space so he installed a bed with no means of support with empty space underneath. The room has bare essentials like this spartan unit on the media wall and is devoid of decoration. That, however, doesn't prevent it from looking gorgeous!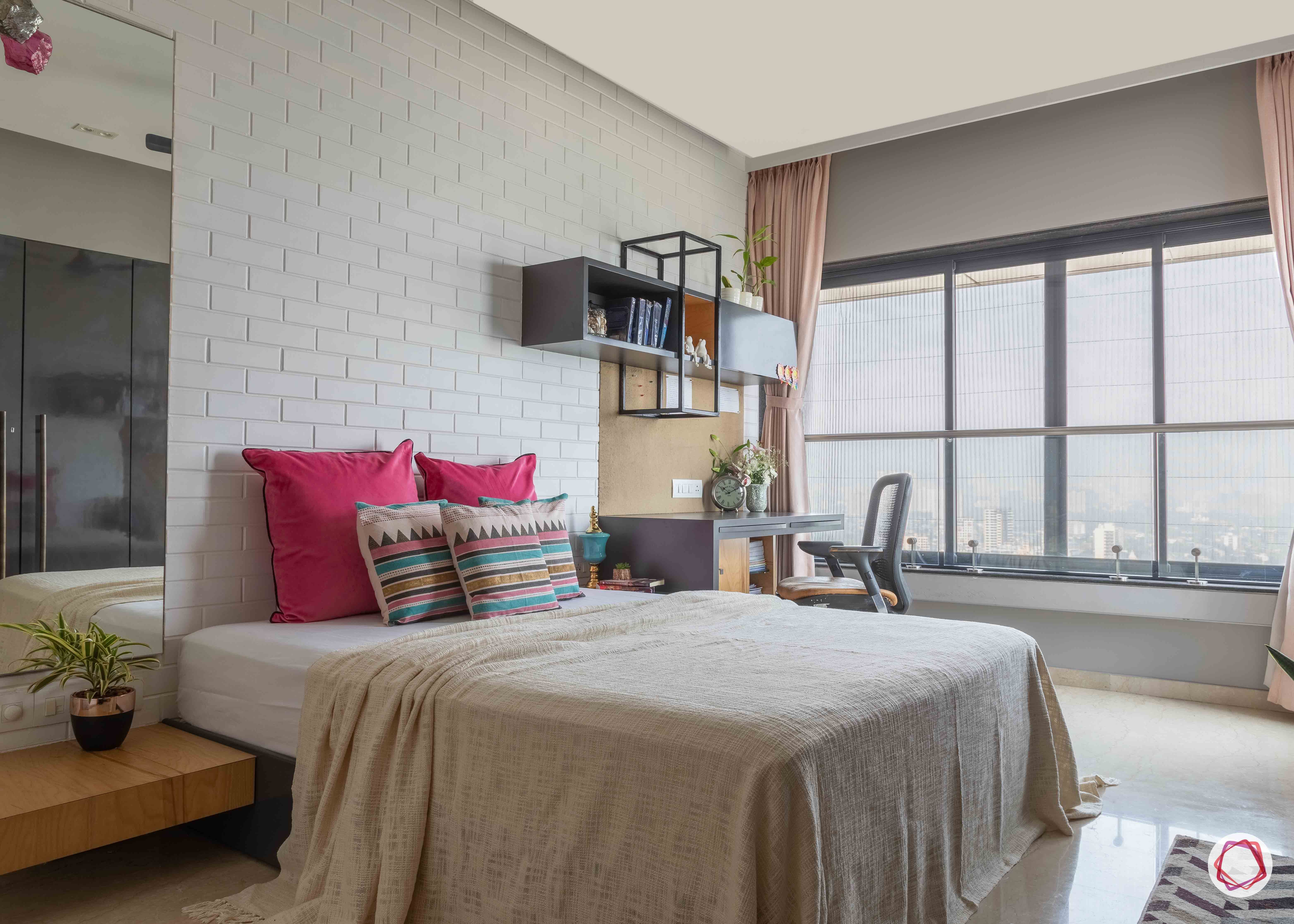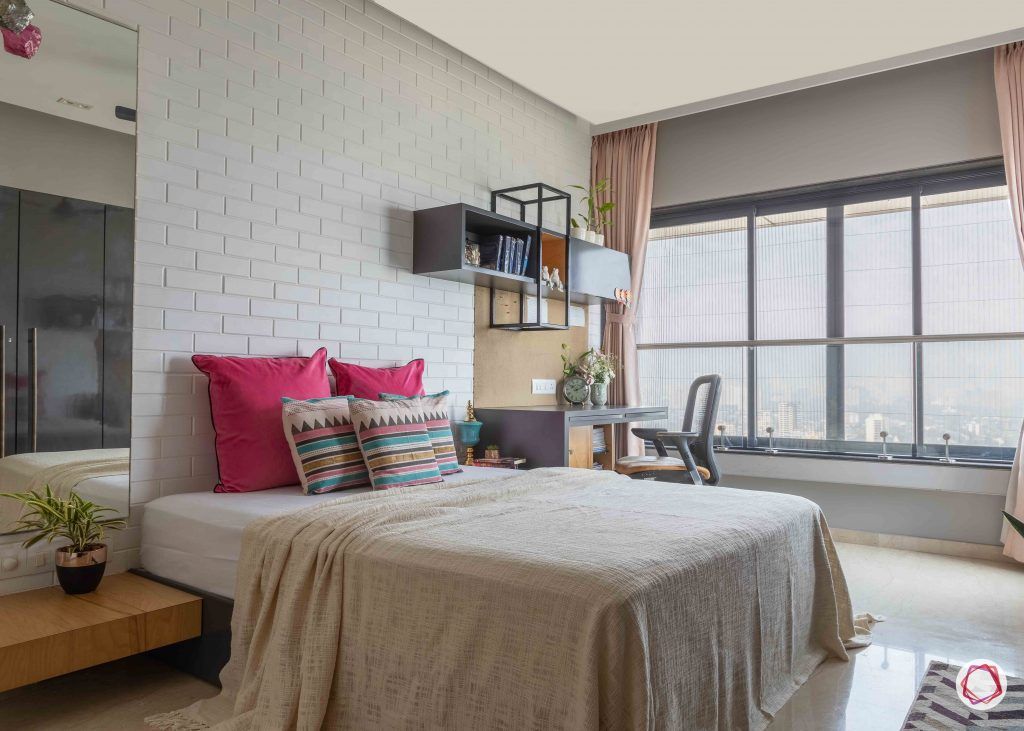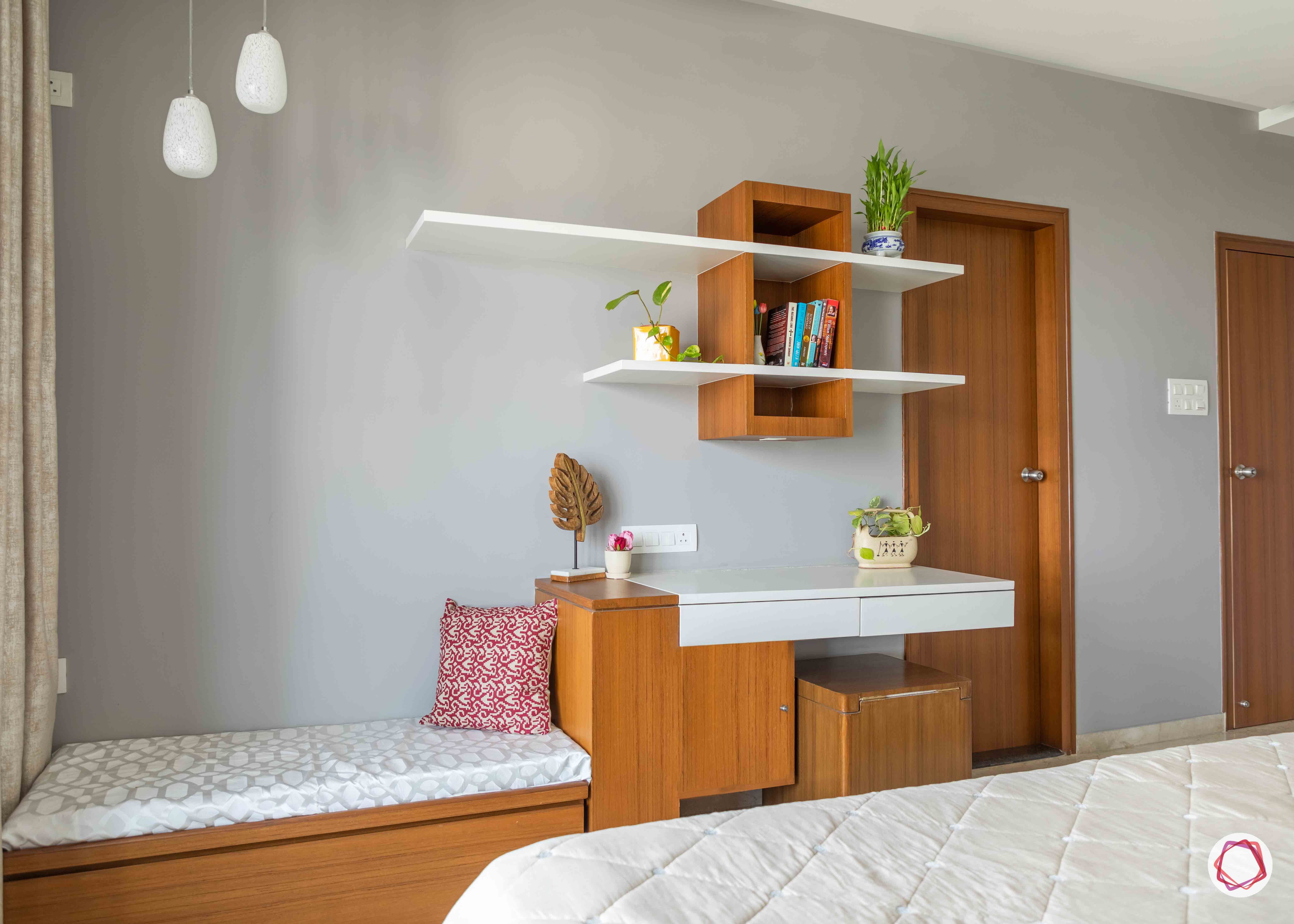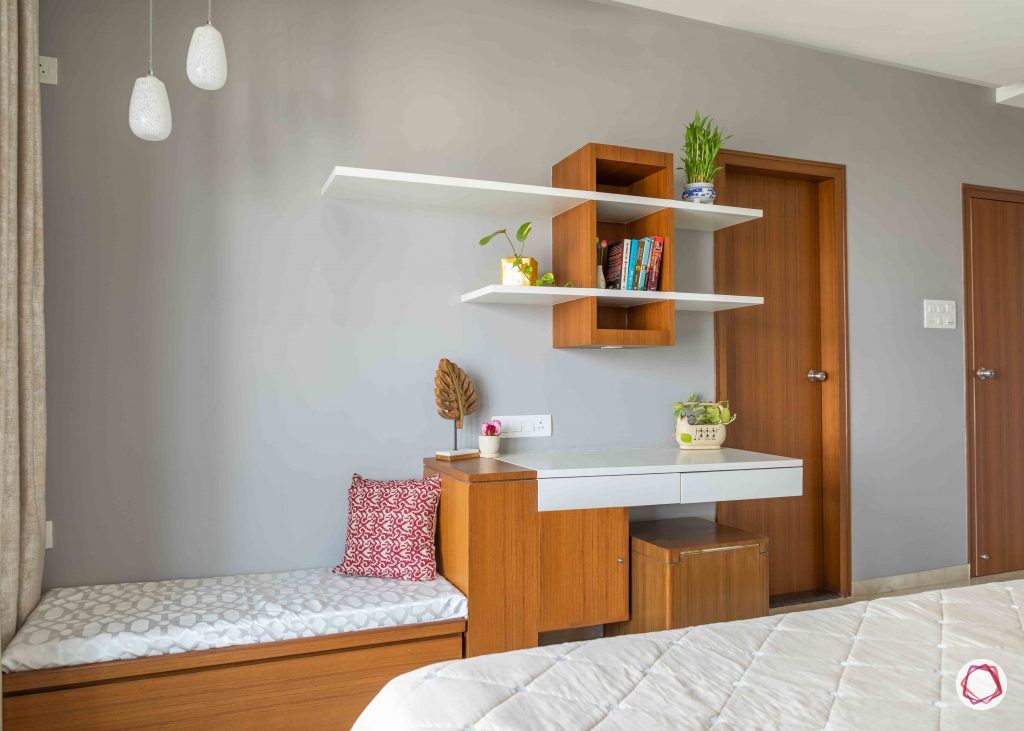 This home brings out the functional aspect of minimalism with great clarity. While the furnishings in this Mumbai home are plush, there is a contemporary cleanliness in the design. In this bedroom, for example, we can see that the texture of the brick wall stands out as an accent. So to keep things focussed on the texture of the wall, the bed goes sans a headboard. Also, the floating study desk and shelves come through in clean straight lines.
If you enjoyed exploring our minimal homes, also take a closer look at Our Favourite Budget #LivspaceHomes Under ₹10 Lakhs.