The simple things in life take centrestage at Prestige Ferns Residency!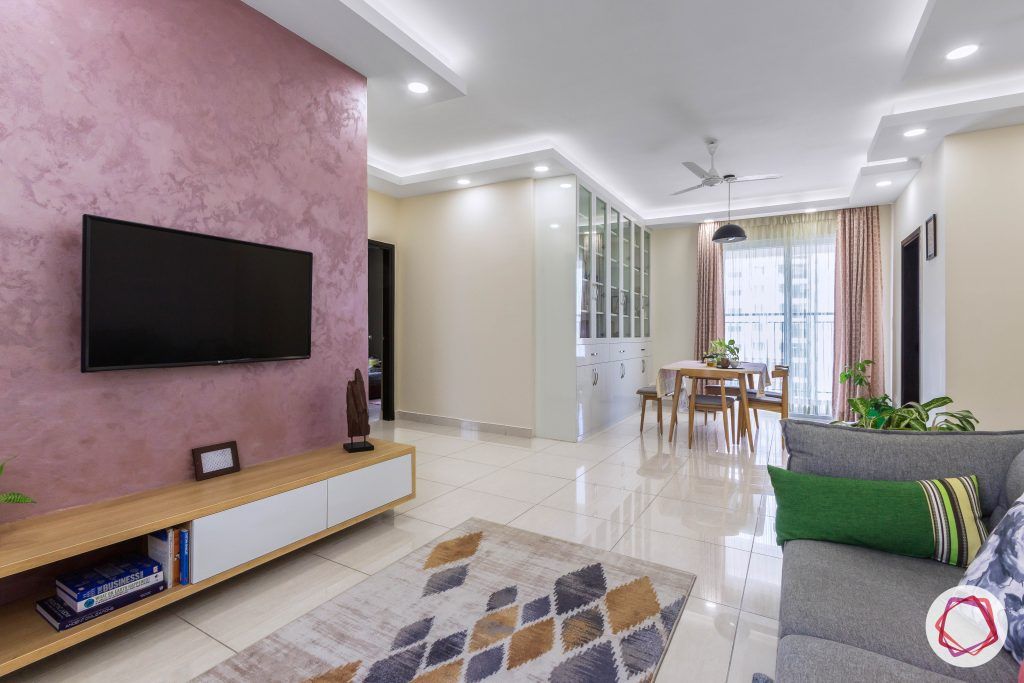 ---
Who livs here: Nitin Pande, his wife Rini Tewari, and their son
Location: Prestige Ferns Residency, Bengaluru
Size of home: 3BHK spanning 1,755 sq ft
Design team: Interior designers Sangeetha Raj and Rachana Singh with Project Manager Anil Kumar B R
Livspace service: Full home design
Budget: ₹₹₹₹₹
---
Simplicity can be a powerful thing. Take this home at Prestige Ferns Residency, Bengaluru for instance. "We wanted a home that we feel good in. Just completely functional with minimal interiors," says Rini Tewari and her husband Nitin Pande in conversation with us. "Easy maintenance and lots of breathing space are important to us." And our designer Sangeetha Raj excitedly obliged!
The family was also particular about one more thing. Since they are ardent readers, they wanted a bookshelf to store and display their immense collection of books. We love how Sangeetha met the brief to the T. With a cool-toned palette and refreshing sense of style, this home sure is every bit of stylish simplicity. Let's walk right in!
Prestige Ferns Residency: A Well-balanced Living Room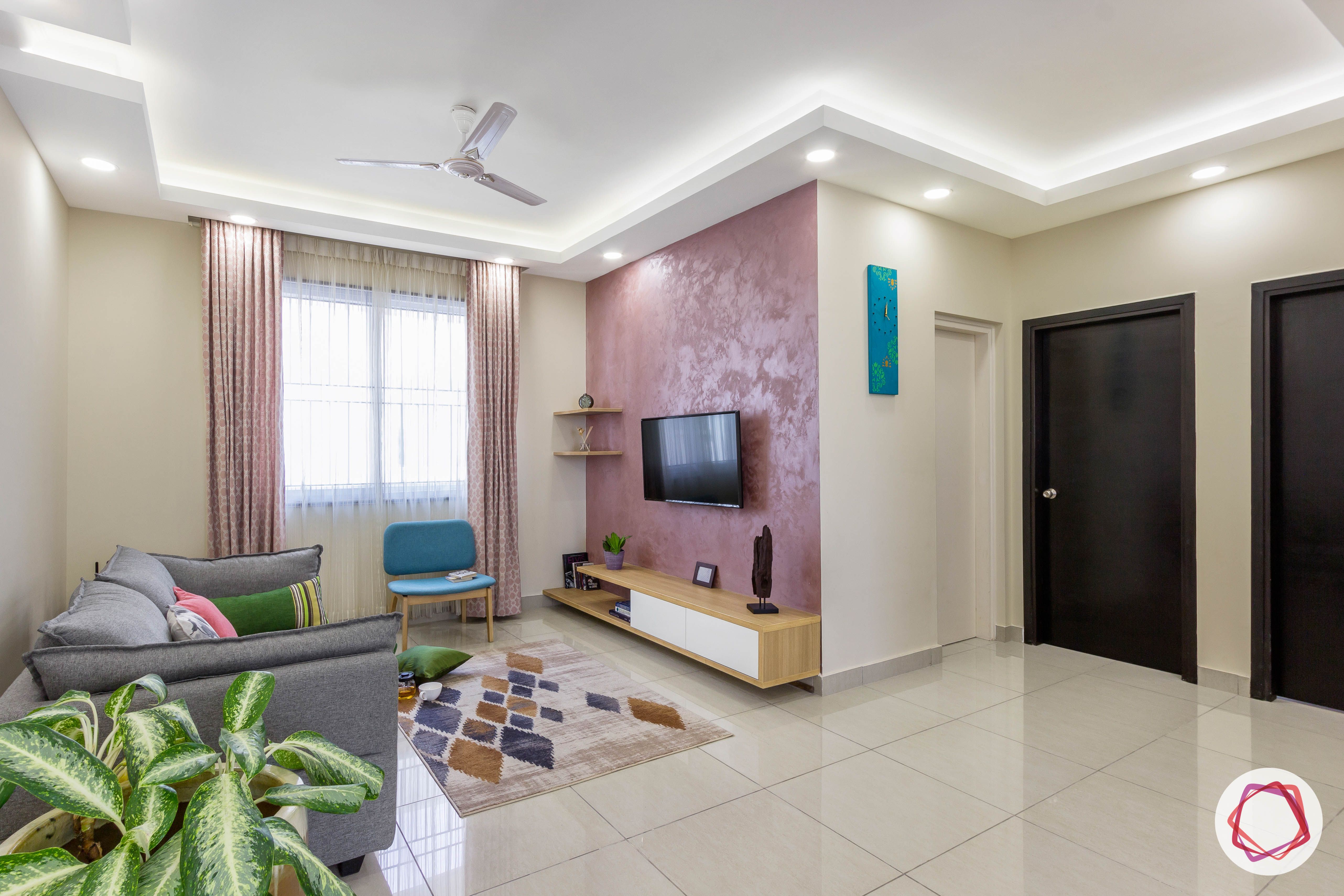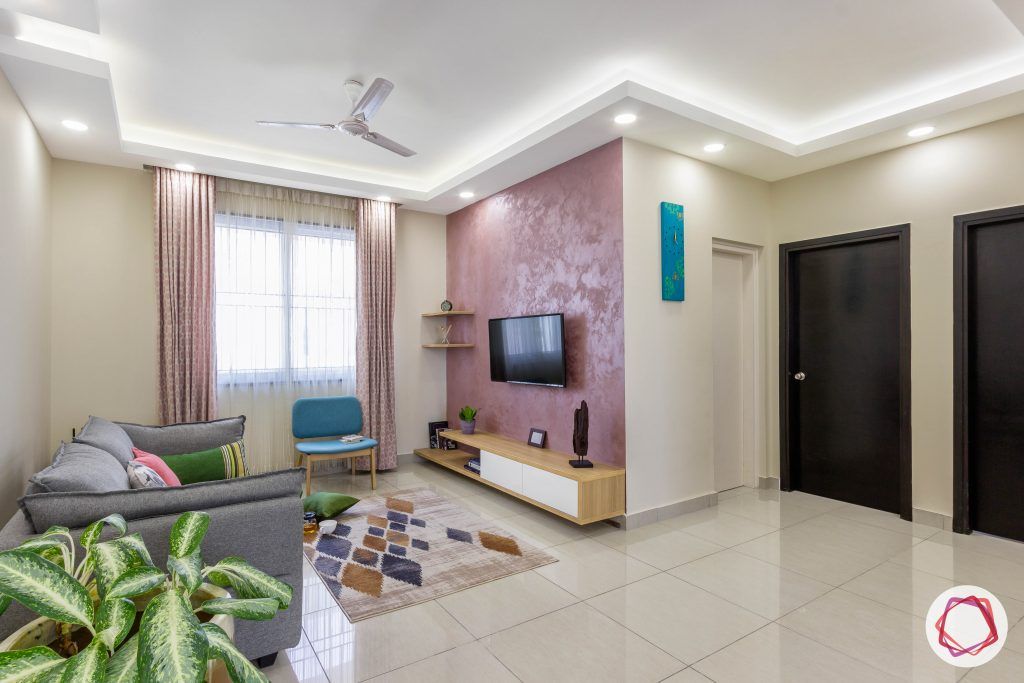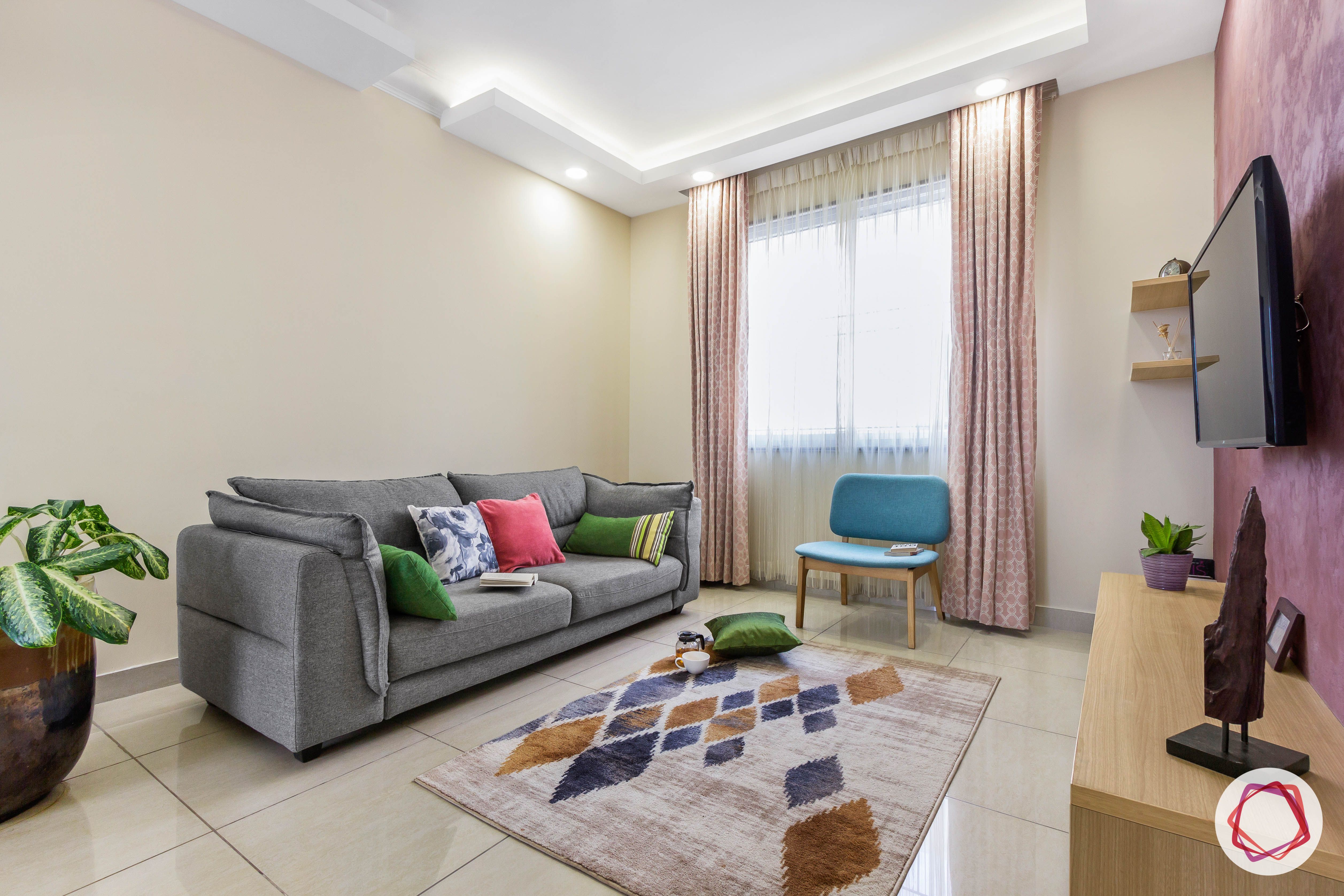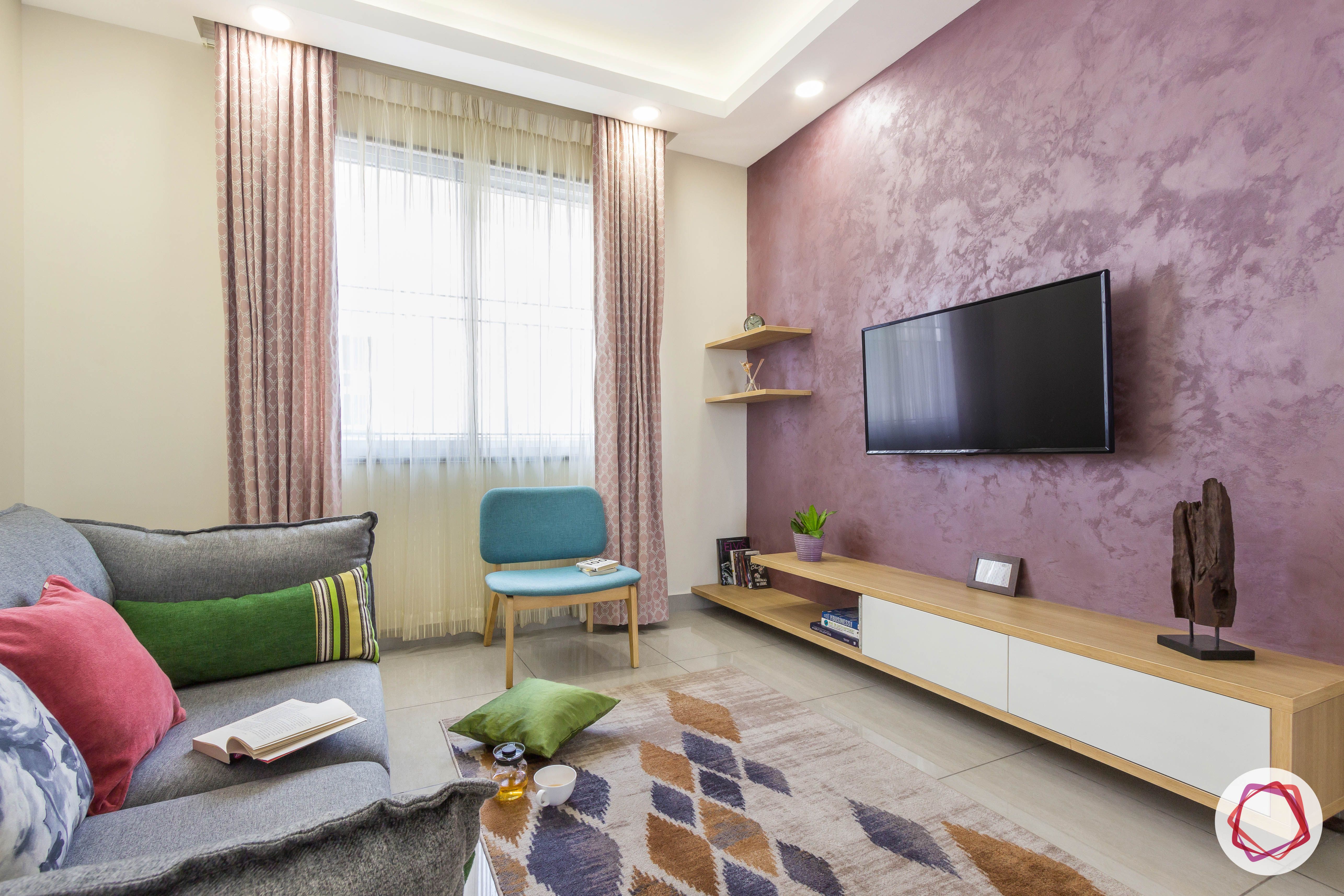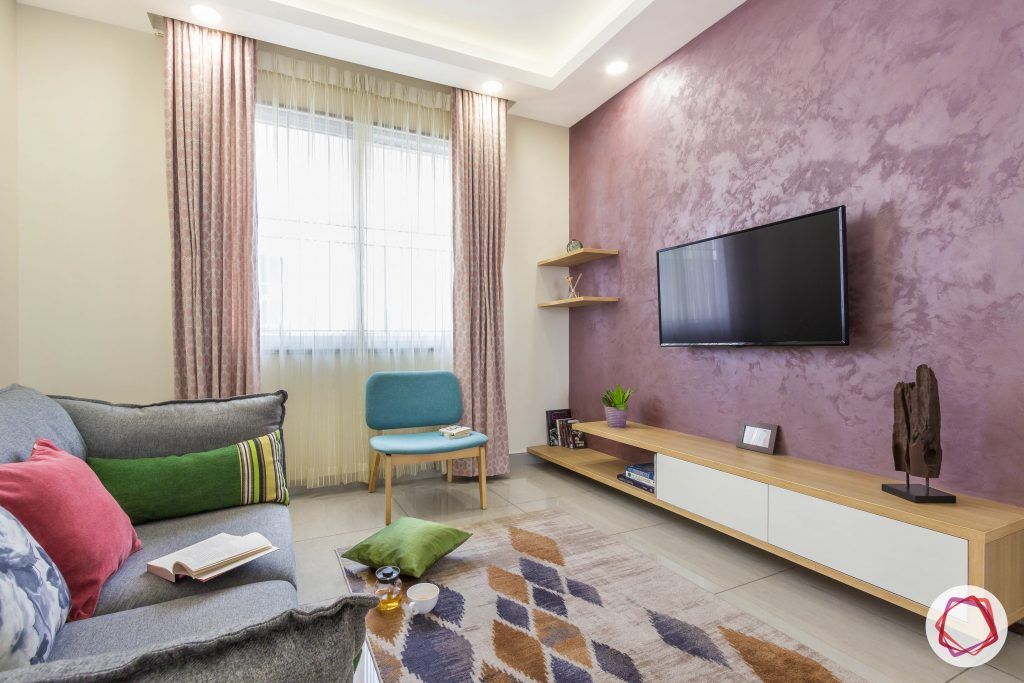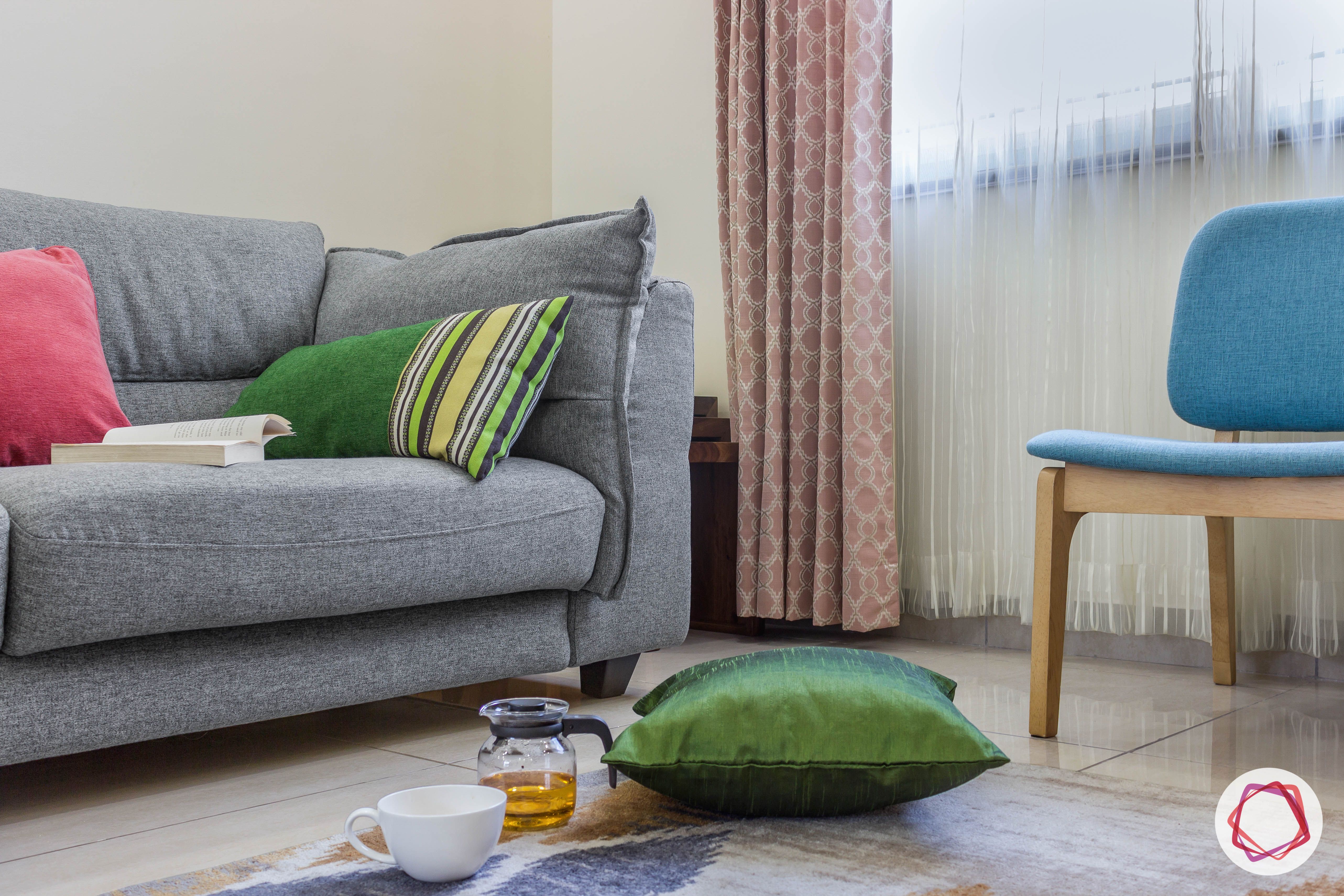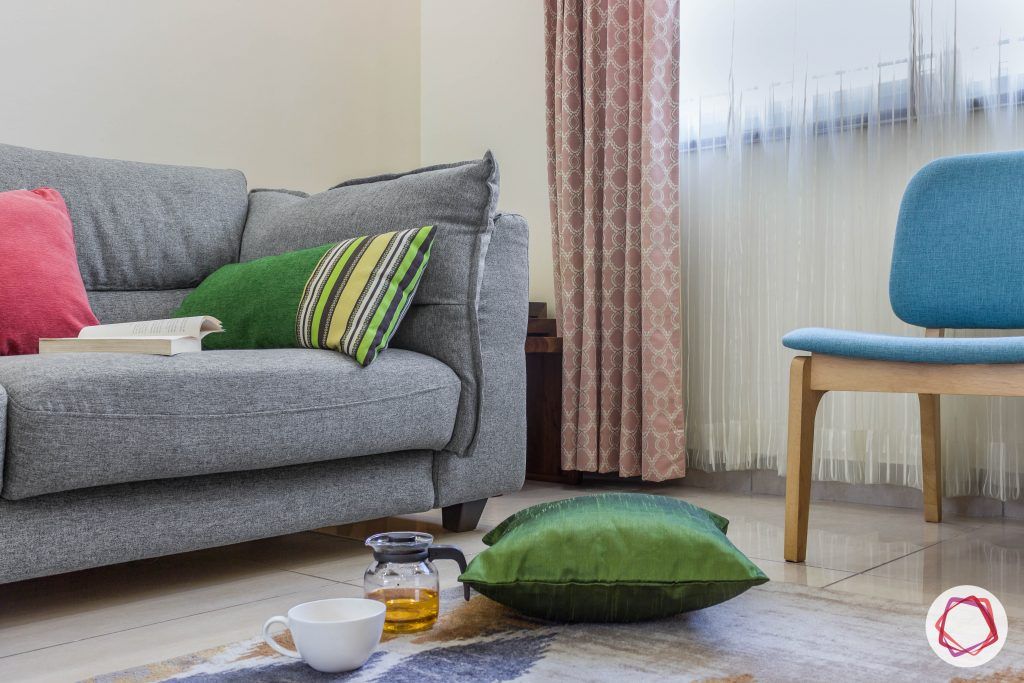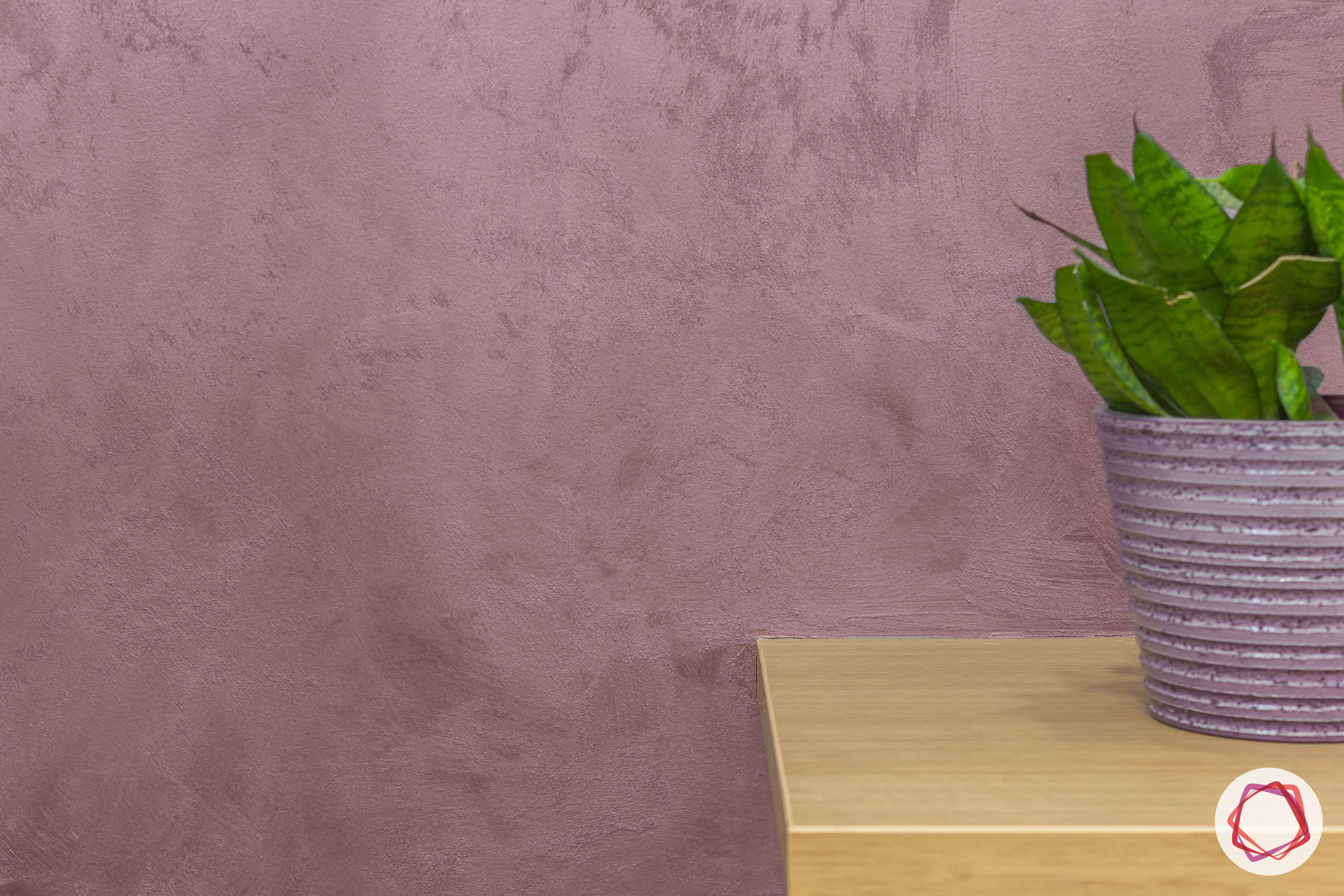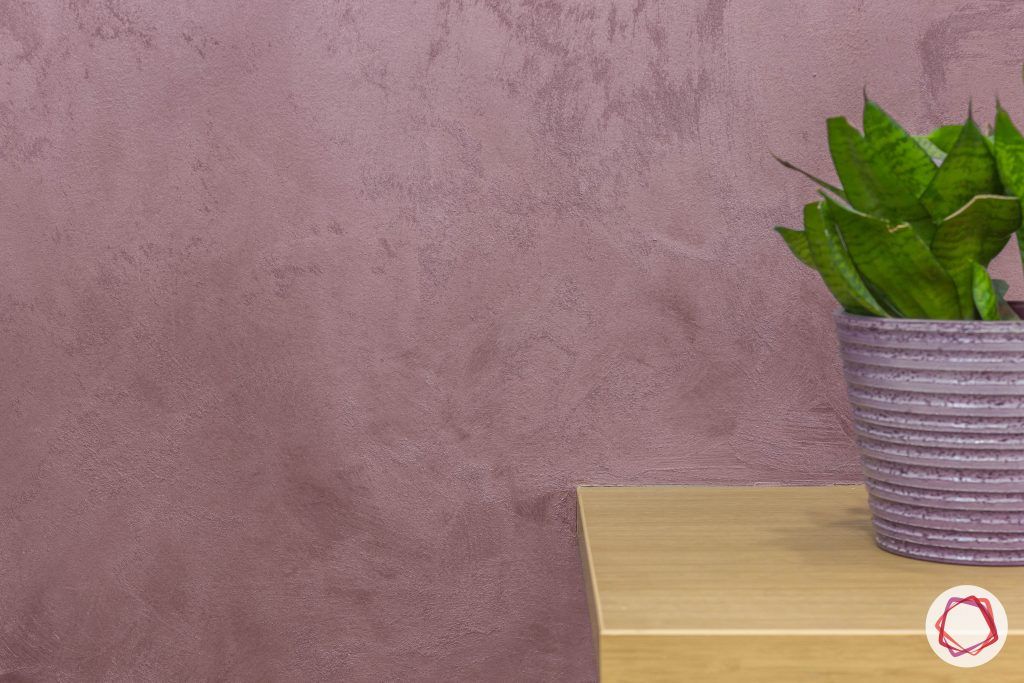 A step into the living room at this particular Prestige Ferns Residency flat and the first thing that instantly catches your eye would be the textured wall. An elegant hue of lilac sports the wall behind the TV unit. "The colour is both bold and subtle at the same time," says Sangeetha. We love how the refreshing colour perfectly matches with the curtains here.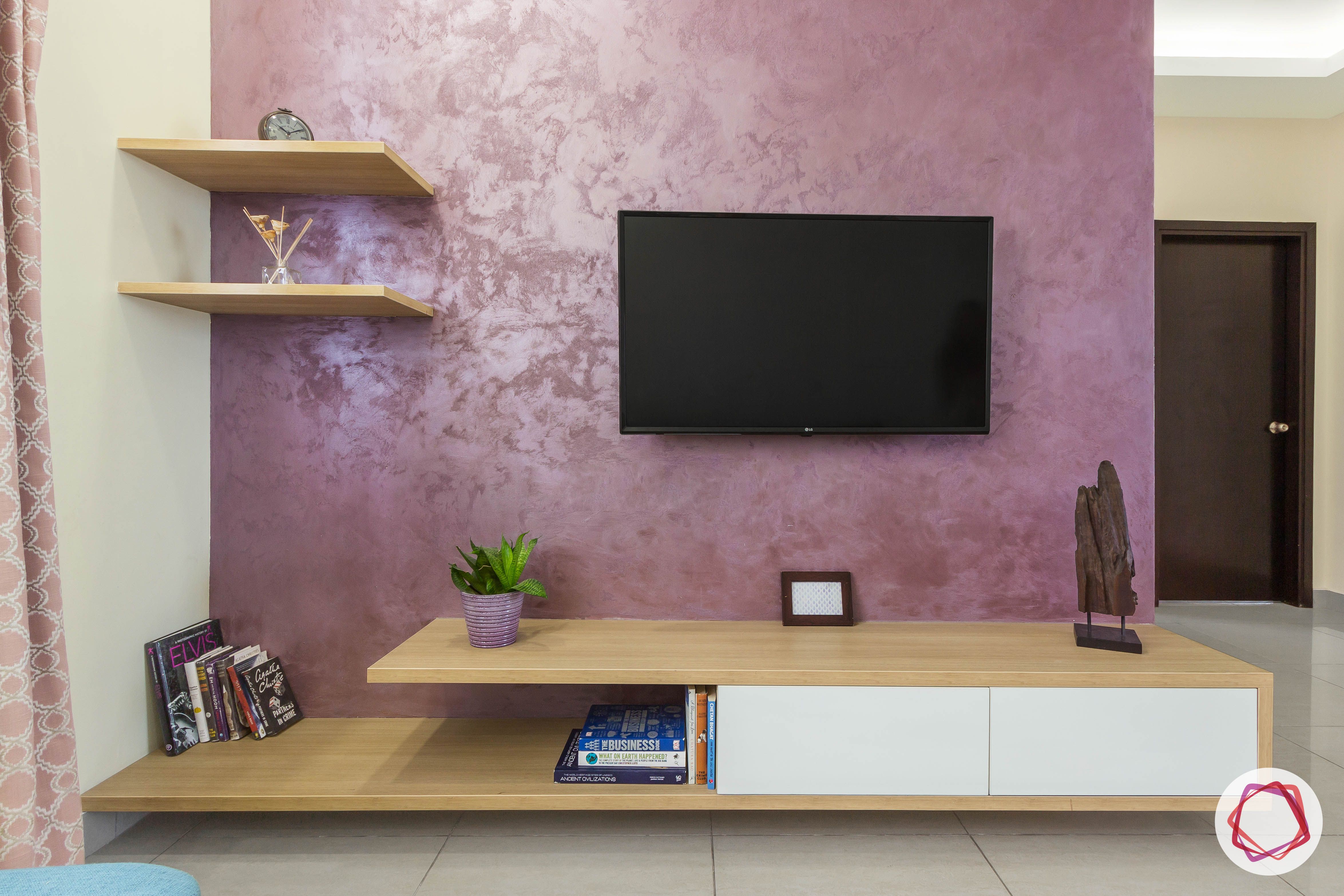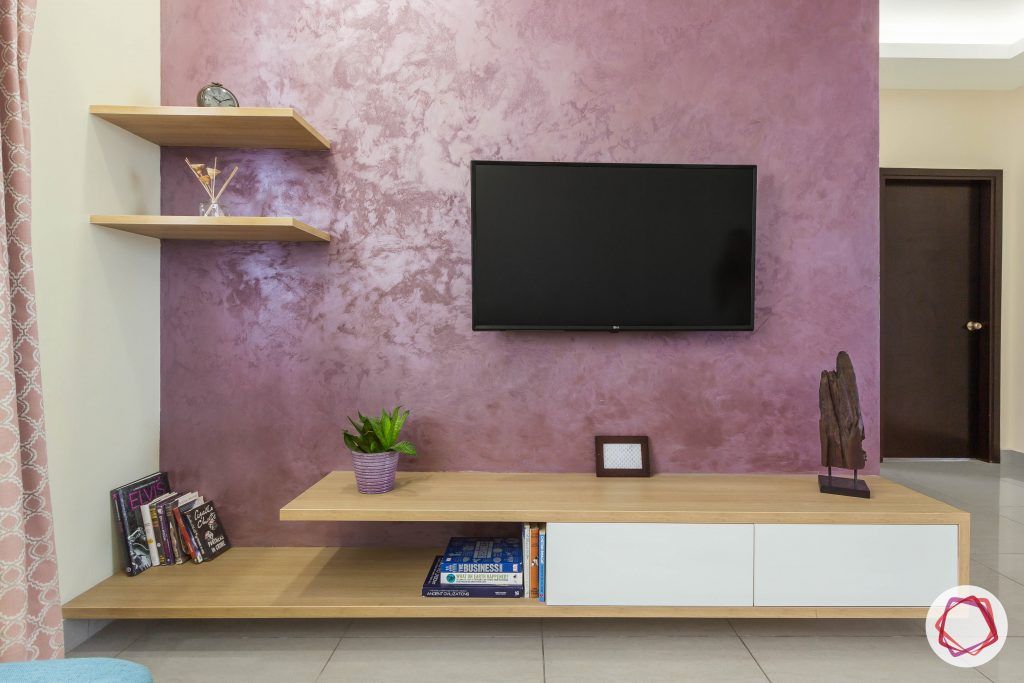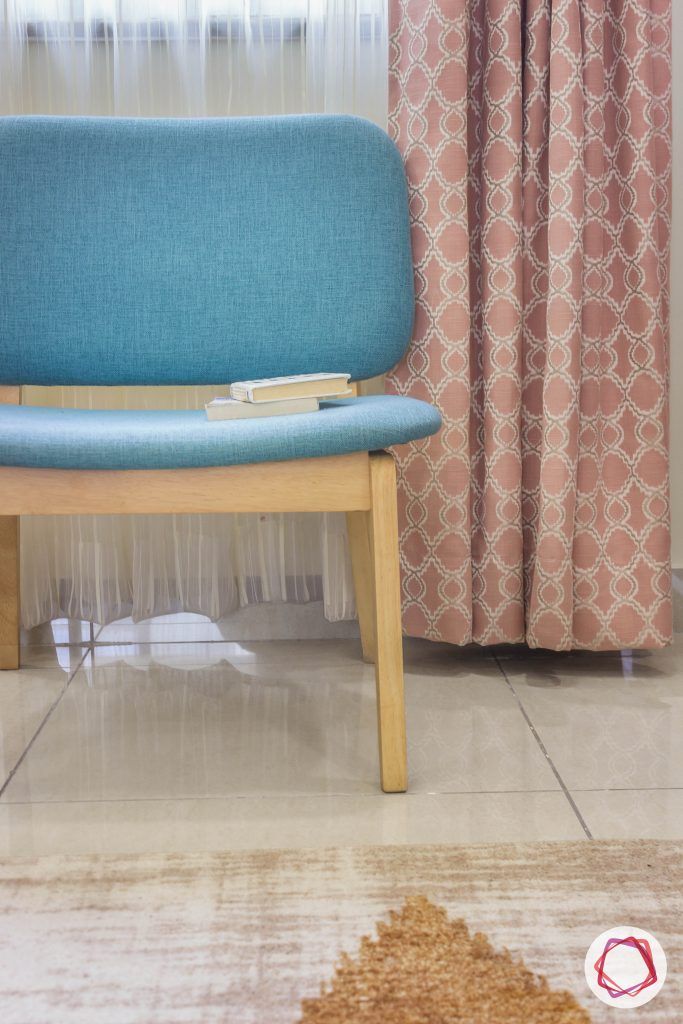 Rini and Nitin didn't want a typical TV unit with lots of storage and display options. As a result, Sangeetha put in a sleek and fuss-free laminate unit that can keep all the essentials only.
A grey two seater sofa and upholstered wooden chair make for comfy seating. Doesn't the accent rug make the room snug and cosy?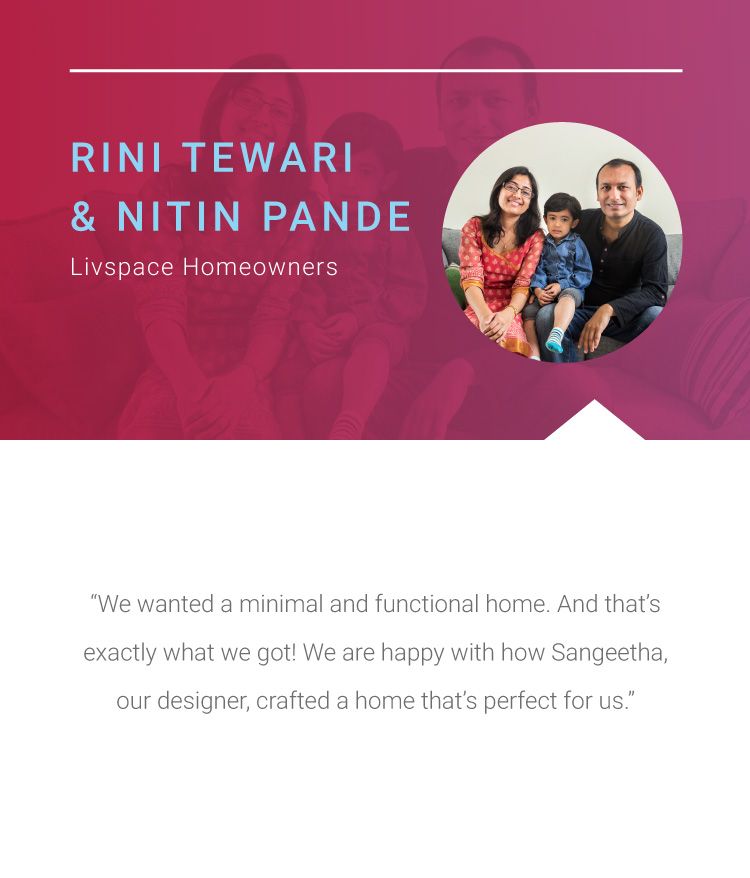 Prestige Ferns Residency: Well-lit Dining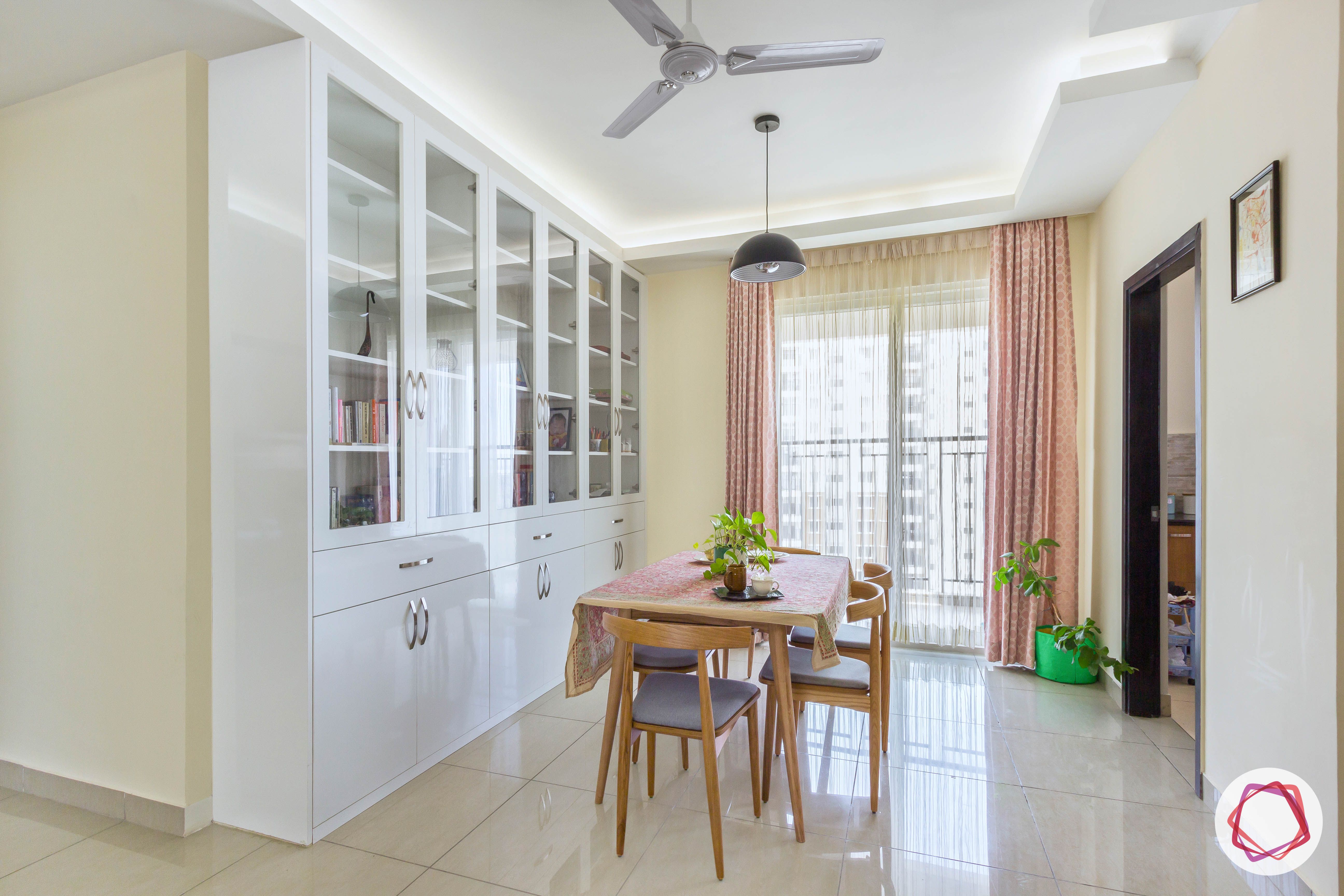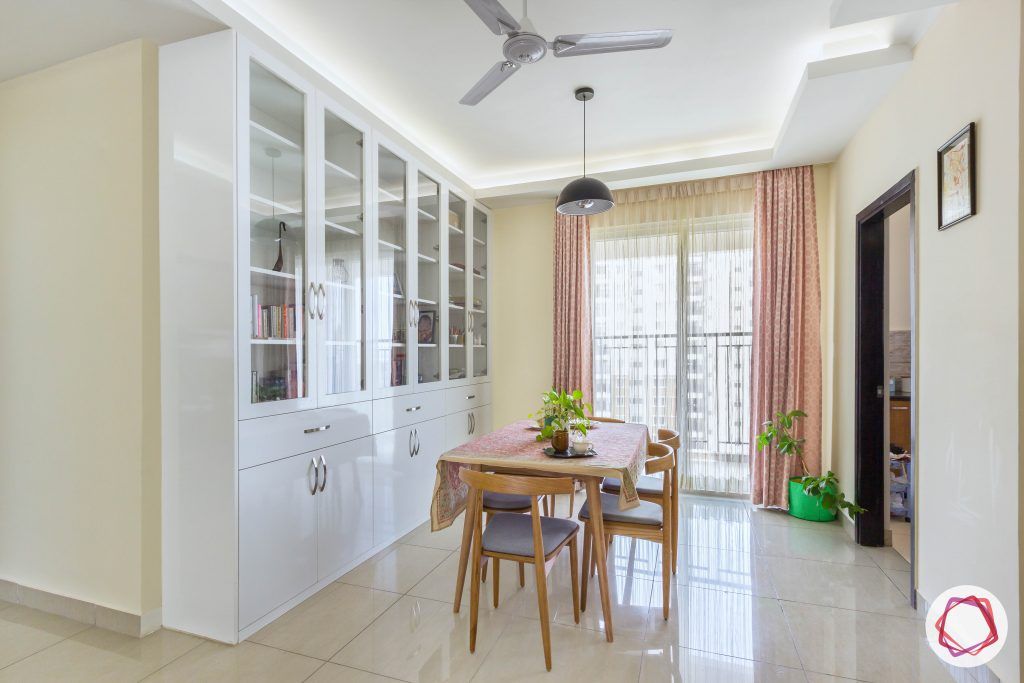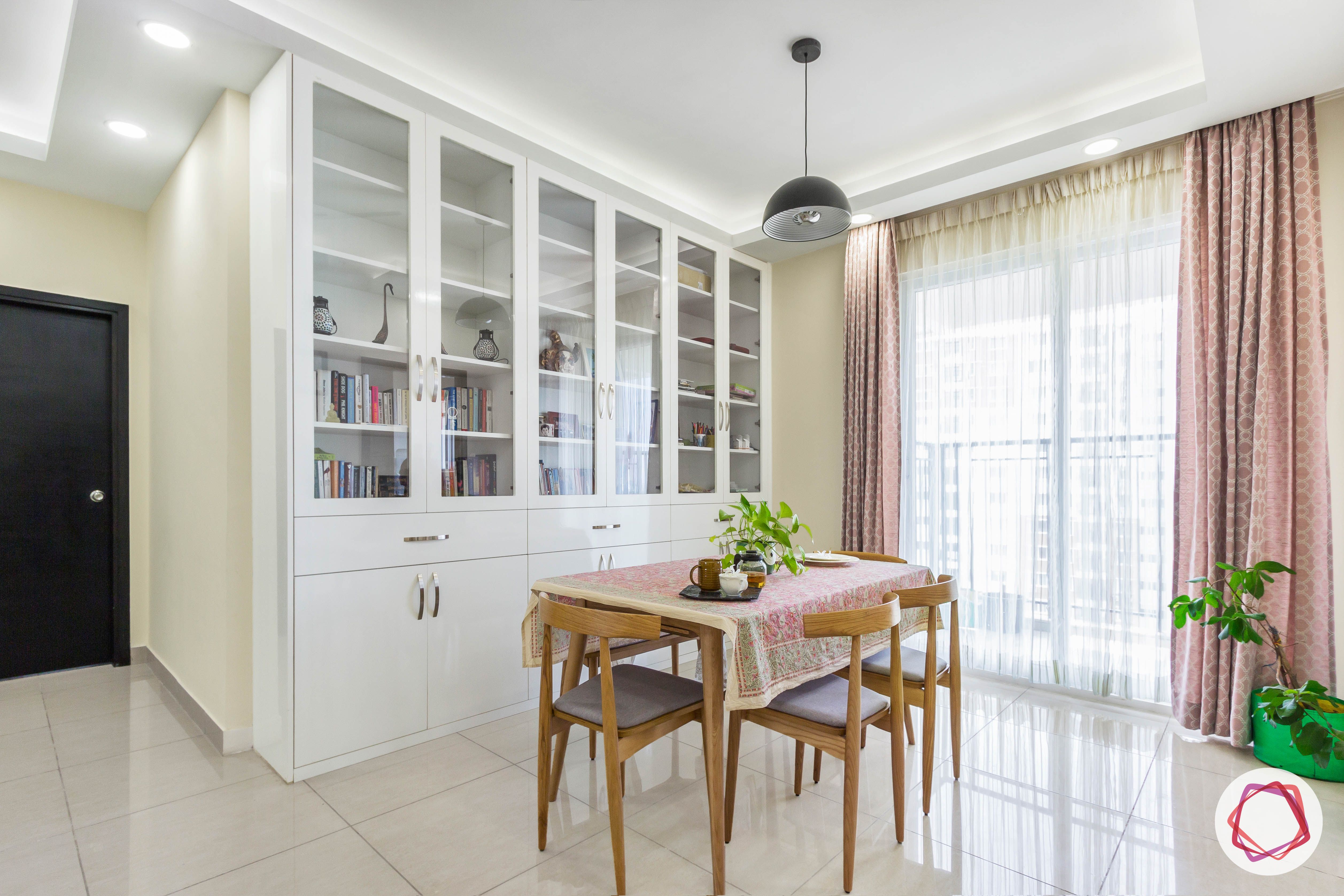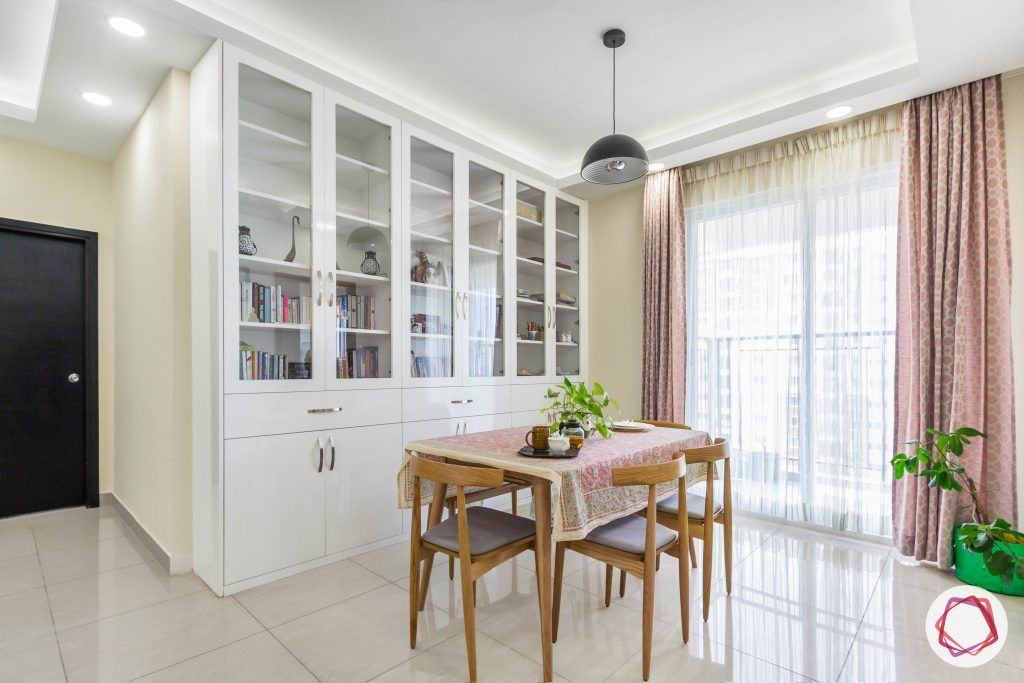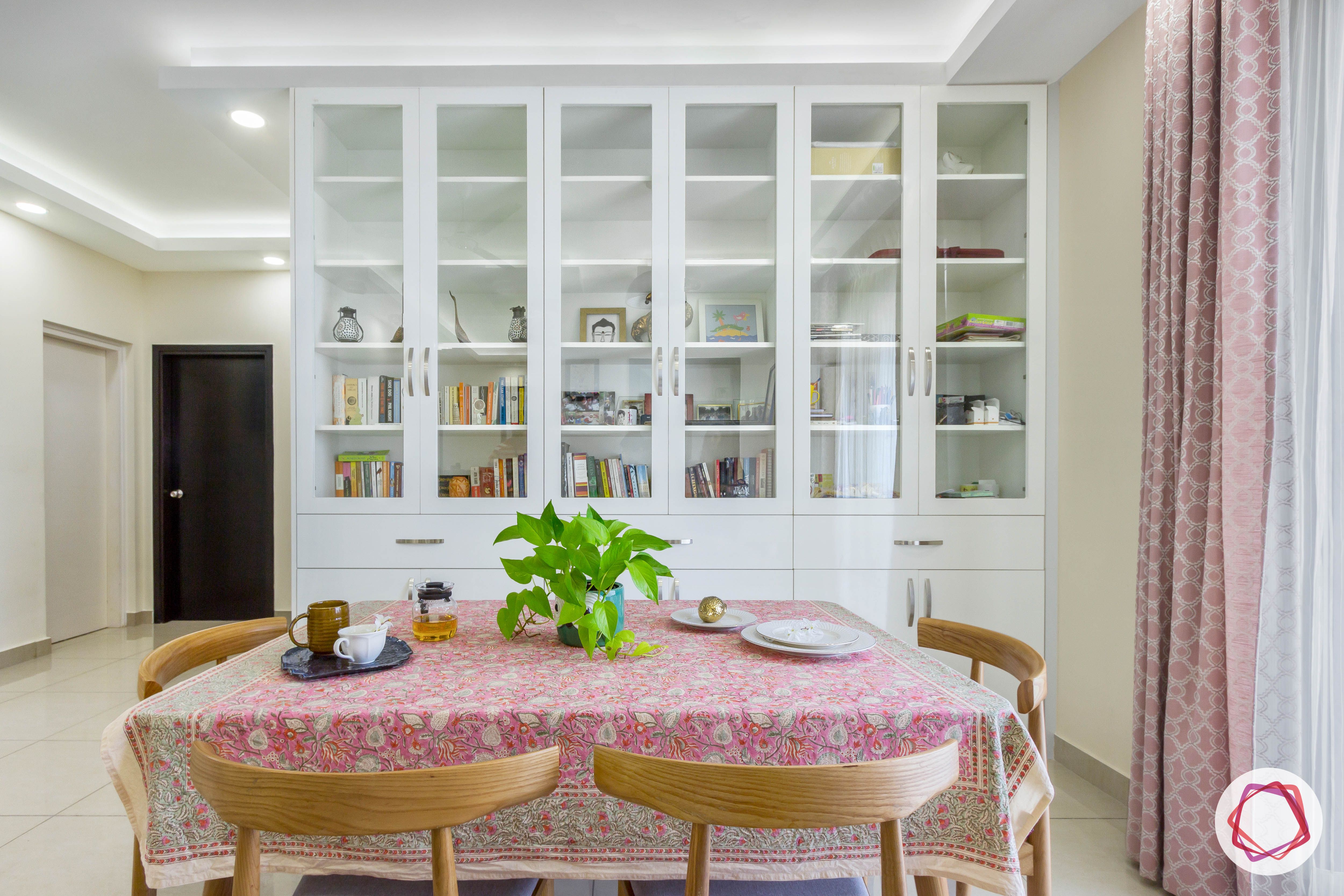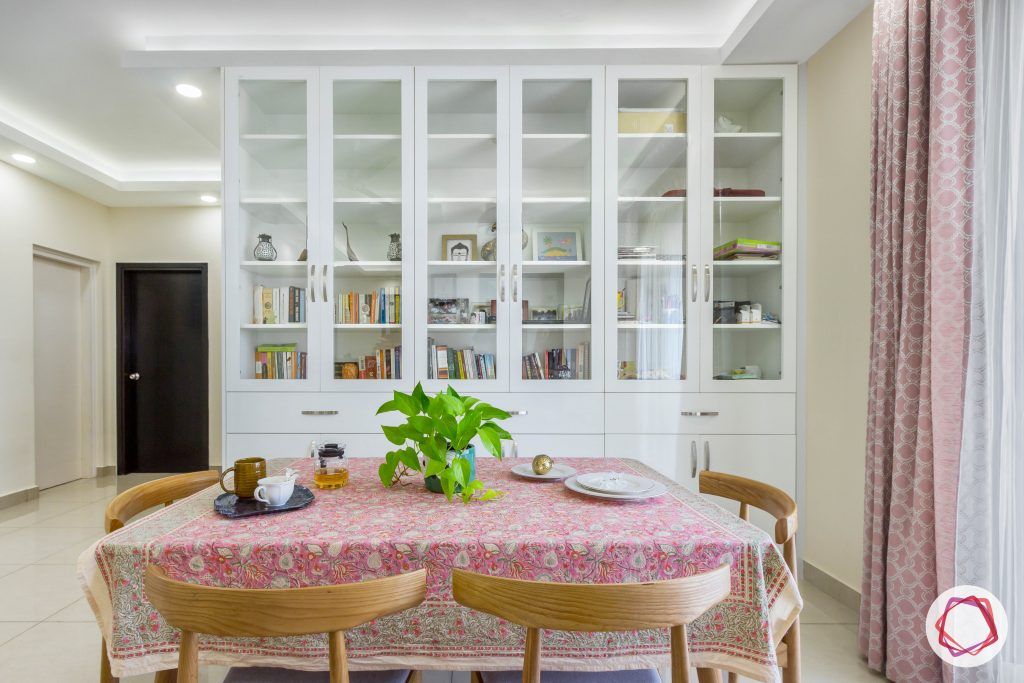 You simply can't go wrong with white. The custom-made massive bookshelf in the dining space is proof of that! While the bottom half of the floor-to-ceiling laminate unit is done up in drawers and cabinets, the upper half feature racks to neatly line up books. Moreover, Sangeetha put in glass doors to not overwhelm the space with the appearance of bulky storage.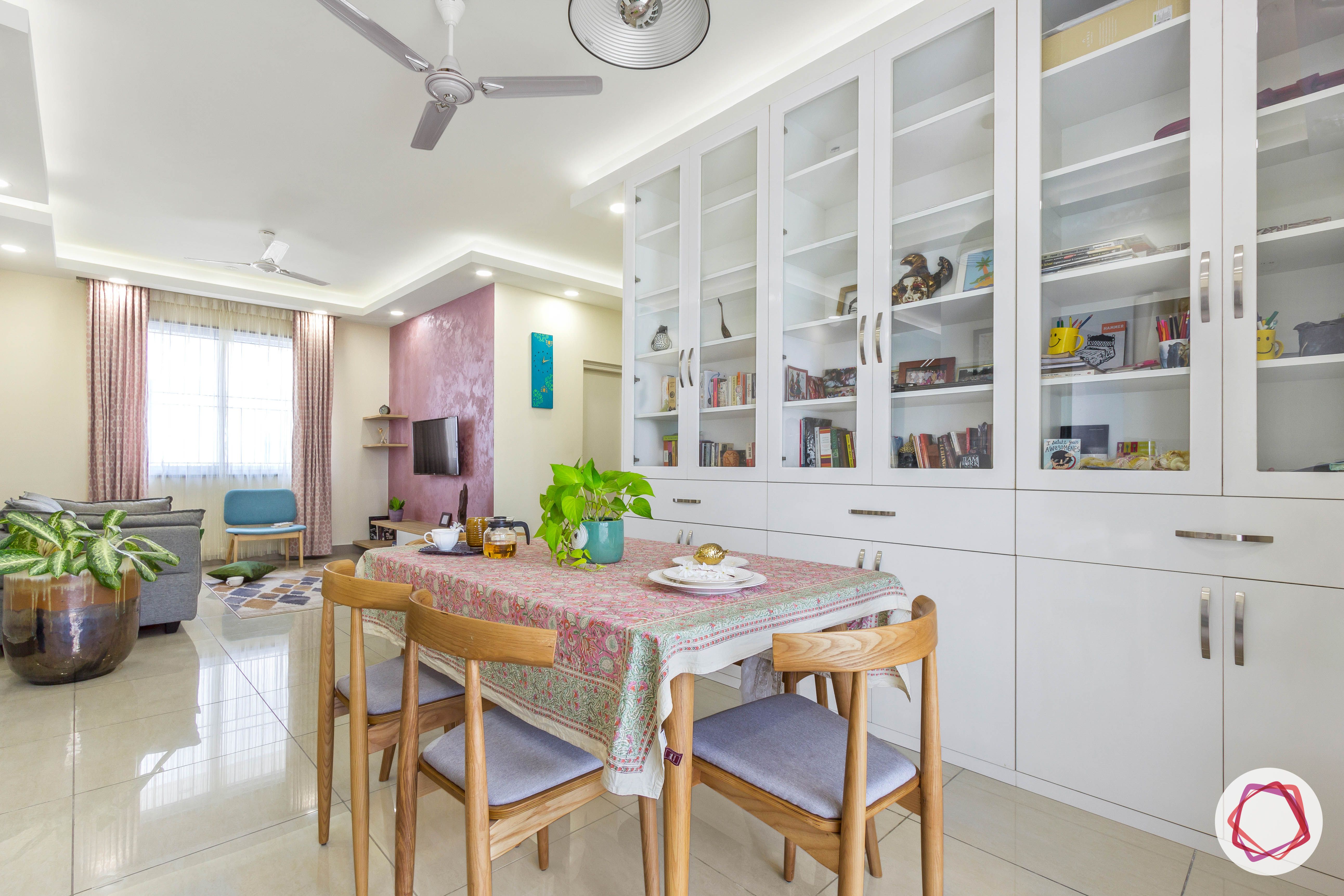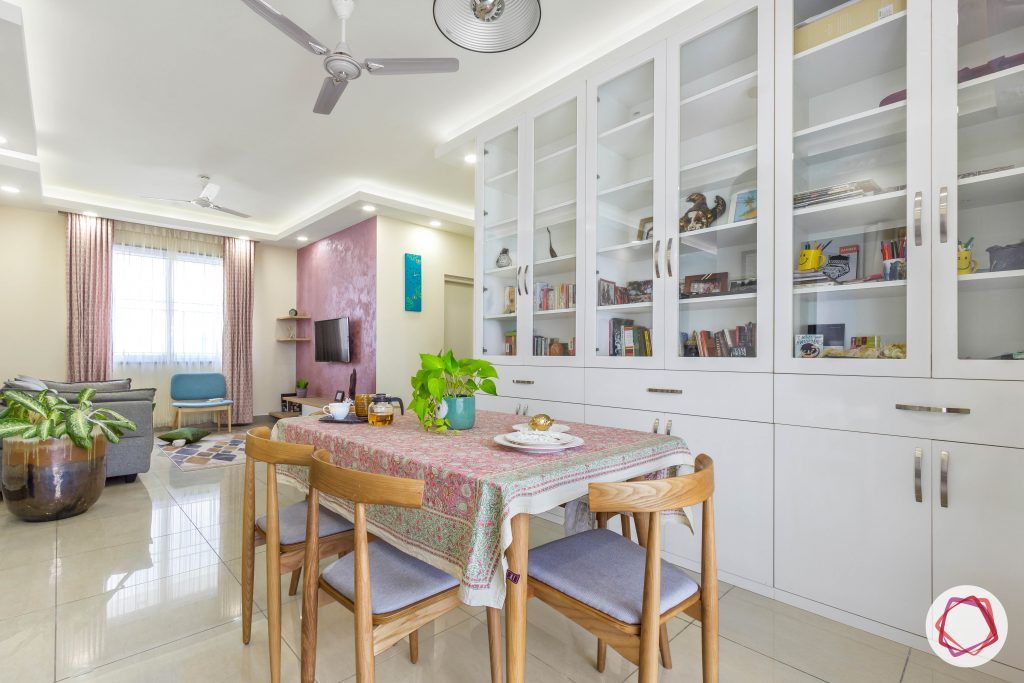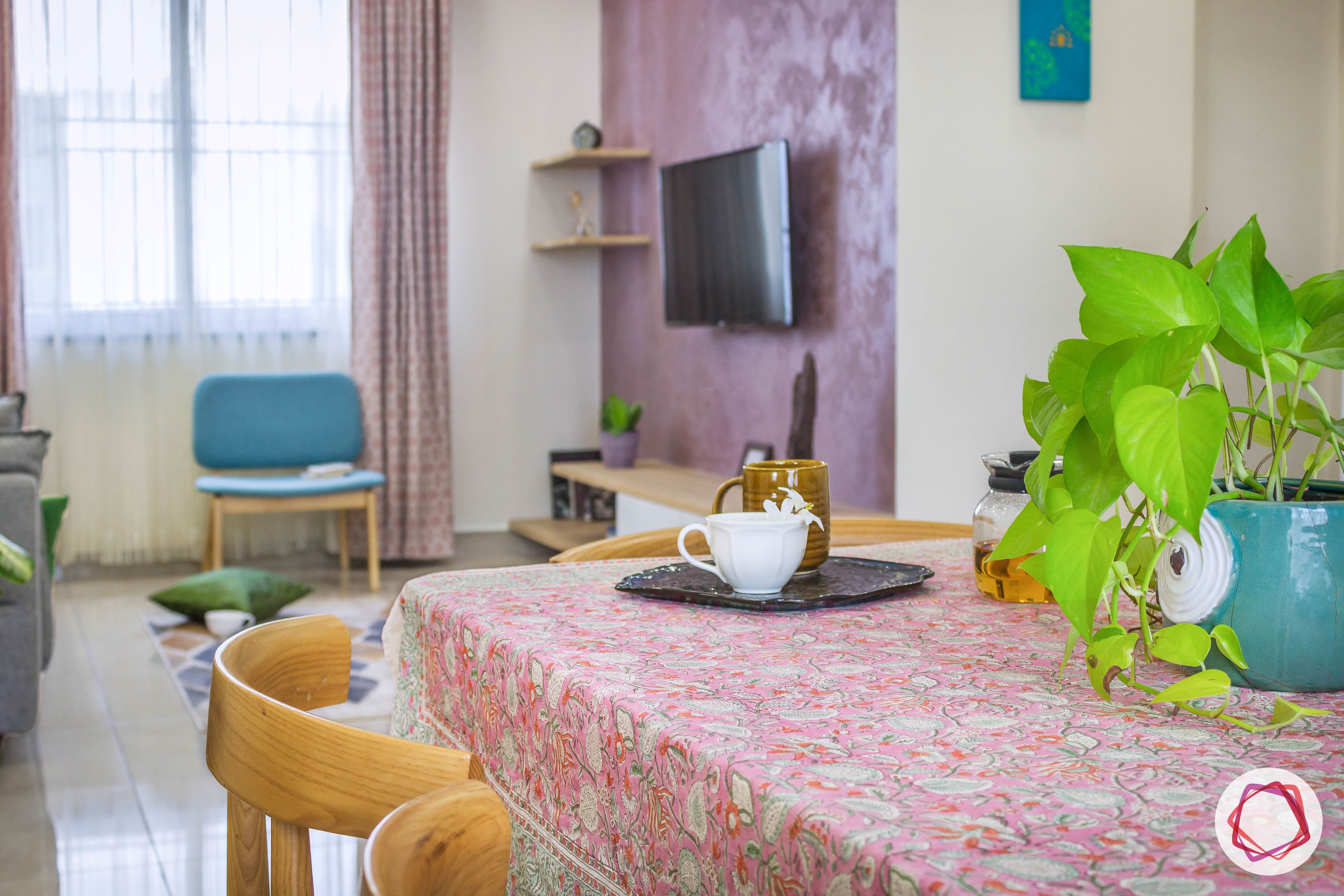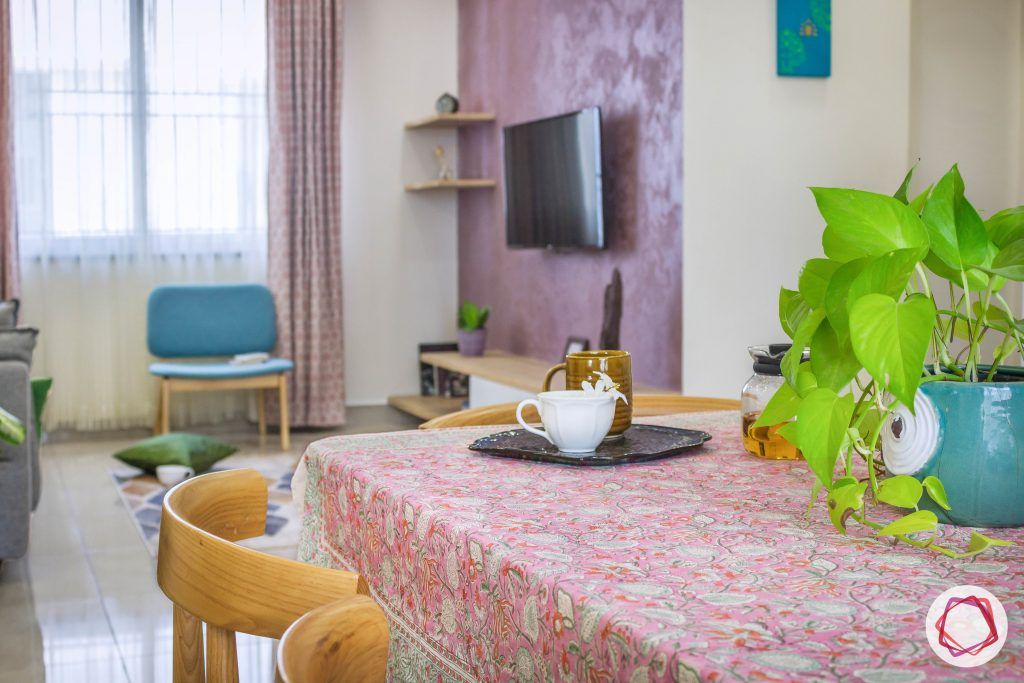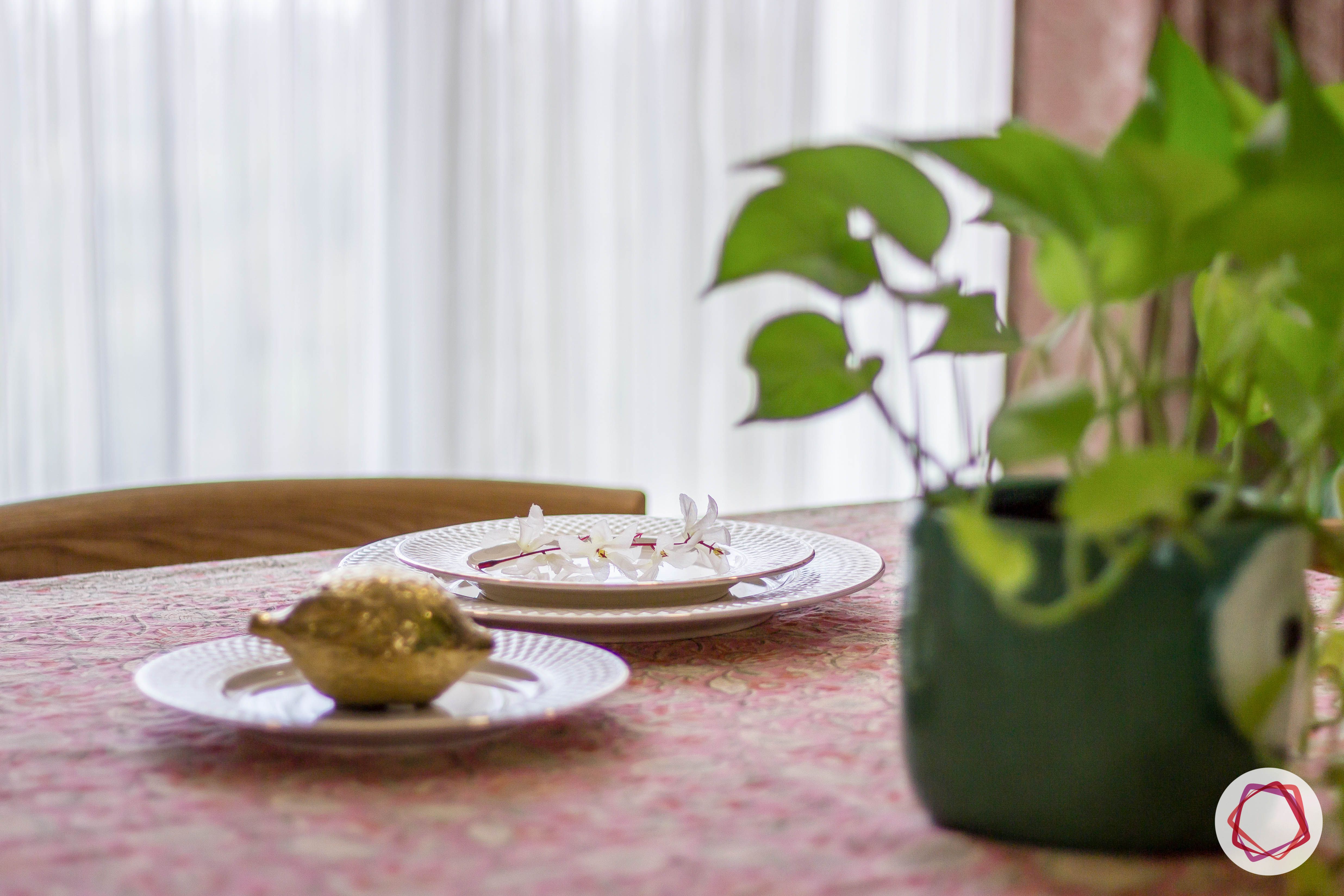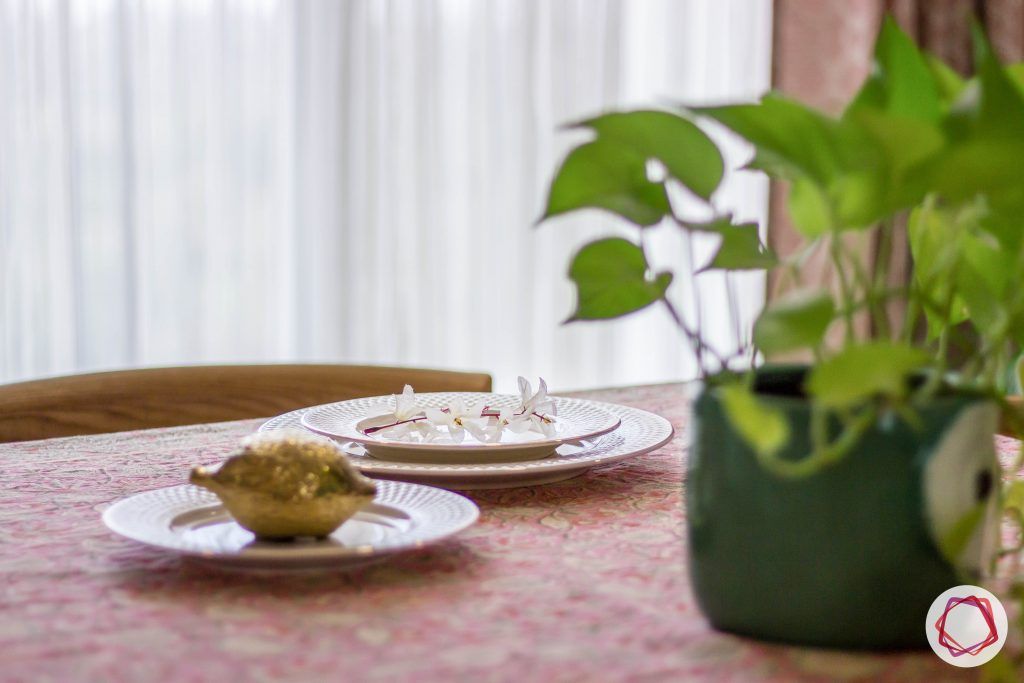 The dining table is kept minimal in wooden and cushioned chairs. The accent light above the dining adds a touch of warmth to the well-lit nook.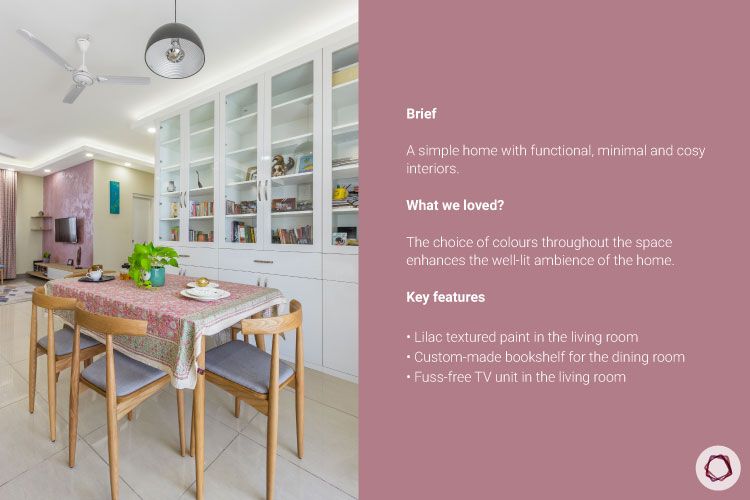 Prestige Ferns Residency: A Multifunctional Pooja Room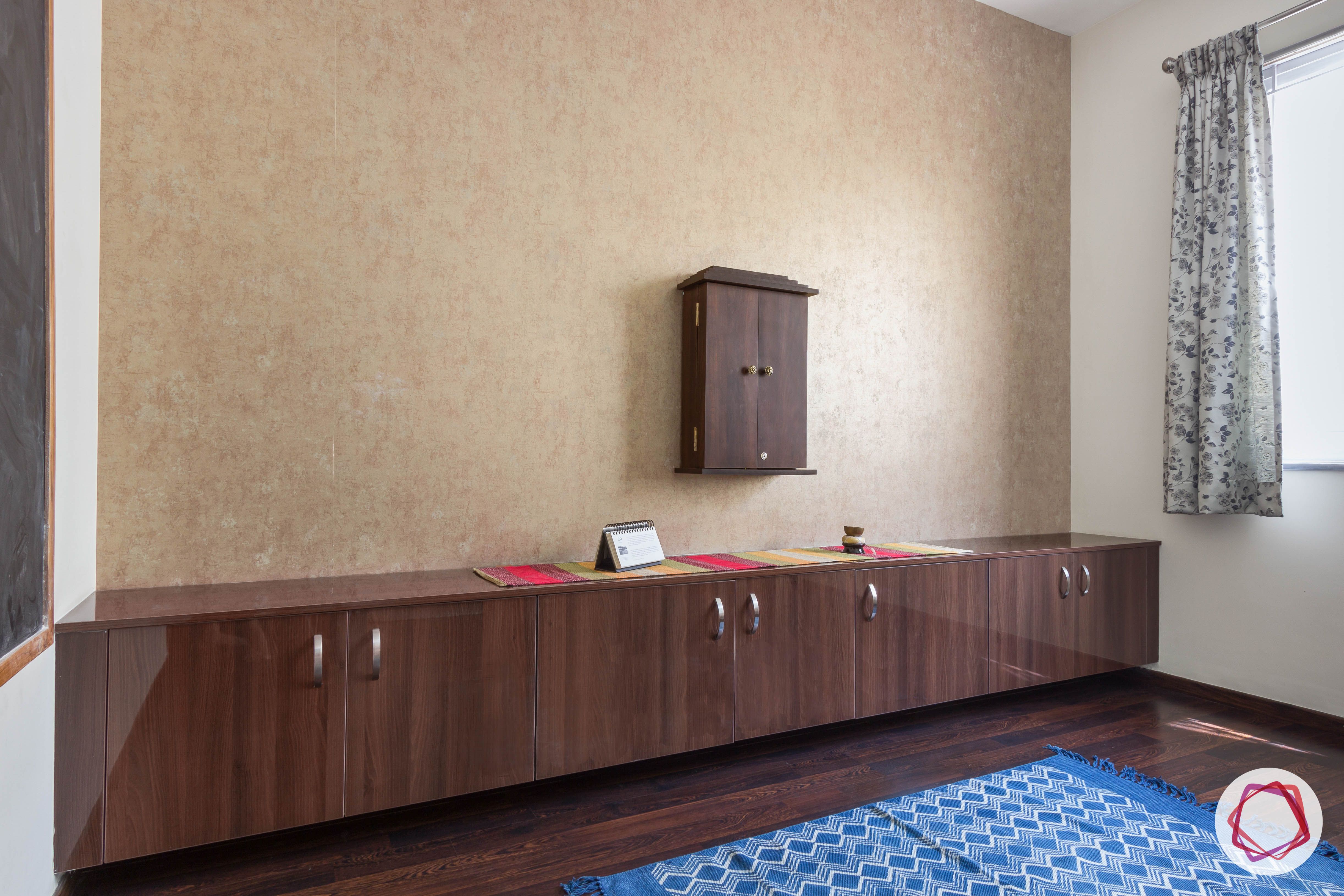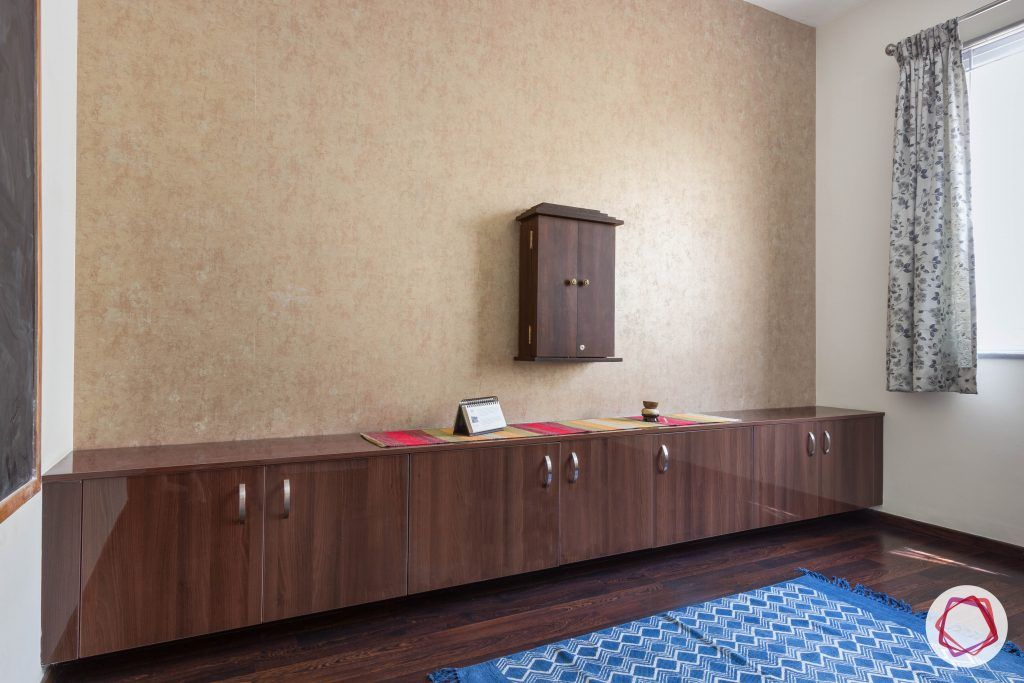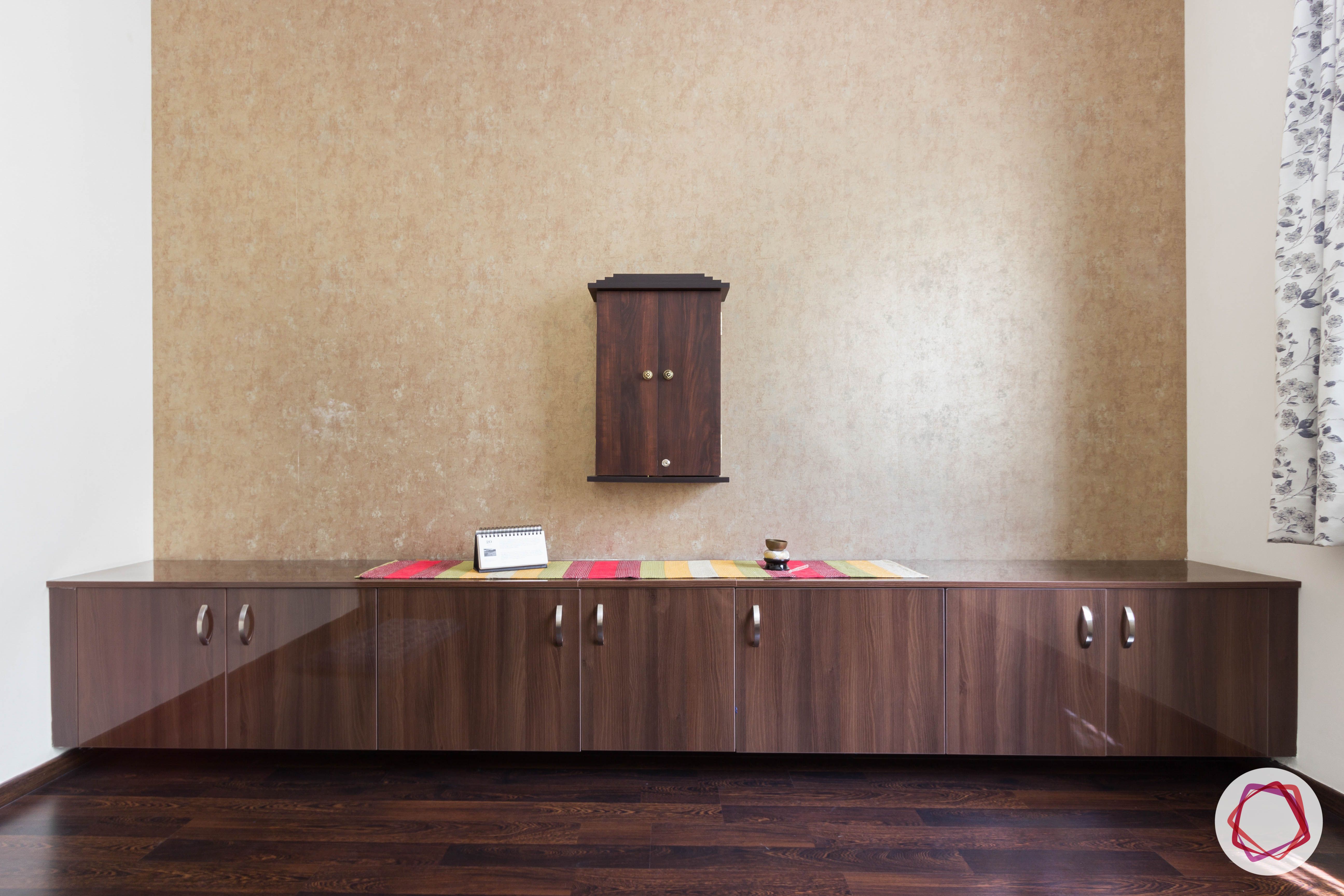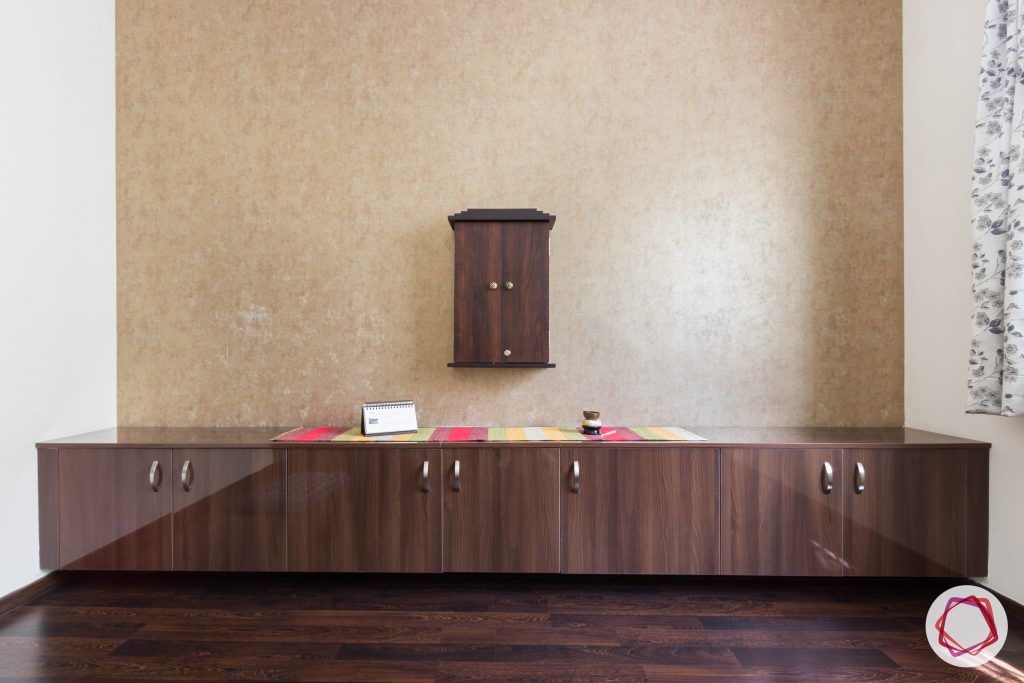 The family wanted one of their bedrooms to be turned into a pooja room that could also double up as multifunctional space. A place where they could come meditate, read or for their young son to play. As a result, Sangeetha put in a wall-to-wall storage cabinet and a textured wallpaper to keep things intriguing. The concealed pooja unit is crafted with the same wooden laminate as the cabinet. All this sits on a similar-hued wooden flooring.
Prestige Ferns Residency: Completely Functional Kitchen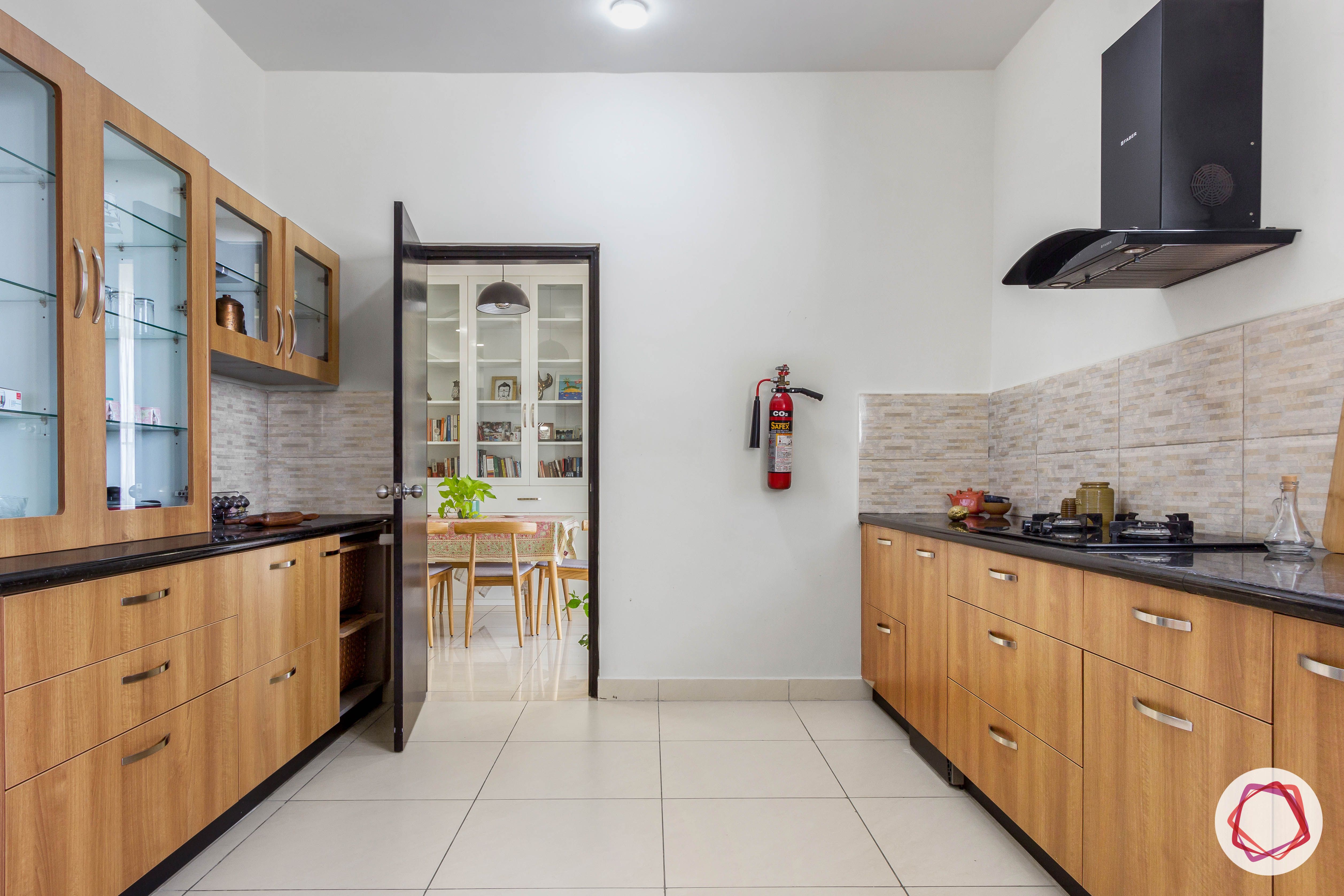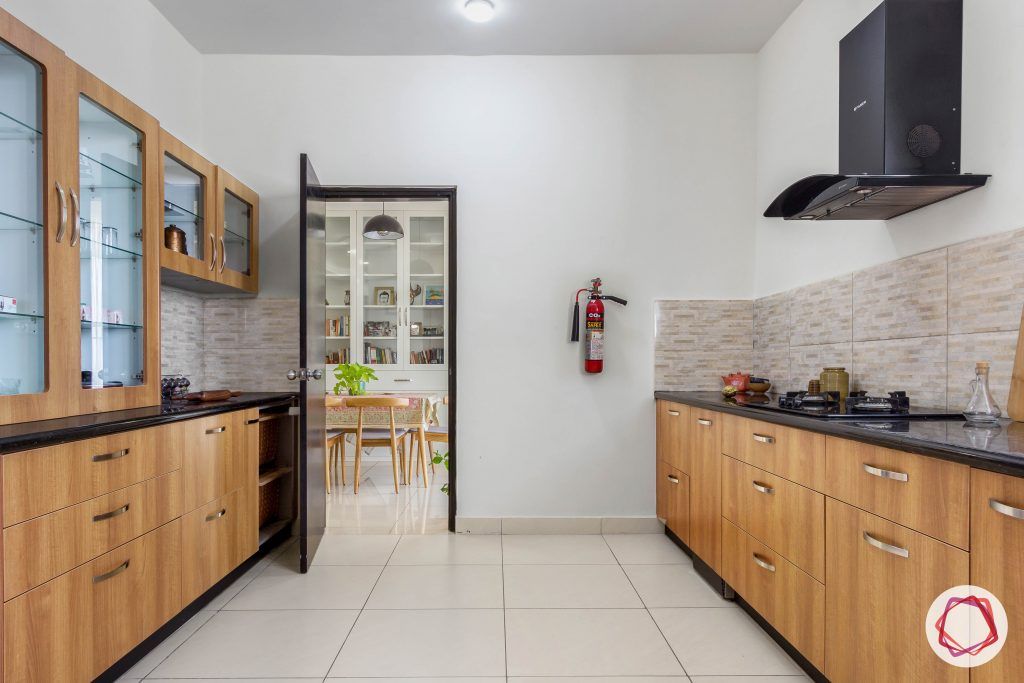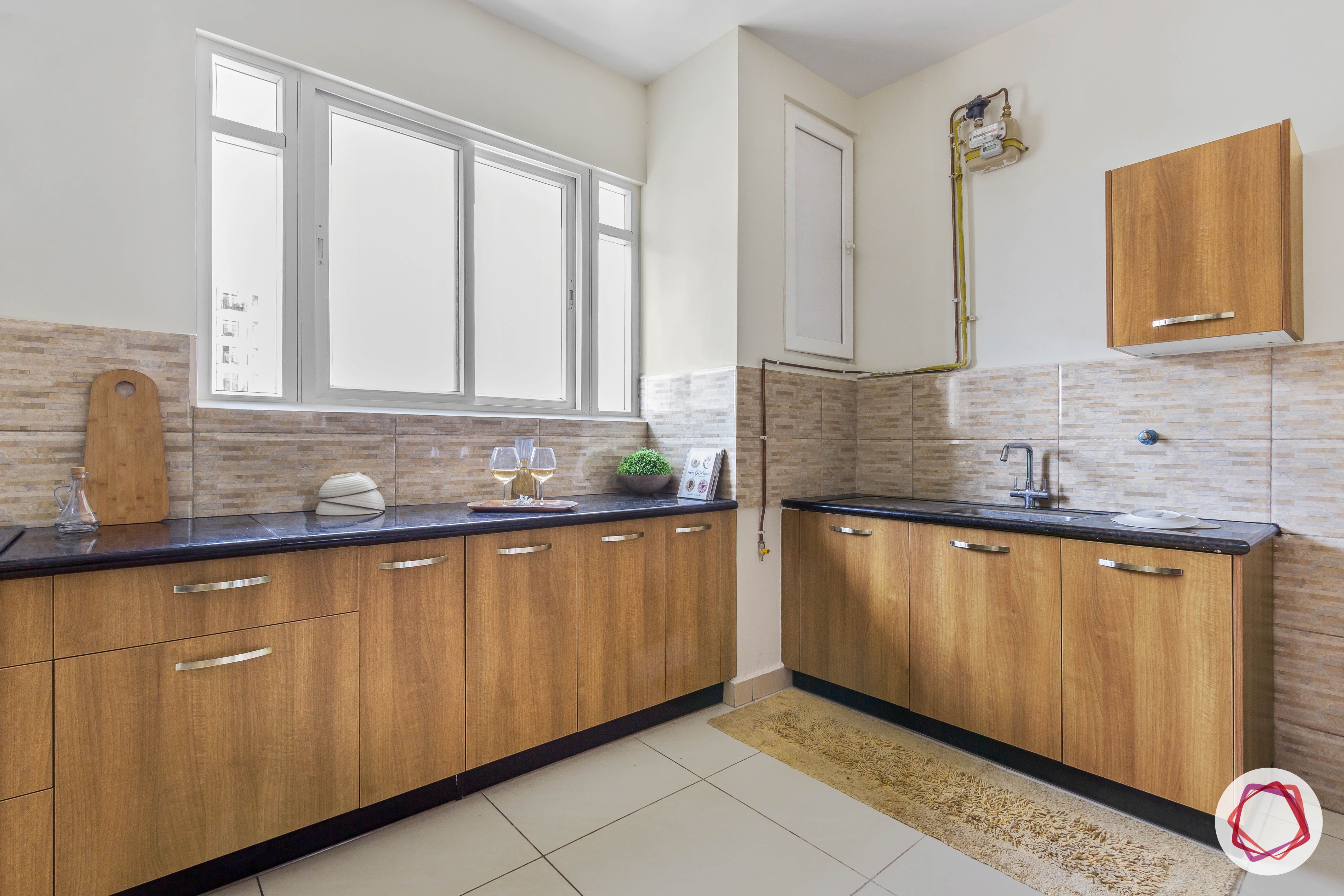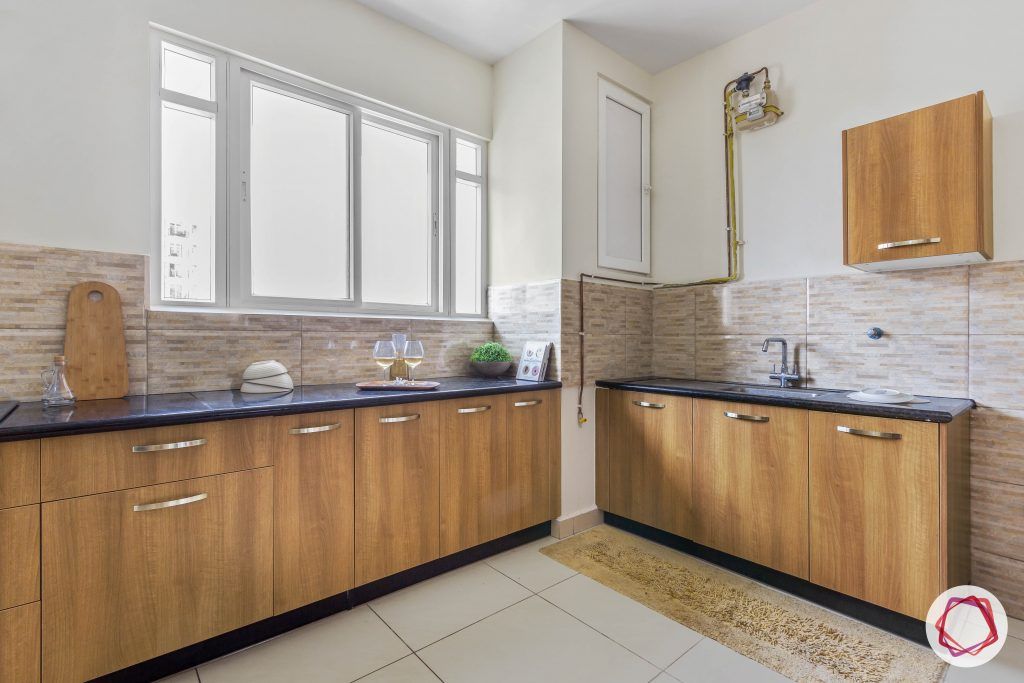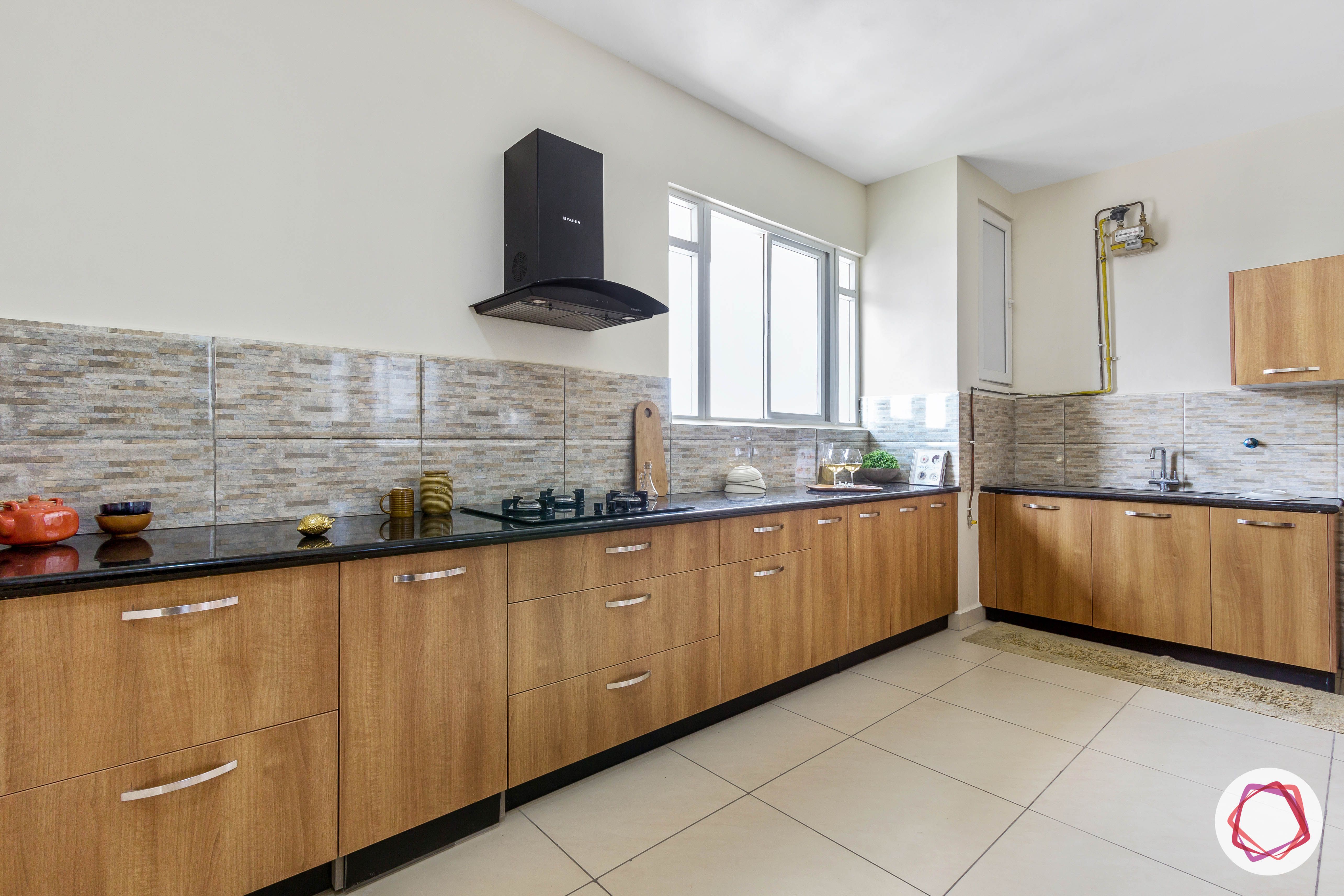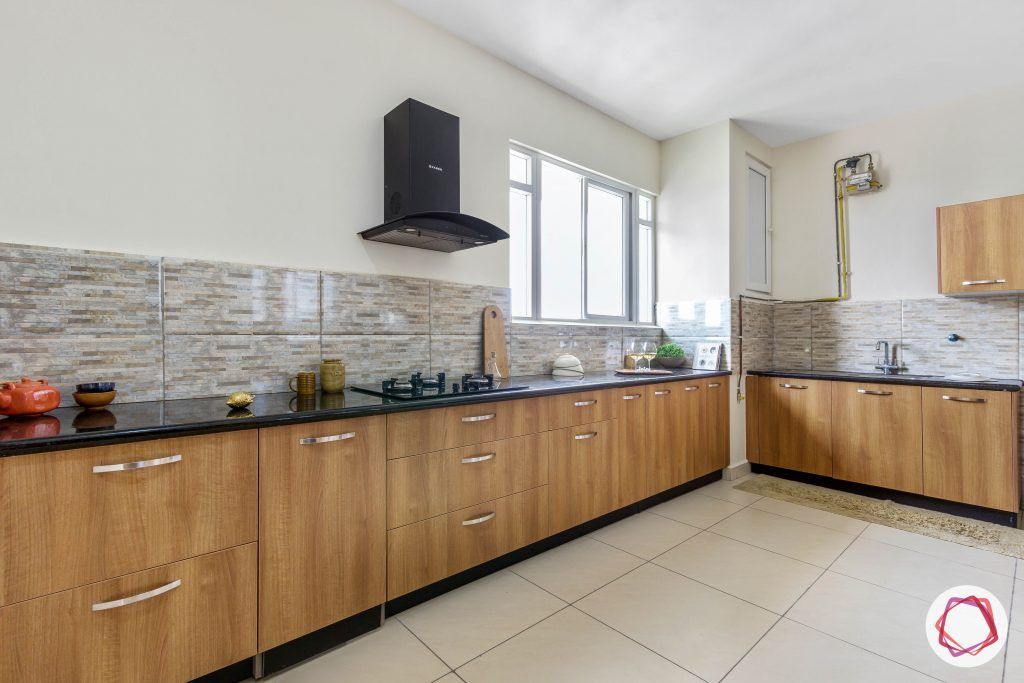 Rini and Nitin love traditional wooden kitchens. They wanted the same for their dream kitchen at Prestige Ferns Residency as well. So, Sangeetha chose a lovely wheat oak laminate finish for all the kitchen cabinets. It perfectly pairs with the dark countertop and light backsplash that was provided by the builder.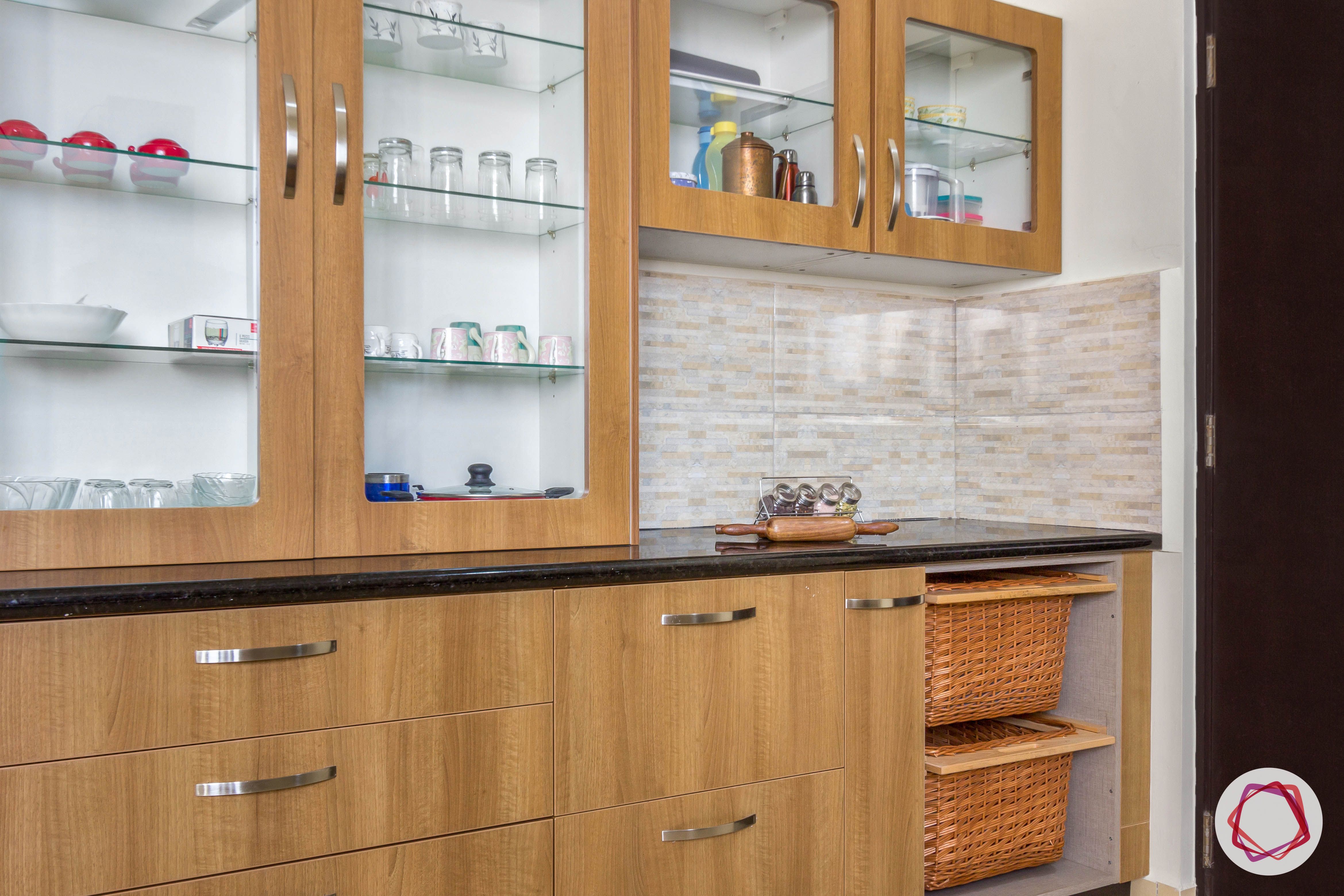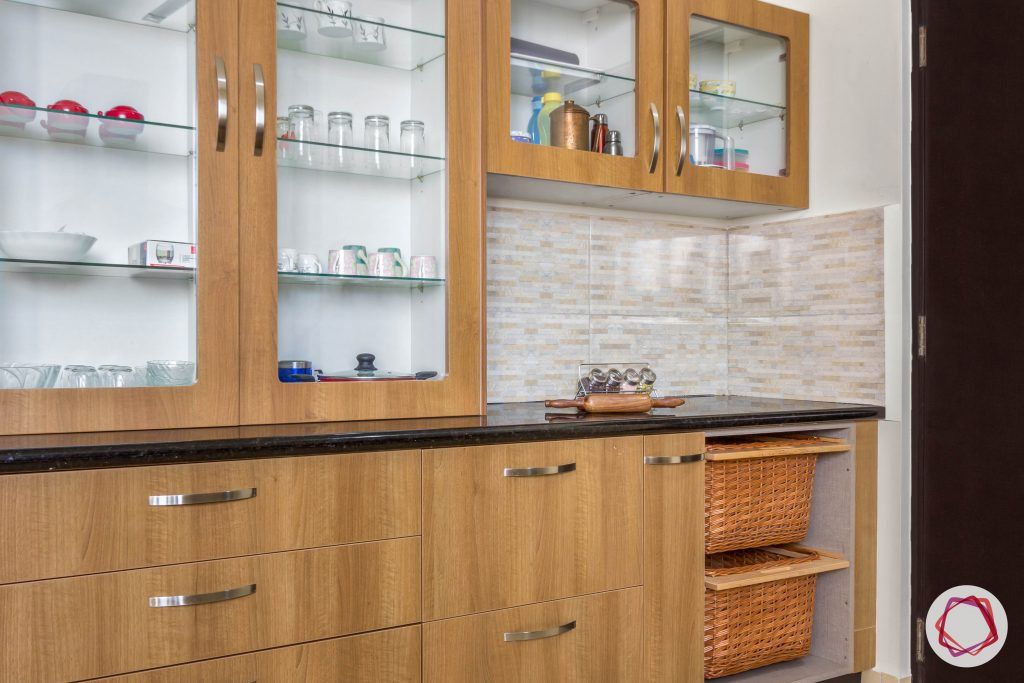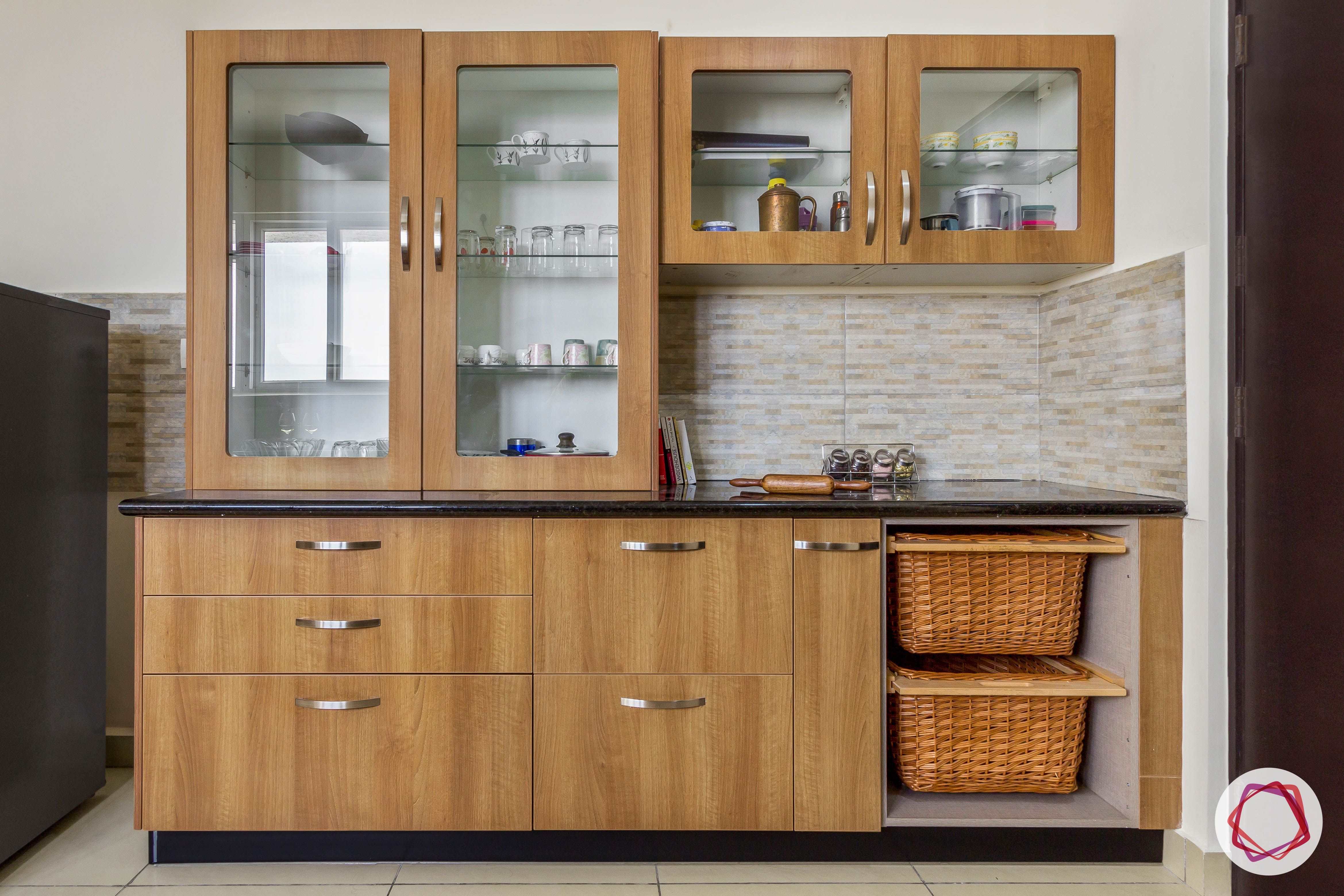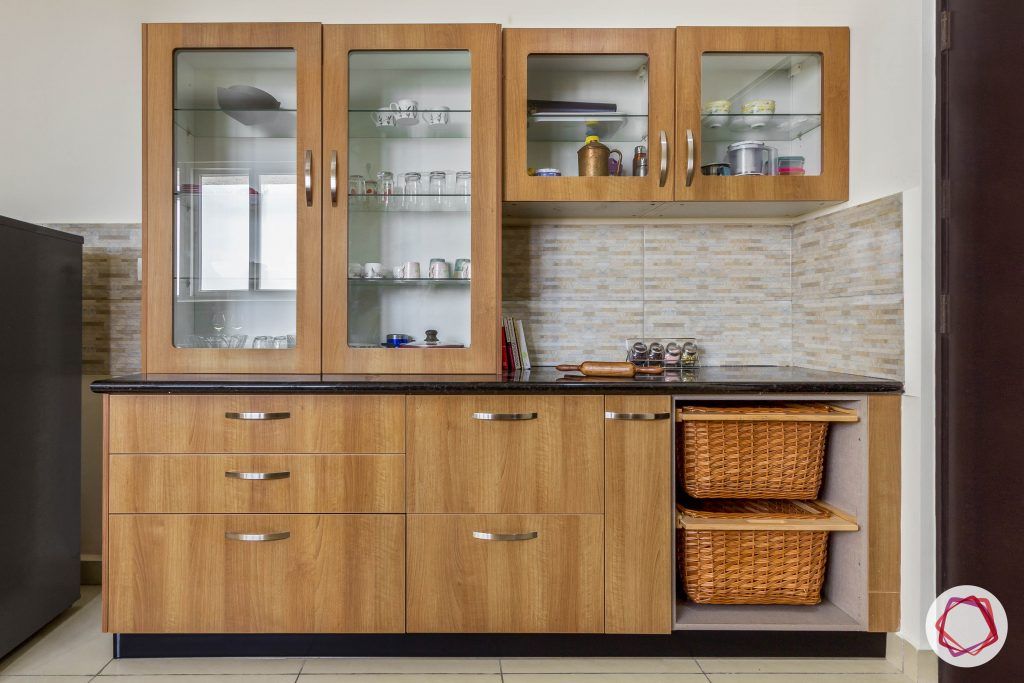 Notice how the kitchen doesn't have typical overhead cabinets? "Since the kitchen was quite spacious, we didn't want to overwhelm the space with wall cabinets" explains Sangeetha. As a result, she put in only base units. In addition, she also crafted a crockery unit that sits on one section of the countertop. Wicker baskets were also added for easy storage.
Prestige Ferns Residency: A Cosy Bedroom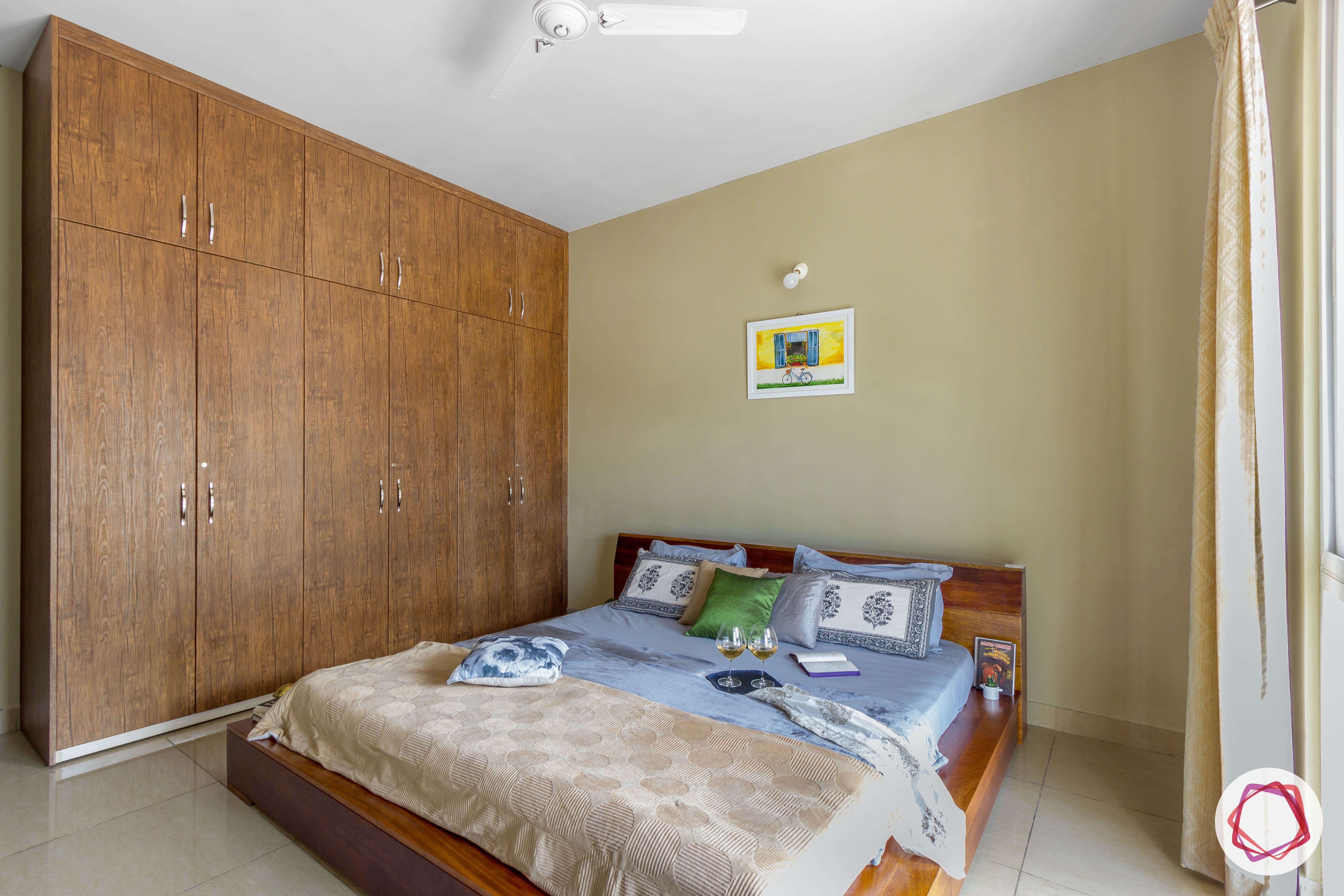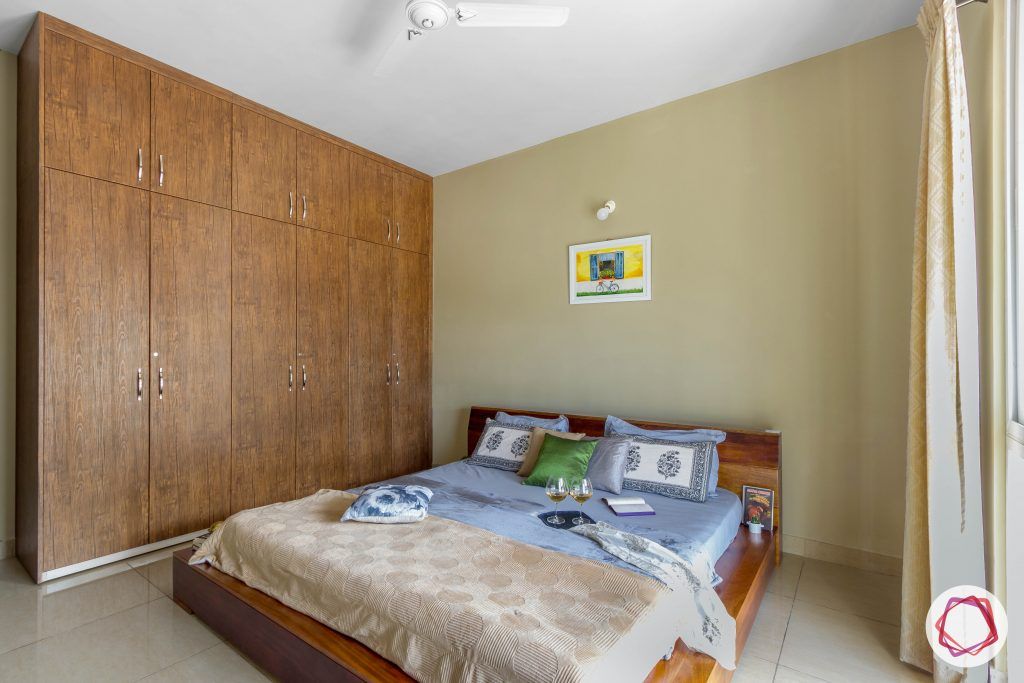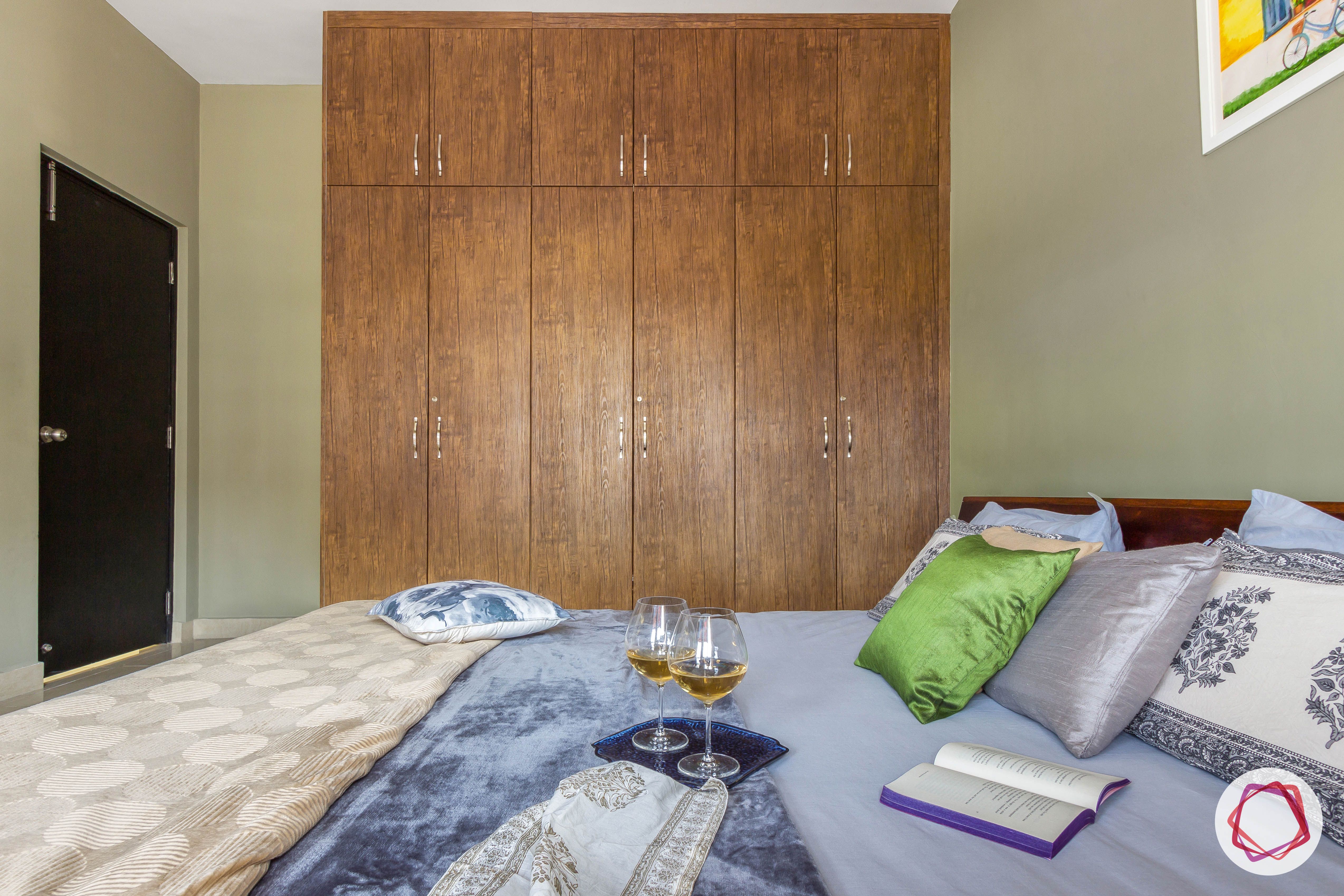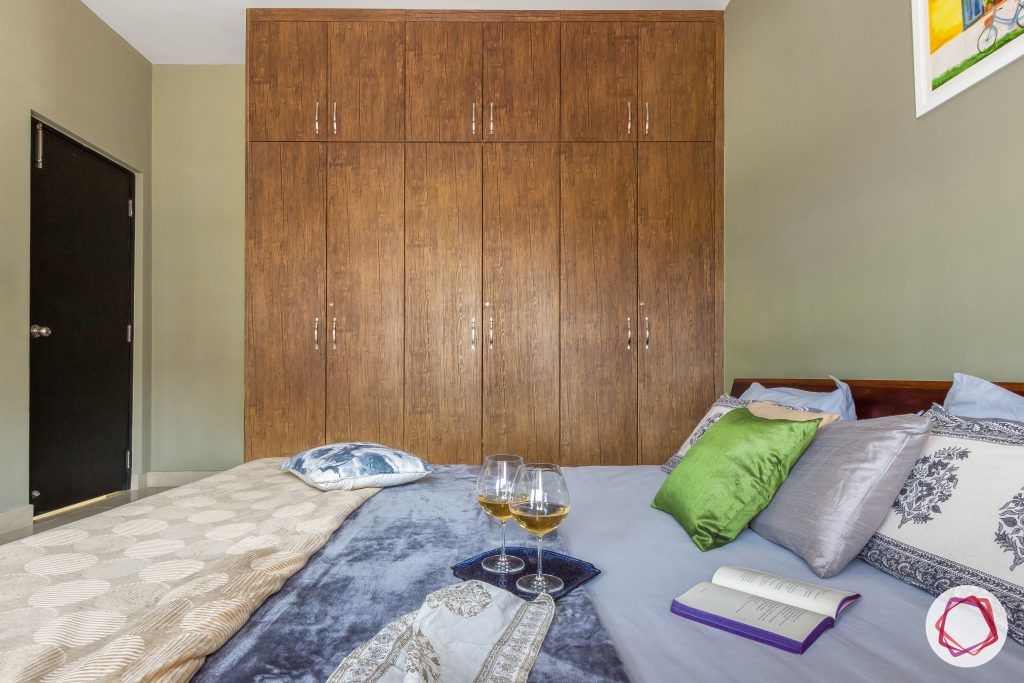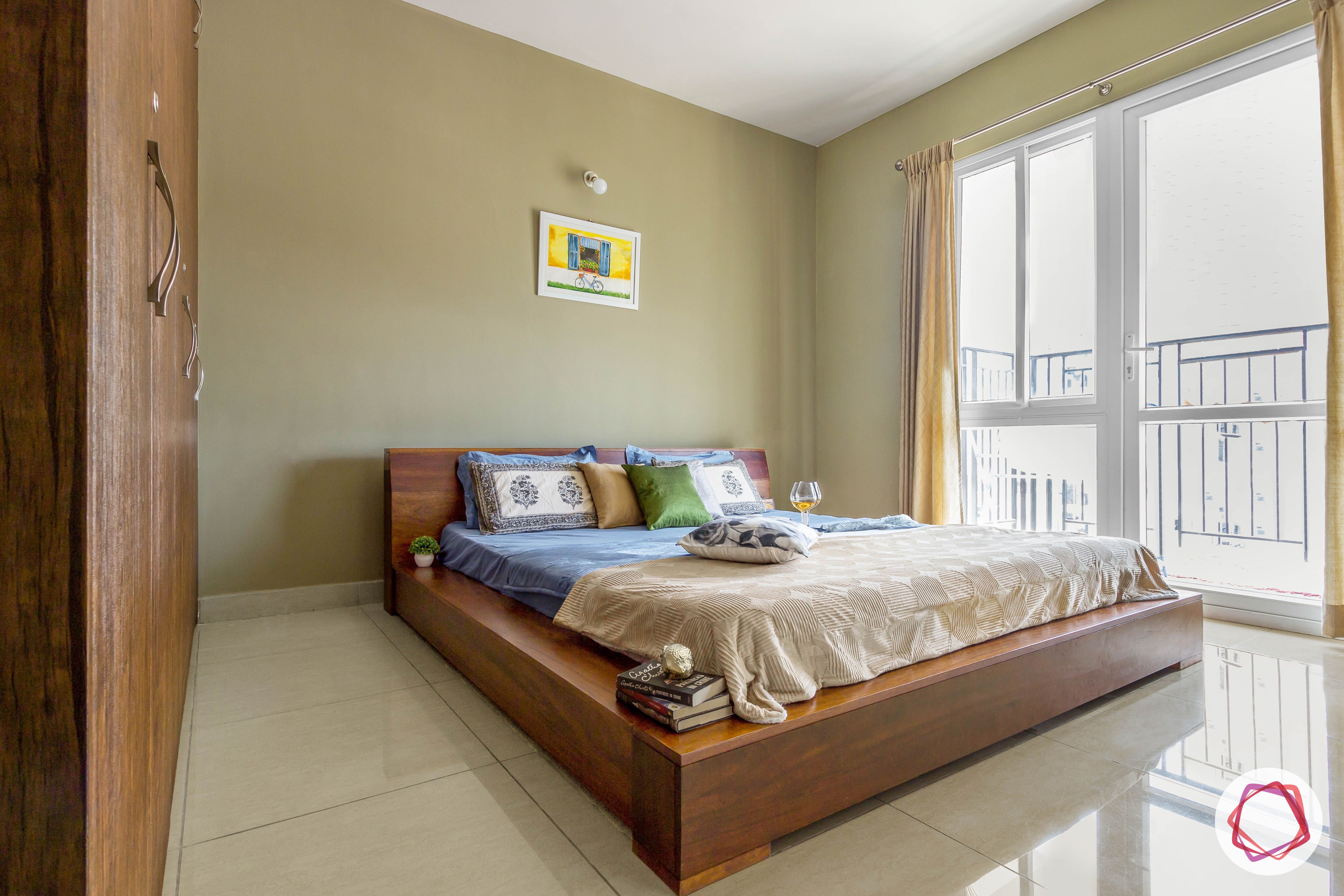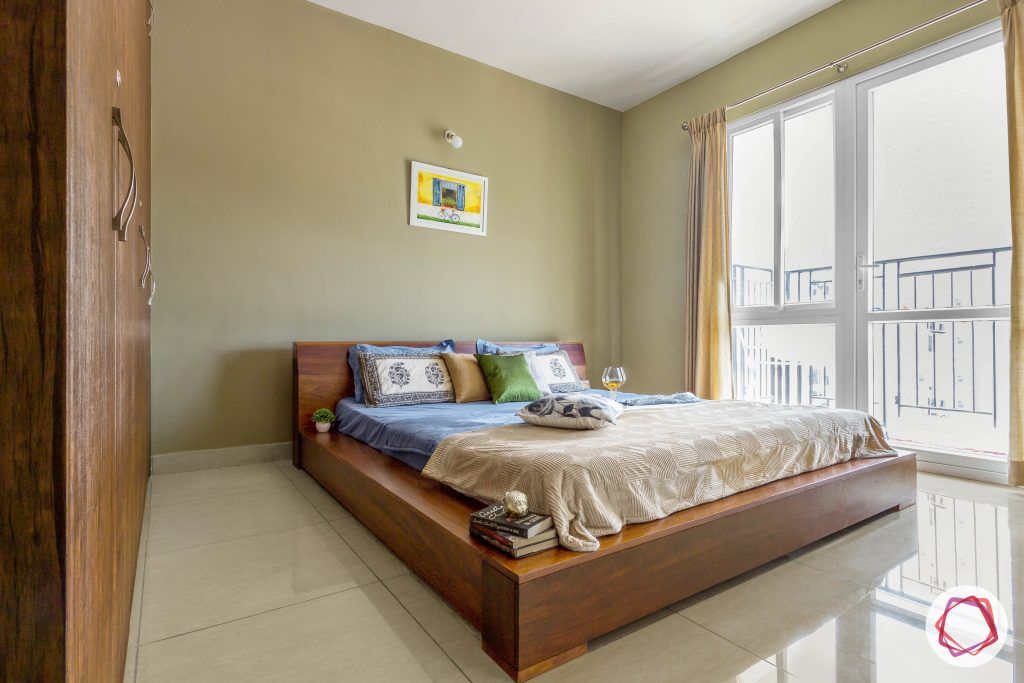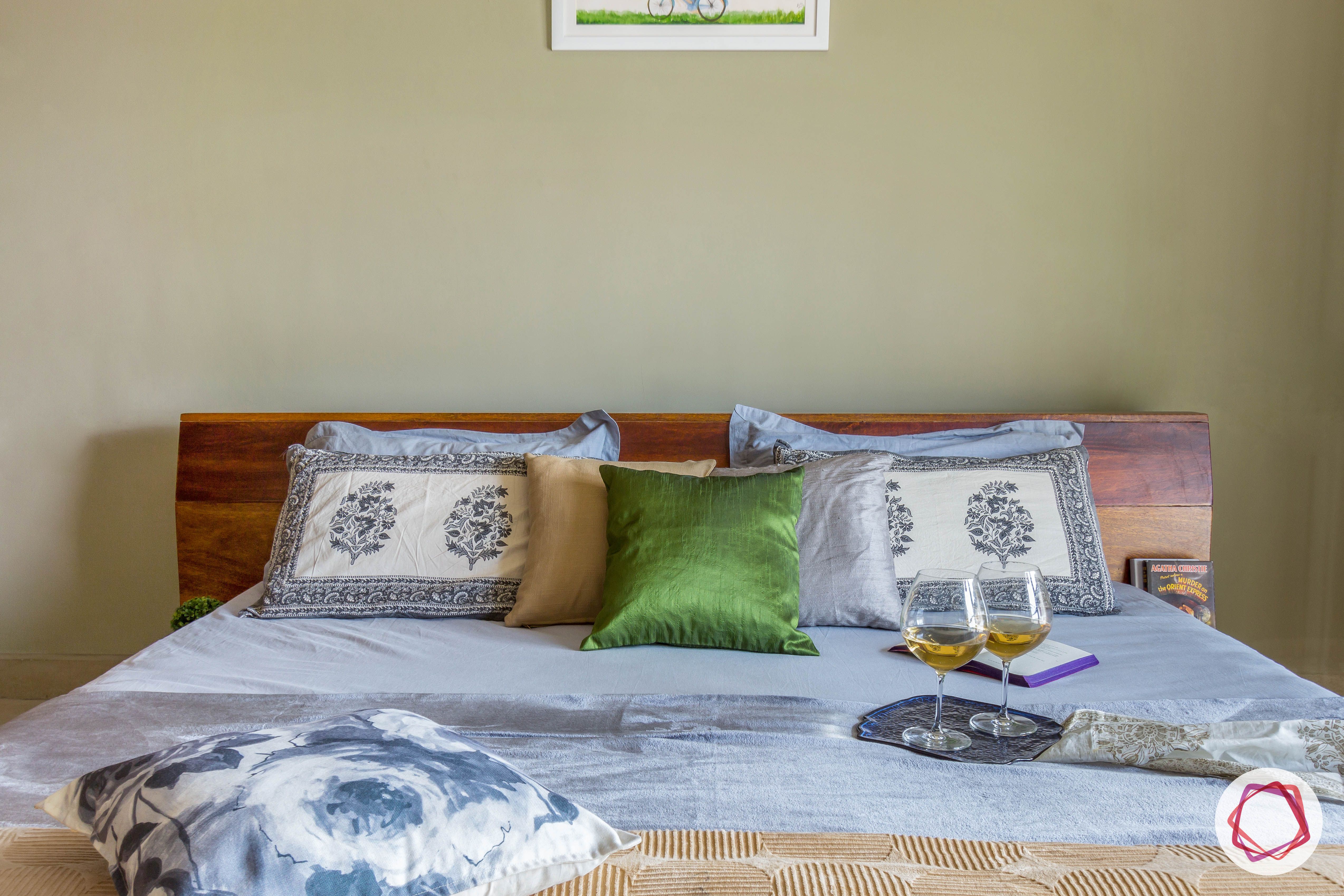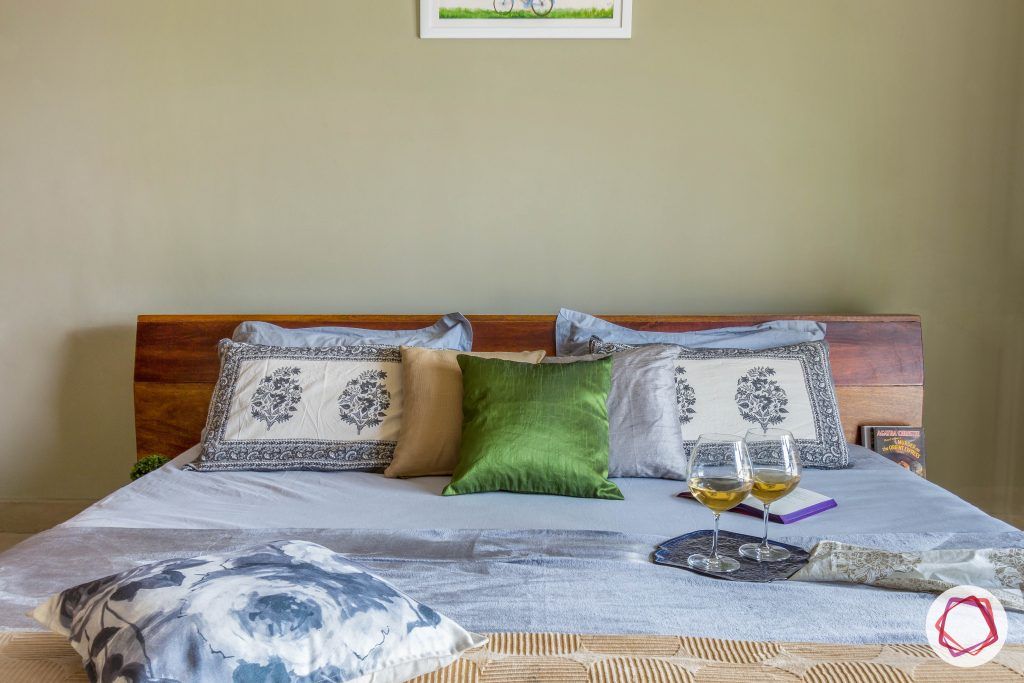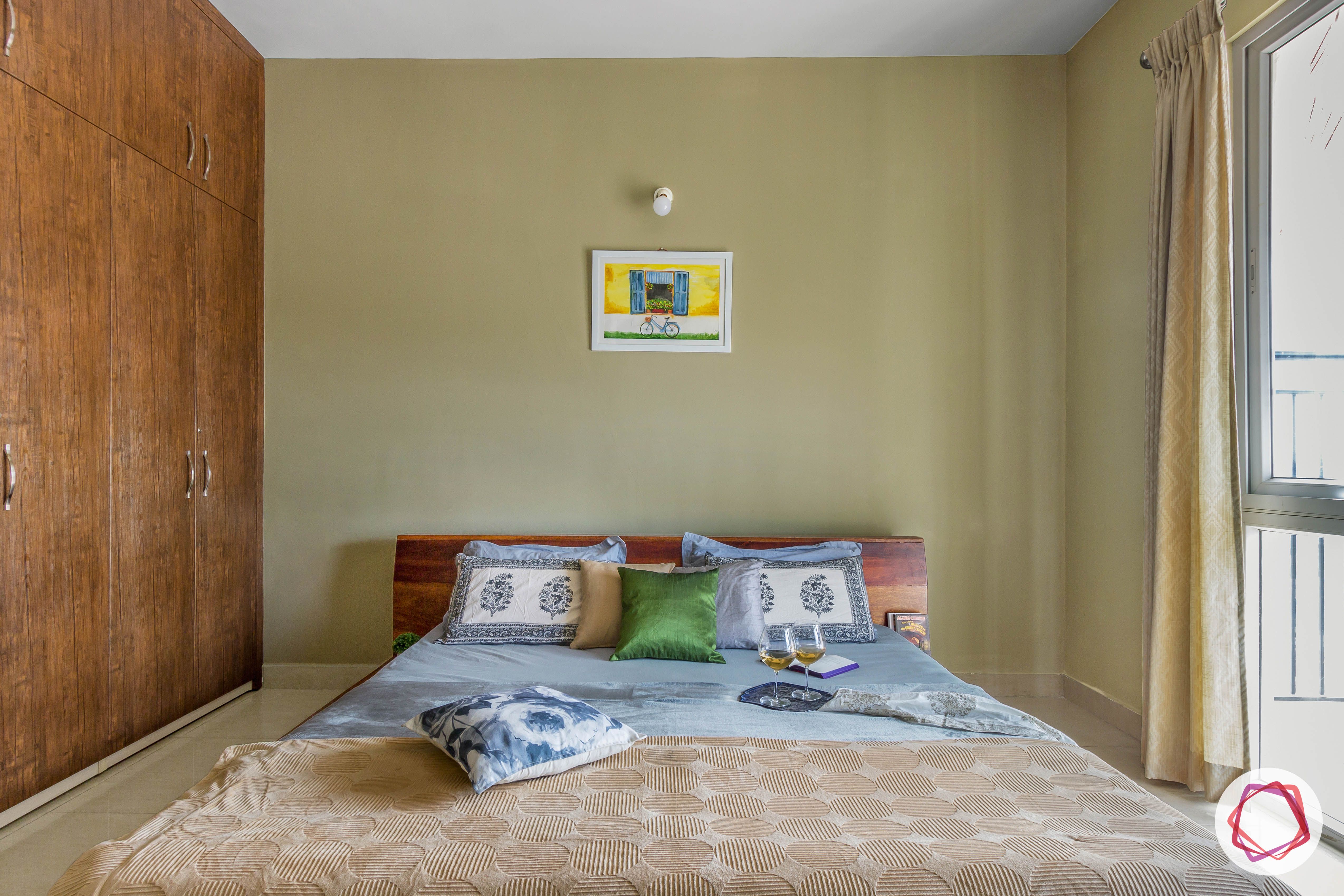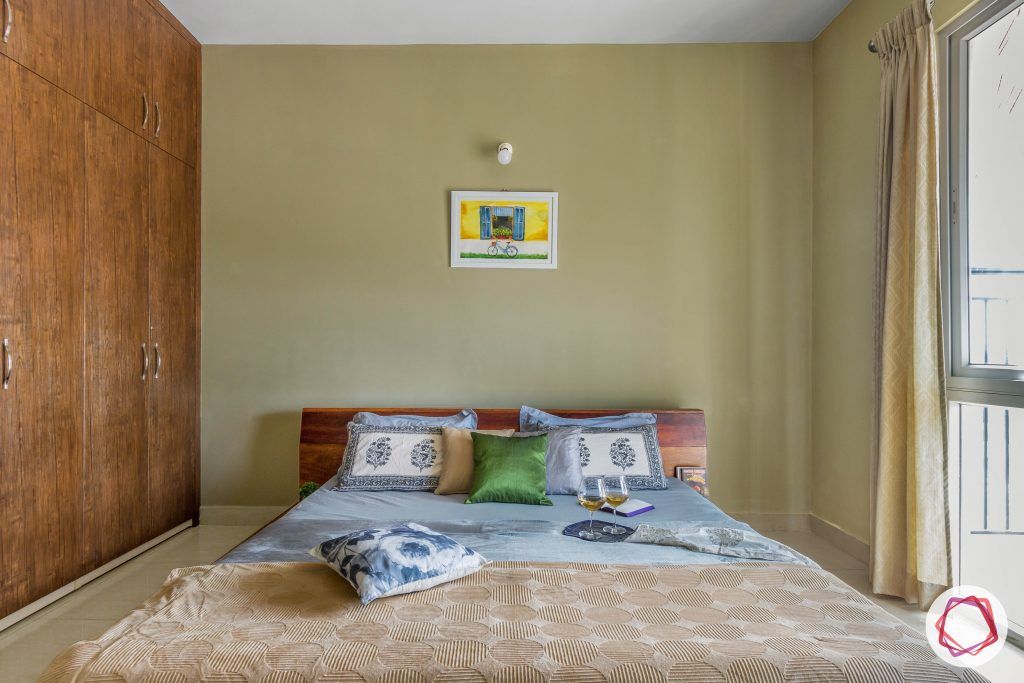 The master bedroom is all about meeting the essentials. Since they wanted an airy space, the room only houses a wooden bed and matching wardrobe. Just like the bookshelf in the dining room, the wardrobe here is a floor-to-ceiling unit in an elegant membrane finish. An earthy hue coats the walls of the bedroom.
Prestige Ferns Residency: Minimal Kid's Bedroom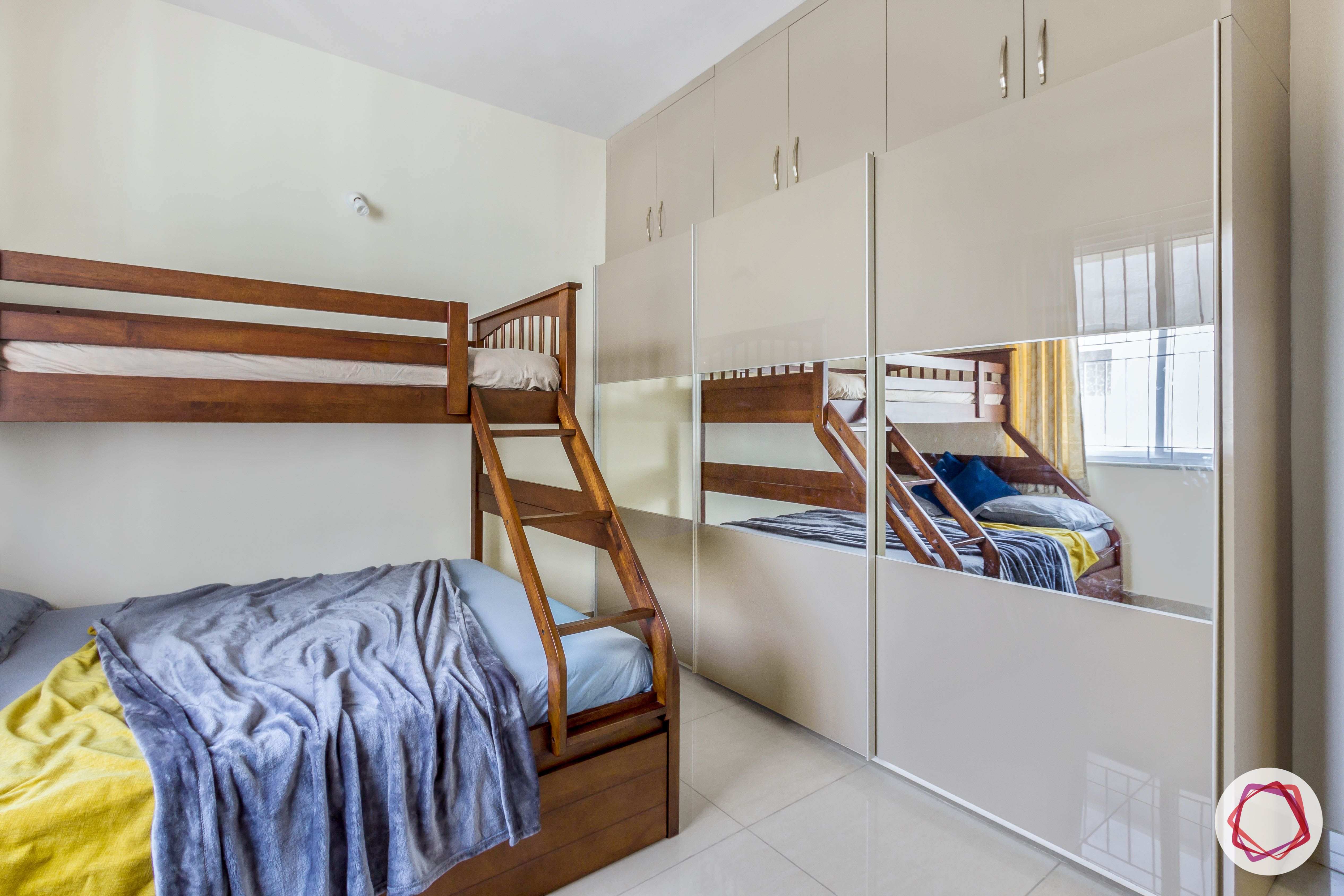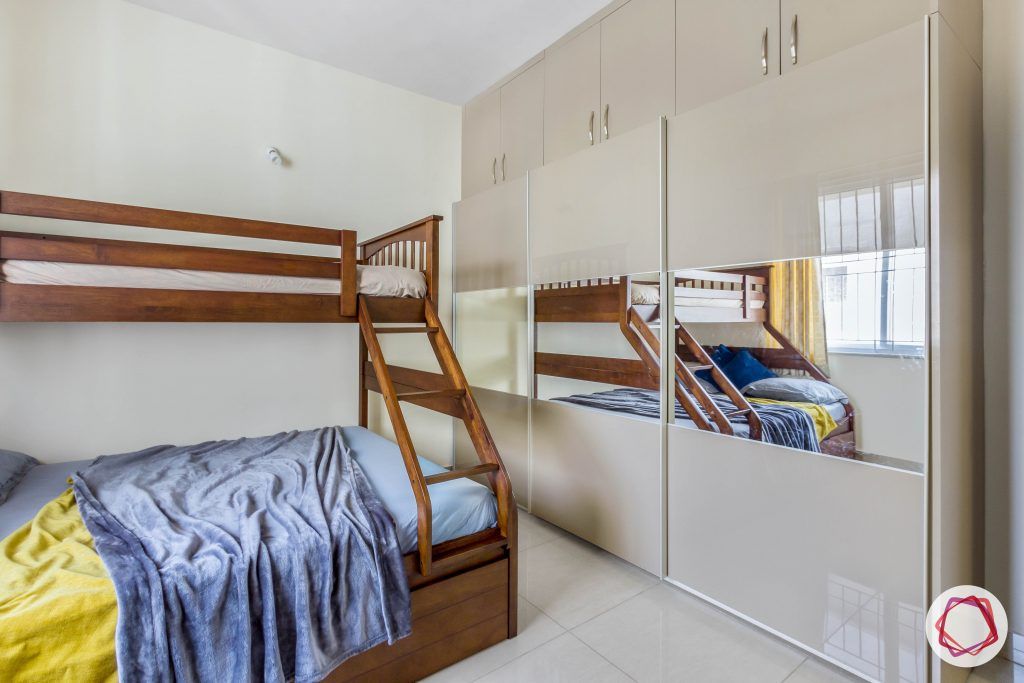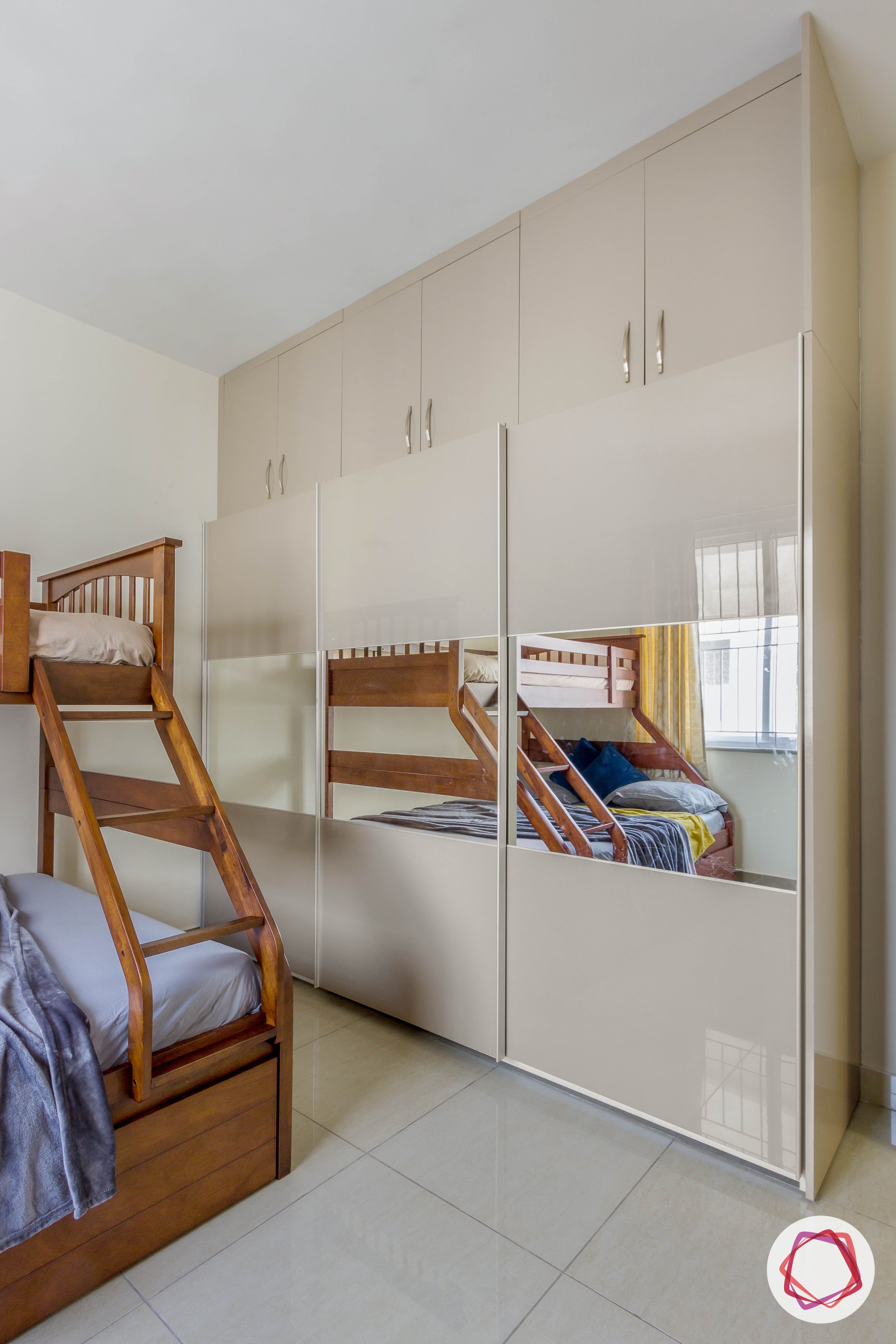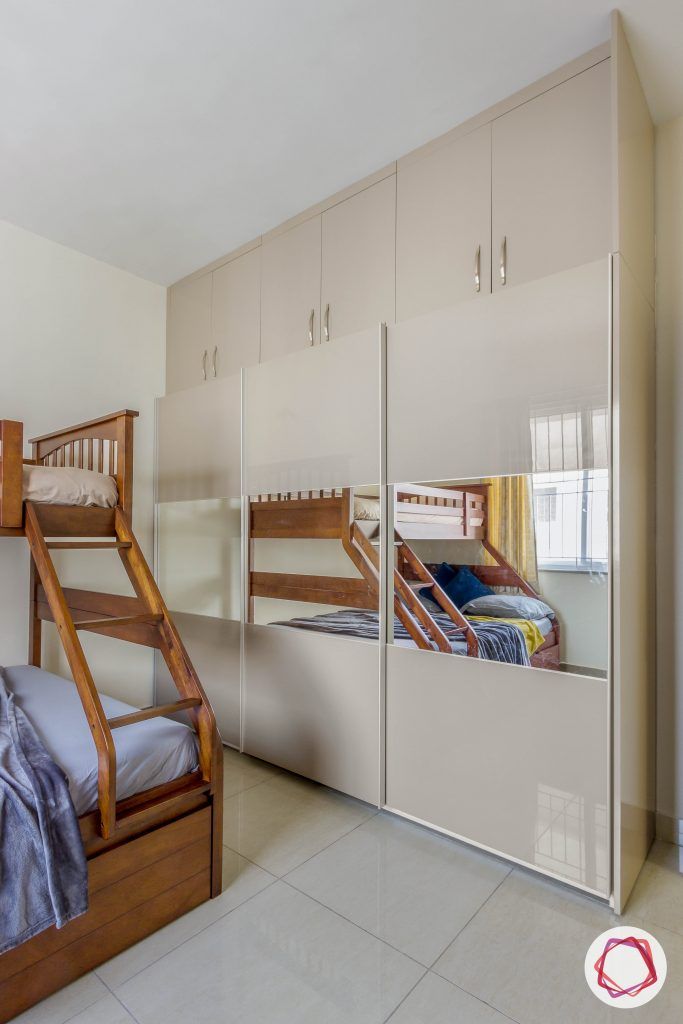 For the son's bedroom, Sangeetha put in a glossy-finished wardrobe with sliding doors and mirror panelling in the centre. For an extra bit of storage, she also added lofts. Doesn't it complement the wooden bunk bed?
Prestige Ferns Residency: Clutter-free Bathrooms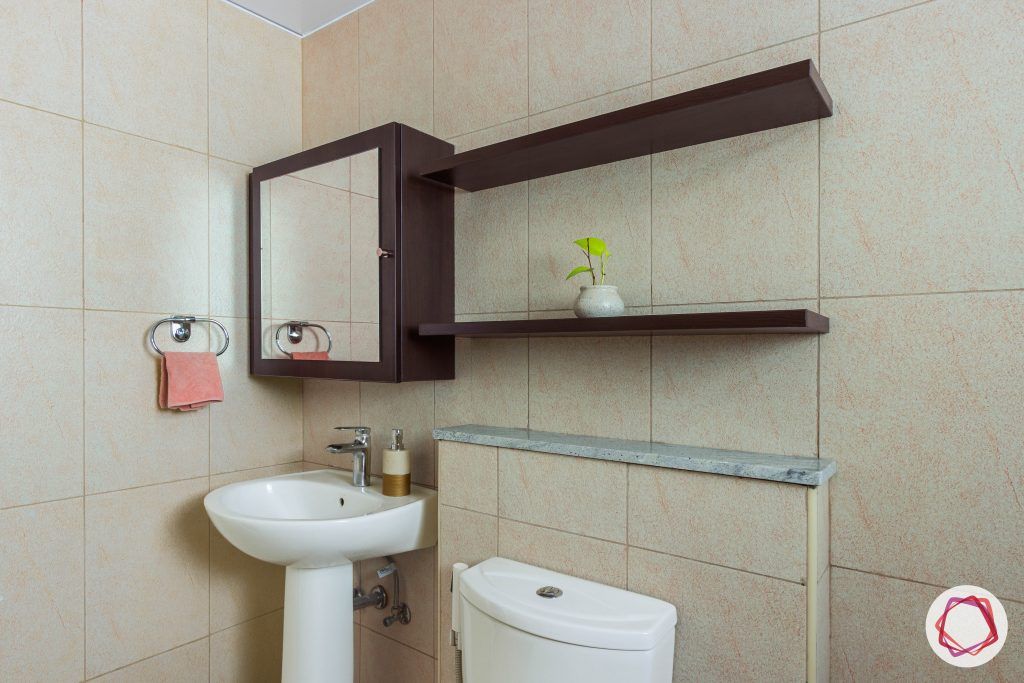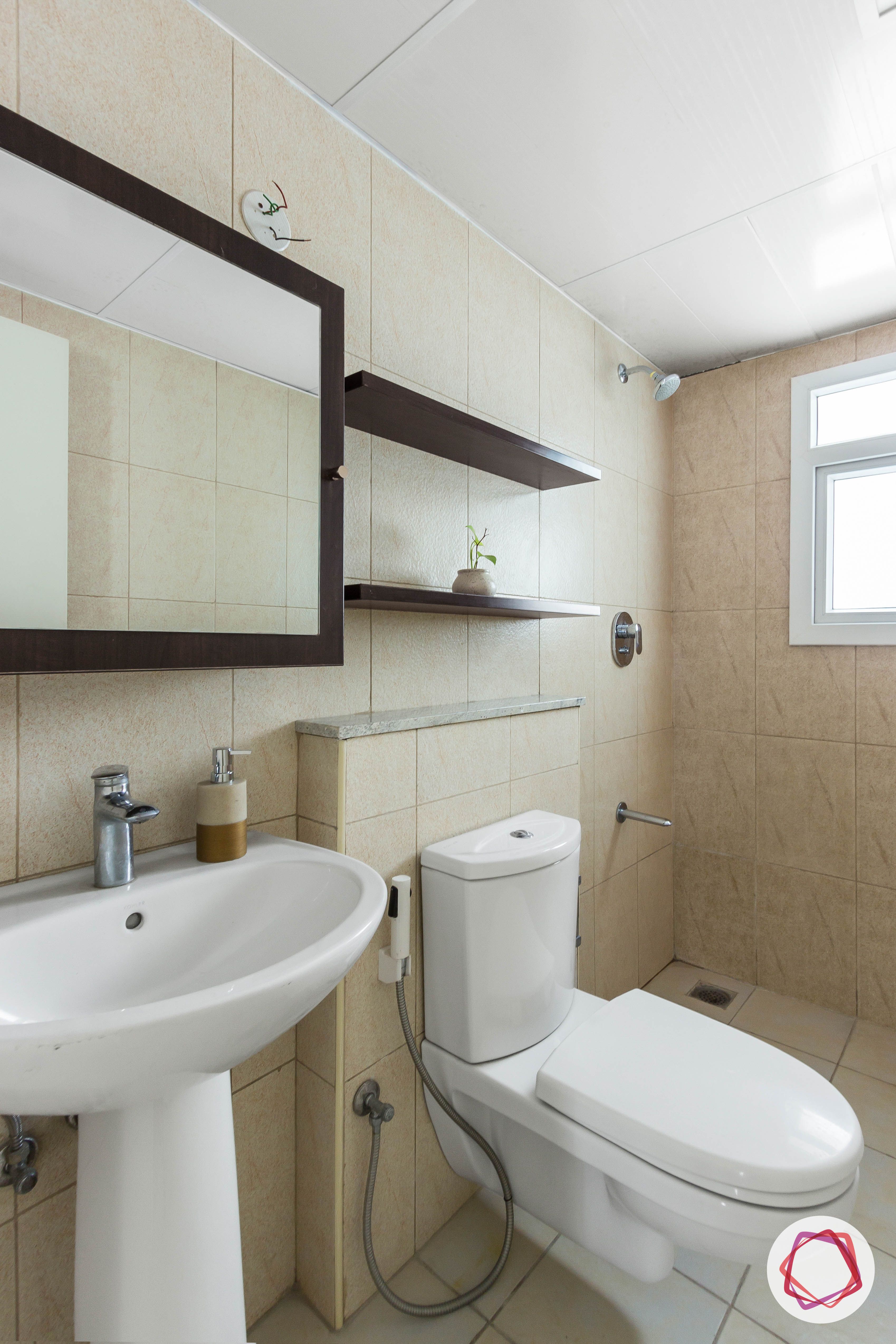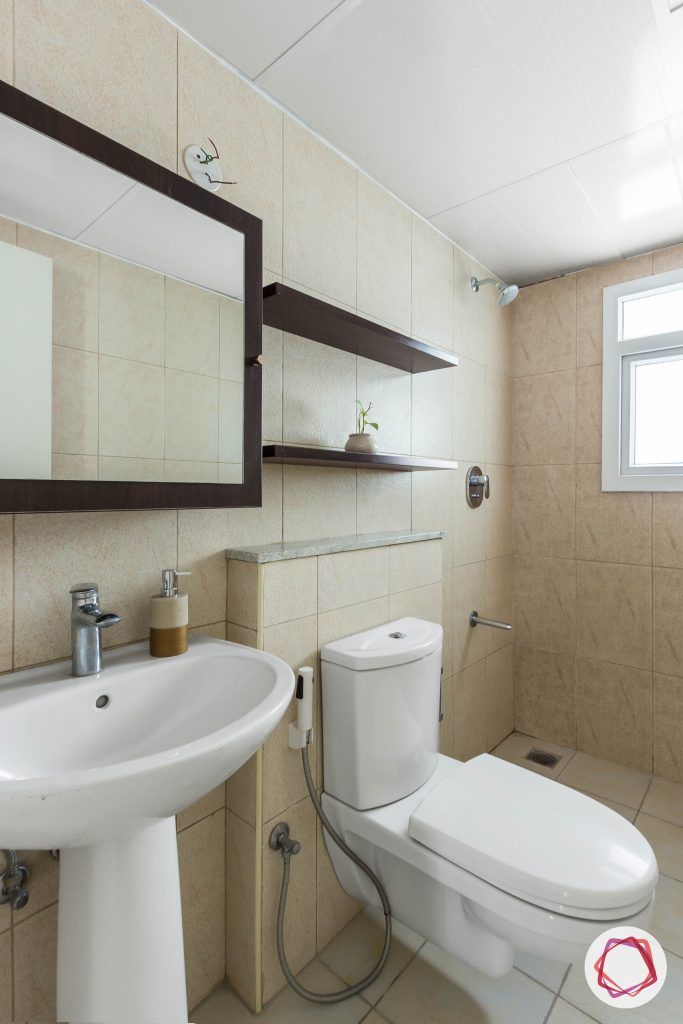 For the master bedroom's bathroom, Sangeetha added a compact vanity unit. It's been fitted with long ledges to display plants and other essentials.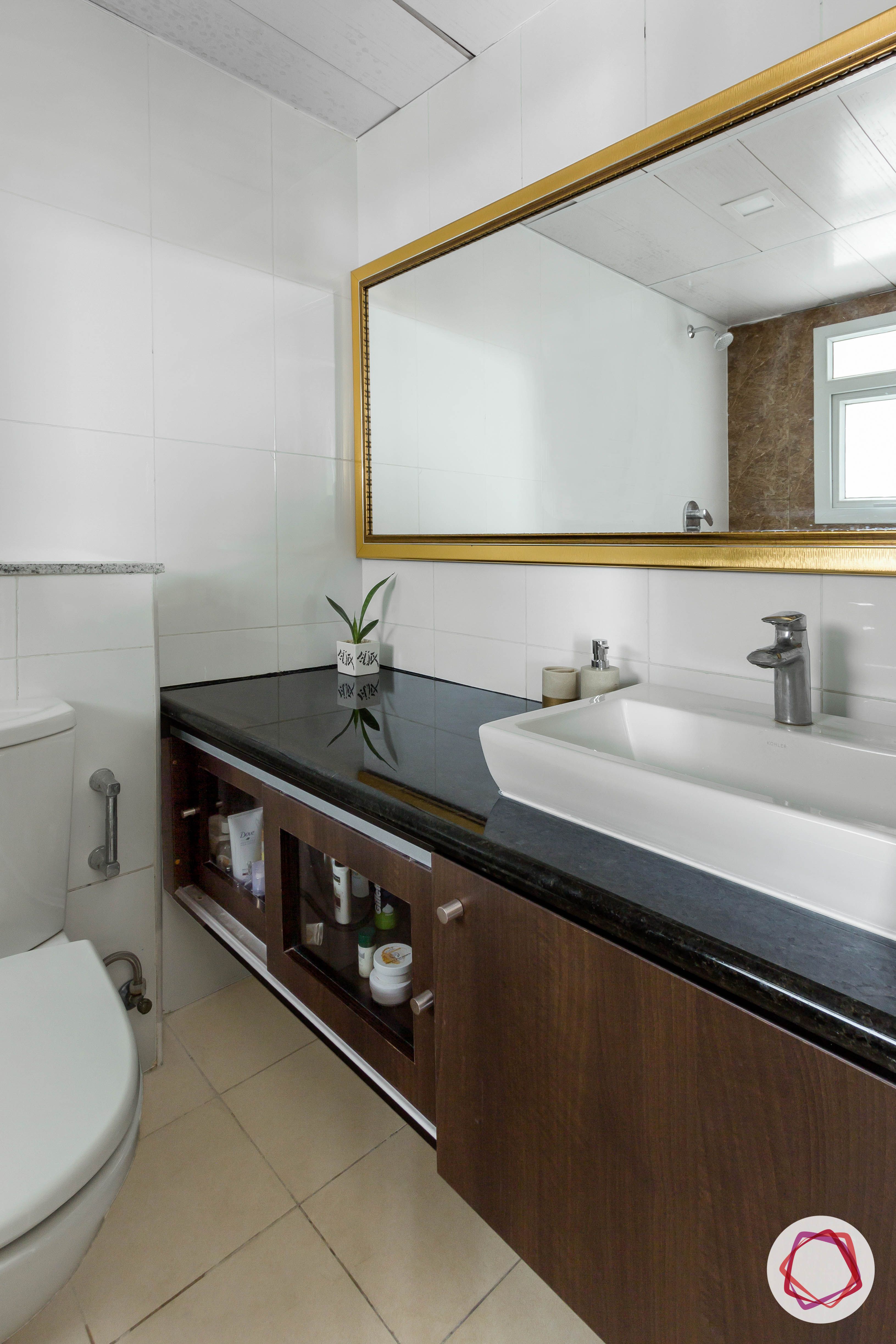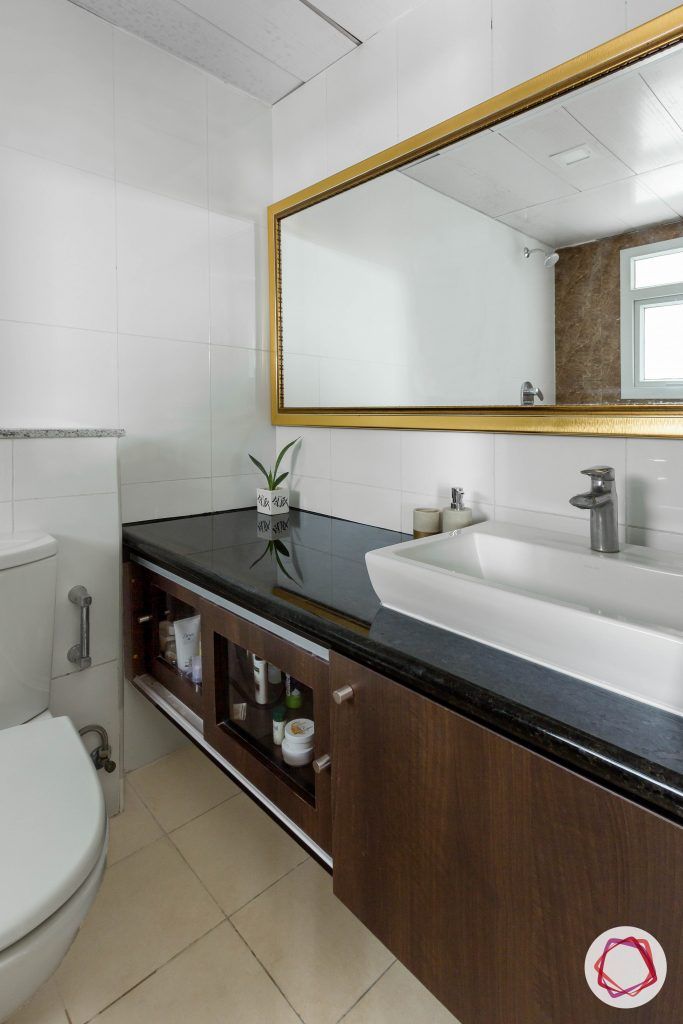 Since the other bathroom came with a storage unit under the counter, Sangeetha completed the look with a gold-framed vanity mirror.
"I had a really good experience working with Rini and her family. They were very clear about what they wanted and completely involved in the design process. So it made the entire process easy and smooth."

Sangeetha Raj, Interior Designer, Livspace
If you loved this Prestige Ferns Residency home, take a tour of this 3BHK at Oberoi Esquire Gets Classy, Customised Interiors
Send in your comments and suggestions.