Beautiful home interiors at Oberoi Esquire for a small, but happy family.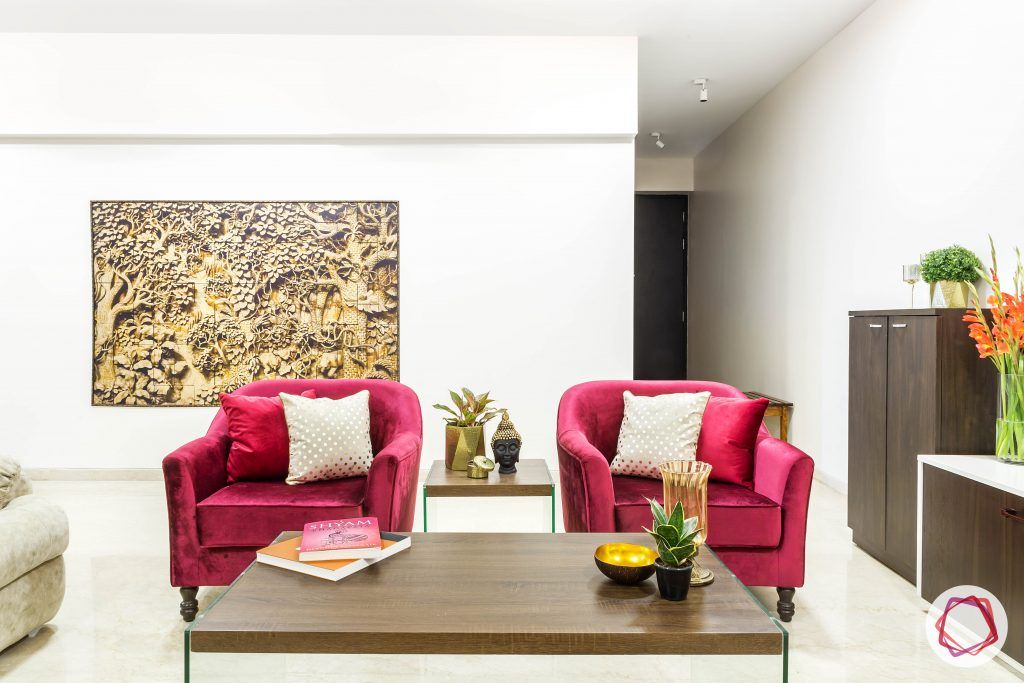 ---
Who livs here: Geethagopal with her husband Gopal Gopalkrishnan, their daughter Neerja and father
Location: Oberoi Esquire, Goregaon East, Mumbai
Size of home: A 3BHK spanning 1,150 sq ft approx.
Design team: Interior Designer and Project Manager Uma Joshi
Livspace service: Full home design
Budget: ₹₹₹₹₹
---
A prime address in Mumbai, Oberoi Esquire is an upscale apartment that's become the place to be for many families – for its excellent location and the spectacular view. It's apparently the only green patch remaining in the city and everyone wants to wake up to it. With a very refined taste in interiors and a lot of furniture from their old home, Geethagopal and her family approached Livspace to do up their new home.
Hailing from a corporate background, this working couple always dreamed of a home with soothing colours that would feel peaceful. Livspace designer Uma got to work on a new design that would retain their existing furniture and added a dash of colour through some bright accents. Read on to find out more about this masterpiece.
Oberoi Esquire Apartment: Swing into the Living Room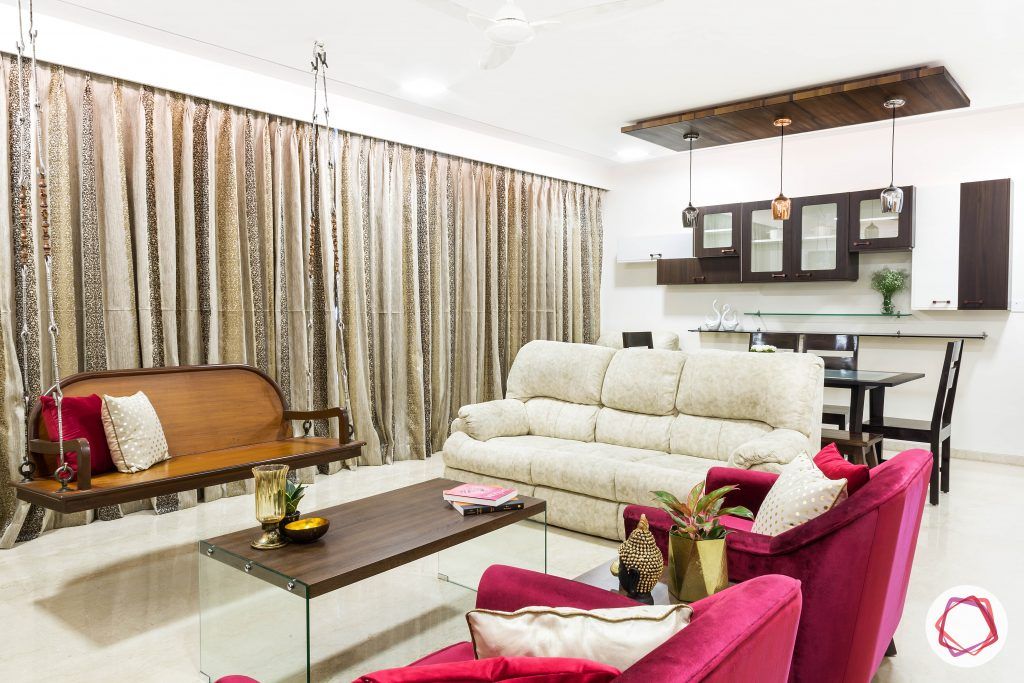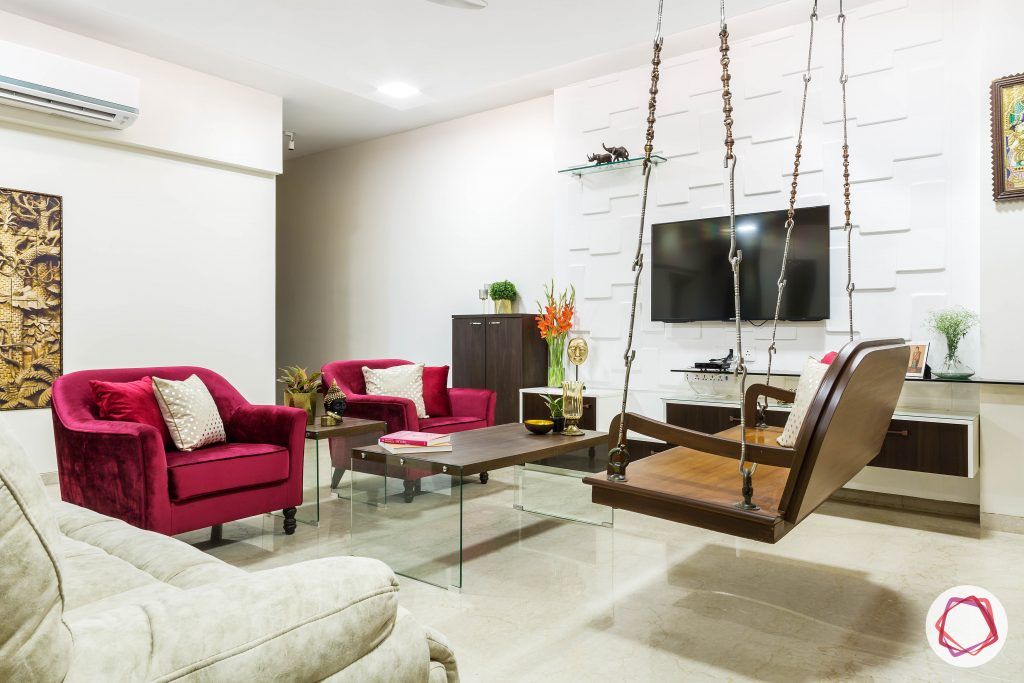 What is it that speaks to you in this living room? Is it the classic wooden swing or the bright accent chairs? For us, it's how all these elements come together. While the swing and the vanilla hued recliner were brought in by the couple from their old home, the velvet magenta chairs have been added by Uma. She reveals that the room started to feel a bit too white and a splash of colour was much needed. This was the right ingredient to brighten up this room.
Lovers of minimal furniture would appreciate the sleek centre table and the TV unit. Uma has also given glass ledges for display against a 3D board on the wall. Coincidentally, the Italian marble flooring, given by Oberoi Esquire builders matches the design theme impeccably.
Oberoi Esquire Apartment: Glass and Glam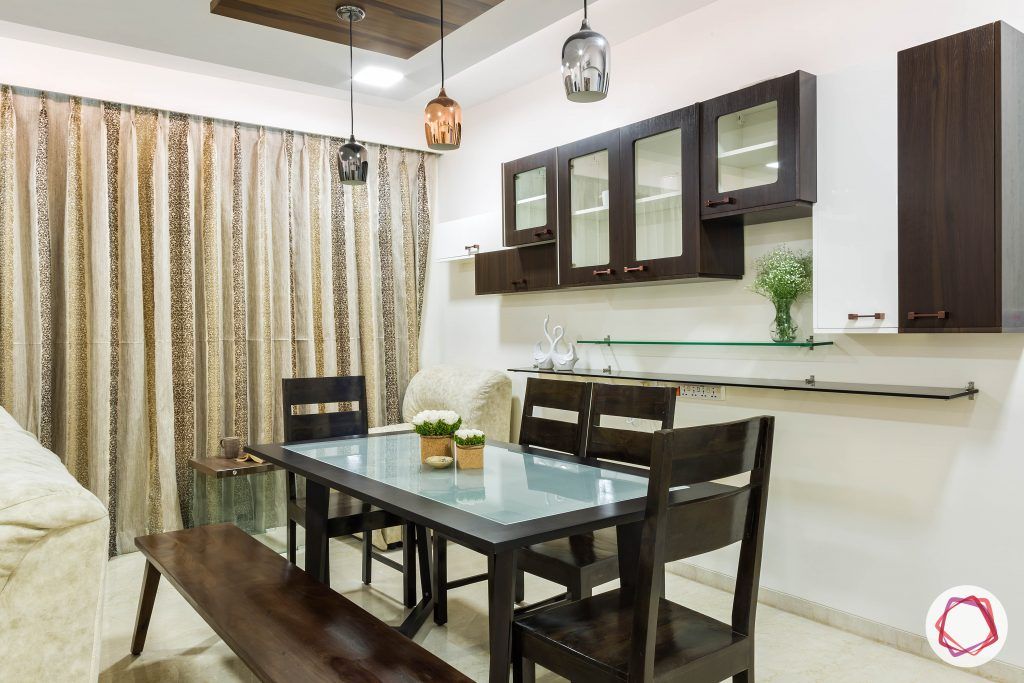 There's something so appealing about the dining room at this Oberoi Esquire apartment. The solid wood furniture accentuated by glass that stands out. Four chairs and a bench surround the simple wooden, glass top dining table. The crockery unit in this dining room is not a regular floor mounted one. Uma says she has played around with the vertical and horizontal placement of cabinets, while giving glass shutters for the rest of them. A couple of ledges take care of displaying the couple's favourite artefacts.
"We had a great experience with our designer, Uma. She was very forthcoming with respect to designs and giving solutions. She also supervised the work and handed over our home well within time. We love how our home looks and we receive a lot of compliments from our friends and family."

– Geetha Gopalkrishnan, Livspace Homeowner
Oberoi Esquire Apartment: Pop Yellow Kitchen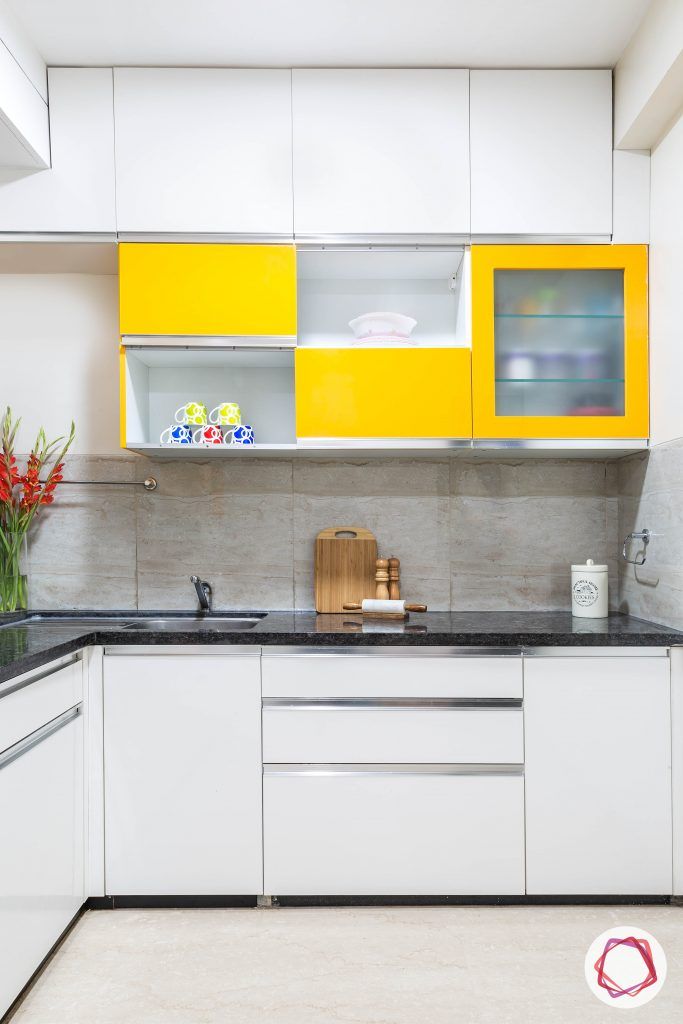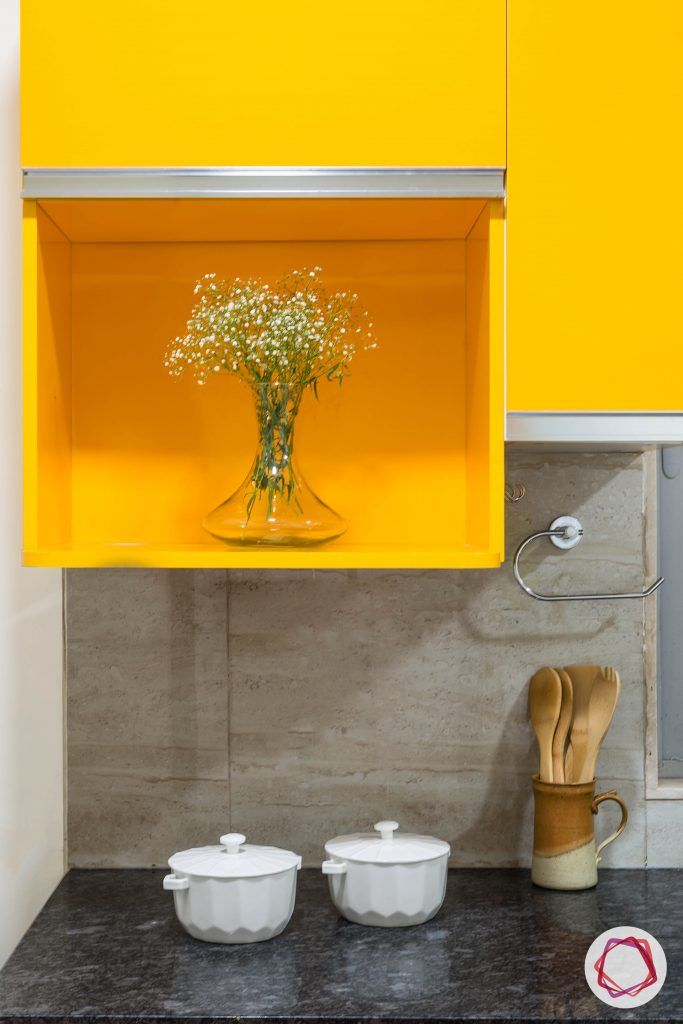 This compact L-shaped kitchen packs a lot more than you can see. While the family is biased towards neutral colours, the kitchen at this Oberoi Esquire home is doused bright shade of mango. Why, you ask? This is something that they had in their earlier home as well, because Vastu recommends bright colours in the kitchen. But Uma was clever to balance it out by giving them pristine profile cabinets and lofts for the rest of the kitchen.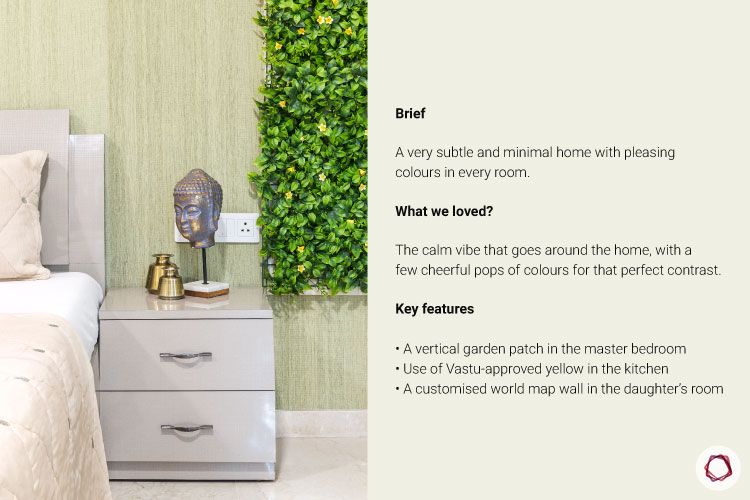 Oberoi Esquire Apartment: A Dash of Greenery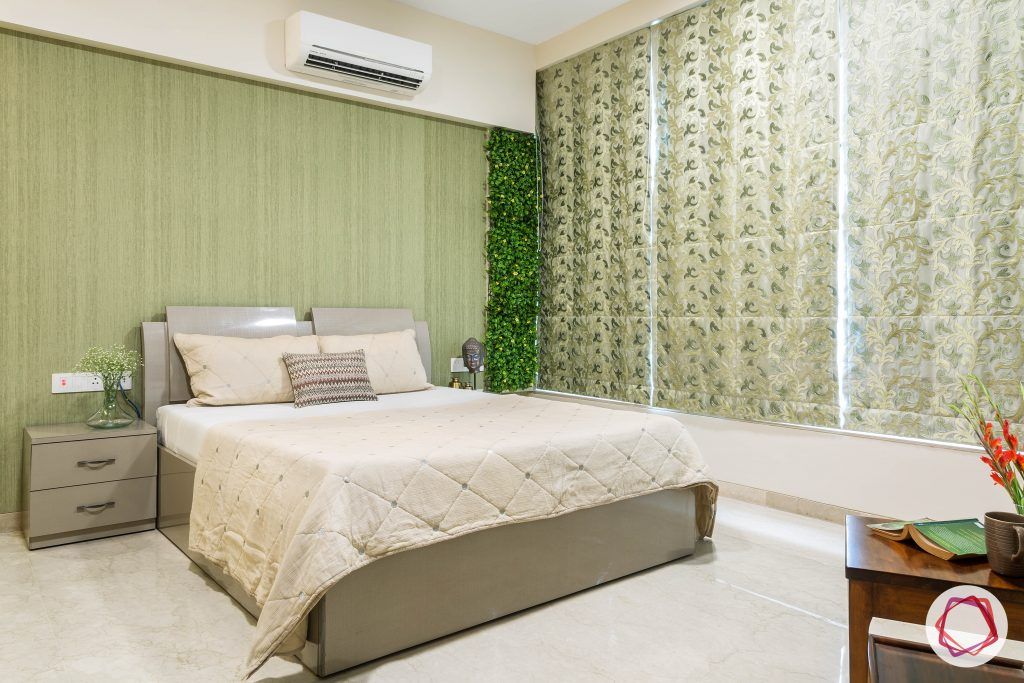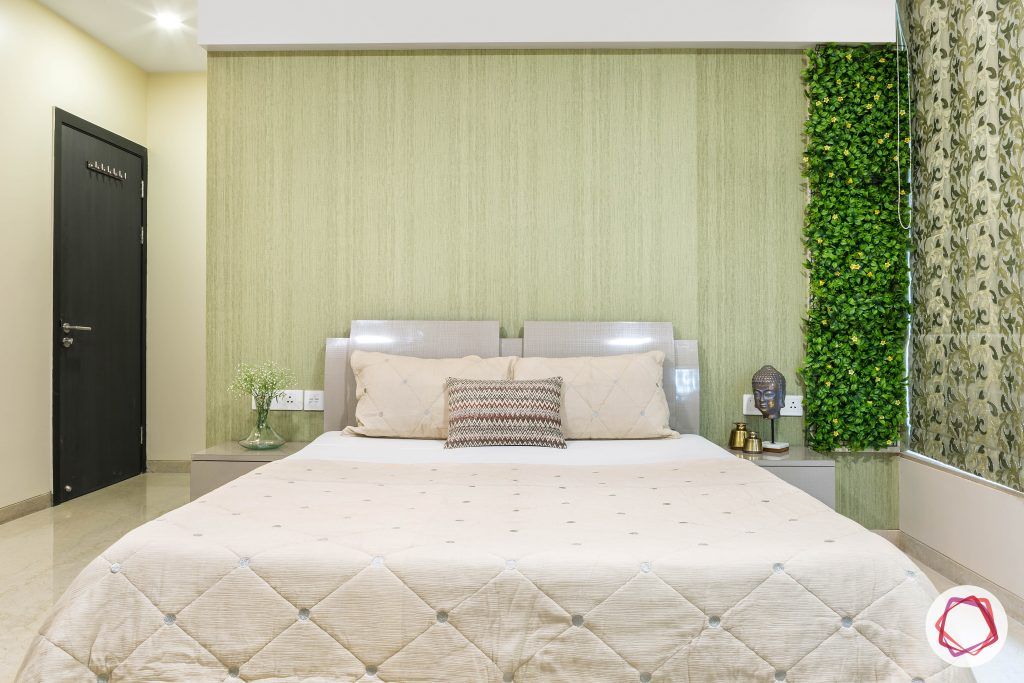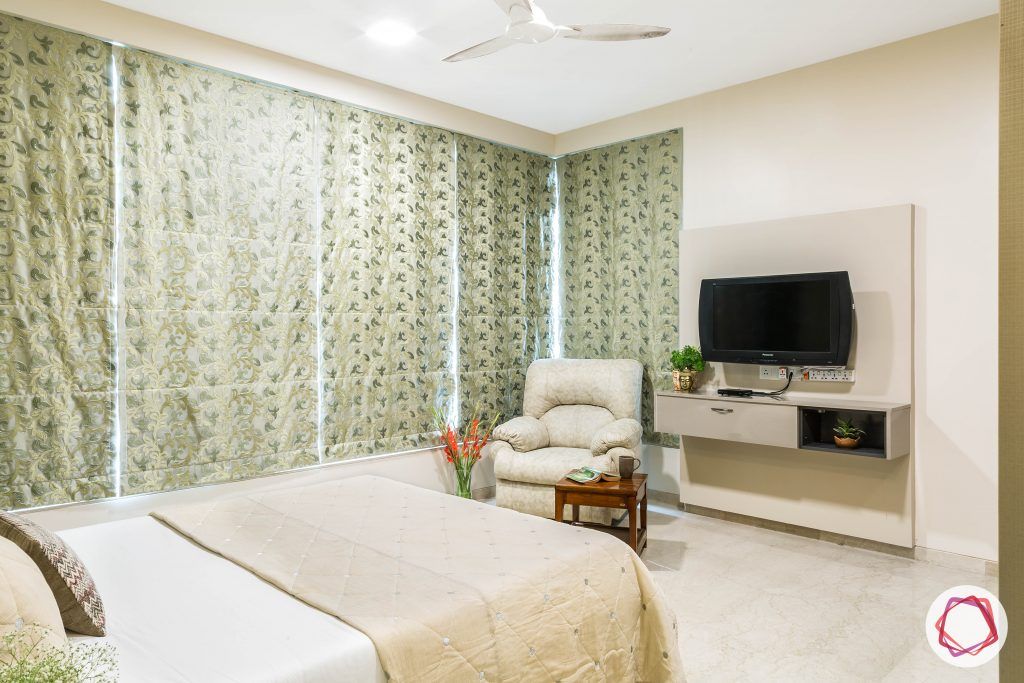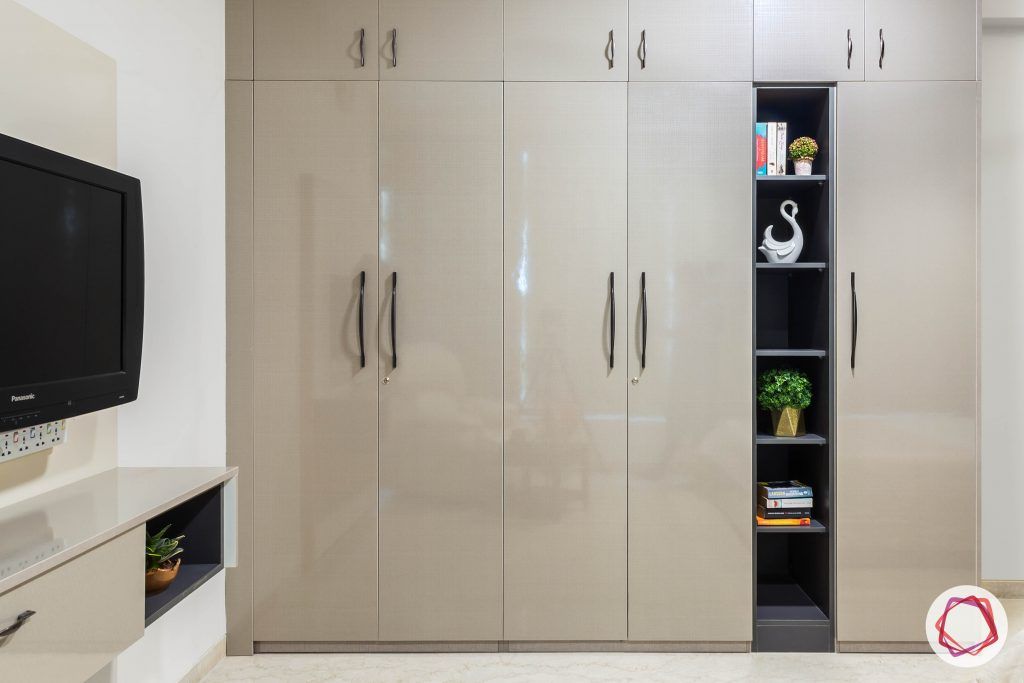 There's a unique story behind this serene green master bedroom at this Oberoi Esquire apartment. Take a look at the vertical garden panel on the side of the bed. Uma chirps that she wanted the room to be like an extension of the greenery outside. Hence, she gave them this vertical garden and blinds with leaves printed on it. To complete the look, she also gave them a striped wallpaper in the same shade.
The TV unit and the wardrobes sport the same high gloss laminate finish. The couple wanted their room to be packed with storage, therefore they opted for this full-size wardrobe with lofts. Uma gave them open shelves in between to break the monotony.
Oberoi Esquire Apartment: Teal Tricks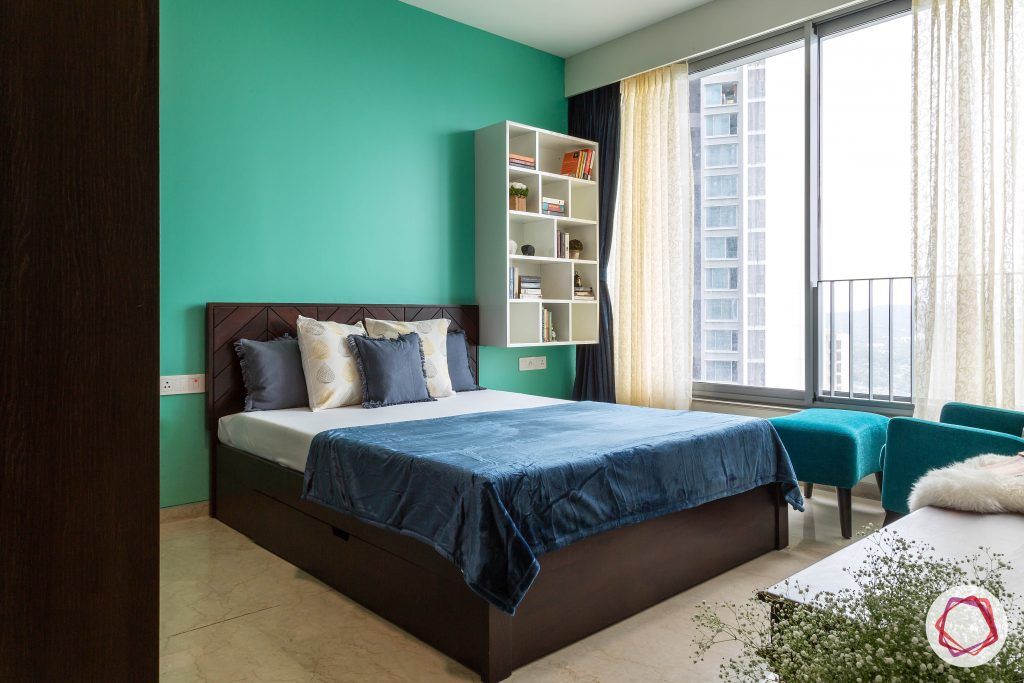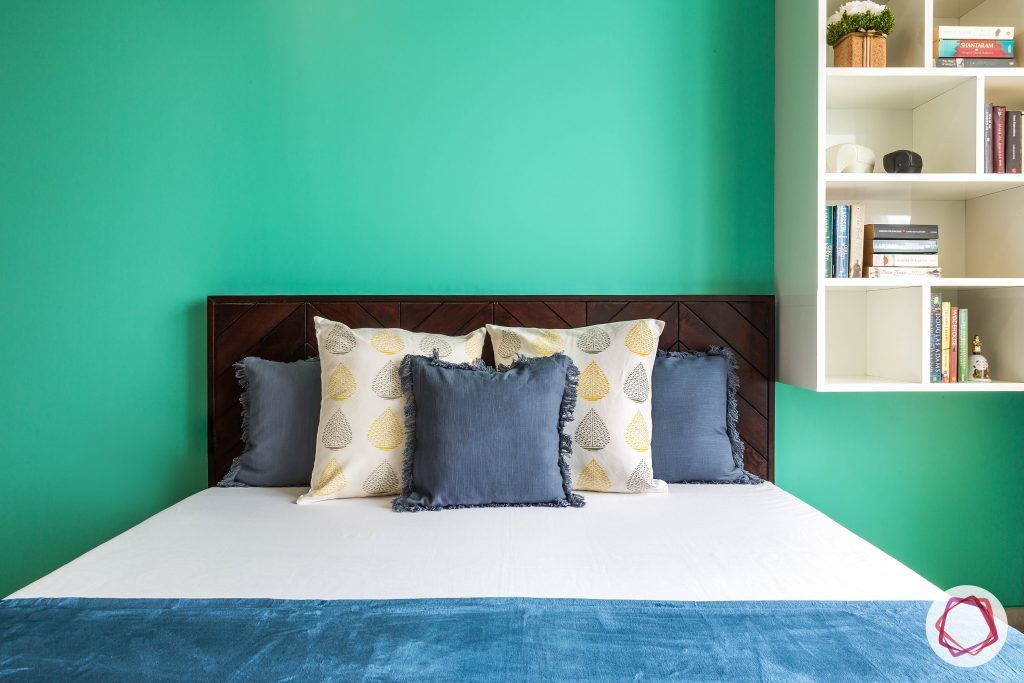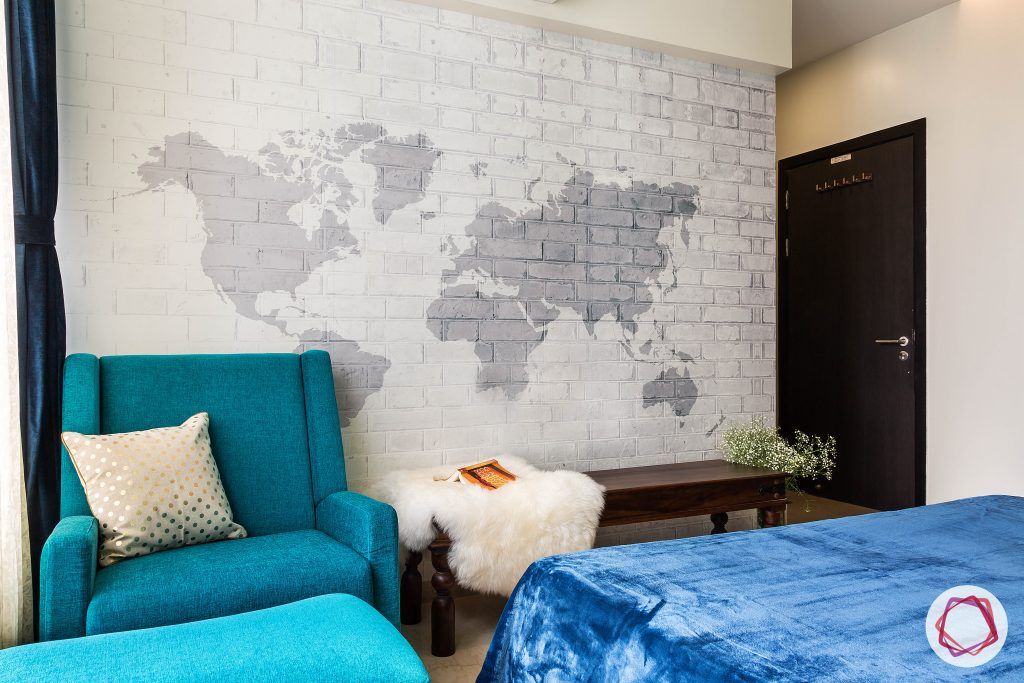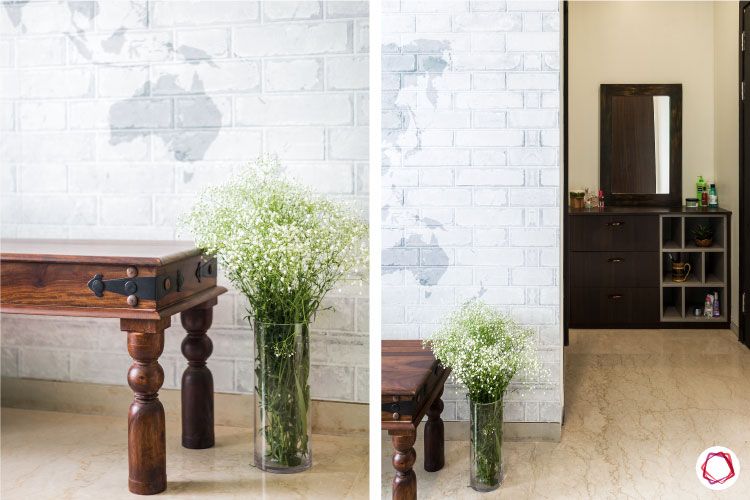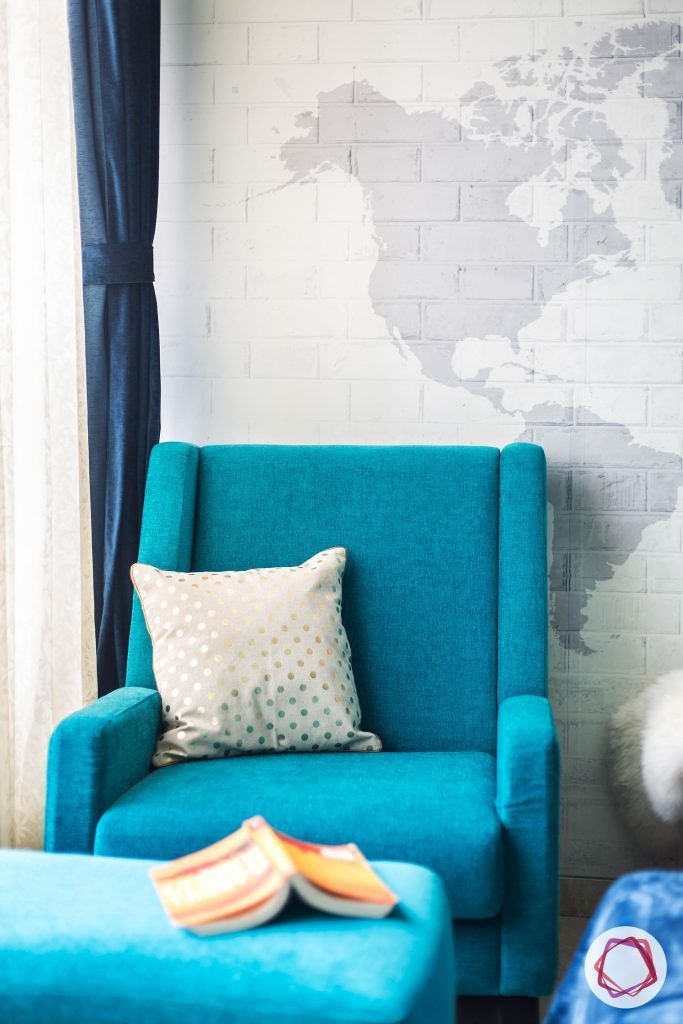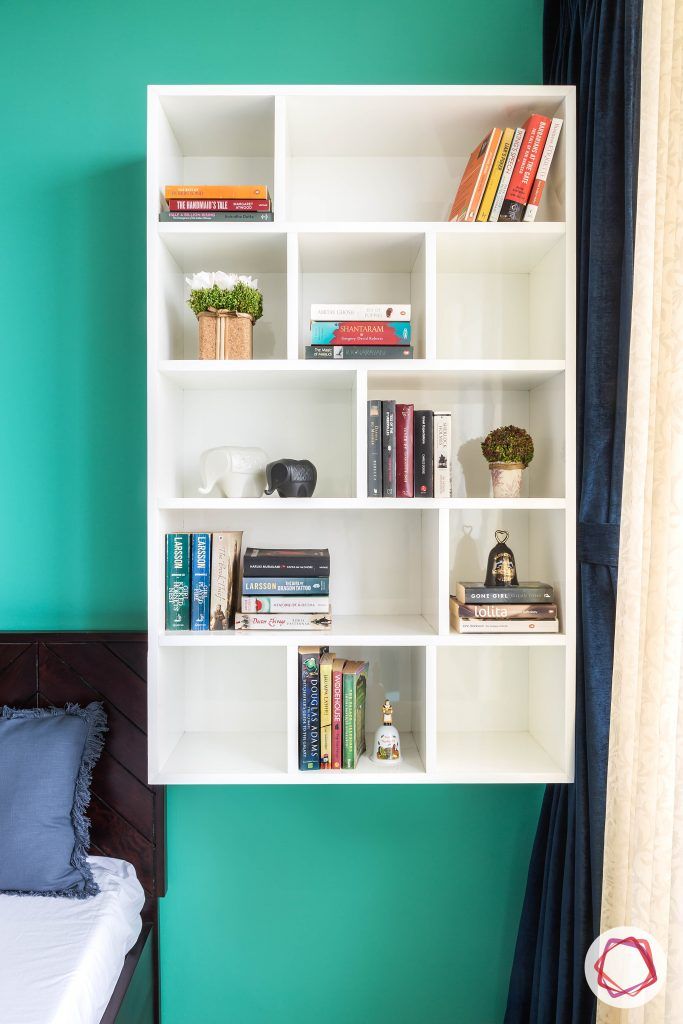 One look at this room and you know that it belongs to a travel enthusiast. The couple's daughter, Neerja, is a backpacker and she loves travelling the world. While discussing her requirements with Uma, she was very clear about having a sea-green or teal colour wall and a world map on one. And, the world map is not just a decor element. She wants to mark the countries she has visited and create her own feature wall of sorts.
The other interesting element in this room is the bookshelf on her bedside. Sporting ample storage in the form of a grid, the inner bookworm in her comes to life here. She loves curling up with a book for company on the teal accent chair.
"This was my first full home project with Livspace and I learnt so much during the course of this one. I had a wonderful experience with the clients and the entire team at Livspace. Since this home is part of a prime apartment here, I was thrilled to design it."

– Uma Joshi, Interior Designer, Livspace
If you're looking for a simpler but classy design, then take a look at this: A Swanky and Sleek Bachelor Pad Comes to Electronic City.
Send in your comments and suggestions.