When you think of a 3BHK house design in Mumbai, what do you imagine? Smart space planning, filled with storage and stylish, right? So, this apartment is the perfect example of a design marvel with smart choices and customisation. You have to see it to believe it!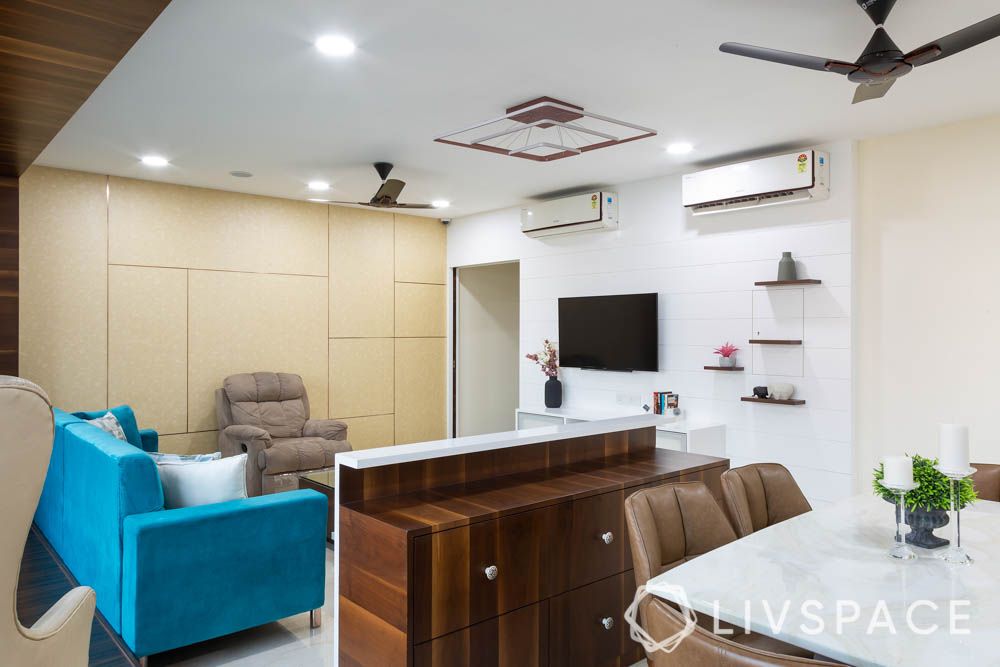 ---
Location: Oberoi Esquire, Goregaon East, Mumbai
Size of home: A 3BHK spanning 1,100 sq ft approx.
Design team: Interior Designer Tanvir Siddiqui and Project Manager Nikhil Sahoo
Livspace service: Full home design
Budget: ₹₹₹₹₹
---
Between the plush white walls, glossy lick of PU on furniture, and sleek veneer finish detailing, this home in Mumbai's Goregaon is everything that a classy apartment should be. When our designer, Tanvir Siddiqui first visited this 3BHK she knew that she had ample space to put her designs to work. The clients had briefed her about the colours they wanted, storage requirements and an overall understanding of their vision for their home.
Things took off from there and Tanvir started churning out ideas from her hat. The designs were finalised quickly and execution happened smoothly. Each and every piece of furniture in this 3BHK house design is custom-made to suit the needs of the homeowners. Brace yourselves for multiple design surprises inside this home.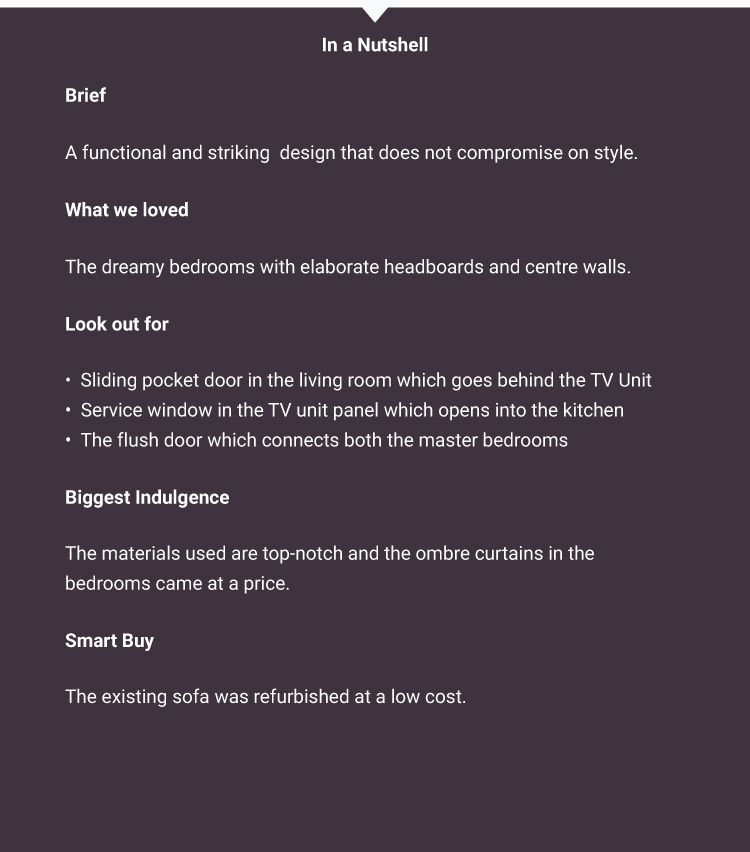 A bright and airy space welcomes you home!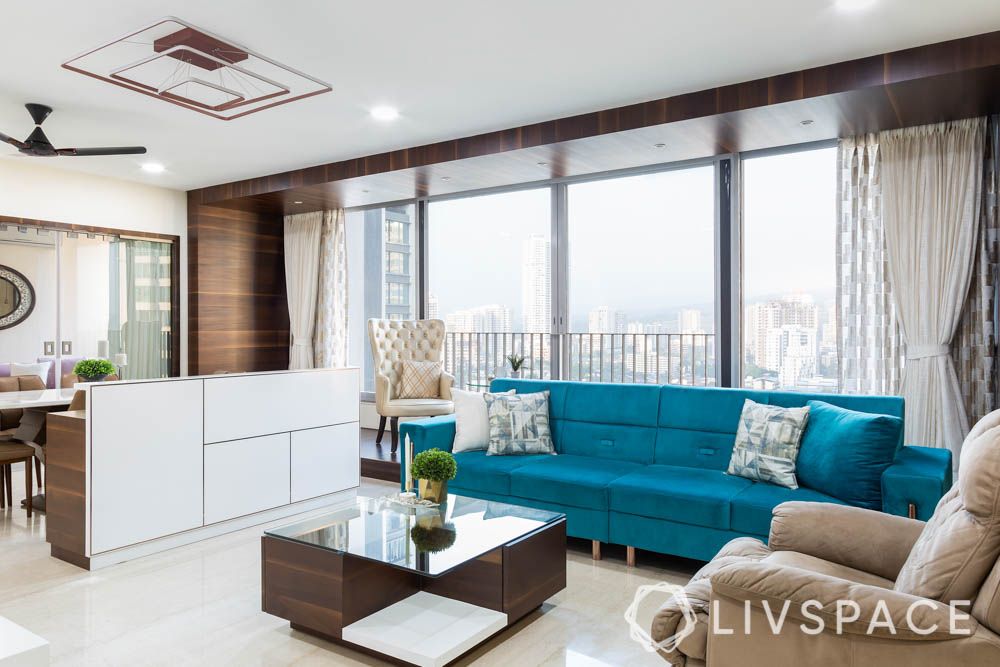 As soon as you step foot inside this modestly-sized home, you will realise that not all Mumbai homes are matchbox sizes indeed. Some, like this one, enjoy a great view with brilliant space planning to open up the space. The living-cum-dining room in this flat was one huge area which Tanvir broke up with the help of intelligent placement of the crockery unit. Also, she added a wallpaper with brass beading to on the wall to turn it into an accent wall. Consequently, on the other side you can spot a glossy PU finish TV unit.
A yellow kitchen that is packed with modules yet flaunts a sleek look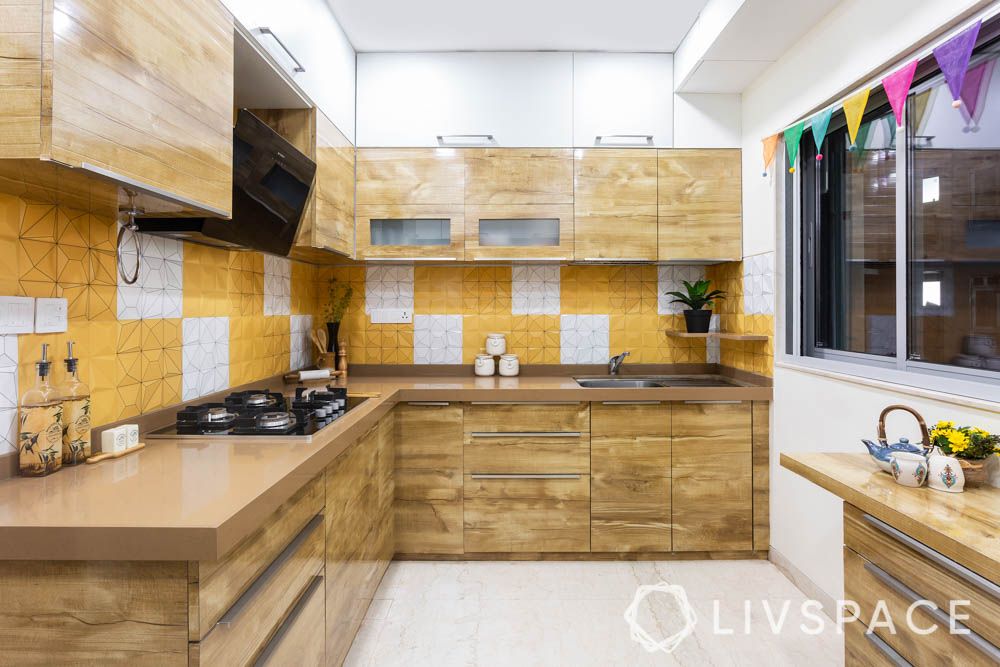 At first look, this kitchen might look swanky but let us tell you, it has the most affordable finish – laminate. Tanvir picked up a rather unique pattern that imparts a stylish look to this kitchen. She also broke all the counters of the old kitchen to make more space and create an L-shaped layout. We also love the yellow and white ceramic tiles on the backsplash. Quartz countertop, a tall unit, built-in microwave and oven, and all the possible modules that a modular kitchen should have is what completes this space. Also, do not miss the lofts that add to the storage in here.

We bet this bedroom will transport you to dreamland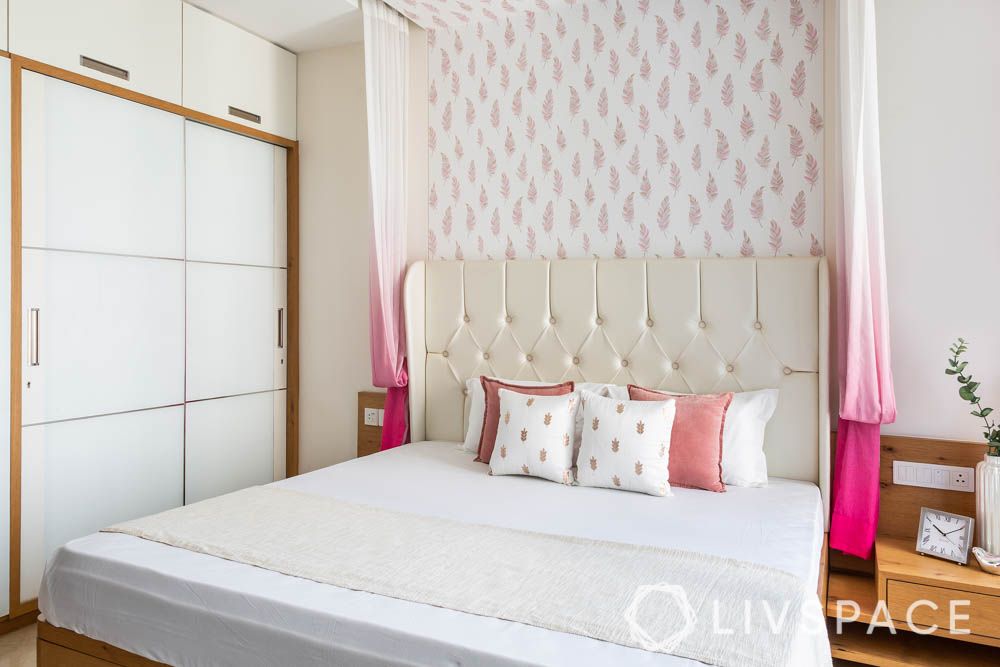 After a long time we have found a bedroom that is capable of kindling our senses. Would you look at those dreamy ombre curtains? We are in love! In Tanvir's words, "This bed is a modern take on the traditional four-poster bed." Also, she added curtains on either side and followed it up with a wallpaper which extends from the headboard wall to the ceiling.
The rest of the room looks classy with white being the dominant colour. She has used back-painted glass on the sliding door wardrobe and the pull-out dresser next to it. Also, do not miss the designer TV unit that is a mix of veneer and mirror panels with a back-painted glass backdrop. The view from this room also calls for a cosy reading corner that is created by the chair placed next to the picture windows.
The right colour scheme can make or break a space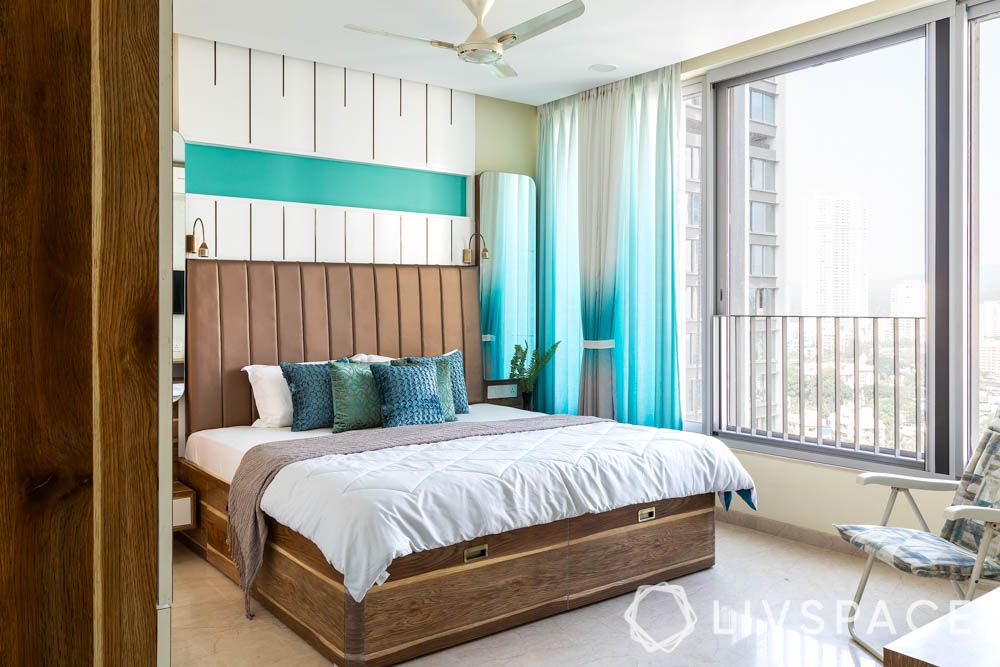 Another lovely ombre-themed bedroom, as we would like to call it. We are floored by the fact that a simple thing like curtains can change the look of a space like this. With laminate winning here, most of the furniture finish looks unique but is quite affordable. The headboard wall sports plywood paneling with PU paint to give it a glossy finish. Also, the dressers on either side come with storage and the TV unit comes with ample drawers. Simple swing door wardrobes with highly customised interiors make things super functional here.
How to make the most of an extra room in a 3BHK house design?
Sometimes we have rooms that might not serve the purpose of a bedroom, per say. Therefore, Tanvir made sure she utilises this extra room in this 3BHK house design for something useful. So she gave them a full-wall storage unit with cabinets and drawers that can store the world. Also, spot the mini fridge, if you can!
Over to the surprise elements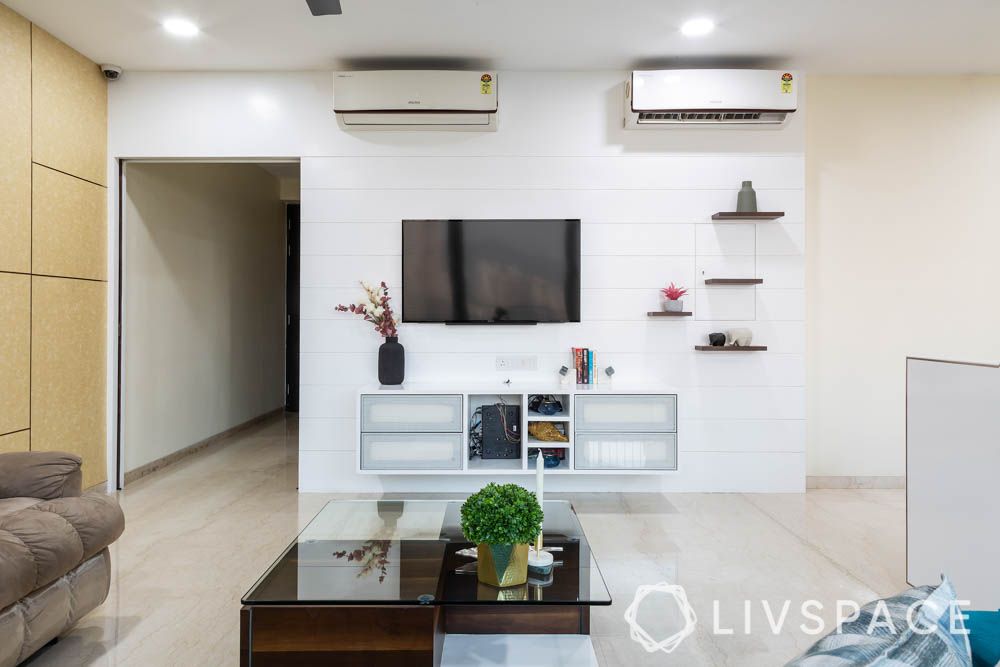 Let us ask you. Do you spot something in the TV unit wall? Kudos to those of you who could. For the rest of us, there's a small service window carved out in this wall. You can spot it on the right side behind the wall ledges. Also, this window connects to the kitchen and dishes can be passed on here without having to walk the entire round up to the dining area.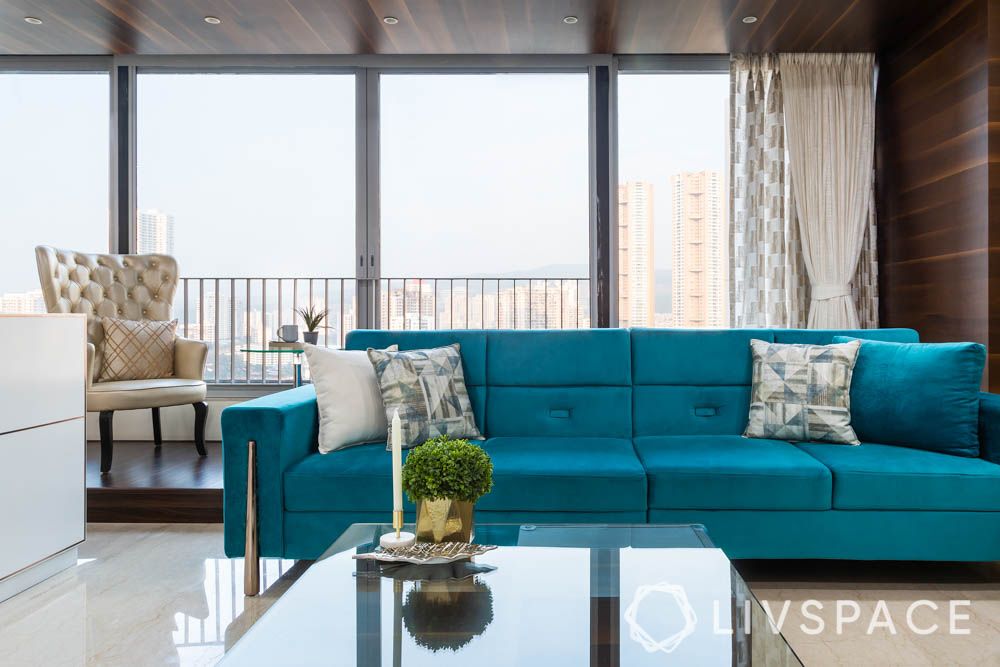 Does this sofa look fresh and newly-bought? Well, you are in for a surprise. This piece right here is a refurbished one. The homeowners had an existing sofa which was in usable condition and Tanvir did not want to throw it away. Therefore, she reupholstered it and added a fresh colour to it so that it sits pretty in their living room. Now that is one smart decision!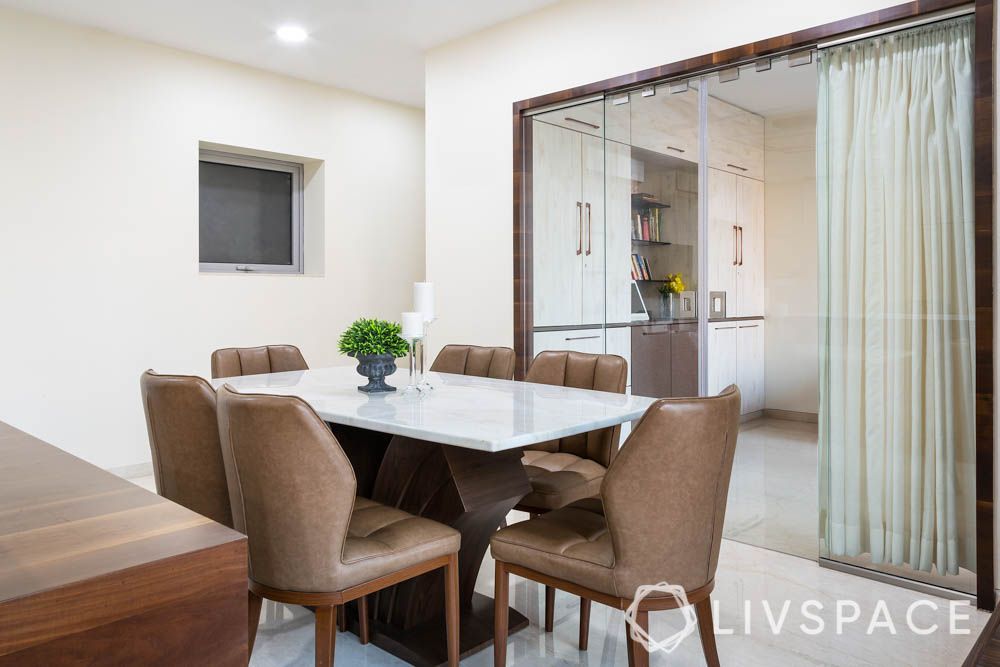 Do you see that glass door next to the dining table? Well, that opens up to a room. So, this room is used as an extra room to accommodate guests or family members. Designer tip: Add curtains to a glass door to quickly turn it into a private space when you need an extra room for overnight guests.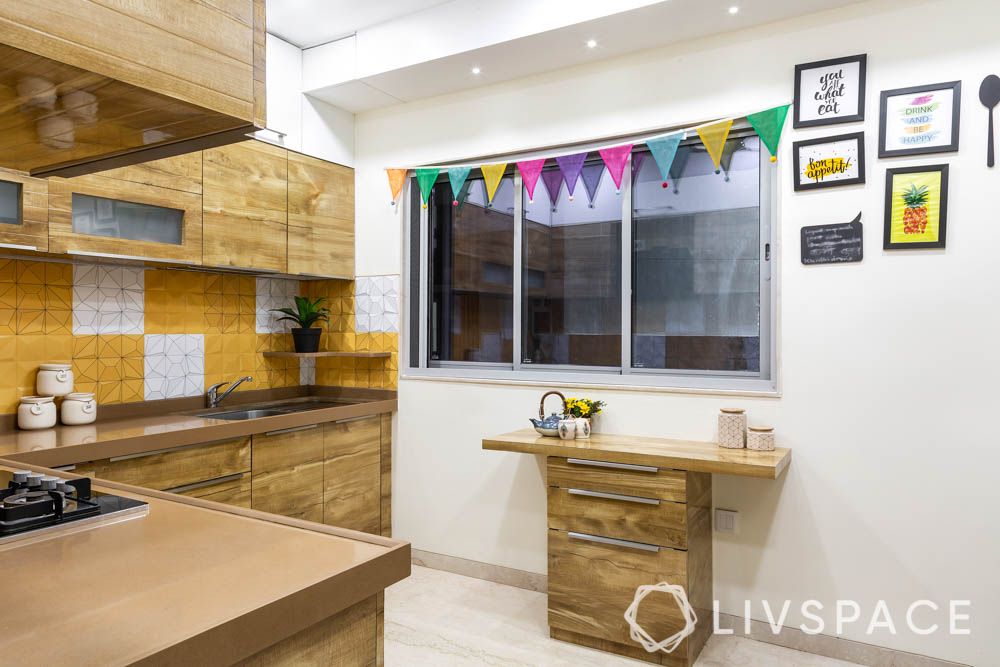 Did you think that breakfast counters only belong in open kitchens? This kitchen will make you think again. Tanvir has added a compact breakfast counter right next to the wall, where two people can comfortably grab a bite. So if you have a closed kitchen, you can explore this option.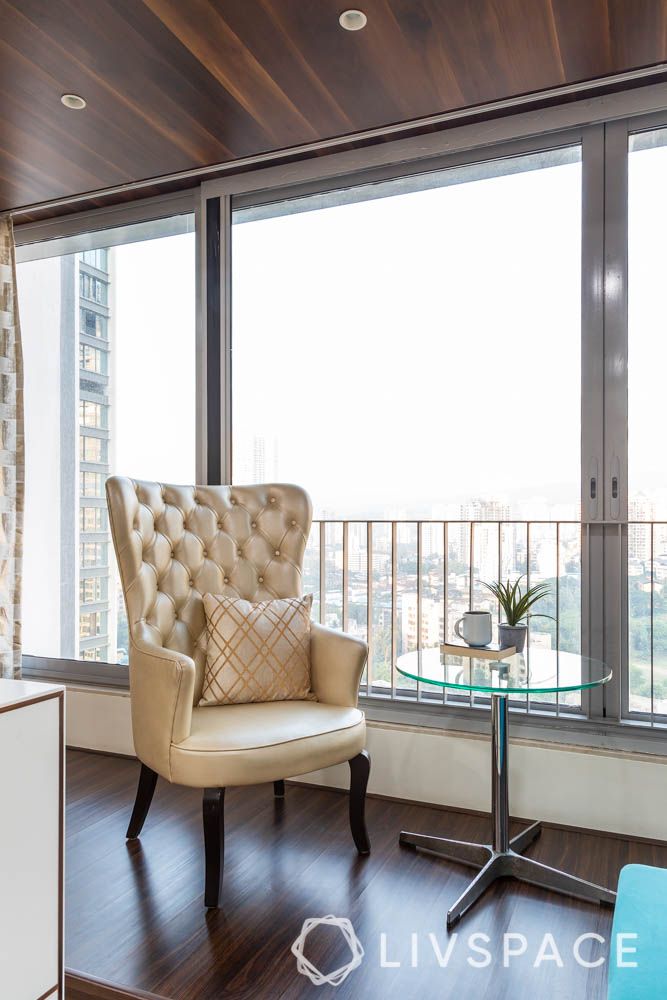 Some people just love sitting by themselves and reading their favourite book over weekends. So, for every one of you out there, this is a brilliant idea to steal. Since this flat did not have a balcony at its disposal, Tanvir decided to carve a deck area that serves the same purpose. She used some space in the living room and demarcated it with veneer panels. An accent chair and a tiny coffee table in place and your very own "me" corner is ready!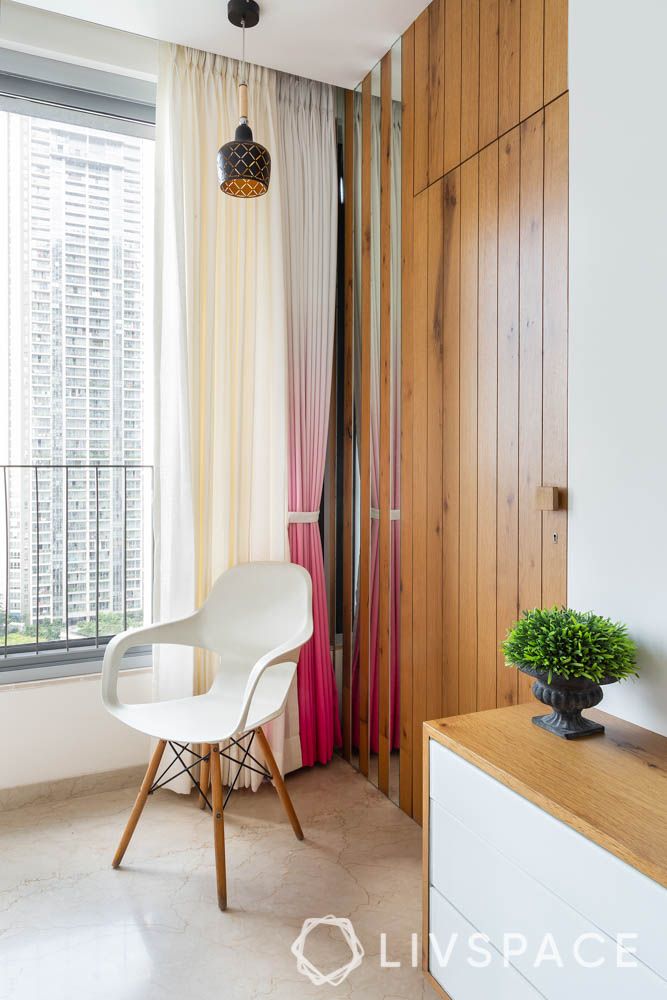 Ever thought of interconnecting rooms at home? This 3BHK house design has that as well. Therefore, a great idea for parents and children of all ages, a flush door can allow you to access the adjacent bedroom easily. Also, Tanvir has camouflaged it with grooves that resemble the other side of the TV unit wall. Therefore, it does not evidently look like a door. Isn't that brilliant?
---
"It was just amazing to work on this home. I was given so much freedom in terms of design and budget. It is a dream project for any designer. I enjoyed playing around with the space and had to put in a lot of thought for each design element. From the finishes to the customisation, everything in this home is a masterpiece!"

– Tanvir Siddiqui, Interior Designer, Livspace
---
If this is your style, then we have another home that might interest you: This 3BHK at Oberoi Esquire is Classy
Send in your comments and suggestions.