If you think about it, designing a home is a lot like painting a blank canvas. Before you get to see the final product, you first need to find the right colours, materials, and approach to flesh out your canvas. Designing a home comes with a few more intricacies, of course. Before you start to worry, we'd like to take you through the Livspace interior design of a home in Amanora Victory Towers in Hadapsar.
Using the 3BHK flat design of Amanora Victory Towers in Hadapsar, we've pulled together a few common questions that can arise while designing a home. We hope you're strapped in because we're about to take you on an informative tour!
---
Who Livs here: Vishwajeet Kadam and his family
Location: Amanora Victory Towers, Hadapsar, Pune
Livspace service: Full home design
Budget: ₹₹₹
---
What Are Some Design Elements to Consider While Doing Up the Living Room in Your 3BHK?
Buying accessories like a TV unit and couch are probably no-brainers when it comes to decorating your living room. But, what if we told you there was more to it than just that? In fact, there are a dozen interior design elements you can try out that are so subtle you might not even realise they're there! Let's take some cues from this living room interior design for Amanora Victory Towers in Hadapsar.
Design Solutions
False ceiling with cove lighting: This is a great way to bring in a decorative element through lighting without overdoing it. Use LED lights for improved energy-efficiency
Floor-to-ceiling pooja unit with jaali: An easy way to segment space is with a jaali divider. For pooja rooms, you can use some jaali panelling on the sides of your unit to outline the space. Consider throwing in a backlit jaali design inside your unit to further decorate it
Functional furniture: Apart from a sectional sofa, a couple of ottomans are handy to have. You can easily move them around and rearrange them as per the need and occasion
Wall panelling: They can help keep your interiors low-maintenance with finishes that are easy to clean. You can also add some drama to these panels with textured or metallic paint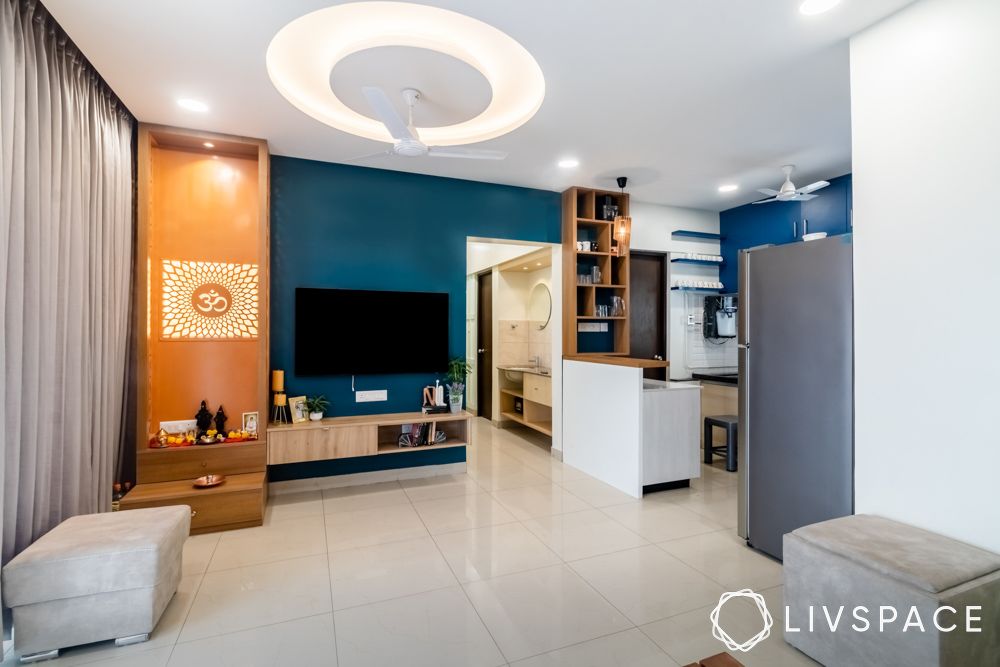 Based on the living room in this Amanora Victory Towers flat, it's clear to see that the home follows an open layout. Besides this, there are a few more elements that are bound to catch your eye. We'll give you a hint. Look up!
We've used a circular false ceiling with cove lights to fill the room with a subtle yet warm glow. Apart from setting the ambience, this design is also great for making a statement. This is one element you should consider borrowing from this interior design for Amanora Victory Towers in Hadapsar.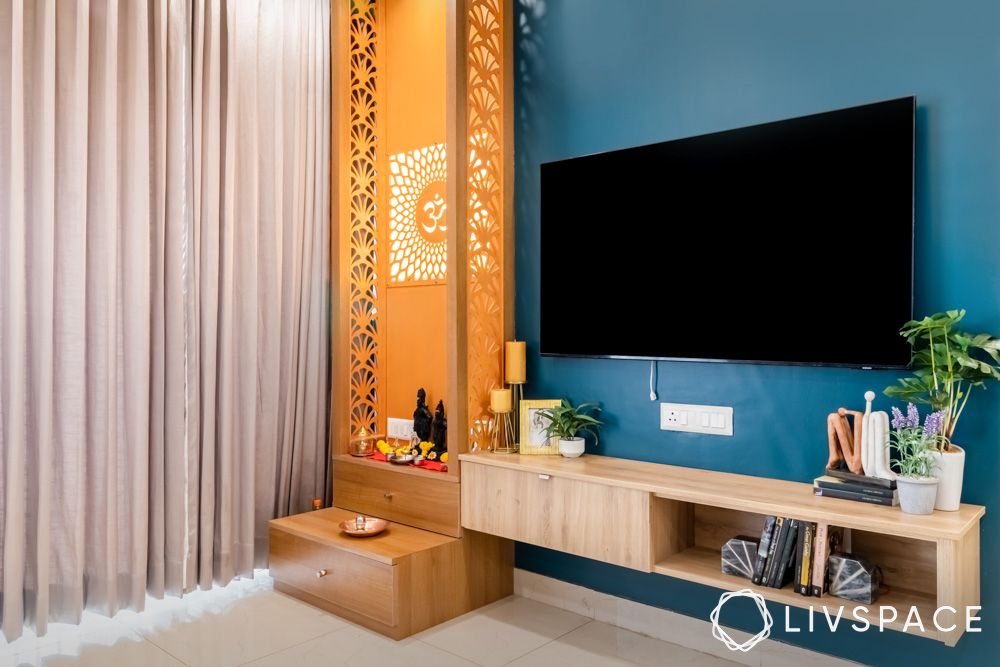 If you're confused about where to place your pooja unit, the living room can be a great option. However, if you're low on space, it's time to get creative.
In this 3BHK flat design at Amanora Victory Towers in Hadapsar, we placed the mandir right next to the TV unit. This placement creates a little niche for the pooja unit and sets it apart from the other elements in the room. Though both units are separate, you can also consider going for an integrated design that combines both.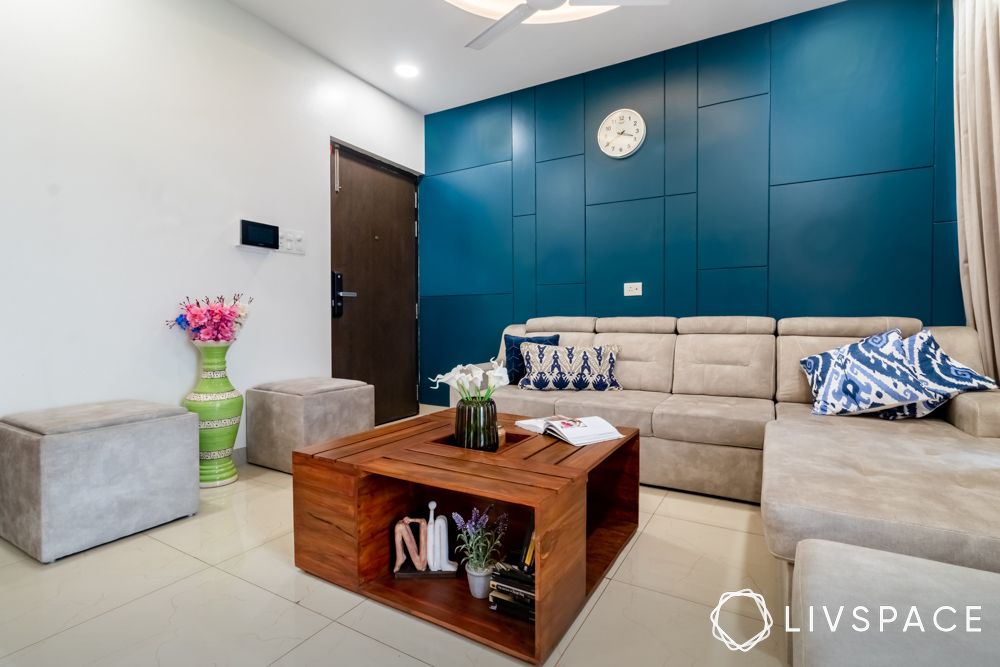 If you have kids and pets, low-maintenance design is probably high on your list of priorities. Here's where wall panels might be a good option for you to consider. The Kadams are a large family with four kids, so we've used wall panels to accentuate the space while keeping it low maintenance.
Depending on the wall panel finish you choose, it can be fairly easy to wipe down and maintain without a hassle. Laminates can be one such example of a low-maintenance finish for panels. Alternatively, you can also paint your panels with some texture or metallic paint for added effect.
What's the Best Furniture to Use in a 3BHK With an Open-Layout?
Depending on the size of your home, an open layout can pose a few restrictions when it comes to design. This is especially a concern if you have a lot of furniture but not enough space to accommodate it. Take a look at some of the furniture used to style this interior design for Amanora Victory Towers in Hadapsar.
Design Solutions
Multipurpose furniture: Sofa sets with concealed storage are ideal for compact spaces
Coffee table storage: Pick out a coffee table that has storage space beneath it, so you can stow away books, soft furnishings, and floor pillows
Breakfast counter: Draw a boundary between two areas in an open layout with the help of a breakfast counter. This can either be done with a partial wall extension or with a kitchen island
Open shelves or in-built wall storage: Make the best use of wall space with shelves or wall cabinetry that draws the eye upward. This also helps keep your floors free from clutter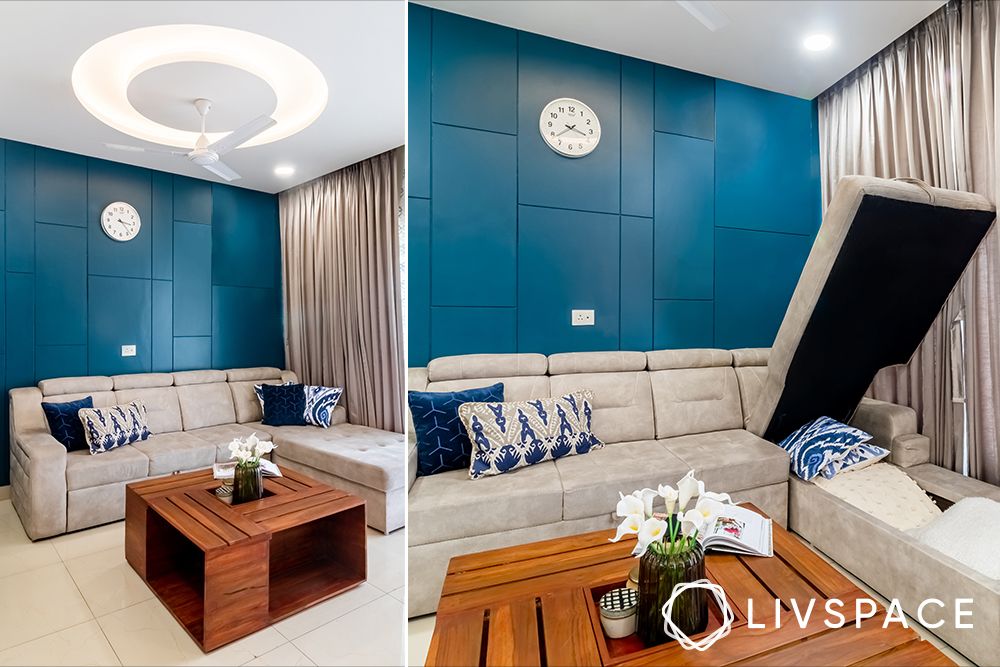 Since open layouts run the risk of looking cramped with too many storage units, you'll need to address your storage needs differently. This Amanora Victory Towers flat design uses multifunctional furniture that offers concealed storage to solve this problem.
The best part? The family won't have to make a trip to the bedroom to get more pillows or throws. All they need to do is pull open the storage compartment to immediately access their extra soft furnishings.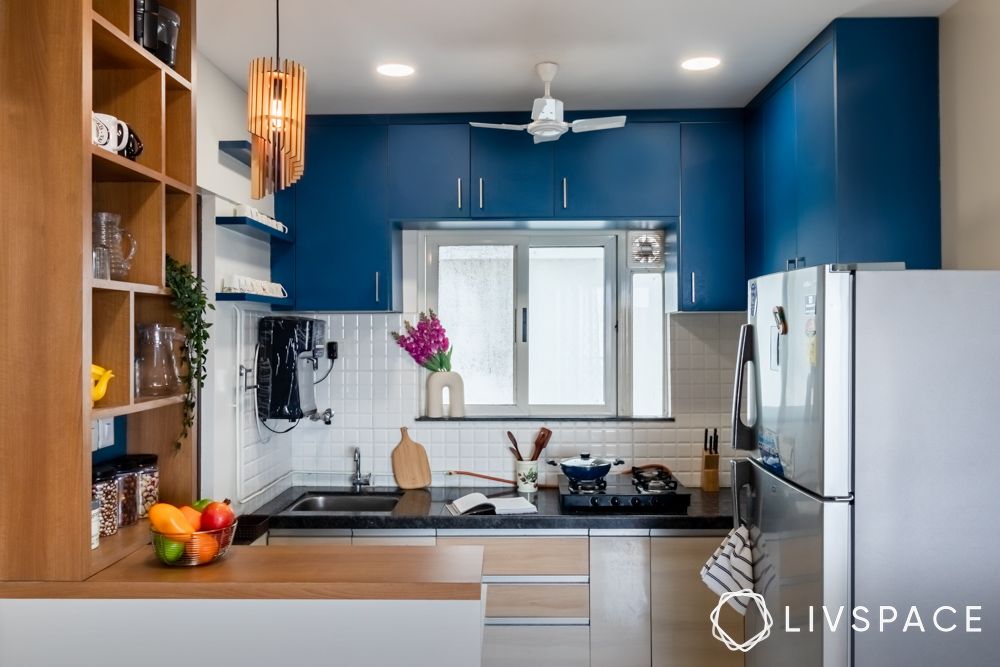 Multifunctional furniture is one thing, but placement and orientation is just as important. Depending on how you place your furniture and plan the space, your open layout can work twice as hard for you.
In this 3BHK flat design for Amanora Victory Towers in Hadapsar, the living room and kitchen flow into each other. So, how did we give both rooms their own distinct space? With a handy breakfast counter, of course! If drawing boundaries between open spaces is a concern, use a kitchen island or breakfast counter to segment the space.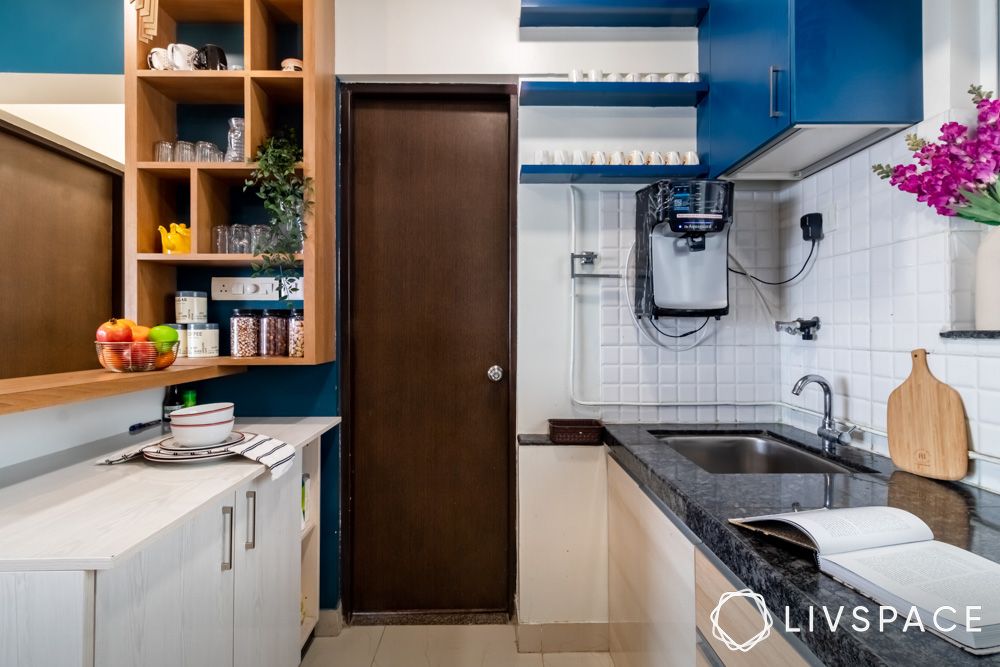 Another cool thing you're bound to notice in this interior design for Amanora Victory Towers Flat, is the clever use of vertical storage. In fact, vertical storage is a blessing in compact homes where floor space is scarce. Why? Because the more storage units you have on your floors, the messier and crowded your home may look.
Instead, opt for open shelves and wall storage that keeps your floors free from clutter. Since this kitchen interior design for Amanora Victory Towers in Hadapsar is on the compact side, a mix of open and closed storage cabinets was ideal. Open cabinets can give the space more depth, helping the room look a bit more expansive.
Also Read: What is the Cost of Interior Design for an Average 3BHK Apartment?
How Do You Add Storage to Your 3BHK's Bedroom Without Making It Look Cramped?
Your bedroom is the perfect space to let your imagination and creativity run wild. And for most people, it's where they love to let loose in terms of design and create a space they'd love to be in. However, smaller bedrooms can leave you stumped with space constrains, especially when it comes to mapping out wardrobe space.
So, what do you do in such cases? Let this bedroom interior design for Amanora Victory Towers in Hadapsar be your guide.
Design Solutions
Built-in wall shelves: If you have an existing wall niche, consider outfitting it with open shelves. This can add open storage space to your bedroom without the issue of clutter
Floating cabinetry: Keep your floors free by opting for wall-mounted storage options
Space-saving furniture: Ottomans are a versatile furniture option to have in small spaces as you can stow them under your bed or desk when not in use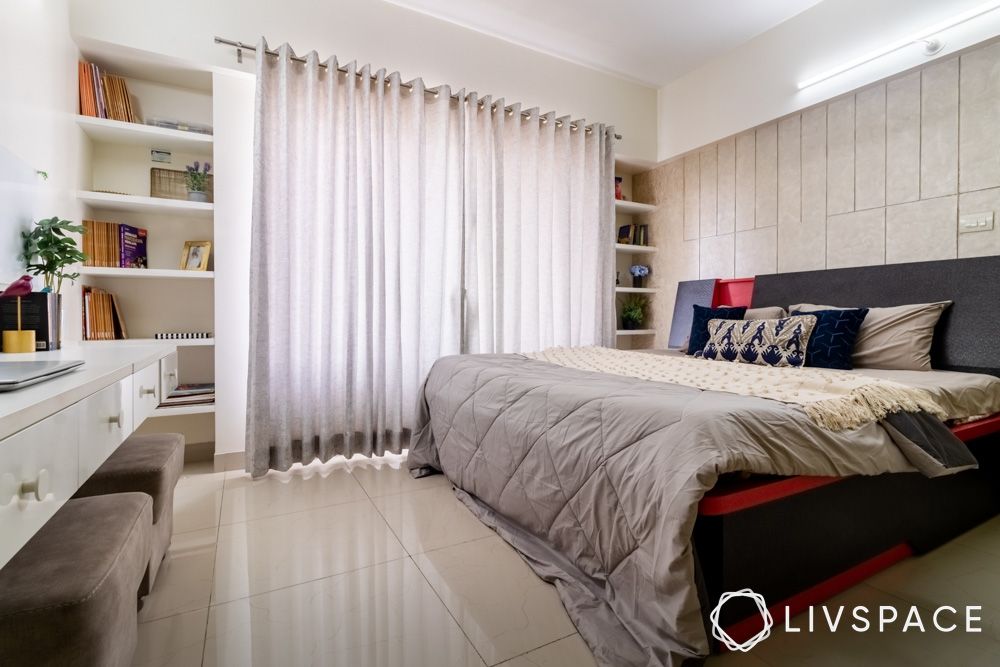 In the kids' bedroom of his 3BHK flat design for Amanora Victory Towers in Hadapsar, we utilised the available space to the best of its ability. Since multiple wardrobe units can make a small room look cluttered, built-in shelves can be a game changer. Instead of using the wall niches by the window to add more cupboards, we've used open shelves to occupy the space.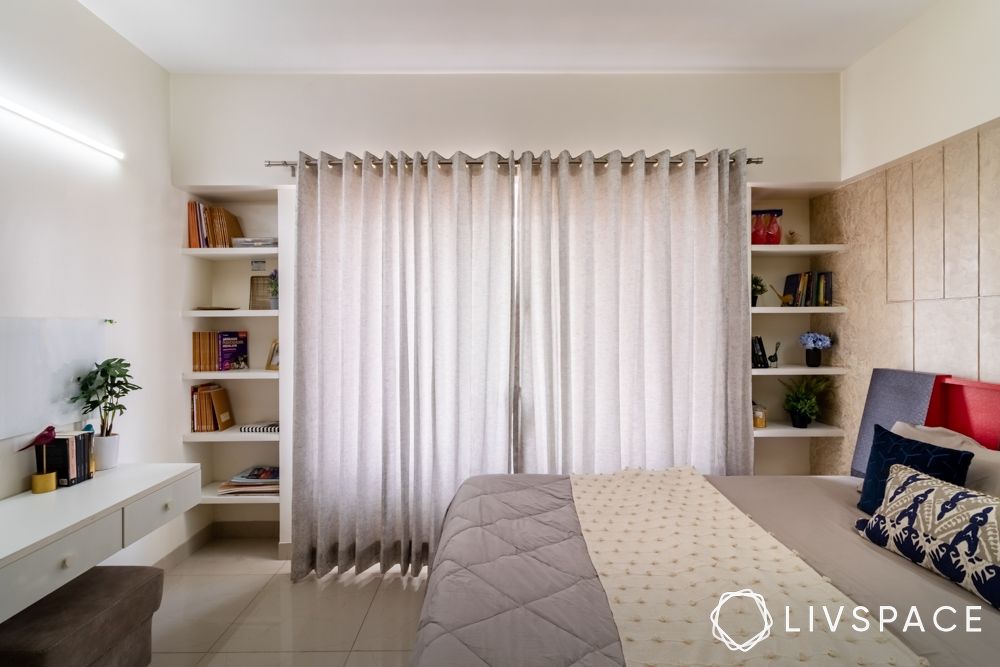 This is a great addition to have in your bedroom, especially if you want to display your books or accessories. Moreover, open wall shelves such as these draw your eyes toward it, adding more depth to your room.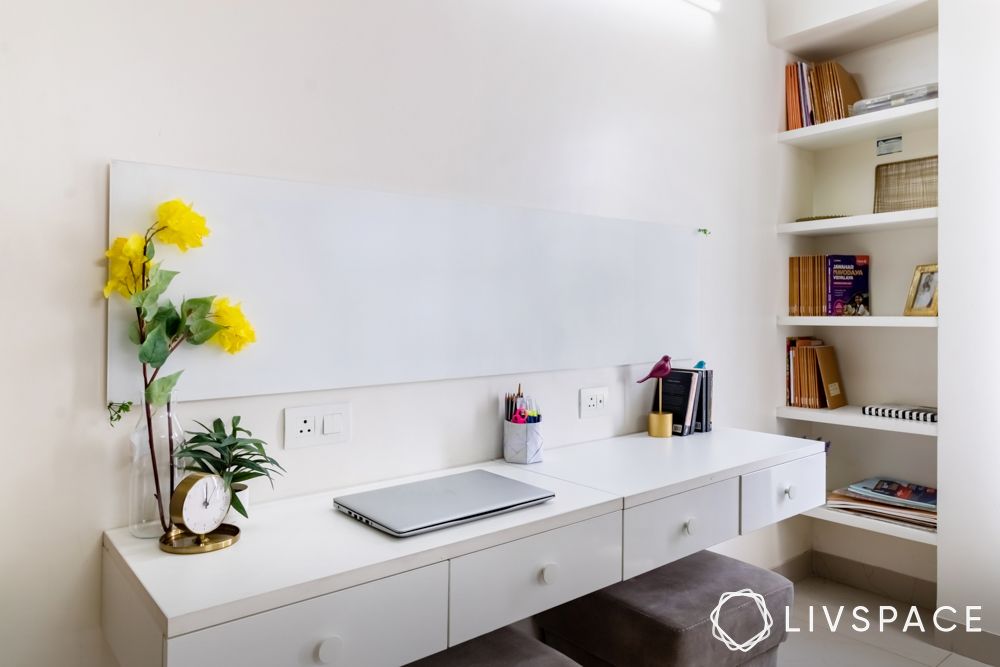 If there's one takeaway to note from this 3BHK design in Pune, it's the use of wall-mounted storage. Floating storage units are not only visually lighter, but they're also great to have in small spaces. Why? Because they open up your floor space and make it easier to clean beneath it!
Similarly, as this room is on the compact side, we used versatile ottoman chairs to accessorise the study area. Since the study unit is wall-mounted, the ottomans can easily be pushed beneath it when not in use. This further opens up the path around the bed and allows unhindered traffic flow.
What Is Design Continuity, and How Do You Incorporate It in Different Rooms of Your 3BHK?
In simple terms, continuity in design is all about linking an overarching theme into each room of your home. With a bit of careful repetition, you can tie all your rooms together with one common thread, be it with respect to colour, layout, or design. Let's take a look at how we brought about continuity while designing this Amanora Victory Towers flat.
Design Solutions
Colour scheme: Use repetitive colour combinations in each room of your house to tie the entire theme together. We've used neutrals for this interior design at Amanora Victory Towers in Hadapsar
Design: Emphasis on a similar design element across each room to maintain continuity in design. In this home, we can see this reflected in the use of similar headboards and built-in units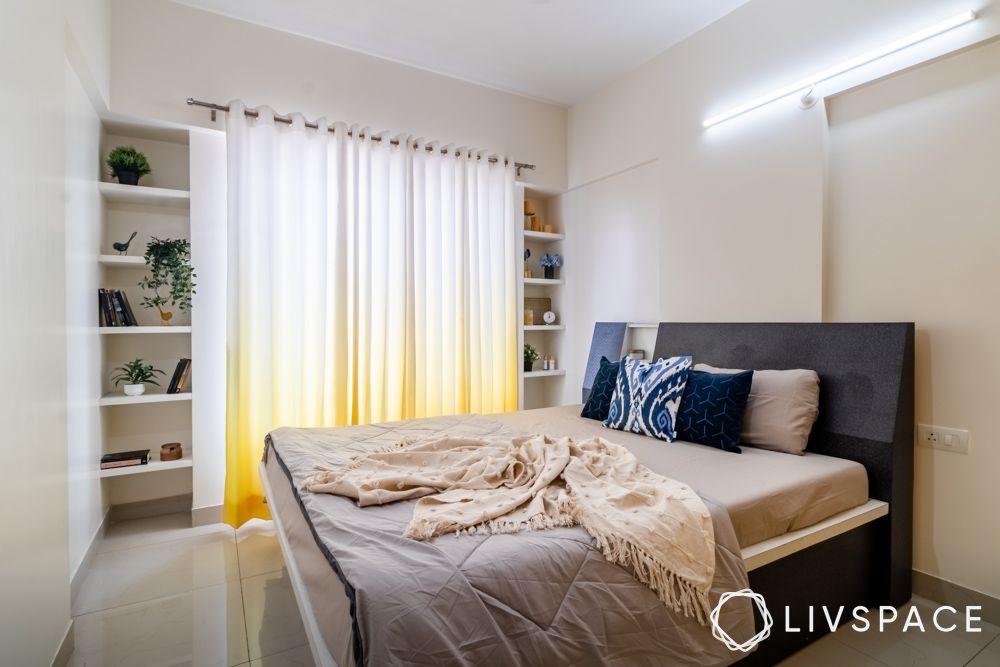 At first glance, you're probably going to experience a bit of déjà vu. After all, this bedroom looks quite similar to the one we covered in the previous point. This is because both bedrooms carry a common theme that ties them together. You can find this in the use of the same neutral colour palettes, open shelves in wall niches, and the headboards in both bedrooms.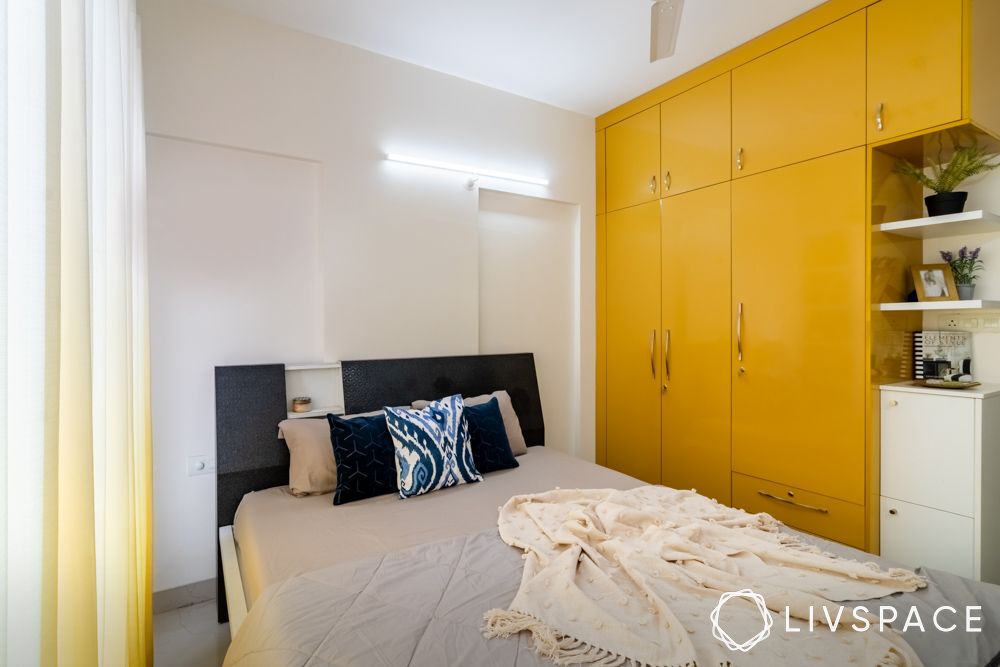 While a bit of continuity can work wonders for an overarching theme, it can run the risk of looking monotonous. To break this possibility, consider bringing in some vivid colours with your bedroom accessories. We used some bold yellow for the wardrobes, and to match it, white and yellow gradient curtains for an added element of fun.
If you go back to the living room in this 3BHK interior design for Amanora Victory Towers in Hadapsar, you'll notice that we balanced neutrals with a pop of colour there too, much like this bedroom. Together, these elements help tie these rooms under one common theme.
How Can You Make the Bedroom Layouts in Your 3BHK More Functional?
When it comes to interior design, always remember that space planning is your best friend. If your room is small and symmetrical, consider placing your bed in the centre to allow traffic flow on either side. This also leaves you with some space on the remaining three walls of your room to address your storage needs.
Design Solution
Placement: Allow the biggest option in the room to be your focal point by placing it in the centre. Here, we've added the bed in the centre of the room to ensure that all the accessories are equidistant
Zoning: Always plan your room while considering different zones for each activity. Keep your dresser, study unit, and wardrobes in separate parts of the room to give them their own zones
Traffic flow: If you design your room bearing in mind each zone's function, you can space plan accordingly. Keep the path around your bed and other elements open to avoid clutter and blocked traffic flow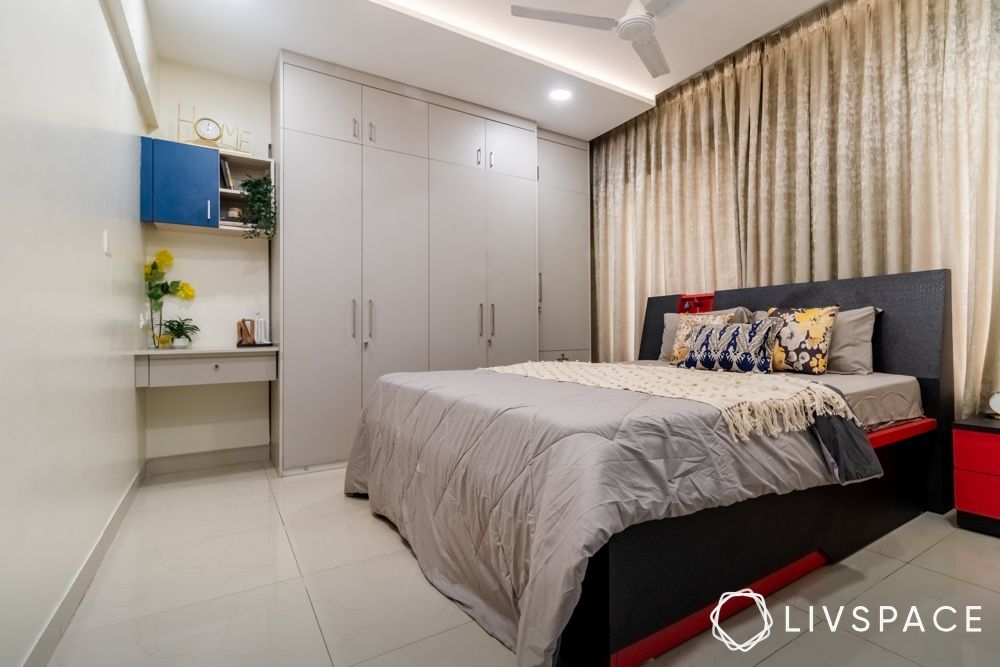 In this bedroom, we broke the space up into different zones. We placed the bed in the centre of the window wall to make room to walk around it on either side. Since the room has limited space, we used one wall entirely for wardrobes and storage. This wall forms the dressing zone and work zone, respectively, as it holds the wardrobes and study unit.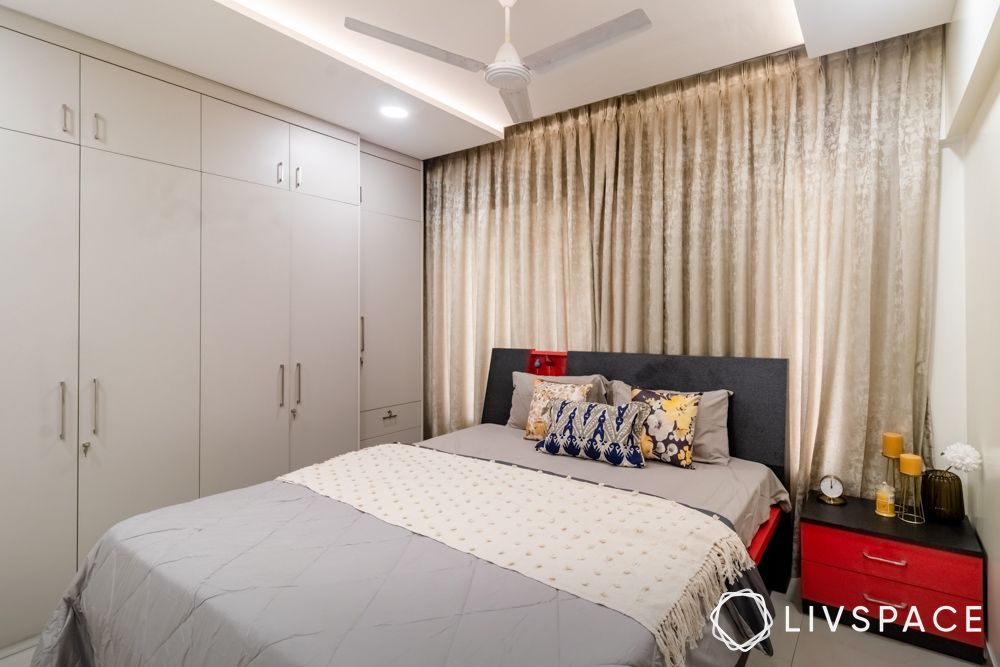 While mapping out your bedroom design, always keep an eye out for the flow of traffic. You'd want to be able to move around to access each part of your bedroom, so there shouldn't be any obstructions around them. By assigning a distinct space for each zone, you can streamline the flow of traffic.
Also Read: Top 10+ Small Bedroom Ideas to Make Your Bedroom Look Like a Million Bucks
What's the Best Way to Decorate the Balcony in Your 3BHK?
There's nothing like sipping on your favourite beverage while looking out at a nice view. But if your balcony doesn't match the relaxing vibe you're aiming for, it might take away from the view outside your window. Here are some balcony decor tips you can consider stealing from this 3BHK flat design at Amanora Victory Towers in Hadapsar.
Design Solution
Vertical gardens: Artificial turf and wall planters are great ways to decorate a bare balcony wall. If you have the resources, you can even consider actual grass for a vertical garden
Benches: For furniture, consider multipurpose units. Low benches can be a great addition for small spaces where you can sit and work at the same time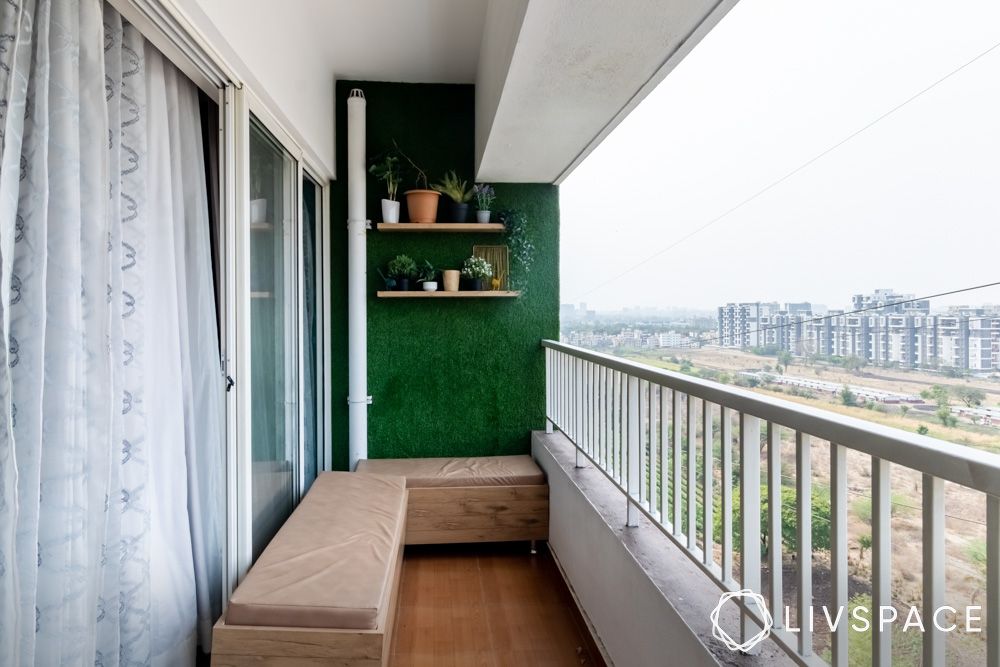 Bring yourself closer to nature by adding a vertical garden to your balcony wall, like this flat does. You can either get this look with artificial turf, or with a nifty floor-to-ceiling planter wall. This added greenery is the perfect visual to unwind after a long day.
If you have a narrow balcony, you might have fewer options when it comes to picking out outdoor furniture. Here, you can consider switching out regular chairs for benches instead. Not only are they great space savers, but they can also offer added counter space if you plan to eat your meals outside. Handy, isn't it?
How Can Livspace Help You?
We hope you found our ideas useful! If you want beautiful interiors for your home, then look no further. Book an online consultation with Livspace today. Have any thoughts or suggestions you'd like to share with us? We're all ears! Drop us a line at editor@livspace.com.
Disclaimer: All contents of the story are specific to the time of publication. Mentions of costs, budget, materials, finishes, and products from the Livspace catalogue can vary with reference to current rates. Talk to our designer for more details on pricing and availability.