NCR has seen a rise in its population since the early 1990s, and it continues to grow even today. If you live in this vast metro region, you're probably used to the space crunch. But thanks to Livspace, you don't have to get used to it inside your homes. Take a look at this spacious home interior design for Crossings Republik in Ghaziabad, for example.
This 2BHK home decor in Crossings Republik, Ghaziabad has sleek fixed furniture that give the flat a bright and an airy appearance. The best part about this home? It was all done and delivered under ₹4 lakh!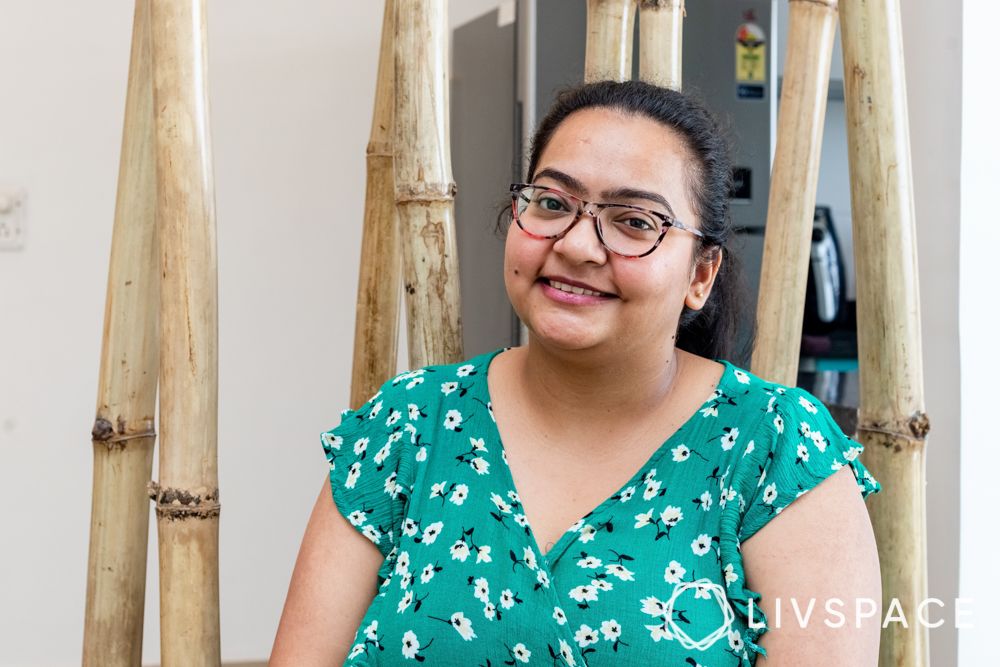 ---
Who Livs here: Jabali Singh with her parents
Location: Crossings Republik, Ghaziabad
Size of home: A 2BHK spanning 1000 sq. ft. approximately
Design team: Interior designer Gauri Tandon and Project manager Vivek Kumar
Livspace service: Kitchen, Wardrobe and Storage
Budget: ₹
---
IN A NUTSHELL


Brief
A simple and modern interior design with a pop of colour

What We Loved
The warm and welcoming foyer design

Look Out for
– The cheery colours all around the house
– The neutral-themed wallpapers that have striking faux textures

Biggest Indulgence
The galley modular kitchen that is optimised for space and natural lighting

Smart Buy
The white oak laminates for TV panel that match the brick wallpaper behind it


But let's take a closer look at this budget 2BHK house interior design in Crossings Republik, Ghaziabad.
Home Interior Design for Crossings Republik in Ghaziabad: A Sleek Foyer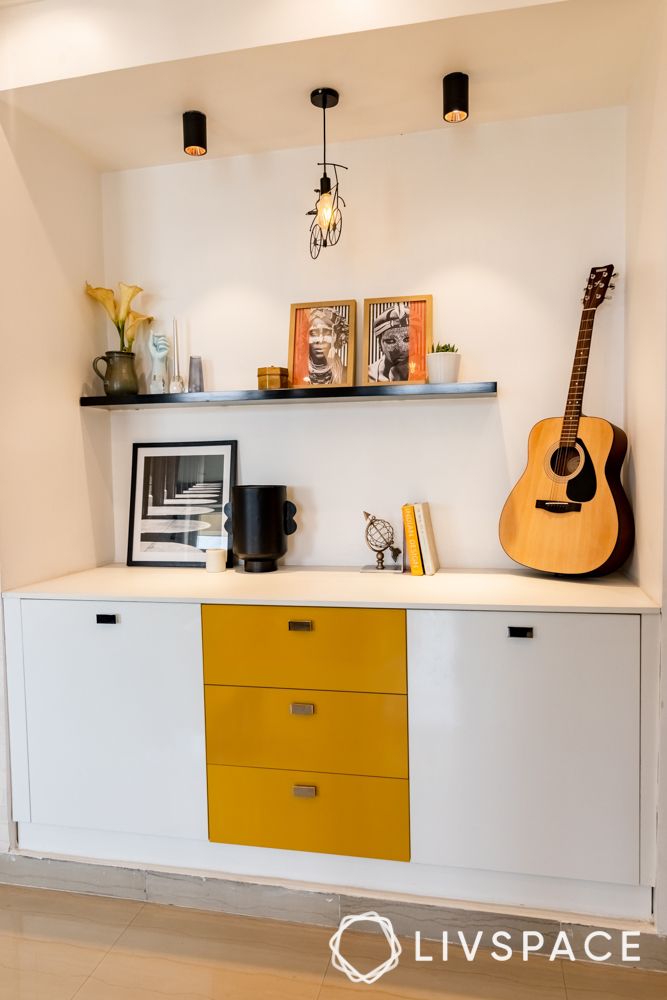 Why is a practical and impressive design necessary for your home entrance? To begin with, you need a storage area to keep your footwear out of plain sight, which, in turn, calls for a practical design that doesn't take up a lot of the foyer space. And finally, since your guests see your foyer before the rest of your house, it needs to be attractive, to say the least. Take notes from this home interior design for Crossings Republik in Ghaziabad to master the art of designing a simple, stunning foyer.
2BHK Home Decor in Crossings Republik, Ghaziabad: A Minimal Living Room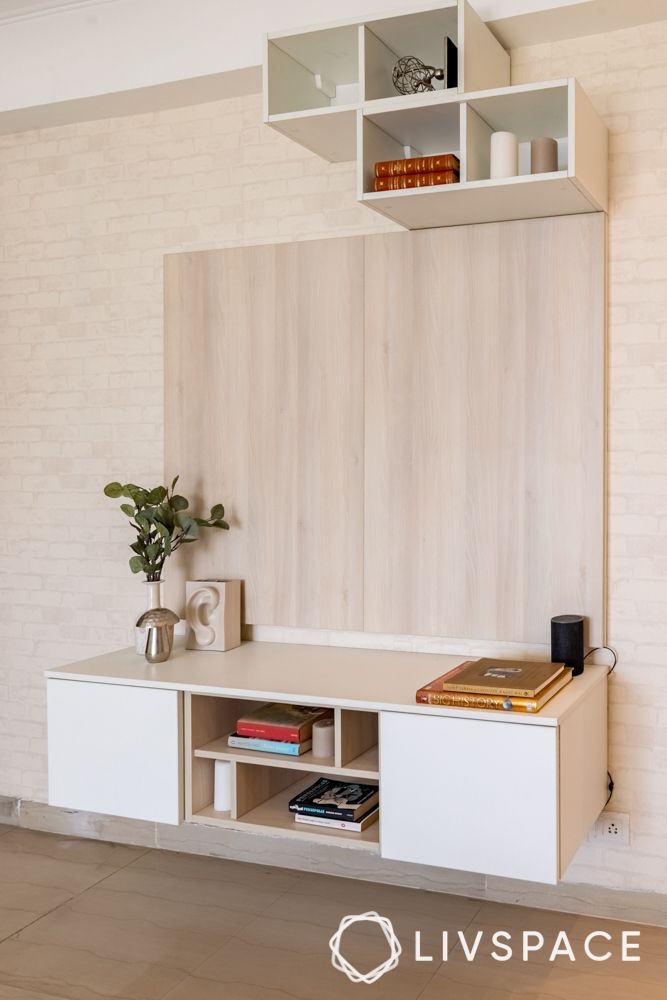 How do you decide what kind of design you want in your living room? Well, this largely depends on how you use your living room. If you are one of those families that gather in the living room in the evenings to watch TV or spend some quality time, then you need a spacious room. It's also best to spend on a more appealing TV panel and accent wall in this case. Also, it makes sense to get low-maintenance furniture in your living and dining areas if you use these areas more frequently.
How can you achieve this on a budget? Well, once you have settled on a layout or design for your living and dining areas, our Livspace designers can help you find cost-effective and maintenance-free alternatives. For instance, our designer, Gauri, designed an easy-to-clean TV unit that's sleek and has an economical laminate finish. She also added some open and closed-type cabinets for a mixed-use furniture design. As a result, Jabali and her family can store away their essentials as well as their display pieces in the same unit.
Home Interior Design for Crossings Republik in Ghaziabad: A Modular Kitchen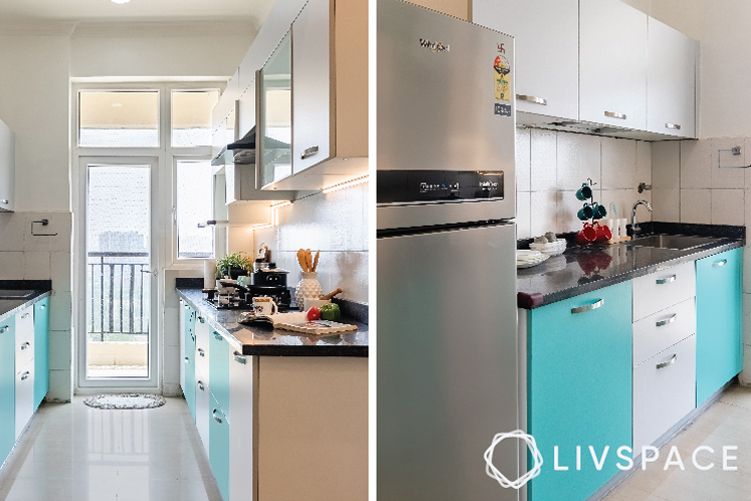 Why do you need a modular kitchen? The benefits of a modular kitchen go much farther than cost and maintenance. It helps in an effective space management and gives you the option to custom design your cabinetry to suit your individual needs.
How can Livspace serve you better? We have various cost-saving measures we use so that we can deliver you the best within your budget. Take the example of this Livspace Select 2BHK flat interior design in Crossings Republik, Ghaziabad. We took preventative measure to retain the kitchen tiles provided by the builders so Jabali doesn't have to spend on reworking the tiles. Moreover, our designer Gauri designed the kitchen around the tiles so that at first glance, you'd think the tiles look like they were meant for this kitchen design.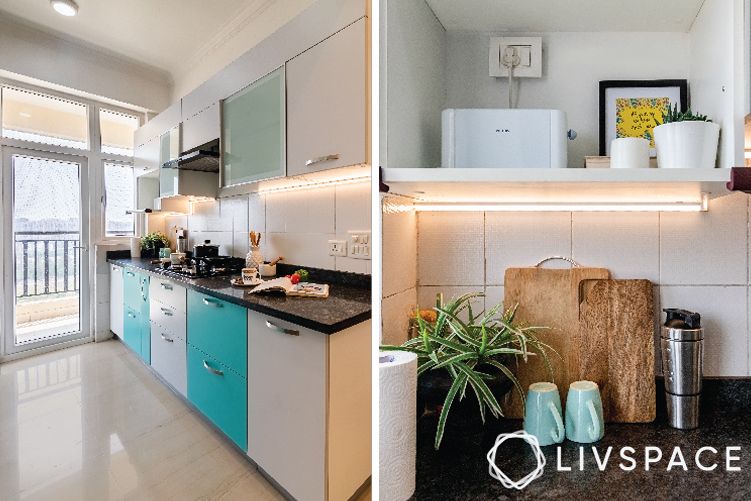 How can you optimise your kitchen design using bright colours and lighting? This 2BHK interior design in Crossings Republik, Ghaziabad receives ample natural light, and it has been designed accordingly. For instance, the colours in this kitchen are a combination of warm and cool tones. The use of aqua and frosty white laminates with warm profile lights gives this kitchen a soothing neutral tone.
Apart from this, the cabinetry has matte-finished laminates to avoid over-brightening the space. This brings out the colours in the kitchen to surface and are easy to notice.
2BHK Home Decor in Crossings Republik, Ghaziabad: A Spacious Bedroom
How can you make your bedroom a space that you will never get tired of? The trick lies in achieving a good regulation of light, air and space. Once all three are in balance in your room, you will never get wary of your bedroom.
In this bedroom above, since there was enough light already, a relatively dark wallpaper has been used for the accent wall. Even the wardrobes have a matte-finish to balance the amount of light the room receives.
We hope you like our home tours and are inspired by the designs we create. To know more about our services, read: What is the Cost of Hiring an Interior Designer?
How Can Livspace Help You?
We hope you found our ideas useful! If you want beautiful interiors for your home, then look no further. Book an online consultation with Livspace today. You can visit our Livspace Experience Centre in NCR to get your home designed.
Wondering how our customers feel about working with Livspace? You can check out the Livspace kitchen reviews here!
Send in your comments and suggestions at editor@livspace.com