A 4BHK house design as elaborate as this one, is both a challenge and an opportunity!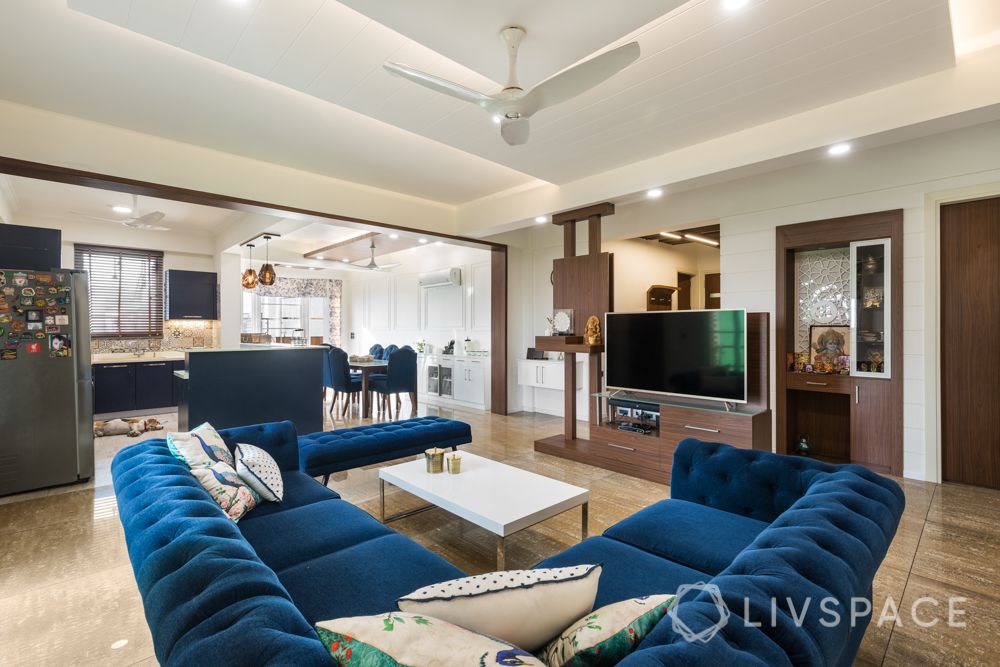 ---
Who livs here: Kaushal & Mitali Goyal with their son Jaivardhan & a cute dog named Augustus
Location: Gaur Green Avenue, Ghaziabad
Size of home: 4BHK spanning 4.500 sq ft
Design team: Interior designer Himanshu Chowdhury & Project Manager Umair Beg
Livspace service: Full home design
Budget: ₹₹₹₹₹
---
Many of us have been in a situation when we are selling one home and moving into another. And even if we haven't, it does not take too much imagination to know that it would come with a whole lot of logistical problems. Mostly, getting the interiors for the new home done in time becomes imperative in such situations. Kaushal and Mitali Goyal found themselves in this conundrum recently. The fact that their new home was a sprawling 4,500 sq ft condo in Gaur Green Avenue, Ghaziabad, did not make things any easier, or faster for that matter. But as luck would have it, we received the golden opportunity to design their home and we didn't let them down!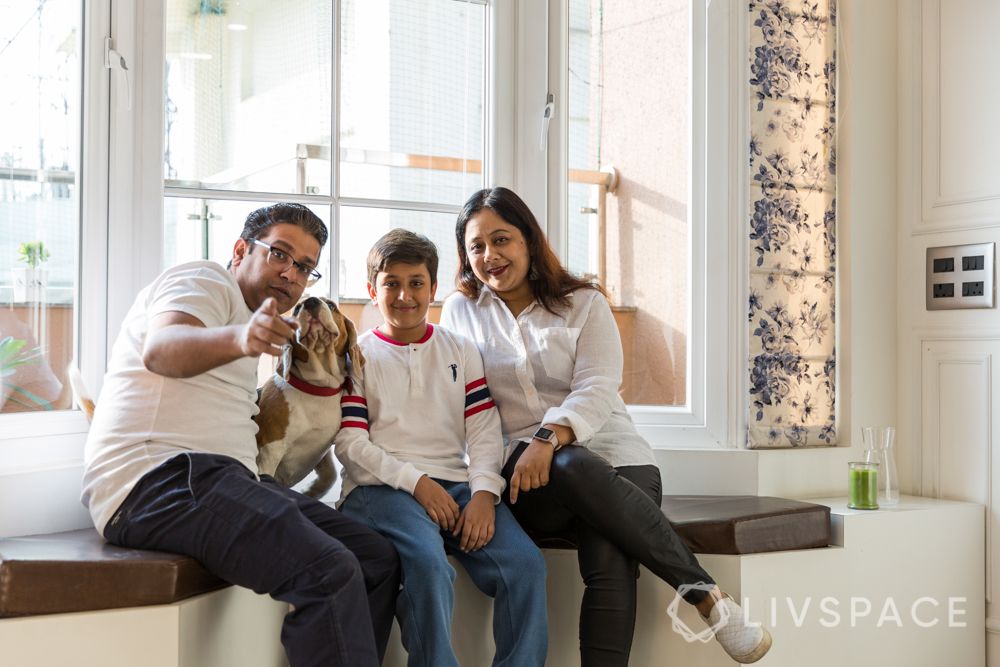 Kaushal and Mitali wanted a home with clean lines, plenty of natural light and without too many colours. They had certain specific requirements like an open kitchen and a fourth bathroom. Also, the fourth member of this lovely family is an adorable dog named Augustus. While he may not have any design inputs to give but the family had him in mind while doing their interiors. They wanted matte finishes throughout as glossy finishes are not very pet-friendly. The 4BHK house design including all these inputs was completed and delivered within 11 weeks by our designer Himanshu Chowdhury along with his team.
You really have to take a look at the scope of the interiors for this Gaur Green Avenue home to understand why we are so thrilled about it! So let us give you a sneak peak.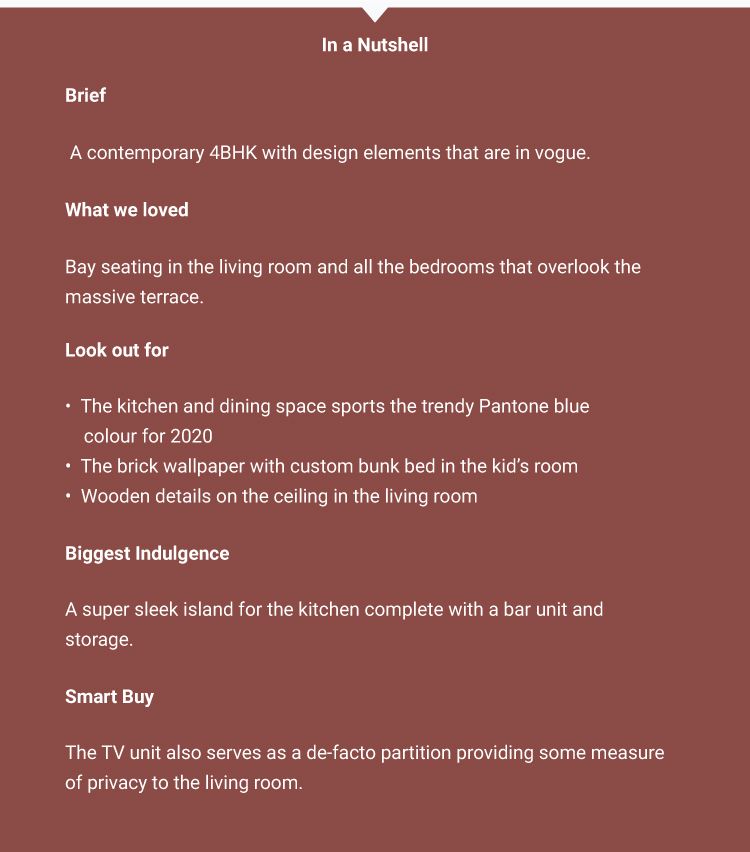 Furniture From the #Livspace Catalogue
Kaushal and Mitali had major time constraints because they were in the process of selling one house and moving into this Gaur Green Avenue home. Besides, they seem to have taken a liking to the furniture in the Livspace catalogue. No wonder they picked several pieces from the catalogue including the L-shaped Chesterfield sofa and upholstered bench. The matching blue chairs for the dining table are also from our catalogue. Moreover, they selected the beds and cushioned headboards for the master bedroom and guest bedroom from our collection. Himanshu helped them choose floral wallpapers for both rooms to go with the beds and wall paint.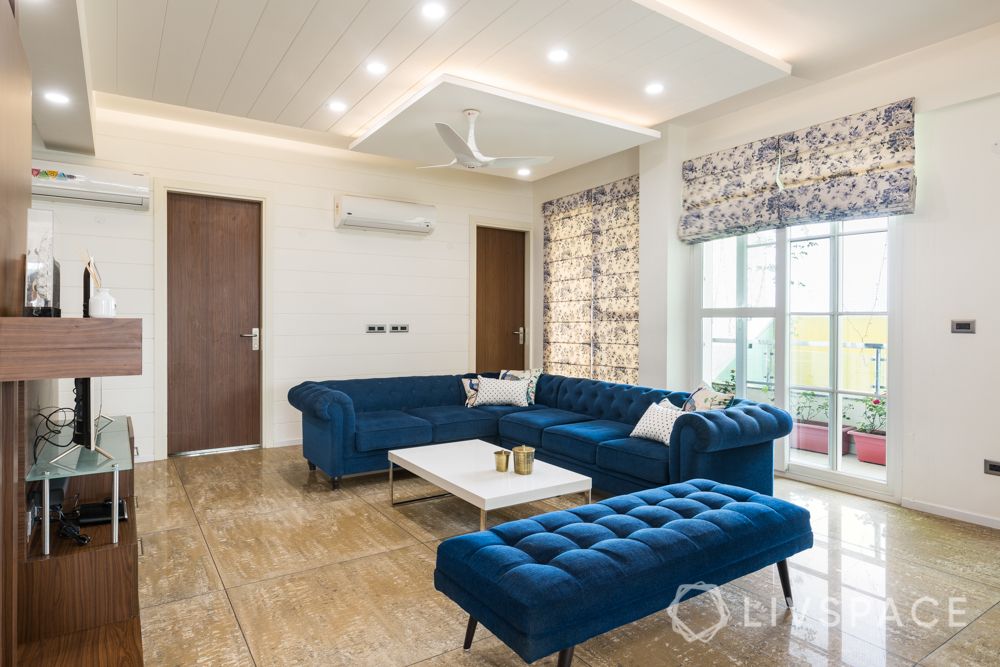 "Getting interiors for your house done is no mean feat. It involves coordinating with vendors who are doing custom work, carpenters, lighting team and 'n' number of other technicians. Getting all these moving parts together in 11 weeks time, including dynamic on-site changes, is a mammoth task that the Livspace team managed to deliver. It was an end-to-end experience in the truest sense. The whole team starting from Himanshu, our designer, to the junior installation staff were always available and that is what made the difference."

– Kaushal Goyal, Livspace Homeowner
Modular Fittings By Livspace
We deliver ready-to-cook in modular kitchens in 45 days; that is the standard Livspace promise. The kitchen in the Goyal household was massive but closed. As this 4BHK house design is rather enormous, Mitali & Kaushal were in favour of using the space to their advantage. To cut the long story short, they wanted an island kitchen that overlooked their sprawling living area. This was also a lifestyle choice as the family likes to host close friends and serving becomes a whole lot easier when you have an open kitchen.
Initially, the plan was to have a functional kitchen island counter with a stove but that required the floor around the kitchen to be raised. "We believed that this raised flooring around the kitchen island was an accident waiting to happen, so we decided against it and opted for a temperature-controlled wine cellar instead." says Kaushal.
All-in-all, the membrane finish kitchen is surely a stunner. Apart from being functionally sound and stocked with accessories, it also sports the Pantone colour of 2020.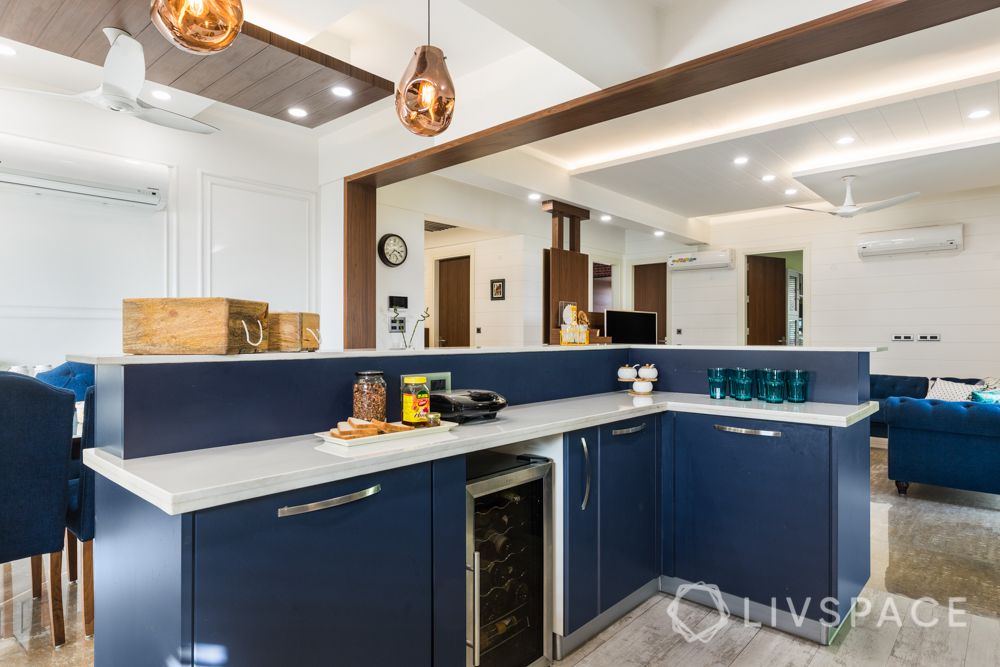 "We wanted a modern home that was designed around an open layout emphasising clean lines. Himanshu was totally on the same page with us and spread out the modular fittings accordingly" said Kaushal.
And he is quite right because wherever our eyes go, we see furniture that is installed within a clutter-free layout without obstructing space. We took an immediate liking to the shelves set into a niche in the home office and also the cabinets designed for the entryway. The scope of our work also included four modular wardrobes installed in the three bedrooms and the study.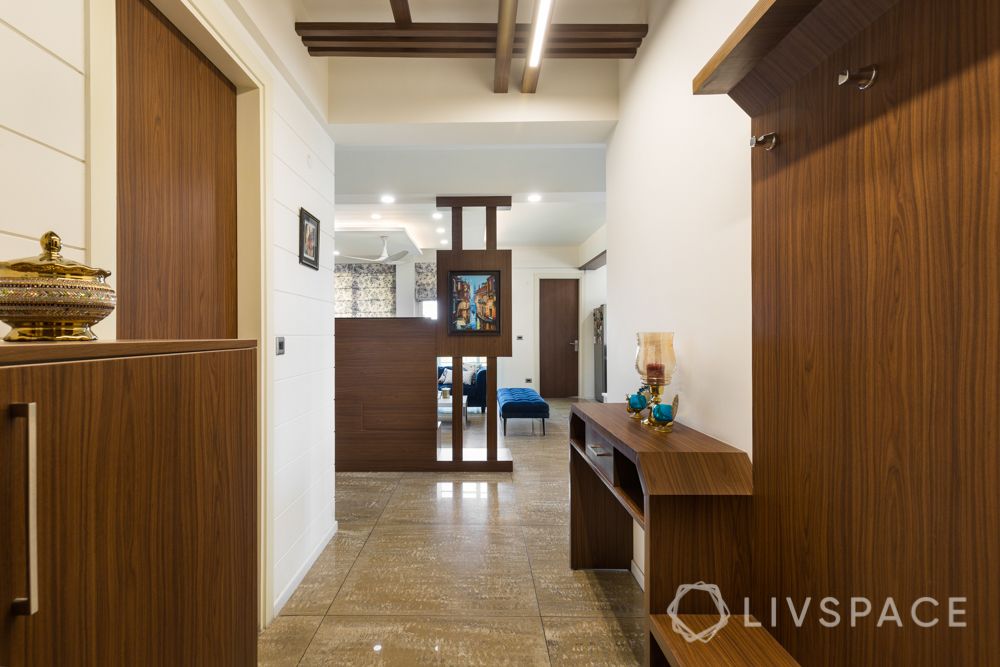 Custom Work by Livspace
The Goyals wanted to move into their home as soon as possible and modular furniture can be installed much faster than custom pieces. But what is the point of having a house that spans a whopping 4,500 sq ft. when you can't add personal touches to it! So including custom pieces in this 4BHK house design was a collective decision by the couple as well as the design team.
However, Himanshu picked and chose what needed customisation. The bay seating that overlooks the terrace was a good choice for customisation. So was the TV unit in the living room that also doubles up as a partition. "The terrace designed as a party deck is our favourite spot in the house. Apart from the artificial turf and bamboo terrace, it was also Himanshu's idea to have speakers installed in this space" said Kaushal.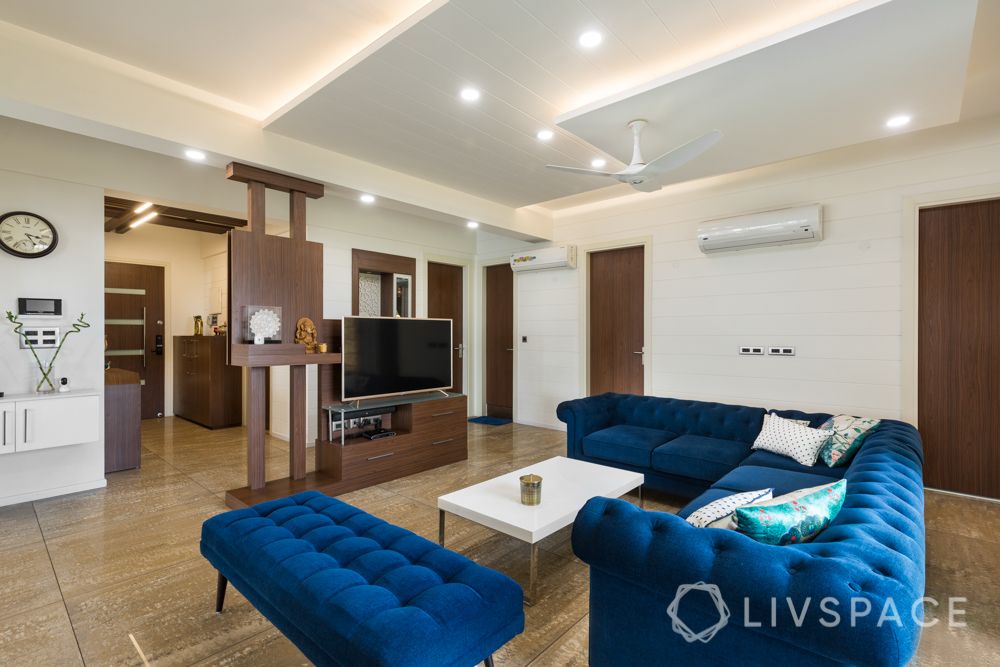 While the Goyals are crushing on their terrace, we couldn't help but admire young Jaivardhan's room! In between the integrated bunk bed plus study unit customised for him, bay seating by the glass wall and the striking exposed brick wallpaper, we can't decide what we like the best! But we are quite sure that every young boy's dream is to have a space like this to call his own.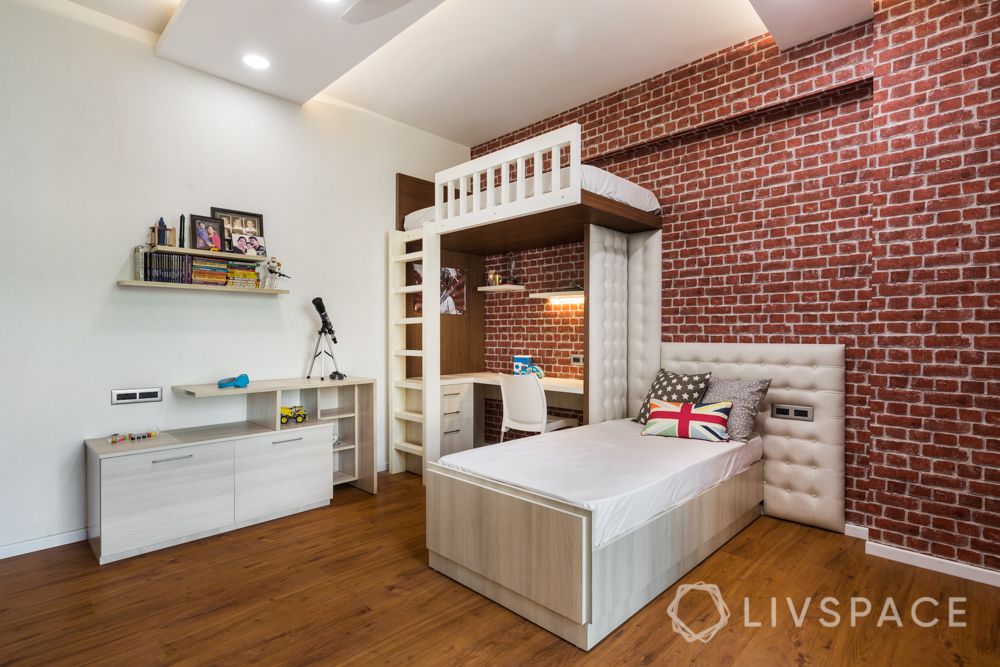 Civil Changes Made by Livspace
"We became fully aware of the importance of working with a designer when Himanshu carved out an extra bathroom for us from just four walls!" says Kaushal. And we share in his astonishment because civil changes take time and effort. Considering this home was delivered to the Goyals in just about 11 weeks, we can't help but wonder how the design and installation team managed to pull off this miracle!
Mind you, this was not the only civil work done for this 4BHK house plan. The kitchen, though modular, required extensive civil iterations because it had to be opened up. Additionally, Himanshu's team also changed the flooring in all the 3 bedrooms. We particularly like the wall-to-wall carpeting in the master bedroom!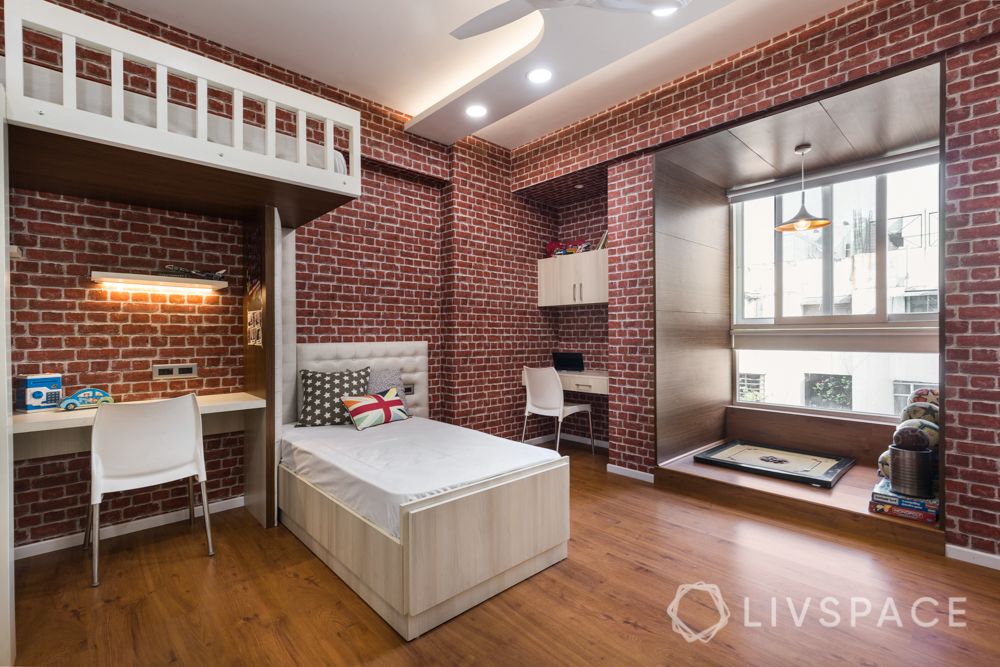 Designer Speak
"Kaushal was always very sorted about what he needed but also open to explore ideas. And as we worked together, we developed a very friendly relationship, making the process smoother. Working on this home has got me more than creative fulfillment. The appreciation that I have received from the family is the real reward!"
–Himanshu Chowdhury, Interior Designer, Livspace
If you are reeling from the effects of touring this 4BHK house design, then let's give you another. Check out this 4BHK Villa That Got a Grand Makeover in Gurgaon.
Send in your comments and suggestions.