4 BHK Villa in Nambiar Bellezea is decked up in statement elements.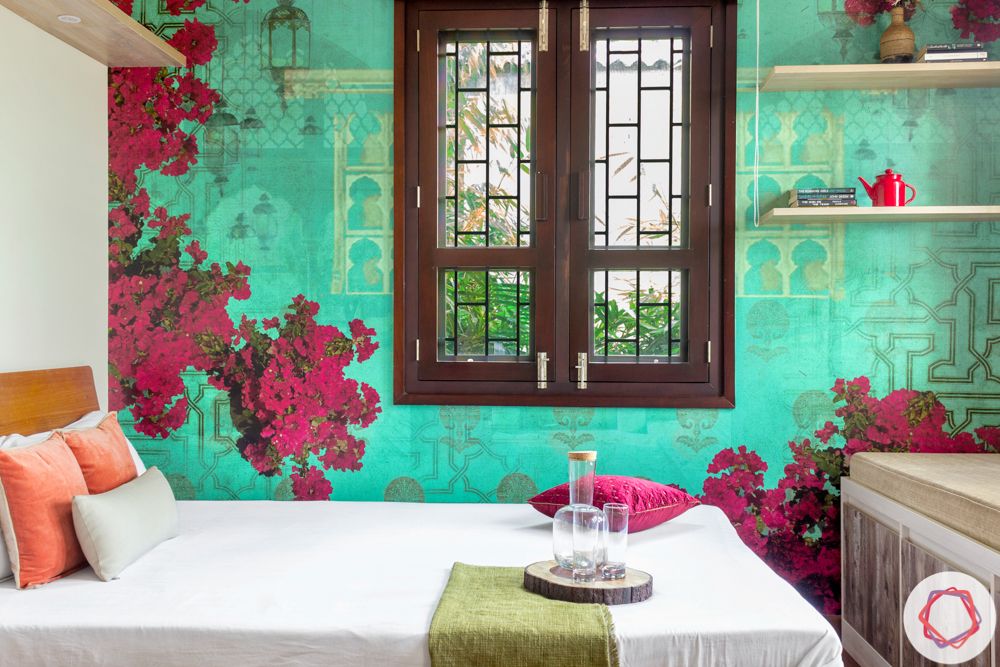 ---
Who livs here: Anbu & Sarvanan with their children, Sanjith & Asha
Location: Nambiar Ballezea, Bengaluru
Size of home: 4BHK Villa spanning 3,200 sq ft
Design team: Interior designer Aishwarya Srinivasan
Livspace service: Full home design (kitchen not included)
Budget: ₹₹₹₹₹
---
The moment Anbu and Saravanan first set foot in this Bengaluru villa, they instantly knew that this would become the family's primary residence. This was two years ago. Since then, the couple have made this 4BHK villa into a home for their family. However, they felt something was amiss. Their interiors lacked a specific theme and didn't have the wow factor they wanted. Enter, Livspace designer Aishwarya Srinivasan, eager to give the clients exactly what they want.
The enterprising duo wanted striking interiors that could clearly demarcate these spacious rooms. Of this penchant for magnificent interiors, Aishwarya has played around with grand proportions and supersized elements to give their home a monumental feel. From sizable partitions and large wall art to statement elements and eye-catching wall treatments in each room, this home is beaming in all its glory. The best part? Aishwarya and her team handed over a completely revamped home to the clients in just two weeks! See how this home has been transformed to achieve statement perfection with Aishwarya's design.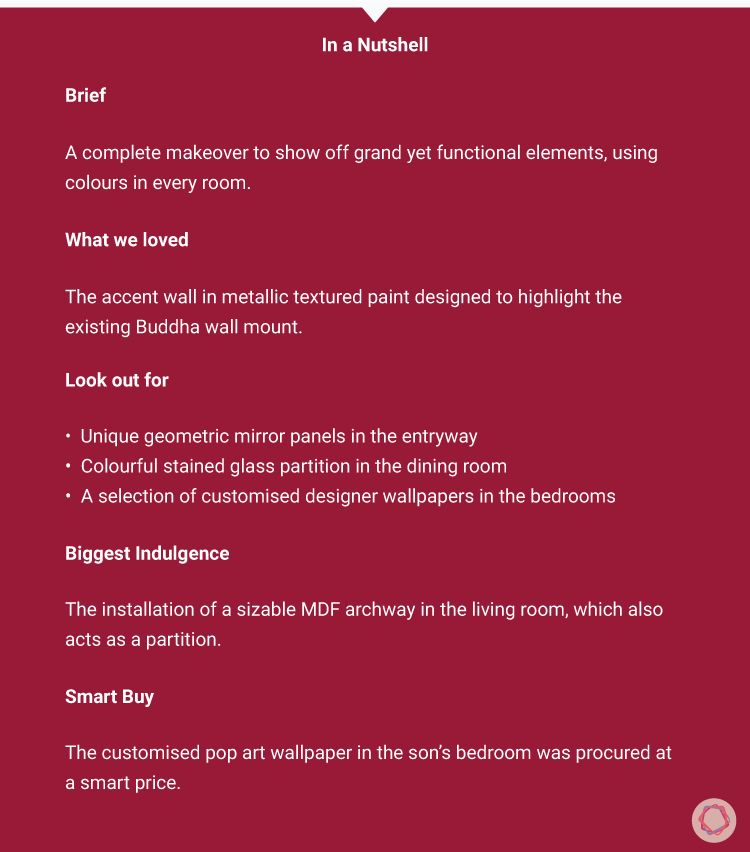 Mirrored Entryway in Nambiar Bellezea Villa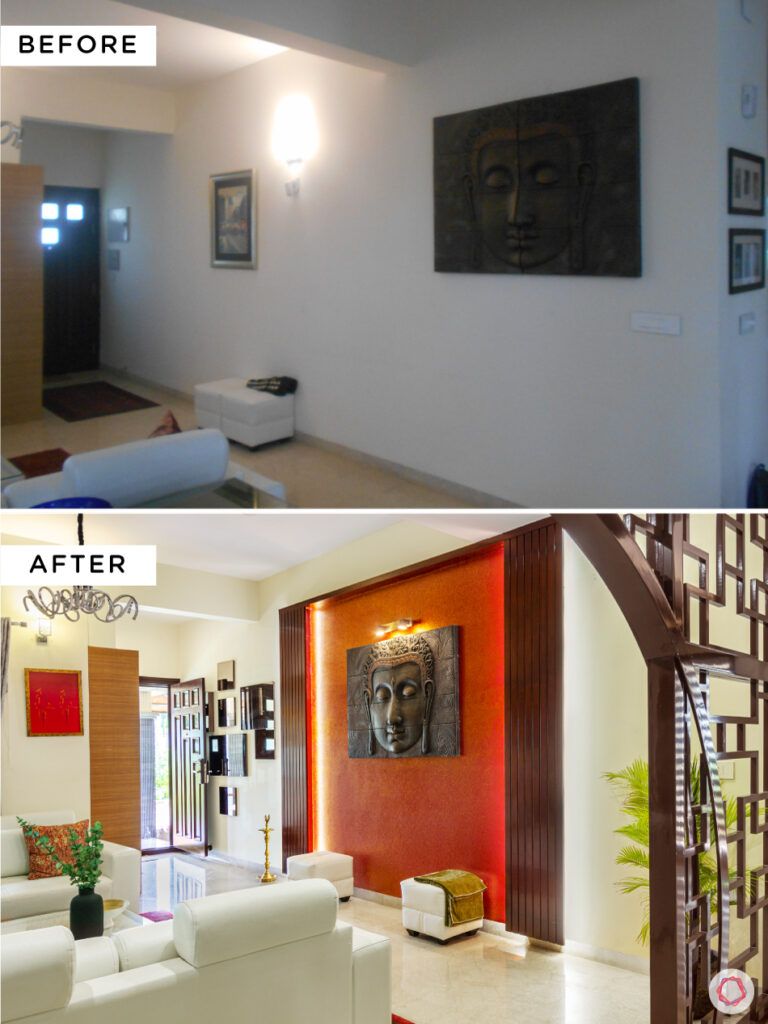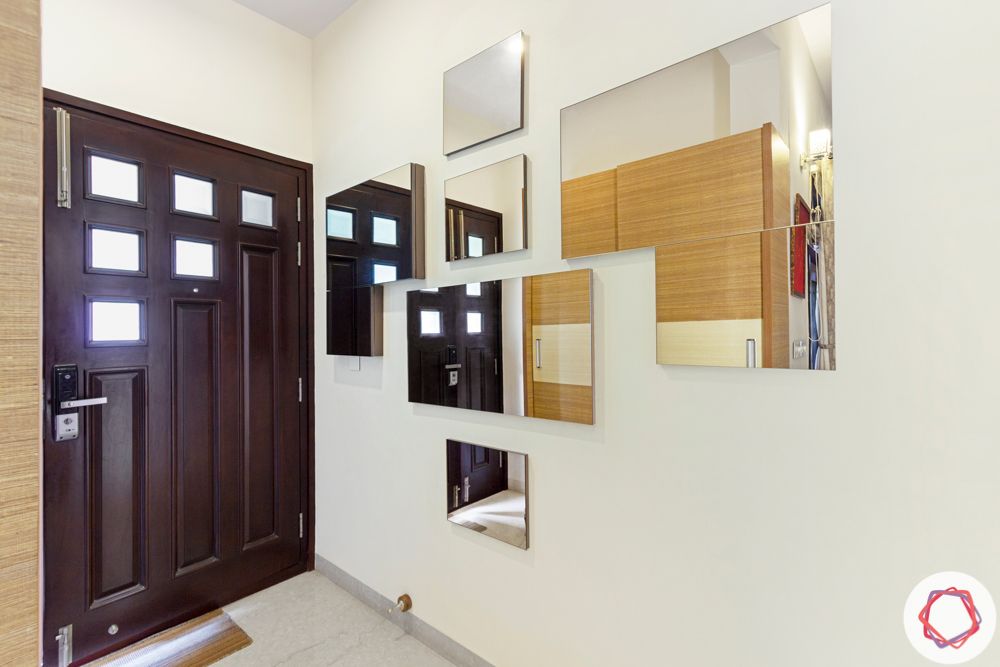 From the beginning, Anbu and Aishwarya did not want to tip-toe around sober designs. The entryway has a wall dominated by block-shaped mirrors which warrants the status of artwork in its own way. Apart from reflecting light, these mirrors promise to up the ante on what more modest mirrors already offer in abundance.
Striking Living Room in Nambiar Bellezea Villa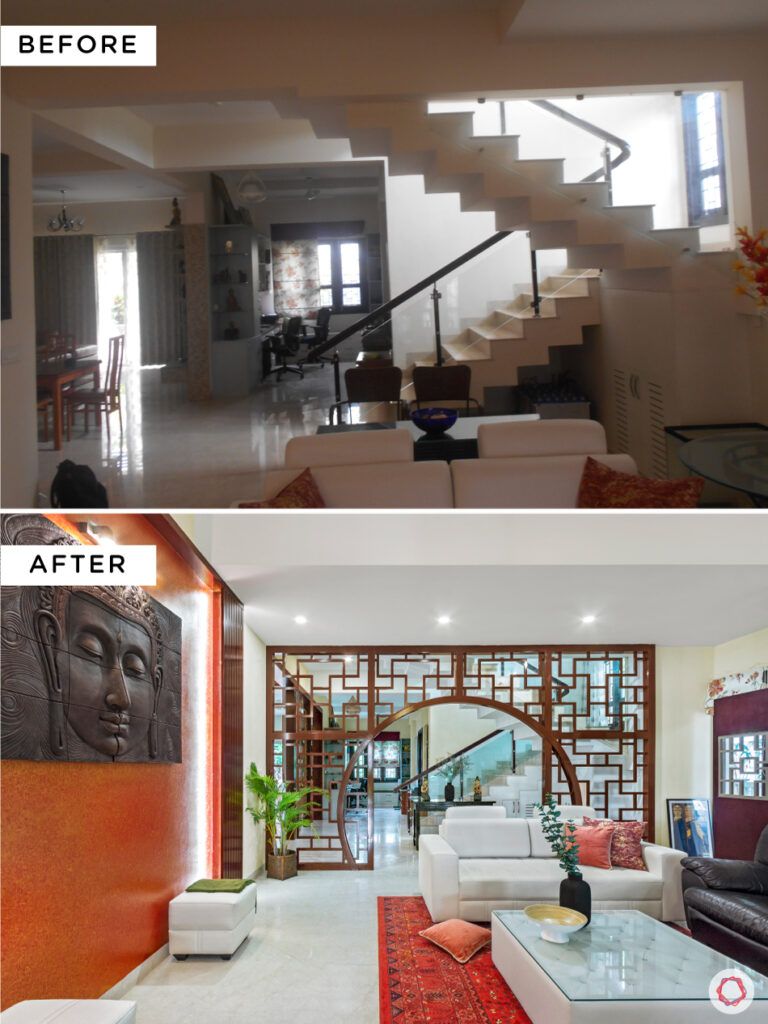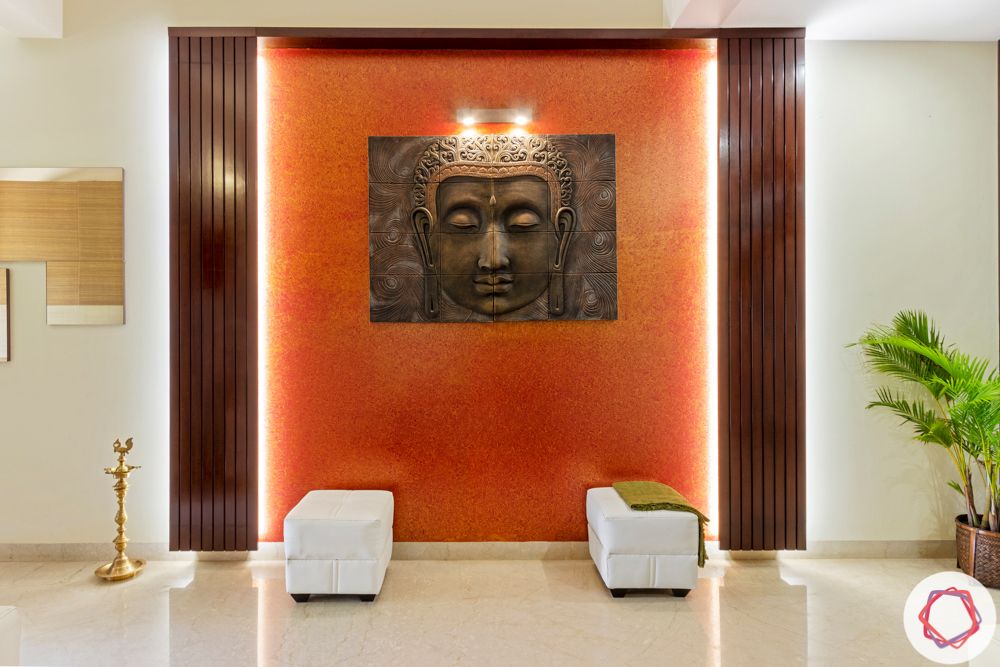 The entryway opens up into a spacious living room. Focusing on the impressive accent wall that is painted in metallic orange, it also has a halo effect due to the backlighting. With the client's previous furniture being retained, Aishwarya had to work around the existing elements while maintaining the set theme.
A picture says a thousand words, whereas a supersized painting says many a word more. Mounted on the accent wall, the Buddha wall mount serves as the focal point of the living room.
Anbu wanted a partition that would create some privacy for the study room, located on the other side. Therefore, Aishwarya installed a large MDF archway, separating the living room from the other living spaces. It is painted in semi gloss duco paint that unites all the dark coloured elements together.
"Since my family and I were residing in the house during the redecoration, the entire Livspace team was extremely considerate by keeping the on site construction to a bare minimum. Overall the experience was a positive one from start to finish. For this reason, I have recommended my neighbours to Livspace as well."

– Anbu Sarvanan, Livspace Homeowner

Colourful Dining Room in Nambiar Bellezea Villa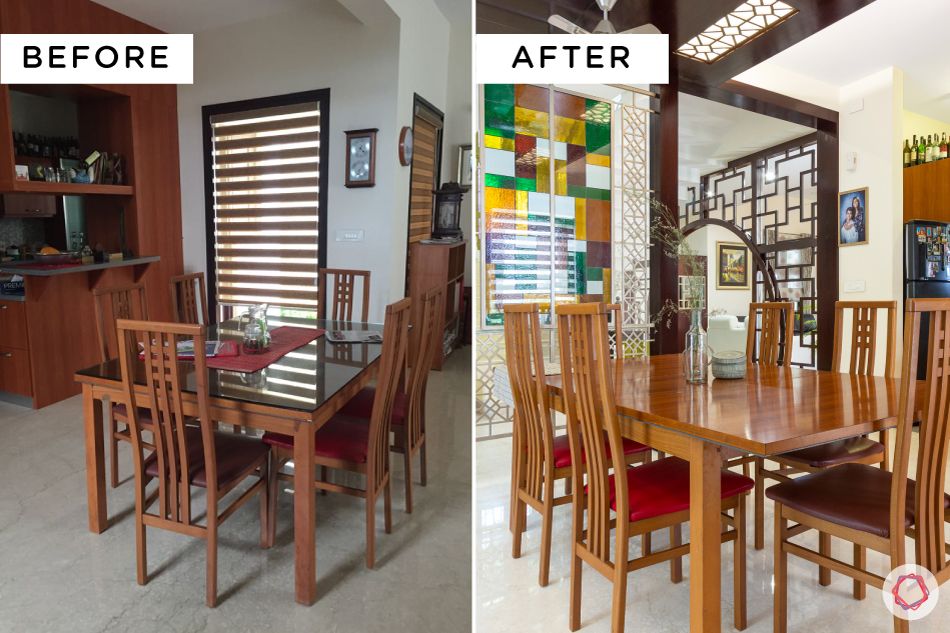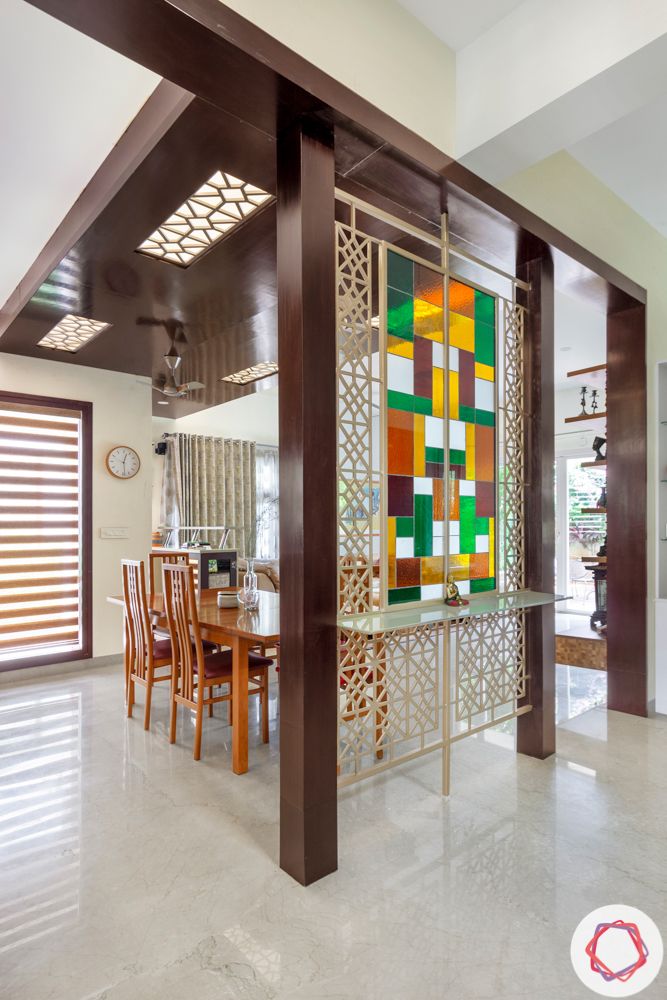 Stained glass, be it a small window pane or large decor item, it is a fantastic way to celebrate colour and create movement. It can unite all the tones used in a room to establish a firm palette or it can behave as a complete contradiction. "My personal favourite installation is the stained glass partition in the dining room. It ties together the living and dining areas and separates them at the same time. Moreover, the colours I have chosen perfectly blends it into the setting," Aishwarya says.
Daughter's Revamped Bedroom in Nambiar Bellezea Villa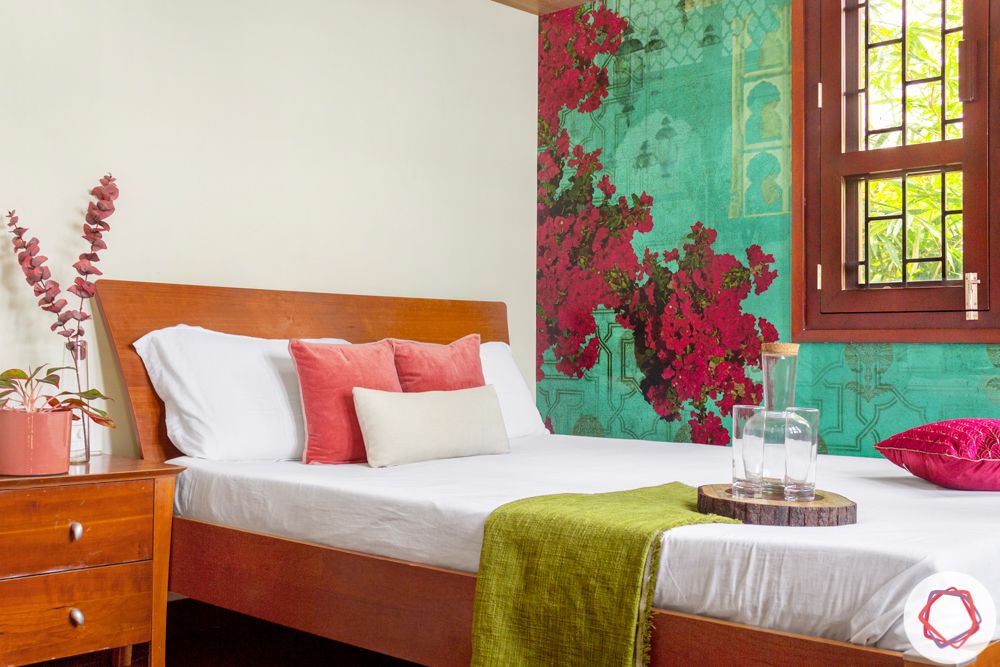 Aishwarya wanted Asha's bedroom to be true to her personality, all the while being elegant and stylish. Therefore, nothing denotes elegance like a classic wood frame bed that belonged to the existing set of furniture in the home. Aishwarya took up the task of designing a teenager's room that she will never grow out of. Making sure to give her only the best, Aishwarya opted for one of Krsna Mehta's rich bougainville wallpapers.
Furthermore, you can see Aishwarya's eye for detail when you look up at the ceiling. Since, the room has a pitched roof, she thought it would be a missed opportunity if she didn't add some depth to it. Therefore, the design team installed wooden rafters to add more dimension to the room.
Son's Refreshed Bedroom in Nambiar Bellezea Villa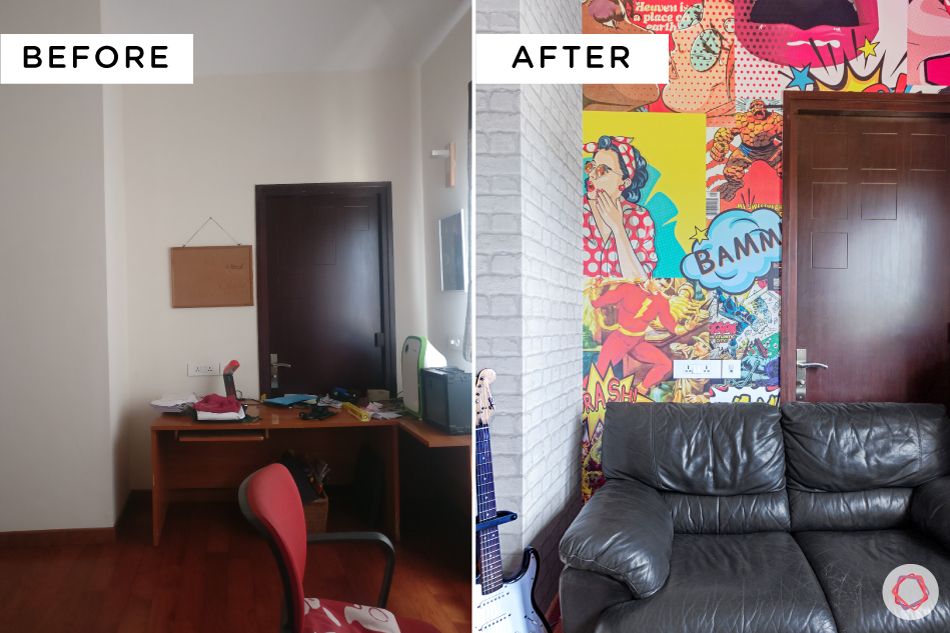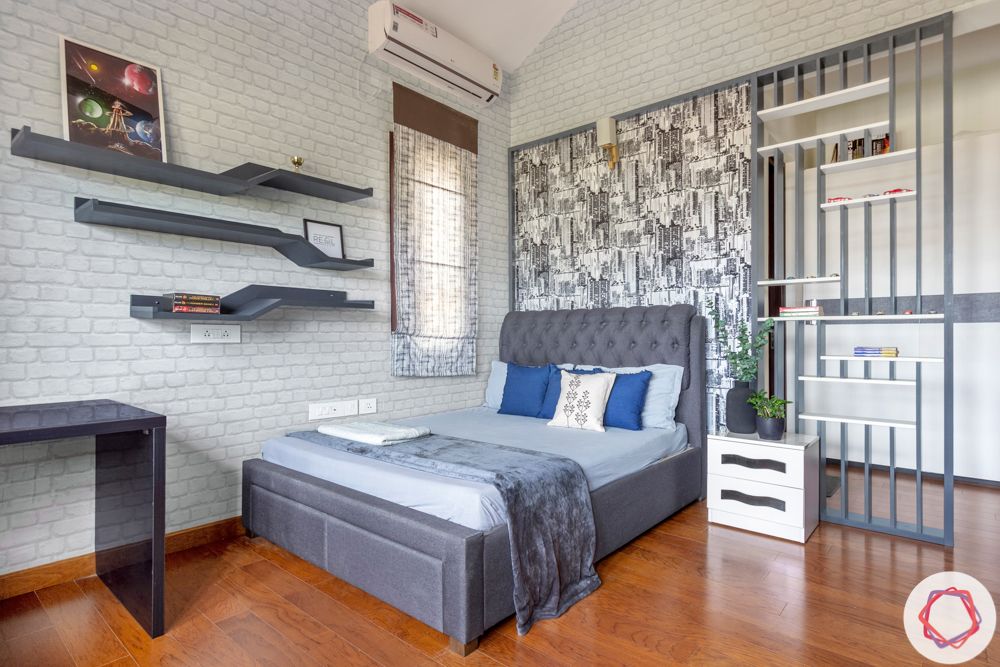 Anbu and Sarvanan wanted their son, Sanjith's bedroom to be designed to his taste. Keeping the existing bed intact, the entire layout of the room was changed. The design team installed a multi-purpose bookshelf partition to create two sections to the room.Furthermore, a noteworthy feature that adds a fascinating look in this bedroom is the customised wallpaper.
"As one of my first Livspace projects, I couldn't have asked for a better experience. Working around an existing design while revamping the entire look was a task in itself. However, the most challenging part of this project was that the clients were living on site as the work was carried out. Hence, my team and I had to deliver a quick yet flawless result. Anbu and Saravanan give me plenty of freedom to be creative."
– Aishwarya Srinivasan, Interior Designer, Livspace
Also, take a look at 4BHK Looks Fresh in Fuss-free Interiors.
Send in your comments and suggestions.