Who says that a designer home needs to be filled with jazzy elements? When this retired couple sought out Livspace for simple home, we gave them just that! It's bare, basic and beautiful!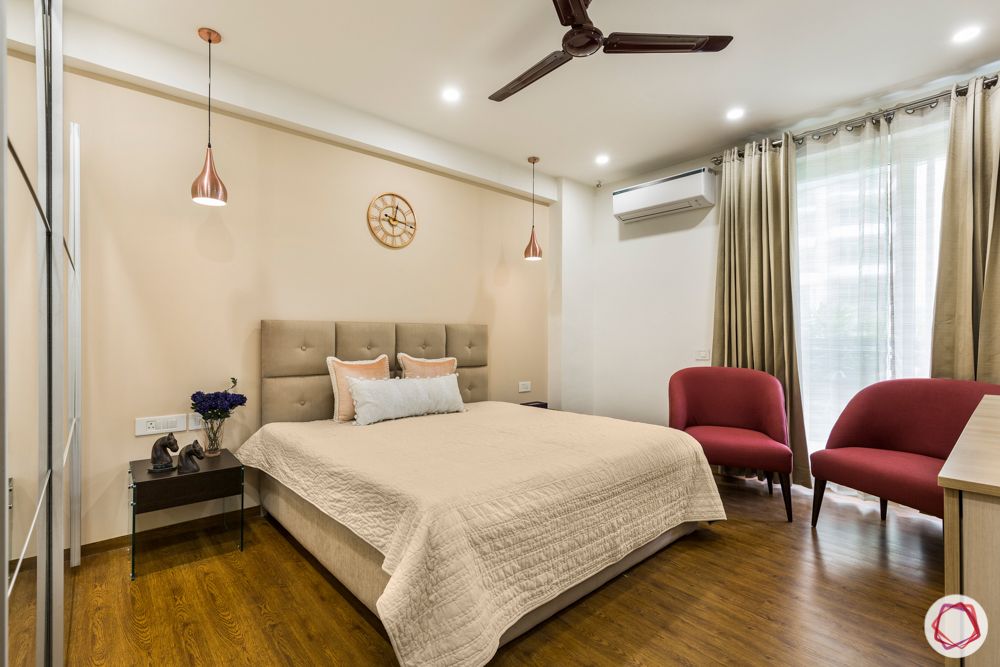 ---
Who livs here: Som Prakash Malhotra with his wife Suman, and their mother
Location: Tulip Violet, Gurgaon
Size of home: 4BHK spanning 2,010 sq ft approx.
Design team: Interior Designer Kanchan Sabharwal and Project Manager Tarun Suri
Livspace service: Full Home Design
Budget: ₹₹₹₹₹
---
We at Livspace believe that the best homes are the ones that reflect the tastes of those that live in it. So when Som Prakash Malhotra and his family told us that they want a fuss-free home sans jazzy elements, we took their input very seriously. Our designer Kanchan Sabharwal came up with an apartment design that reflects the refined tastes of the Malhotras and has zero dramatic elements! What's more, a neutral home like this Tulip Violet flat will stand the test of time because its colours and furniture will never go out of fashion.
And what's the result like, you ask? The Malhotra home is now filled with plenty of white and soothing colours, making it look larger than life! What's more, it's easy to maintain too! Take a tour of this one!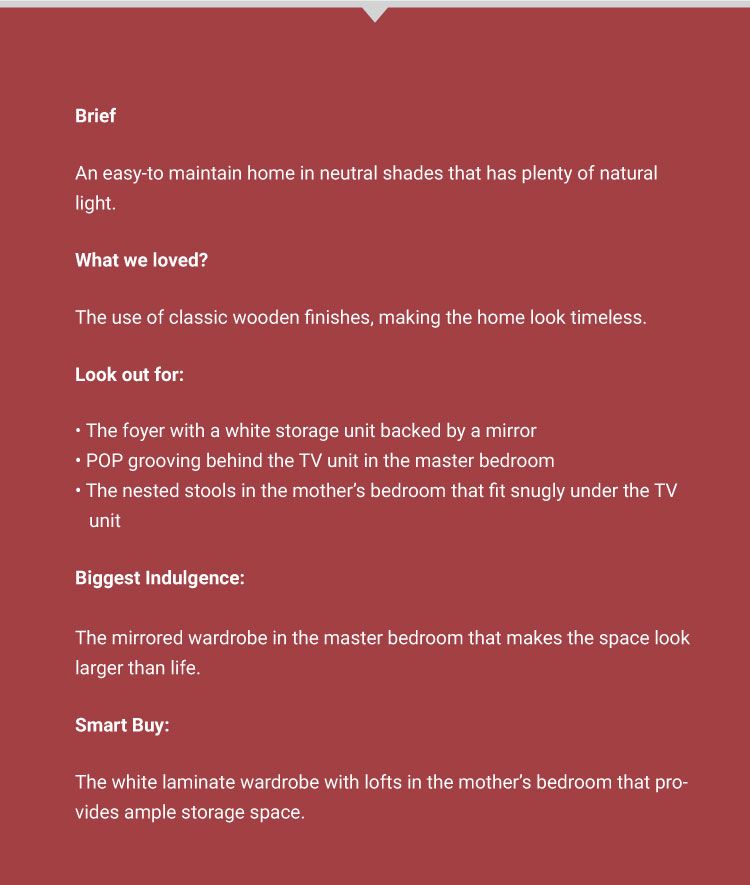 A Warm Welcome into this Tulip Violet Apartment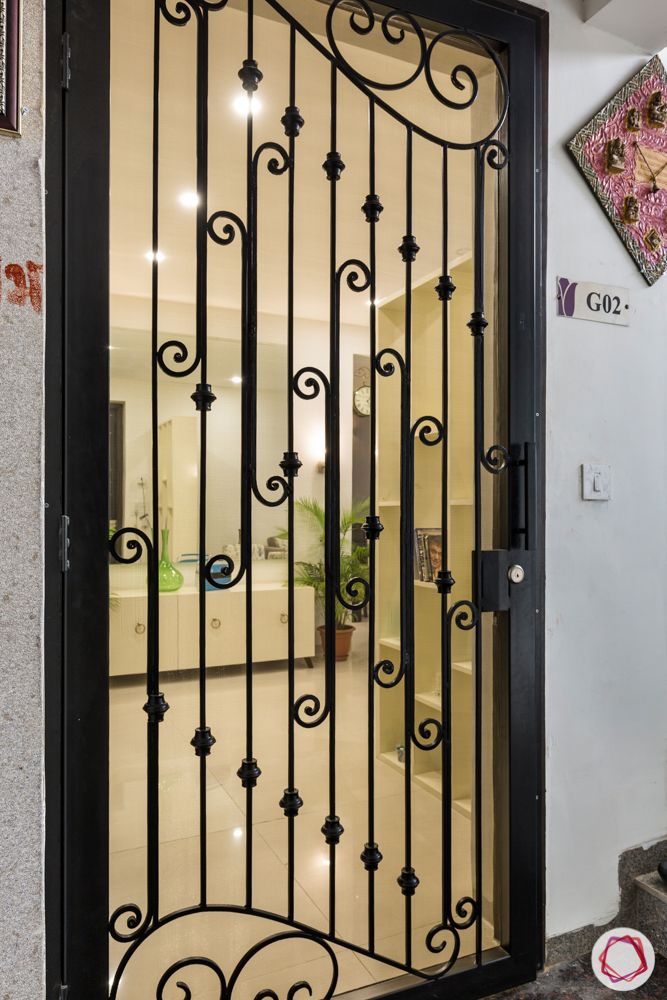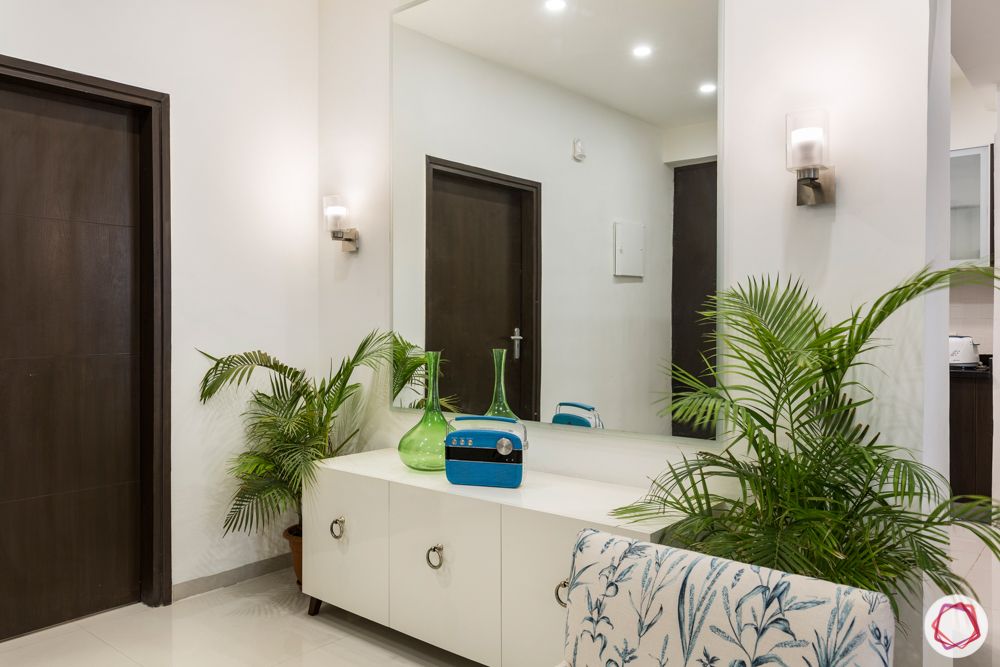 Check out this elegant grilled doorway with an MS finish. The design allows you to catch a brief glimpse of the apartment design. With the ample use of white, the foyer looks very spacious! Stepping in, you come across a white console with planters on both sides. The custom-made laminated console unit has tapering legs with a walnut finish.
Have you noticed the mirror in this entryway? Set between two wall-mounted sconces, it reflects light and makes this foyer look as large as can be! It also has a frosty border on all sides, adding some old-worldly charm.
A White & Bright Living Room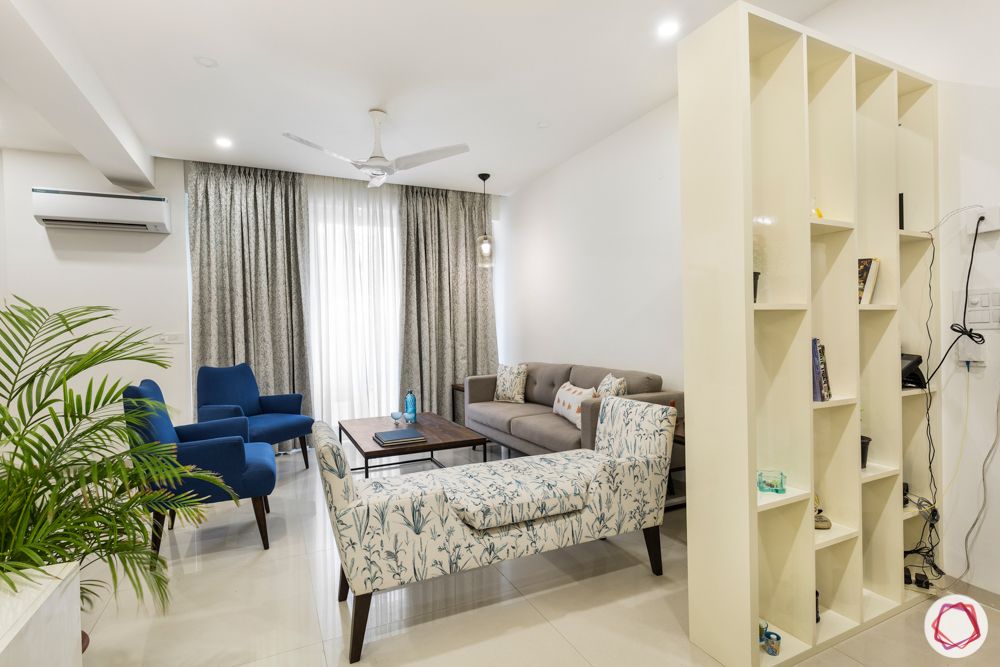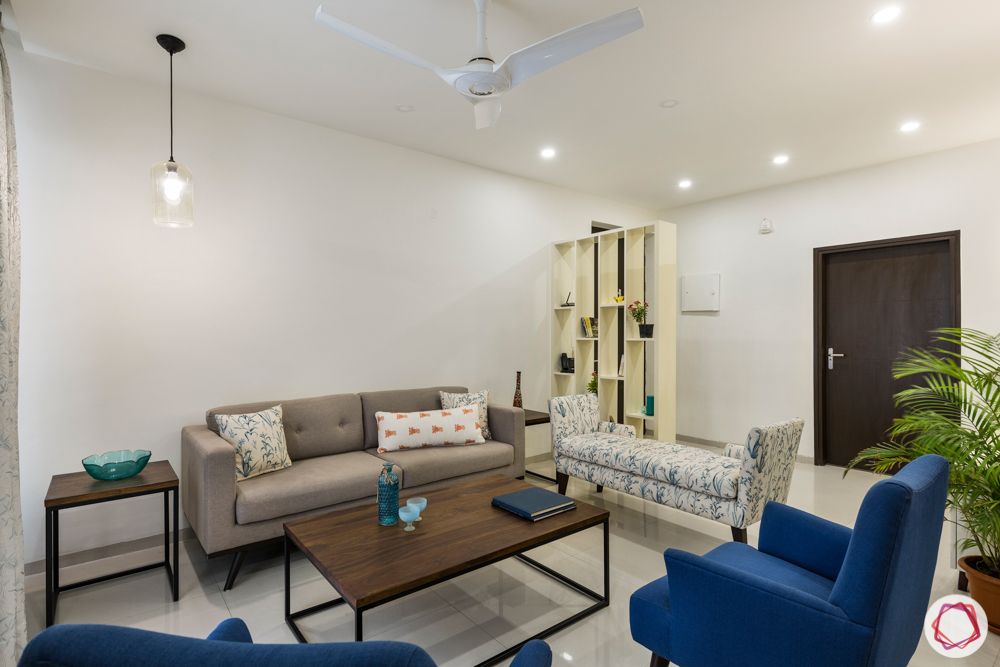 Doused in white and beige, this living room soothes the eyes like nothing else! A chic cotton sofa in beige from the Livspace catalogue takes centre stage – and sets the mood for the room. While the room has ample seating options, our eyes are automatically drawn to the blue upholstered chairs that create a pop of colour in this space.
To enhance the lighting across the house, Kanchan has provided a 4" flat false ceiling with embedded lights. Moreover, a pendant light in the corner keeps the blues away!
Have you seen the display shelf in the corner of the room? This custom piece has a high-gloss laminate finish separates the entryway from the living room. Moreover, it's the perfect place to show off your accessories, or hide a multitude of wires with minimal fuss.
Tulip Violet Apartment Gets a Simple Dining Room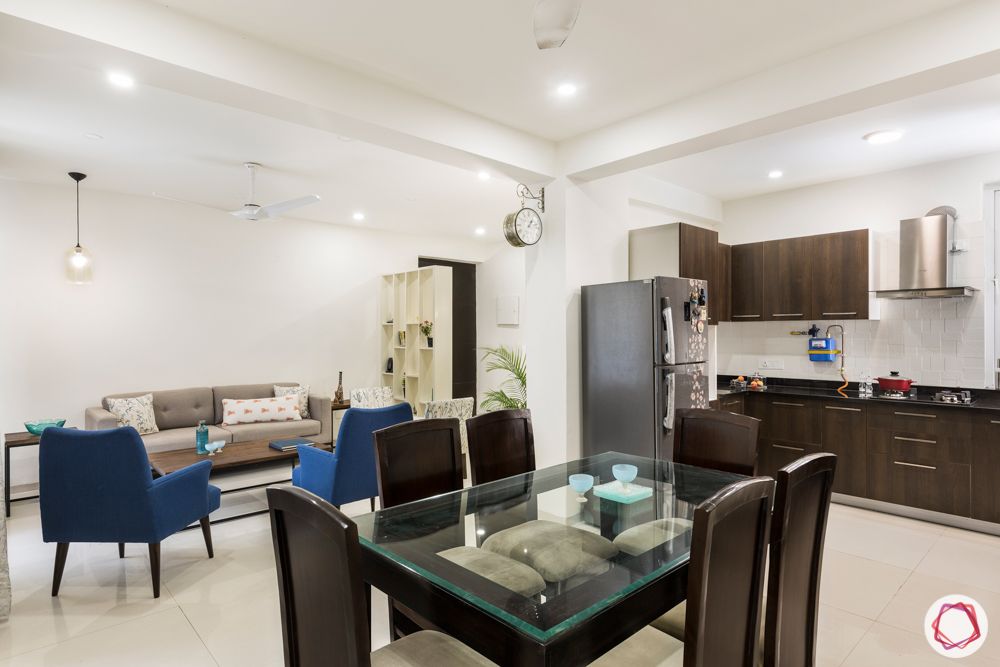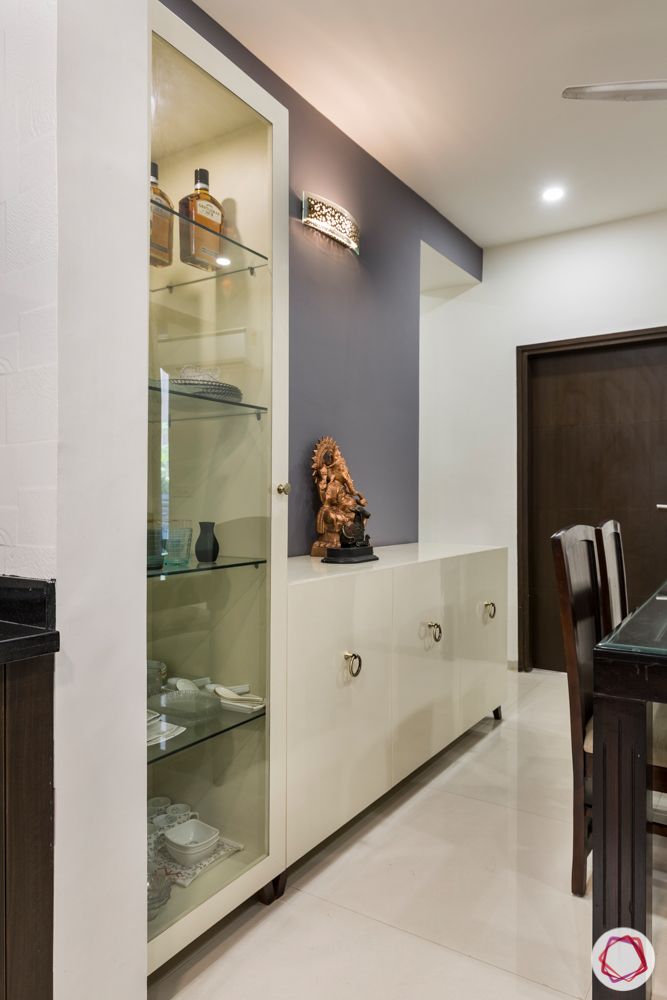 The dining space in the Malhotra home has been designed in classic colours. A frosty white laminate console and crockery unit with glass shutters stand against the grey accent wall in this space. The Malhotras' dining unit with a walnut finish stands in the middle of this room. Kanchan's choice of colours and minimal furniture makes this area look open and roomy!
Wooden Finishes for the Kitchen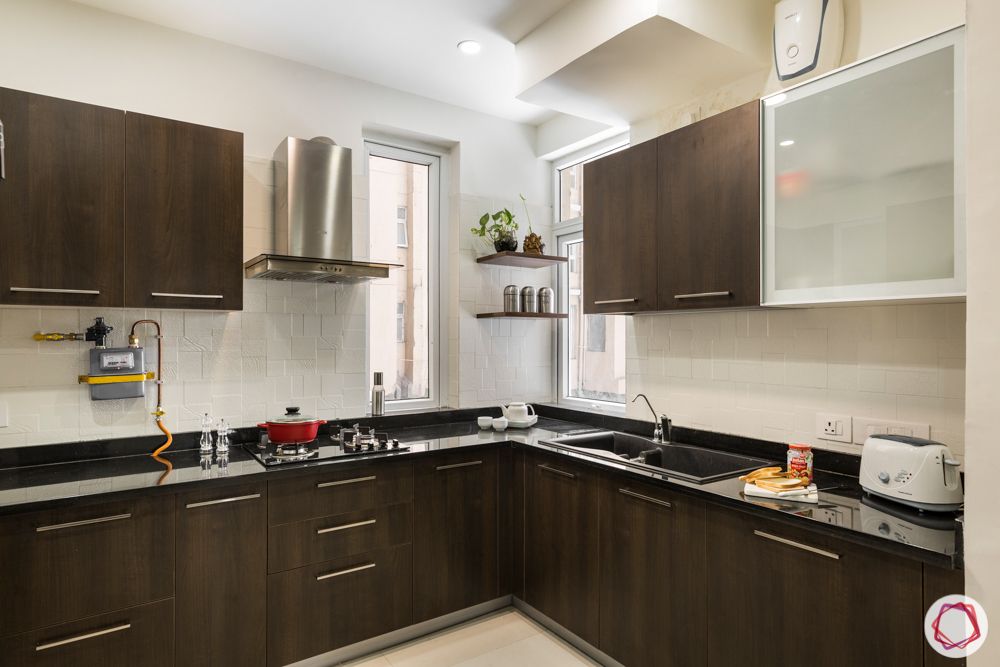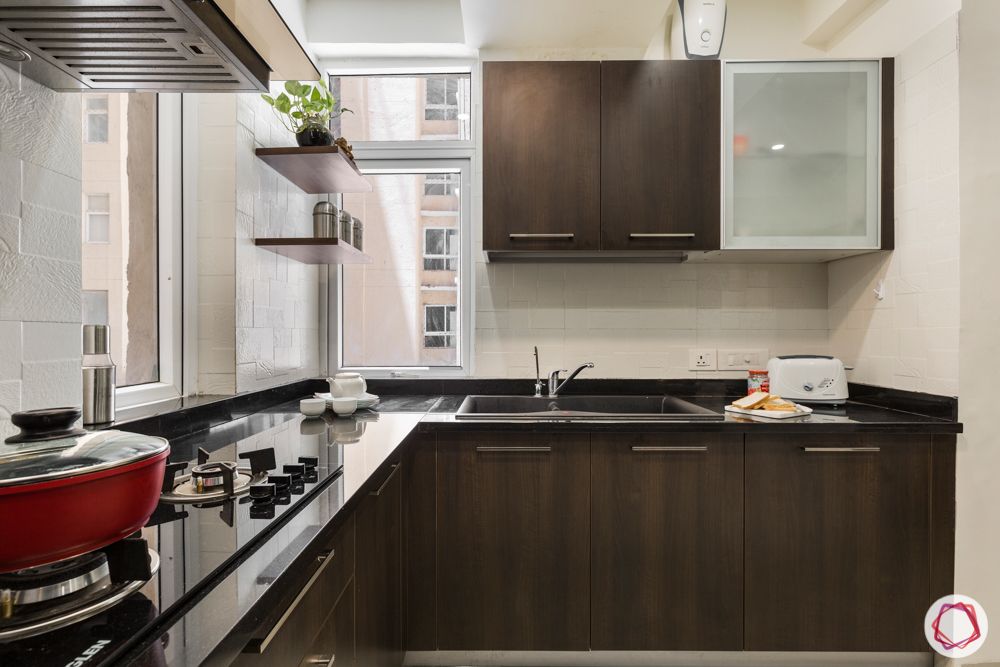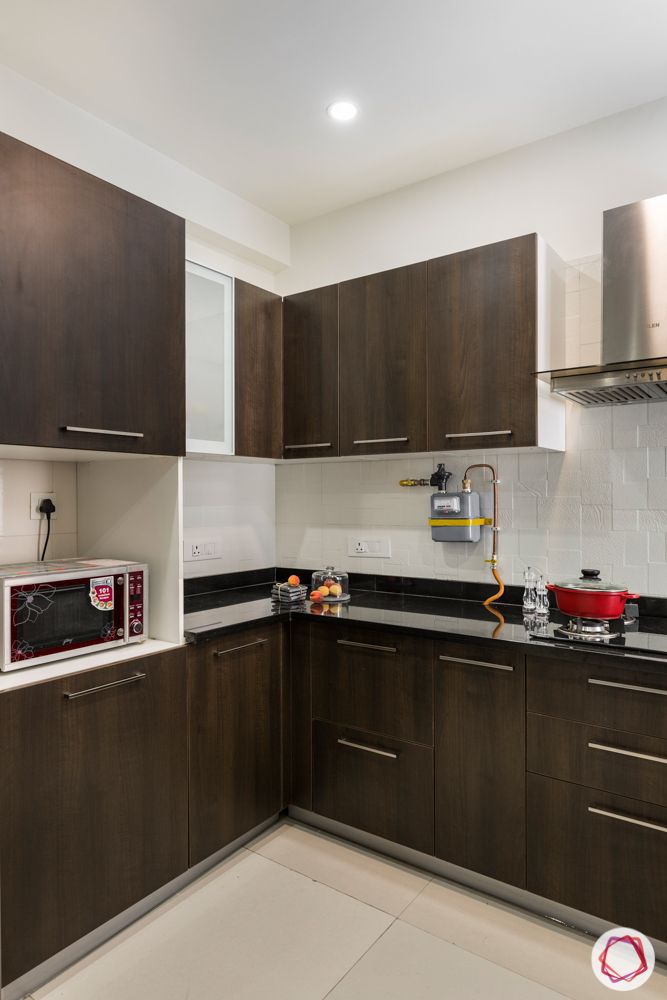 The Malhotras wanted a kitchen that was completely different from what they found in their new home. So Kanchan took her time in understanding the kind of kitchen they wanted, and gave them just that. Breaking down the existing breakfast counter, she made the kitchen more spacious. Moreover, she provided the Malhotras with a U-shaped kitchen as opposed to the previously provided L-shaped to maximise storage and countertop space.
Since the Malhotras wanted to avoid using white in their kitchen, Kanchan gave them laminate cabinets in a colour that ties in perfectly with the dining table. A backsplash of white vitrified tiles brings it all together.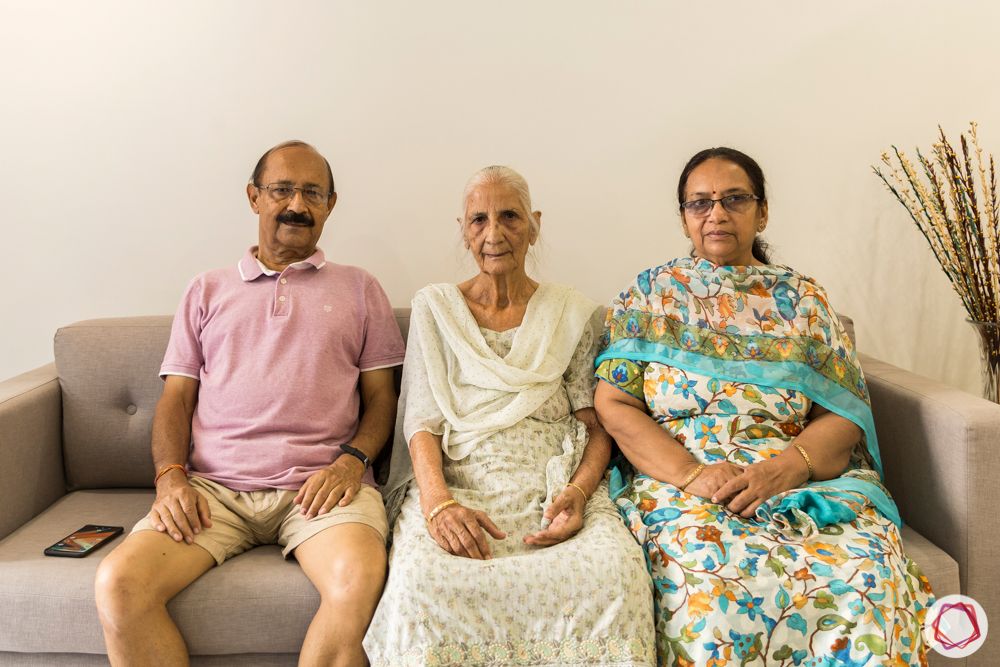 "We had a fantastic experience with Livspace, from inception to completion, and even post-completion. Our designer, Kanchan, and the design team as a whole, was knowledgeable and helpful."

– Som Prakash Malhotra, Livspace Homeowner
Dousing the Master Bedroom in a Soothing Beige Hue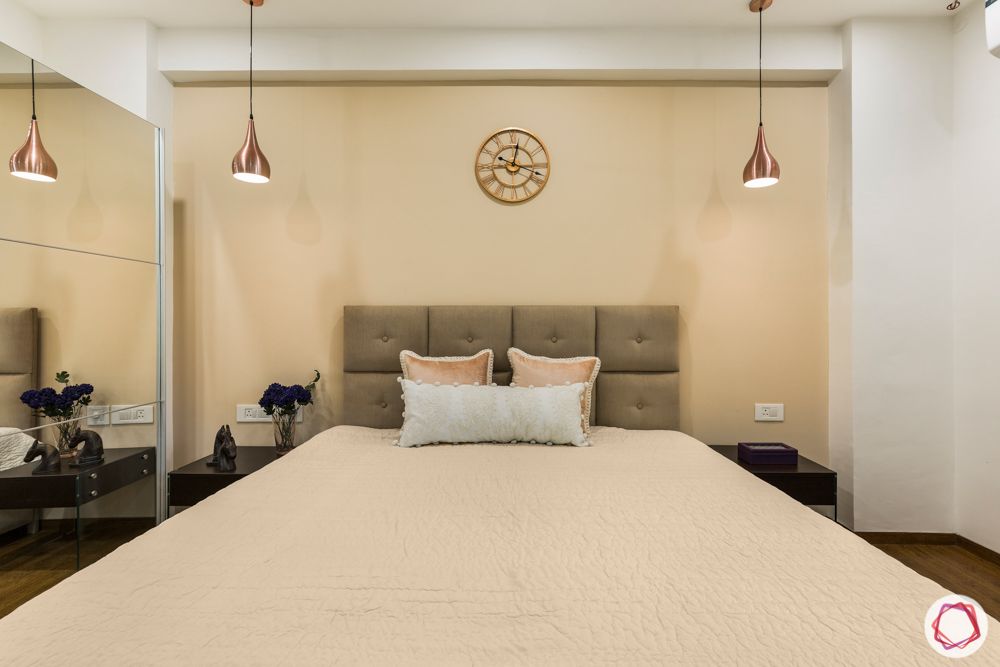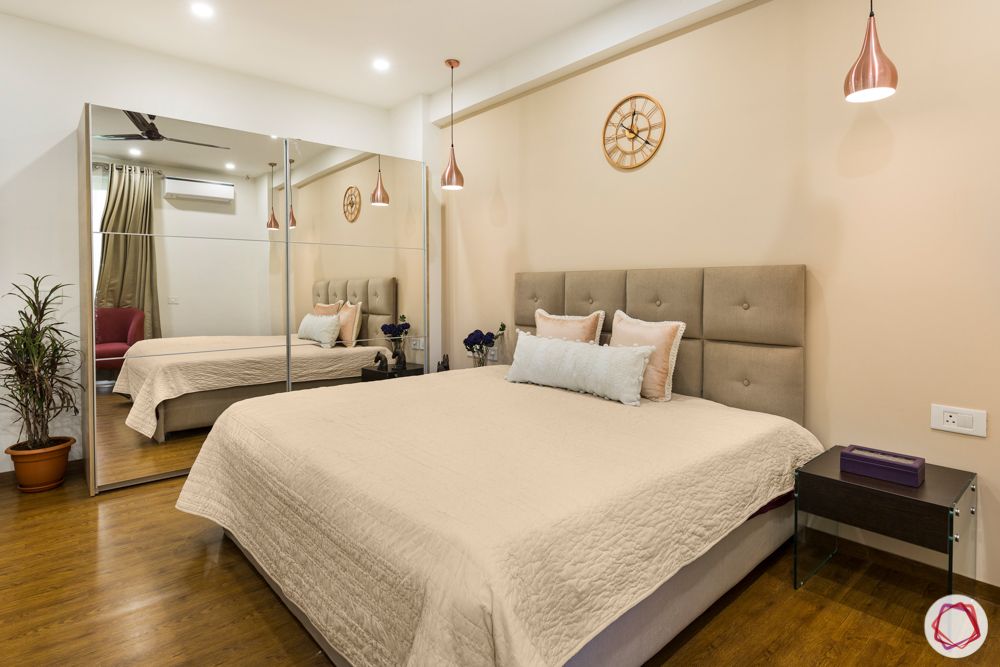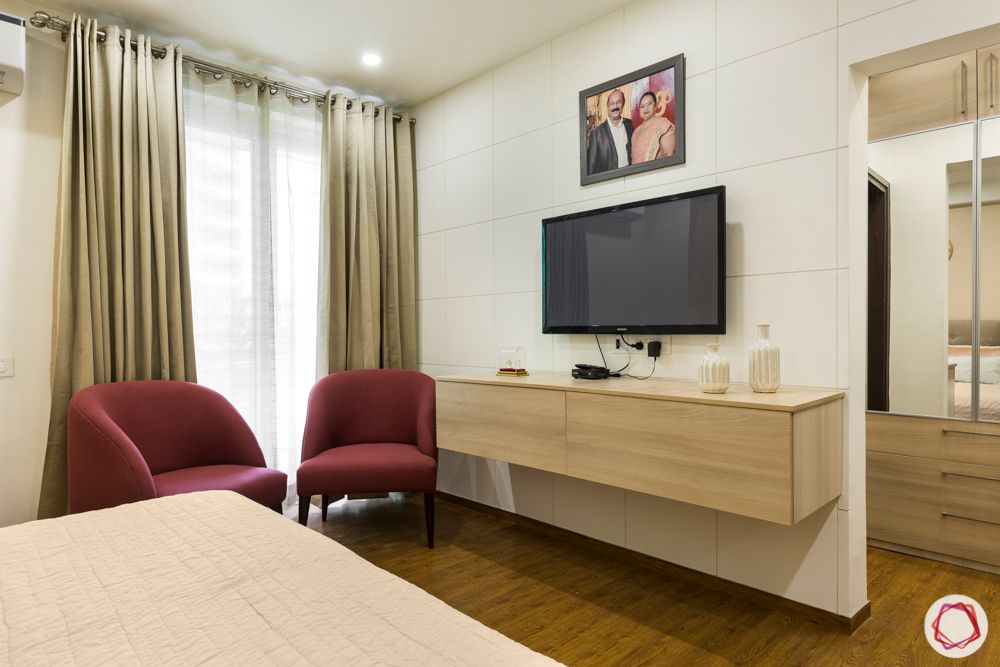 The Malhotra home has a beige master bedroom that pleases the eye and aids rest at the same time. The design team refurbished the existing bed and added a fabric headboard, creating a cosy resting place. Kanchan has provided a pair of copper-coloured pendant lights on either side of the bed, enveloping the room in a soft glow.
A sliding wardrobe with mirror panelling from the Livspace catalogue ensures that the couple have enough room for their essentials. Moreover, Kanchan has placed a pair of plush maroon chairs in the corner. These not only add a dash of colour to the room but also create a cosy space for conversations over a cuppa. Also, do not miss the TV unit! Kanchan has placed this compact unit against a wall with POP grooving, creating a subtle but elegant design.
A Soft Pink Bedroom in Tulip Violet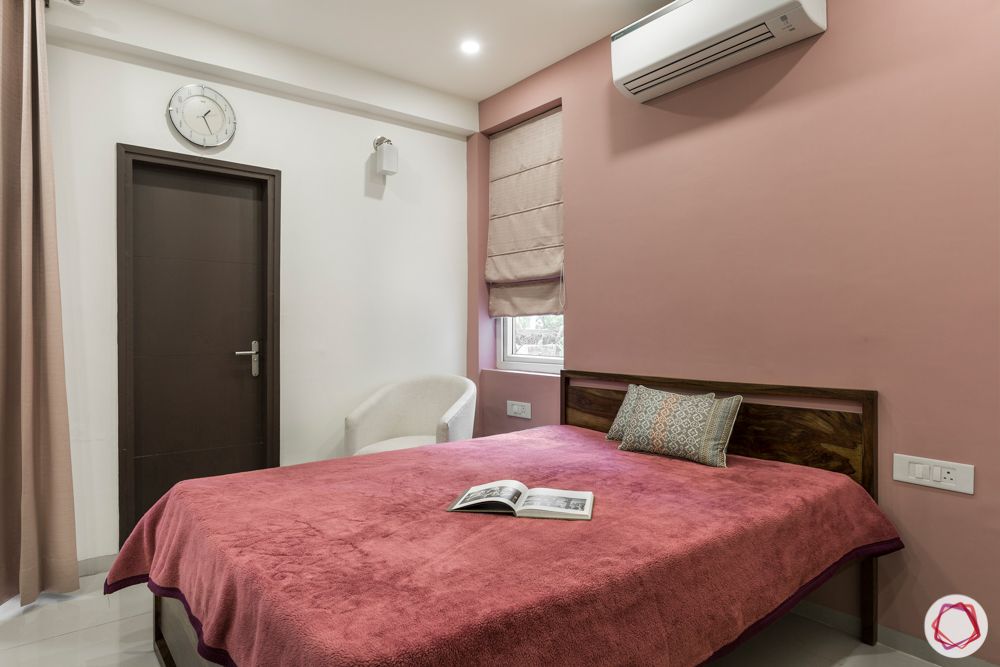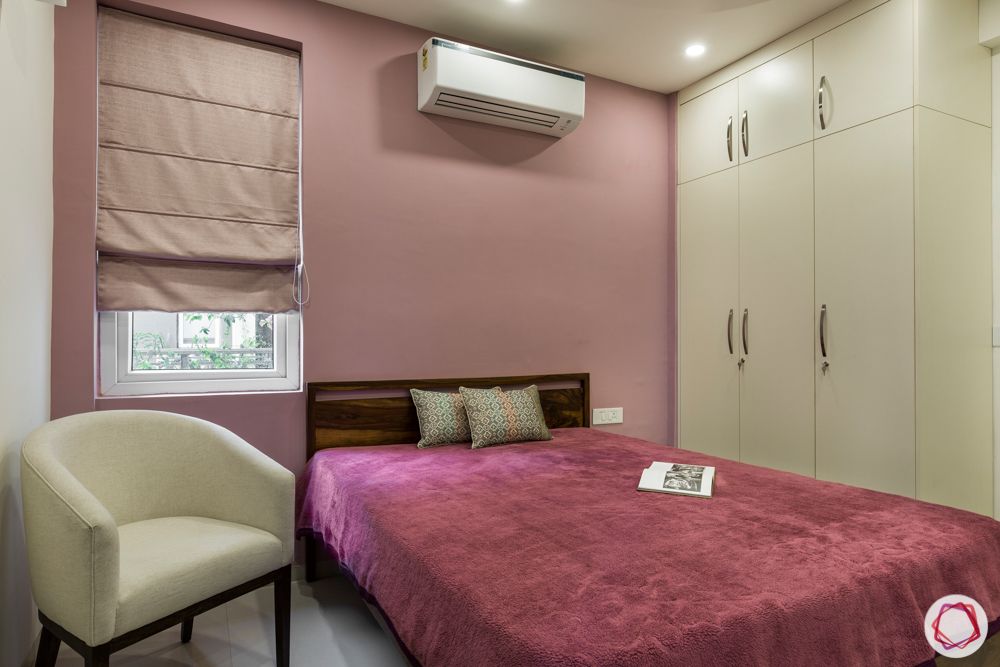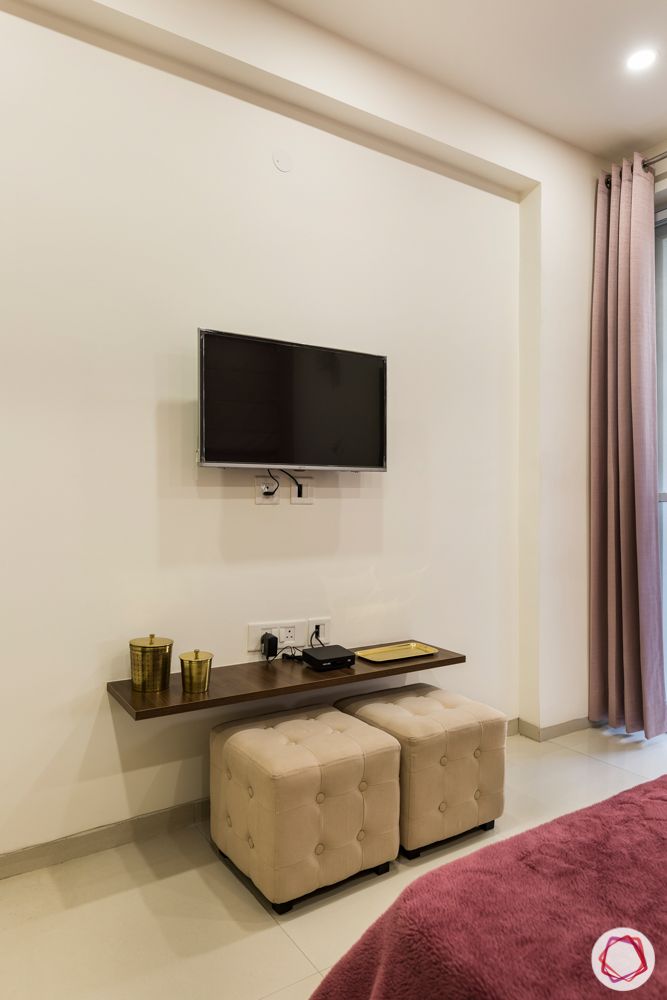 Som Prakash's mother wanted a pink room, so that's exactly what Kanchan gave her! Once the Malhotras agreed on the exact shade, designing this room was a cakewalk! Kanchan has beautifully balanced the pink accent wall with a laminate wardrobe and a white chair. A compact TV unit completes the room. A pair of nested stools in beige from the Livspace catalogue complete this room!
An Evergreen Bedroom in Tulip Violet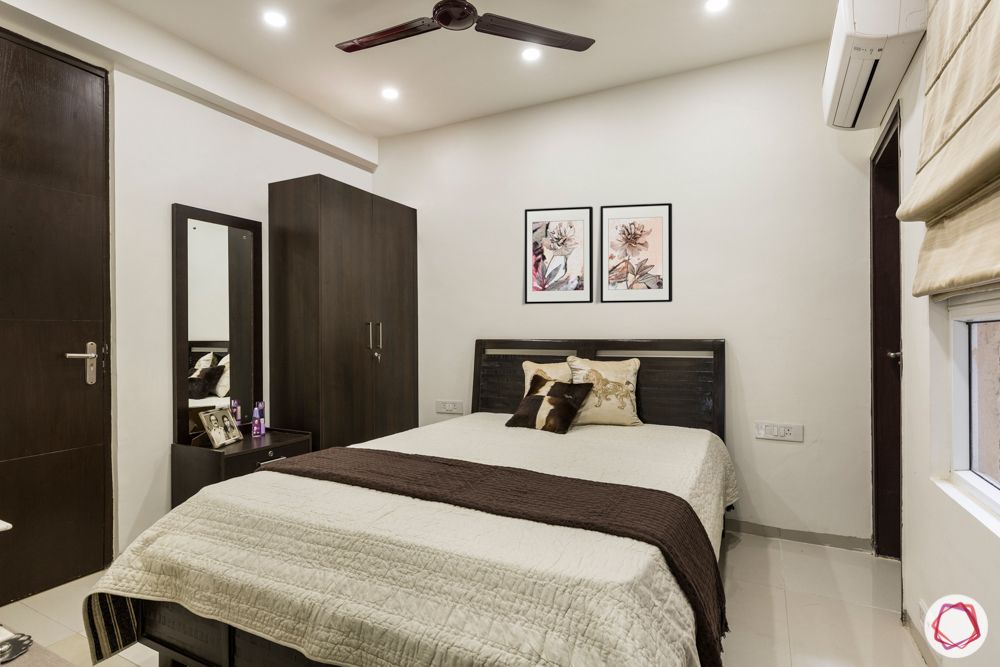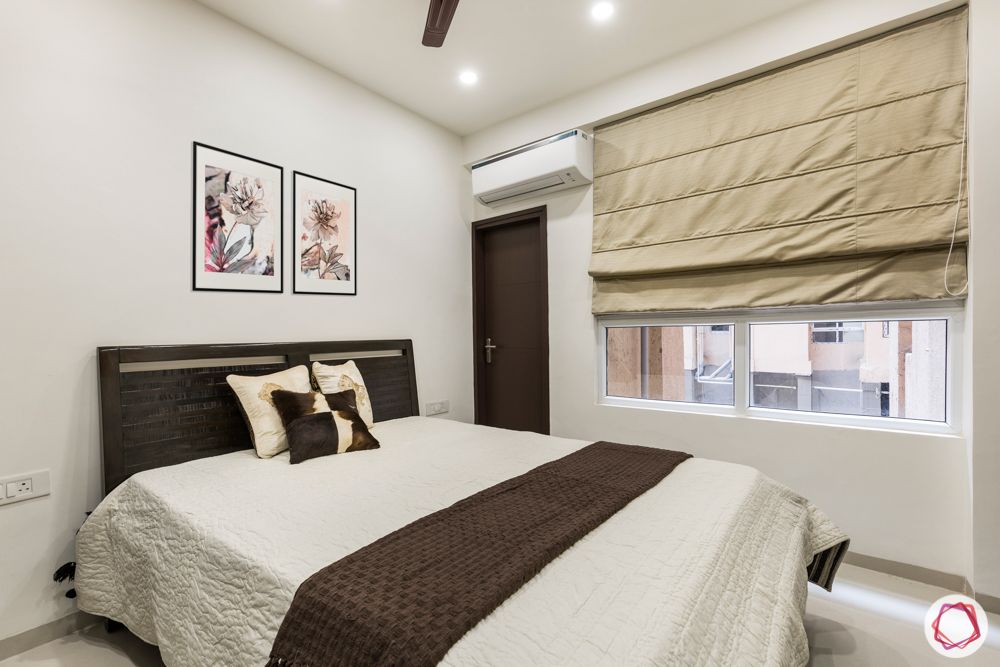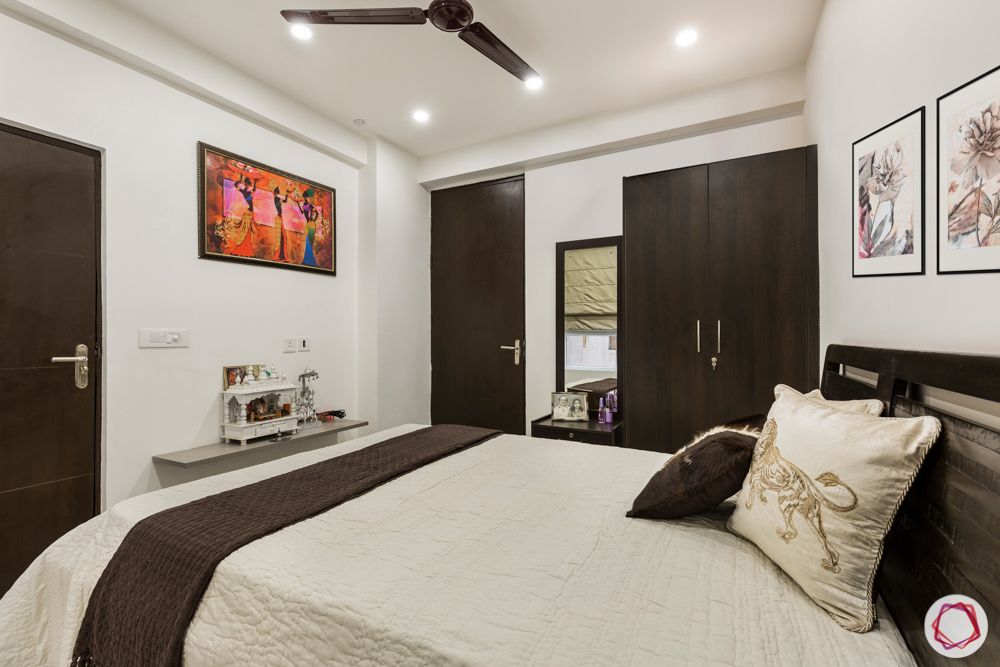 You can step into this bedroom years from now and it will still have its charm! A combination of white walls and dark wooden furniture make this guest bedroom look elegant and timeless. Kanchan has made space for the Malhotras' wardrobe and dresser in this room. And the rest of the room has been designed around it.
A flat false ceiling with little frills and fancies suffices to light up the room. Kanchan has also provided a shelf on the wall, which the family currently uses as the mandir. She informs us that if a wall-mounted TV is placed in this room, the same ledge can double up as the TV unit. Well-planned, don't you think?
"The Malhotras wanted a fuss-free home in neutral shades. And they wanted to avoid jazzy elements, so that's exactly what we gave them. Once we understood their choices, it was easy to give them the kind of home that they wanted!"

– Kanchan Sabharwal, Interior Designer, Livspace
If you enjoyed reading this story, also explore Two Living Rooms, Two Styles.
Send in your comments and suggestions.