3 BHK in Gurgaon gets decked up in modern elements.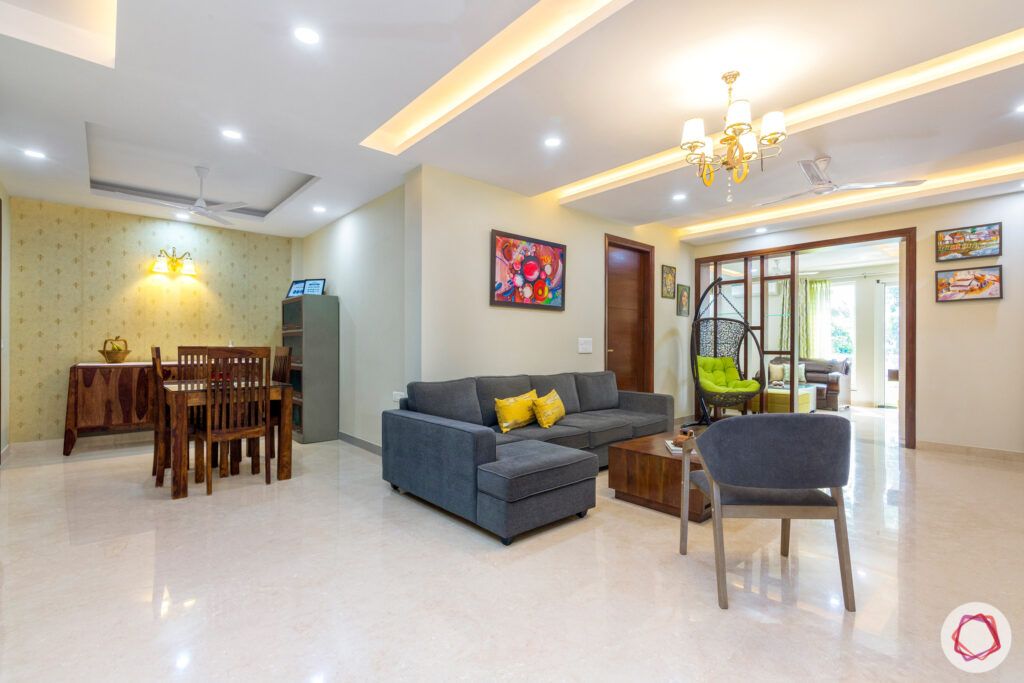 ---
Who livs here: Anjali Sharma with her husband Pavan Kumar and their son Prabhu
Location: Palam Vihar, Gurgaon
Size of home: A 3BHK spanning 2,400 sq ft approx.
Design team: Interior Designer Tanu Anand and Project Manager Bhagwan Deora
Livspace service: Full home design (kitchen not included)
Budget: ₹₹₹₹₹
---
Today, we are going to tell you the story of a lovely little family comprising of a sports-loving mom, music-loving dad and their son who has got the best of both worlds. Together, this trio has made this space their home by infusing it with their personality. As your eyes tour around this home you will see a lot of influence from the creative side of the brain. Walls decked up with paintings, a room dedicated to music and a lot more.
Designer Tanu Anand has played a major role in convincing the family that their home can tell a story. This was the turning point and that's how this story unfolds. The family wanted rooms and corners for every member and wanted to stay away from clutter. Tanu suggested they go for wallpapers that are a sureshot giveaway of the vibe of a space. She has also made intelligent use of wall space wherever possible. Thus, this home is the perfect definition of how to design on a budget, but not compromise on style.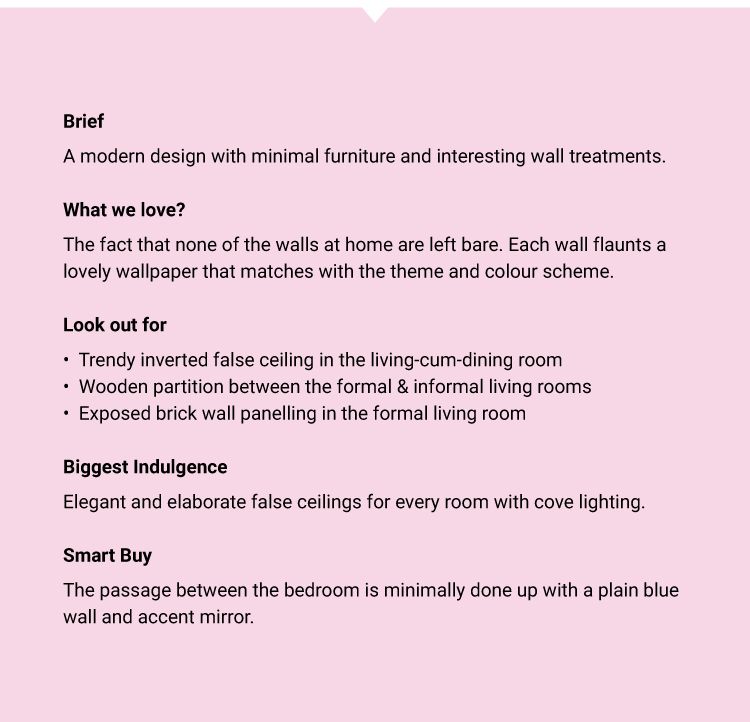 An informal living room at this 3 BHK in Gurgaon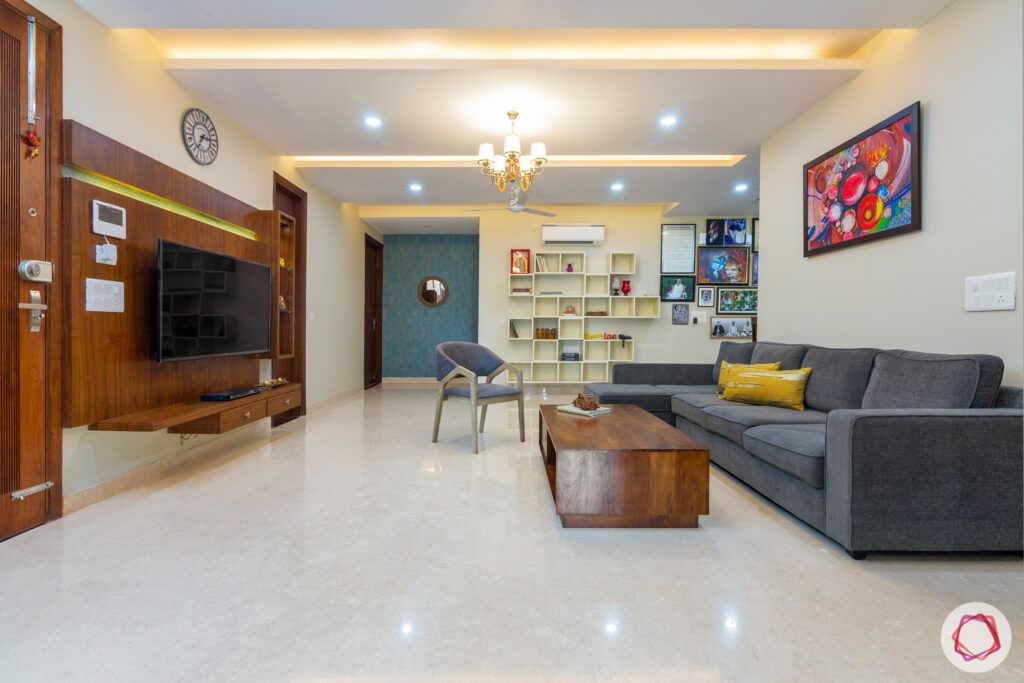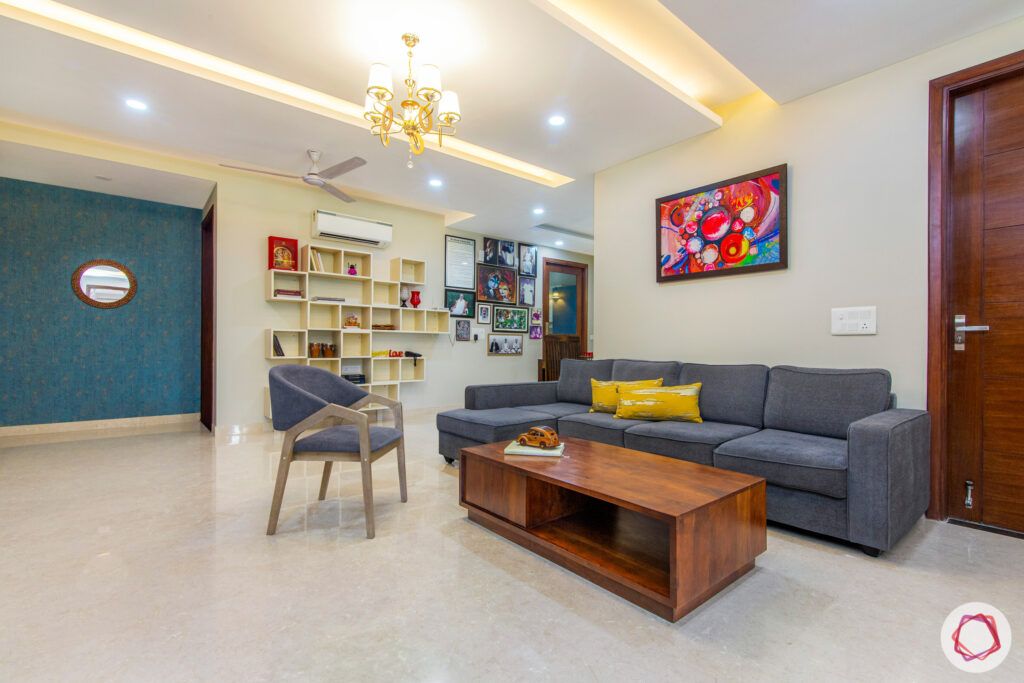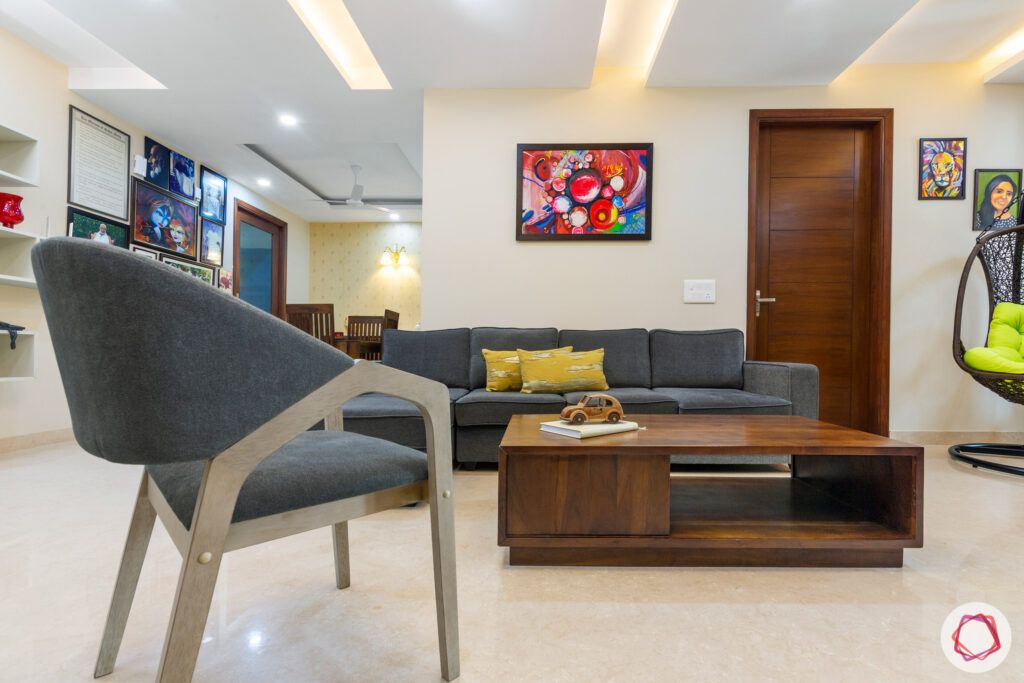 The moment you step into this sprawling builder floor apartment in Palam Vihar, a simple and spacious layout welcomes you. This is what the family calls the informal living room, specifically because this is where they spend most of their time together. Tanu has given them a comfy l-shaped sofa and a chair upholstered in slate grey. A wooden centre table and stunning false ceiling with cove lighting are the cherries on the cake.
3 BHK in Gurgaon also has a formal living space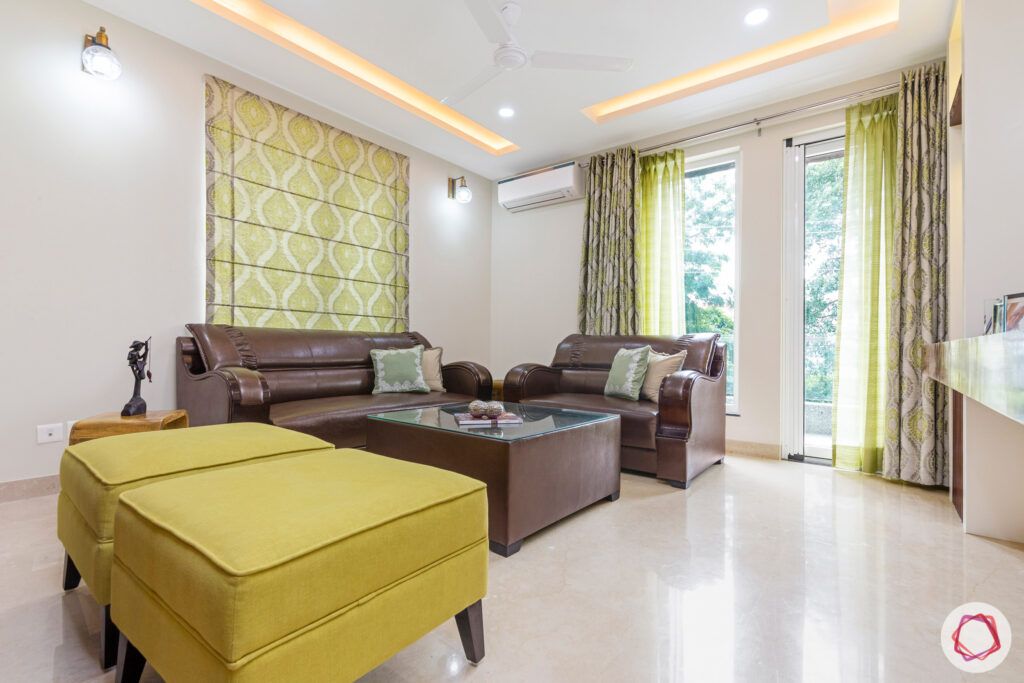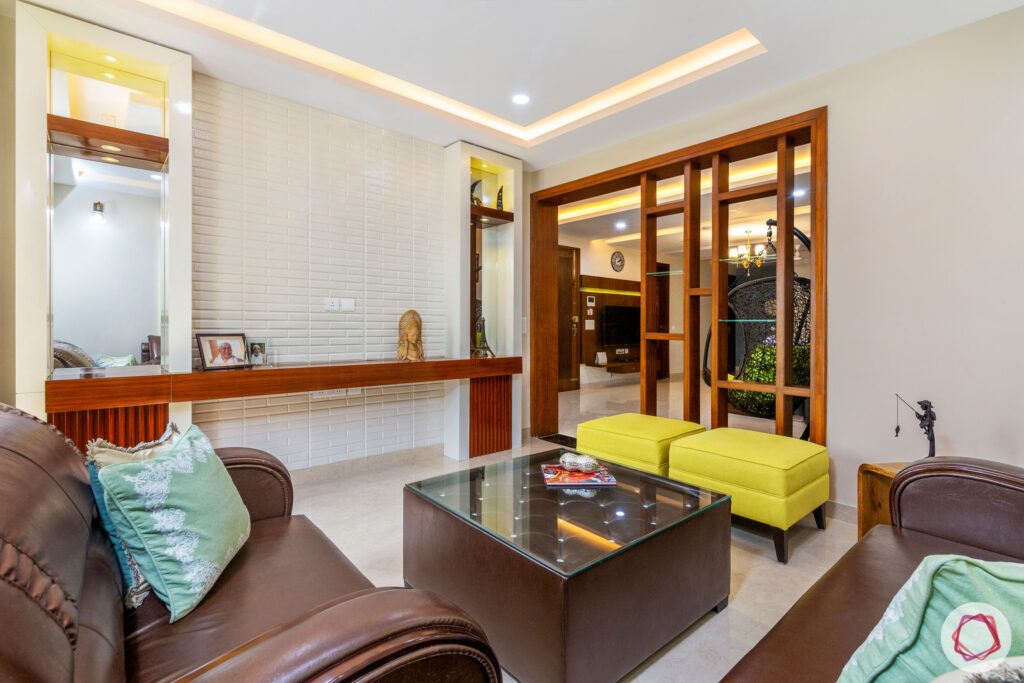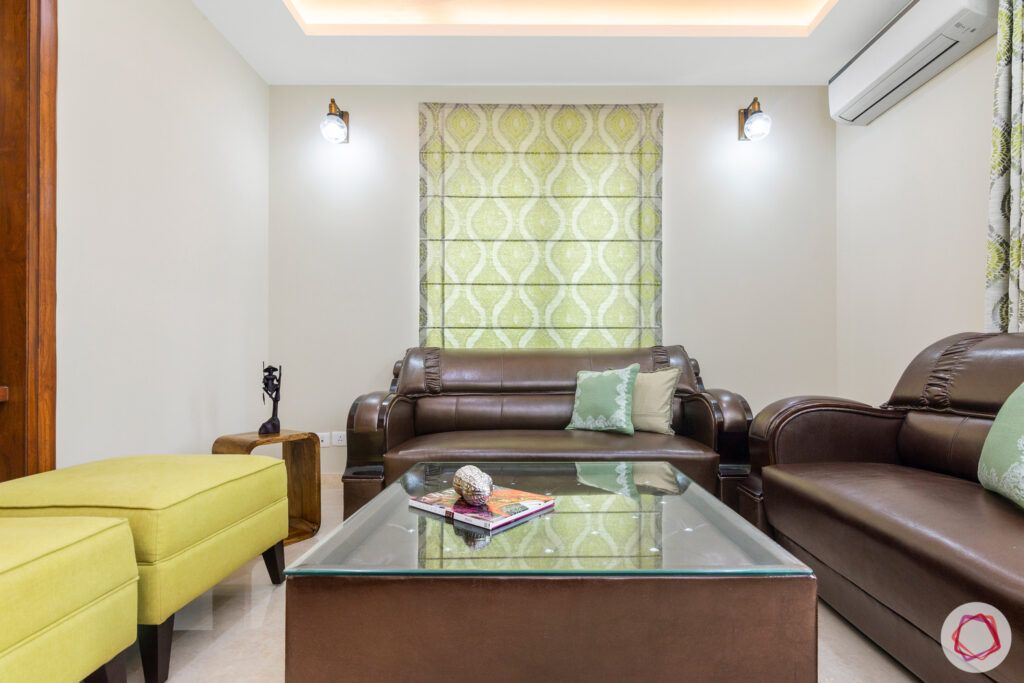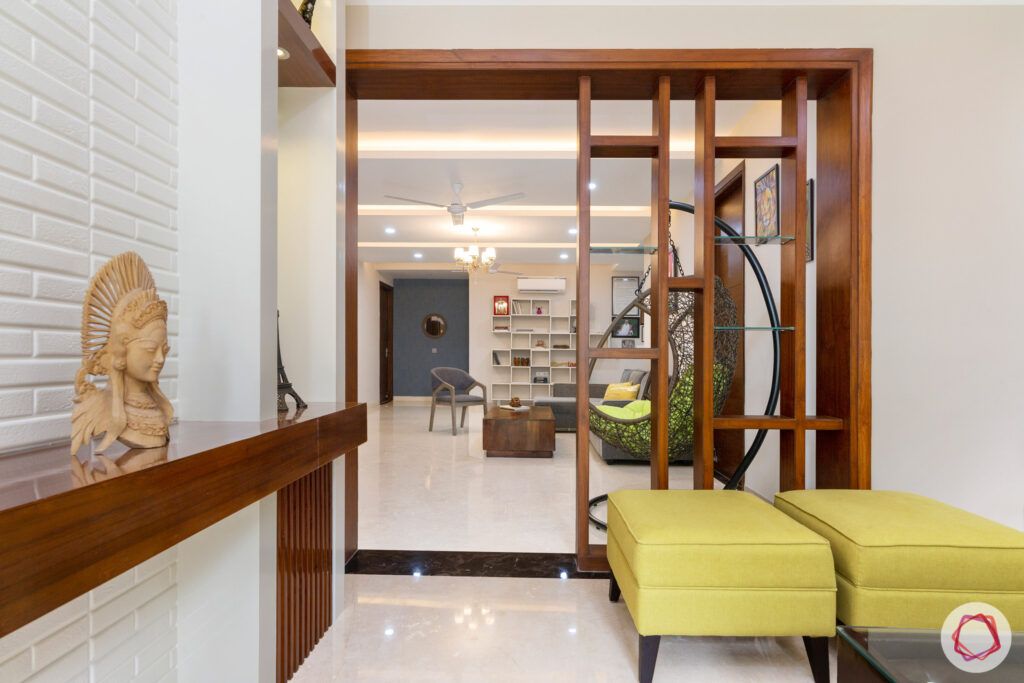 Moving on to more formal spaces, the second living room at this 3 BHK in Gurgaon is designed to entertain guests and work-related people. Since Pavan is passionate about music, besides his regular job, he has a lot of visitors and guests who keep coming in. The family wanted a space that does not interfere with the rest of the home and thus Tanu made this division. A striking exposed brick wall panel decorates the TV unit wall and yellow ottomans add a dash of colour here.

Quaint dining at this 3 BHK in Gurgaon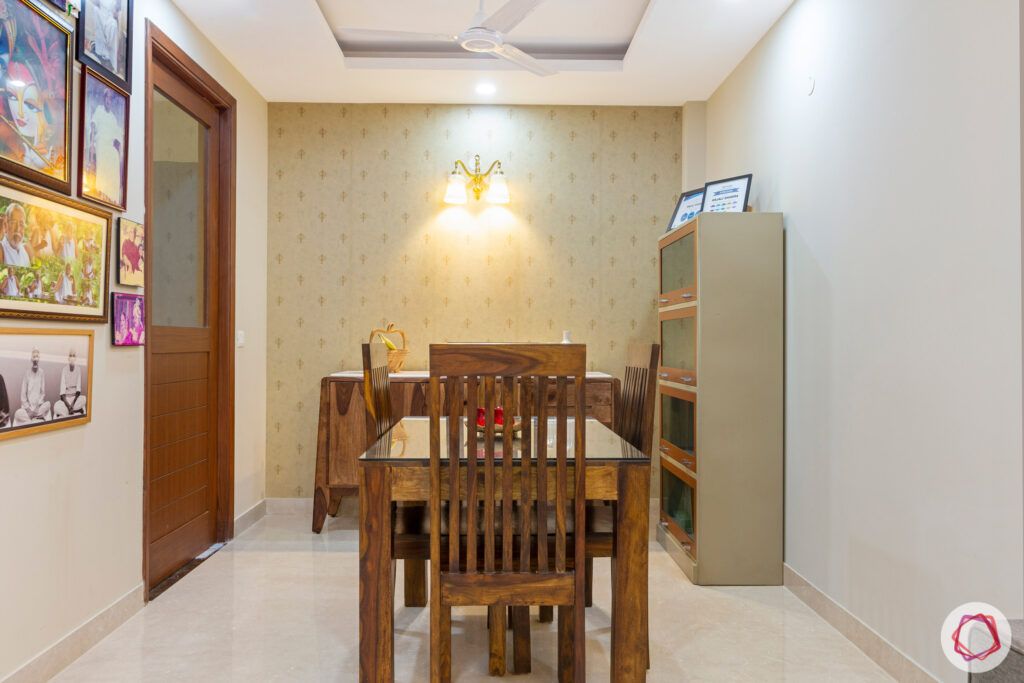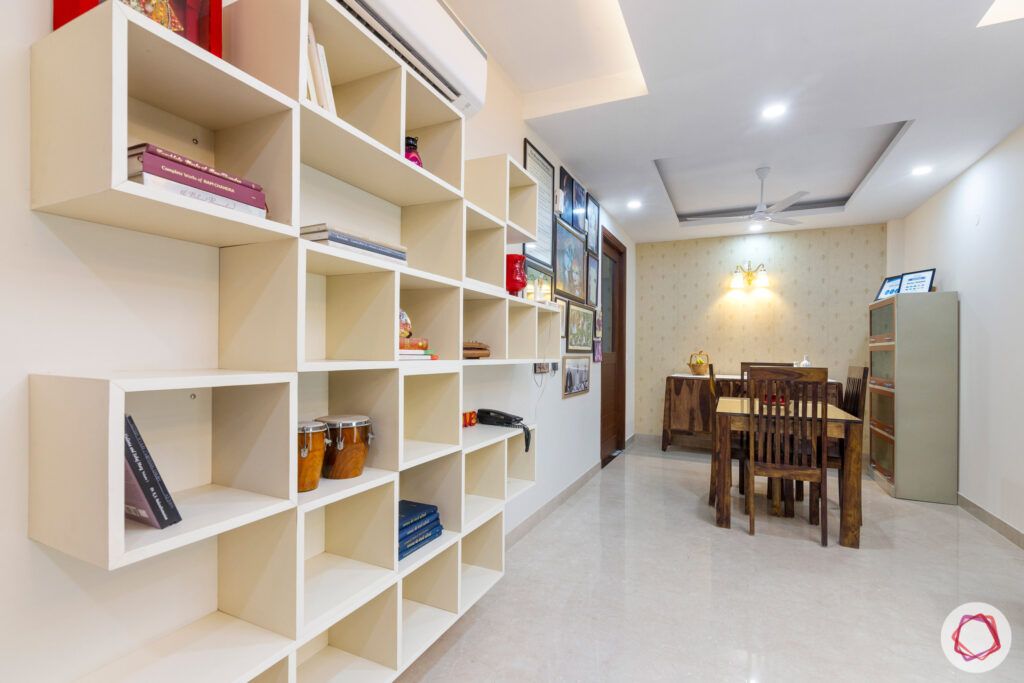 A dining room, we believe, is the most cosy spot at home, where the family comes together for meals. And, a family that dines together stays together. This dining space sports a compact wooden dining table and chairs, accompanied by a sideboard for making life easy. Tanu has also given them a simple wallpaper with wall lights that highlight it beautifully. The wall next to it is very special to the family and we are not complaining. It is filled with framed paintings that Prabhu, the couple's son has painted himself. Alongside that, you can also spot this elaborate wall-mounted bookshelf where the family keeps all their reading material and some decor.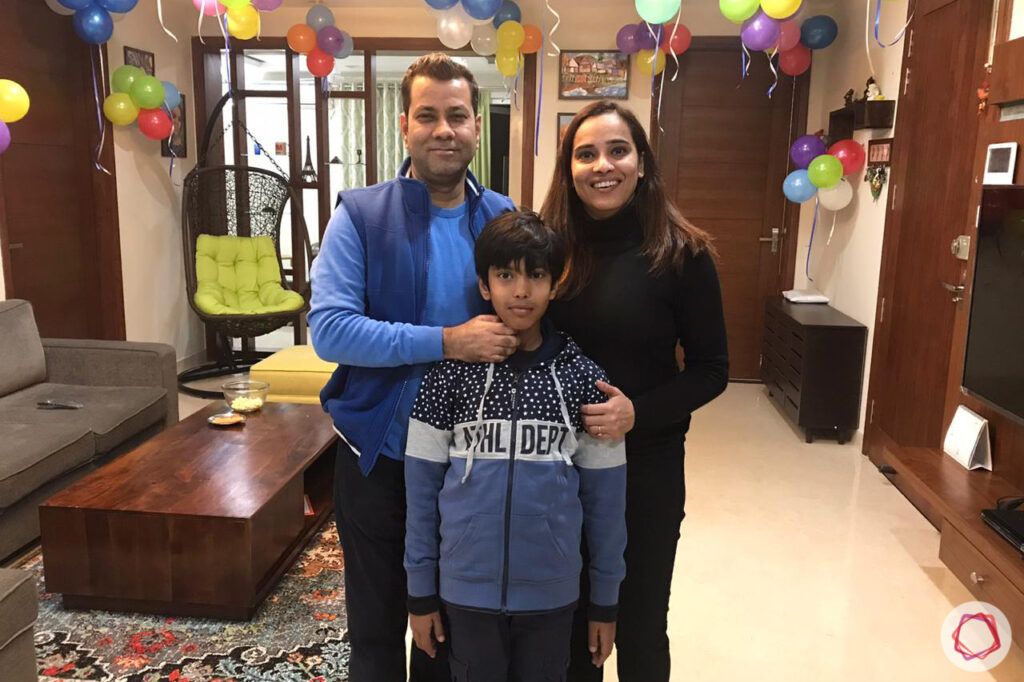 "We have absolutely no complaints about the quality of work done by Livspace and Tanu, our designer. She was a patient listener and she gave us some excellent ideas that we immediately agreed upon. We wanted to give finishing touches to our new home and that is possible only when we have the right furniture and decor. Tanu was instrumental in getting us the right things and placing them at the right place. We love how our home looks now!"

-Anjali Sharma, Livspace Homeowner
Serene master bedroom at this 3 BHK in Gurgaon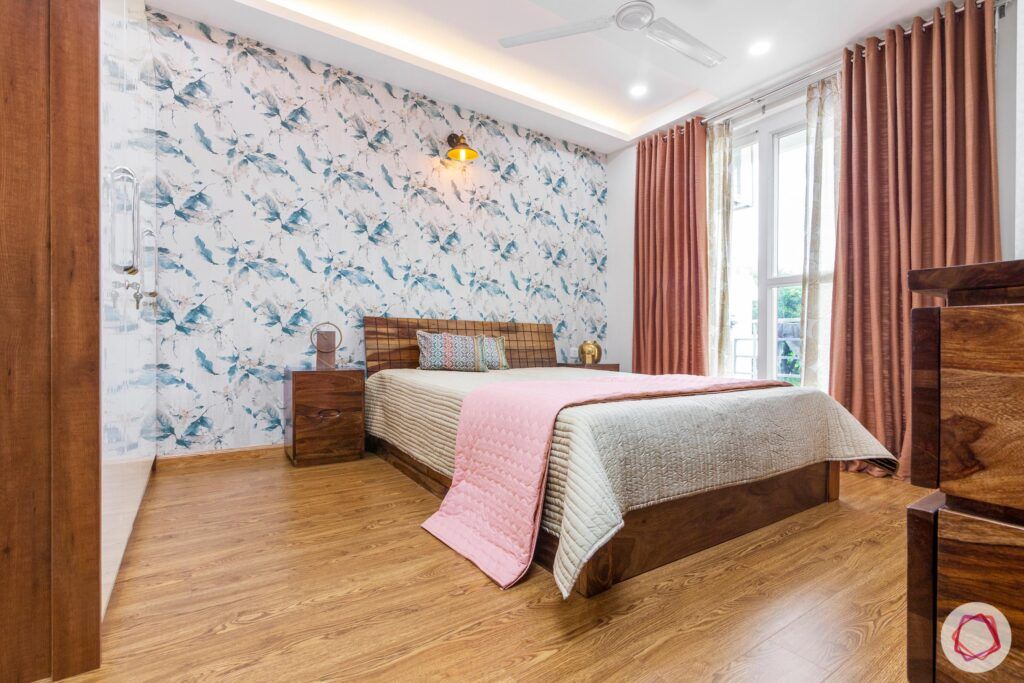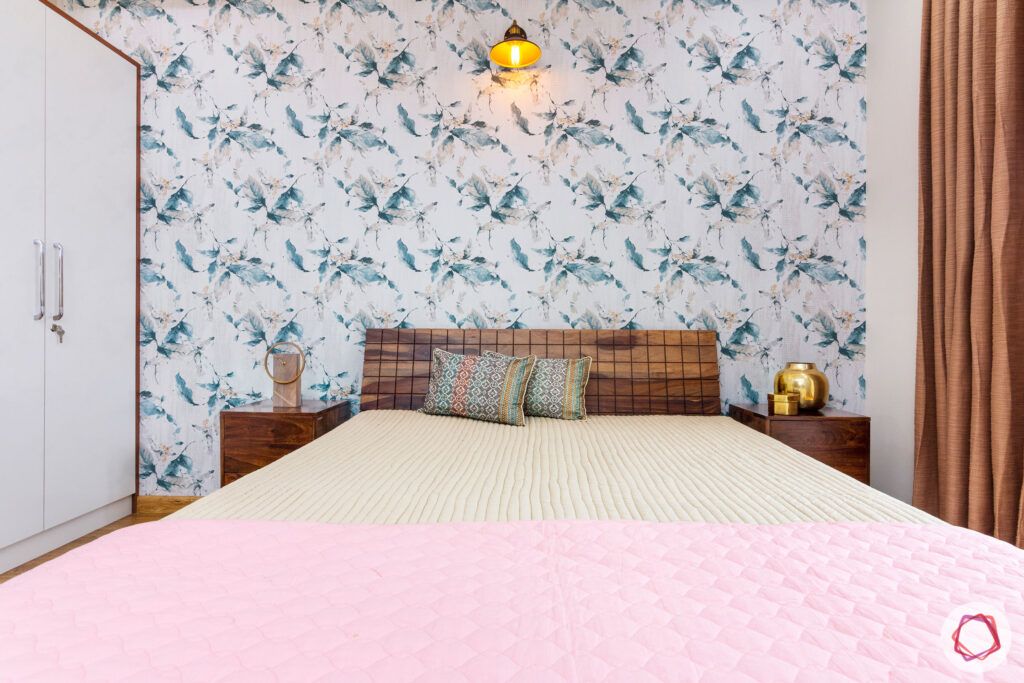 A bedroom is supposed to be all things comfortable and cosy. Thus, Tanu decided to give the couple's bedroom a breezy vibe with this floral wallpaper behind the bed. A warm wooden bed and matching side tables add to the calm vibe of this space. Simple swing door wardrobes in pristine white makes it easy for the couple to use it and does not take away from the look of the room. We also love the pretty rust shade used for the curtains here.
Playful kid's room at this 3 BHK in Gurgaon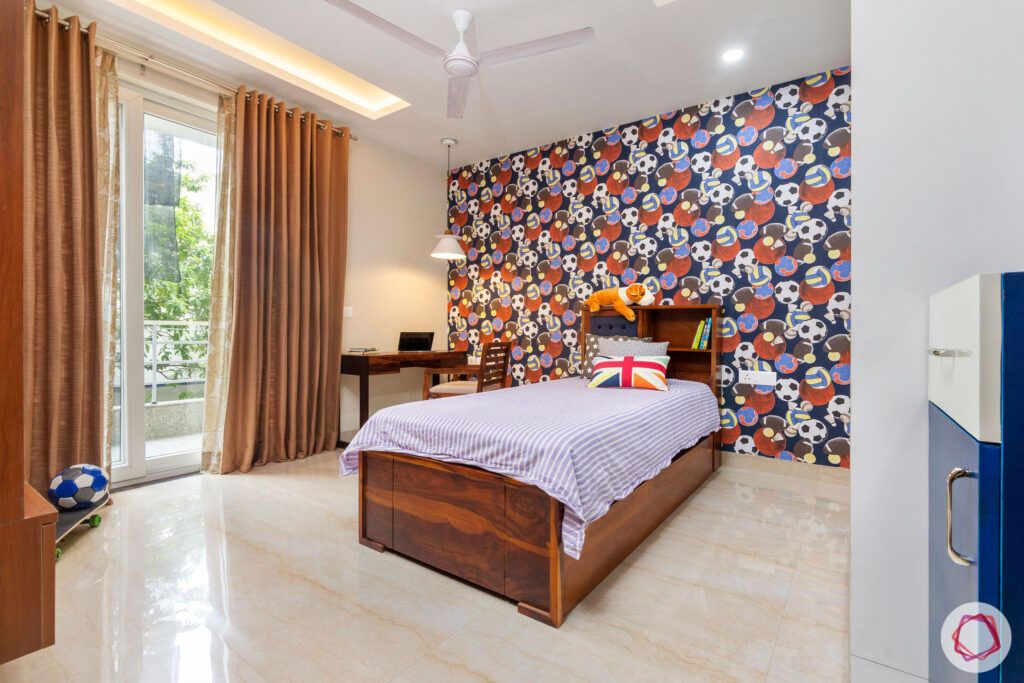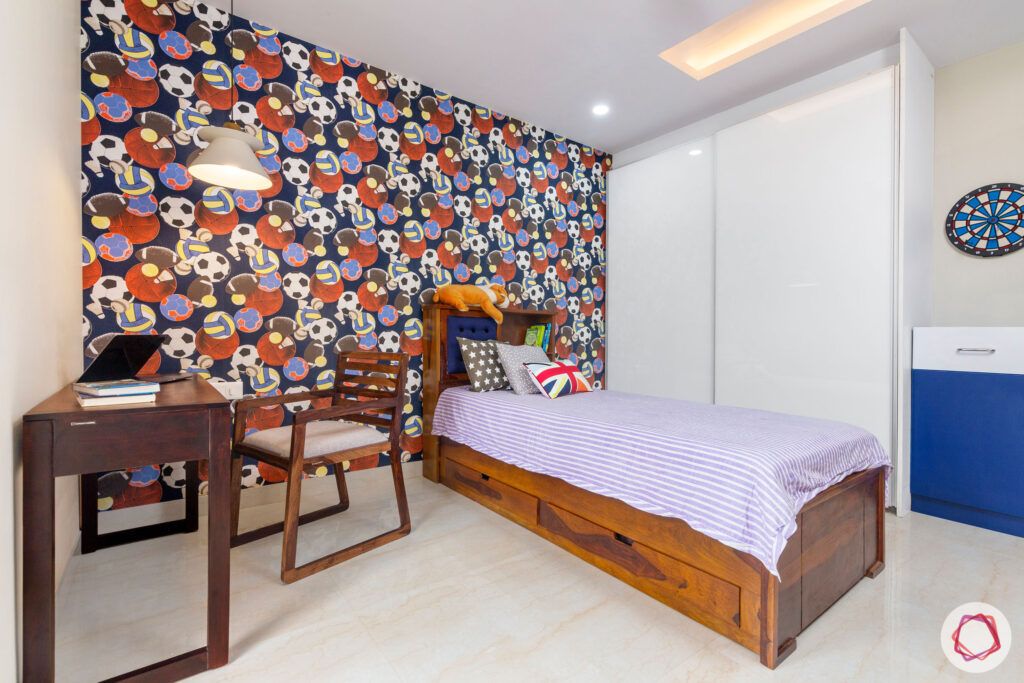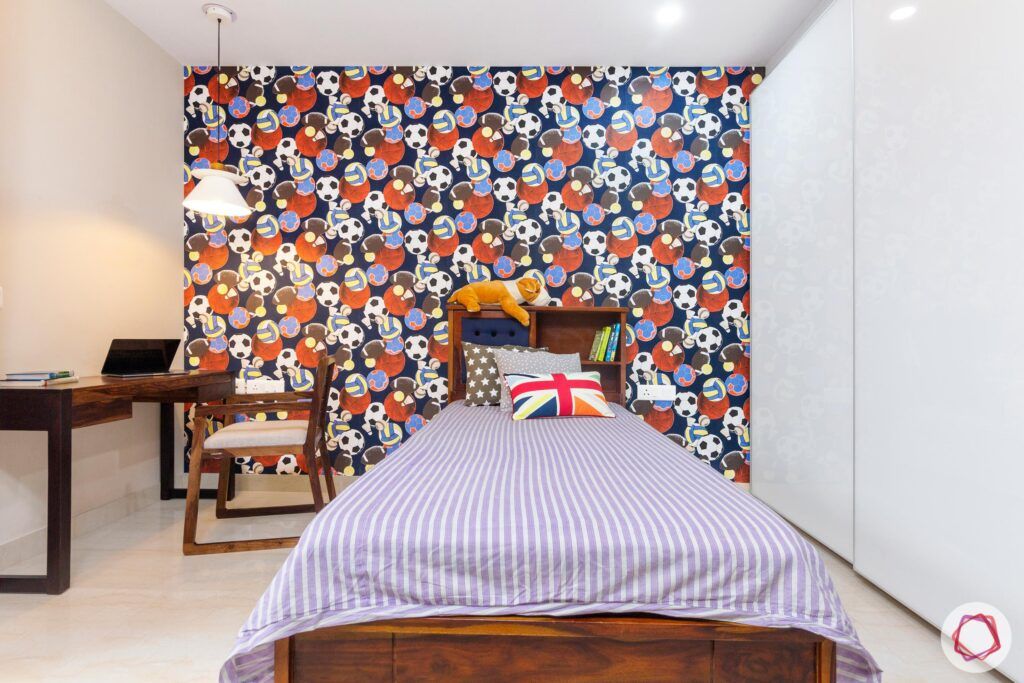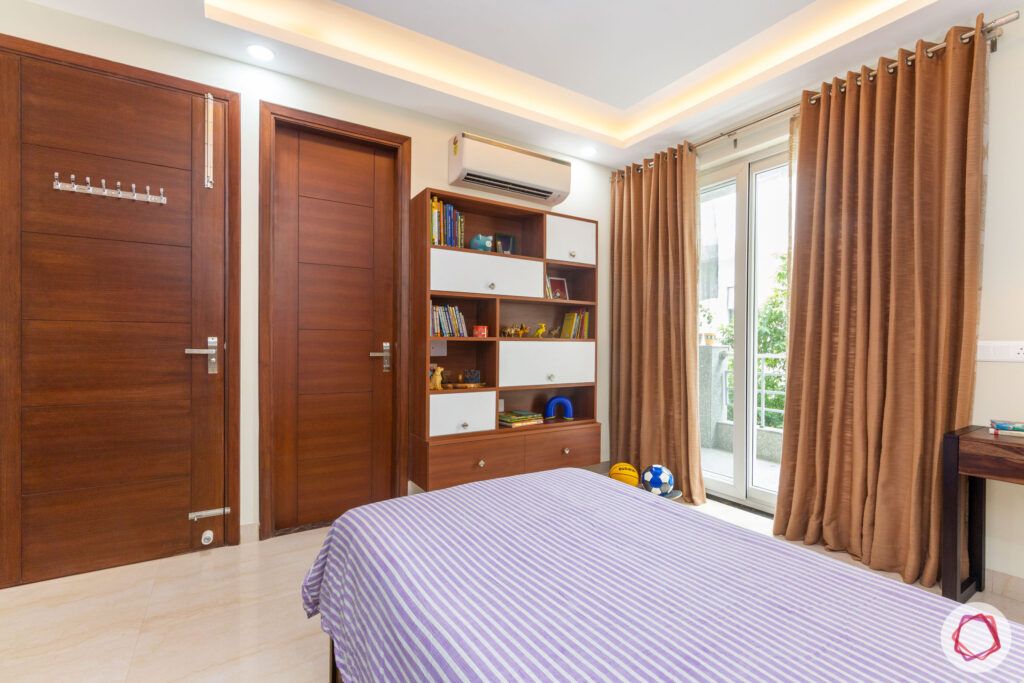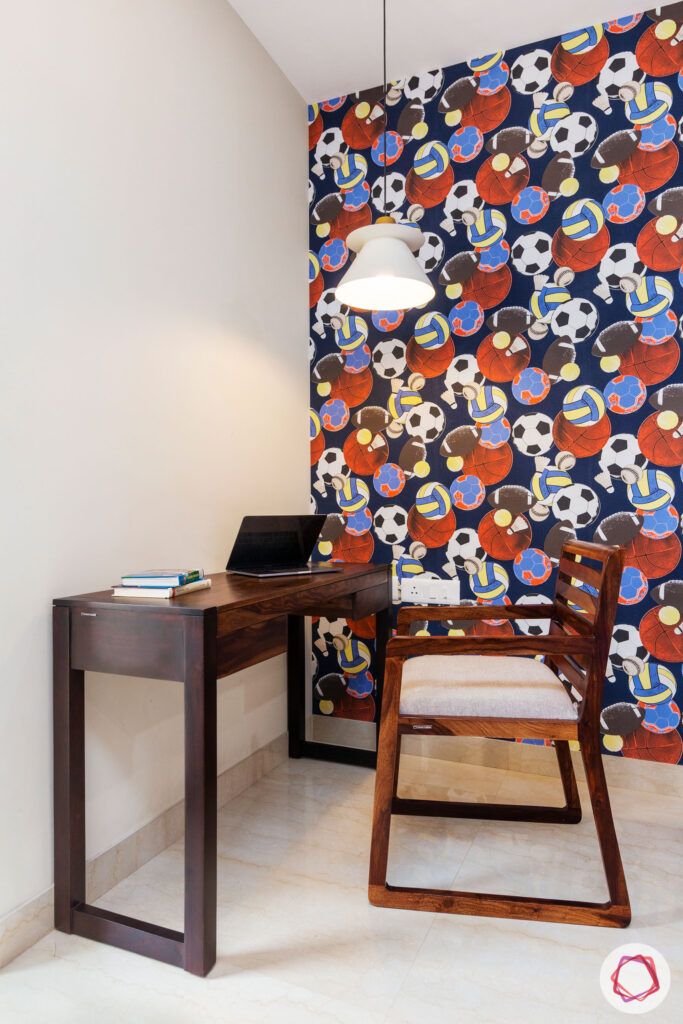 Prabhu is one all-rounder child and he means business at this tender age, already. The doting parents have always encouraged him to take up extra-curricular activities so that he uses his energy in the right direction. And what a lovely outcome that has been. He studies, reads, paints, plays the guitar, loves football and what not. His room also radiates the same energy, with the fun wallpaper on the wall behind the bed and a simple study table that does not hinder movement. Tanu has also given him headboard storage instead of bedside tables so that no unnecessary space is used up.
3 BHK in Gurgaon gets a music studio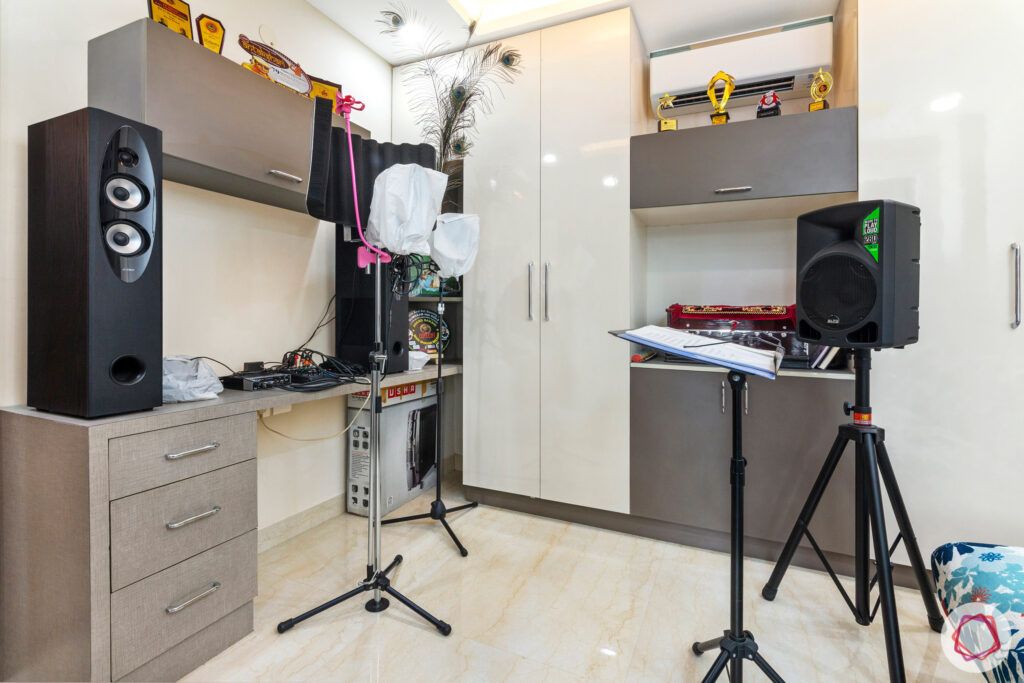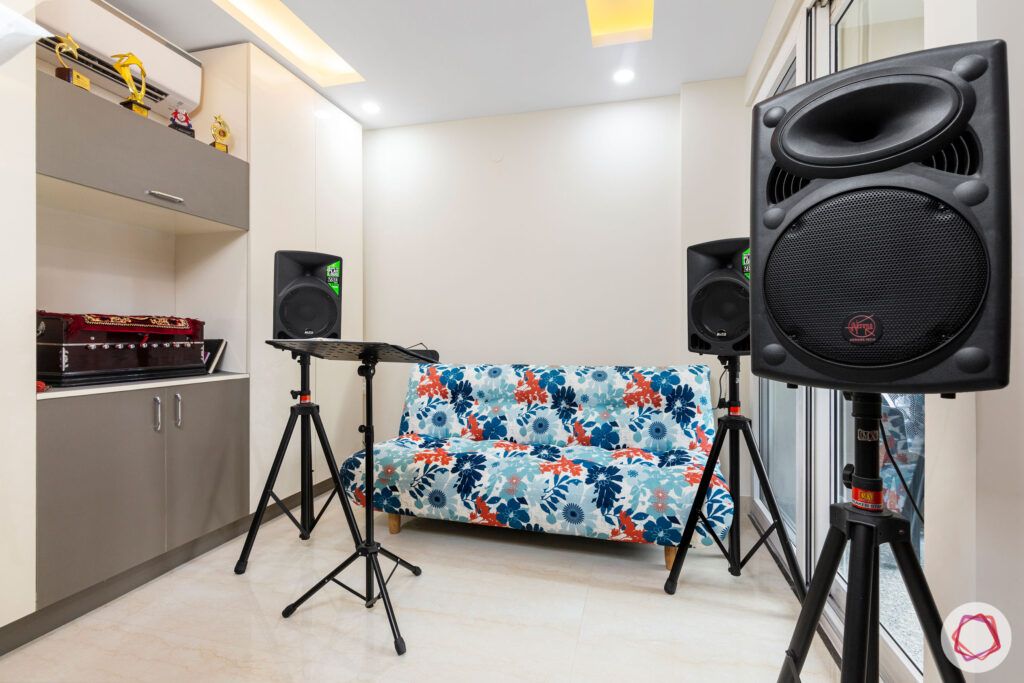 We are sure by now you know that this room belongs to Pavan, who is a passionate singer. He wanted an entire room for all his equipment and peripherals. Also, this is the only room at home that has maximum storage. A sofa-cum-bed in a chirpy printed upholstery is the only spec of colour in this soothing space.
---
"Anjali and Pavan were very clear about certain things and we had discussed it clearly in our meetings, which in turn helped me to understand the scope of work required. I knew that they were looking for a fuss-free look and a modern design. That is how I came up with ideas and we finalised on everything. I enjoyed working for this family and the result is absolutely lovely!"

-Tanu Anand, Interior Designer, Livspace
---
Want to check out another home we designed at Tulip Violet in Gurgaon? Check this out: 4BHK Looks Fresh in Fuss-free Interiors.
Send in your comments and suggestions.