Classy and contemporary duplex house images from Gurgaon.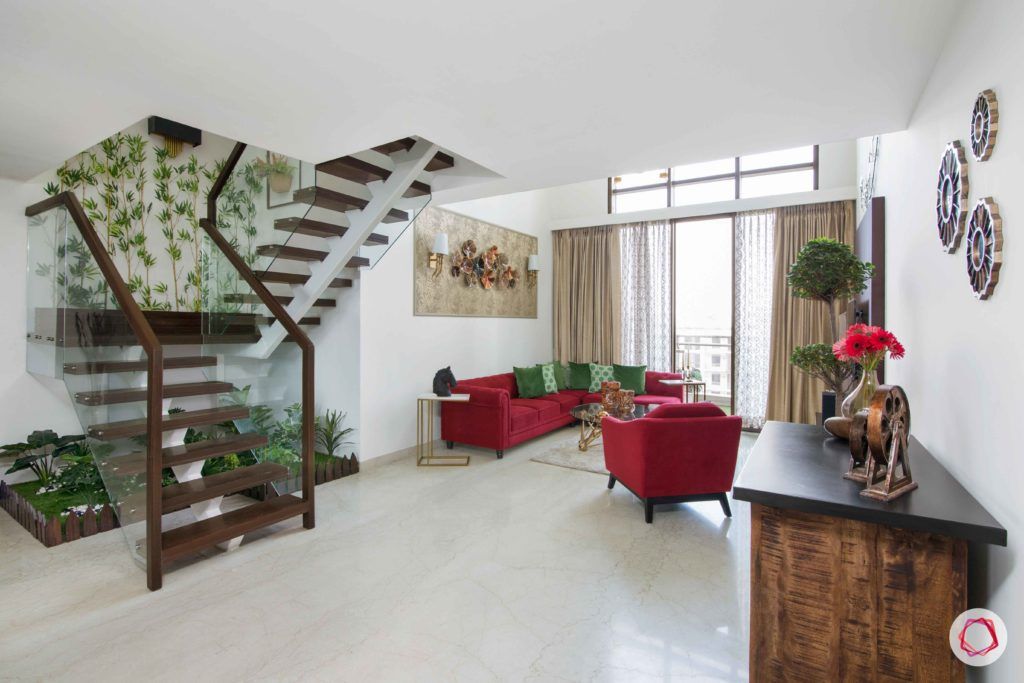 ---
Who livs here: Rajesh Ojha with his wife Priya
Location: M3M Golf Estate, Gurgaon
Size of home: A duplex spanning 2,000 sq ft approx. on each floor
Design team: Interior Designer Shilpa Garg and Project Manager Chandan Gaurav
Livspace service: Living area, balcony and 2 bedrooms
Budget: ₹₹₹₹₹
---
The duplex house images here paint a perfect picture of contemporary design tempered with radiant Indian colours. The youthfulness of the young couple that lives in this home seems to have rubbed off on its design. Rajesh and Priya Ojha entertain a lot and so this home is dressed to impress. Our interior designer Shilpa Garg has ensured that they can accommodate a good number of guests in this expansive home without stuffing it with bulky furniture.
The couple wanted their home to be bright, spacious and awe-inspiring as Rajesh runs a real estate business out of home and often meets clients here. Naturally, no effort has been spared to make it look like a show apartment.
Take a look at these duplex house images to be inspired by this gorgeous home that also doubles up as an office.
Duplex House Images: A Warm Green Welcome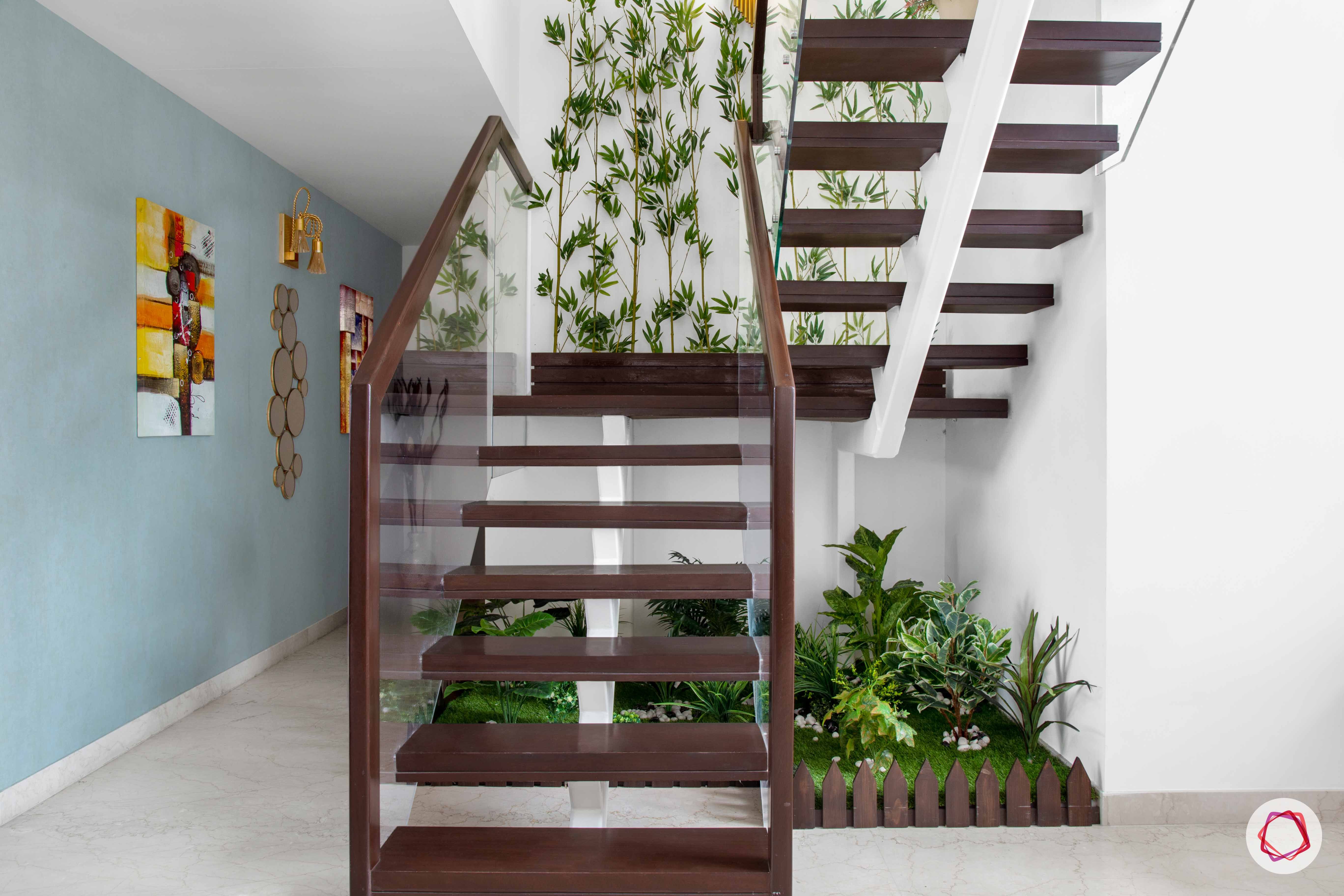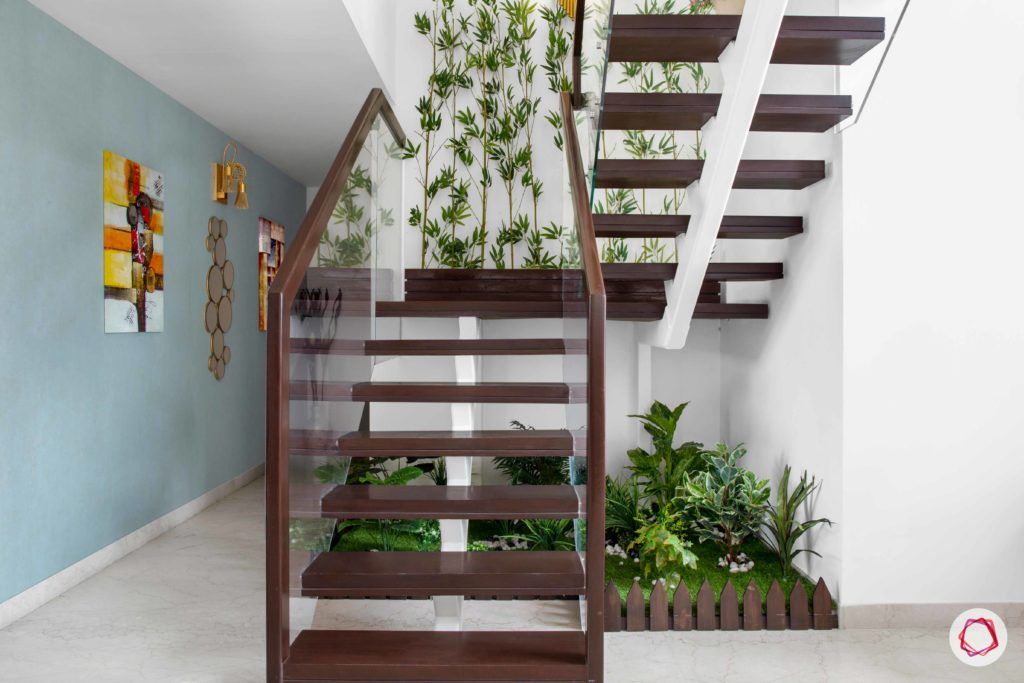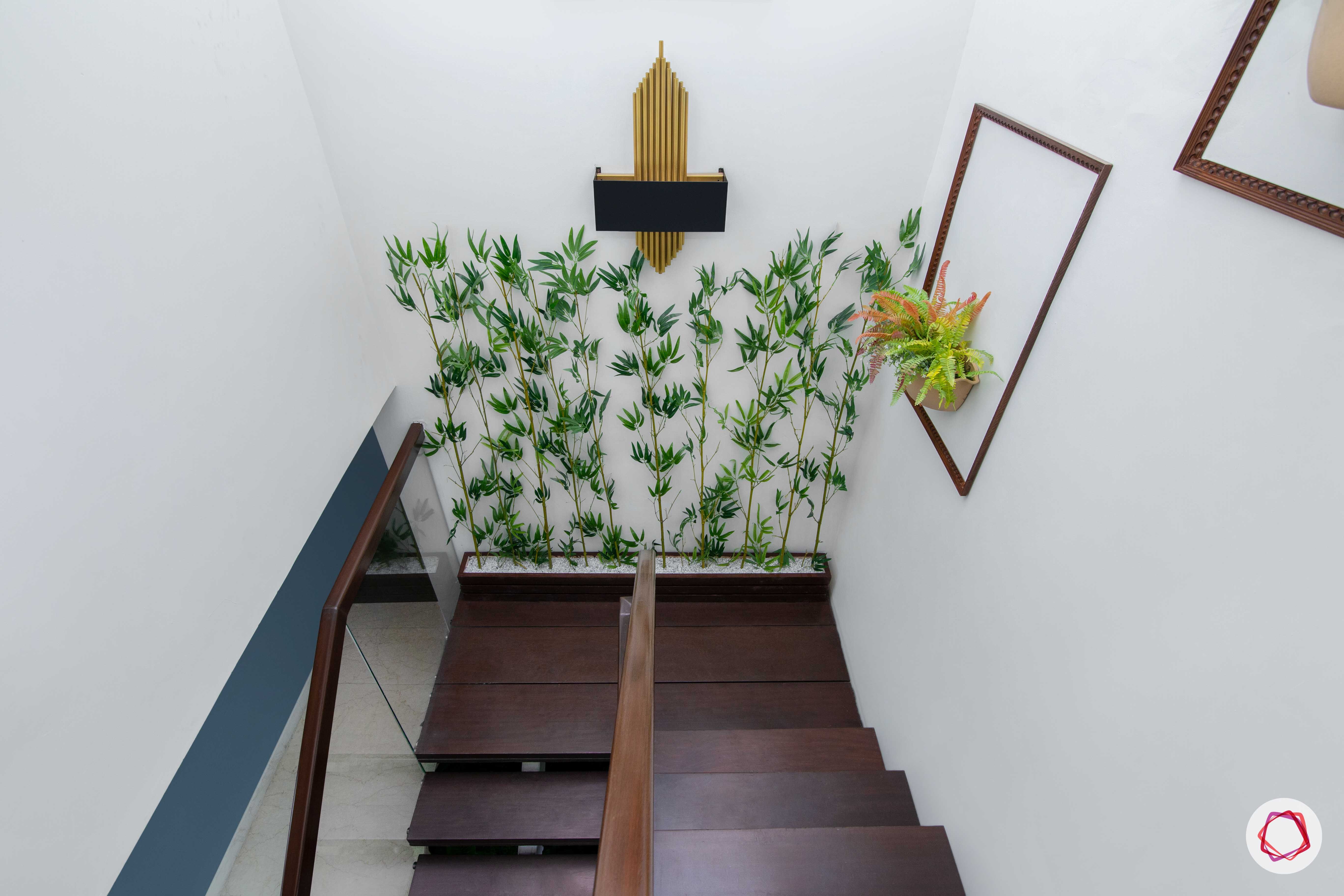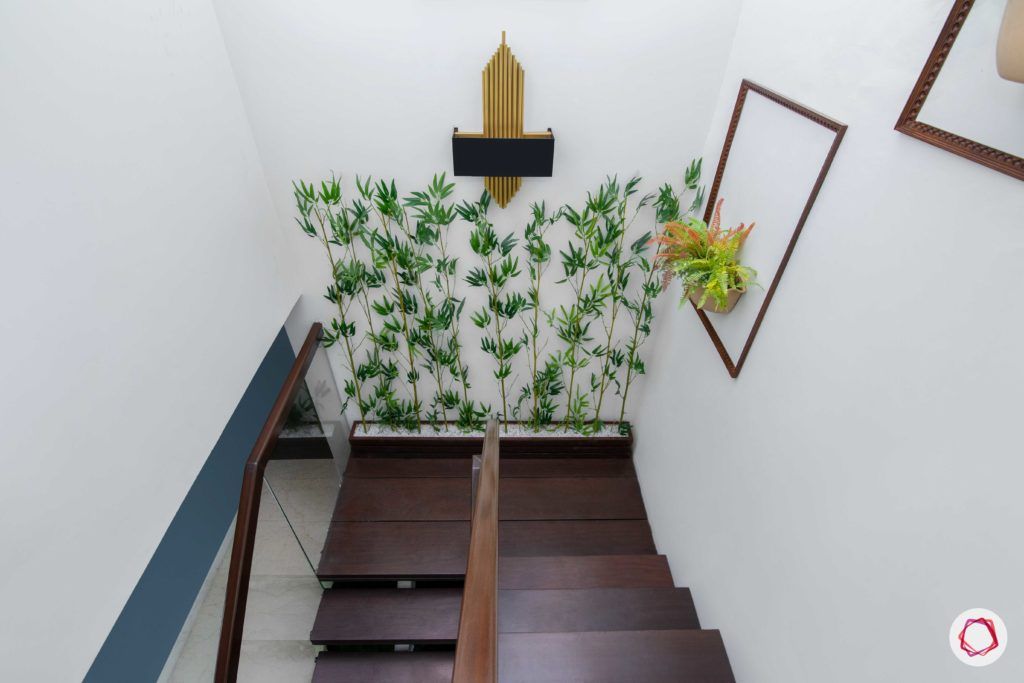 The entrance to this duplex is done in style with grey wallpaper and mirror wall accents. Additionally, there is a bit of bling coming from the golden wall lighting fixture and we do love the abstract art chosen for this corridor. But the patch green created under the stairs is the star of the show. It must be noted that this patch has been created using artificial plants and turfing. As the home belongs to a working couple, the designer wanted to keep the decor low maintenance.
Duplex House Images: Paint me red!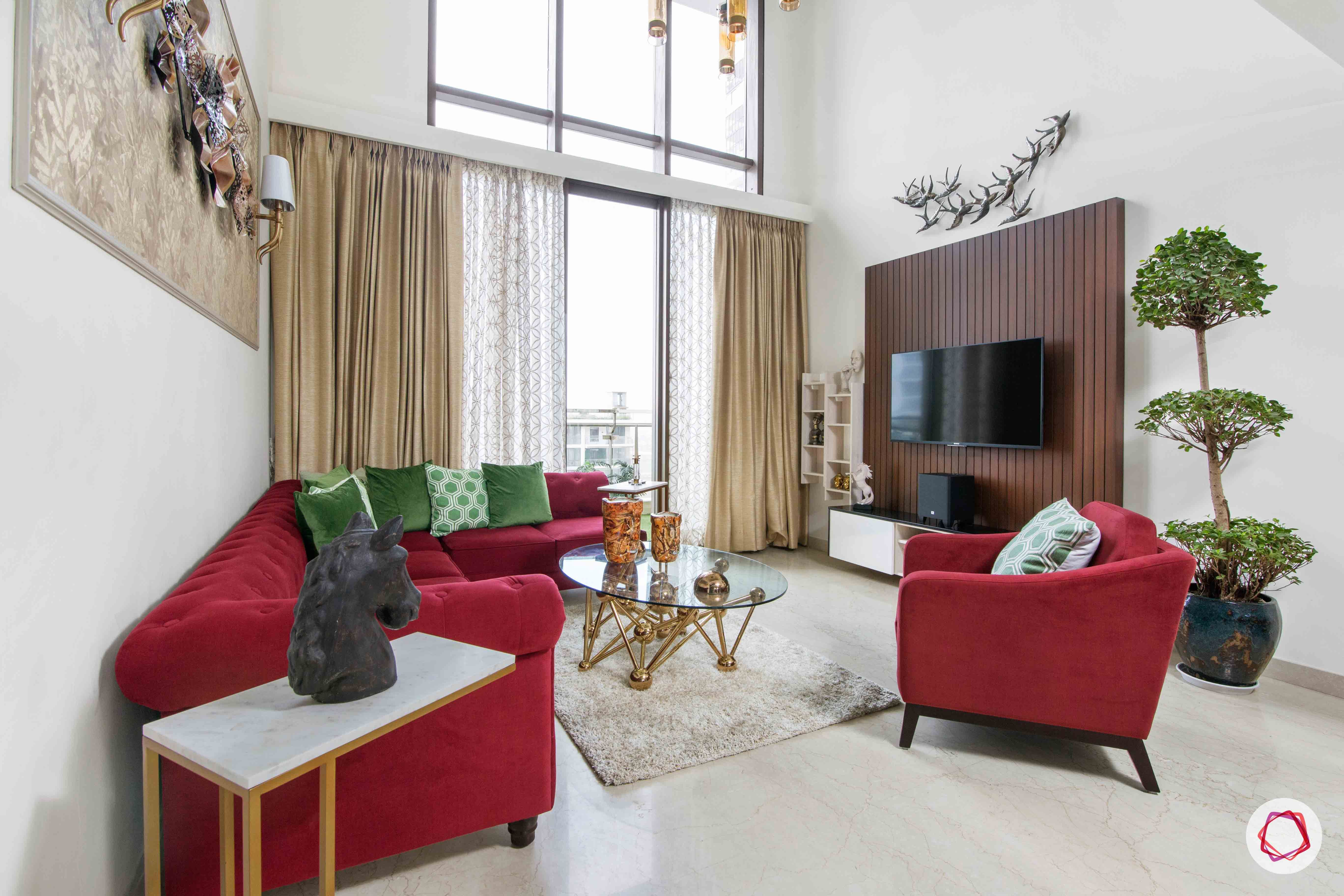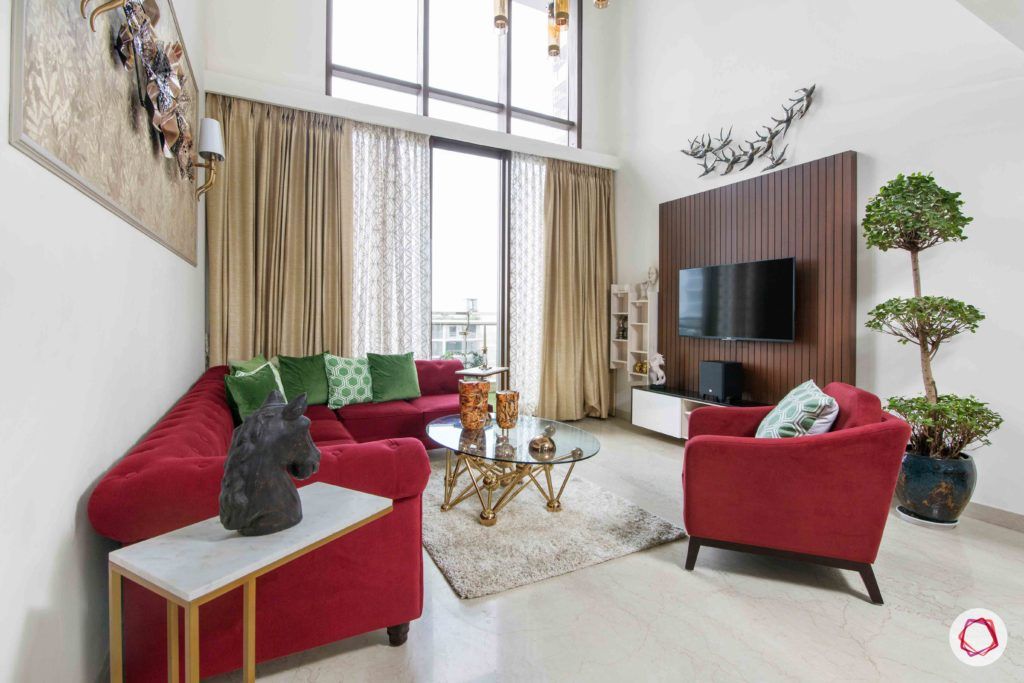 It is evident from the duplex house images that there is plenty of space in this home and its sparsely populated by furniture. However, the furniture is rich in colour and texture; so this duplex looks spacious but not empty.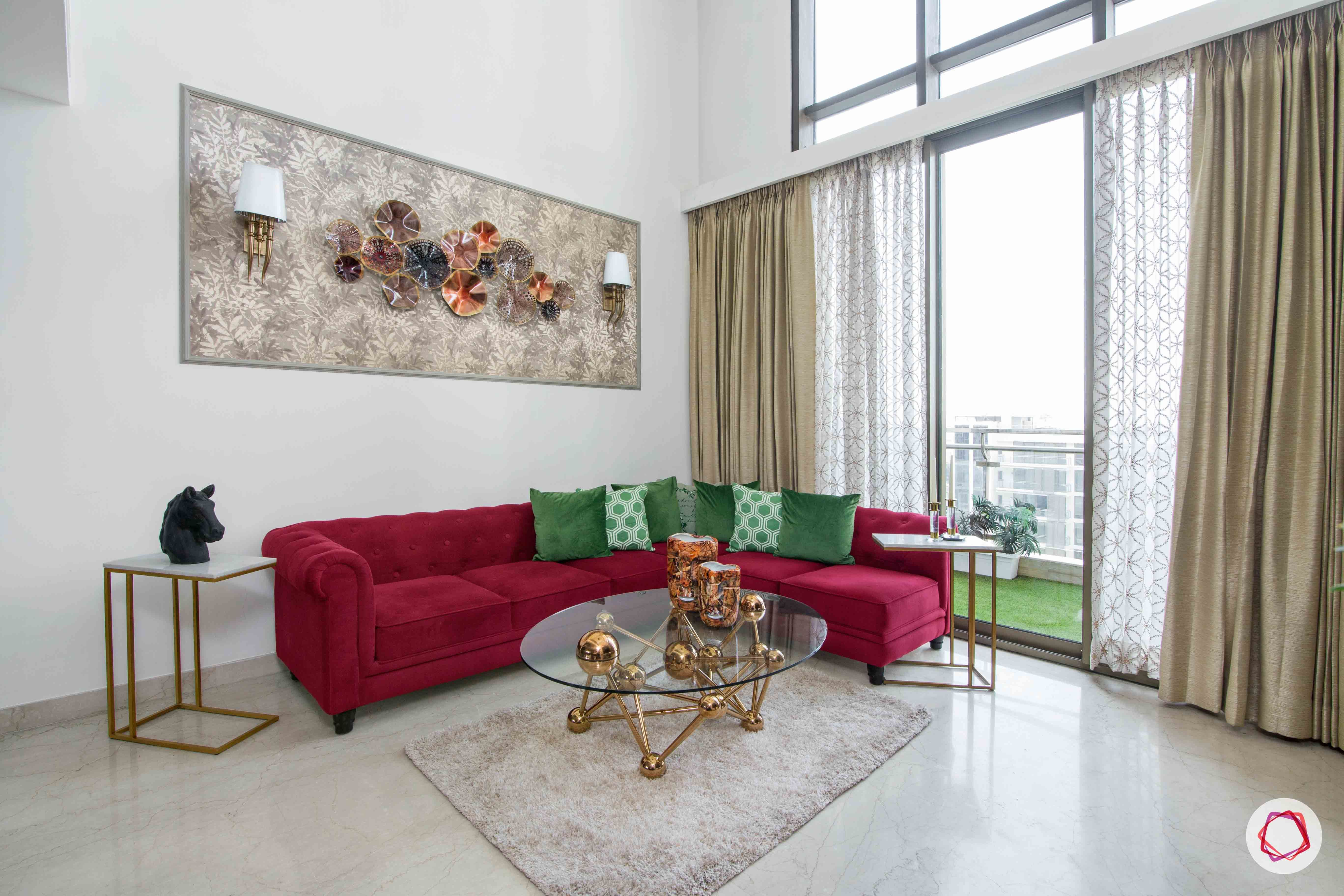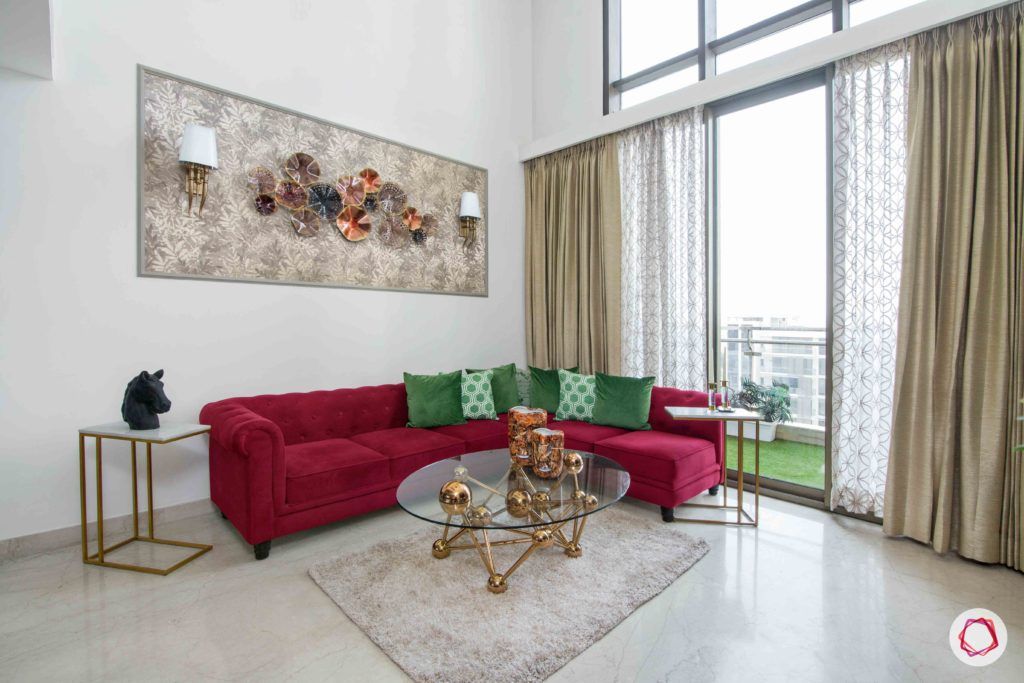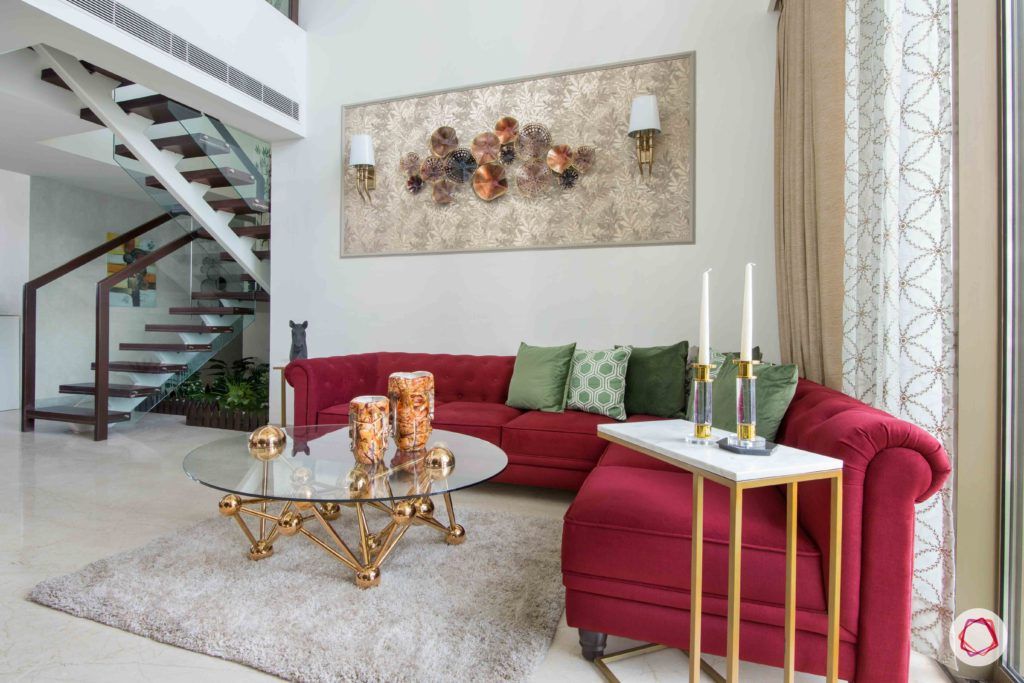 The rich red Cassandra sofa is from the Livspace catalog. It has been paired with side tables with metallic base and marble top. Moreover, the centre table adds its own dose of glamour with its metallic pin and ball structure with a glass top. Additionally, the wall accent is by far the most interesting as it comprises golden wallpaper, moulding and metallic plates. It also includes wall lights for a complete package.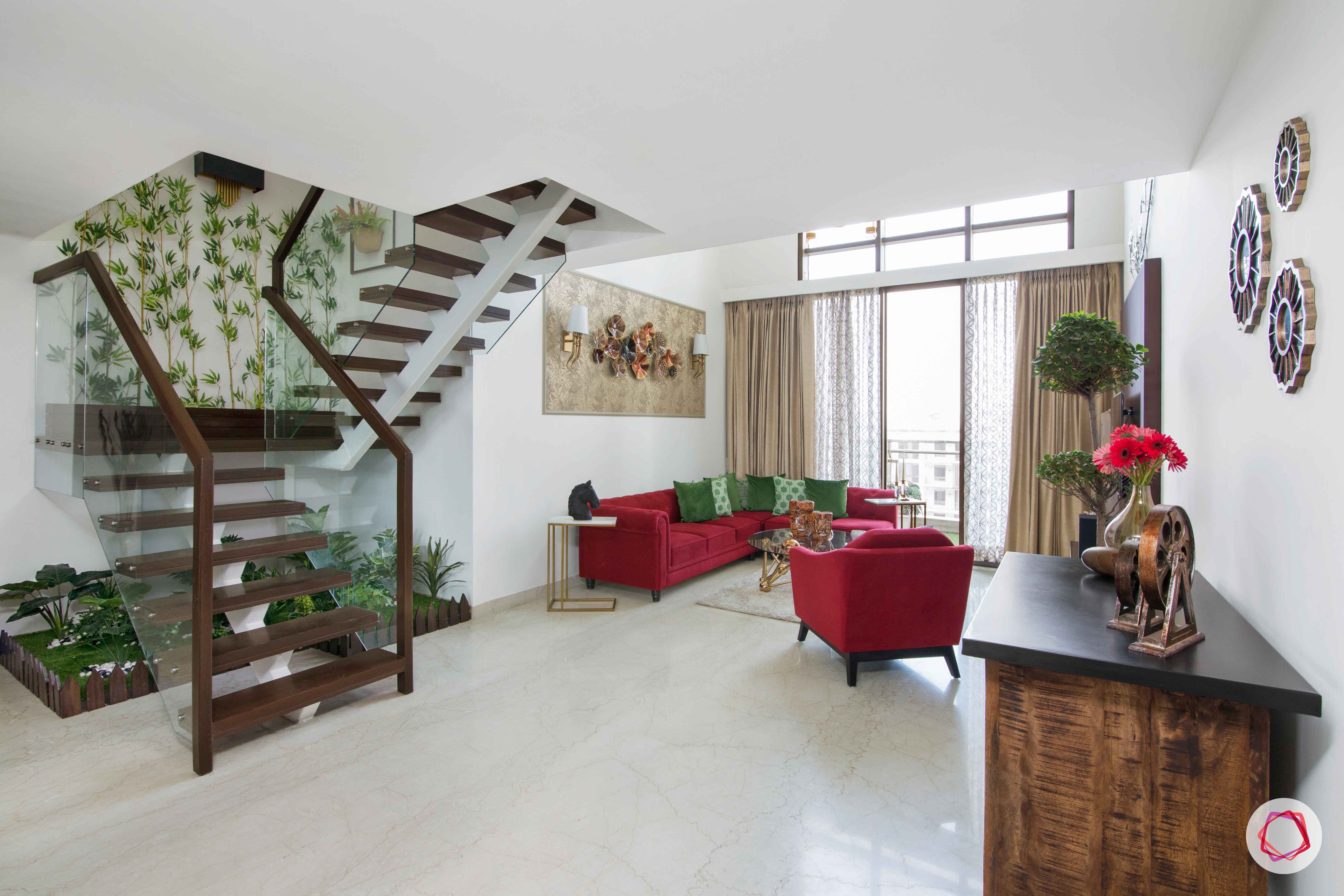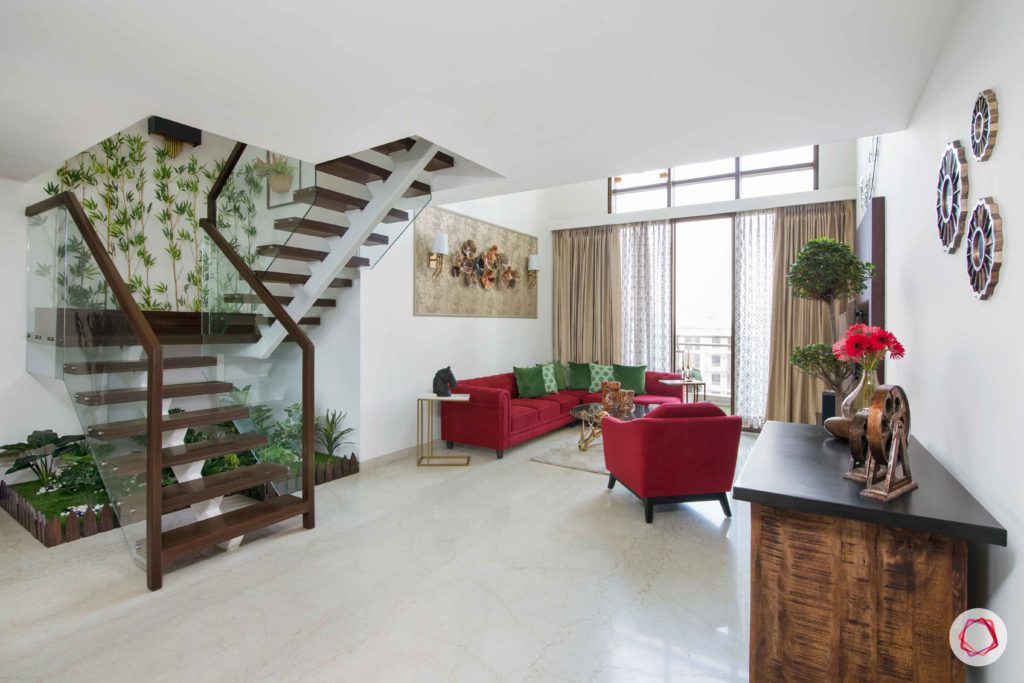 The bar unit is a novel addition to this living area. Essentially, it is a hand cart with carvings that has the intricate texture of timber.
Duplex House Images: The Upper Deck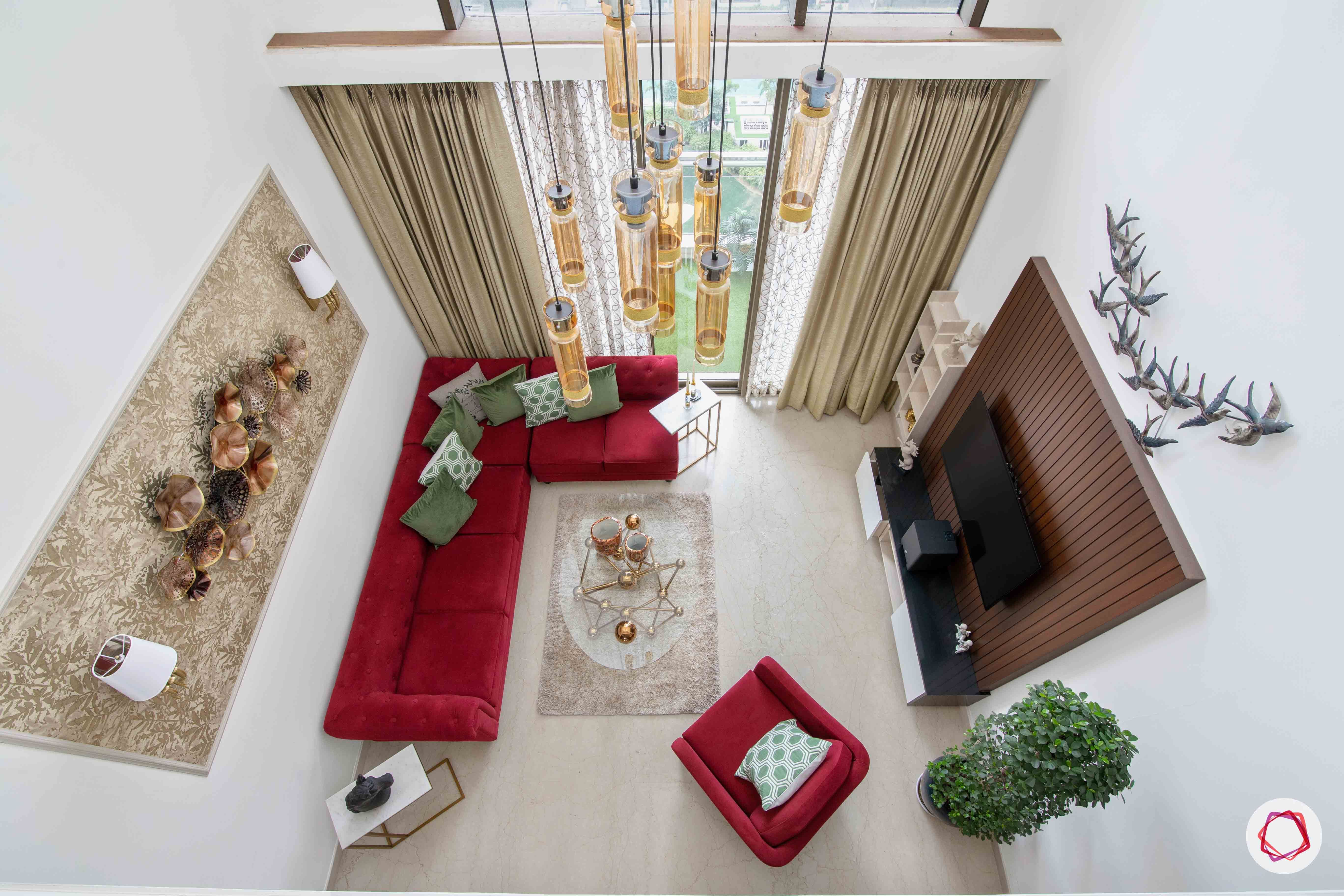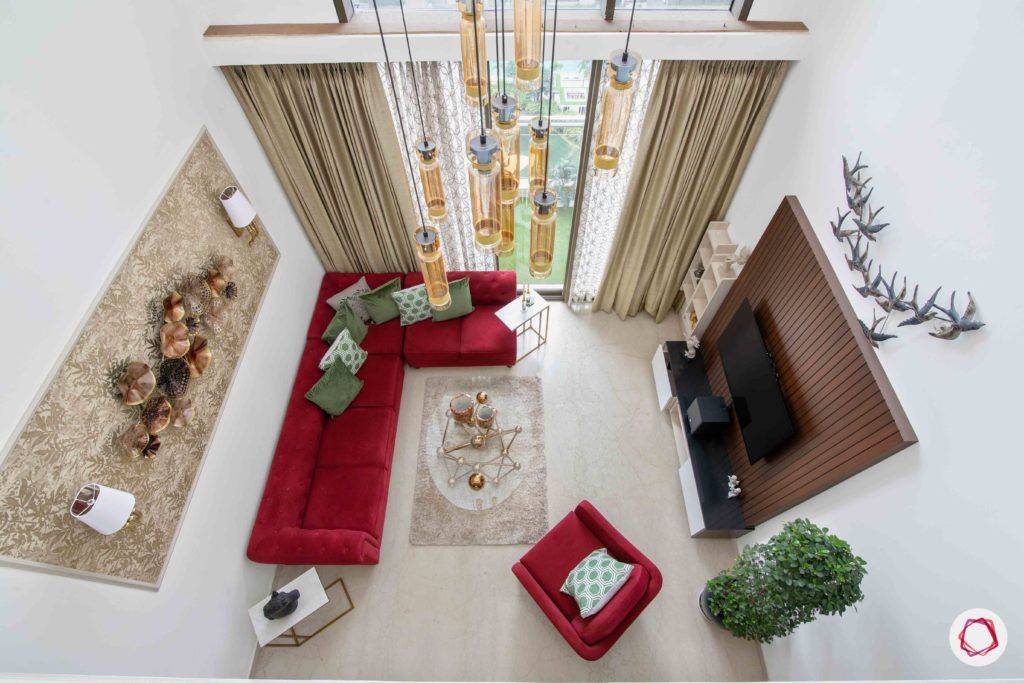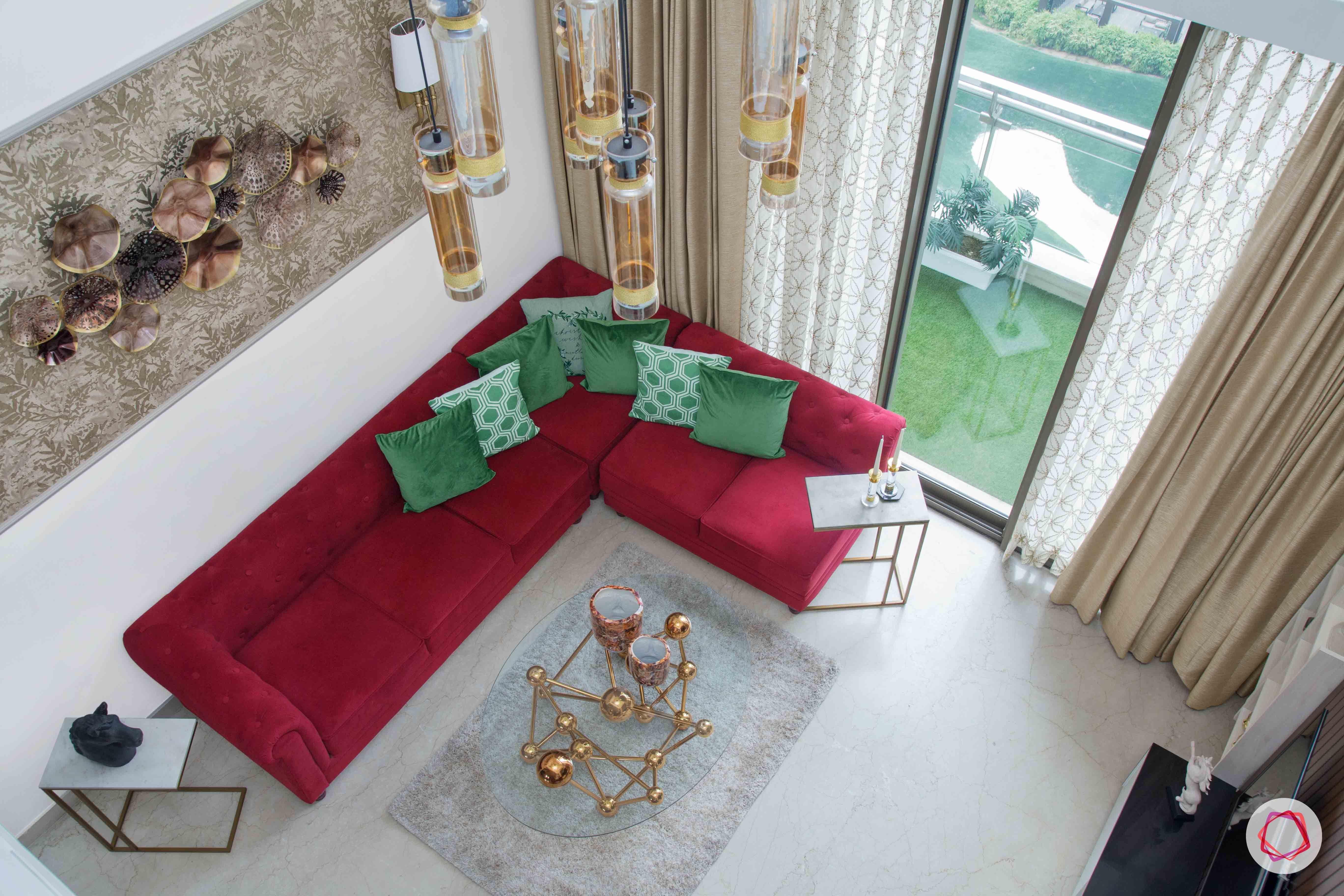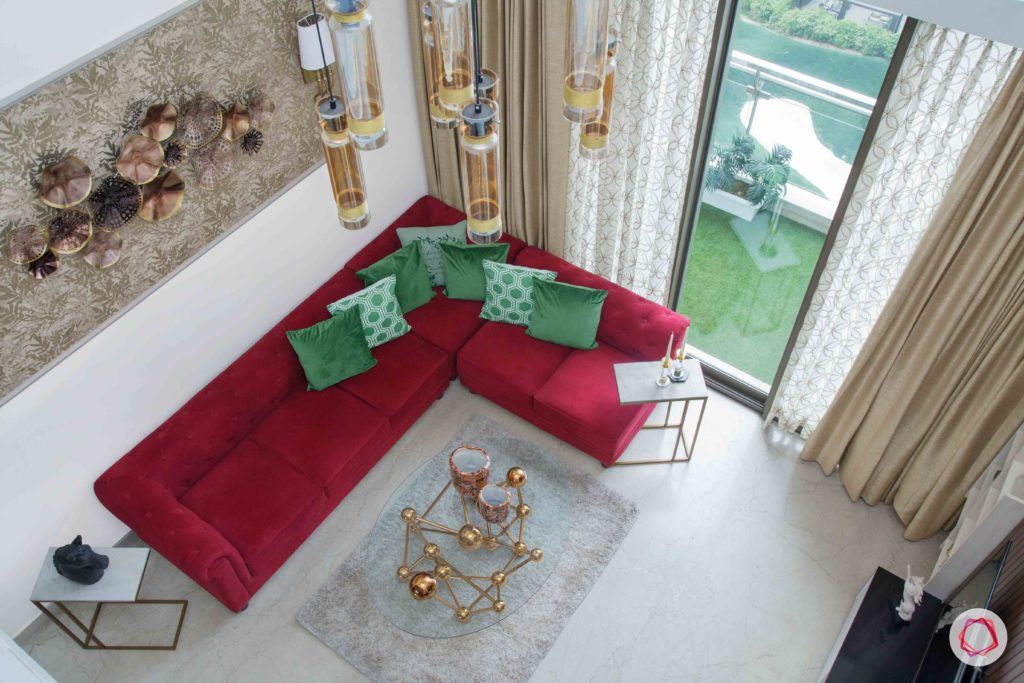 As per Shilpa, who is the designer, the double height ceiling of the living area was the biggest design challenge. Hence, she decided to fill up this space with a modern chandelier that comprises a bunch of upturned jars. This stained glass lighting piece can be seen from the upstairs balcony as well. Thus, it serves as a continuity piece between two floors of this duplex.
"The best part about having our home designed by Livspace was that we had a single point of contact. The design and installation processes were seamless. Moreover, the end product, which is our home, is just perfect!"
– Rajesh Ojha, Livspace Homeowner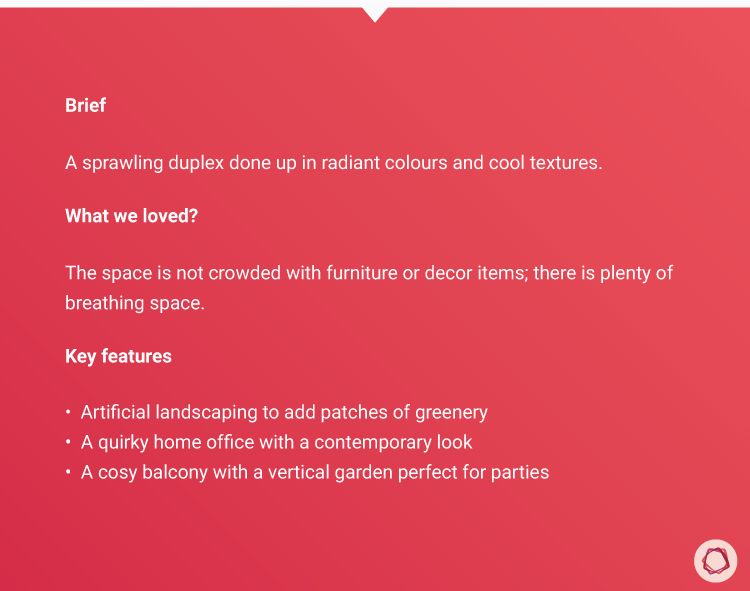 Duplex House Images: Quirky Home Office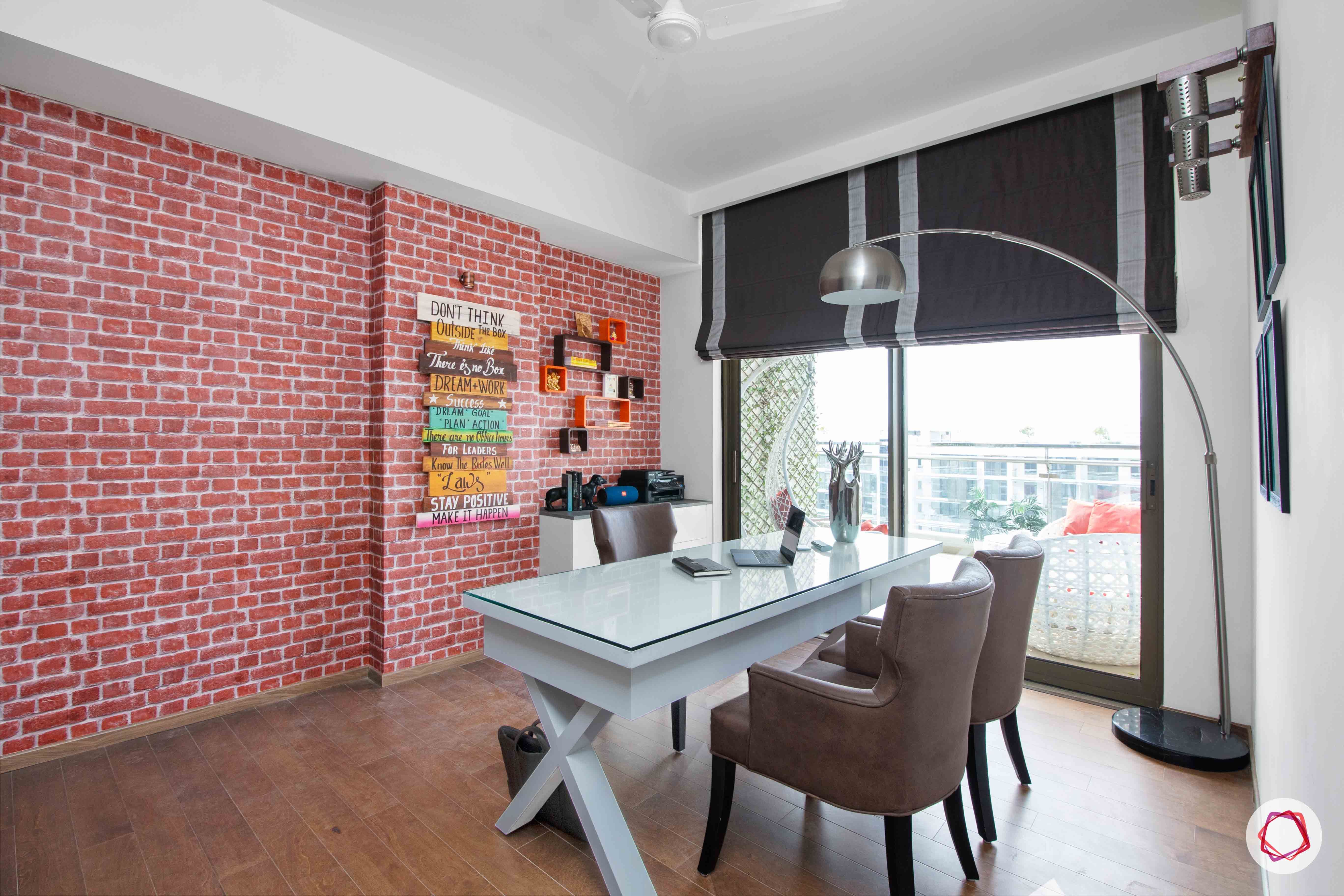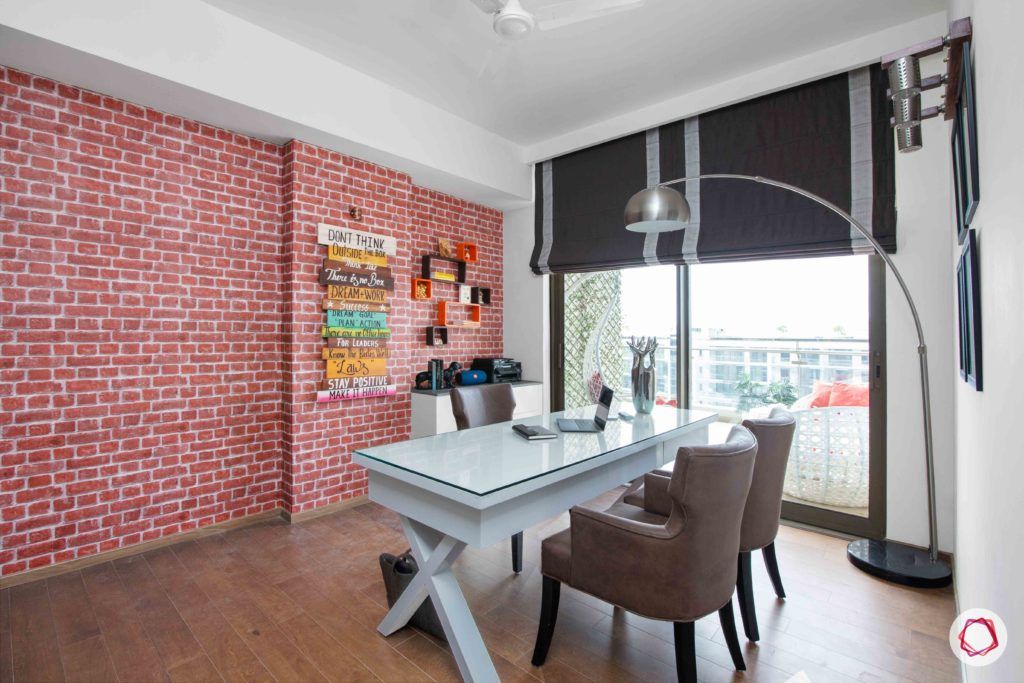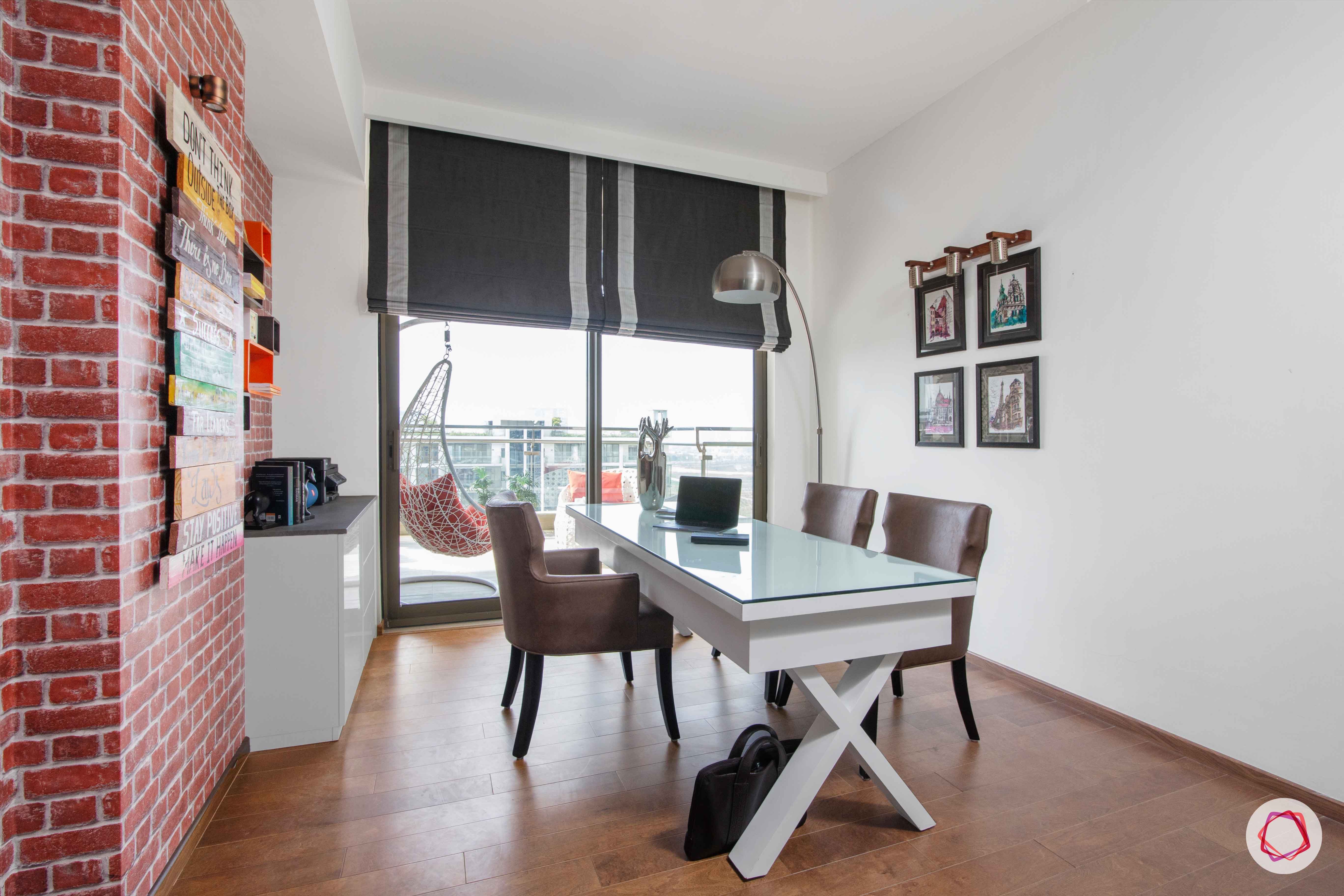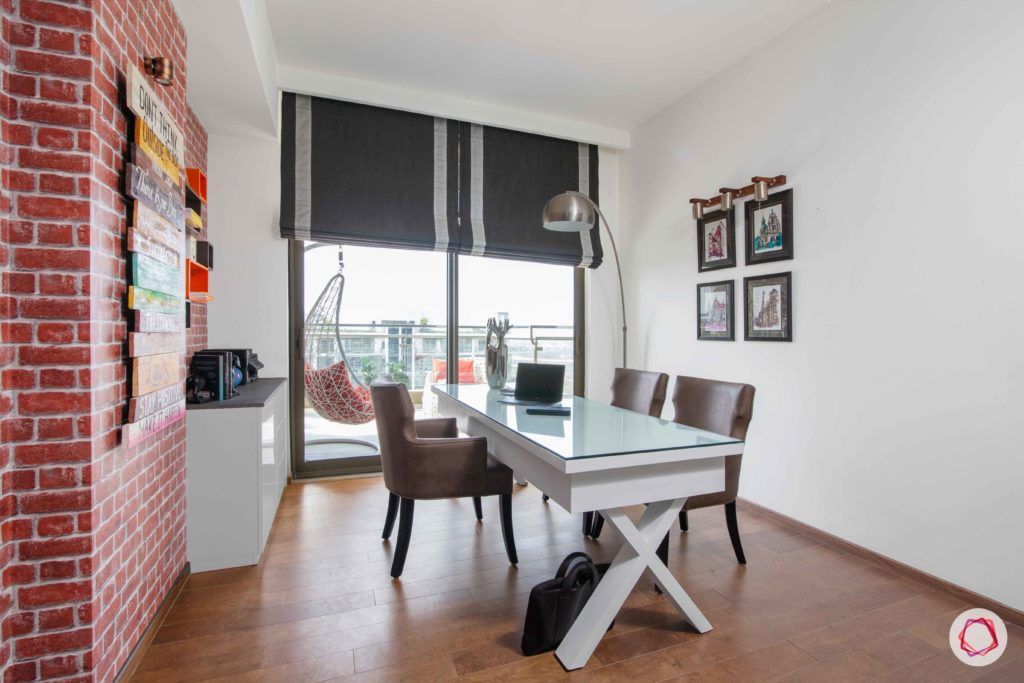 Our favourite spot in this home is the study-cum-office. Not only is it bright and contemporary, it rather quirky too. The vibrant red exposed brick wallpaper is not something you would expect to see in an office. But it blends in beautifully with the peppy art work in this room. Further, there is a console for keeping equipment like printers and scanners at one end. This console has white membrane finish and can be used to store files as well.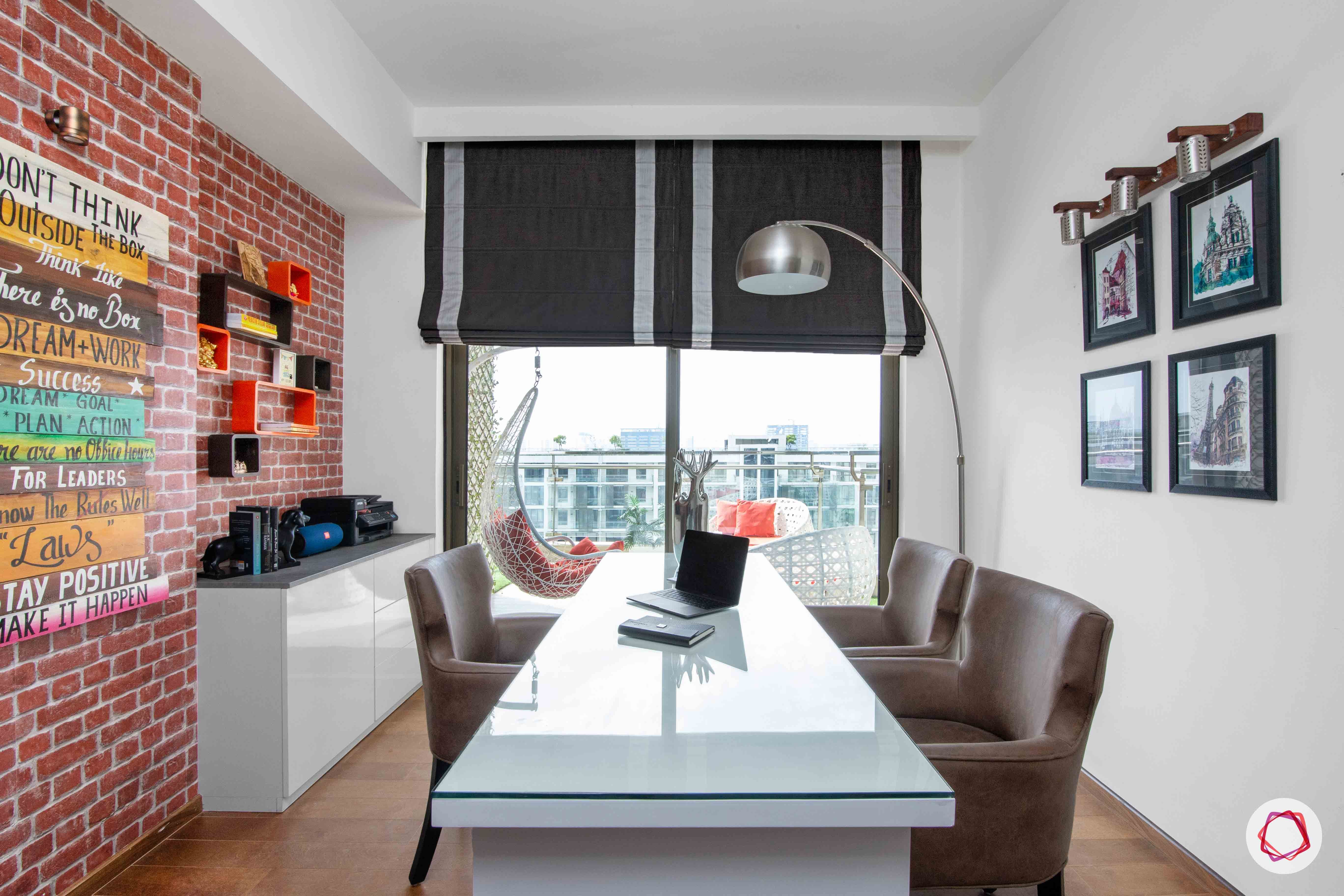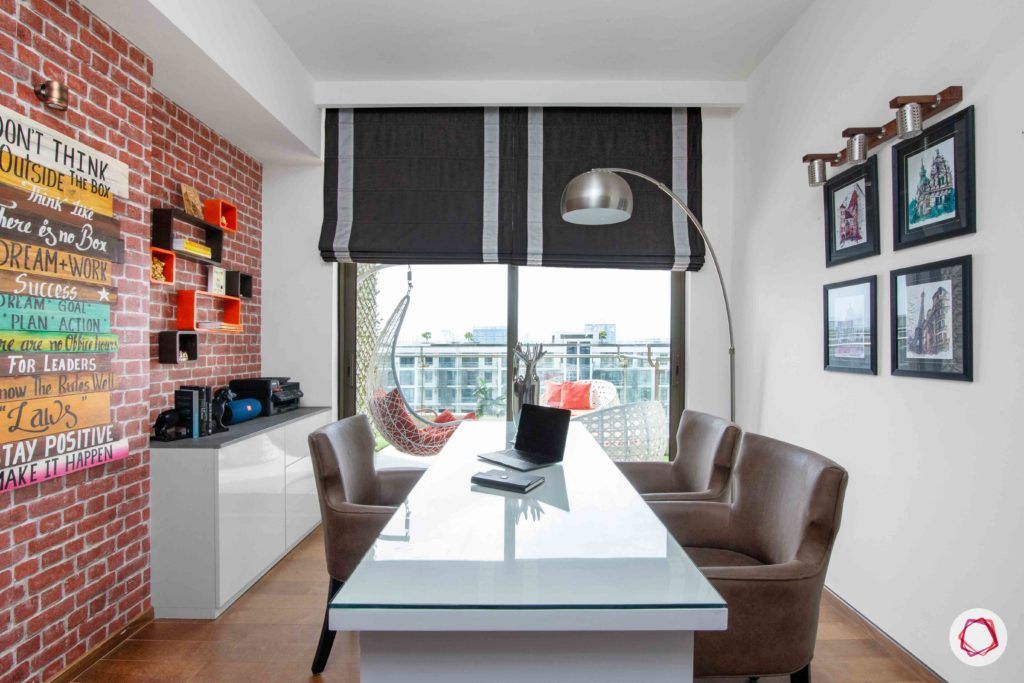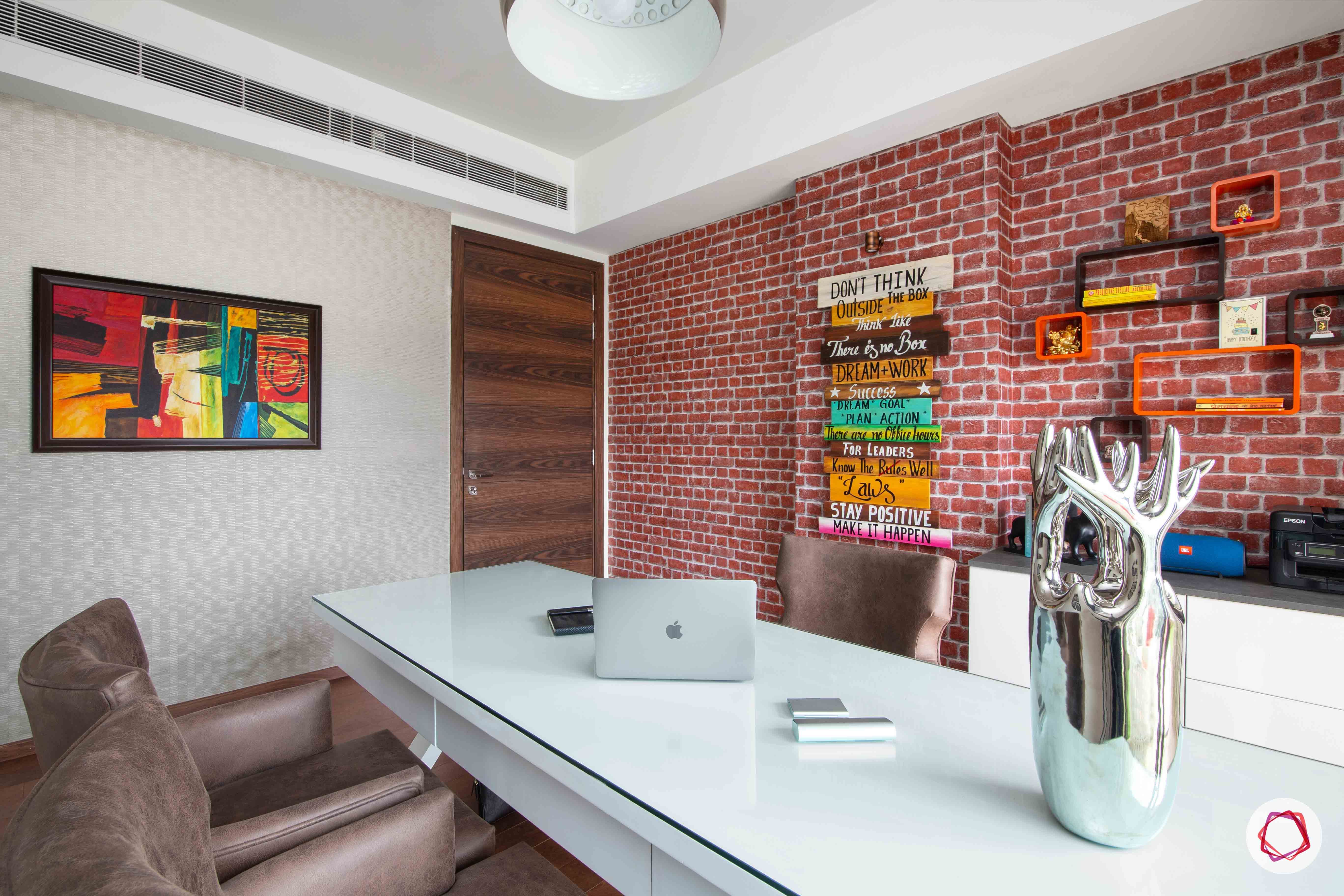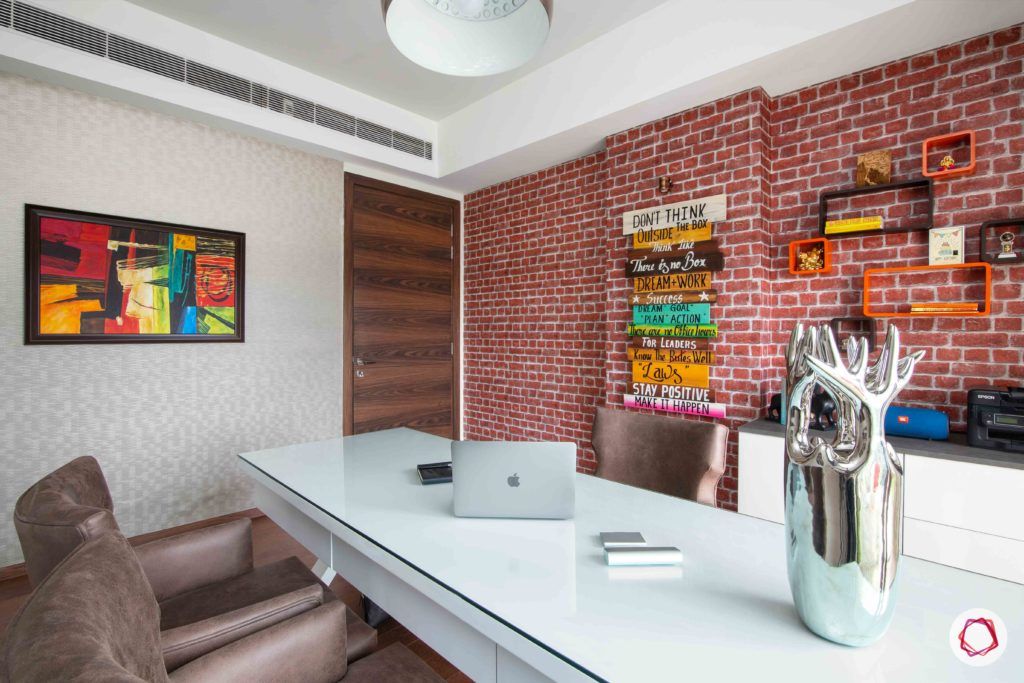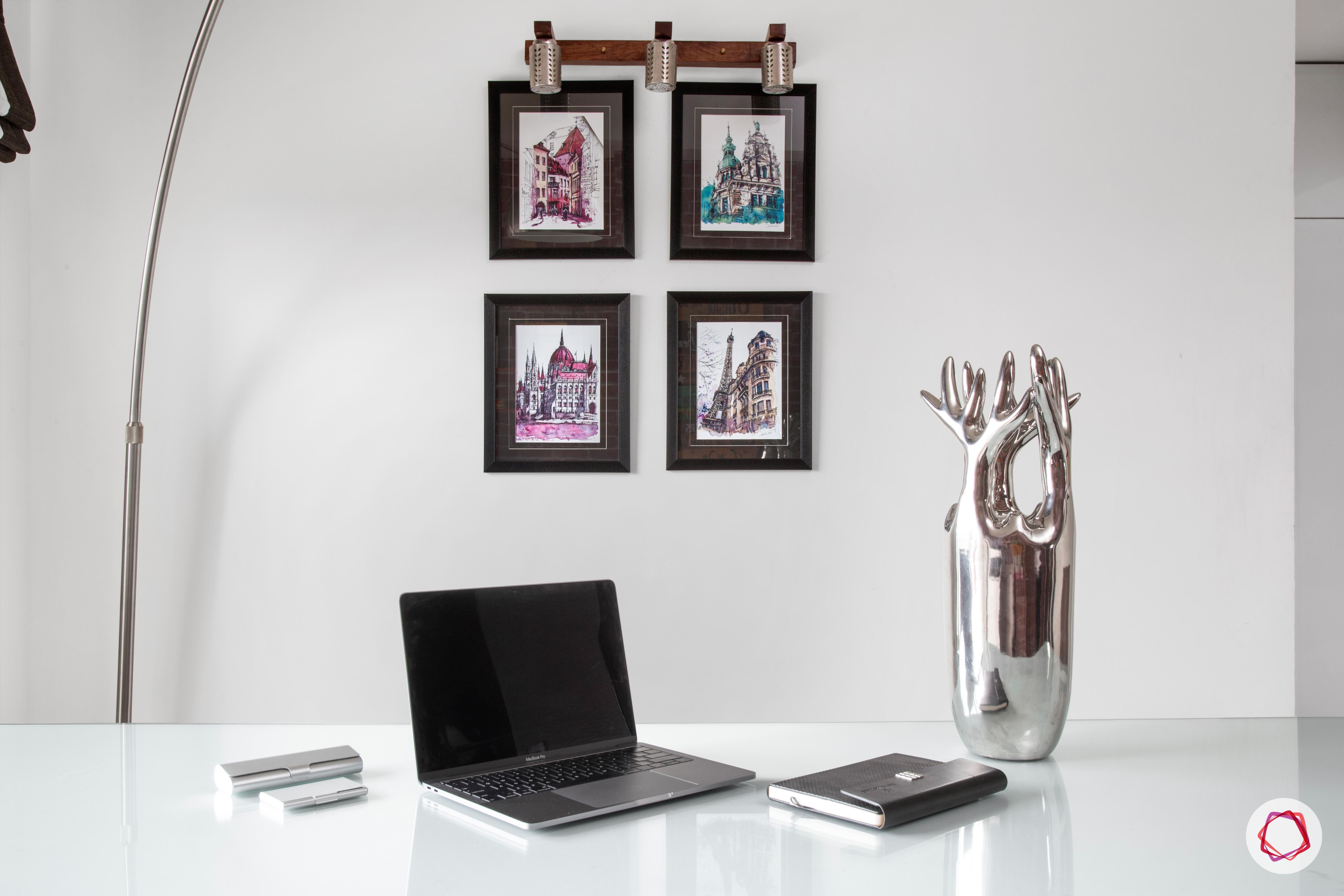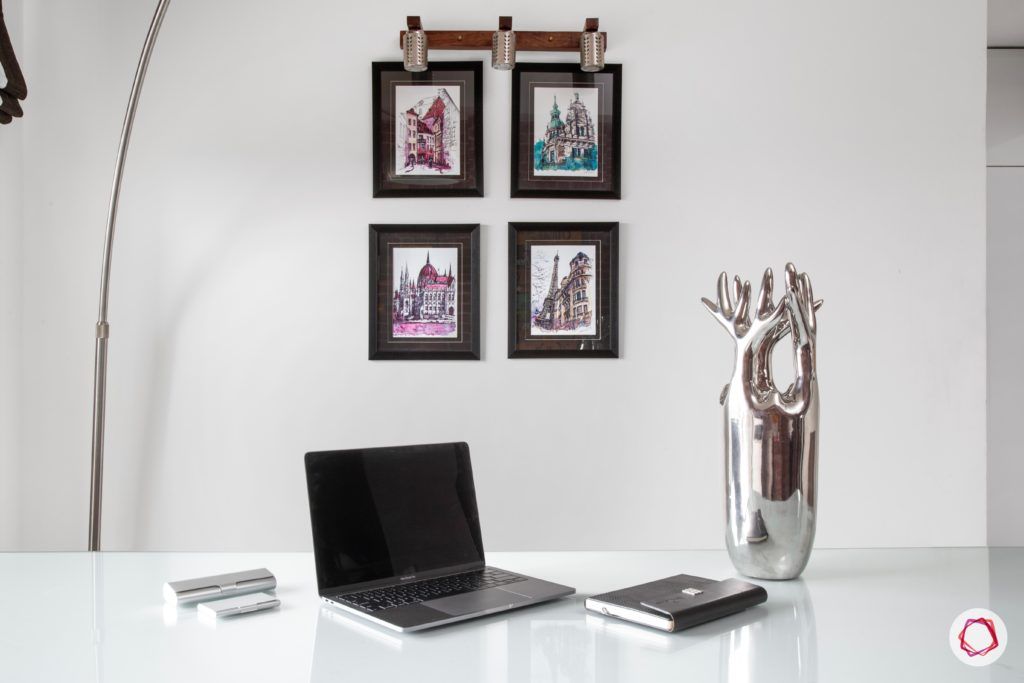 While the chairs for this study were picked from our catalogue, the table is custom-made; it is made of MDF and layered with white Duco paint. The white table is quite unlike any conventional office furniture. Infact, it gives the distinct vibe of a picnic table. To sum it up, this study is meant for those who like to combine work and play. If you are in no mood to go to office, this home office with its touches of playfulness would be the perfect place to settle down with a laptop.
Duplex House Images: Blue Velvet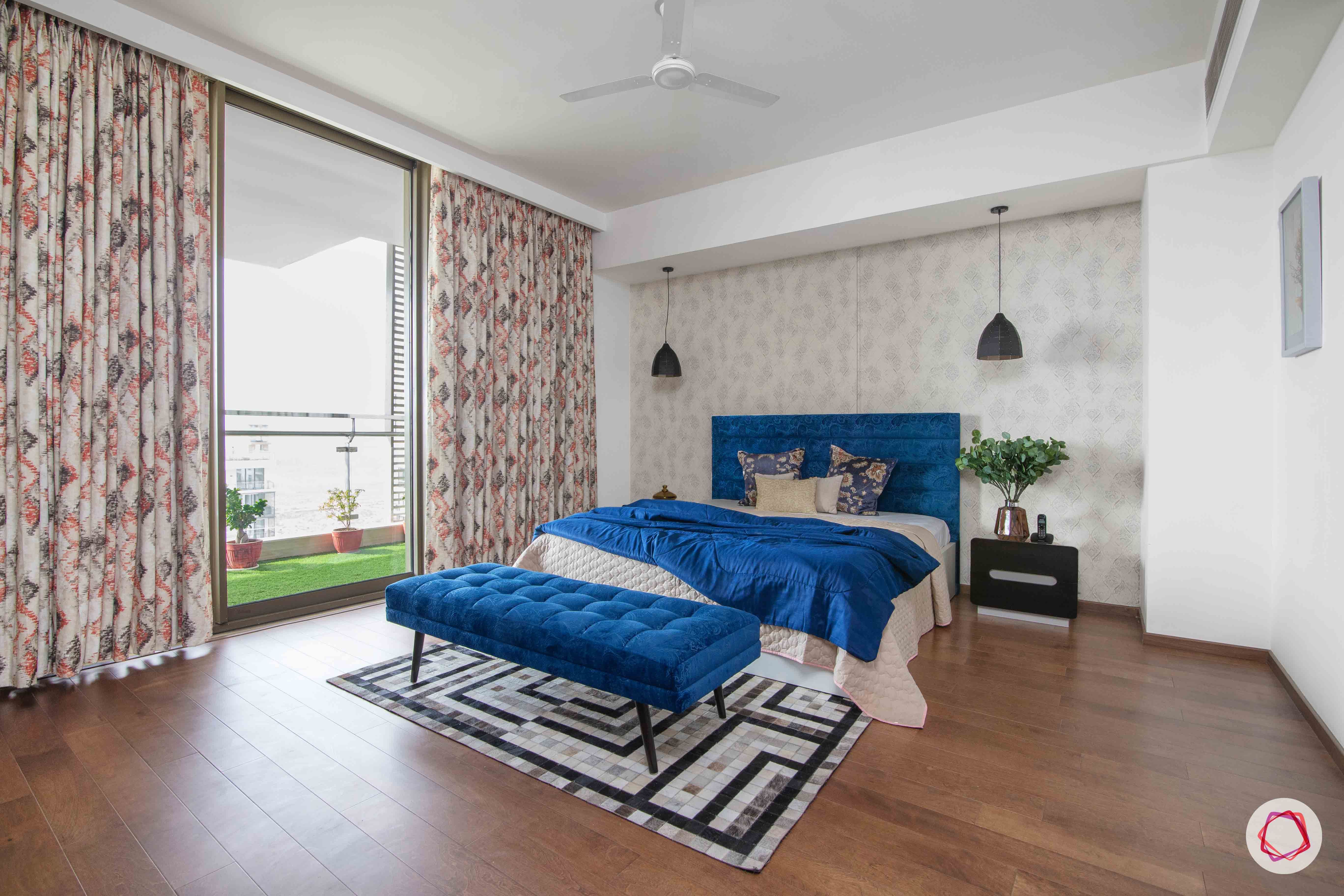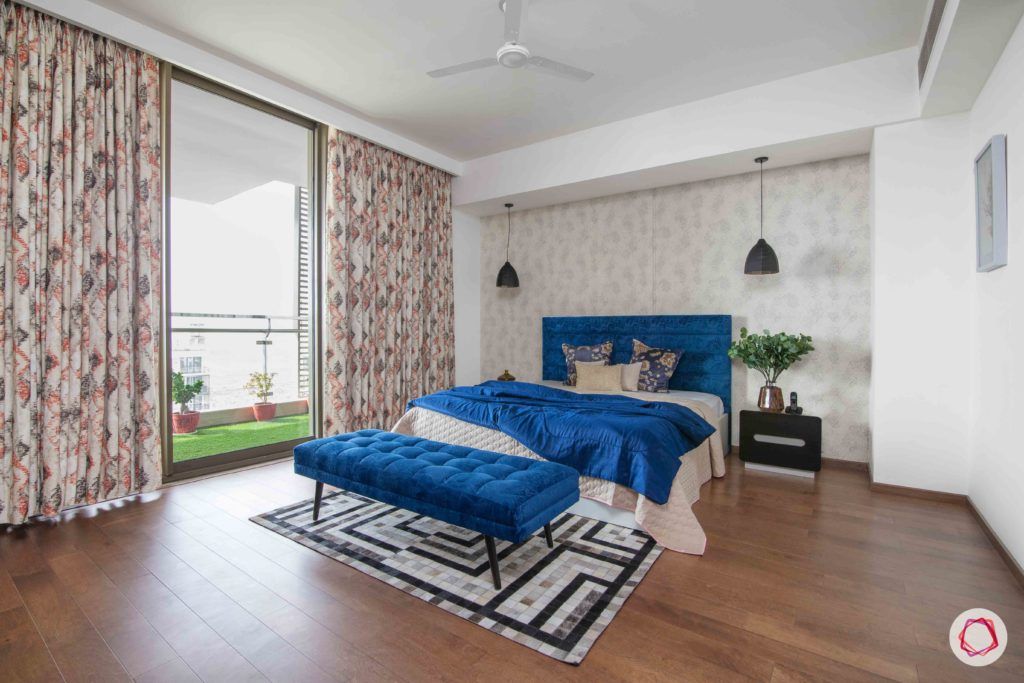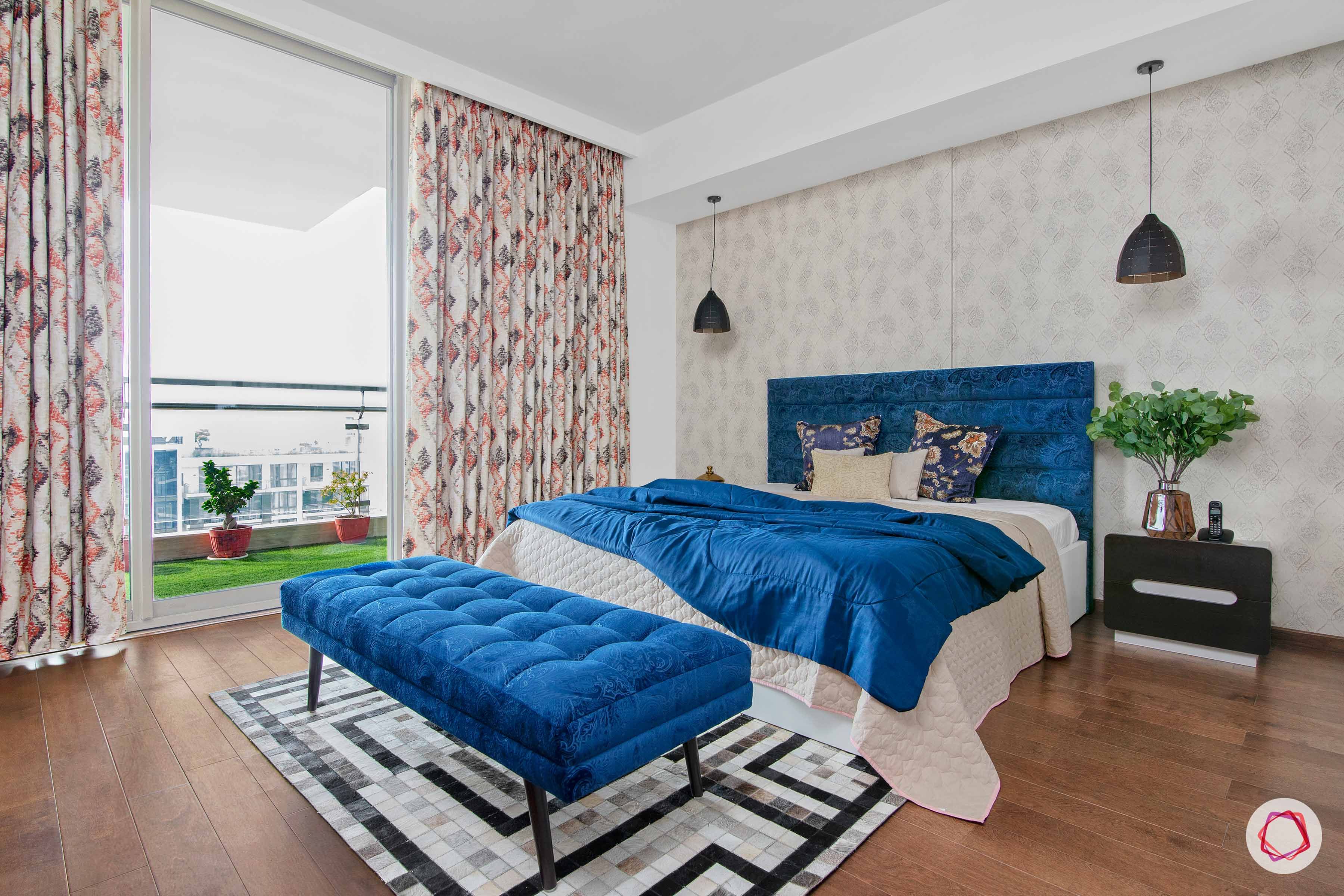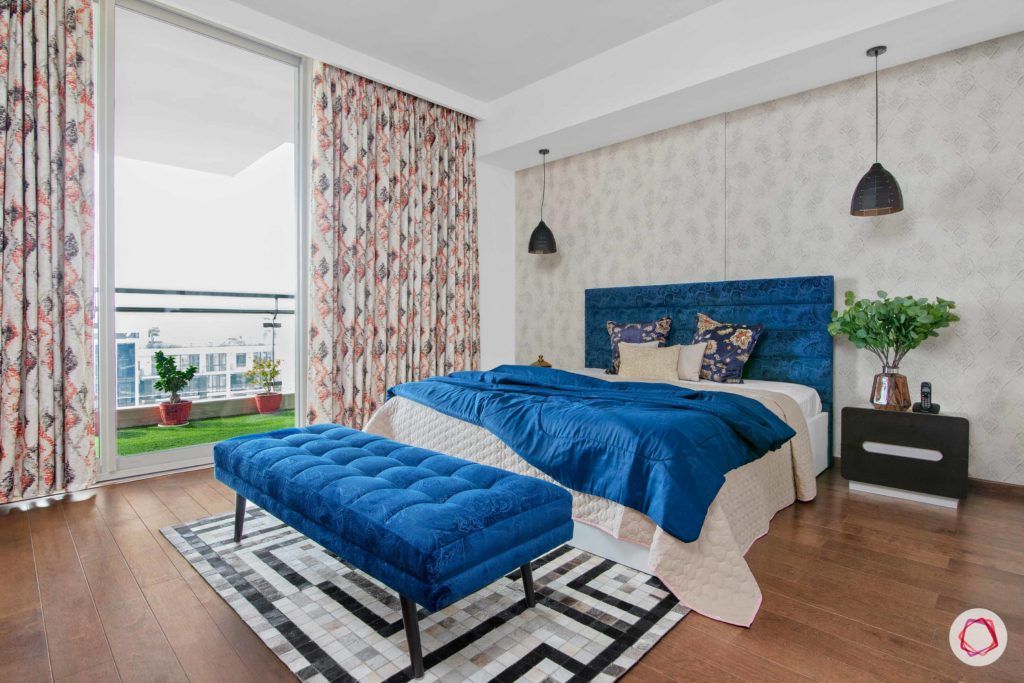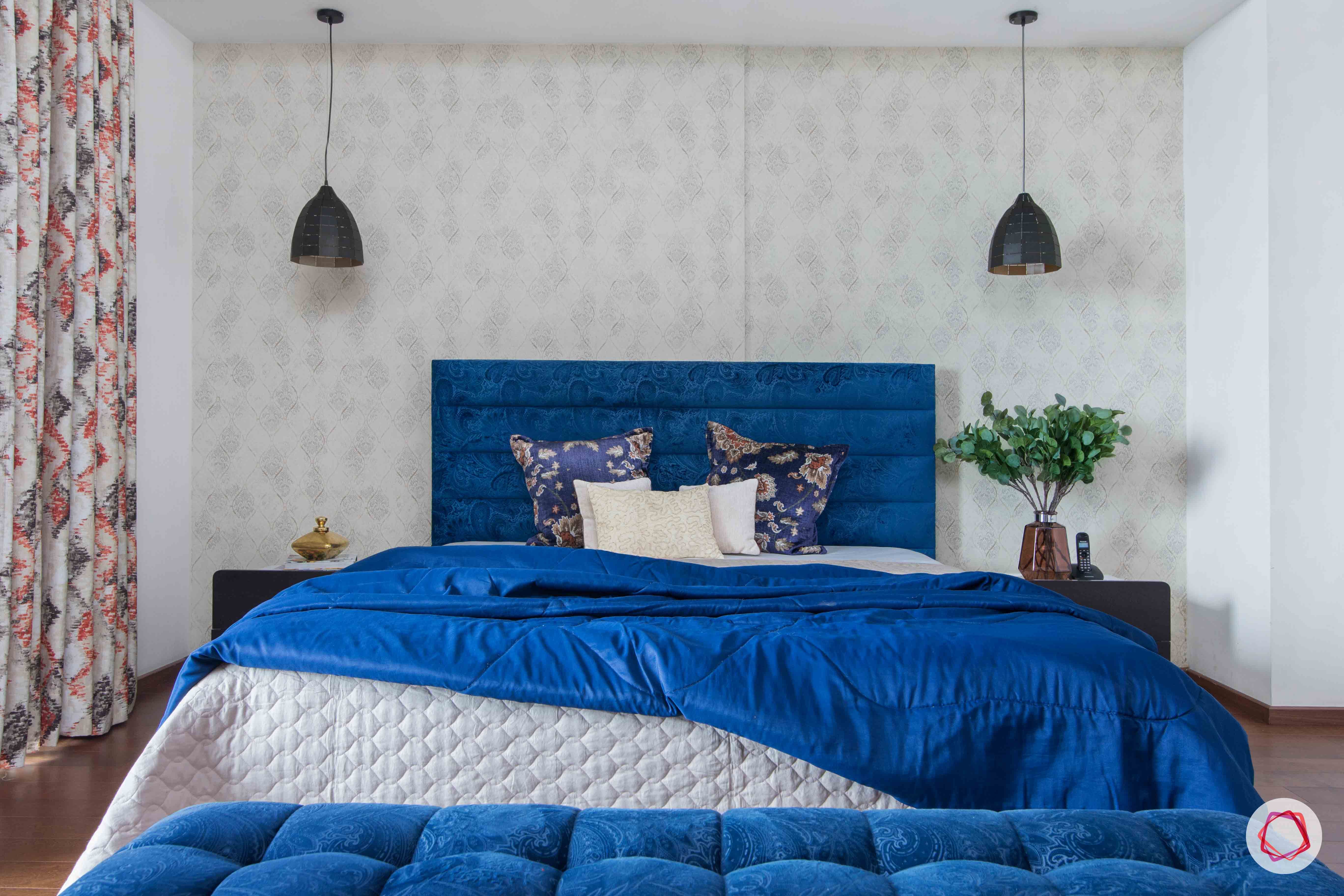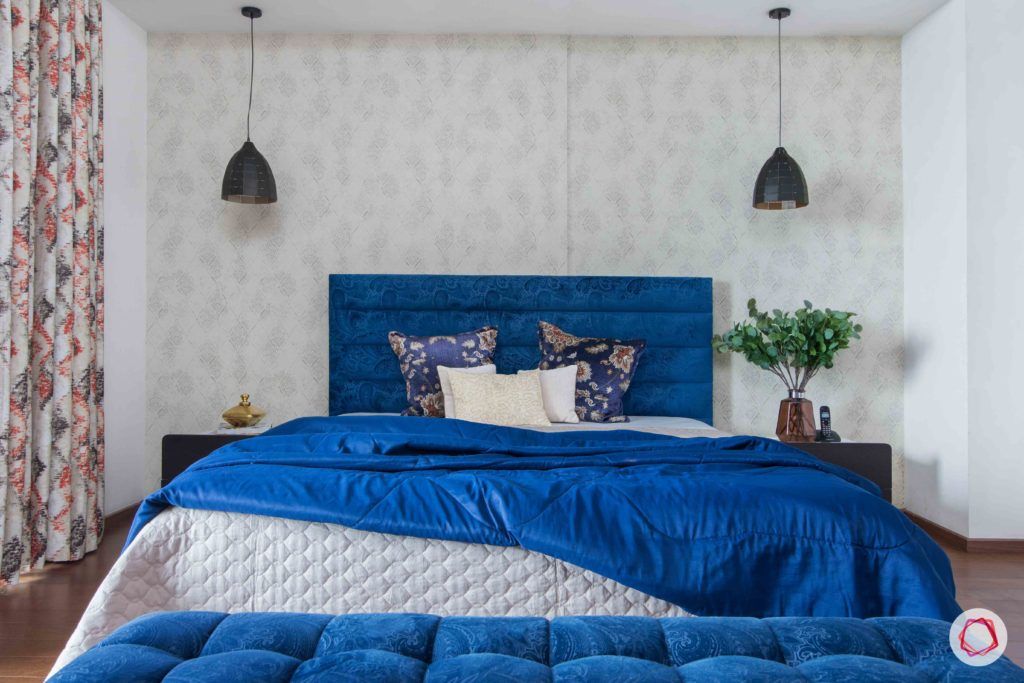 It is obvious from the duplex house images that the master bedroom of this house is massive in size. However, the designer has chosen to furnish it minimally. There is a bed from our catalogue with a plush velvet headboard. Moreover, the regal demeanor of the bed contrasts with very contemporary looking pendant lights on either side of the bed. Finally, the beige wallpaper has soft geometric patterns that whiff of modern design.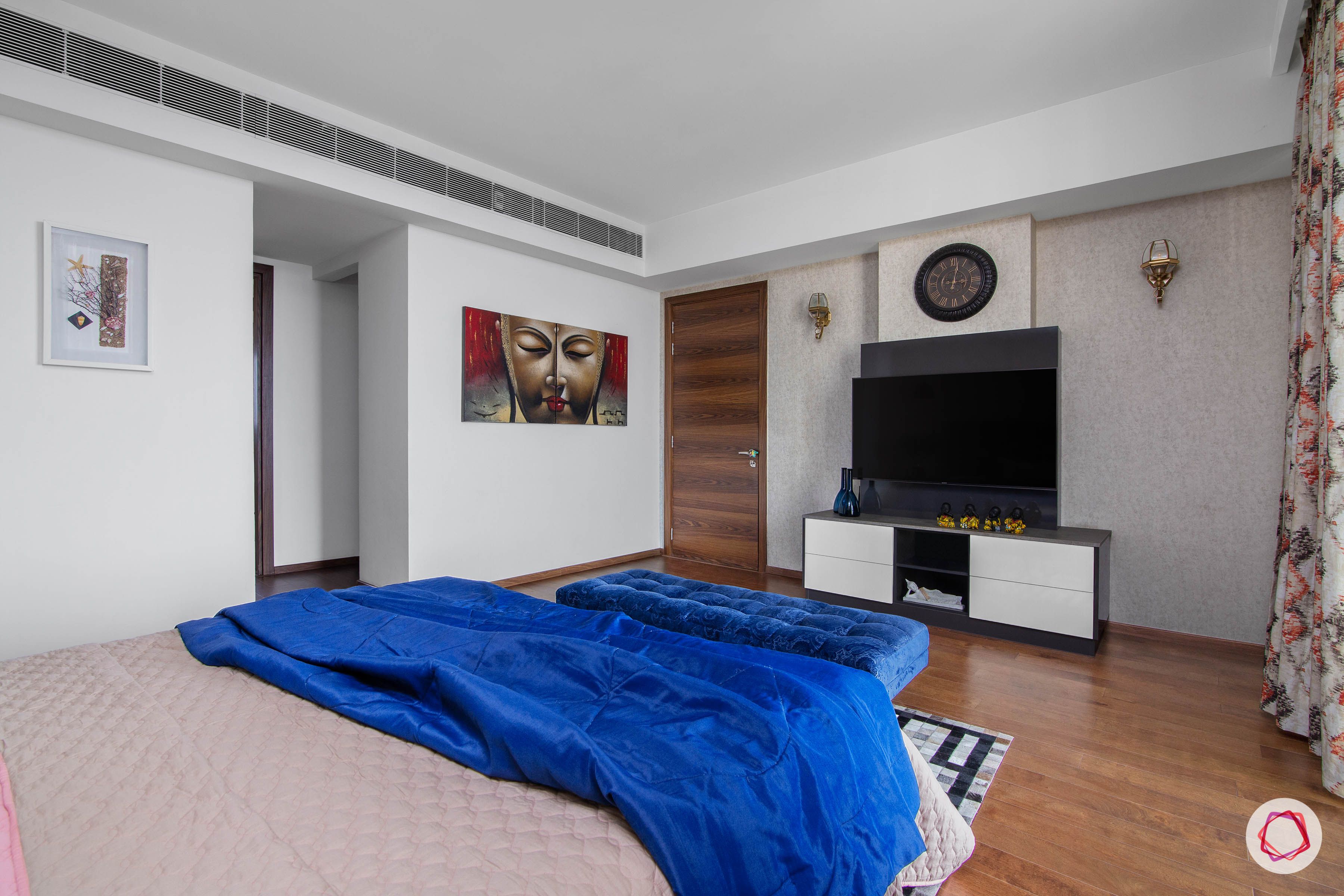 Right opposite to the bed, there is an entertainment unit that has a matte membrane finish. It is pertinent to note that it is deliberately minimal and sleek to make the room look just as large as it is.
Duplex House Images: Vintage Pooja Unit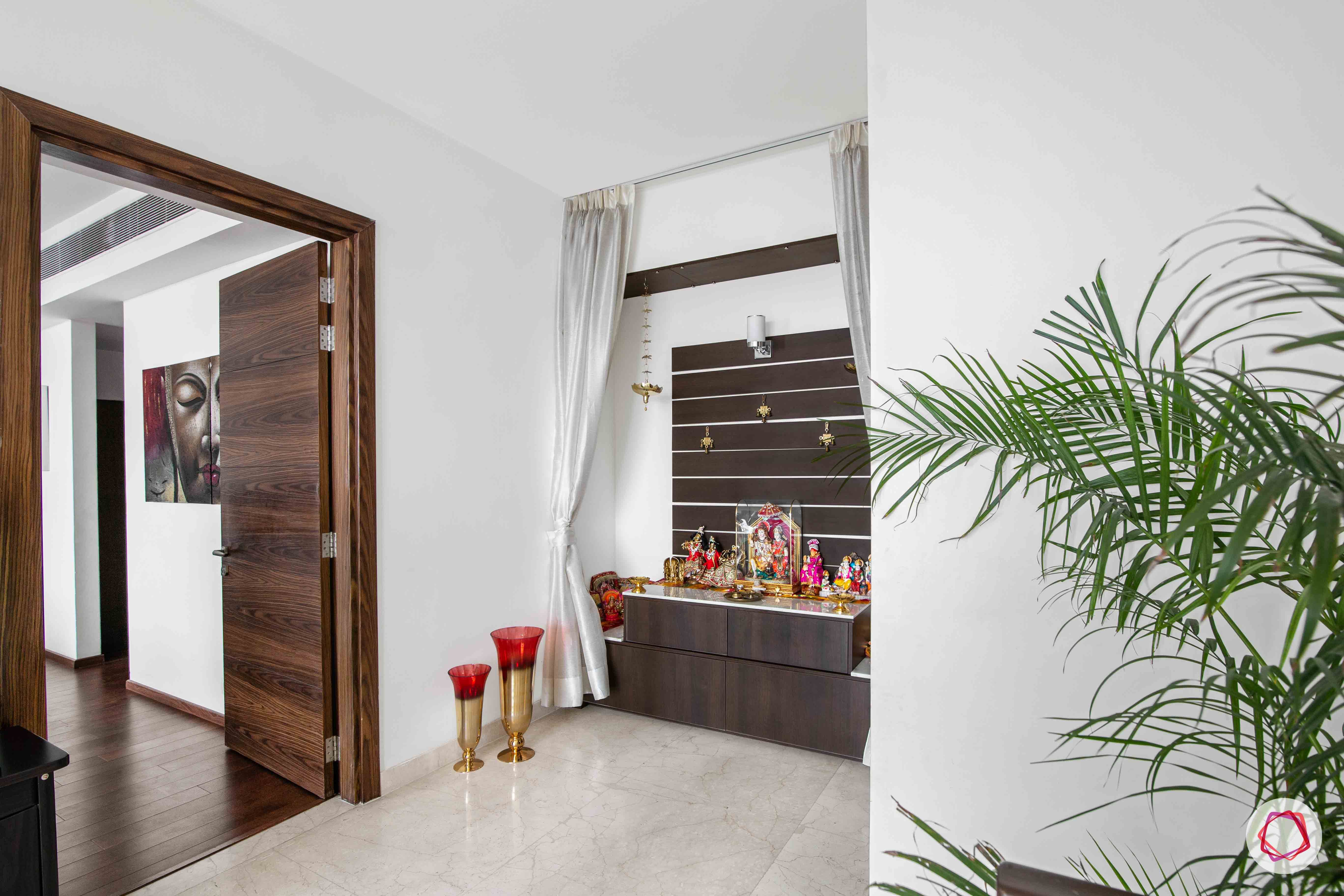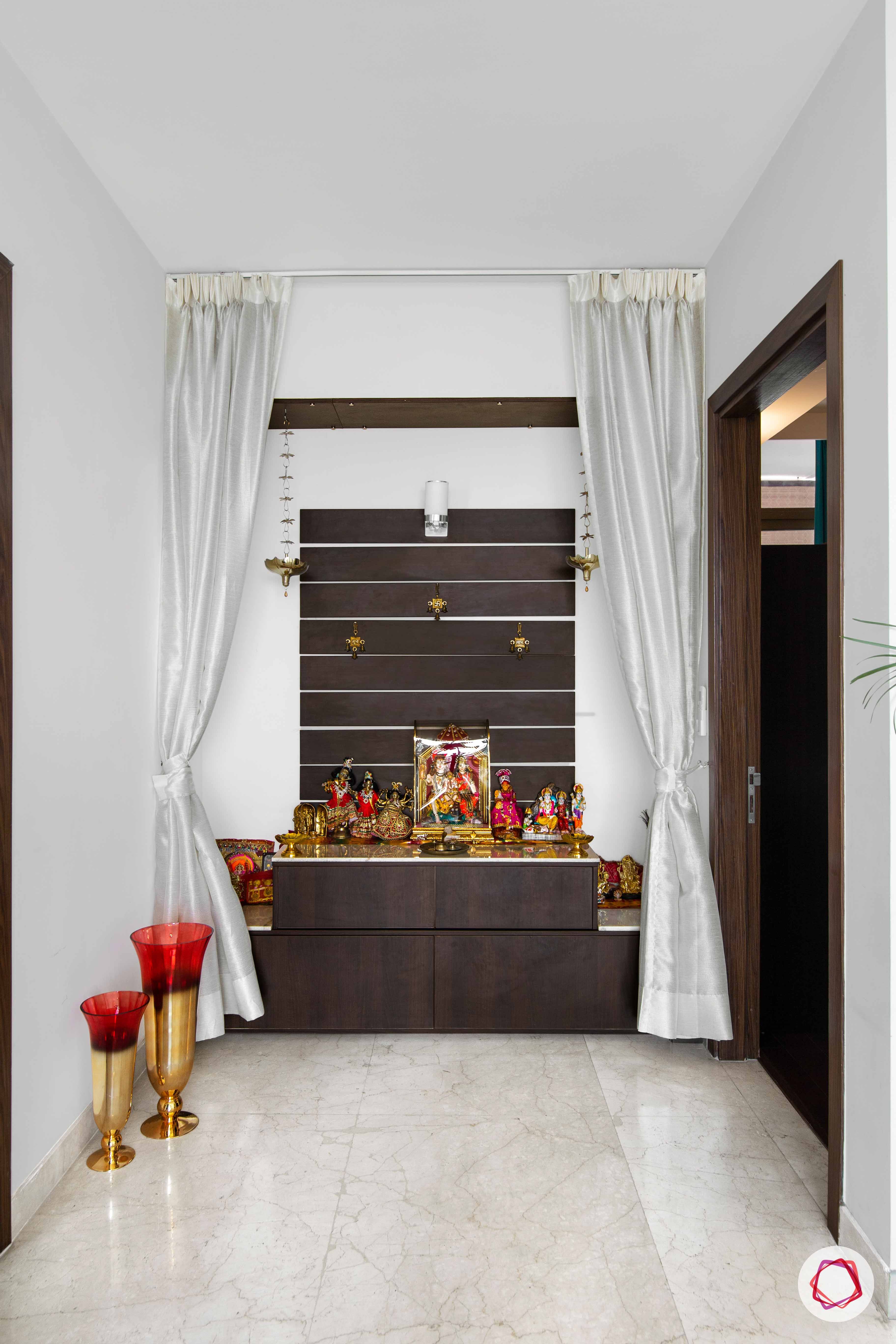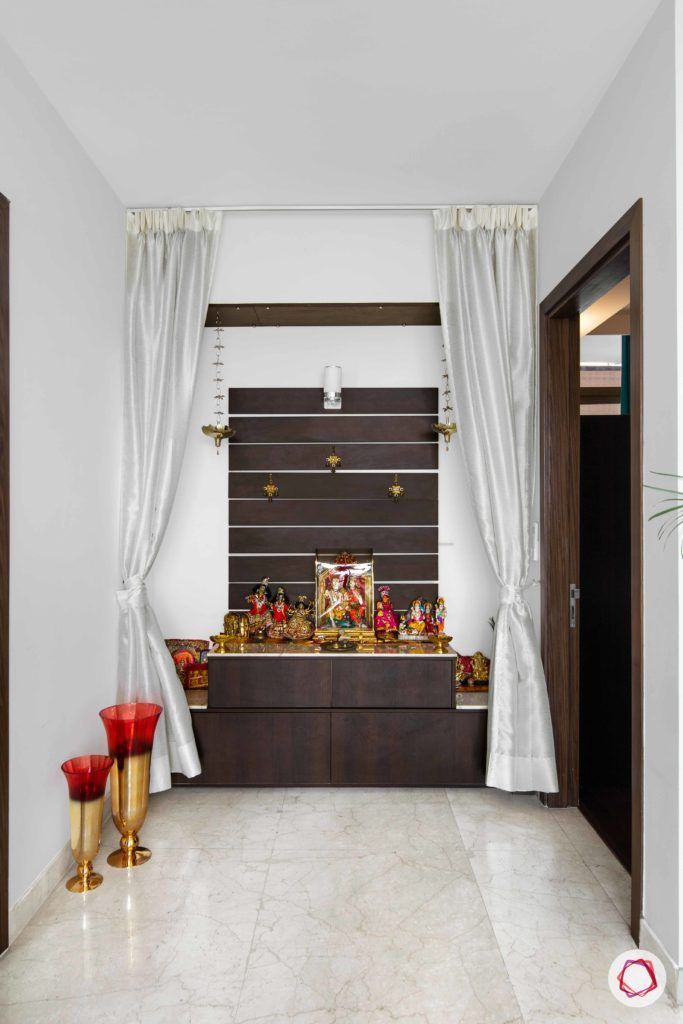 The pooja unit has a vintage dark wood finish sculpted into a contemporary design. This entire unit was handpicked from the options in our category. The setup cuts a pretty picture with inlaid lights and white drapes.
Duplex House Images: Green Acres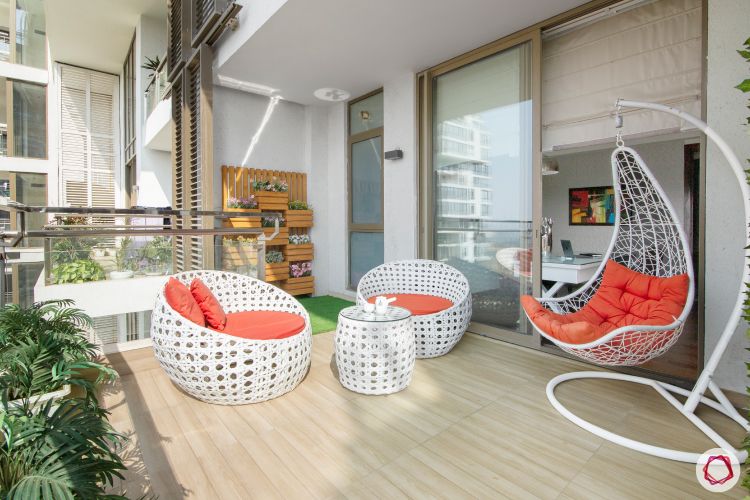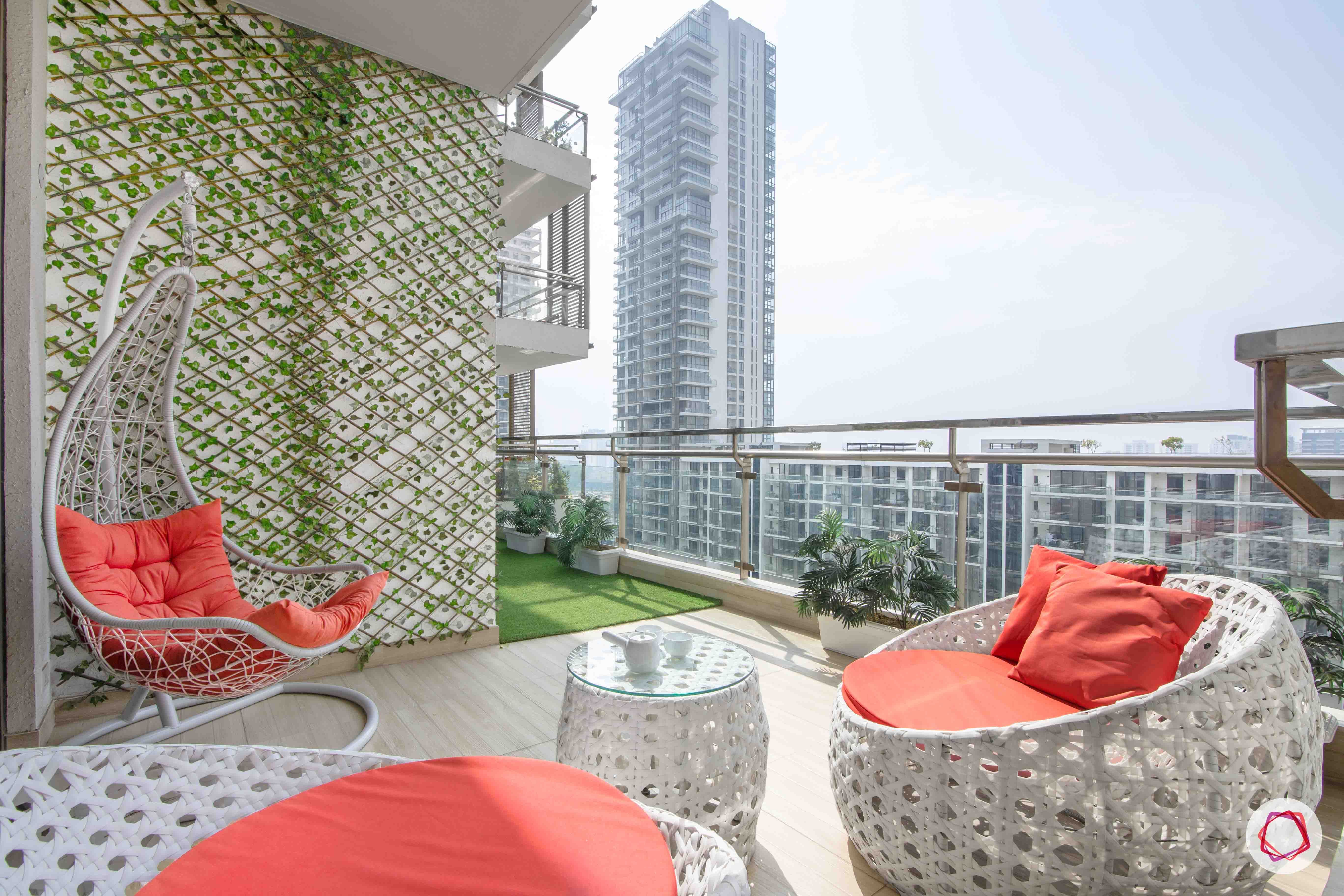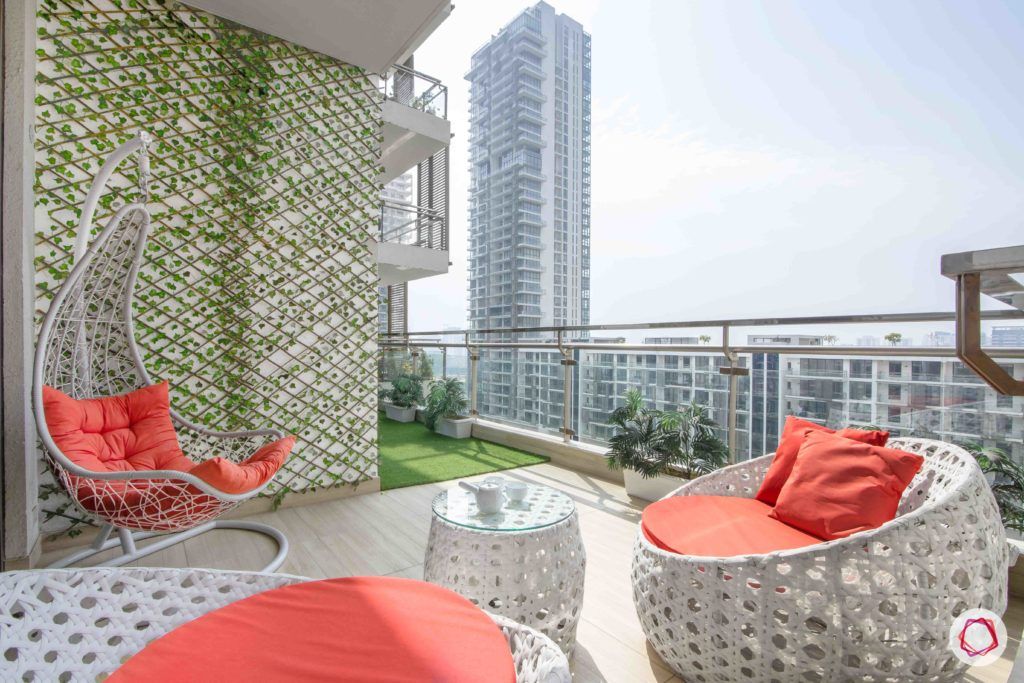 The first floor balcony of this duplex is rather roomy and offered a great design opportunity that was too tempting to miss. Shilpa furnished this space with wicker chairs and a cozy swing. We love the refreshing coral colour of the cushions and also the vertical garden. Besides, if you have a large enough balcony, you can definitely take some inspiration from the garden cladding done on one of the walls here.
"Rajesh and Priya were very accommodating as clients; they gave me plenty of freedom to design their home as per my sensibilities. They were not afraid to experiment with bold colours like red and gold."
– Shilpa Garg, Interior designer, Livspace
If you are crushing on the colours after seeing the duplex house images here, also check out Serious Design Goals Met at this Artsy 5BHK.
Send in your comments and suggestions.