This couple gets refreshing interiors for their home in Cleo County, Noida.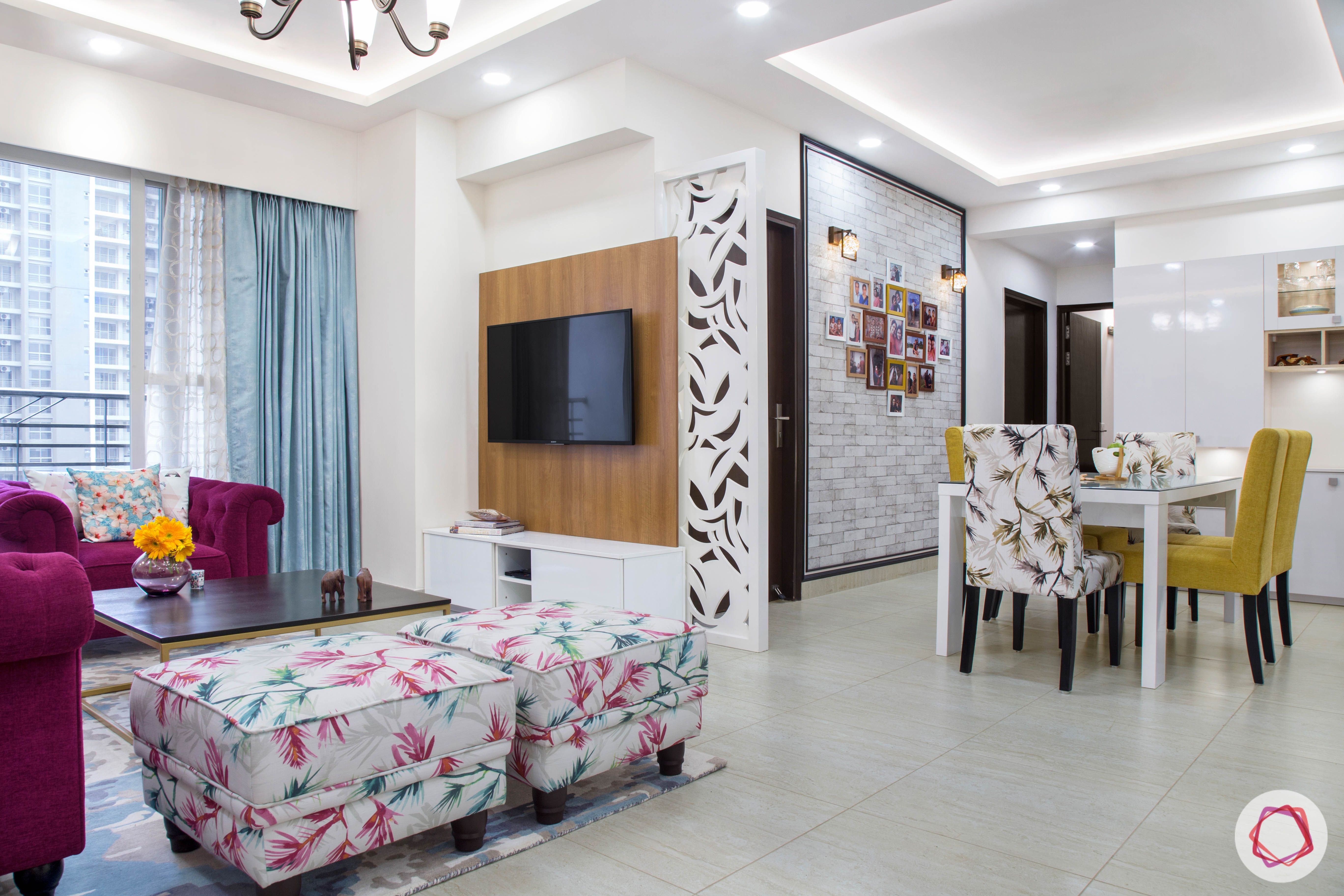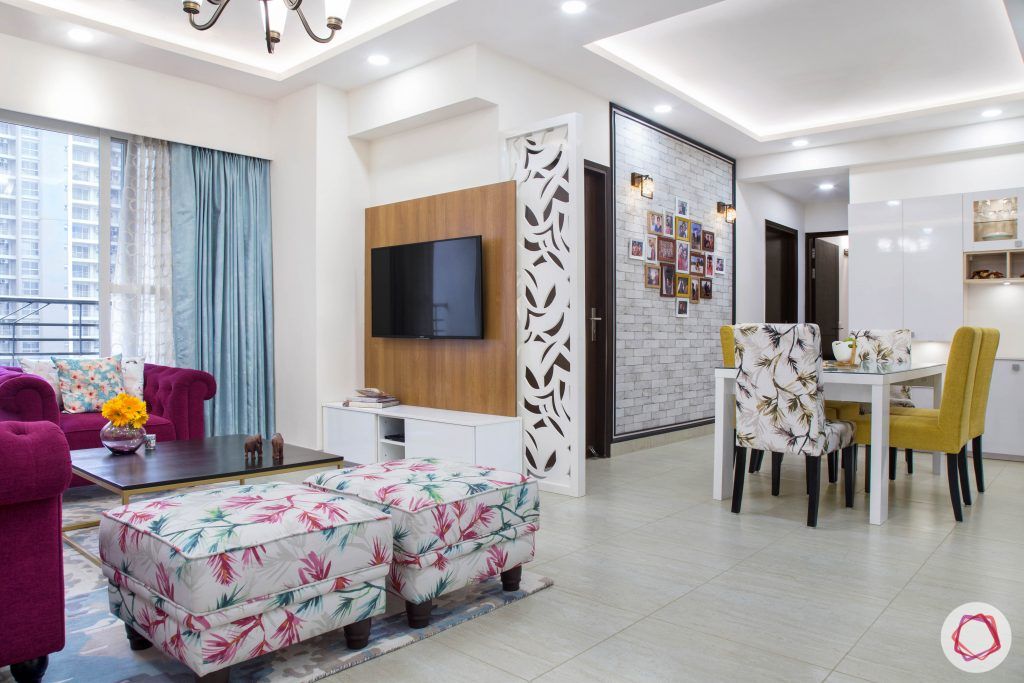 ---
Who livs here: Nitin Kumar with his wife Neetu Singh and their daughter Mishika
Location: Cleo County, Sec 121, Noida
Size of home: A 3BHK spanning 1,800 sq ft approx.
Design team: Interior Designer Nidhi Agarwal and Project Manager Sandeep Jain
Livspace service: Full home design (kitchen not included)
Budget: ₹₹₹₹₹
---
Sometimes, we come across homes that celebrate more than one feeling. Nitin and Neetu's home at Cleo County, Noida is one such example. This 3BHK is the couple's first home since their wedding and like everyone they, too, wanted to make it to resonate their happiness. Also, expectant mother, Neetu, wanted to dedicate this home to their soon-to-be-born child. After scouting the internet and getting referred by neighbours at Cleo County, they contacted Livspace.
Nidhi Agarwal, their designer took it forward from here and got a clear brief from them, so that she could give it her best shot. Mutual understanding was one of the major advantages in this design journey. The couple wanted to feel happy from the moment they step foot inside their brand new apartment at Cleo County, Noida. Lovers of white and florals, their home had to be dunked in fresh prints and chirpy specs of colour. Check out how the story unravels.
Cleo County, Noida: Orchid Rhythm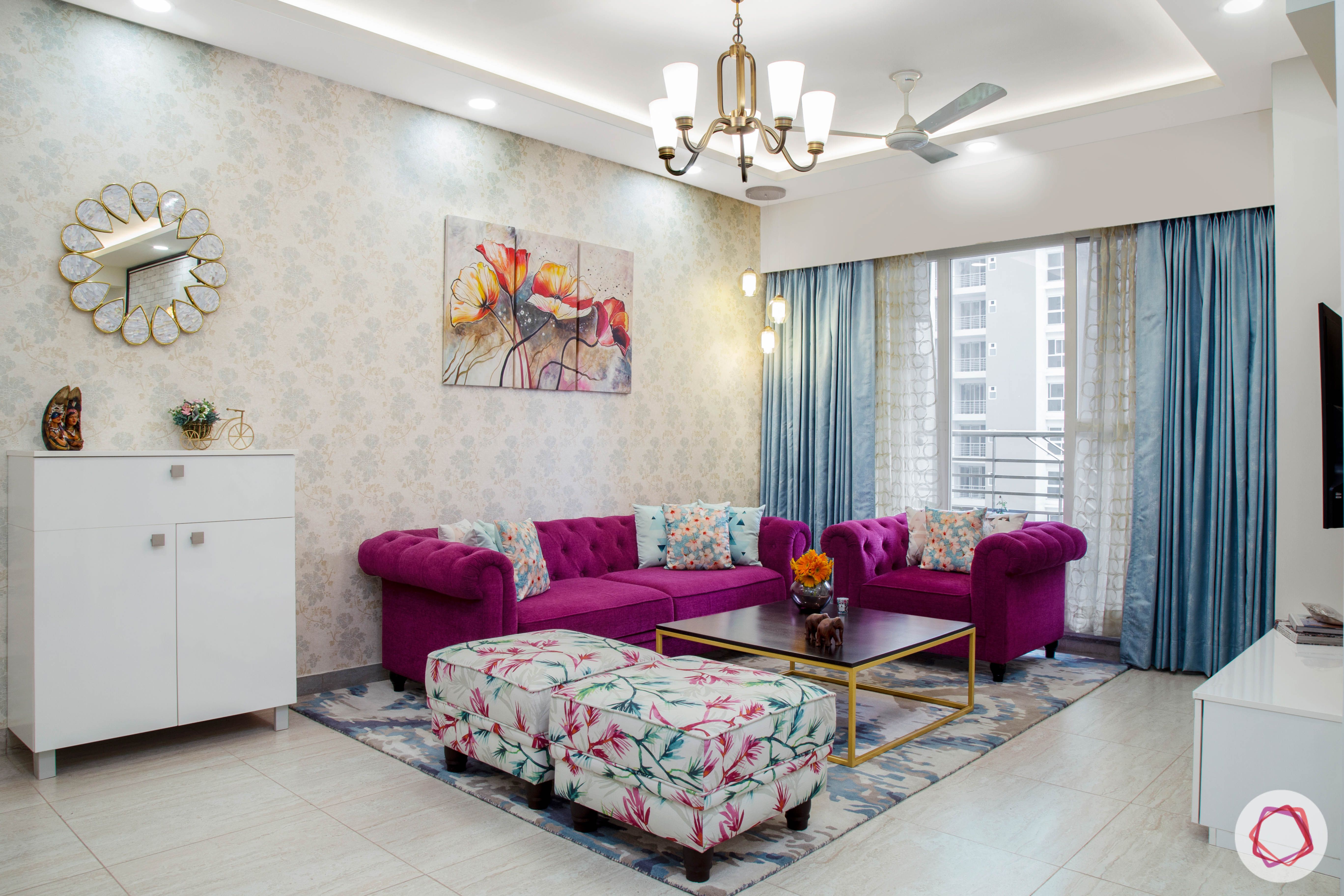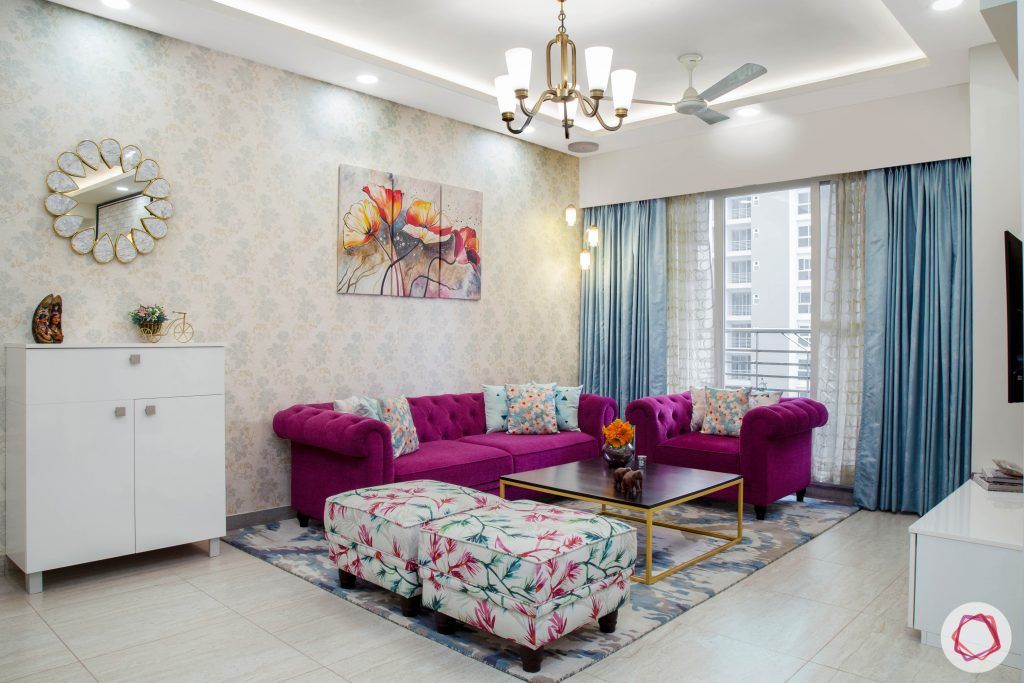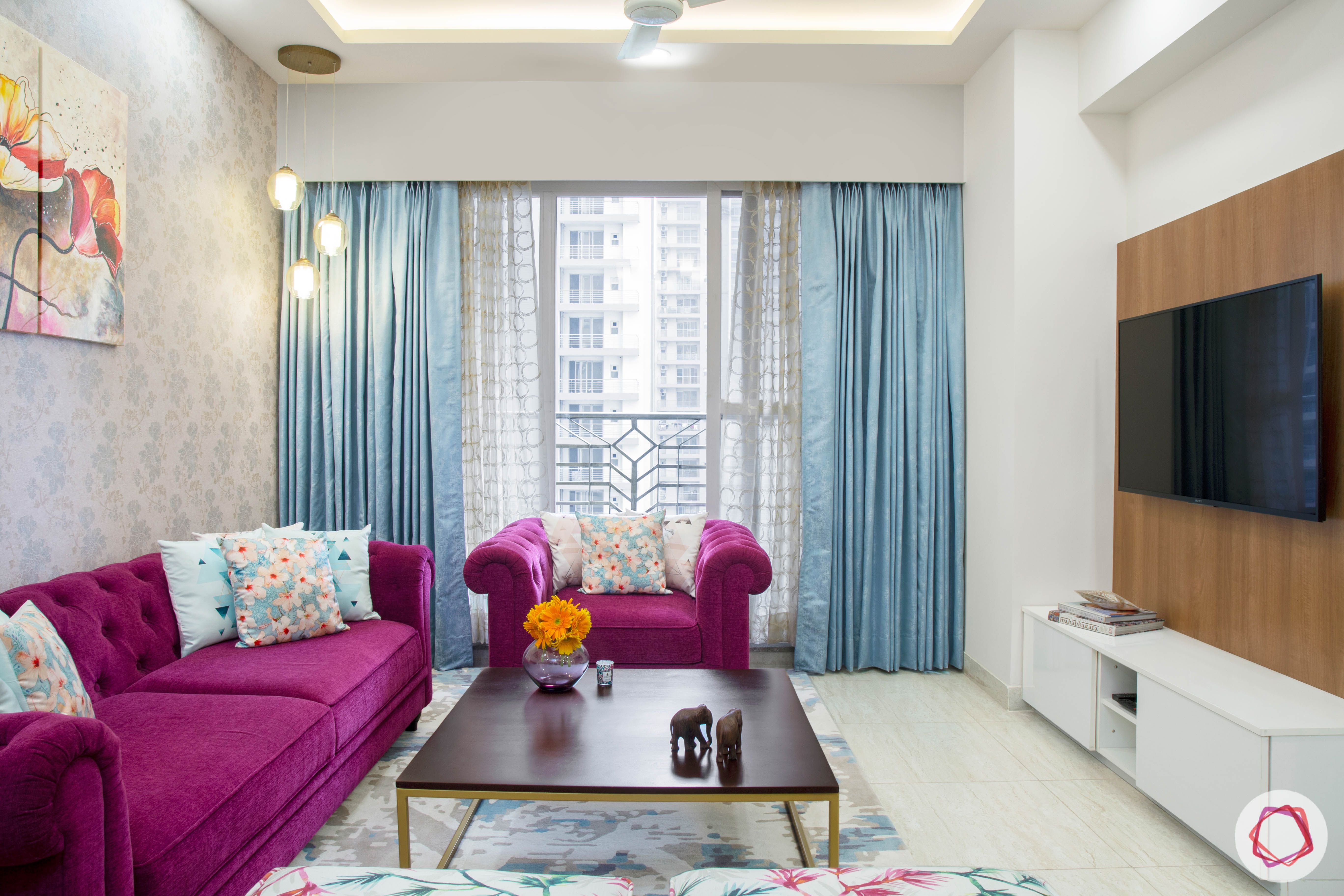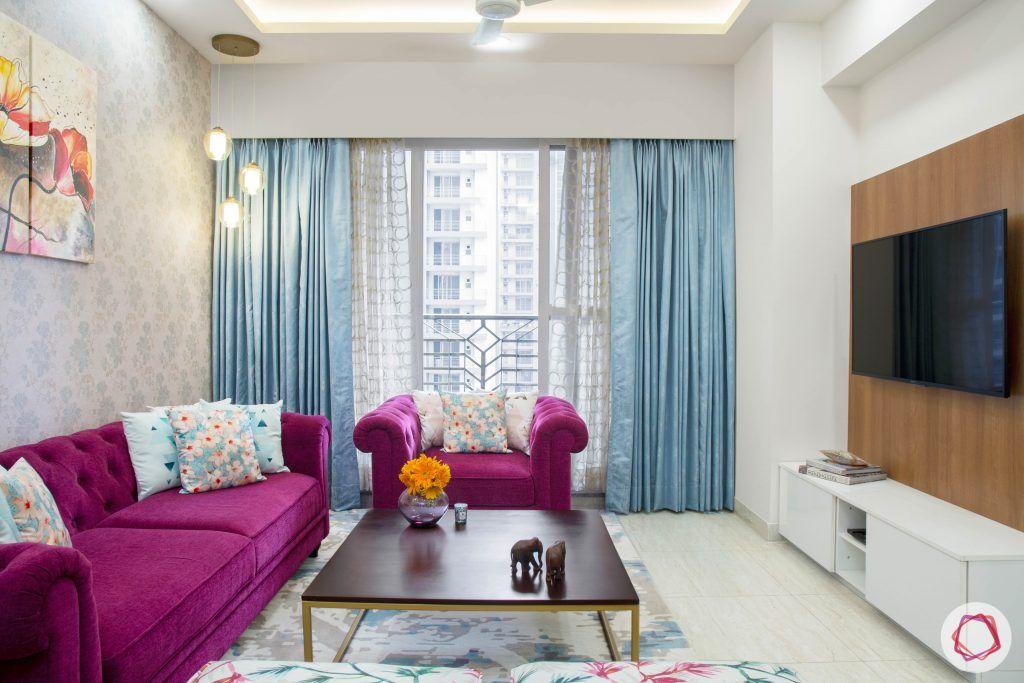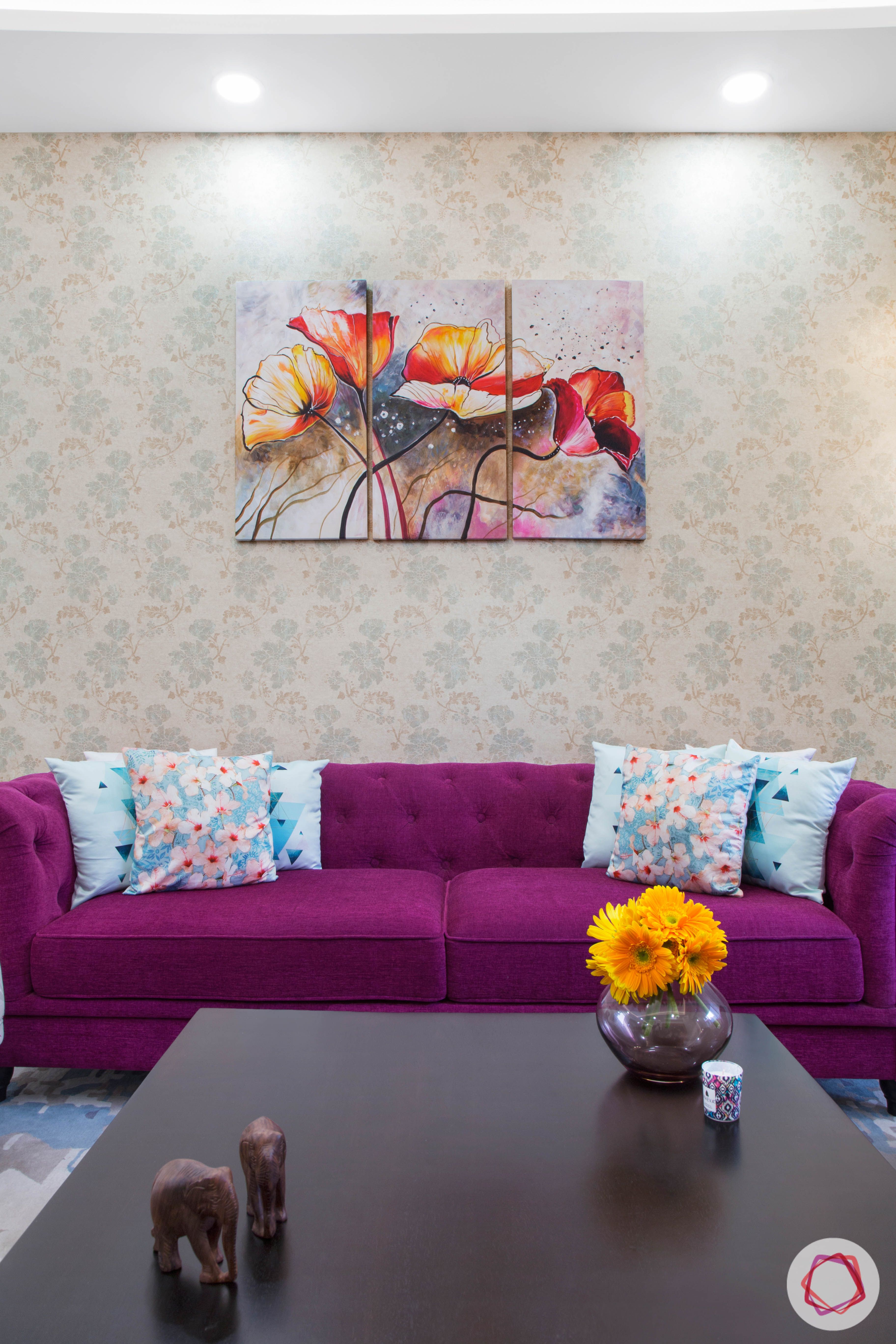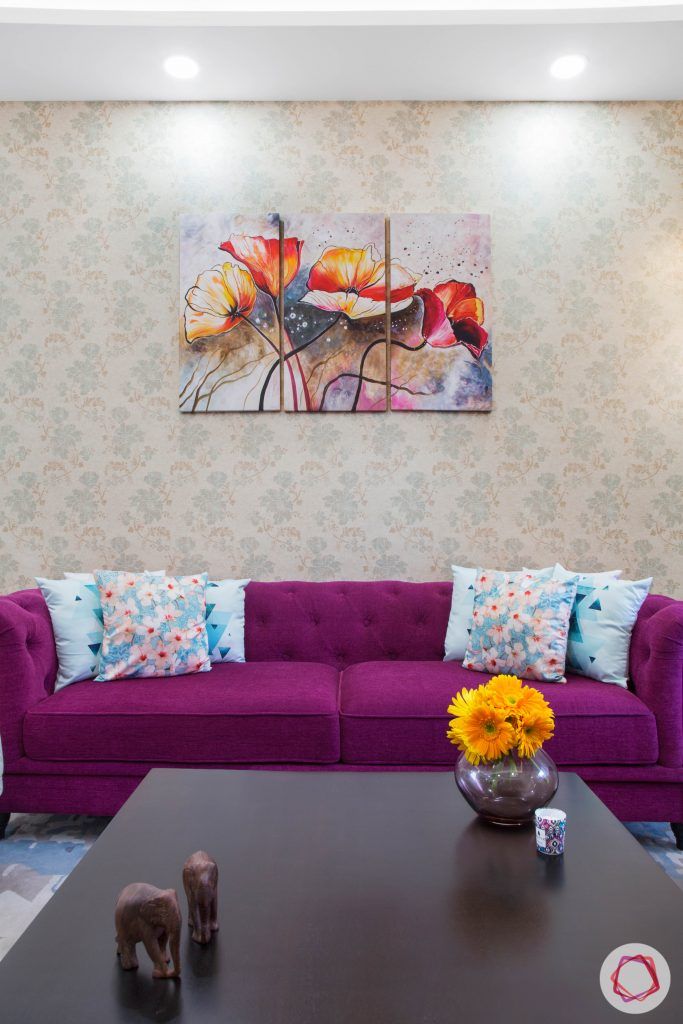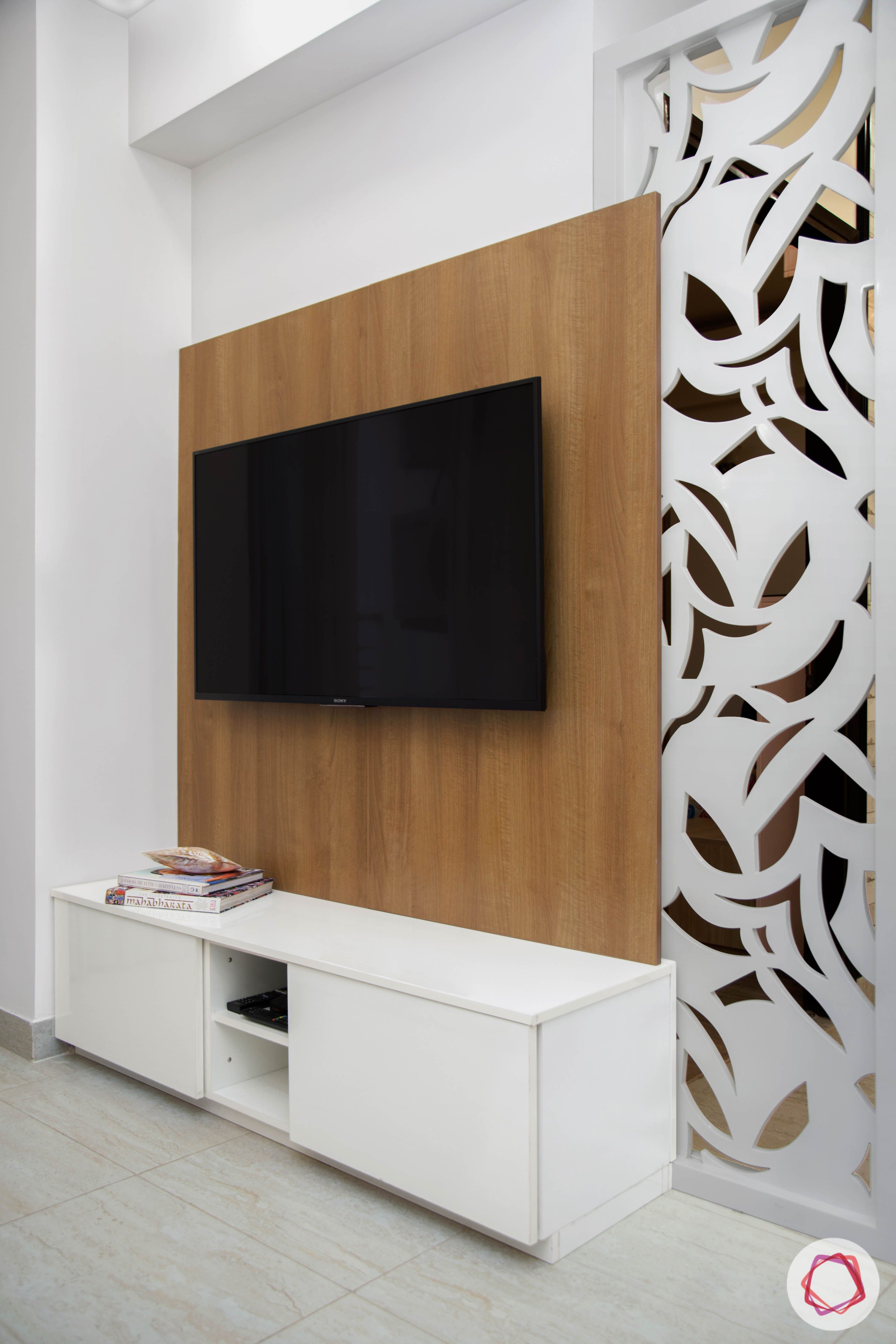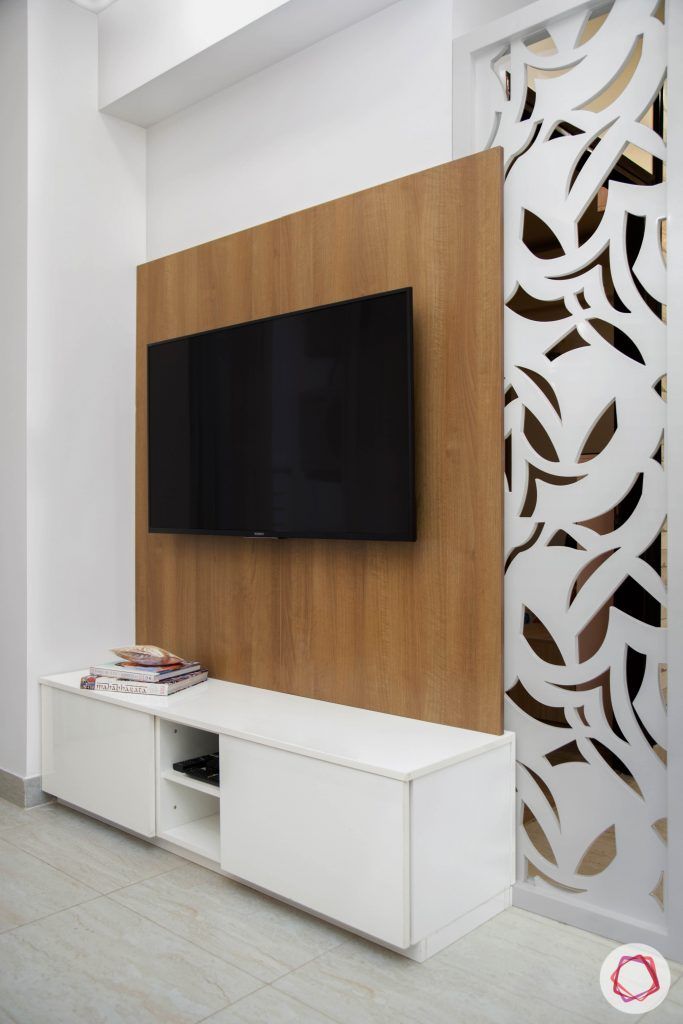 Let's start the tour with the family's favourite spot at this Cleo County, Noida, home. The living room is where mom Neetu and little Mishka love spending maximum time of the day. During a casual conversation, Neetu chirps that the orchid sofas are absolute love and this is where she likes to hang around. Hosting a lot of get-togethers is another reason to get perfectly matching floral ottomans. An abstract print rug and wallpaper add the right texture to this space.
The TV unit is a simple laminate with high gloss white base unit and wood-finish back panel. While Neetu was looking forward to adding wooden battens on one side, Nidhi suggested a pretty floral pattern jaali to balance things out and adding a sort of a partition between the living and dining rooms.
Cleo County, Noida: Subtle but Pop Dining Room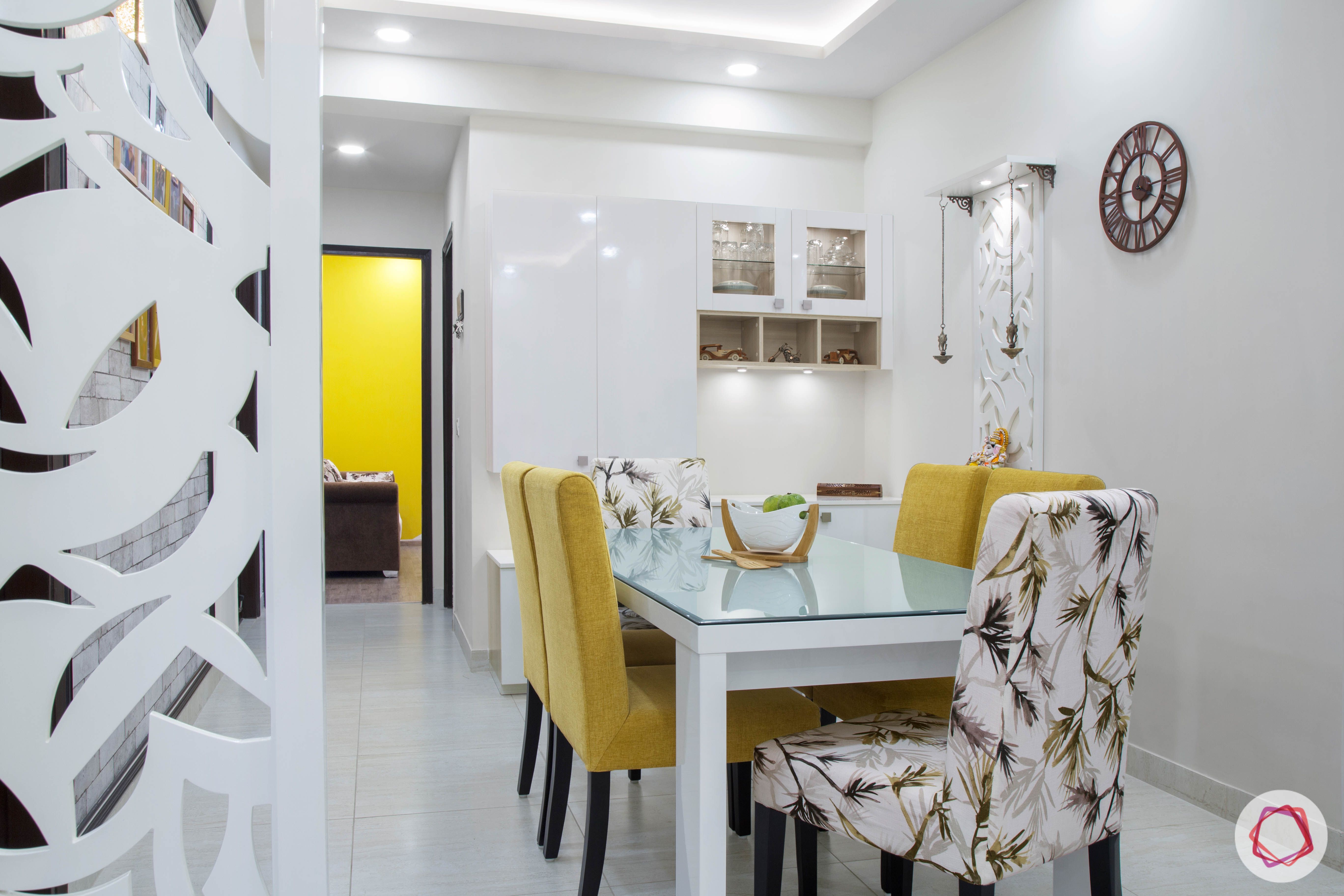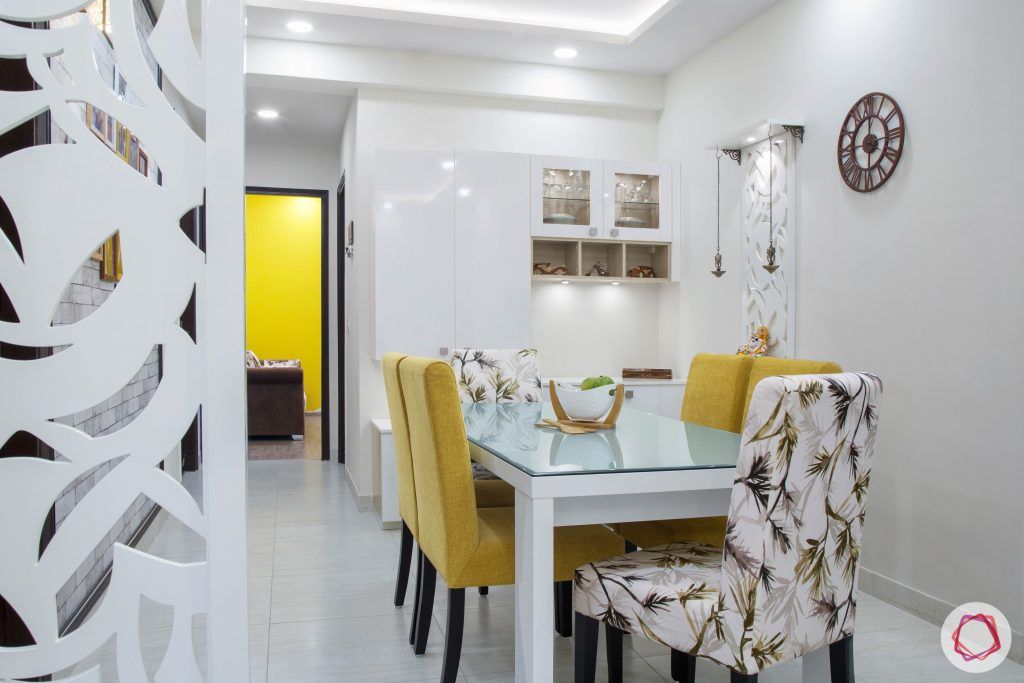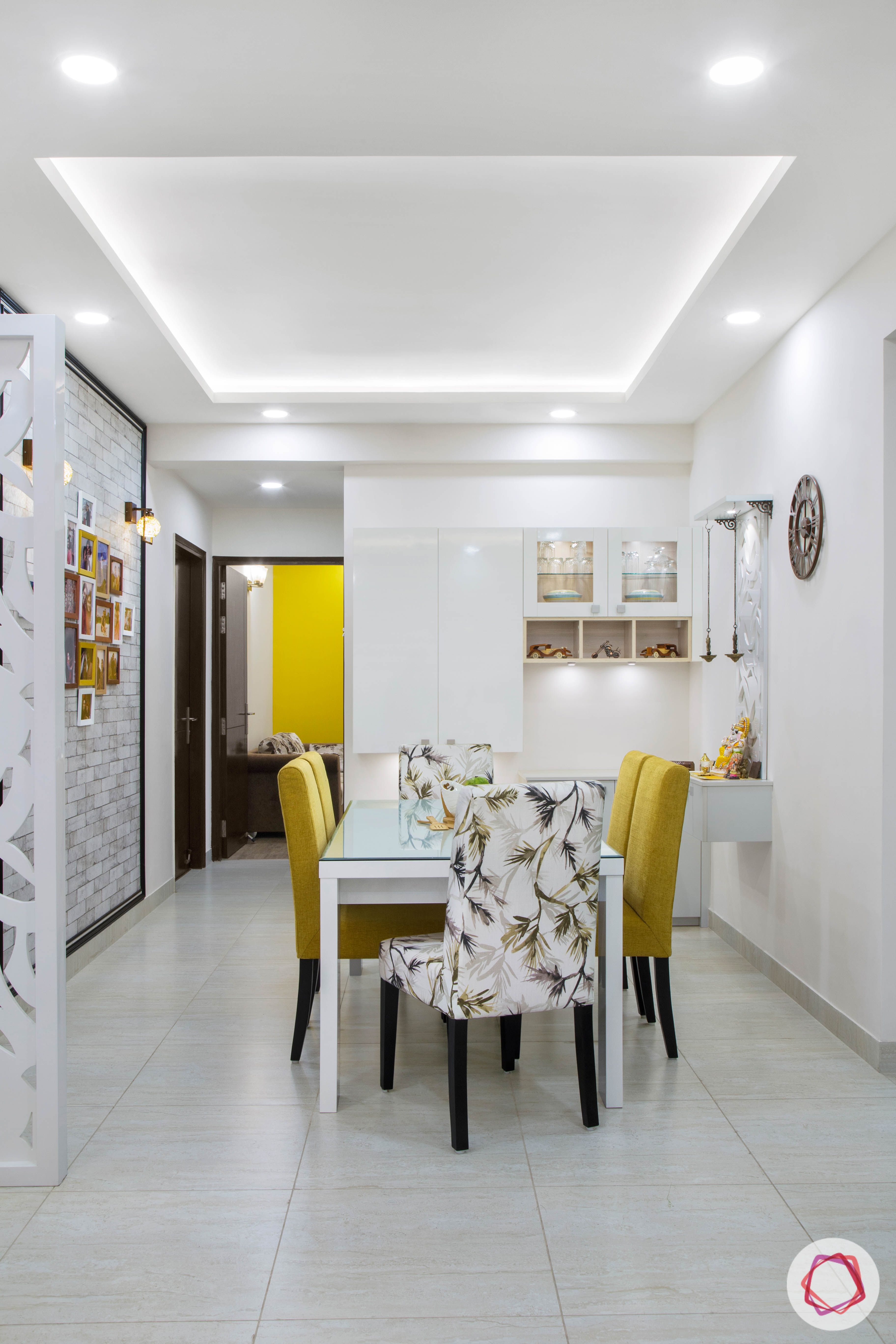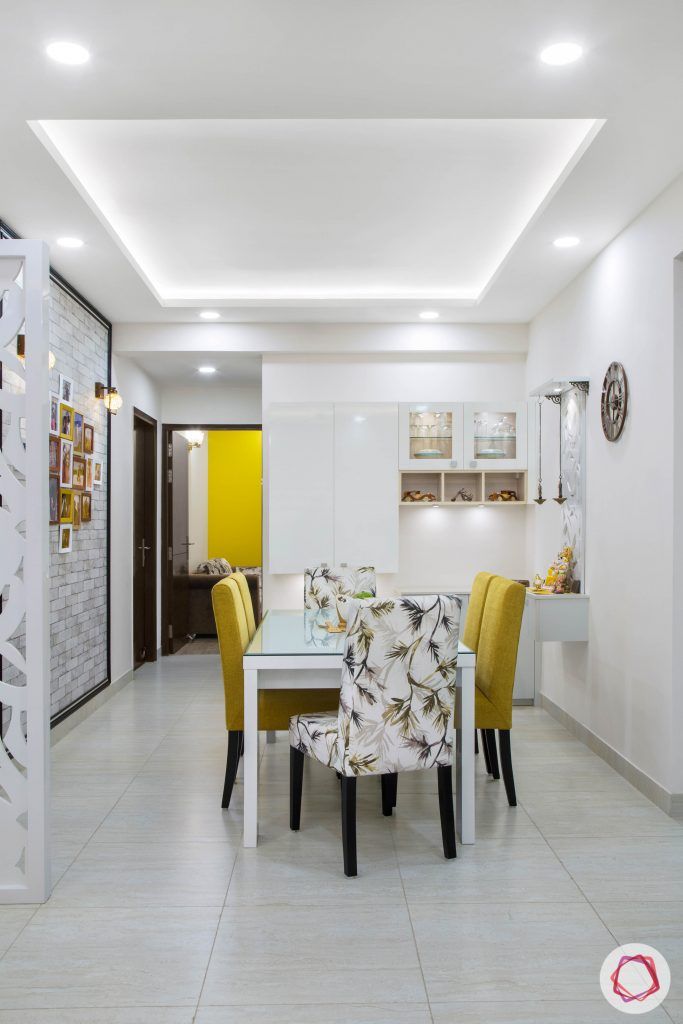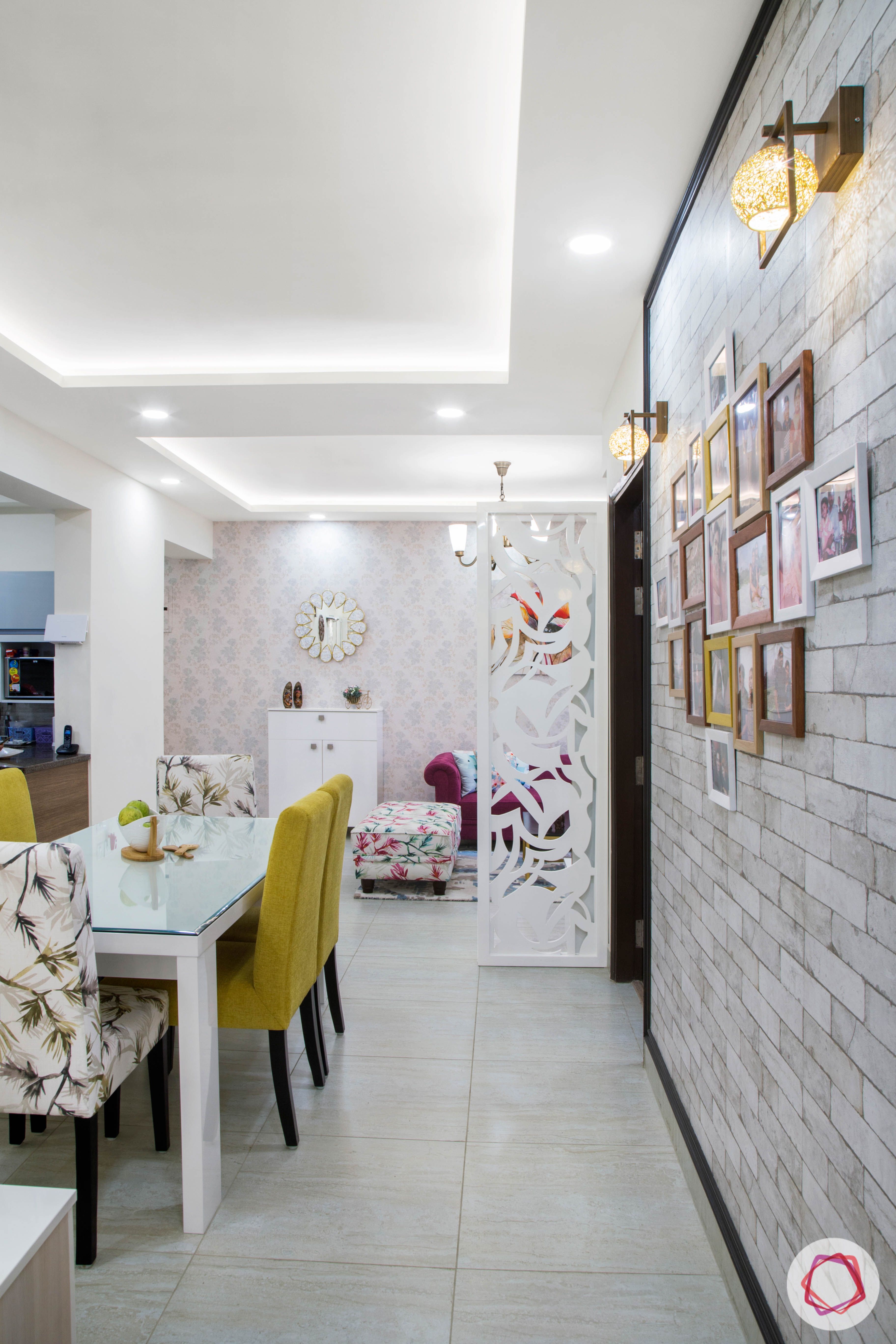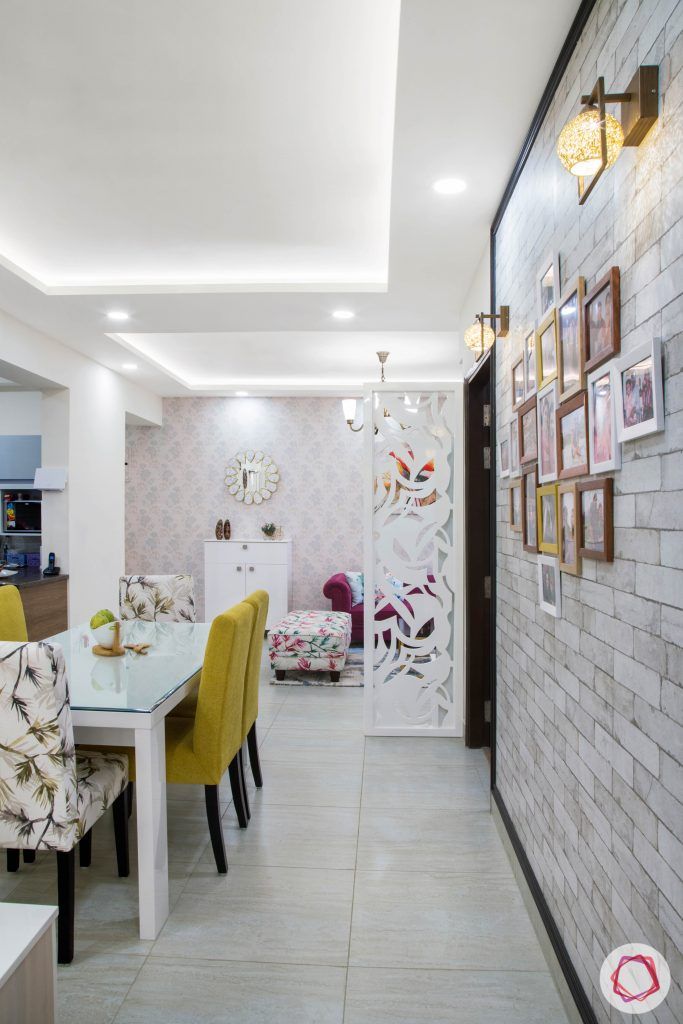 What is the one striking element about this dining room at Cleo County, Noida? Is it the photo gallery against an exposed brick wallpaper? Or is it the pop mustard dining chairs paired seamlessly with floral counterparts? We just love how everything falls together to create this warm space. It was Neetu's dream to have a wall dedicated to all their sweet memories. So Nidhi suggested this wall in the dining room that sports a trendy exposed wallpaper as the backdrop.
The crockery unit is finished in high gloss laminate in frosty white. It boasts of a spacious cabinet along with open shelves that can be used for displaying exclusive pieces and artefacts. This unit comes with a buffet counter that comes handy when guests are over. This dining room is a simple stunner at this 3BHK in Cleo County, Noida.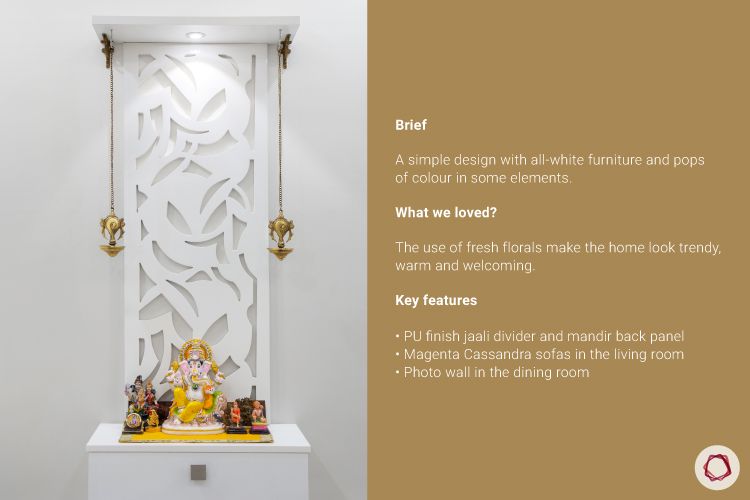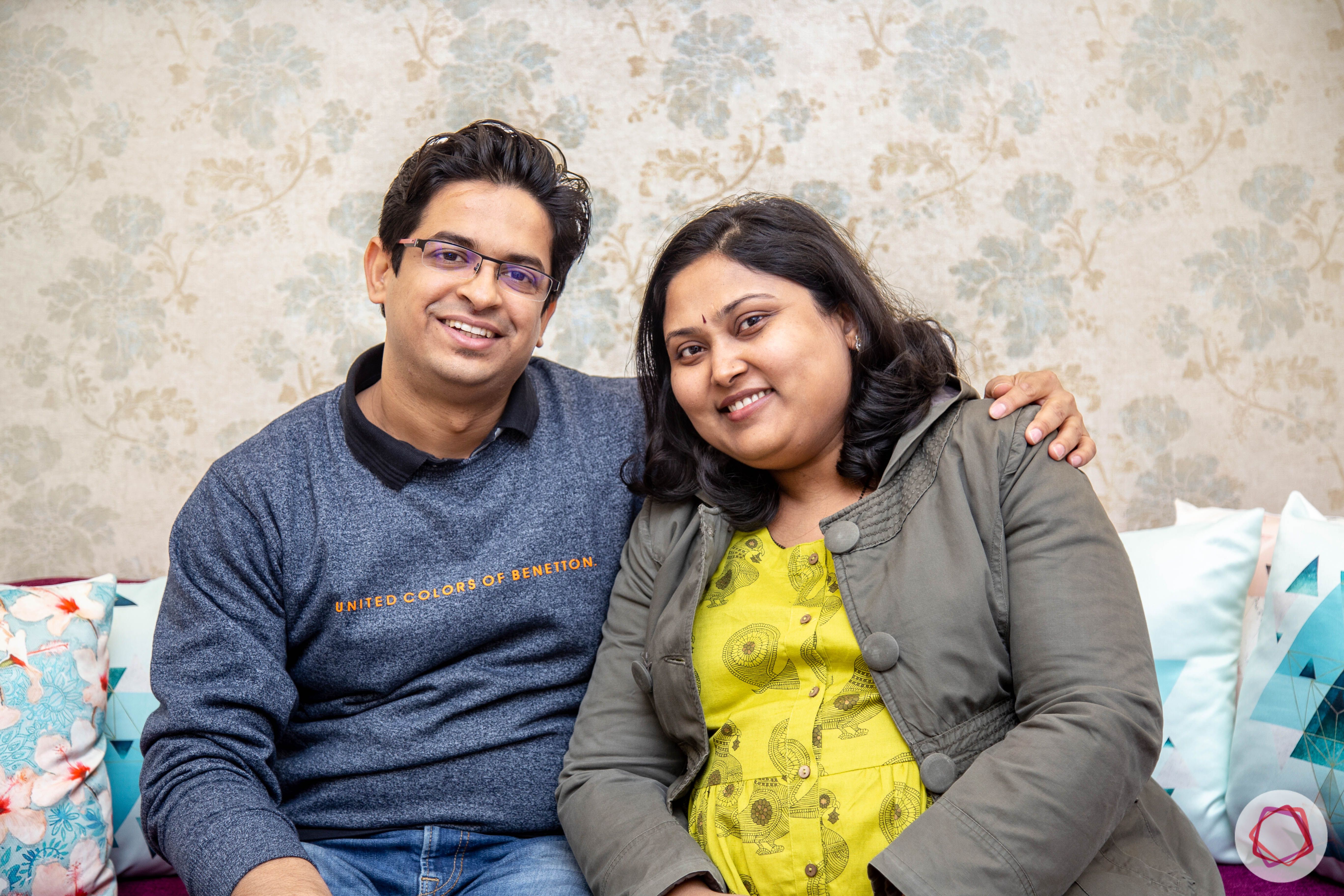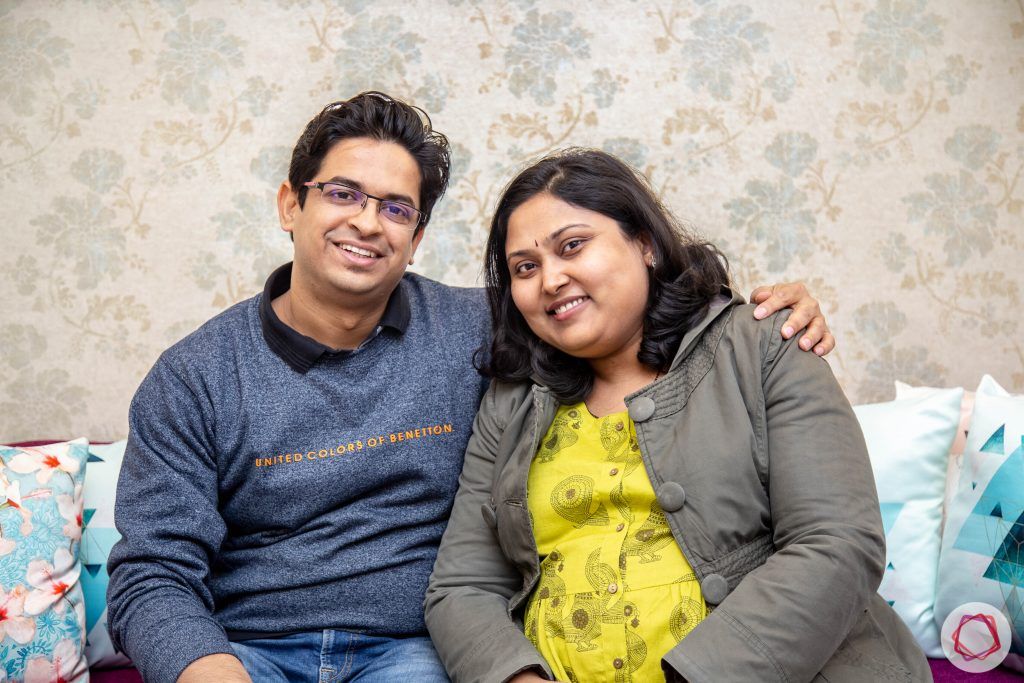 "We had heard so much about Livspace from people living in our apartment, that we just had to try them. I must say, we are so glad we chose Livspace for our home interiors. Nidhi and her team gave us amazing designs and were a very patient bunch. It was our dream to get our own home and dedicate it to our little angel, Mishika. We are absolutely in love with the outcome!"

-Neetu Singh, Livspace Homeowner
Cleo County, Noida: Hues from the Ocean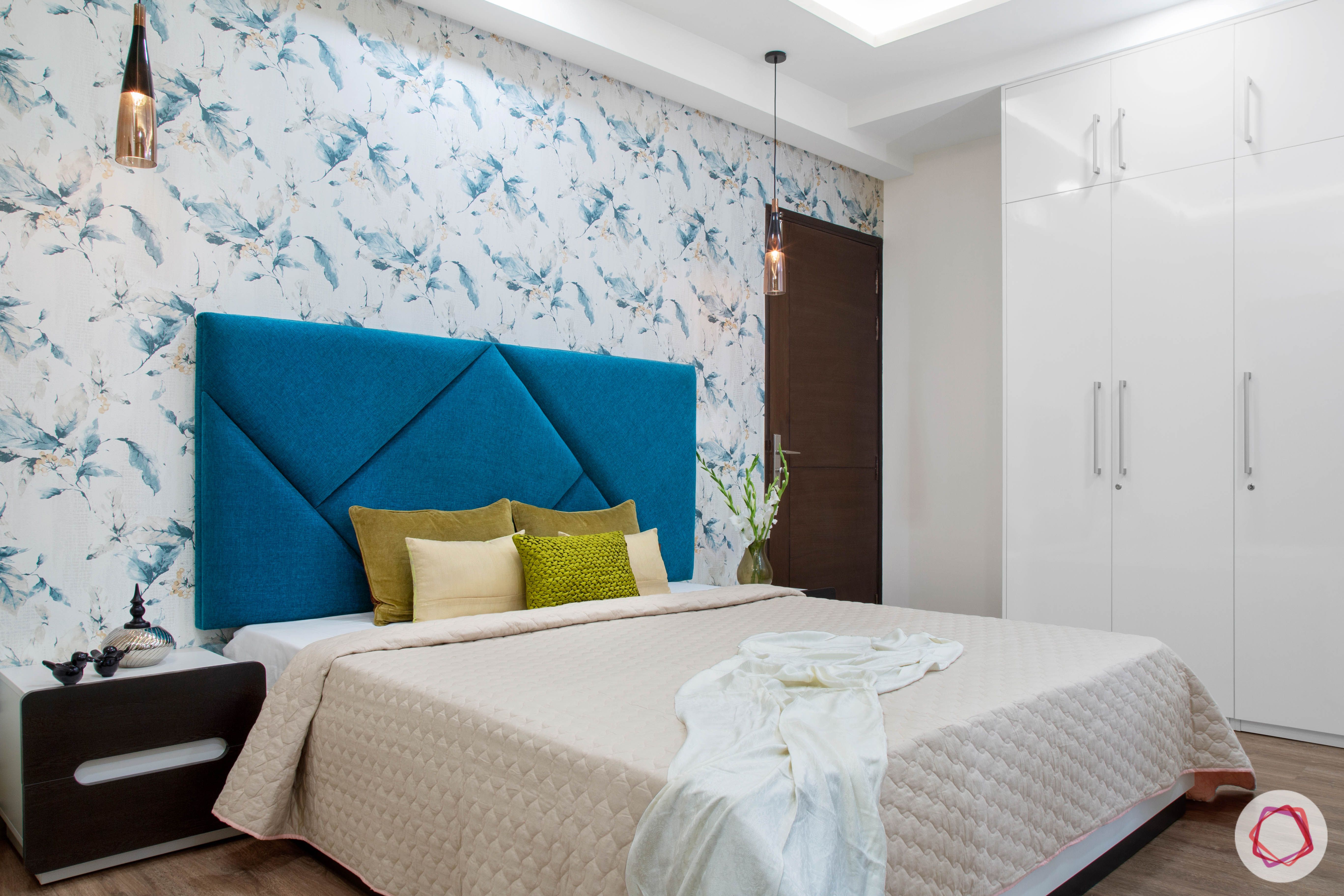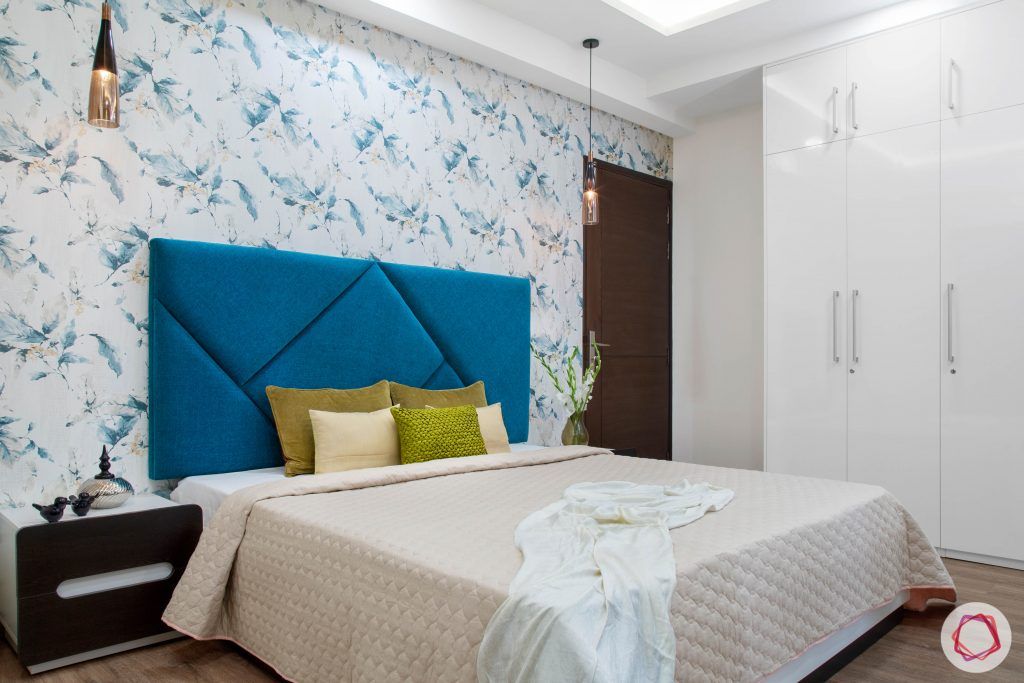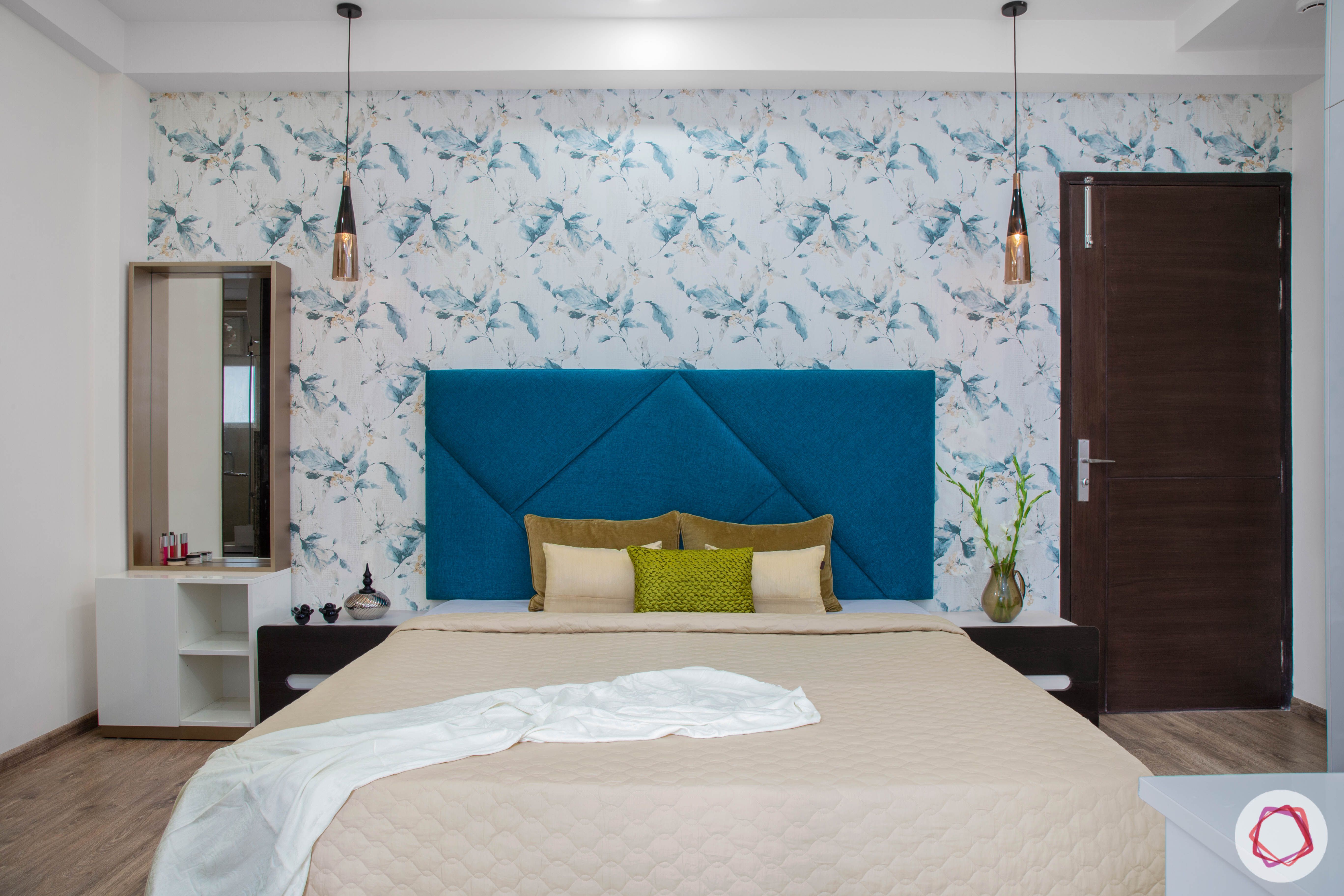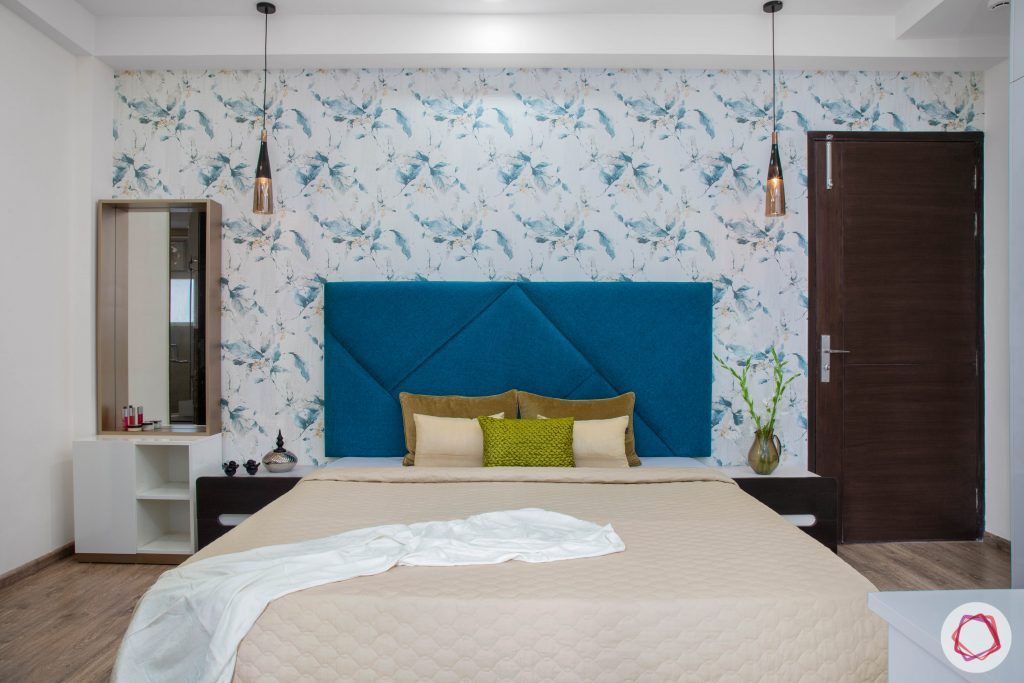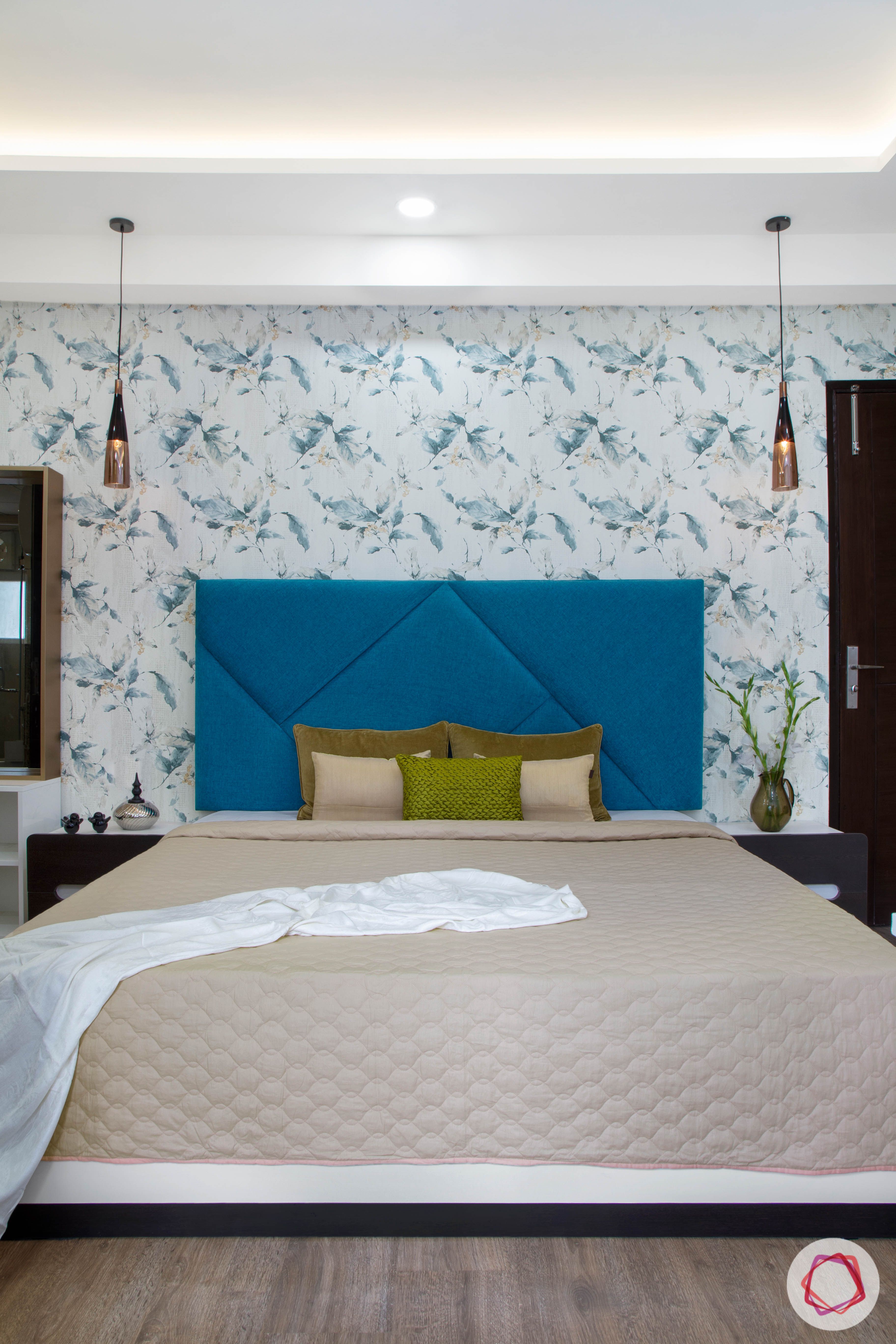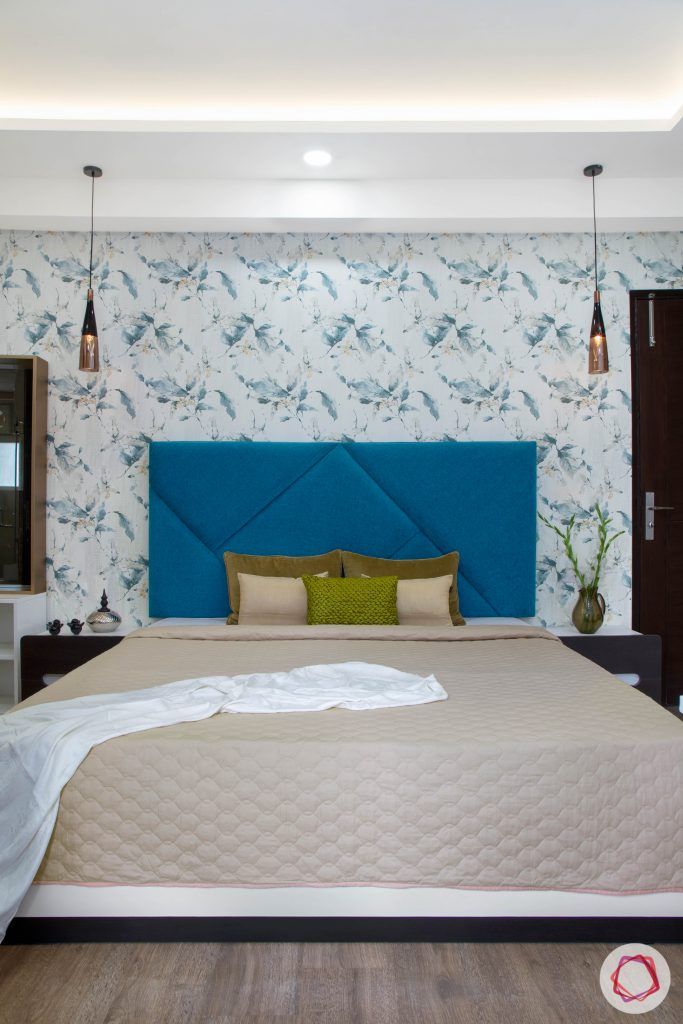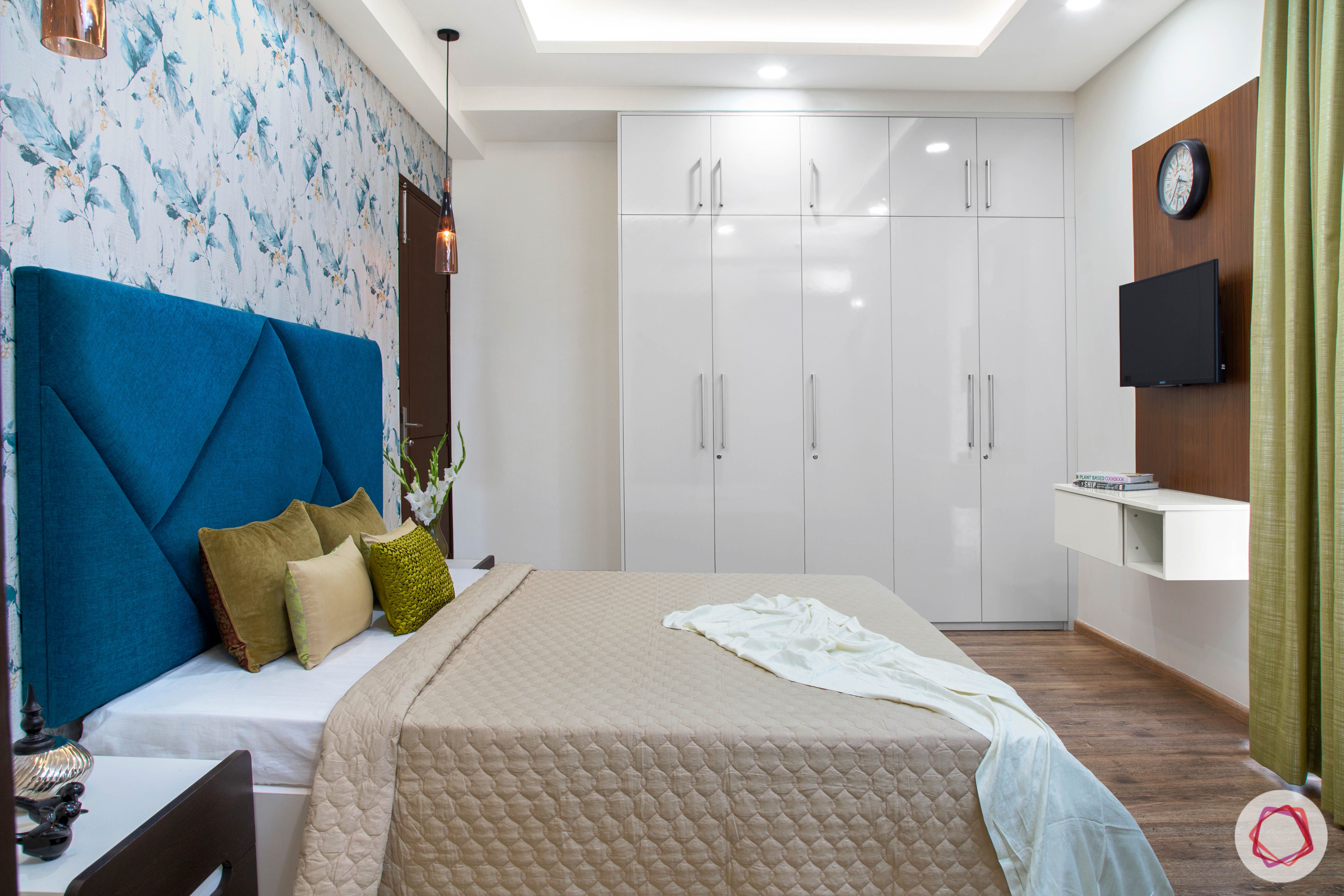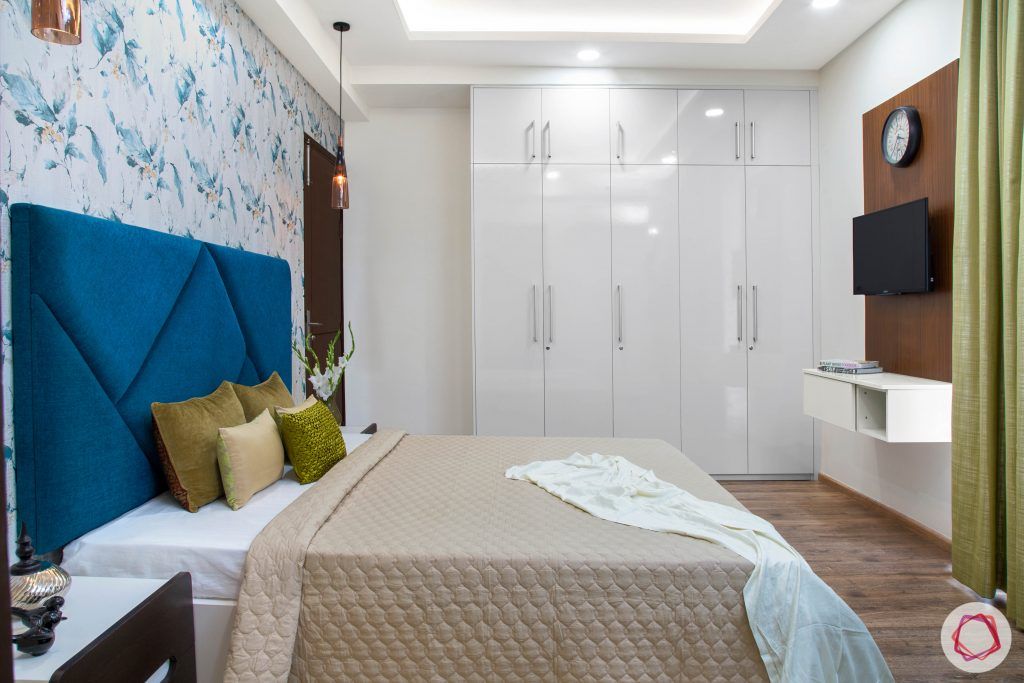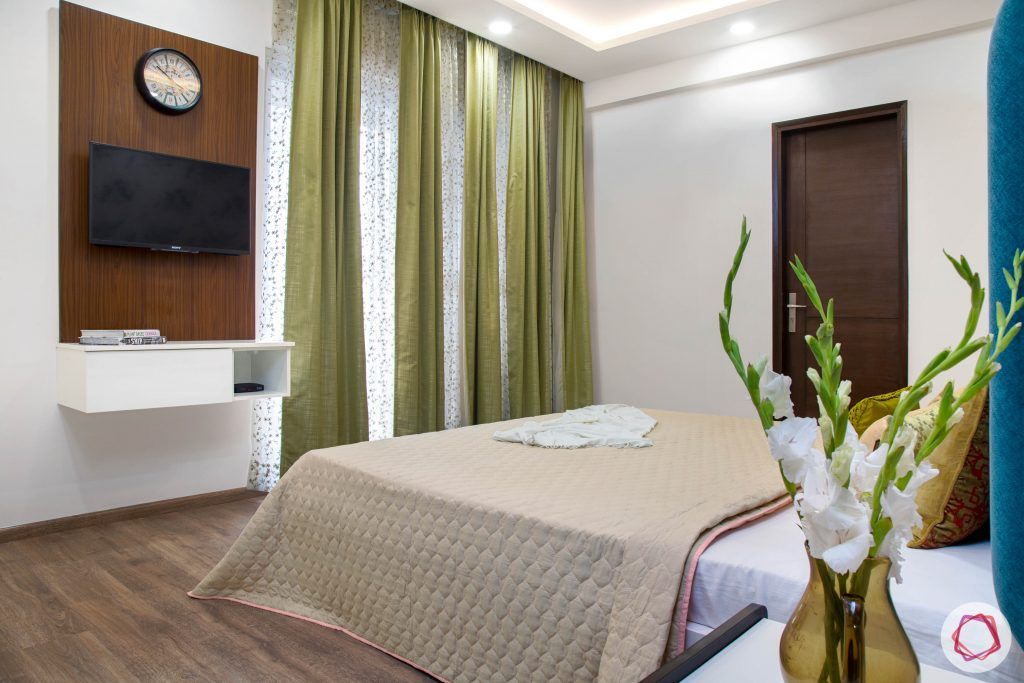 A master bedroom is more often than not, the most relaxing room at home. And what better colour than a soothing shade of blue, stolen right from the ocean? Neetu and Nitin fell for this lovely colour and Nidhi obliged. She gave them a plush upholstered headboard in blue, set against a fresh floral wallpaper. The layered drapes in green create an offbeat combination with the rest of the colours in this room at Cleo County, Noida.
Speaking about storage, Nidhi has filled this room with ample storage in the form of spacious wardrobes with lofts. With white finish, swing door shutters, this wardrobe does not make the room too heavy. The TV unit is a multi-functional spot where Nitin likes to work at times, too.
Cleo County, Noida: Blush Tones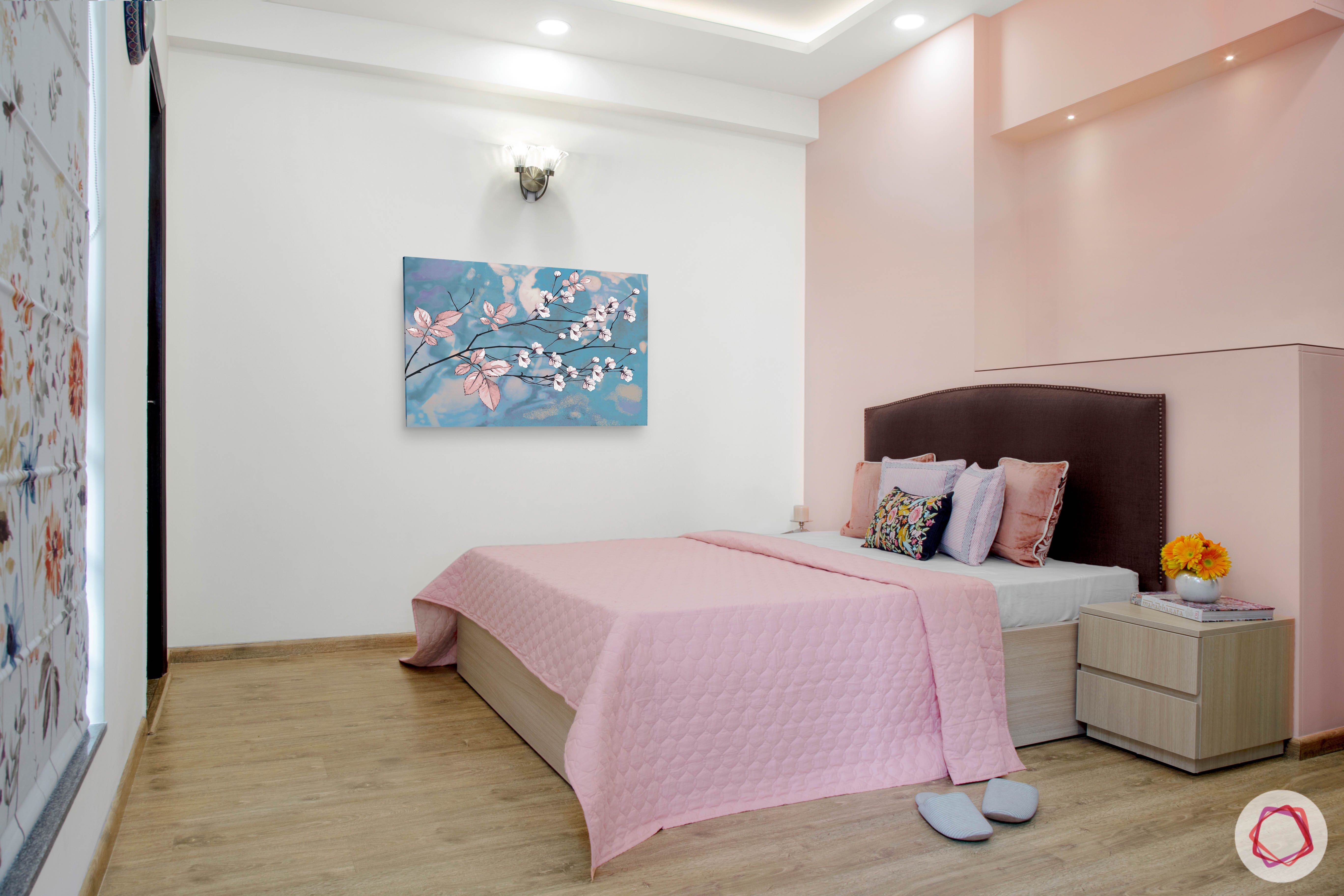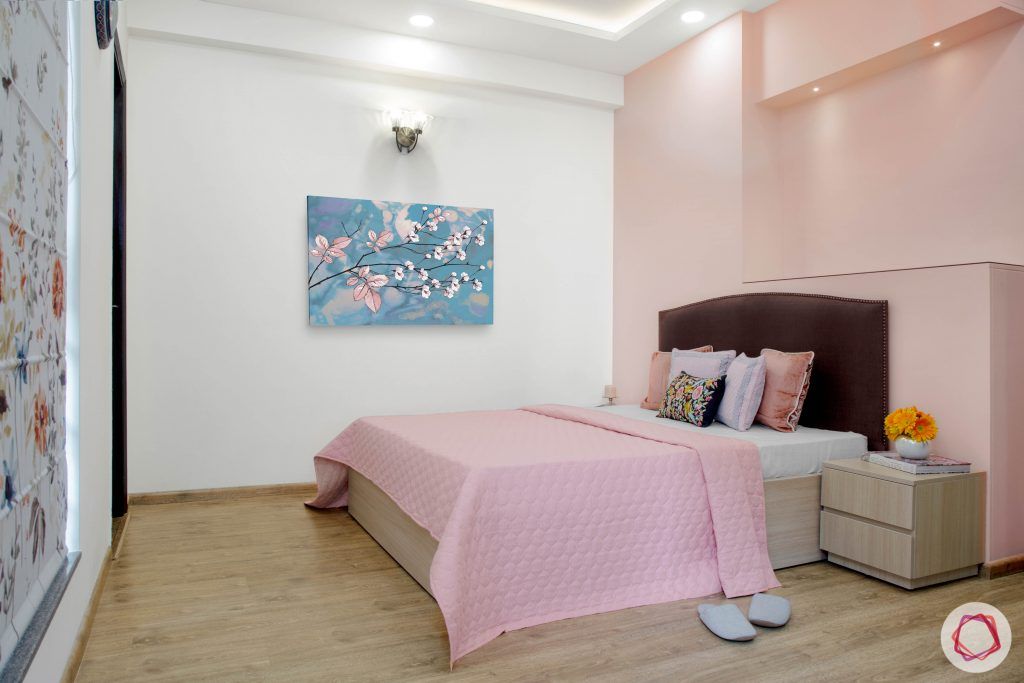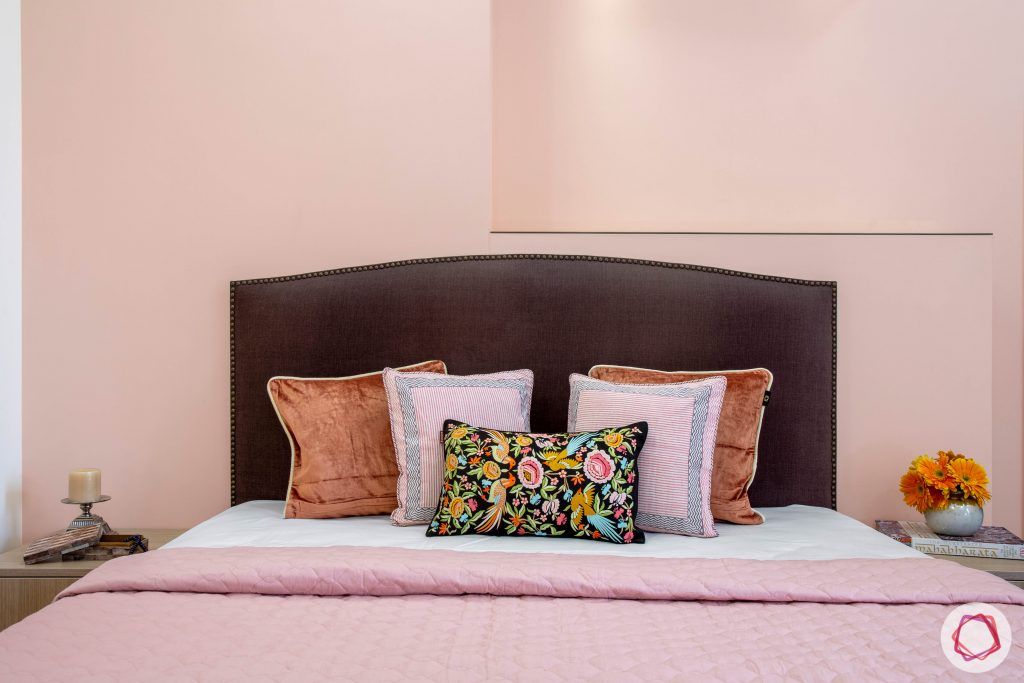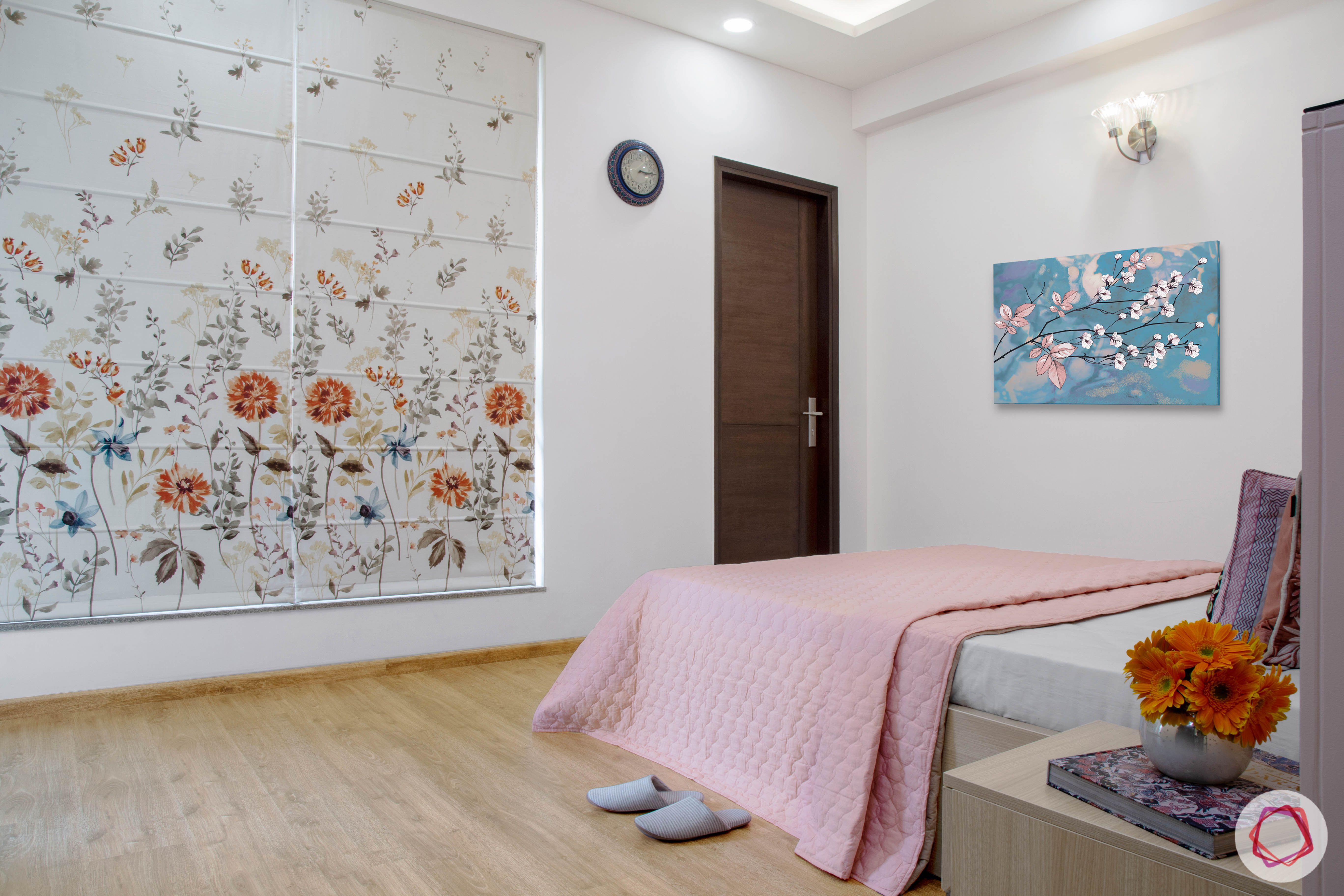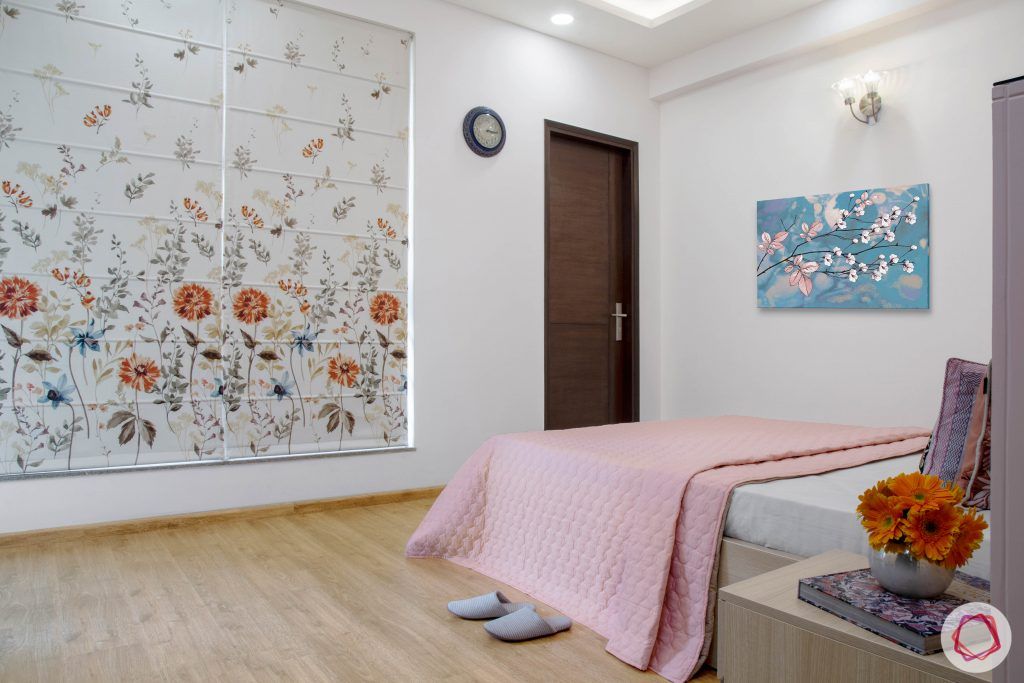 We love that hint of pastel in any corner at home. This room is used by the couple's parents whenever they are visiting them. Aptly enough, Nidhi added this pleasant pinkish-peach colour to the wall behind the bed. A nail-head trim headboard and complementing floral blinds seal the deal for this one.
"Nitin and Neetu were, by far, one of the best and sweetest clients I've worked with. They had just two major requirements, whites and florals. I kept these as the basis of my design and came up with ideas revolving around the same. I personally love adding a splash of colour to muted interiors to make it look a little striking. It was a delight to design for this family.

-Nidhi Agarwal, Interior Designer, Livspace
If this cheery home at Cleo County, Noida, made you smile, then take a look at another #LivspaceHome that we designed in Noida: Serious Design Goals Met at this Artsy 6BHK.
Send in your comments and suggestions.