A 3 BHK flat in Noida with the perfect amount of dazzle!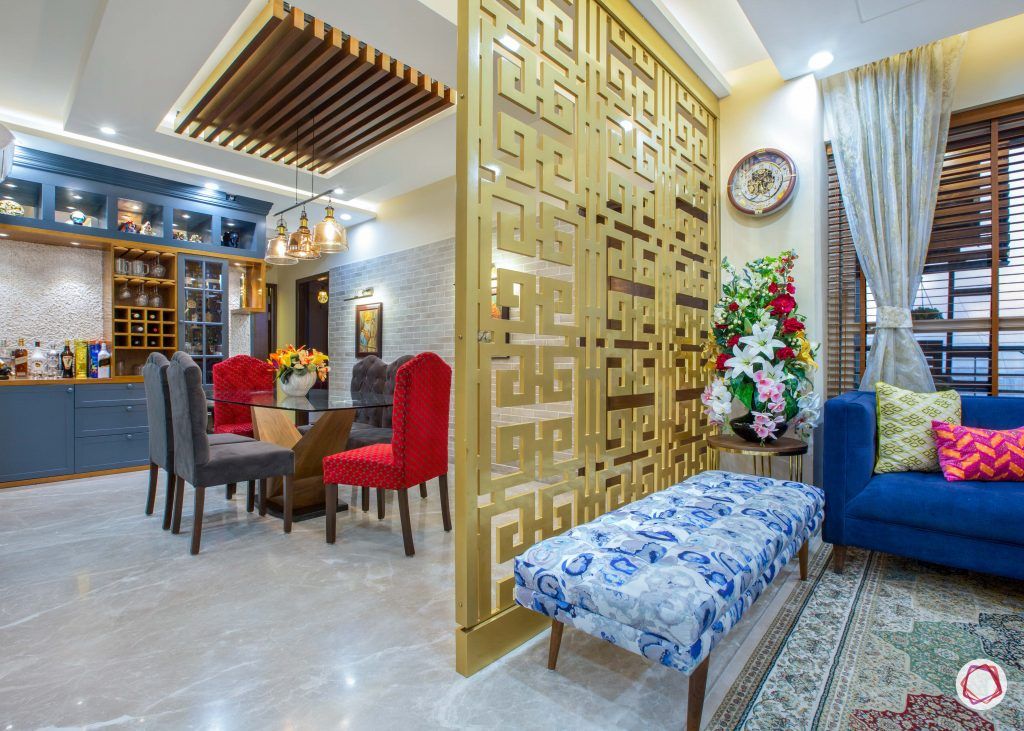 ---
Who livs here: Kunal Sood, his wife Ranjita and daughter Elieka
Location: Cleo County. Sector 121, Noida
Size of home: 3BHK spanning 2,700 sq ft
Design team: Interior designer Manpreet Kaur and Project Manager Sandeep Jain
Livspace service: Full home design (except kitchen and wardrobes)
Budget: ₹₹₹₹₹
---
Maximalism is a tricky design. It's so easy to cross the boundary into an overwhelming territory. But Livspace designer Manpreet Kaur knows a thing or two about crafting intelligent designs. When Kunal Sood and his wife Ranjita came to us, they revealed how they pictured their dream home: modern with plush interiors. Their 10-year-old daughter Elieka too had a few ideas of her own!
With Kunal running his own travel company and Ranjita who works as director for a pharmaceutical company, Livspace turned out to be a perfect solution for their full home design. Manpreet decked up the home in a vibrant colour palette, bold interiors and a maximalist design we absolutely love. Let's pop right in!
A medley of colours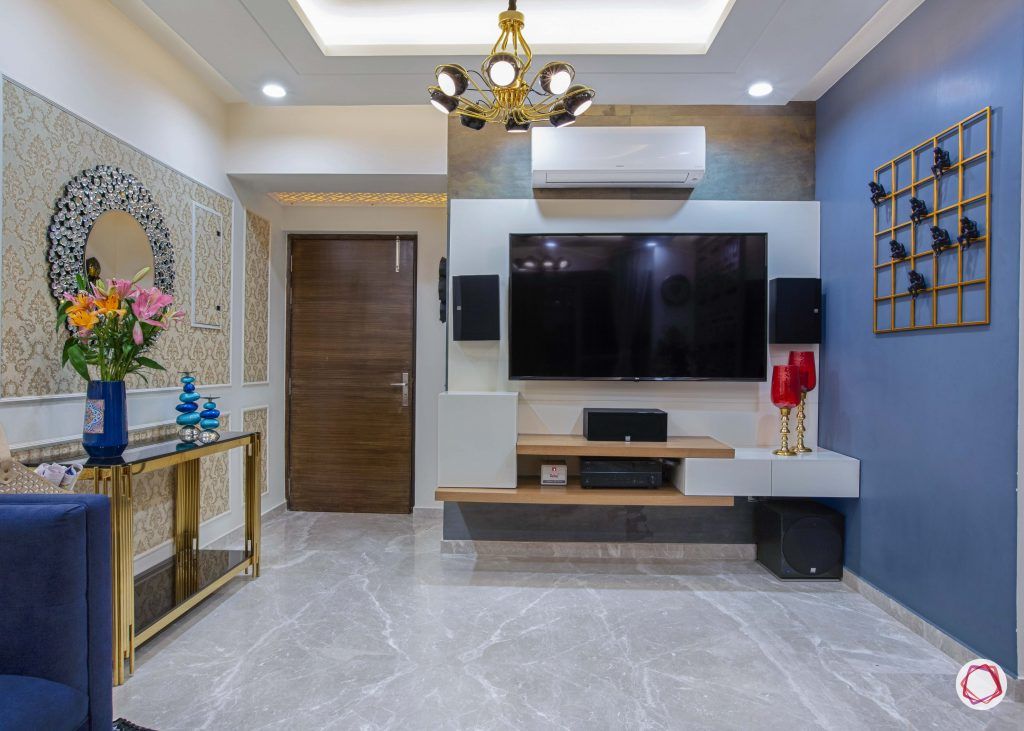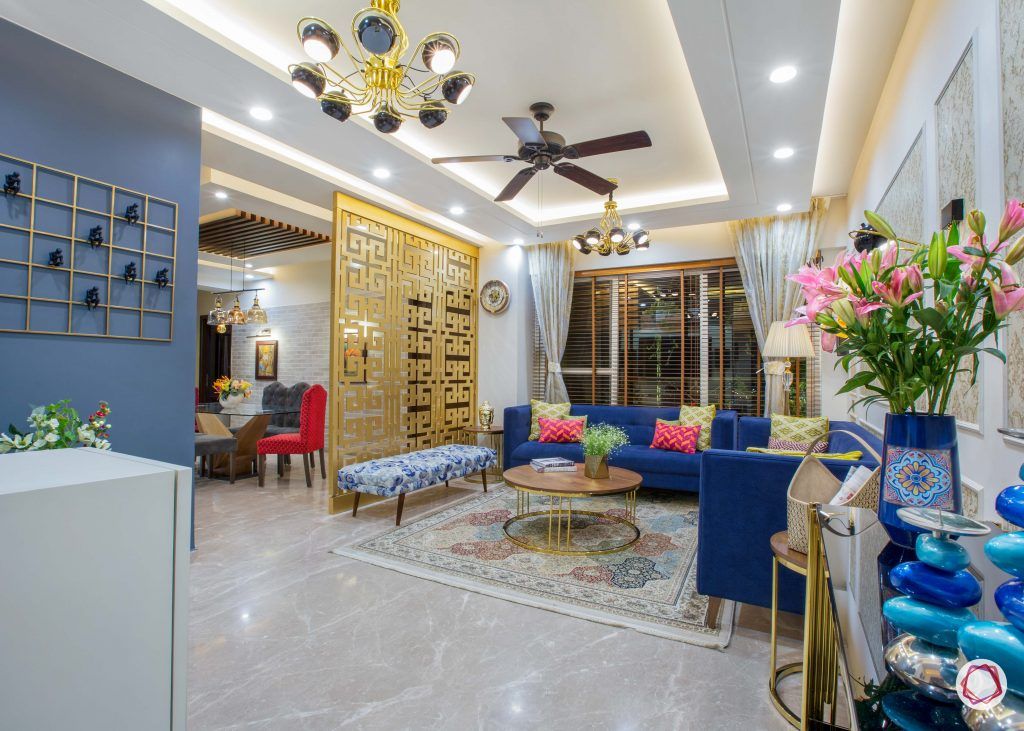 It would take a few moments to take in all the elements of the living room. Whether it's the grey painted wall with a gold accent piece or the sleek console table, the entrance makes a powerful statement. If you look closely, you would notice a jali above the main door. Since the ceiling had a cavity right above this door, Manpreet put in a backlit Corian jali as a sneak peek into the drama that is to unfold. The custom-made TV unit is a blend of intriguing elements. Topped off in PU paint with a laminate finish for the wooden work, it's mounted on stone veneer.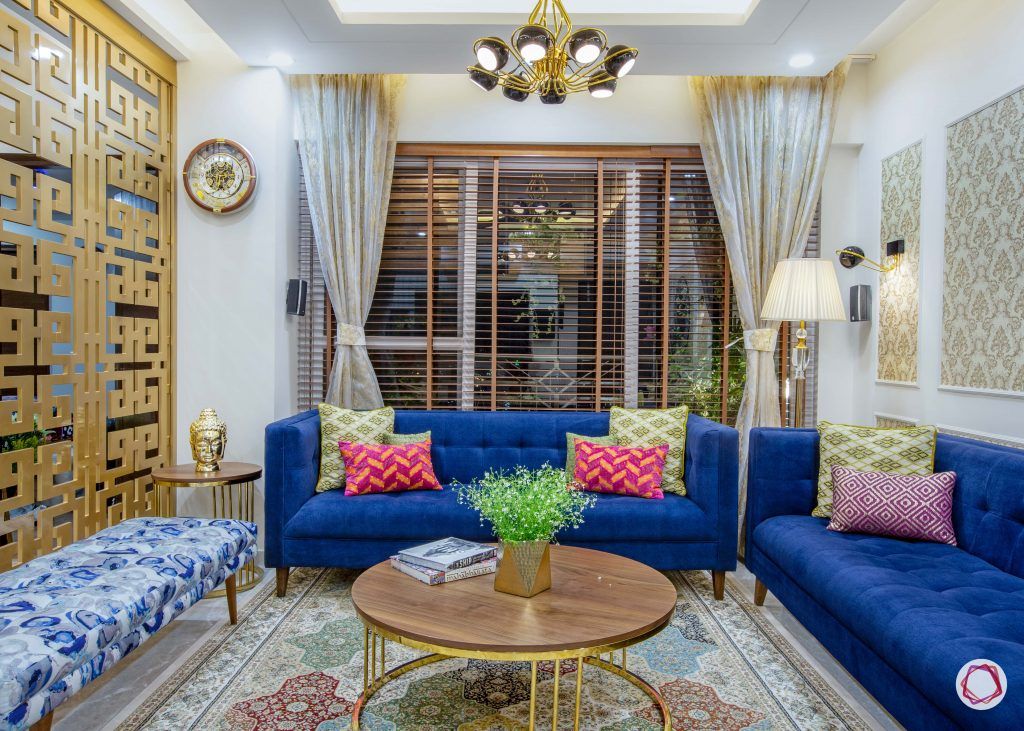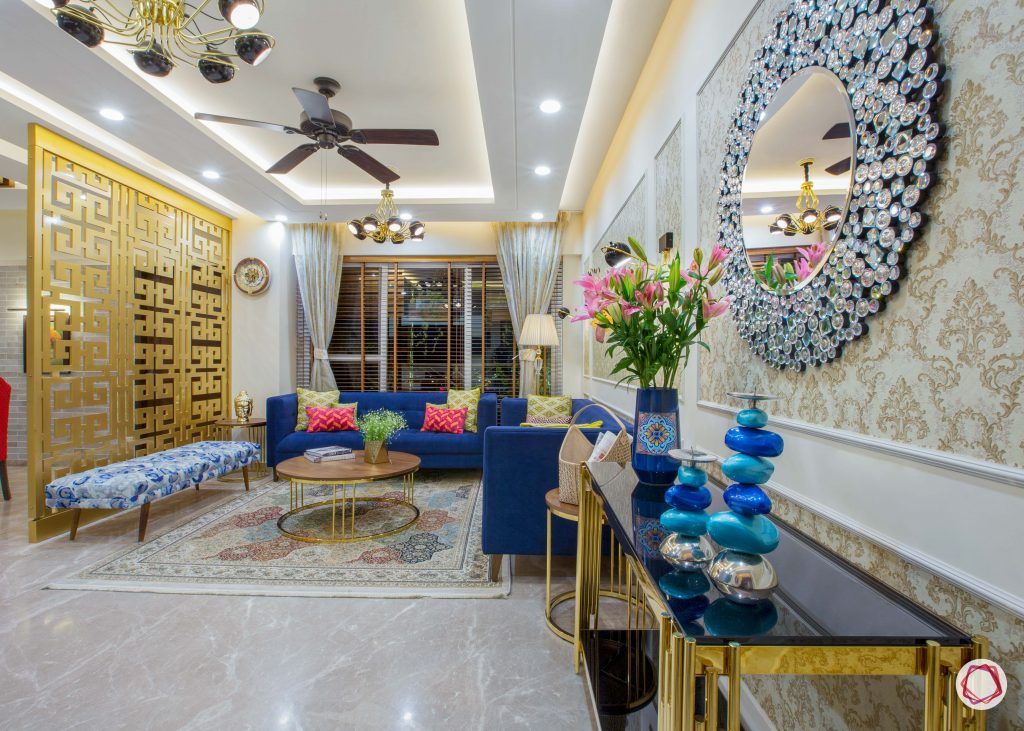 The wall too has a personality of its own. Manpreet decked the wide wall with sections in trims and put in a subtle motif wallpaper. A majestic gold-toned jali divides the dining room from the living room. Vibrant blue sofas, a cushioned bench and a rose gold-toned centre table makes up for the living space. Notice the industrial-inspired lights? It hangs from a false ceiling that's been lined with spotlights.


Luxe Dining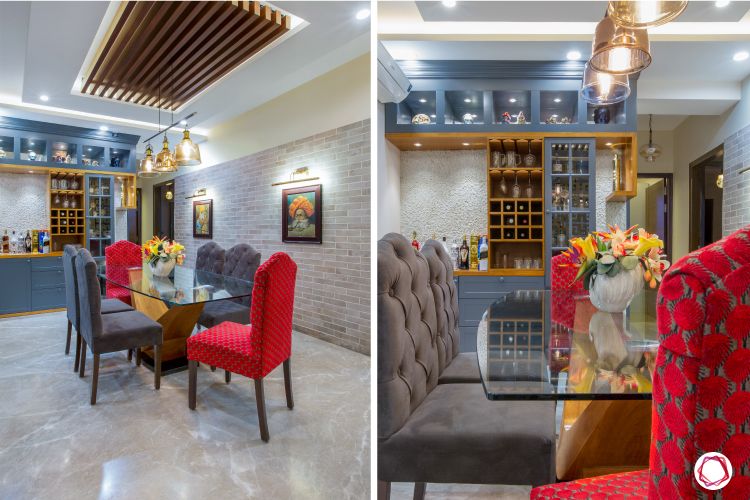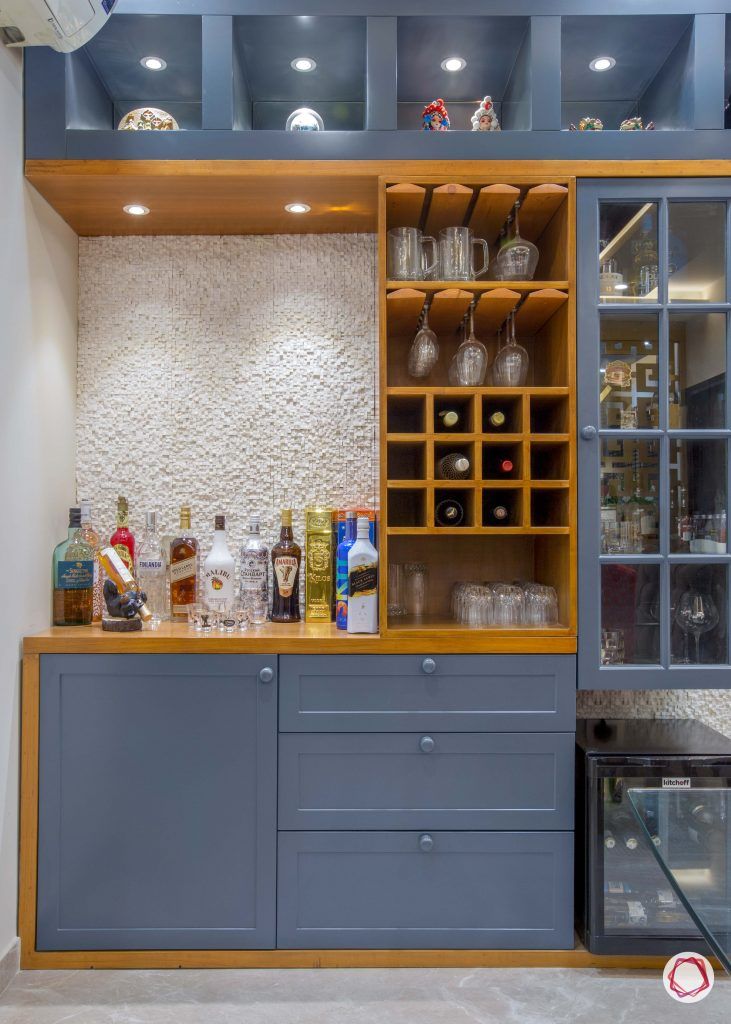 The dining room is a dazzling spectacle. While the table is part of the family's original set of furniture, the chairs are custom made with upholstered fabric. Metal rafters centering above the dining table offer bit of dimension to the space while the industrial lights are perfect to set the ambience. Wouldn't you want to dine in style as well?
Take a look at the white brick tiles. The Soods want to decorate this wide wall with photographs eventually. If you ask the couple, their favourite part of the house, they would happily point at their bar unit. We couldn't agree more! Standing in grey and wooden tones, the unit is much more than a bar nook. The smart unit has open racks for wine bottles, open shelves to display their favourites, and concealed storage to keep their essentials.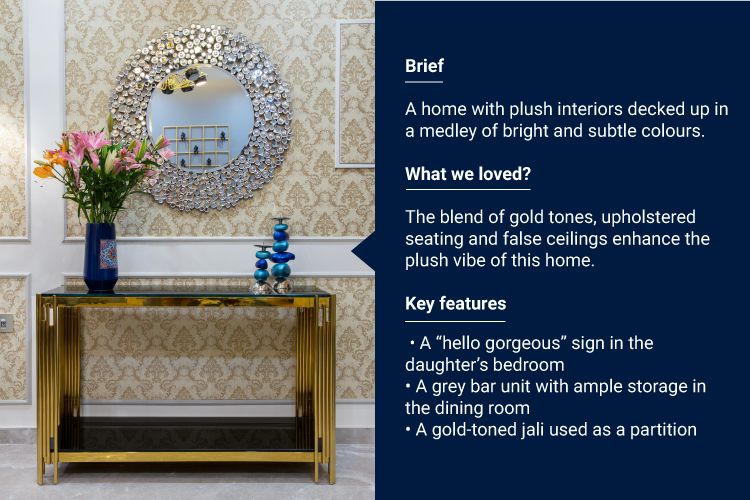 For the love of prints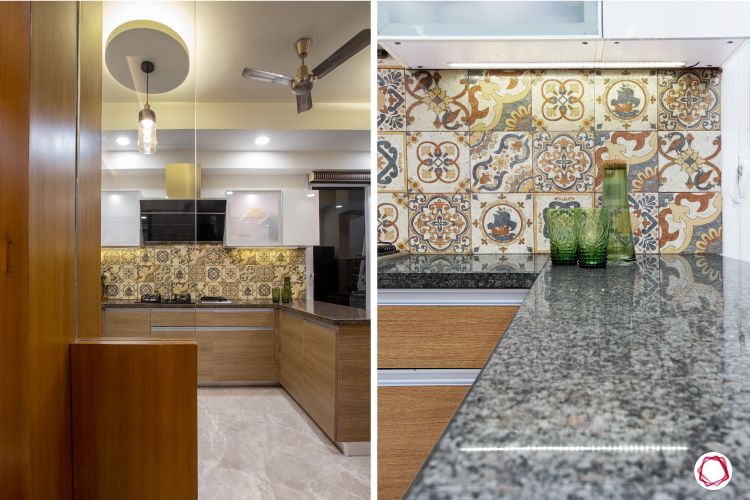 While their kitchen is modern and exactly how they want it, the Soods felt like the plain white tiles on the backsplash lacked a certain zing. Manpreet replaced them with beautiful printed tiles to spruce things up.
Comfy Living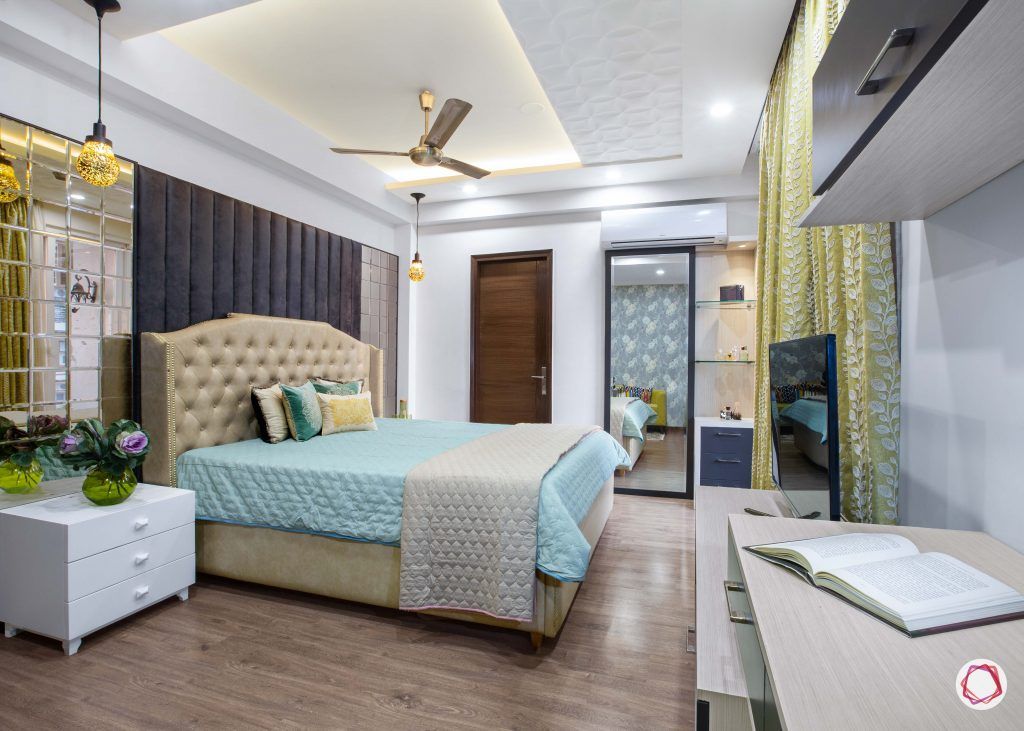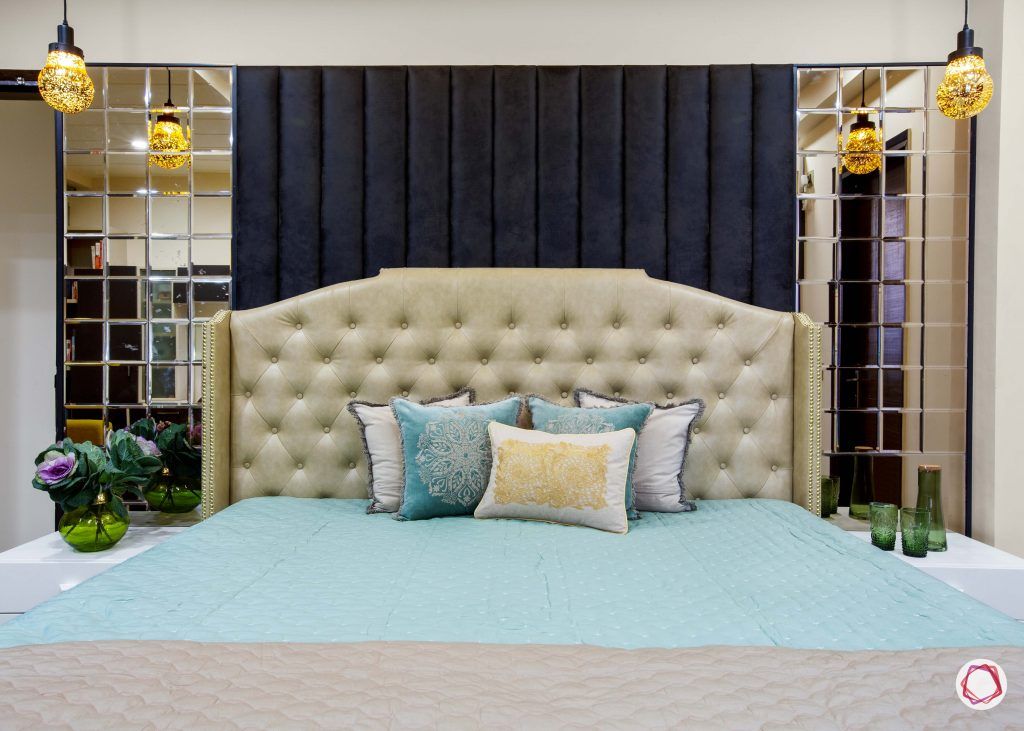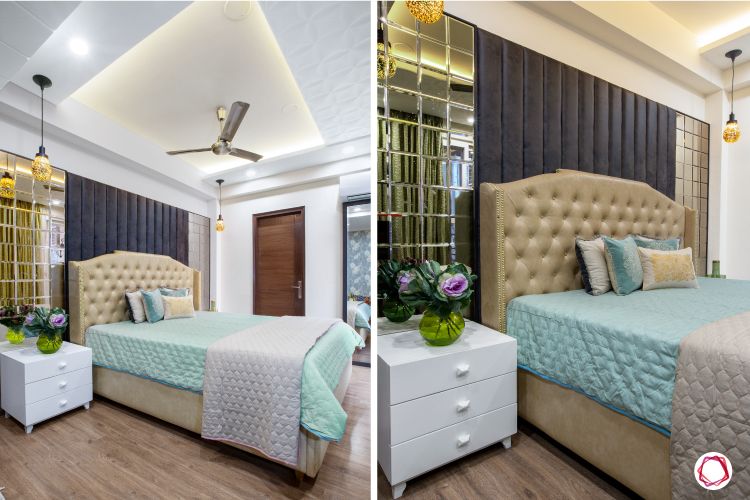 With a custom made completely upholstered bed and a comfy yellow sofa, the master bedroom is the definition of comfortable space. "It has to look like a master bedroom" the Soods revealed to Manpreet during discussions. Tinted bejeweled mirrors feature on both sides of the bed while the centre wall is done up in dark grey cushion panels. The pendant lights on either side add the right amount of warmth to the space.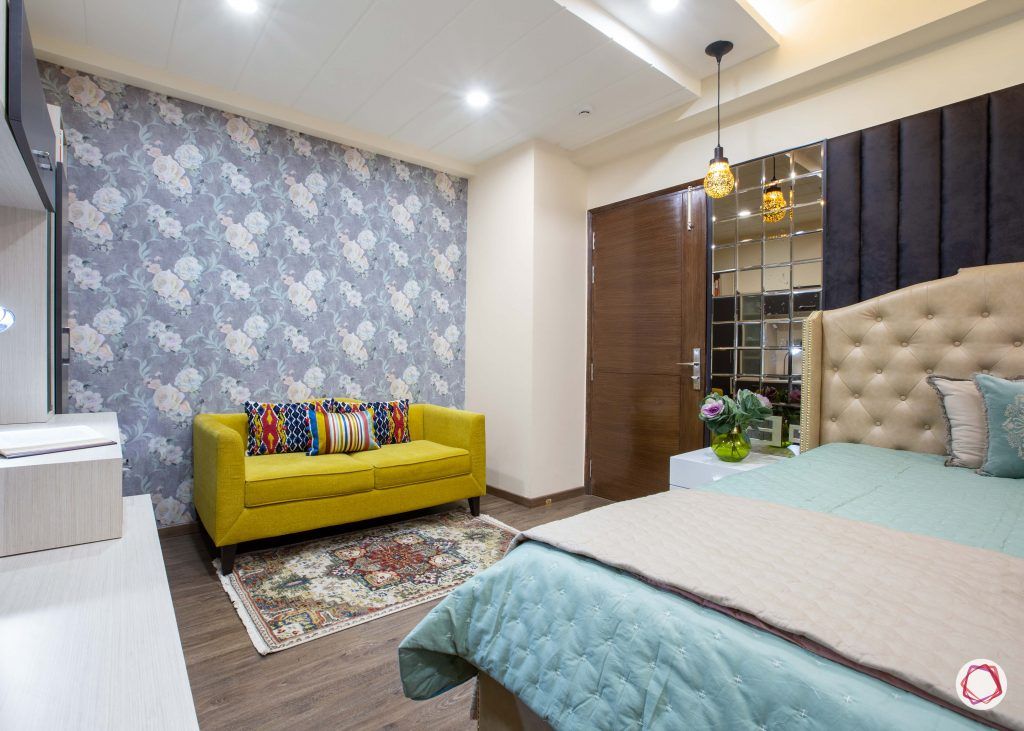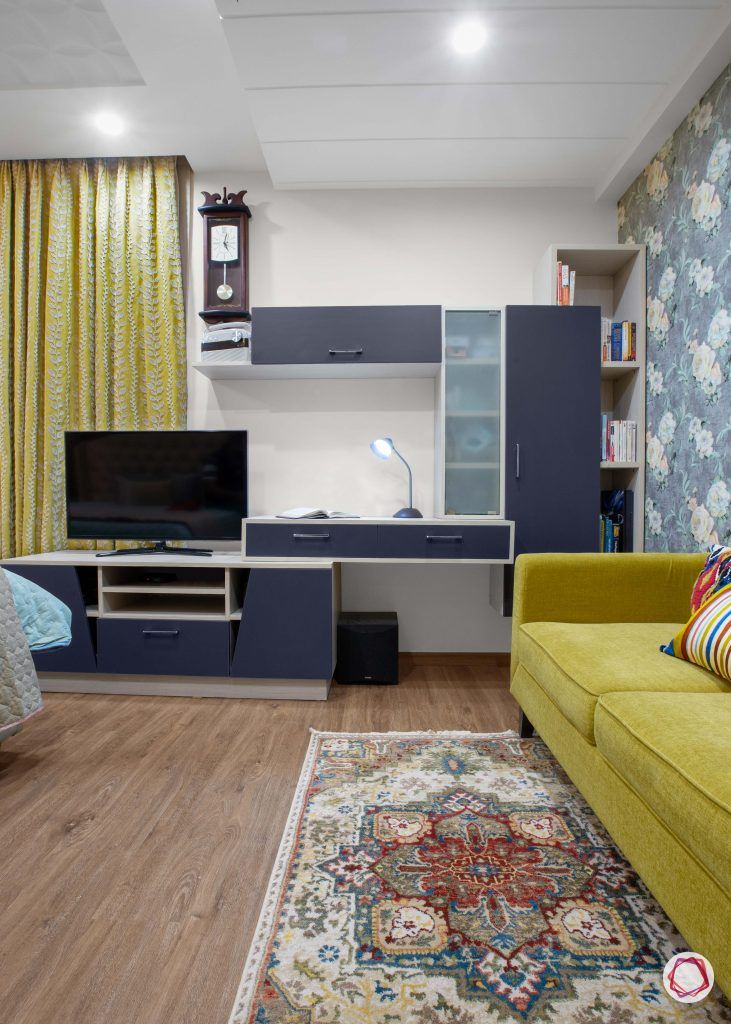 On the opposite side of the bed, sits a slate grey study-cum-TV cabinet. The laminate-finished unit features both open and closed storage for the couple to keep books and other essentials. Since floral prints weren't used in any part of the home, Manpreet choose up a subtle floral wallpaper behind the sofa to add softness to the room.
Queen of the castle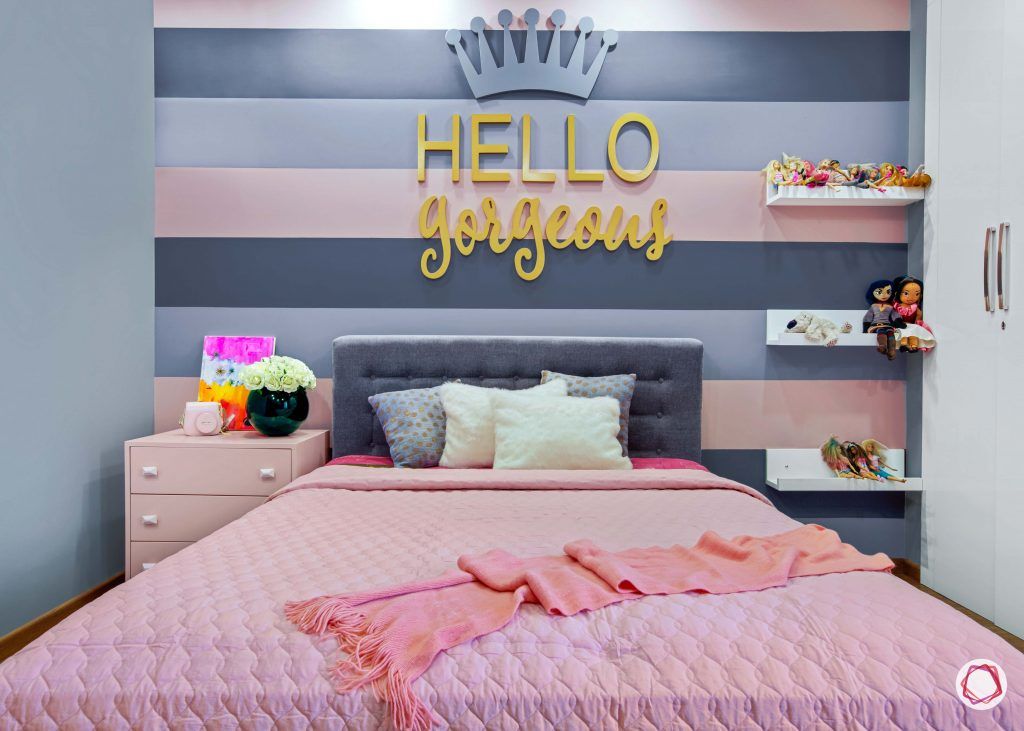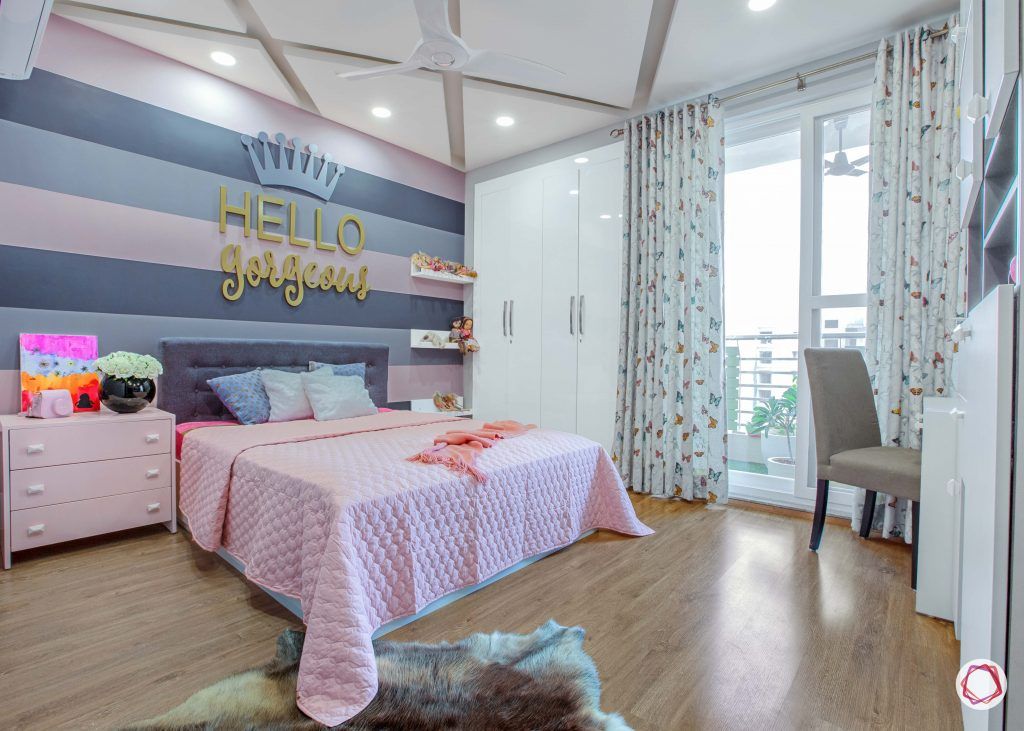 In a discussion with us, Kunal Sood revealed their daughter's bedroom gets all the attention from friends and guests. We can see why! A "hello gorgeous" sign done up in gold PU paint topped off with a crown in grey are the show runners of this playful room. The centre wall features stripes of pink and grey hues. Open ledges proved to be a smart choice so that Elieka could display her favourite toys.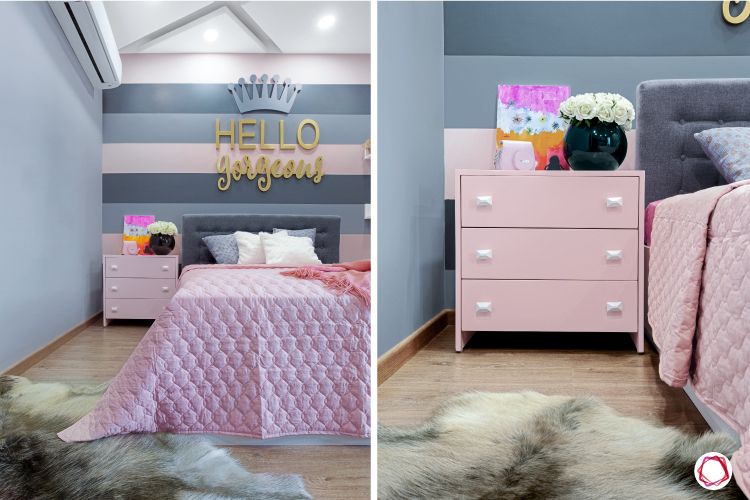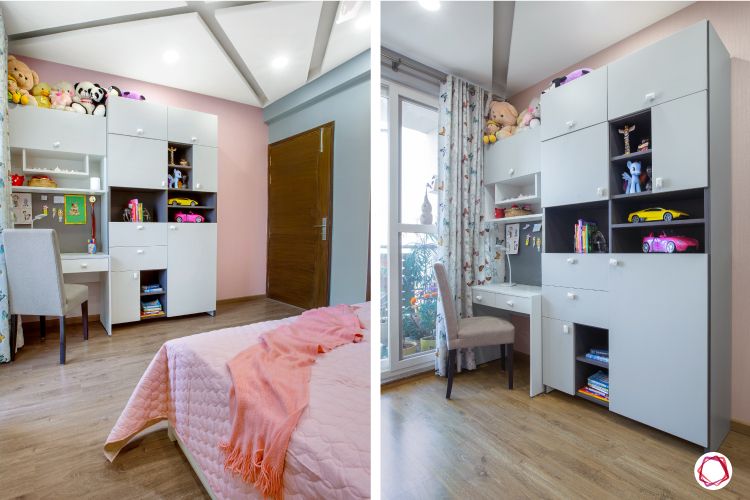 The study-cum-storage cabinet in a light grey hue pairs well its colourful surroundings. Also, take a moment to notice the false ceiling. It's been done up in triangular sections to keep things intriguing for their 10-year-old daughter.
Wooden Wonder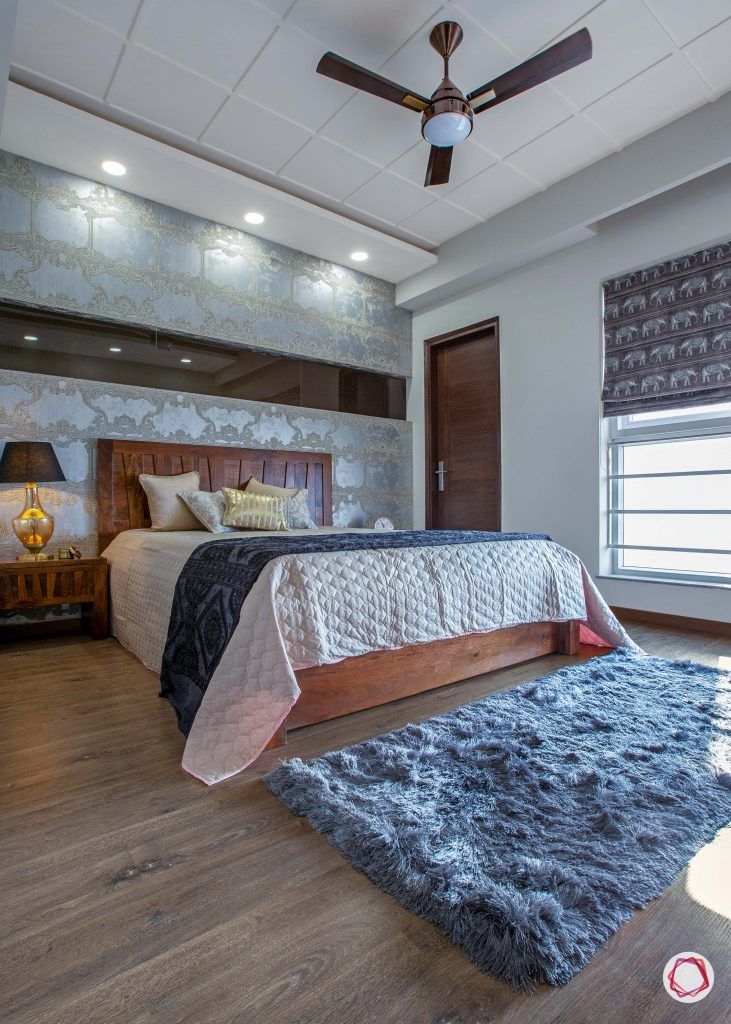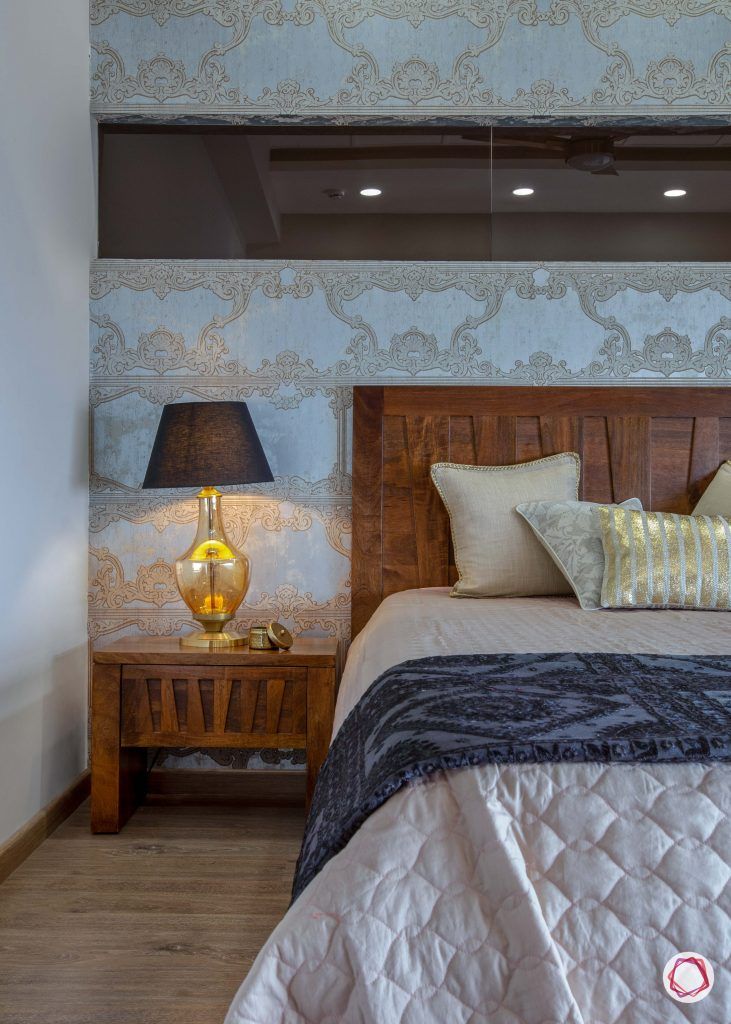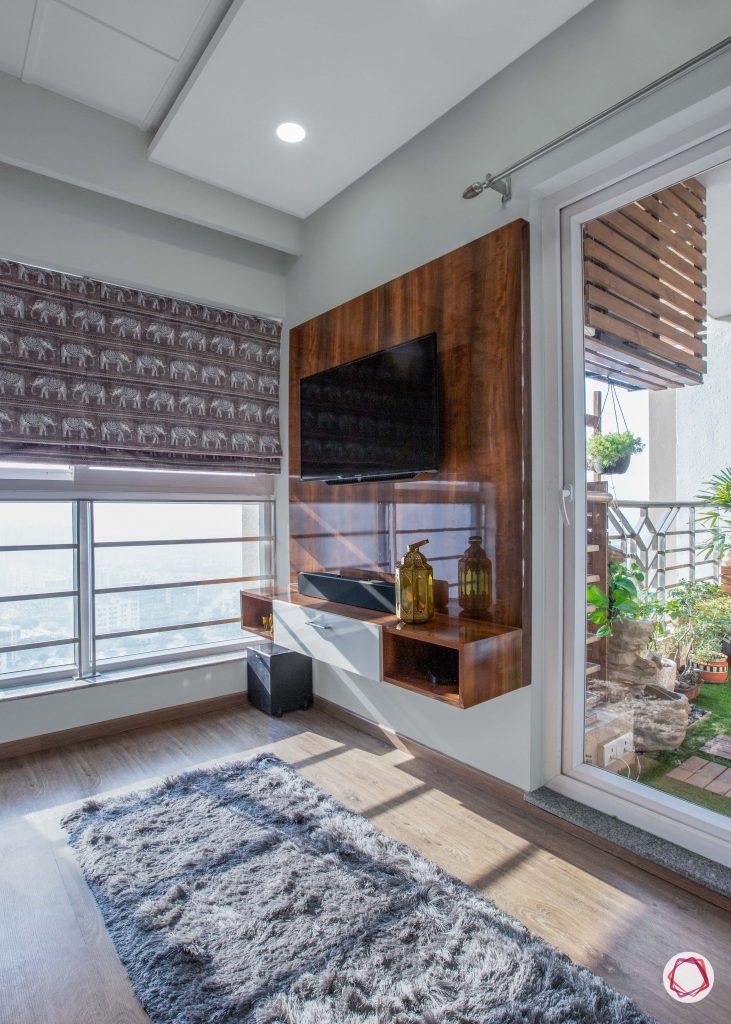 The guest bedroom is an ode to wooden interiors. Since Kunal and Ranjita love solid wood, it was an obvious choice for their bed, the tables on either side of it and the TV cabinet. Of course, just like the other bedrooms, the centre wall here is a visual treat. It features a wallpaper in powder blue with silver finish and a brown lacquered glass running through the middle.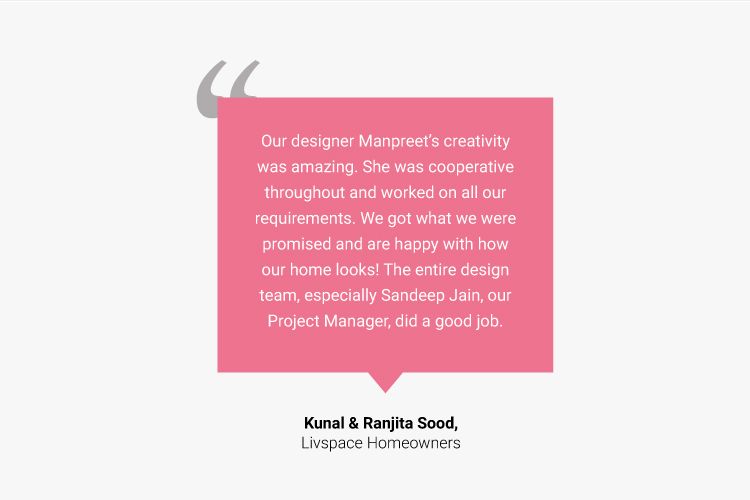 "For a designer, crafting a home that's heavy in design is like a dream come true! This home is just that. I enjoyed the entire experience."

– Manpreet Kaur, Interior Designer, Livspace
If you liked this home, take a look at Gold Tones & Artistic Vibes For This Modern Home for more inspiration.
Send in your comments and suggestions.