New house design for a family home in Noida.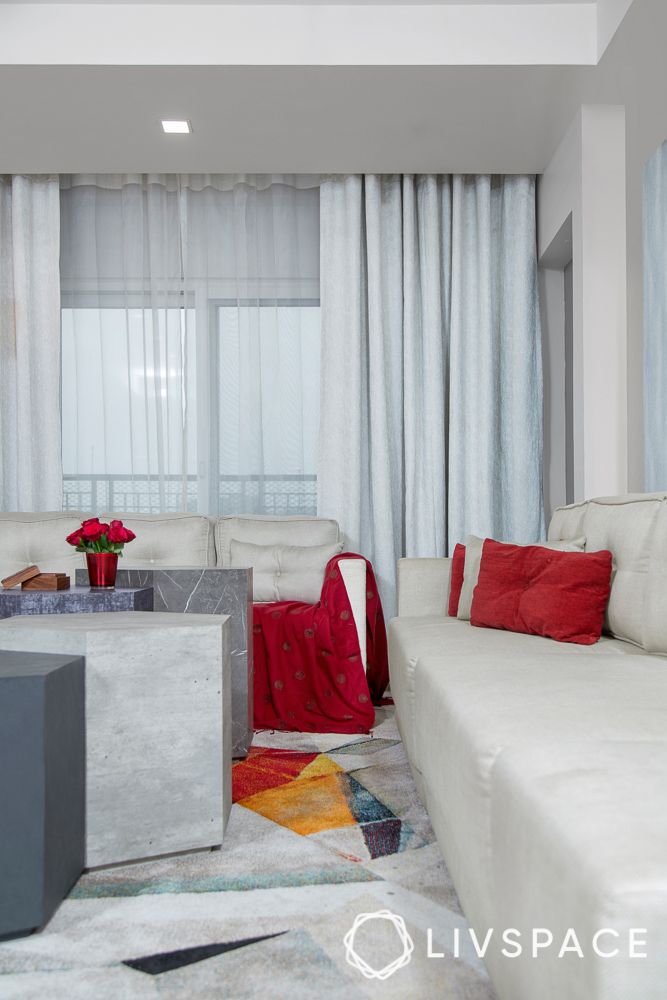 ---
Who livs here: Anusha Jain with her husband Ankush, daughter Ava and parents-in-law
Location: Gulshan Vivante, Noida
Size of home: 4BHK spanning 2,800 sq ft approx.
Design team: Interior Designer Somya Chaturvedi and Quality Manager Namen Baghla
Livspace service: Full home design
Budget: ₹₹₹₹₹
---
Take a seat, ladies and gentlemen. We're about to tell you a delightful story of a young family residing in Noida. When Anusha and Ankush were expecting their first child, they realised they needed a bigger place, preferably somewhere closer to their workplace. They narrowed down on the spectacular Gulshan Vivante in Noida. Harbouring dreams of their beautiful future, they wanted nothing but the best, especially for their dream home. This working couple was sure of one other thing — they did not want to spend a lot of time haggling with carpenters and contractors. Livspace turned out to be the befitting choice for end-to-end services for their home interiors.
Therefore, they met designer Somya and gave her a complete picture of what they wanted their home to look like. Now, all they had to do was sit back and relax, while the designer worked her magic! Also, their new abode is named after their daughter, Ava. How sweet is that? We take you through their home, designed to be as charming as them.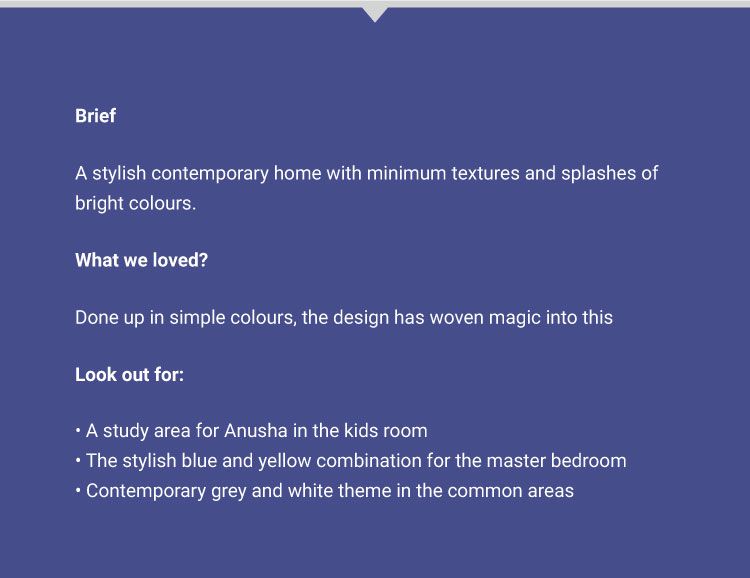 A porcelain and crimson living room in this new house design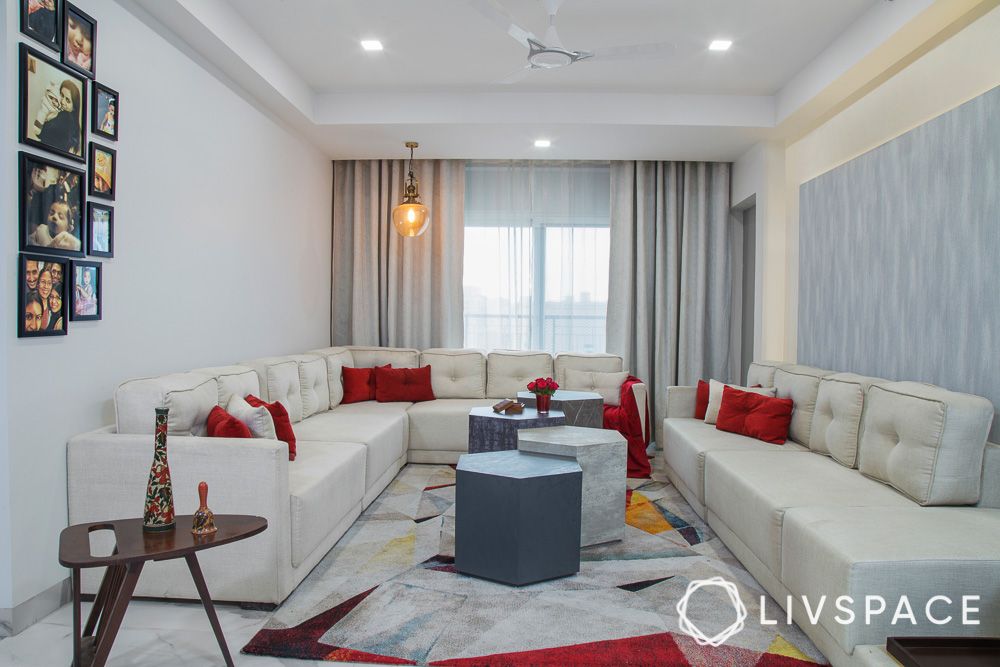 Anusha and Ankush love contemporary living and one thing they were certain about, was that want smooth edges and plain walls in their home. When you step into their living room, you will be welcomed by a huge cream sofa set in a large space. In conversation with us, Somya told us that she wanted to create one accent wall, so she gave them this textured blue wallpaper on one side.
Used only to entertain friends and family, the living room is a spacious haven for them. The rug with abstract print adds a splash of colour to this space and the corner wall holds some precious memories of the family.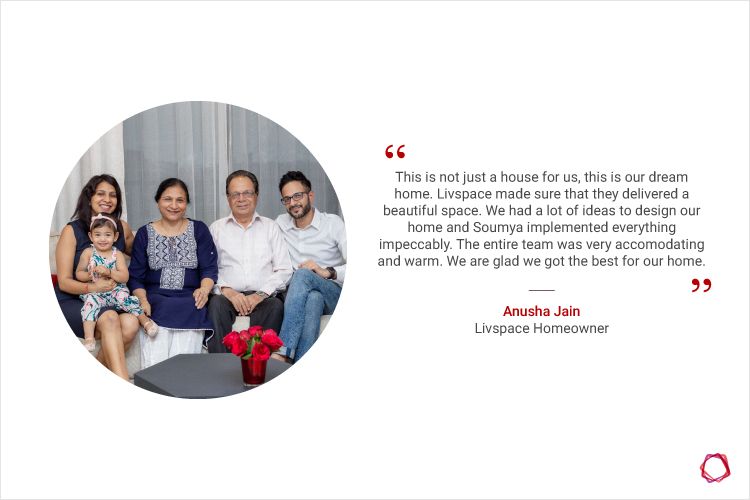 Attention to detail in this new house design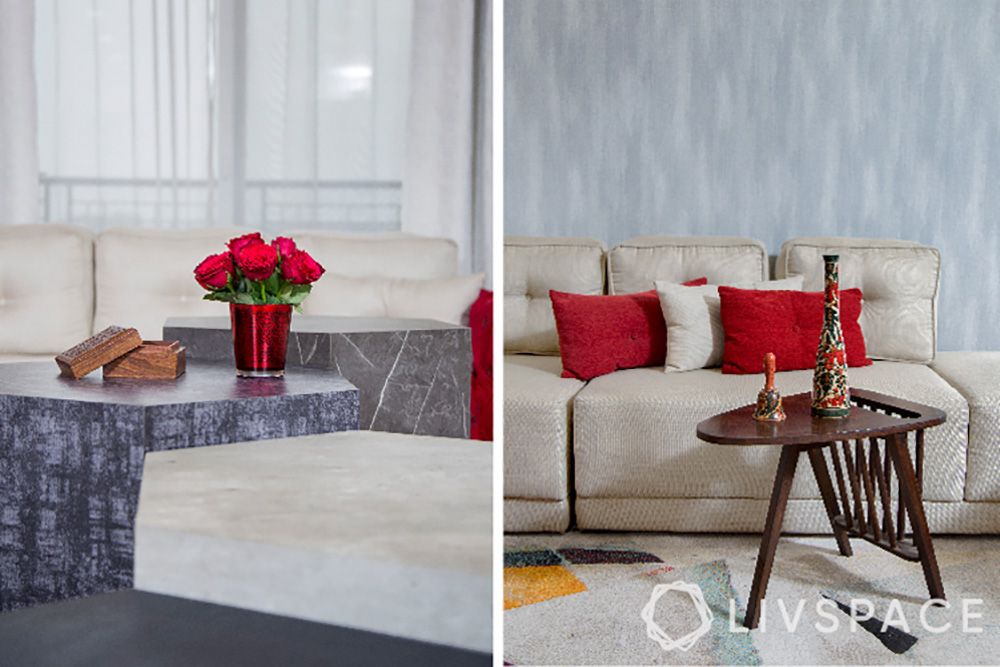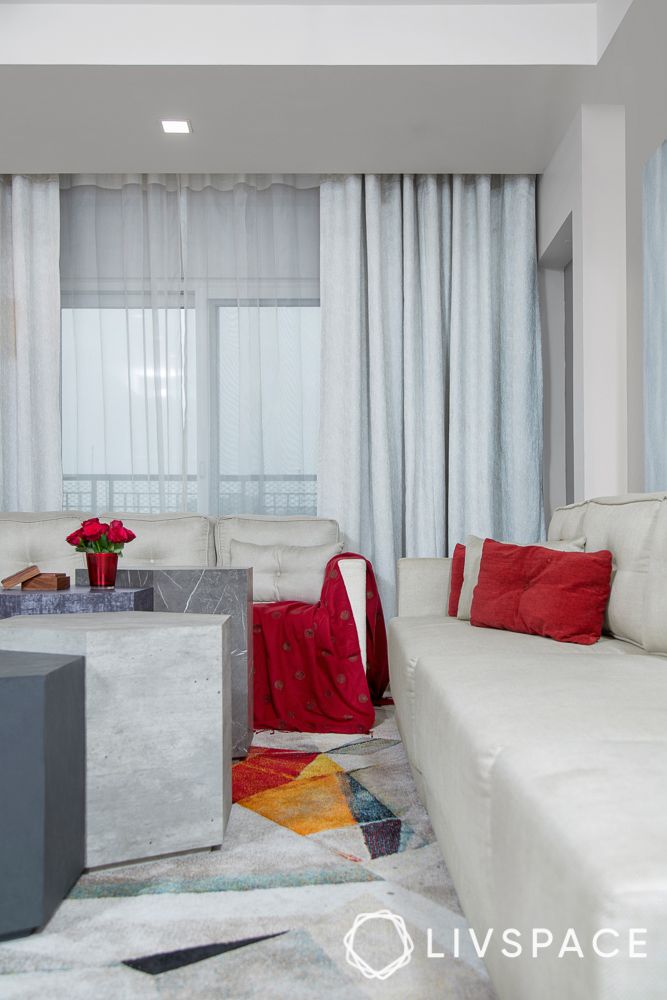 One striking feature that one cannot miss in this living room, is the stylish hexagonal coffee table. The theme Somya had in mind while designing the common ares if this home was grey and white, hence she selected various shades of grey and white for the coffee tables as well. Dominantly contemporary in design, these tables can be moved around as and when required.
Another stylish addition is the functional side table that has a separate section for newspapers and magazines. Somya has certainly given attention to detail in this home.
A grey and gorgeous kitchen in this new house design
"The clients had very good taste in decor and colours, that matched with my design sense," says Somya. The kitchen looks extremely stylish with the same colour theme as the living room — grey and white. Some may consider that a boring combination for a kitchen. Well, take a look at this one and decide for yourself!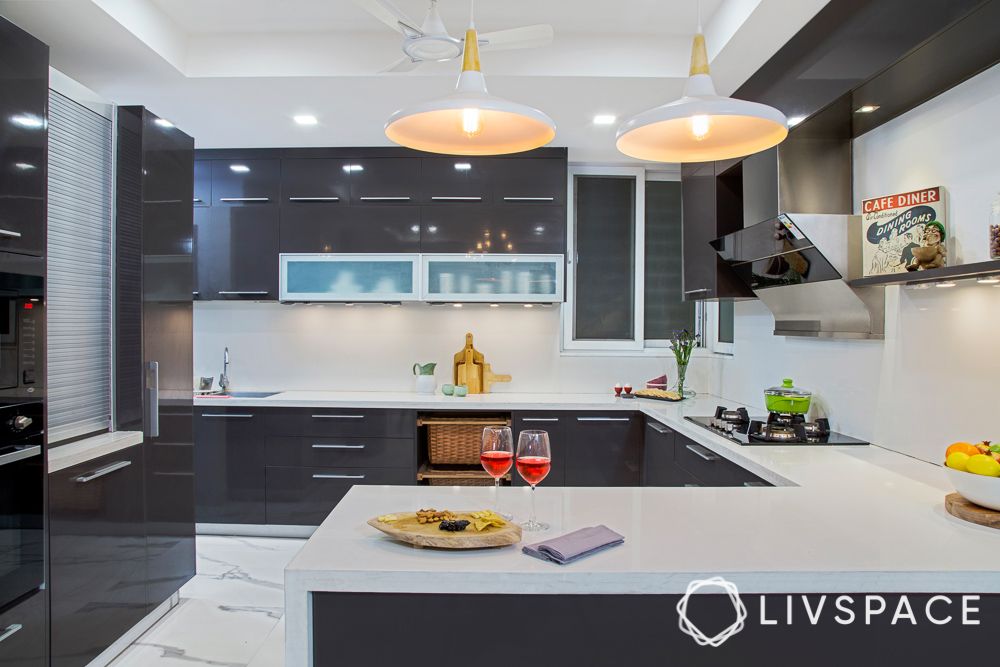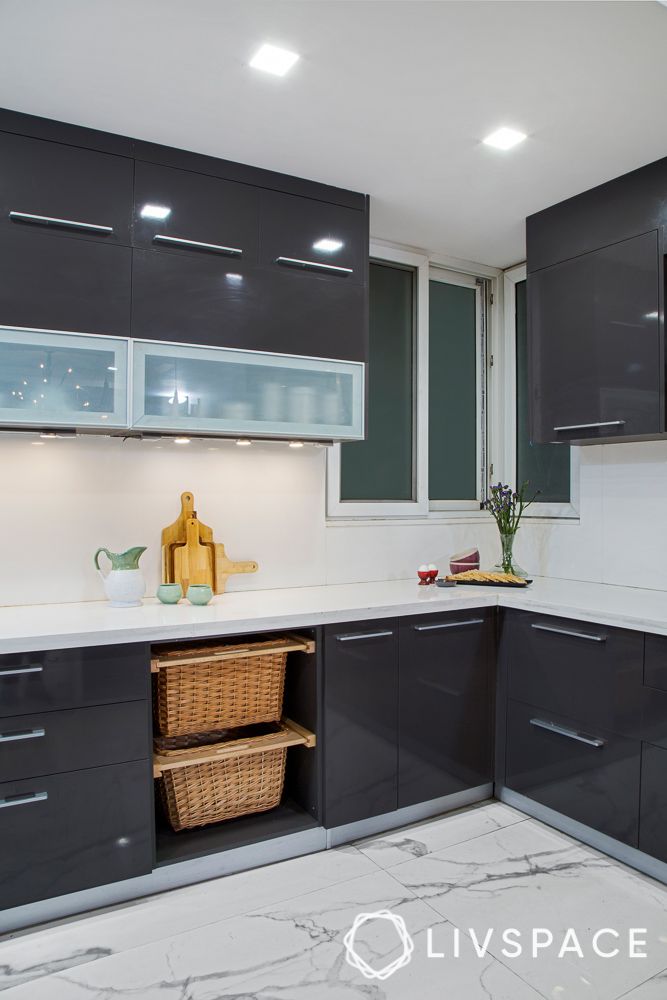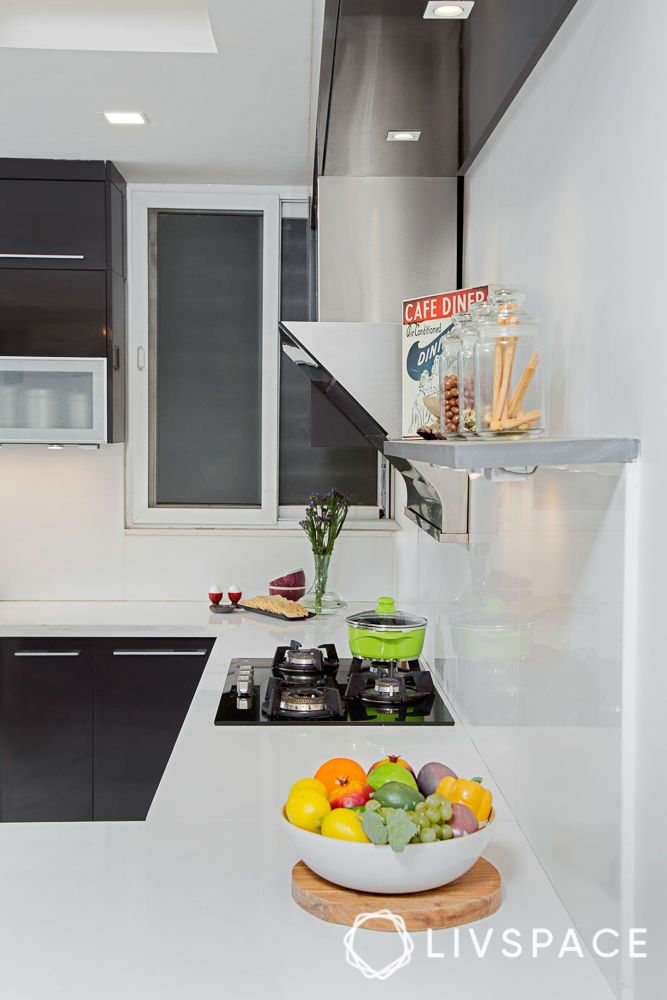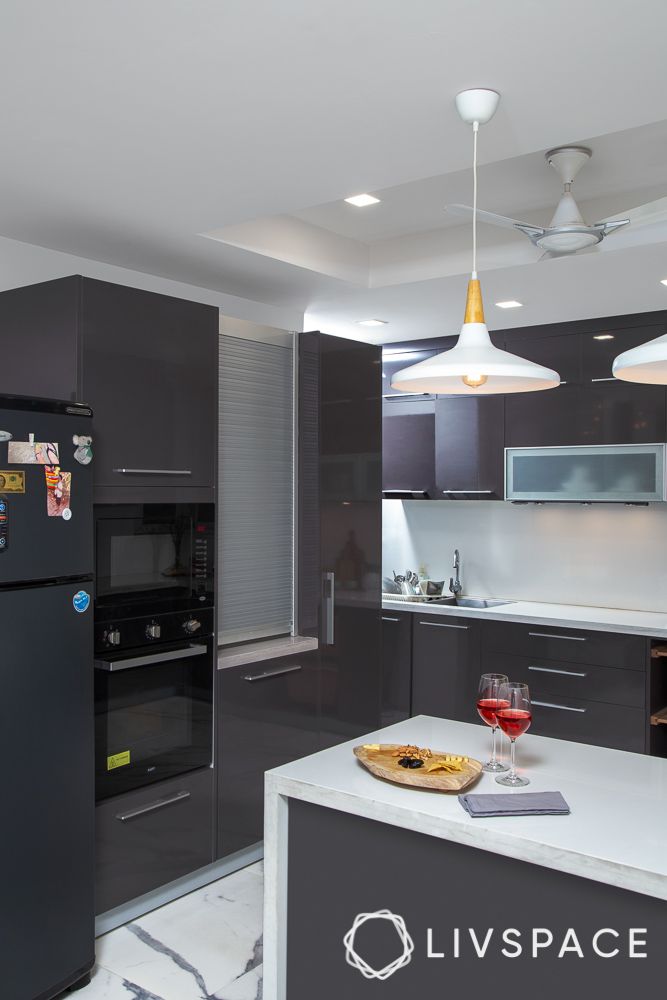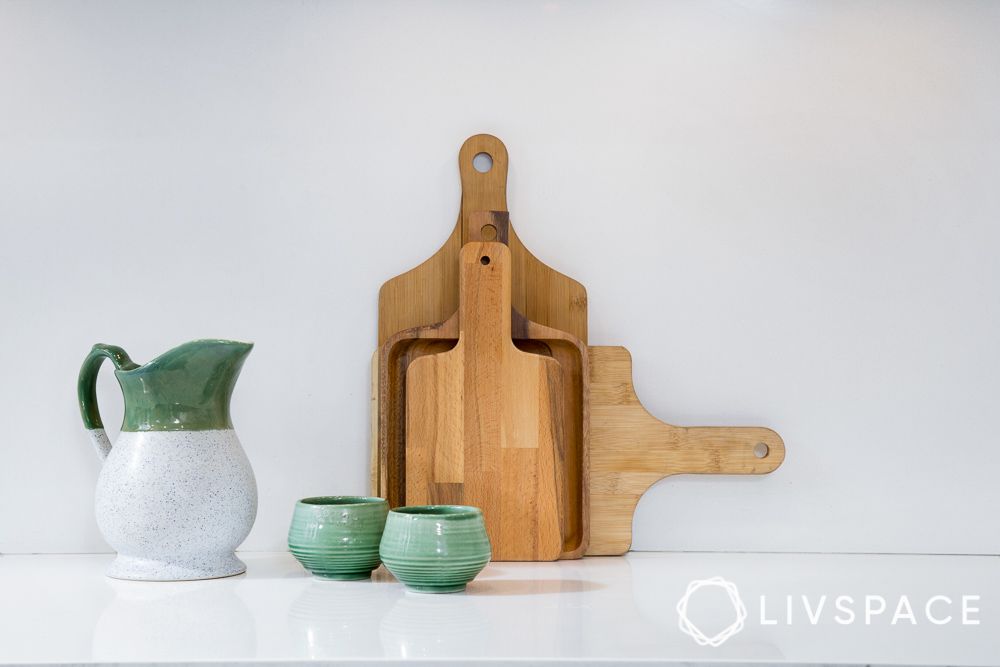 With roller shutter and a built-in microwave oven unit, the appliances have been taken care of. Corner units, drawers, cutlery units, bottle pull-outs, spice pull-outs, tandem boxes and wicker baskets take care of storage and functionality.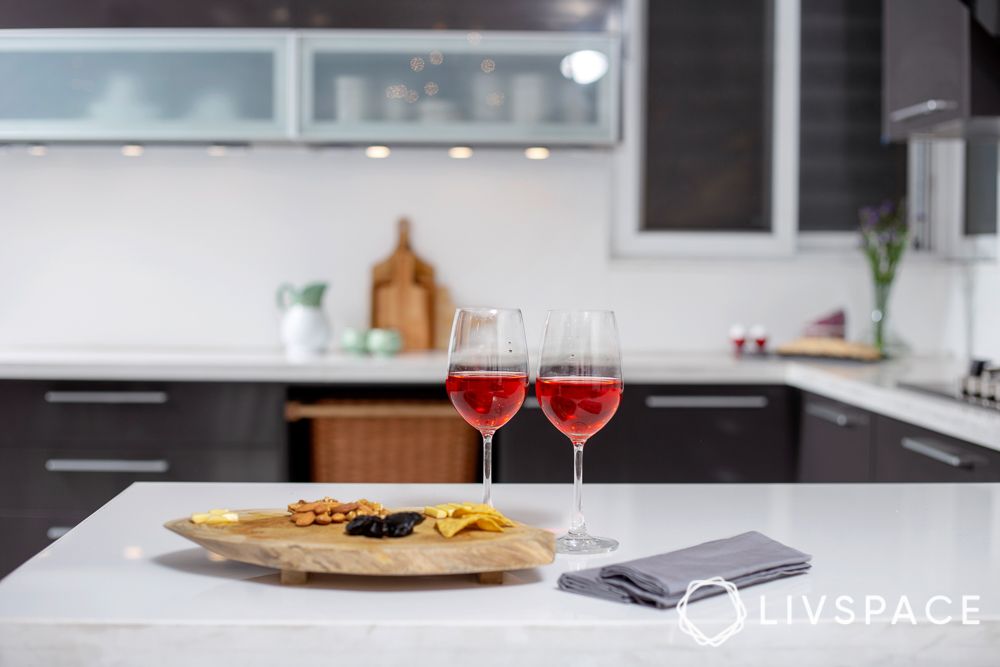 The breakfast counter acts as a separator between the dining area and the kitchen, to maintain privacy and give the kitchen some dimension. With the easy-to-maintain and luxurious kalinga stone countertop, this kitchen is no less than perfection!
A bar unit for the socialising couple in this new house design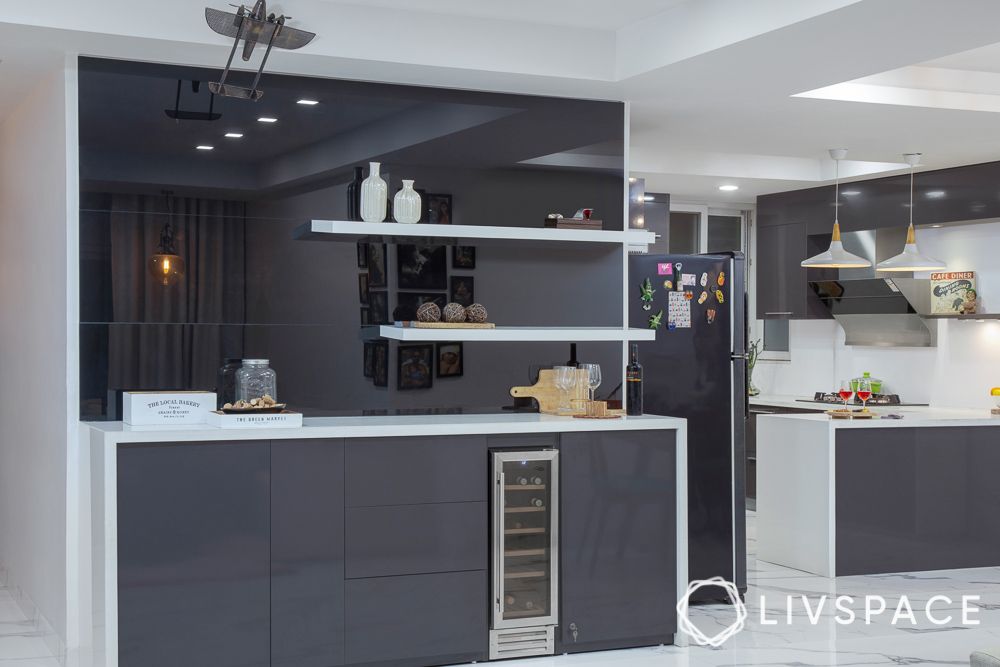 Very few people invest in getting a full-fledged bar unit at home that houses their favourite spirits. But this sociable couple wanted an exclusive bar area with dedicated space for a wine cooler and shelves to keep their exclusive drinkware. To make things a little glossy, Somya gave them a mirrored back panel to complete the look. Stylish, don't you think?
Entertainment and more in this new house design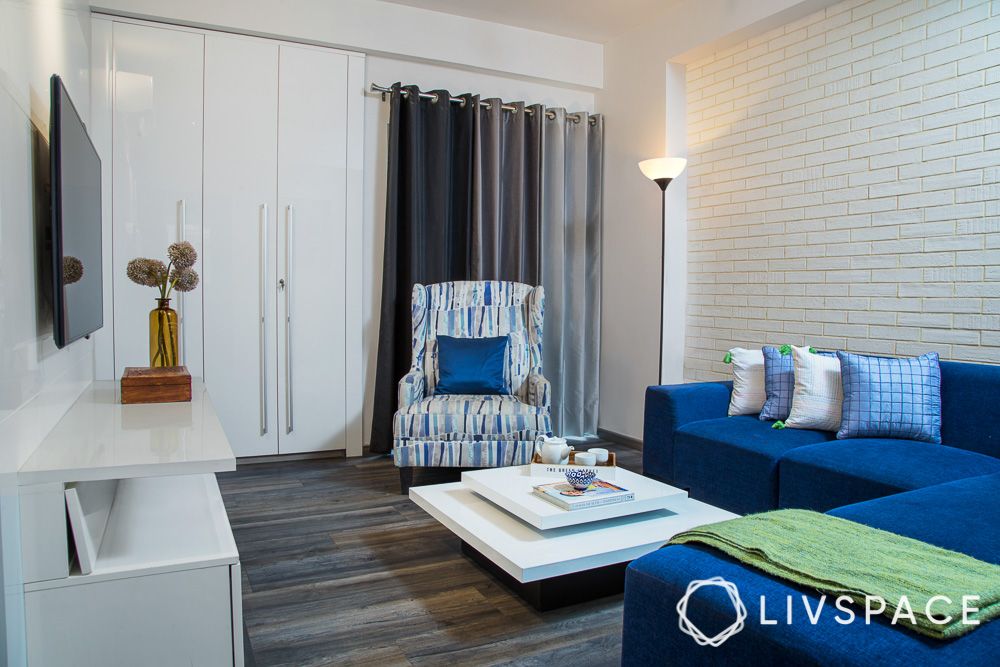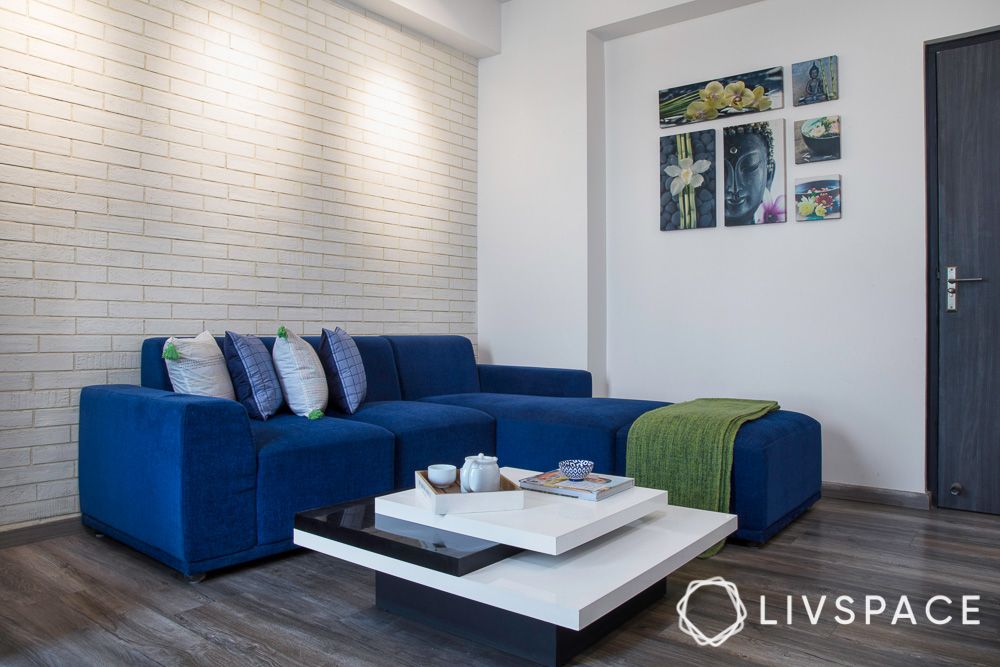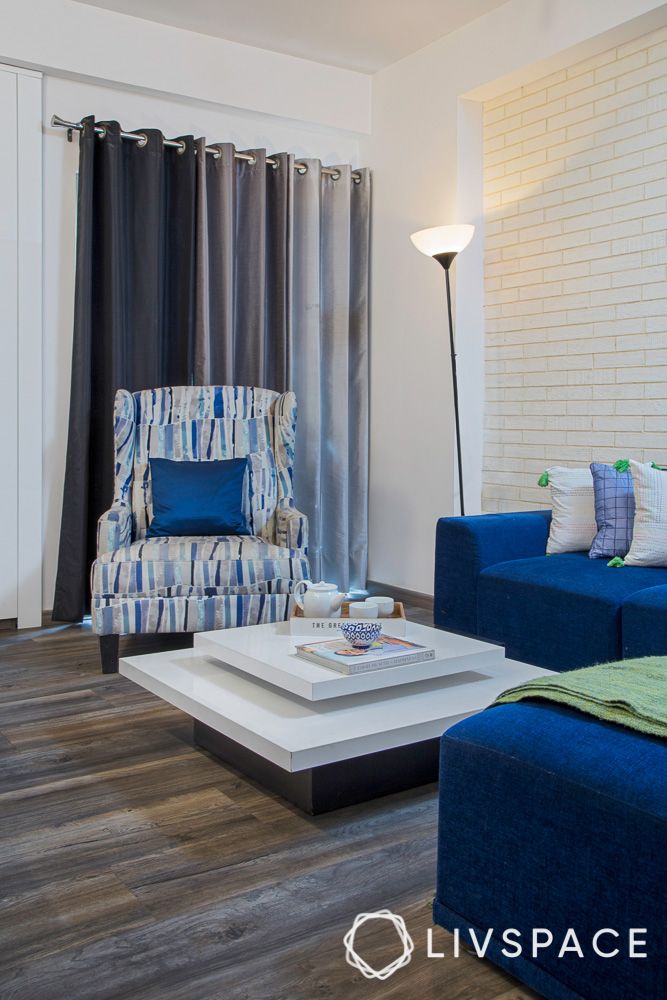 "The family room", as they like to call it, is where all the action takes place. They have converted one of the rooms into an entertainment room where their television finds a place and a cozy blue sofa sits opposite it. The couple also loved the idea of having an exposed white brick wall here, to give this room a different and rustic look.
A rustic and modern master bedroom in this new house design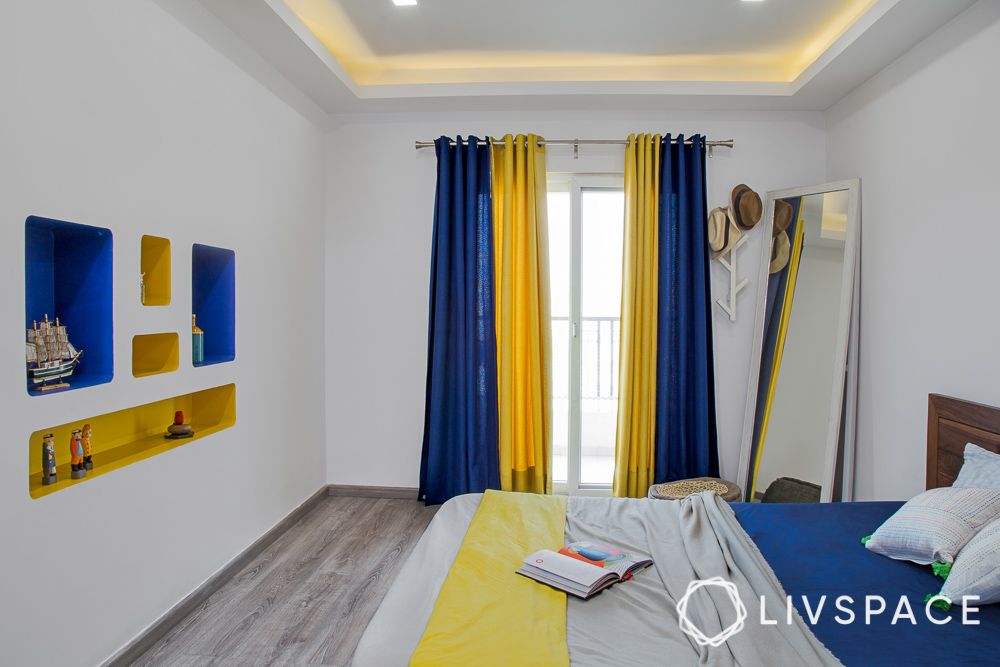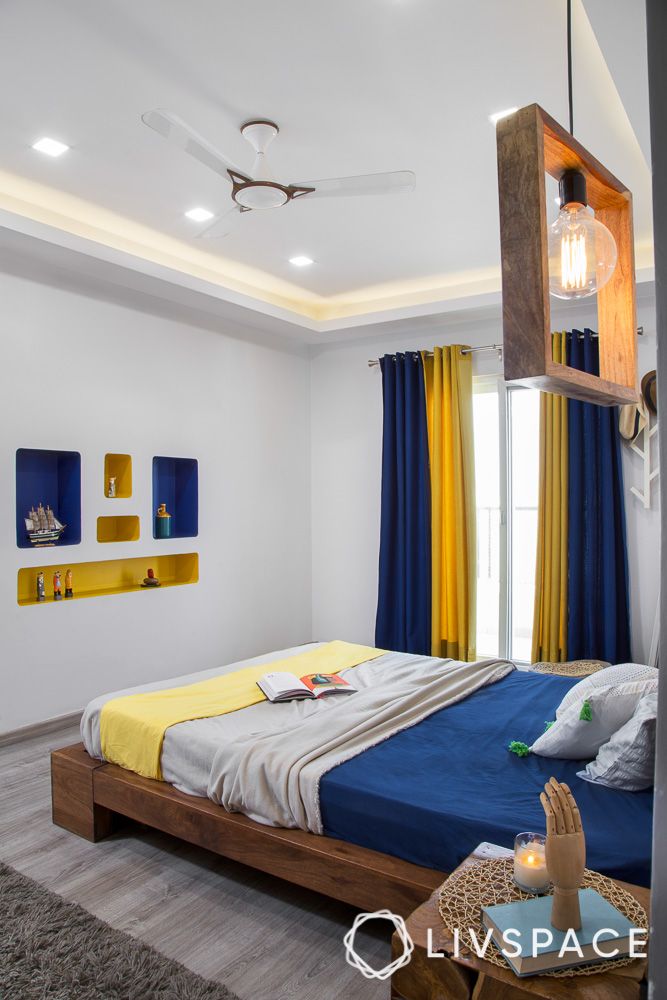 There are so many fun and interesting things to notice about this master bedroom that we do not know where to start. Let's start with the dominant feature — the colours. How lovely are those wall niches in bright yellow and navy blue? It just sets the mood right for this room, don't you think? We also love how the drapes play match with these shades.
The other quirky features of this room are the Root side table with the framed Edison bulb dangling above it, that lends it a rustic feel. Also, do not miss the full-size mirror that acts as a dressing corner with a coat rack beside it. The chest of drawers is the only storage in this minimalist room.
A gorgeous Scandinavian kids' bedroom in this new house design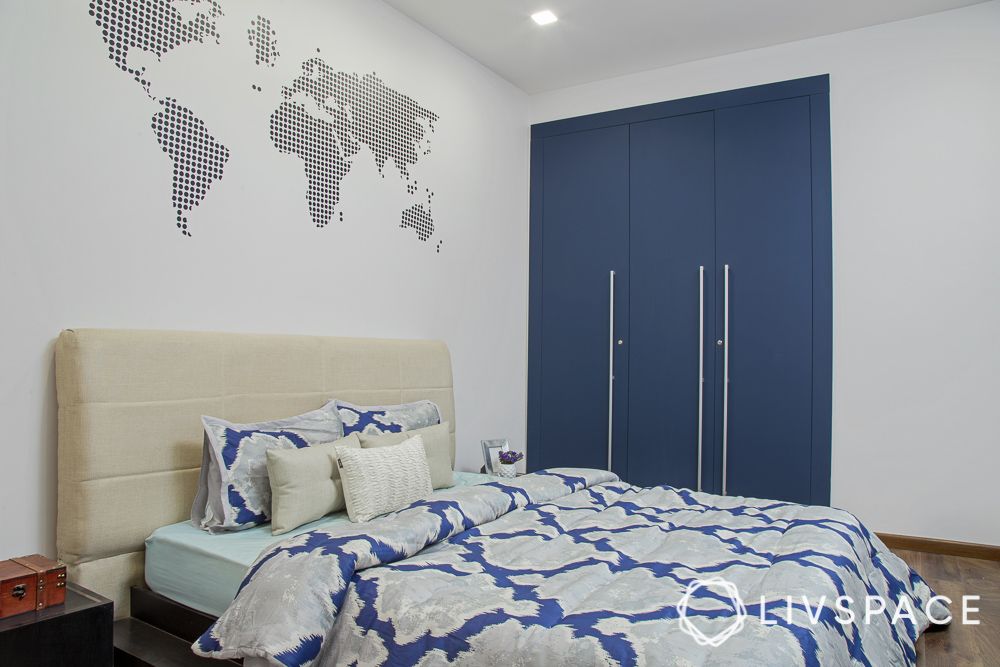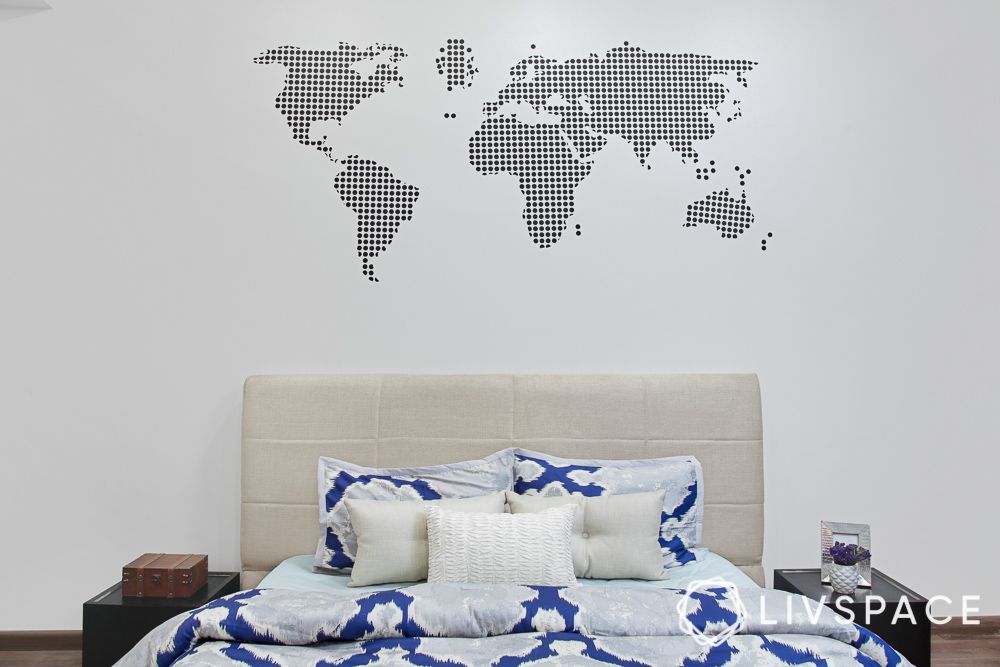 Ava is all of one, and she has her own Scandinavian style room all to herself. That said, this room isn't used solely by her. This is one room that has been designed keeping in mind that she will grow up and have her own choices, so the design stays flexible for changes in the future. So, to give it a childish look, Somya gave a World map on the wall, that is again very minimalistic.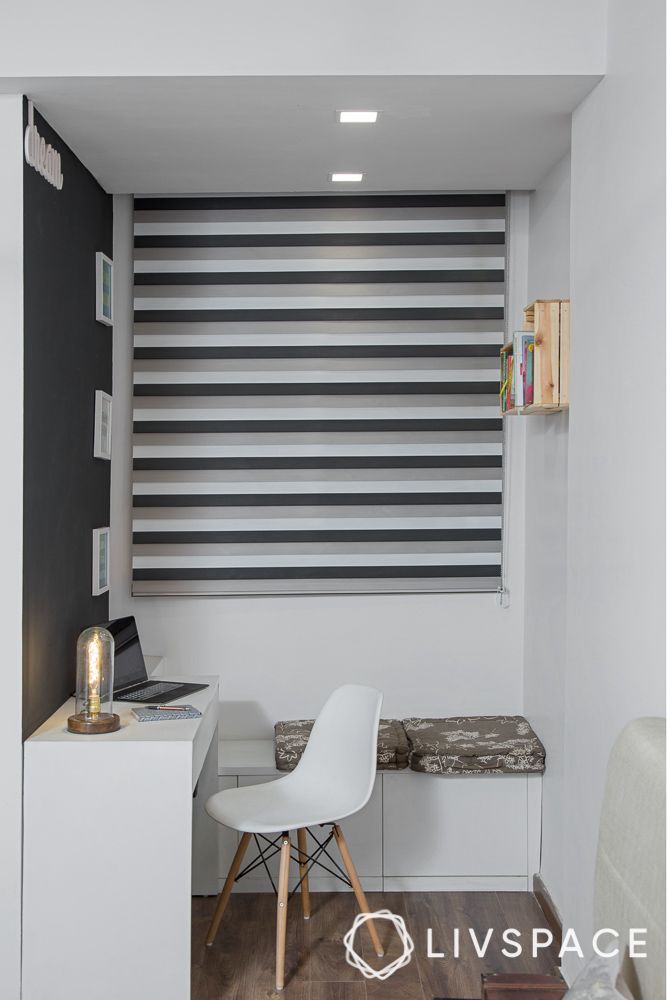 Since mommy Anusha works from home, she needed a dedicated working corner at home. And, what better than to have it in the kids room, which can later be used by Ava to study, as well? The cozy study corner has been designed intelligently making the best use of available space. A black board with a sleek white study table and a seating with storage completes this look.
Statement vanities in this new house design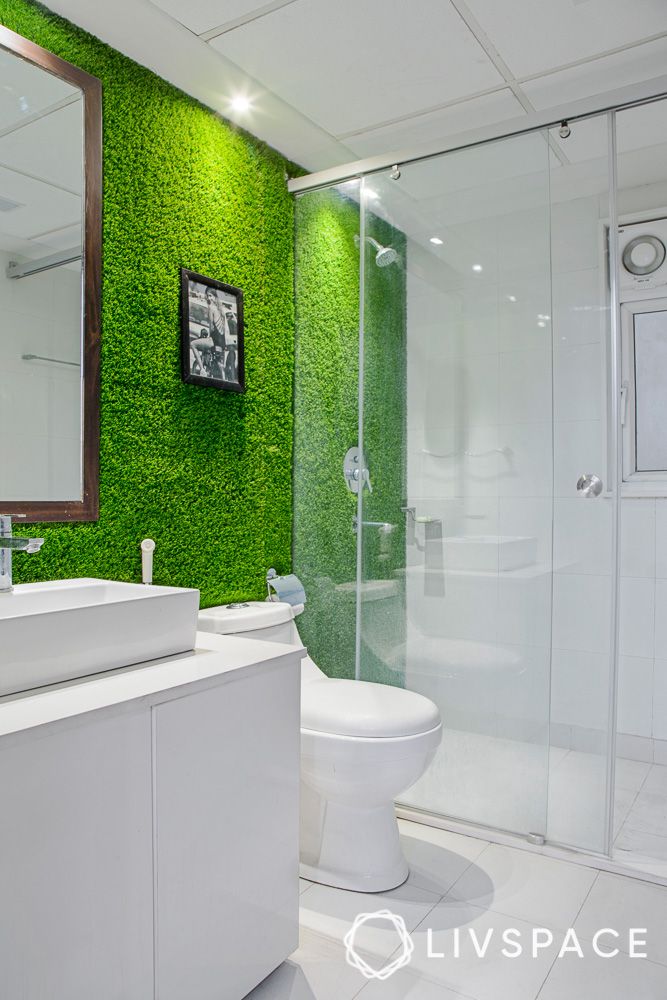 The bathrooms in this home also have statement elements that make them more than just ordinary vanities. Ava's bathroom has a faux grass wall instead of the usual tiles, which makes it so lively! Also, it is easily removable and can be changed later, if needed.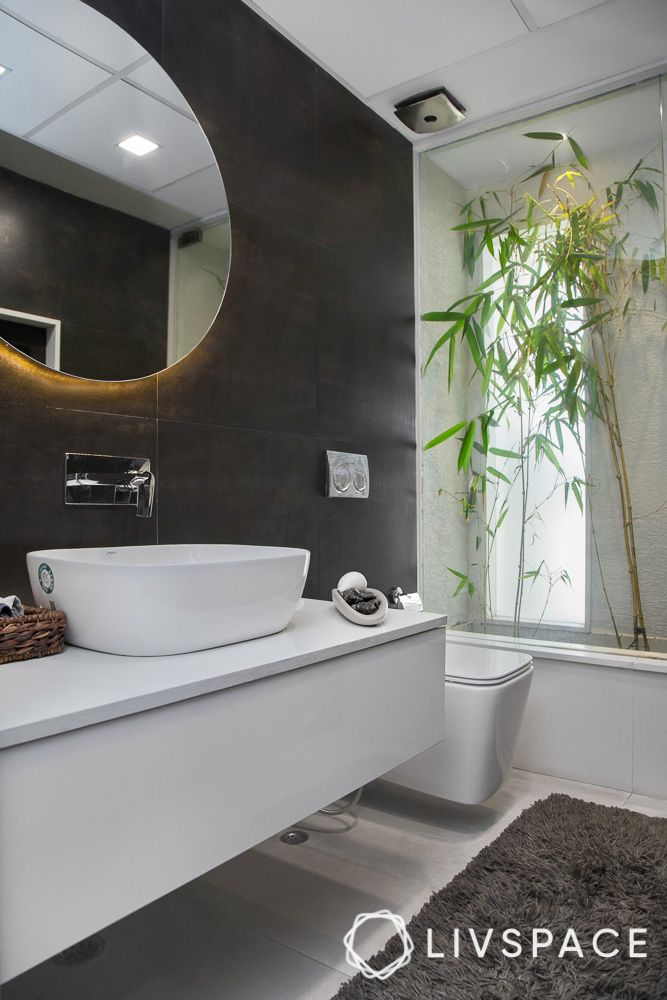 The powder room has classy black tiles and the shower area is converted into a tiny nursery with a bamboo plant keeping things green and fresh.
---
"Working with Anusha and Ankush was a delight. They are one of those clients who are well-read and have a lot of ideas to contribute. They knew what they wanted and I just had to work around their ideas with my design sensibilities."

– Somya Chaturvedi, Interior Designer, Livspace
---
Looking for budget-friendly interiors? Then you will love This 1BHK is Tailor-made on a Budget.
Send in your comments and suggestions.