Hailing from the vivacious city of Mumbai, the Bhats had just shifted to Pune, and the family needed a home that was tailor-made to their needs. With two kids, Krisha and Krishna, under the age of ten, the Bhats were searching for child-friendly features. And like all families with kids roughly the same age, they had grown used to their constant squabbles. However, the Bhats were aware that the kids bedroom design could simply open up another reason for fights.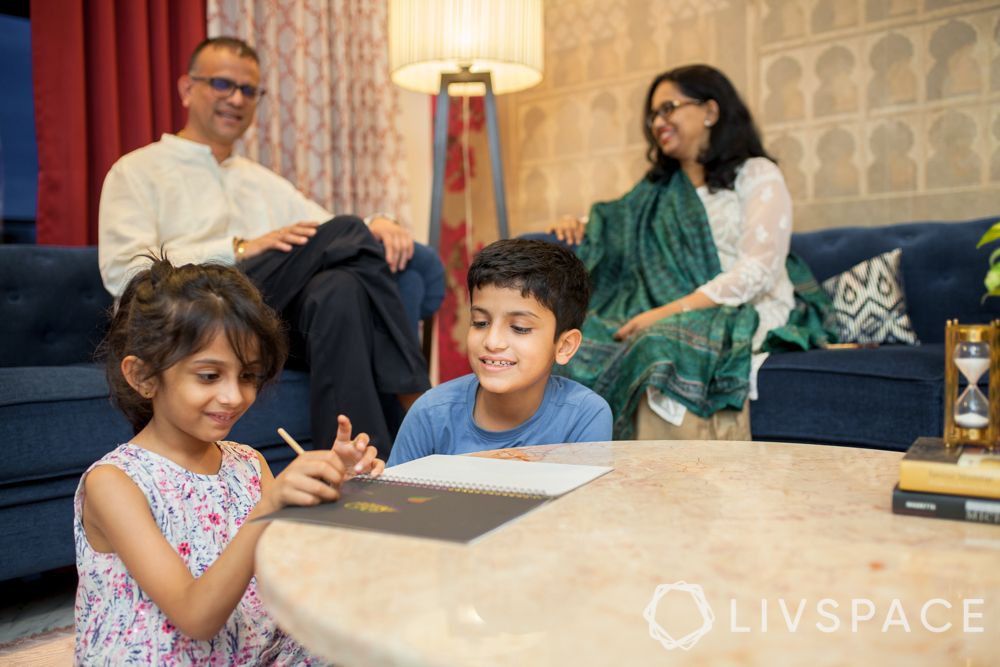 Livspace designer Chinky Budhraja tells us that when the Bhats approached Livspace, they were most concerned about their kids' rooms! Chinky considered the situation and came up with a new idea — what if we used the exact same furniture in both the kids bedroom design for their home interiors in Pune? She suggested that each room be personalised to each child's taste, while keeping the furniture exactly the same! While we'll tell you how it worked out for them, you could also pick up some tips for your home!
Minimum effort for a different look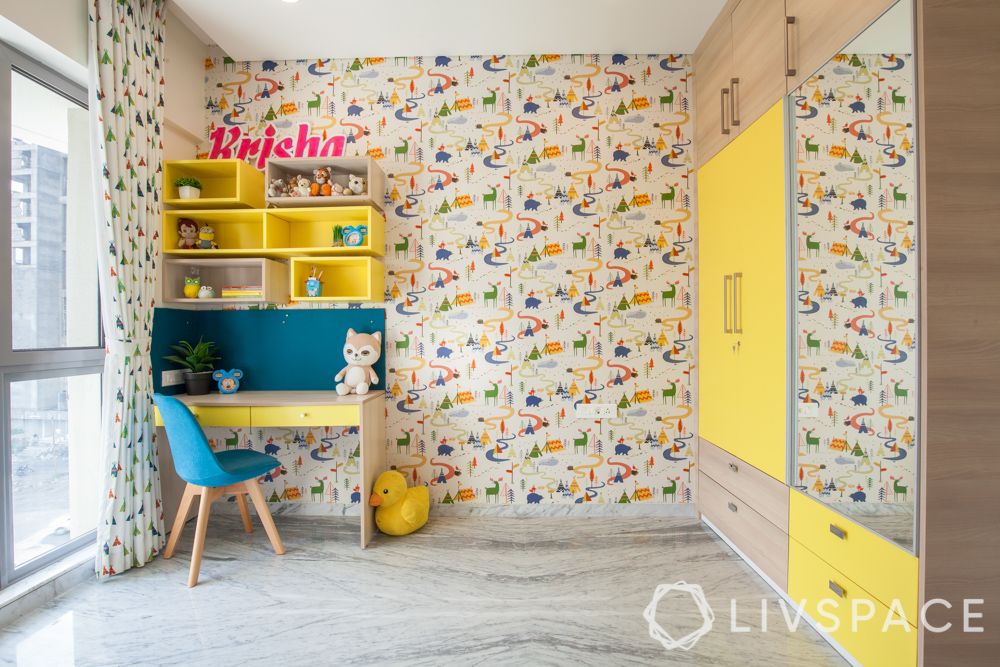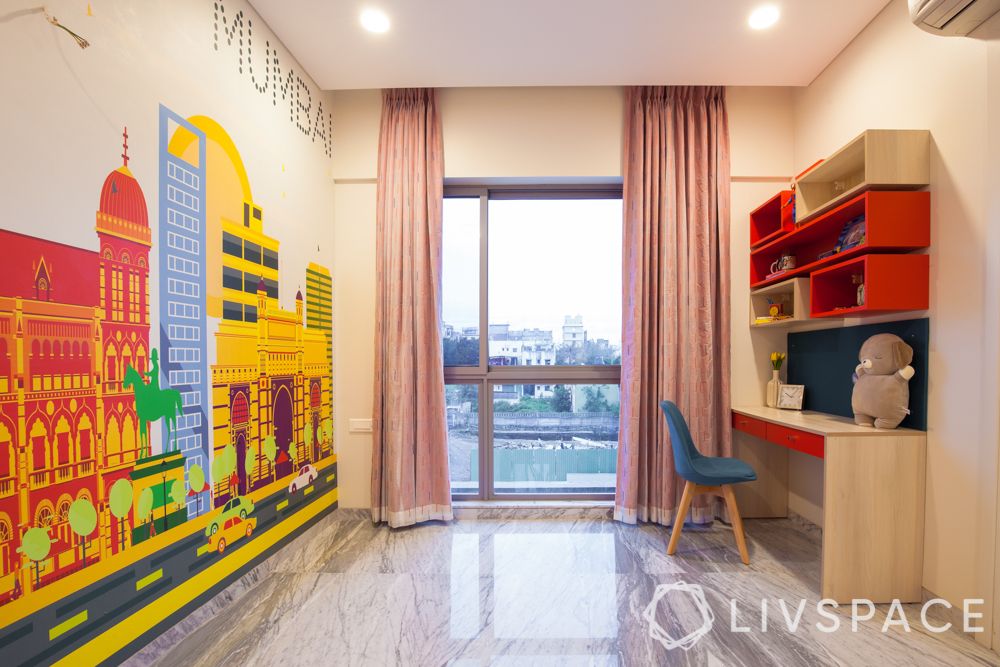 The Bhats wanted to design their kids' rooms as places for them to play and study. So Chinky brought in similar modular study units with ample space for their books and toys. She also added modular wardrobes where they could keep their belongings. Chinky gave them a choice of colours to personalise the spaces, and the rest was easy! She even went on to ensure that the same chair was used in both rooms. "It can be carried from room to room," she laughs, "I didn't want them to be able to favour one over the other!" Quite a smart move, don't you think?

Something for her sunny disposition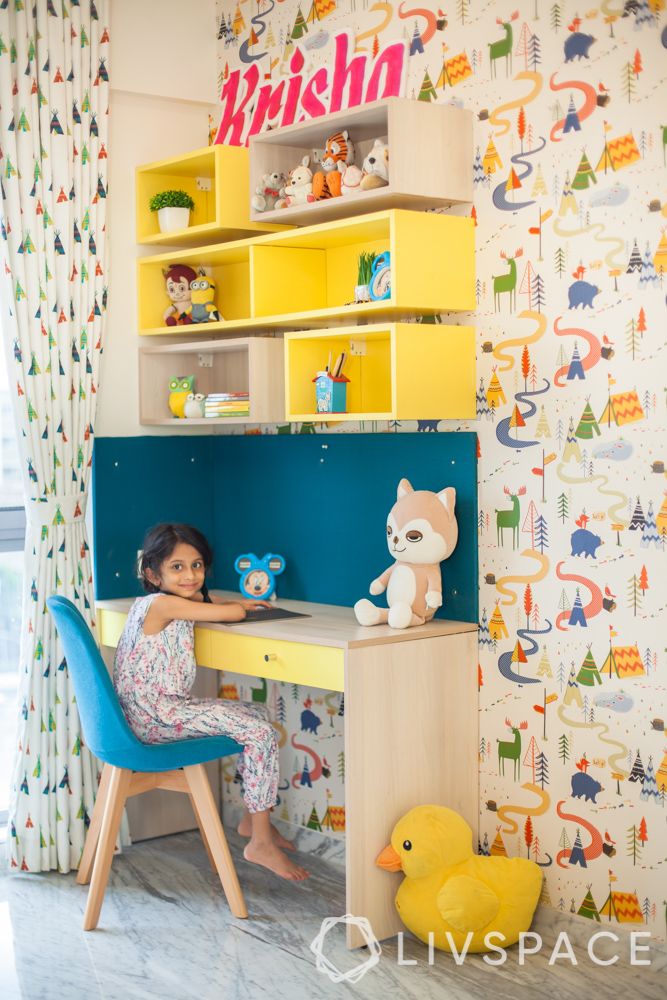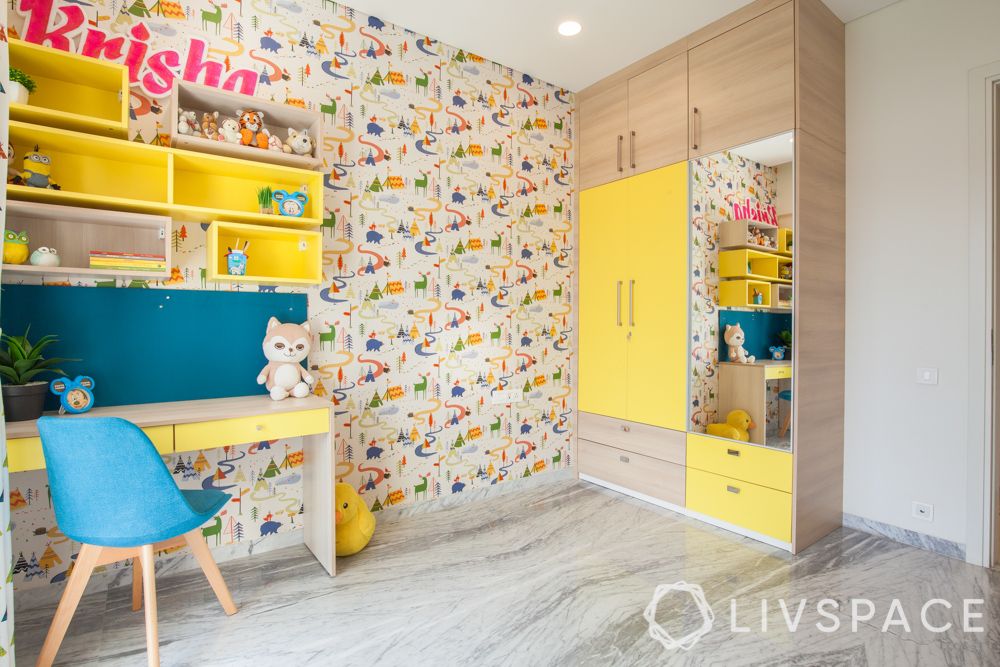 This room belongs to the bright and bubbly Krisha who loves all things yellow. So when she got to pick the colour of her room, it took no time at all! Chinky set to work on the interiors in Pune and gave her room a whimsical wallpaper that complemented her yellow study table and made her happy. She also found curtains that matched the wallpaper to make the room complete!
And something for his fond memories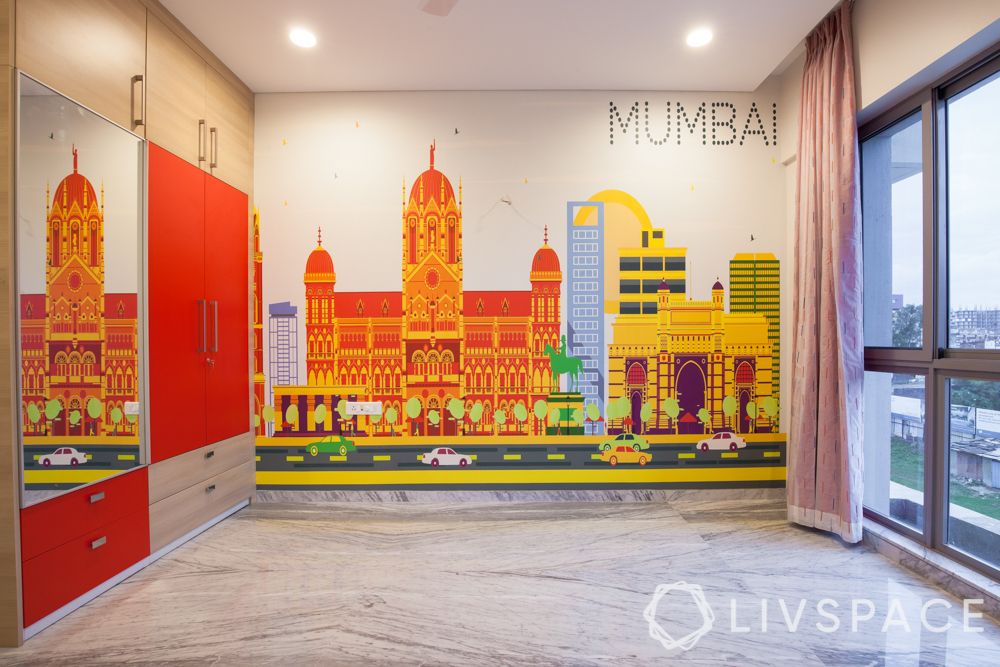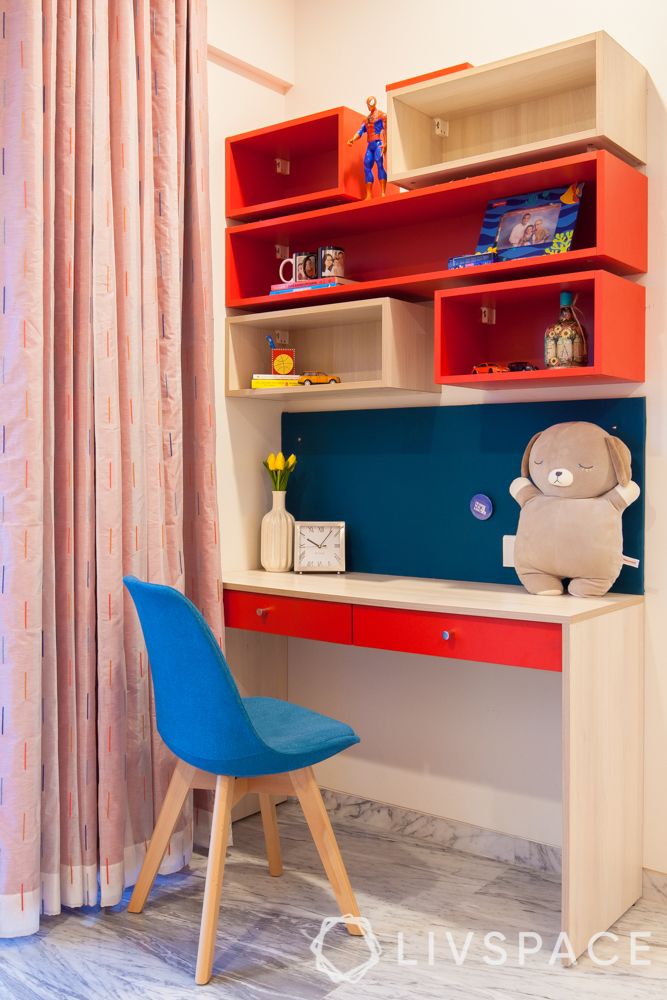 Having spent a major part of his young life in Mumbai, the young Krishna carries memories of friends and masti in the metro. When he walked into the Livspace Experience Center with his parents, his gaze fell upon a wallpaper of the Mumbai skyline. And instead of picking a colour, he asked for this wallpaper in his room. This kids room design was woven around it. Chinky added hints of red to his room to complement the wallpaper, as is evident in the study unit. What a way to add some personality to Krishna's room!
Want a few pointers on how to decorate each room uniquely?
Livspace designer Chinky Budhraja, who put together the home interiors in Pune, tells us that parents often ask for extensive customisation for both rooms. However, all too often, the siblings end up liking the other room better. At this point, you must be thinking how amazing yet simple it is to give your kids bedroom designs a unique twist without picking extremely different furniture. And even so, you can create completely different kids bedroom designs. Here are a few tips to help you out of this conundrum:
Consider the age of your kids. It's easier to use similar furniture for children who have similar requirements. If a study table, a bed, a wardrobe and a dresser are all both your children need, you can start by settling upon a design that's convenient for both.
Ask your children what they want for their bedroom. If you're panicking at the thought of their elaborate ideas, tell them what they can pick out. You could let them choose the colour, or a theme.
Choose unique wallpapers that tie in with their personalities.
While the modular fixtures remain the same, play around with soft furnishings. From curtains to bedsheets, everything works towards personalising the room.
Ensure that your kids will not grow out of their bedroom design anytime soon by asking the designer to keep it evergreen!
Now that you know how the Bhats designed their kids' bedrooms, would you like to take a look at the rest of their home? Read 4BHK in Pune is Big on Colours & Style.
Send in your comments and suggestions.