Straight-lined furniture and contemporary charm define this Andheri apartment!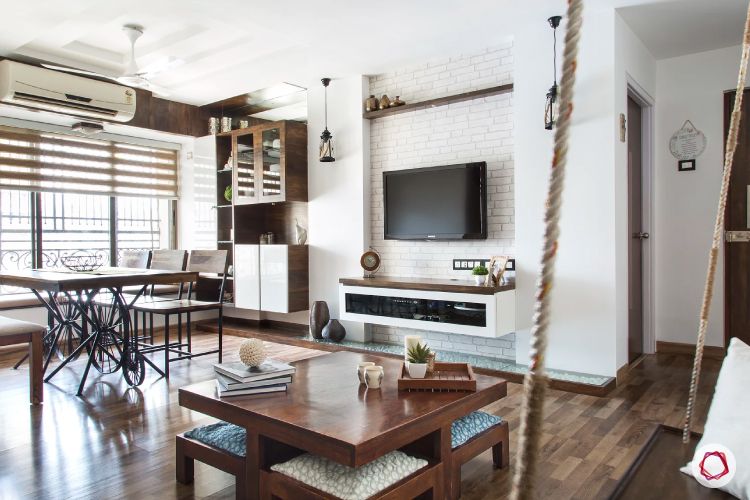 ---
Who livs here: Arpit Agrawal with his wife Shweta Agrawal and sons Aarav and Arsh
Location: Versova Venus, Andheri West, Mumbai
Home Size: 1,150 sq ft approx.
Design team: Interior Designer Rukmani Dialani with Project Manager Dhanraj Lekhrao
Livspace service: Full home design
Budget: ₹₹₹₹₹
---
When an interior designing enthusiast decides to get her home renovated, it caused a certain level of mayhem in her head. So many ideas, opinions and styles to look into! Livspace swooped in and solved this young couple's worries. Our clients, Shweta and Arpit Agrawal, wanted to refurbish parts of their seven-year-old dwelling, and help came calling! A recommendation from friends led them to Livspace and their design journey started with interior designer, Rukmani Dialani.
What started with just renovating the kids' and the guest room, resulted in a complete overhaul of the home. Read on and find out how this Andheri home took shape, under the expert supervision of Rukmani, with valuable inputs from Shweta, of course!
A Cosy Welcome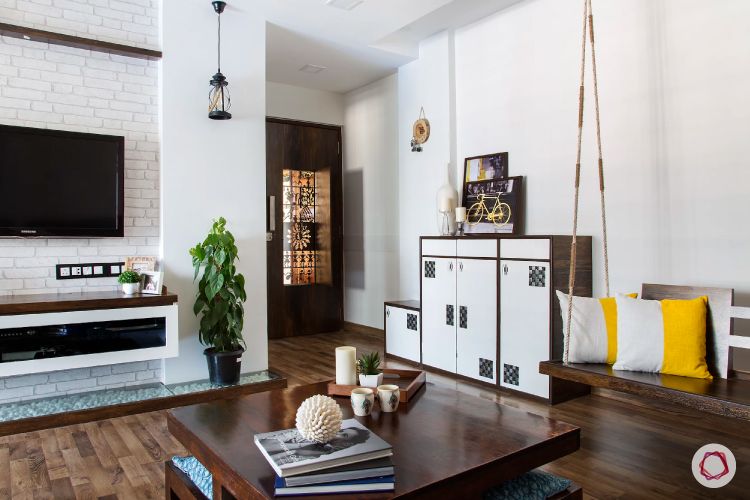 One step into this airy Andheri apartment and you realise the warmth the wooden finishes bring. A beautifully carved entrance door leads to the foyer which houses the multi-functional shoe rack in wood and white laminate. This in turn opens up into the cozy living room for this family of four.
Swing into the living room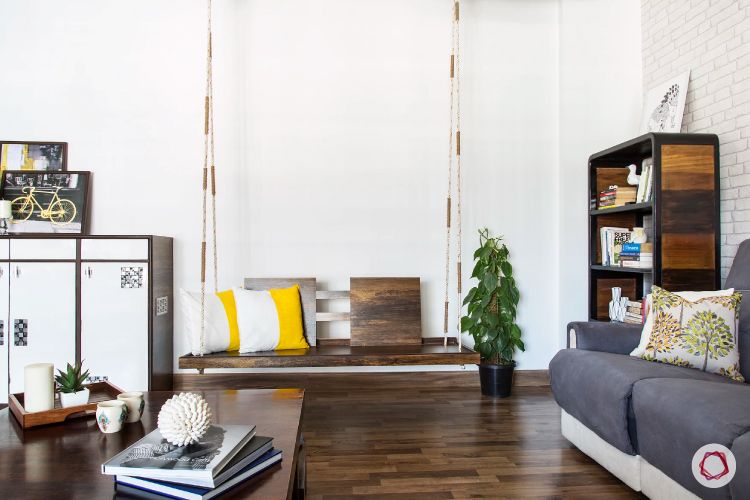 The living room is an inviting space that holds the jhula which catches your attention almost instantly! In a colour that complements the floor and furniture, it adds the fun element to the room. Shweta was persistent about getting a swing in the living room and look how that paid off!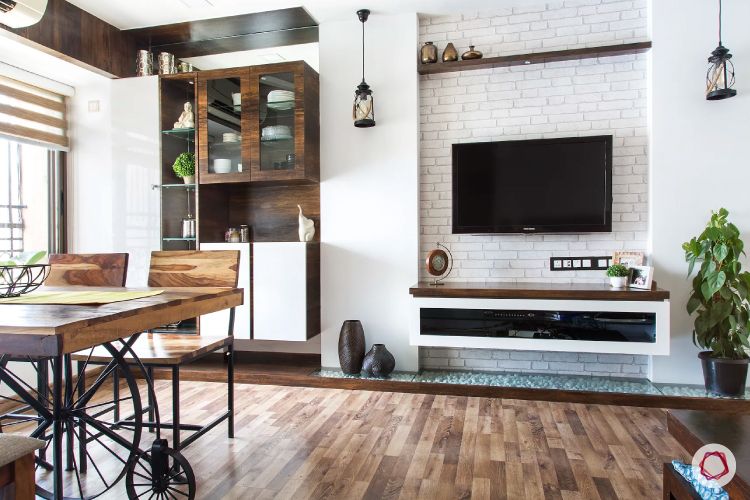 The view from the living area is mesmerising. To add to the view, the pristine white walls and the plush outdoors from the balcony that make the house bright with happy natural light. Rukmani gave the Agrawal family white walls because they wanted their abode to look and feel contemporary and streamlined, instead of cluttered and boxy.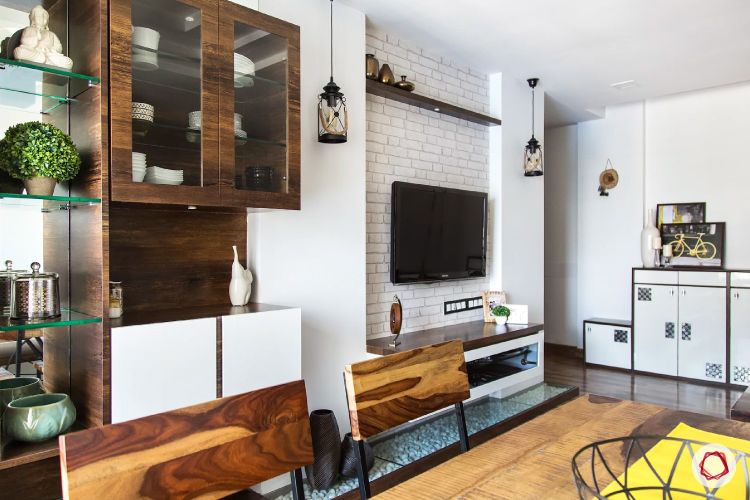 Shweta loves decorating each and every corner of her home with artefacts or collectibles. The TV unit in the living room stands out because it has an exposed brick wallpaper behind it and a wall-mounted, glass shuttered display counter underneath. This lets the family store and display stuff at the same time! The crockery unit, on the other hand, is customised to hold their crockery and display their fine China.
One for the guests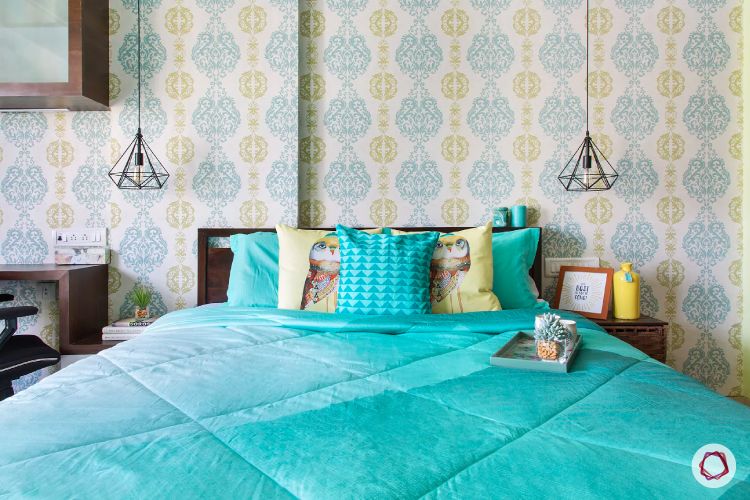 The guest bedroom paints an idyllic picture in our hearts. It has a Moroccan-inspired wallpaper that the client chose after careful consideration. The bed plays match with the theme and has drawer pull-out storage on either side to sort out all storage woes.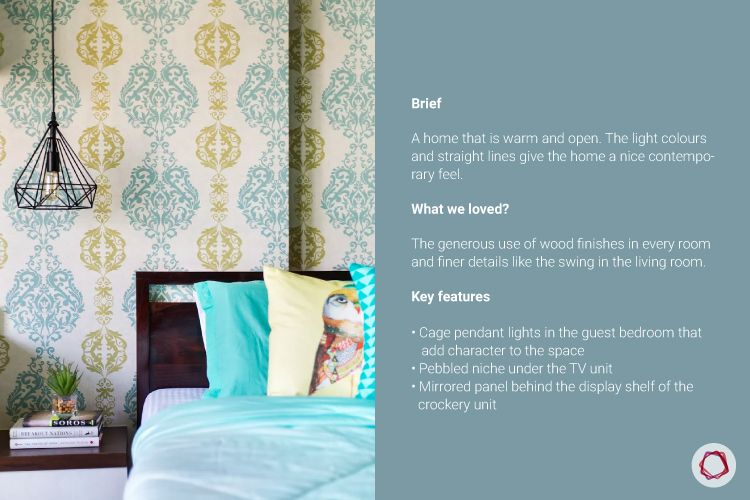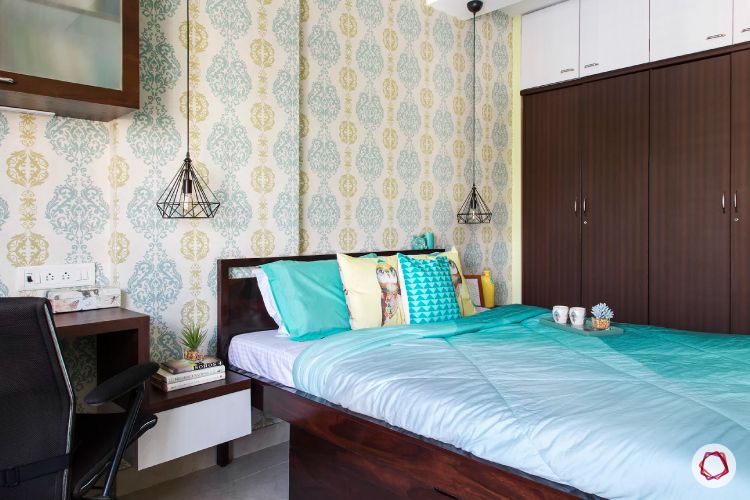 Being avid readers, Shweta and Arpit were clear about having a study corner in every room. Keeping this in mind, Rukmani gave them a sleek wall-mounted study table with overhead cabinets. The cabinets have intelligently been given frosted shutters, so that the family can store books and some extra clutter, without having to compromise on aesthetics.
A kid's haven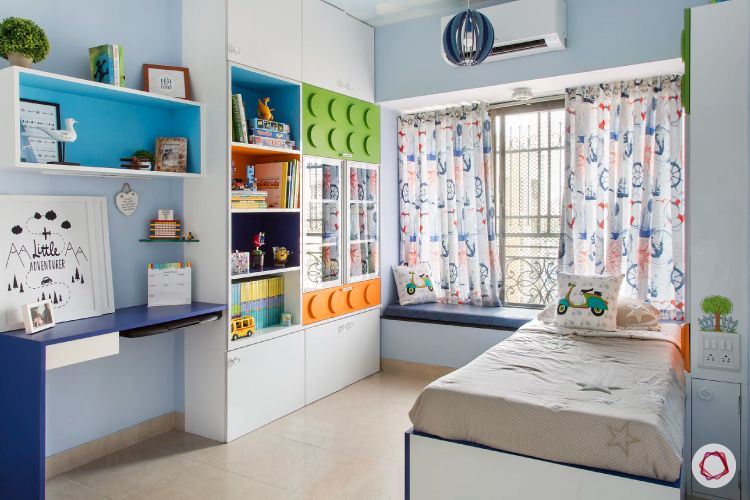 Take a look at this fun space designed for the boys! Done up tastefully in blue, Rukmani has also given cabinets designed in the shape of lego, which happens to be one of their favourite games. The grills were pushed behind to make space for the window niche the kids could enjoy for reading or to just enjoy the view.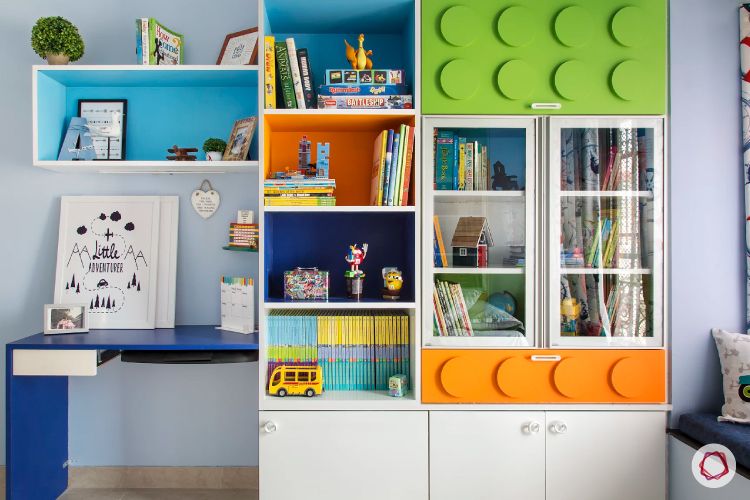 Arsh and Aarav have so many books and toys that Rukmani was in a fix on how to accommodate it! She designed a book storage unit that comes with many shelves, both open and closed.The glass shutter cabinets take care of their books, while the hydraulic cabinets in ivory, look after the toys.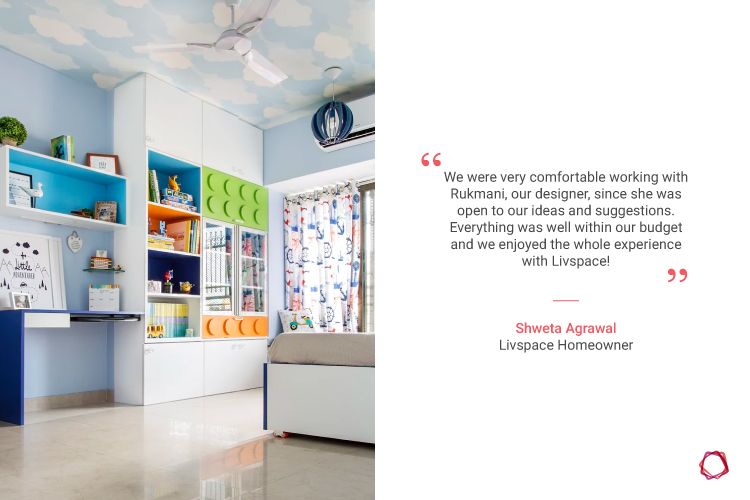 We love what Rukmani has done with the ceiling in the boy's room! Dreamy clouds are sure to make the kids feel like they are literally sleeping under the sky. The study table is as sleek as it gets and also has wall mounted open shelves for the kids to keep their book and nitty gritties.
---
"It was a bit of a challenge to design the Agrawal's home since they had a very dark and clustered home. But, Shweta and Arpit were very clear with their requirements and open to our suggestions. They loved the end result and I am glad I could live up to their expectations!"

Rukmani Dialani, Interior Designer, Livspace

If you're looking for more inspiration, check out this home done up in white and blues in Noida.
— editor@livspace.com