An Indian design style to inspire you!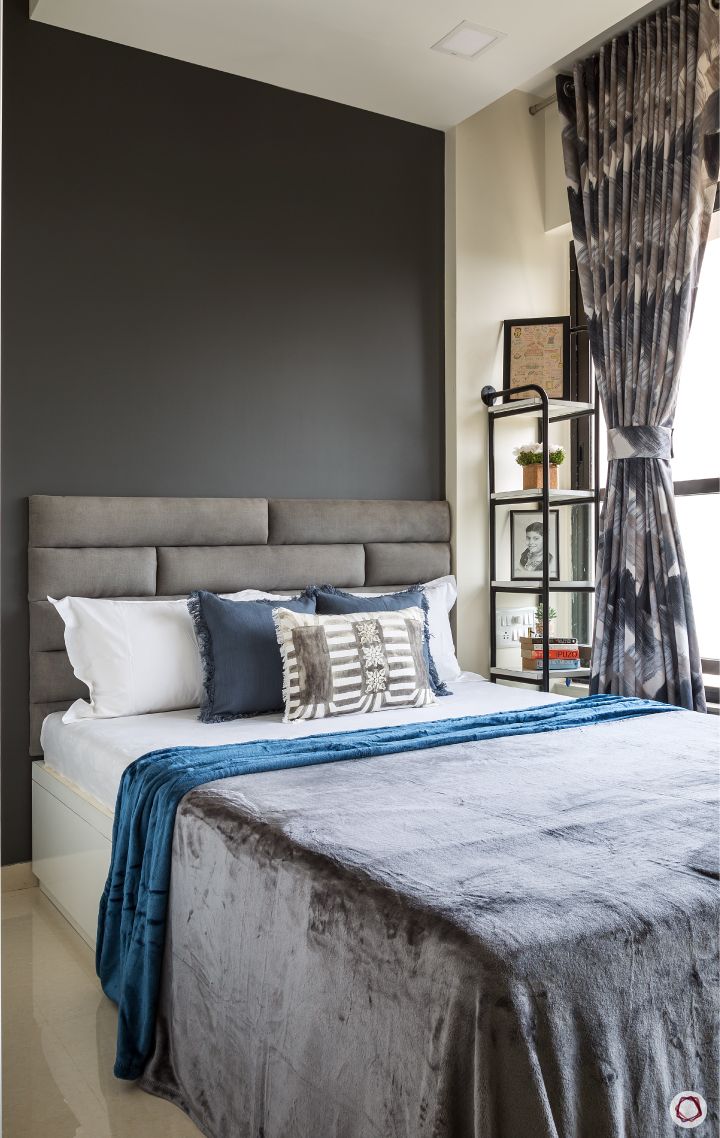 ---
Who livs here: Shailesh Potnis, his wife, their son and their dog
Location: Kalpataru Yashodhan, Andheri West, Mumbai
Size of home: 3BHK spanning 685 sq ft
Design team: Interior designer Ar. Kashmira Nikhil Bobhate, Design Manager Sonia Saraf
Livspace service: Full home design
Budget: ₹₹₹₹₹
---
Kashmira Nikhil Bobhate knows a thing or two about creating a clever design. She believes space is not a constraint for a home but an interesting challenge. Her meeting with Shailesh Potnis and his family at our Experience Centre in Lower Parel, Mumbai, got her excited to design their 685 sq ft home.
The brief was simple — a modern home with feel-good interiors. Also, since the family was jovial and fun-loving, she wanted pops of their personality to run through the house as well. The result? A chic space that amplifies the playful mood of the home. Kashmira also managed to merge some neutral tones with a dash of vibrancy. Let's pop right in!
A foyer to remember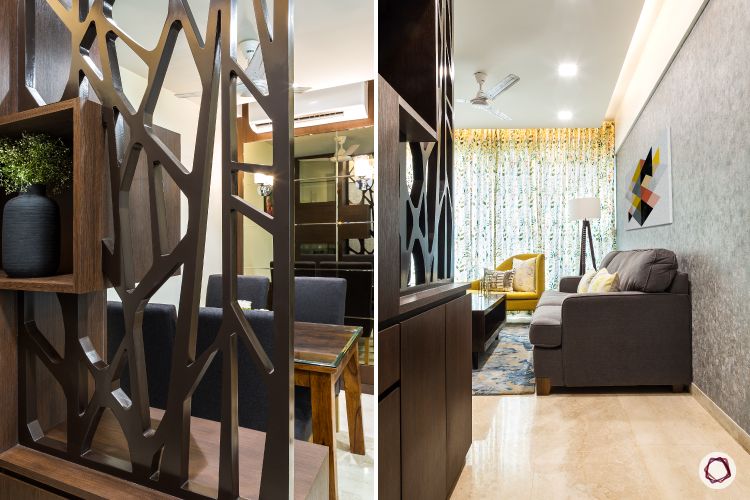 An elegant foyer can set the mood of any home. When Kashmira was first introduced to the space, she was a greeted by a large room that had no divisions. Since the family wanted a shoe rack, bar unit and storage cabinet, Kashmira whipped up her magic and created a foyer that worked for them!
She carefully crafted a single unit that segregates the space into a foyer and dining corner. But that's not all. From the living room side, the cabinet opens to ample storage space and a shoe rack. From the dining side, it opens up into a bar. Don't you love clever hacks like this? The element that works as a partition wall also has exquisite jali work at the top.

A happy living room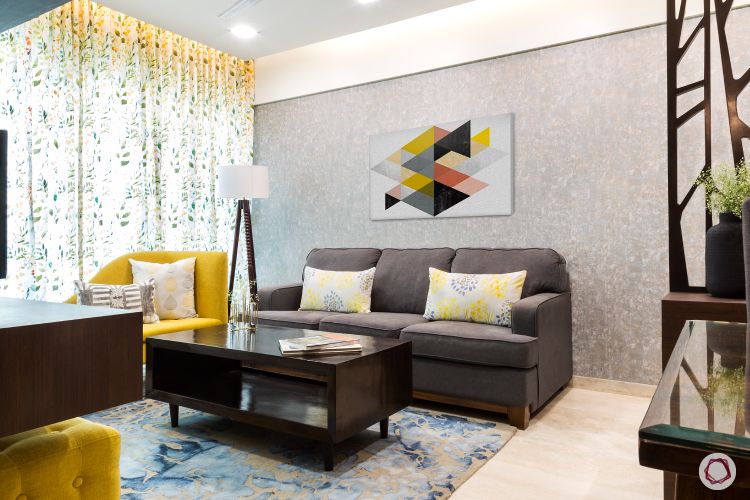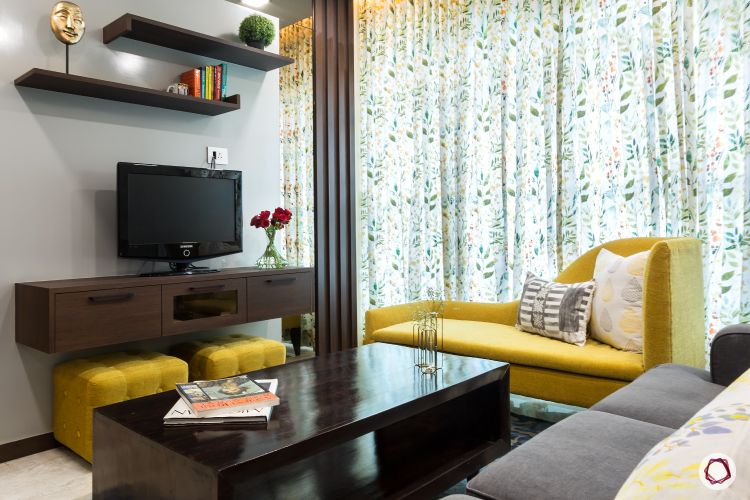 Turns out, people can get a glimpse of your personality as soon as they walk into the living room. While the room is dipped in beautiful neutral tones, a pop of yellow from the chaise lounge keeps things fresh and intriguing. Besides the grey sofa that sits against a silver shimmer wallpaper, Kashmira put in yellow poufs as well for extra seating. These can be neatly tucked away under the TV unit when not in use. A sleek coffee table that sits on a rugged blue and grey rug takes the centrestage with ample storage to stash magazines and books.
Open shelves prove to be a vital addition to display the family's love for artifacts. The ceiling might garner a second glance. Kashmira put in a mirror above the TV unit to create an illusion of continuity. The wooden battens beside the chaise lounge serve as an intriguing element.
A cozy dining experience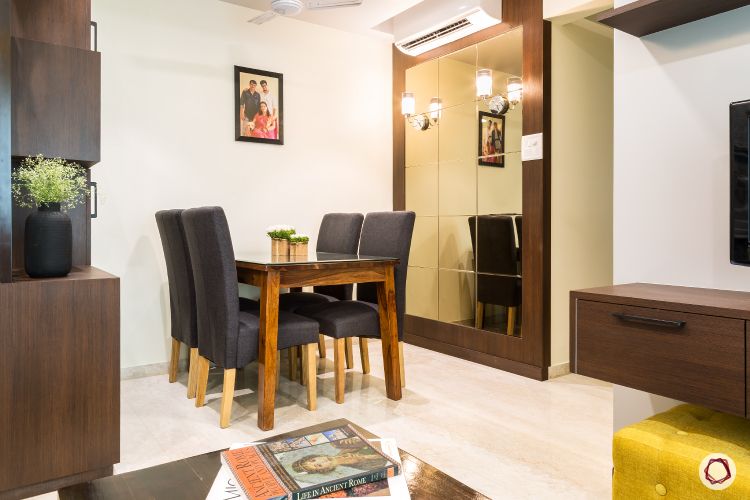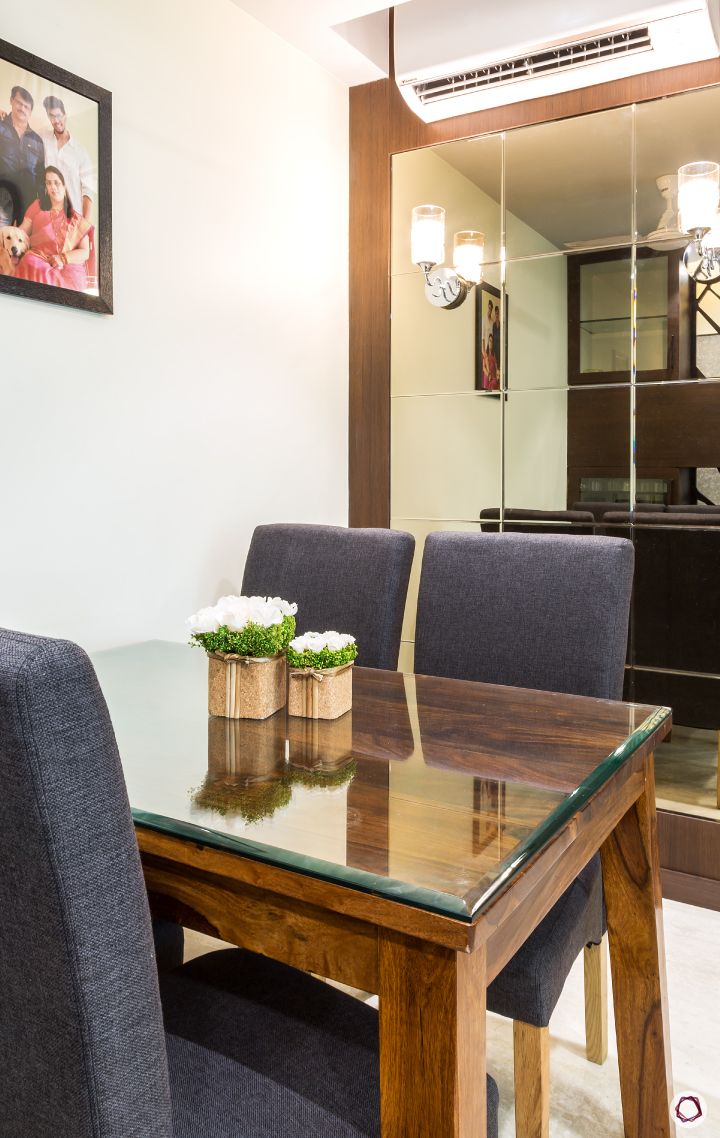 Pop over to the dining side and you can't help but marvel at the panel of mirrors that look back at you. With a polished laminate wooden border, the mirrors add a sense of intrigue to the dining space. This pairs well with the minimalist dining table and grey upholstered chairs. Also, from this side of the foyer unit, you have access to the bar unit with the dining table acting as the perfect bar counter.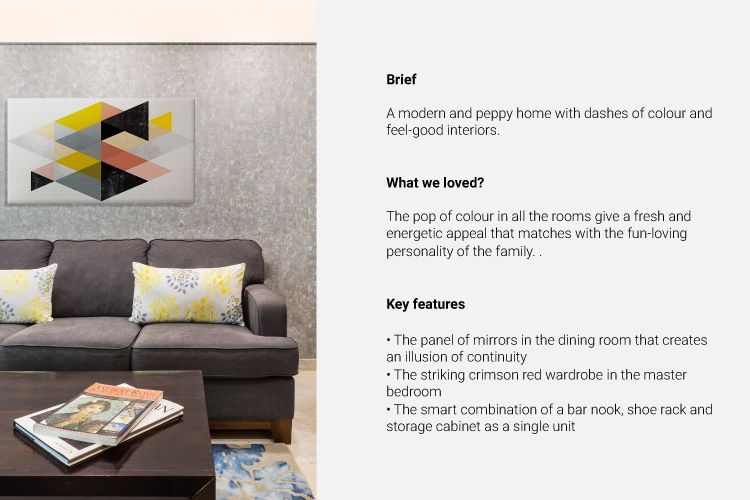 A crystal clean kitchen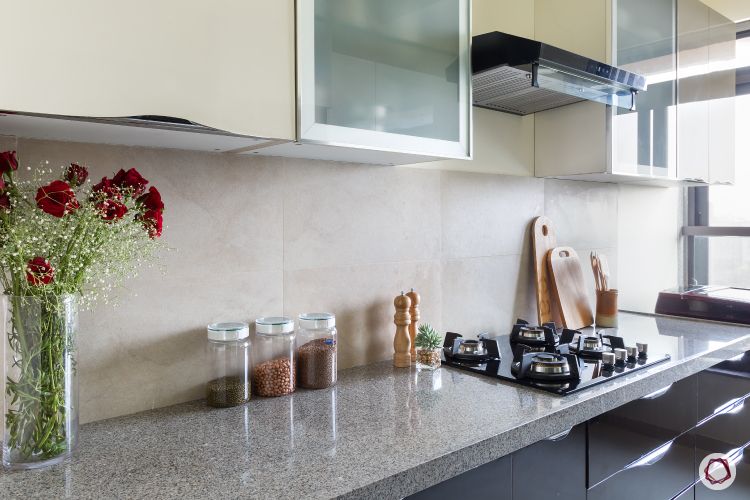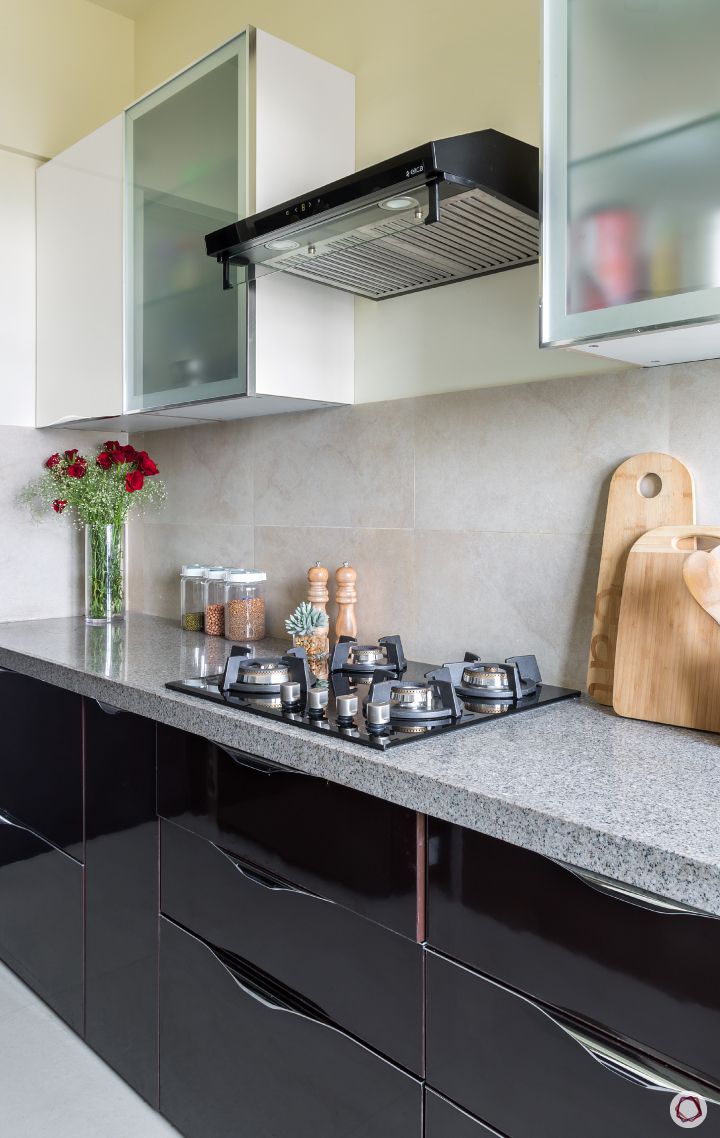 See symmetry come to life in the kitchen. With clean lines and clutter-free surfaces, the kitchen seems like an efficient machine. Since the granite countertop and wall tiles were already present, Kashmira had to put in cabinets that suited with the existing setup. She chose champagne-coloured overhead cabinets and dark grey for the lower units, both in a glossy laminate finish.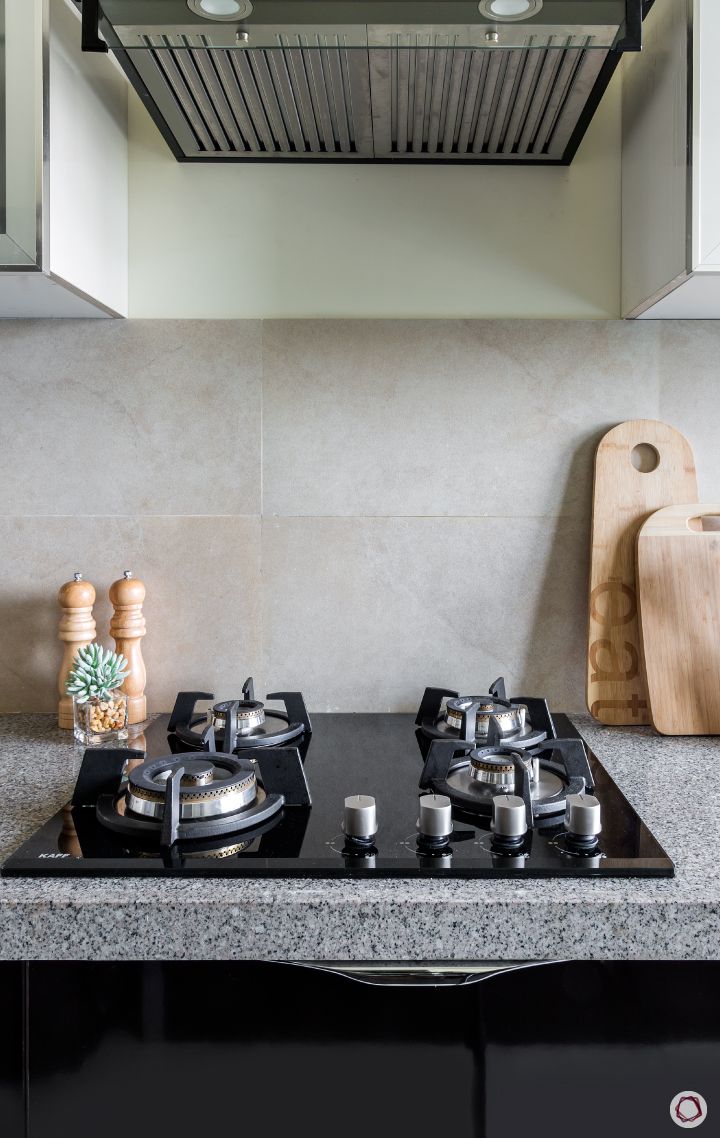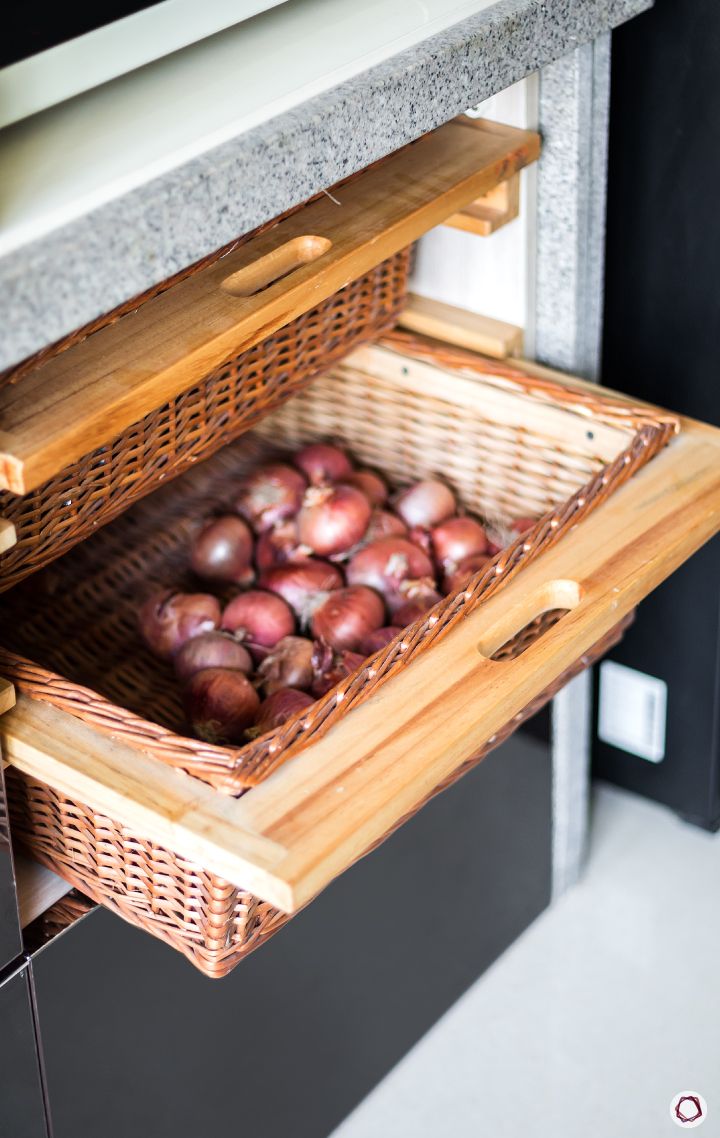 Shailesh was particular about having plenty of drawers to store all their essentials. Wicker baskets made a perfect solution to store onions and potatoes.
Accents in crimson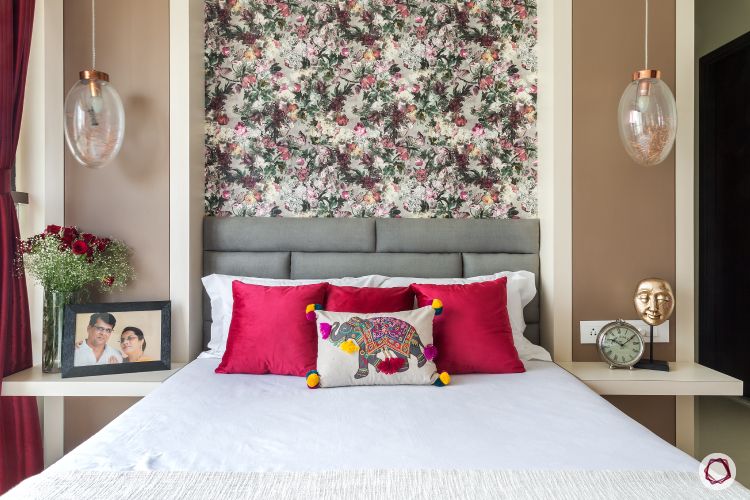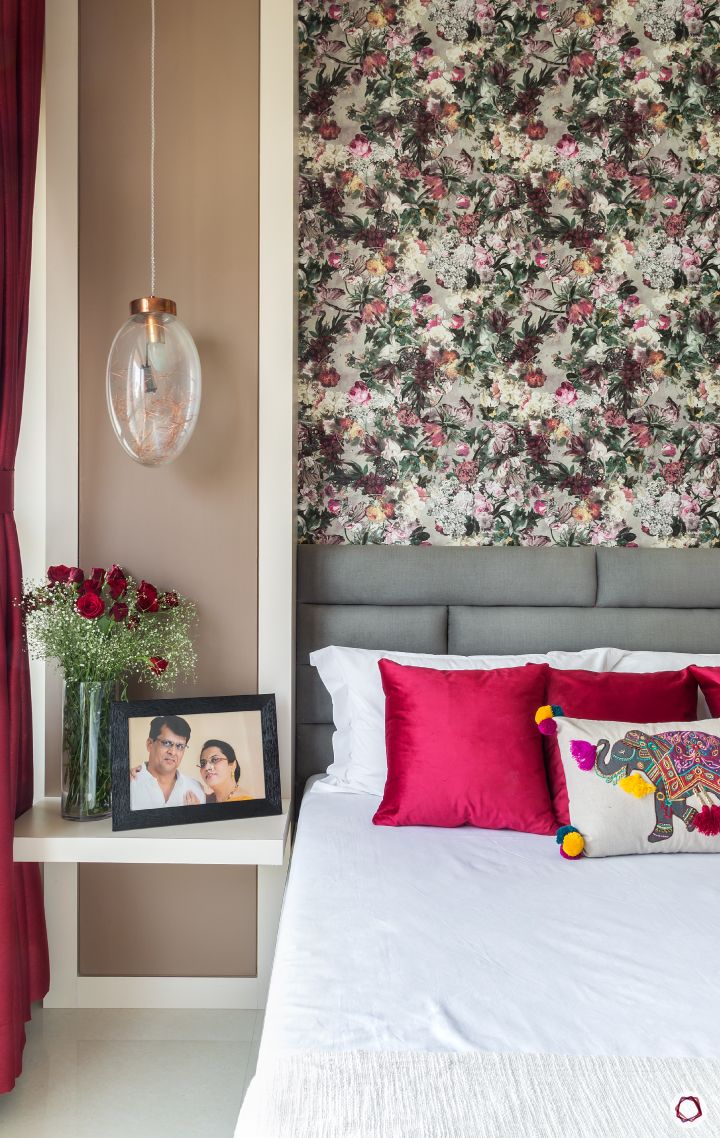 The master bedroom unites rich crimson red elements with elegant neutral tones. With a cheery floral wallpaper and two strips of brown that run on either side of the wallpaper, the centre wall certainly is the highlight of the room. To take things up a notch, Kashmira hung up elegant lights for a mesmerising experience.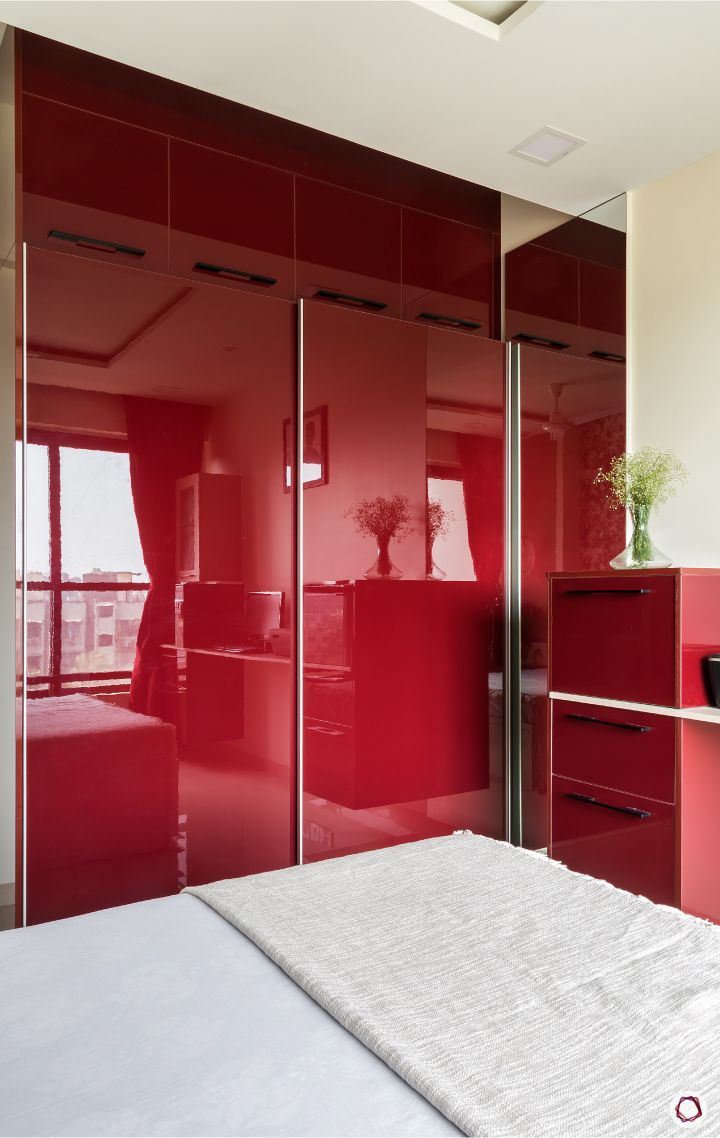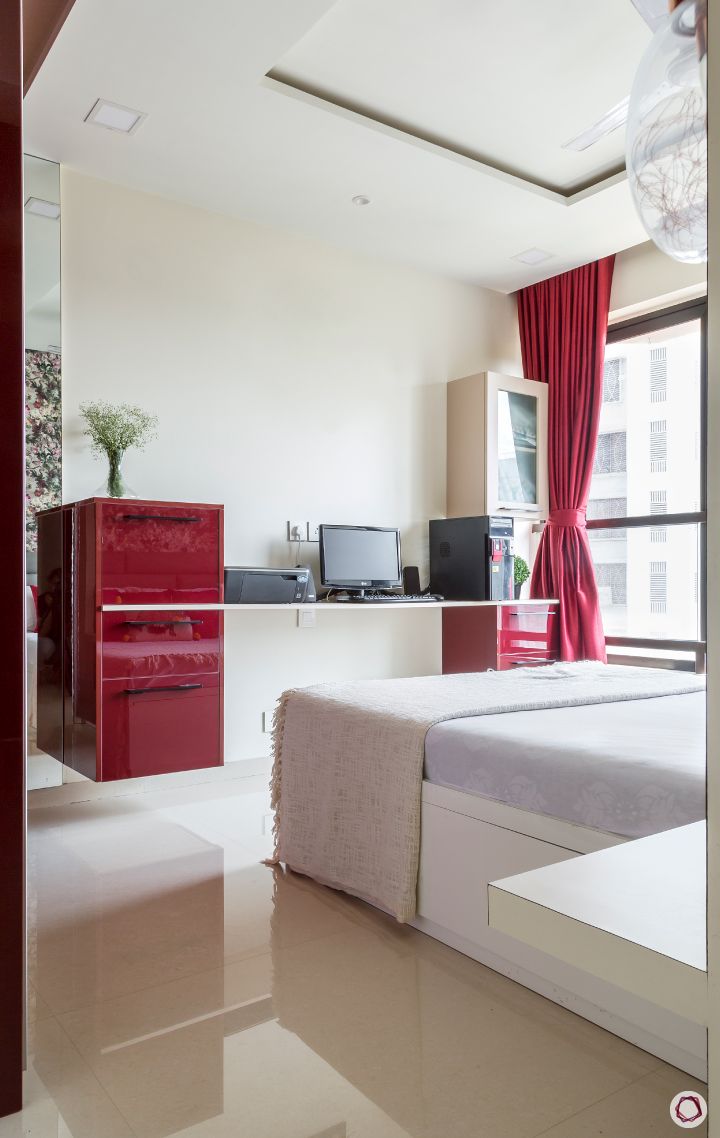 The glossy laminate wardrobe and storage unit come in a close second. Notice the clean-lined study? This is attached to the storage units on either sides to create a neat flow of elements. In addition to this, to keep everything basking in red hues, Kashmira added crimson curtains as well.
A minimalist's haven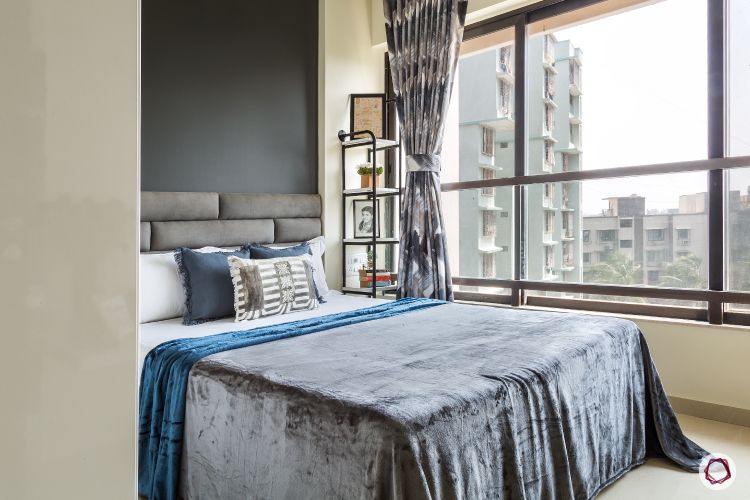 Unlike the rich master bedroom, this room has been designed to keep things cool and airy. Chic and fuss-free, the son's bedroom is doused in grey hues and minimalist interiors.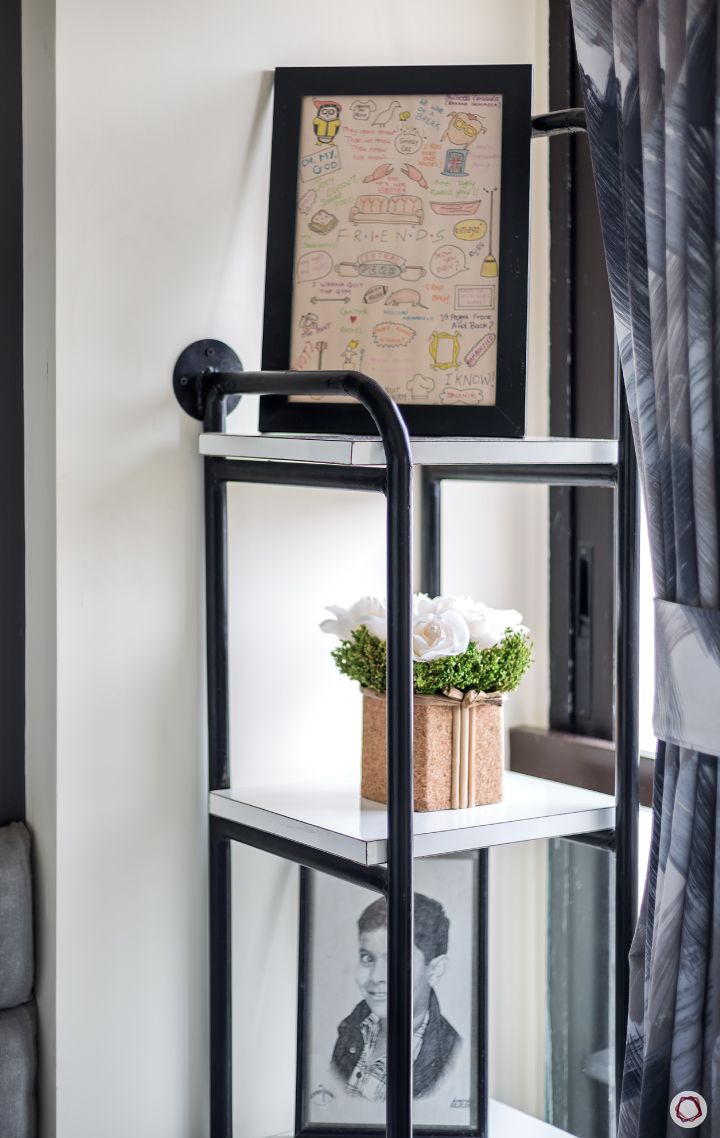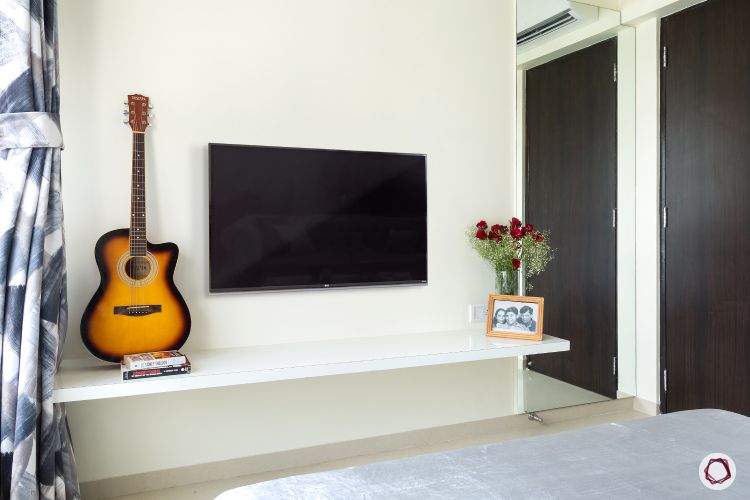 The sleek metal shelf with clean white racks offer a peek into his essentials. A clean white ledge below the TV holds the son's prized possessions.
"Shailesh and his family were the ideal clients. They gave me a free reign over the interiors and that's the best feeling ever for any designer. They were also patient, open to ideas and the entire process went smoothly."

Ar. Kashmira Nikhil Bobhate, Interior Designer, Livspace
Loved this feel-good home? You might want to look at Colours Speak Fluently in this 3BHK at Elan Homes as well.
Send in your comments and suggestions.