A 3BHK house with a burst of colours and lively interiors!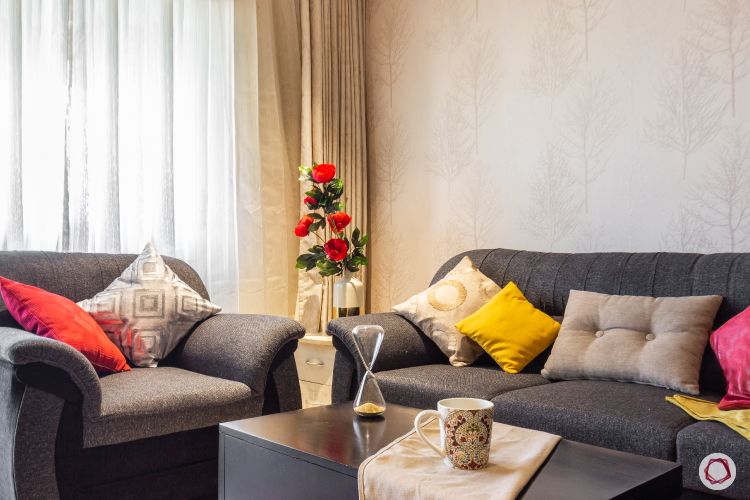 ---
Who livs here: Umang Banka with his wife Roopa and their son and daughter
Location: Sensui, Elan Homes, Bengaluru
Size of home: A 3BHK spanning 1,800 sq ft approx.
Design team: Interior Designers Aarshi Jariwala and Iesha Parekh with Quality Manager Anil Kumar
Livspace service: Full home design
Budget: ₹₹₹₹₹
---
For Umang Banka, a Chartered Accountant by profession and Roopa, an MBA graduate and now a happy homemaker, it all started the day they saw their friend Vinit Agrawals' Livspace home. On their recommendation they came to us with a dream to get a home that fills their hearts with happiness. With a mind like a blank canvas, they approached us to paint it in their favourite colours.
Normally we would drop a few hints about what we're about to dive into, but this time, we would want the home to speak for itself. This 3BHK at Elan Homes in Sarjapur road, Bengaluru, has so many stories to recite that we were all ears. Designers, Aarshi and Iesha have have given this home such a gorgeous design that we can't take our eyes off it.
A Serene Living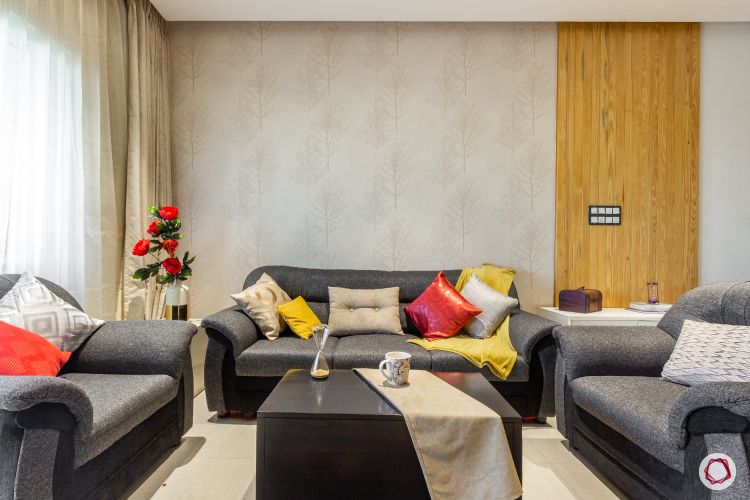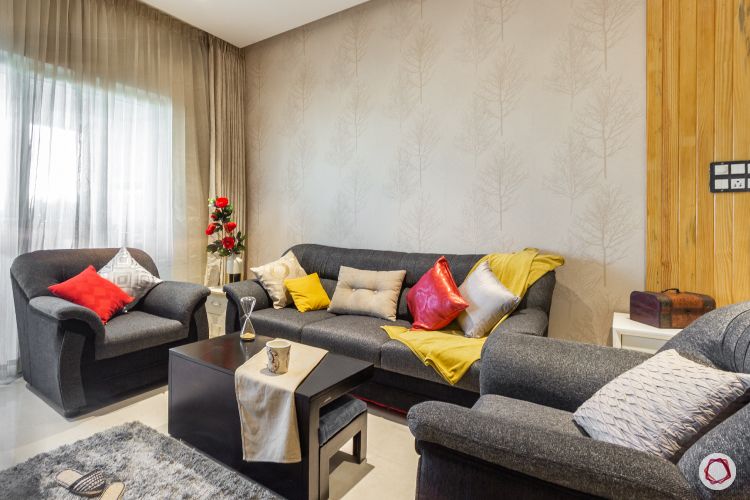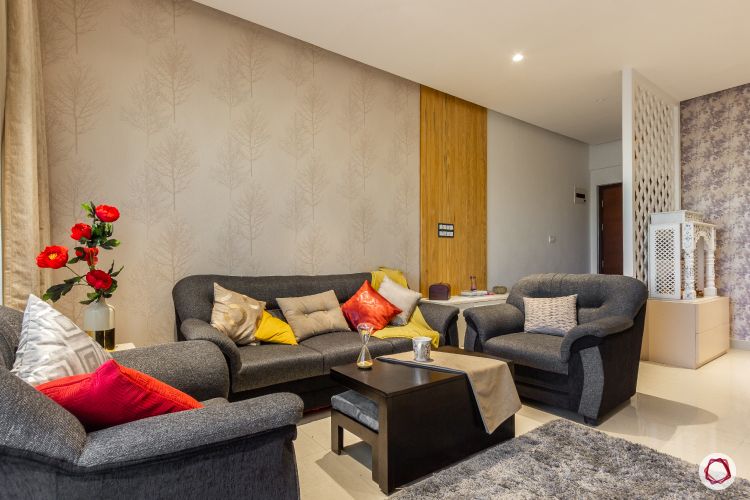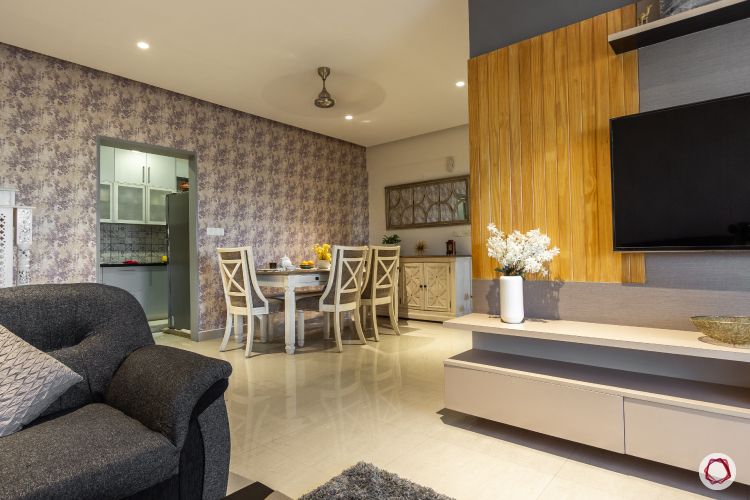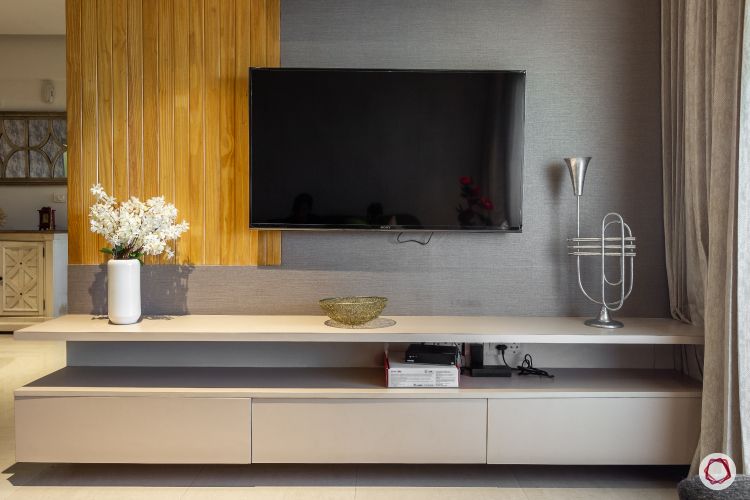 Once you enter this beautiful apartment, you are welcome by a living room that looks so subtle yet so bright and airy. The Bankas told the designers that they would ideally require a lot of seating in this area, since they host a lot of get-togethers over the weekends. Therefore, plush grey sofas took center stage and to add to the seating, they were given a coffee table with poufs that slide under it, for times when the guest-list increases in number.
Design-wise, we are totally in love with the subtle textures wallpaper with an alluring print that makes this space look so inviting. Going with the concept of continual design, they gave them wooden battens on the accent wall as well as the wall behind the TV unit. Sheer drapes and laminate finish TV unit is what completes this space perfectly.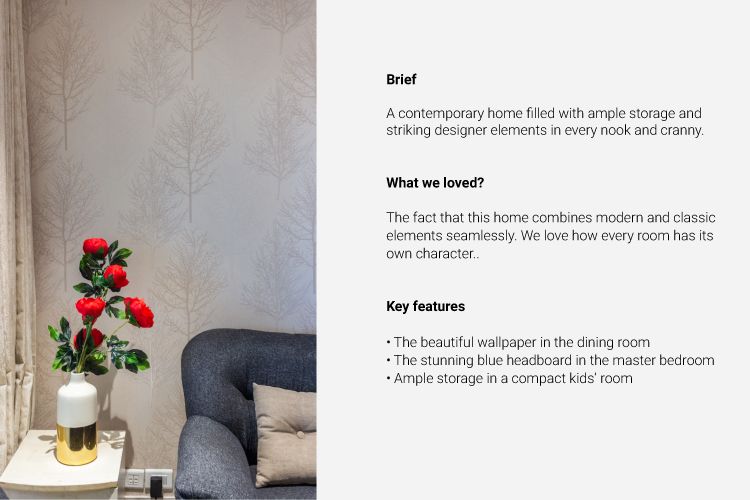 A Contemporary Dining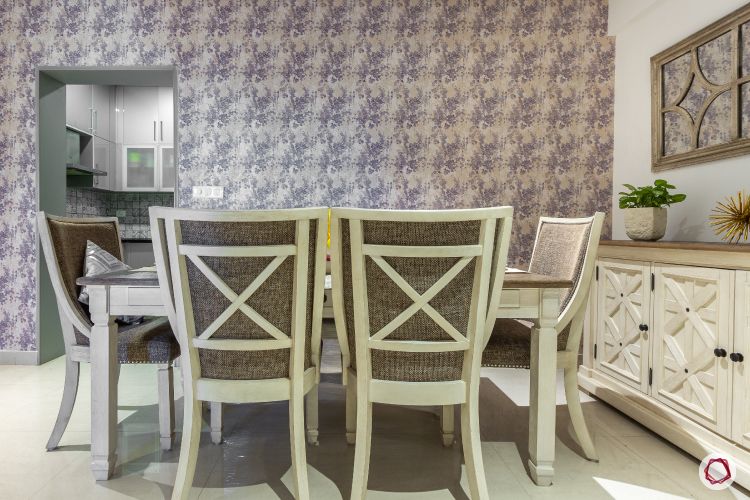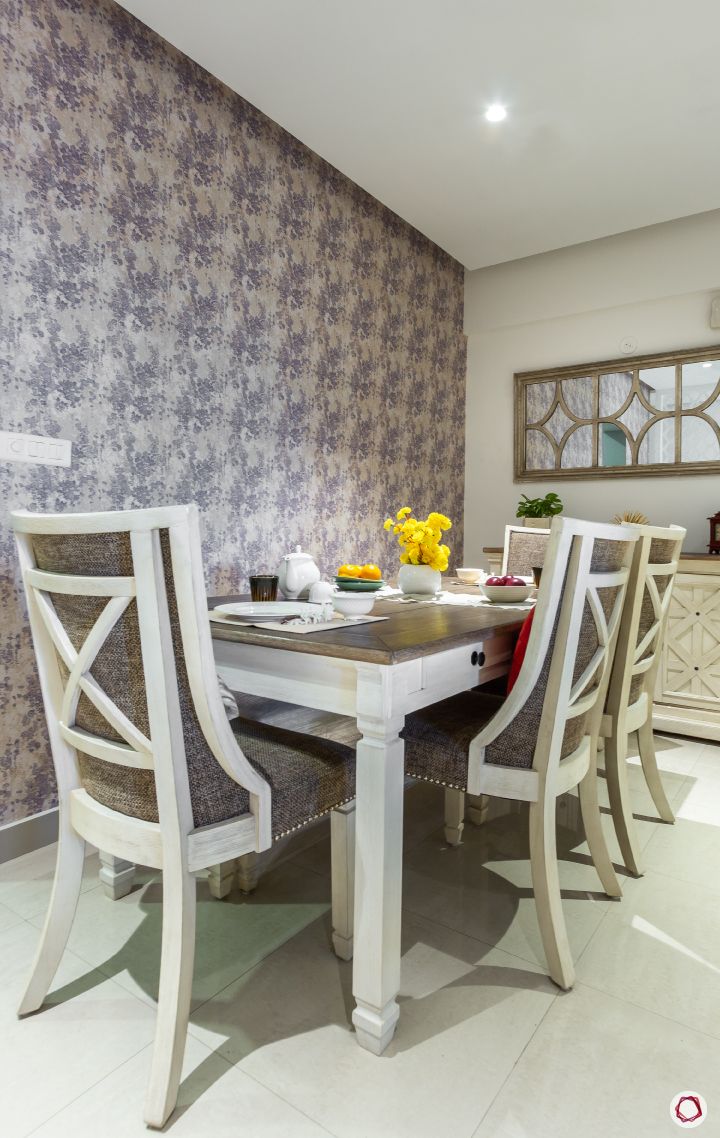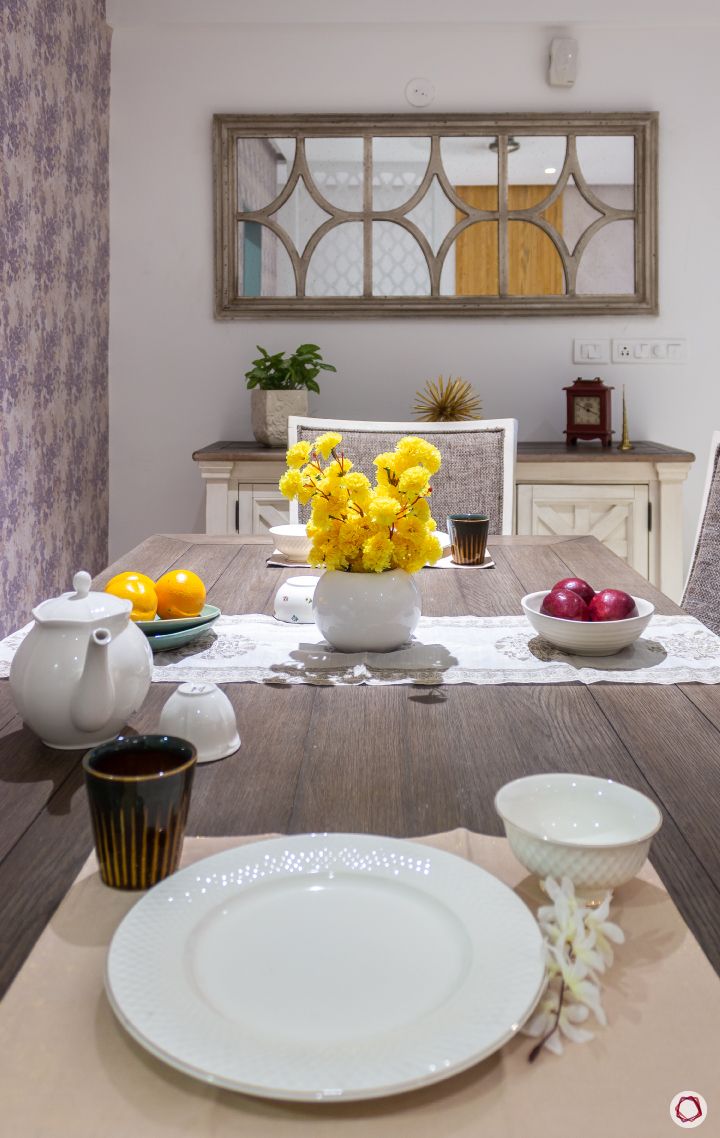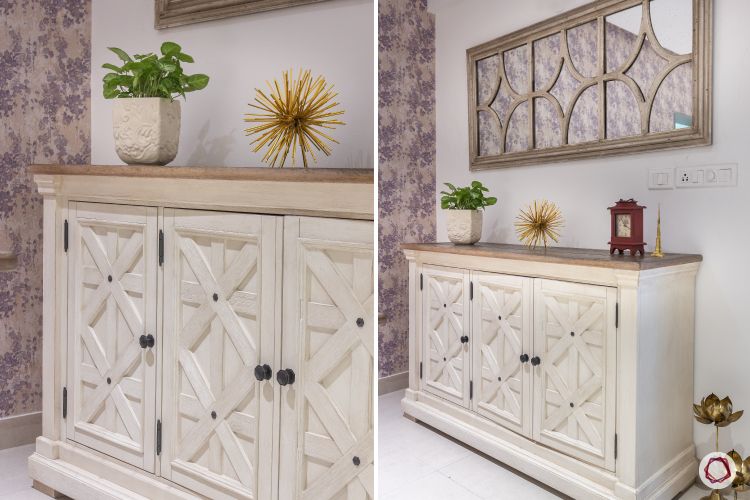 Take a moment and bow down for this simply stunning dining room right here. From the beautiful pastel, floral wallpaper to the mirror frame and the contemporary console table, all the boxes are ticked for this one. In conversation, Umang told us how they love having a classical touch in their interiors, which brings us to the concept for this space. A rustic-feel dining table and chairs with gently splayed legs, this dining room looks so welcoming and perfect for family get-togethers.

Neutral & Beautiful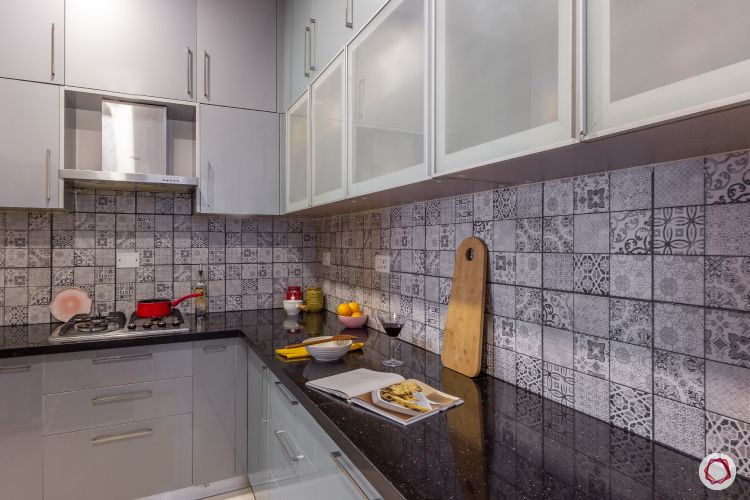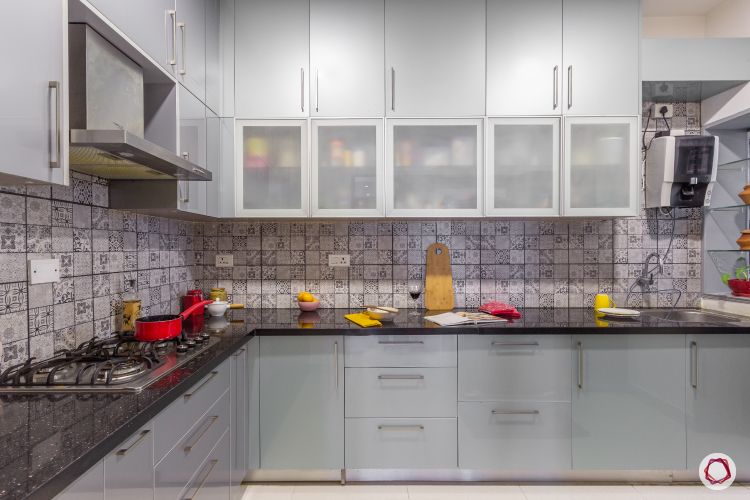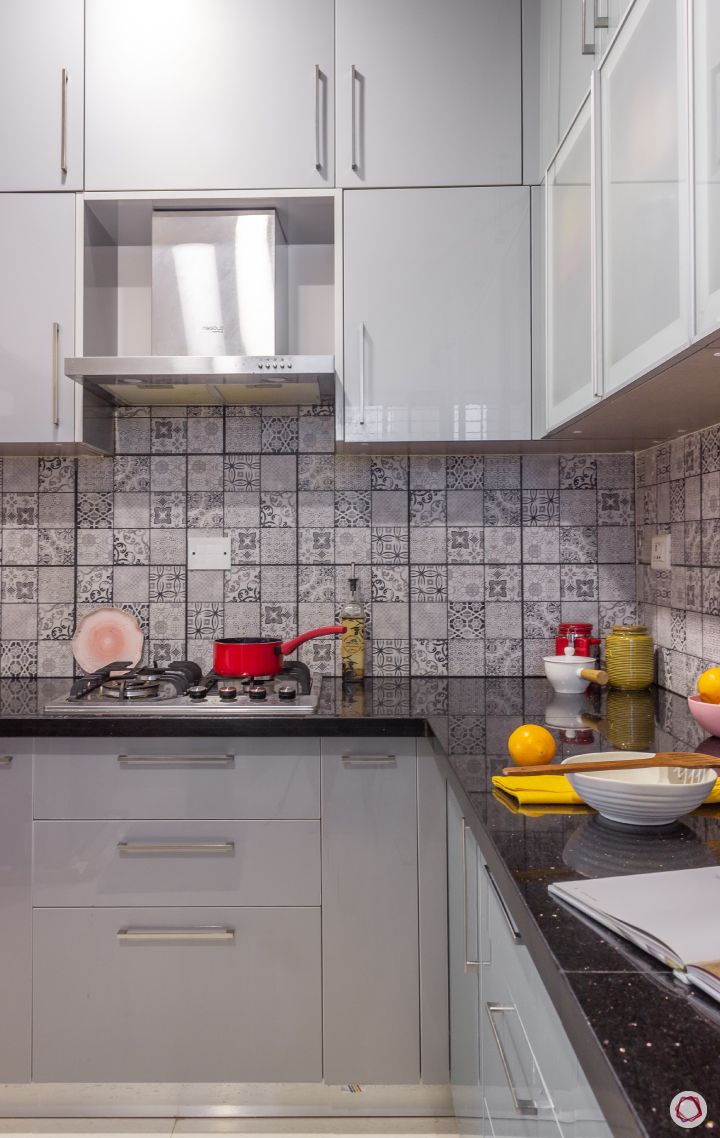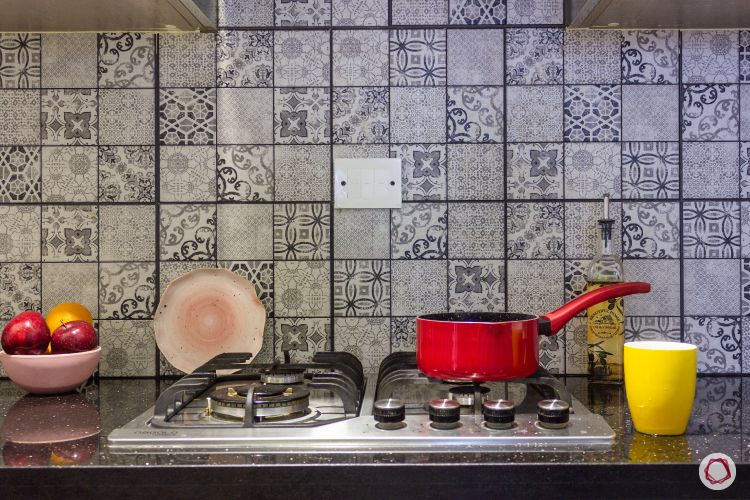 The only two requirements here were very subtle colours and LOT of storage. Aarshi was convinced that she had to make this kitchen look spacious, since she planned to give them lofts. So, she chose a very light shade of silver grey for the cabinets and added some frosted glass shutters to it. This fully loaded kitchen comes with drawers, bottle and spice pull-outs, cutlery trays and so much more. To add some character to this space, she gave pretty patterned tiles for the backsplash that act as the stand-out element in here.
Enter the "Master" Bedroom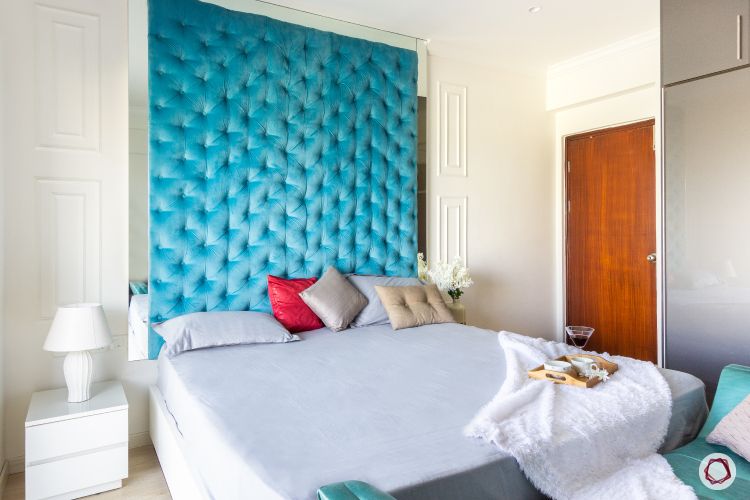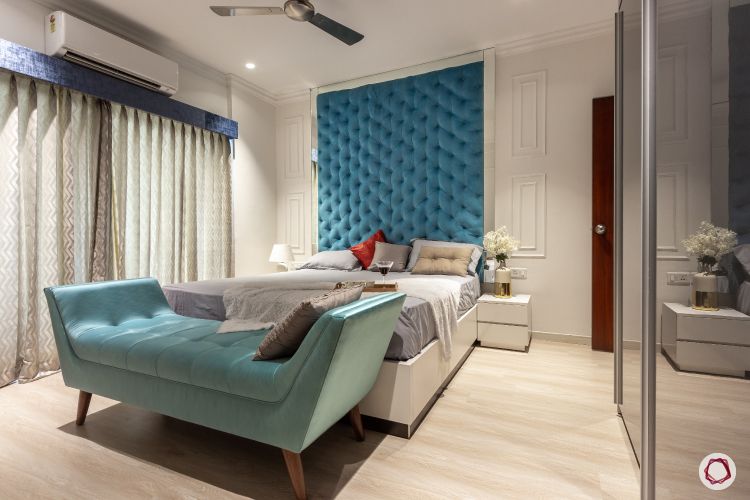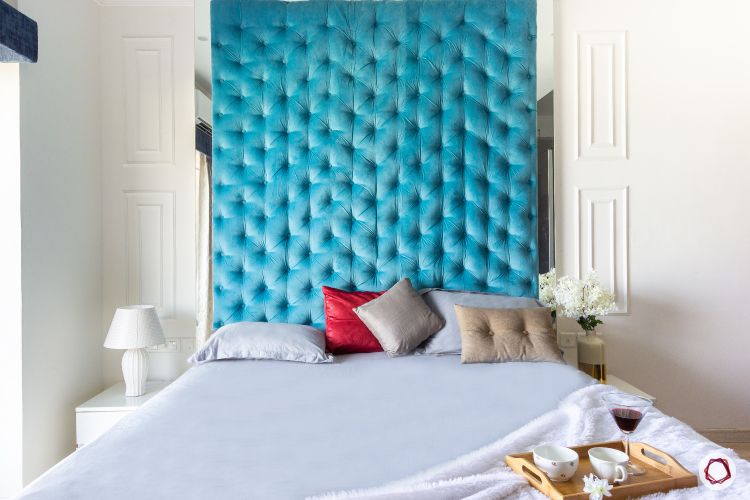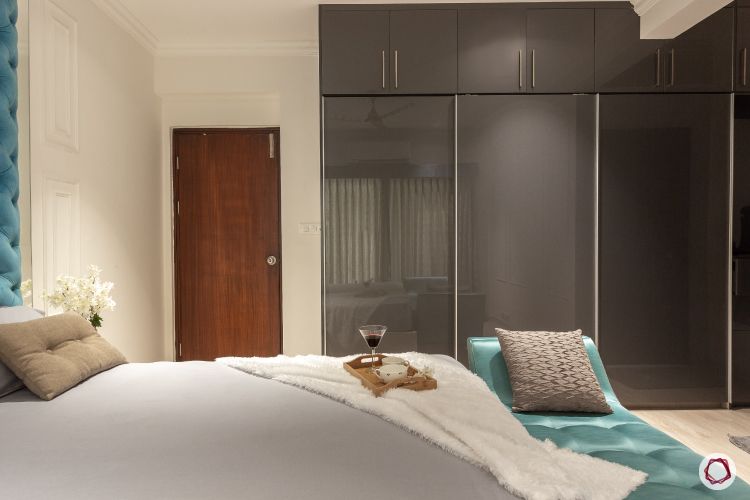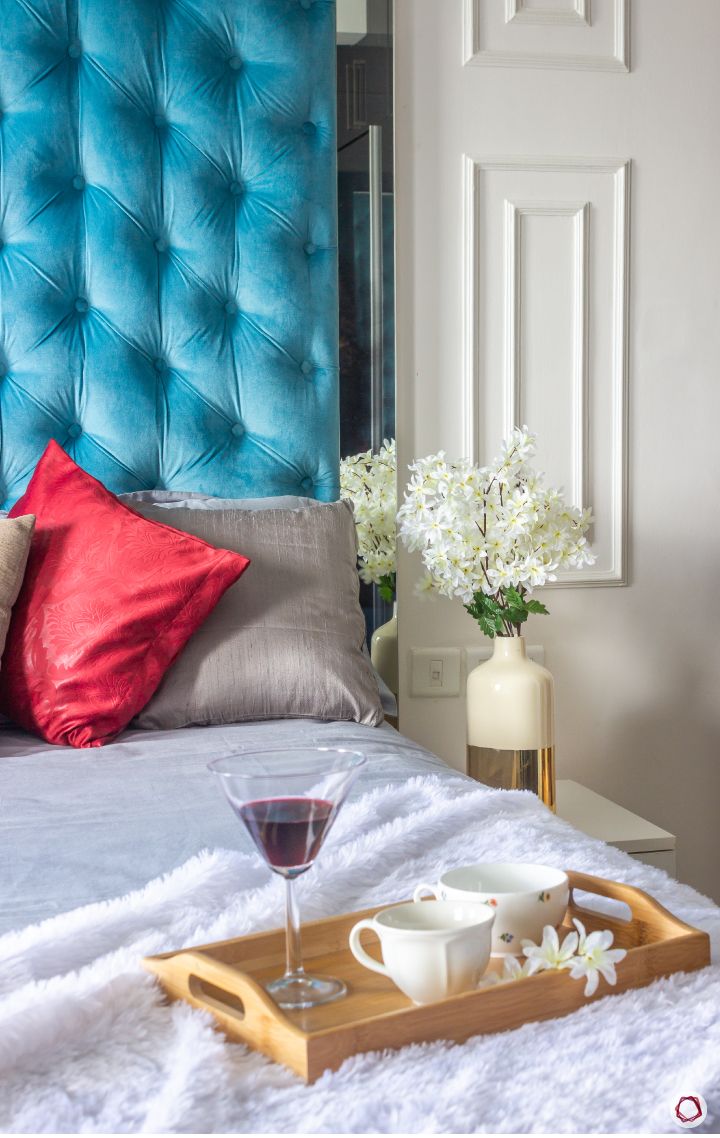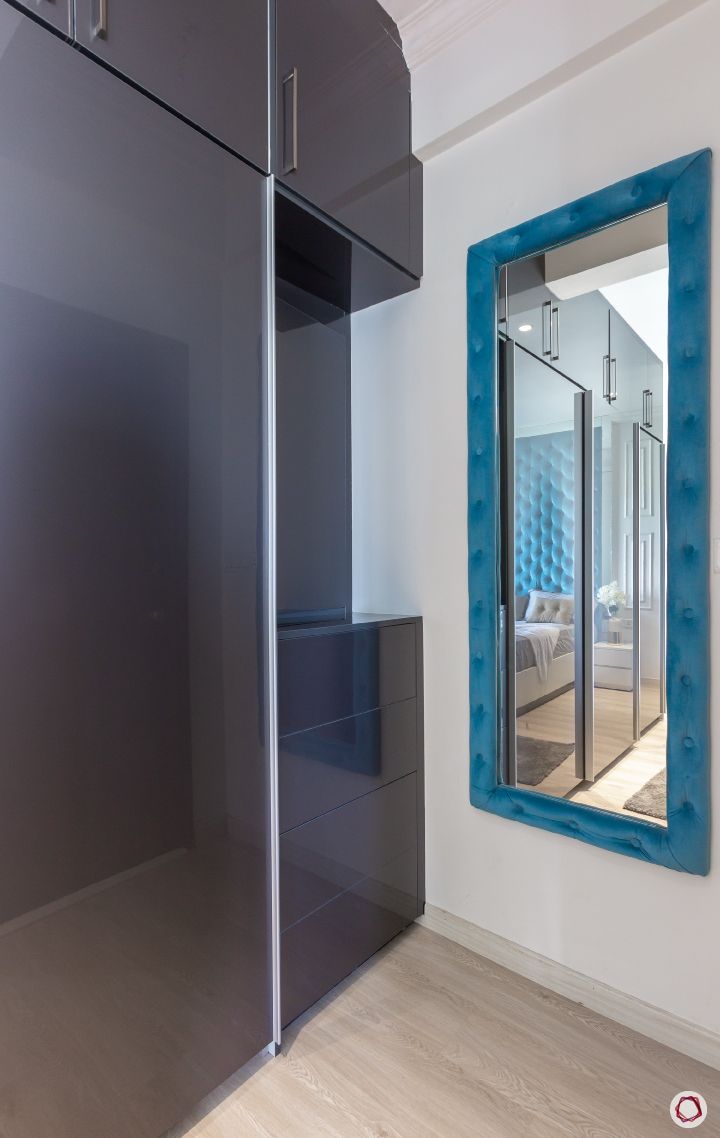 We have so much to say about the master bedroom. But we want the images to do most of the talking here. Let us tell you about the hero in this room — the headboard on the king size bed. This stunning beauty right here is fully upholstered and wears plush button tufts. It took a lot of effort to convince the couple for this one. But all's well that ends well is what they say. After looking at the end result, all that Umang and Roopa could say was "wow"!
The trims on the pearl white wall behind the headboard and the wall opposite it are just what a plain wall could ask for — subtle yet effective. The slate grey, acrylic finish wardrobes with lofts are again the answer to all storage needs. A bed bench in a lighter shade of blue adds that regal touch to this room, while a dresser attached to the wardrobe has a full-length mirror with upholstered edges, for company.
Splattered with Colour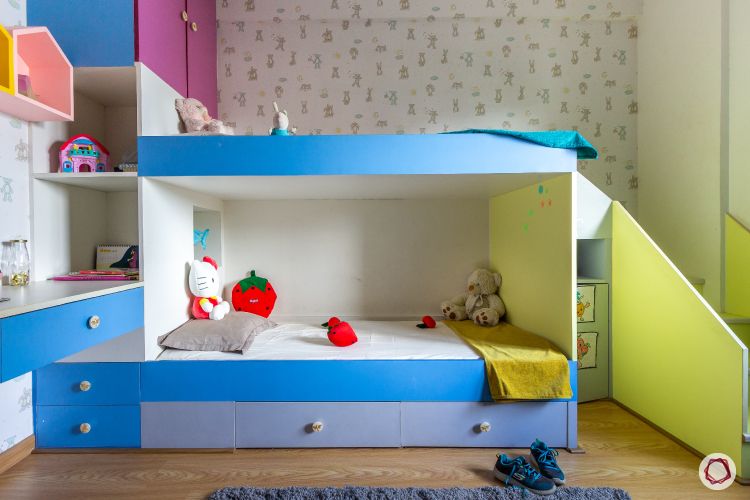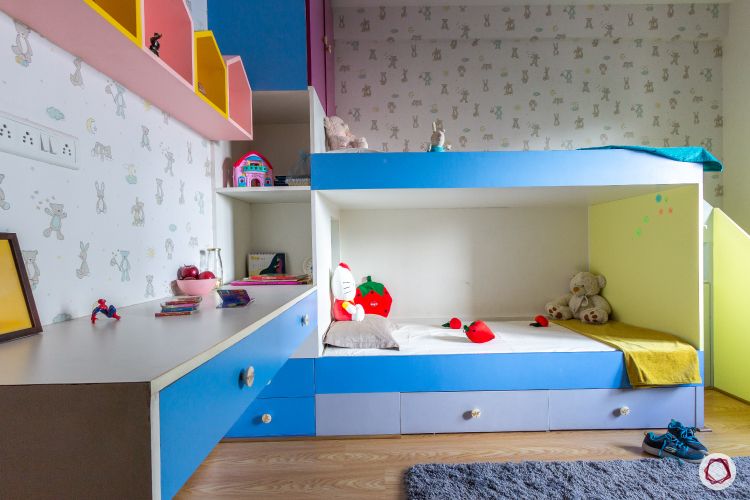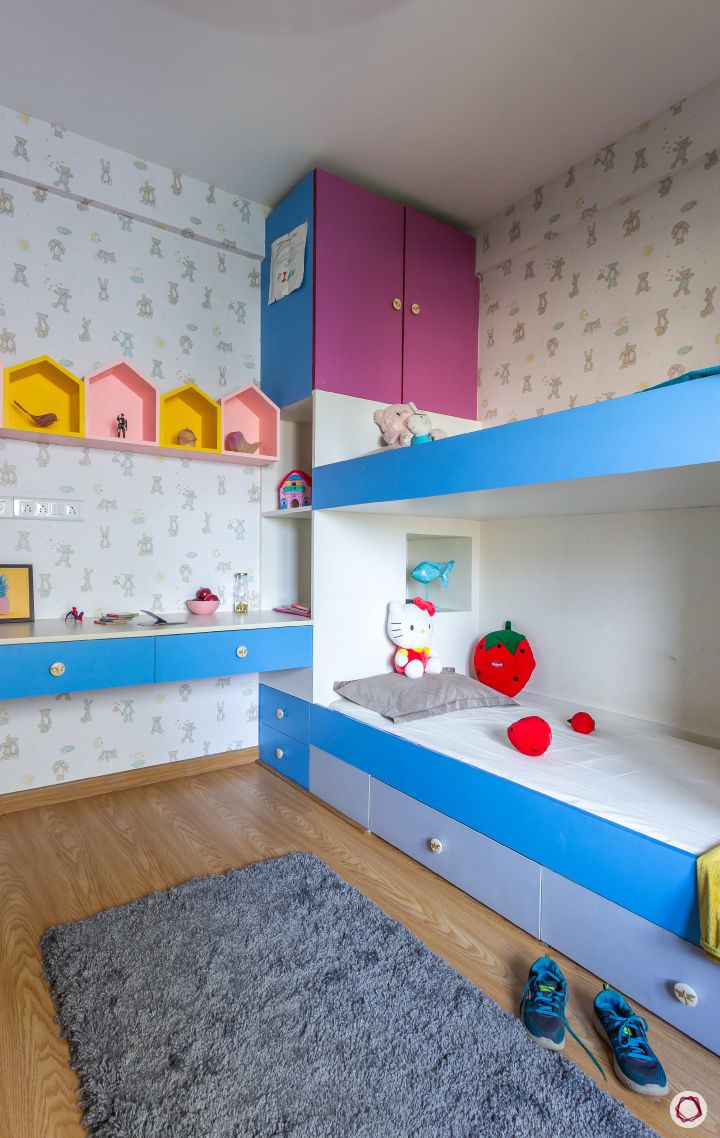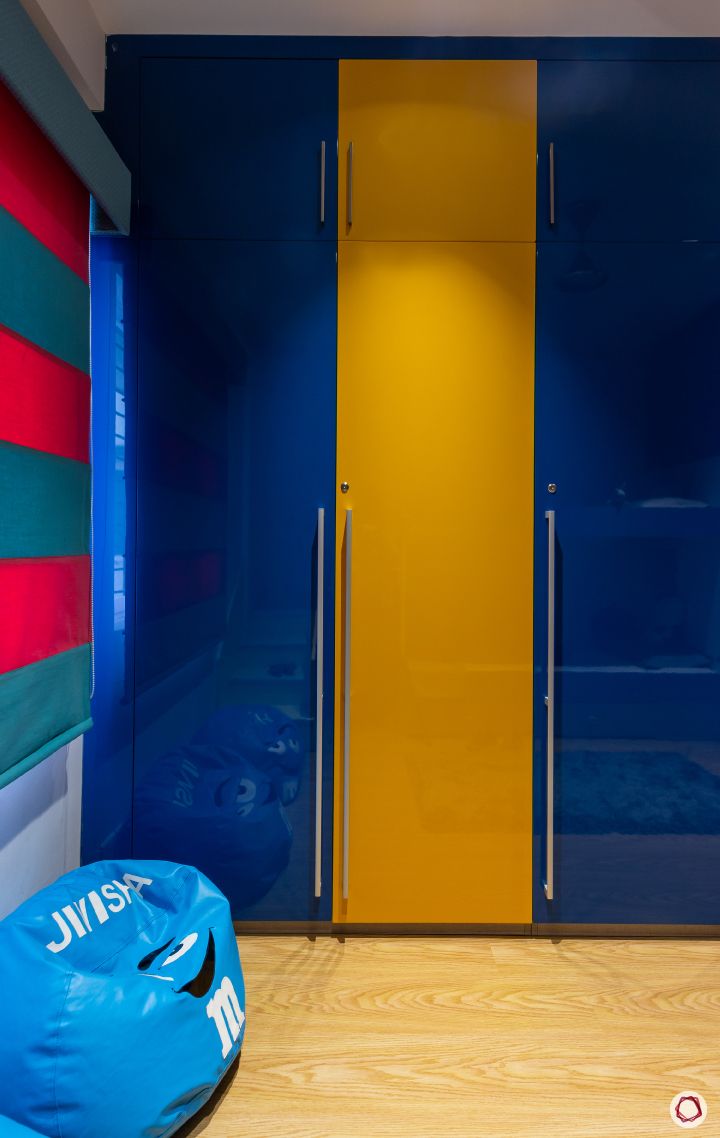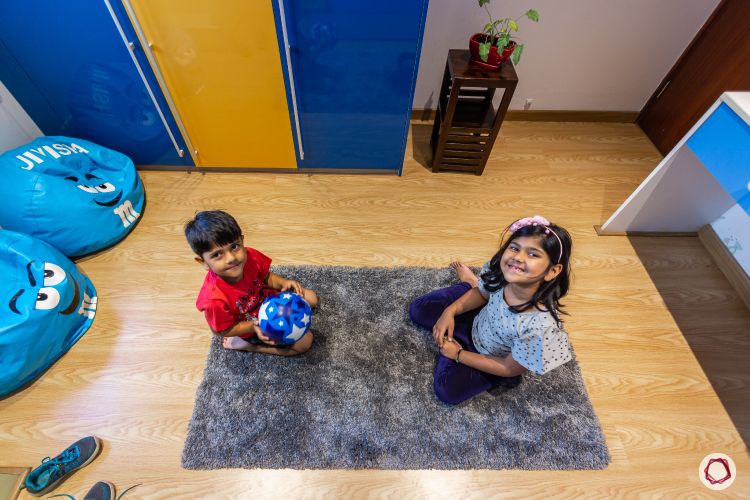 Do you notice the myriad colours used in this kids room? Well, this is a result of a trip to the Experience Center, where the kids sat and chose their favourite colours, and our designers picked up cues from there. Since the siblings share the room, the design had to be such that it accommodates the needs of both.
This compact room packs a punch when it comes to storage and display options. The bunk bed is an ideal choice for a sibling room, and when it is a bed that comes with drawer and cabinets attached to it, it's a win-win situation. Notice how the bed has cavities in it that are easily accessible for keeping and displaying some exclusive toys and books. Also, the extended study table with hut-shaped shelves on top is such a pretty sight. Storage is also optimised on the stairs that lead to the top of the bunk bed, where the gap before the edge of the bed and the last step is utilised as a shelf. The royal blue and sunflower yellow wardrobe looks perfect for a kids room like this one.
A Pearl Wardrobe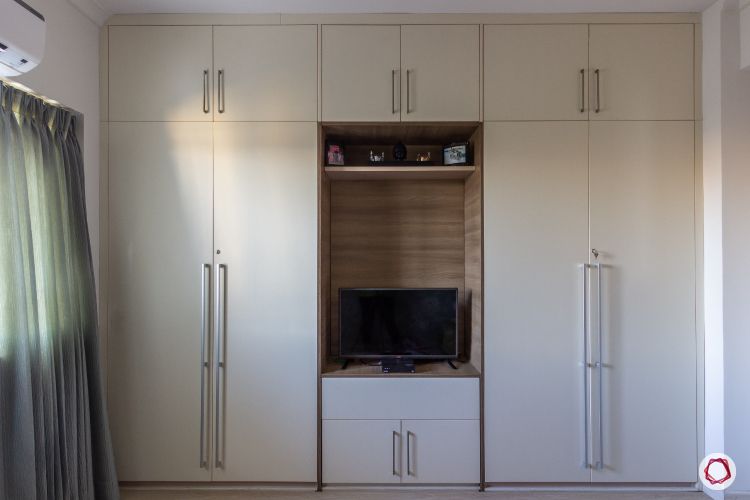 The guest room just needed a full-size wardrobe to complete it. A frosty white laminate finish wardrobe with hinge doors and sleek handles is what the designers gave them. The couple wanted a TV in the center and that is this piece was designed. Functional and beautiful is what we like to call this.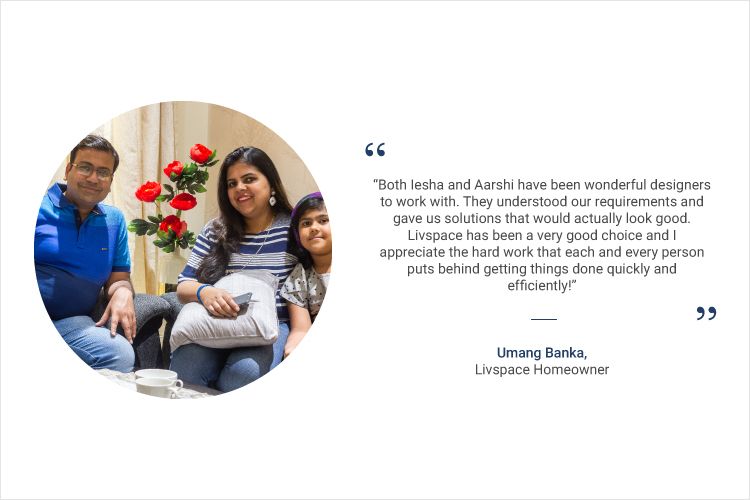 ---
"Umang and Roopa were very easy to work with. They came with an open mind and literally left everything to us. We had to design the home from scratch and this involved a lot of work. They were patient with us and gave us ample time to complete everything. This was my first project with Livspace and I thoroughly enjoyed working on this!"

– Aarshi Jariwala, Interior Designer, Livspace

---
If you're looking to renovate just your kitchen then do not miss how this 20-Year-Old Compact Kitchen Gets A Dream Makeover!
Send in your comments and suggestions.