Most people tend to go minimalistic if they have a small apartment, to avoid a cramped look. But why compromise on seating because of space constraints? Livspace designers have come up with unique ideas for seating, ie, small space interior design techniques to make room for all your guests. The following is a curated list of Livspace homes that have seating squeezed into the smallest of spaces.

Small Space Interior Design Ideas #1: Living room
Ottomans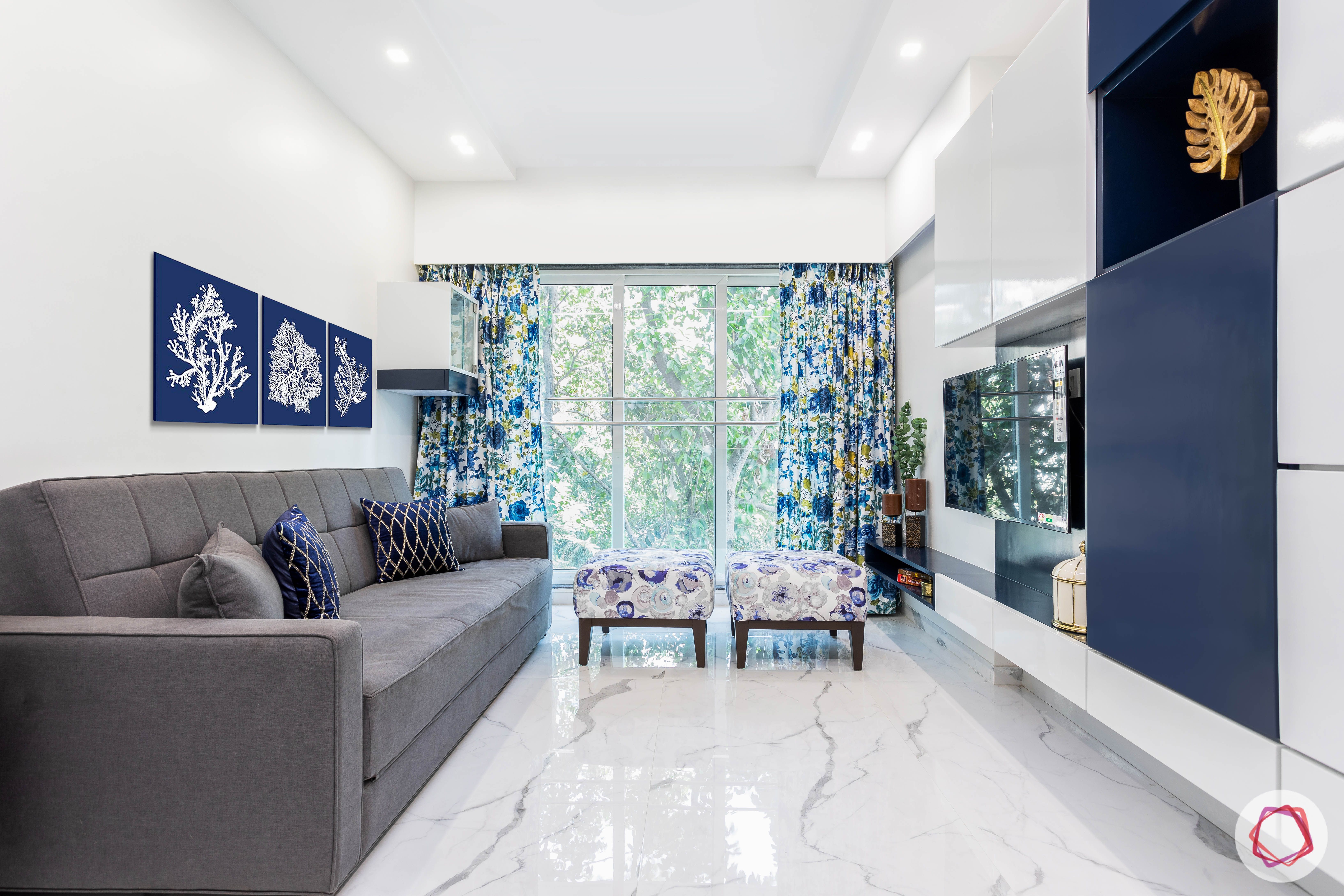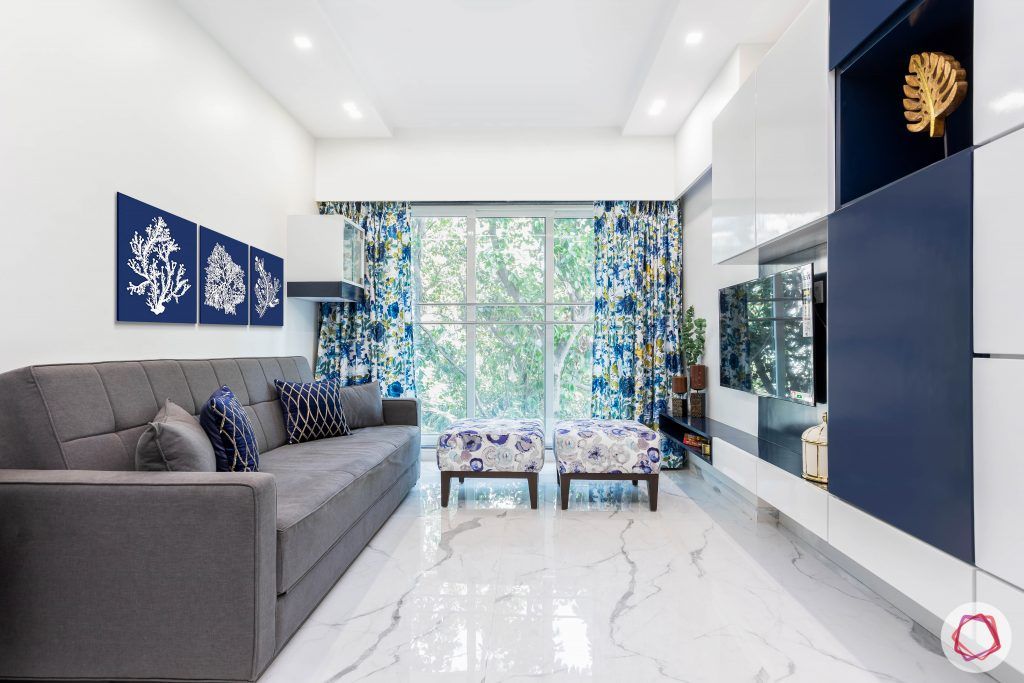 If you have a narrow living room where there isn't enough room to fit in a two-seater couch after placing a three-seater sofa, use ottomans to supplement the seating space. These are easy to move around and can also act as accent pieces for the living room.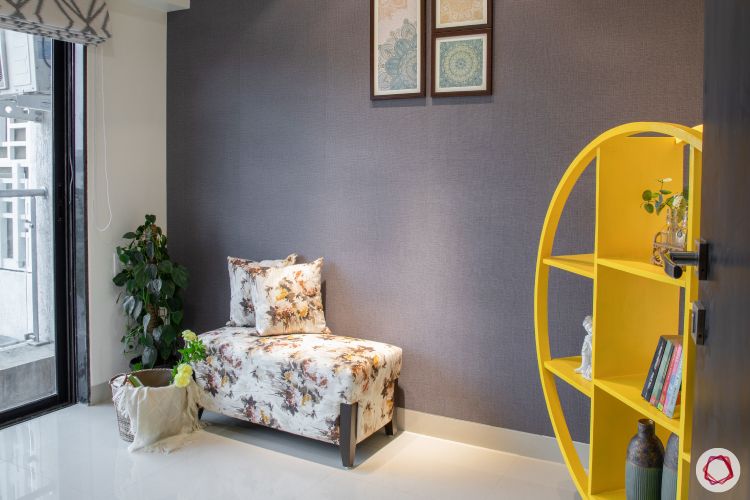 Ottomans, by themselves, can be dressed with cushions to create 'me' corners within the living room. It could be a special spot where you like to sit down and enjoy a leisurely cup of coffee.
Sofa-cum-bed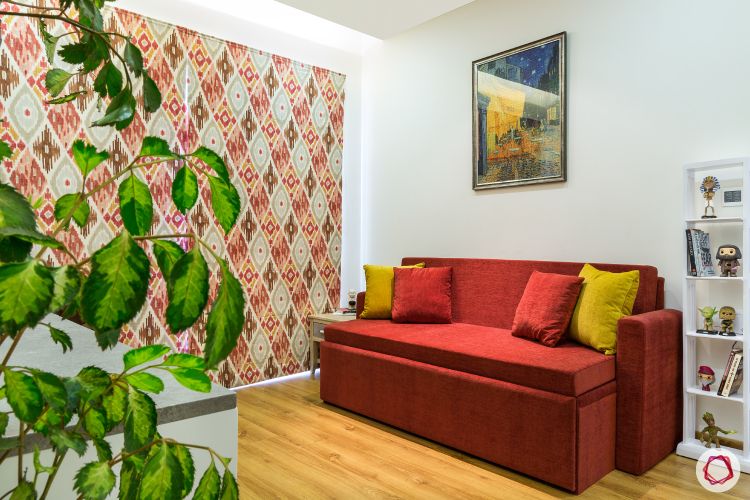 When you have utility on your mind, go for convertible furniture. Sofa-cum-beds are particularly useful in this regard as they occupy as much space as three-seater couch. But they can be rolled out to seat more people on a need basis.
Futon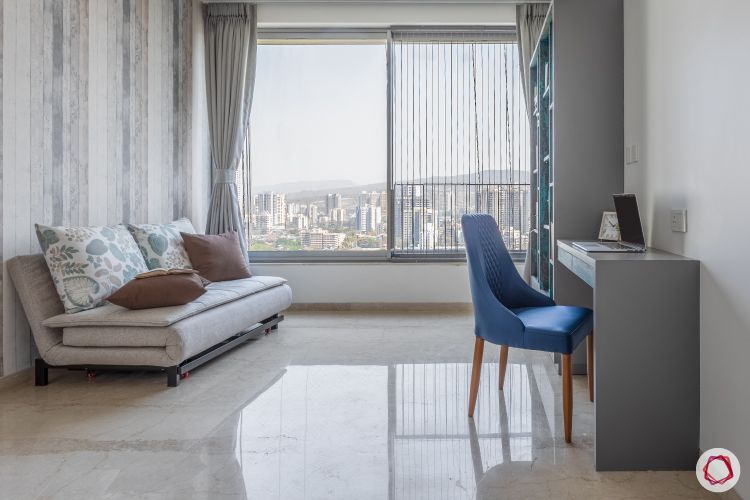 Futons are very useful for small space interior design plans. They can be used as regular couches or be rolled out like rugs on the floor to huddle around and play board games.
Small Space Interior Design Ideas #2: Cosy Diners

Two seater dining table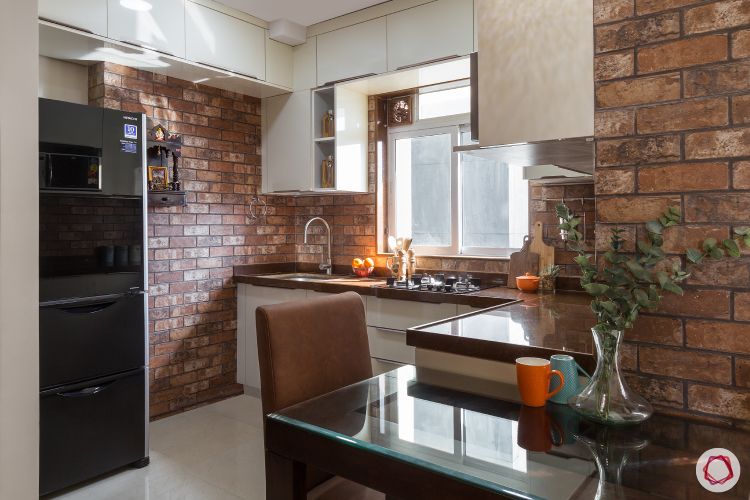 A large dining table is redundant if you are nuclear family and do not entertain much. Two-seater dining tables that fit into narrow passages are rage among millennial couples these days!

Four Seater Dining Table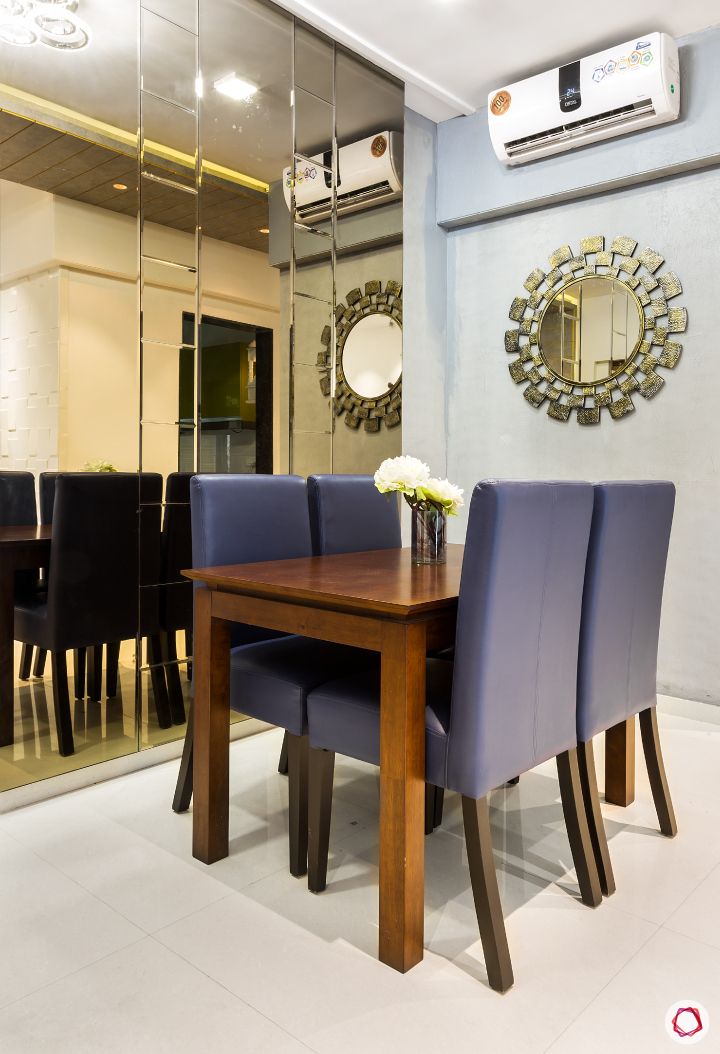 Cosy and compact, this Livspace home manages to fit a four-seater dining table in less than 50 sq feet. The mirrored panels in the background are definitely helping the cause!

Bench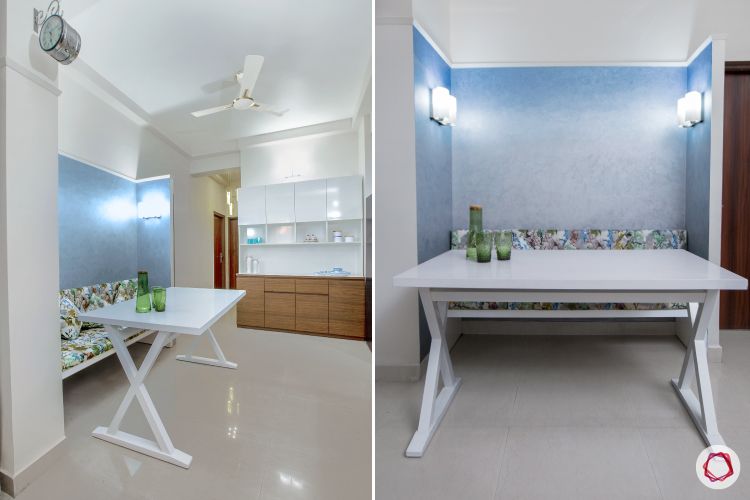 When in doubt, opt for a bench. This is one of the tricks to squeeze in functional furniture in compact spaces. This cushioned bench is not only space-saving but also super comfy.

Dining-cum-centre table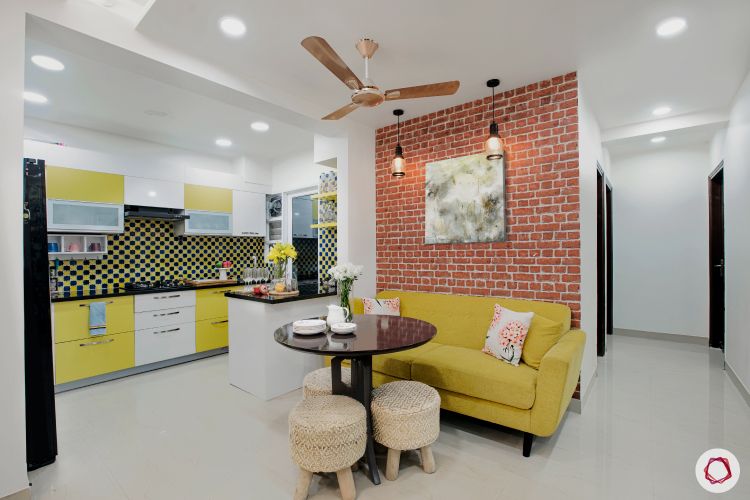 Good things come in small packages, and this compact dining-cum-centre table is a testament to that for sure. The three tiny footstools nested under the round table form a cosy dining set up for a small family.

Small Space Interior Design Ideas #3: Bedroom

Window seat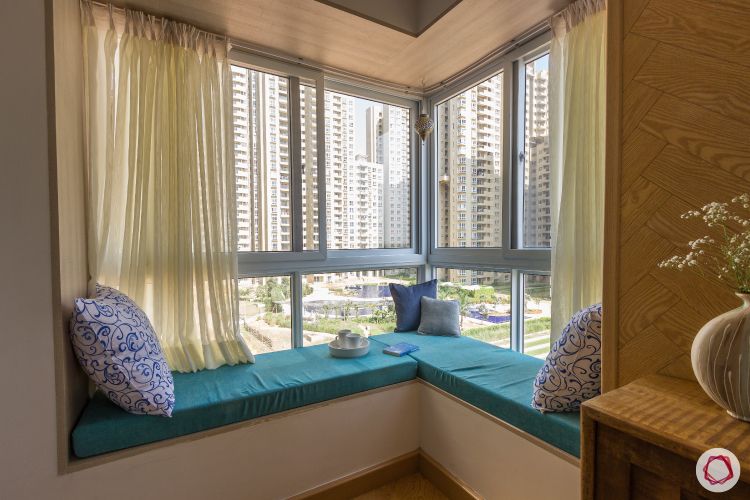 Bay windows comprise a new trend seen in Livspace homes that allows designers to squeeze seating into what is essentially the window sill. Apart from seating, storage also can be accommodated in this space. If its a room with a view, then these are the best seats in the room.

Stool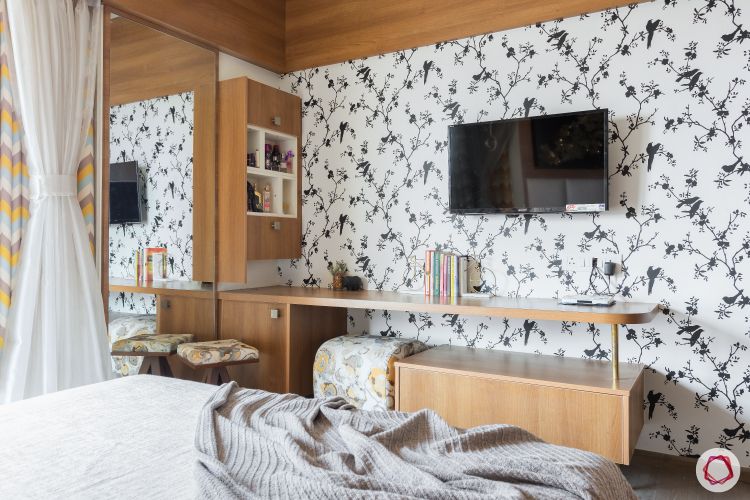 For compact bedrooms, stools and ottomans make the best seating options. This tiny stool for example, is both easy to move around and stow away when not in use.

Bedroom Bench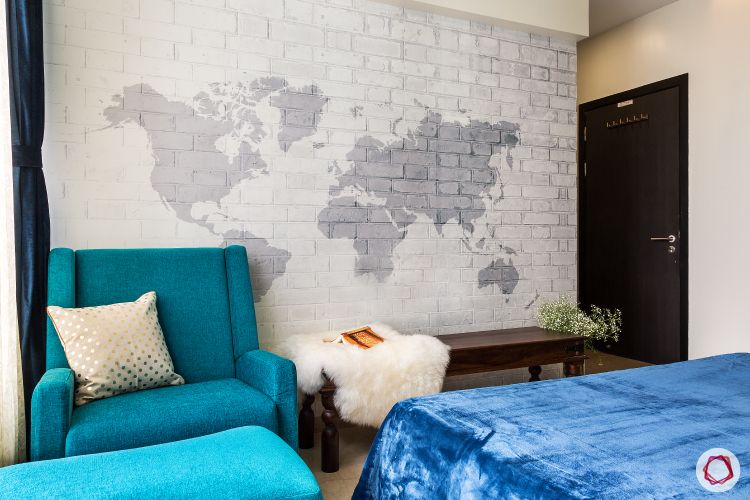 A bench is particularly useful because it can seat up to three people and its sleek frame occupies bare minimum space. This solid wood bench will prove to be exceedingly functional while entertaining friends who are close enough to gather for a chat in the bedroom.

Floor seating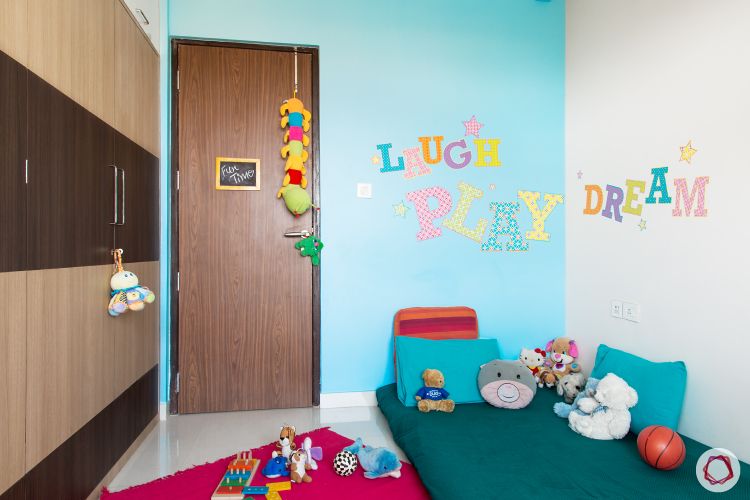 Kids room seating should be basic and fuss-free; just like the floor seating arrangement we see in this Livspace home. The mattress provides cushion if the kids happen to fall. Moreover, floor seating means there will be one thing less to trip over in the utter chaos of your kids' bedroom!

Small Space Interior Design Ideas #4: Balcony Seating

Cane chairs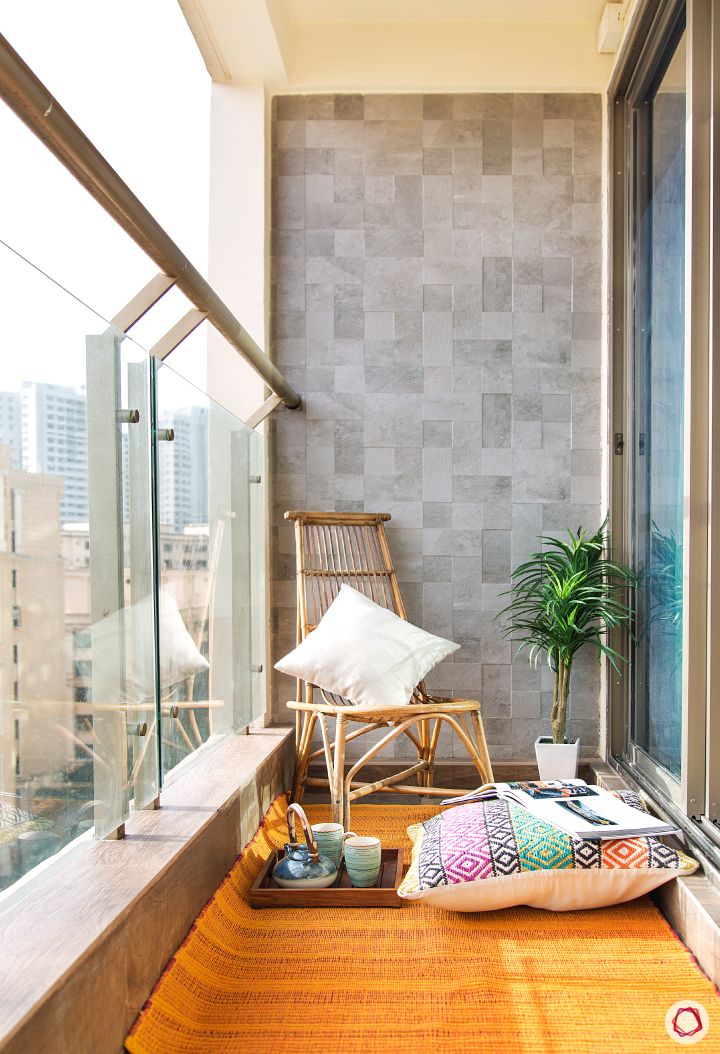 A knitted rug, a cane chair, some throw cushions and oodles of sunlight are all you need to transform this narrow balcony into a reader's coven.
Swing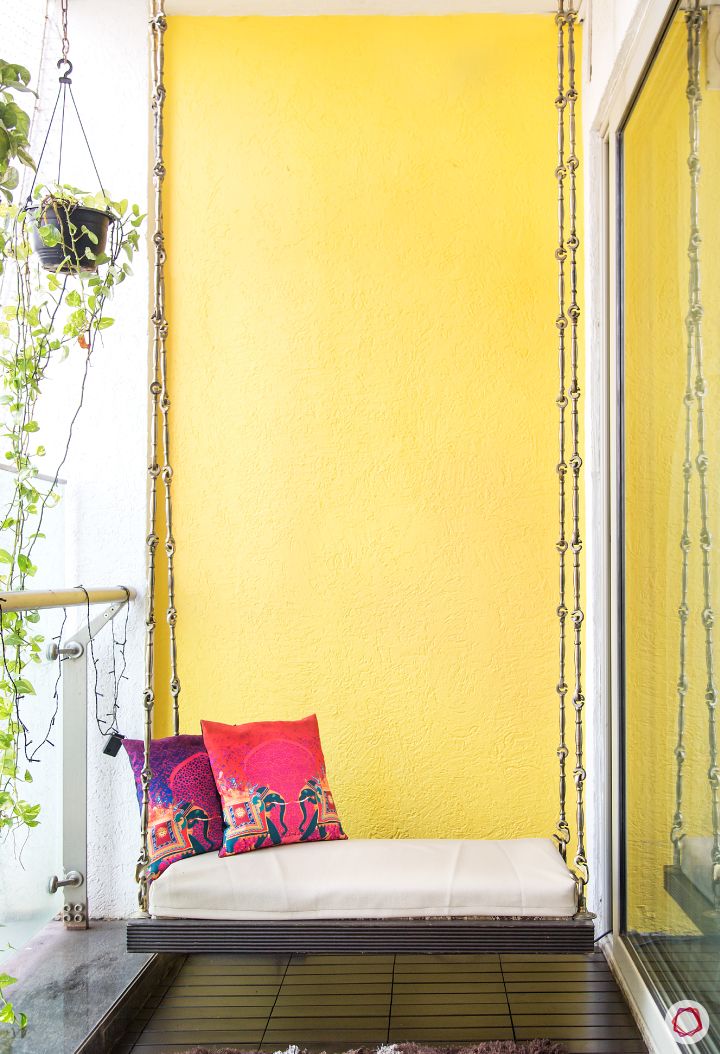 Swings are versatile in their appeal and timeless as a style statement. They also serve as fit accessories while implementing small space interior design ideas.

Balcony Bench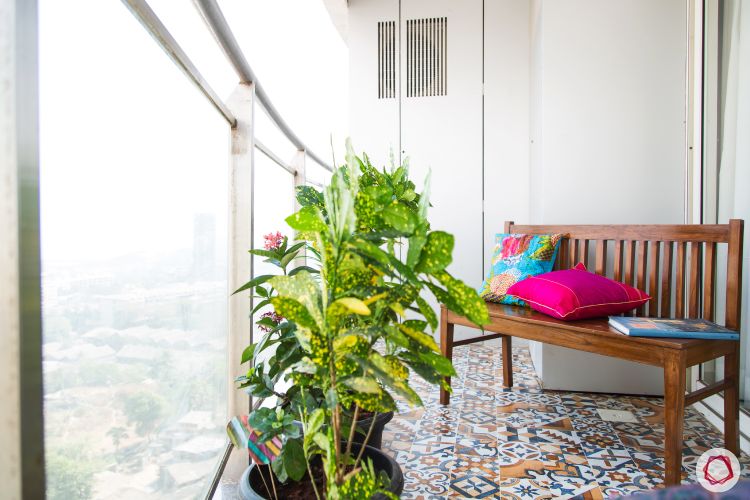 This mid-century solid wood piece whiffs of elegance and the Moroccan prints on the cushions ad pops of colour to it. This ensemble from a Livspace home is both classy and sleek; it could fit into the smallest of balconies while still leaving room for some potted plants.

Knitted chair and table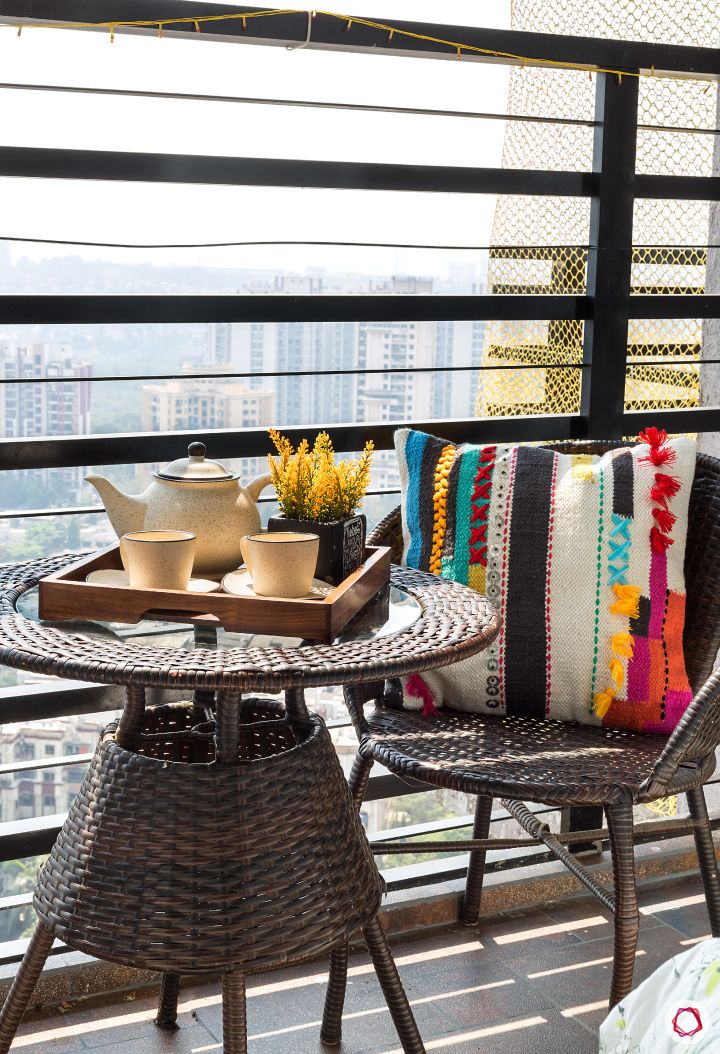 The rustic charm of this knitted coffee table and chair seem all the more appealing as the set is compact.

Small Space Interior Design Ideas #5: Other Options

Reading Nook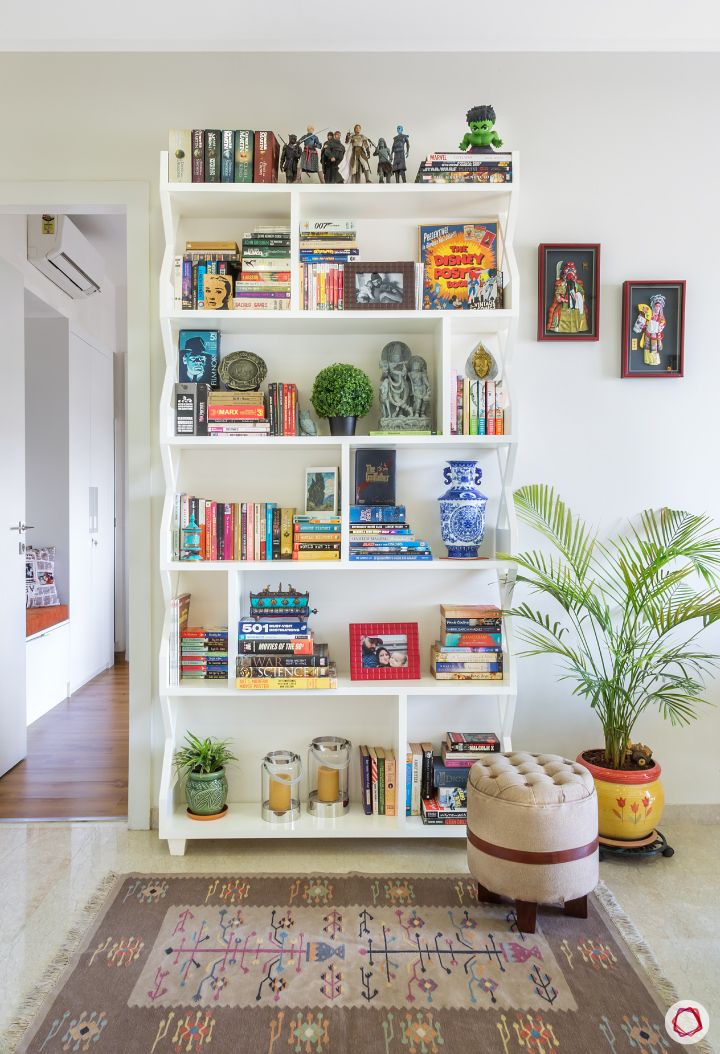 This reading nook is every bibliophile's dream. The lone tufted ottoman stands out in contrast to the tall bookshelf. If you like to laze around as you read, you can always stretch out on the rug in front of the bookshelf and lean on the ottoman for support.
Nested Coffee Table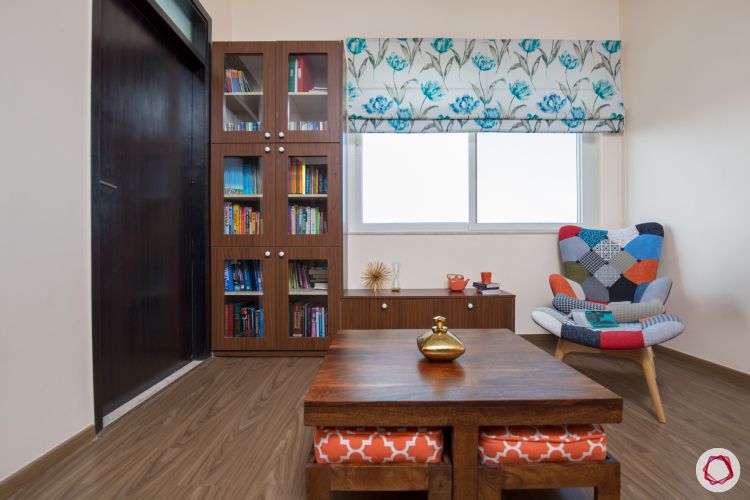 Take a leaf out of the book of Persian style for creating the best seating arrangements within limited space. This low coffee table with four nested stools is an inspiring idea from a Livspace home; the set up looks ideal for a round of board games on a game night!
Persian Seating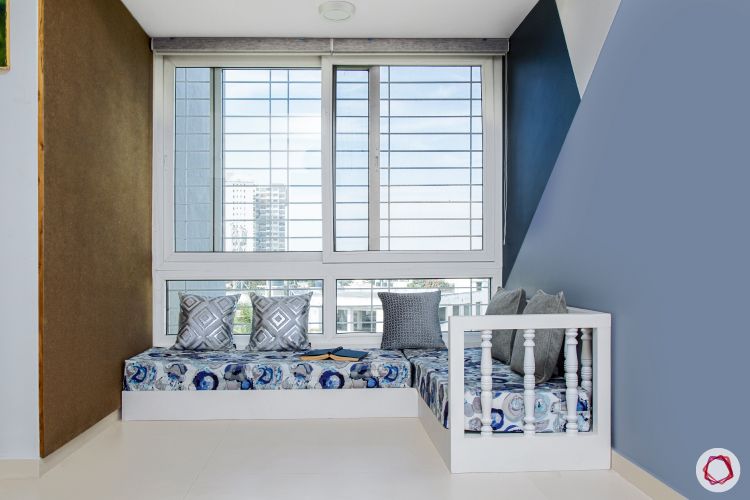 Another example of a rather Persian setup, this gilded floor seating arrangement looks like it came straight out of the pages of Arabian Nights! What's best is that it occupies just a corner and does not look crowded or cramped.
Throw Cushions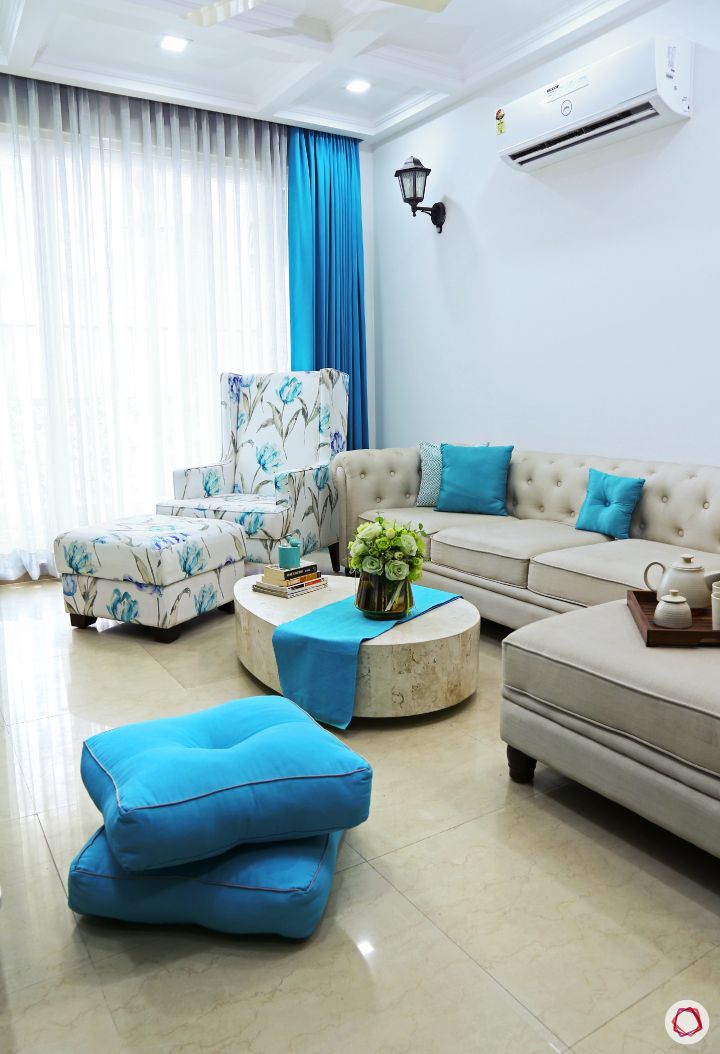 With throw cushions, you have the best of both worlds. You can stack them up one on top of the other when they are not in use and they can be used individually for seating people when required.
If you found these seating options for every room useful, also check out Unique Ways to Fit Storage in Every Room
Send in your comments and suggestions.