This classy home sure makes its mark on the list of our best house designs!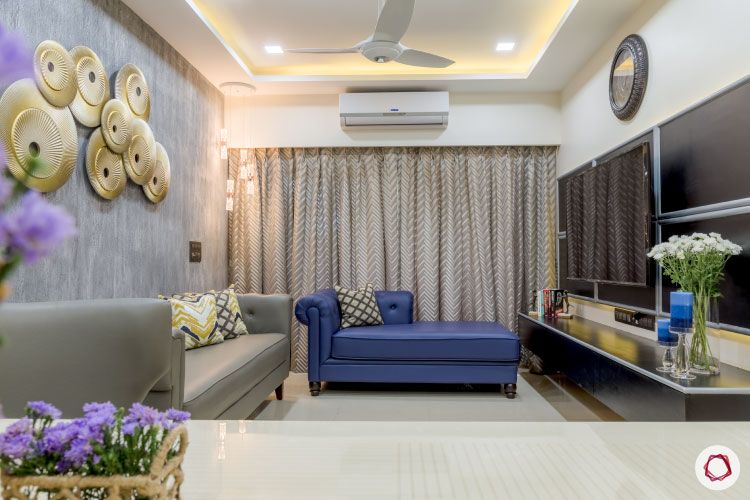 ---
Who livs here: Mubasshir Kazi and his wife, Yasmin Kazi with their two sons

Location: Bunch Berry Co-operative Housing Society, Mumbai
Size of home: A 2 BHK spanning 900 sq ft
Design team: Interior Designer Khushboo Pinkesh Varia
Livspace service: Full house design
Budget: ₹₹₹₹₹
---
Mubasshir and Yasmin Kazi moved into their new house in Mumbai with their two sons in July. They had the image of a picture-perfect home in their minds. To realise this dream, they had approached a designer in Mumbai but were unable to get a polished design concept. Enter Livspace!
The design solutions offered by Livspace along with the initial experience with the brand convinced the couple that they were at the right place. When they met our designer, Khushboo Pinkesh Varia, their request was to maintain a monochrome and contemporary theme. Now if you walk into their home, you would notice how beautifully the monochrome theme has been executed.
Refreshing Strokes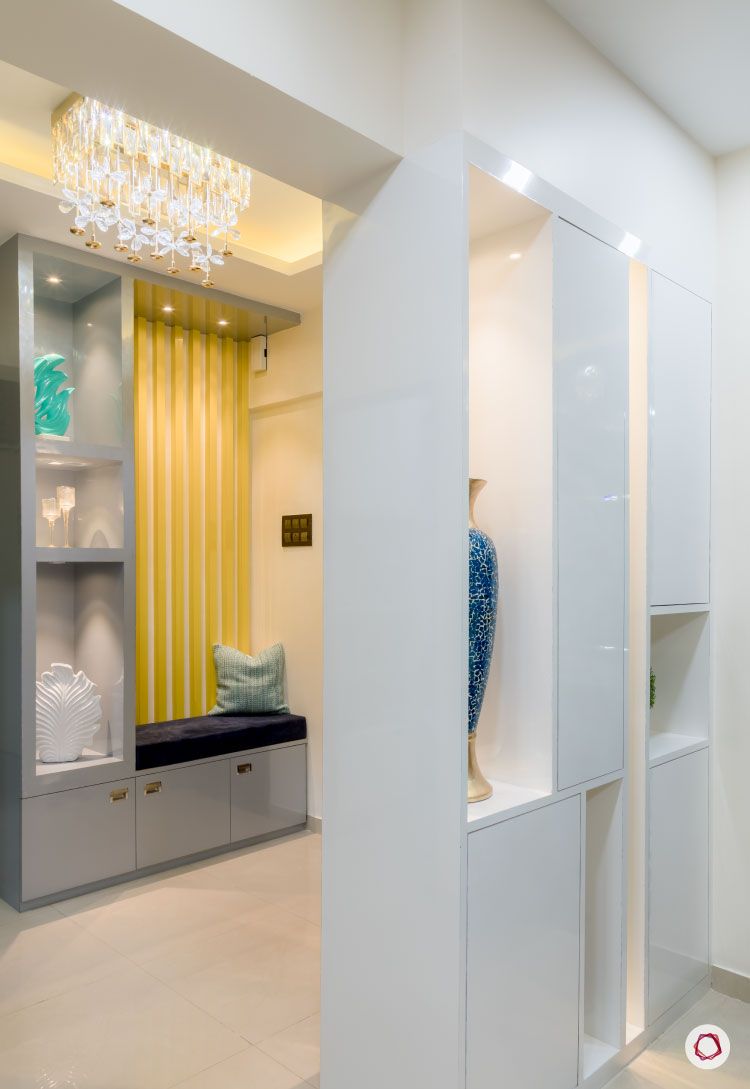 As soon as you enter their home, you would notice a specially designed shoe cabinet. This has storage space along with options to showcase artefacts and a comfortable seating option as well. All this under a delicate spotlight. Also, the choice of yellow and grey gives the foyer a refreshing spin. Talk about an entrance!
---
I loved designing the unique foyer space. It sets the ambience as soon as you enter and gives you a glimpse of the living room.

– Khushboo Pinkesh Varia, Interior Designer, Livspace

---
Textured Delight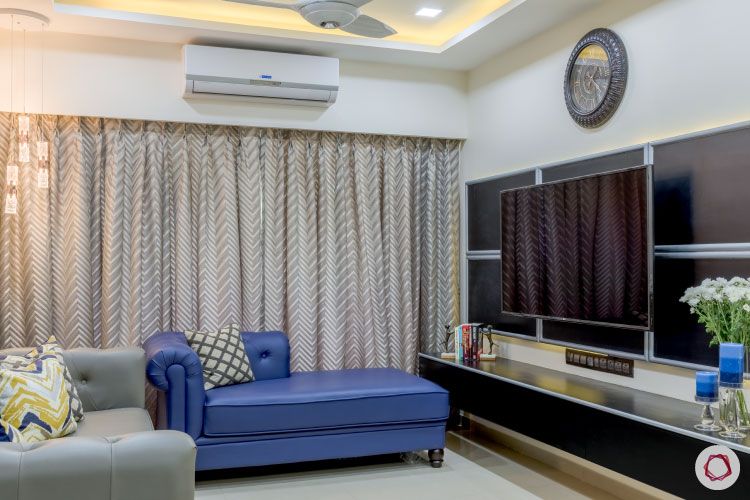 The highlight of the living room is a unique textured wall behind the sofa. Standing out in grey, it gives a an artistic vibe under the warmth of the drop lights. Also, keeping in mind the monochrome theme, the TV unit was built in black and white.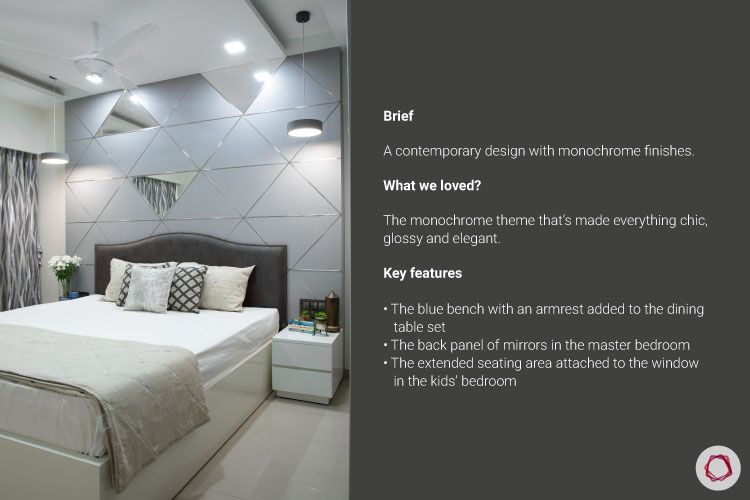 Wine & Dine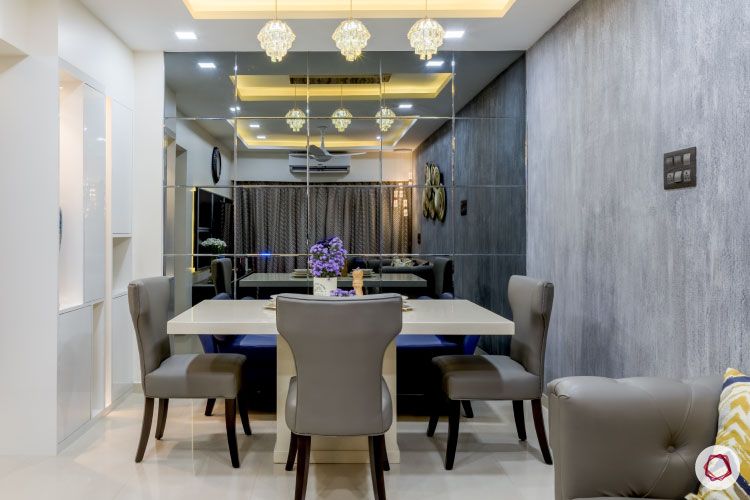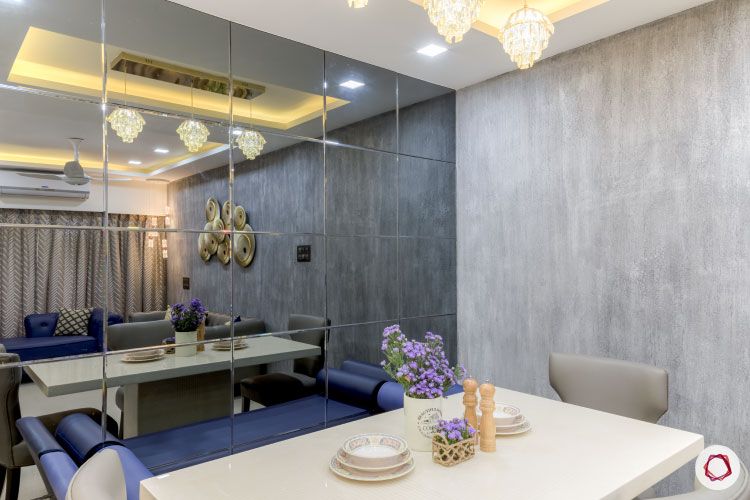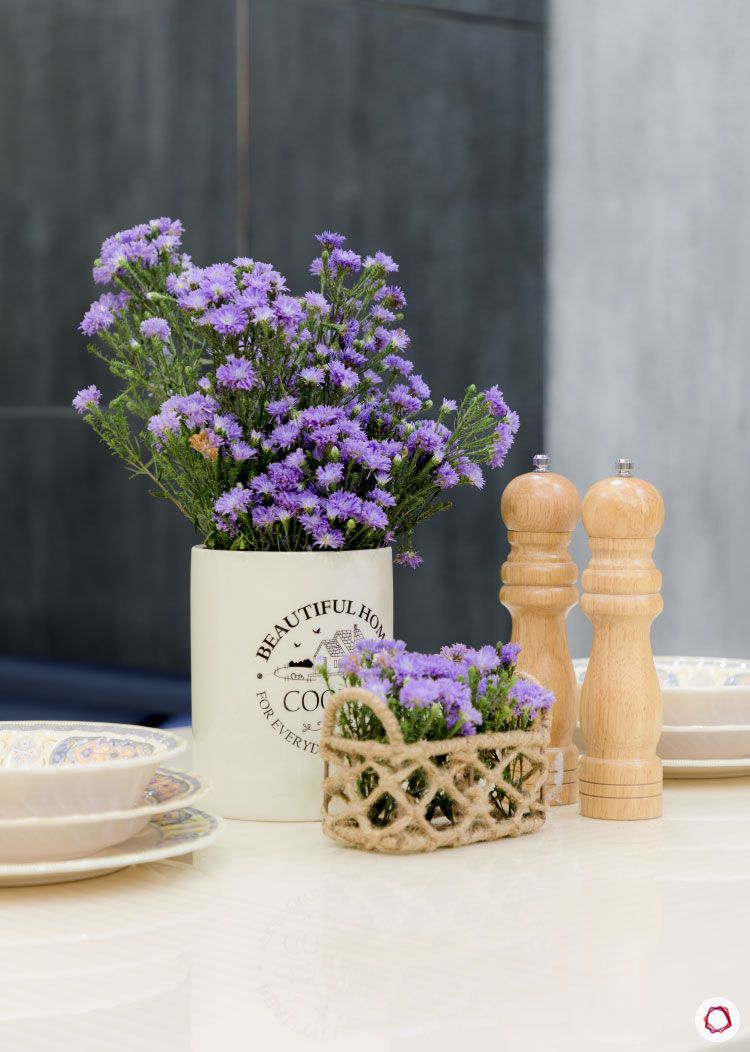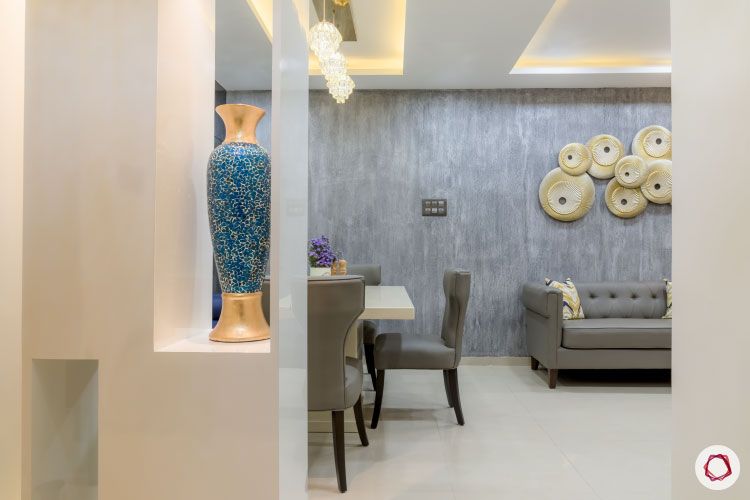 When you pop into the dining area, and you can't help but be mesmerized by the gorgeous panel of mirrors installed on one wall. While turning the wall into a stunner, it also ensures people don't just have to look at a drab wall while they dine. It also adds to the illusion of more space. A chandelier has been added to this mileu for a touch of elegance.
Another interesting feature about this room is the addition of a blue bench with an armrest as a seating option. To create a visual segregation between living and dining spaces, and add an element of interest, a white crockery unit has been added that also acts as a partition.
Finesse in Blue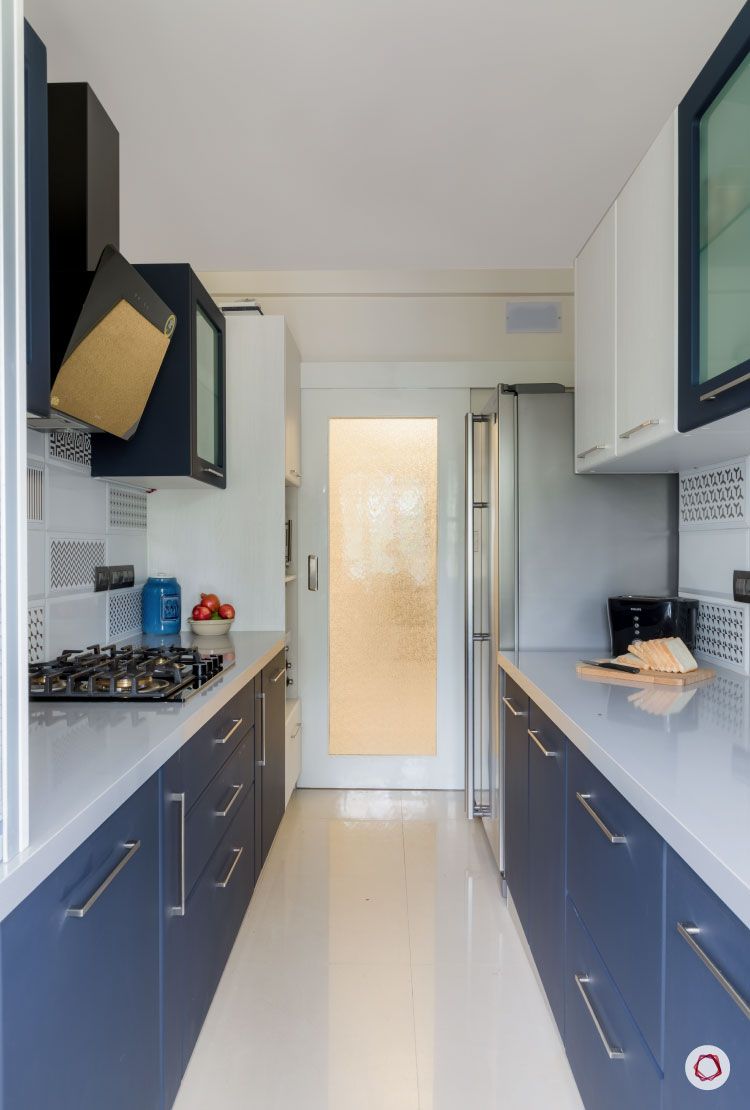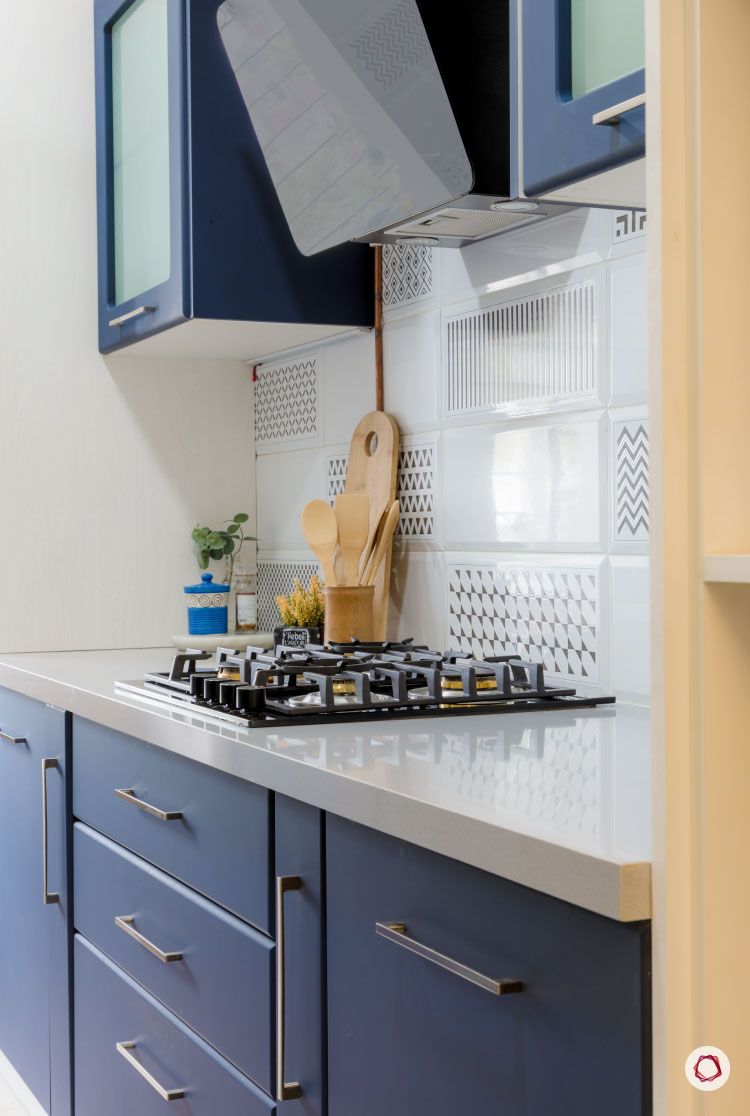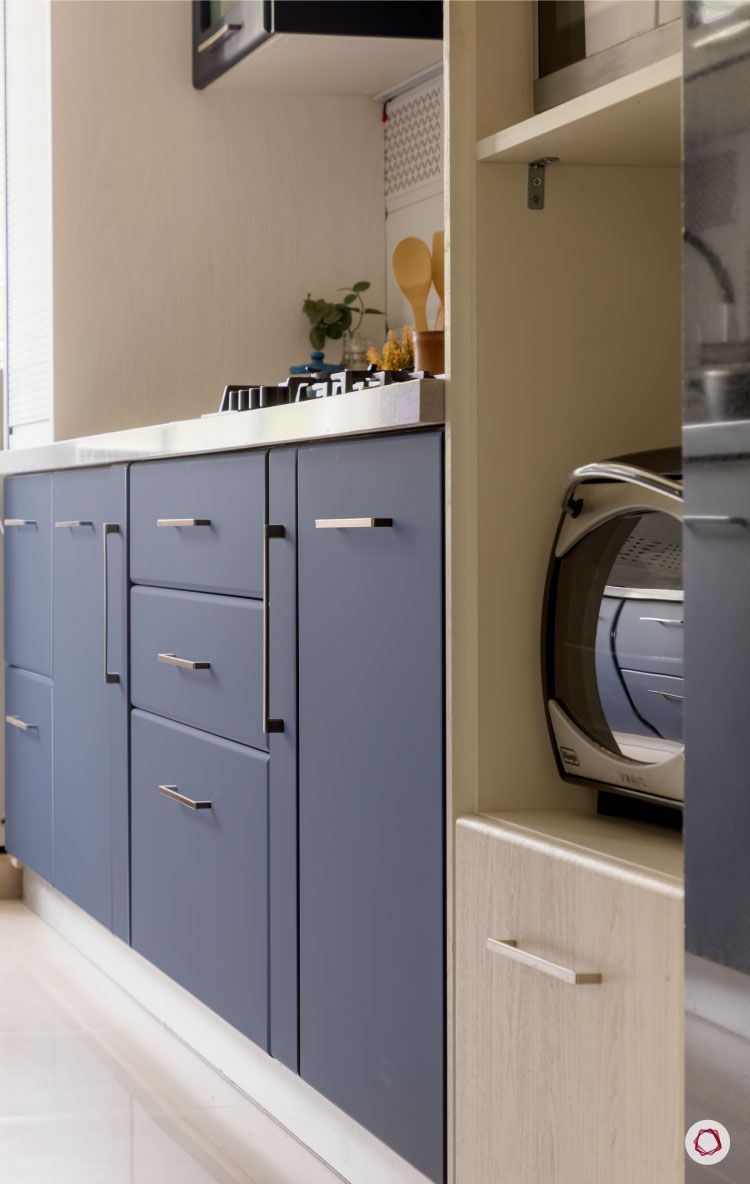 The Kazi family says the kitchen is one of the best parts of their home, having received plenty of compliments from their friends! The brief for this design was to make it space-efficient and break away from the monochromatic theme. Their pick was navy blue, white and black for a lively yet clean look. They had complete faith in their designer since she was an expert in kitchen and wardrobe designs!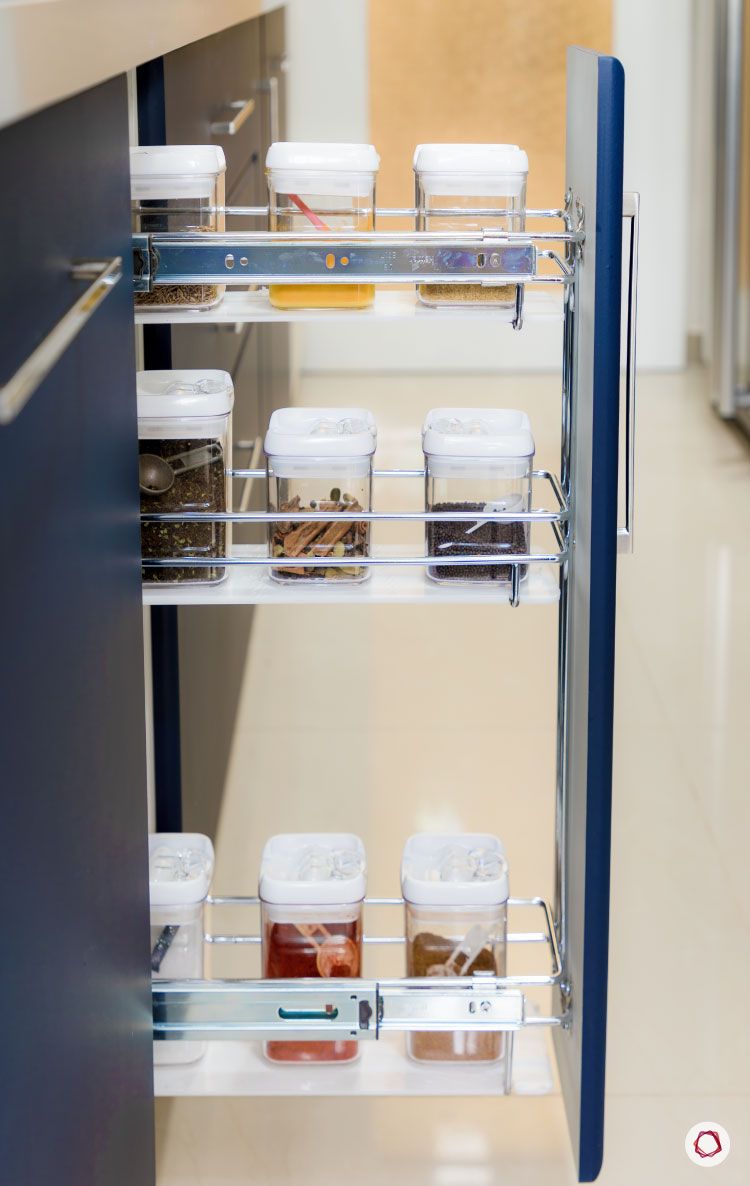 The backsplash they chose has white colour tiles with black patterns to introduce a change. The sink is also in black. Along with wanting a good looking kitchen, the Kazis also wanted space to fit in their washing machine as well.
For extra storage, they added a tall unit. Khushboo also recommended to put in a tandem box so that it makes cleaning drawers an easier task. For the cabinets, they used a navy blue membrane finish. They wrapped up the kitchen with a quartz countertop as well.
Flirting with Finishes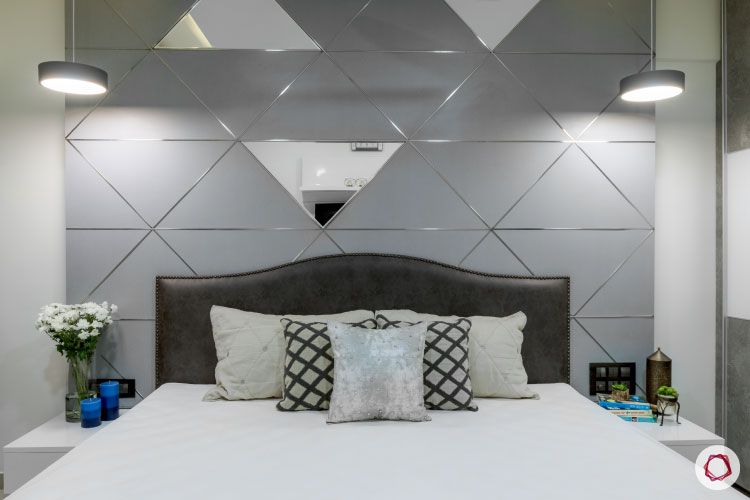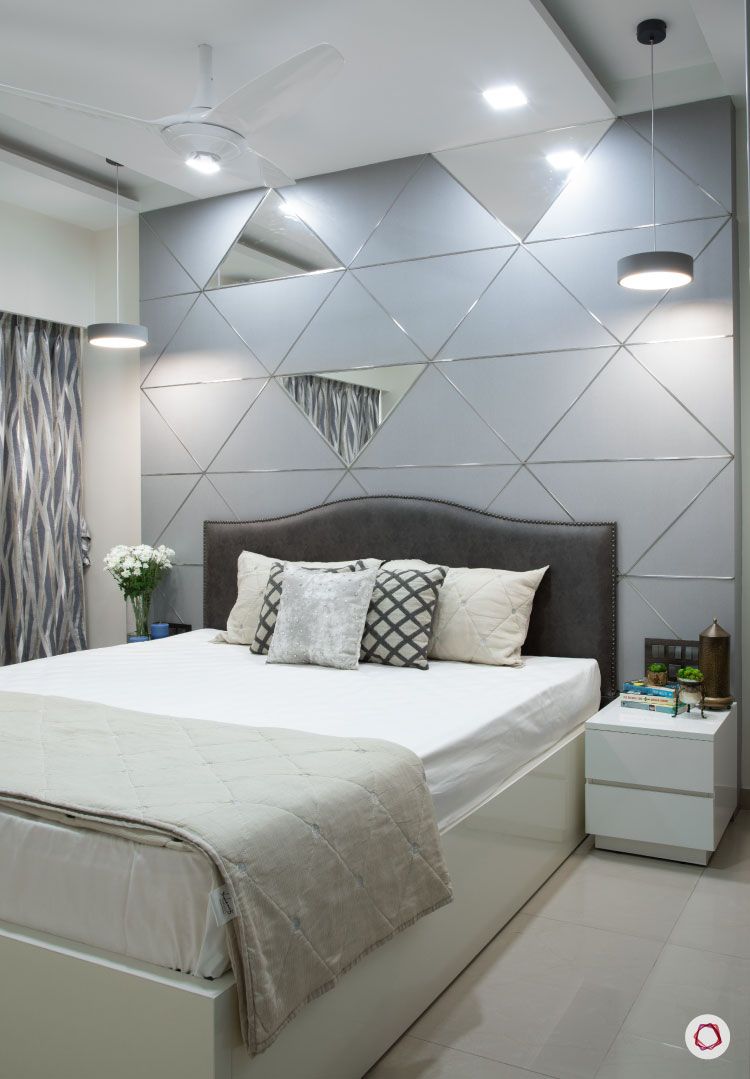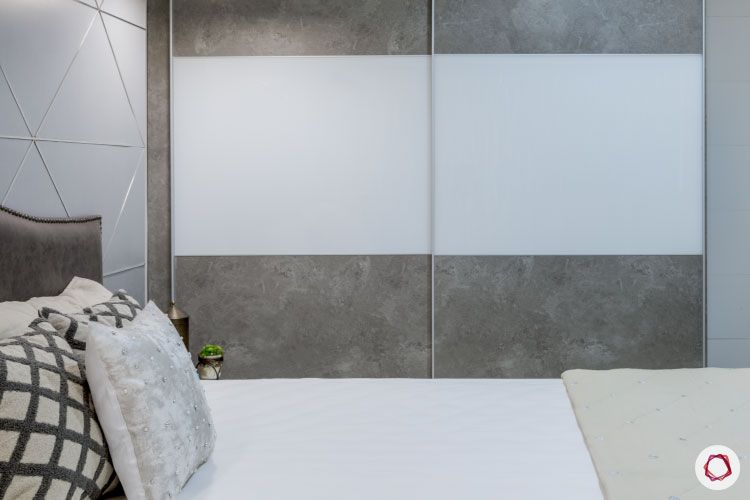 Mubasshir and Yasmin wanted their bedroom to have a classy feel. Walk into their master bedroom and it would reflect just that! The triangular mirror panel behind the bed simply takes our breath away! They also played with with matte and gloss looks for their sliding wardrobes.
More Monochrome!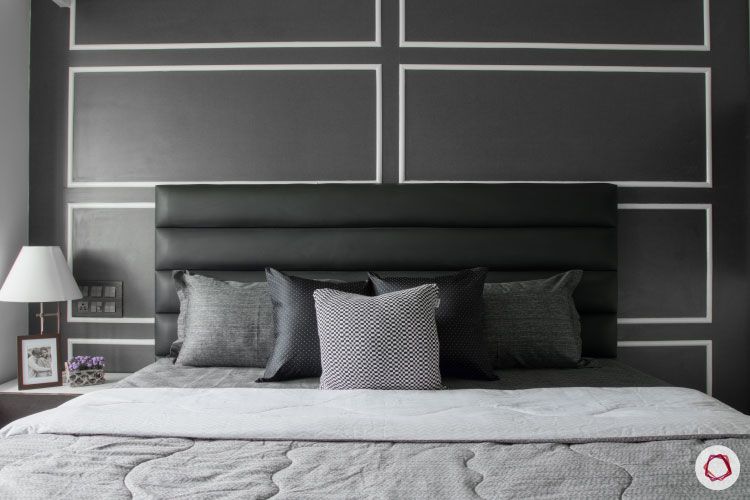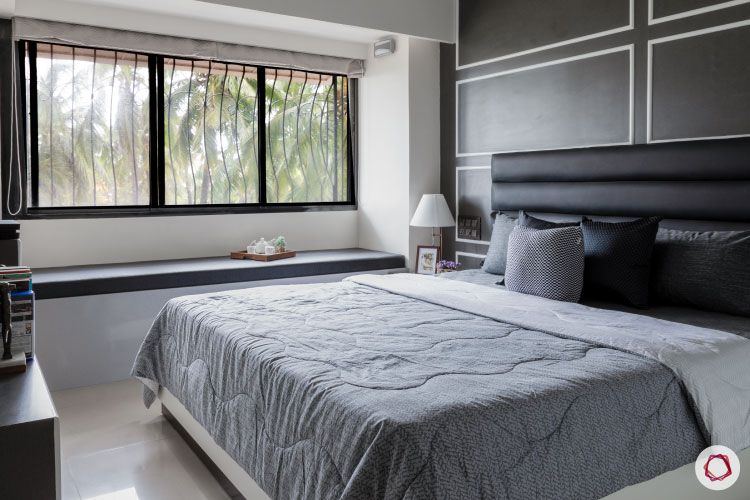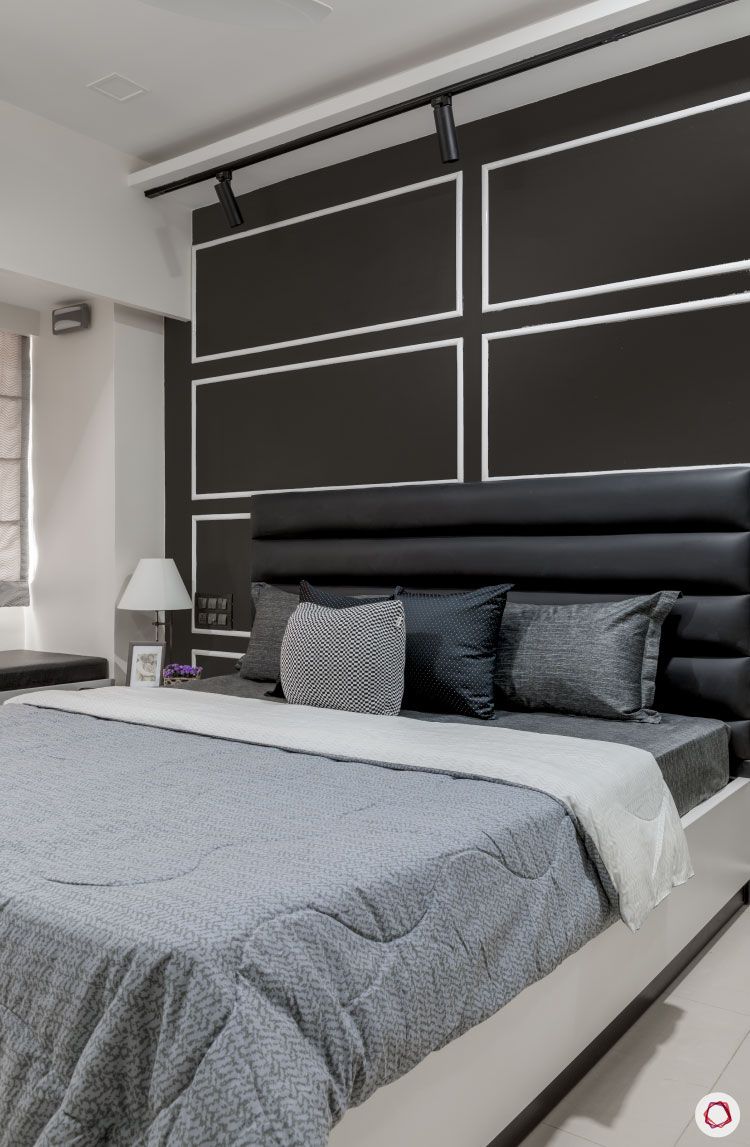 Their older son wanted something contemporary and preferred a black and white theme for his room. They incorporated focus lights for a touch of warmth and a more youthful appearance. For a bit of freshness, they added white to portions of the room as well.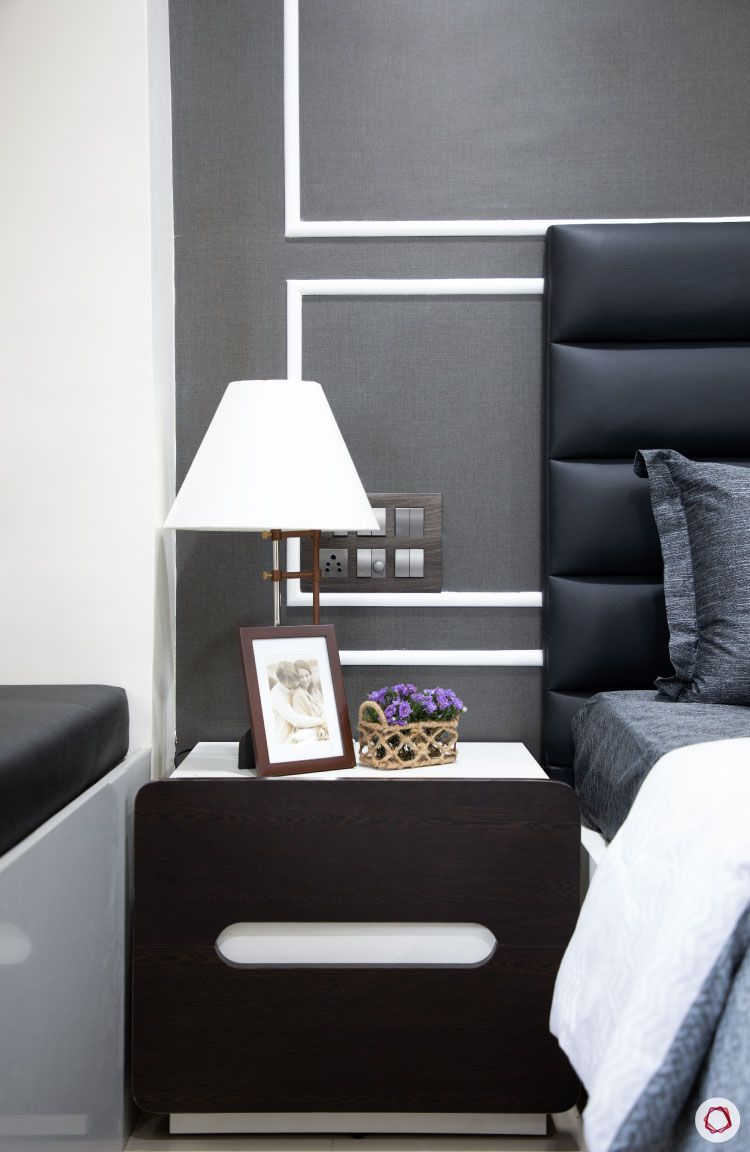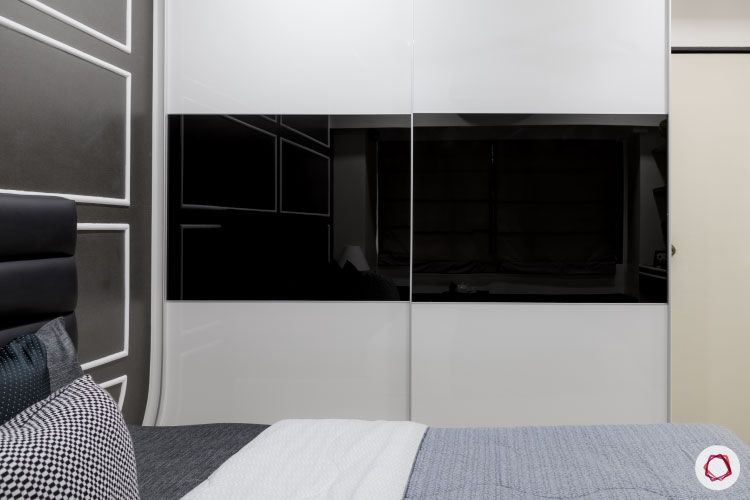 For their wardrobes, they chose an acrylic finish for a glossy appearance. They wanted to fit in more seating options so they upgraded their windows to have a wide seating area attached to it. Also, when designing their TV unit, they wanted space to keep their Playstation and books.
Don't you love how edgy, but warm this room looks?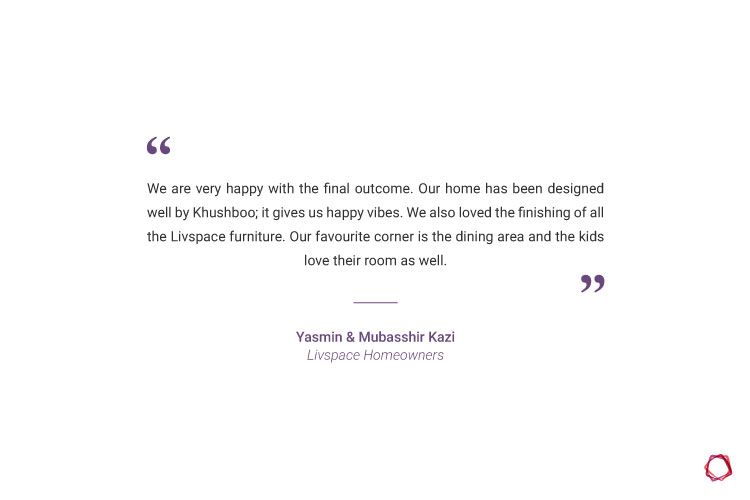 Loved this simple design? Do not miss out this Trendy 2BHK In Mumbai with Contemporary Aesthetics!
Send in your comments and suggestions.