This 3BHK in Gurgaon has the perfect flat interiors design to unwind.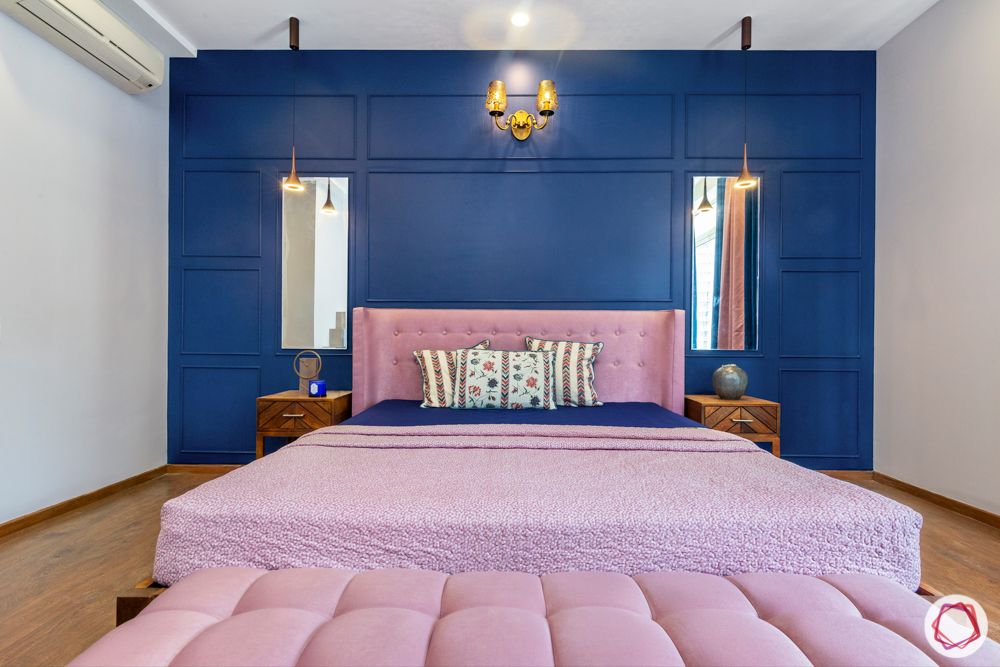 ---
Who livs here: Akhil & Tia Mohan with their daughter
Location: Gurgaon
Size of home: 3BHK spanning 1,800 sq. ft.
Design team: Interior Designer Tanvi Deshpane & Project Manager Anshul Garg
Livspace service: Full Home Design (excluding kitchen)
Budget: ₹₹₹₹₹
---
Home is essentially a space that reflects your personality and lifestyle. So it is no wonder that our city homes imbibe the hustle bustle of urban life. Thus, a family that lives in the heart of Delhi, felt the need for a weekend home in Gurgaon, which would be their private getaway from the busy life of the city. And for their flat interior designs, they picked Livspace so that their tight work schedule does not get hindered.
Akhil & Tia Mohan found a kindred spirit in our designer, Tanvi Deshpande, who understood their need for a private haven. She also understood that the family was close-knit unit that was extremely homebound. Thus, she has given them the best interior in Gurgaon for their 3BHK apartment with soothing colours, imprints of personal style and warm family spaces.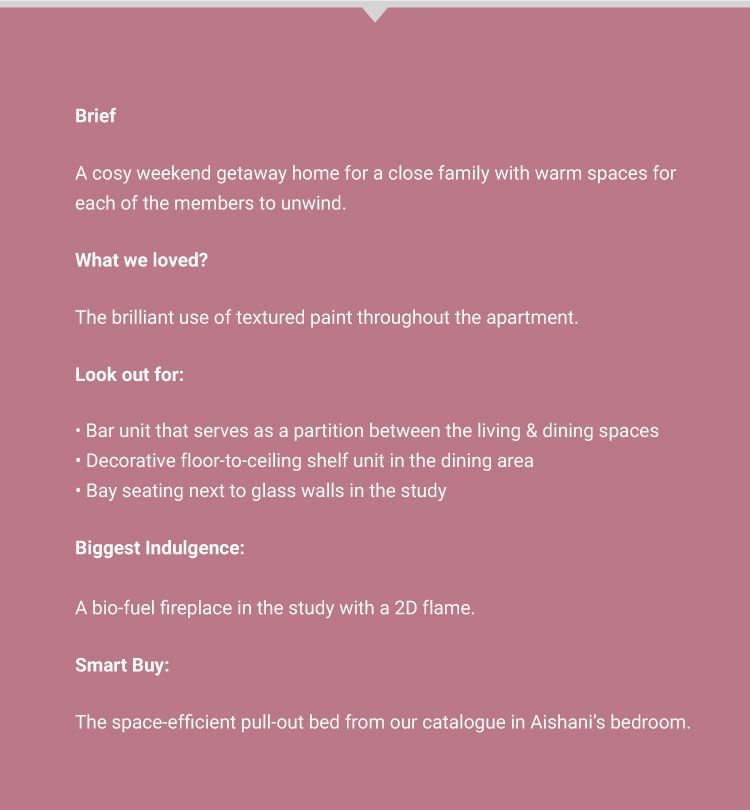 Flat Interior Design Ideas for Cheerful Living
When you enter certain spaces, you can feel the piled up stress in your body drain. The living area of the family's is just such a space! There a cheerful harmony about the living room with a mish-mash of English pastel colours and mustard yellows. The table with four nested stools provides additional seating in case the family is entertaining. We love everything here right down to ivy blue floral wallpaper!
Merry musings

Pastels & cheery prints

A pop of mustard yellow
Flat Interior Design Ideas for Fine Dining
The dining area is separated from the living room with a wisely crafted bar unit that also serves as a partition. This custom piece has dark wooden laminate finish. Another element of note in this dining room is the decorative shelf unit that forms as border culminating in pastel green wall paint. Apart from these special features, the dining area is fairly simple; there is a dining table, upholstered chairs and bench from our catalogue as well as a custom crockery unit here.
Gorgeous greys

A touch of drama

Bar unit cum partition

"Initially, we dabbled with the idea of choosing Livspace as we are a really busy couple with no spare time to coordinate with a host of technicians. But meeting with our designer, Tanvi, is what sealed the deal for us; she matched our design sensibilities perfectly. Over and above that, we had a very pleasant experience of working with the installation team led by Anshul as they delivered on their promises both before and after the handover of our apartment. Underlying the entire journey was a very personal touch from the people representing Livspace. In conclusion, we would like to say that this is a company that knows how to treat its customers well."
– Tia & Akhil Mohan, Livspace Homeowners
Flat Interior Design Ideas for a Romantic Getaway
Akhil & Tia wanted their bedroom in this getaway home to have a distinctly romantic vibe; it had to be something that helped the couple to put the mad rush of Delhi behind and relax for the weekend. They also wanted the room to have depth as far as the colour combination was concerned. Hence, Tanvi opted for navy blue wall paint with moulding patterns to create an accent wall. The intensity of the blue is accentuated by the blush pink headboard and bench from our catalogue.
Apart from the colour scheme, we are awed by the dim wall lights that set up a really romantic mood in this bedroom. Moreover, their TV unit has a mix of laminate back panel and membrane-finish cabinets from our catalogue
Blazing blues and blushing pinks

A touch of romance

A cosy nook
Navy blue and blush pink seems to be the overarching theme of the room as we see the same combination for the curtains and the lone armchair too! Tanvi has also turned a niche within this bedroom into a dressing area and walk-in closet. The wardrobe here has a natural membrane finish.
A mirror panel by the bed

A spot for morning cuppa!

Step into the dressing niche
Flat Interior Design Ideas for Singing Blues
Couple's teenage daughter is a creative soul; she loved music and is an artist too. So the couple wanted her room to be artsy and also energetic at the same time. Tanvi gave them just what they wanted with an accent wall done up in vibrant texture paint. This exposed brick wall pattern doused with teal blue is the focal point of the room. The led light representing a musical note, sets the tone right at once.
Artsy & energetic vibes

Cool & classy

Beaming blues
But the most interesting element of this room is the bed itself. This space-efficient pull-out bed from our catalogue makes the room look bigger. The ottoman, also from our catalogue, has a splattered paint theme, which has been recreated for the custom headboard. The sliding wardrobe has grey acrylic finish and the compact study unit provides additional storage.
Tiled and textured

A theme of splattered paint

Seating by the bay
Flat Interior Design Ideas for the Quintessential Den
Finally, we have come to the most interesting part of this home, the study, or as the Mohans' call it, the Den! Akhil envisioned this room as a quintessential masculine space, something that resembles an English bridge club. Tia wanted this to be the family room with a massive bookshelf that would fit the entire collection of books owned by the family; they are all avid readers! Tanvi brought the two visions together with some ingenious design tactics.
The Den has a very vintage seating arrangement with a couch and two armchairs for the family's card came parties. Beyond that, the most interesting feature in this room is a unit that combines book shelves with a biofuel fireplace that has a 2D flame. A texture-painted exposed brick wall background completes the cosy vibe. Last but not the least, is the bay seating space by the floor-to-ceiling window here; the family calls it the Perch! It is an ideal spot for coffee, wine or idle doodling depending on the time of the day, and it has gathered all the votes for being their favourite spot in the house!
Like an English club

An integrated fireplace with bookshelves

The 'Perch'
"This family comprising a busy working couple and their teenage daughter were quite the ideal clients for any designer. They had a broad idea of what they wanted their house to look like initially and were extremely receptive to ideas to achieve the desired look. "
Tanvi Deshpande, Interior Designer, Livespace
If you enjoyed reading about this getaway home in Gurgaon, we can suggest another! Do explore Stylish Holiday Home on a Budget for sure.
Send in your comments and suggestions.