We love Delhi homeowners for their quirky taste in interior design. However, like every metropolis, Delhi also comes with its set of pollution, seepage and dust problems. Now imagine having to deal with all these issues in your house; maintenance would be a full-time job! A home should be so many things — comfortable, peaceful, beautiful. But most importantly, it should be easy to maintain. Want a low-maintenance home? It is not impossible to do that with low-maintenance house design. In fact, we have curated a list of Delhi's low-maintenance homes from Livspace to show you how it's done. Check them out.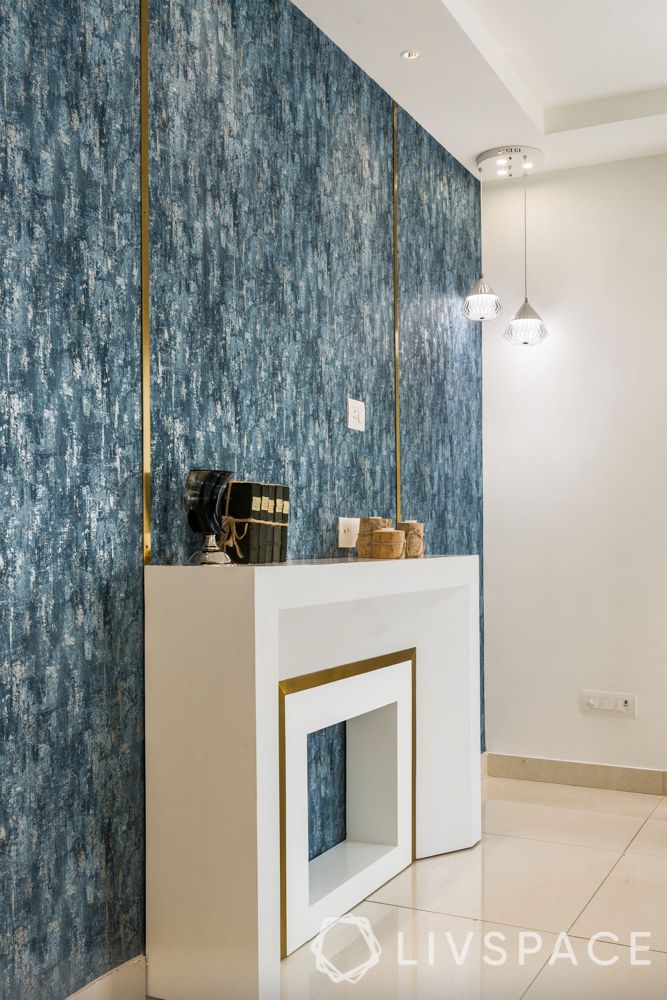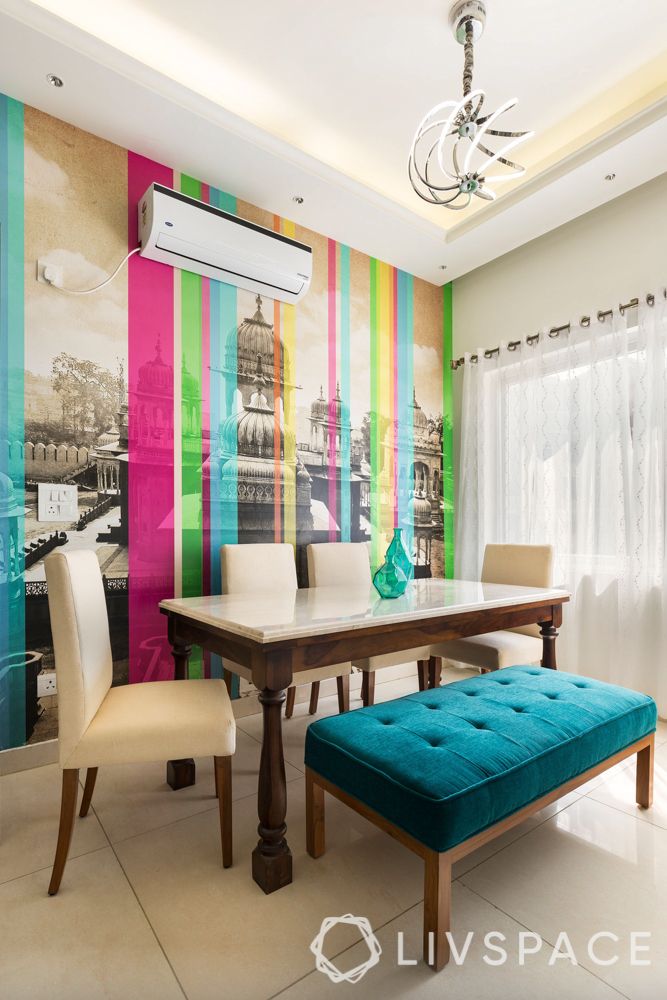 This low-maintenance house design in Noida dipped in ocean hues is as soothing and pleasing as it gets! But the best part? The low-maintenance interior design that is super easy to maintain! Walls play a vital role in influencing the overall look of your home. But with creative wall trims or textures come long hours dedicated to their maintenance. So opt for wallpapers instead. Simple to clean and maintain, you can choose colours and patterns to match the vibe of your home without burning a hole in your pocket!
What We Love: The vibrant Krsnaa Mehta wallpaper
Life Expectancy: Wallpapers can last up to 15 years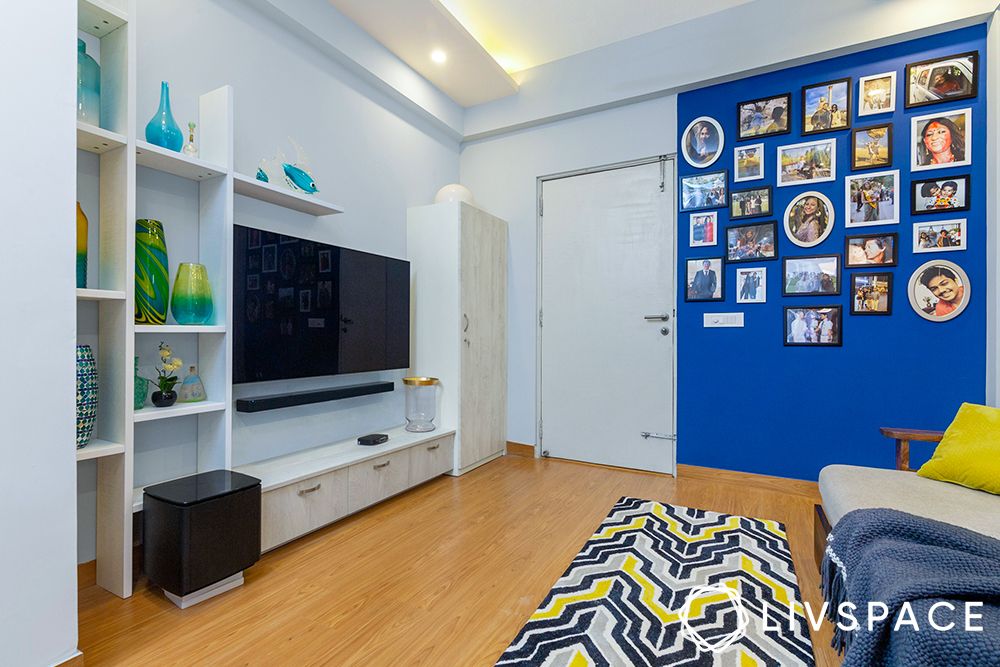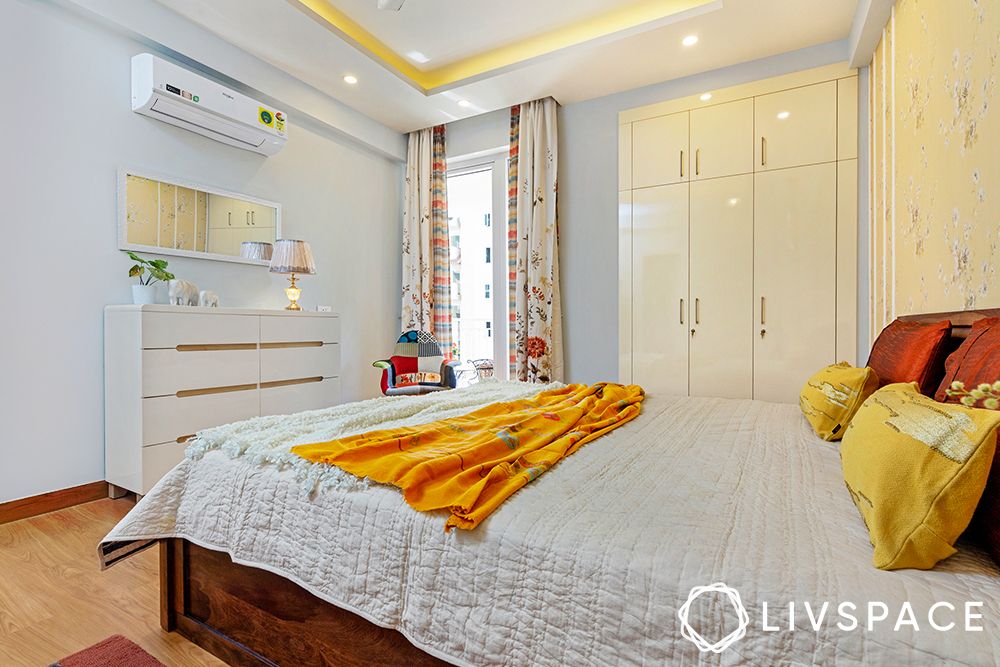 Don't want to spend weekends wiping down the furniture? Take inspiration from one of these Delhi low-maintenance homes, as seen in the picture above. We made this low-maintenance home with its laminate finishes. Laminate is highly weather resistant and the DuraBuild cabinets from Livspace are perfect if you are looking for low-maintenance interior design. From the TV unit to the crockery unit and wardrobes, everything in this house was done up in laminate.
What We Love: The laminate TV unit with intensive storage
Life Expectancy: 10 to 15 years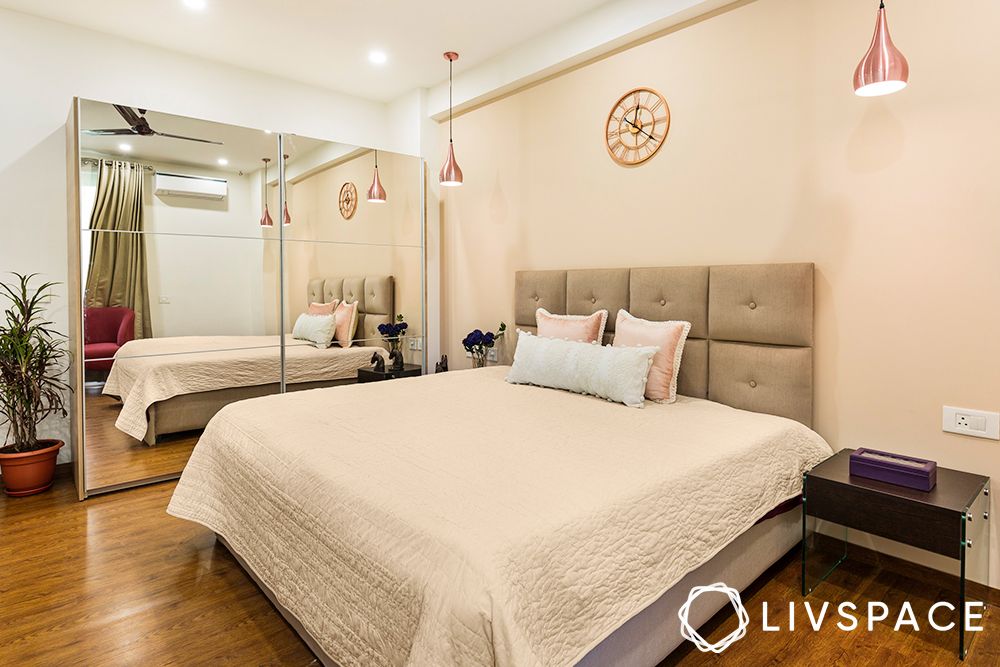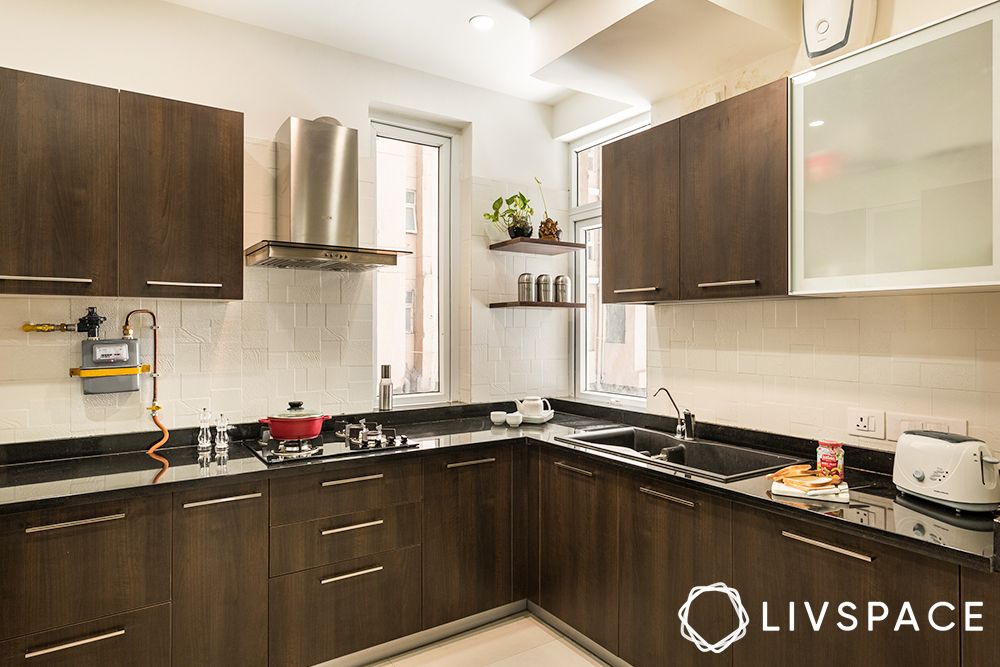 Clutter can be your biggest enemy when it comes to house maintenance. It can also make your home unfit for elders or children. Som Prakash Malhotra therefore wanted Livspace to create a clutter free, low-maintenance interior design for his home. Livspace designer Kanchan Sabharwal thus made sure she kept the design minimalistic. The clean lines and subtle design make this one of the more elegant Delhi low-maintenance homes by Livspace.
What We Love: The mirrored wardrobe in the bedroom that is easy to clean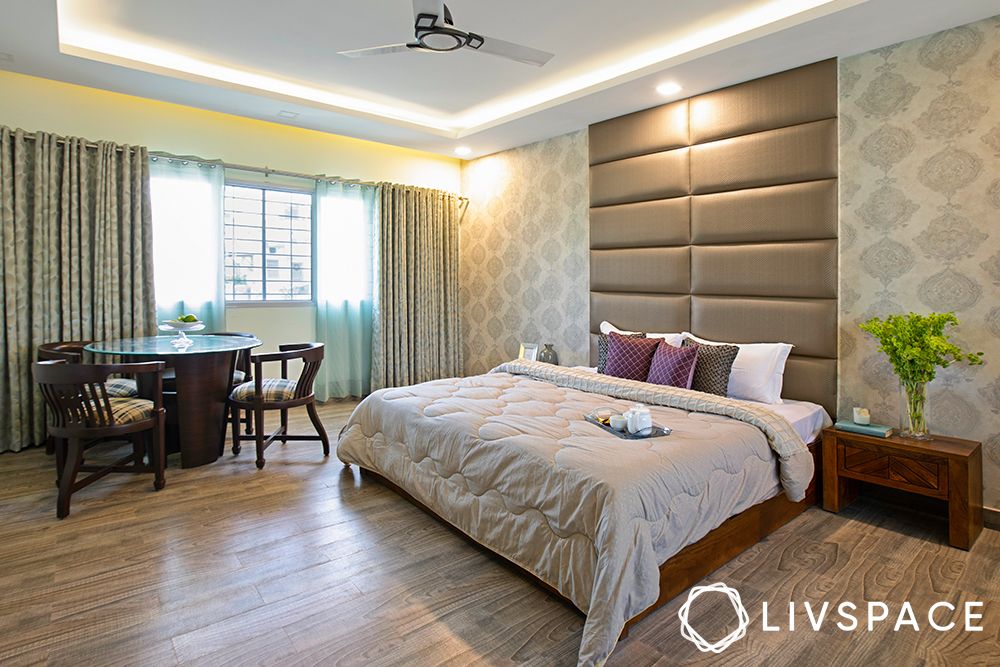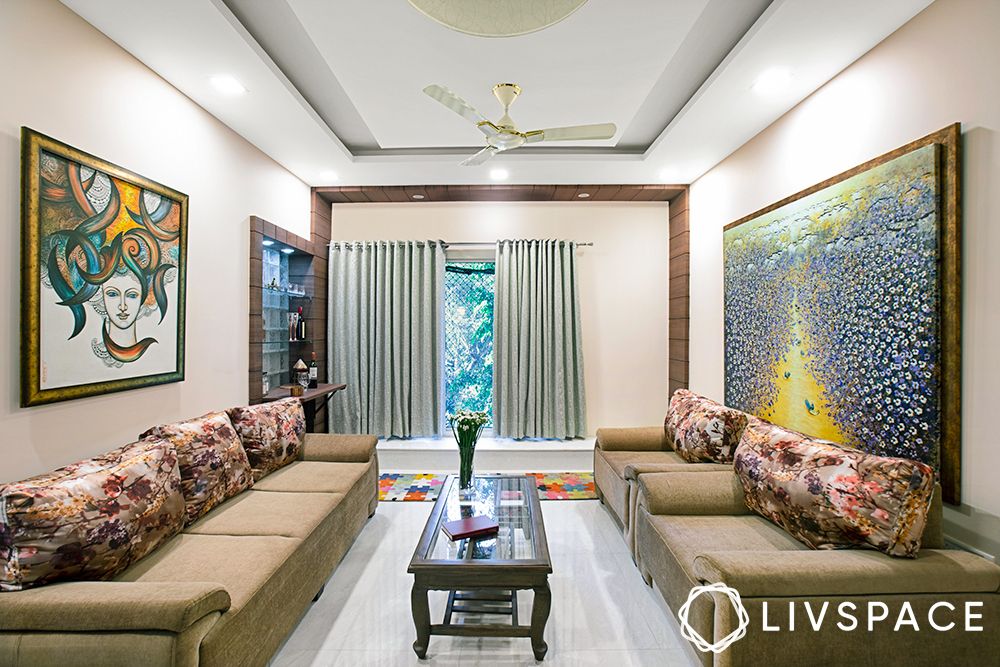 The brighter the colour, the harder it is to clean! Which is why neutral colours are always a good option. One of our Delhi low-maintenance homes has got the.neutral palette just right! Ms. Garg was clear that she wanted neutral colours for her house. So, we gave her neutral walls in gorgeous shades of beige. This home proves that elegance lies in simplicity!
What We Love: The vibrant artwork that leaves the space dazzling with personality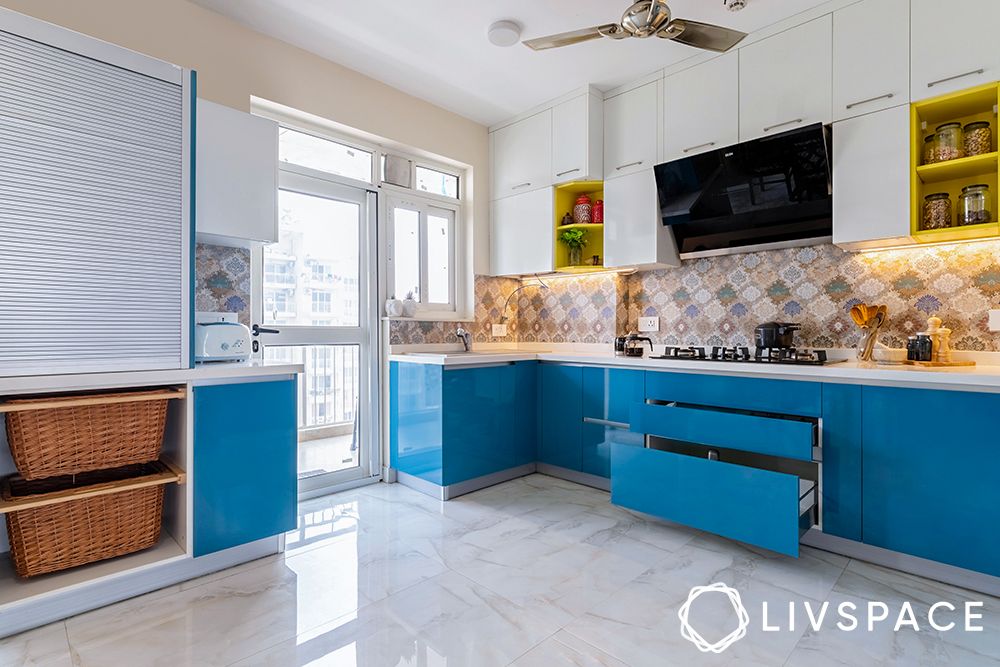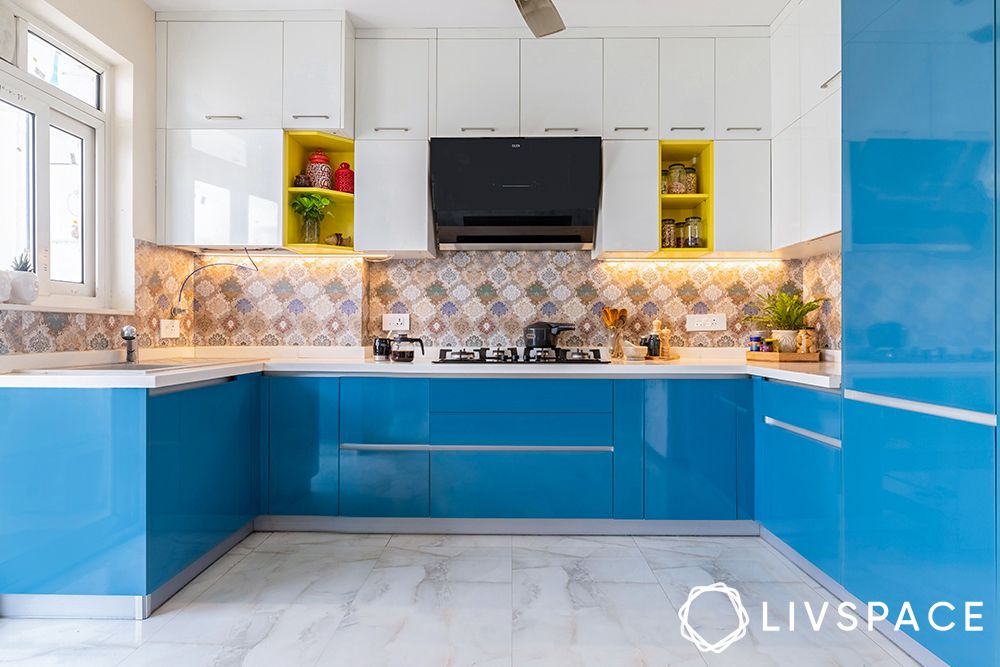 If you're looking for home maintenance tips, the kitchen is one place that you must focus on. Tight drawers that refuse to open easily, for instance, fail to make for a low-maintenance home. Knowing this, Nalini and Amit opted for soft-close shutters in their kitchen. This is especially helpful when you have elders living with you. Roller shutters and soft-close cabinets do not get jammed, thus making it a low-maintenance house design.
What We Love: The elegant profile lighting under the kitchen cabinets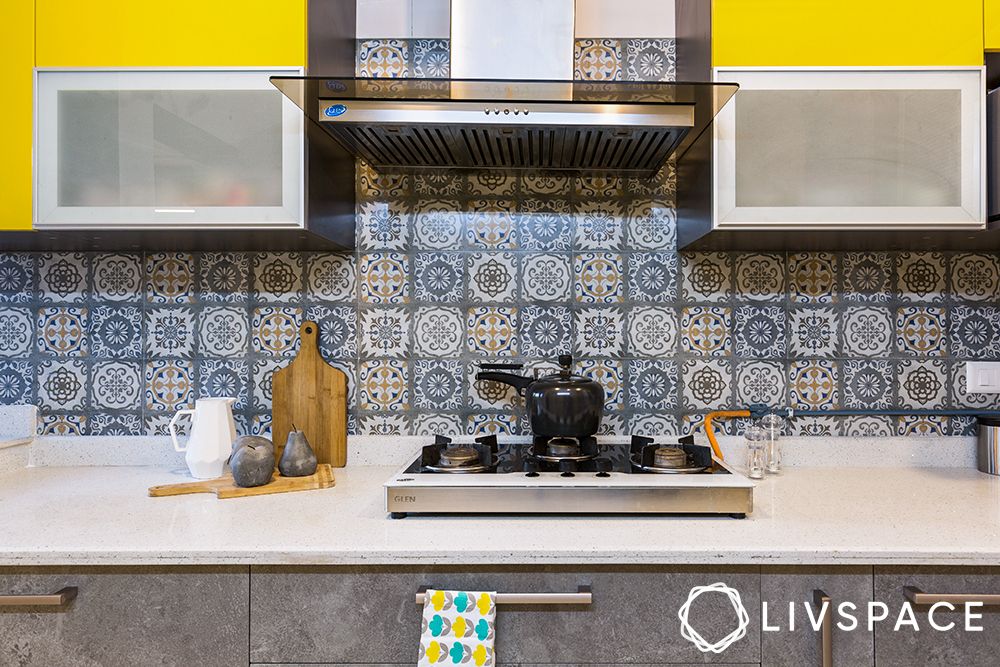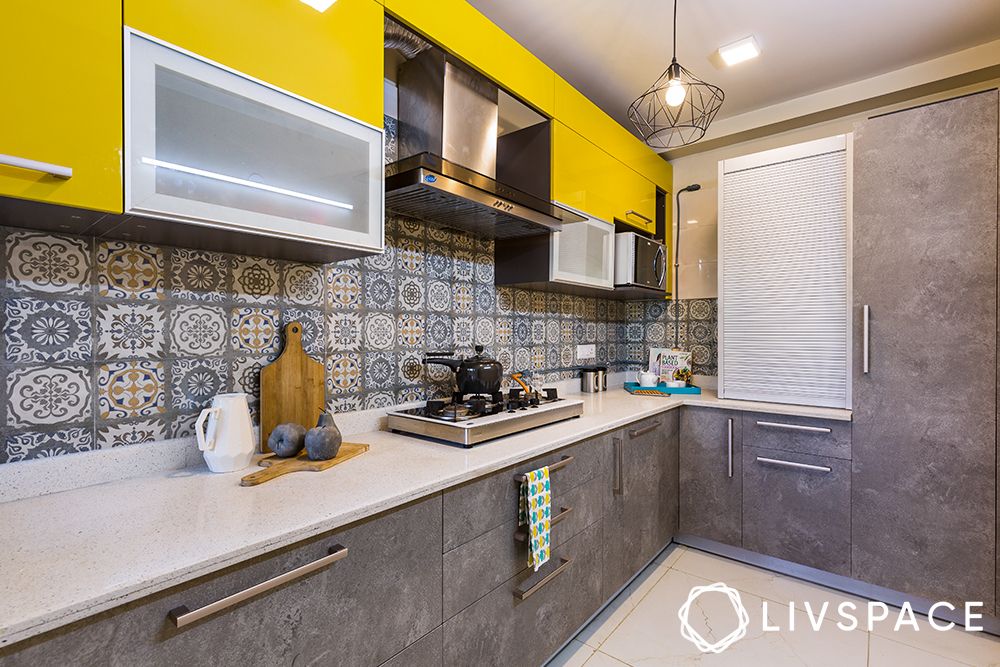 The kitchen in an Indian household is the most-visited room. Thus, the key to acing low-maintenance interior design is to make your kitchen easy to maintain. We did exactly that for Rajat and Shilpi's house with PU-finish yellow cabinets and a quartz countertop, which is non-porous and stain resistant (so she doesn't need to worry about those turmeric stains!). On top of that, it needs little to no maintenance as simple water and soap is enough to wash it. The PU-finish cabinets are dust resistant and weather resistant, two qualities worth flaunting in Delhi low-maintenance homes.
What We Love: The striking backdrop that lends this kitchen a quirky lookLife Expectancy: Quartz countertops usually last above 10 years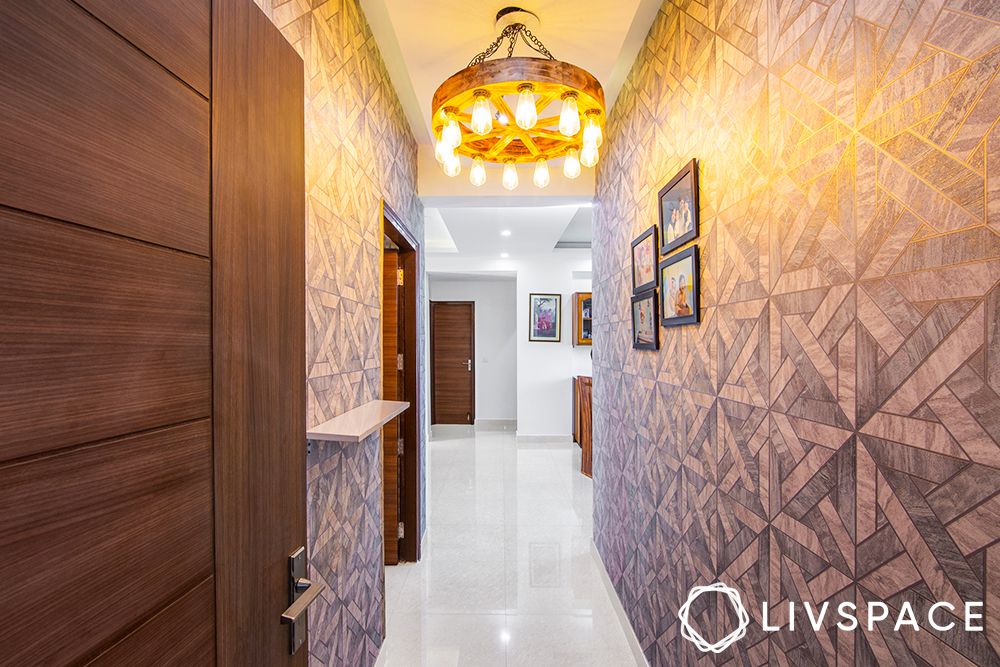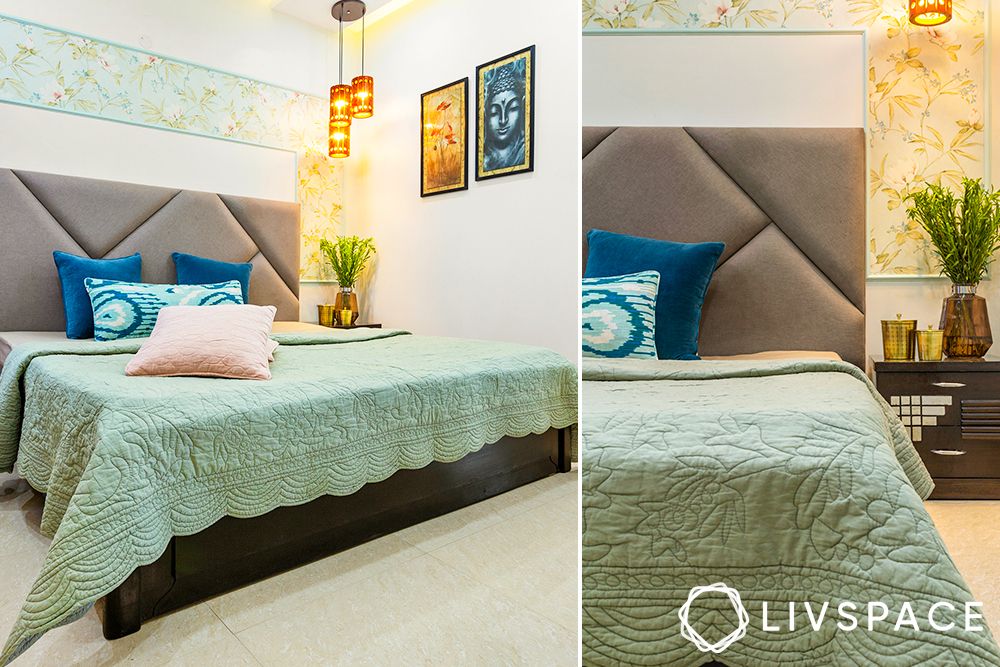 Lighting the house to complement your colours are important. Changing faulty lights time and again can be such a pain. To avoid that, we introduced LED lighting in this Delhi home. The Grihotra home uses LED lights cleverly, making it a low-maintenance home. They have a longer life span and require less maintenance. On top of that, they are available in a variety of colours and are comparatively cost-effective too!
What We love: The chandelier in the foyer that uses LED bulbs to light up the narrow space
Life expectancy: Up to 4 to 6 years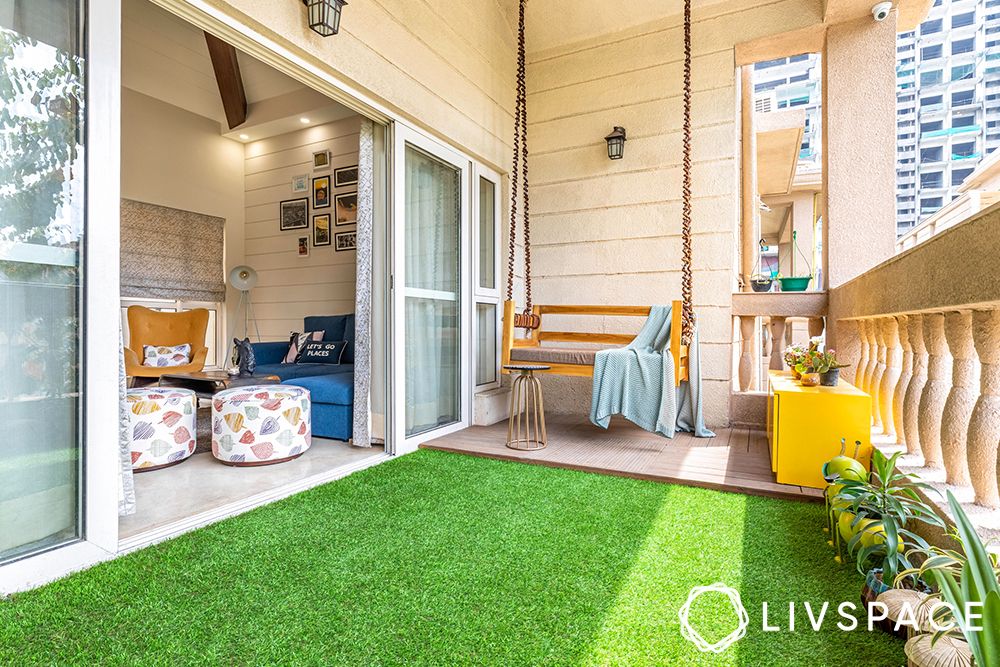 Want a garden badly but don't have the time to maintain it? Consider making a low-maintenance house design with an artificial lawn. Artificial grass is your best friend. Lay it out and you have a vibrant lawn in the front. It can be maintained easily with a water hose. You can then plant Small Low-Maintenance Plants so they filter out the air for you.
What We Love: The swing at the end of this Delhi balcony
Life Expectancy: Artificial grass can last up to 7 to 15 years
Low-maintenance house design does not have to be an arduous task! Now that you know how to design a home that is low on maintenance, check out How to Set Up a Stunning Yet Easy-to- Maintain Balcony. The above Delhi low-maintenance homes got it right and so can you!
Tour this 3BHK in Gurgaon:
How Can Livspace Help You?
If you want beautiful interiors for your home, then look no further. Book an online consultation with Livspace today. Have any thoughts or suggestions you'd like to share with us? We'd love to hear you out. Write to us at editor@livspace.com.