We often get a glimpse of the good life when we get a sneak peak into celebrity homes. So imagine our excitement when we got to cover one of our most plush projects in Noida, a sprawling 6BHK home where Anand Shankar and his family reside, and in style! Our villa interior designer Harshita Sharma said that the family had fairly simple tastes for a villa so grand. So she used some understated design elements to create a basic yet 'wow' look in every room!
---
Who livs here: Anand Shankar with his family
Location: Noida
Size of home: A 6BHK villa spanning 4,800 sq ft approx.
Design team: Interior Designer Harshita Sharma and Design Manager Rohit Singla
Livspace service: Full home design
Budget: ₹₹₹₹₹
---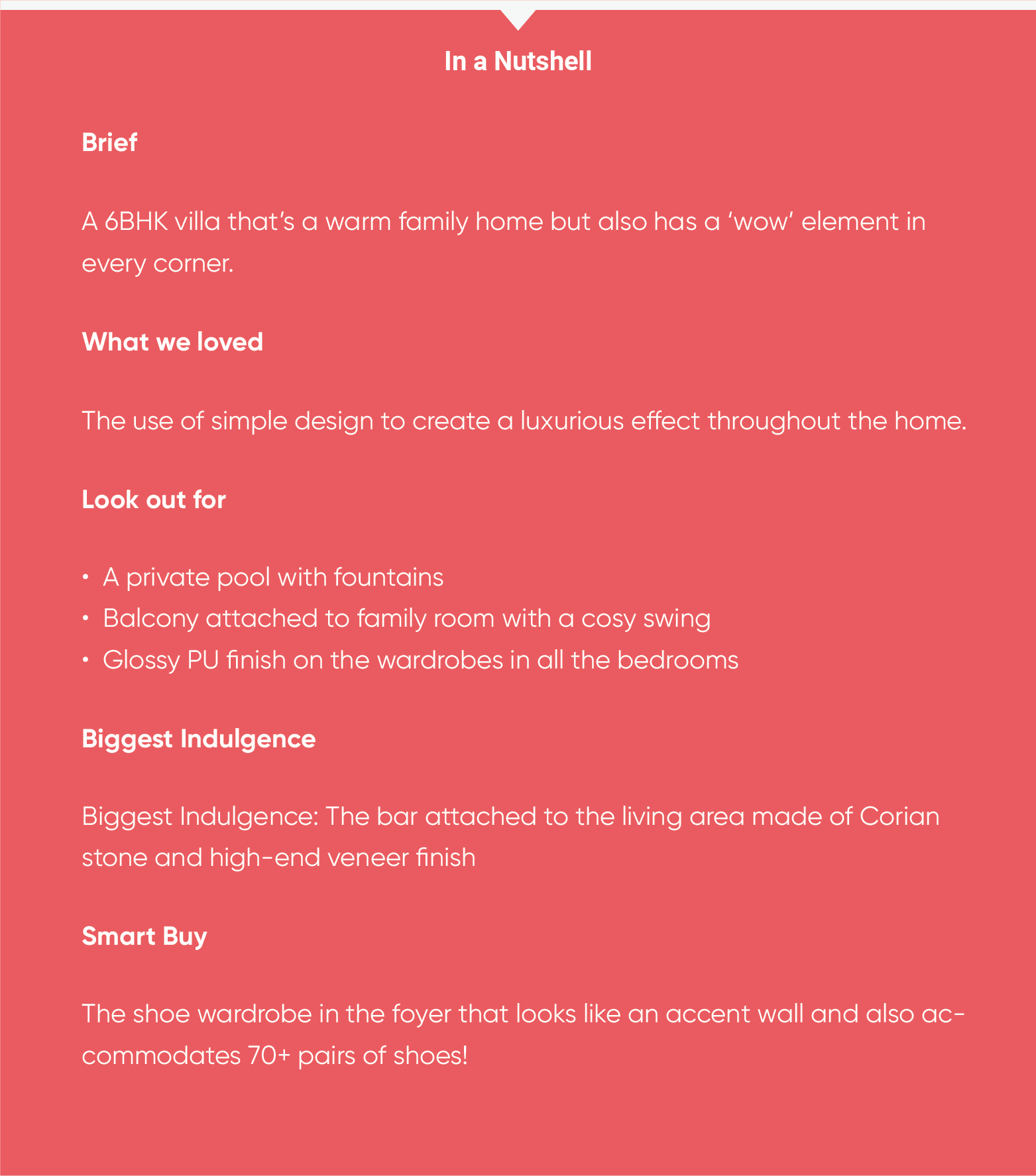 The villa interiors resemble the cosy grandness of a boutique hotel, making it ideal for a staycation! And that is due to some very smart designing by Harshita and the Livspace team. Let's take you through the design elements that come together to turn this home into an inspirational space!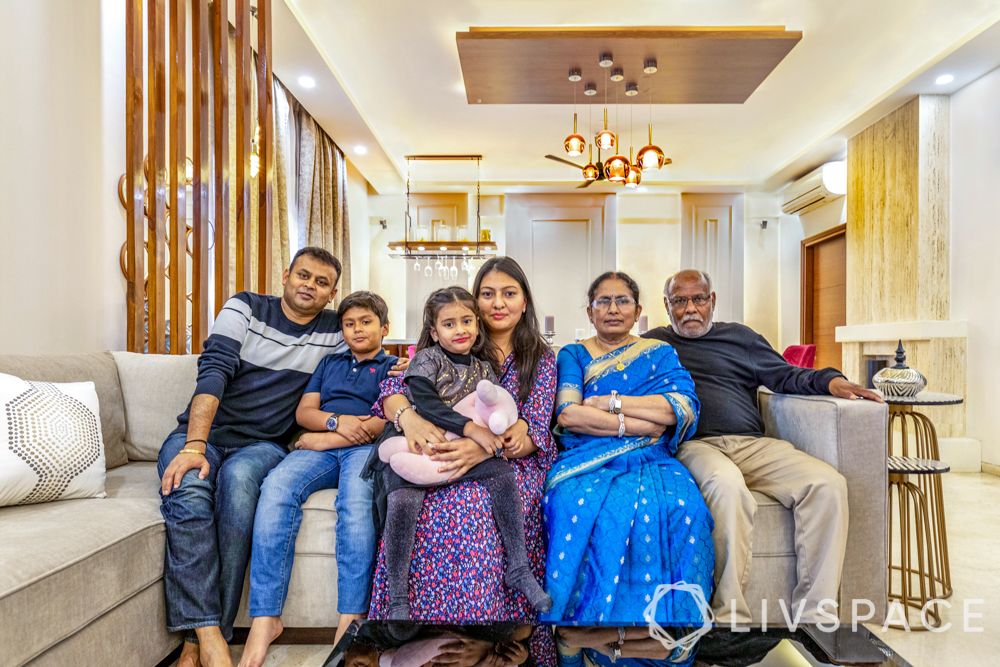 #1: A Personal Pool Out of Celebrity Home Catalogue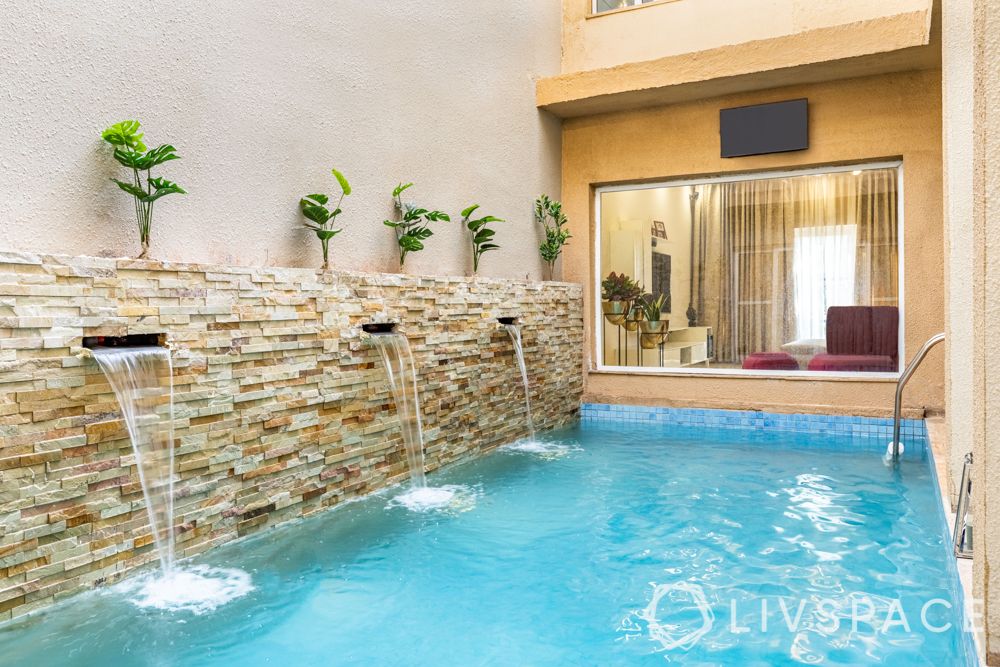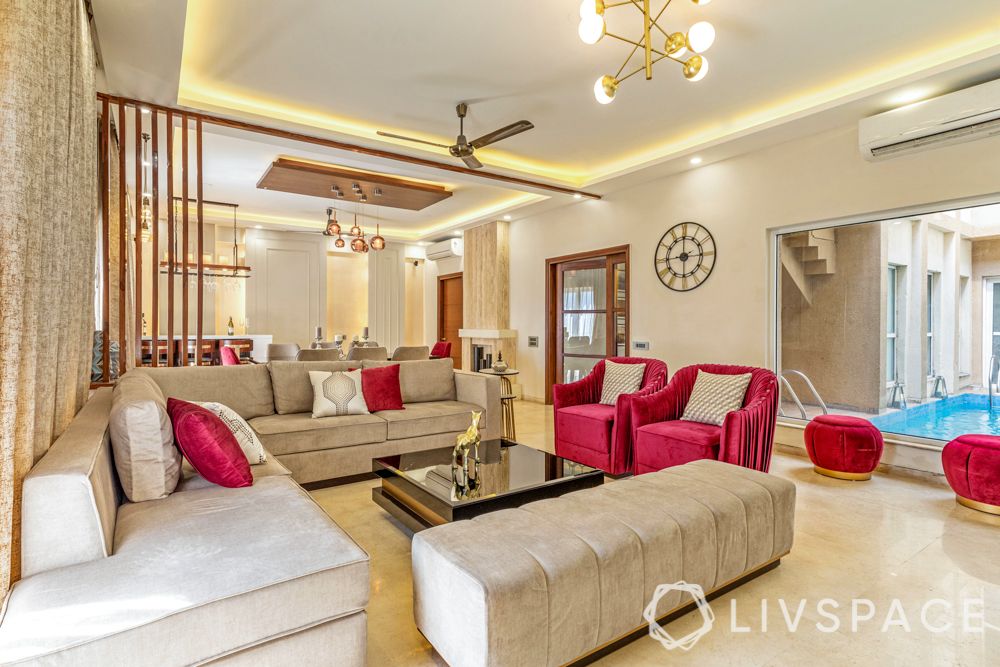 According to villa interior designer Harshita, the private pool was the highlight of this massive home. And as it was visible right from the foyer upto the living room, she wanted to make sure it was grand. So she provided the stone cladding around the pool, which adds oodles of texture and a unique vibe to this space. But why stop at that? She added the fountains to really uplift this beautiful feature.

#2: Carefully Designed Outdoor Spaces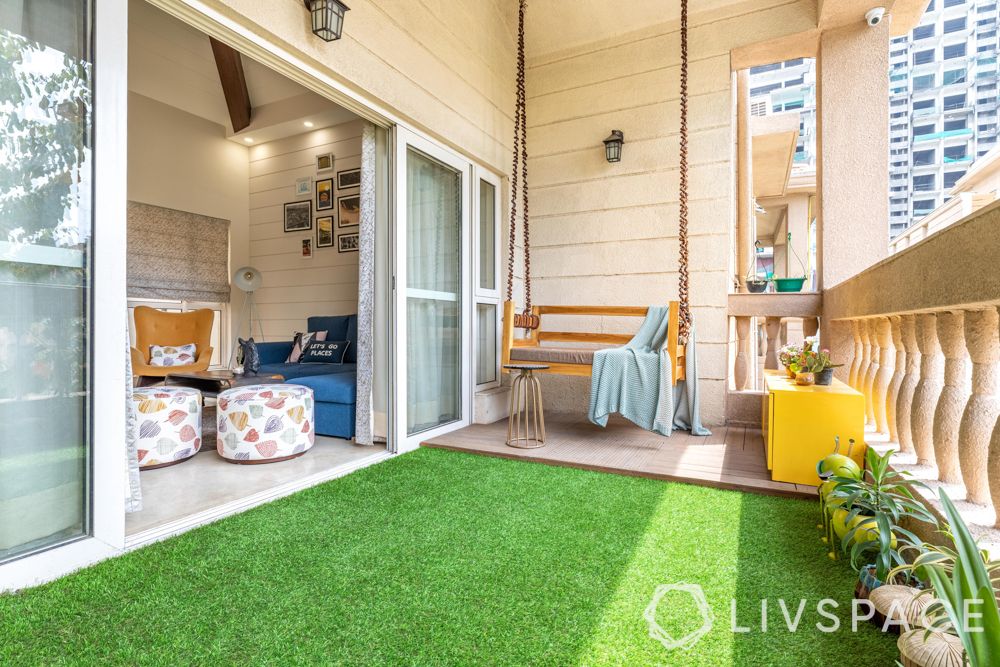 Every resort under the sun boasts of open spaces. So Harshita made sure that the villa interiors imbibed the spirit of nature. She dressed the balcony adjoining the family room in complementary colours and artificial turf flooring. The swing here is a snug addition meant to keep the kids engaged.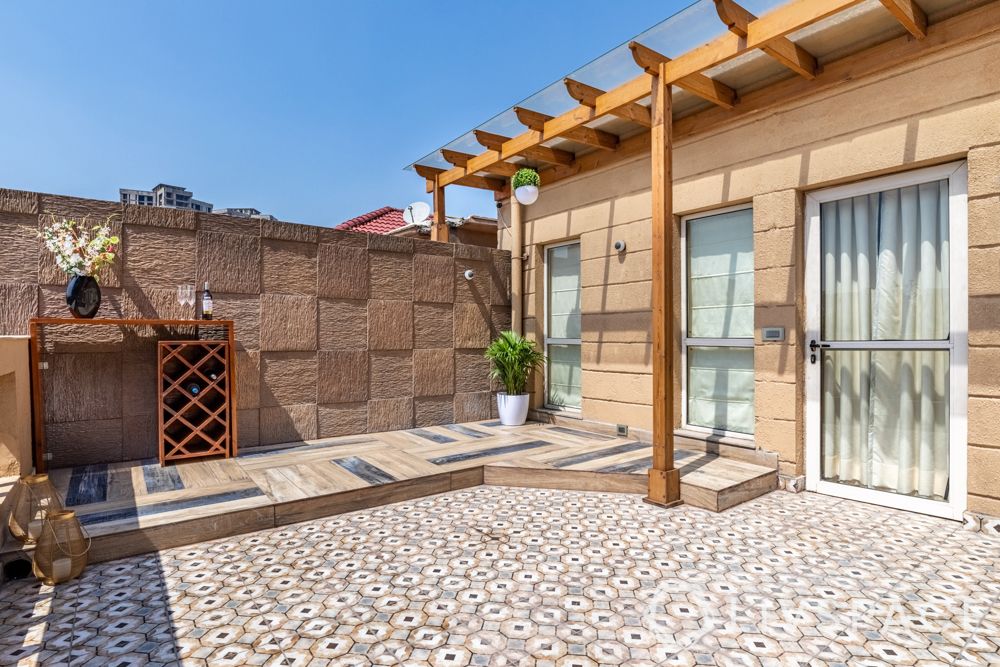 The terrace design stands out with shapely hexagonal tiles and red stone cladding on the walls. Don't miss the deck and the mini bar here. This is the outdoor party area in this upscale villa.
#3: Spa-like Bathrooms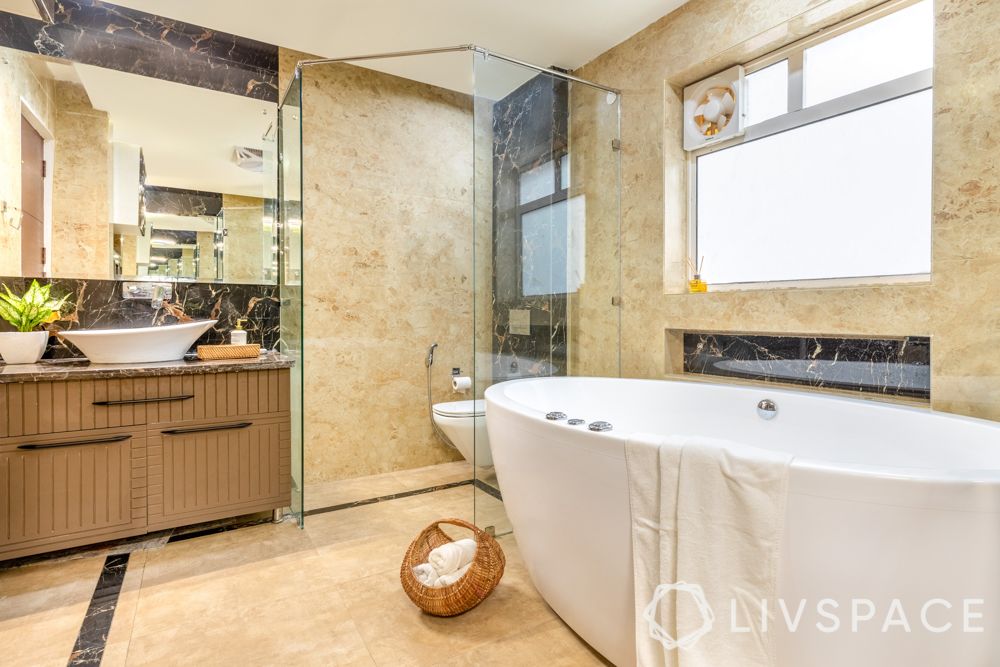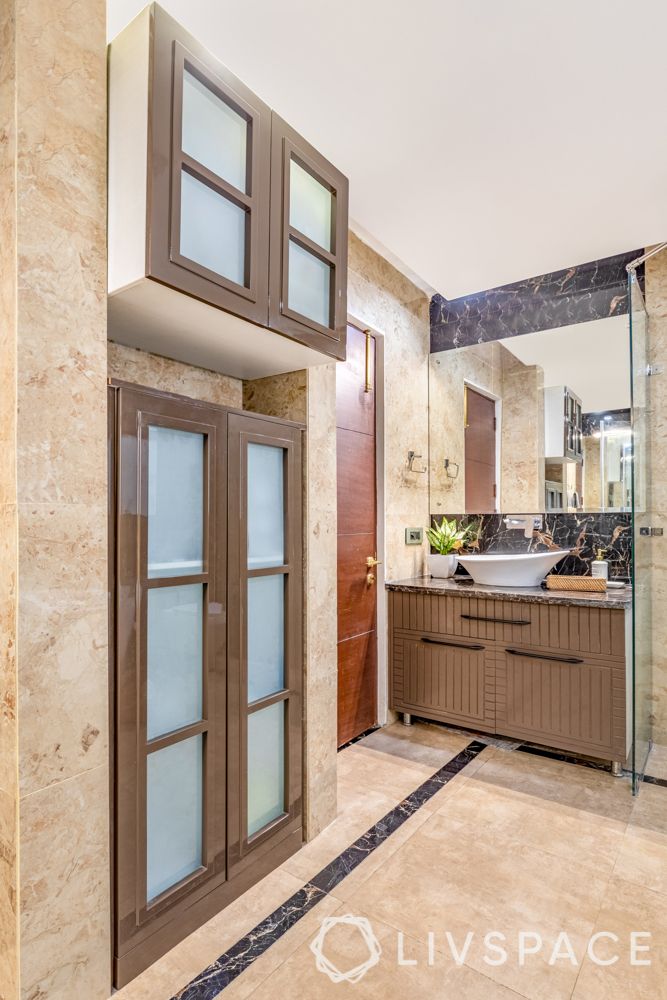 The bathrooms in this home are nothing short of mini spas, and the master bathroom is naturally our favourite. Harshita said that she provided storage in all the bathrooms but this one was particularly interesting. There are glass shutter storage units here just for bathrobes! The tub too has a very urbane vibe about it. And there is also a shower cubicle for days when there is no time for a luxurious dip!
#4: Splendid Wall Treatments for the Bedrooms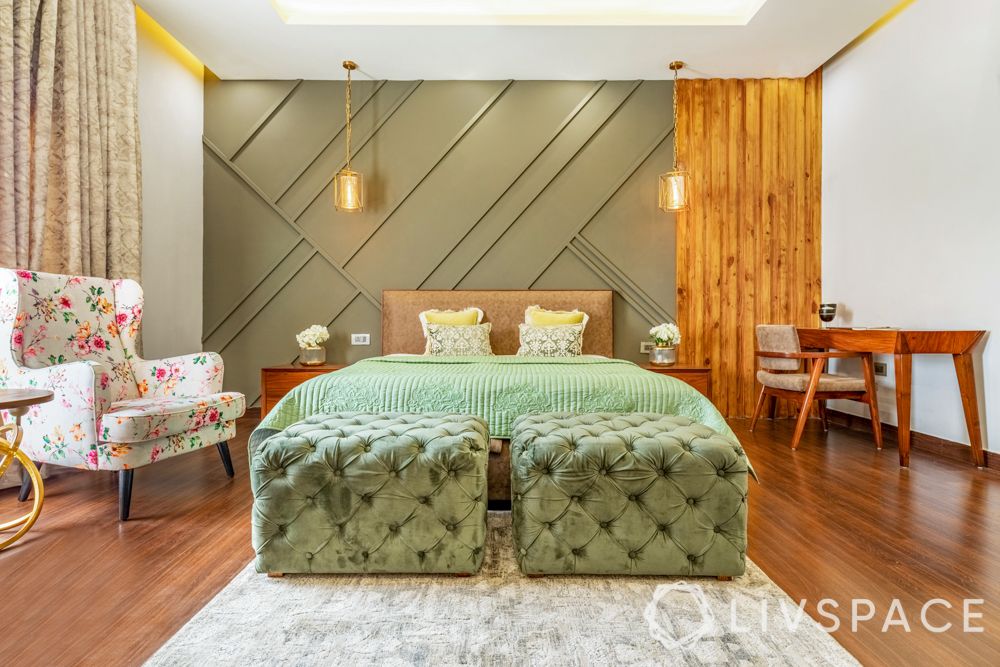 Mrs Shankar wanted her bedroom to be a serene space while embracing a bit of glam. Hence, Harshita chose a demure pastel green for the master bedroom's accent wall. This wall is cladded with wood with a coat of Duco paint. Quarter of the wall is still in its timber form to provide some warmth to the decor. This room is also dimly lit to ensure restfulness and tranquility. Of course the plush furnishings only add to the vibe of the room.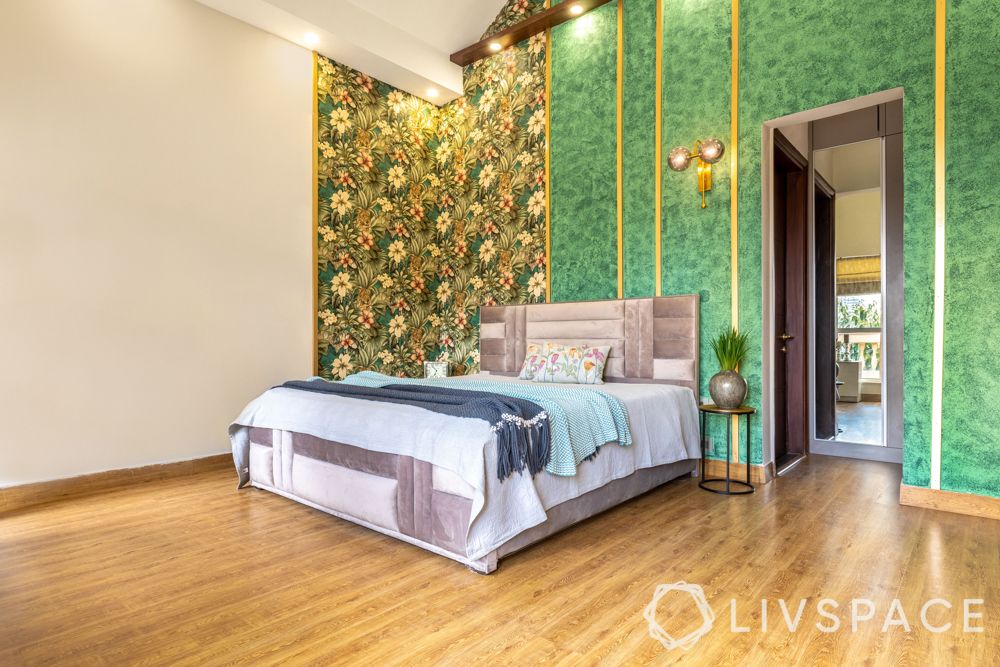 The daughter of the Shankar household lives abroad and wanted her bedroom (for when she visits) to look like a grand hotel. Hence we see plenty of drama on the walls of this room. The bold green texture paint coupled with the floral wallpaper and gold trims are a sight for sore eyes!
#5: Dedicated Dressing Area in Each Bedroom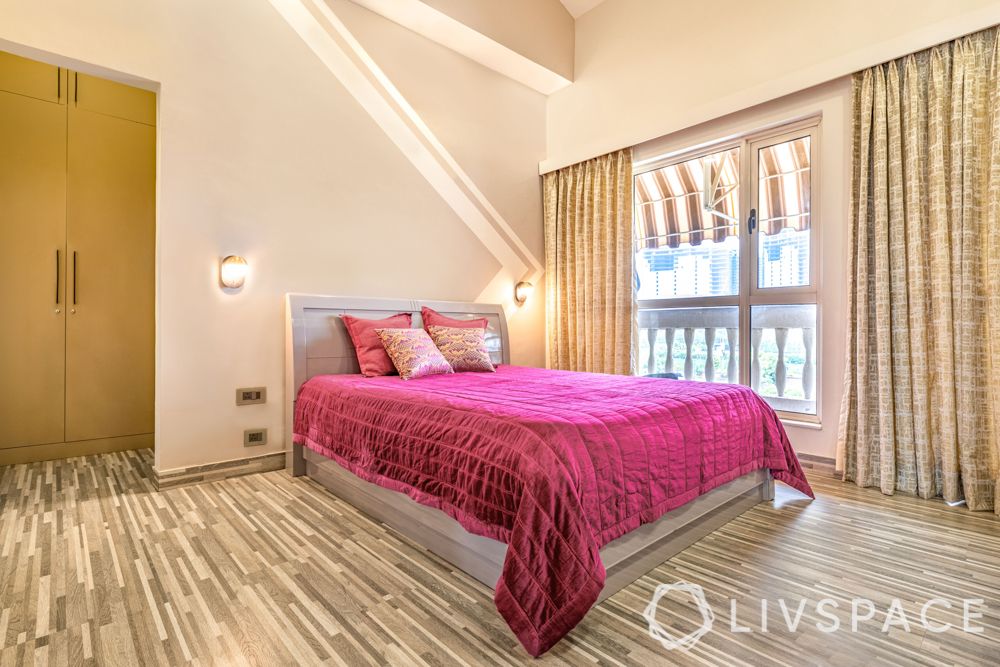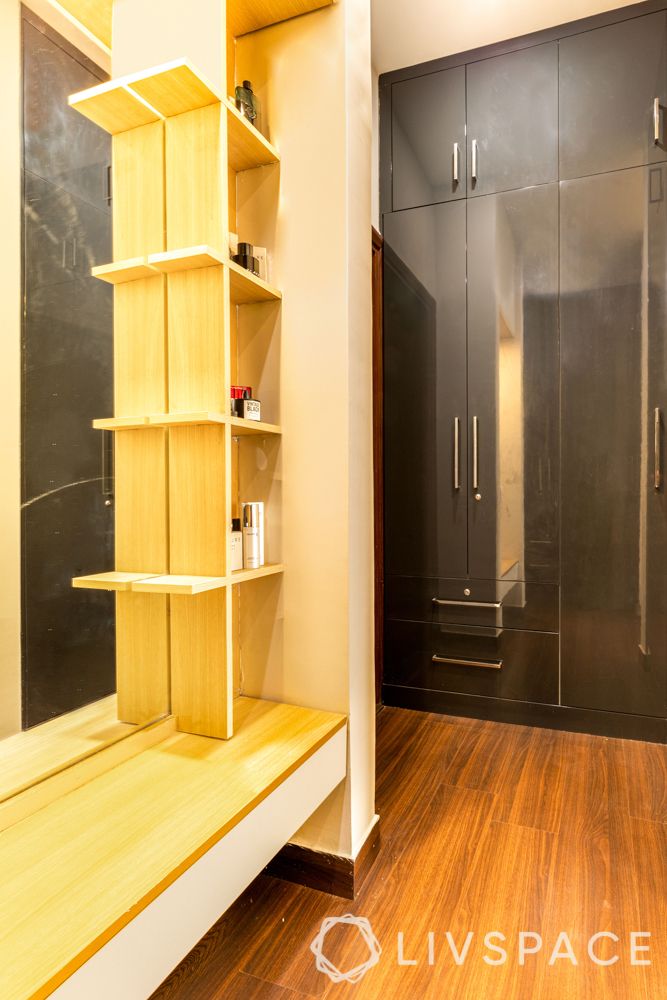 A dressing area is a luxury that we often see only in plush hotels. But every bedroom in this villa is equipped with one. There is a niche in the bedroom where Harshita has installed custom floor-to-ceiling wardrobes in PU finish. In the master bedroom, we also have a vanity unit installed here.
#6: Picture-esque Corridors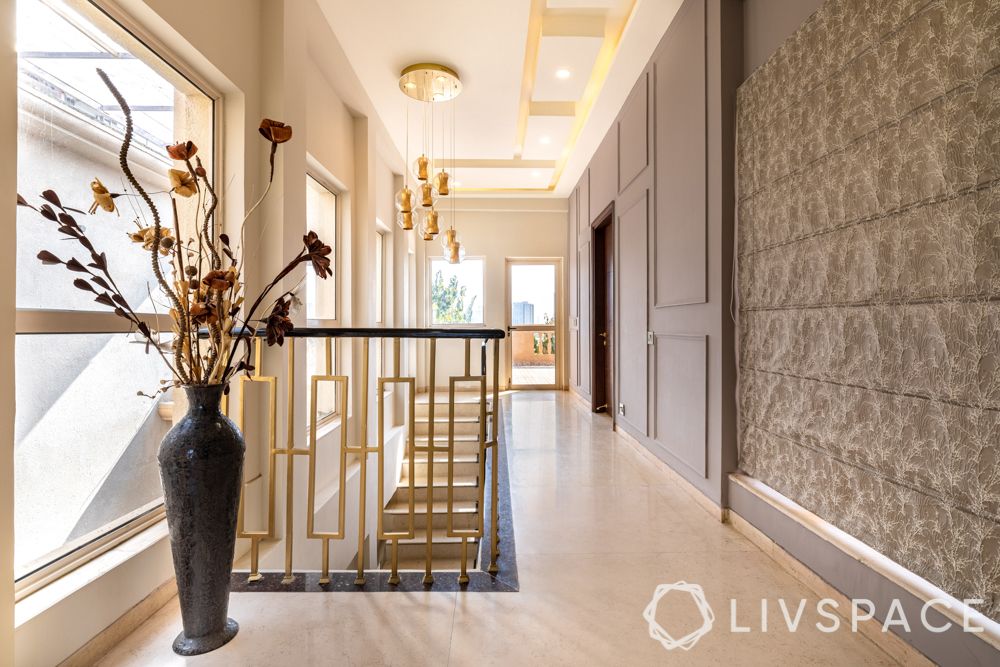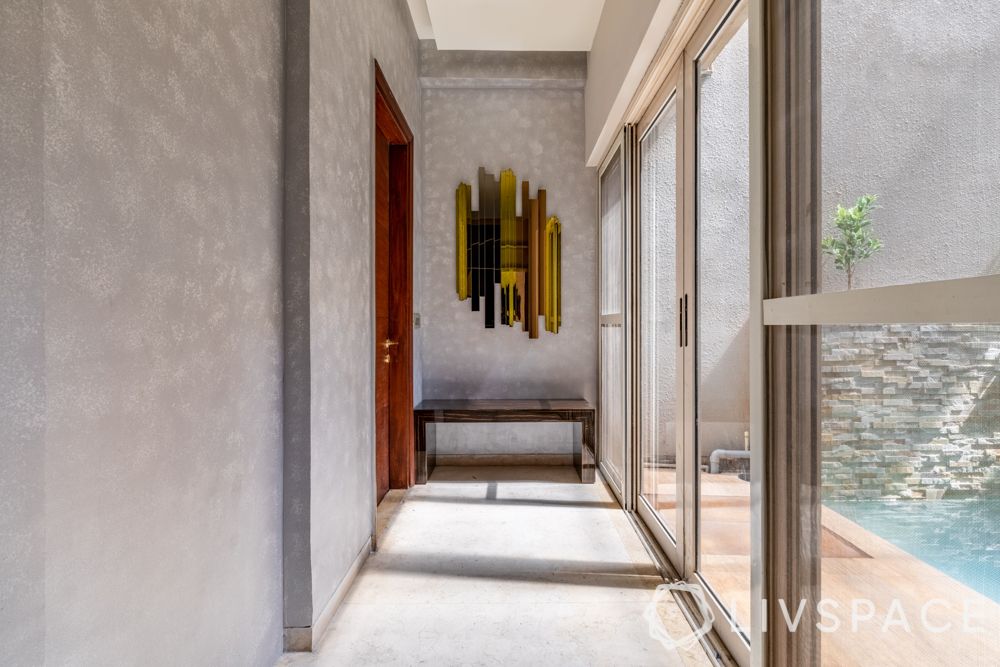 It's not just the rooms, but the corridors too that are works of art. The first floor corridor looks stunning in grey moulded walls and a tall black vase to fill up a corner. At the fag end of this hallway, we see this cosy seatng space with the wall art spawning some colour.
#7: And The Showstoppers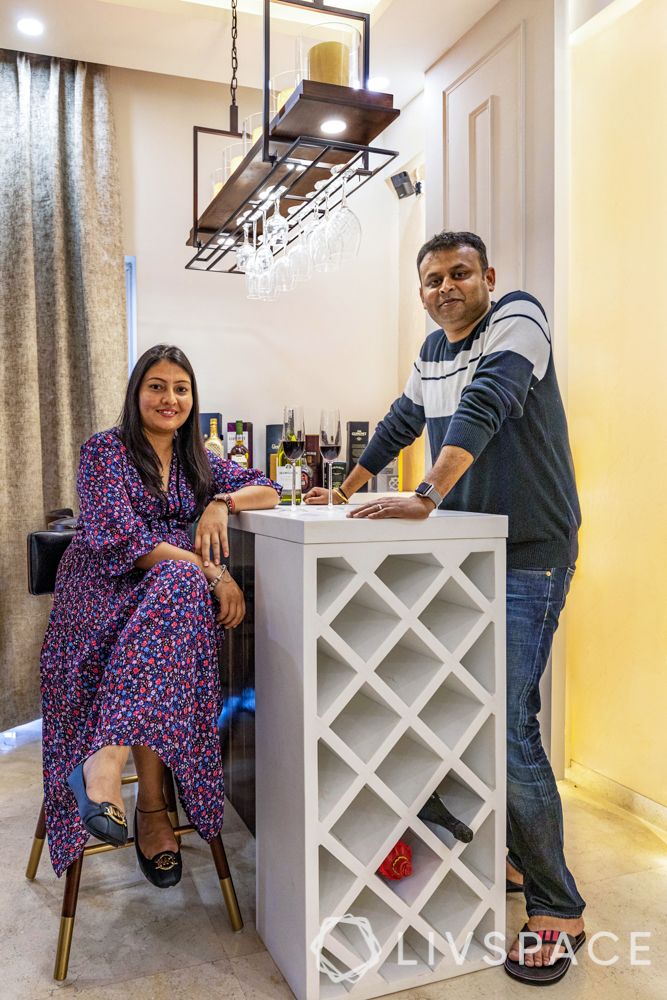 Harshita, the villa interior designer, termed the custom bar unit in the living area as the 'biggest indulgence' of this home. Wrapped in plush veneer finish, this unit sports a high-end Corian stone counter. It's plushness truly befits this home.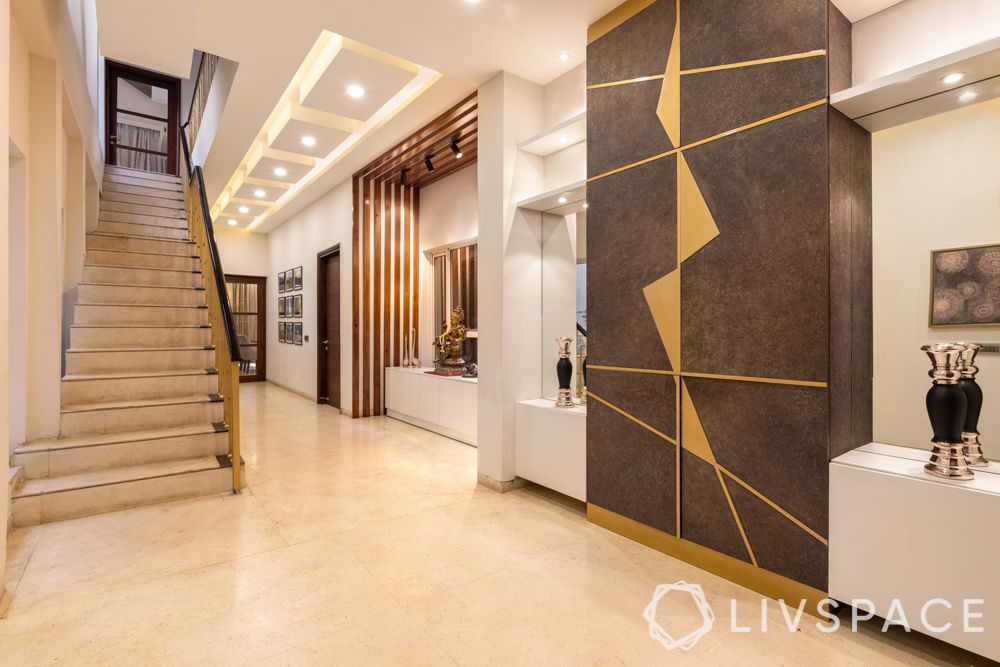 While the bar is an indulgence, the show 'wardrobe' (for the lack of a better word) in the foyer is a smart purchase. This unit too is customised to store 70+ pairs of shoes and other knick-knacks for the kids. But on the outside, this laminate and PU finish unit looks like a highlighted part of the wall. Amazing what good design can do, isn't it?
Designer Speak
"Designing this villa is one of the highlights of my career. And that is not just because of the scale of this home. The experience of working with Mr and Mrs Anand Shankar, who made every step easy with their mature perspective, was in itself an experience worth my while!"

– Harshita Sharma, Interior Designer
If you enjoyed venturing into this plush villa, also explore how Italian Marble, Custom-made Furniture & Gold Trimmings Add Luxury to This Villa.
Write to us at editor@livspace.com