A perfect design is one that balances style and function. And this home seems to display the combination quite effortlessly. Chalked out by Livspace designer Adnan Sheikh, the villa house design consists of chic elements, muted blues and plenty of modern furniture.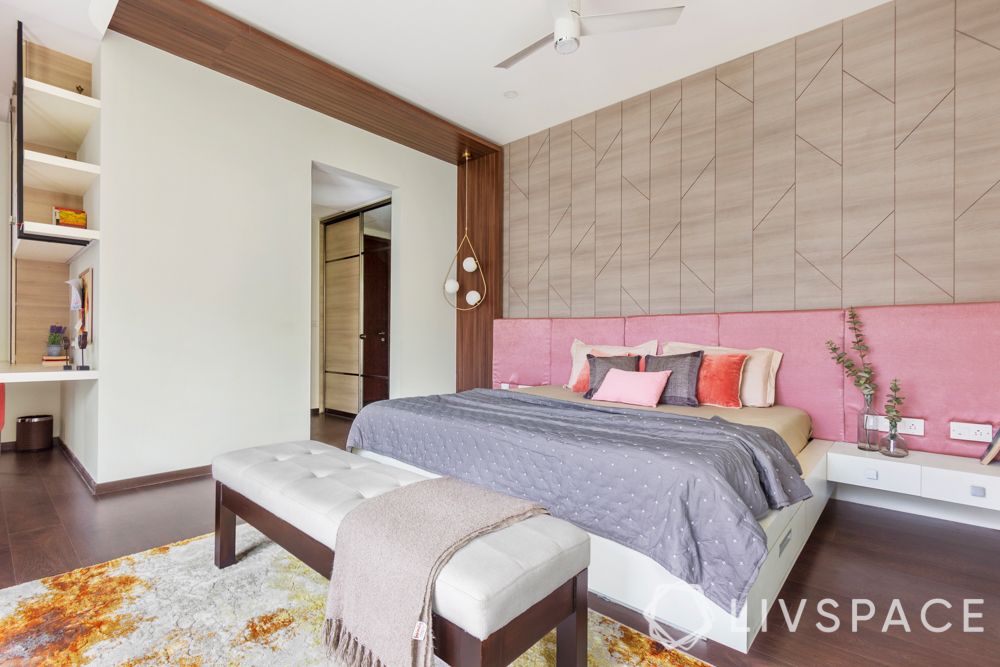 ---
Who livs here: Harish Porwal with his family
Location: Sterling Villa Grande, Bengaluru
Size of home: A 3BHK spanning 3,760 sq ft
Design team: Interior Designer Adnan Sheikh and Project Manager Prudhvi Kreddy
Livspace service: Full Home Design
Budget: ₹₹₹₹₹
---
Located in a quaint suburban area of Bengaluru, this 3,760 sq ft Sterling Villa Grande 3BHK is home to Harish Porwal, his wife and two children. Consequently, we get to know a little more about the family and their stylish home. In conversation with Adnan, he says, "Unlike other homeowners, Harish had a specific taste and a very strong sense of design which was recreated by us!"
The Porwals wanted modern interiors that combine functionality and aesthetics equally. Furthermore, a unique design choice that was made by the family was to introduce asymmetry to the design which can be seen in the majority of the rooms in the form of unequal lines and shapes. Read on to know more about this distinctive design.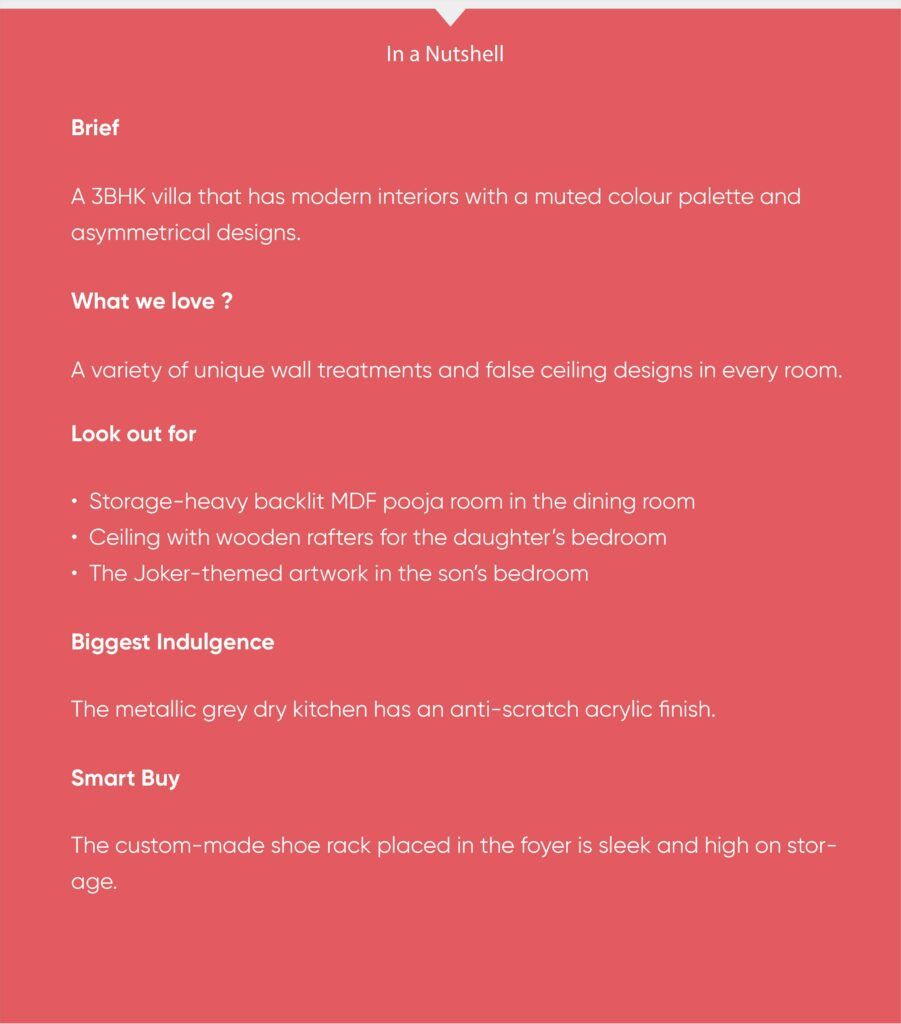 Eye-catching foyer in this villa house design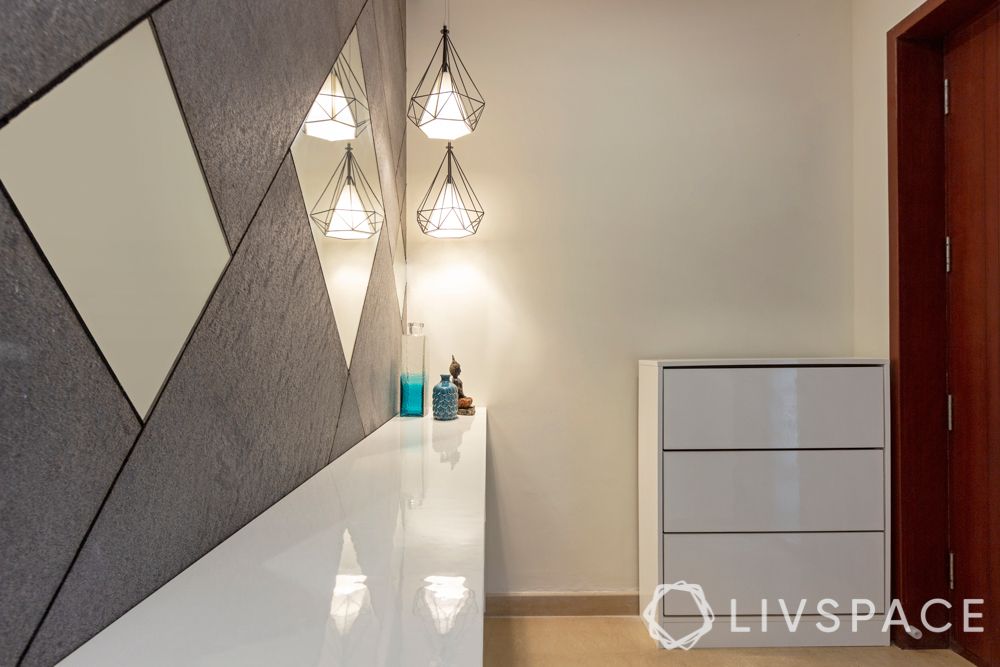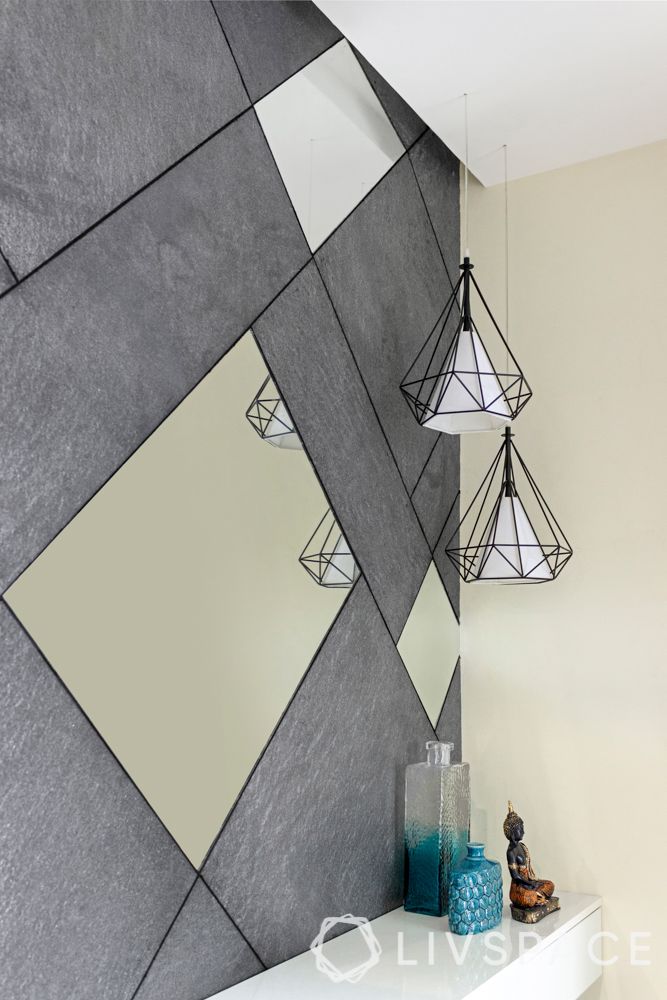 "The Porwals wanted to make a lasting impression with the design of entrance of the home! Although it was a small space we tried to create a feature wall. One that would be pleasing to the eye and exude understated elegance. A combination of stone veneer and mirrors were used to create asymmetrical lines with dark grooves to accentuate the overall design. Moreover, we added a floating console table and a custom made shoe rack displaying curios and storage," Adnan says.
An All-blue Living & Dining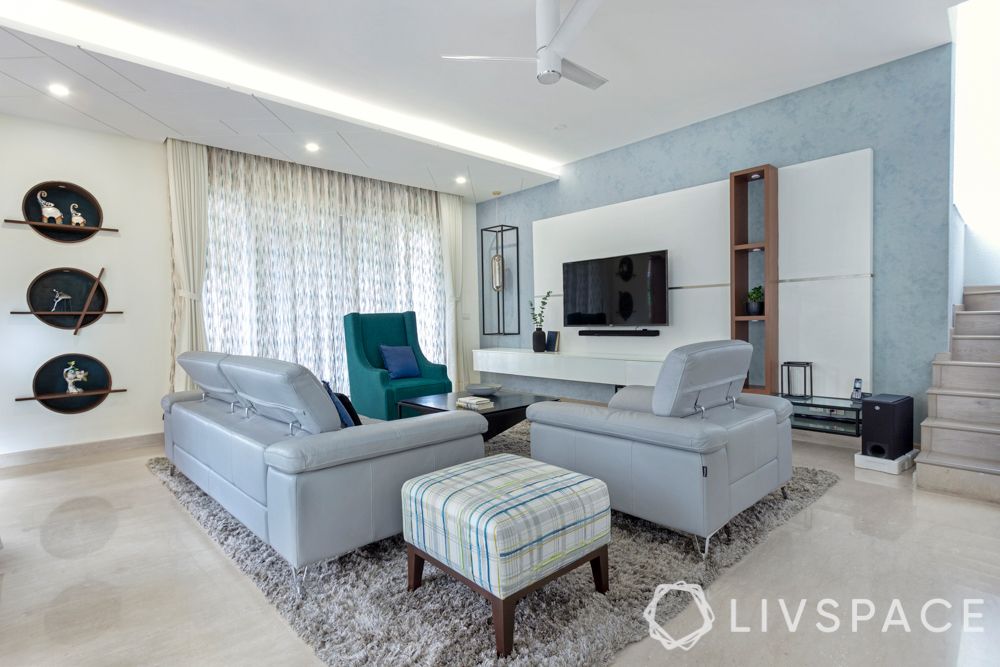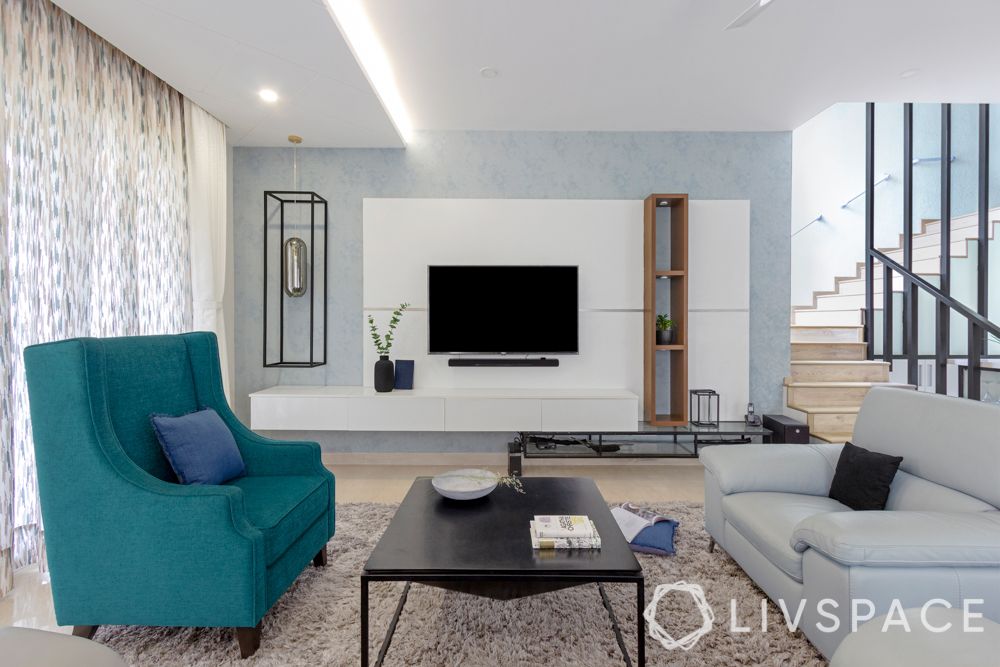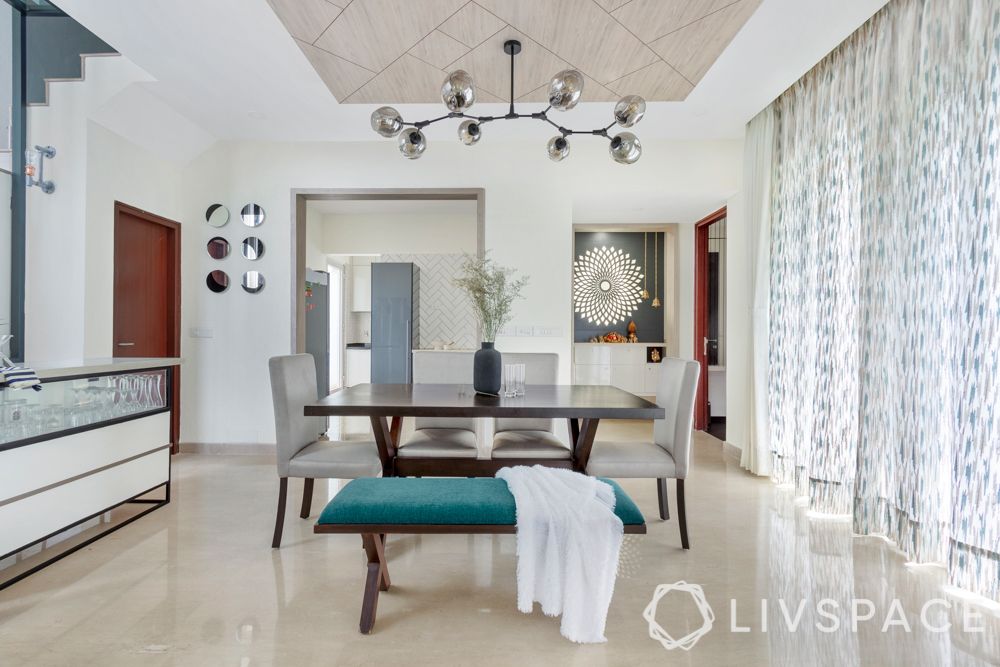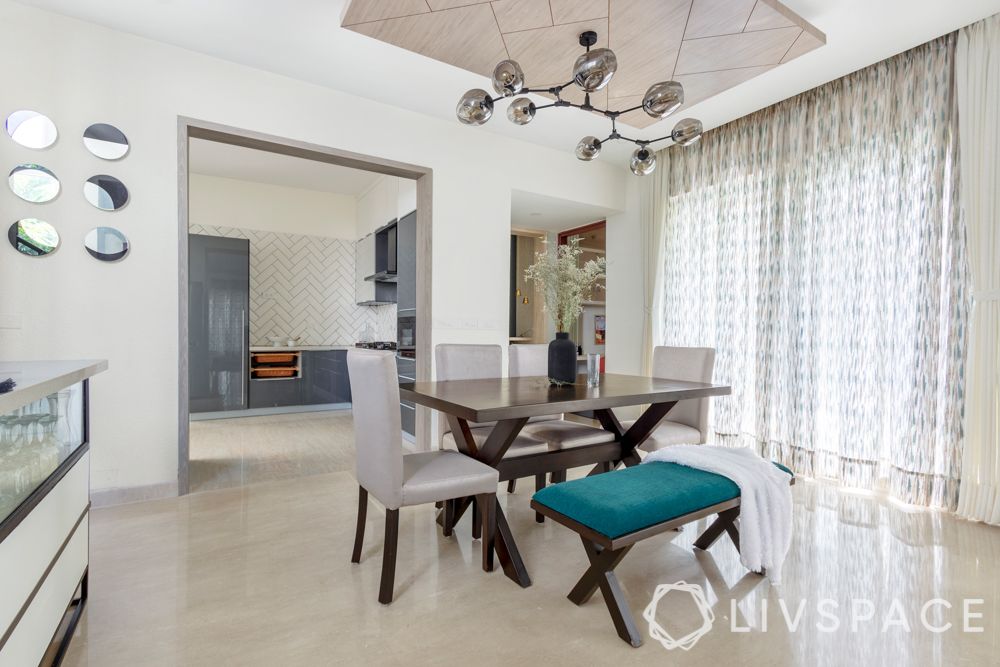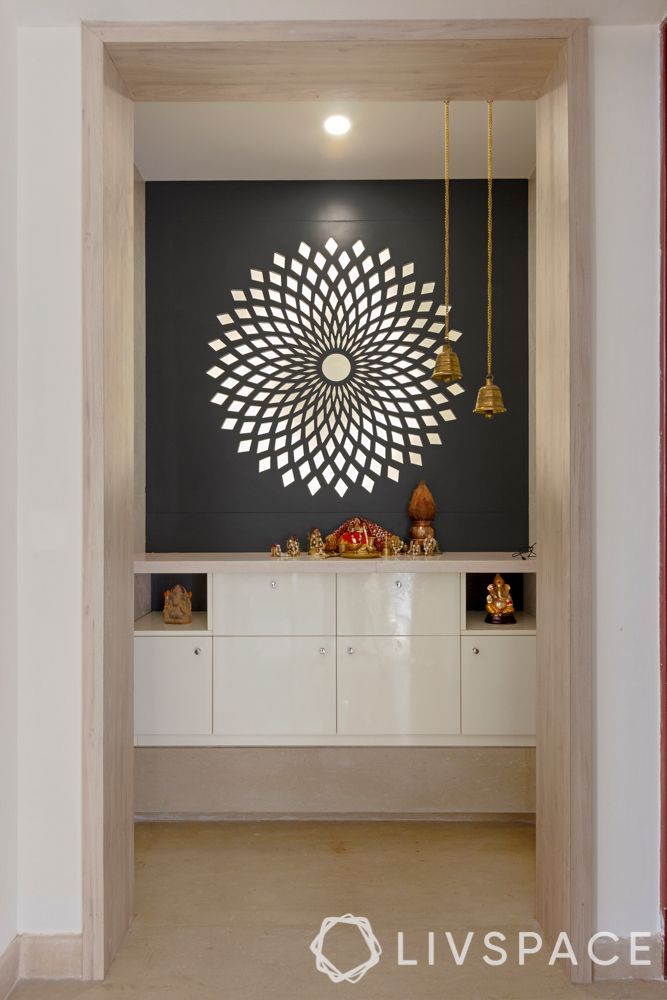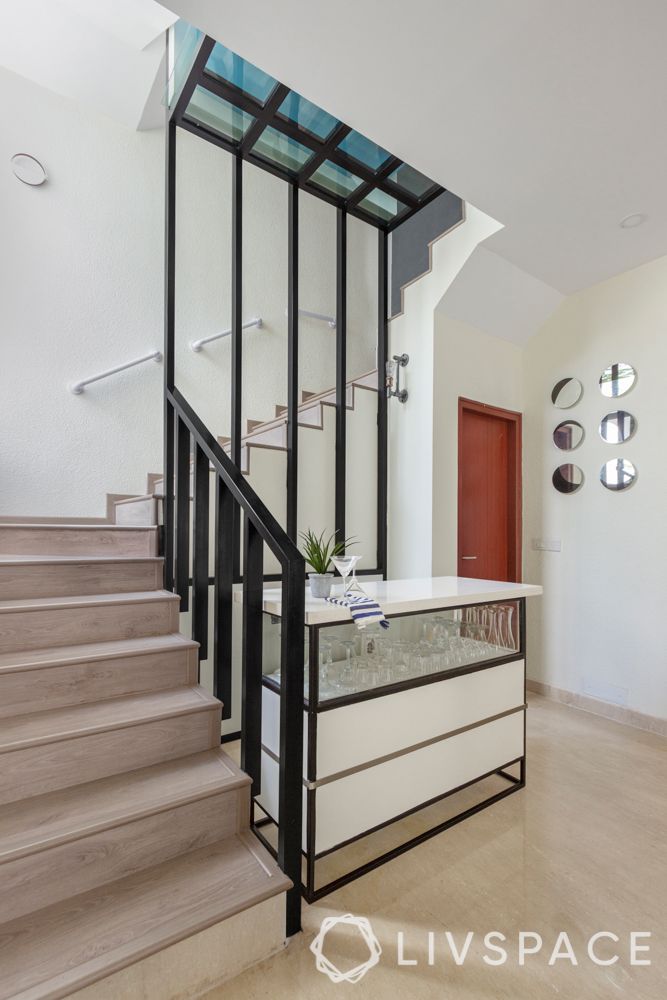 Asymmetry is a crucial component in this design. Though there is a repetition of colours and neat lines, none of them mirror each other. Besides, a great example of this concept lies in the way the TV unit is custom designed with ply and metal framework.
"The entire home is designed in muted colours. However, pops of colour were added to each room in the form of soft furnishing that can be changed easily. Therefore, this allows the family to alter the theme by switching out these elements," Adnan says. Subsequently, you can see the use of this design hack clearly in the living and dining spaces with an accent blue arm chair and a bench.
Designing a Sleek, Anti-scratch Kitchen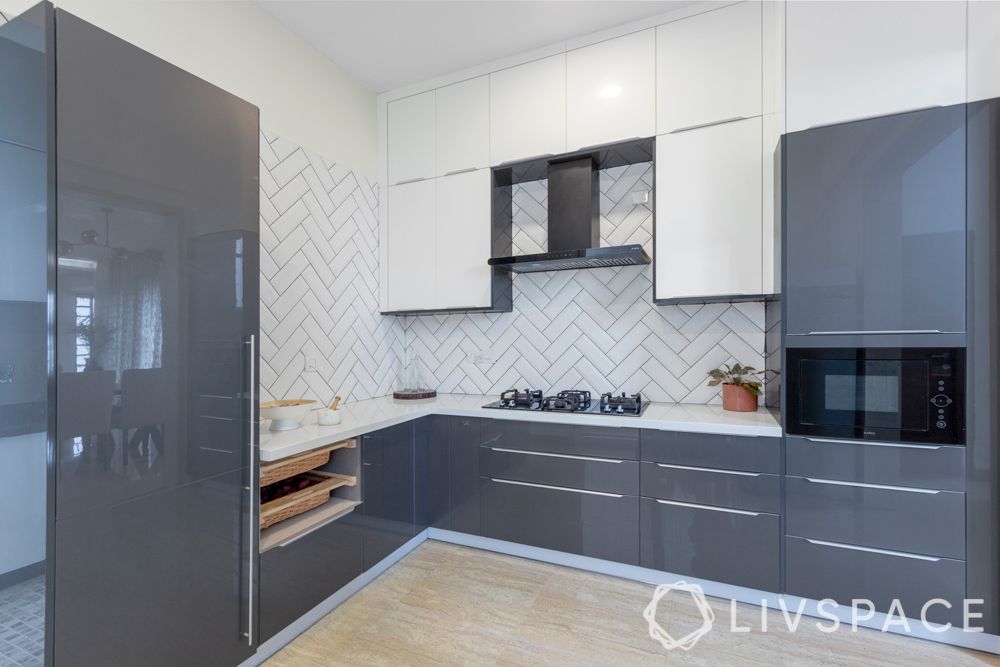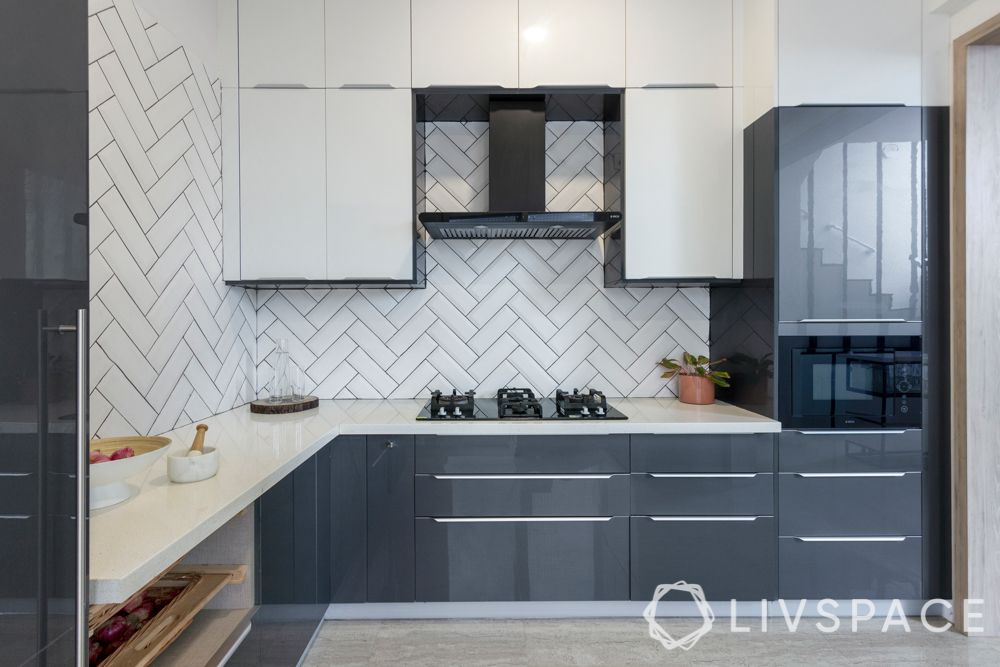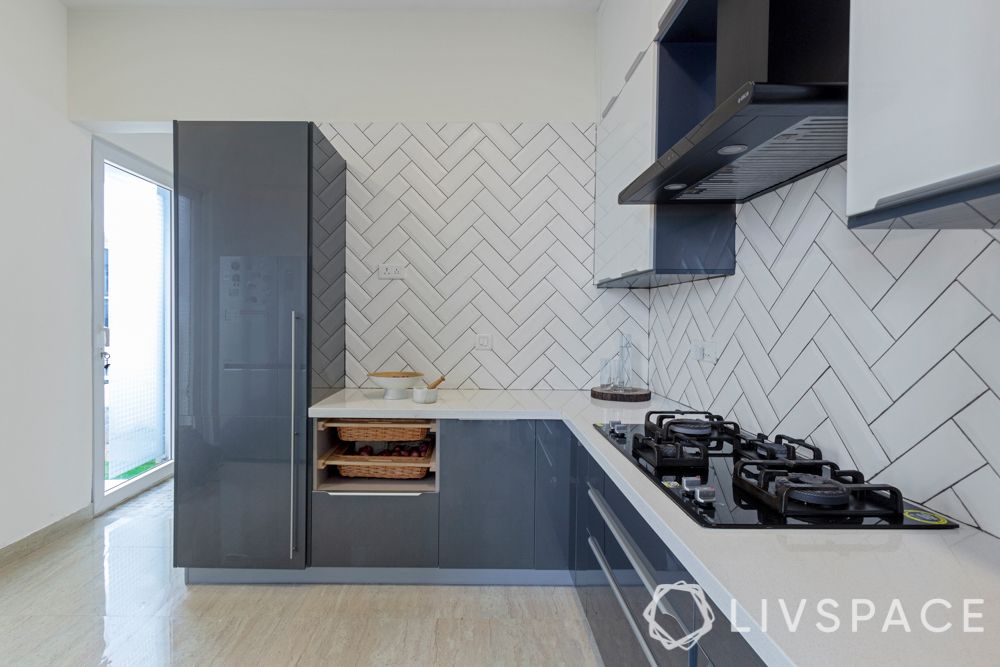 Furthermore, this L-shaped kitchen is a continuation of the subdued colour palette. However, the look breaks away in the most subtle way due to the subway tiles that extend upwards. The grey and white cabinets are made of anti-scratch high gloss laminate so the kitchen will look good as new for years to come.
Mezzanine Floor Entertainment Room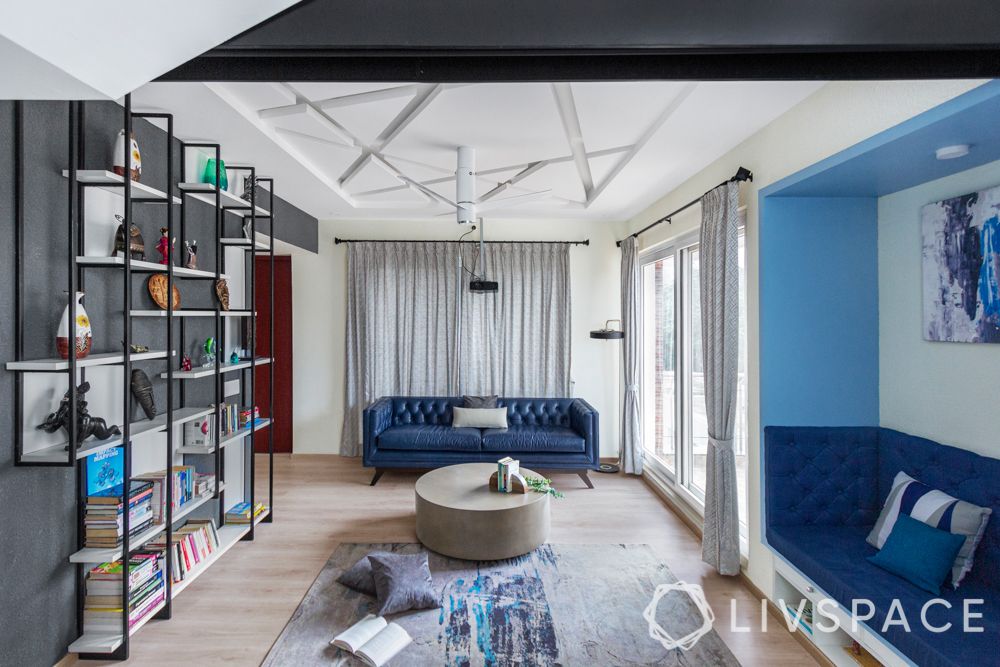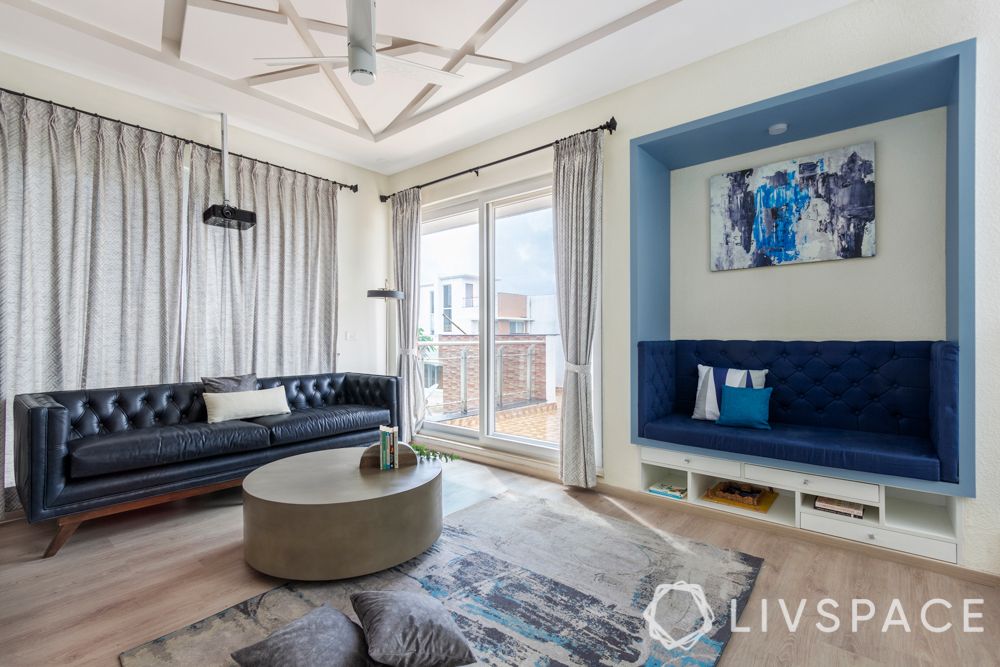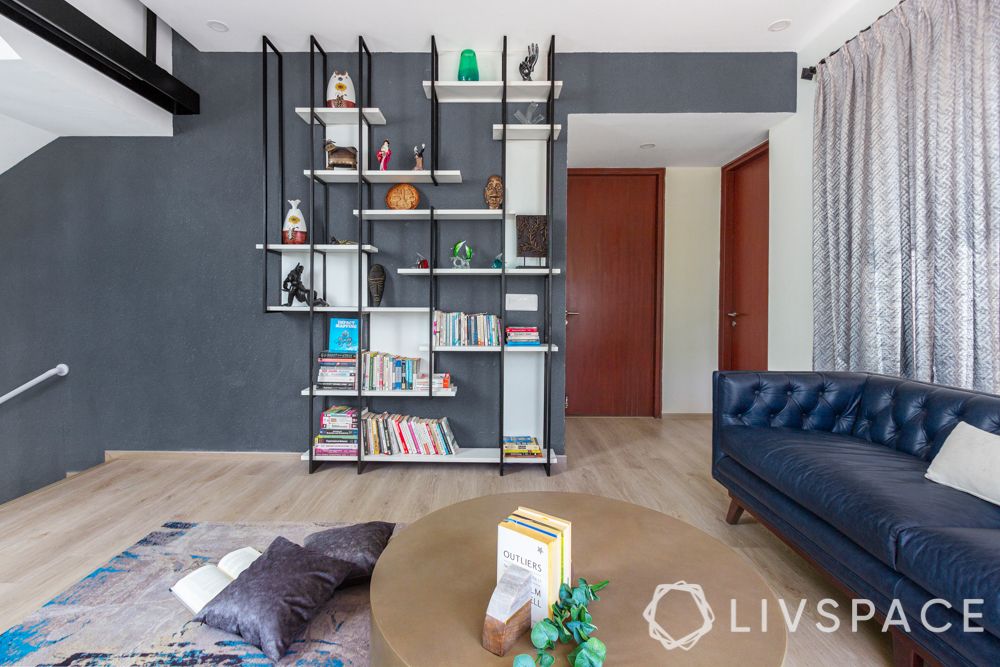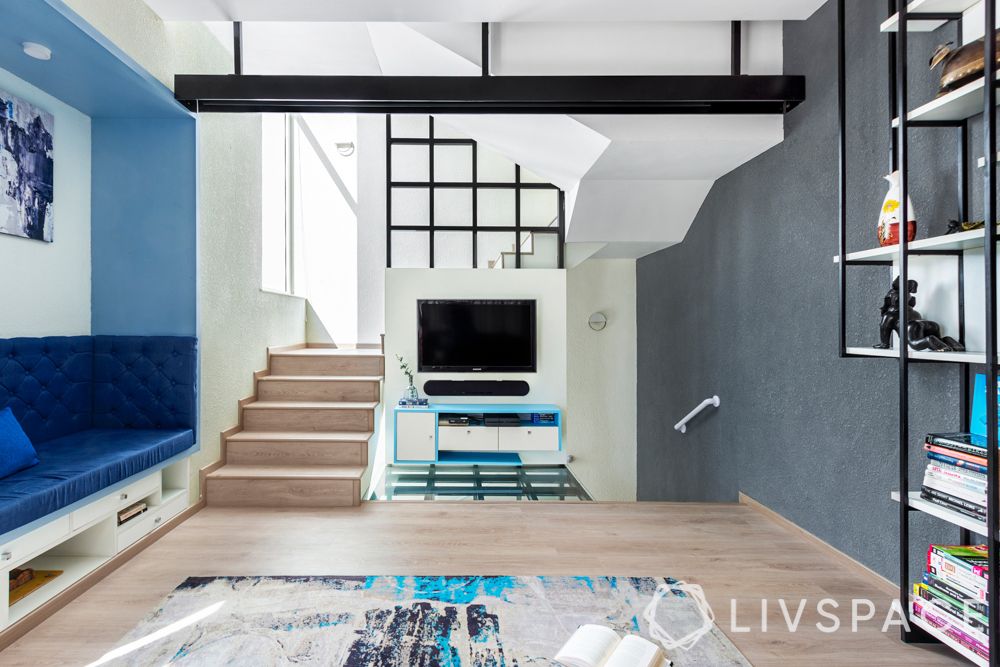 This uber cool lounge area is the meeting point for all family members for their fun movie and game nights. Subsequently, it has half a dozen Pinterest-worthy corners like the metal frame bookshelf, a corner with niche seating, a sizeable navy blue sofa and a POP false ceiling with abstract lines. However, what sets this space apart is the TV unit that is installed on the extended floor. Lastly, Adnan has made sure to include a projector and screen for a complete theatre experience.

Wooden Elements and Pops of Orange Rule the Master Bedroom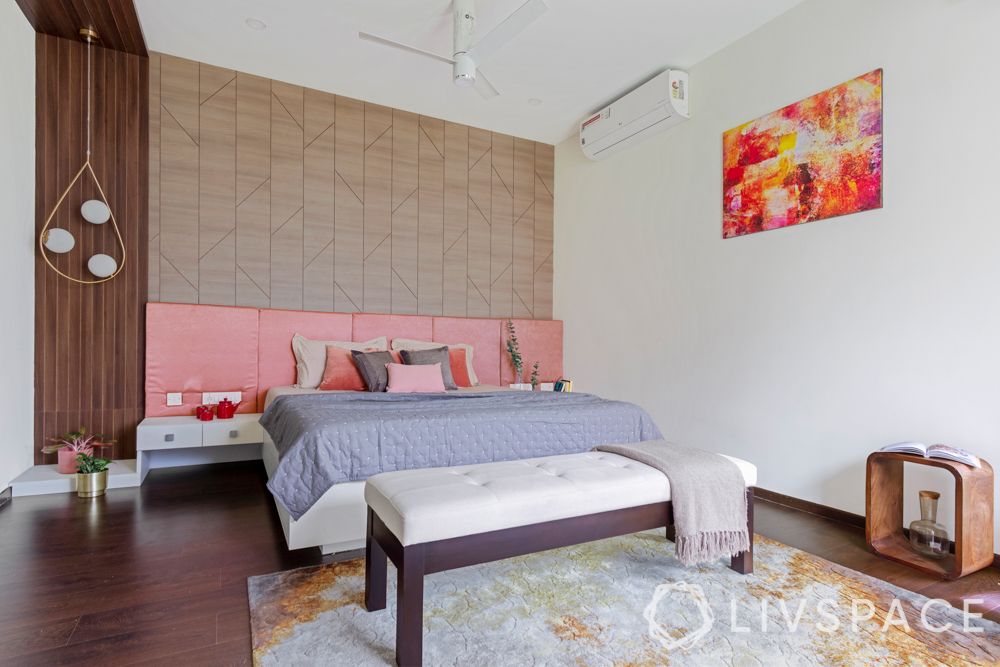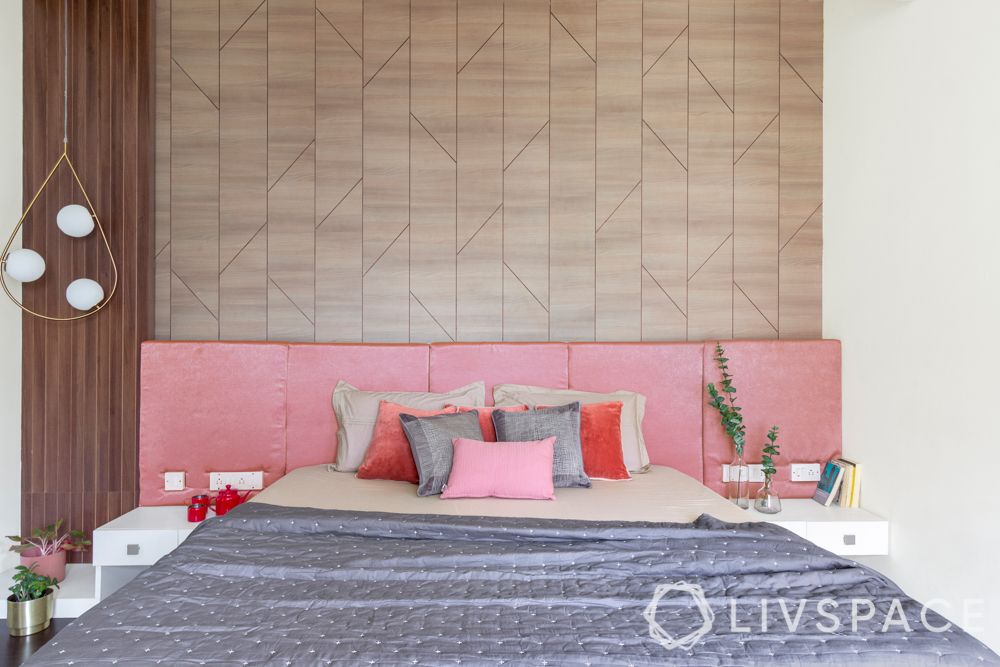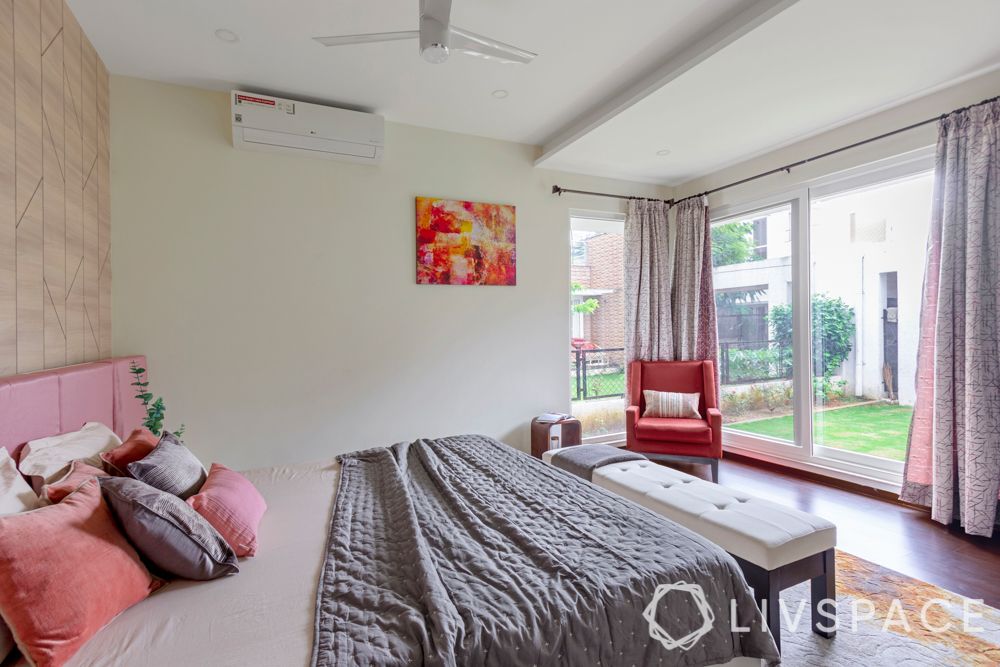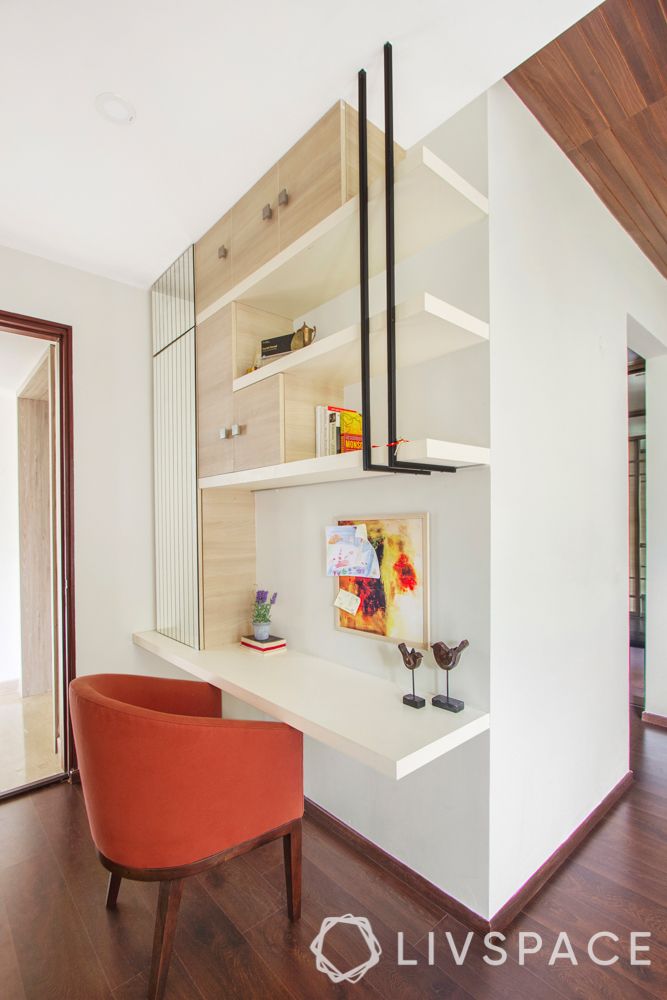 While the intriguing pendant light instantly grabs your attention, take a look at the contemporary study unit that can be recreated in your home! A bright orange chair adds a pop of colour to the minimal design. Moreover, what's not to love in this bright and cheery bedroom? The pink fabric headboard, the quaint reading corner with an arm chair, the unique pendant light and plenty of decor knick-knacks tie the room together. Adnan has carefully designed a bedroom keeping space and aesthetics in mind – it's stylish but stays sober for a good night's sleep. The bedroom also has a feature wall made of wooden panelling and furniture from our catalogue. Paired with that view, delightful, isn't it?
Designing a Timeless Bedroom for Kids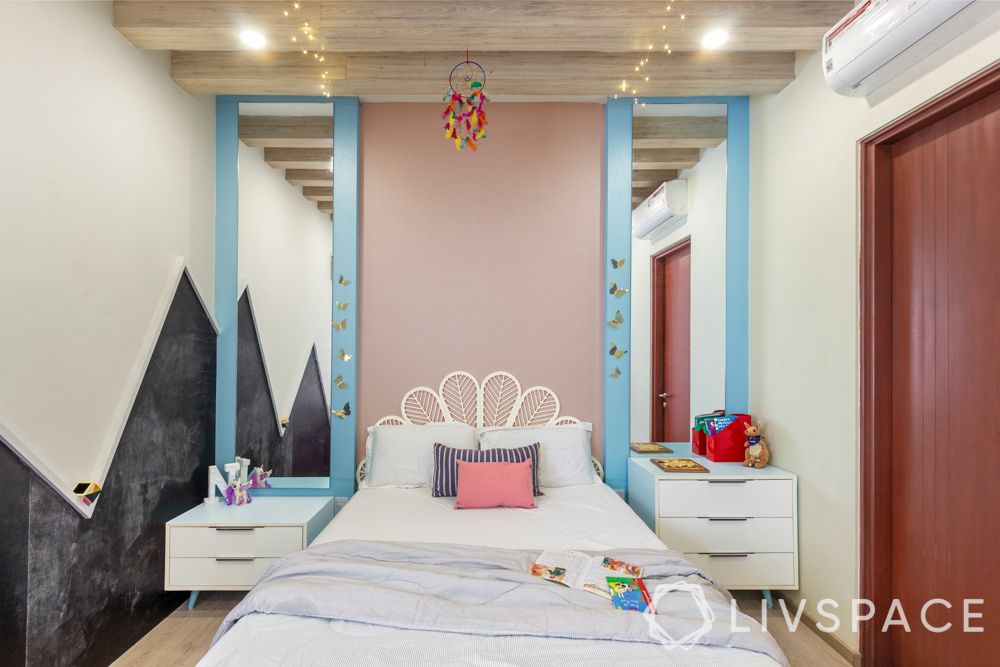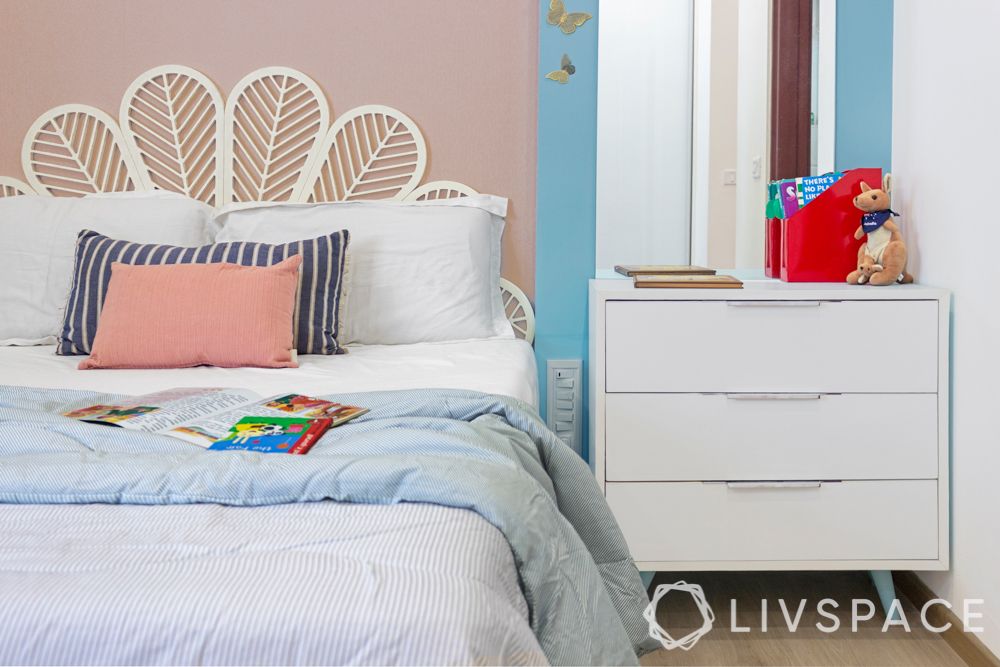 Consequently, the daughter's bedroom is the dreamiest room in the house and perfect for an adolescent girl. This high-ceiling room is further enhanced by two full length mirrors that were made to match the bed frame. Moreover, the wooden rafters with spotlights are a unique design element along with the feature wall that has a chalkboard finish.
Bedroom Designed for a Movie Buff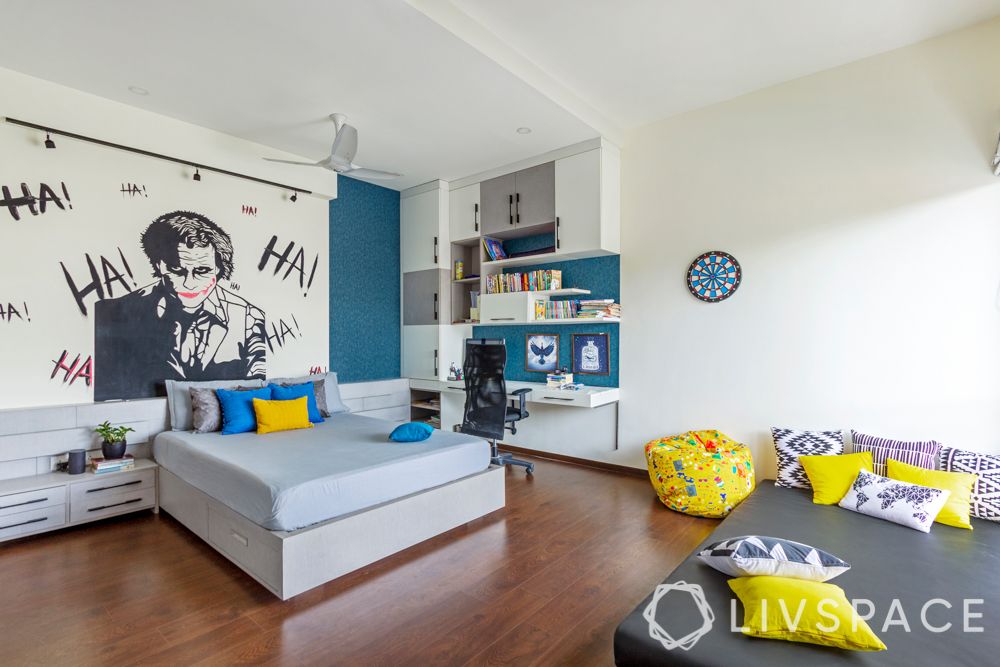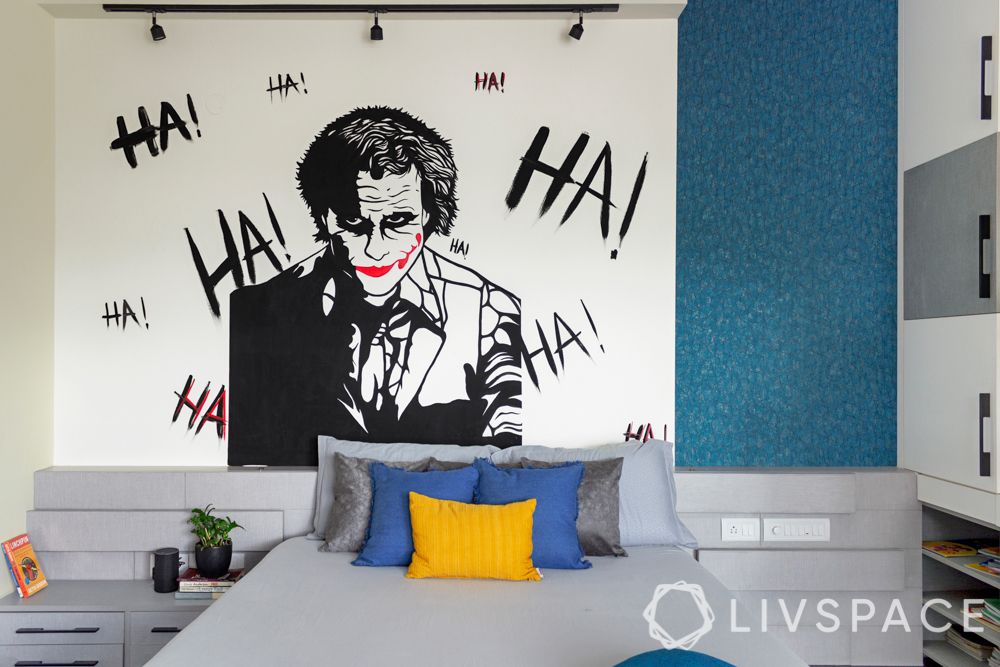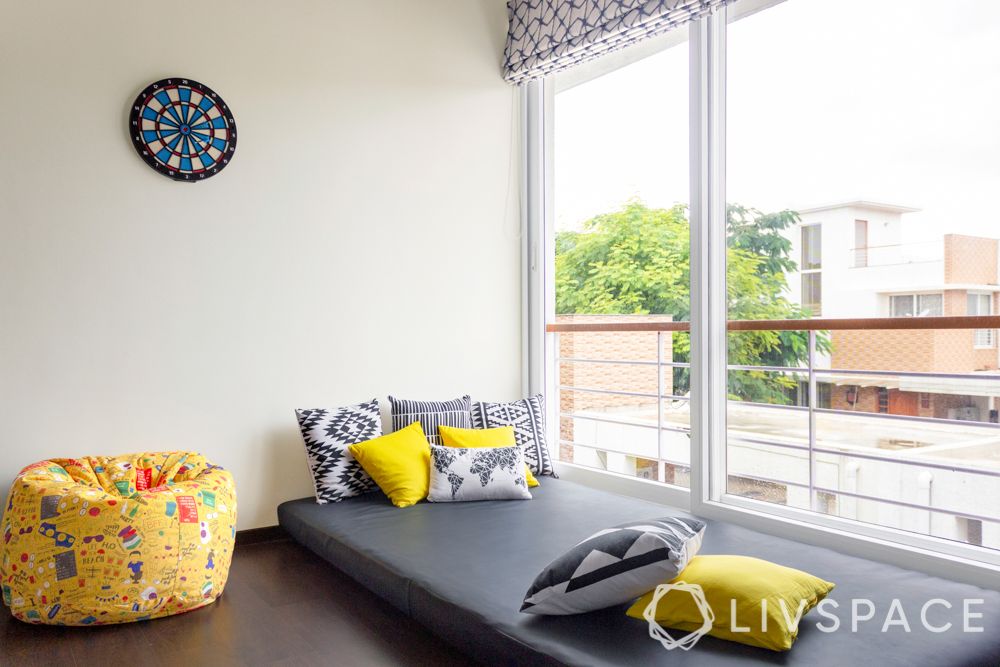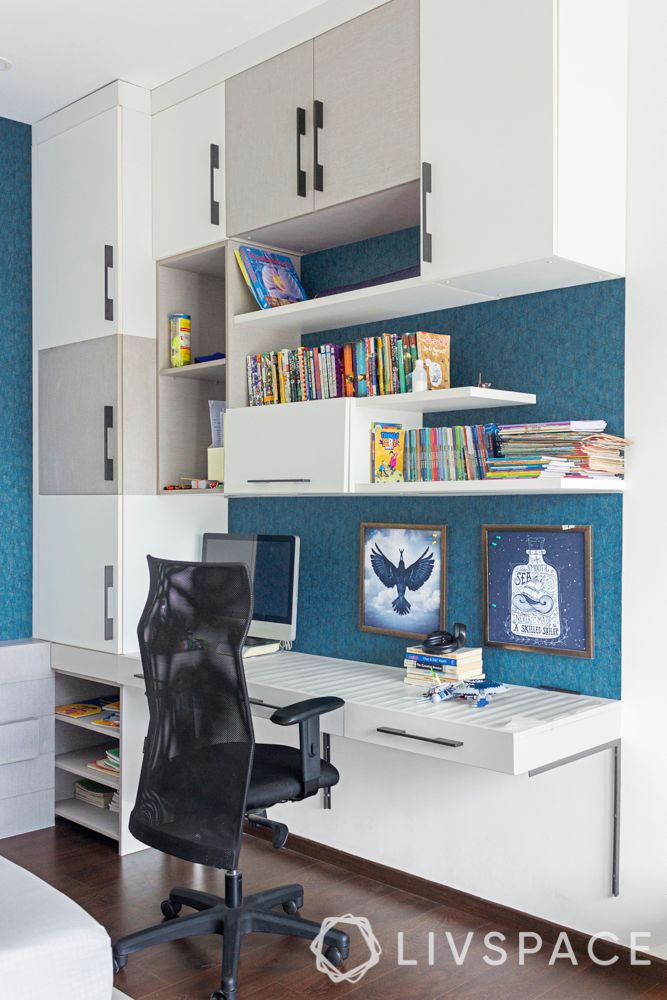 "My personal favourite would be the Joker artwork in the son's room. Subsequently, the family was certain that the Joker theme in this room should be the focus. However, this helped me develop the rest of the design that followed. For example, the headboard and platform bed is decked in greys so as to not have an overpowering design. Overall the composition of the artwork and wallpaper as well as the panelling, bed and study table give a comprehensive and pleasing aesthetic to the room," Adnan says.
If you liked this villa house design in Sterling Villa Grande, take a look at: Villa Interior Design With Fabulous Woodwork.
Let us know what you think of this villa's home design.