Bohemian (/bəʊˈhiːmɪən/), noun: Someone who lives life, freely.
That is exactly how a trip to Goa makes one feel. Over the years, the state known mostly for its raging nightlife and wild seas also gained some popularity for its quieter, more serene side. During the course of the past two years, many artists shifted their bases to bring themselves closer to the beauty of the scenic beaches and epic sunsets, while living out of epic villas and accommodations that served as inspiration for their art. Here are four such Bohemian villas that can make your Goan vacation worthwhile and fulfilling the next time you visit.
Bohemian Villas #1: Turiya Villas, Canacona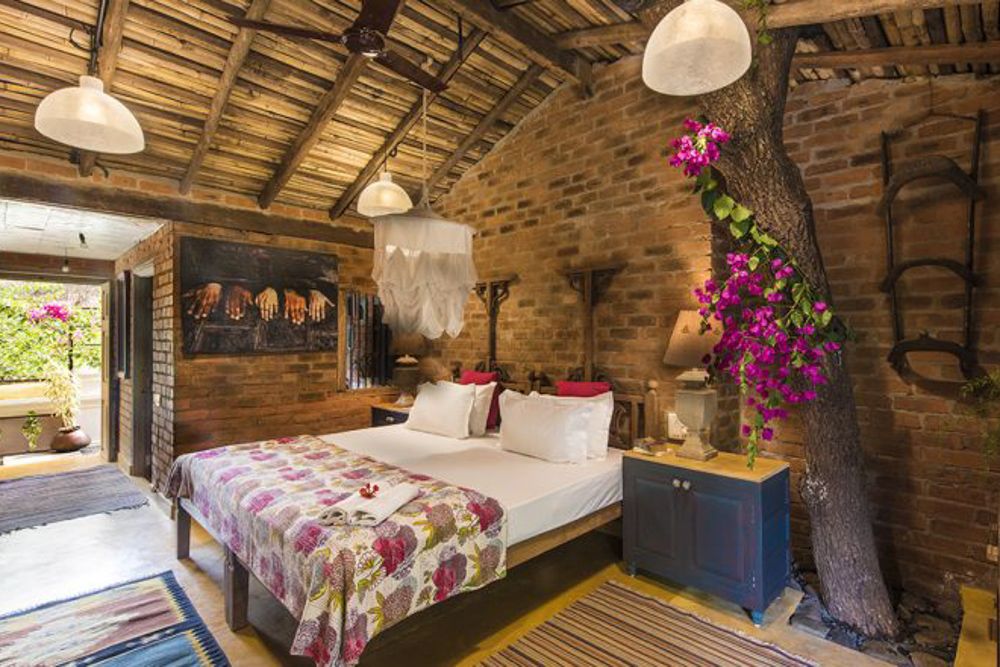 Image Credits: Turiya Villa
An ancient word that signifies the Fourth State of Consciousness, Turiya is also the name of this beautiful South Goa villa located just a few minutes from Palolem Beach. The thatched roof of this Bohemian villa covers up four unique rooms, which are named after a constellation of stars, called "nakshatras" in ancient Hindu culture.. The common patio and piano rooms will make your imagination run wild and achieve a state of bliss or euphoria signified by the nomenclature of the villa itself. With clever utilisation of wide spaces across their rooms, this property's airy and open feel is ideal as a bohemian stay option in Goa. Click here to find out more about this place.
Bohemian Villa Goa #2: Vivenda dos Palhaços, Majorda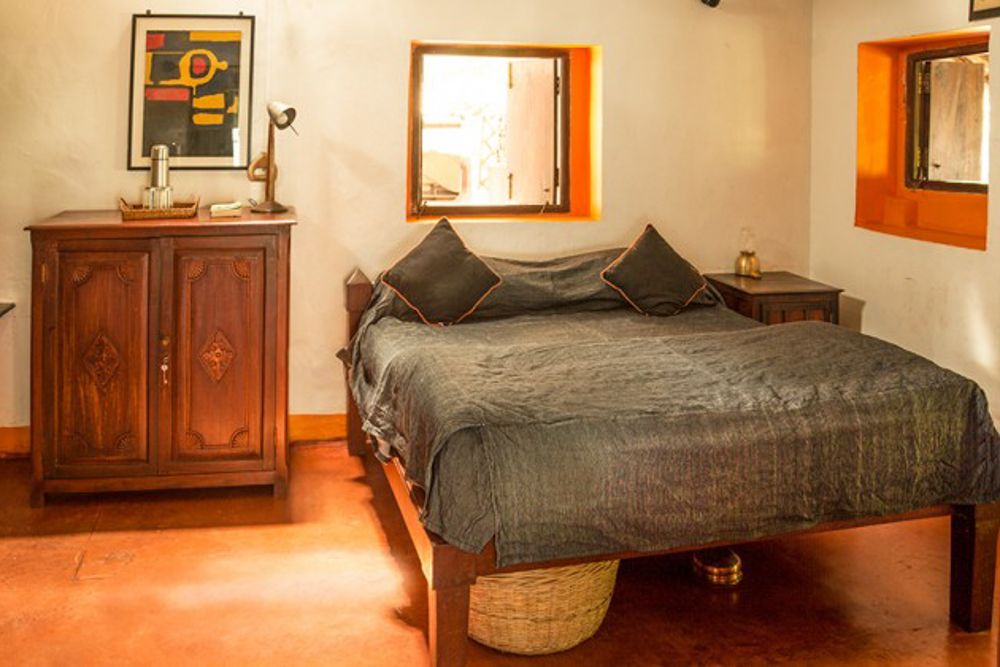 Image Credits: Vivenda dos Palhaços
Another South Goan beauty, Vivenda dos Palhaços is situated 1km away from the longest beach in the state, at Majorda. The website of this bohemian villa Goa is quick to point out that if it is the views of the beach you want, then it is not the place for you. However, it might still be exactly what you are looking for, with the 100-year-old property offering seclusion, peaceful surroundings and a serenity you have always wished for, all together at one destination. The place has three distinctly designed bohemian villas with tastefully done up interiors. Stay here and you will find yourself amidst classic Portuguese design elements and architecture, complete with four-poster beds, antique bathtubs, traditional lamp fittings and wide spaces that are perfect to channel the artists in you. Want to know more about Vivenda? Click here!
Bohemian Villas #3: Elsewhere, Mandrem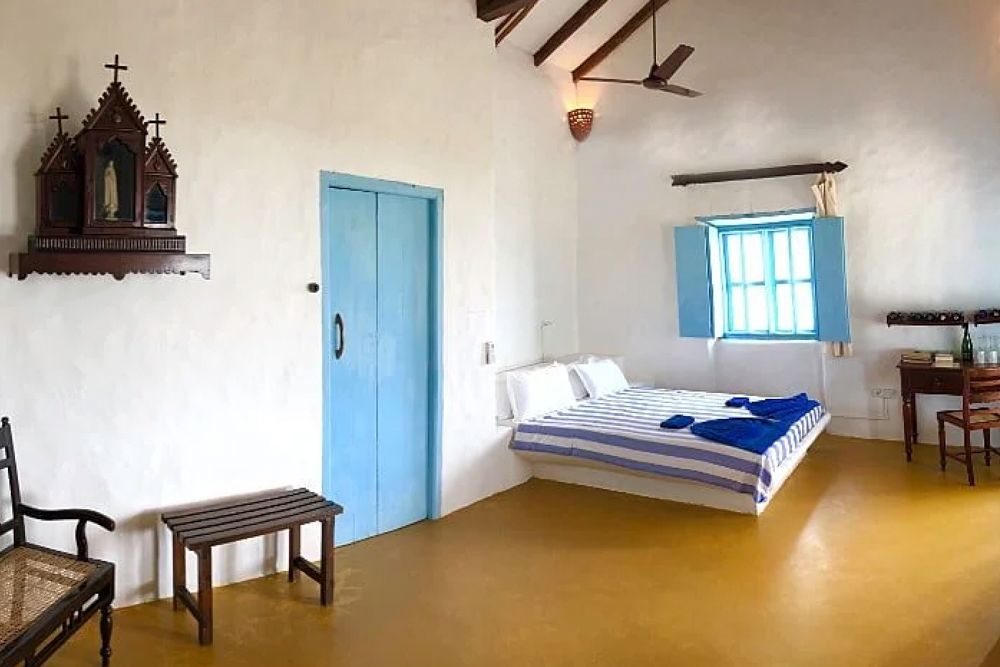 Image Credits: Elsewhere
Notoriously well hidden but with an avid social media following, Elsewhere probably is the most popular secluded place in Goa. That might sound like an oxymoron, but take one look at its exterior and interiors. You will know what we mean! Bought by the owner's ancestors in 1886, the property prides itself in being situated in almost-unchanged surroundings. With palm trees and a gorgeous beach view, this villa will transport you inside a 20th-century book. Amongst our top choices when it comes to bohemian villas in Goa, this stay has interiors preserved to take you on a journey back in time. The little writing desks inside and the raging sea outside is the perfect recipe to tap into your artistic side or lie down and soak in the surroundings in peace. Ready to check this place out? Click here!
Bohemian Villa Goa #4: Ikshaa Villa, Loutolim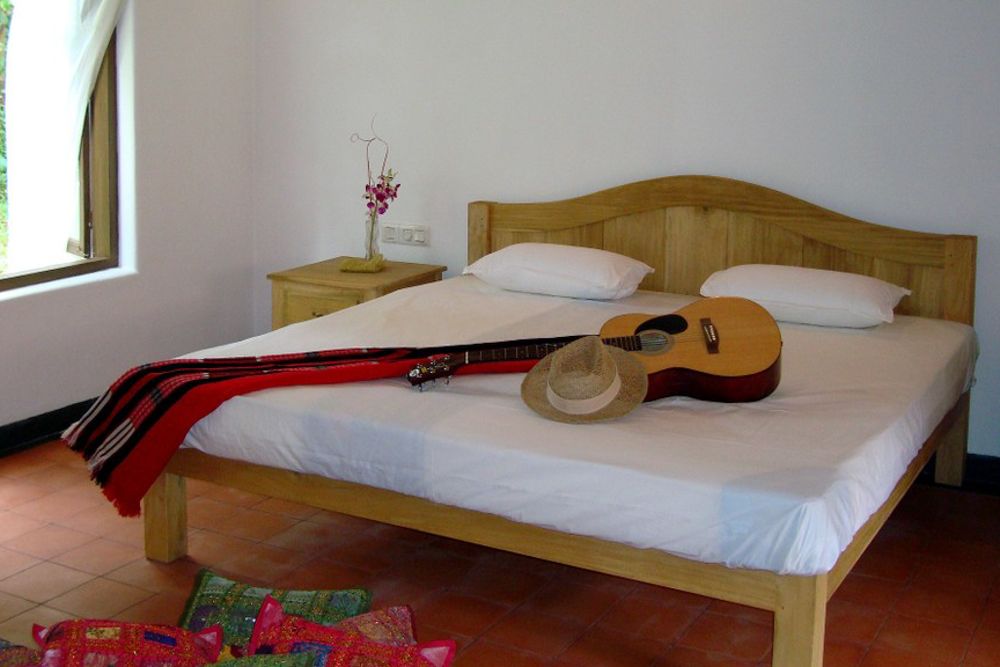 Image Credits: Ikshaa Villa
If you could book a place by just looking at it, this would be the one for sure. The Ikshaa Villa in Loutolim is as mesmerising as it is culturally relevant. As a matter of fact, the Ikshaa Villa was converted into a hotel from a hidalgo's (Spanish refugee) house. It consists of houses arranged around a courtyard, with a focus on spirituality and finding one's self. What makes this Bohemian villa Goa special is the little touches like paraffin lamps in the wall recesses that will help you revisit history. At the same time, the Ikshaa Villa, another of our favourite bohemian villas, will also give you the boost to help you bring your A-game when it comes to creation. Find out more about this place by clicking here.
Have these bohemian villas inspired you to go on a vacation? Check out these real homes from famous Bollywood and Hollywood movies.
How Can Livspace Help You?
We hope you found our ideas useful! If you want beautiful interiors for your home, then look no further. Book an online consultation with Livspace today.
Wondering how our customers feel about working with Livspace? You can check out the Livspace reviews here!
We love hearing from you! Write to us with your comments and suggestions at editor@livspace.com