Plenty of colour and grand decor may delight many homeowners. But Liju and his family have always wanted a villa design that can resonate with their lifestyle for as long as they can remember. And that is exactly what they got!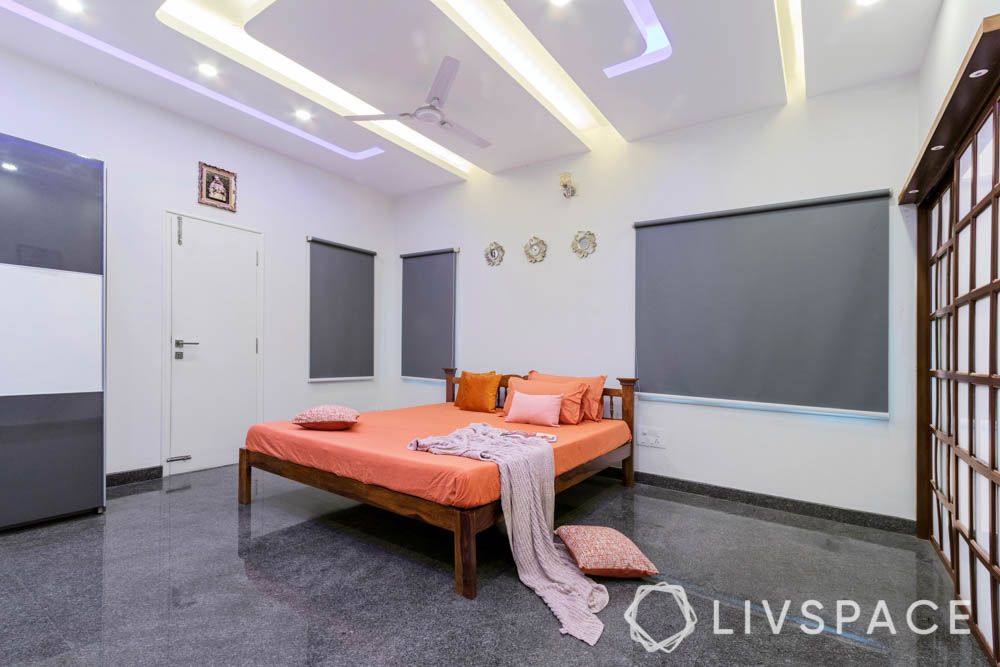 ---
Who livs here: Liju with his family

Location: Begur, Bangalore

Size of home: A 5BHK spanning 4,500 sq ft

Design team: Interior Designer Sagujana R and Project Manager Chandrasekhar

Livspace service: Full Home Design

Budget:₹₹₹₹₹
---
Let's take a tour of this spacious Bangalore villa design that epitomises understated decor. Homeowner Liju wanted his 5BHK to have individualistic themes in every room. Consequently, each room serves its purpose to the family member using it. However, we have concised the home to show you its best features which includes the living spaces, kitchen, master bedroom and lastly, the kids bedroom.
Livspace designer Sagujana R took up the task of mapping out the complete interior design in Bangalore for this 4,500 sq ft home. Liju wanted the design to focus on high-quality elements for long term durability. Therefore, Sagujana has ensured that all storage modules are made of the best finishes and are factory-made.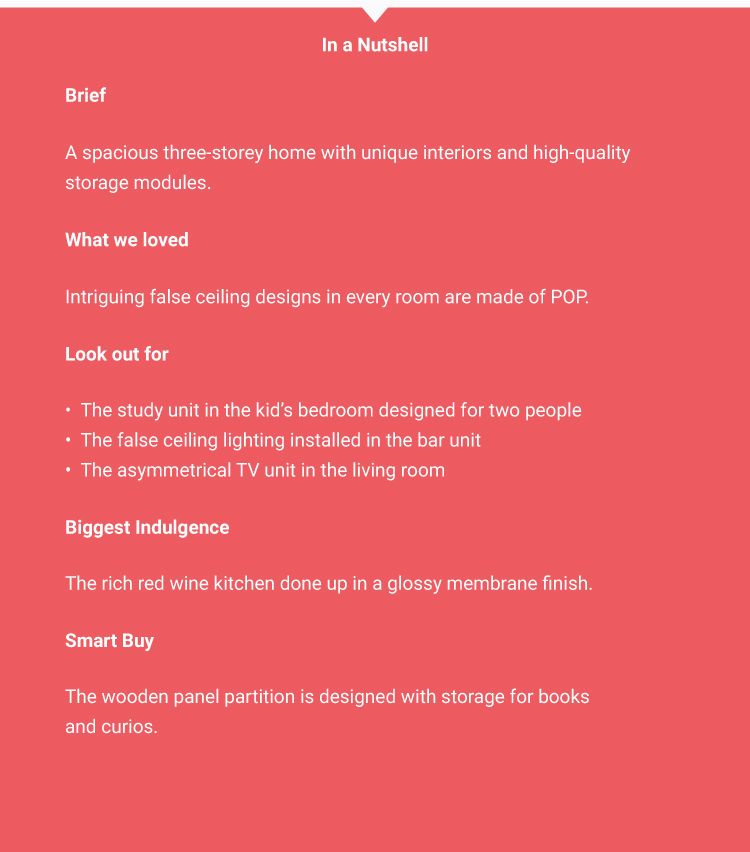 Villa Design for a Spacious Living Room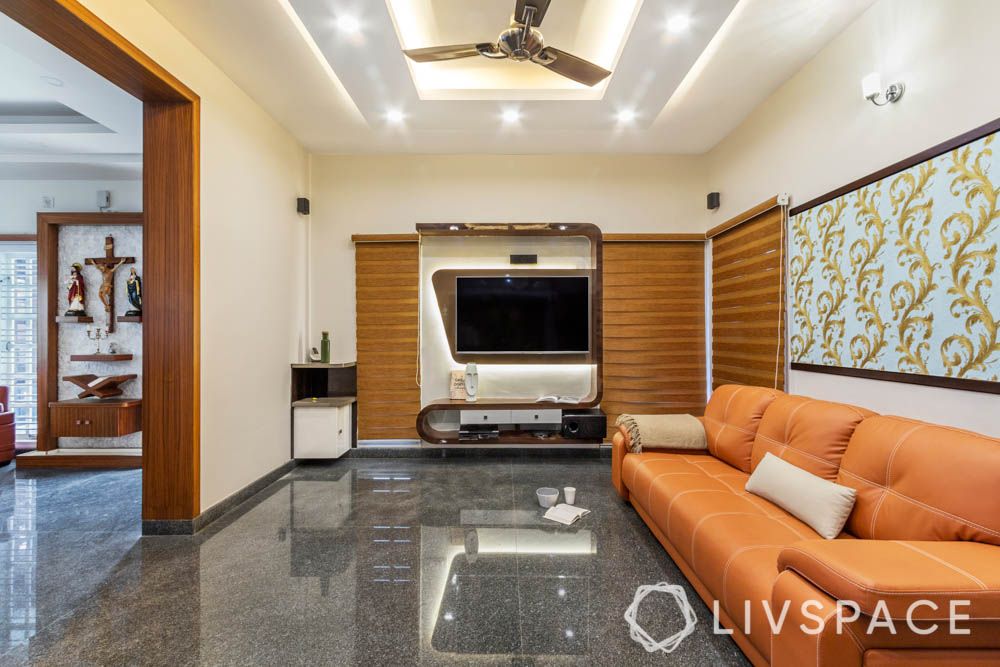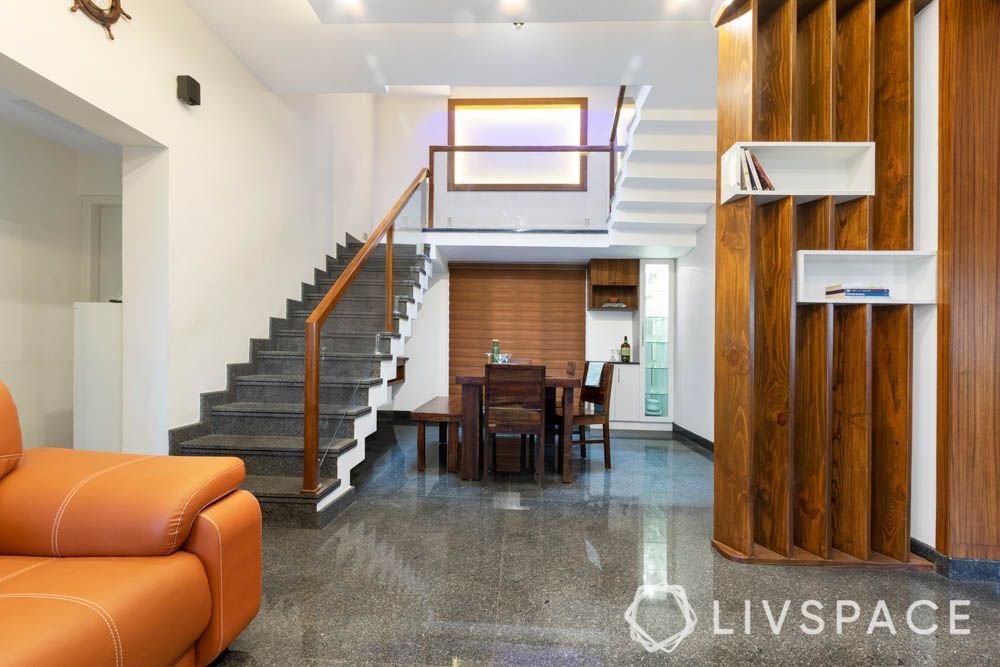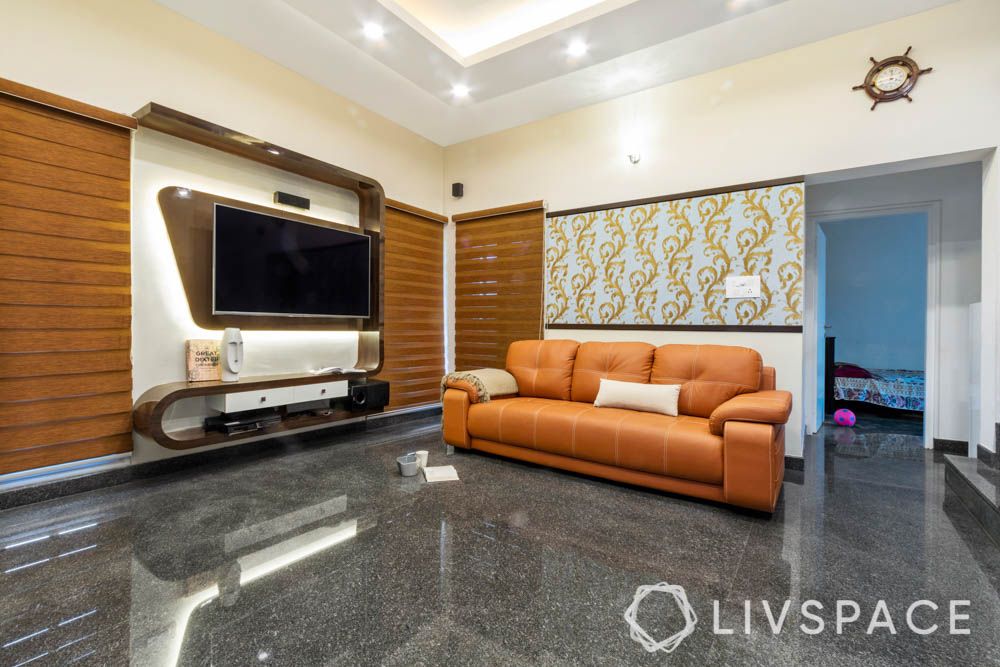 As you enter the home, you are welcomed by a stunning wooden-framed altar that is made up of stone cladding and floating shelves. Adjacent to this, the living room has a sizable solid wood partition that steals the limelight. What's more? Sugajana has customised the partition with two shelves for extra storage.
Moreover, she has designed a unique asymmetrical TV unit that fits between the french windows. There's unique use of the wallpaper by using one strip to create a feature wall. Lastly, there's a square design on the false ceiling with cove lights that illuminate the entire living space.
Villa Design for a Cosy Dining Room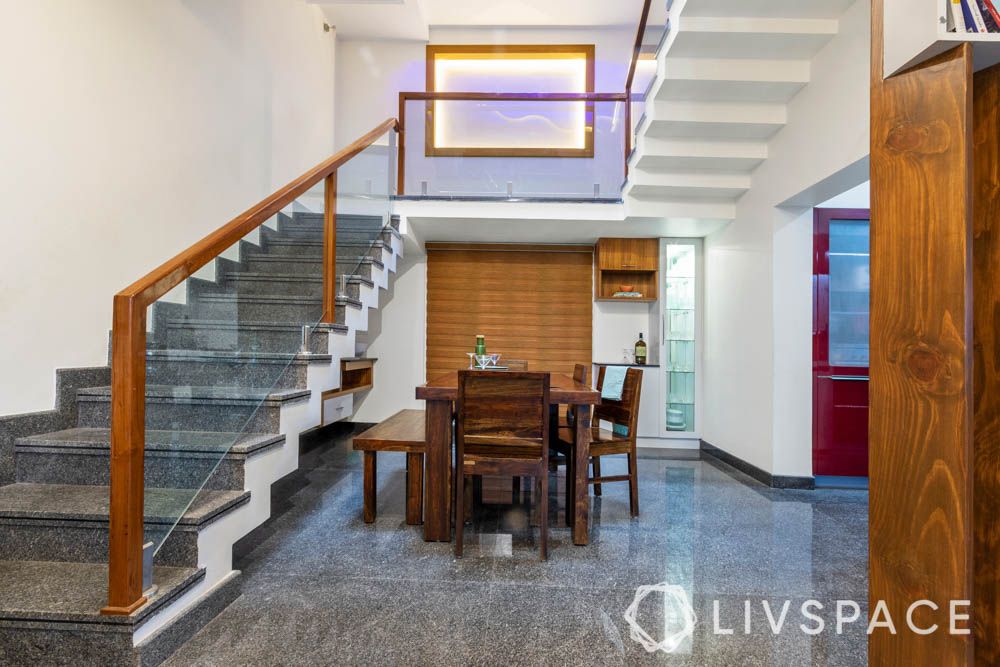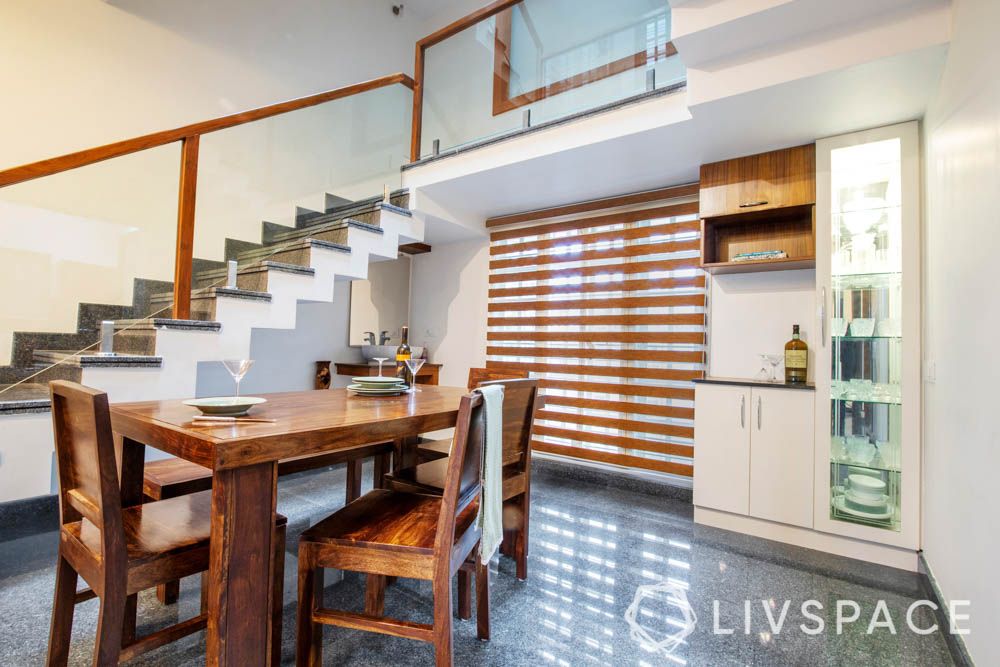 The dining room has a simple design with a classic solid wood dining table. However, Liju required more storage in this space that got Sugajana thinking. She found the perfect corner for a white membrane finish crockery unit that has a light and mirror back.

Villa Design for a Sleek Kitchen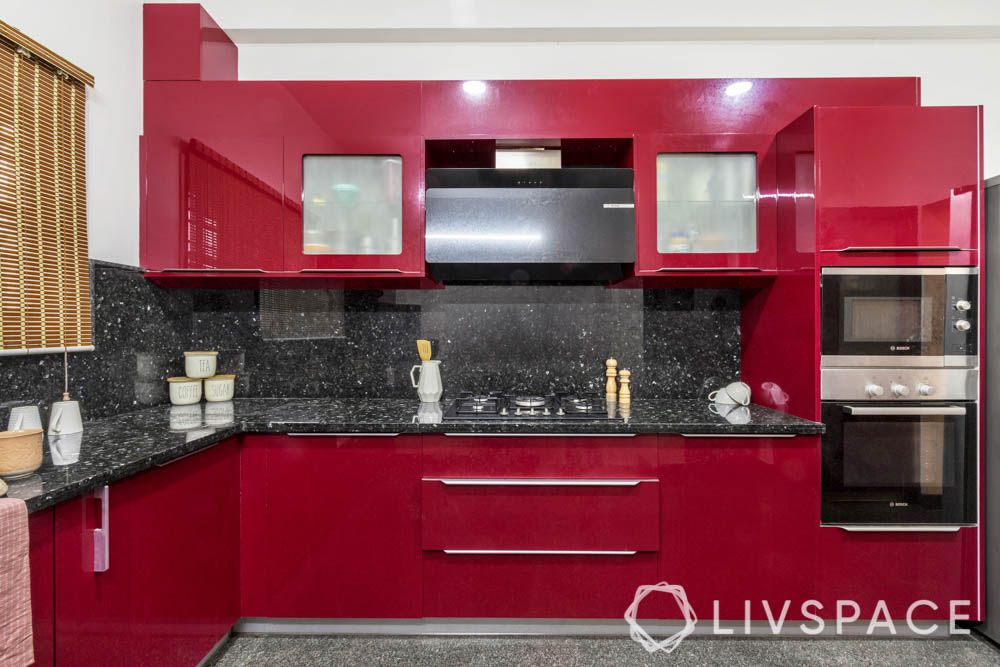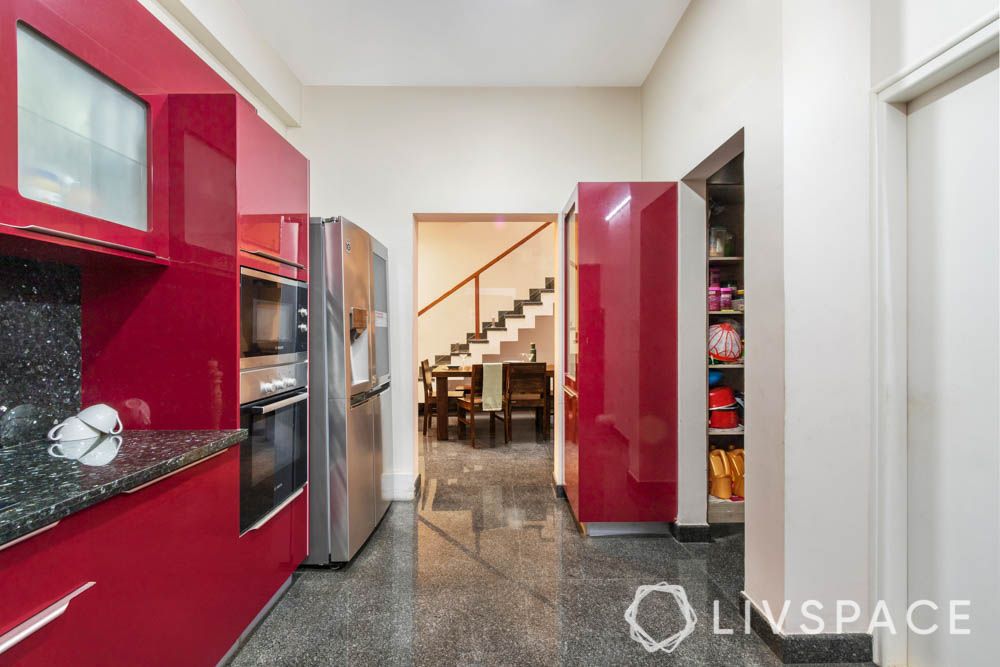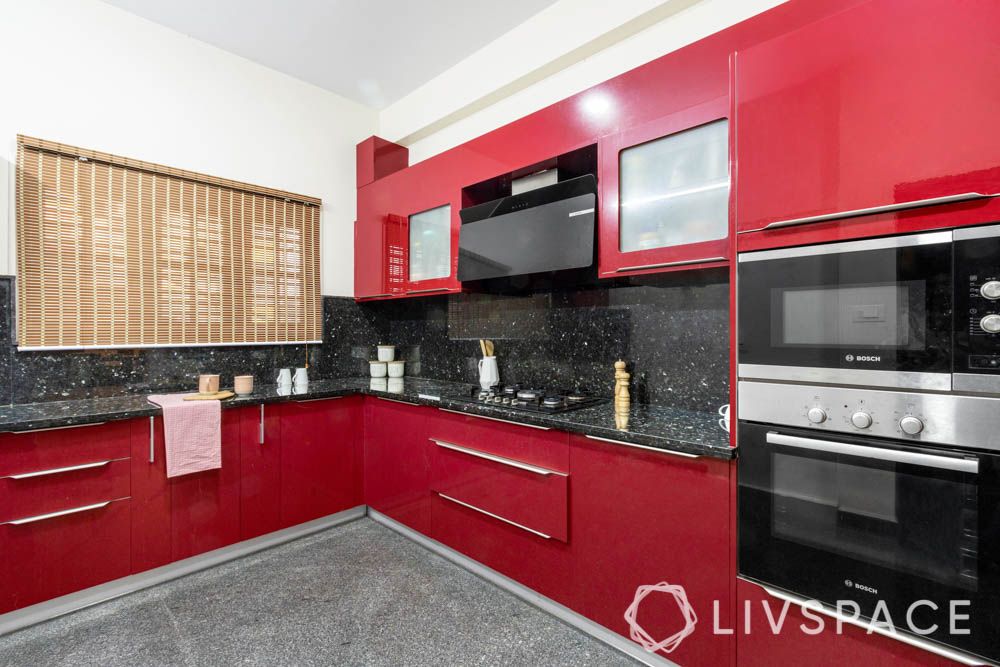 This beautiful kitchen is packed with everything you could possibly think of. It has a full-fledged store room with open shelves in hazel cambric laminate. The homeowners were certain from the beginning that they wanted a red kitchen. Consequently, Sagujana had the perfect red wine shade in mind for the cabinets and for durability purposes, they are in membrane finish. Unlike most backsplash designs, this one is an extension of the granite countertop.
Villa Design for a Snazzy Bar Unit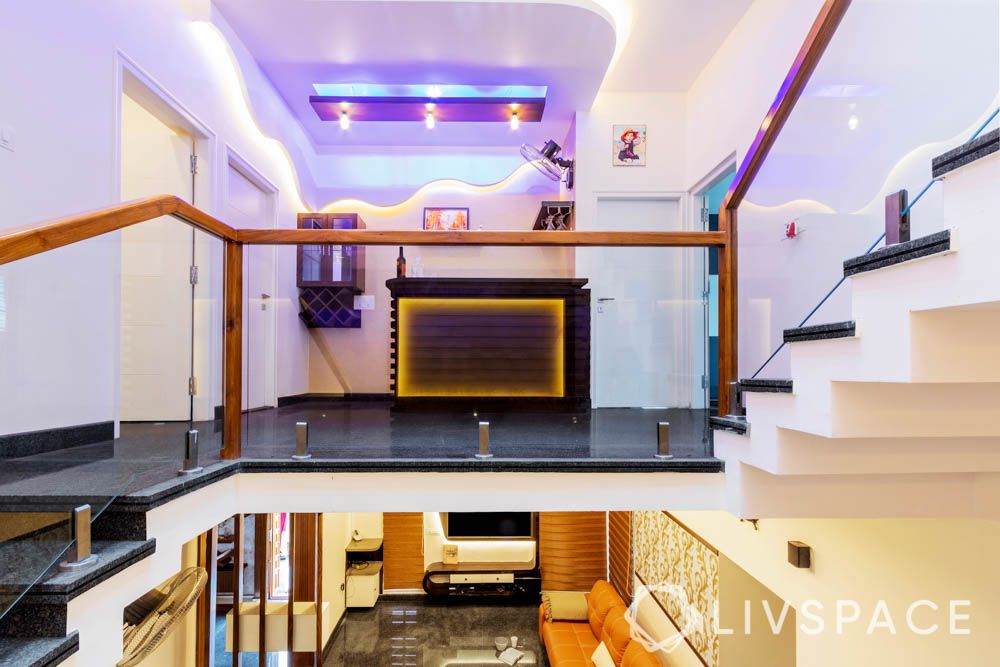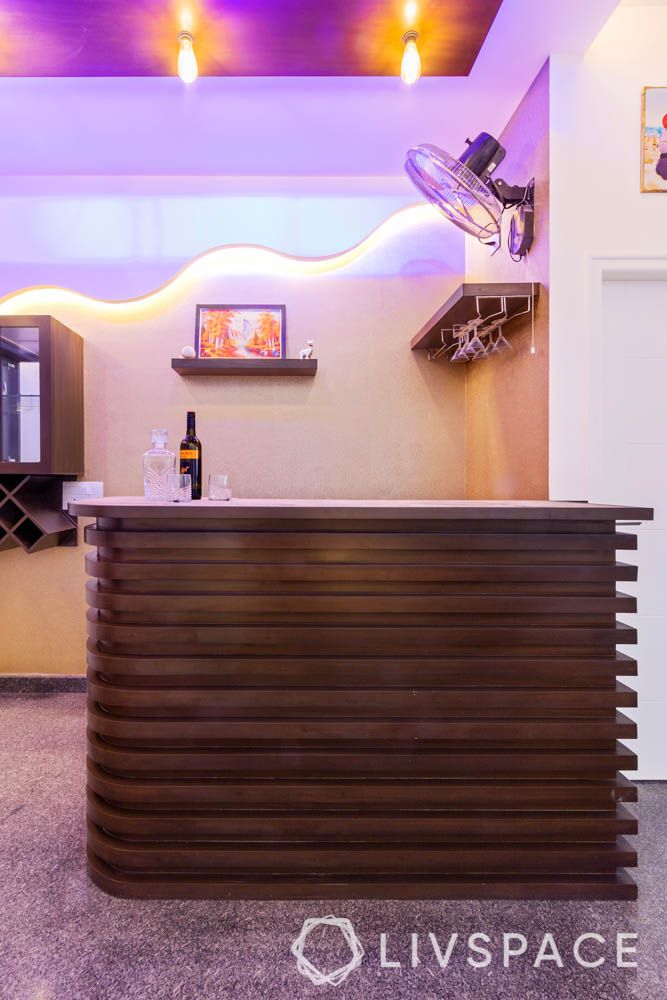 This magnificent bar unit is the highlight of the home. The snazzy ceiling and wall mounted bar cabinet is custom designed by Sagujana. The POP false ceiling extends to the wall and has a unique drip design with bright fluorescent backlighting.
Villa Design for a Minimal Master Bedroom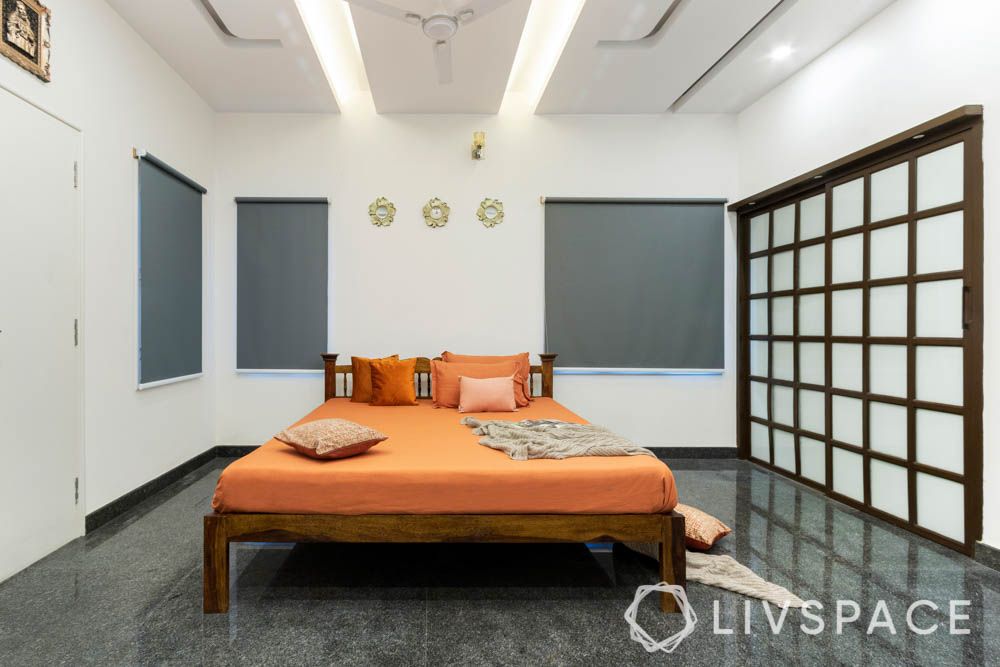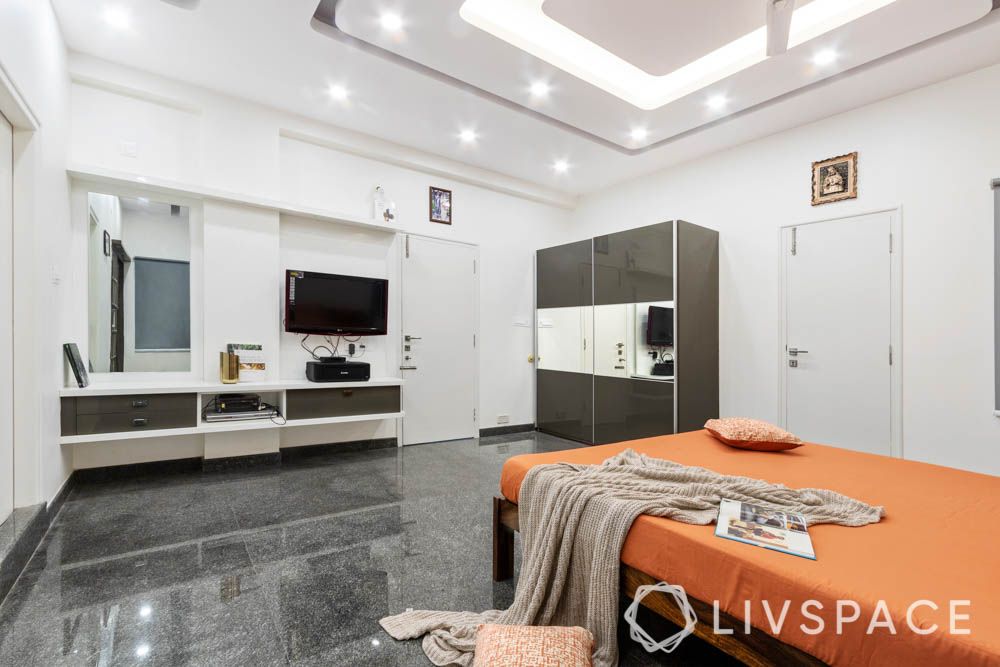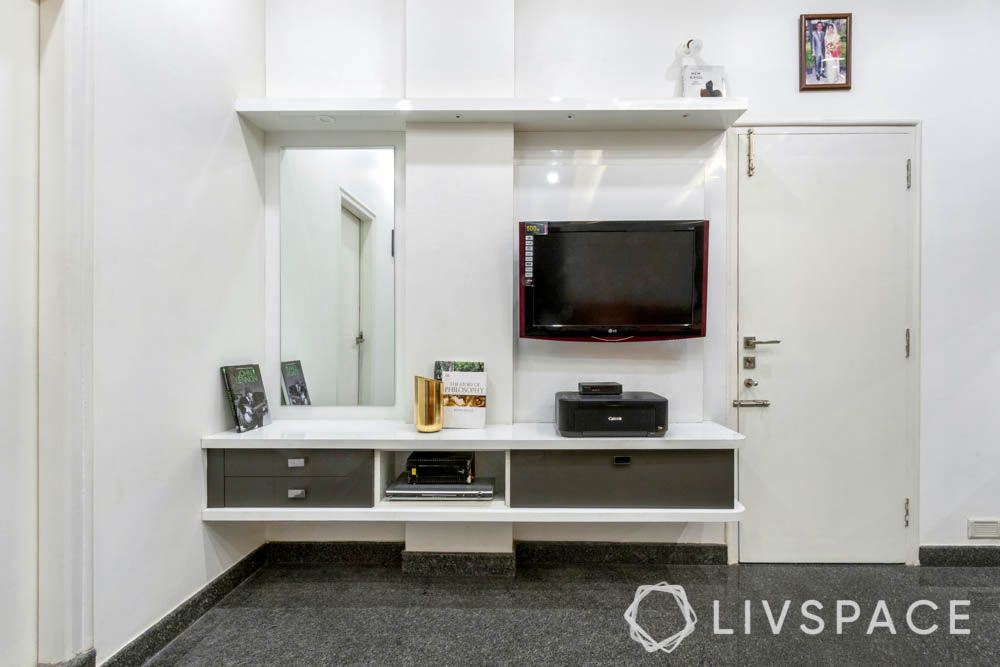 The all white master bedroom has a design that is as calm as the summer sea. Since Liju loves dark colours and wanted black for his interiors, Sagujana has picked grey wardrobes in membrane finish. Moreover, Liju and his wife have a walk-in closet with sliding doors too. Consequently, these top-notch doors are made of lacquered glass and wooden rafters.
Villa Design for a Floral-themed Kid's bedroom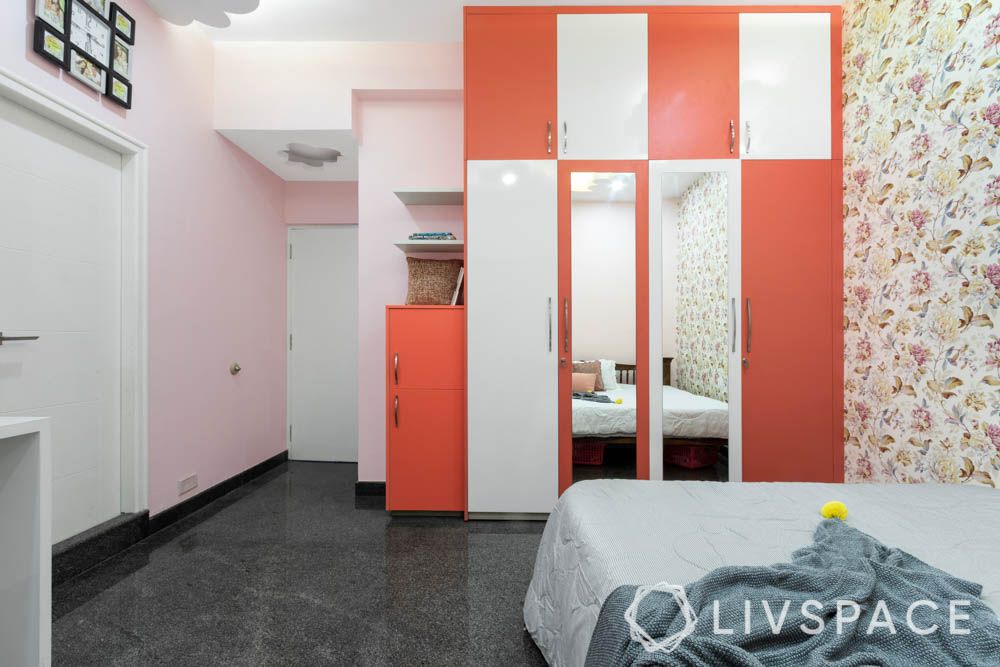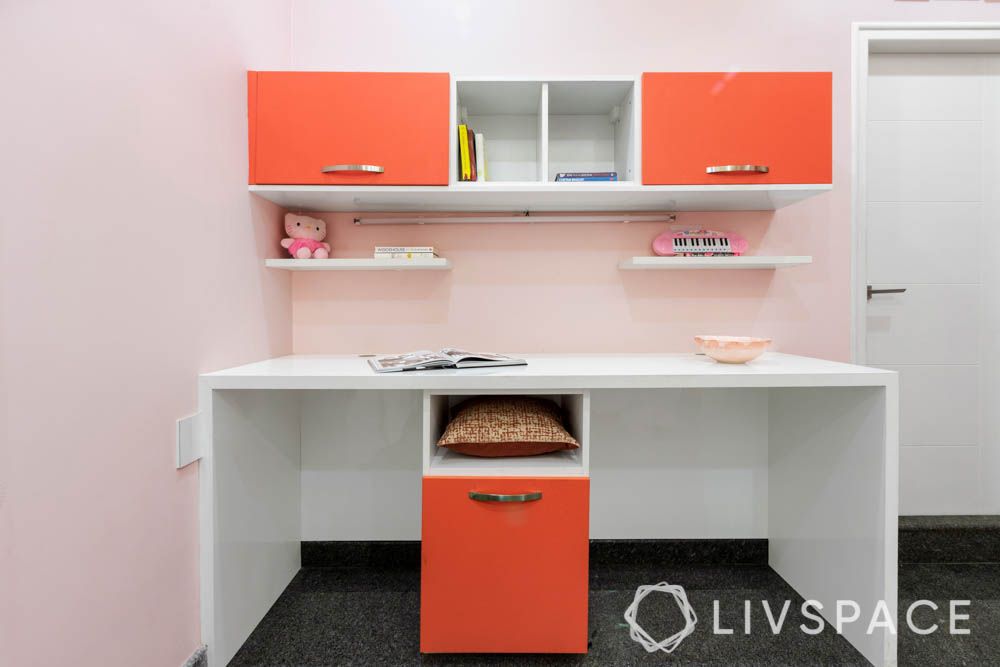 Liju's daughters have got a spacious bedroom all to themselves and it has a floral pink and white theme. Therefore, the storage in this room is planned for two growing girls as their requirements keep changing. The coral pink study unit and lofty wardrobes are in plywood laminate and have a couple of floating shelves as well. Subsequently, the false ceiling has a quirky cloud design completely made of POP.
"Working with Liju and his family has been a fun experience. However, a project this size requires plenty of work and attention to detail. With valuable inputs and a clear brief from the homeowners, the design was made to accommodate all their requirements"
–Sagujana R, Interior Designer, Livspace
If you enjoyed reading this Bangalore home tour, take a look at another one Getting Modern Design on a Budget
Send in your comments & suggestions.