What initially started out as a bright and well-ventilated, albeit empty apartment is now a warm and contemporary home for a young family. To create a simple interior design, the home has to be uncluttered with minimal designs just like this one. But wait, there's more to this design than just muted colours!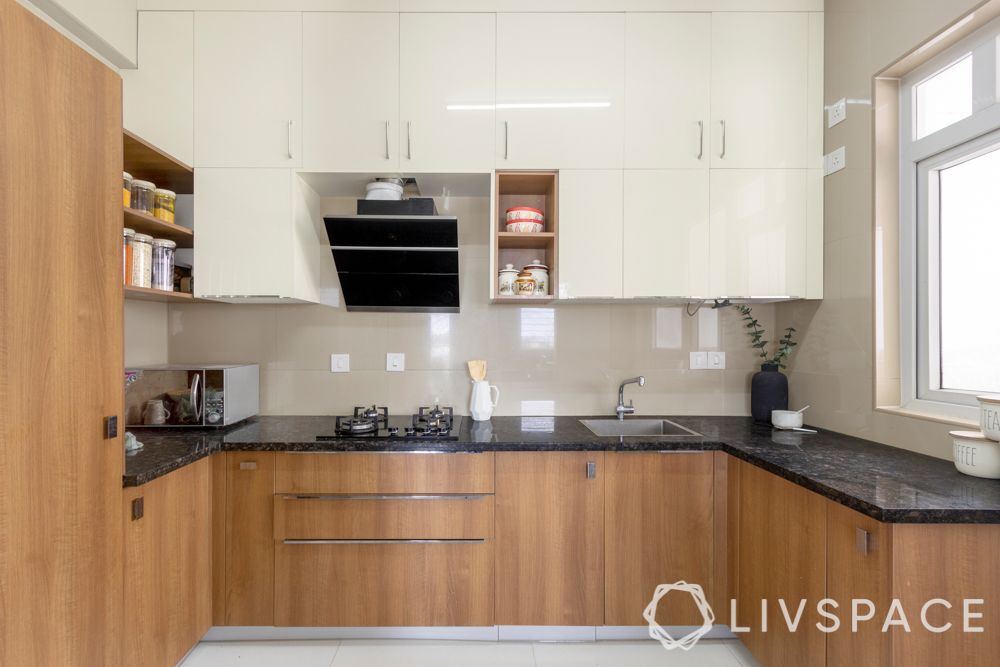 ---
Who livs here: Anirudh TS and his wife Vidhya
Location: CV Raman Nagar, Bangalore
Size of home: A 3BHK spanning 1400 sq ft approx
Design team: Interior Designer Shirali Maher & Project manager Pankaj Chandak
Livspace service: Full Home Design
Budget: ₹₹₹₹₹
---
Anirudh TS and his wife Vidhya moved into this high-rise apartment in Bengaluru with very specific design ideas in mind. The couple wanted an elegant home. One that is easy on the eyes and would be considered timeless. Designing a spacious 3BHK can get out of hand since it has plenty of scope for a mix of styles and grand elements. However, giving a home a simple interior design is quite the challenge. For Livspace designer Shirali Maher, this minimalistic design was right up her alley.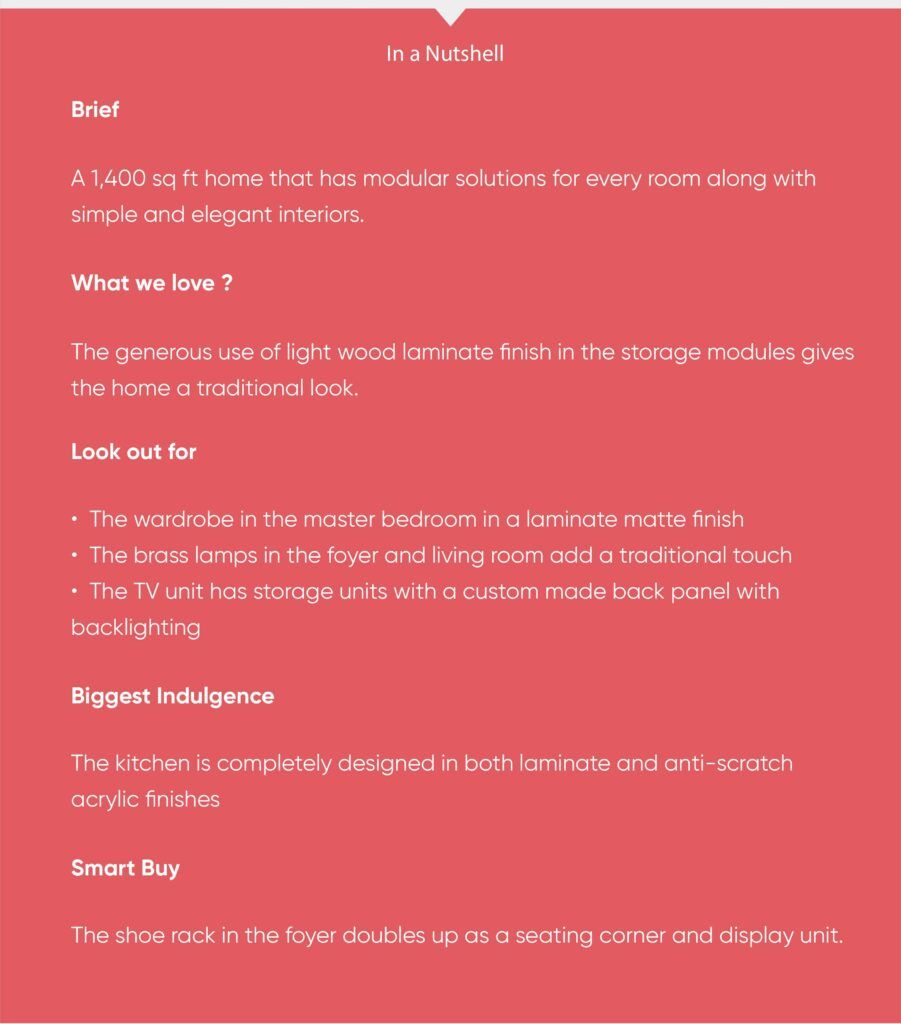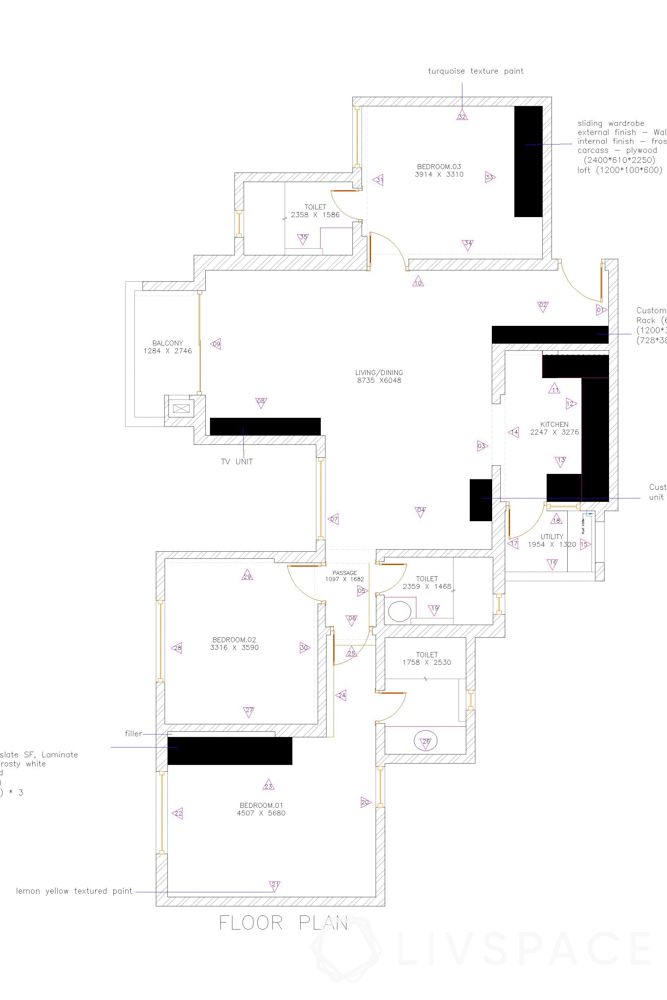 An overview of this simple interior design style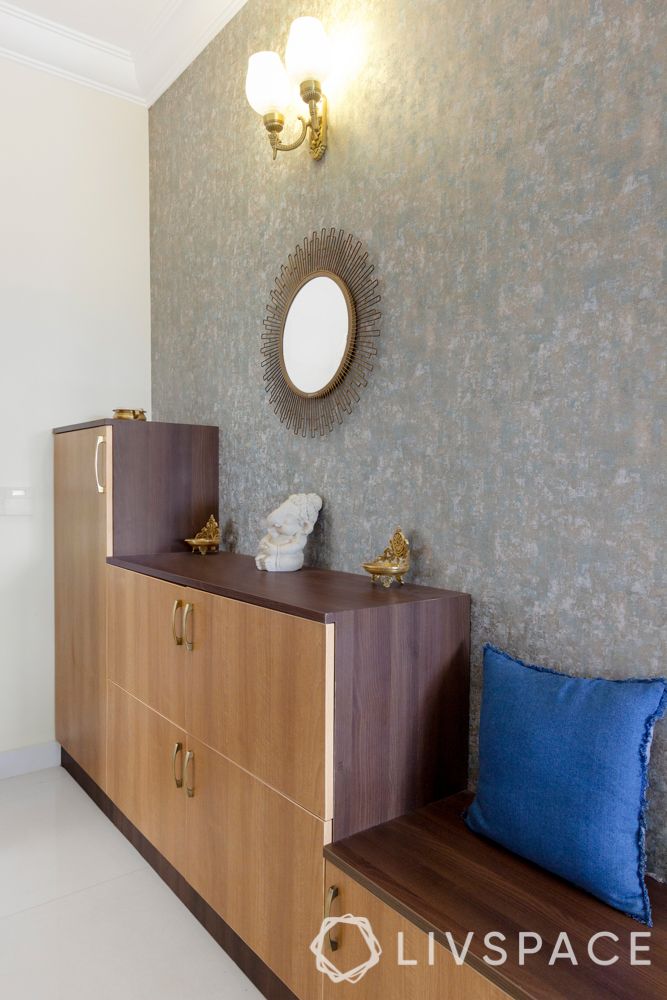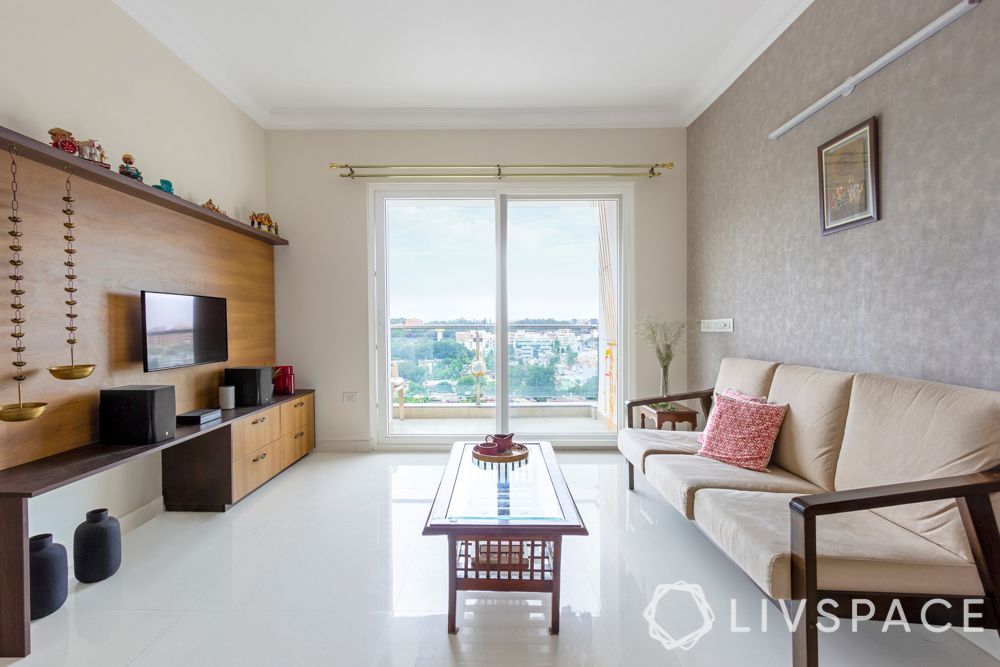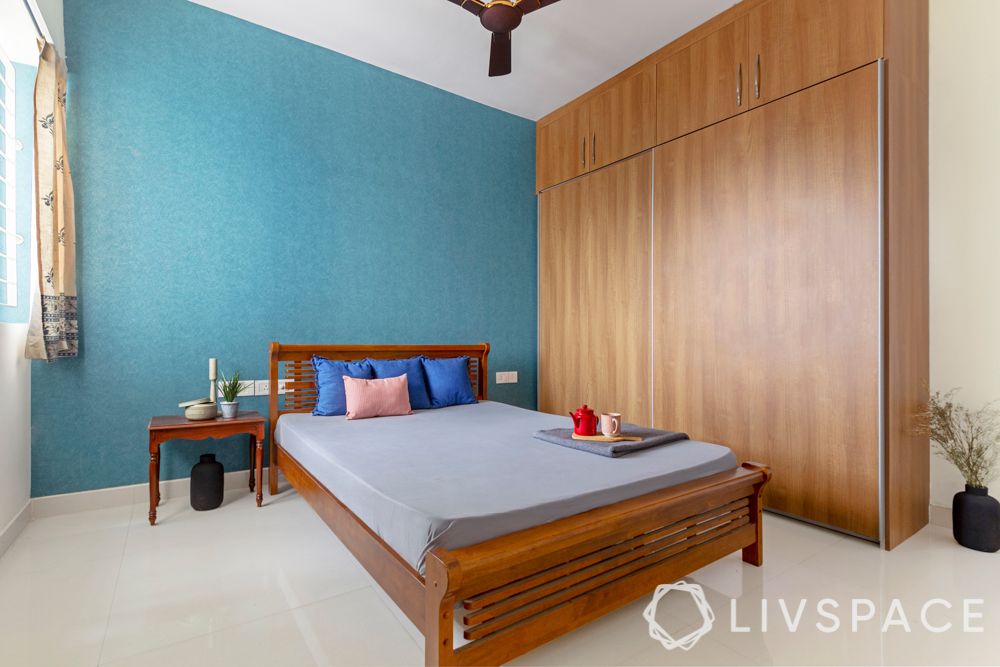 Noticeably, the classic wooden finishes impart a contemporary yet vintage charm to this home. However, the minimalist layout that is high on storage allows the unhindered flow of natural sunlight throughout the home.
Moreover, the homeowners were certain that they did not want overpowering and oversized elements. Subsequently, they had a brilliant idea of adding brass lamps to a few corners! See if you can spot them all
Plenty of storage for a simple interior design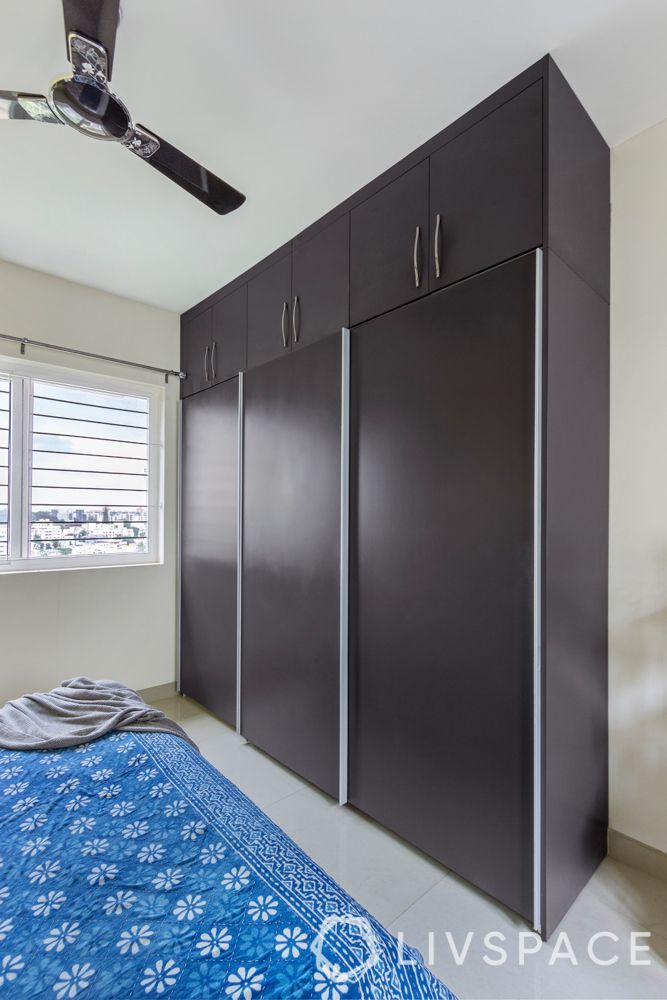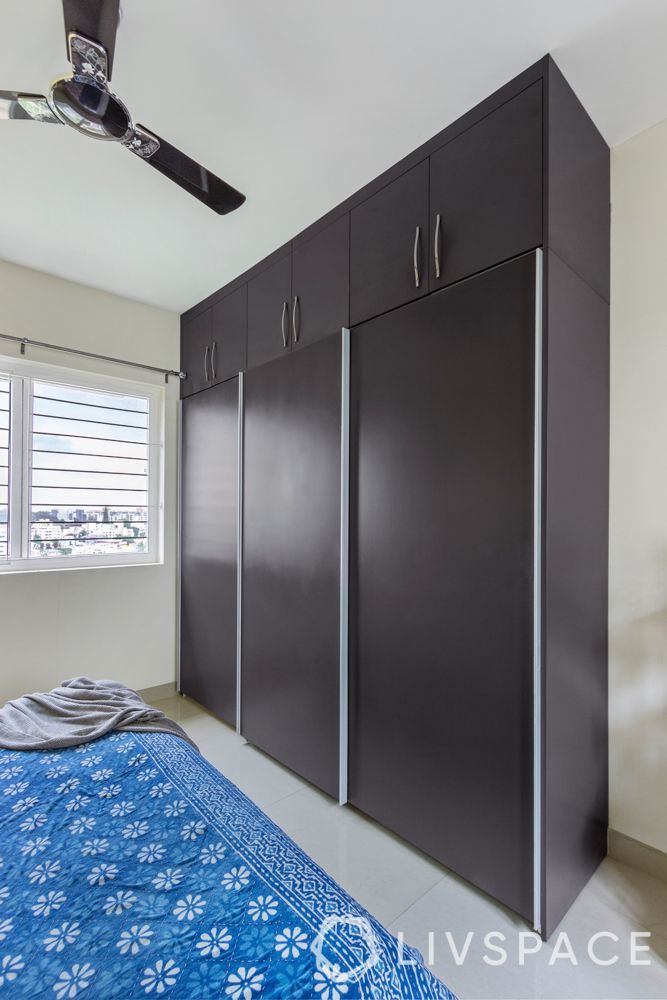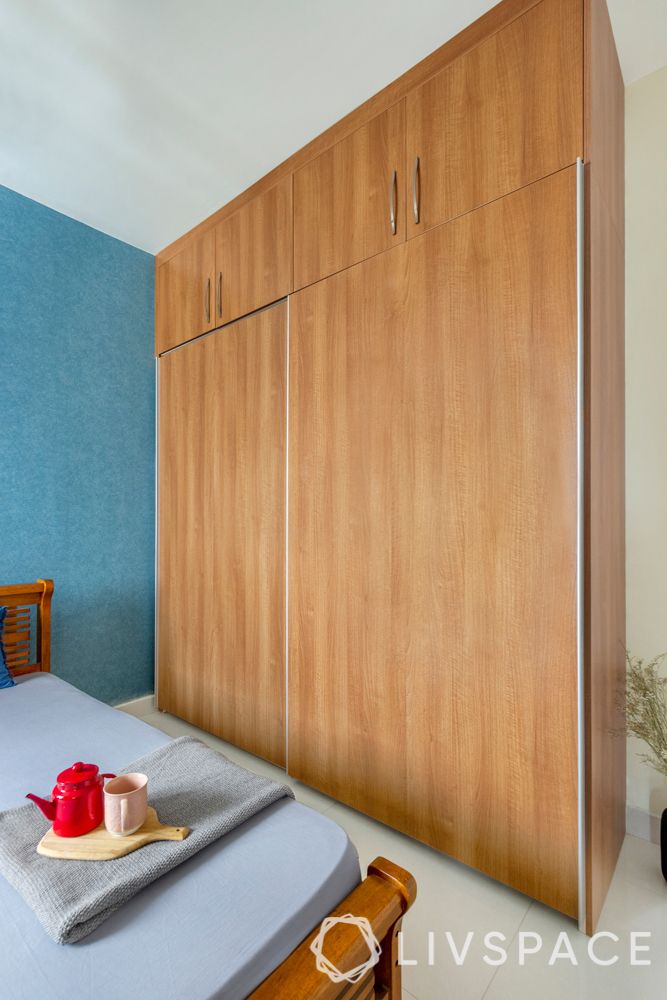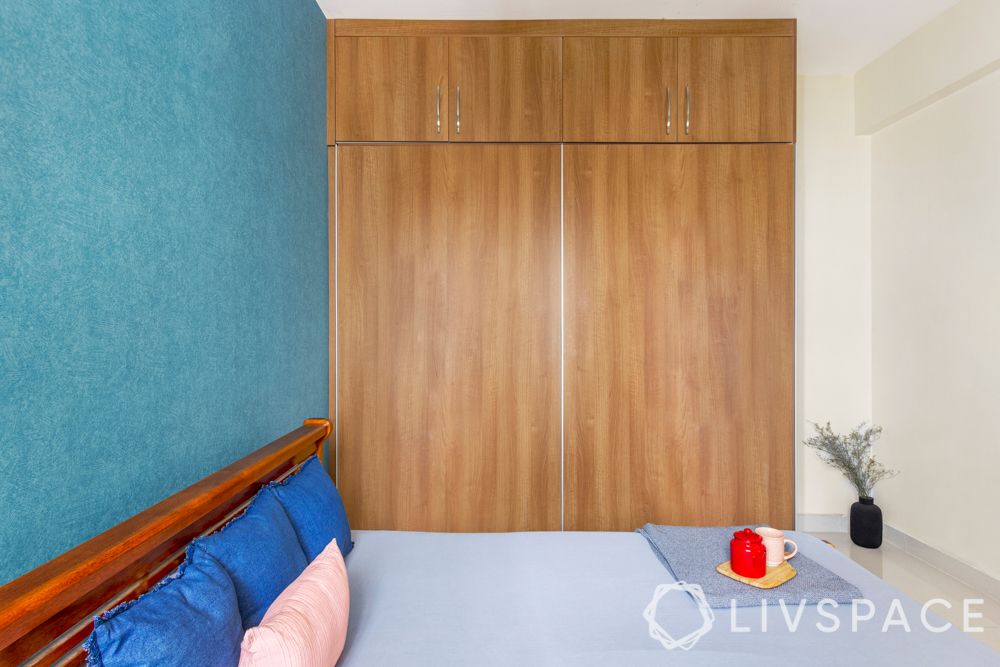 "The homeowner's requirements were of utmost importance while designing the home", Shirali says. This home is packed with plenty of lofty storage units. In order to save space, all the wardrobe units are designed with sliding doors that create a sleek look. The master bedroom has a matte finish wardrobe in grey with sliding doors. Whereas the guest bedroom has a light wood wardrobe in laminate finish.
Simple interior design for an anti-scratch kitchen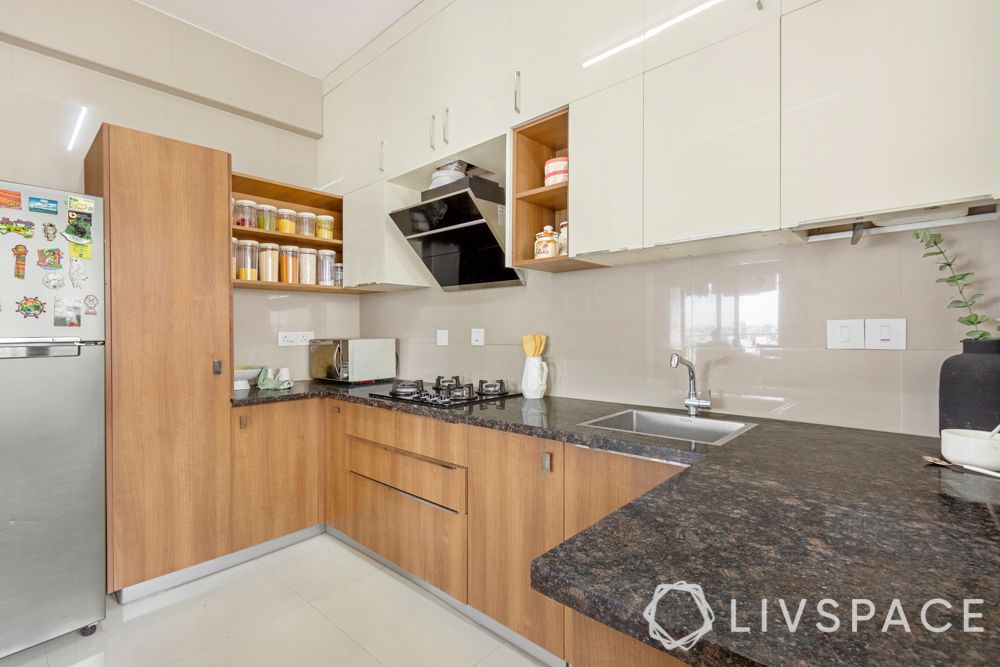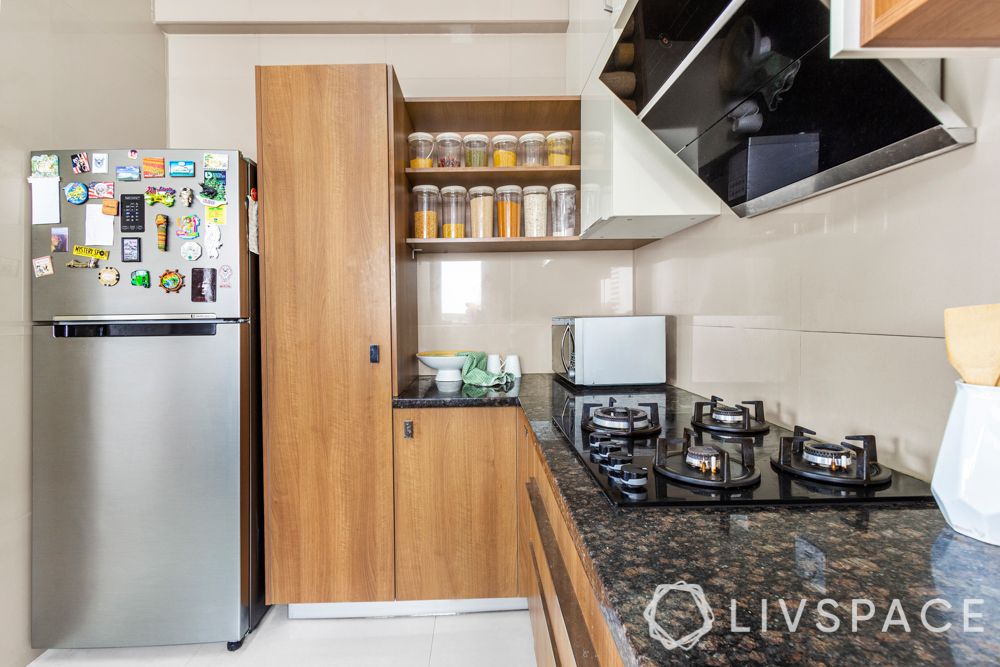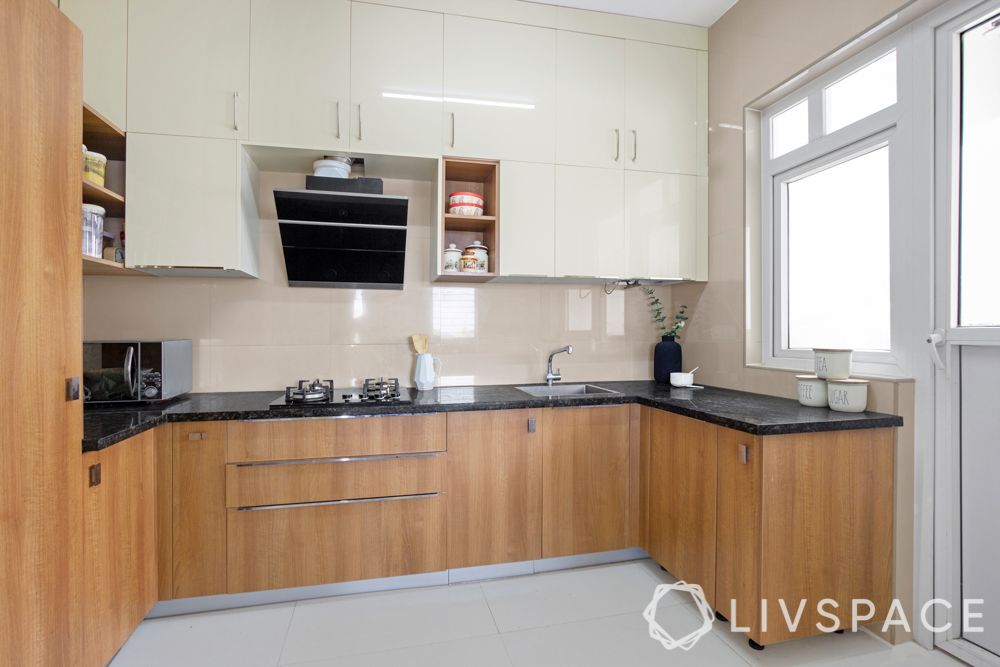 This brown and white kitchen is the perfect mix of classic and modern design. The warmth of wood and gloss of acrylic is a combination you can't go wrong with. This U-shaped kitchen comes with top and base cabinets in anti-scratch frosty white and walnut bronze laminates. Giving this kitchen a durable and sturdy functionality is the granite countertop. For extra storage of non-perishable items, Shirali found a spot to fit a tall unit into the layout like a glove.

Custom-made units for a simple interior design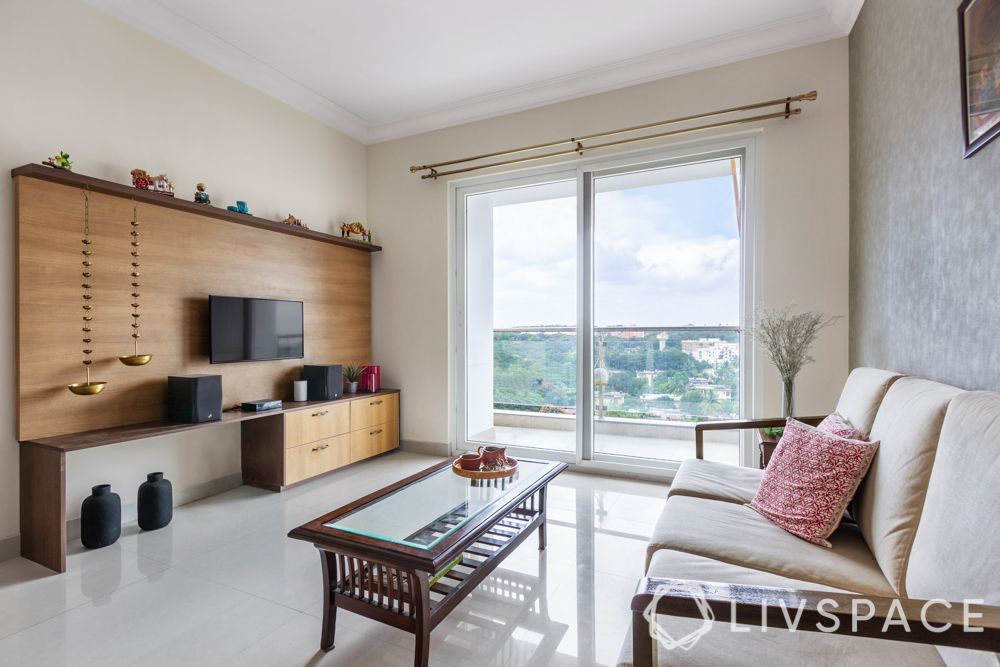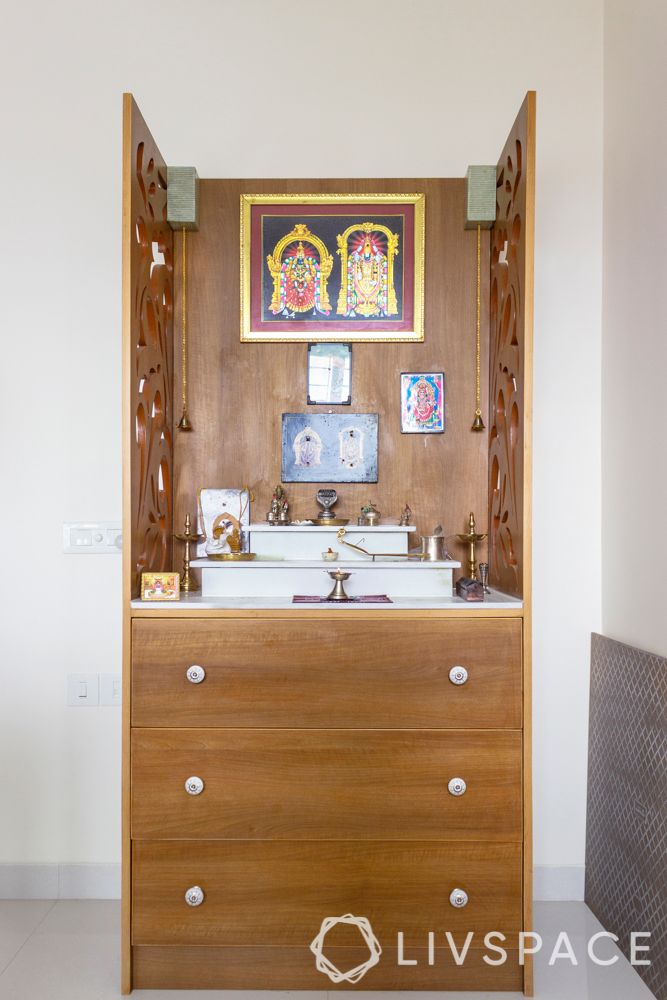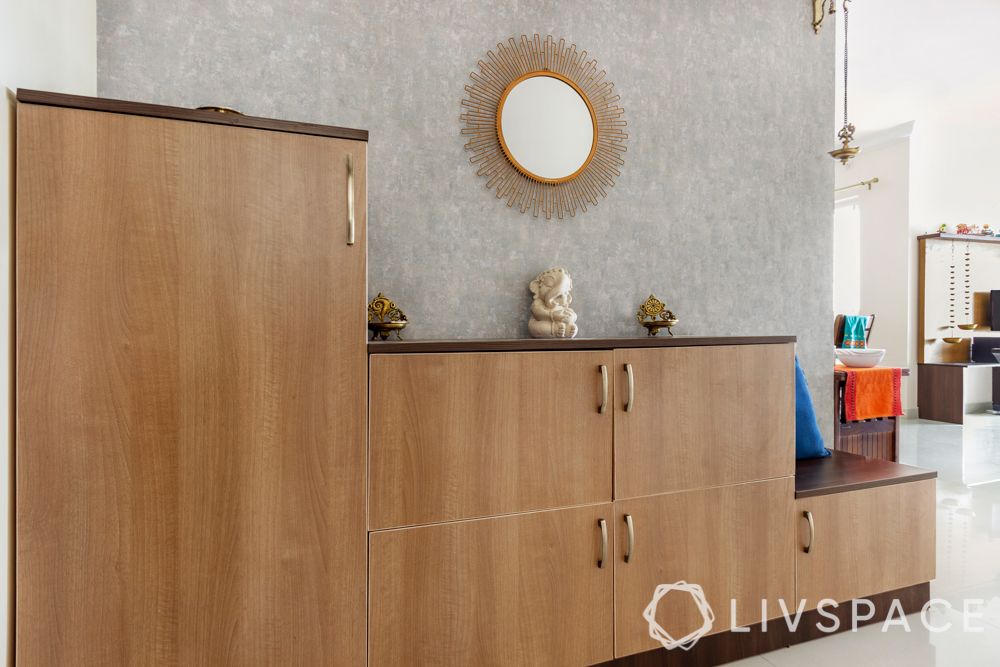 In order to avoid bulky furniture pieces, Shirali decided to custom design the shoe cabinet, TV unit's back panel and pooja unit.
As you enter the house, you notice a foyer that is sparsely decorated with a sunburst mirror and a few lamps. However the shoe cabinet is what steals the show. This walnut brown cabinet has six drawers for shoes and other items. It is designed in 3 steps where the top two steps are used as a display platform and the last step doubles up as a seating spot to put on your shoes.
"The TV unit is a mix of Livspace storage units and a custom-made back panel. The back panel has concealed LED strip lighting. It is a practical design to eventually add and accommodate 2 ottomans or poufs in the bottom space, as they required more seating in the living room", she says.
The pooja unit was custom designed by Shirali to give the homeowners storage space as well as a stunning and compact space for idols and lamps.
A selection of wallpapers for a simple interior design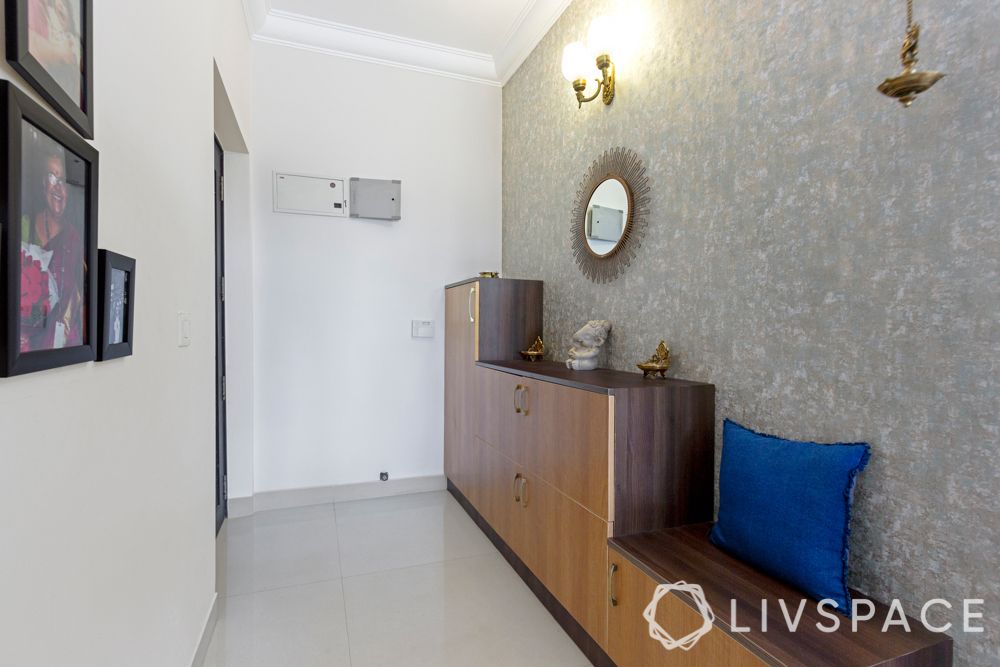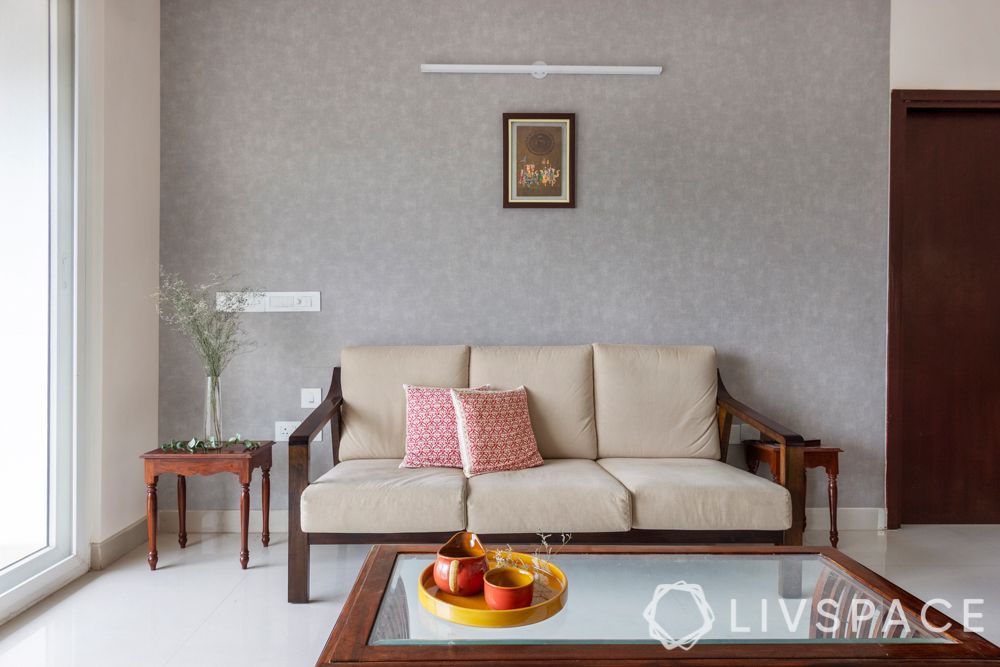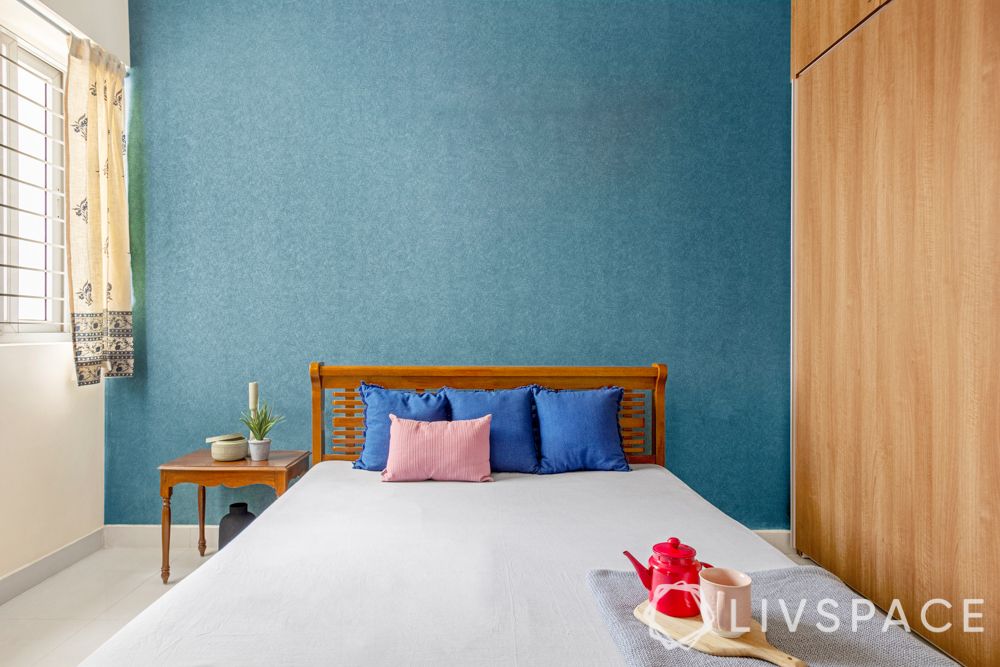 Anirudh and Vidhya wanted a selection of wallpapers that add to the neutral theme and a variety that can add a subtle pop of colour to any room. Therefore, Shirali opted for three designs from the Livspace catalogue. The foyer and the living room have wallpaper with a sponge paint design. One is grey with a tinge of green and the other is grey with a tinge of pink. However, the guest bedroom has a bright turquoise blue textured wallpaper.
"The design created for Anirudh and Vidhya is based on their liking of traditional and modern elements.The pendant brass flower holders attached to the TV unit are beautiful and my personal favourite. Moreover, while they were specific about the design, they also took all my suggestions into consideration!"

– Shirali Maher, Interior Designer, Livspace
If you enjoyed this Bengaluru home tour, take a look at Street Artist Adds a Fun Touch to This High-ceiling Home.
Send in your comments & suggestions.