Livspace as one of the best interior companies in Bangalore designed a spacious 3BHK!
Designing a home for a family with two adolescent boys is always a challenge. So, what goes into designing a home where kids have ample space to run around and spirits are always running high?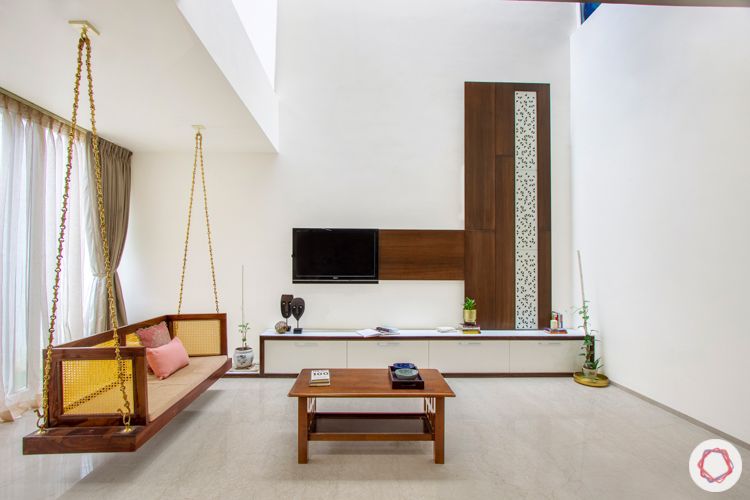 ---
Who livs here: Roopa Chhannnali with her husband Rajendra and their two children
Location: Skanda Avani C99, Mullur, Bengaluru
Size of home: 3BHK spanning 2700 sq ft
Design team: Interior Designer Pooja Das Choudhary & Project manager Ashok K
Livspace service: Full Home Design
Budget: ₹₹₹₹₹
---
Let's check with Livspace designer Pooja Choudhary who has sketched out a complete design plan for Roopa and Rajendra's 3BHK home in Skanda Avani C99, Bangalore. The Chhanali family has previously signed on Interior companies in Bangalore that did not meet their expectations.
Now, they wanted a home that would portray their lifestyle- a minimal and uncluttered way of living. Moreover, the couple have two sons, Pradyun and Dishan who are energetic and active boys. Therefore, the family wanted a simple layout where the kids had enough room while their bedroom is packed with all things fun. Finally, look out for a hand-painted mural by street artist, Abhik!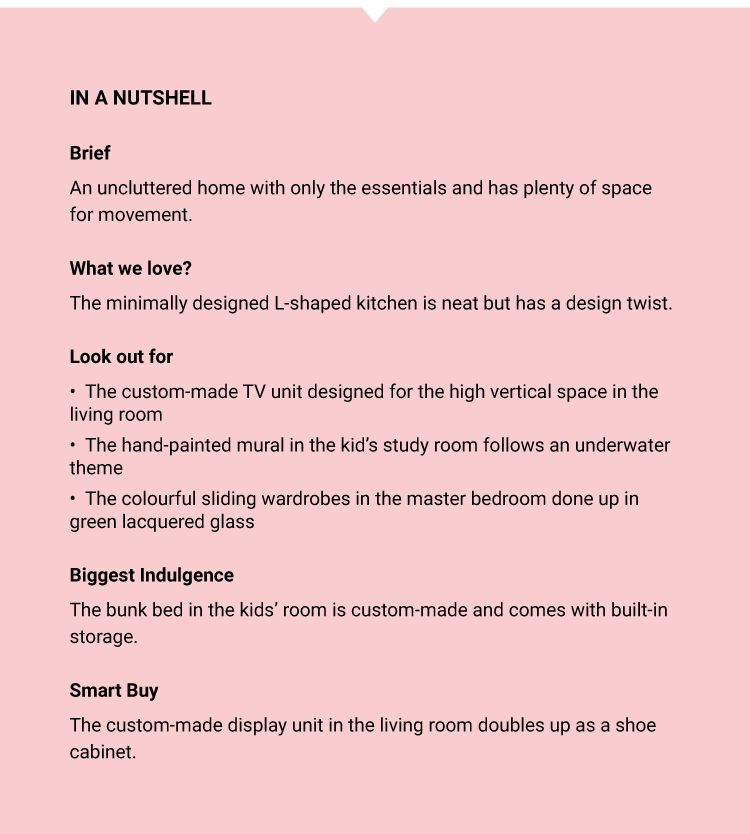 Designing a Clean Layout
"Since the 3BHK is a new home, it was like designing a blank canvas", says Pooja. The two storey home is airy and well-lit by the full length windows and high ceiling in the living room.
Starting with the TV unit, it was specially designed by Livspace, one of the high grade interior companies in Bangalore with two wooden planks placed in a perpendicular position. This design serves the purpose of fashioning the high-ceiling wall in the living room. In addition to this, the white MDF jaali is a subtle yet stylish detail.
All the bedrooms have essential and minimal furniture. However, these rooms are nothing less than a cosy sanctuary and just want the family needs. The four poster bed while being sizable adds a timeless touch to the room.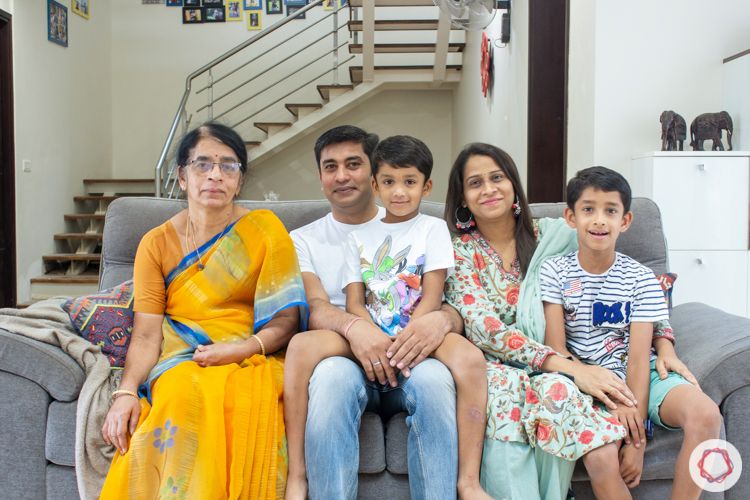 "After disappointing experiences with other interior Companies in Bangalore, Livpsace was just what we needed. For us, perfect interiors is synonymous with Livspace designer Pooja and we could not have asked for a better experience. She knew exactly what we wanted and delivered designs to our taste."

– Roopa Chhannali, Livspace Homeowner

Livspace Installation of the Kitchen & Wardrobes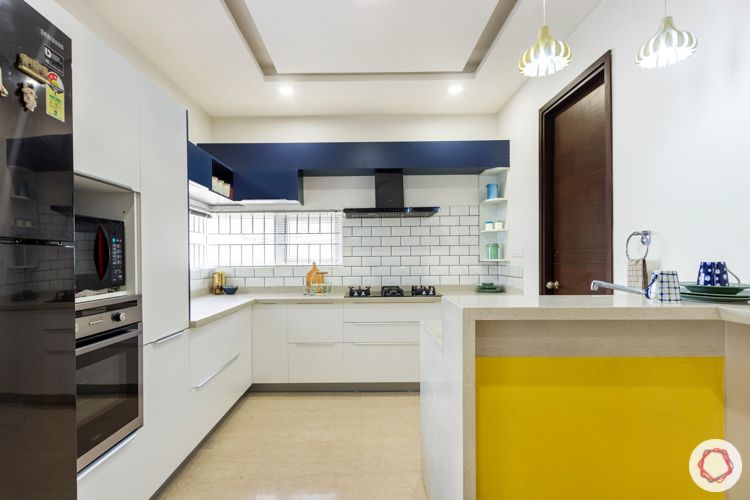 Additionally, Livspace has a variety of high-quality options for wardrobes. Pooja and Roopa agreed on adding a splash of colour to the master bedroom with green sliding wardrobes in lacquered glass and laminate wardrobes for the guestroom.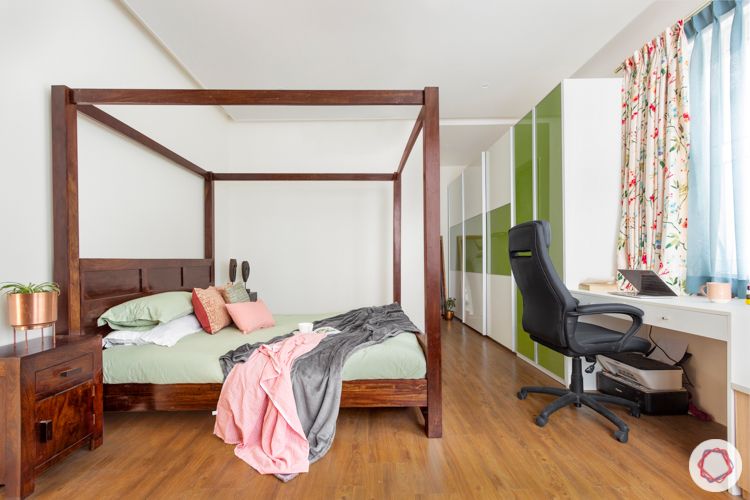 Livspace as one of the interior companies in Bangalore is known for its kitchen and wardrobe options. Subsequently, the kitchen is a fully modular kitchen with a blue and white theme. However, what sets this cooking space apart is the breakfast counter. The L-shaped kitchen has an interesting twist with Pooja's unique design. She has added a breakfast counter and sink that separates the kitchen from the dining room.
Fun With Customisation in the Living Room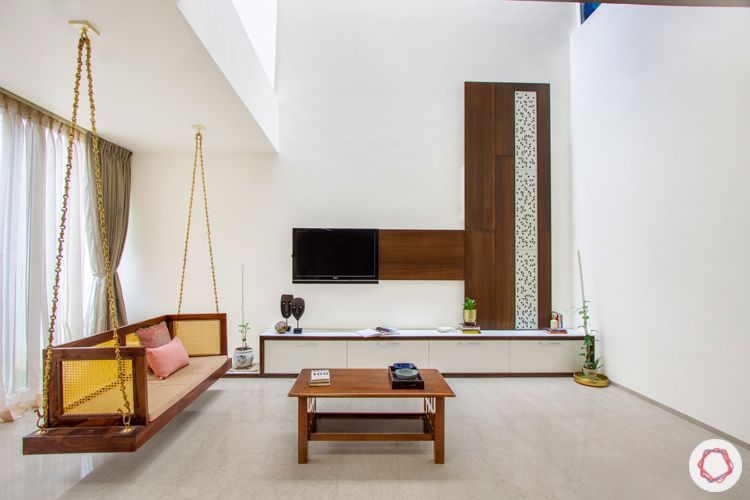 The Skanda Avani C99 home is packed with custom-made furniture that was carefully designed by the best Interior companies in Bangalore . Roopa specifically wanted a classic jhoola in the living room. Therefore, Pooja and her team have custom made this piece out of solid wood and added stunning gold chains to suspend it. Similarly, the living room has another customised design- the square open and closed shelf unit that doubles up as a show cabinet.
Fun With Customisation in the Kids Room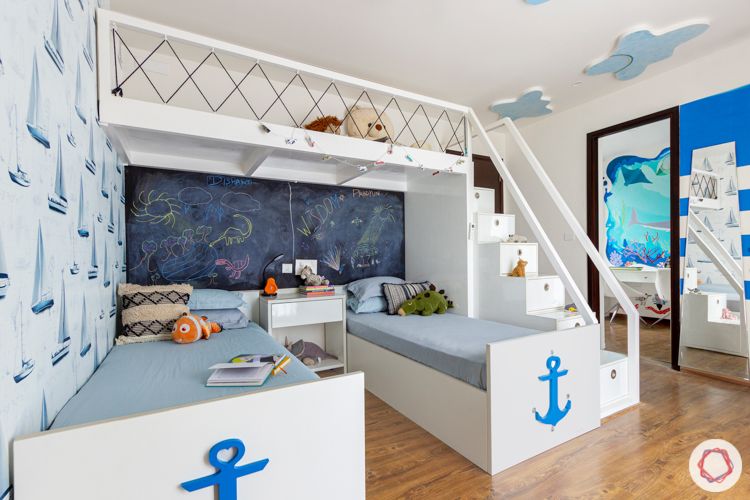 "Pradyun and Dishan's bedroom is my absolute favourite room since they got to design it themselves", says Roopa.
Once Roopa showed Pooja pictures of what she wanted her kid's bedroom to look like, she knew exactly what to do.The bunk bed is an innovative design by Pooja. It's completely custom made and comes with built-in storage for books and toys. If you look up, you can see the boys' creativity. The ceiling has a POP ceiling with clouds that are hand painted by Pradyun and Dishan.
A noteworthy section of the room is the study space in the kid's room. With a keen interest in all things aquatic, the boys got to pick a theme that will make you feel like you're underwater. Consequently, Pooja went the extra mile to make this space as fun as possible by bringing in street artist Abhik to paint a ocean-themed mural in the room.
"Designing Roopa and Rajendra's home was a creatively enriching experience. They agreed to steer away from conventional ideas and incorporated a number of our innovative designs into their home. Along with making the design process fun, they ensured everyone had plenty of freedom. "

-Pooja Das Choudhary, Interior Designer, Livspace
Also, if you liked this home design, take a look at Villa Interior Design With Fabulous Woodwork
Send in your comments & suggestions.