Whether you are surfing the internet for ideas or just lying on your bed at night and scrolling through Pinterest, you will come across many pretty images. But if you've ever searched for interior images on Pinterest, we assure you, you would have come across some of the ones we're going to show you here. We love our followers and they show us love in return. On Pinterest this year we saw some amazing responses and we collated a list of the most pinned images from our page. Scroll down to see what trends people favoured in the year gone by!
Top Interior Images on Pinterest #1: Organised Kitchen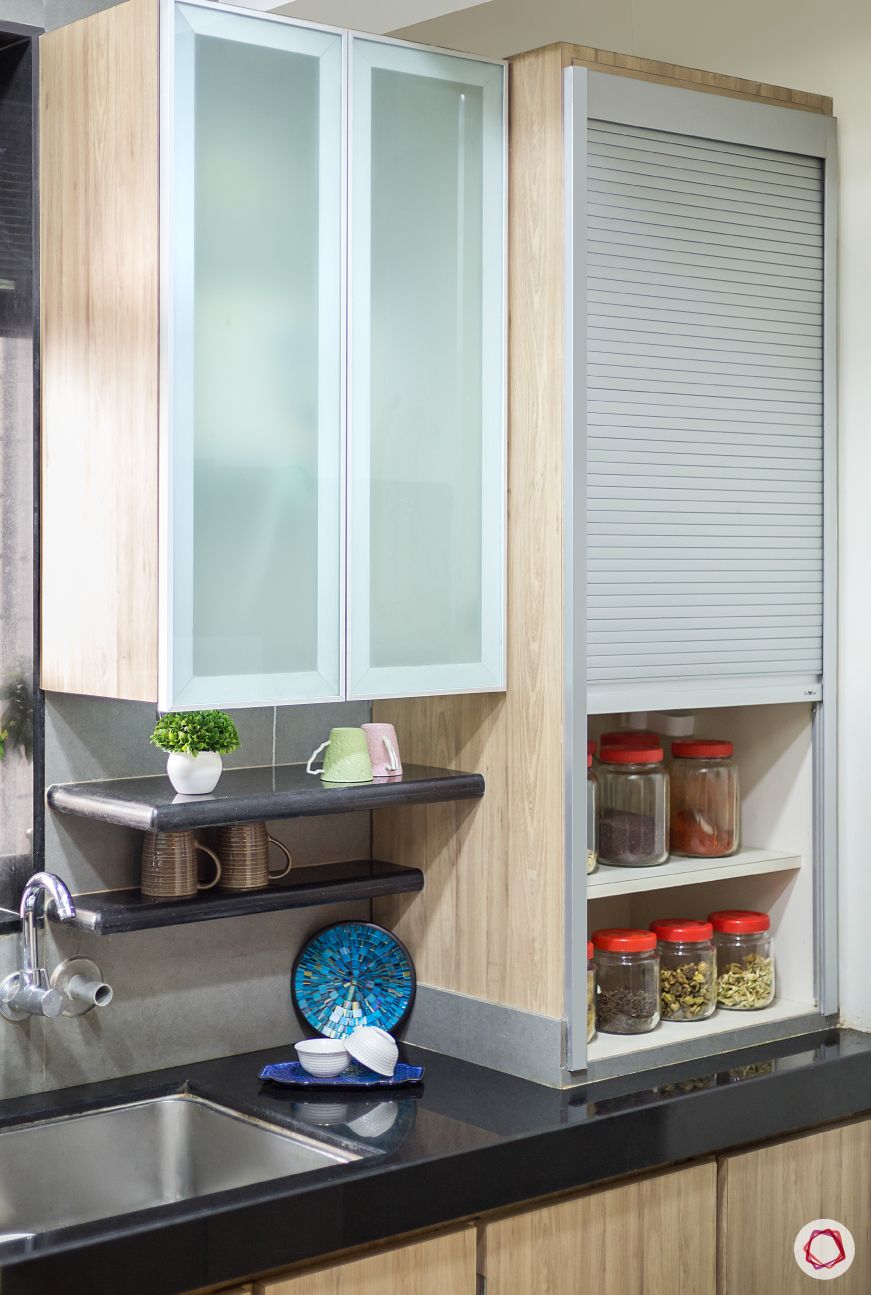 Our homeowners and our followers love a nicely organised kitchen and this Pin is proof. One of our top Pins from this year, with a considerable number of impressions and saves, this kitchen image right here looks super-organised. Wake the Marie Kondo in you and get organising with a roller shutter and frosted glass shutter cabinets to keep things out of sight. Also we think the cute slabs make it super-easy for you to keep your mugs.
Check out how the entire home looks, here.
Top Interior Images on Pinterest #2: Pretty Bedroom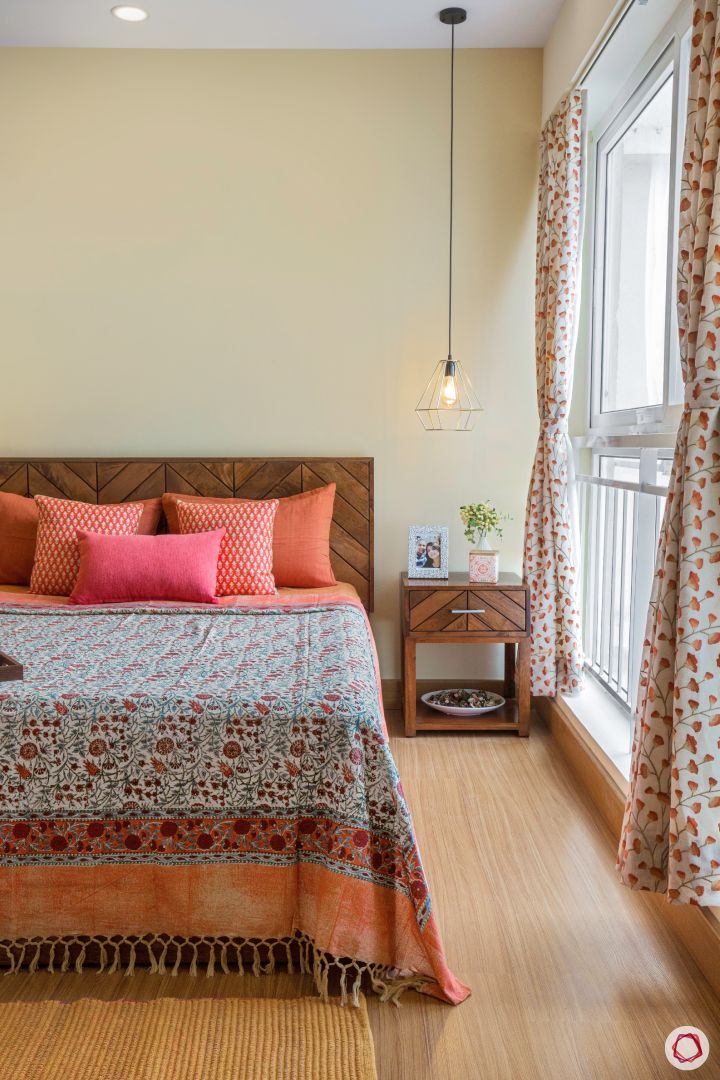 One look at this image and we know why it made it to this list. This image looks like a dream and it is one of our top Pins this year. The soothing combination of wood-on-wood tones and a complementing cushions make this a winner. Also, do not miss the hanging cage light in the corner. That is the perfect finishing touch to this one. The fact that this room is so well-lit, makes it even better.
Want to see how the rest of the home looks? Check it out here.
Top Interior Images on Pinterest #3: Simple Pooja Unit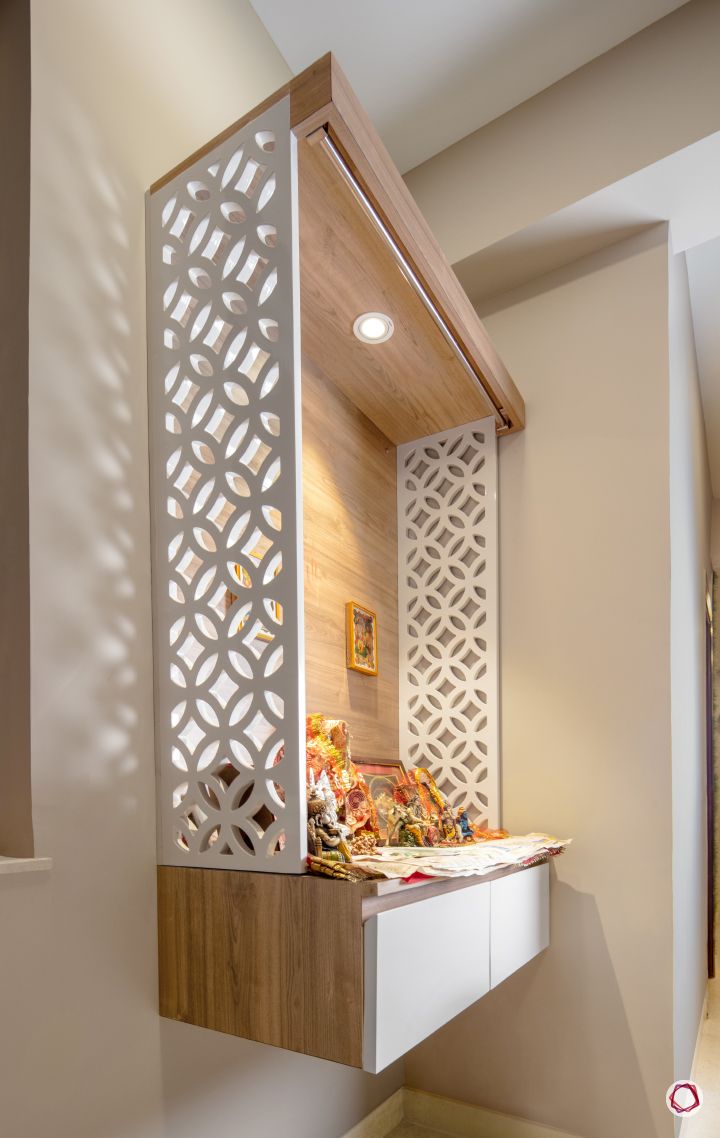 This one's from one of our most plush homes in Delhi and this pooja unit is the simplest feature in this home. But the elegant carving on the jaali panels on either side of this unit makes it stand out. Also, this is a wall-mounted unit which makes it ideal for homes that do not have an entire room to dedicate. All you need to accommodate this unit is a corner or a wall and you're all set.
This home has a lot more to offer. Check it out here.
Top Interior Images on Pinterest #4: Sleek TV Unit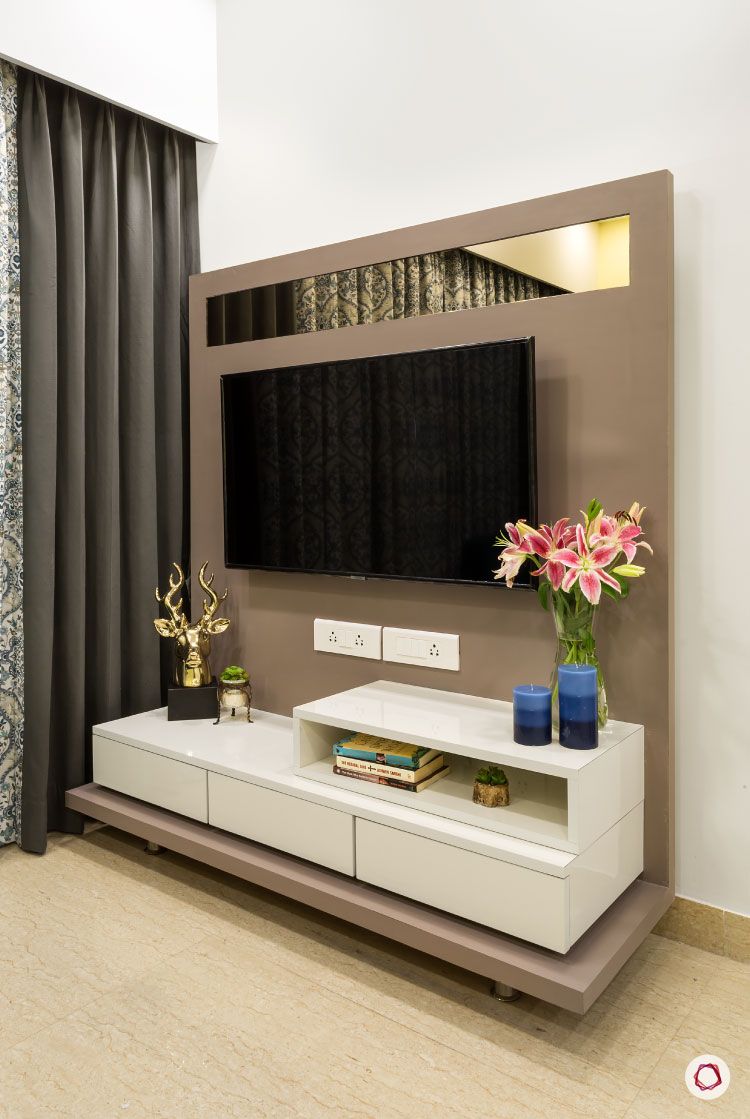 This TV unit flaunts a champagne and grey colour scheme with a mirror panel on top. This sleek unit packs a punch when it comes to storage and style. With drawers at the bottom and an open shelf, there's plenty of space in this. We think that the simplicity and elegance of this image is what draws all the attention.
Check out how the rest of the home looks, here.

Top Interior Images on Pinterest #5: Striking Foyer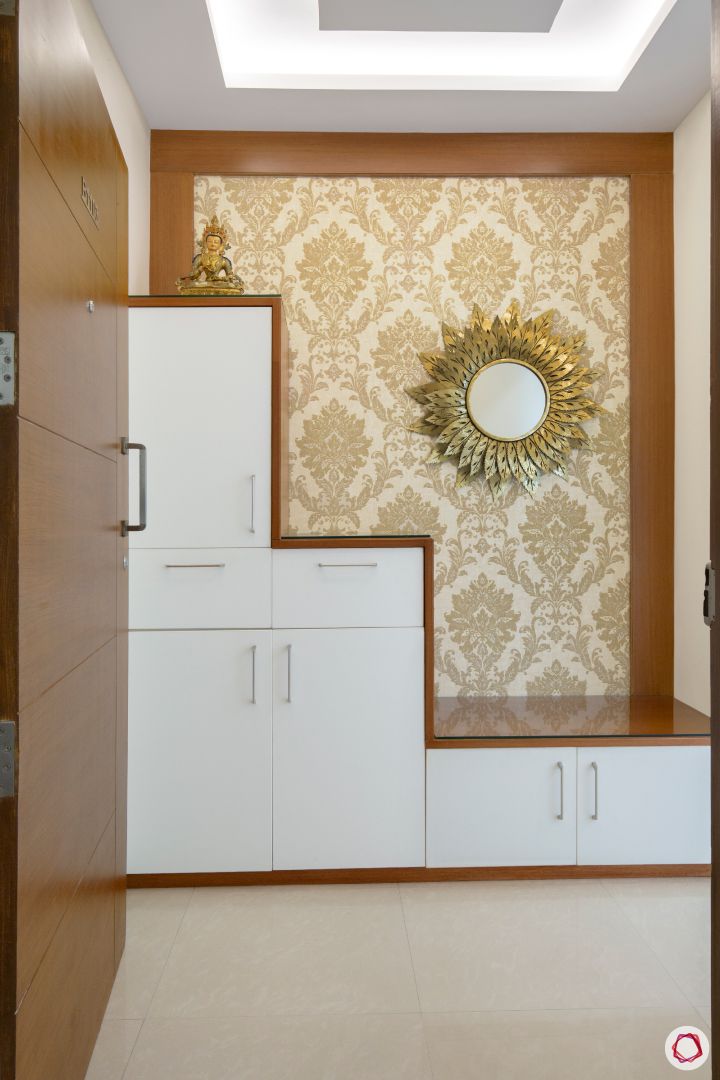 Our homeowners love a great entryway and we love designing unique ones for them. This foyer is a sight for sore eyes, with its step-like storage cabinet and warm wooden tones. The wallpaper also flaunts motifs on it and a statement mirror seals the deal.
Check out the rest of the home, here.
Most pinned images from our other categories:
Top Interior Images on Pinterest #6: Lattice Pooja Corner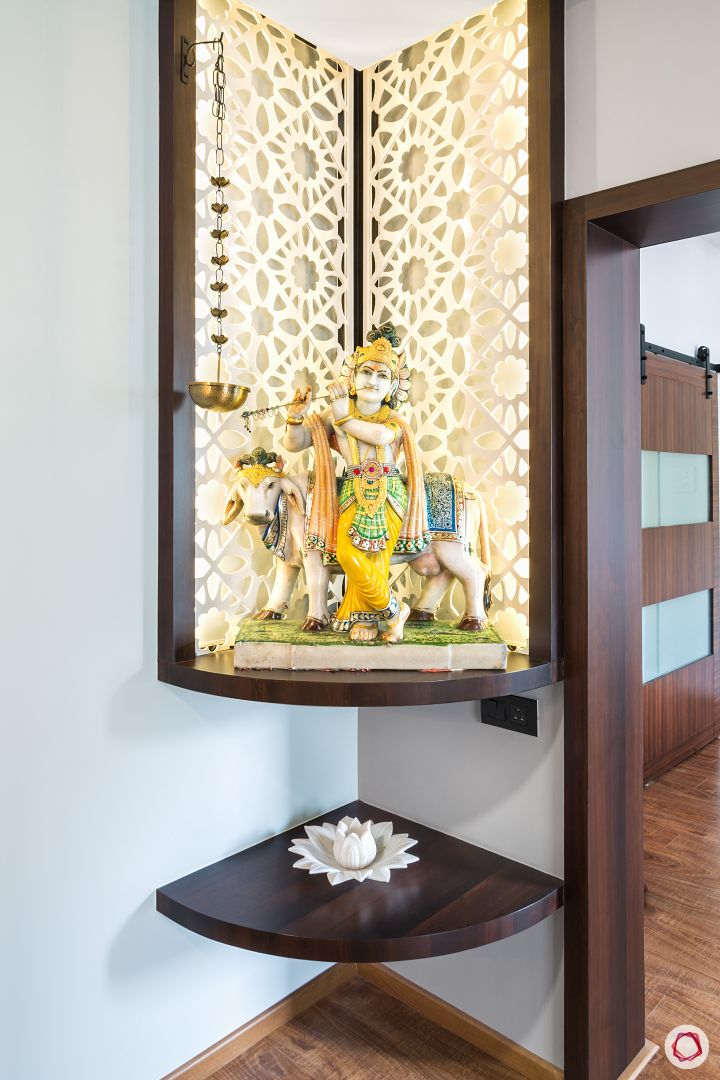 Our all-time favourite – pooja corners – are something that never fails to impress our followers. We are constantly working towards giving you unique and amazing ideas for your pooja units. This backlit unit with intricate jaali work looks fetching. Another space-saving unit, this one is perfect for corners and does not occupy a lot of space.
Top Interior Images on Pinterest #7: POP False Ceiling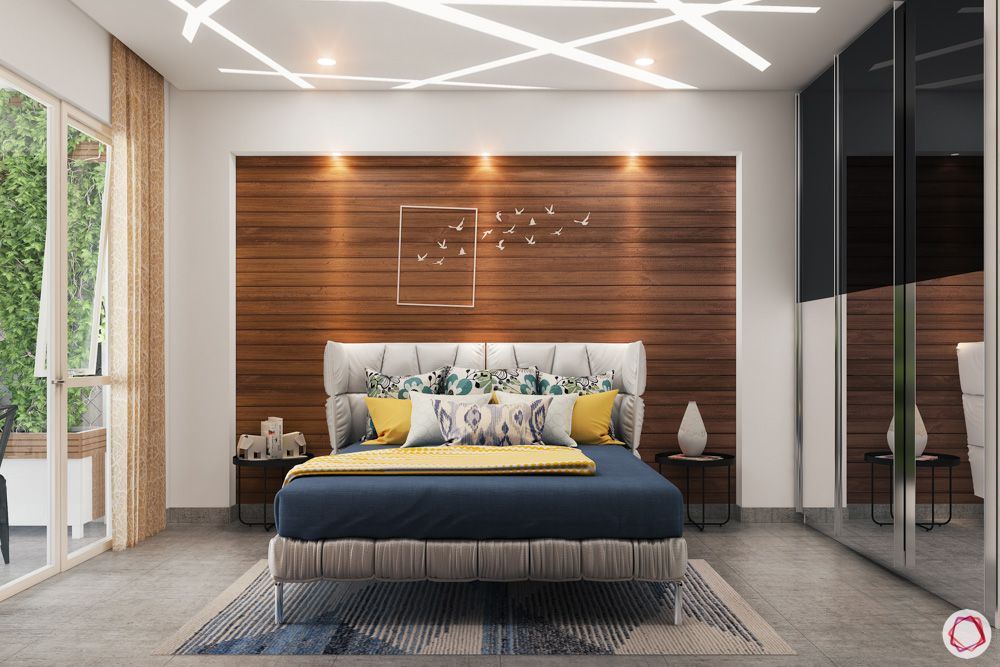 Another favourite with our readers and followers, false ceiling designs are synonymous with home interiors. There are so many stunning elements in this image but it is the false ceiling with LED lights that really make an impression. Spotlights and recessed lights further illuminate this room and wooden panelling behind the bed makes it look cosy and inviting.
Top Interior Images on Pinterest #8: Cosy Balcony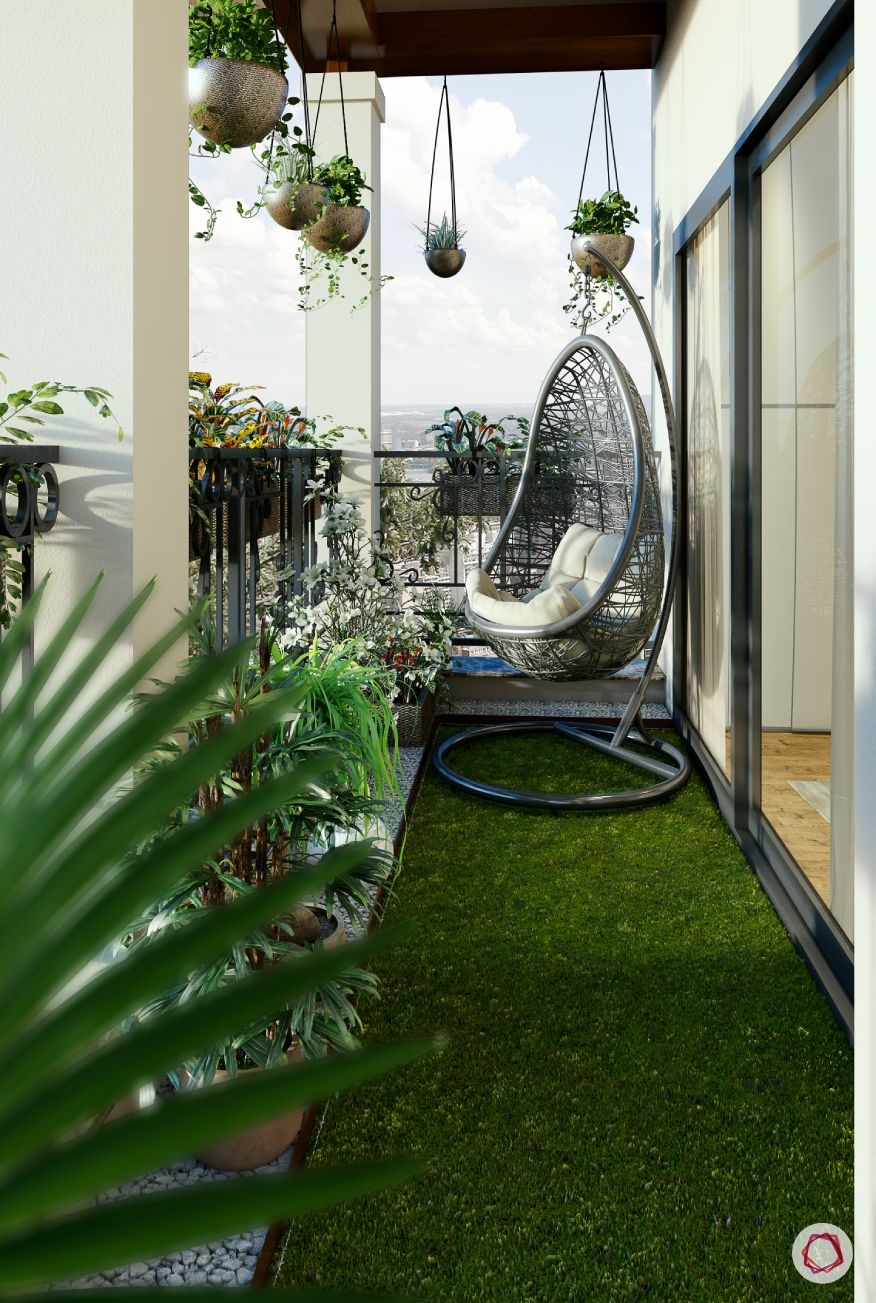 Balconies are another favourite spot of our homeowners and we are fairly certain that they love spending time looking at the stars while relaxing on their fav chair. The most pinned balcony images of 2019 is this one here and we think we know why. Cosy and compact but complete with artificial turf and a swing chair. This balcony scores brownie points for being small but stylish!
Top Interior Images on Pinterest #9: Subtle Kitchen Design
Who doesn't love a nicely designed kitchen? This image is from one of our top performing articles about the difference between a modular kitchen and a civil kitchen. This kitchen features sleek matte finish cabinets and stainless steel handles. The simple pattern on the backsplash adds some character to this as well.
Top Interior Images on Pinterest #10: Wardrobe for Compact Homes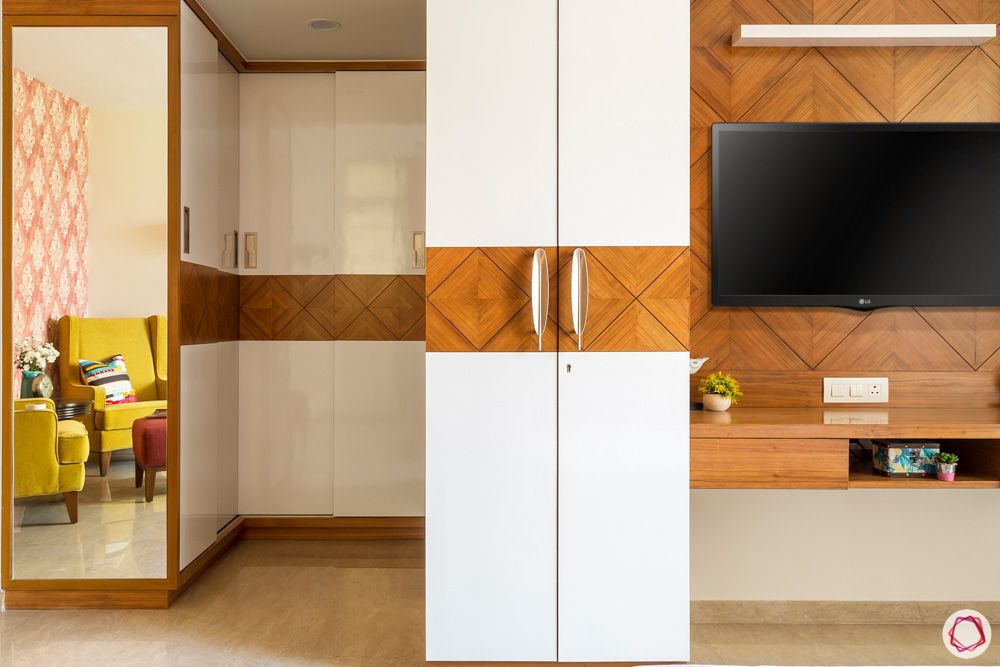 Compact homes are a real problem in India and we know how to work around them. This wardrobe is ideal for a compact room since it is an extension of the TV unit. The design is also striking with white and patterned wood panels. Also, do not miss the feather-shaped handles that were custom made for the clients.
Now that you know which images were pinned and re-pinned, you must check out the best homes we designed in 2019. Take a look at this: You Chose the Best #LivspaceHomes of 2019.
Send in your comments and suggestions.