Which is your favourite space to enjoy a steaming cup of tea or coffee with your favourite book? For most of us, that would be our balcony. Your balcony or private terrace is the perfect place to lean back and relax while enjoying some quality time with your loved ones. However, it's essential to ensure that you and your family, particularly the little ones and the elderly, are not at risk. You can achieve this by picking the right balcony grill design that ensures their safety. To help you, we have curated a list of balcony grill designs for apartments and homes.
So, Read on to know more about the different types of grills for your balcony!
#1: Wire Mesh Balcony Safety Grill Design for Apartments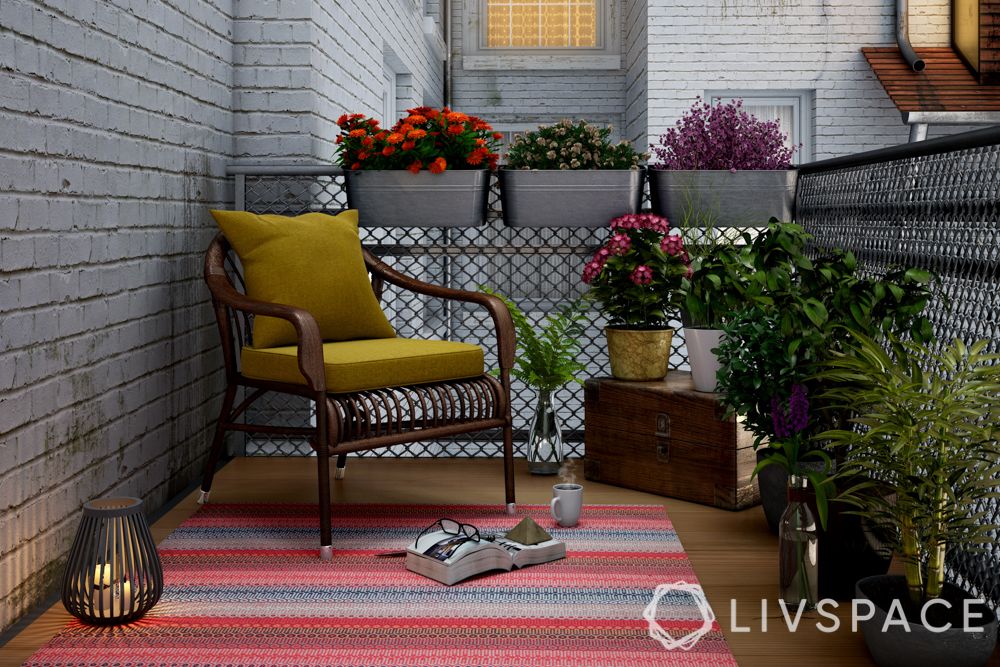 It is important to find the right balance between charming and safe when it comes to balcony grill designs for apartments. This is especially necessary if you have young children or pets at home. In fact, one of the best ways to achieve this is with mesh. Planters and pots, in combination with a striped rug and a comfortable chair, instantly transform the balcony into a picturesque delight!
Pro
Mesh ensures all-round protection for children and pets as it is fully enclosed.
Con
Depending on the material, it can have lesser longevity. Similarly, stainless steel wire railings are more long lasting than other materials.
#2: Toughened Glass Grill Design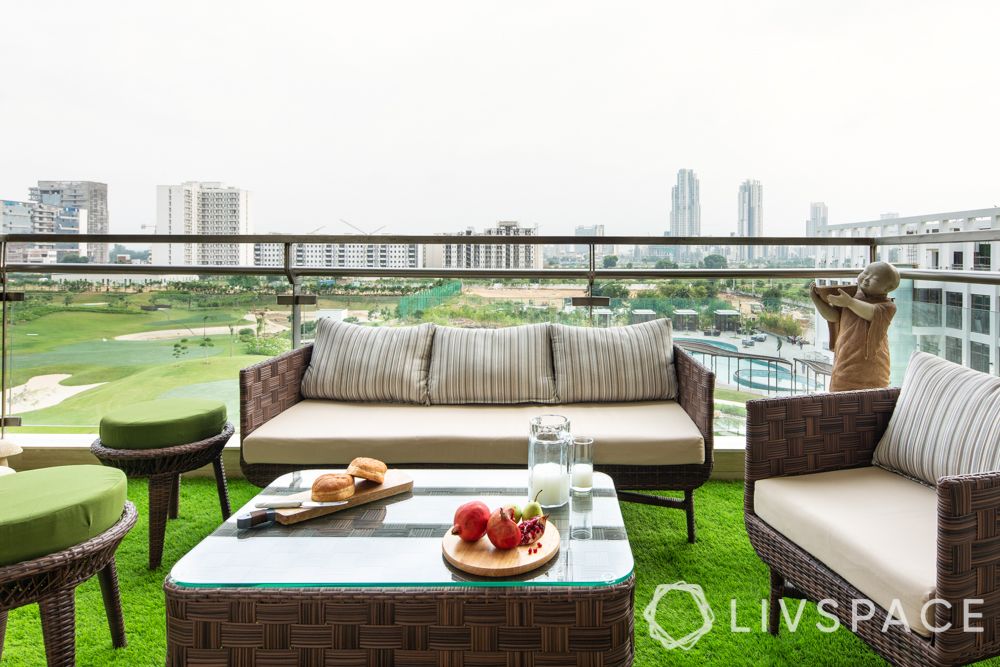 Patterned wrought iron grills add a rich ornate look to your outdoor space. In this Livspace home, we have converted a large balcony into a social space by adding a wicker sofa set, coffee table and cabinet. The use of a fortified glass grill design for the balcony also allows for an unobstructed view of your surroundings.
Pro
Being a hardy material, toughened glass can reduce risk of injury in case of an unprecedented disaster.
Con
Can be expensive to purchase and install with high-maintenance requirements.
Interested to know how you can set up a low maintenance balcony? We've got all the details you need here.
#3: Brick Wall Design for Patios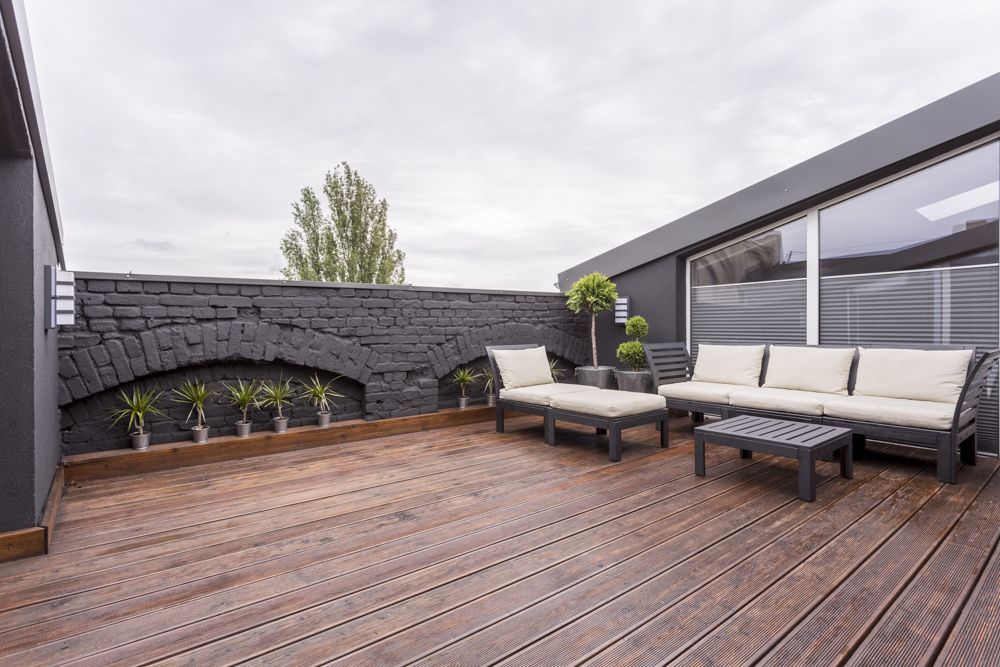 If you're wondering how to cover your balcony grill, brick walls are a great solution. Convert your large balcony into a patio by using bricks as a parapet. Moreover, the combination of grey walls, metallic railings and glass walls lend a clean and contemporary look. Additionally, potted succulents and relaxed outdoor seating make this balcony the ideal place to dine al fresco, under the stars.
Pro
Brick walls are versatile and offer natural charm to your home. They can be accessorised or left as is depending on your design preferences.
Con
This type of balcony grill works best with open-concept balconies. It might not be as practical in compact homes.
#4: Wooden Panelling for a Full Balcony Grill Design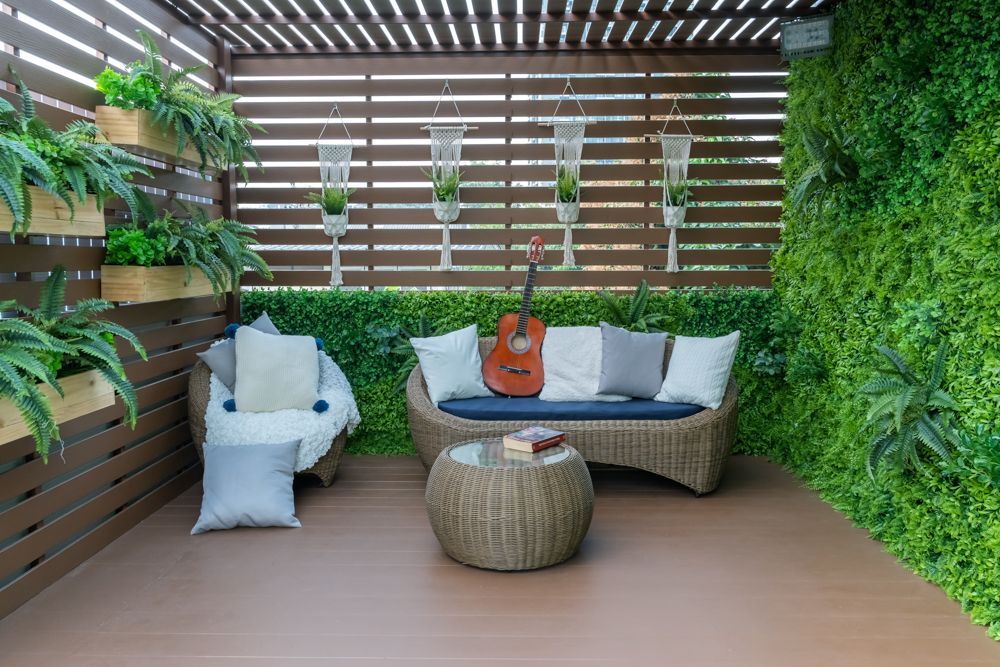 Incorporating wooden panelling in your balcony will give you a serene space, tucked away from the concrete jungle. Adding wall creepers and planters offers enhanced seclusion while the use of wicker patio furniture gives a rustic look to the space. Throw in some floor cushions for a more laid-back seating arrangement, or when you have company.
Pro
Wooden panelling is known to be durable and helps highlight garden balconies.
Con
Wood-based materials often require more maintenance due to weather damage.
#5: Optimum Safety Grill Design With a Collapsible Gate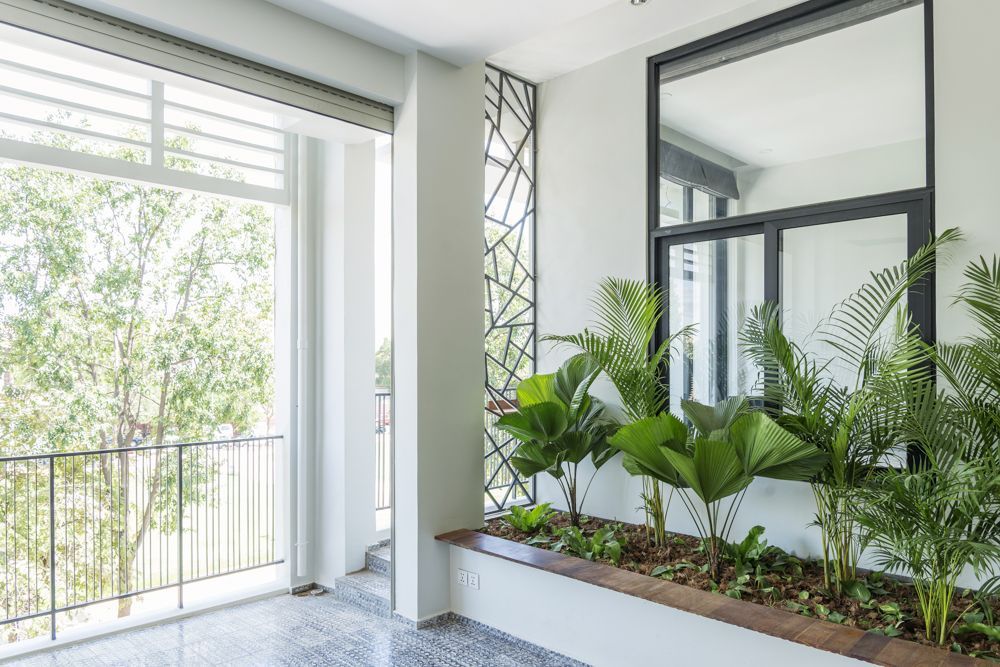 If you are looking for grill patterns that are perfect for a small balcony, a collapsible grill is the way to go. Moreover, it creates the illusion of space with the unobstructed stream of natural light. From your morning tea to your evening nightcap, this balcony will quickly become your favourite place!
Pro
This balcony safety grill design is a great option for families with pets and children, without obstructing the view.
Con
This specific type of balcony grill might not suit every interior's aesthetic.
#6: Concrete Balcony Grill Perfect for Planters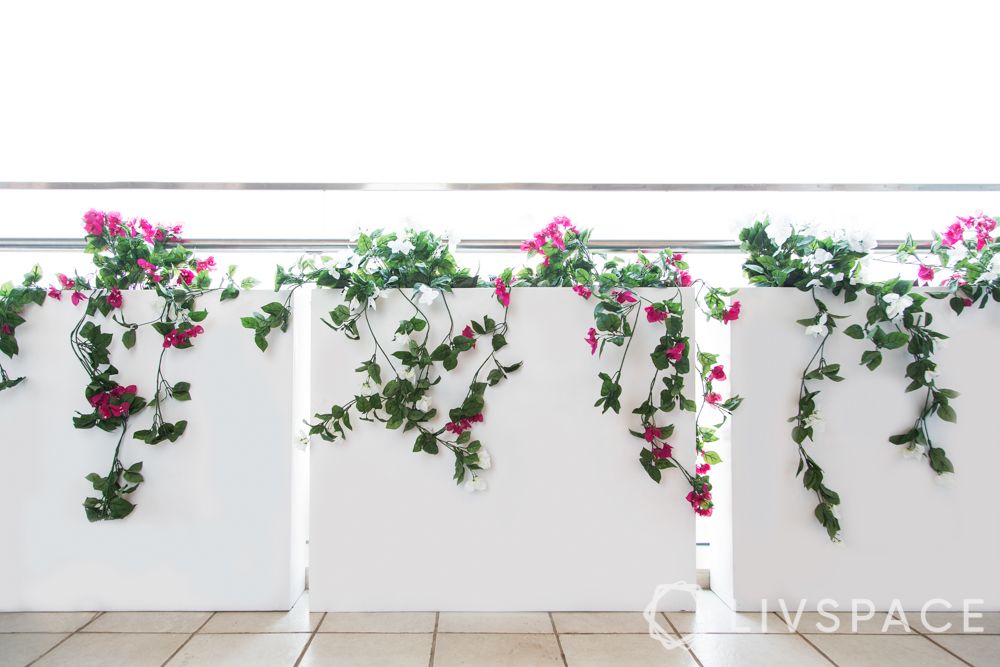 Concrete is sturdy, durable, weather-proof and long-lasting, making it a practical choice. For example, this white concrete wall is primped with green and pink foliage, while the steel railing in the background gives it a contemporary look, and the concrete blocks allow you to enjoy your balcony with complete privacy.
Pro
Concrete balcony grills can withstand heavy wear and tear, making them a great investment.
Con
They require more room for installation and can be expensive.
#7: Wooden Fencing for Open-Concept Balconies
Wooden fencing brings the feeling of openness to your garden or yard. This balcony grill design has been reinforced with metal. Here, the simplicity of the white fence is offset with green artificial turfing to create a serene setting. Which is perfect for giving you the ideal escape from the humdrum of everyday life!
Pro
It adds style and privacy to your patio space without compromising the view.
Con
Wood is prone to weather damage and will require regular maintenance to prevent warping.
#8: Raised-Railing Balcony Safety Grill Design for Apartments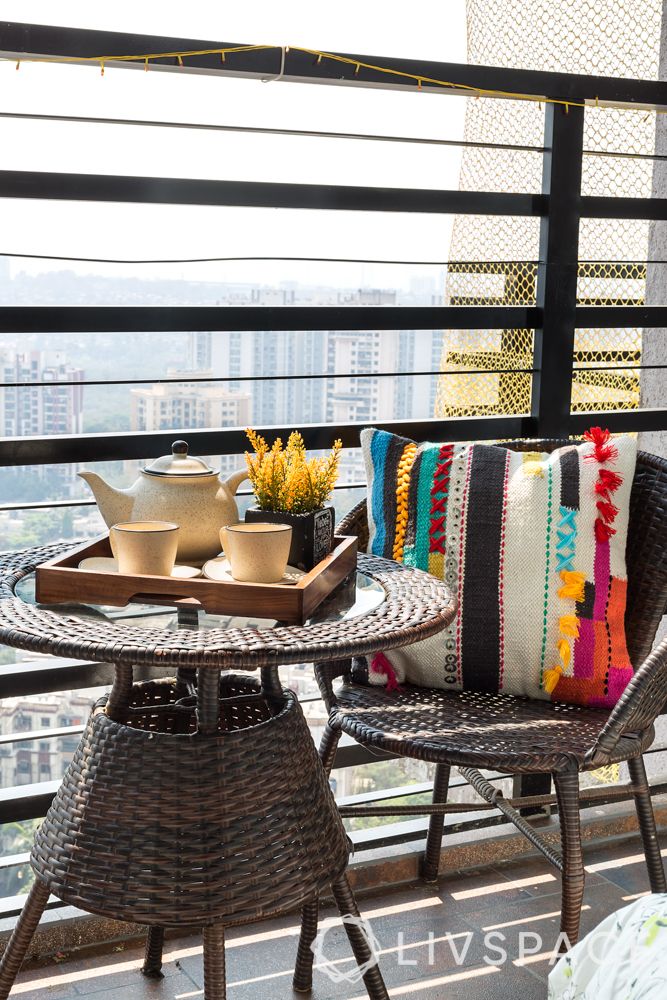 A raised railing as a balcony grill design elevates your space, literally! It opens up ways for you to intelligently use vertical space, and works especially well in a small balcony. This Livspace home followed a cosy bohemian theme, perfect for a good view. For this, we combined the metallic raised railing with outdoor furniture, colourful throw pillows and a small vase. The view here is the perfect companion for a relaxing cup of morning tea.
Pro
It offers an element of safety in homes with children, pets or the elderly.
Con
The railings can obstruct your view based on the design of the grills.
To know which seating arrangements work best, check out Balcony Seating Ideas for Both Big and Small Balconies.
#9: Contemporary Grill Design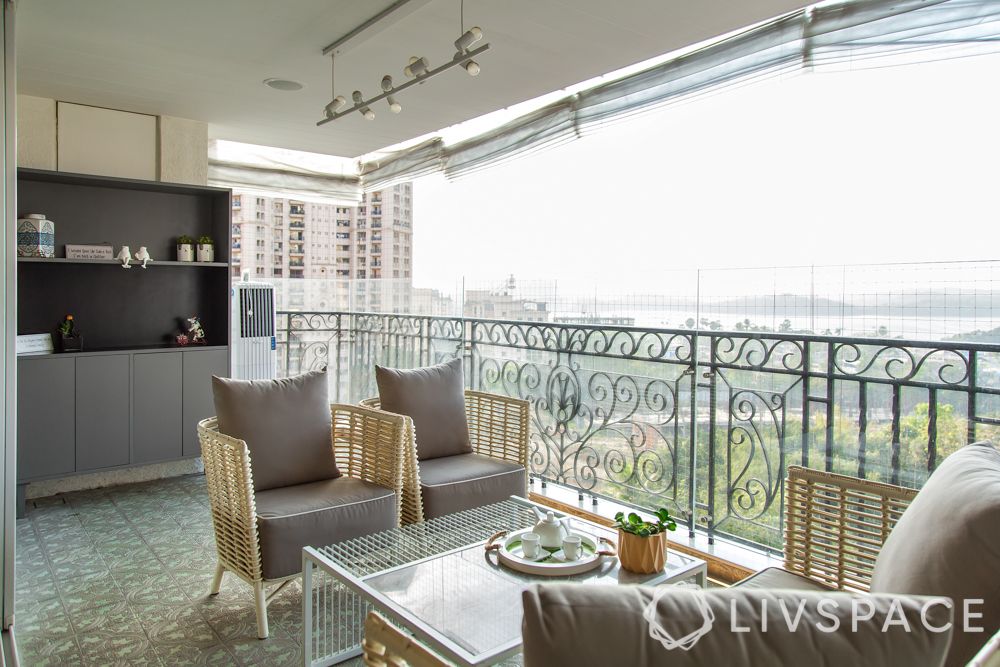 A contemporary railing is a great option for modern and urban apartments. For instance, this voguish balcony grill design perfectly offsets the wicker furniture and subtle colour palette. Also, notice the storage unit which is an effective space-saving option if you have a small apartment.
Pro
This type of balcony grill can easily add an element of style to any space.
Con
If your grills are not made of stainless steel, they could be prone to rust.
#10: Balcony Grill Design for Vertical Gardens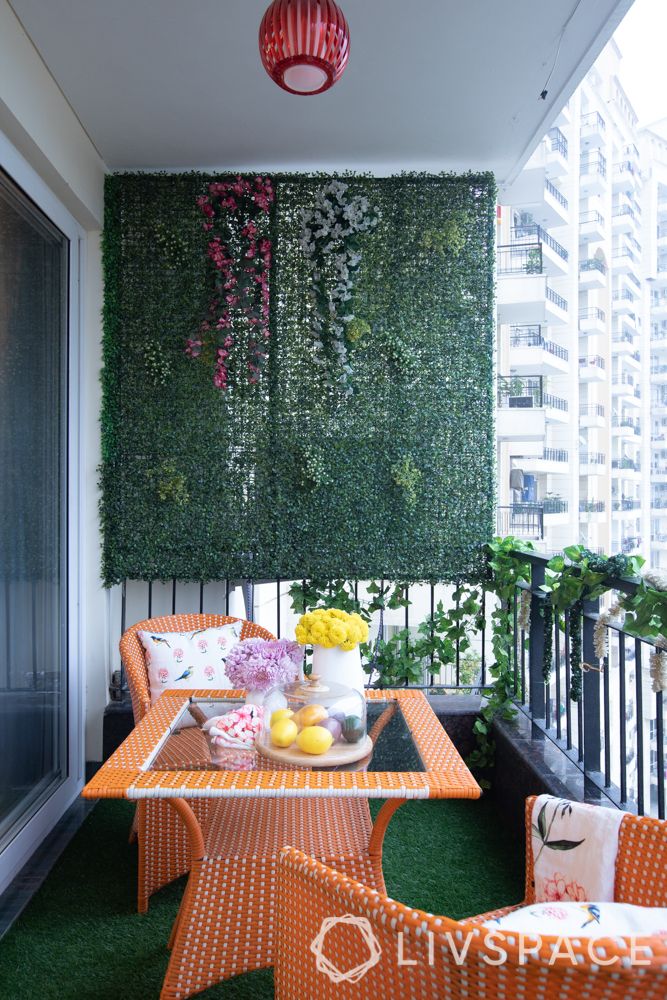 A great way to add an element of fun to your balcony grill design is with some fresh and green plants. What's more, you can convert one side of your railing into a vertical garden, which looks amazing and is easy to manage. Adding some lovely vines and creepers will give your balcony railing an aesthetic look.
Pro
It is a perfect way to add a touch of sustainability to your home. Additionally, you can use this space to grow a small garden with edible plants for your kitchen.
Con
If your grills are not water-resistant, they could get water damage from watering the plants.
#11: Minimalist Grill Design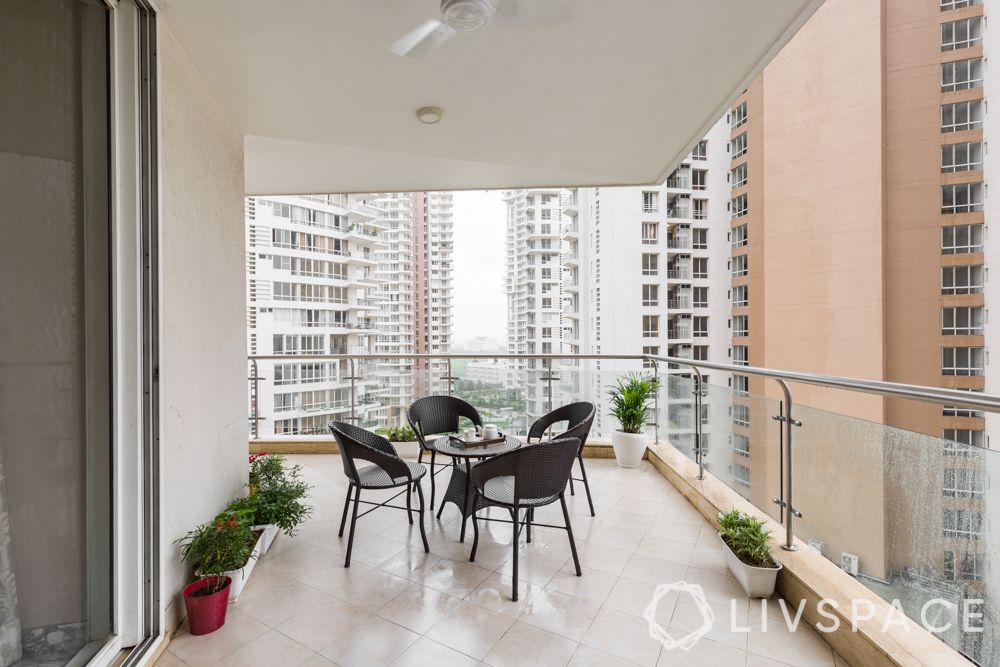 When in doubt, go minimal. After all, less really is more when it comes to compact balconies. The combination of glass and metal is sure to look amazing no matter the size of your balcony. Together with some simple furniture and potted plants, your balcony is good to go!
Pro
Minimal-style balcony grills can offer more room to your balcony, making it appear bigger.
Con
The glass panelling in such fixtures tends to be high maintenance.
If you liked these types of grills for the balcony, you must check out these interesting terrace railing designs:
#1: Rustic and Woodsy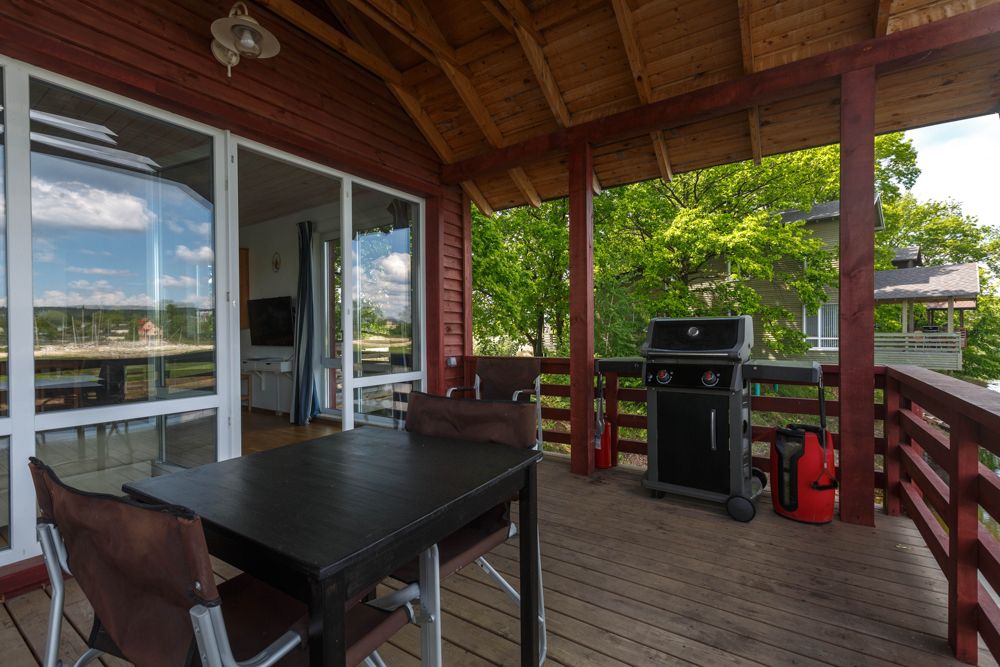 Wooden decor looks rustic while adding an element of warmth and homeliness to a space. For example, in this home, the wooden railing has transformed an otherwise simple terrace into a comfy nook.
#2: Classic and Traditional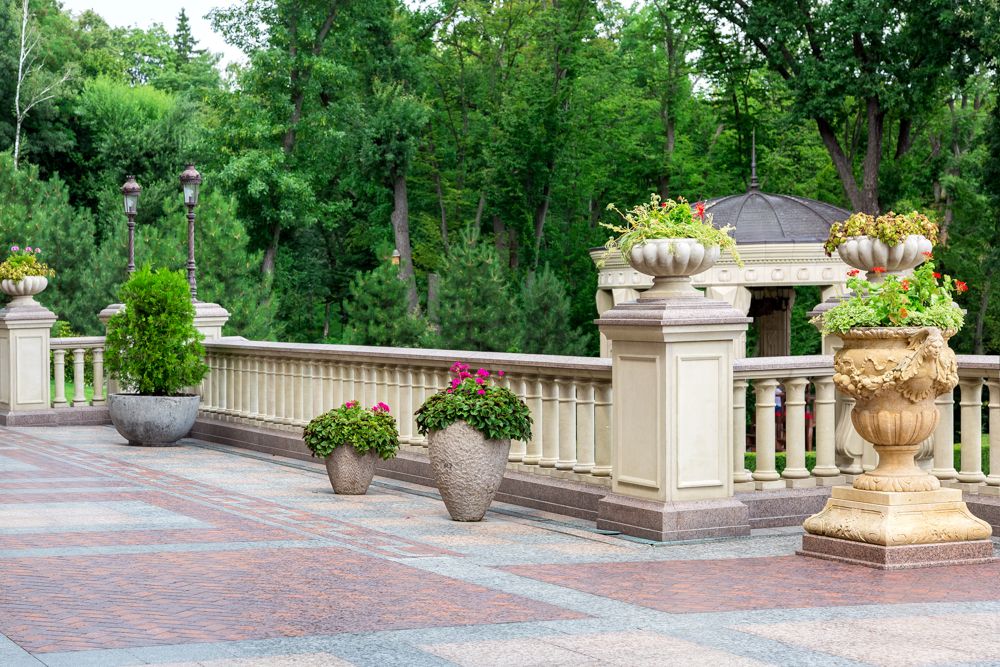 When it comes to large terraces, nothing looks as amazing as a classic and traditional grill. For example, the traditional railing and balustrade on this terrace offer a royal and elegant look. In combination with the potted plants and colourful flowers, this space almost looks like a gorgeous piece of art!
If you enjoyed reading about balcony grill designs, also explore Balcony Designs That Will Floor You.
How Can Livspace Help You?
We hope you found our ideas useful! If you want your home to be just as beautiful, then look no further. Book an online consultation with Livspace today. Delivering safe home interiors has been our No. 1 priority. Click here to find out how interiors are being delivered following all safety protocols.