So you're planning to get your new home interiors done or your old home renovated? You're most probably brimming with ideas for the bedrooms, living room, dining room, kitchen, and everything else. But are you missing out on something? Like the staircase? It might not be the focal point of your home, but it is still an important area. We have some stunning staircase railing designs for you. You will love how your stairs look after you adopt one of these!
#1: Glass and Steel Staircase Railing Designs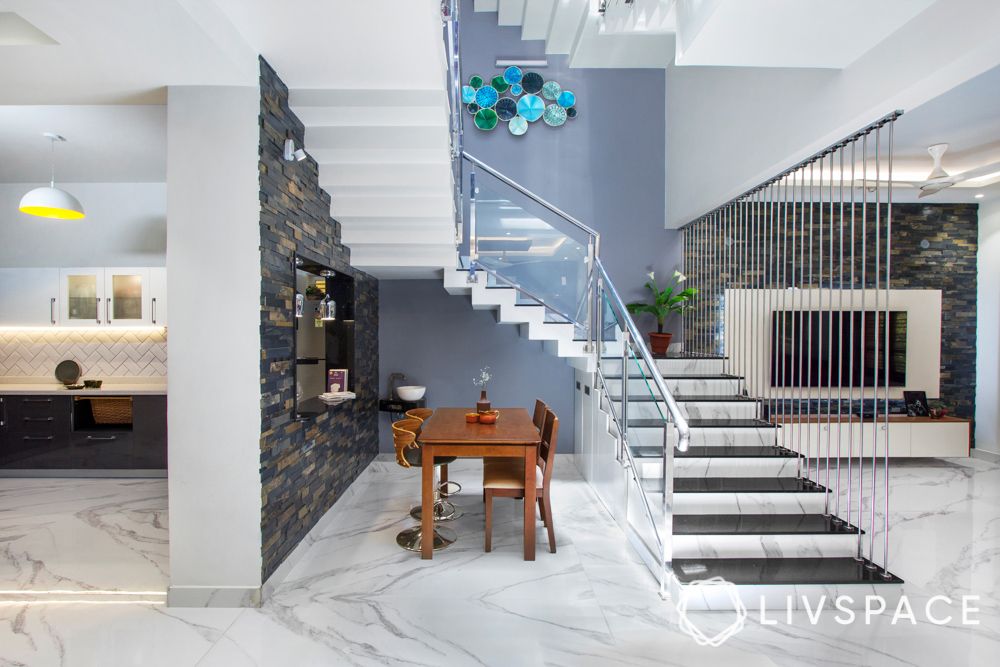 A brilliant way to create a demarcation between common areas at home and the stairway is to erect some steel rods. This modern stair railing is simple and classy in marble and granite but the lovely stairs railing design in glass makes it stand out. The designer has further highlighted this area with the stunning wall art that makes the plain wall a little more stylish and a lot more striking.
Also Read: 7 Easy Staircase Vastu Tips for a Happy Home
#2: Wooden Railing Designs for Stairs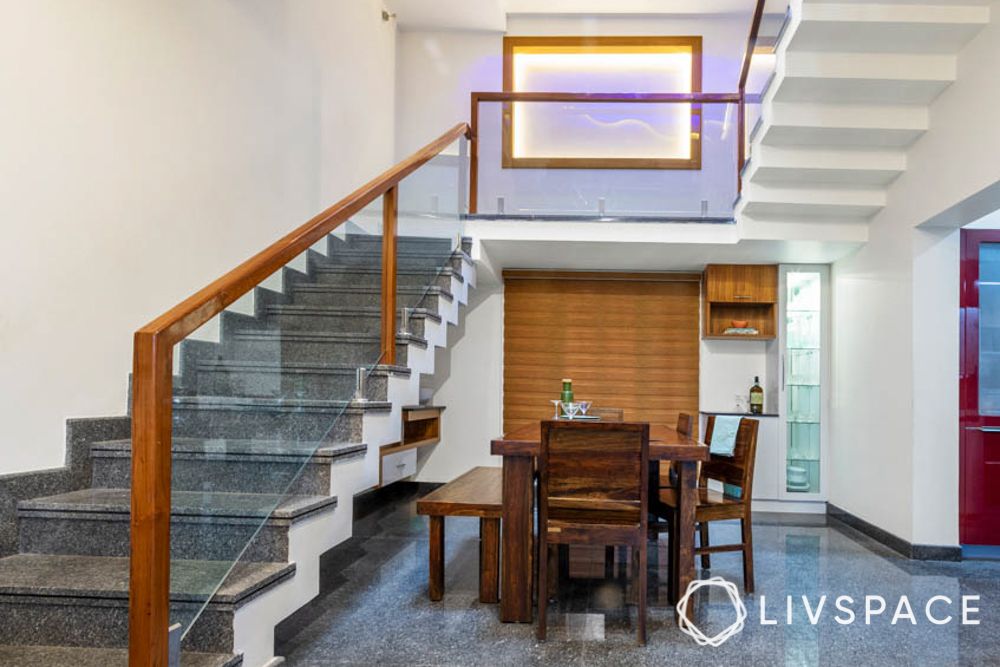 If you are looking for stair railing ideas, wooden railing designs for stairs are always a good option. For a modern look, you can mix it up with glass. Wooden railing designs for stairs combined with glass not only look contemporary but can also bring down your cost.
#3: Geometric Modern Staircase Railing Designs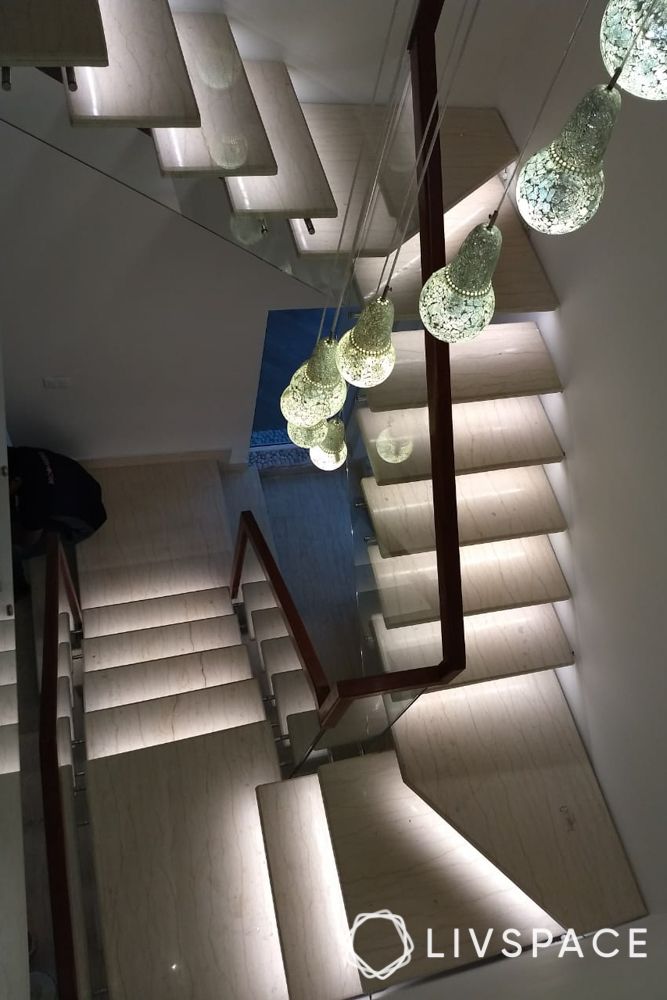 Need we say anything about this lovely modern stair railing? Spiral, geometric design – check, floating steps – check, glass railings – check, cascading light fixture – check. The edgy geometric glass railing design for stairs is perfect for contemporary flats. Do you know why these are among our favourite staircase railing designs? The LED lights under the steps. When you switch on both the chandelier and the LED lights, your stairway will look like it leads to heaven!
#4: Staircase Railing Designs With Balusters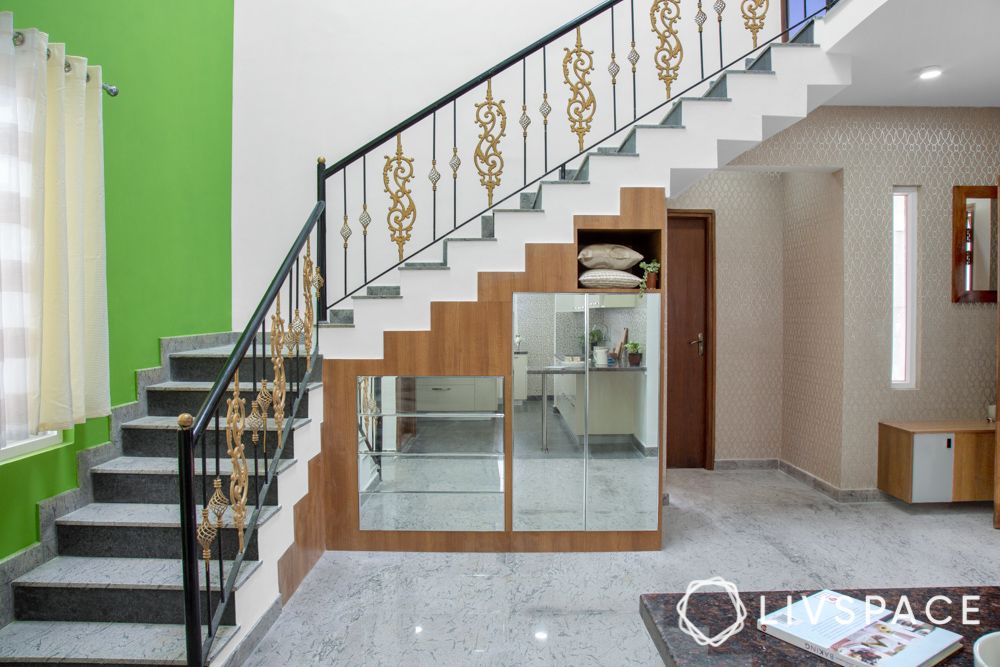 Balusters are decorative pillars that support a railing. While you will often find these in old staircase designs, they are not very common today. However, if you want unique interior stair railing ideas, opt for balusters. If you have some dead space under such staircase railing designs, add some storage. Alternatively, you could carve out the exact shape of a storage unit mimicking the stairs railing design and use mirror shutters. This will make sure that the space does not look overbearing.
#5: Modern Staircase Railing Designs That Add Some Colour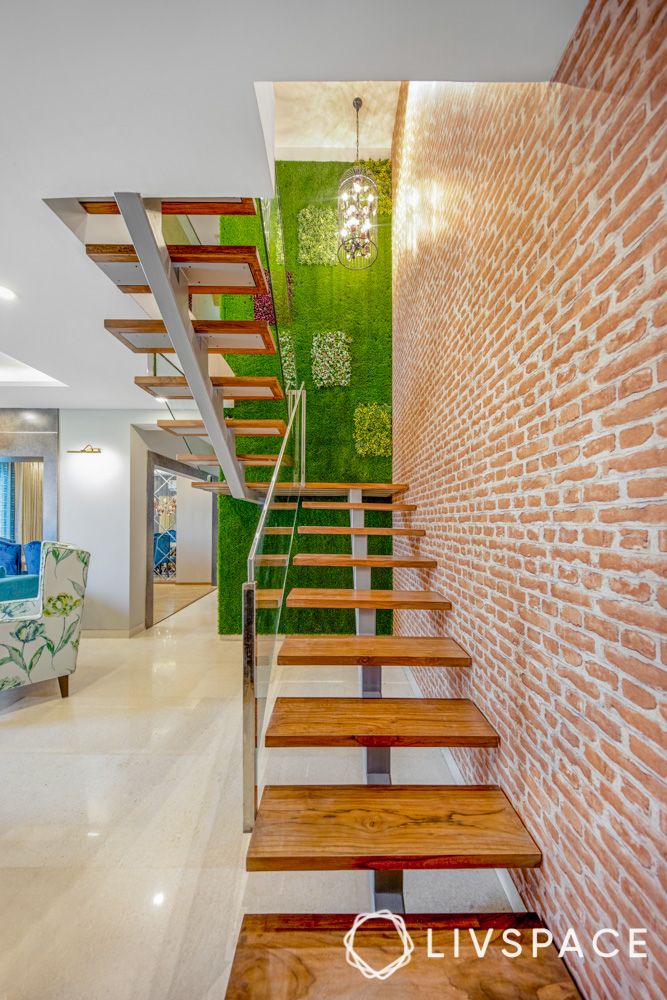 Modern staircase railing designs that add some colour are a must! For instance, there is something so alluring about this stairway. Is it the vertical garden or the exposed brick wall next to it? We think it is a combination of both that adds some vivid colour to the space. Imagine walking up to your bedrooms with a soothing view of this fresh green vertical garden. Accentuated by a dreamy pendant light in the corner, this is among our favourite staircase railing designs.
#6: Mesh Staircase Railing Designs
Modern staircase railing designs need not be fancy and intricate. If you are looking for a cost-effective option, all you need to do is add some mesh. This is also a good idea if you have children or pets in your home and want to child/pet-proof your stairway.
#7: Designer Glass Railing Design for Stairs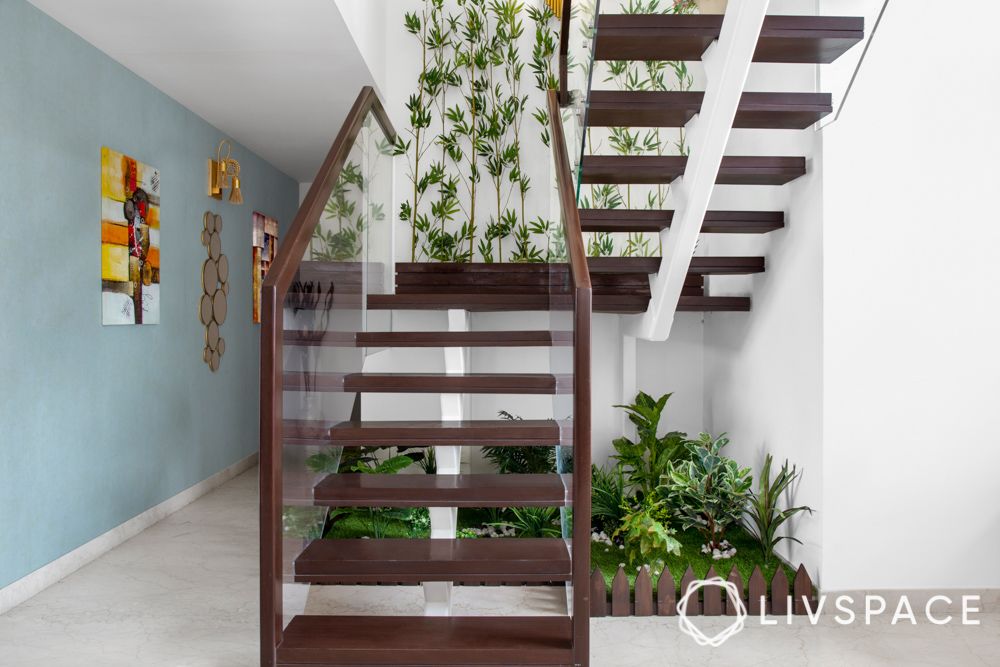 A glass railing design for stairs is always a winner! Add to that some fresh greenery! You could actually grow a cute little garden underneath the staircase. This will not only make that space come alive but also add some fresh greenery to your interiors. Do not leave out the wall leading to the next floor. Place some low-maintenance bamboo shoots there to create your own wall art. We just love this idea!
While you decide the stairway design for your home, do not forget the lights. Take a look at this: Lighting Options Ranked by Homeowners.
Also Read: Does a Floor Plan Confuse You? Here's Expert Advice on Reading Them
How Can Livspace Help You?
We hope you found our stairway ideas useful! If you want beautiful interiors for your home, then look no further. Book an online consultation with Livspace today. If you have any thoughts and suggestions you'd like to share with us, we're all ears! Drop us a line at editor@livspace.com.